We live in an era where crochet hair is no longer reserved just for women from the African-American community.
The popularity of crochet braids slowly rises, and now they are even becoming suitable for formal events.
Due to their popularity, more and more crochet hair is sold in hair supplies shops, but what is actually the best hair to use for crochet braids?
Should you go for human hair or synthetic hair?
Finding the best hair for crochet braids can be a difficult task.
As mentioned, there are many options out there on the market.
Some prefer to wear natural-looking hair, and those are qualities that are not easy to find.
Plus you want your hair to feel soft, and not to get matted.
One thing that people stress about crochet hair is that the denser the hair is, the better suited it is to stay put in the knot.
And the best thing about crochet hair braids is that it is one of the most affordable styles involving extensions.
The downside is some women think that the style will make them look cheap or unnatural.
If you fall into that group, stop reading now.
But if you like crochet hair and you would like to see what is best, read on.
Human vs.
Synthetic Hair for Crochet Braids
Before we get to explain what are some of the better hair options you can get, let's talk about whether you should go for human crochet hair or synthetic crochet hair.
Both have their pros and cons, and it is up to you to choose what will fit best for you.
Human hair
Human hair is a bit of a glass half empty glass half full type of thing.
On one side, people love human hair because it is natural.
Human hair can be easily washed, styled, and dyed.
But it is not easy to work with on your own.
On the other hand, there are moral and ethical implications when it comes to using human hair.
Most of the hair that you find on the market, comes from either India or China.
When you purchase human hair, insist that the supplier gives you the source of the hair.
PROS
CONS
You have to physically tie a knot into each end, which is a rather time-consuming process

Human hair is difficult to work with, especially if you are new into the world of crochet braiding.

With synthetic hair, you can use a single knot, something you cannot with human hair

Human hair has been treated with chemicals and dyes to get the right texture.

That means when you go swimming, you might cause an allergic reaction
Synthetic hair
Most crochet braids you see are made out of synthetic fibers, meaning it contains no human hair.
For a crochet braiding, the hair comes in single strands that are often referred to as bulk.
The downside of synthetic hair is that the quality can vary greatly.
Some fibers look like human hair, others do not.
Where synthetic hair has an advantage is the price, as it is incredibly affordable and easy enough to use on your own.
PROS
CONS
Friction and heat can damage synthetic hair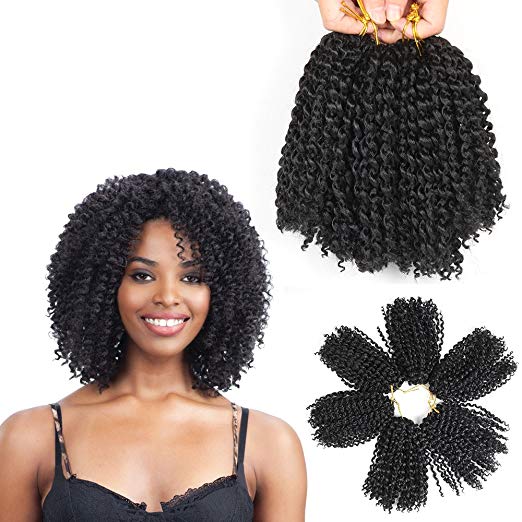 HIGHLIGHTS
Marlybob Crochet Hair measures approximately 8 inches and can be used to create beautiful short styles. Usually, the hair is sold in bundles of six, each containing twenty strands. That should be enough to cover an entire head for most people.
What you will like about the hair is that it can be attached securely to the head with easy, and quickly. Just make sure to use the traditional cornrow method, which works the best for this type of crochet hair.
Some of the thing we love about this hair that it is incredibly soft to touch, and light on the head. Yes, it is synthetic hair, but it is as close to natural hair as you can get. And it is something you definitely love to get in a crochet braid, as it will not leave you feeling like your head is weighed down.
The pack always comes with a crochet pin, which will help you get straight to work. If you want to create voluminous styles, make sure to buy two packs. Also, if you have a rather unusually large head, go for two packs as well. You do not want to run out of hair while you are doing your crochet braiding.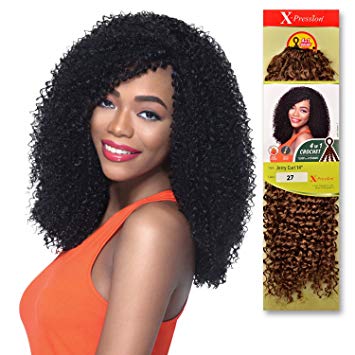 HIGHLIGHTS
If you are new to the world of crochet braiding, this is probably the best thing for you.
The hair comes pre-curled, and in a kinky style, so you do not have to spend any time styling it. No need to spend time messing with perm rods or hot water, everything is served for you.
The hair will blend well with your own hair, and give you a soft and bouncy look.
The kinky curl usually comes in ultra-long 24 inches lengths that can help you get your Rapunzel style hair.
Or you can just cut them to a trendy mid-length style.
Outre X-Pression braids feel nice and soft, and even after wearing them for a few weeks, you can still go.
They require minimal maintenance. Just wash them by dipping in warm water with conditioner, and you can extend their lifespan.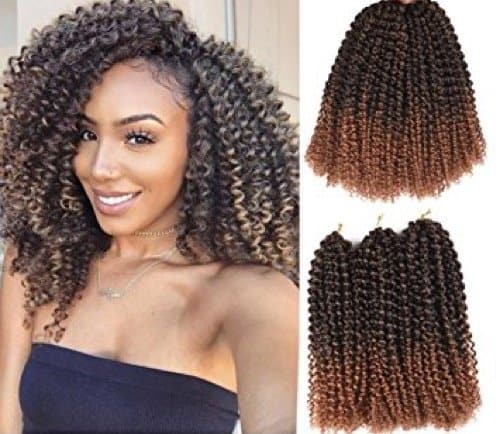 HIGHLIGHTS
The Refined Ombre Malibob hair measures at 12 inches, and features beautiful ombre curls. What is amazing about this hair is that it can withstand high temperatures, despite being a synthetic hair.
That means you can use hot tools to style it as you wish. When you apply the crochet braids to your regular hair, it should measure just below your shoulders.
The downside is that it is not as long lasting as other alternatives, but it is very affordable for a short-term style. If you like to constantly change your looks, and not worry about spending a fortune, this is the hair you should go for.
One of the best features is that they can be easily customized and choose the exact color you want.
This means you do not have to color them on your own. The braids are light on your head, and won't feel like they are pulling your hair out.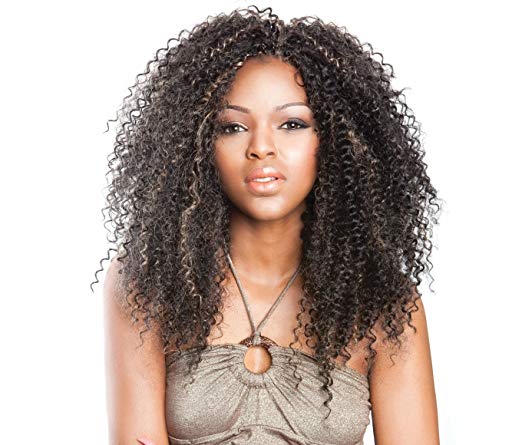 HIGHLIGHTS
If you want to feel the cool air of the Caribbean, these are the crochet braids you want.
The light and bouncy hair is perfect imitation for anyone who wants a bohemian chick look.
Two packs are more than enough to get a complete crochet install. The hair is soft and manageable, and even the texture is human-hair like.
There is not much luster, but if you do not like the shiny-synthetic look, this is the best option.
One of the best features is that the braids are quite long lasting. After 2 weeks, they will still feel soft.
They have a very tight curl pattern that will create long-lasting styles.
Be warned, the hair tends to frizz, but that contributes to its more natural look.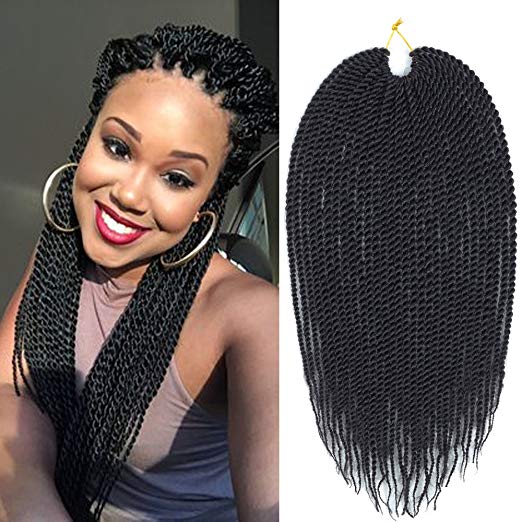 HIGHLIGHTS
In the past few years, Senegalese look has become more and more popular. You can use these braids to create a number of different timeless styles.
This hair is also known as kanekalon hair, which means it is made of vinyl chloride. This is a flame retardant material.
The hair is naturally shiny and soft to touch. Apply to your hair, and you will be pleased with how light it feels on the head. Of course, this will also depend on how many strands you will install.
Huge plus is that the pack comes with a crochet hook, meaning you can install it on your hair straight away. One downside is that you will need more packs to fill an entire hair than with other options.
For example, one purchase gives you a pack of six, each containing 30 strands of crochet hair. You will need about six to fill your entire head so that the braids sit well below your shoulders.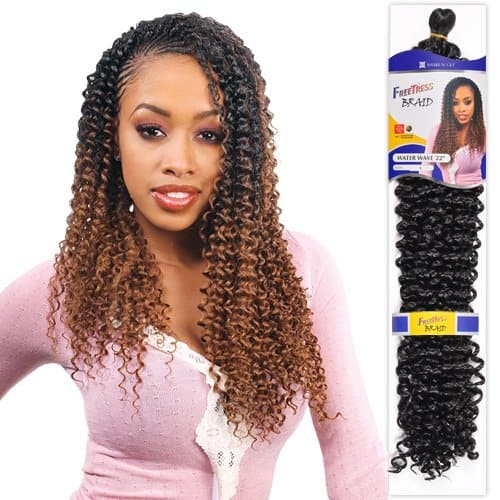 HIGHLIGHTS
Another option that comes pre-looped for easy installation is the FreeTress Water wave crochet hair.
They have a fairly tight curl pattern, which offers natural looking style.
The price is reasonable and affordable, making the crochet hair great for cutting into shorter and bouncy cuts.
The longevity of the hair is a big plus. You get a texture that is loose, carefree, and curly, and the longer you keep it installed, the better it looks.
You need to know that the hair is 100% virgin hair, which means you can color it or style it to your own desired look.
If will look great on you even after 4 or 5 days of working out. The hair gives you more fullness in the roots and tapers, and gets thinner towards the ends.
This helps you achieve a more natural or realistic look.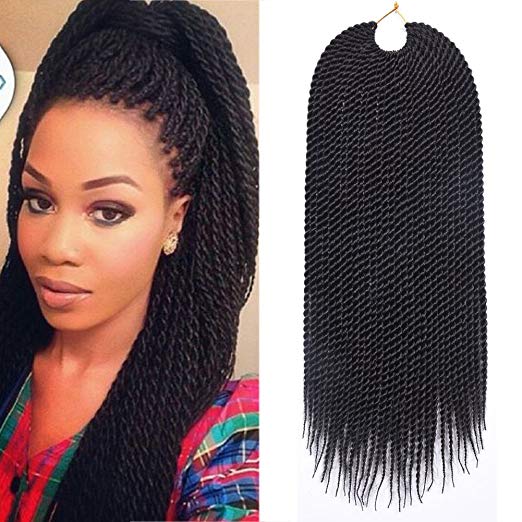 HIGHLIGHTS
We already had one option for Senegalese crochet braids.They look absolutely stunning when installed.
Therefore, we want to give you one more option, which comes in an array of different colors and length.
That gives you flexibility to choose the style that you love the most.
Each set contains seven packets and each one of those contains around 30 strands of hair.For most people, this is enough to cover an entire hair.
An underrated aspect is that you can use these crochet braids for a cute curly look.That is, as long as you use the roll and hot water method.
We advise that you do not use all of the strands, as it can weigh your head.
Concentrate on the weight of your head while installing the crochet braids.
Install as many as you can bear.
8.
Model Model Twin Deep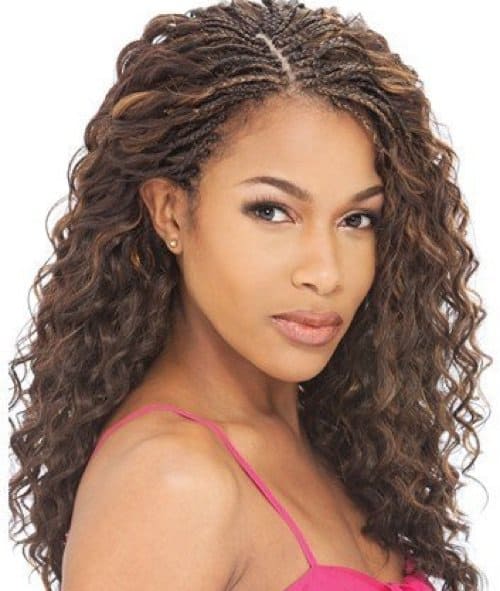 HIGHLIGHTS
Bounces back when you shampoo
When your top priority is to get silky soft hair, then Model Model is the way to go.
The hair is as the closest silky and soft to touch you can get to natural hair.
The buttery soft strands come in deep and well defined waves.
They won't knot when you are separating out pieces.
But you have to be aware of the downside of wearing soft hair, and that is hard to secure in crochet styles.
The same thing we mentioned about natural hair, applies here as well.
Basically, you have to use very small pieces and a triple looping method to secure your hair.
What you will love the most is that the hair does not tangle, and bounces back when you shampoo it.
In the end, you are left with an original radiant look.
9.
Janet Collection Mambo Twist Crochet Braids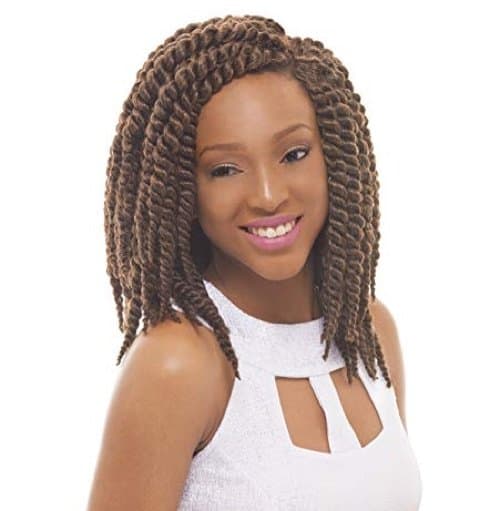 HIGHLIGHTS
We had Senegalese style, and now we have some Havana style braids you absolutely have to try.
If you want a stylish and unique look for the festival season, these braids are perfect for you.
You will love that they come pre-twisted, and you need just a few packs to cover your entire head.
When you look at them, you might think they are heavy, but that is not the case.
The crochet braids are very lightweight once you install them.
If you want thicker twists, you are in the right place.
The versatility of different colors and textures is just limitless.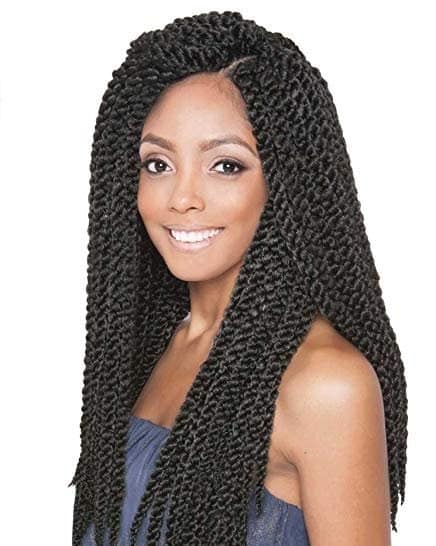 HIGHLIGHTS
These braids come pre-styled in cubic twists which are created by wrapping two different two-strand twists around each other.
It is unique way of braiding, and you get it ready.
Despite looking heavy on your head, this Kanekalon hair is light and wearable.
Cut the ends off and wear it in a twist out for an even bigger volume look.
You can order in different ombre shades, including ombre burgundy.
If you are in for a bold transformation, the 3D Afri Naptural Cubic Twists are the way to go.
There is plenty of hair to work with, as they measure 20 inches, giving you options for you to experiment.
And do not worry, they come pre-twisted, but the hair can be adjusted if necessary.