Let's imagine the following scenario. You wake up in the morning, let's say 7am, and your hair looks like a mess. And styling your hair seems more like a fantasy than reality. Well, it doesn't have to be that way.
With hair straightener, you can style your hair in mere minutes, and you can easily achieve that red carpet look you want.
Hair straighteners can be used for taming frizz, curling, shaping hairstyle, and much more. They are a top asset in your hair styling kit. And as such irreplaceable item, you should really invest in a good one.
So, what is the best hair straightener? And what makes one perfect for you?
Well, we will talk about how you can straighten your hair, are there any side effects, and how to choose the best one. With that in mind, we will give you 5 options to choose from, just because we really like hair straighteners.
Top 5 Best Hair Straighteners to Buy
1. LumaBella Keratin Duel Touch Hair Straightener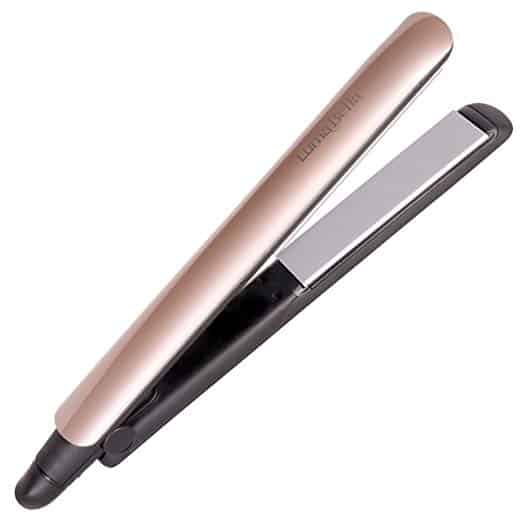 This is one of the rare hair straighteners that have keratin-infused ceramic plates. If you are looking to get healthy and shiny hair, like you just came out of the salon, this is the product to get. One of the unique features is the floating plate design, as well as smart heat sensor.
The biggest strength of the device is the keratin infused ceramic plates. Keratin has been one of the IT ingredients in hair care for the past 10 years. The ingredient has the ability to strengthen your hair, restore strands to original shine, and help you style your hair any way you like it.
When heated, the ceramic plates of the device activate keratin and leave your hair feeling soft and healthy. In the same time, using this device will provide a natural shine to your hair.
With a smart heat sensor, you will not experience overheating. This device makes sure that your hair is treated under the optimal temperature, and there is no damage afterward.
PROS
Unique keratin-infused technology

Smart heat sensor that reduces overheating

Floating plate design

50% less breakage
CONS
Not good for curling or adding waves

Overpriced, there are decent tools for half the price

The outside gets very hot
2. T3 Singlepass X 1.5" Wide Flat Iron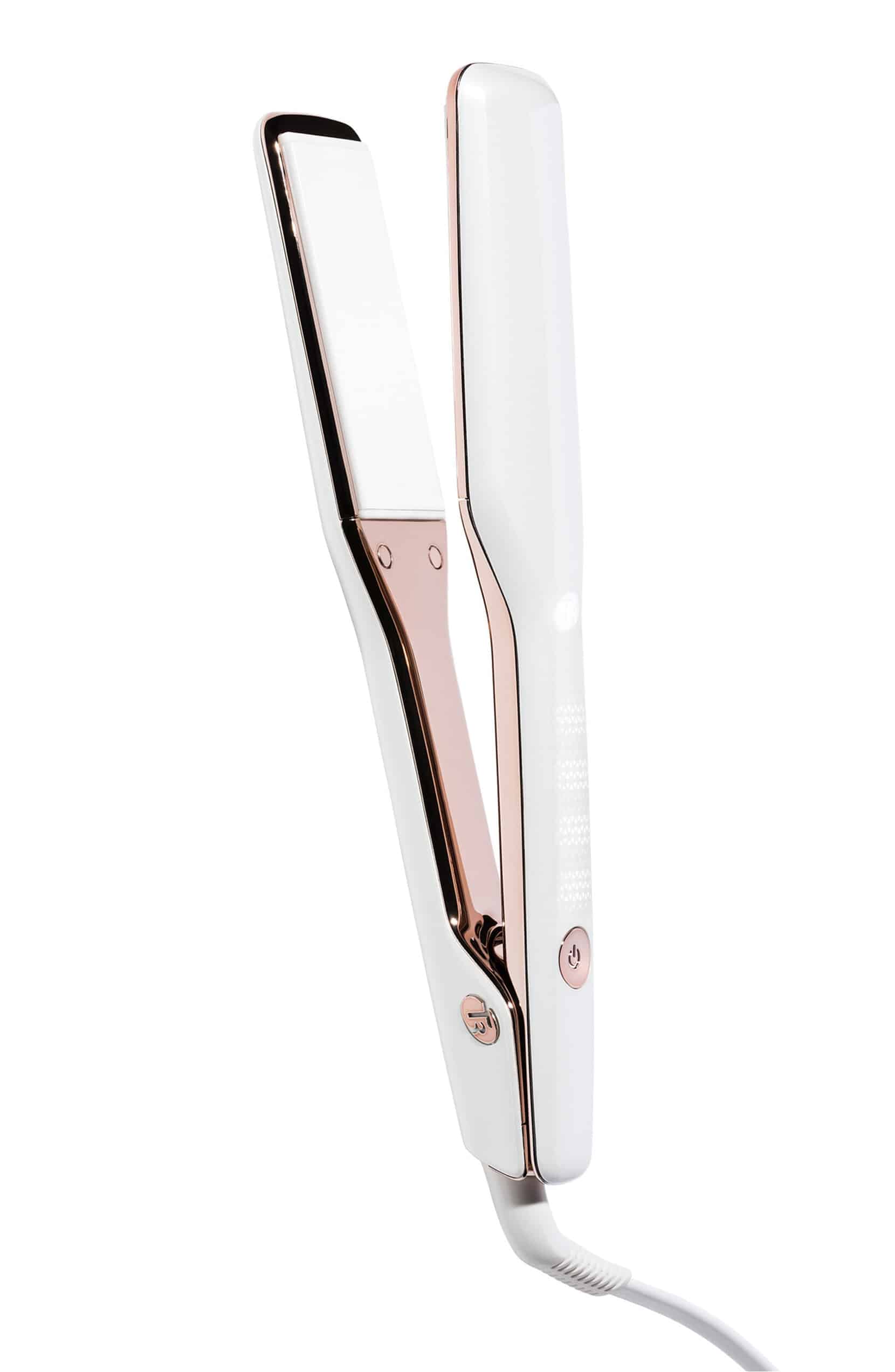 If you thought LumaBella's hair straightener is expensive, this one goes three times that price. Yet, the price is justified, since this is one of the best hair straighteners for thick hair. If you have thick hair, you need a specific product that can help you make quick work of long and coarse hair. Thanks to the tourmaline and ceramic plates, this device gets the job done.
Made to be tech-savvy, this flat iron has an adjustable temperature setting that can help you achieve any look you want. And the best part is the device is lightweight. Weighing only 400g (less than one pound), you can easily carry wherever you go.
Even when you have thick and coarse hair, this device can help you get your hair done in less than five minutes. And as an added bonus, it is great for making waves as well.
PROS
Great for thick hair

Can help you straighten your hair and make waves

Gets really hot fast

Can be used at higher voltages
CONS
Only on/off buttons, no temperature control

Very expensive

Can burn your hair because it gets very hot
3. Remington Anti Static Hair Straightener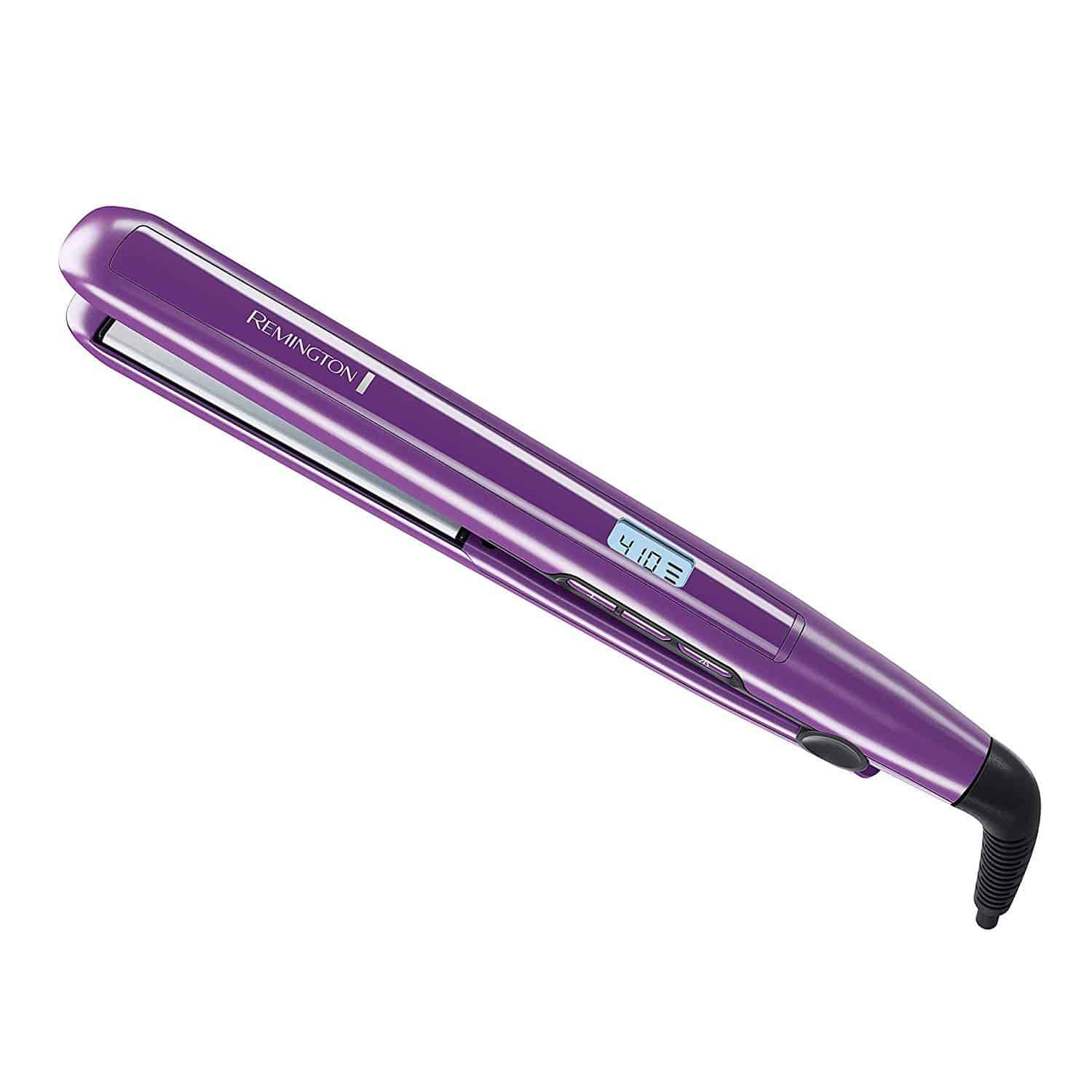 If you are looking for a budget-friendly hair straightener that will get the job done, look no further than the one by Remington.
Now, the downside is that is the device works only if you have relatively straight hair. For just a few touch-ups here and there, Remington will help you. And as an added bonus, it is lightweight, and you can carry with you anywhere you go. You can even use it for curling hair.
The anti-static technology makes sure there is 500% less static, and the titanium protection coating ensures fast heat up and styling. The device will shut off automatically in 60 minutes. You can increase the temperature by pressing and holding the plus button.
PROS
Best budget hair straightener

Works effectively and efficiently

Anti-static technology
CONS
Takes a long time to straighten your hair

The device covers only inch and a half area

Does not get hot enough for thick hair
4. Ion One Stroke Perpetual Heat Flat Iron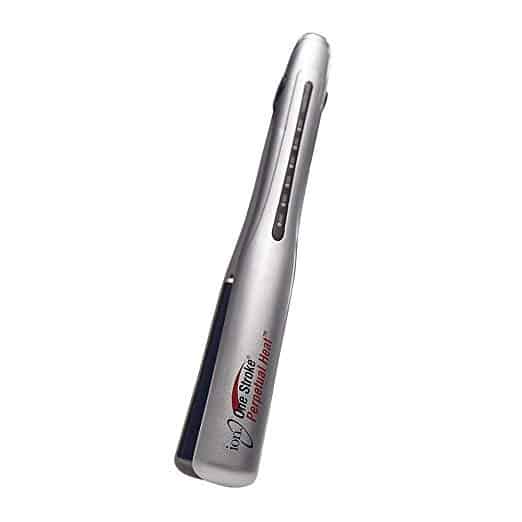 There have been a couple of new versions of this device. But it is still the same technology that was one of the winners at the 2014 Hair Awards. Marketed as best for use in humid environments, the flat iron can tame frizz in up to 80% relative humidity.
We know that humidity can be a huge problem for straight hair, and if you live in such an environment, it is worth giving a chance to this flat iron.
You should not expect any amazing results if you have relatively wavy hair. For women with fine and thin hair, this hair straightener will work like a charm. And there is no need to go over the same section two times. The straightener heats up fast, doesn't fry your hair, and leaves it smooth.
PROS
Heats up in just 30 seconds

Straightens in one slow and steady pass

Feels comfortable in the hand

There are control buttons on the inner part, preventing accidentally turning on/off
CONS
Can damage your hair as it heats up to high temperature

Overheats at times
5.CHI G2 Ceramic and Titanium Flat Iron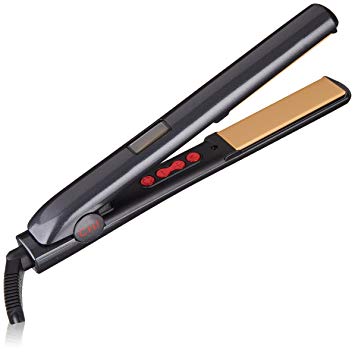 Arguably one of the best hair straightener devices on the market. Ask any hair stylist, and they will say buy a CHI hair product if you want to be satisfied. For years, CHI has been a powerhouse brand in the hair straightening industry. The latest product is the G2 Ceramic and Titanium flat iron, which is packed with ceramic and titanium technology.
Featuring ceramic plates infused with high-grade titanium, the device gets increased durability and longevity. And thanks to the titanium, the hair straightener reduces snagging for a faster styling experience.
The company is known for its digital temperature display, and the one on the latest model makes it easy to switch on your hair straightener each morning.
A unique feature of CHI is the color-coded temperature settings. With that in mind, the blue is between 0 and 370 degrees F, ideal for fine and thinning hair, green (between 375 and 395 F) is ideal for medium textured and wavy hair, and red (400 to 425F) is designed for coarse, resistant, and high curly hair.
PROS
Heats up to 425F, giving you an extra kick for wavy and coarse hair

Ceramic and titanium plate design

Heats in under a minute

Digital LED display
CONS
The plates are ceramic coated, not ceramic

Users report it stopped working after less than a year

Can make your hair frizzy
The science of hair straightening
How does hair straightening work? You might think it is simple, but there is a whole science behind it. For starters, when you apply heat to your hair, it breaks apart the hydrogen bonds in your hair. And no, that is not scary.
This happens every time we wet our hair as well. So, do not worry, you are not damaging your hair in any way. Now, we are not saying that heating is healthy.
These hydrogen bonds start to reform and they take on whatever shape your hair is in. So basically, heating breaks the bonds, and then allows you to style the hair as you like.
You can use any technique you want, whether it is curling, straightening, or anything else.
Side effects of hair straightening you should be aware of
We mentioned that heat is not completely healthy for your hair. And if you use hair straightening and apply heat on a daily basis, there is a risk for certain side effects. Just what are those?
Here is a quick breakdown of common side effects of hair straightening.
Dryness
Steam comes out of your hair when you are straightening. That is because hair straightener seeps away from the moisture out of your hair to secure the style you want in place.
One of the common side effects is dryness of your hair. When you wash your hair, it goes back to normal position, because moisture is restored. Using heating tools regularly over a long period can strip away oils and moisture of your hair.
Frizz
In most cases, hair straighteners work by reducing frizz on your hair. But in some cases, it can be counter-intuitive.
Dryness caused by frequent use of straightening can lead to more frizz.
Breakage
Another common side effect of dryness caused by heating tools is breakage of your hair.
Using hair straighteners over a long period of time can weaken the structure of your hair strands. And they become more susceptible to breaking from the middle.
Split ends
When your weakened hair starts breaking from the middle, split ends appear. Split ends are a clear indication of a fragile state of your hair.
Hair fall
Not only heat can damage your hair and make it weaker, but it can also cause damage to the hair follicles.
Chemicals used in hair straightening can do damage to your hair, to the point you start noticing hair falling and hair loss.
Itchy scalp
Because your hair follicles are now damaged, they produce less natural oils that keep your scalp moisturized. Without moisture, your scalp is itchy, and you can notice flaking.
How to avoid the side effects of hair straightening?
Who wouldn't love to avoid the harmful side effects of hair straightening? If done properly, and if you follow a couple of tips, you can actually use a hair straightener without damage to your hair.
Here are some tips:
Always apply a heat protectant to your hair before using a hair straightener
Limit straightening your hair to two times per week the most. Preferably, you can use a hair straightener once per week
Use a hair straightening iron on low or medium heat setting
Never use a hair straightener on wet hair, as that is the point when your hair is weakest and prone to breakage
Use a conditioner on your hair when you wash it to restore the moisture
Apply essential oils to add moisture to your hair
Use a deep conditioner once every two weeks to provide intense hydration
Apply a natural hair mask on your hair once in a week or once every two weeks to provide nourishment
Rinse your hair with apple cider vinegar diluted in water to restore its shine
How to pick a hair straightener for your hair type?
You will notice there are different types of hair straighteners on the market. So what is best for you?
There is no hair straightener that works for all hair types. Some flat irons have ceramic plates, others have titanium plates.
So which one works for you? Well, it is all about knowing your hair type.
For example, if you have naturally thin or fine hair, look for an iron with ceramic plats that hold heat without random hot spots. These hot spots can burn your hair, and you want to avoid them.
If you have thick and coarse hair, consider titanium plated hair iron. This metal heats up quickly and holds high heat at a constant temperature that will prevent cold spots.
In other words, you can use it to straighten your hair without having to hold for long period and go over a strand more than once.
Take shape of the hair straightener plates as well. If you want curls in your hair, you should avoid straighteners with the edge on the ends, as they can leave bumps in your hair.
How to use hair straightener properly
No matter if you get the best hair straightener, and you follow the tips for avoiding side effects, if you do not use it properly, you will not be satisfied with the result.
Here is a step by step guide how to properly use a hair straightener.
Wash your hair before using a hair straightener. Apply conditioner and then dry your hair completely using a hairdryer. If you hear a sizzling sound when using flat iron, it means your hair is not completely dry, and you should dry it
Apply a heat protectant serum in your hair before starting the hot flat iron. This step adds moisture to your hair and creates a barrier around the natural keratin in your hair. Rub a drop or two of the product in your hands and then thoroughly massage over your hair
Heat up the hair straightener to the temperature that works best for your hair. Start separating your hair into sections as the iron is heating up
The sections should be an inch in size. Pin them up with hair clips, and go one section at a time
Place the hair straightener as close to the root of your hair as you can, but do not put it up right against your scalp, as you can burn yourself
Clamp down the plates and gently glide it down the strand of hair. Make sure you are not going too slow or too fast. You should feel the heat penetrating your hair
Continue until you finish that section, gently pin it back up on your head, and grab another one. Continue until you hair is completely finished. Once you are done, look if you find any areas that might need another pass. Spray it with hairspray at the end to ensure it stays smooth