Are you tired of the constant battle with body hair? Are you tired of using and buying razors, going frequently to the threading lady and utilizing almost every other mean of hair removal?
Well, you haven't tried or used all of them until you try laser hair removal. There are two ways you can opt for a laser hair removal.
The first one is going to a cosmetic salon and pay for a laser hair removal. Or, you can get a best laser hair removal device, and remove hair at the convenience of your home.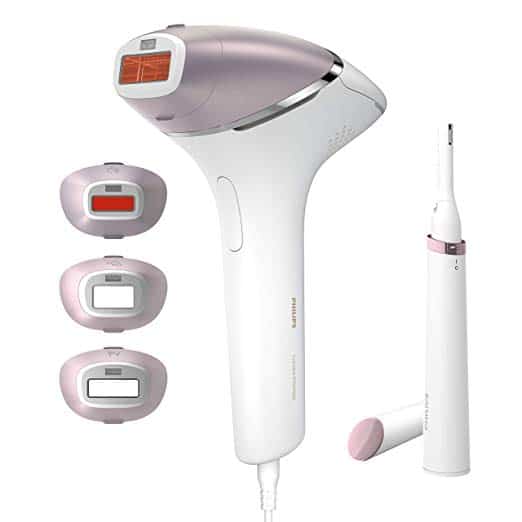 This is one of the most expensive at-home devices on the market. And it is not only effective, it is also visually beautifully designed. With a specially curved design, this laser removal device can get to hard-to-reach areas. And with attachments that different in shape, filter, and window size, the laser can offer special treatment of your body.
You can use it as a 3 or 4 weekly treatment, and it will leave your skin soft, smooth, and hair-free. The product works by harnessing IPL to kill the pesky hairs at the root.
This laser comes with 5 different settings, with 1 being mild, and 5 the most intense. There are also four separate attachments for treating certain areas.
The best part is that the laser offers pain-free treatment. And it can adapt to the color of your skin and deliver the perfect intensity.
PROS
CONS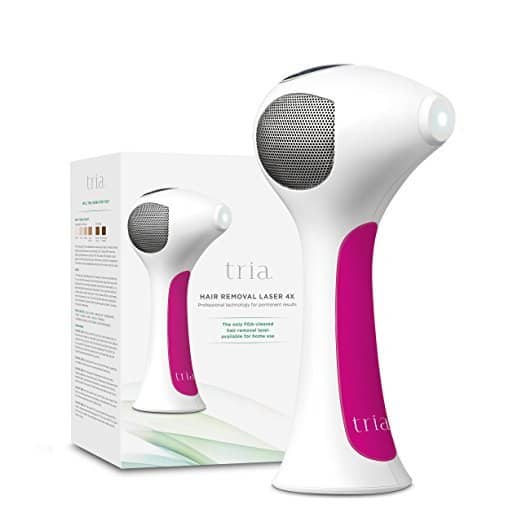 Tria's laser hair removal device is the first device approved by the FDA as safe and effective for home use. Another benefit is that this laser uses the same technology, which is laser diode that professionals use in salons where they will charge you much more for a single treatment.
What you get with Tria is tradition and history. Tria is one of the global leaders in beauty and skincare. One major difference between this laser and other is 4X feature. That means it can work on dark-toned skin, and the sensor makes it appropriate for your skin tone.
Another big difference is that there is no cartridge to replace. In other words, the laser requires virtually no maintenance. The downside of that is once you use the laser flashes stored in the machine, this laser is just a useless device dusting in your home. The 90,000 flashes capacity should last you a few years, but it is different depending on the frequency and size of usage.
PROS
CONS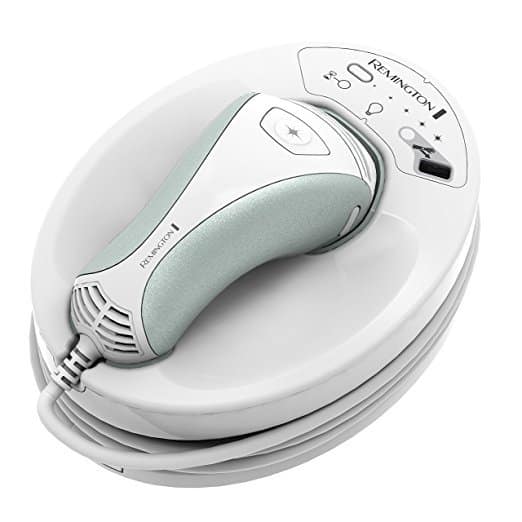 Remington is a well-known company in the hair removing industry. They make some of the best razors for both men and women. And their laser hair removal system is another FDA-cleared system. Similar as Tria, it uses the same technology professionals have in beauty salons.
The laser hair removal device utilizes a quartz lamp that is safe to use on the female face and body. Remington claims the laser can remove up to 94% of your hair in just 3 treatments. Now that would be far-fetched, but there is no denying this laser is effective.
In the kit, you get 2 different treatment caps. One is for the body, and the other is for the face. The key feature makes sure your device is kept hygienic when used on different areas. And this laser is ultra-fast. Mere minutes are more than enough to remove hair from the bikini line and underarm region.
Last, but not least, you get an app for your mobile device, be it iOS or Android, to maximize the treatment and keep track of results.
The cartridge is capable of 65,000 flashes, and once you use 95% of the capacity, a warning light will remind you to replace it.
PROS
CONS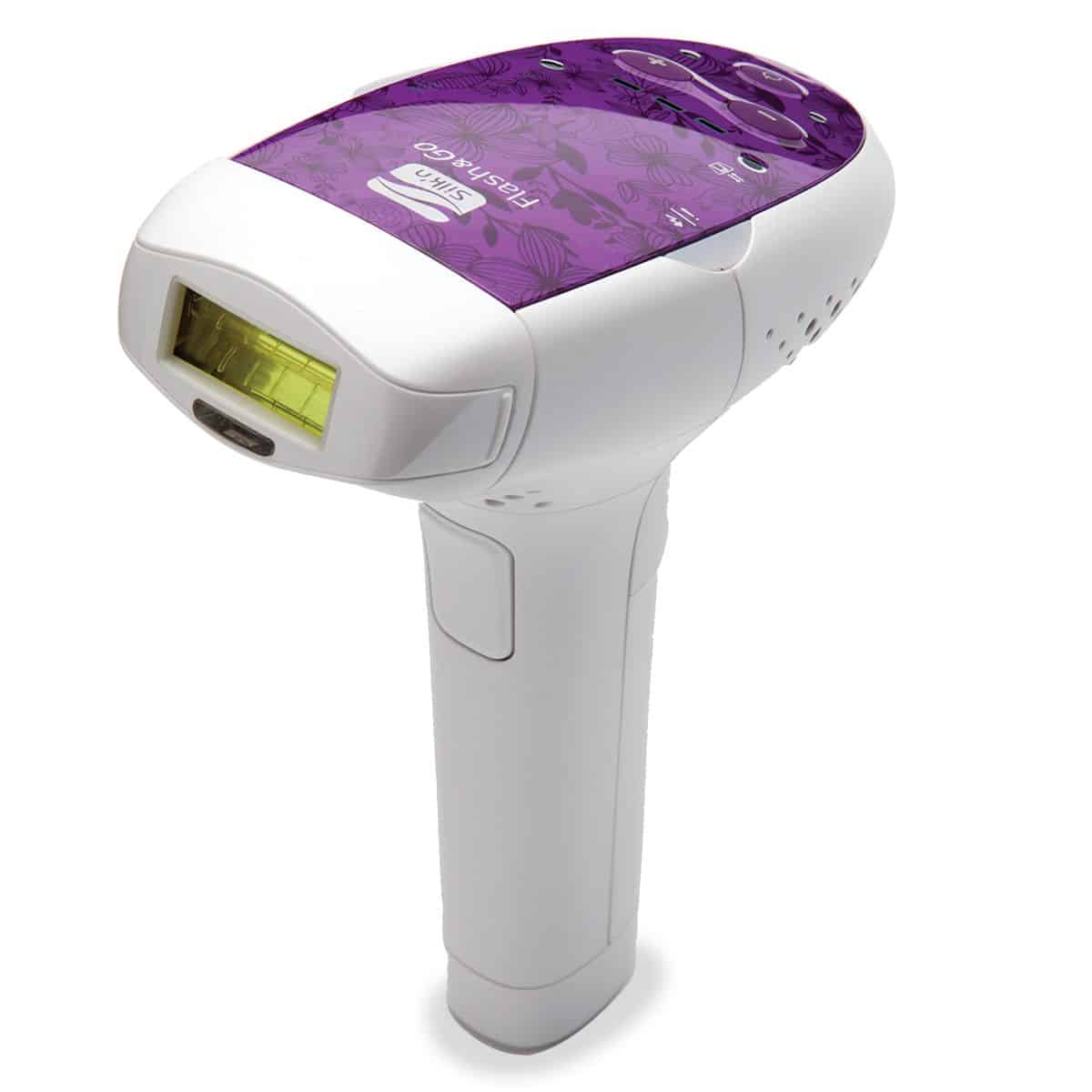 Designed by physicians for professionals, this IPL system is the least expensive of the laser hair removal devices you can get. Shaped like a police radar gun, it has been one of the best medium-range hair removal devices for several years.
The new tech design allows individuals to target and zone into any area that requires hair removing. The innovative light-based device can be used on the entire body, including your face.
The HPL technology emits gently light pulses that target the hair follicles at the root to prevent future hair growth.
Silk is internationally acclaimed for providing and manufacturing aesthetic devices for home use. So, be sure to try it.
PROS
CONS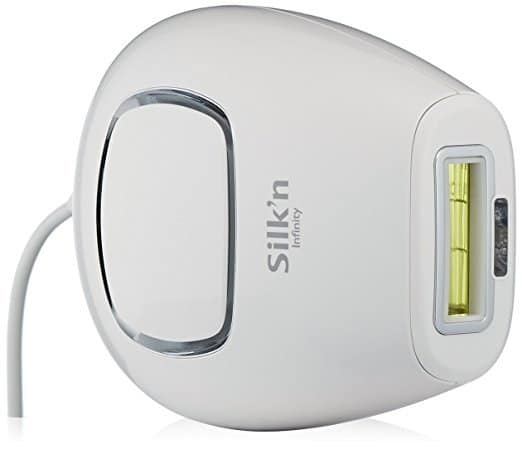 We mentioned Silk has a long history in manufacturing hair removal devices. The Infinity is a more advanced model that combines HPL and galvanic energy for a deeper-reaching light and faster treatment. It is one of the fastest hair removal devices in Silk's line, and it promises to deliver 92% of reduction in hair growth. You can get a full-body treatment in less than 20 minutes, and that is something not many laser hair removal devices can deliver.
It is very simple to use this laser, just set it to the lowest energy setting at the beginning, and then move from there. Of course, you should always stick to the energy level that the manufacturer recommends for your skin type.
PROS
CONS
Let's take a look at the most common questions people have regarding laser hair removal.
It is only logical that one of the more common questions regarding laser hair removal is about pain. Not all of us have same pain tolerance level. Just to make matters clear, in most cases, this type of hair removal does not hurt.
It can be more comfortable in certain areas where your skin is sensitive, for example, the bikini line. But the feeling diminishes as you move towards areas where your skin is not as sensitive. Think about pain between plastic band pinging against your skin and mild electric shock.
After each session, it is normal to expect redness and irritation on the skin. The same happens after waxing as well. It is worth noting, there will be no rash-like symptoms and burning.
This should not happen if you get the intensity and settings of the best laser hair removal right for your skin type and skin hair.
You can always apply aloe vera or some other natural soothing ingredient to the affected area. Few days after, and there will be no redness or irritation. In that regard, it is very similar to waxing.
As mentioned previously, there are two ways you can get your hair removed by a laser.
Treatment at a cosmetic studio can cost between $50 and $300.In the same time, a good quality laser hair removal machine for home costs between $300 and $500. Laser hair removal at home can be very effective as long as you spend the money to get a high quality device.
So, it comes to how much are you willing and ready to pay.
Is my skin suitable for skin removal?
Truth be told, every skin type is suitable for laser hair removal.However, there are skin types that are better suited for the treatment.
With that in mind, people with thick, coarse, and dark hair are the best candidates for the treatment.If you have dark hair and you are annoyed with your hair, opting for a laser hair treatment is a good option.
You have to remember that thicker hair will take longer for the treatment to work.
When it comes to laser hair removing, the procedure is very similar to waxing. That means that the skincare treatment is incompatible with certain medications.
For example, you cannot use any medications that are photosensitive. You have to stop using these medications at least a week before the treatment.
In the same time, you should not use skin care products with strong actives, think retinoids and alfa hydroxyl acids.
As with any treatment, people are mostly interested in the results. When will you see initial results? It is worth noting to remember that everybody is different.
Depending on the individual, you might need 4 to 8 sessions. Laser hair removal works best when the hair is in its active growth rate.
Different parts of the body have different growth rates. That means that the laser hair removal treatment will take longer on some areas, and shorter on other areas of your body.
Another common question of patients is whether they need to attend every session. And there lies one of the biggest mistakes.
If you do not complete the necessary amount of sessions, or if you skip sessions in between, the treatment will not be successful. Listen to your practitioner, and the treatment will be successful.
Do not make the mistake of skipping sessions once the hair growth slows down. Those are just initial results.
Generally speaking, laser hair removal works best on four areas. Those are bikini area, chin, lip, and underarm area.
That doesn't mean that on other parts of the body, the treatment will not work. But it won't be as effective.
Unlike waxing, the period does not interfere with your laser hair treatment. Even if you are menstruating, you just have to use a tampon on the day of the treatment.
Generally speaking, laser hair removal is considered a safe treatment. However, there is always the risk of burning.
The FDA, on the other hand, warns that there might be blistering, redness, discoloration, and scarring as side effects. And of course, there is always the possibility of the hair growing back.
Here are some general rules you can follow to make sure your treatment is successful.
If you decide to get the best laser hair removal device for home treatment, you can choose between 3 types. Those are: