Do you have weak, brittle, and fragile nails? If that is the case, you've probably heard this one before.
You need a good, if not the best nail hardener you can find to solve your problem. You have thought about it, but it is definitely time to invest in a hardener that can help your nails look as strong as ever.
Nail hardeners, or nail strengtheners, are specially formulated from nutrients that form a protective coating on your nail, which helps weak nails grow. In the same time, the hardener will protect brittle nails from flaking. And most importantly, it will finally give you that sexy nails appearance you always wanted.
After a careful consideration and looking up several products, we've found the best nail strengthener for you. It is up to you to choose which one you like.
When you shouldn't use a nail hardener
While we recommended using nail hardeners for strengthening your nails and helping them grow, we do not recommend using them if you have too dry nails. In some cases, dryness is the main reason for brittle and weak nails.
Before you start using the nail hardener, we recommend adding some moisture. This will provide some hydration for your nails, and after a while, you can start using the nail hardener.
If you use the hardener on dry nails, you will end up with even worse splitting and fissures on the end of your nails.
With that in mind, let's take a look at the ten best options on the market.
10 Best Nail Hardeners ( 2018 Review )
1. Essie Treat Love and Color Strengthener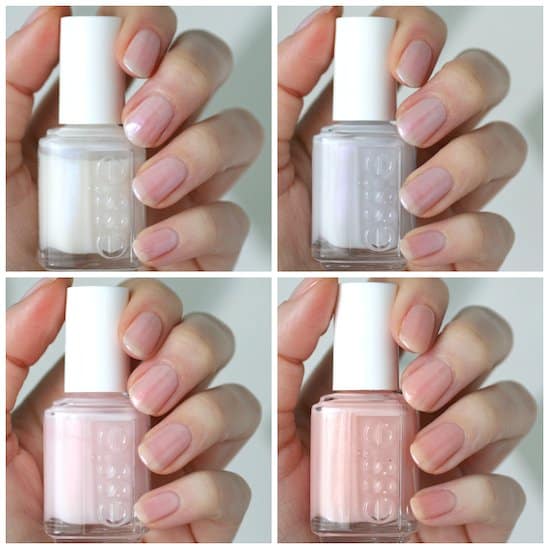 Made from collagen extract, brightening pigments, and camellia leaf extract, the product is marketed as the best from protecting nails from peeling and breaking.
What is more important, you can use this product even on dry nails, as it restores moisture.
In addition, it will visually brighten your nails since it has brightening pigments. This will all result in enhanced appearance of your nails.
Pros:
Available in more than 20 colors
You will see results within a week
Free of harmful substances like formaldehyde
Cons:
It takes a while for the nail hardener to dry
Some colors are faint
Some reviews complain that the polish streaks
2. OPI Nail Envy Nail Strengthener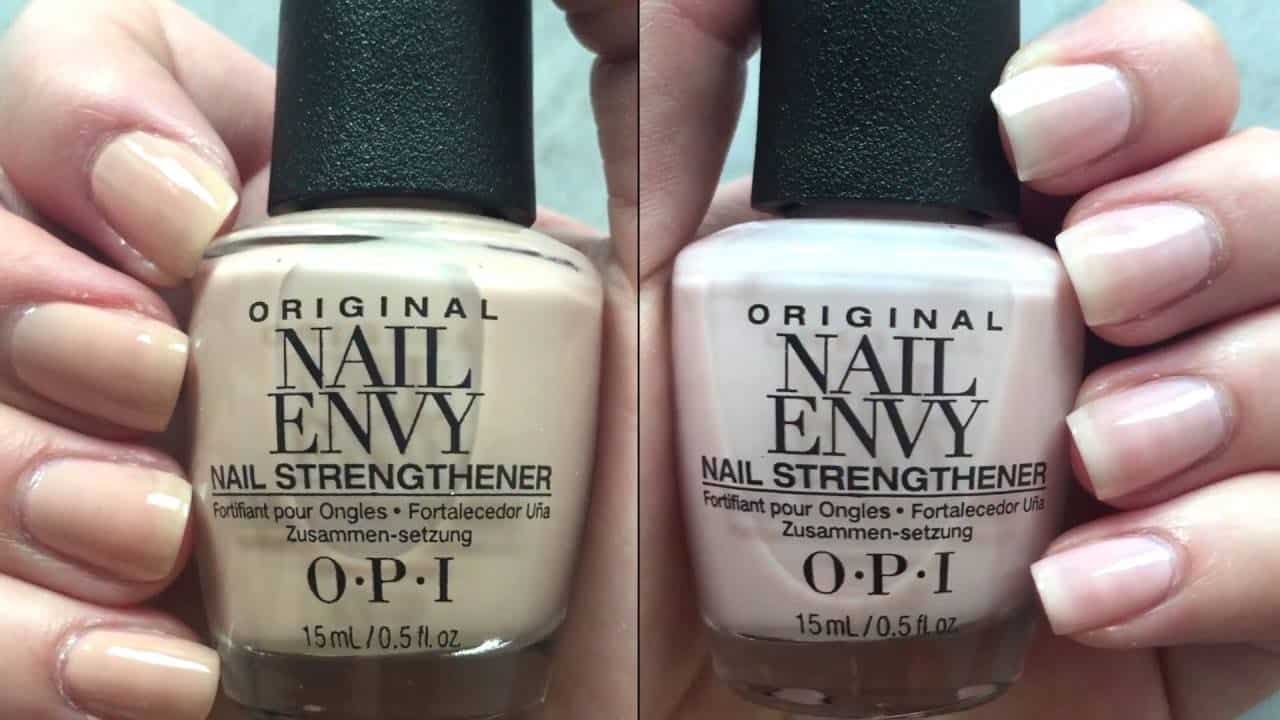 While it is one of the more expensive nail hardeners on the market, OPI is definitely worth the price. You can get it in 10 different shades that will help you skip the regular nail polishes.
The formula is available in both glossy and matte finish. As for ingredients, it is made of hydrolyzed wheat protein and calcium, which we all know help for stronger nails.
This product is specifically made for brittle nails, meaning it is perfect for those of you that have a bad habit of biting your nails.
Pros:
One of the best base coats used by salons over the world
The natural yet classy finish make it perfect
Dries quickly, which is perfect for those on-the-go situations
Works with most nail polishes
Cons:
OPI changed the formula a few years ago, and people have noticed it is not the same quality
Some complain it peels off almost immediately
It turns thick and gooey
3. Barielle Nail Strengthener Cream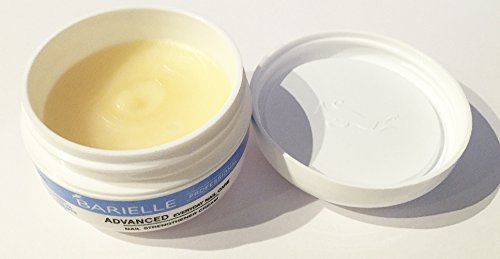 The product is specifically designed for badly damaged nails. The cream's formula contains aqua, hydrolyzed soy protein, beeswax, lanolin wax, and paraffinum liquidim.
All in all, you get all the crucial ingredients that will provide your nails with the nourishment they need to be long and healthy.
In addition, the cream protects your nails from peeling and breaking.
Pros:
One of the easiest nail hardener to apply you can find on the market
The cream is free of formaldehyde
You will notice results within just one month of usage
Cons:
You need to apply it several times per day
Some will find it works more as a moisturizer, not a nail hardener
Some Amazon reviews claim they've received a product with a different consistency
4. Quimica Alemana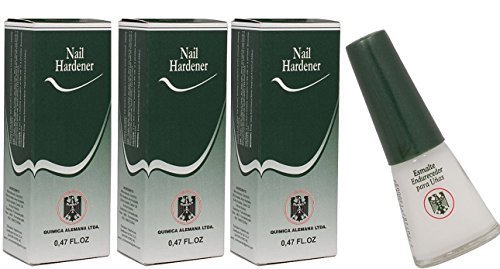 The original formula of Quimica is one of the most preferred nail strengthening products. It forms a protective barrier on the nails.
The application process is a bit bothering, as you need to apply one coat at a time. But it gives your nails a natural healthy look within just a few weeks.
If you have a habit of applying acrylic nails, the product will help you get back to your original and natural nails quickly.
Pros:
The product has been around and has a long history and tradition
Repairs damaged nails
Perfect for those with acrylic nails
Delivers smooth and strong finish
Makes your nails as strong as ever
Cons:
Burns if you get it on cuts
It is not recommended for those with sensitive skin
Some users have experienced burning sensation and pain after application
5. Nail Tek Nail Strengthener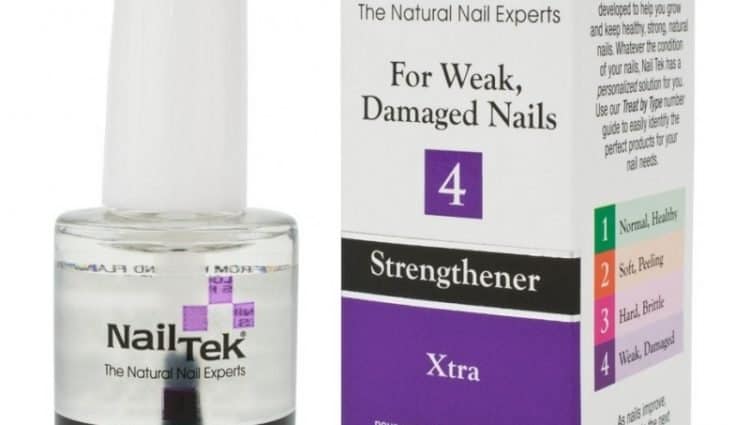 If you have severe nail weakness, this nail hardener will get the job done. Made from ethyl acetate, formaldehyde resin, hydrolyzed wheat protein, and calcium pantothenate, the concentrated formula treats weak and damaged nails.
If your nails are resistant to conventional treatments, it is time to try the next-level formula.
Pros:
The results are visible within a short period
Great for fixing damage resulting from nail polish and acrylic nails
Shields your nail from chipping, peeling, and cracking
Cons:
Some might not stand the strong and unpleasant smell
It contains formaldehyde, which is a no-no for some people
If your nails are generally healthy, you won't see much of a difference
6. Nailtiques Nail protein formula 2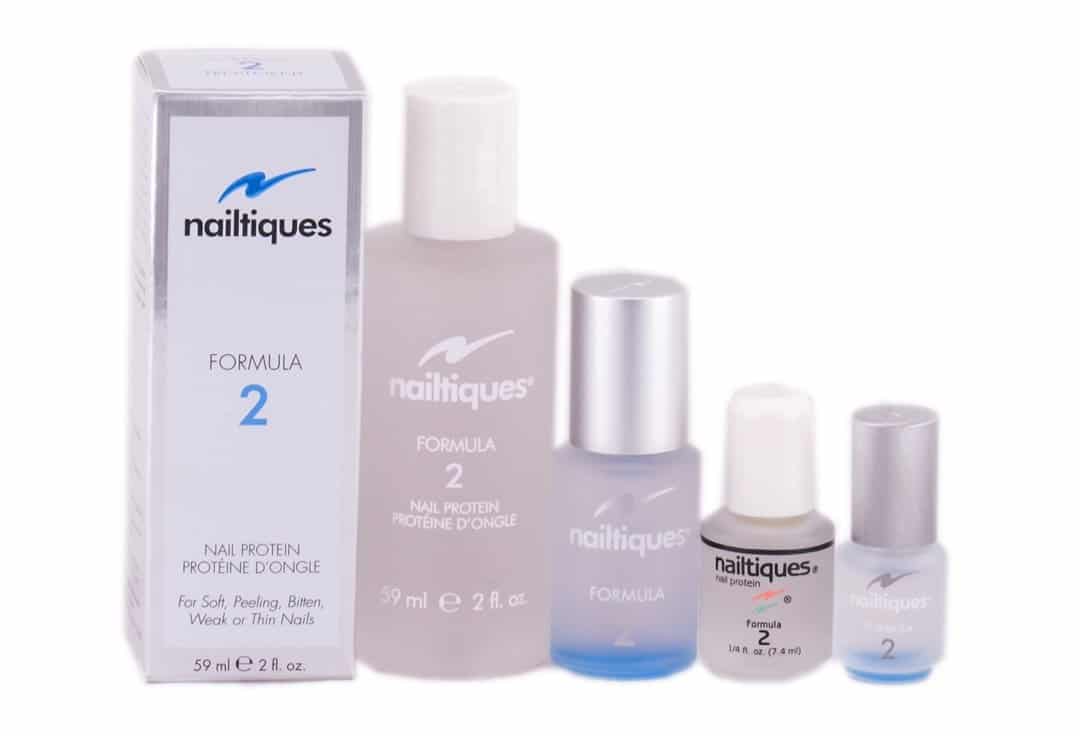 With hydrolyzed keratin and protein, the strengthener will help your brittle and weak nails. It also contains calcium, which we all know is a mineral responsible for strengthening nails and bones.
You need to apply it every day until you see results. After you get initial results, you can apply it every other day.
The brand is well-known when it comes to nail products, so you can be sure you are buying from a company with long tradition and history.
Pros:
Faster than any other base coat
Some love that it is packed in a small bottle
Cons:
Customers report their nails start peeling off
Over time, it can make your nail even more brittle
The brush is too small, and you might have trouble grasping things with your hands
7. Sally Hansen Diamond Strength Instant Nail Hardener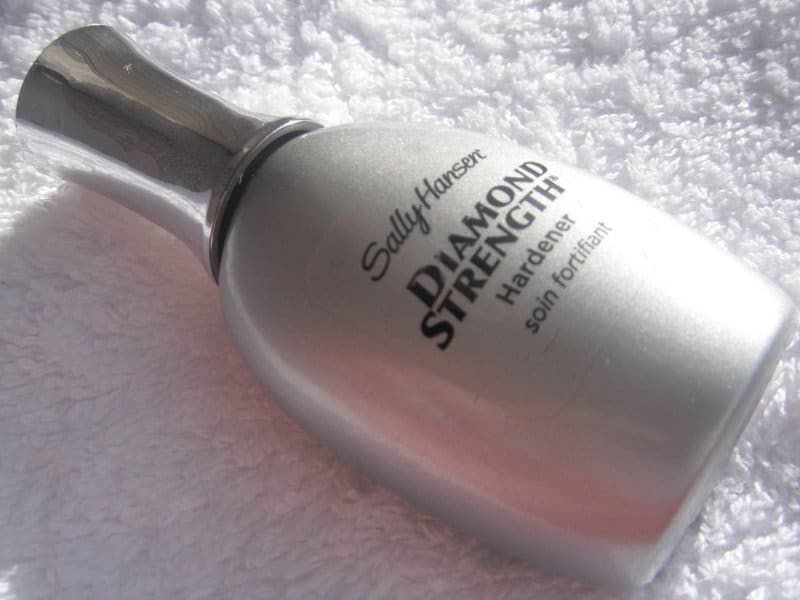 The product is great for fragile nails. Prepared from diamond powder, nitrocellulose, ethyl acetate, and titanium, the formula ensures protective coating.
The ingredients work synergistically to prevent cracking and peeling of your nails.
Pros:
There are no toxic chemicals, including no formaldehyde
You can apply it on your nails instantly
The lustrous shine will boost the appearance of your nails
Cons:
Peels off quickly when nails come in contact with warm water
The price is rather high compared with other products
You have to reapply it frequently, otherwise, it does not work
8. Gelish Vitagel Recovery LED/UV Cured Nail Strengthener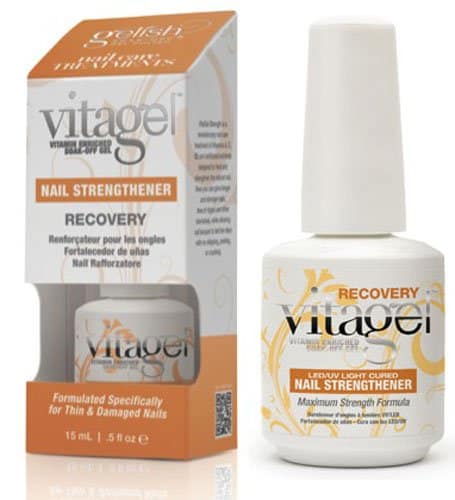 This is one of the rare options that is cured by LED/UV light. The maximum strength formula of the product will protect your nails up to three weeks with just one application. And you can easily remove it by soaking your nails in acetone polish remover.
The formula delivers salon like finish with just one coat.
Pros:
Long lasting, the formula stays up to three weeks on your nails
You can use it under gel color as a base/foundation layer. For this, you have to apply it in super-thin layers to prepped and clean nails
Your nails will grow faster
Cons:
Some have troubles getting it off their nails
Tends to peel up faster than regular base coat
The product is thick and hard to apply smoothly
9. Onyx Professional Hard as Hoof Nail Strengthening Cream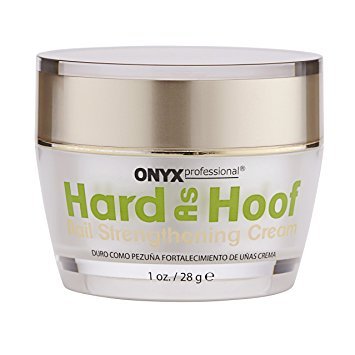 If you need a product for your soft nails, look no further. Onyx Professional's nail strengthening cream is made of coconut oil, jojoba oil, silk protein, glycerin, and other ingredients that naturally improve the strength and appearance of your nails.
Recommended for soft and fragile nails, the formula will boost conditions cuticles and growth.
In addition, the cream will form a shield protecting your nails from crackling and chipping.
Pros:
You can use it as a hand cream, not just as a nail strengthener
Delivers pleasant scent
Conditions dry nails
Cons:
You need to apply it at least three times per day
Some find the coconut scent unpleasant
Results take longer to appear
10. Nutra Nail 5 to 7 Day Growth Calcium Formula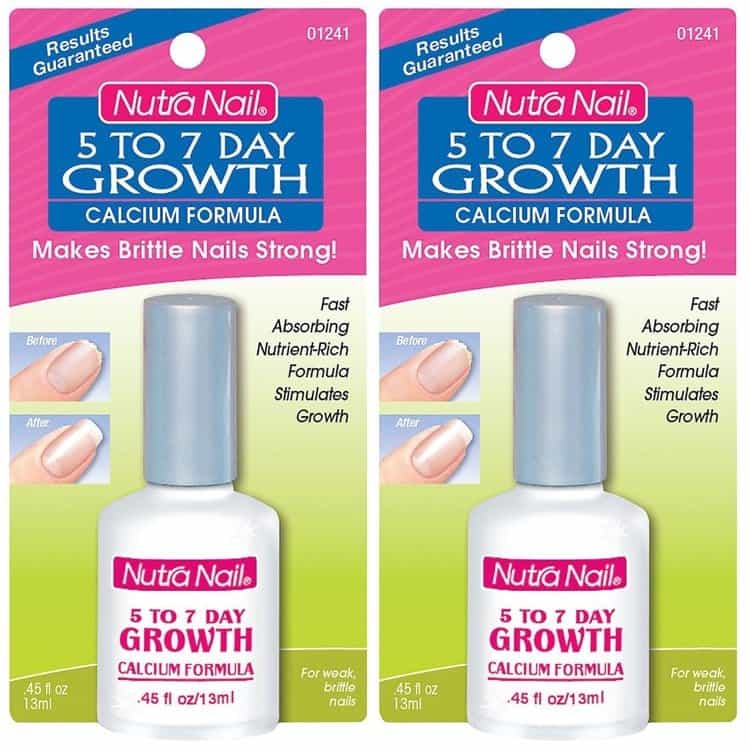 Prepared from calcium chloride, aloe vera leaf juice, keratin amino acids, and lanolin. The ingredients work together to help your nails grow strong, within just one week.
The calcium formula will protect your nails from breaking and peeling.
Pros:
If your nails need conditioning, this is among the best formulas on the market
The formula dries within just five seconds
Your nails will absorb the nutrients that provide fast results
Cons:
If not used continuously, the results will disappear
The growing process takes longer than advertised
Rarely, anyone notices changes during the advertised period of one week