There are times when we try to embrace our skin's natural texture.
But there are also times when we just want a clean and clear face.
Some of us have a part-bumpy and part-smooth texture.
And there is always one aspect that we try to hide.
That is giant pores.
Unlike zits that normally creep up and disappear, pores stick with you forever.
With that in mind, today we will discuss the best pore minimizer for concealing and removing pores.
Here is one thing you have to know.
Pores are a structural part of your skin, and cannot be removed under any circumstances.
What you can do, however, is minimize their appearance.
Pores can get wider and deeper if they are clogged.
And while base pore size is genetically determined, you can minimize their appearance with the best pore minimizer.
Top 5 Pore Minimizers
As mentioned previously, large pores are in some cases result of genetics. And let's be honest, you cannot avoid genetics.
Also, you cannot change the size of your large pores physically.
What you can do is minimize the appearance of enlarged pores. And for that, you need a good pore minimizer.
Here are five that work.
1. Dr. Brandt Skincare Pores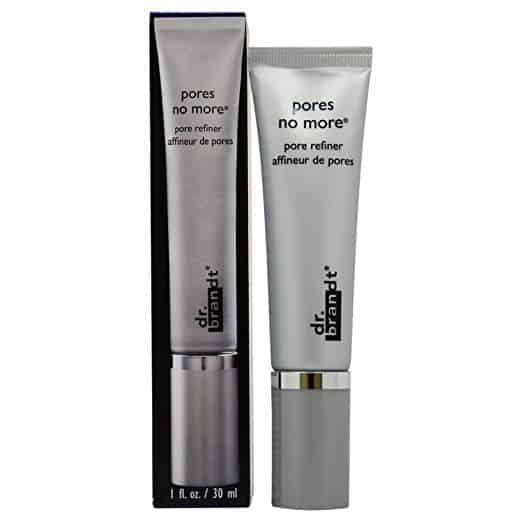 This is one of the best budget buys you can get. The quick fix for flawless and photo-ready skin is an effective primer that will instantly minimize the look of your pores. Just be warned, this primer will not reduce the size of your pores. It will just make them look more photo-ready.
The formula is made to absorb excess oil, minimize pores, and blur fine lines. A great feature is the formula is sweat and humidity resistant. That means that even if you are in a hot climate where you sweat, your face will still be ready for a photograph.
This pore minimizer will also erase shine and make your skin look matte. Best use is in the morning after using a cleanser. You can use on top of your moisturizer and foundation. If necessary, re-apply throughout the day.
Pros
Shrinks pores and helps absorb oil

Help regulate oil production

Matte finish

Suitable for skin at any age

Little product is enough
Cons
The color is too dark to wear over makeup

Looks just like makeup foundation

Feels gritty and sandy

Not recommended for dry and flaky skin

Wears off after a few hours
2. Christian Dior Pore Minimizer
The company markets this primer as "inspired by backstage makeup techniques". Basically, a must have for anyone who wants to be a makeup artist. And even if you are not a model or a makeup artist, you will love this primer.
Recommended for casual wear, but you can wear it anytime you need. Your skin will look like it is ready for a photo shoot, and that is something every woman wants. Fishing for compliments? Use this primer, and see how your skin looks flawless.
If you somehow manage to find this item discounted, be sure to get more than a tube. You will love it, and it will last for a long while. And being a bit pricey, it is nice to get it at a discounted value anytime you can.
Pros
Looks flawless in combination with foundation

Gives you an airbrushed finish

Keeps your makeup strong even in a hot and humid climate
Cons
Some women report pores are more pronounced

Can affect your foundation

It is expensive

Can dry out your face
3. Perricone MD Intensive Pore Minimizer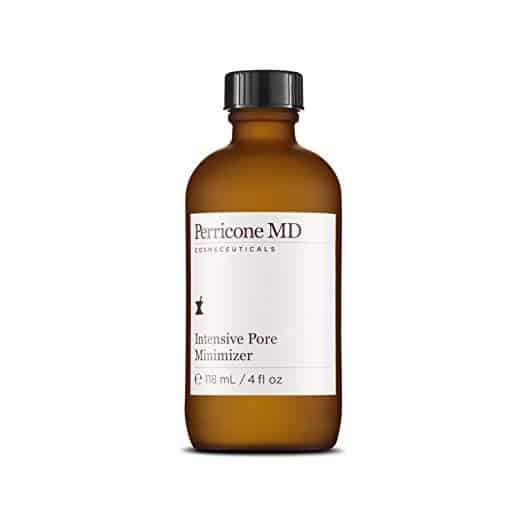 Perricone praises itself as a company that will deliver products that become part of your life. This pore minimizer certainly fits the bill. The best part is that it is herbal, natural, and made without any sulfates, parabens, or other synthetic fragrances or chemicals.
Active ingredient is the potent DMAE, which is responsible for improving the elasticity of your skin. Some other ingredients include alpha lipoic acid responsible for exfoliation, and salicylic acid that will cleanse your pores.
You can use this minimizer to cleanse your face instead of micellar water and astringent. Recommended for those with oily skin. It can make pimples go away more quickly and keep pores at optimum size.
Pros
The spray bottle that is easy to dispense

Lasts a couple of months

Delivers promising results
Cons
The smell turns some people off

Results vary depending on your skin type
4. Philosophy Help Me Advanced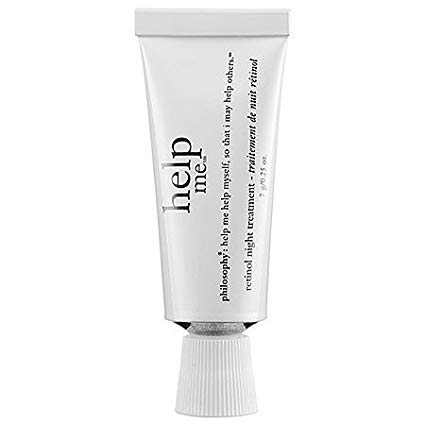 This award-winning night retinol cream is great if you are starting on retinol treatments. Can help you minimize the look of large pores, fine lines, and any skin discoloration. In the same time, it will unclog your pores.
This cream works in a patented-time release delivery system. What does that mean? Well, the retinol is released into your skin gradually, which results in less irritation. In other words, this is a retinol treatment that is actually gentle on your skin. The ultra-protective metal-tube packaging ensures the tube has a long shelf-life.
In addition to being gentle on your skin, it is fairly cheap for a retinol product. The recommended usage is once per week. However, if your skin needs some extra care, you can go for once every day. Just be warned, if you use it every day, it will last no more than 4 weeks.
Pros
Does not irritate your skin and clears up blemishes

Pores are smaller and your skin is smoother

Great for lightening age spots
Cons
Lasts only one month if used daily

Can make your face itchy

Not much difference in wrinkle therapy
5. Clinique Pore Refining Serum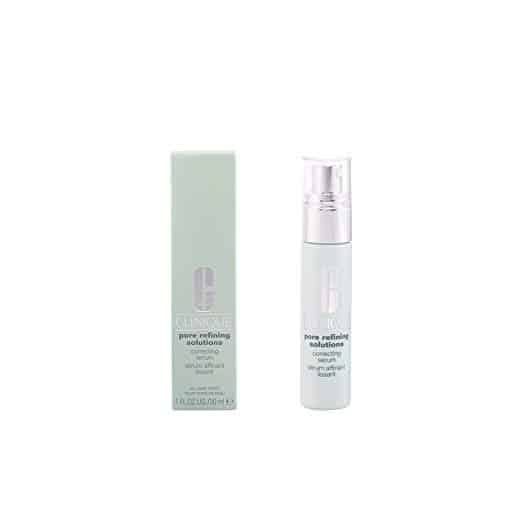 When you are purchasing a product from Clinique, you know you are getting a potent product. And they deliver value for your money.
This serum can visible make your skin look younger, and clear any impurities from its surface.
The concentrated serum refines pores and helps create a smoother look. Formulated with Pore Resurfacing Complex, this serum can quickly and gently clear out debris and rough flakes.
Use it regularly and your skin will get support for a younger look. Free of parabens, the product can be used on all skin types.
Pros
Delivers younger and smoother look for your skin

Oil-free

Paraben-free
Cons
The product is not cheap

Some women have reported no improvements in pore size

Feels very oily
Why pores appear?
As mentioned, pores are a structural part of your skin.
But why do large pores appear? And what are they?
In its essence, pores are hair follicle openings and serve as the escape route for perspiration and other body toxins.
Large pores are more visible, and they tend to appear on the oily and aging skin.
Pores can get easily clogged with debris and oils like sebum.
In most cases, genetics determine who will have large pores.
But there are other environmental causes for large pores.
For example, oily skin is one of the main causes of large pores.
Excess oils sit around the skin's pores and make them appear larger and enlarged.
Unclean skin can also make your pores appear larger.
The logic is the skin around the pores thickens, and when the skin thickens, cells build up around pore openings.
The irony is that makeup can also cause pores to appear larger.
That happens when makeup is not properly washed off.
Makeup, and debris from it, can settle in and around pores, and highlight them instead of hiding them.
Even worse, cosmetics are a magnet for dirt and oils, causing your large pores to shine.
Literally!
The result of larger pores is blackheads, due to the dirt settling into your large pores and giving them large color.
How do pore minimizers work?
We said makeup can make your pores look larger.
But pore minimizers are an essential part of the makeup routine that will help you minimize the pores, making them look smaller, and in time, make them look almost unnoticeable.
Before we get to how pore minimizers work, we have to explain the concept of pores.
They are responsible for secreting oil and sebum that keeps your skin hydrated and soft.
However, as we all know, excess oil and sebum can lead to dust, and clogging of the pores.
This is where the problem happens.
Some of us have larger pores due to genetics, but for the rest of us, age and damage of the skin can cause larger pores.
Pore minimizers do not physically reduce the size of the pores.
That is one of the big misconceptions.
What they do is make them appear smaller than they are. After all, that is what most of us need.
How they make this happen?
Well, it is all thanks to the "magic" ingredients in pore minimizers.
What ingredients to look for?
There are a couple of ingredients that promise a pore minimizer works.
The first two ingredients you need to look for are acids.
Now, the idea of putting acid on your face seems strange, and frankly, terrifying.
But this is not the acid that will burn your face and skin.
Instead, you need to look for Alpha Hydroxy Acids (AHAs) and Beta Hydroxy Acids (BHAs).
These two are the best ingredient when it comes to penetrating deeply and cleaning your pores from the inside.
Thanks to that ability, these acids keep the pores from stretching.
How do they work?
These two acids dissolve the connections between your cells and the surface of your skin.
Essentially, this will unclog your pores.
Both acids exfoliate on a cellular level, but in a different manner.
AHAs work on the surface layer of your skin and brighten and smoothen this layer.
Because of that, AHAs are more suitable for dry and sensitive prone skin.
BHAs penetrate deeper to remove dead skin cells which are clogging the pores.
That makes beta hydroxyl acids great for oily and acne prone skin.
If you are not sure which one to look for, talk to a dermatologist to determine your skin type.
Or you can always do a patch test.
Another ingredient that is a must in good pore minimizers is retinol.
This ingredient helps prevent and reverse aging of the skin, but also unclog pores and make them look smaller.
Retinol helps shrink the oil gland, physically making the pore smaller.
Sunscreen and pores
According to statistics, one in five Americans will suffer from skin cancer.
That is enough to make you put sunscreen on your face. But another beneficial effect of sunscreen is that can minimize pores.
Sun is your biggest enemy when it comes to large pores. Sun breaks down the collagen of your skin.
This protein is responsible for protecting your face skin's elasticity and firmness. When your face skin stretches, the pores look larger.
Because of that, when it comes to minimizing pores, in addition to using pore minimizer, use sunscreen as well.
Tips for reducing pores
Applying sunscreen is just one of the many advices we can give you to minimize the appearance of pores on your face.
A lot of people think pores are tiny and shouldn't not be that visible, right?
Wrong!
Many of us have noticeable pores, and we are certainly not happy about it.
Because you cannot physically reduce their size, following these tips and using the proper pore minimizer will help you.
Keep your face clean, dirt clogs your pores, and they expand and appear larger. Wash your face with gentle cleanser before bedtime
Be gentle with your skin. Avoid aggressive cleaning and aggressive exfoliation. Skin picking is another method that can worsen acne and damage your pores
Exfoliate regularly, but be gentle. Getting rid of dead skin cells is important to keep your face clean and reduce the appearance of pores
Keep your skin extra hydrated by drinking more water and using hydrating serum before putting on moisturizer. Hydrating helps shrink the pores by plumping up the surrounding skin
Never skip your moisturizer, even just for a day or two
Be sure to remove cosmetics every night, as the debris and dirt from makeup can clog your proes as well
Skin brushing activates cells, cleans deeply into the pores, and prevents large pores