Stretch marks appear most commonly postpartum. But they can also appear during periods of rapid weight gain. In some cases, they appear during puberty. And the cause is similar in all cases: stretching of the skin.
Many mothers experience stretch marks, and some of them would prefer the amazing memories of the pregnancy not to remain visible. So, their most common question is how to get rid of stretch marks.
Today, we will talk about the best stretch mark cream options that help you remove stretch marks, or at least make them less noticeable.
Stretch marks have different color and texture than normal skin. They can range from purple to bright pink, and in some cases, light gray.
When you touch them, you will feel a slight ridge of indentation on the skin. In some cases, they can also feel sore or itchy.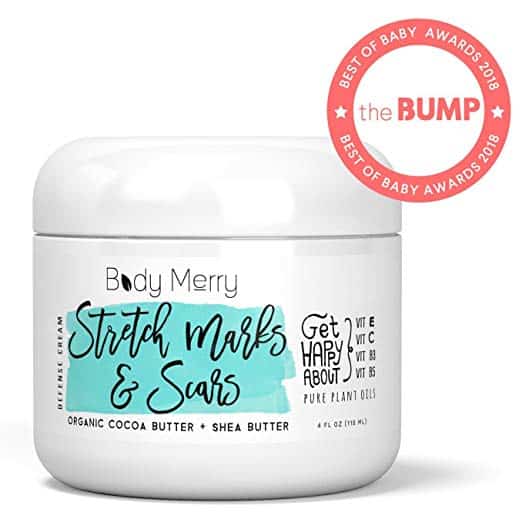 Unscented, and cruelty-free, this is the cream you go if you are a fan of natural products that have not been tested on animals. Made from high-quality natural ingredients, the cream is also packed with antioxidants and vitamins. That means not only you are getting cream for removing stretch marks, you are also getting a cream that will nourish your skin.
Gentle on your skin, the cream contains vitamin C, vitamin E, vitamin B3, vitamin B5, and many more. How it helps your skin? The ingredients support natural production of collagen, helping your skin retain its elasticity. If you have dry skin, you can even use it as a moisturizer.
All you have to do is massage it into your skin and leave the skin to absorb it fully. Suitable for both men and women, you can use it for both prevention and treatment of stretch marks.
PROS
CONS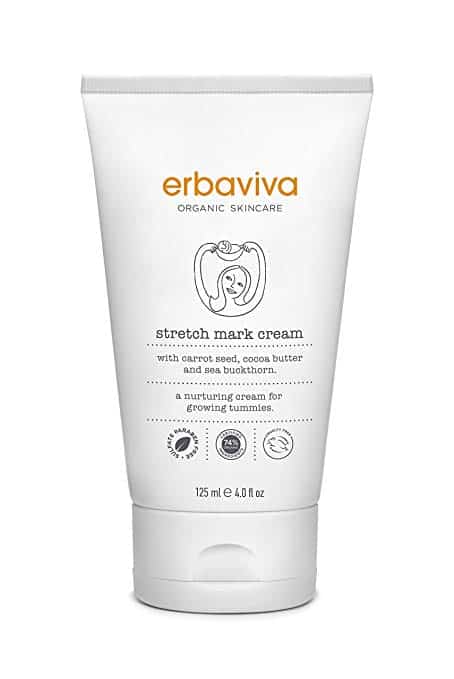 If you want an organic option, this might be the best cream on the market. And the best part is, it doesn't come for a huge price.
The organic cream feels rich and creamy to the touch but doesn't feel greasy on the skin.
That is the best thing you could ask in a creamy texture. Absorbs perfectly in a matter of minutes, and allows you to put a cute outfit without any residue staining your clothes.
With natural ingredients like cocoa butter, jojoba oil, and sunflower oil, you are getting a lot of nourishment for the skin.
Help keep your skin hydrated and elastic.
The company recommends you use the cream in combination with their stretch mark oil, but you can get great results even with just the cream.
PROS
CONS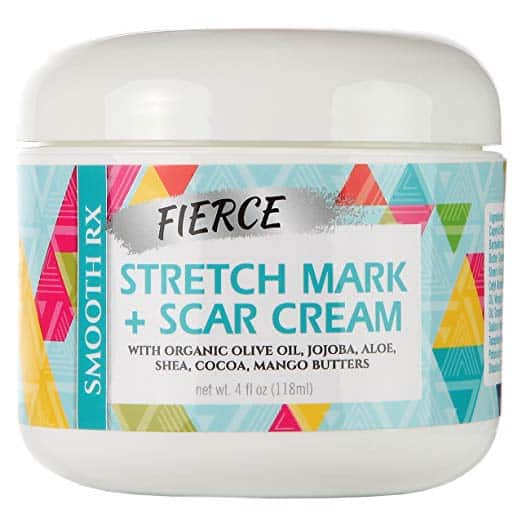 Let's start with the good stuff. You can use this cream for stretch marks, but also for acne scars, wrinkles, fine lines or just about any other skin issue. The formula is ideal for use on all skin conditions.
The natural ingredients include organic olive oil, jojoba oil, shea butter, cocoa butter, mango butter, and aloe vera. All of these ingredients are known for their hydrating properties. Combined together, they deliver a potent formula that can improve skin flexibility and smoothness. Works by repairing damaged skin and breaking scar tissue down. The result glowing skin.
One of the best parts about the cream? It is cost effective. You will be hard pressed to find another formula that comes at this price and does so much for your skin. No matter how big or small your budget is, this cream can fit right into it. No matter if you want to minimize stretch marks, or acne on your face, thighs, buttocks, breasts, belly, arms, and anywhere else on the body, this cream is suitable for you.
PROS
CONS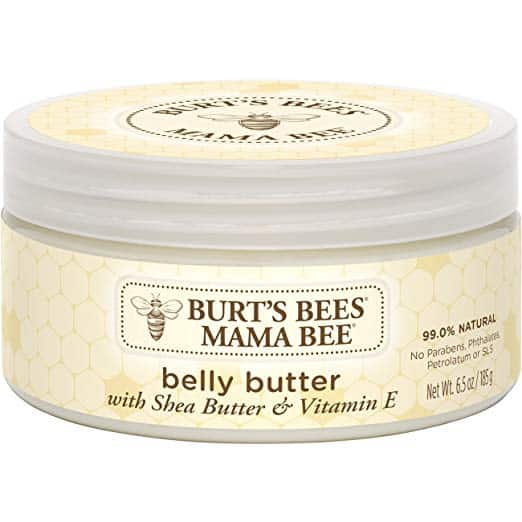 One of the most reviewed and popular products in the United States. With natural ingredients like shea butter, jojoba oil, vitamin E, coconut oil, cocoa butter, sweet almond oil, and many more, the formula packs moisturizing forces.
The result your skin feels insanely hydrated. If you want a tested and tried cream, this is it. Now, it might now work for your skin. But chances are higher you will get a good product than a bad. There are more than 3,000 reviews on Amazon, and the cream has an overall rating of 4-stars.
Designed for mothers, both during pregnancy and after childbirth, to keep their belly free of stretch marks. The unscented formula helps your skin recover. And it is safe, there will be no irritation.
PROS
CONS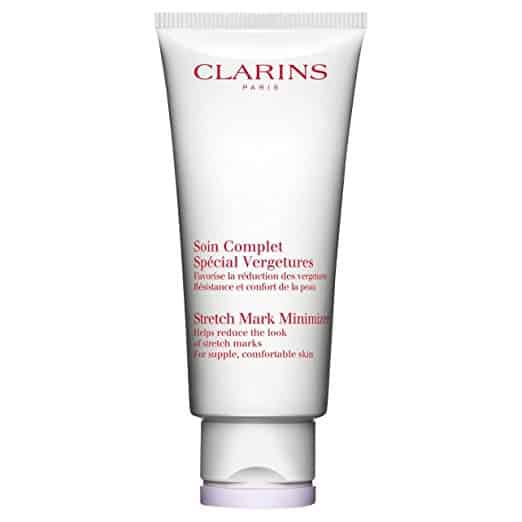 Clarins' cream is unique in a couple of different ways. For starters, the ingredients are not what you usually find in stretch mark cream. This one utilizes crowberry extract, an ingredient that protects and regenerates the elastin and collagen fibers in your skin.
As a fragrance-free cream, it is great for mothers that are sensitive to scented lotions. Helps with stretch marks from puberty, pregnancy, or weight fluctuation. In the same time, provides hydration to your dry skin.
You can also use to fade away uneven skin tone caused by stretch marks or other skin problem.
What you have to remember is that this is not a cream for removing stretch marks. It is more of a minimizing product. And that is why some people give it a poor review.
PROS
CONS
Simply put, you can have stretch marks just about anywhere. However, they are most common in the stomach, breast, upper arms, thigh, hips, breasts, and buttocks.
Being scars of disfiguring lesions, stretch marks are not physically dangerous. What they can do, however, is cause problems with your self-image.
Very few women proudly wear their stretch marks during the summer bikini season. They can even cause anxiety, and can even affect day to day living.
Before these lines appear on your skin, the skin will appear thin and pink. And it will also feel irritated or itchy.
Initially, stretch marks develop as wrinkly and raised streaks. They can be red, purple, pink, brown, dark brown, or reddish in color. It all depends on your skin color. Eventually, the streaks fade and flatten, changing to a silvery color over time.
While they can become less noticeable over time, that usually takes years.
We touched briefly on the topic what causes stretch marks in the beginning. In most cases, that is post-pregnancy. They appear as a result of skin stretching, but also increase of cortisone in your system.
If you didn't know, cortisone is a hormone naturally produced by the adrenal glands. Having too much of it will cause the skin to lose its elasticity.
With that in mind, here is a breakdown of all causes of stretch marks.
There are a couple of risk factors that can contribute to developing stretch marks.
Here are those:
You can easily notice the symptoms, and a doctor will do the same thing if you go for a checkup. A doctor will also review your medical history.
If the doctor suspects that the stretch marks are a result of a serious illness, he might also require imaging, urine, or blood tests.
Sadly, there is no way to completely prevent stretch marks. Even with the regular usage of creams and lotions. What you can do is keep your weight at a healthy range by practicing a balanced healthy diet and regular exercise.
When you are pregnant, ask your doctor how much weight gain is right for you during pregnancy.
Yes, it is normal to gain weight during pregnancy. But you should be careful not to gain too much weight.
A lot of women think that they can eat anything and everything, and expect that their weight will go back to normal after childbirth. That will not happen if you gain too much weight by not eating healthy.
You can also reduce the risk of stretch marks by avoiding yo-yo diets, consuming foods high in vitamins and minerals, aiming for slow and gradual weight gain during pregnancy, and drinking eight glasses of water on a daily basis.
There are many stretch mark removal cream products on the market. It is hard finding the best among them. Luckily, we are here to help you. But as a general rule of thumb, you should also look at the formula and search for the best ingredients.
Some formulas have a lightening agent that will lighten the appearance of stretch marks. You also want a healing agent such a hyaluronic acid that will heal and reduce the appearance of stretch marks from the inside out.
Here are a couple of ingredients you should look in the formula:
How to use stretch mark cream?
The following creams are efficient as long as you use them properly. You can buy the ream, but if you are not using it properly, you will be disappointed by the results.
With that in mind, here are a couple of pointers: