Dusty rose is a medium light shade of pink and red color. It is one of the more popular hair dyeing colors at the moment. The good thing about dusty rose hairstyles is that you can wear them in different occasions.
Depending on what you want to achieve, you can go for a playful look, glamorous look, sophisticated look, calm and soothing look, confident, or just happy and modern.
If you want to achieve a glamorous look, dusty rose works with bright red and bubblegum pink, for fresh look combine it with orange and rosy pink, and for sophisticated with burgundy and dusty pink.
But enough about color combinations and outfit combinations. Let's take a look at a couple of dusty rose hairstyles. Hopefully, you will find something that will inspire you to try this hair coloring trend.
1.Wavy Light Dusty Rose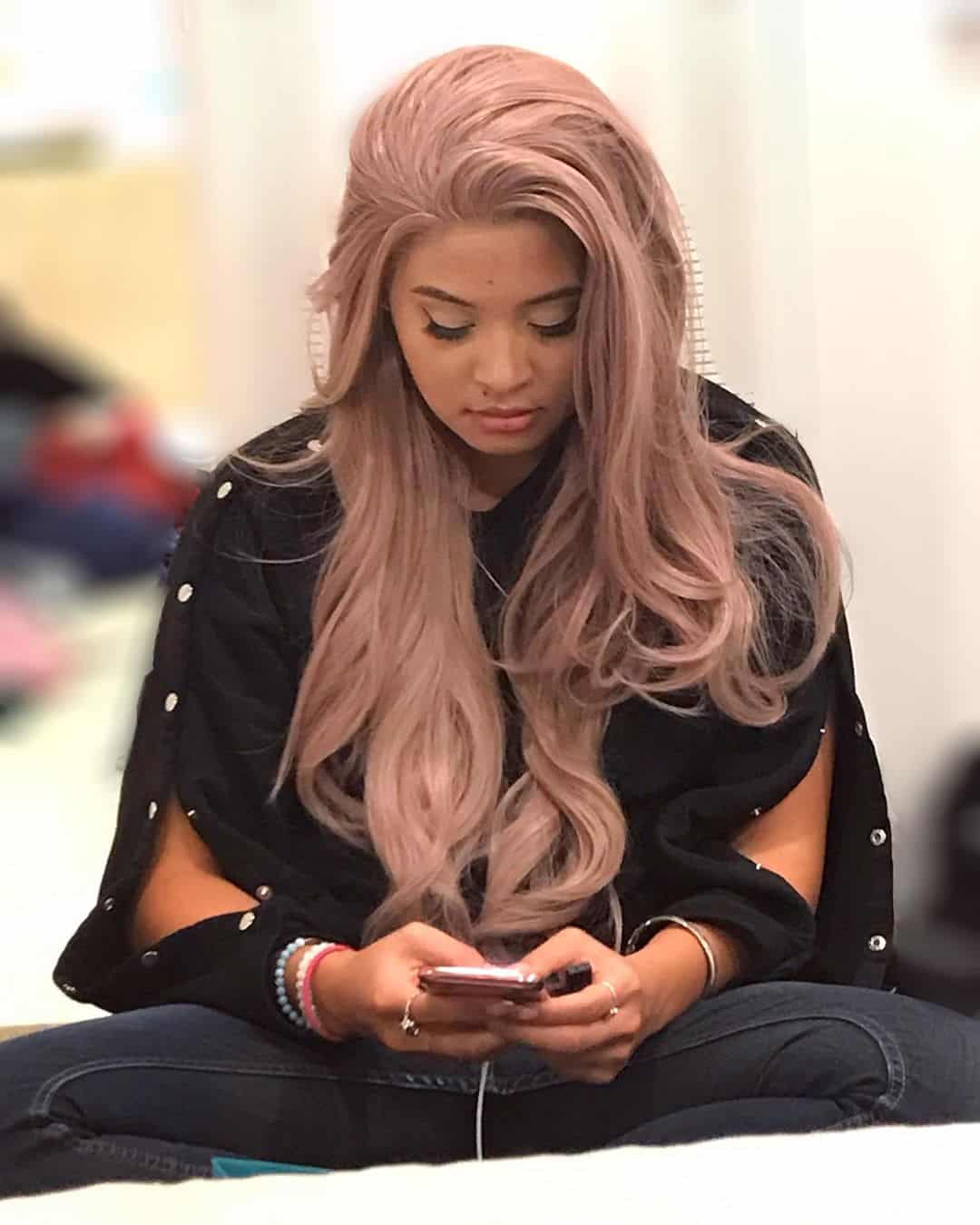 Let's start with something of a classic in the summer season, and that is wavy hair. Usually, when it comes to wavy hair, you think of blonde first. Well, blonde has competition this summer, and that is a dusty rose. Definitely a battle between two amazing looks. Which one will you choose?
2. Festive Dusty Rose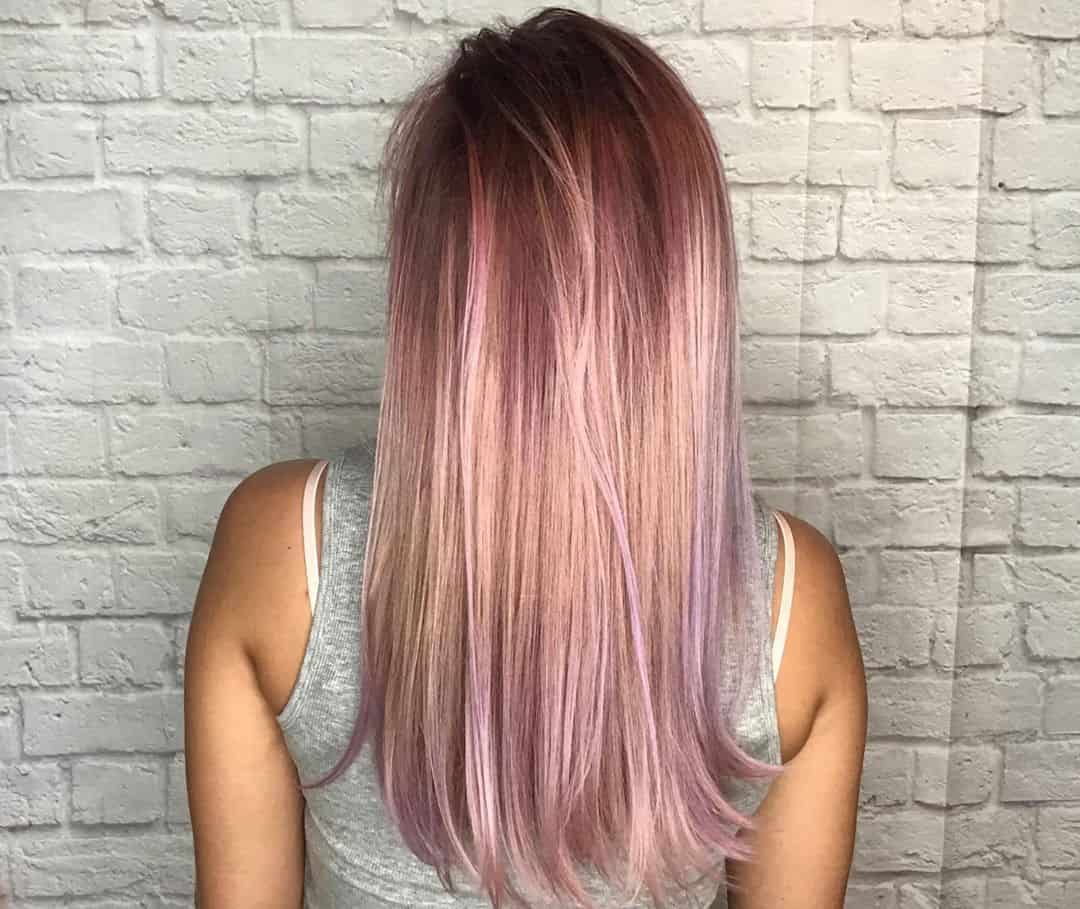 We mentioned previously that the beauty of the dusty rose is in its versatility. If you like more festive hairstyle, you can do an ombre, or any highlights. Go from light to dark, or vice versa. The result is simply beautiful.
3. Baby Pink And Peach Dusty Rose Hues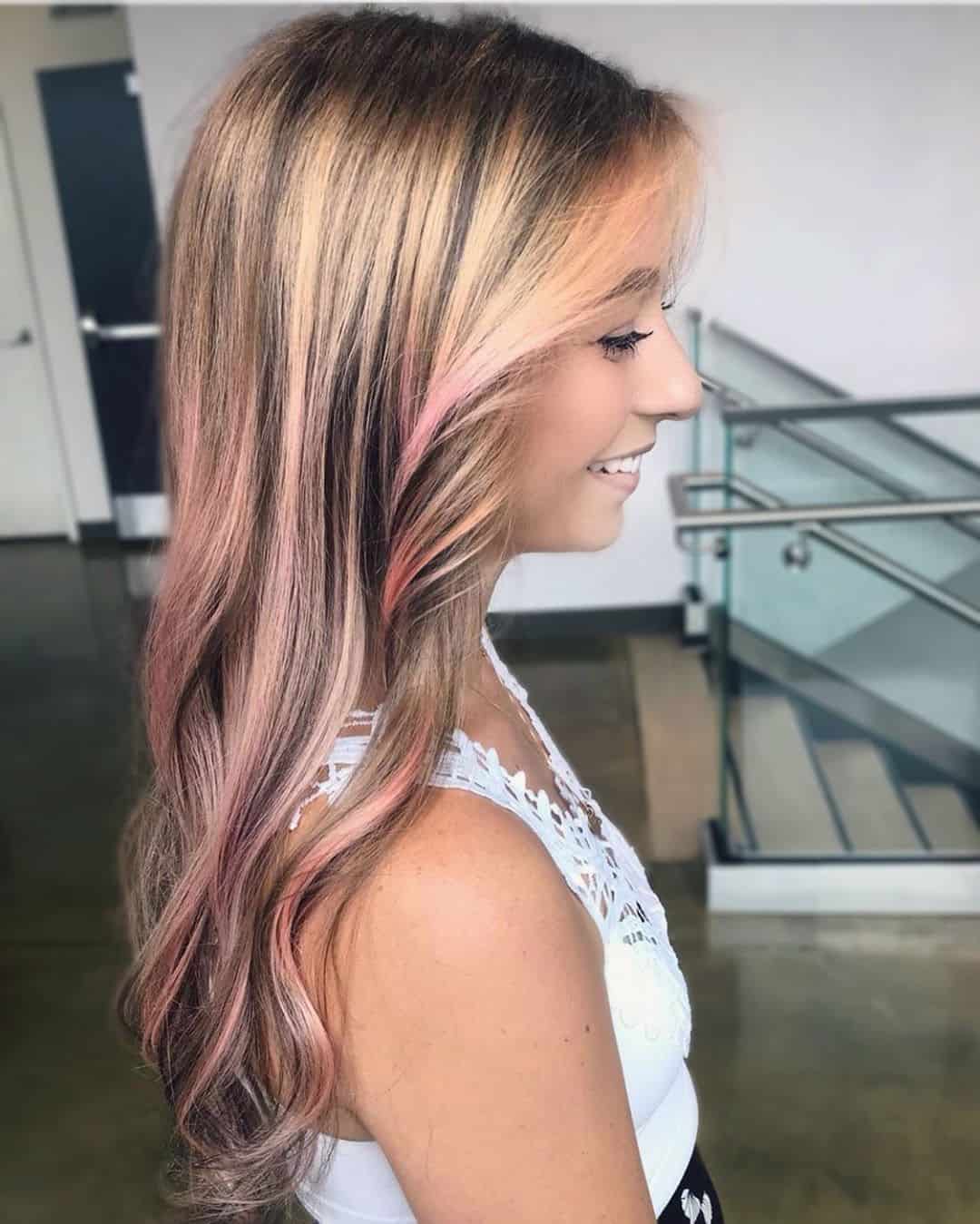 In the past several years, the baby hair color trend is rising. What is baby color? Well, it is a bit more gentle and a pale shade of a color. We had baby blue, baby purple, baby pink, and now baby rose. Just see how these highlights are subtle, yet effective in the grand picture.
4. Subtle Dusty Rose On Black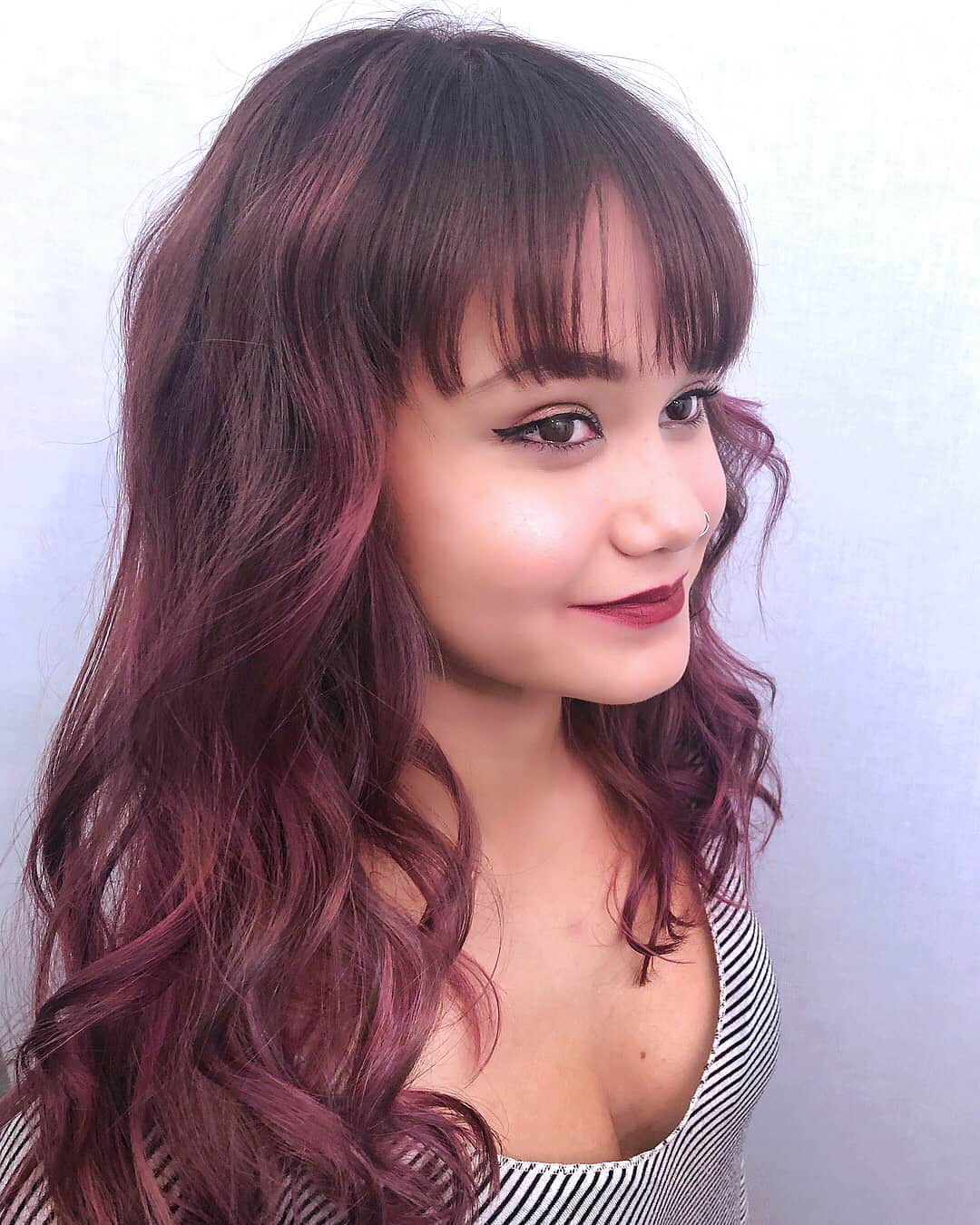 Black hair color is tailor-made for dusty rose coloring. Why? Because dusty rose will give your black hair the much-needed lightening. And your face will look lighter as well.
5. Honey Hazelnut Dusty Rose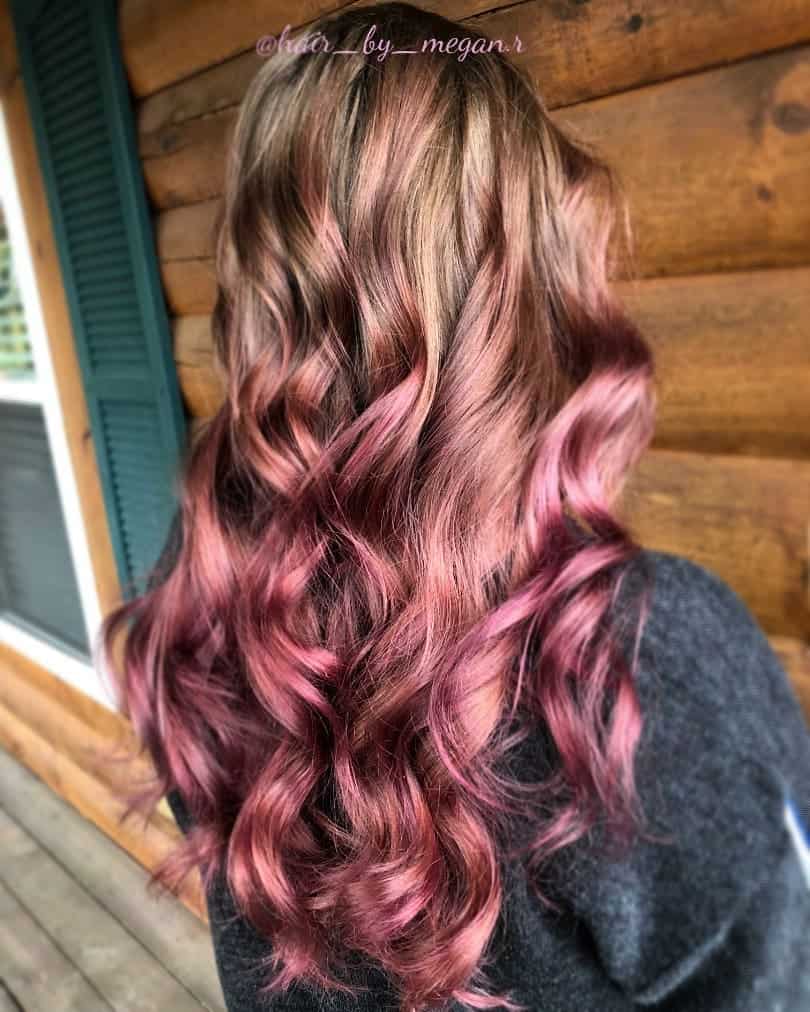 Speaking of popular hair coloring hair trends, honey hazelnut blonde is among the most popular ones. The beauty of the hair color is you can combine it with other popular trends. For example, a dusty rose. What you get is a perfect combination of romantic and feminine colors.
6. Platinum Dusty Rose Pink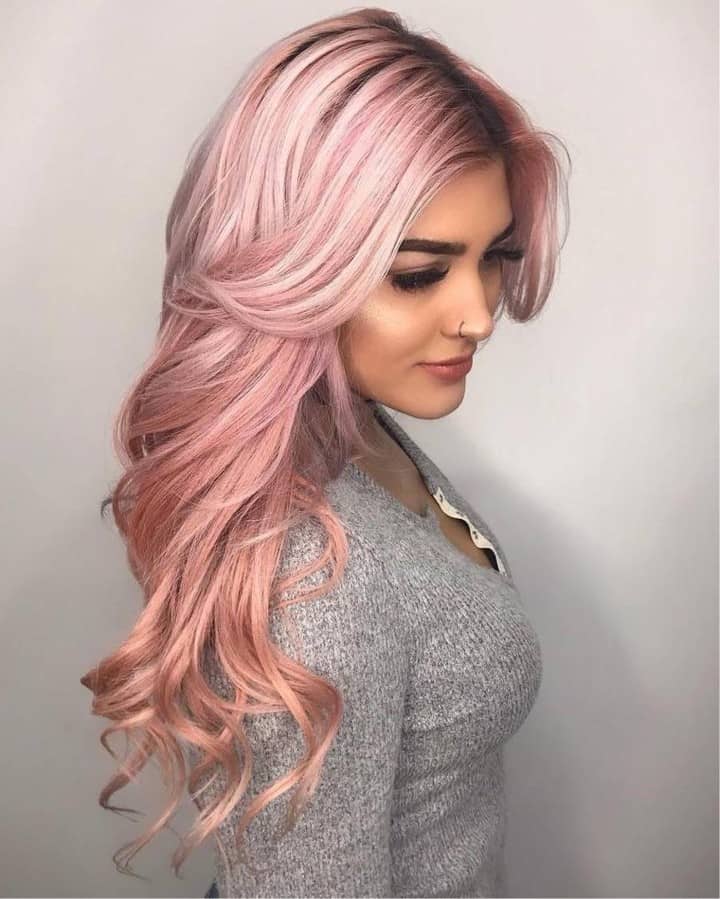 And here we have another combination of blonde and pink. If you go platinum, you set your bar for a more sensual look. And let's be honest, one that is more attractive and that pops right away. It all comes down to what you want to achieve.
7. Straight Brunette With Partial Dusty Rose Highlights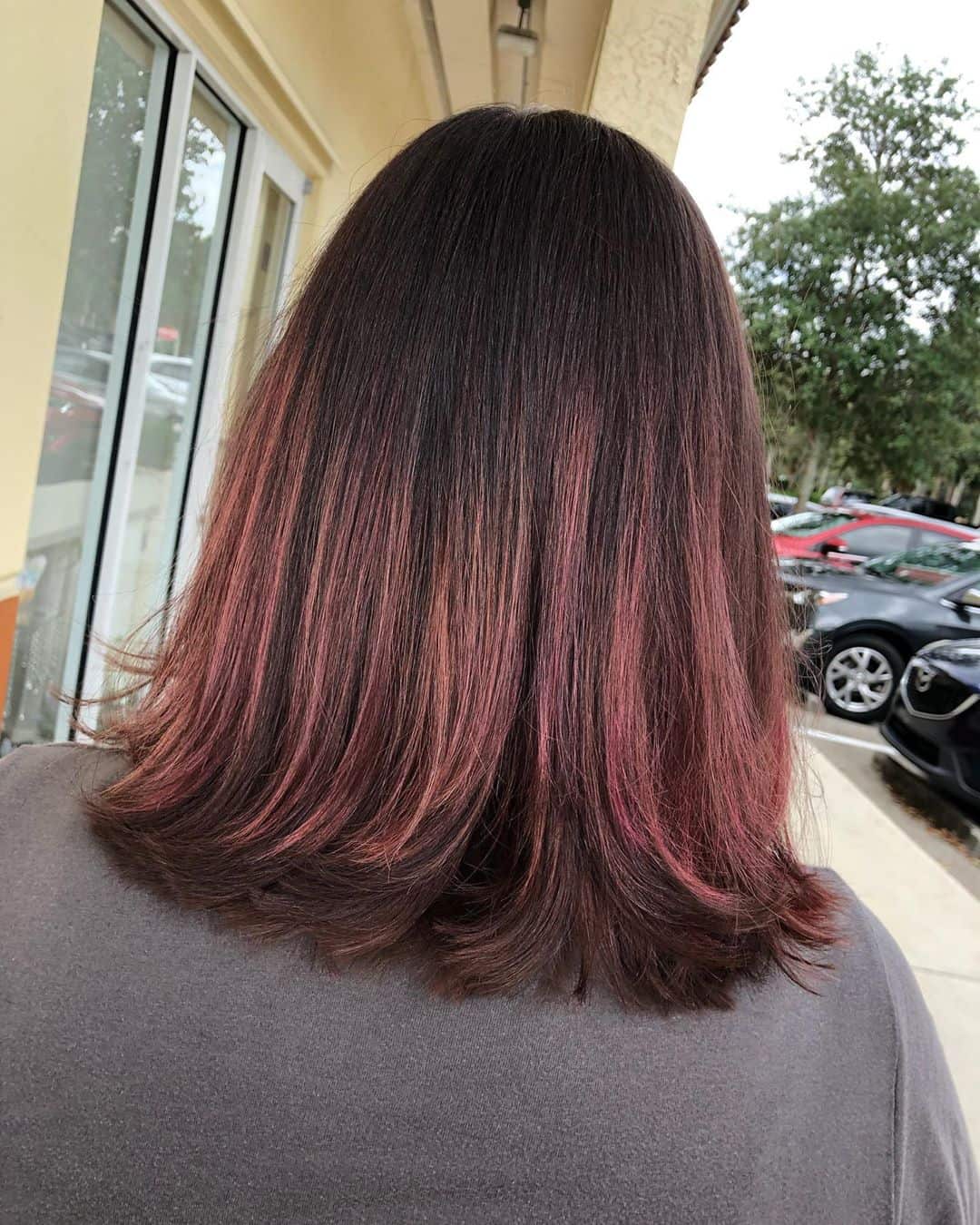 Dusty rose works well for highlights, or for complete hair coloring. It depends on how much color you want to add to your hair. If you go for highlights on brown hair color, the result is elegant, modern, yet simple hairstyle.
8. Colorful Dusty Rose With Pinkish Tones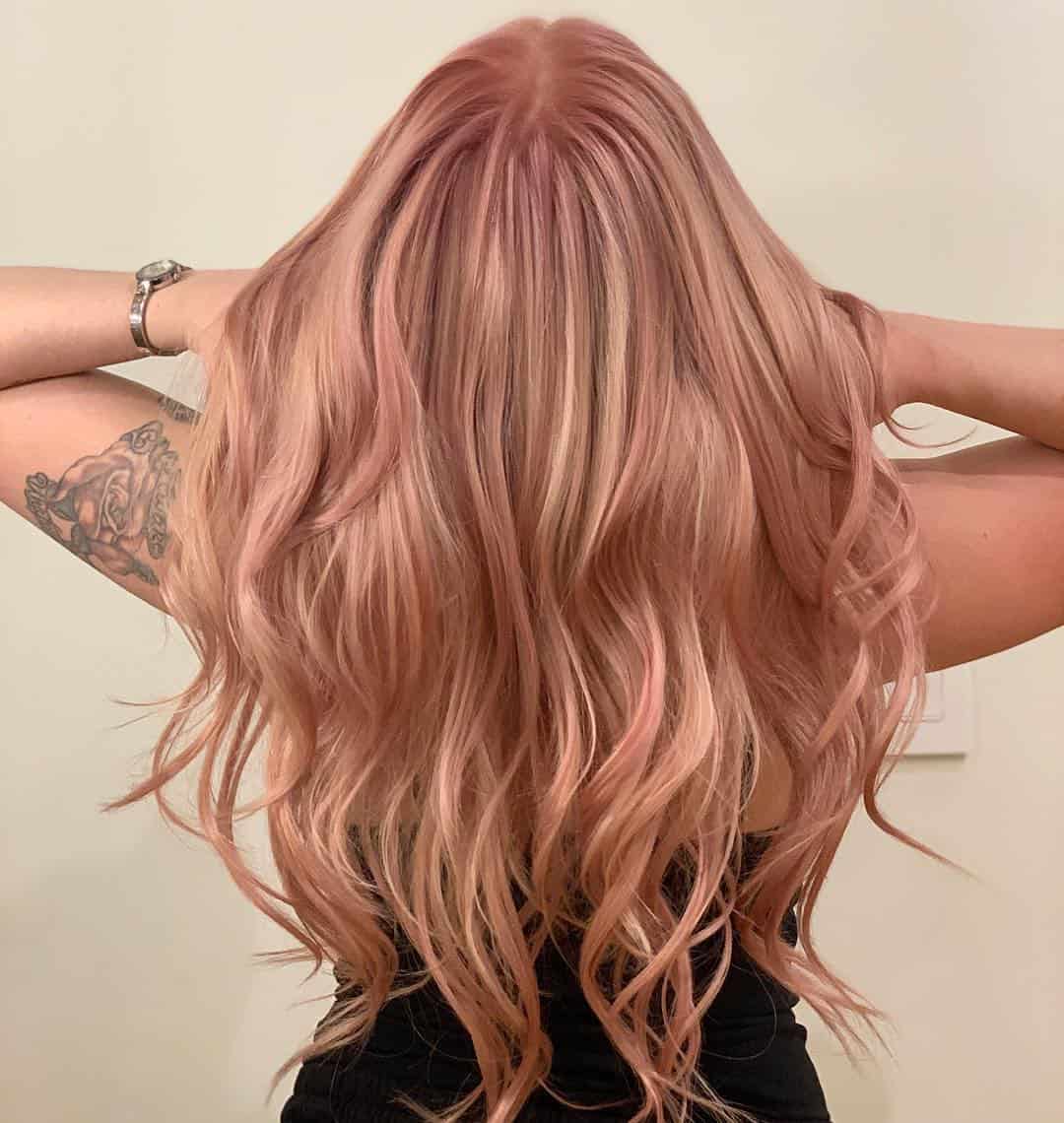 Dusty rose is after all, a variation of pink. And every pink shade works well with other pink shades. Try several shades on your hair, and the result will amaze you.
9. Dark Dusty Rose Gold On Curls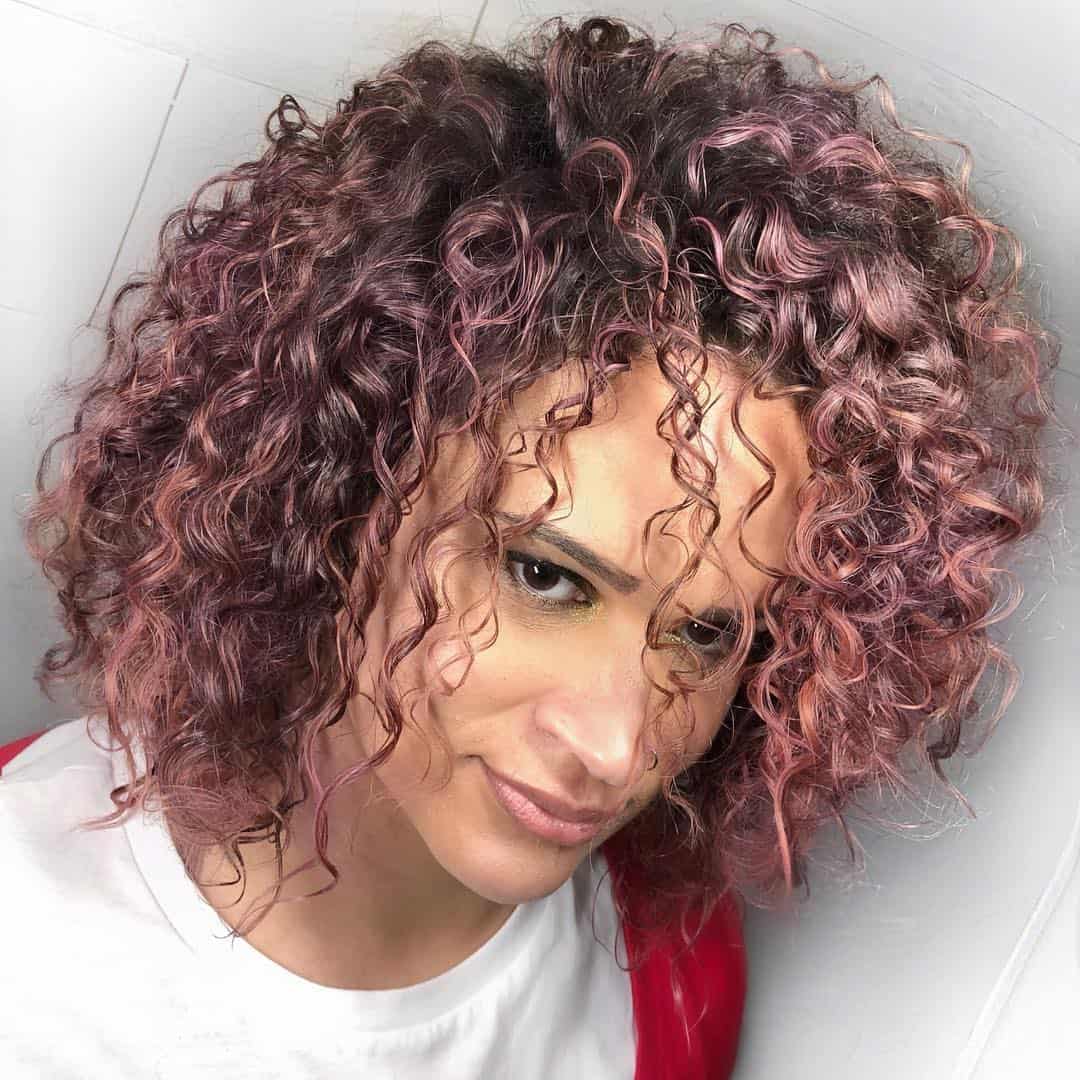 Curls work perfectly with any hair color. Why? Because hair colors emphasize the curliness of your hair. If you are looking for an urban and modern look, curls are the way to go. And the dusty rose is the color to try.
10. Blonde Dusty Rose With Pink Streak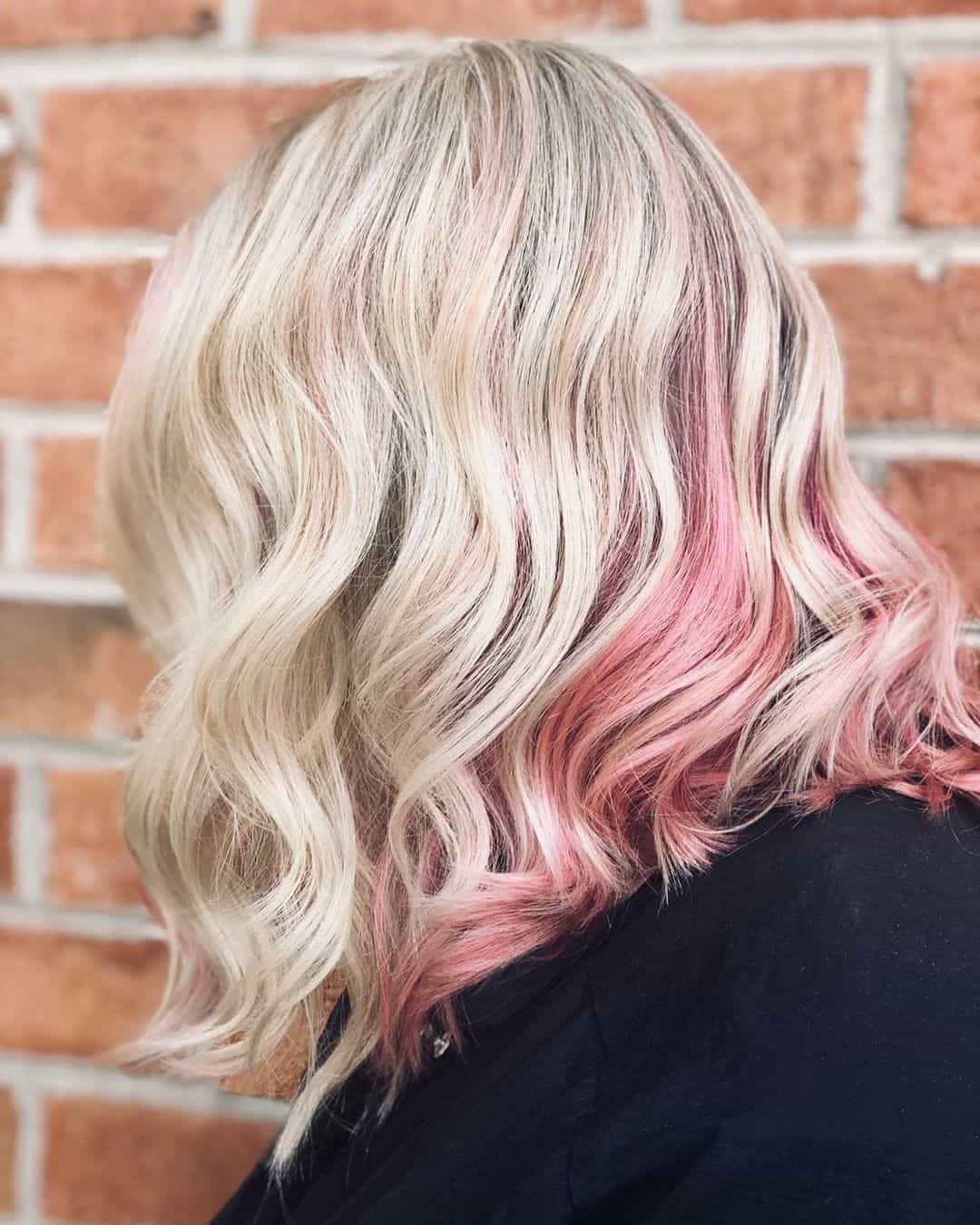 In manicure, women love to let one finger in a different color. The same technique can be applied in hair coloring, leaving a few hair strands in a different color, making them pop.
11. Dusty Rose With Lavender Hues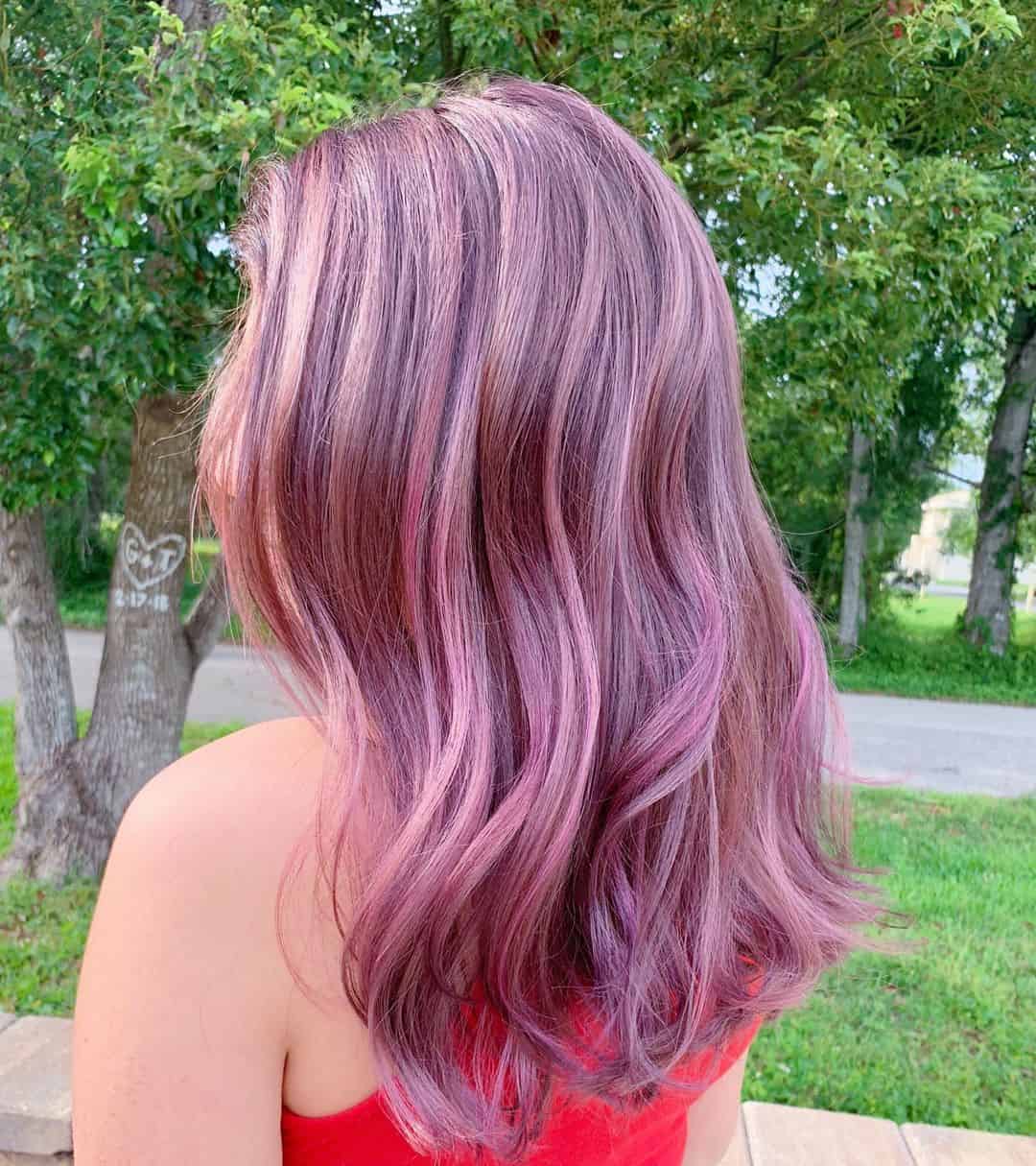 Pink and purple work seamlessly together. One is lighter and the other is darker. It is the perfect contrast. Just like black and white, but in colors. And that is something you ought to try on your hair.
12. Straight Dusty Rose Ombre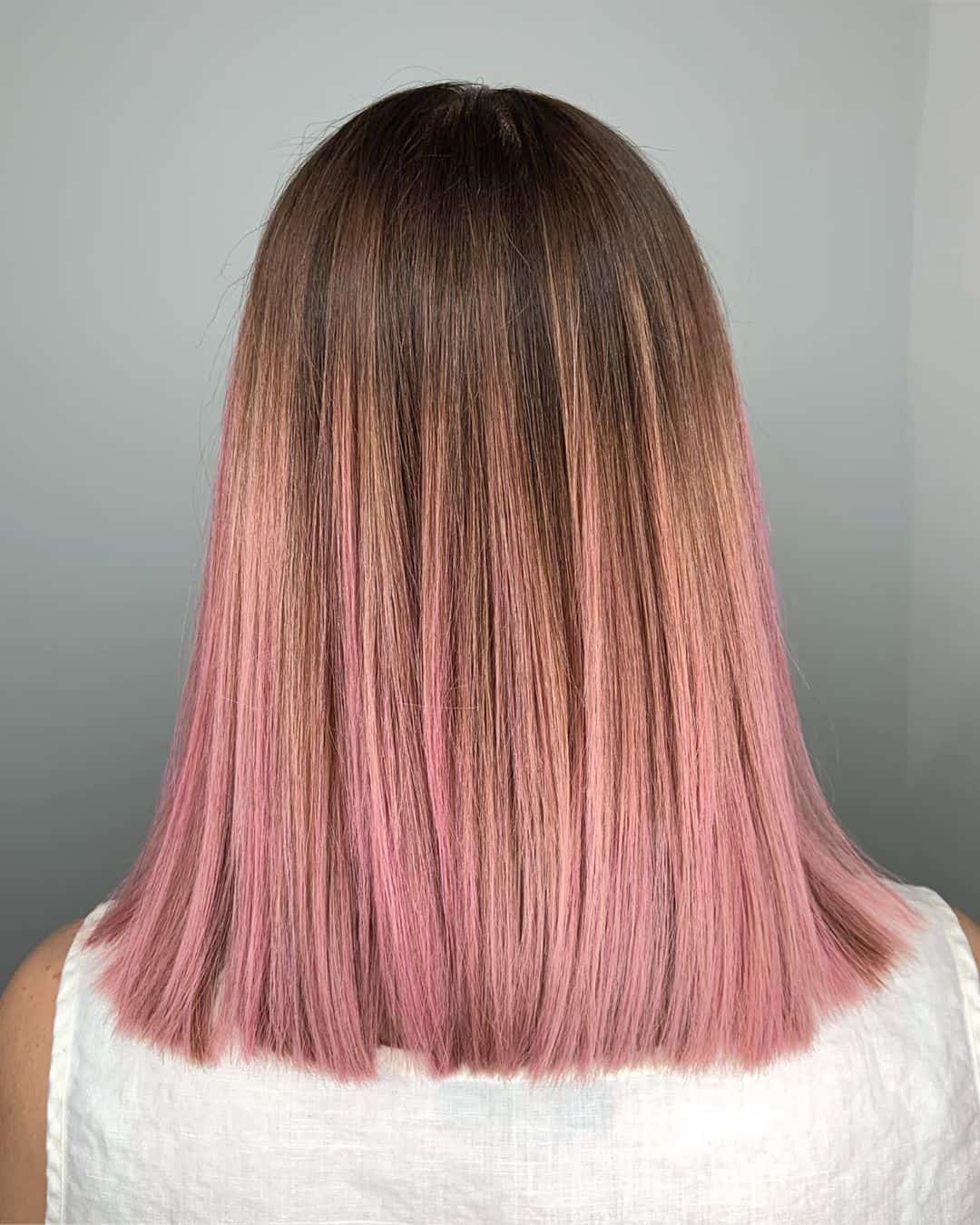 There is no escaping the Ombre. It was a few years ago when the Ombre was the de facto most popular hair coloring trend. And after a few years, you still see it every now and then. If you want a timeless classic, you cannot make a mistake with an ombre.
13. Subtle Dusty Rose on Honey Blonde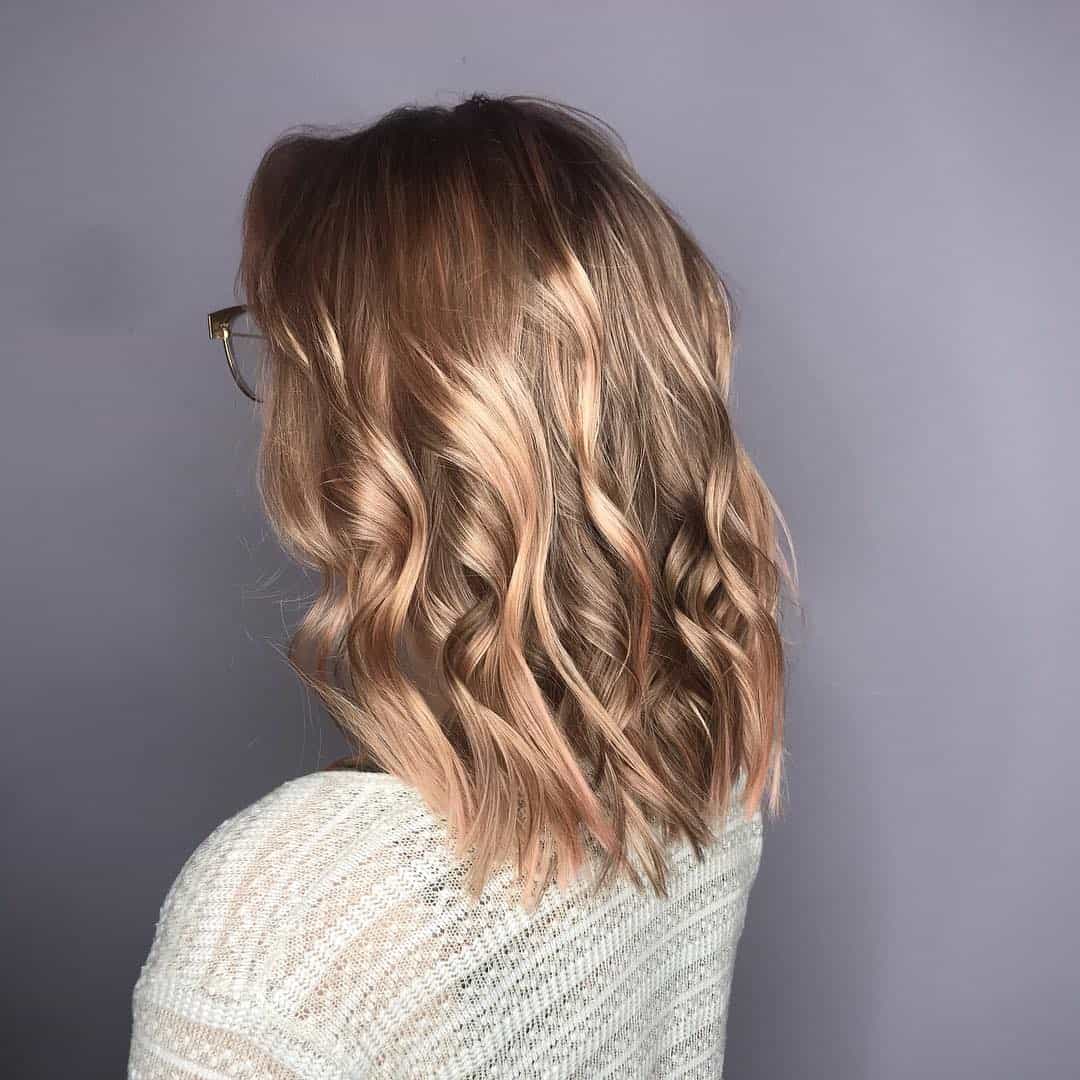 We had a combination of honey blonde and dusty rose before. The difference here is in the amount of dusty rose. Here, we get more subtle highlights, which are even hard to notice. Some women just want to be more intimate with their color.
14. Light Brown Dusty Rose With Purple Highlights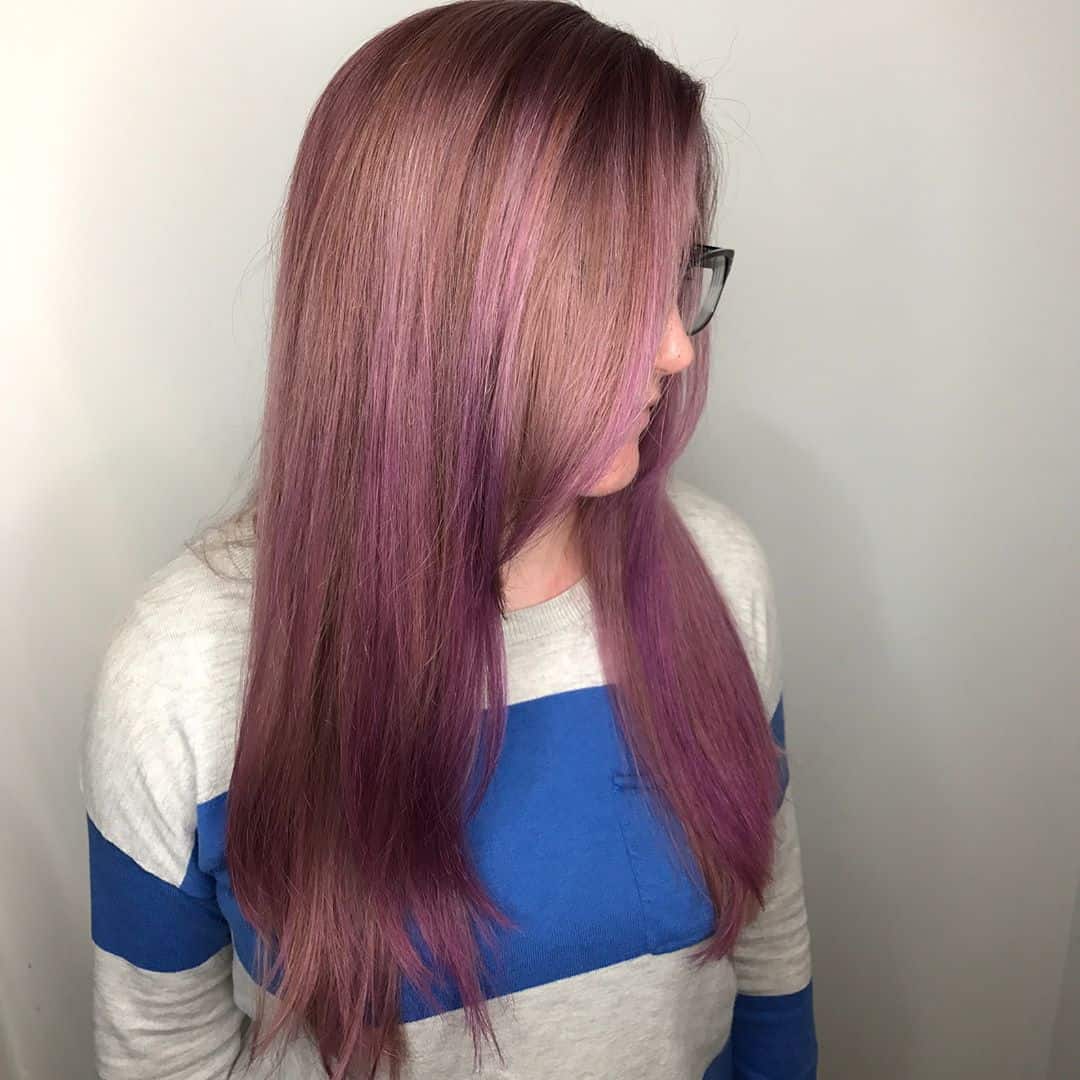 If you are gunning for a more sophisticated and elegant look, add some violet in your dusty rose highlights. It will definitely add charm and glamour to your hairstyle. Perfect for a formal event.
15. Ginger Balayage Dusty Rose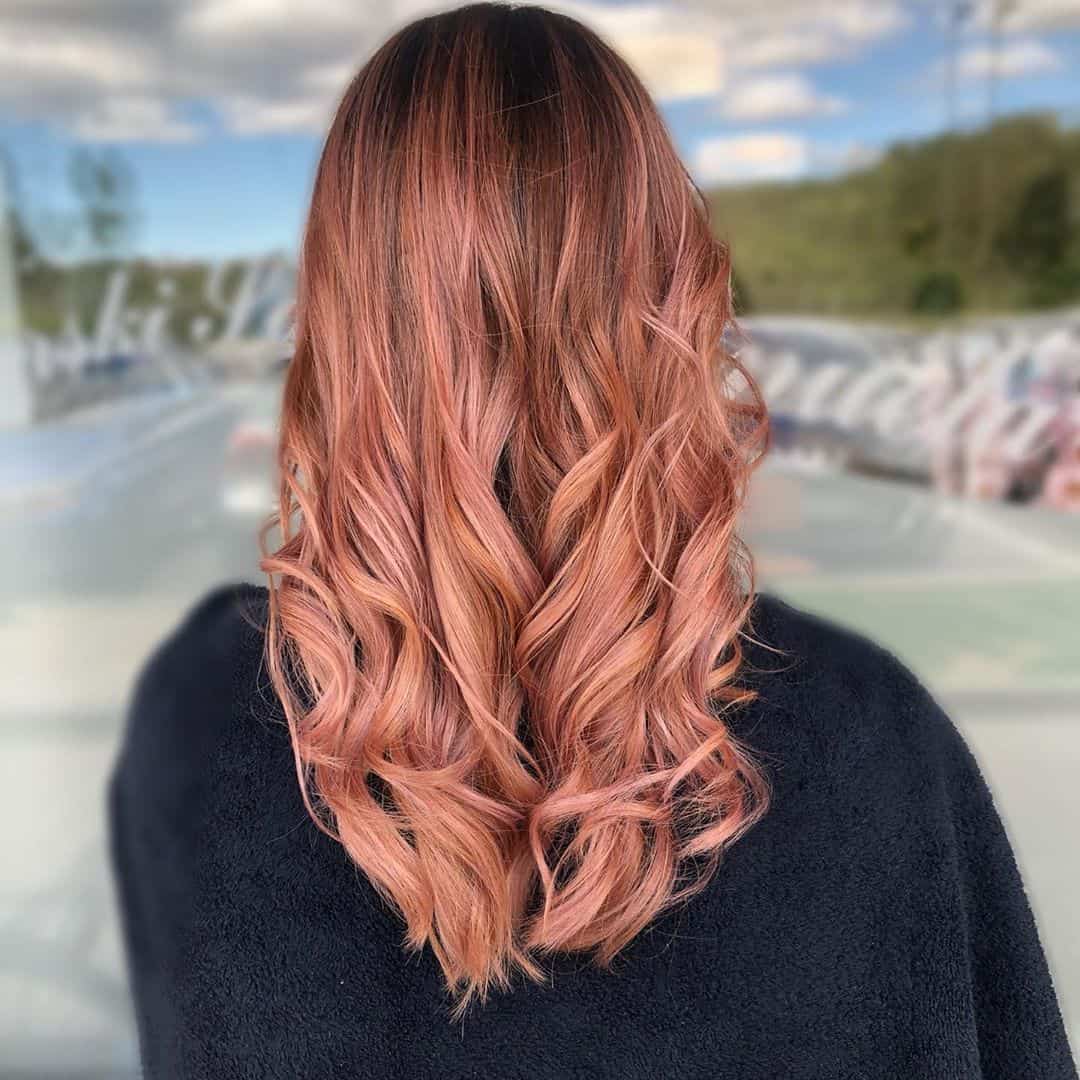 We had Ombre, and we have to get a balayage as well. The latter is a hair highlighting trend that feels and looks more natural. And given that dusty rose is a shade of red, it is just logical to try it with some ginger red color. We can safely say that the result is worth trying.
16. Dark Pink And Purple Dusty Rose In Messy Updo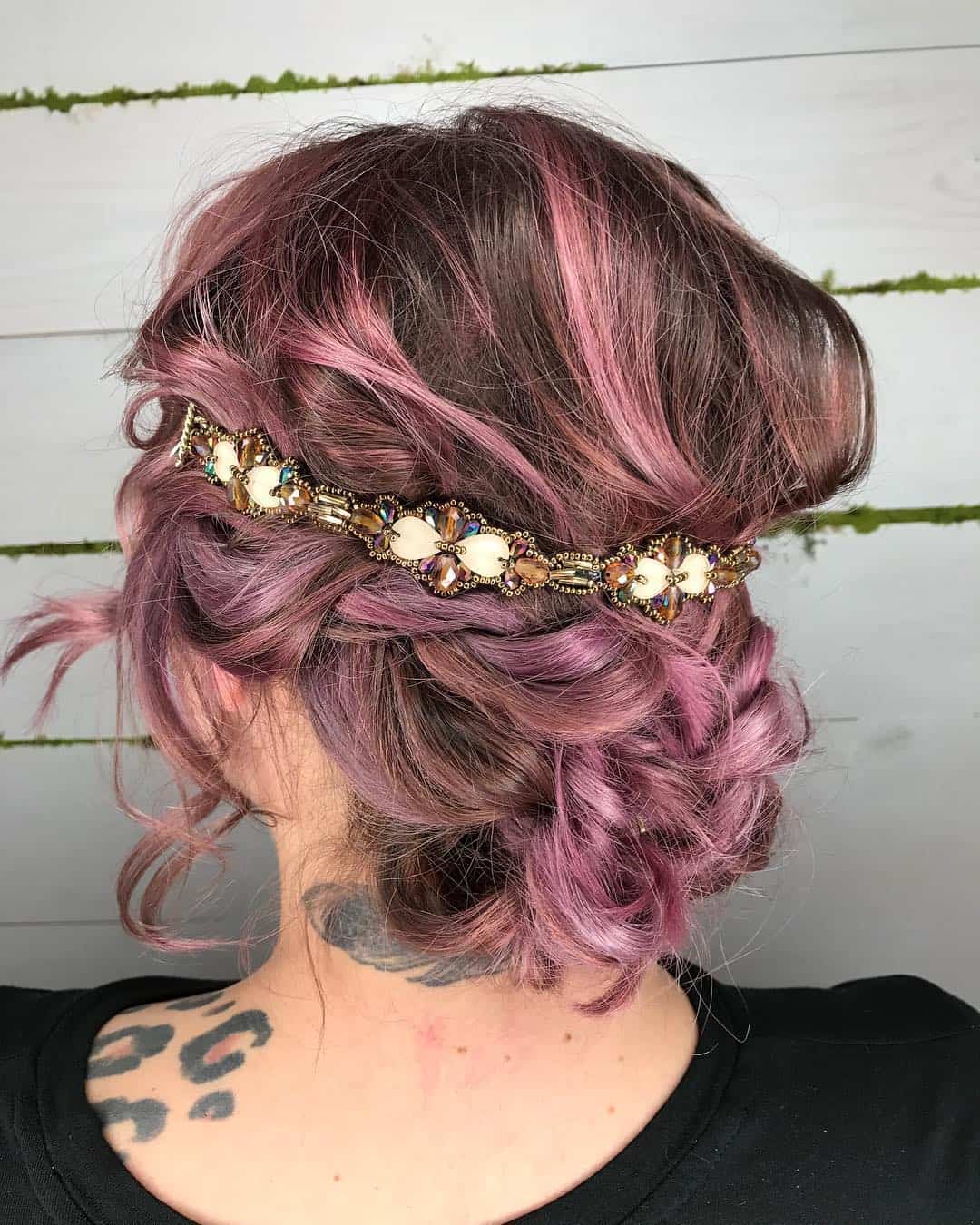 When you let your hair lose, and try some messy hairstyle, your colors are even more emphasized. It is a nifty trick to show off your new hair color to the world. Remember it for the next time you want to apply a new hair dye.
17. Reddish Dusty Rose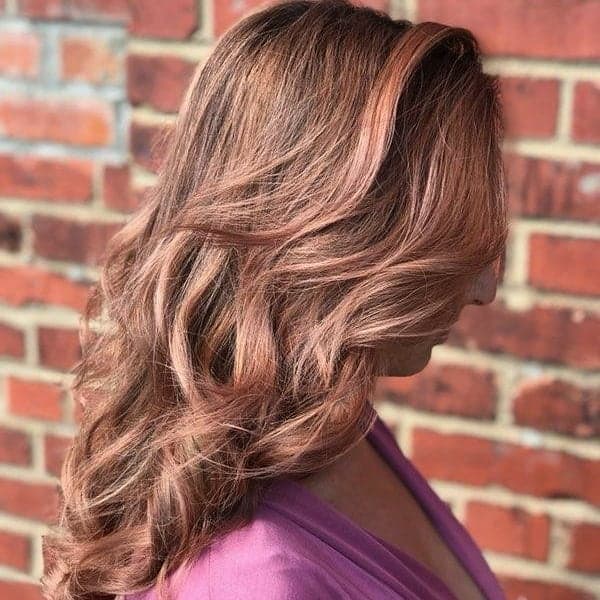 We said previously that red is just tailor-made for dusty rose highlights. The beauty here is that the highlights are almost non-noticeable. People will look at your hairstyle, but they won't be able to define what makes it so beautiful.
18. Coral Dusty Rose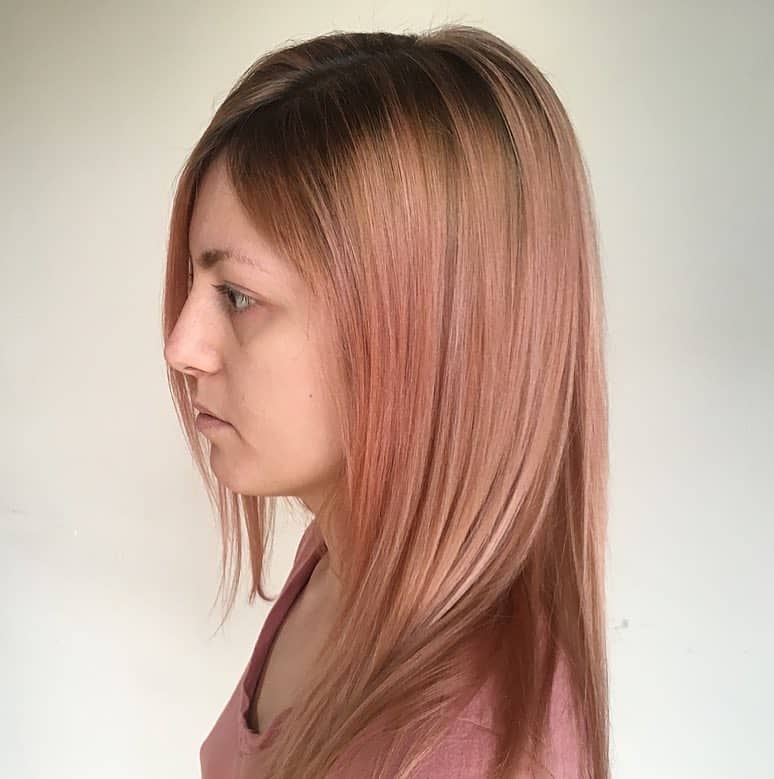 Dusty rose is a pink and red combination, while coral is an orange and pink mixture. With pink unifying these two colors, it is easy to see how they can work together. We said before that orange is perfect when you want to achieve that fresh and fun look.
19. Pink Pastel Dusty Rose In Romantic Chignon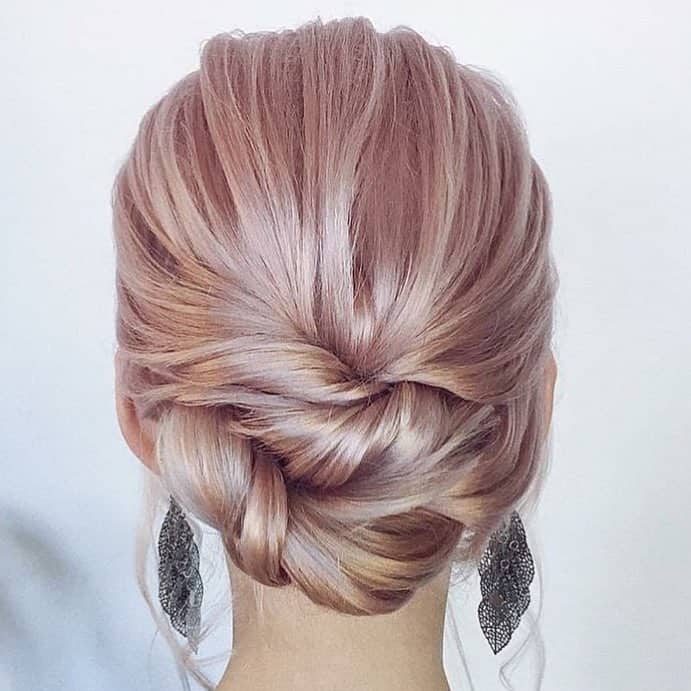 If you go for an elegant and romantic look, a chignon is a must. And being that you want a more elegant look, go for a pale shade of dusty rose. The paler the color is, the better. Basically, you want a hair color that doesn't pop right away.
20. Dusty Rose On TWA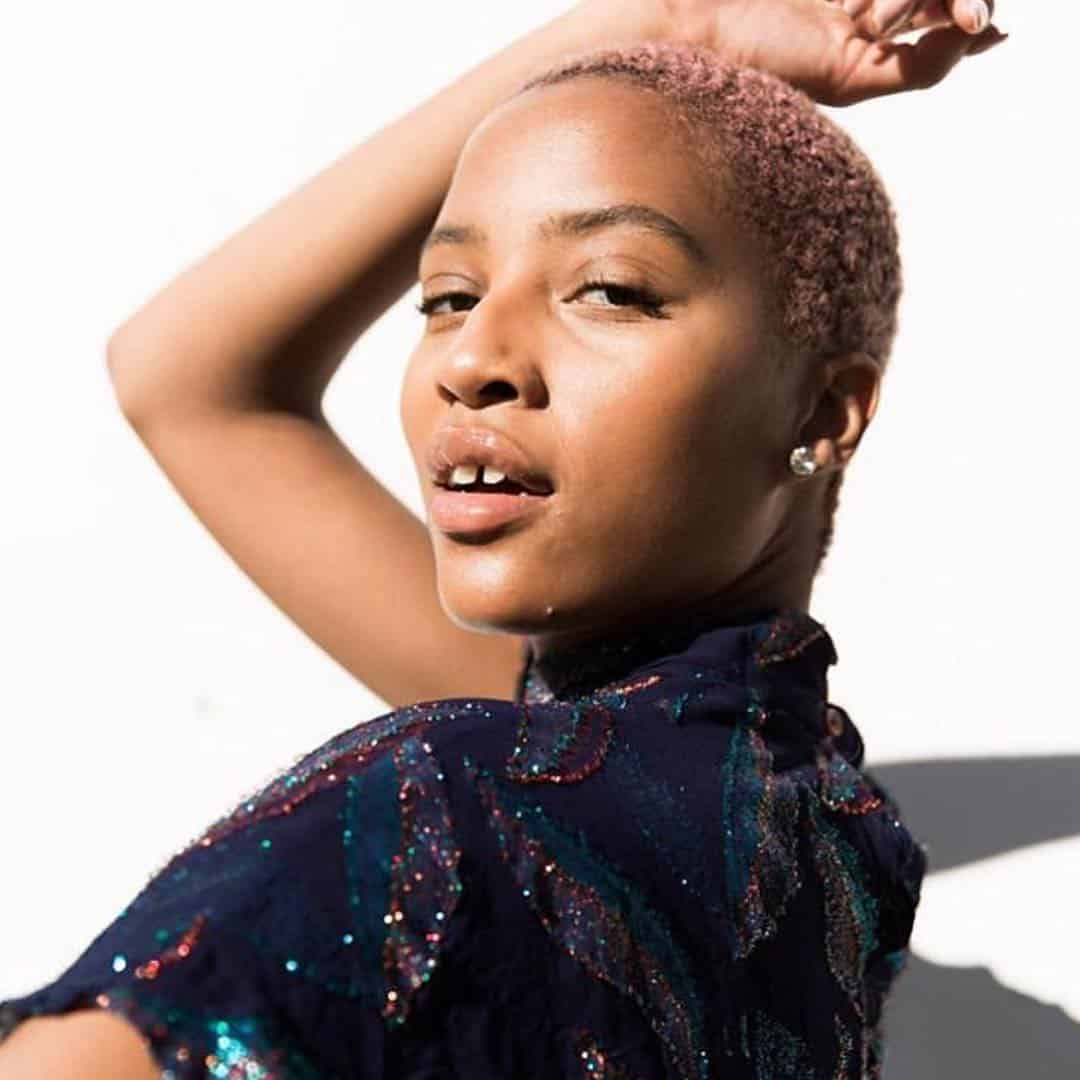 For all of you urban and modern girls out there, the teeny weeny Afro is a godsend hairstyle. Given how little hair you have there, you are better suited to a color that is richer. That is why you want a darker version of dusty rose.
21. Dusty Rose And Gold Sections On Lob
Bobs or lobs, depending on your length, are great for experimenting with new hair colors. Colored bob is a great way to show you are not afraid of experimenting and courageous enough to try something new.
22.Black Purple And Pink Dusty Rose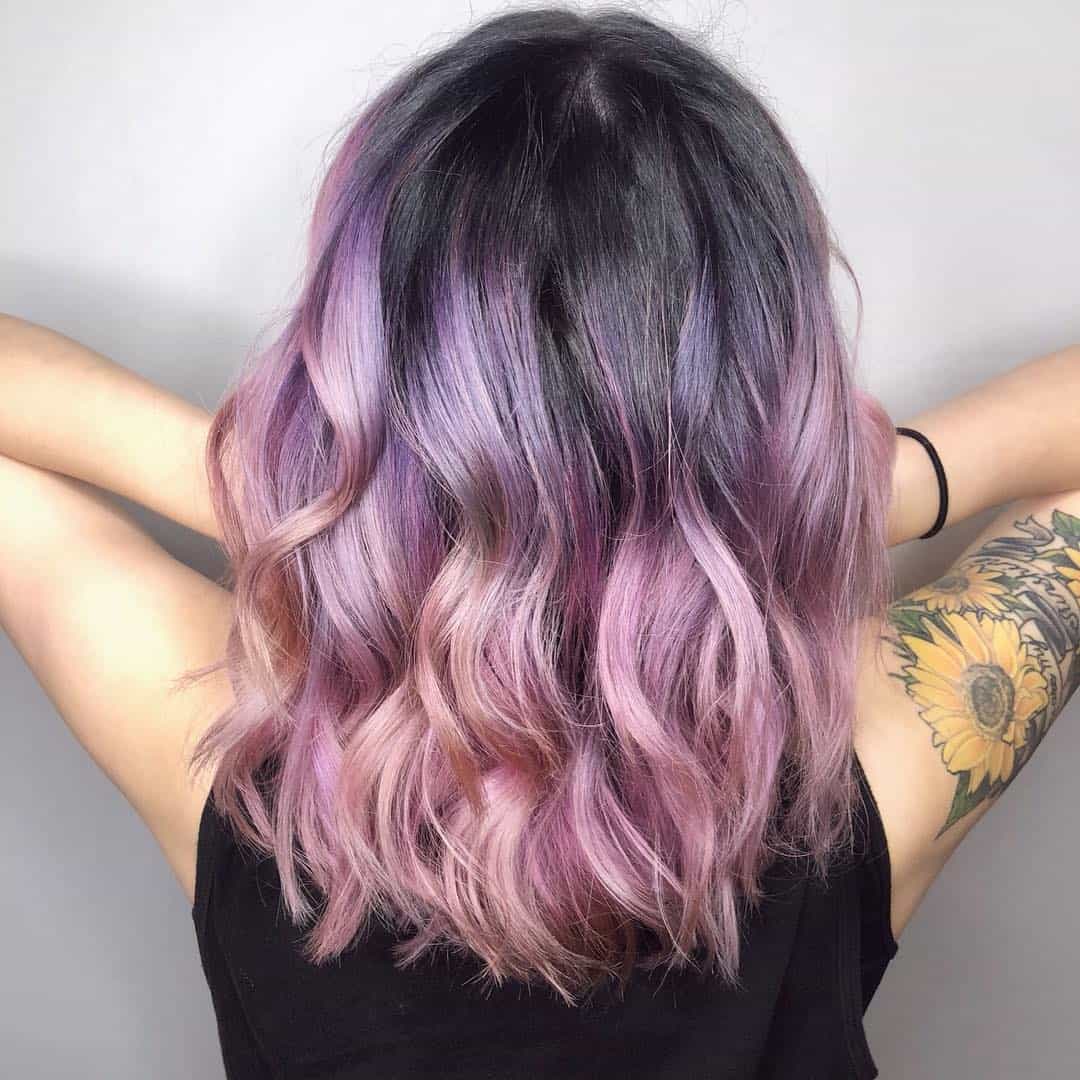 We said before that black and dusty rose work in a great light and dark contrast. Just see how well the dusty rose rounds up the look. You go from dark to light, and that gradual way is just perfect.
23. Dark Dusty Rose With Rainbow Tips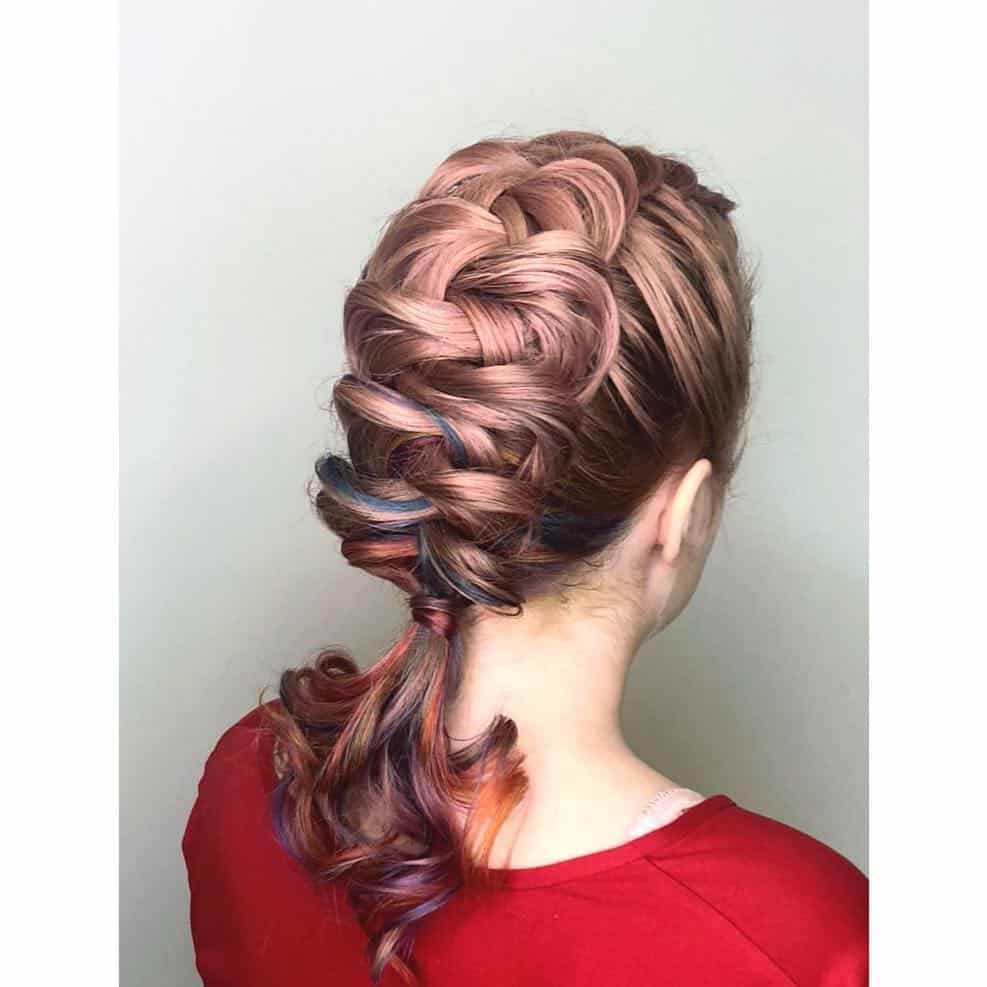 In most cases, a dusty rose color is more than enough. But if you want to add some other colors, that is fine with us. We know the rainbow coloring trend is just as popular, and some women just want to combine the two together. As you can see, it works.
24. Light Dusty Rose On Pixie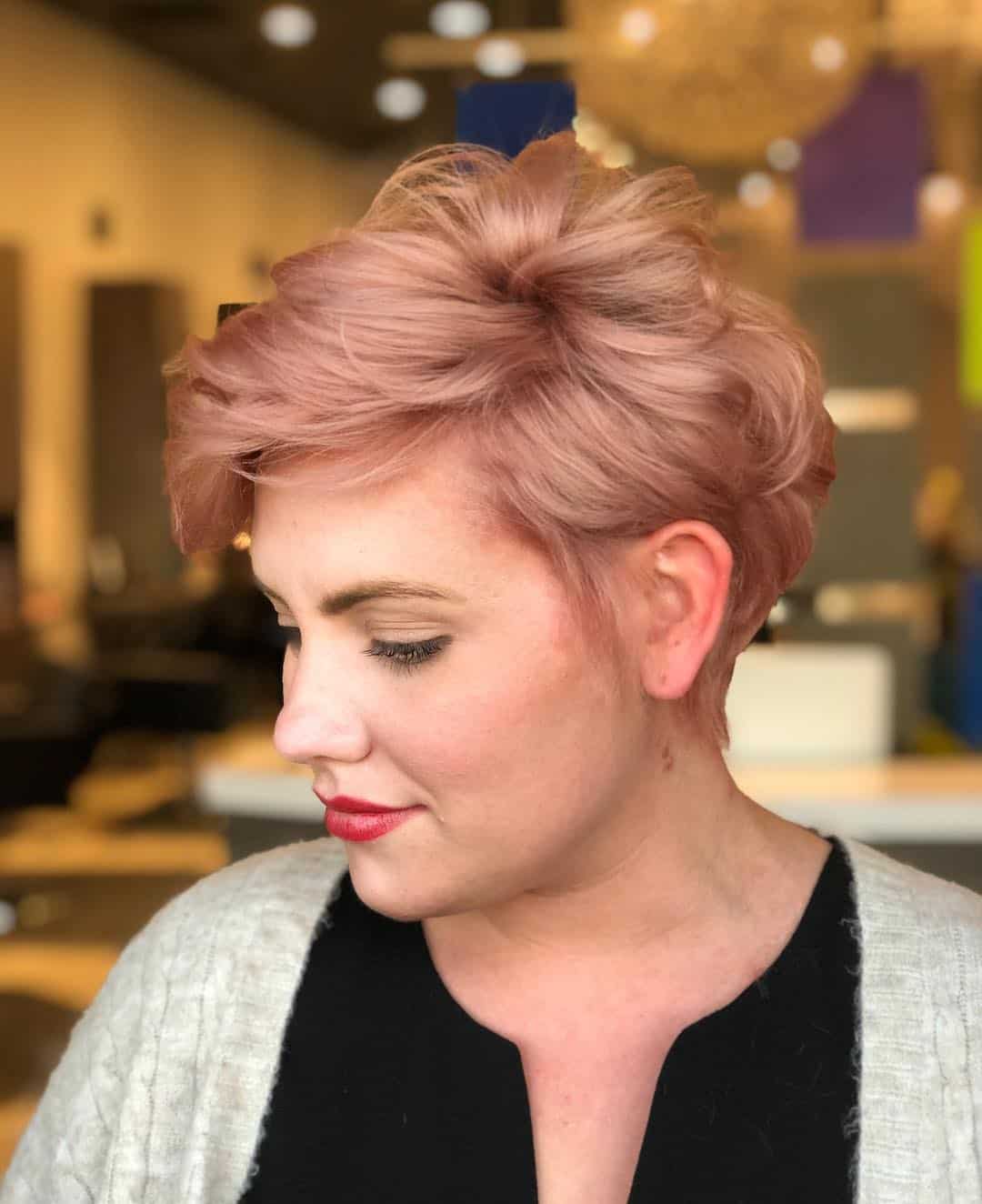 The pixie is a modern classic. Most women have tried it at least once in their lifetime. There is no going around it. If you want a clean, sophisticated look, and urban at the same time, the pixie is the answer.
25. Dusty Rose And Purple Highlight Balayage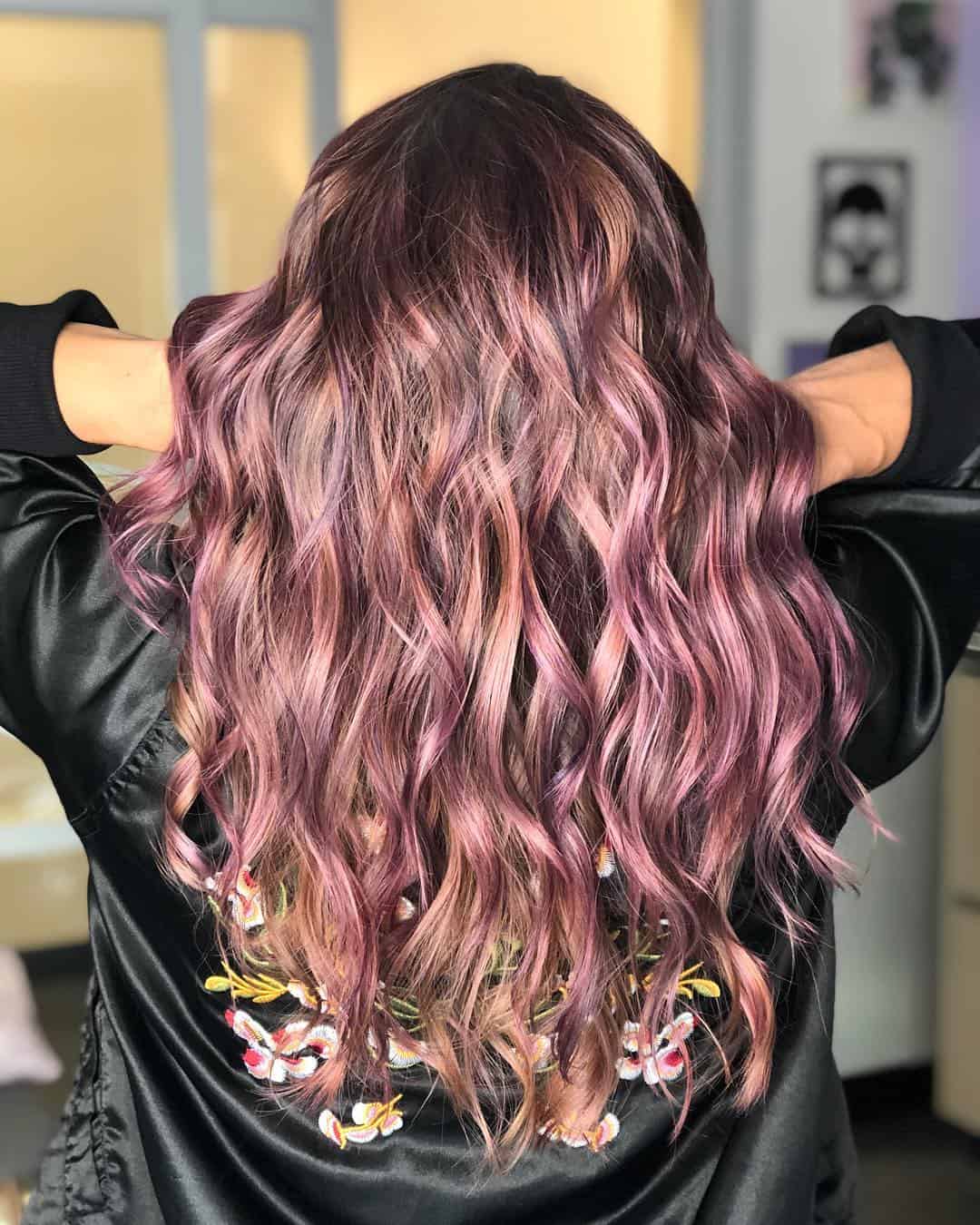 We had a balayage before, but that was with some blonde hair coloring. Now, we go full on pink and purple. We talked how well these two colors combine, and the balayage wavy look is the cream of the crop.
26. Blonde Ombre Dusty Rose In Boho Braids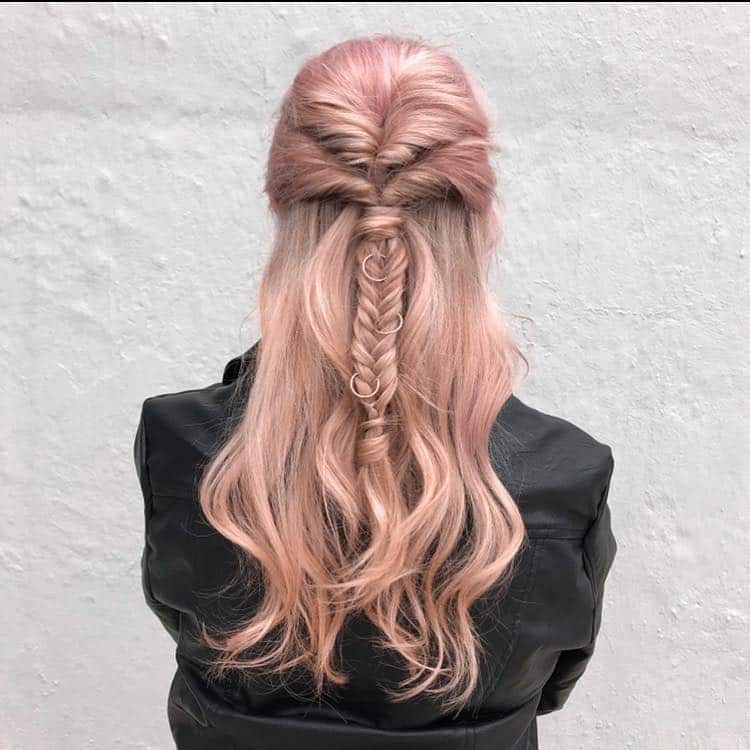 Boho braids are on the rise for the past few years. And with that in mind, you have to give them the coloring treatment. Given how boho style is unconventional and out of the box, it is only logical to pair with another unconventional hair color.
27.Dusty Rose On Princess Jasmine Hairstyle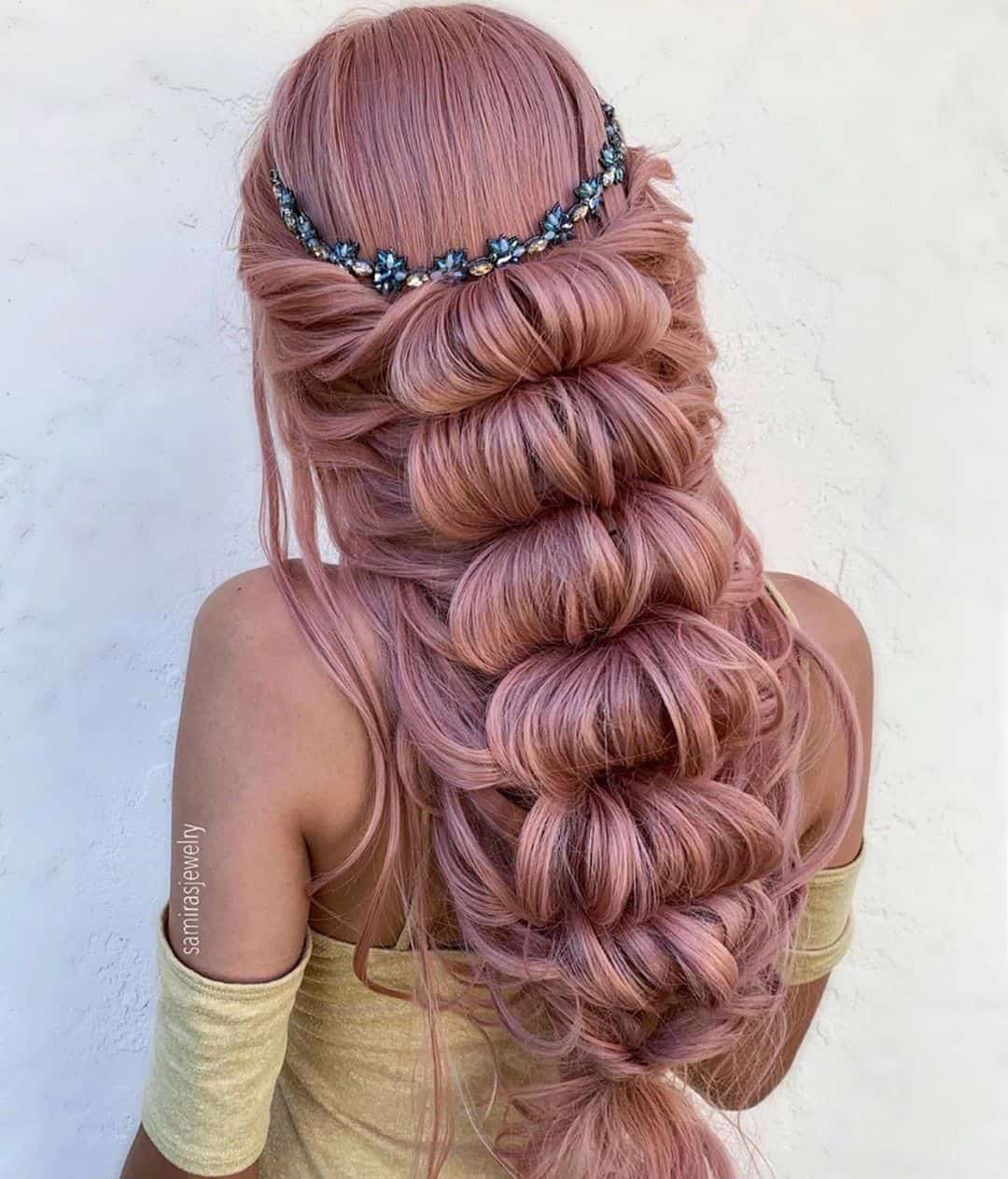 Do you want to look like a princess? Princess Jasmine is an all-time classic. Now, Jasmine had black hair. But that doesn't mean you cannot add your own tweak and imprint. Right?
With that in mind, we hope there were some ideas you liked. We strive to find something for everyone, and if you have any other ideas for dusty rose hairstyles, do share them.