They say blondes have more fun. But that is just one part of the equation. The other part is maintenance, and having to keep for blonde hair can be very difficult and challenging. One of the biggest challenges with blonde hair is brassiness.
When you have to deal with brassiness on a constant basis, you might reconsider your blonde hair. But luckily there are a few ways to combat this problem. One of the best is using the best hair toner for brassiness.
The first step toward getting blonde hair free of orange pigments is getting the right toner for brassiness. We are here to help you understand what is brassy hair, what causes it, and how toners work to help you with the problem. And of course, recommend five choices that definitely work.
Top 5 Best Toner Options for Brassy Hair
1. Lightest Ash Blonde Color Charm Toner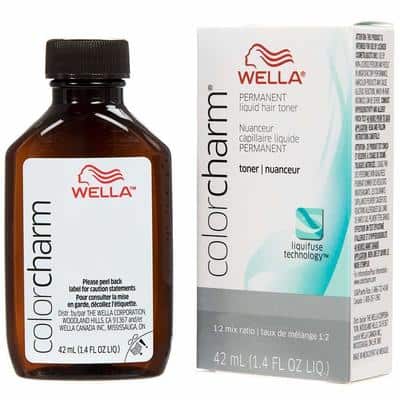 If you have orange and yellow brassy undertones after lifting and bleaching your hair, this toner is great for you. When you are not sure which color toner would be the best pick, this one might do the job you want.
Your hair is left with vibrant colors that are fade resistant. Formulated with a subtle formula, this toner delivers delicate shades of warmer hues. Double-processed blondes will love it.
Marketed as ash blonde color, this liquid-based toner gels easily with your hair and works well with hair ranging from pale yellow to white platinum. That means you can use it for yellow hair, but also works on lighter color hues. Some customers have even reported success on naturally red hair.
PROS
Easy application
Enhances the hair color and gives you shine
Great for brassy orange tones
CONS
The smell is hard to digest, and you might need a well-ventilated area when using
Can leave your hair dry and you have to use conditioner afterward
Doesn't work without the developer
2. Pravana The Perfect Blonde Purple Toning Masque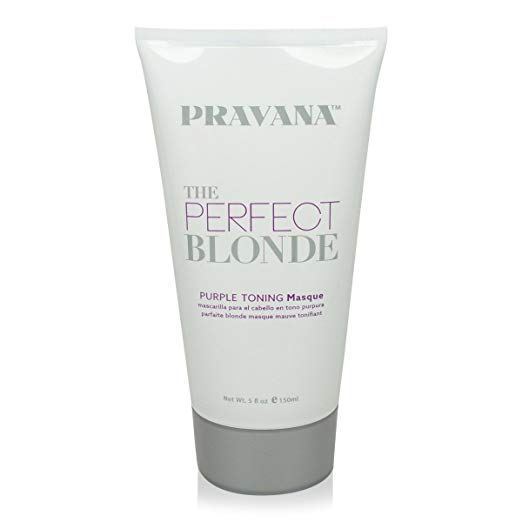 This hair mask will help you get your hair looking fabulous. Use it once per week, and leave it on your hair for five minutes. If you have a severe brassiness problem, you can leave it for a bit longer, up to 10 minutes. The purple formula works to remove the brassy and yellow undertones and give your blonde hair amazing look.
In addition to removing the brassy tone, the mask also helps you strengthen your hair. It is all thanks to ingredients like coconut oil, which will improve the strength of your hair. And if you are bleaching your hair, you want as much strength as you can get.
Bonus: it adds shine and moisture to your damaged and fried hair. Works on platinum hair, blonde highlights, or for revitalizing silver hair. Free of parabens and sulfates.
PROS
Makes your hair feel soft
Great smell
Washes out just fine
CONS
Not as great results as you expect
Some users reporter breakage of hair
You cannot use it more frequently
Can dry your hair
3. Purple Leave-in Toner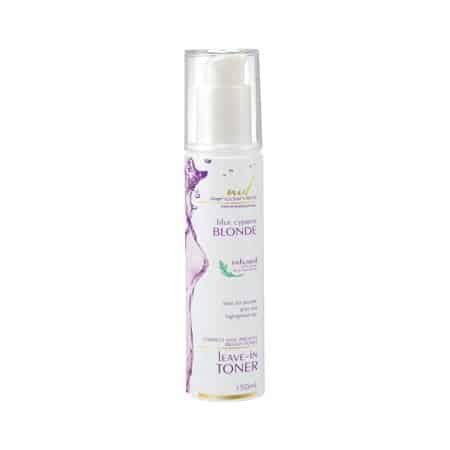 If damaged hair is your concern, this hair toner will do just fine. Infused with Australian native cypress oil, the toner works for blonde, grey, and other hair treated hair.
The cypress oil is the signature ingredient, as it has restorative fragments that will neutralize yellow brassy tones.
In the same time, it will help repair and rejuvenate damaged hair due to heat styling, over-processing, and other treatments.
Some other ingredients include sage leaf extract and rosemary leaf extract, both of which have great antioxidant properties.
PROS
Great smell
Non-sticky solution
You need only a small amount
Disappears once you rub in your hands
CONS
You have to wash your hair several times to get it off
Does not help with darker blonde hues
Can be a bit messy
4. BlondeMoment Purple Shampoo for Blonde Hair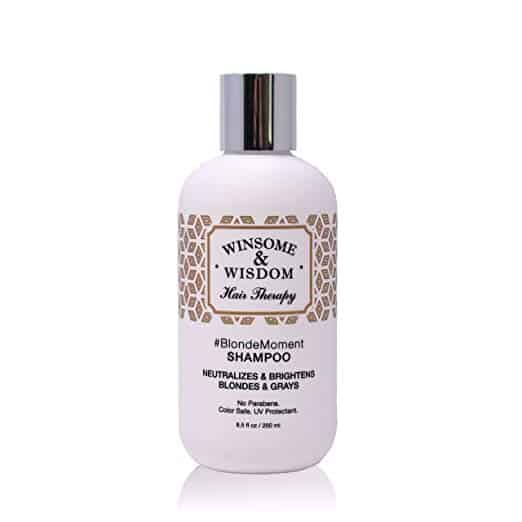 This is one of the best toners for brassy hair. You can use it on both wet and dry hair, and it will help neutralize the yellow tone shades by bringing out the classic color you cringe for.
In addition, this toner helps brighten the colors that you do want to see, and help you get rid of the colors you do not want to see. Now isn't that convenient?
The good news is that you can use it on chemically-treated hair, which is not something you can do with many toners.
Basically, you do not have to be a natural blonde in order to use this toner. Being that it is paraben-free, this toner will protect you from harmful UV rays in the sunny months.
PROS
Your hair will not feel dry or damaged after using
The scent is great
Adds volume to your hair
CONS
Some users do not notice a huge difference in brass level
It can cause burning reactions on your hair
More expensive than comparable purple shampoo products
5. L'Oreal Paris Colorist Secrets Brass Banisher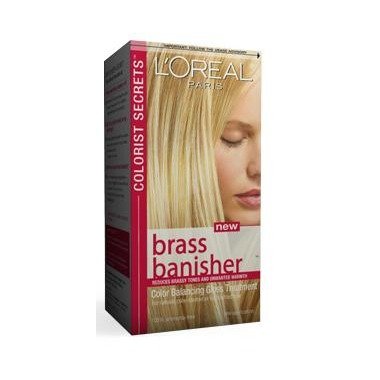 When you think of quality hair products, you have to include L'Oreal in the mix. The company has been around for many years, and it always delivers great quality.
This toner, for example, banishes the brassy hair and any unwanted warm color tones from your hair. You need just 5 minutes of application, and brassiness is gone.
The toner is ammonia-free, and it can work on natural and color-treated hair as well.​
If you are looking for a shampoo that will give shine to your hair, and take care of brassiness at the same time, this is it. And it works amazing when you are coloring your dark hair into blonde.
PROS
Can work on yellow, orange, and red brassy tones
Gives your hair a natural look
Great for going dark to blonde
CONS
Does not work on gold tones
While the instructions say 5 minutes, you might need to leave it longer
What is brassy hair?
To understand what is brassy hair, you just have to look at the pigment. For example, caramel highlights are awesome. They look great, feel great, and give you confidence. But when you end up with pumpkin orange highlights, you do not feel so confident.
After bleaching your hair, there might be some natural pigments left, and they cause orange tones, or what we call brassiness. The best and simplest way to get rid of them is to use a toner that cancels these pigments.
No matter if your goal is to get a golden blonde color, warm brunette, or any other color, you still need a toner for brassy hair.
If you do not use one, there will be red and yellow undertones that will ruin your look. In other words, your blonde hair might look more like Lisa Simpson than Kate Hudson.
Why do you get brassy hair?
When you try to get blonde hair, and your natural hair color is darker, you might experience brassiness more. To put it simply, making a color change from a darker to a lighter hue always has brassiness as a side effect. The darker your natural color is, the harder is to lift the pigment of your color.
And you can experience brassiness even when you get just highlights, or try an ombre style. Here are a couple of reasons why you get brassiness.
For starters, there are harmful chemicals in the shampoo and conditioner you use. Take a look at the ingredients. Some chemicals that are in hair dye might be irritating to you. Or they might strip off the dye color. Those include sulfates, silicones, and parabens for starters.
Compounds found in water are also responsible for brassiness. You might think everything is fine, but sometimes, chlorine and iron found in the water you use for showering can cause dry and damaged hair.
Chlorine strips your hair of its natural oils and causes it to look dry. It can also alter your hair bonds and make it more susceptible to split ends.
Pollution and dust are environmental factors that you have to take into account. Both can make your hair get yellow tones. When you are in an area where pollution is high, try to cover your head.
What is toner?
Toners are products that correct your color or remove brassiness. Toners are applied to the hair for at least five minutes, and up to 30 minutes depending on the toner you use.
Most common used toners are the purple ones, used for removing brassiness in blonde hair. When you get a toner, you have to look at the color wheel. If your color is yellow, the opposite on the color wheel is purple, which is why it works for warmer color tones.
Why should you use a toner? Well, for starters, it helps the tonality of your hair in between a color treatment. Blondes use them commonly to neutralize brassiness. Toners help your color look good for 2 to 3 weeks.
Do toners make a big difference?
Of course, they do. The difference in warmness and coolness of your hair are vastly different after applying a toner. Now, they might not work similarly for all people. It all depends on the subtle change you made and the suitability of each hair type.
It is worth noting that toners cannot help you massively alter the shade of your color. What they can do is eliminate the brassiness, and allow your hair to shine.
Is there a one shade suits-all toner?
Sadly, there is no such thing. As mentioned previously, toners work depending on the color wheel. When you want to eliminate orange pigments, you need a purple toner.
If you are going to a beauty salon, a hair stylist will mix colors together and find the right shade for you. Warmer toners go from copper to honey hue, while cooler tones go from light ash to silver for blonde hair.
Are toners only for blondes?
The definitive answer here is no. If you have red hair or brunette hair you can also use toners when you want to fix orange hair.
You can even use best hair toner when you want to personalize your colored hair by making it warmer or cooler.
How often you need to use a toner?
There is no correct or definitive answer to this one. It depends on how often you wash your hair. The less frequently you wash your colored hair, the longer your color stays.
And it also depends on your hair type. A good toner can last between 2 and 6 weeks. But bear in mind, hair that has been colored before holds color for less time than virgin hair.
Prevention tips for brassiness
In addition to using a hair toner for brassiness, you also have to take some precautionary measures to protect your color treated hair.
Here are a few ways how to make your toner last, and prevent brassiness in the process.
Use professional hair care products
Protect your hair from the sun during the summer by wearing a hat, limiting your time in direct sunlight, and spraying your hair for instant protection
Protect your hair when styling by using a heat-protectant. Argan oil works best as it nourishes your hair and illuminates the color-treated hair
Try to add moisture as much as possible, as it leaves your hair smoother. Try some protein and deep hydration masks that offer color protection