Oily hair is like oily skin. Sometimes, it is just how it is. And there is not much you can do about it. But more often than not, our hair is oily because of our habits. And there are ways to keep your hair from getting oily.
Whether or not you are convinced your hairdo is too greasy, we suggest you read on the hacks we share from professional hairdressers in the business.
Why your hair gets oily?
In most cases, your hair gets oily because of our habits. Of course, hair-type plays a role in how oily your strands appear. But you have to understand, our skin produces oil naturally.
Oil is secreted by the oil glands located underneath the skin and scalp. Oil plays a huge role in the health of our skin, as it keeps the skin moisturized and hair soft.
But in some cases, our scalp produces more oil than we want/need, and that is why our hair gets oily. Some people are also born with an oily scalp.
With that in mind, you want to find the root of the problem, but also look for ways to keep your hair from getting oily.
Hacks for grease-free hair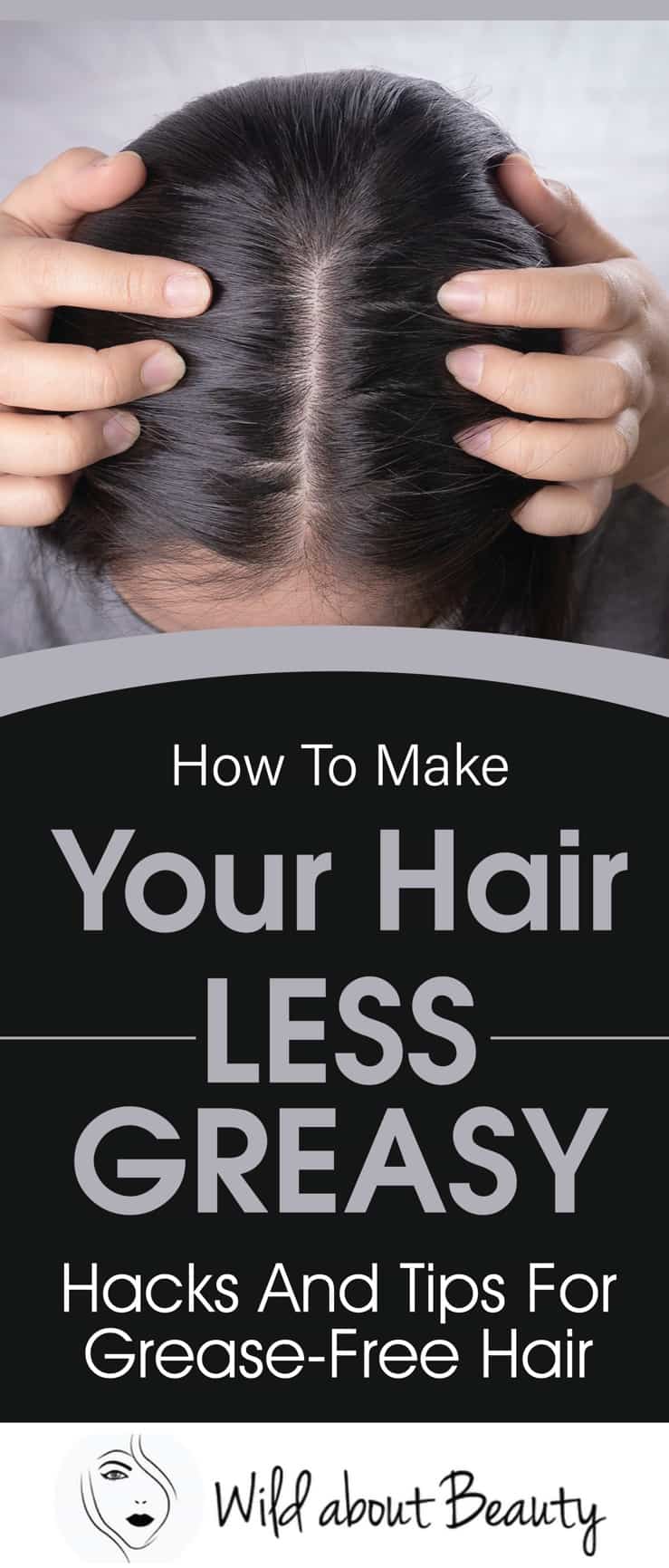 Condition only the ends
We know conditioner is a regular part of the process of washing your hair. Conditioner helps keep your hair moisturized. But if you struggle with oily hair, we recommend you apply only to the roots.
Applying all over can weigh your hair down. So, apply from the mid-shaft to the ends.
Wash hair in reverse
This is a secret that many hairdressers share with their clients. But if your hairdresser hasn't told you, washing in reverse can prevent your hair from getting oily.
How does it work? Simple, you apply conditioner first, and shampoo second. This way, you still apply moisture on your hair, but shampoo helps you remove that weighted, greasy-feeling look.
If you want to take things to the next level, we suggest applying oil massage as a conditioner. But more on that later.
Use baby powder
Many shampoos can be drying for your hair. And that is a bad thing, we all know that. What you can do is skip the dry shampoo.
Your hair still needs something for washing, so we suggest using baby powder instead. Sprinkle some on your roots, and rub it in. You will still get the same effect as with a shampoo.
For those with dark hair, baby powder can cause a white cast. You can solve this issue by brushing some bronzer onto your dark roots instead, or mix the baby powder with cocoa.
Try dry shampoo
When you use a dry shampoo, you suck up the oil from the roots. This makes the hair appear less greasy. We recommend using this method sparingly, as it can dry your hair.
But a dry shampoo will allow you to spend less time between washes. And that is a good thing.
Wash less often
This one seems obvious, but many people still forget it. But if you wash your hair often, you strip your hair of its natural oils, and your glands work forcefully trying to replace those oils.
What happens is your scalp and skin produce way more oil than you need, and makes your hair even greasier in the short run. For those washing the hair every day, try to stretch it to every other day.
Wear a shower cap when you do not shampoo
Getting your hair wet can also strip it off its natural oils. You want to make sure that does not happen.
How can you prevent it?
Simple, by wearing a shower cap. You protect your hair from getting wet in the shower, and you prevent the glands from overcompensating in grease. Win-win situation!
Pay attention to brushing
When we say pay attention to brushing, we mean you need to balance your brushing. Not brushing enough keeps the natural oils from being distributed, and causes build up on the scalp.
On the other hand, over brushing can stimulate more and more oil production. We cannot tell you what the optimum balance is, it is up to you to find out for your hair.
Change pillow cover on a weekly basis
When your pillow is oily and dirty, it transfers the grease to your hair. A dirty pillowcase can also aggravate facial acne, or cause if you do not have.
With that in mind, for a healthy lifestyle, we recommend changing your pillowcases once per week. And at the same time, we recommend using natural detergents for washing your laundry. Harsh soaps can also irritate the skin and cause excess oil production.
Choose hair products wisely
There are countless hair products. But you need to make sure you choose the ones that are good for you. And with that in mind, generally speaking, avoid using too many mousses and gels that can cause buildup.
Avoid products that promise to make your hair shiny, as they can usually turn your oily hair into a greasier monster. Cut on styling products altogether.
Do not touch your hair
Keep your hands away from your hair. But also try not to touch your hair with your face. Both face and fingertips produce oil that can be transferred to your hair.
Avoid playing with your hair, and using styles that allow too much of your hair to touch your face.
Avoid straightening hair
Straight hair looks great. But you should not do it on a regular basis if you have oily hair. The thing is, the more closely your hair lies to your head, the more it comes in contact with oil.
Curly hair gives you more volume at the roots, and prevents your hair from becoming too oily too quickly.
Keep water temperature low
Last, but not least in our advices is to avoid using hot water. Keep the water temperature low when you shower. Hot water can wash away the natural protective oils, leaving your hair dry.
And at the same time, this will send a signal to the glands to produce more oil. And in just a matter of few hours, your hair will be greasy again. Instead, use warm water to wash your hair, and follow it up with a cool water rinse to close the pores.
Homemade remedies for oily hair
In addition to all the tricks and hacks, we also have some remedies for oily hair. Those include conditioning treatment and rinse treatment.
Coconut oil conditioning
Coconut oil prevents moisture loss on your hair, which is the key to preventing greasiness.
For this remedy, you need 2 tablespoons of coconut oil, 1 teaspoon of jojoba oil, and 1 teaspoon of castor oil.
Mix the oils together, and then apply on damp hair.
Massage into your scalp, and leave it to stay for a few hours.
Wash with a natural shampoo.
Olive oil conditioning
Some people prefer coconut oil, others go for olive oil.
If you fall into the latter group, the recipe requires 2 teaspoons of olive oil, 2 teaspoons of almond oil, and 1 teaspoon of castor oil.
Mix them, and then apply on wet hair.
Massage into your scalp, leave the mixture for a few hours, and then wash with a natural shampoo.
Herbal Rinse
Herbs keep oil production in check and also add shine to your hair. It is very easy and simple to make a herbal rinse, and all you need is one or two teaspoons of herbs.
Some herbs you can use include nettle, amla, lime, orange peel, and more.
Put them in a pot and pour hot water over them. Let it steep for 10 to 15 minutes, and then strain the liquid.
Pour the herbal infusion on your hair, and massage it into your scalp.
Leave it for 3 to 5 minutes, and then rinse with cool water.