Creating a wholesome look with your makeup, by matching the lips with the eyes can't always be done. After all, not all of us own or are willing to purchase a wide palette of matching lipsticks and eyeshadows. So, we try to make do with what we have.
One way to match colors in your makeup is to use your liquid lipstick as an eyeliner. Its viscosity allows for an easy and precise application to the eyelids, creating wonderful clean lines and wings to frame and complement your makeup. As long as the formula has the perfect balance of consistency, as the liquid lipsticks at https://viviennesaboparis.com, you are ready to go.
In this list, we'll show you brilliant ways liquid lipsticks were used for eyeliners creating perfect makeup looks every time.
However, before trying this makeup technique on yourself you should be warned, not all liquid lipsticks are safe to be used on the eyes.
There have been many cases of eye irritations and even infections caused by using products not meant for the eyes, including liquid lipsticks. So, always be sure to check if the products you want to put on or near your eyes are safe before you use them.
1. Pink Style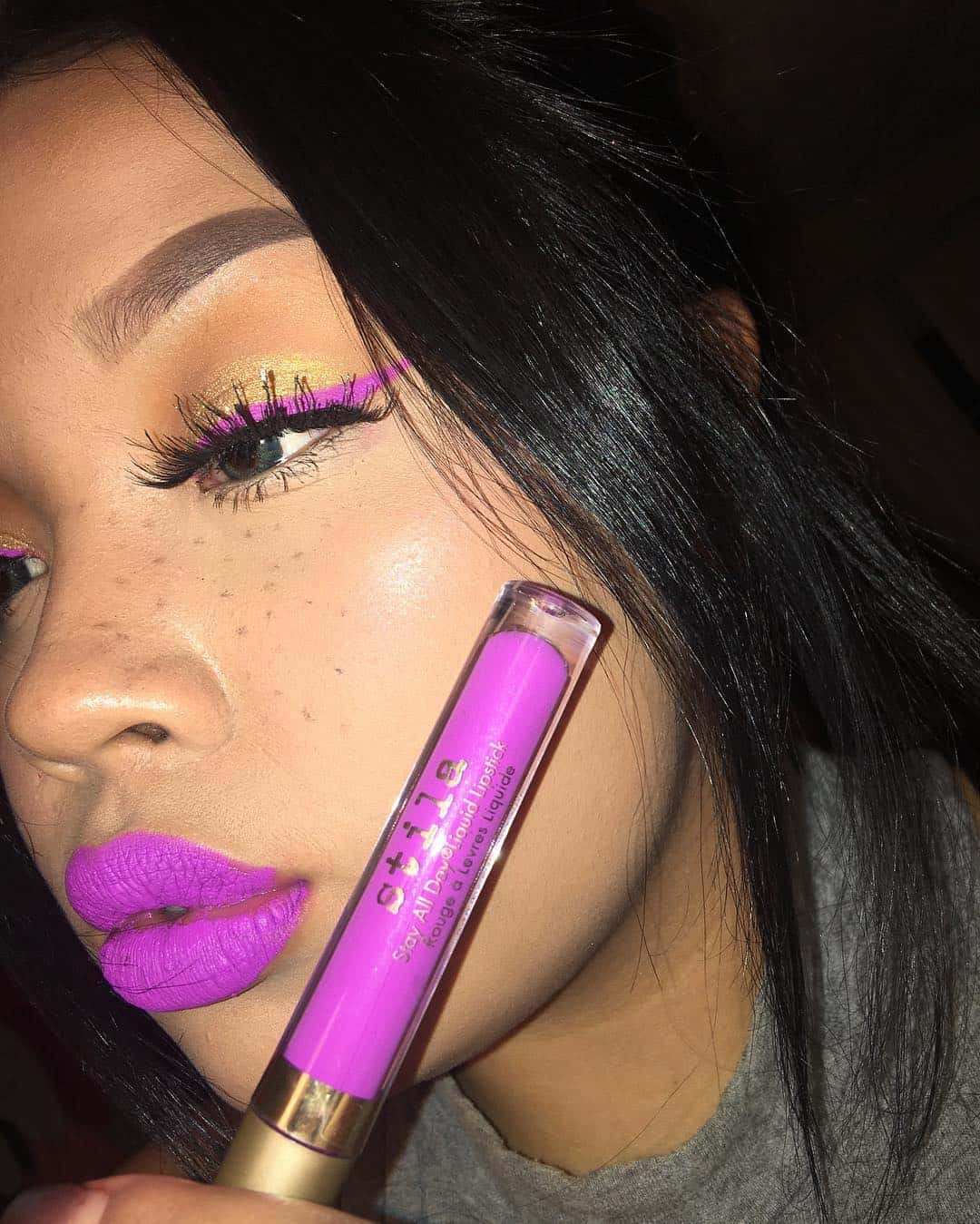 Use the matte pink liquid lipstick for stiletto eyeliner wings with a subtle peach and gold glitter eyeshadow.
The combo tones down the bright barbie pink color, leaving you with a soft natural, yet striking look. The fake freckles are a nice touch, too.
2. Metallic Velvetine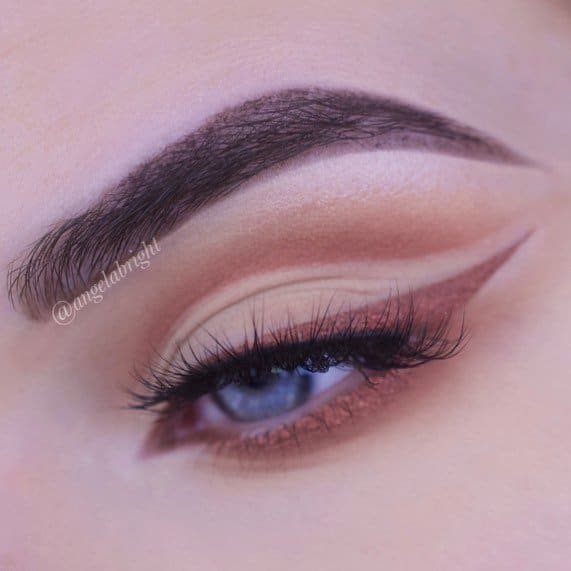 The slight glitter of the liquid lipstick applied on the upper and lower lashes glam up the soft earthy makeup of beige and brown along the crease.
A perfect skin toned neutral makeup great for all daytime activities.
3. Rose Awakening
Cat wings can be tricky to do with liquid lipstick, but the effort is worth it.
The stronger bolder color make your eyes pop that much more and done in this shape of dark pink, it certainly is a stylish foxy look.
4. Dose Of Color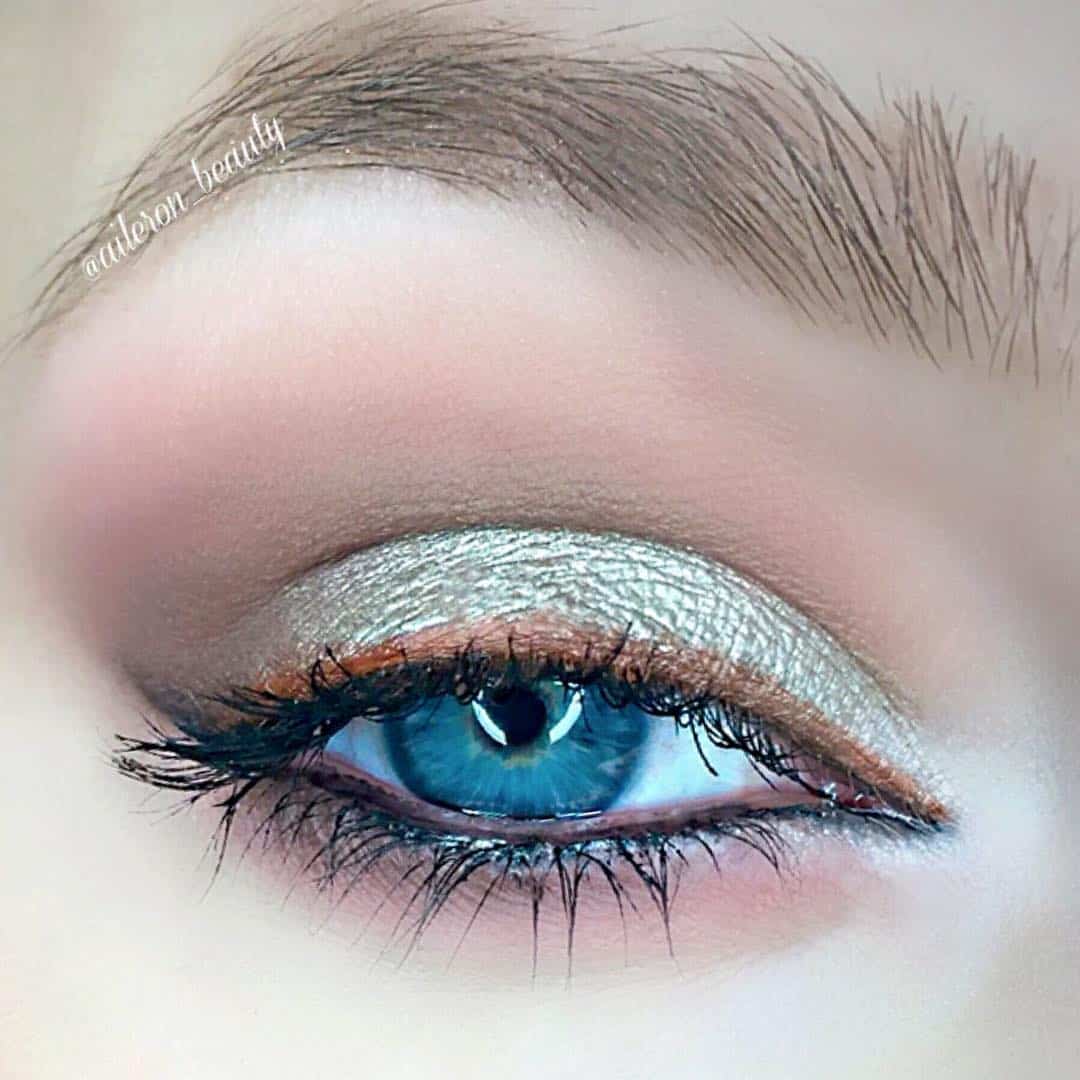 Here is a makeup that's pure gold.
Golden eyeshadow with orange-brown eyeliner darker crease matching the lower lash line. Subtle, yet shiny.
5. Vixen Liquid Lipstick Eyeliner.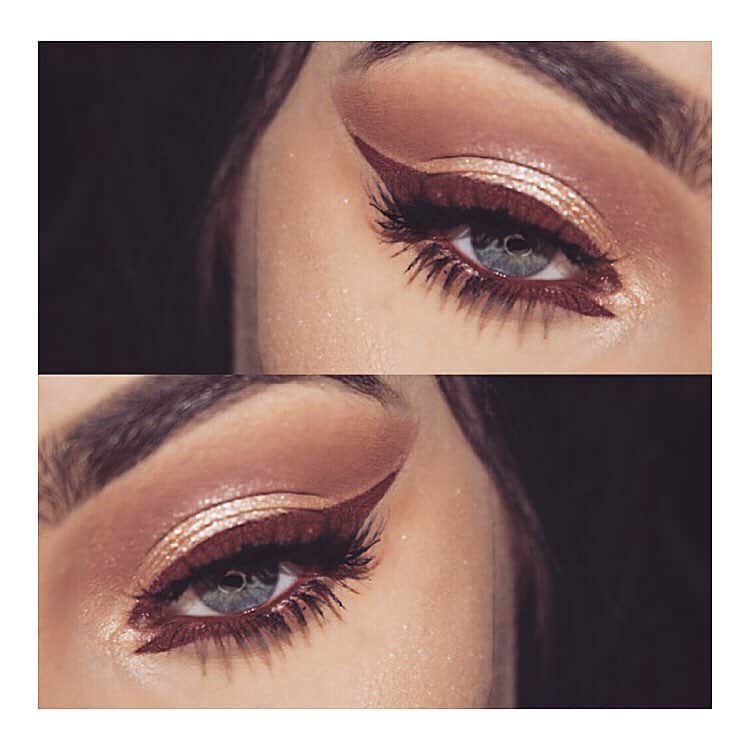 Giving off some ancient Egyptian vibes and no less striking.
Instead of the heavy black wings, burgundy frames the eyes, softening the seductive vixen look.
6. Amore Matte Lipstick in "Devotion"
Crimson red lipstick has always been considered a makeup choice for confident powerful women.
The same shade applied to the eyes is quite common and compelling when using liquid lipstick. Heavy red wings on white eyeshadow and golden drawn eyebrows. Easy and sophisticated.
7. Skin Toned Matte Lipstick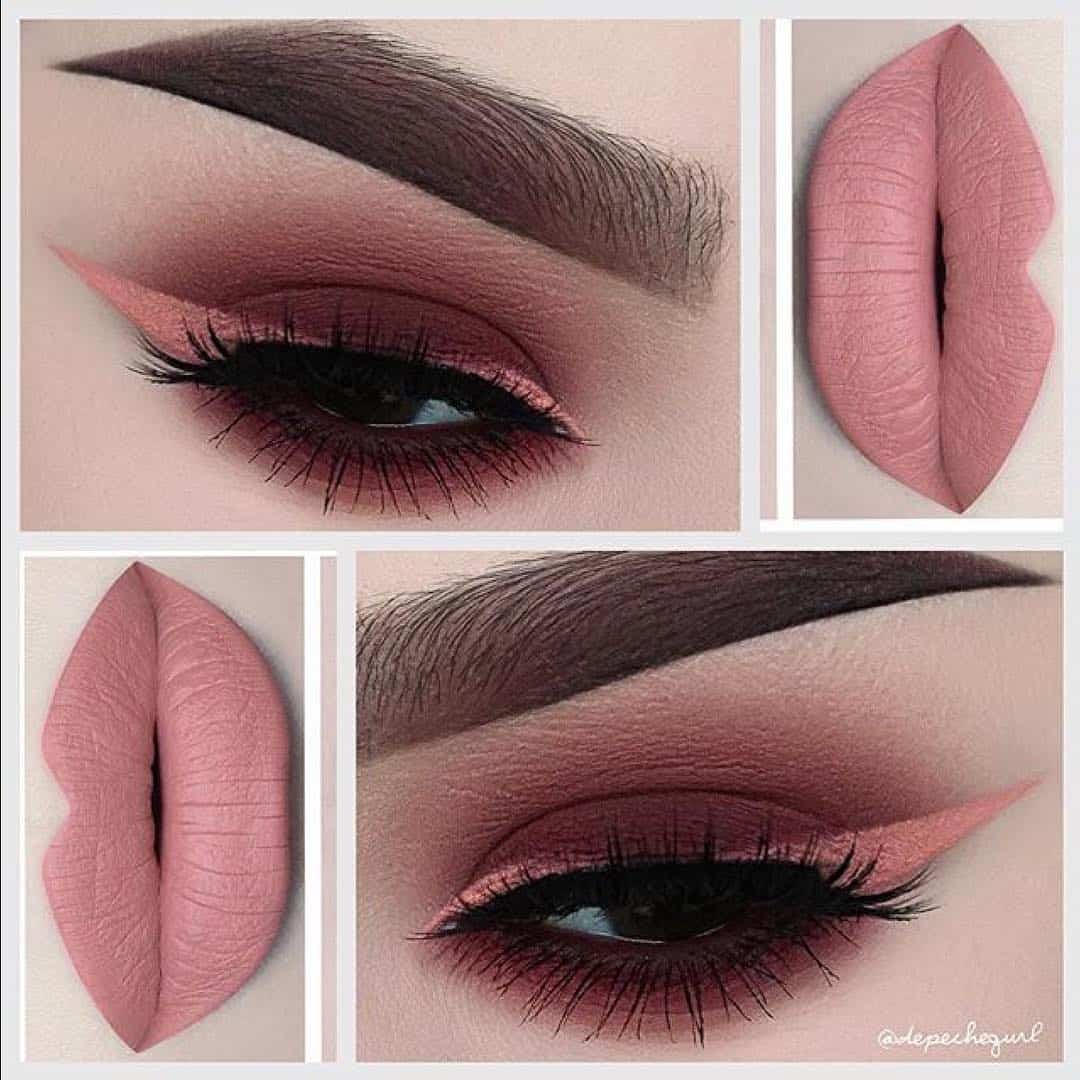 A very straightforward makeup n earthy tones.
Brown smokey eyeshadow made lighter and sharper with long half wings and a dash of color above the tear duct. Eyebrows contoured into a straight bottom line frame and complete the look.
8. Red And Gold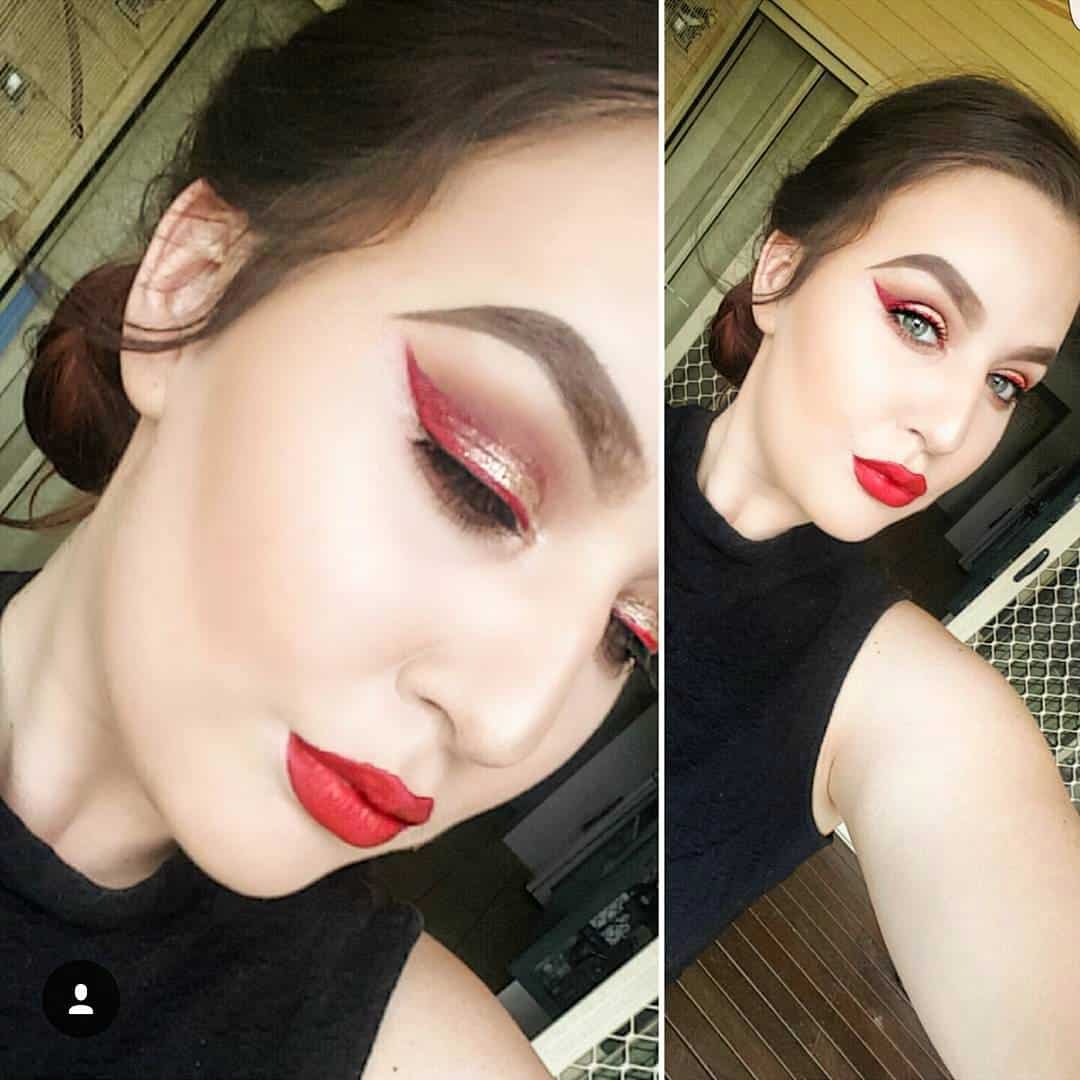 Red and gold, a combination that puts together regal and sensual.
This makeup frames the eye with the bright red arrow-shaped liner making it more noticeable by the gold shine. The softly curled eyebrows are almost unnecessary for this lovely look.
9. Mannequin Velor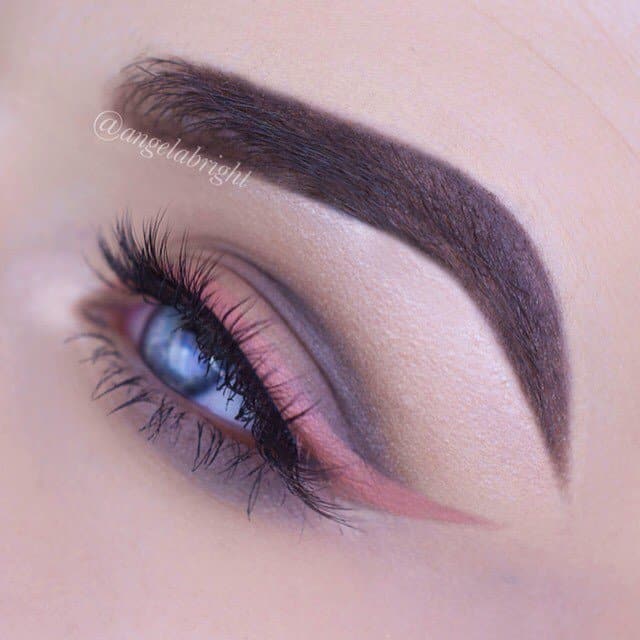 This liquid lipstick eyeliner color is bursting through a darker eye-shadow.
A misty touch of smokey eye-shadow with a gentle dash of skin-tone liner makes this a charming daytime makeup.
10. Shade Masochist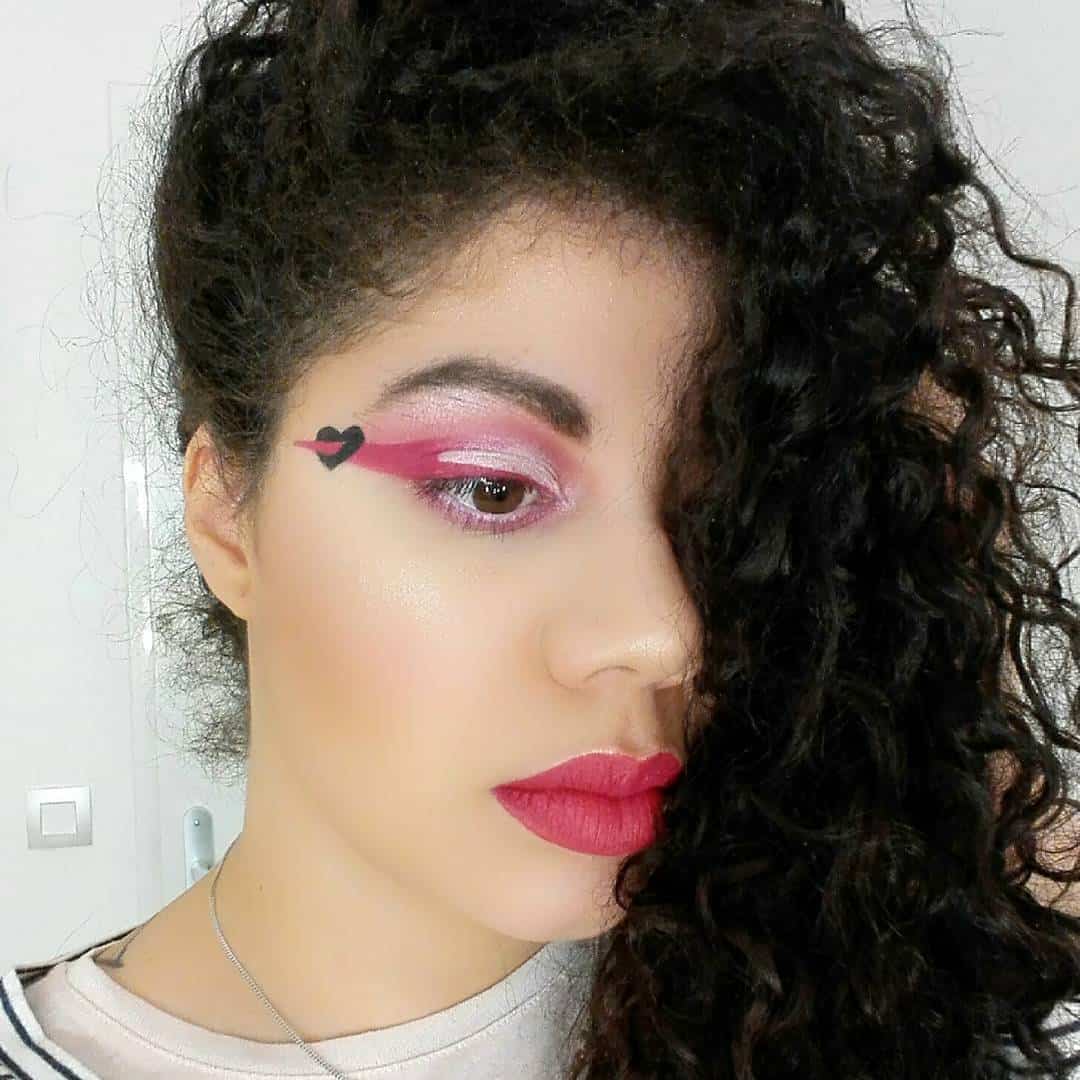 This matte red lipstick used for spikey eyeliner will pierce your heart for Valentine's day.
White base with a touch of glitter on the browbone and the lower lashes frame ed by the red arrow liner makes this a very lovely makeup. The pierced black heart at the edge is a cute detail.
11. Purple Susperia Lipstick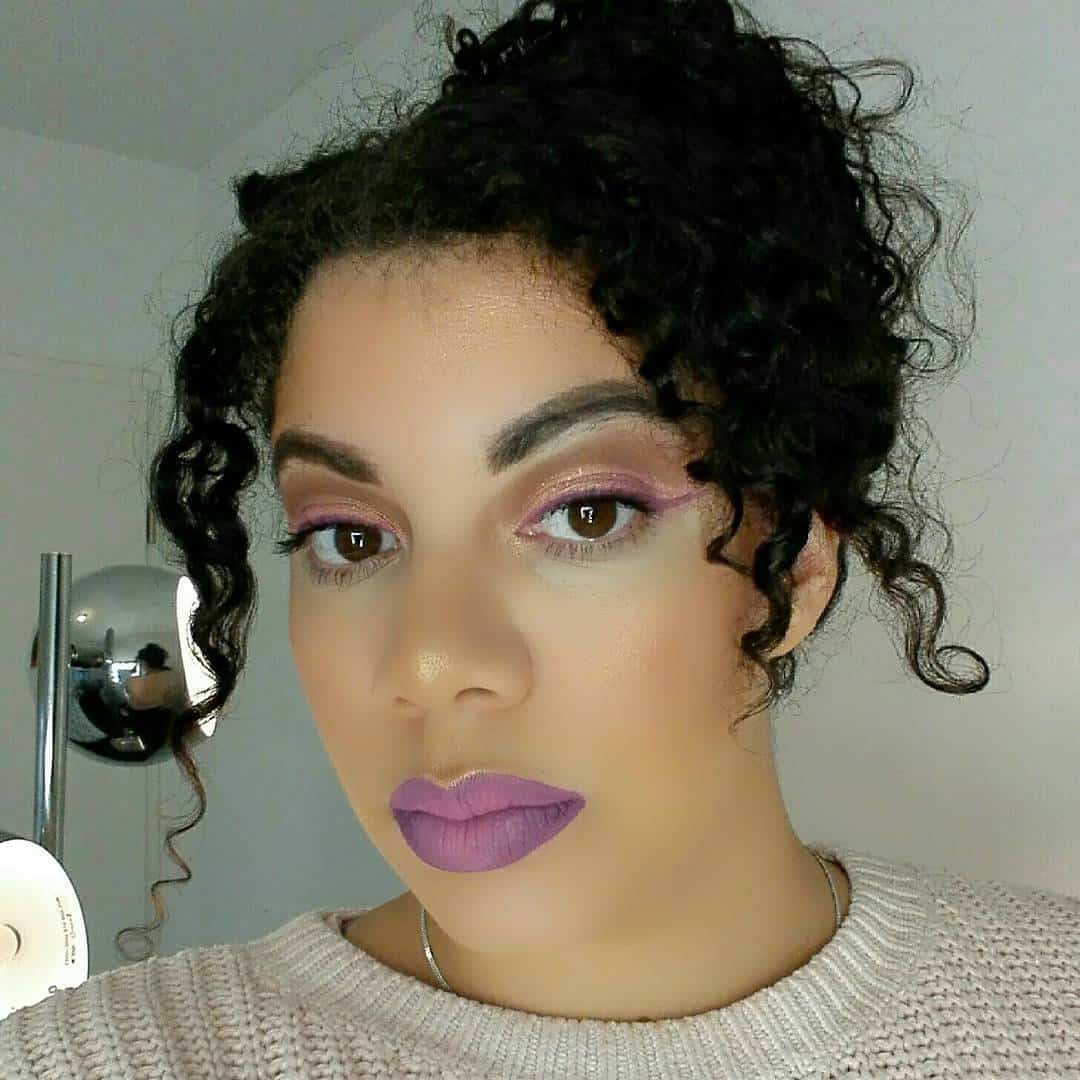 Purple lipstick can be challenging to wear, but not with the right makeup to accompany it.
A wonderful combination of dark brown crease with golden rose shimmer makes the purple blend unseemingly into the makeup.
12. Ombre Eyeliner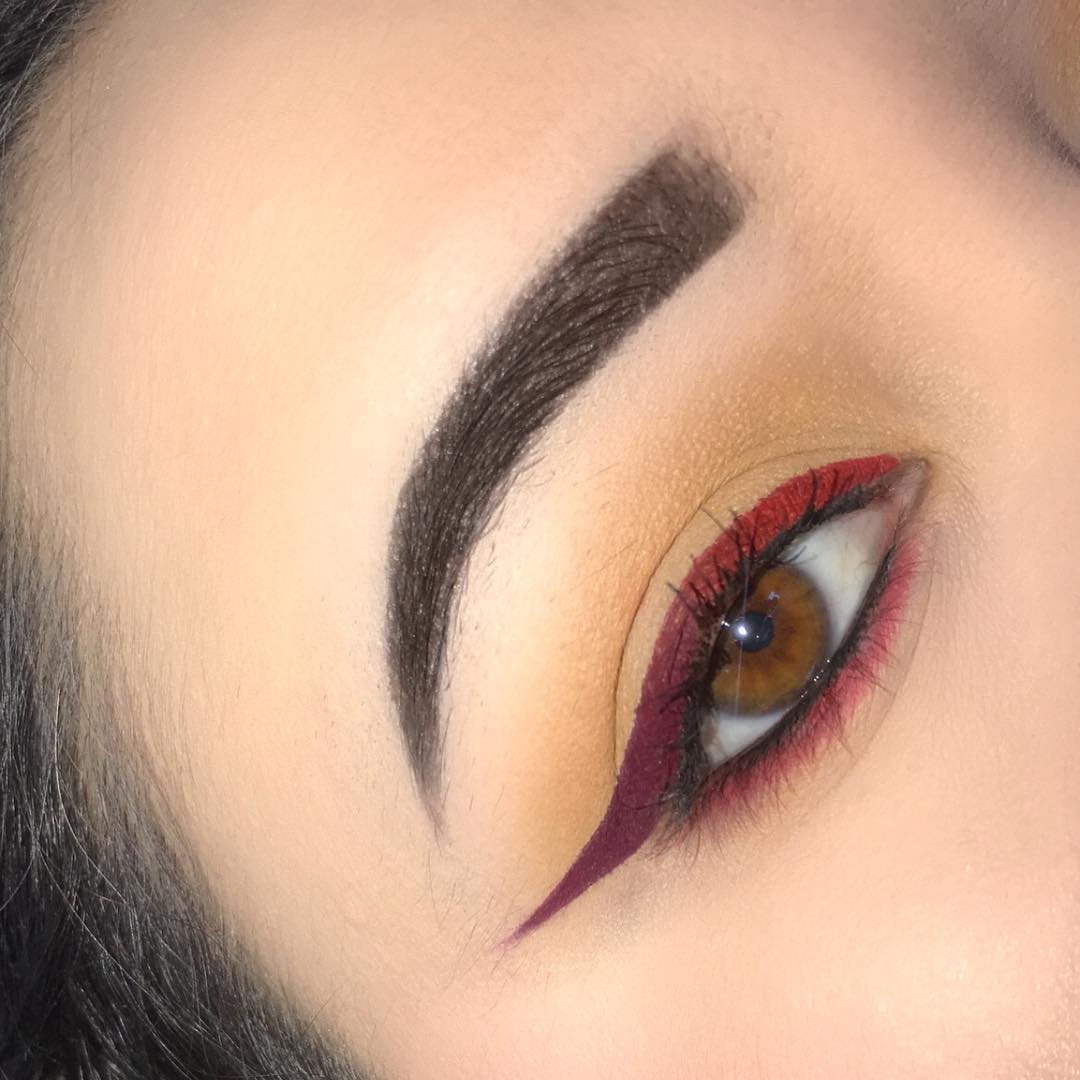 Here is a challenge you will love to try: ombre eyeliner.
Starting off a light at the tear duct, going darker to the outer V, ending in a swished burgundy wing, this liner need little or no makeup to make you look amazing.
13.  Red Velour Lipstick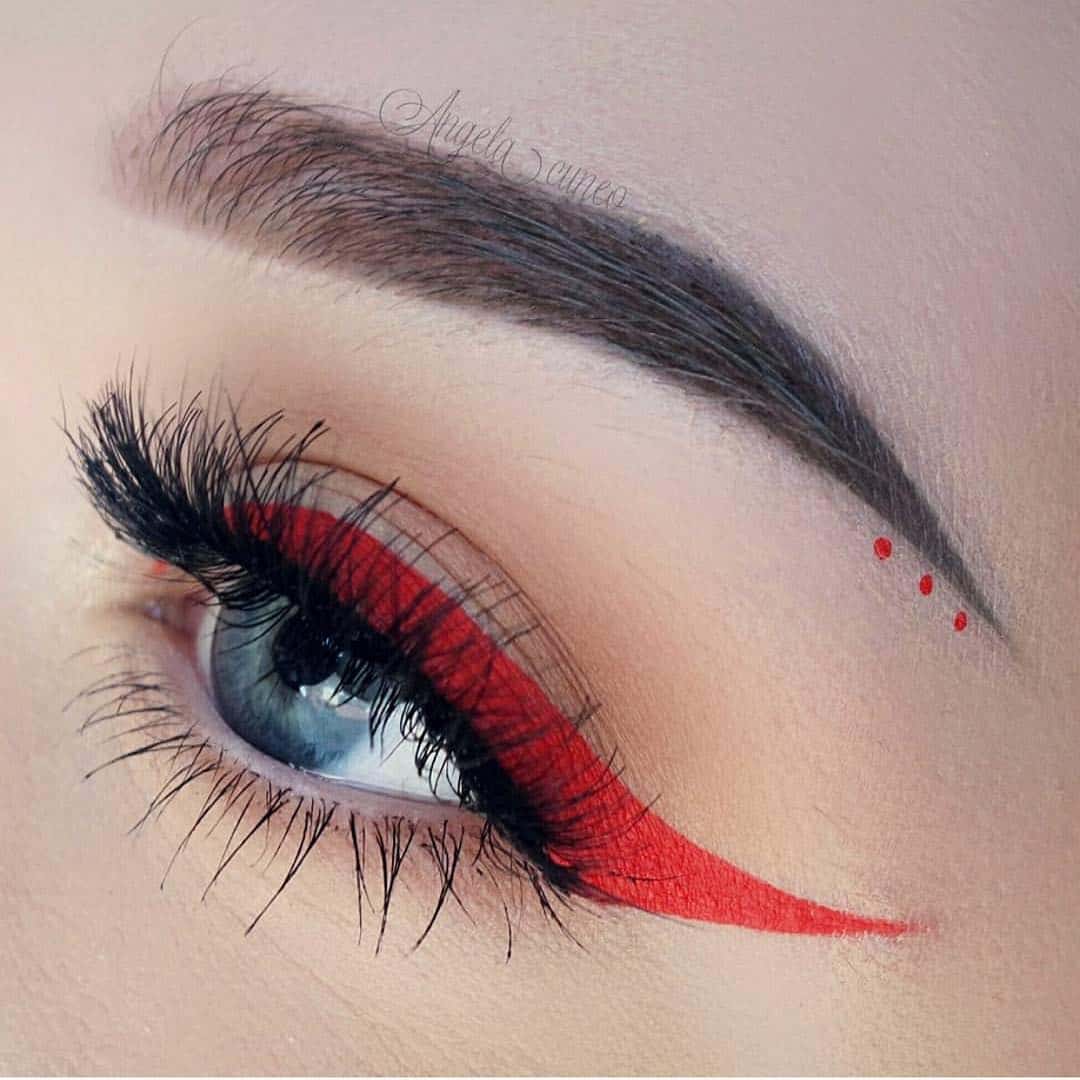 Thick startling bright red liner with long wings is a sure way to make a statement.
This makeup may be minimal, but it sure is powerful, with a few dots at the end of the eyebrows and just a touch of natural eyeshadow.
14. Velvetine Utopia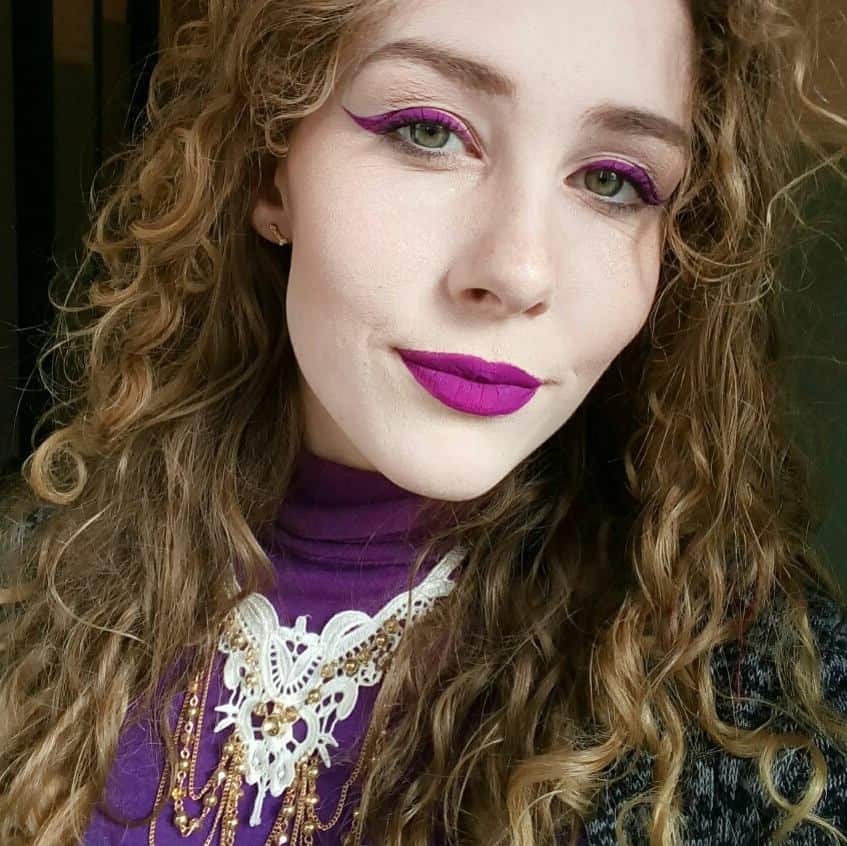 Another lavishing shade of dark purple for easy charming makeup.
Just this velvety color on the lips and the liner is enough to look effortlessly amazing.
15. Scorpio Velour Eyeliner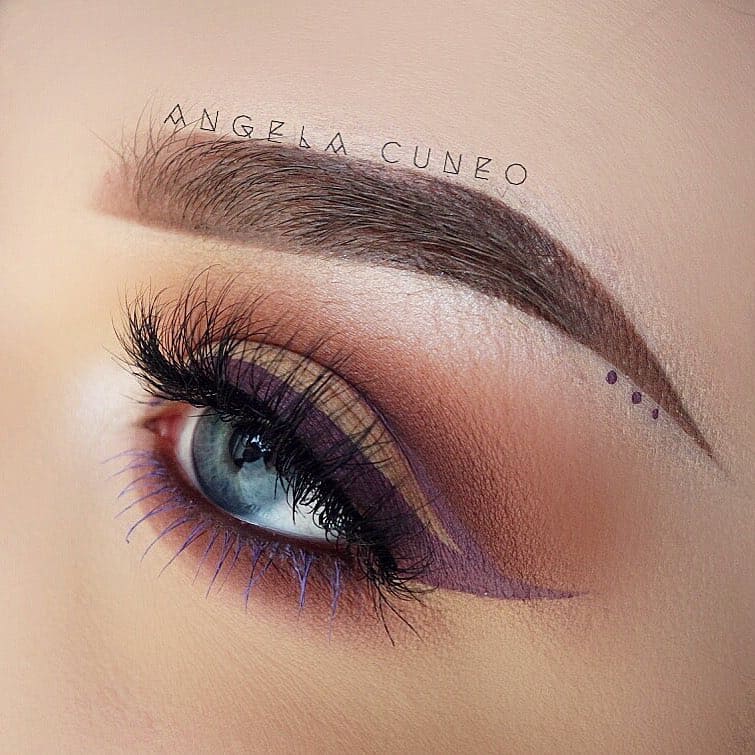 Arrow tips in purple, blended into a hot chocolate eyeshadow with a dash of rose color.
This makeup is youthful and elegant, just right for a night out or a fancy dinner party.
16. Gray On Red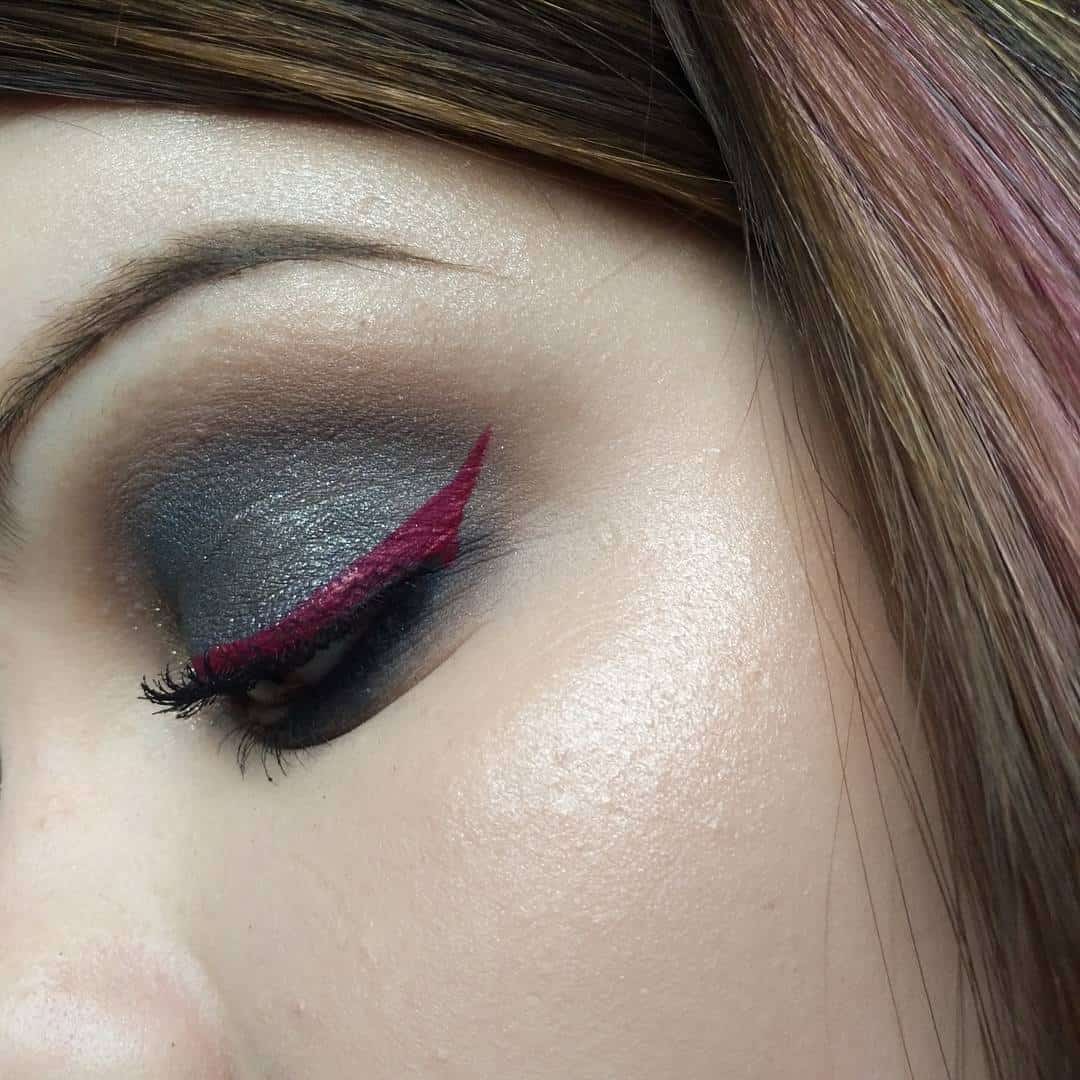 Ashy gray with some shine framed with blood red. A nice makeup idea to try, especially during Halloween.
Sublime and chick. And did you notice that lovely gloss on the cheek?
17. Metallic Rose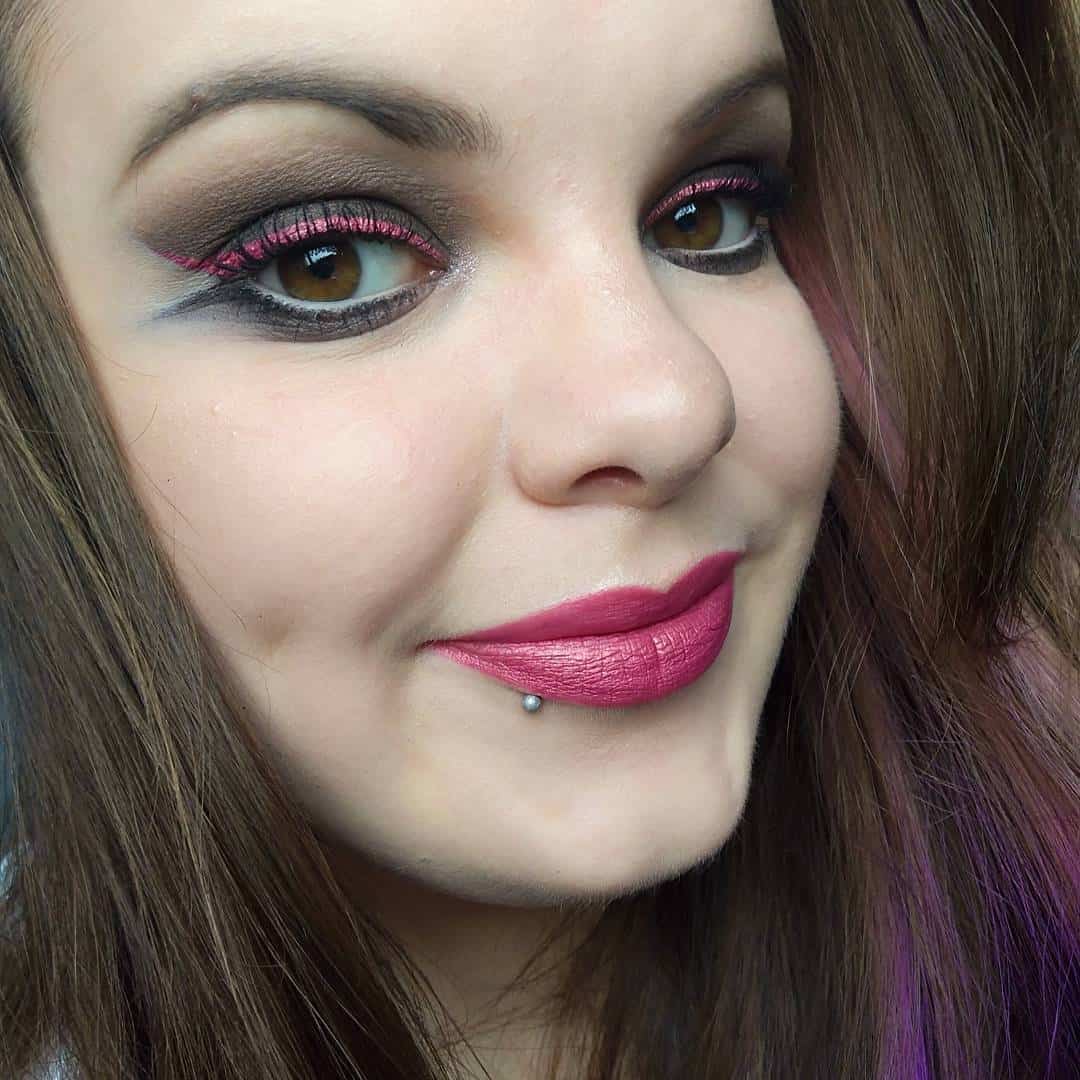 There something alluring about makeup with some metallic gleam.
This copper smokey makeup with a metallic red liner has a nice twist. The eyeliner wings split into two creating a fishtail effect. Doesn't it look great?
18. Red Wing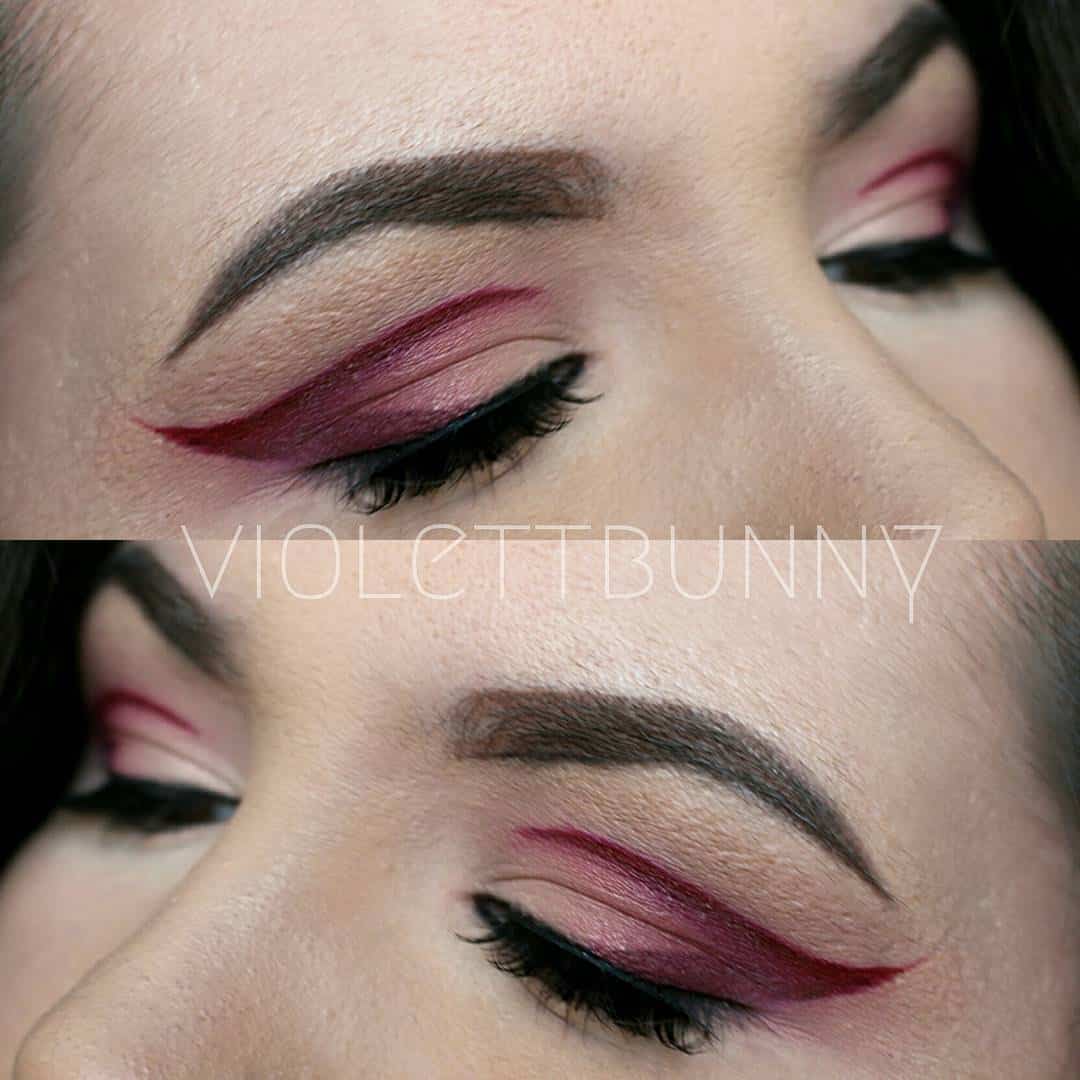 Of all the red liner wings we've shown you so far these are probably the simplest, and no less intriguing.
Long wings starting from the middle of the eye and over the crease. Apply skin tone, almost imperceptible eyeshadow and your seductive look is done.
19. Beige Black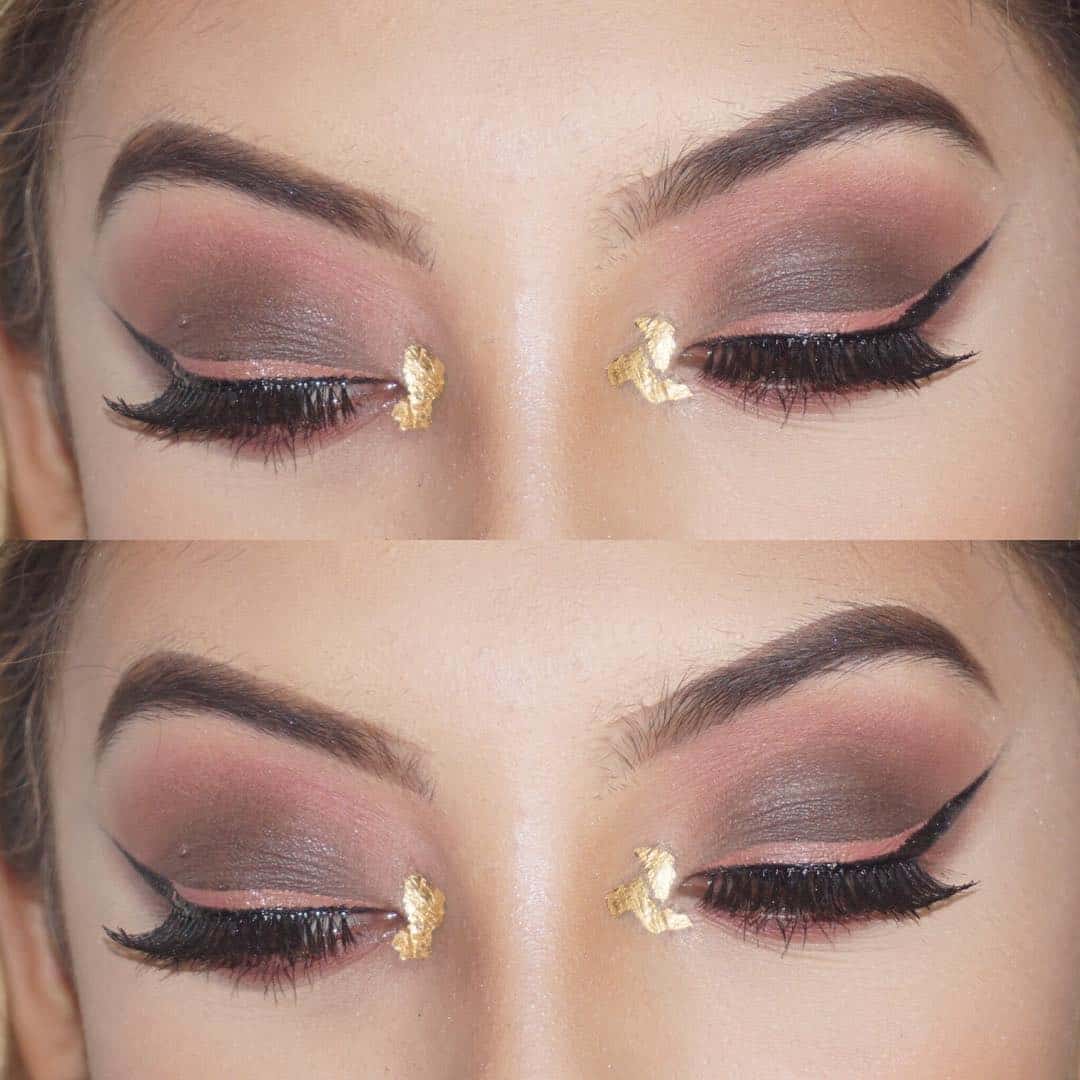 Beige on the creases, black on the eyelids, and eyeliner in both colors.
Talk about a well-balanced makeup. The gold flakes near the tear ducks is a nice touch to glam up an already glamorous makeup.
20. 'Trophy wife' Liquid Lipstick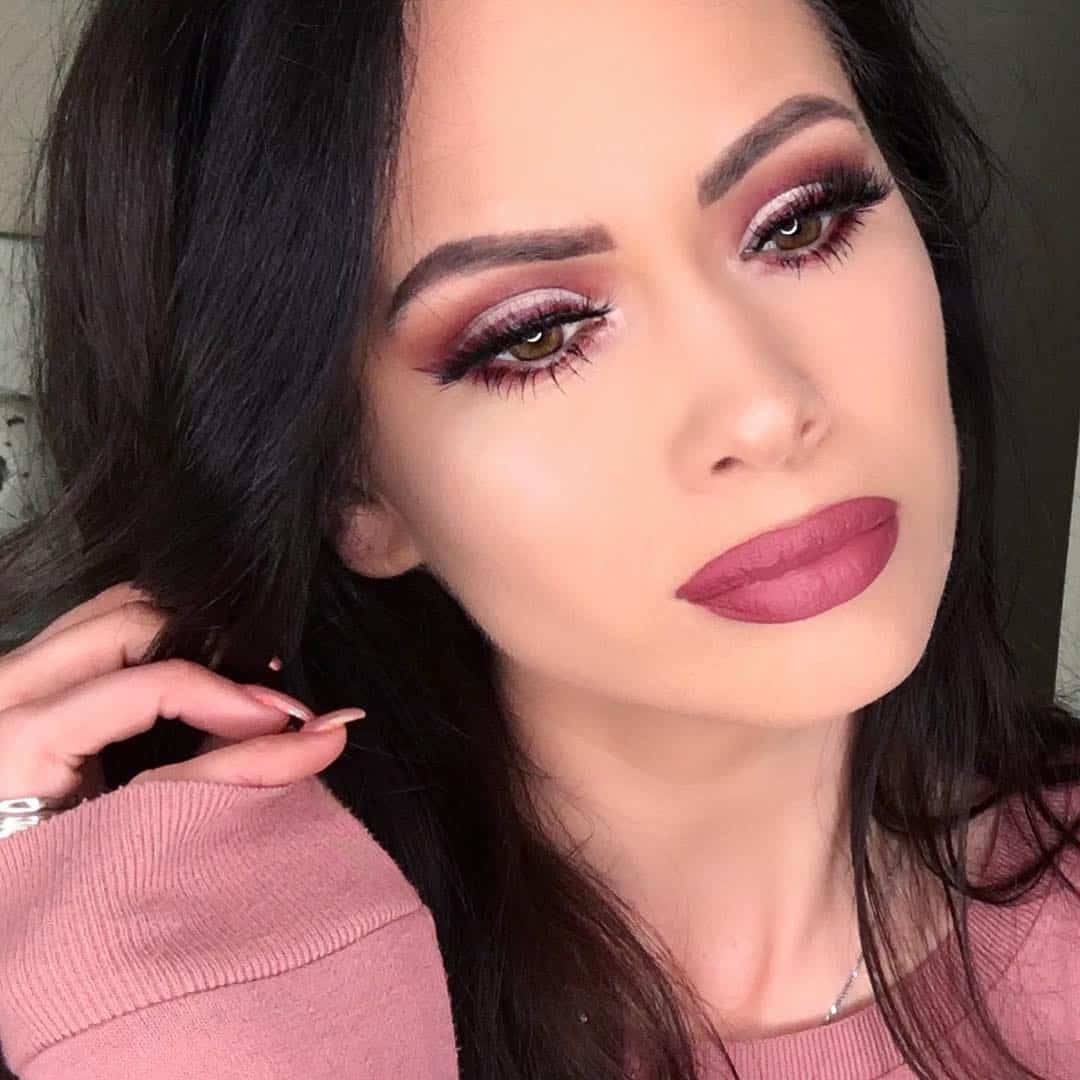 So, the name of the lipstick may not be so flattering, but what it does to your makeup so is.
The white and burnt sienna combo in this makeup is simply breathtaking, making you feel like the trophy you are.