There is a new trend among people, and that is natural skin lightening.
People are looking for ways to even out the tone of their skin, or even make it lighter.
The trend is especially common among people with dark skin pigmentation, acne scars, prolonged sun damage, and uneven skin tone.
One of the products that are recommended for these conditions is Meladerm cream.
The skin lightening cream has been available since 2005.
Back then, the product received the "Beauty and Science" award for being a safe and effective product.
Some 10 years later, Meladerm is still among the top rated skin lighteners.
So, what makes the product so unique?
In our Meladerm review, we will talk about what is Meladerm, how it works, what are the ingredients of the product, and how soon can you expect results.
What is Meladerm Skin Lightening Cream?
The cream was designed as a result of extensive research and studies made by the company.
They wanted to deliver a natural lightening cream that can also provide benefits for your skin.
And that is all visible in the formula of the ream.
All of the ingredients used in the formula are natural and have been clinically proven to work for lightening the skin.
The formula is unique in a way that preserves and delivers the highest concentration of the natural ingredients, with just a minimum amount of irritation.
The cream contains no hydroquinone, mercury, steroids, or any parabens.
In other words, there are no harsh chemicals.
Naturally friendly to the skin, the company also makes sure that the product does not get contaminated or exposed to light during packaging, thanks to an airless dispensing technology for packaging.
How long does it take to work?
The company claims that you can see the initial results within 2 or 3 weeks of using.
But that is a reach.
Realistically, you will notice results after 2 or 3 months of regular use.
You have to remember, every skin is unique, and every problem is unique.
That means that while your friend might notice results after one month, you might need more time to see the results.
Individual results vary.
However, the company offers a 30-day money back guarantee if you are not satisfied with the results.
There are other factors that can contribute to success or not include skin type, condition, depth of pigmentation, and amount of sun exposure.

Are there any side effects?
There can always be side effects.
No matter how safe and natural the product is.
In the case of Meladerm, there are a small number of people who were not happy with the results.
That is mostly due to their skin sensitivity.
There is always a chance that your skin can and may be allergic to some of the ingredients in Meladerm.
That is why it is important to read the labels.
We will also talk about each and every ingredient in Meladerm later on.
Nevertheless, if you are prone to allergy, it is best that you do a small patch test on your arm or neck first.
Another possible side effect is making you sensitive to UV rays.
The cream is highly effective as a skin lightener, which will make you more sensitive to UV rays.
That is why the company recommends using a sunscreen or sunblock while treating your skin.
Things to like
Effective on all skin types, no matter if it is oily, normal, or dry
Safe skin lightening cream
Pleasant smell
Works great on dark complexions
It is non-sticky
Contains the highest number of skin lightening products compared to other products
Results are permanent
Works well on old scars and marks
The company gives you a 30-day money back guarantee
Things not to like
Expensive
May take more than 3 months to see results
Only available at online stores
When and how to use Meladerm?
As mentioned previously in our review, the cream is designed to reduce the appearance of hyperpigmentation on the face or the body.
You can use the cream for any of the following conditions:
Hyperpigmentation
Liver spots
Sun damaged skin
Acne scarring
Freckles
Melasma and chloasma
Uneven skin tones
Dark underarms
Birthmarks
Old scars
The product can also prevent skin aging, as it contains glycolic acid which slows the formation of wrinkles and fine lines.
Here is also a step by step guide on how to use the cream:
Wash and dry your skin first
Apply an even layer over the desired area. Apply the cream two times per day, once in the morning, and once at night
Massage thoroughly until your body completely absorbs the cream. It is recommended that you also use additional wide spectrum sunblock of SPF 30 or higher
Limit heavy sun exposure while treating your skin with Meladerm. Avoid using tanning beds or sun lamps
The cream is designed only for topical use, and should not be ingested or used in the eyes or mouth
As with any other skin care products, you should consult with a dermatologist if you have any underlying medical conditions or general concerns before using the cream.
What are the ingredients?
We mentioned several times in the review that Meladerm contains the highest amount of active ingredients.
Compared to the competition, SkinBright contains 3 active ingredients for skin lightening, Revitol also 3 active ingredients, and Lucederm contains 7 active ingredients.
Meladerm contains more than 10, and here are all of them.
All of the natural ingredients have been clinically proven to lighten skin.
Alpha arbutin is a biosynthetic active ingredient, a form of a powder that is water soluble that whitens the skin
Gigawhite is a plant-based skin lightener that is made up of seven organically grown Swiss alpine plants, and it is used as an alternative to hydroquinone
Licorice extract comes from a plant that has a long history of using as a natural whitener for the skin but also contains anti-inflammatory properties
The mulberry extract comes from the mulberry plant, and it contains an active inhibitor in tyrosinase enzyme, an enzyme that assists in melanin production
Bearberry extract, also known as arbutin can also suppress tyrosinase formation
Lemon juice extract is a natural bleaching agent and skin whitener
Kojic acid is an ingredient derived from a fungus that deeply penetrates the skin and inhibits the production of melanin. The ingredient is very effective for sensitive and damaged skin. It is another natural alternative to hydroquinone
Glycolic acid helps with the reduction of fine lines and wrinkles and penetrates the skin to promote exfoliation
Vitamin C is a vitamin praised for slowing down the formation of melanin, plays a huge role in reducing acne and aging symptoms, and also helps the whitening process by slowing down hyperactive melanocytes
Emblica is a natural antioxidant that contains whitening ingredients extracted from Indian gooseberry
Niacinamide, which is otherwise known as a form of Vitamin B3, is a whitening ingredient that slows down the formation of melanosomes and helps in the prevention of acne
What are customers saying?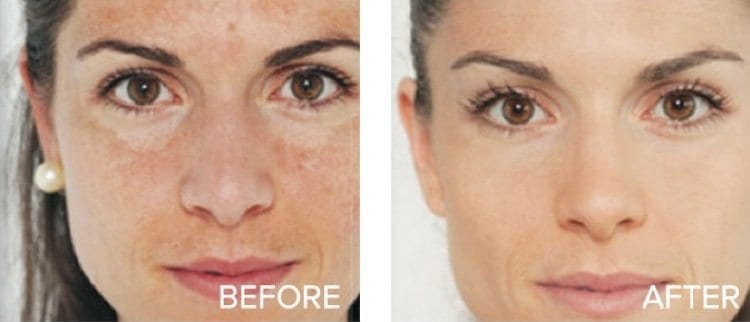 Just one search on Amazon, and you'll find a number of reviews of real people regarding Meladerm cream.
Most of them are positive, with the cream scoring 4.5 stars on Amazon.
We give you some of the reviews:
This cream will probably work for a lot of people who just need something mild to even out their skin tone, but for more serious cases or black, Mexican, Indian, etc women or for bleaching of darker spots, you need something that really does the trick. IMO, it's not Meladerm. I like the natural ingredients and you just get the feeling you're using something good for your skin, but it doesn't bleach very well. Or, you may have to use a lot more of it, so, either way, it is going to cost you a pretty penny. I would think you'd have to use it for a year or longer if you have any major discoloration, and it may not fully bleach darker spots. It may just brighten them
What I like about Meladerm is that it lightens the skin "slowly" and ethnic women probably won't have to worry about their faces suddenly turning "white." I believe their natural tan color will pretty much remain with Meladerm. But ethnic women and people who have major discoloration need a stronger cream. Many of the creams at the drugstores don't completely bleach the discoloration
I've used Meladerm the last year and a half and it's great if you're looking to even your skin tone! I'm African American and at first I was a little wary about it , since there's many products out there for this use. I don't need or want to be lighter just even-toned. After two months, I saw results. The little dark spots and discolorations on my forehead and jaw area (from shaving) are completely gone! I use it now just to maintain the even tone. I love the product!
I have been using this product for 4 years now and it's the only product that helps with diminishing/clearing my acne scars. It takes a few months to notice a difference but it really works if stick to it. I have not used any other products since I've discovered this one and will continue to use it forever
Melasma, based on skin type, sun exposure, nutrition, hormones, aging, etc., is a fact of life. I have used numerous products from different sources such as grocery, pharmacy, mail order and brand name department stores. They all have exaggerated claims, but their effectiveness is minimal. You can go throughout your life spending your money on countless numbers of these products or you can go to a professionally accredited dermatologist (or plastic surgeon) and pay a hefty amount for a few invasive treatments and get done once and for all. This particular product is a mildly effective lightener and did not completely erase my melasma. Consuming large doses of Vitamin C does not work either and the different types of skin acids sold over the counter are insufficiently high enough in dosage to achieve measurable results