Selena Gomez appeared on television in the children's series Barney & Friends, and the rest is history. She later on dated Justin Bieber, another teenage star, and the couple quickly became popular. They boosted their own popularity together.
When they broke up, she matured as a singer, and a person as well. With that in mind, her looks and style have gone from teenage star, to a lady and a woman. Let's check some of her signature hairstyles.
1. Shoulder Length With Braided Headband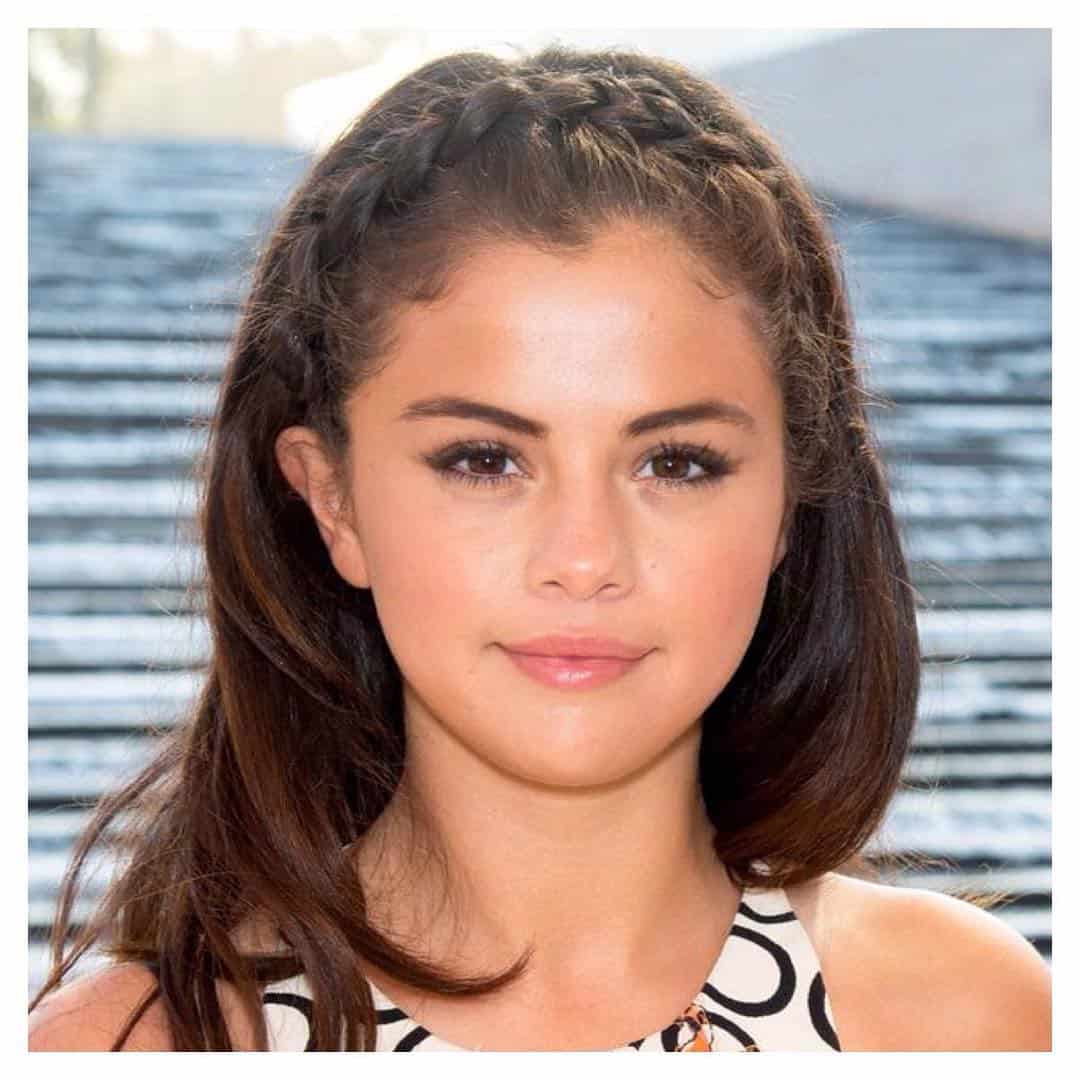 This is back when she was still a teenage stars. Selena was known for her cute and adorable braids. And she combined them with different hairstyles.
2. Long Black Middle Parted Wavy Hair With Single Braids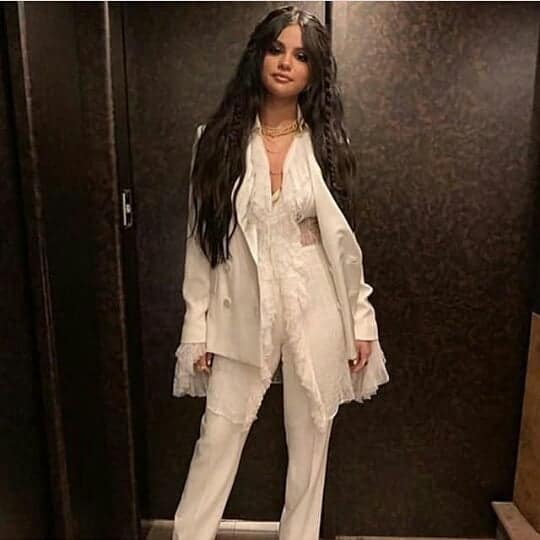 Speaking of braids, Selena also fancied getting just small portion of her hair braided. She let the rest of it loose, giving her a mature and cute look.
3. Long Straight Black Hair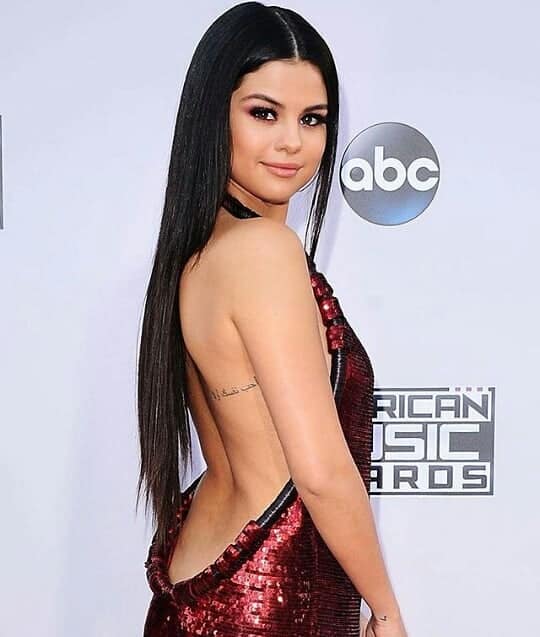 One thing Selena is blessed with is her long hair. Among celebrities in Hollywood, Selena might have the longest hair. And with such length, just letting your hair fall down naturally on the back is more than enough for an elegant look.
4. Chunky Bun With Large Orchid Flower Band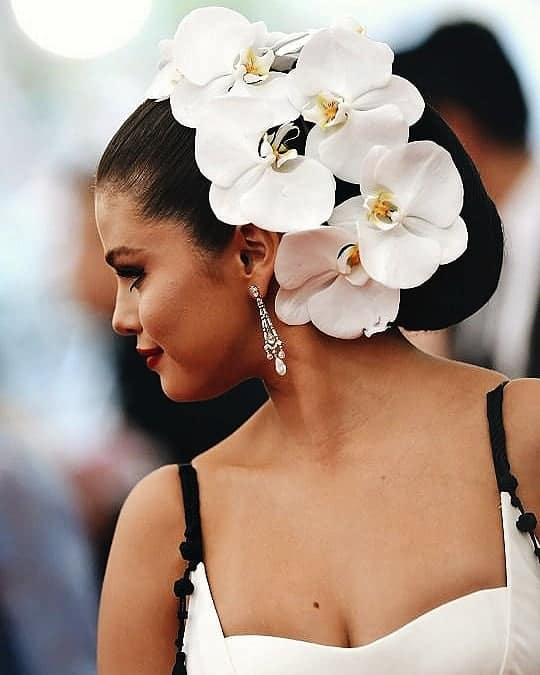 Here is one hairstyle perfect for a wedding or a similar type event. Just gather your hair in a bun and then add some adorable accessory. You can never go wrong with orchid, a flower representing love and strength.
5. Shaggy Waves With Side Flip Over Bangs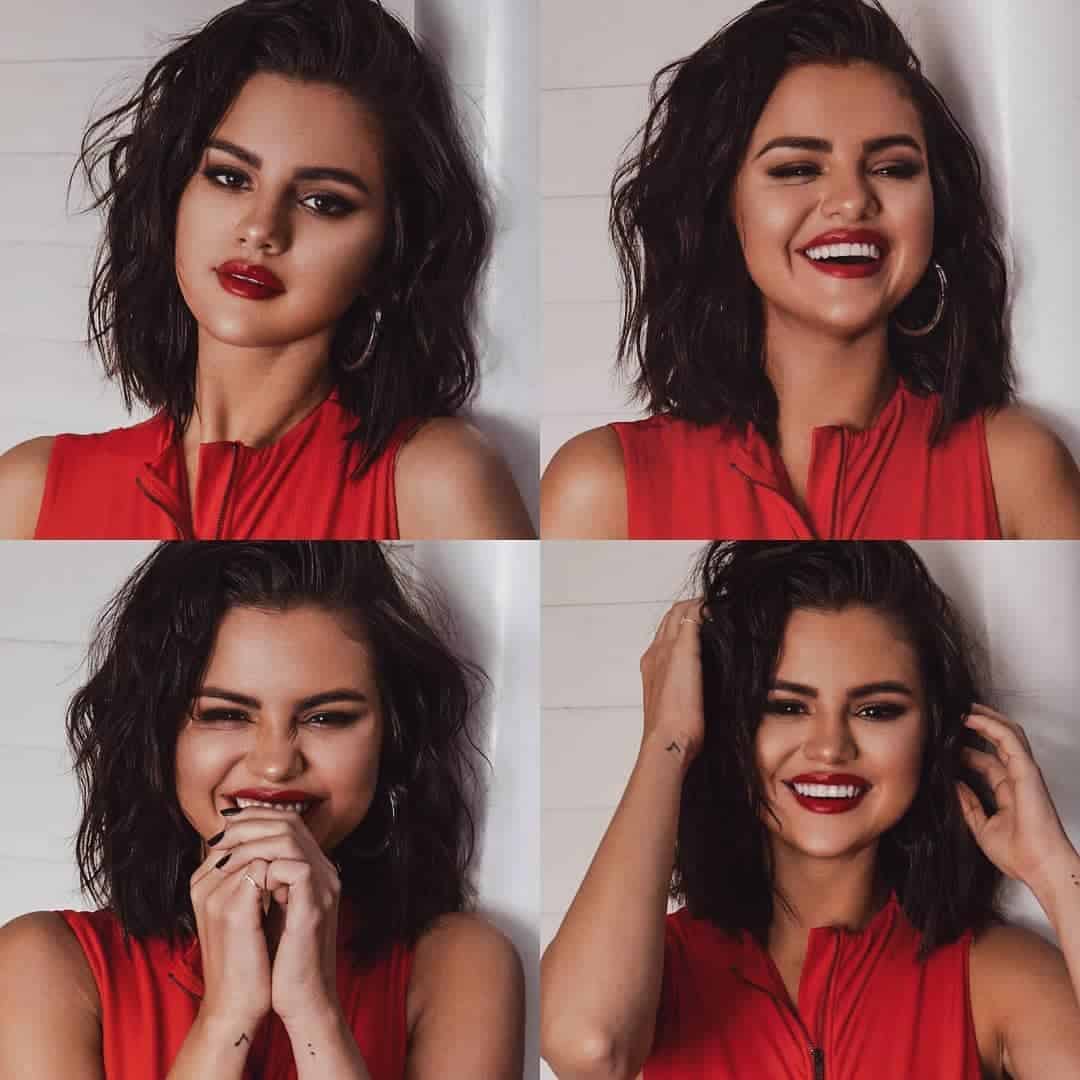 The shaggy cut is definitely trending now. You can sport shaggy hair with medium or short hair. Sassy and sexy, a shaggy hairstyle will look gorgeous.
6. Messy Top Knot Bun With Side Bangs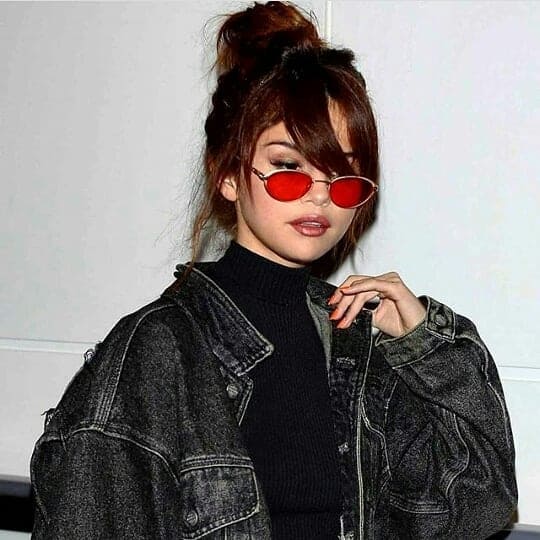 This is an everyday hairstyle every woman can wear now and then. Perfect for a daytime coffee date, or strolling through the city. Urban and sexy in the same time, the hairstyle is easy to pull off.
7. Wild Wavy Layered Shoulder Length Chocolate Brown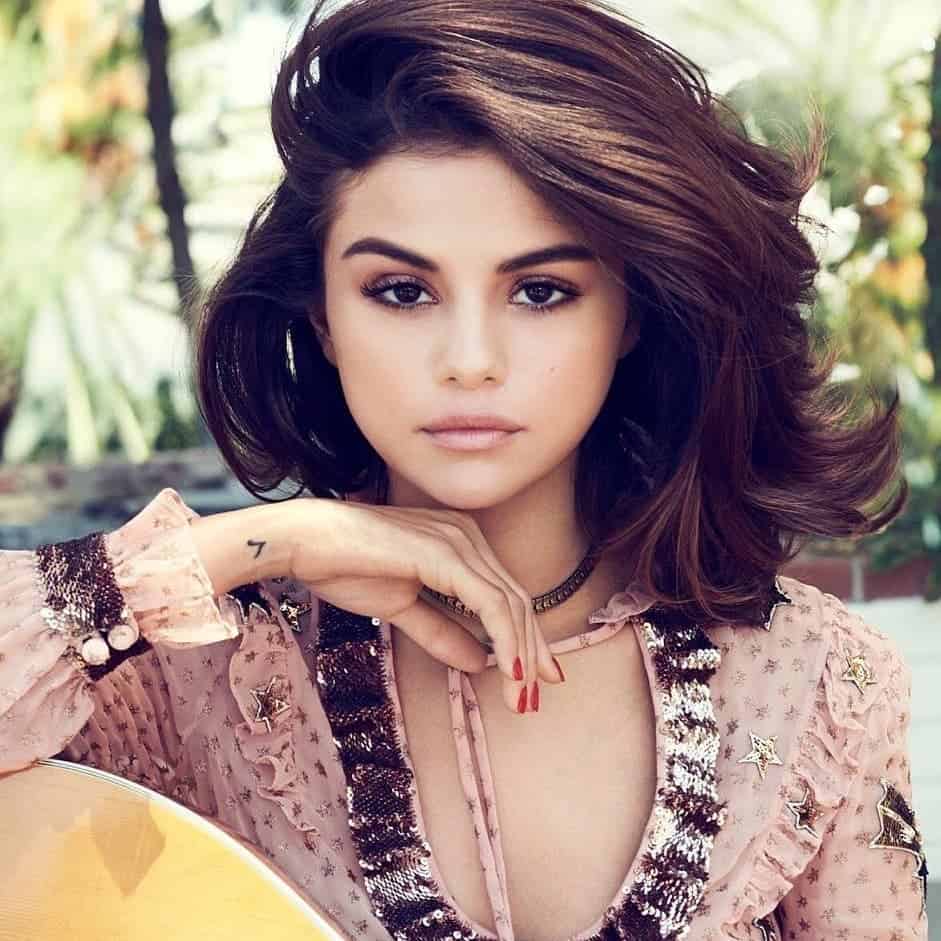 With such big brown eyes, Selena looks absolute gorgeous with her brown hair. She is a definite proof women with brown hair can look just as sexy as blondes.
8. Slicked Back High Ponytail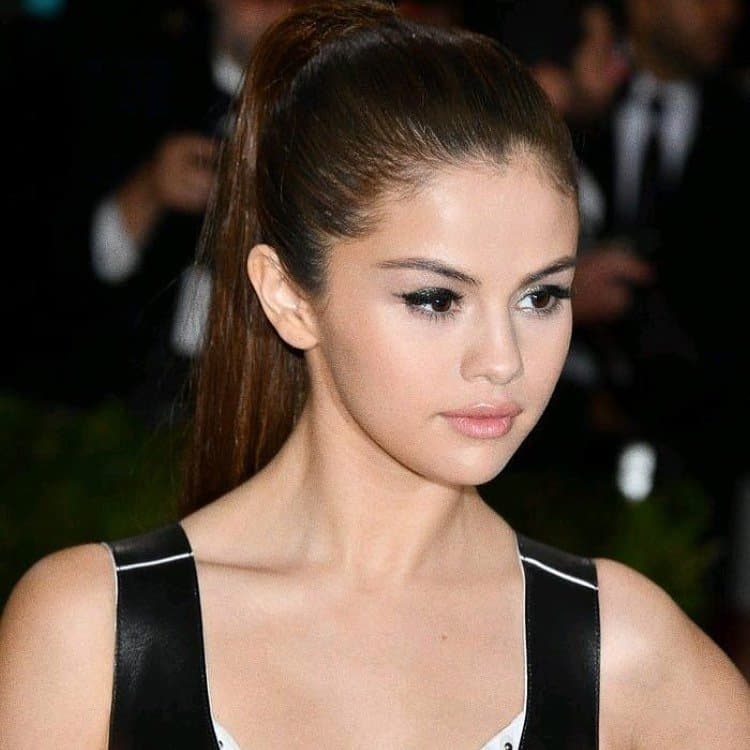 Being a young celebrity, Selena loves staying true to her nature. And that means hairstyles that look simple, yet elegant. The ponytail is definitely one of those.
9. Middle Parted Lob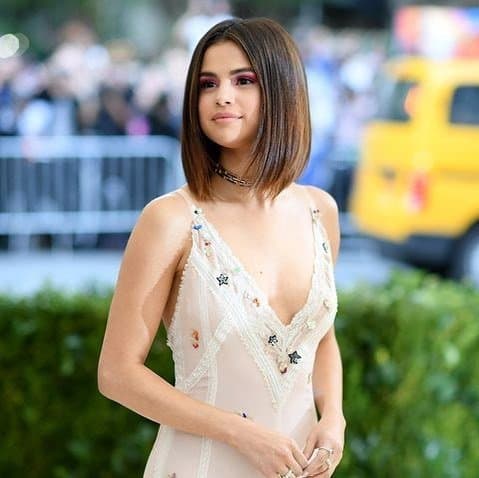 Speaking of simple hairstyles, why not try the middle part bob. With length almost to the shoulders, this hairstyle is perfect for ladies that want to look adorable and elegant in the same time.
10. Two Pulled Back French Braids Into Updo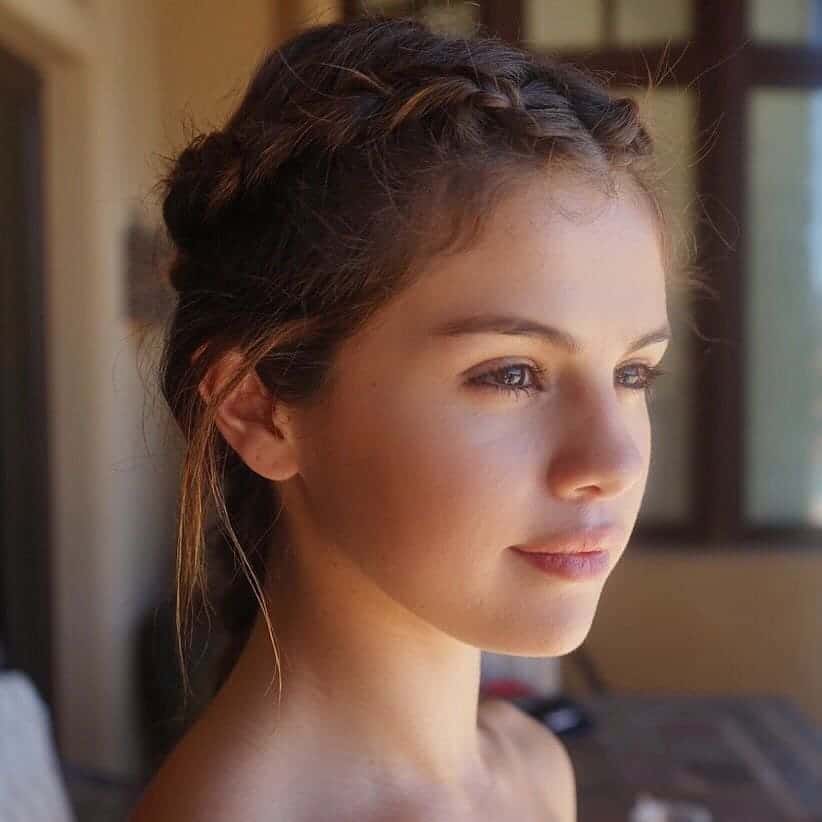 Selena Gomez is the queen of braids. She can wear them in any different style. One braid, two braids, three braids, or even more. And she loves combining different types of braids into one hairstyle.
11. Long Soft Waved Hair With Layers And Flip Over Side Bangs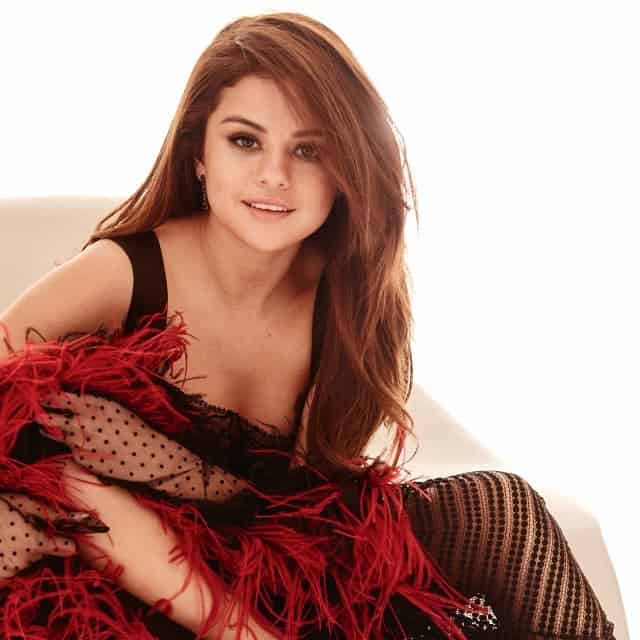 Side bangs are super popular at the moment, and Selena wants to try them out as well. Side bangs are perfect for when you want relaxed and soft look. And they also flatten your face, so that is a plus.
12. Long Waves Halt-Up Half-Down Hairstyle With Tendril Bangs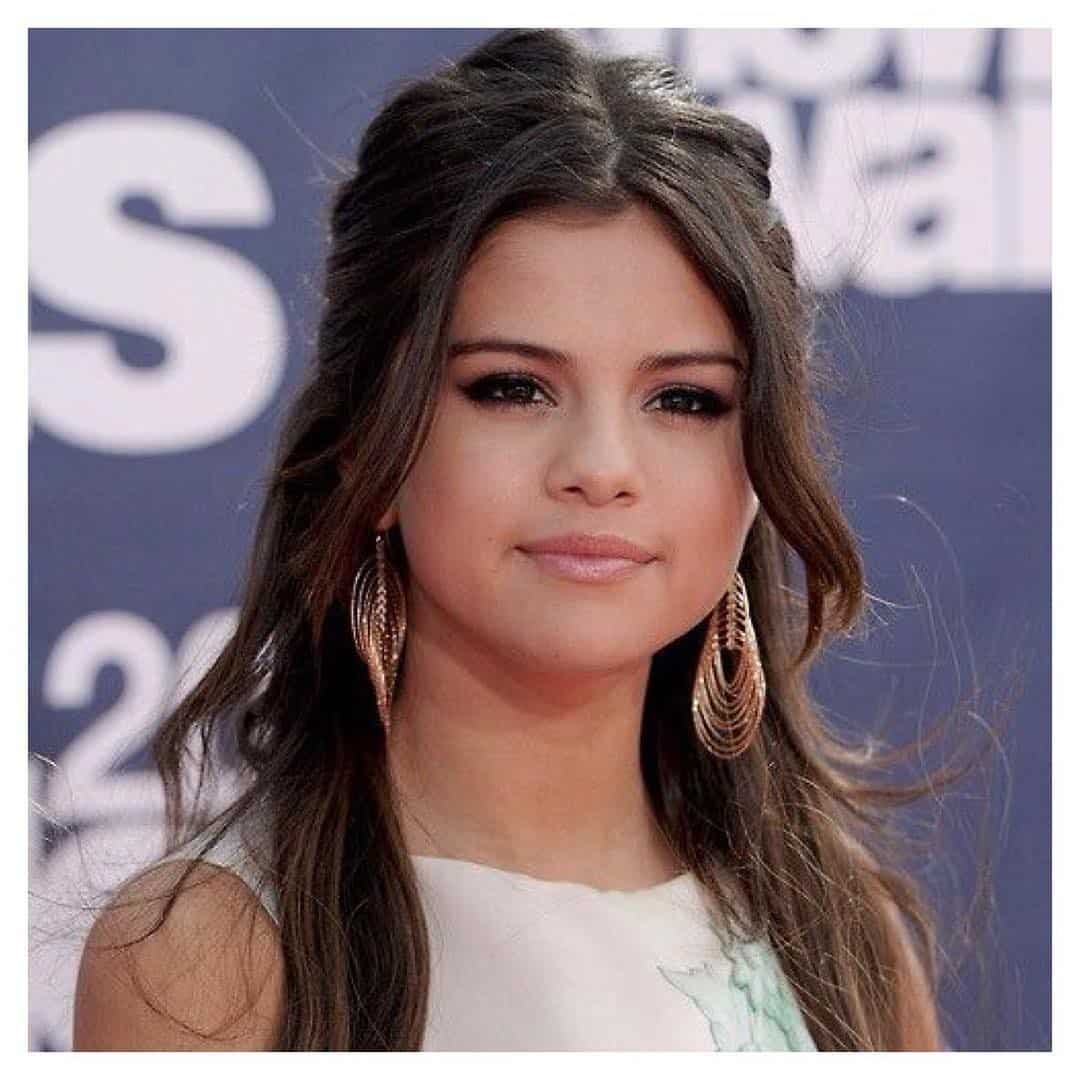 Tendril bangs are ideal for those women with long hair. They help you manage your hair better. Tendrils are those pieces of hair left dangling in, and most women decide to turn them into bangs.
13. Long Wavy Ponytail With Middle Part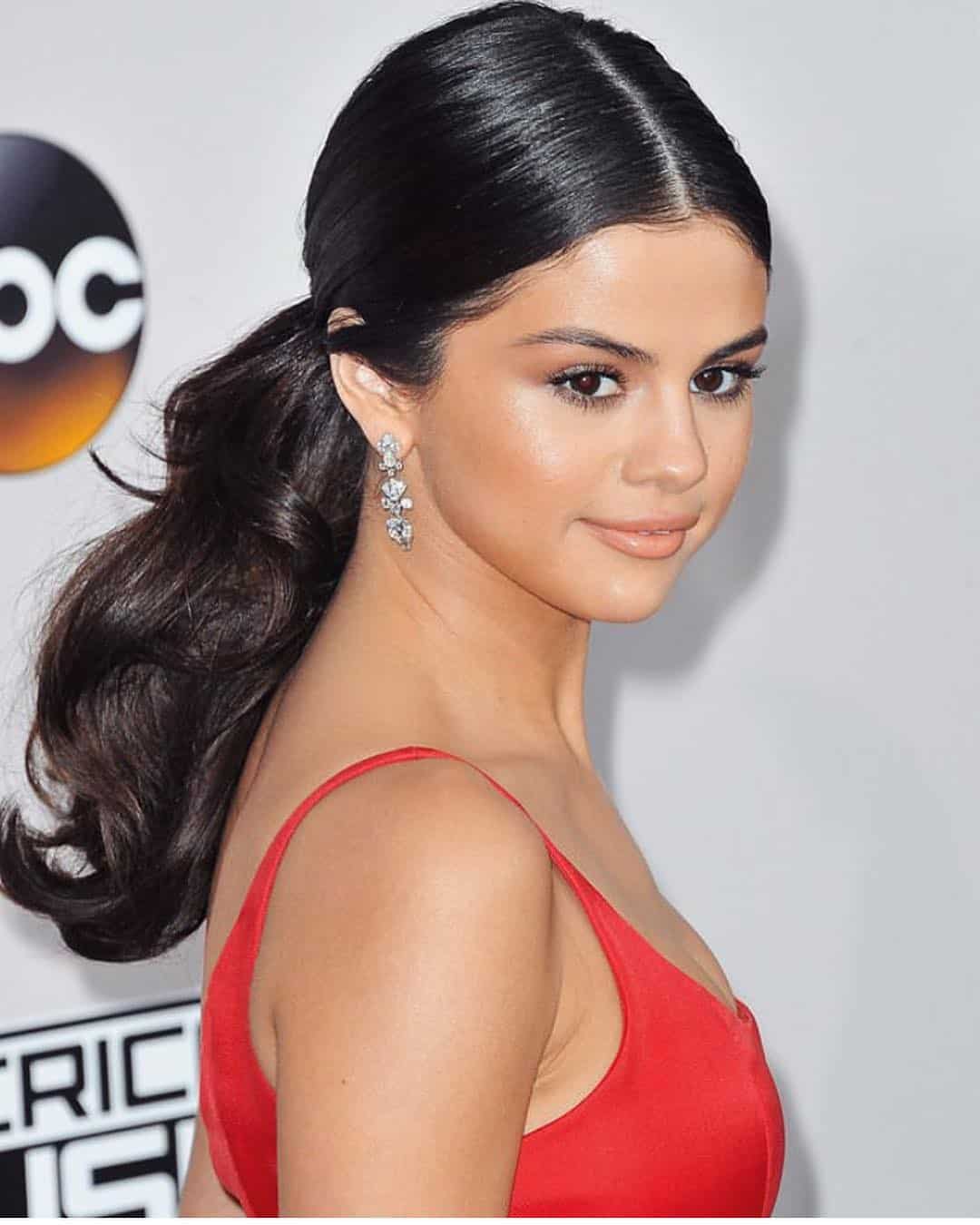 You have to remember Selena is just 26 years old. And it is normal for her to wear a ponytail and look like a child. Despite being a mature woman, she still wants to look childish every now and then. The good news? Even when she looks childish, she is beautiful.
14. Side Parted Blonde Lob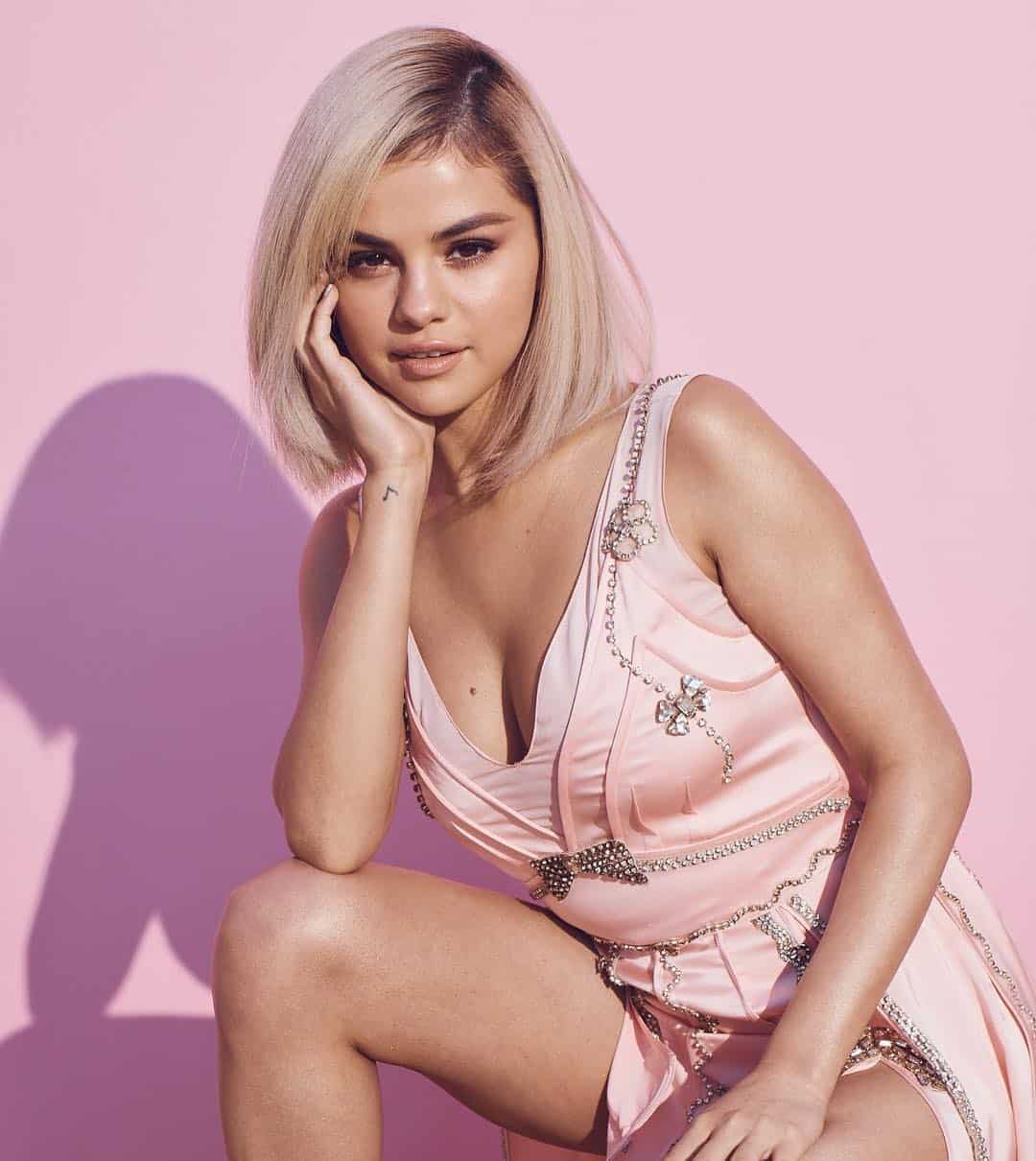 If you ever think about dyeing your brown hair blonde, take a look at this picture. Selena, as with many other brunettes in Hollywood, is not afraid of trying some blonde. And you can tell she can pull it off. Despite the brown roots lurking from the top, it is still a very nice bob hairstyle.
15. Double Inverted French Braids Into Pigtails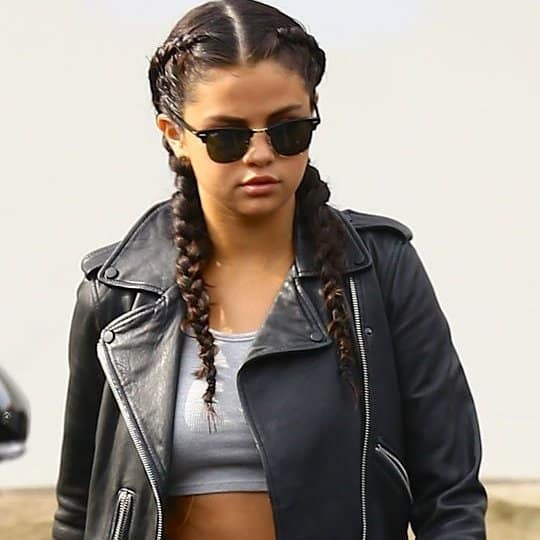 We said Miss Gomez has mastered the braids game. Pigtails are just the same braid done in opposite side of the head. Getting pigtails is easy to do. And you get a wow result, something every woman loves.
16. Brown Side Parted Shoulder Length Clipped On The Side With A Barrette Clip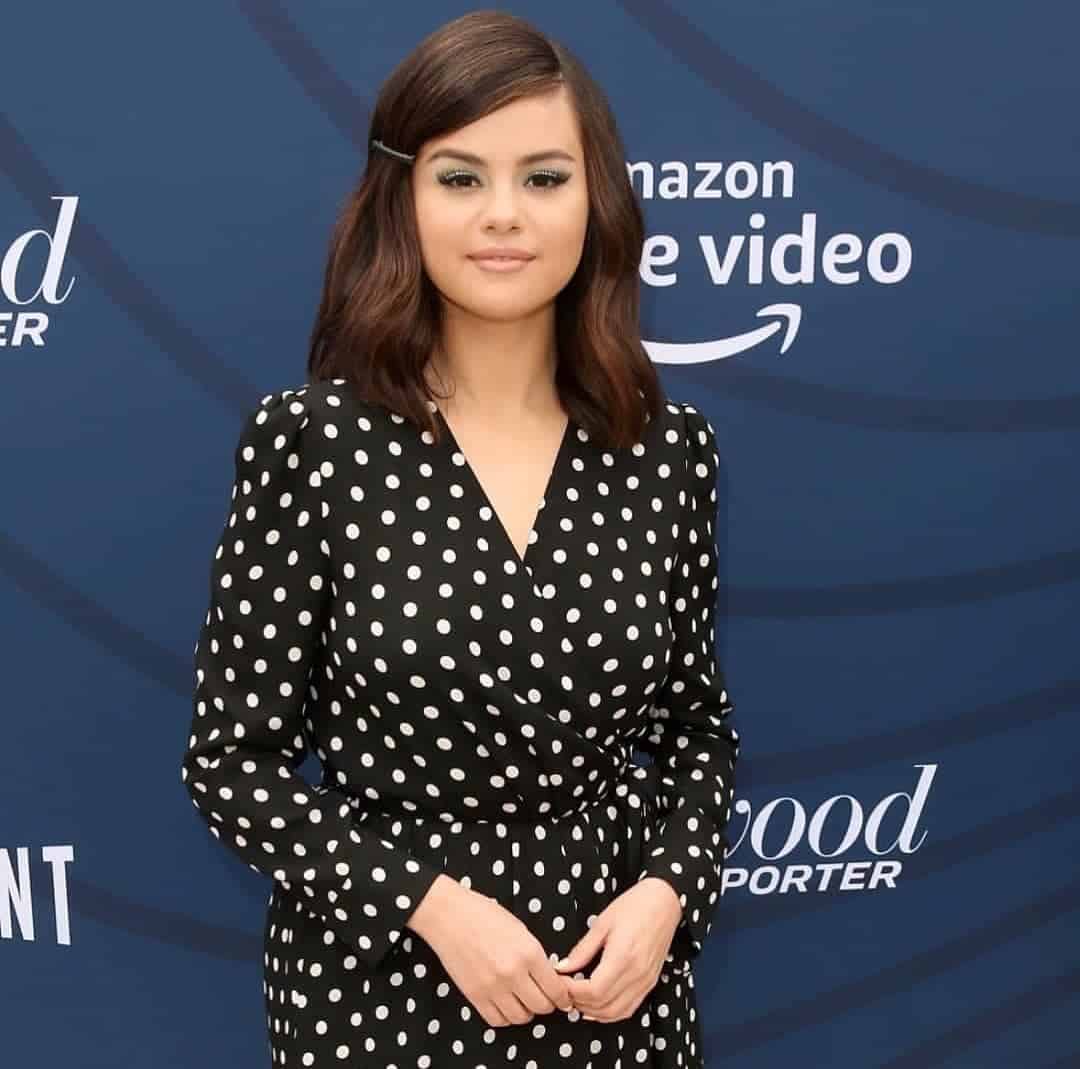 Classy and elegant, Selena loves to keep things simple every now and then. She just adds a single accessory, and that is that. Let your hair loose, put a barrette clip, and that is that. Simple and easy, yet elegant.
17. Braided Faux Hawk Ending In Side Ponytail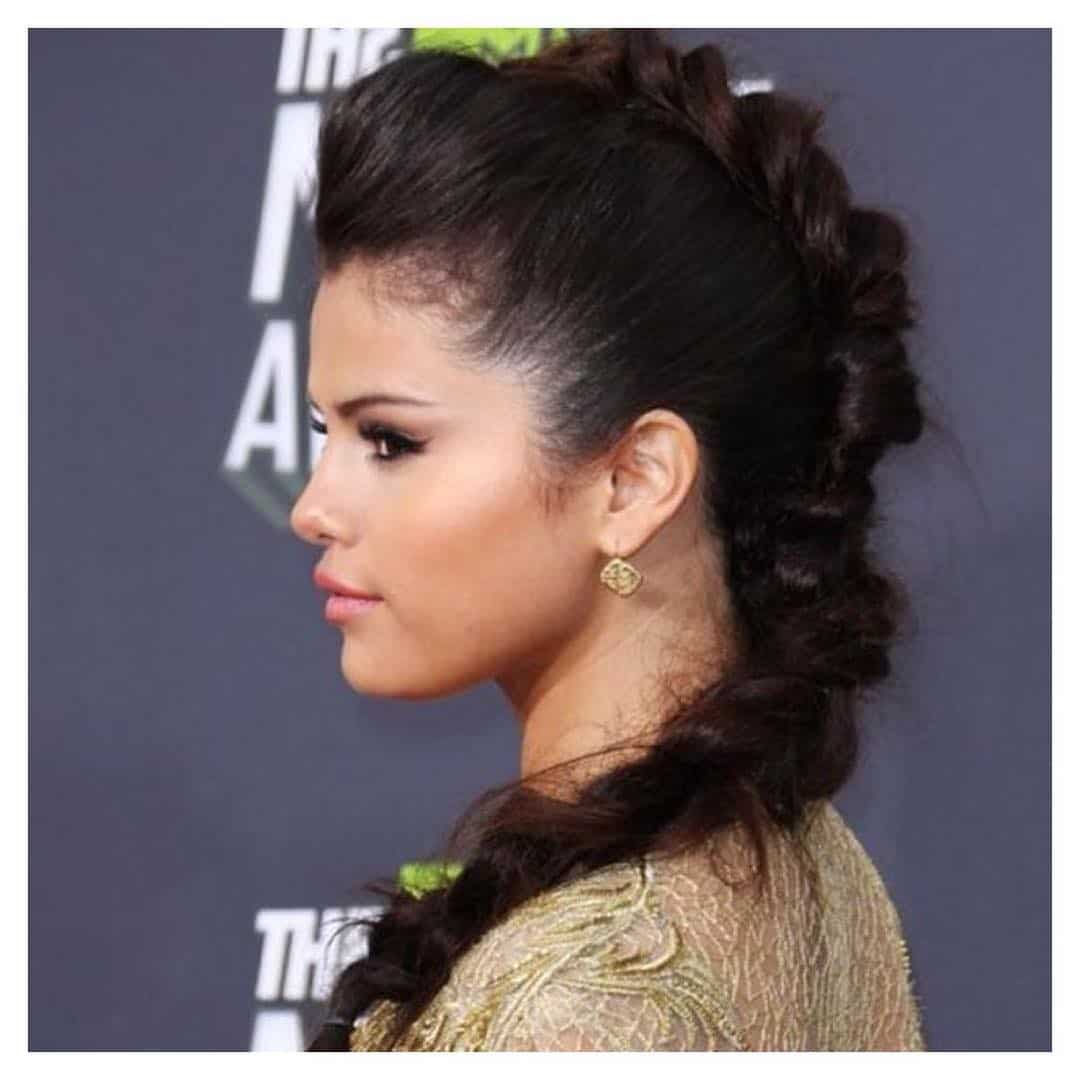 Do not mistake Selena as a child. She is known to show her edgy side every now and then. The faux hawk is one of the more popular hairstyles lately, and a lot of celebrities jumped on the trend. Selena made a tweak, letting her hair finish off in a ponytail.
18. Elegant Twisted Chignon With Side Parted Wavy Bangs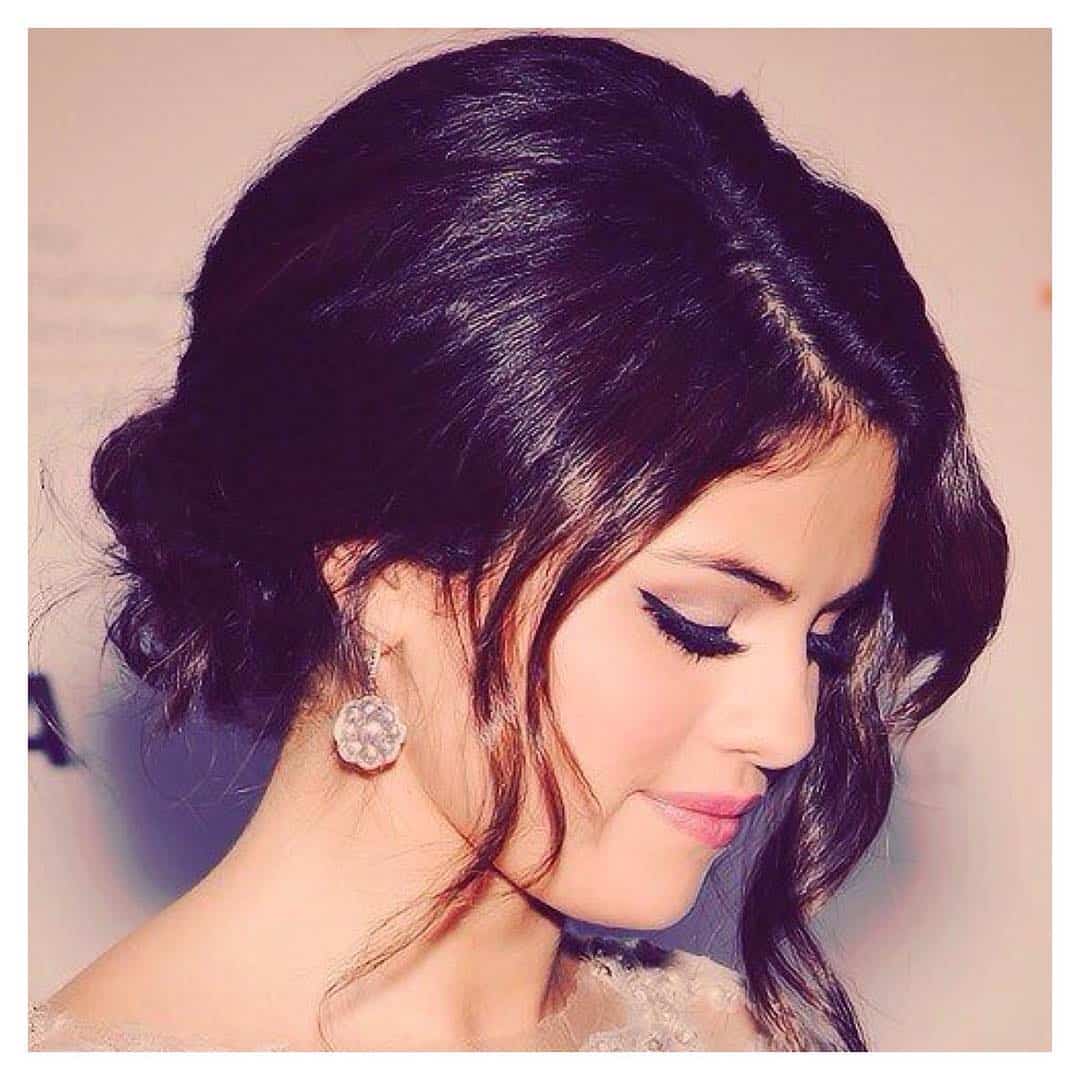 The Chignon is a perfect hairstyle for weddings and similar events. Some women opt for getting all their hair gathered in a Chignon. Selena, on the other hand, let's a few strands loose. This gives you a more relaxed and laid back look.
19. Twisted Top Knot On Half Up Half Down Long Hair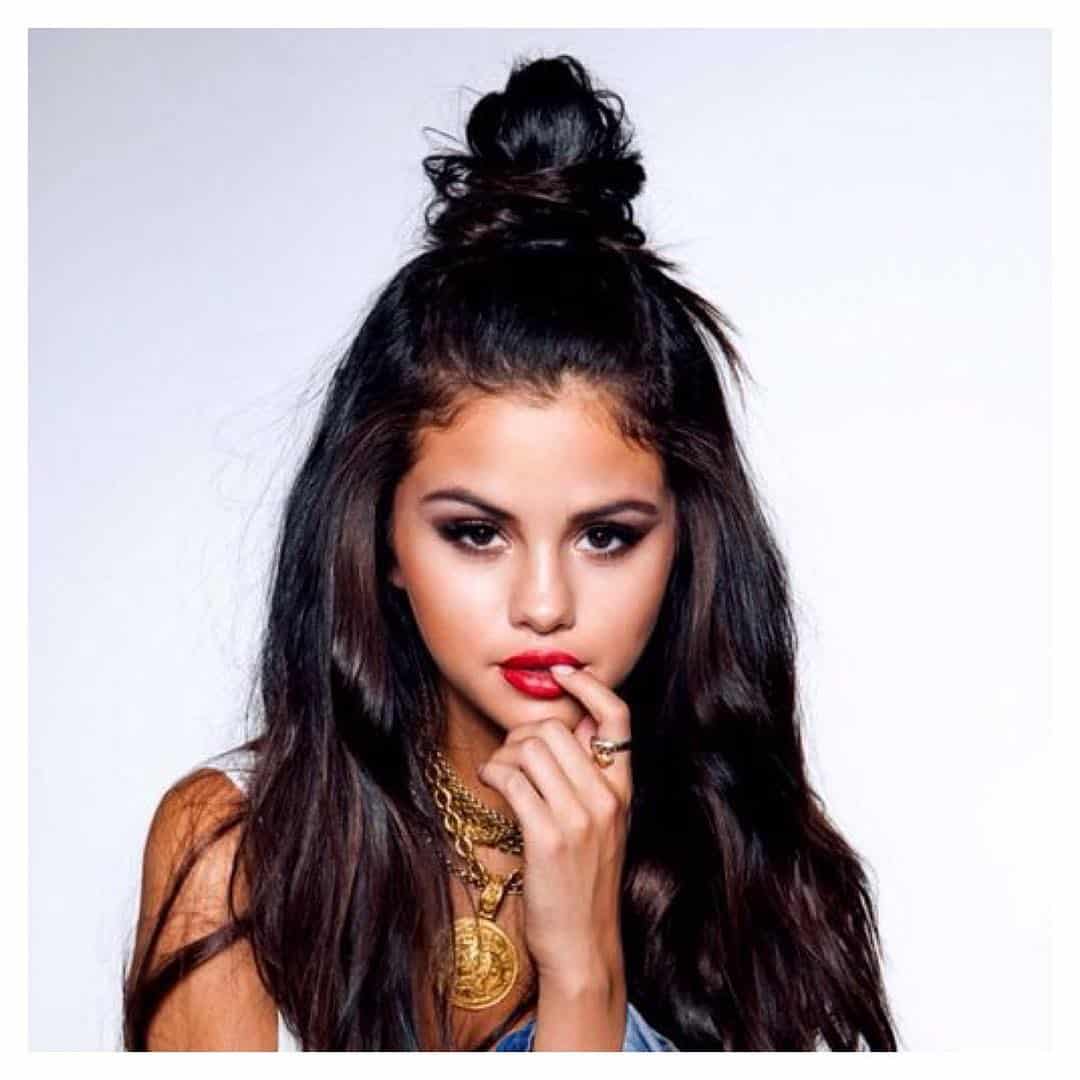 When you have long hair, you can play however you like. A top knot will focus the attention of others on your face more. One downside with long hair is that people focus their eyes on the length of your hair, not your face.
20. Long Beach Waves Caramel Blonde Ombre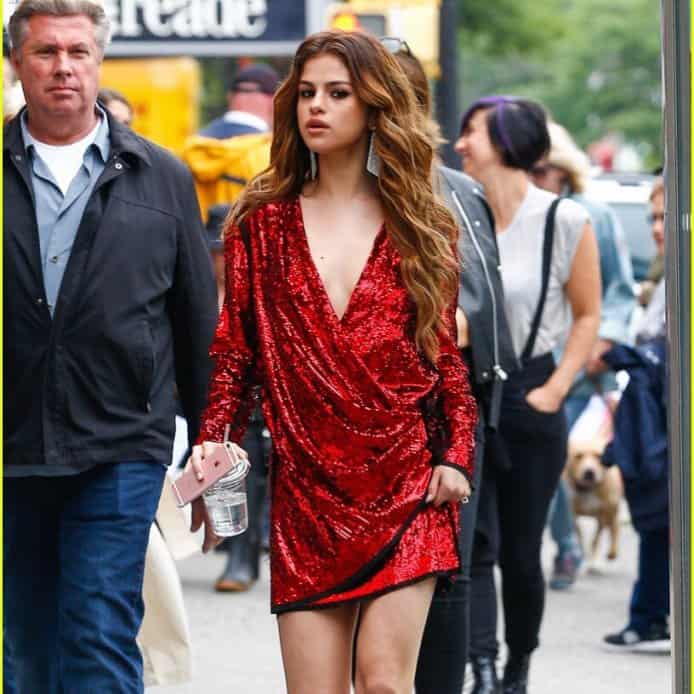 We can safely say that there are just a few women that have not tried the beach ombre look. Beach ombre highlights are a must for the summer. But despite being casual look, you can wear them all dressed up in the city as well.
21. Shoulder Length Fun Black Curls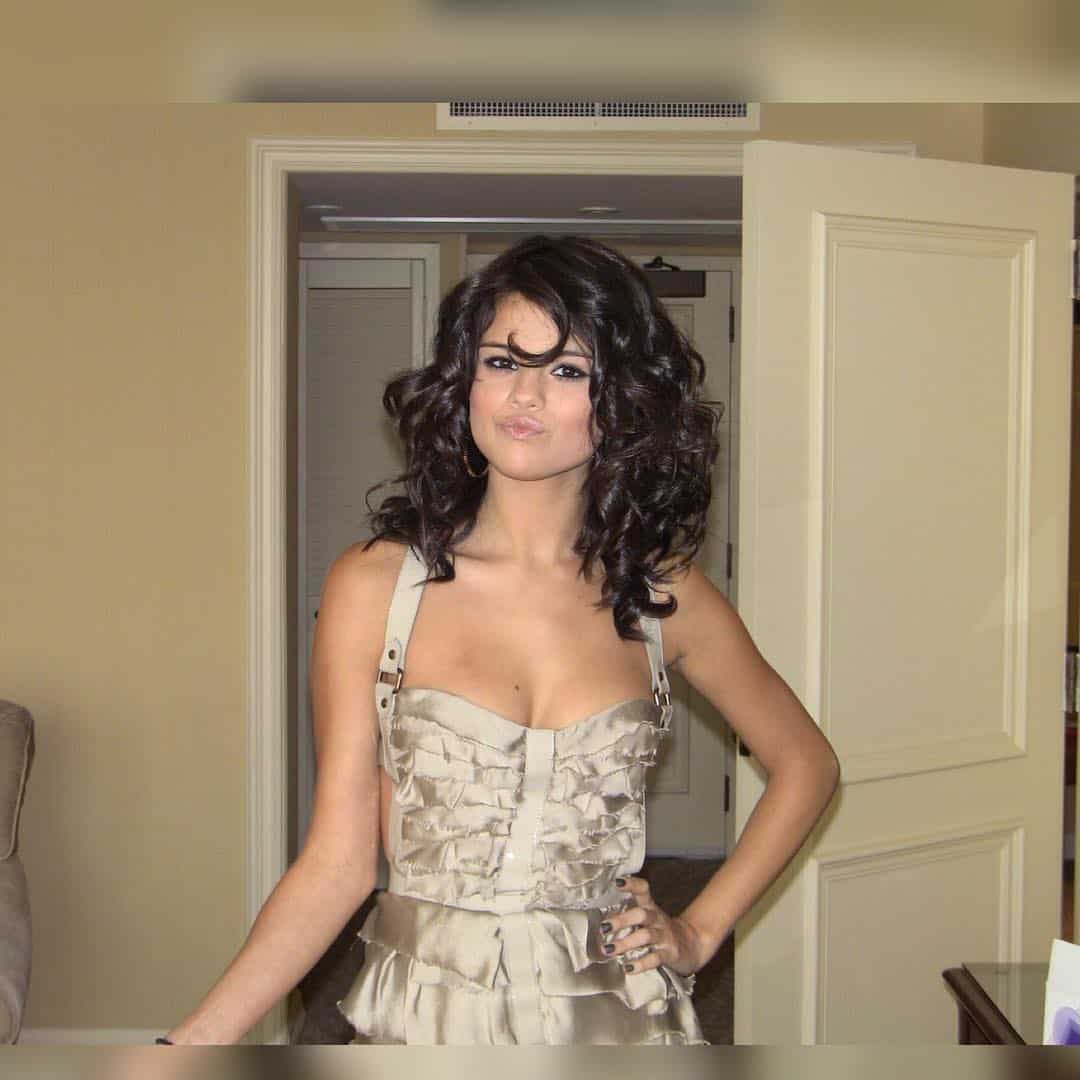 If you want a retro look, few hairstyles beat the shoulder length curls. Classic, and timeless, you can wear it for every occasion. And you can wear with both elegant and casual clothes.
22. Long Layered Light Brown Balayage With Wispy Choppy Bangs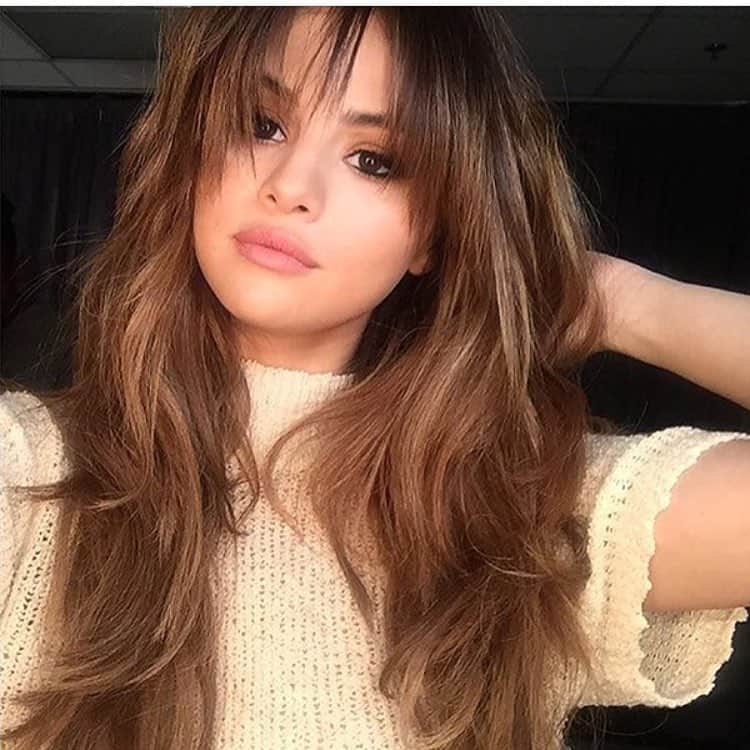 Selena does not have a short forehead. But she still does the trick with choppy bangs. In most cases, choppy bangs are paired with a pixie or a bob. But they can go along with other hairstyles. The trick is they make your short forehead look longer.
23. Long Layered Brown waves With Chunky Gray Streak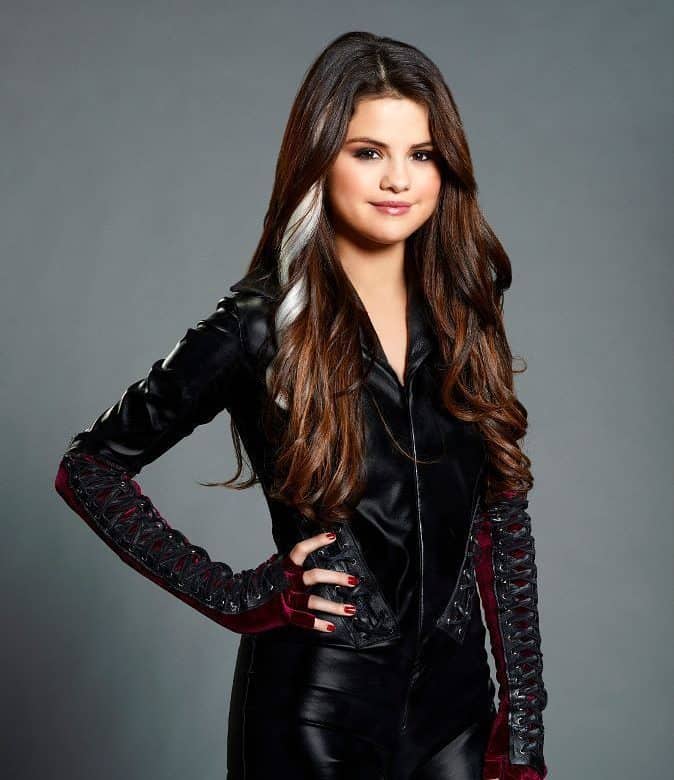 Despite being just 26 years old, Selena is not afraid to dye her hair gray. Now, she doesn't dye her entire hair. Just a few strands here and there. For young ladies, that is more than enough to try the trend.
24. Messy Side French Braid With Wavy Bangs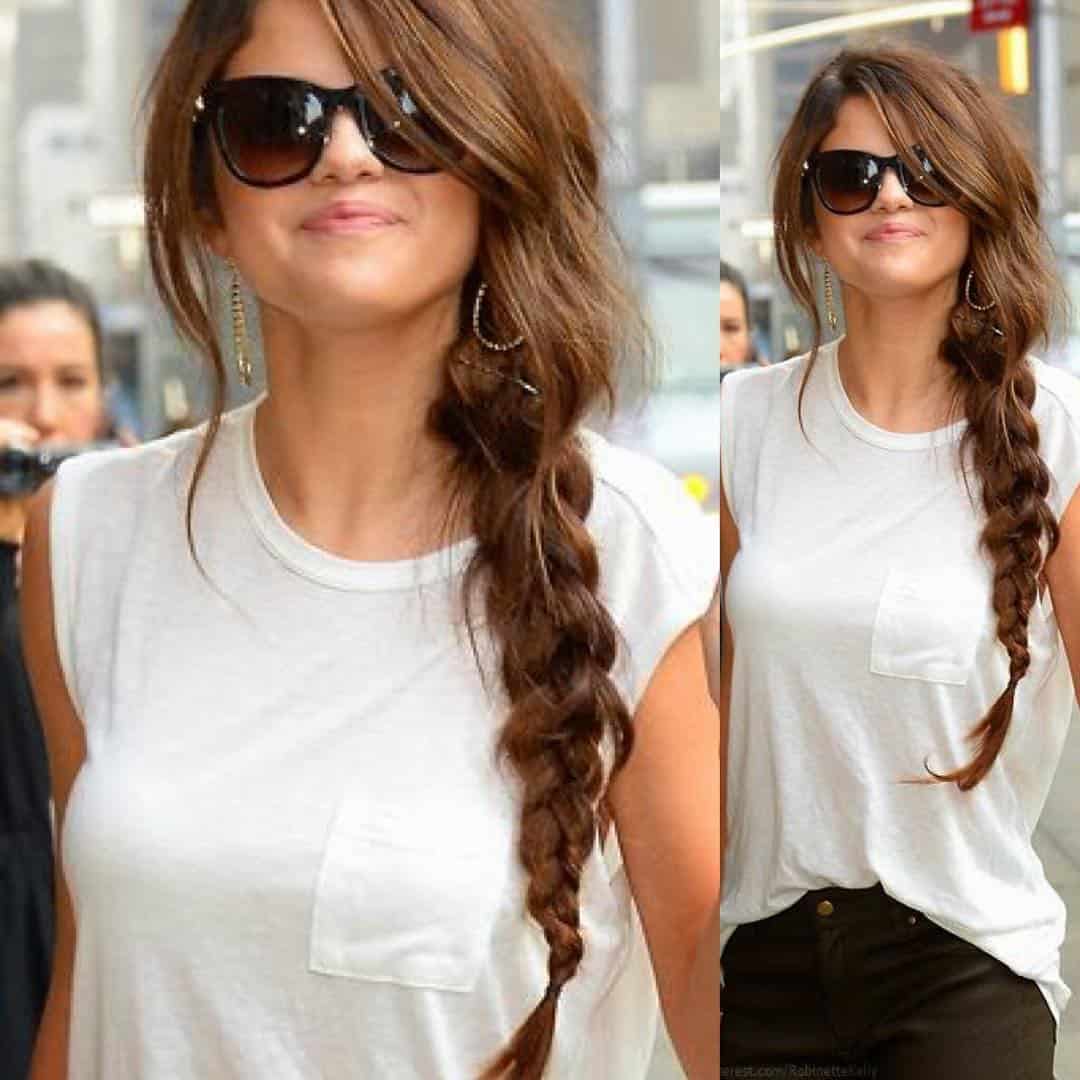 As a young celebrity, Selena enjoys casual and relaxed look. You can say this is exactly that, as the French braid adds some texture, but it is generally a loose hairstyle. She is just the rest of us with her messy, yet classy look.
25. Curly Messy Updo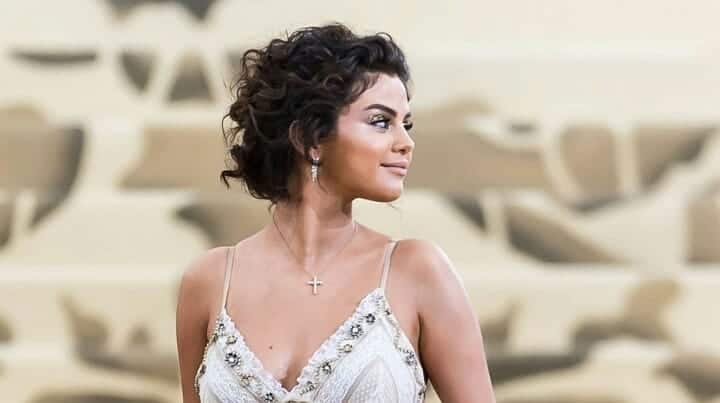 Speaking of messy hairstyles, any hairstylist will tell you they are the hardest to do. Not many women can thrive in chaos, and the messy hairstyle represents exactly that.
26. Middle Parted Slicked Back With Loop Twisted Chignon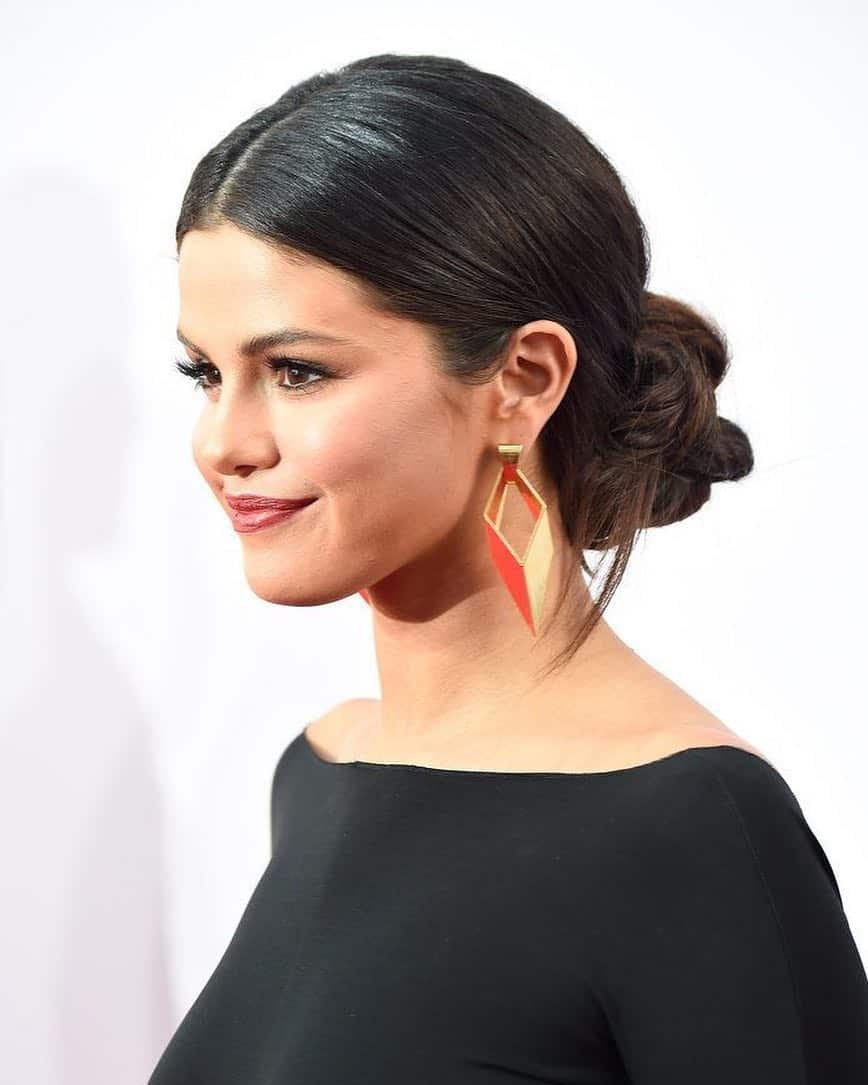 Selena matured right in front of our eyes in the past few years. She is now a fully grown woman, and her hairstyle has to display that. The Chignon is one hairstyle she loves wearing for red carpet events.
27. Short Messy Pulled Back Blond Updo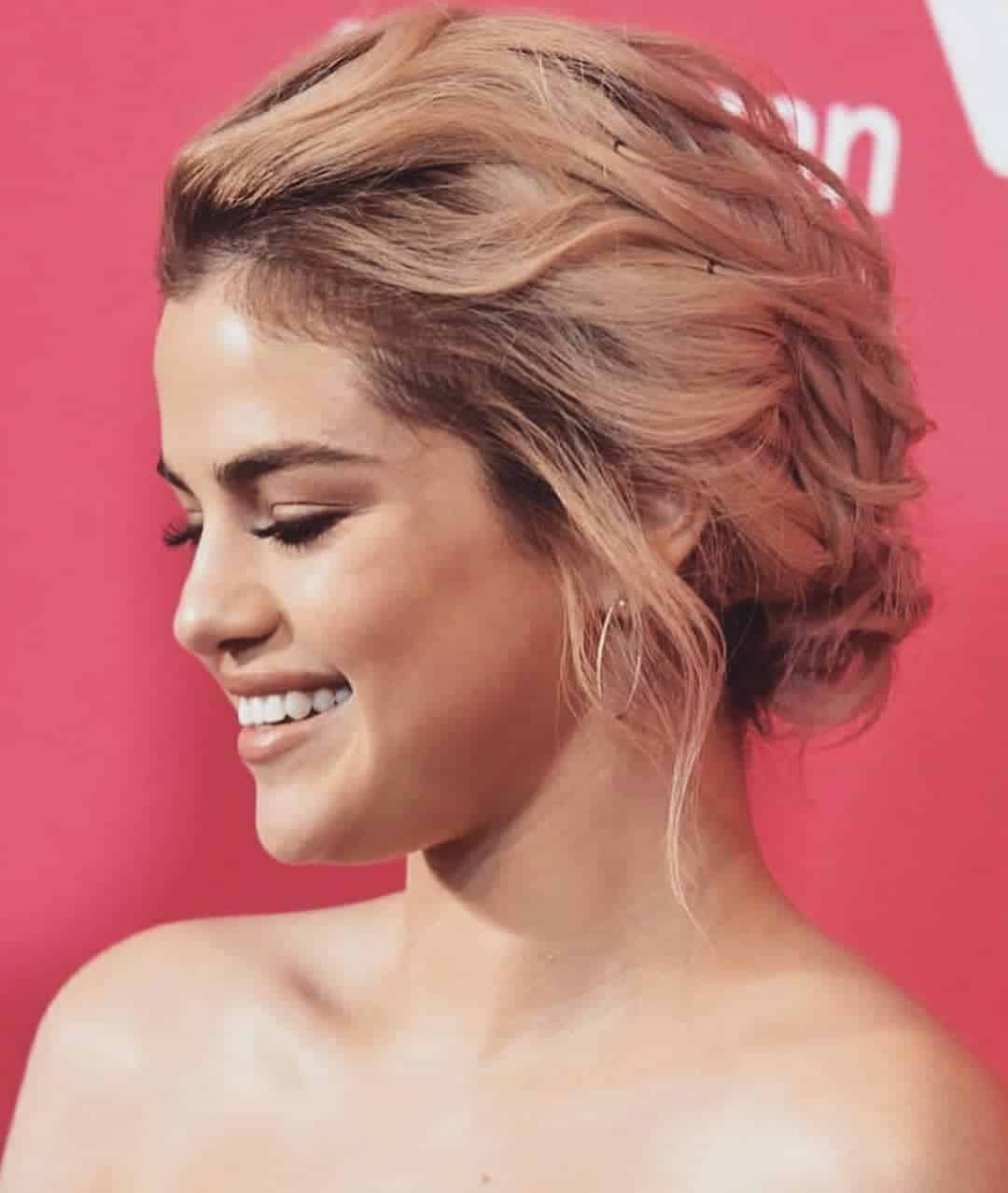 If you want a popular updo that is easy to make at home, look no further than the messy updo. Perfect for dressing up or dressing down. And can be done in a matter of minutes. What is there not to like?
28. High Slick Fishtail Ponytail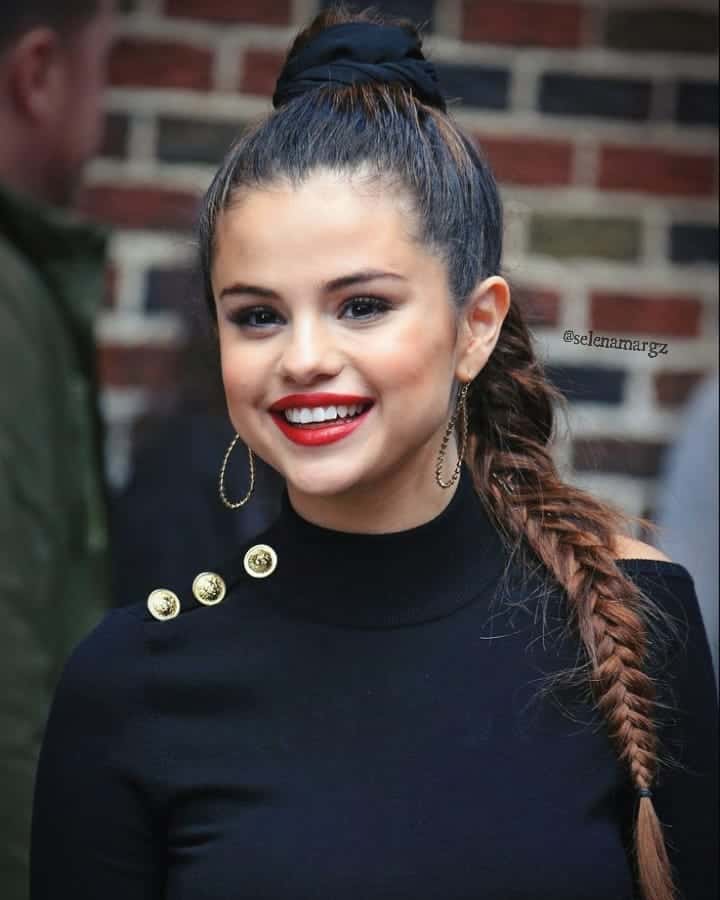 We had French braids, we had some pigtail braids, and now we have the fishtail braid. A fan favorite for rushed mornings, the fishtail braid is too easy to make to ignore.
29. Loose Messy High Ponytail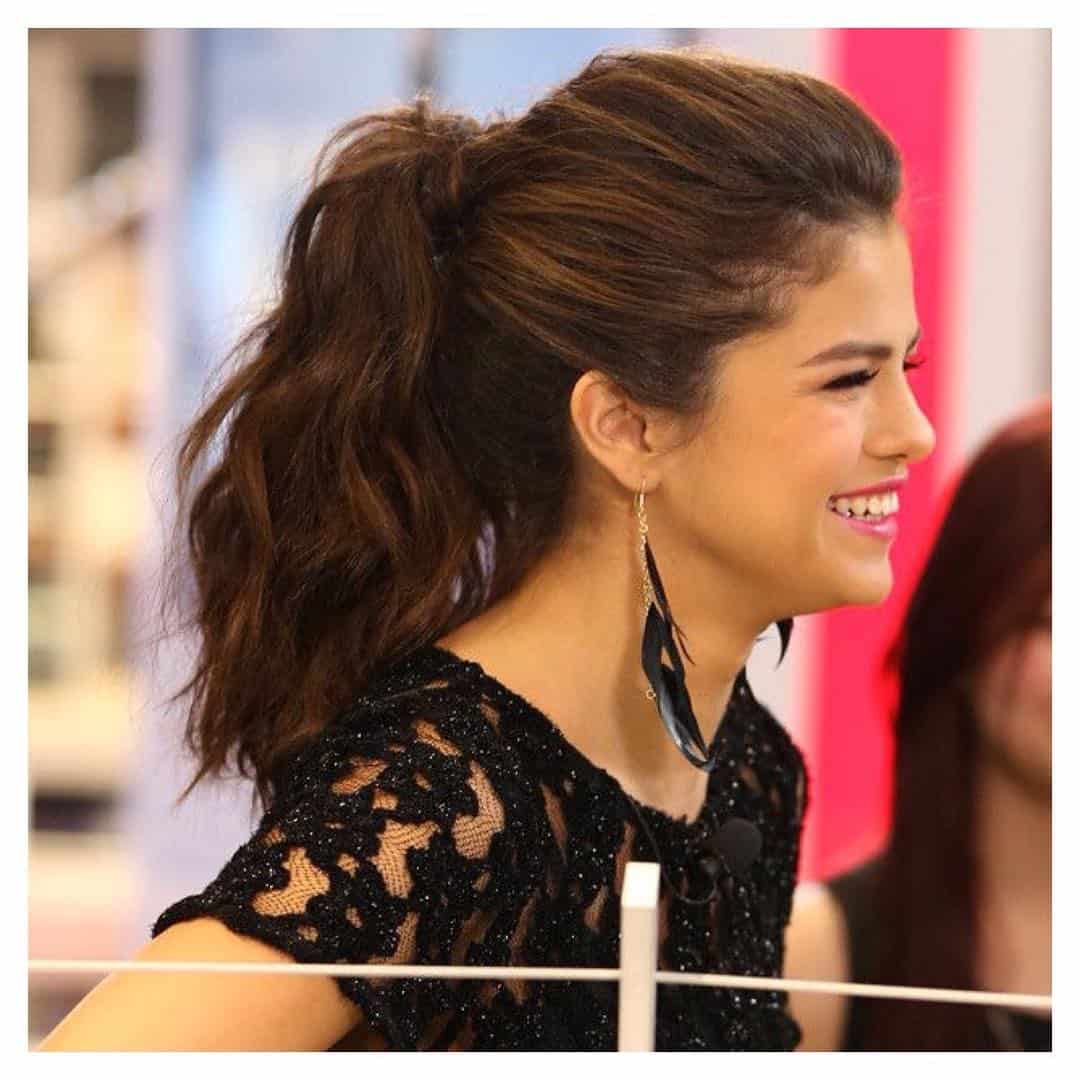 As you can see, Selena is just like the rest of us. She can have rushed mornings as well. And when that is the case, she just gets her hair in a messy ponytail, and leaves the home.
30. Elegantly Styled Short Brown Layers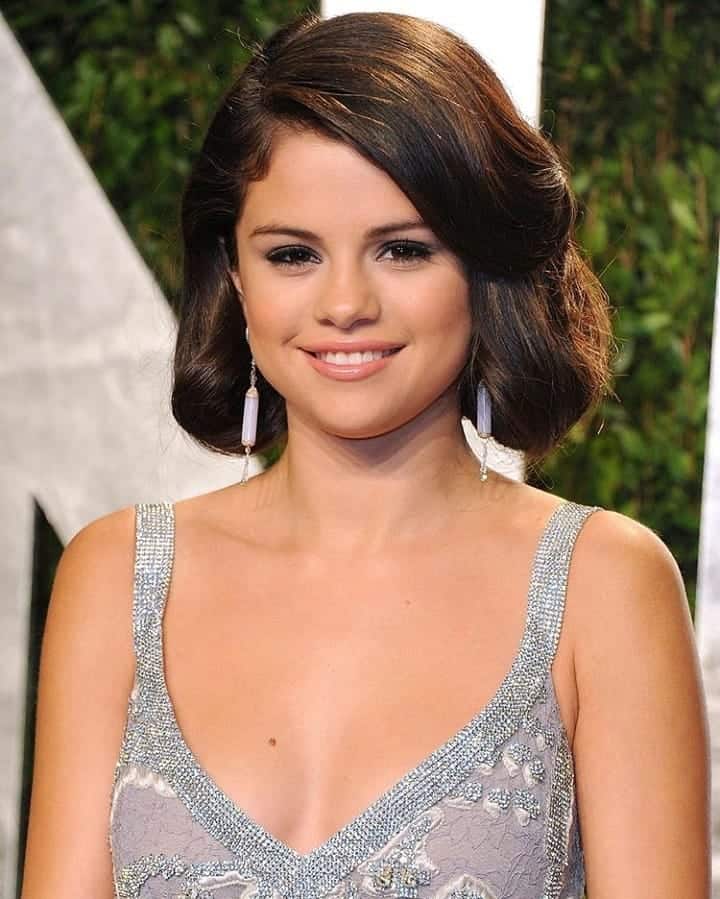 Layers add texture and volume to your hair. If you have medium length hair, those attributes are godsend. Selena is blessed with long length hair, but when she cuts it down, she goes for layers.
31. Straight Choppy Shoulder Length With Subtle Highlights
We said before that Selena has tried the blonde trend. But she mostly prefers to keep things simple and subtle. You might not even notice the highlights here. But that is exactly the goal.
32. Wild Brown Balayage Waves On Long Hair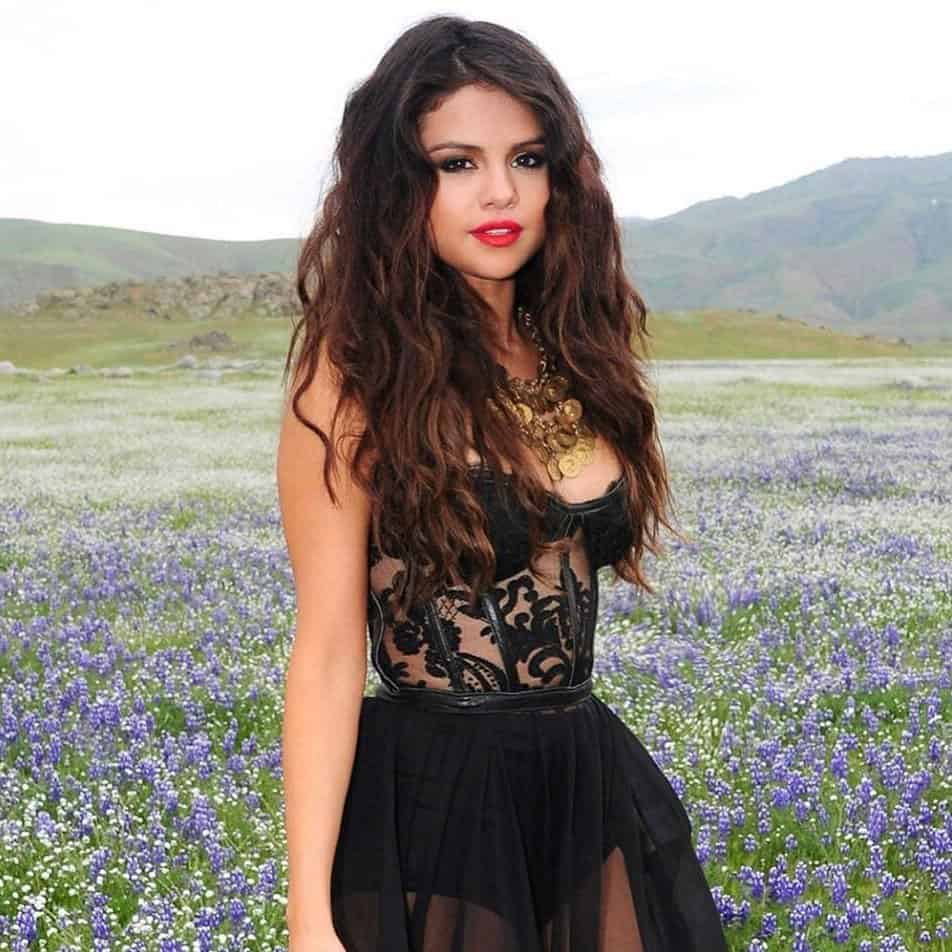 When you have long hair, balayage highlights are that much more emphasized. They blend perfectly with your natural hair color. The result is softer and less noticeable regrowth lines.
33. Classy Slicked Back Twisted Bun Updo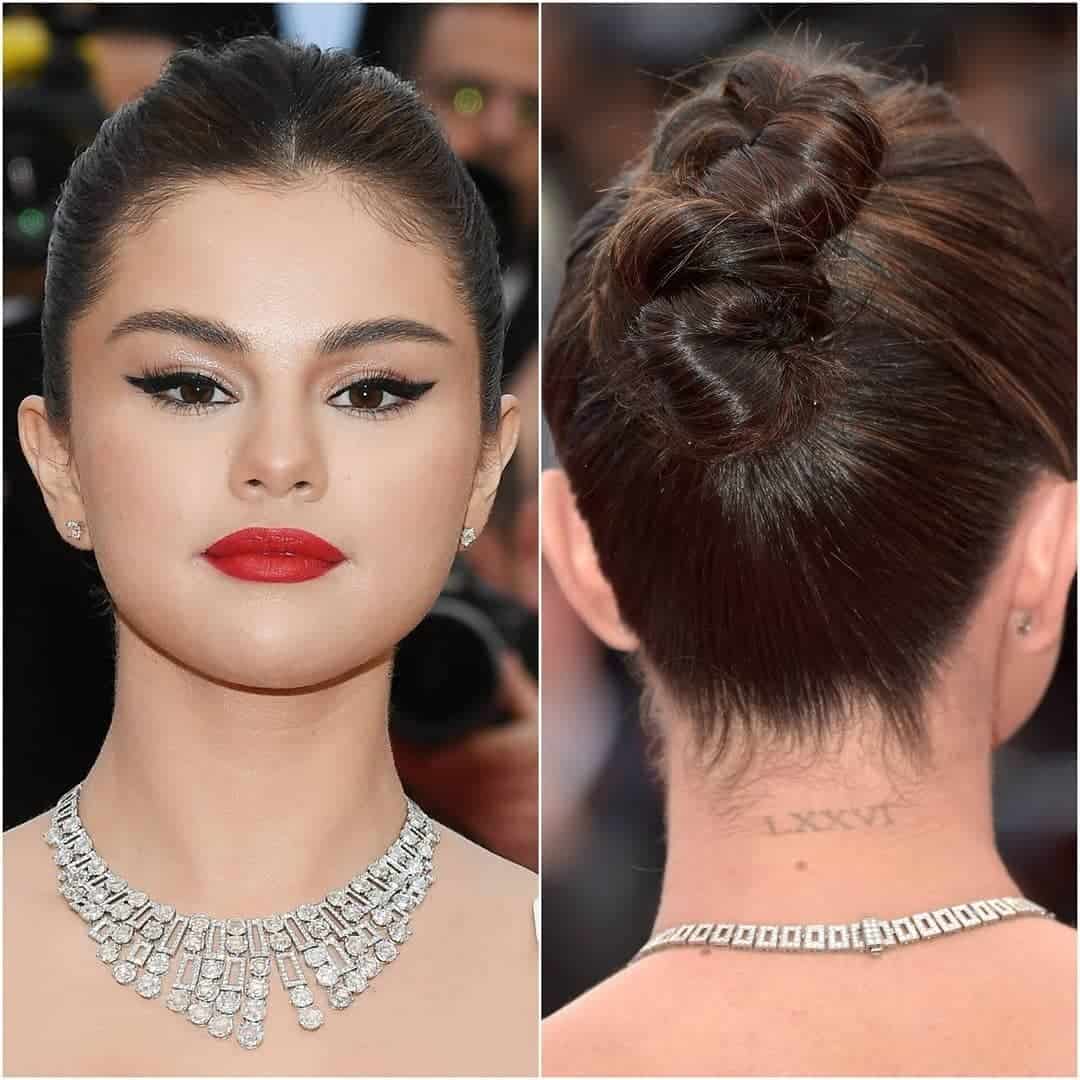 Let's finish off with a red carpet look. After all, Selena is now a grown lady and she has to look elegant. Bun updos are a perfect choice for formal events. And Selena knows how to pull them off.