You're engaged, and you probably can't stop looking down at that sparkling finger. Now that you have this gorgeous rock, you want to make sure you have manicured hands that show it off proudly. While you aren't going to coordinate your nails to your engagement ring forever (probably), you do want to get it right for those close-up shots. If you're already committing to an engagement shoot, you want to go the extra mile and get your nails done professionally in a color that really works well. Whether you're just doing it for Instagram or embarking on a full engagement shoot, you want to make sure everything from head to — well — fingers is put together. If that sounds like a tall order, no worries. We've got color suggestions for you to consider.
What Nail Colors Complement Yellow Gold?
Simple Neutrals
Off-write, gray, etc. They're simple and won't get in the way of your gold ring, letting it take center stage. There's no reason that these have to be boring, though. You can have fun by interspersing these neutrals across your nails or going with a simple yet ornate design. Granted, that may take the focus away from the gorgeous engagement ring itself, so keep that in mind. Regardless, if you want something simple and classic, neutrals are the way to go.
If you want something just a bit more exciting while still keeping your colors low-key, a champagne color and all things similar pick up the yellow tones in the gold subtly and add a celebratory playfulness without getting in the way.
Pink
Not a bright pink, to be fair, but a subtle pink will go really well with a classic gold ring. Lighter pinks play nicely with the yellow tones in the gold in a way that brighter ones don't. Bright pink is generally tough to pull off, but you're free to give it a shot. If you want your nails to be subdued but don't want to go with a neutral, warmer light pinks are a great choice.
Peach
While orange isn't going to be a great choice, a softer peach has a lot of the same pros that subtle pinks have. If you like the idea of the classic gold engagement ring but want to dial everything up just a notch, peach is a perfect choice. It'll complement the yellow tones in the gold nicely while brightening everything up just a little bit. If pink isn't really your color, peach is definitely the way to go.
What Nail Colors Complement White Gold?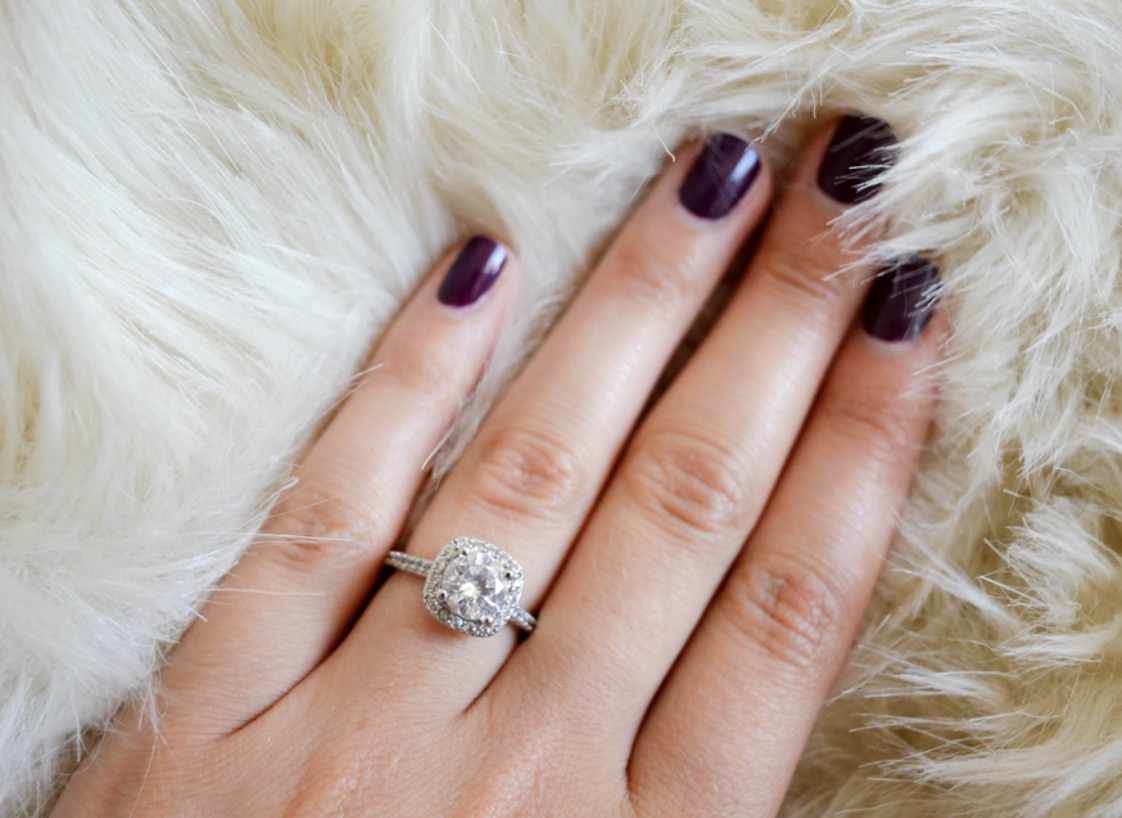 Deep, Rich Colors
Since white gold doesn't have the same visual depth of yellow gold, you can go for more vibrant nail colors. That's not to say that white gold isn't beautiful. It just lends itself to bolder color choices than yellow gold does. Anyone with a white gold ring should consider really rich and bold colors like darker purples and reds. These colors won't contrast with white gold like they would yellow, so you've got carte blanche to go big when choosing this option.
Simple Metallics
On the other end of the spectrum, here's a more subdued alternative to those rich purples and reds. Those wanting something more laid back and informal should opt for a metallic color with a low shine. You have a more casual look here, and the ring also gets to play the main role against a backdrop of much more subdued metallics.
What Nail Colors Complement Rose Gold?
Pearl
You want something simple without being boring if you've got a rose gold engagement ring. The color is already more unique, so let it shine against a pearl background. Other off-whites and anything that isn't a basic matte white will work here, but there's just something about the look of pearl that we love.
What Nail Colors Complement Silver?
Cool Blues and Grays
The blue tones are really what matter here, hence why we mentioned a cool gray and not just your standard gray. The subtle blues are going to go really nicely with a classic silver engagement ring and bring just a bit of color into the mix while still allowing the silver to stand on its own.
Warm Reds and Pinks
In some ways, silver engagement rings lend themselves to more color options for nails than gold ones do. Silver is just a little simpler and can coexist well with almost any color, but reds and pinks are the best choices in the category of warmer colors. Of course, you can go darker on the reds if you like, but we're partial to the warmer alternatives.
Nudes and Whites
Just because you can go bold on color with a silver engagement ring doesn't mean you have to. If you like the idea of simple color stylings, these neutral tones will blend in with your ring (and style) effortlessly.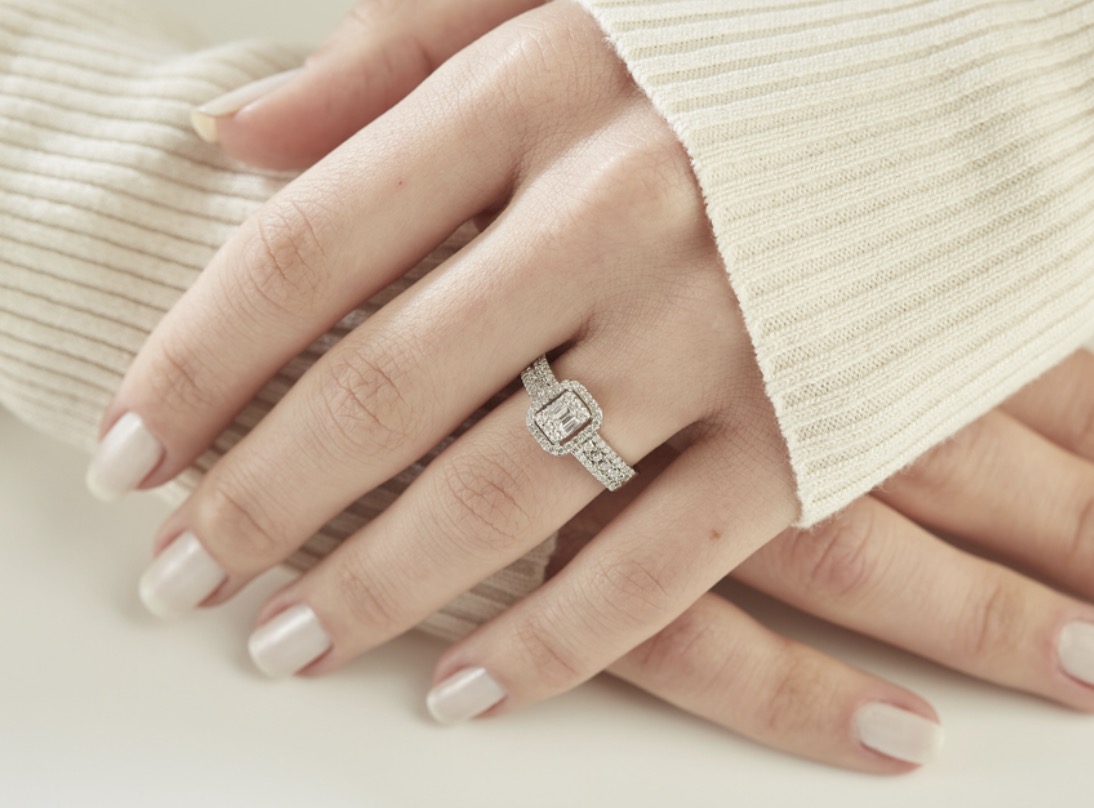 If you're still having trouble choosing the right color, consider comparing the colors that look good with your ring to the colors that look best on you. From there, you should be able to whittle it down to a couple of finalists and try them out to see which one you love!