When it comes to weddings, we all know who the biggest star. It is that women dressed in white, although lately, brides wear other colors as well.
But there is no denying that every bride is the star of her wedding. And every woman wants to look amazing on her special day.
We spend months on deciding wedding date, invitations, decorations, clothes, and much more. But what about the makeup and hair?
We are here to share with you a couple of wedding beauty tips, and how and when to prepare for the special day.
These tips to look your best are life-savers in the middle of the wedding crisis.
What to do in the weeks before the wedding?
Every woman who has ever been a bride knows how stressful the entire year before the wedding is. You start planning. You choose a venue. Then you set a date. And you have to get your wedding dress. You have to send invitations.
How do you prepare your makeup for the special day?
Here are a couple of pre-wedding beauty tips.
Do not start a completely new beauty regime in the weeks before your wedding. Do not use any new products, as they can cause an allergic reaction. You want to stick with what works by now, and this also includes body washes, shampoos, and even washing detergents
Do not completely change your makeup look as well. Yes, we know you want to look amazing and want a professional do your makeup. But tell him/her what your natural style is, and stick to it. His/hers job is to enhance your natural style, not to make you look like someone else
If you are planning to get a facial, peel, or something more intense on your face, do it at least 3 months before the wedding. This will help you avoid any allergic reactions
Do not get any major cosmetic treatments just before the wedding
Avoid salt in the weeks before the wedding. Sodium can make you bloated, and it can also leave your face swollen. The same applies for alcohol
How to prepare for your wedding makeup?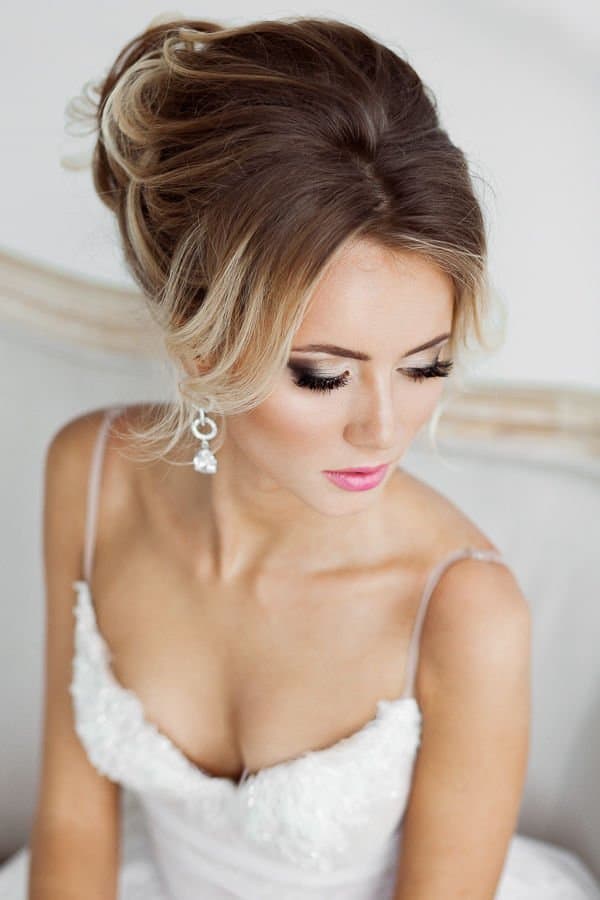 Many women nowadays choose to have a professional makeup artist do their makeup. And that is great.
After all, it saves you all the hassle, and you ensure you will look your best. But there are beauty wedding tips even for your makeup professional.
Do your homework, do not choose a random professional. Do not just go to any professional, find one that does weddings on a regular basis and has gone through all the chaos
Come to your trial equipped with inspiration from magazine pictures, a photo of your dress, colors you love, and other things that will help a professional get an idea of what you want. Do not just assume the makeup artist "gets you"
If possible, try to wear a top that has the same shade of white as your dress. The white color is draining, and the makeup tones have to compensate and compliment the color
Prepare your hair as you want to have it on your wedding for your makeup trial. Same as with the wedding dress, you want a hairstyle that will complement the makeup
Do not be afraid to bring your favorite mascara, lipstick, liner, or foundation to your makeup artist. He probably has more professional makeup products, but it is your favorites that will make you more confident on your big day
Once the trial is done, take a picture of yourself. A makeup artist probably does a couple of looks per day, and he cannot remember every little thing of your look. You can even write down the products you used, so that you get that exact same look you want on the big day as well
What to avoid the week of the wedding
It is time for the last preparations, and we know you are getting nervous. But you have to keep your cool, and do not overreact.
Here are some wedding beauty tips for how to survive the week of the wedding.
Do not over-exfoliate as you can dehydrate your skin and make it hard for makeup application
Stay out of the sun, you do not want the harmful UV rays on your face, and you do not want to risk getting sunburn
Do not apply any spray tan on the week of the wedding. The skin tone you have by now is the skin tone you will appear on your wedding day
Do not cut or color your hair too close to the wedding day
Book an appointment for your manicure two to three days before the wedding. Nobody wants a chip at the last minute
How to avoid beauty hazards on the wedding day?
There are a couple of mistakes that can completely ruin your wedding day. Despite all the preparations, you are now at the crucial day, and you want to look absolutely stunning. Here are the beauty hazards you want to avoid
Do not eat or drink anything dark that can stain your teeth. You can also use a whitening toothpaste on the day
Do not apply SPF on the day of the wedding, as it can reflect light off your face in wedding pictures
Under no circumstances, do not pluck your eyebrows on the wedding day, as they will get red and irritated. Do this 3 days before the wedding
Keep yourself hydrated by drinking lots of water on the wedding day. You want your skin to be as hydrated as possible. If you have naturally dry skin, invest in a good moisturizer at least one month before the wedding day
Hold a tissue at the sides of your eyes and let the tears flow into it to avoid damaging your mascara as emotions run high
What about everything else?
If you thought that wedding beauty tips include only tips for your makeup and hair, you are wrong. Everything you do until your wedding day matters. That is why we want to share with you some tips on exercise, diet, and other lifestyle habits.
For starts, you need to avoid aggressive gym schedule 1 or 2 months before the wedding. Aggressive exercise can make you look tired and crabby on your day.
Consult with a personal trainer, and work and toning out at least four months before the wedding if you want to get effective weight loss.
This also applies to crash dieting. In terms of diets, you need to drink enough water to keep your body toxin free. There should be no crash diets two months before the wedding.
Your personal trainer and nutritionist can help you shed some pounds in a normal and natural way.
Avoid chips, chocolates, ice creams, and similar sweet and sugary foods. They can lead to bloating and skin issues. You can have a few cheat days, but not too many. Your body needs minerals, vitamins, and antioxidants for healthy and glowing skin.
And most importantly, do not forget to get enough sleep before the wedding. Lack of proper sleep can lead to dark circles, and they are challenging to cover. Get at least 6 to 8 hours of sleep before the wedding on a regular basis.