Linen is an ancient fiber that was widely used before it was overtaken by cotton and synthetic fibers. Even the ancient peoples knew that these fabrics are very durable but also have the ability to cool down. This feature makes it suitable for making summer clothes. 
Also, maybe you remember the linen sheets of your grandmothers, rough to the touch but so pleasant to the body because they cool in summer and warm in winter? On this page, find out why these are your sleep's best friend.
Today, natural materials make a great comeback to the fashion scene. Their advantages are endless. They are versatile in terms of being able to be worn by both men and women of all ages. These pieces are soft, breathable, durable, and have a low moisture absorption rate, making them ideal for everyday use.
Absorbing Sweat
The biggest advantage of linen products is their breathability. It allows moisture and sweat to evaporate faster, leaving your body with better airflow. Having good air permeability in your clothing means that your skin will stay dry. Plus, it helps maintain electrolyte balance in the human body, and you won't lose more fluids than it's required.
The mode of weaving and the density of the fibers let the air molecules move freely. As linen is hypoallergenic, you won't feel hot or sweaty after exercising or being at someplace with a high temperature or humidity. This material is easy to absorb sweat, dry quickly, and it can do these many, many times.
Versatility of Use
Once upon a time, linen clothes were available only to rich people. Today, they are affordable for everyone. Every fashion brands have these pieces in their summer collections. These are highly versatile, being suitable for a range of occasions from work to casual. 
For example, comfortable linen sets are an excellent choice for any occasion. Depending on the event, you can choose a T-shirt and pants or a shirt and skirt. Even if you opt for a jumpsuit or a long dress, comfort is guaranteed throughout the day.
Durability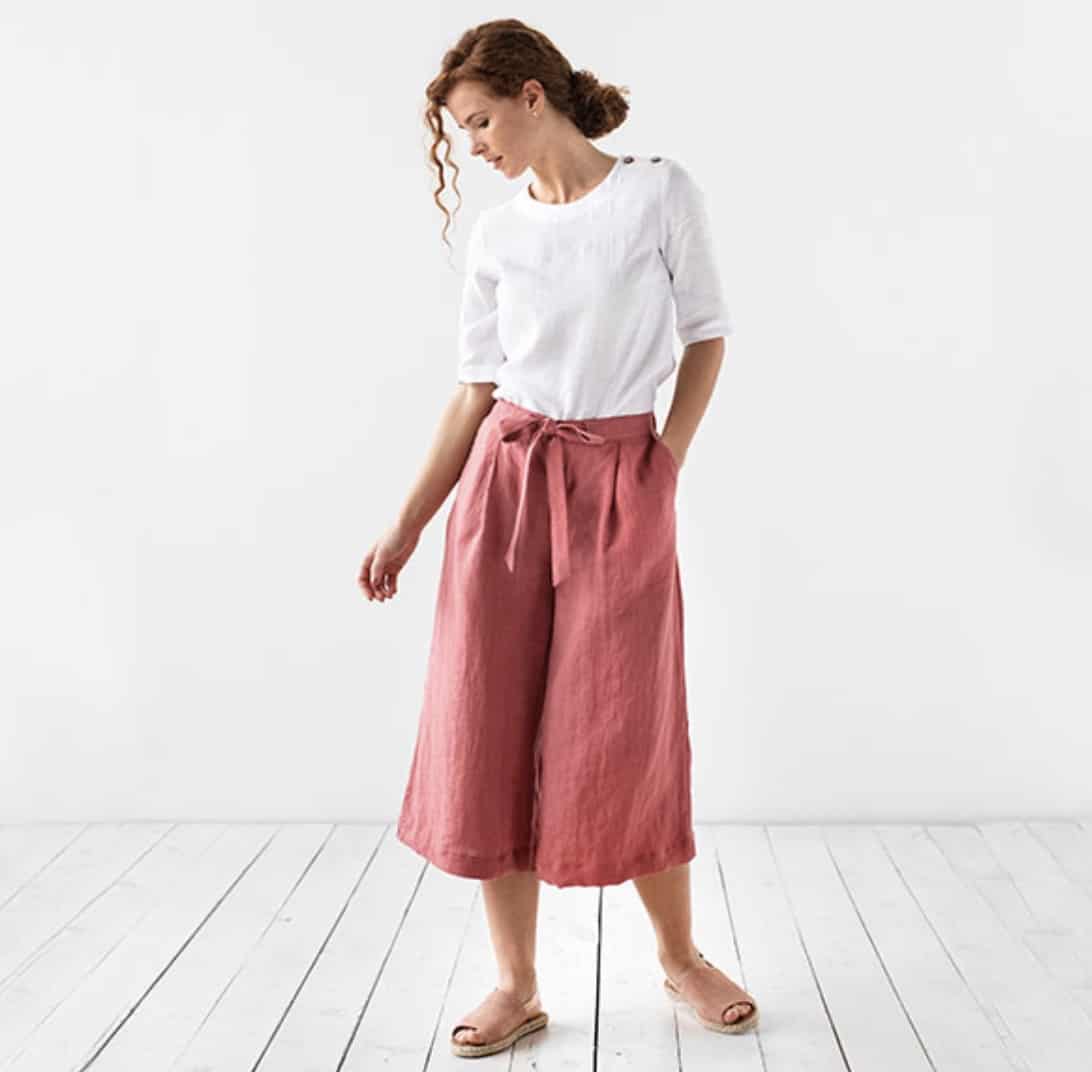 Linen has a long life span, which means you can enjoy comfortable clothes for many years. These fibers have high strength, which means that you can wear the same piece of clothing every day. But regular washing is a must because, besides sweat, this fabric absorbs all those not-so-pleasant smells. 
The great news is that these clothes can even withstand everyday washing, and detergents and softeners can't destroy them. Still, avoid whiteners and harsh chemicals for stain removal, as they can weaken the fibers.
Healthiest Choice You Can Make
Clothes made of linen are highly resistant to mildew and dirt, making them perfect for everyday wearing. These usually develop in folds and creases of the fabric. Also, this fabric is great at reducing the spread of pathogens on the skin. When combined with the high absorbance, this makes linen a very effective barrier against the allergens and bacteria that can cause some serious diseases.
Another advantage of this natural fiber you probably don't know about is its effectiveness in protecting from the sun. You know how desert peoples and nomads wear those long clothes and feel comfortable despite all that heat and radiation? Because they're made of linen which efficiently blocks ultraviolet rays. 
Easy Maintenance
Linen clothes can be machine washed at 40°C. Use even lower temperatures for colored pieces to keep the color bold. Washing at higher temperatures is not recommended because it can damage the fibers and shrink your clothes. Due to its excellent absorbent properties, your items will absorb the fabric softener well and smell for a long time.
These clothes can be dried in the dryer by selecting a program like 'iron ready,' which dampens the fiber. But whenever possible, avoid the dryer. It's best to spread the clothes outside to dry and ventilate in the air, as this avoids creasing. Ironing is not a must, as wrinkled linen clothes look fashionable.
More ironing tips see below:
https://www.thespruce.com/how-to-iron-linen-clothes-2146184 
Most of the linen clothes are very fashionable and comfortable to wear. Clothes made of this material maintain their shape and color for many seasons. Furthermore, this fiber ensures good health for the people who wear it.