These 5-minute hairstyles are perfectly designed to save you snooze time. What woman doesn't want to look beautiful as she steps out of her home? None, right?
Well, not all of us have the luxury of spending 30 to 45 minutes styling our hair. And sometimes, you just do not hear the alarm, or you want to sleep more. Well, if you overslept, you are probably in chaos. What to do with the messy hair? It is question a lot of women have.
Well, today we will talk about a couple of hairstyles that do not require you to spend and waste precious time on an over-the-top hairstyle. Forget complicated braids and 20-plus steps hairstyles. These are the 5 minute hairstyles you actually have time for.
Here are some step by step guides that will help you look gorgeous and amazing, even though you do not have much time to prepare.
1. 5 Minute Up-do

This five-minute updo is something every woman can do. It is basically a hairstyle for anyone. An everyday hairstyle which will make you look and feel as romantic as you can.
You might not believe it, but this updo can be achieved in less than five minutes. Of course, you might need some time to practice it in the beginning, but you will get there. And things will never be the same from that point on. It will completely transform your morning ritual. You are welcomed.
2. Half-Up Top Knot

When celebrities like Margot Robbie can wear top knot hairstyles, why shouldn't you? Even celebrities get busy mornings, and they need something "on the go". There are a lot of knot hairstyles you can try, but we suggest you start with this five-minute top knot that is perfect for both medium and long length hair.
You can even add volume if you like, it is all up to you. All you have to do is twist, tie a knot, tuck ends under, and whoala, you have a perfect hairstyle as you walk out of your home.
3. Double Ponytail Trick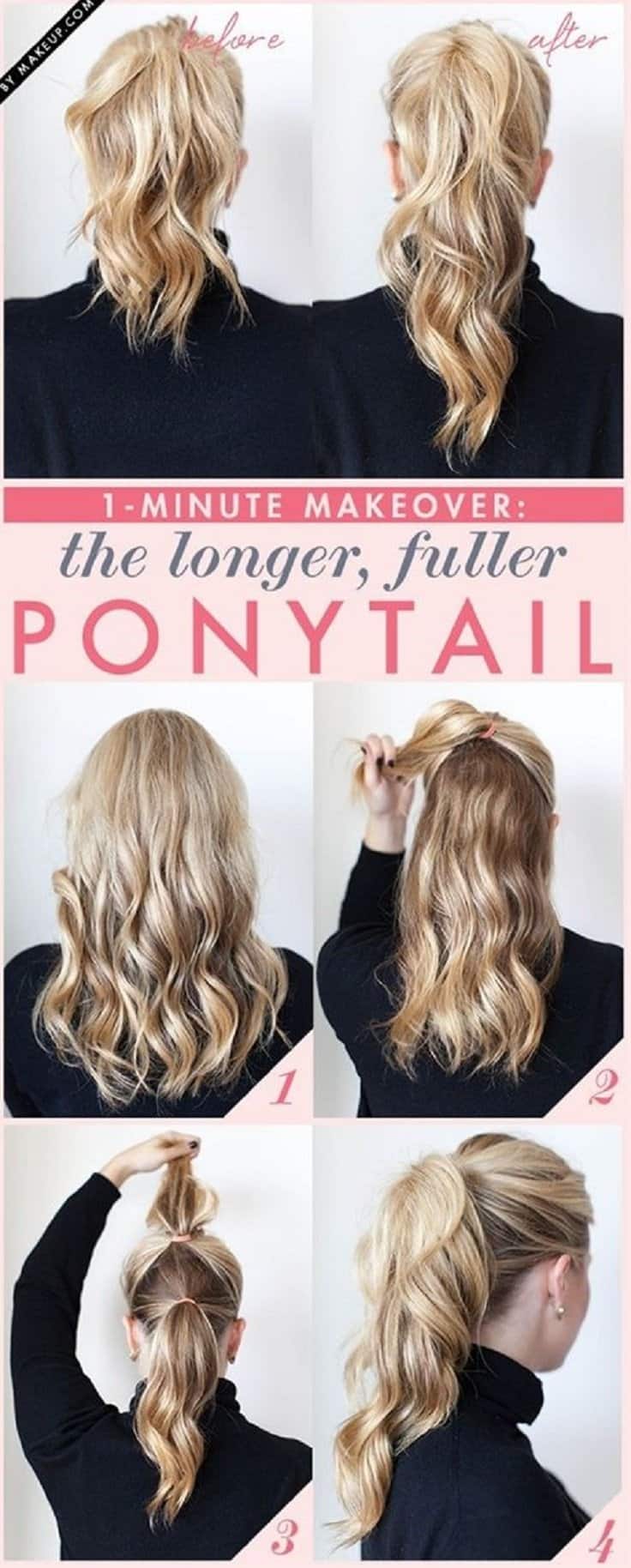 A ponytail is a classic hairstyle that we all wear at some point. Dubbed as a teenage-like hairstyle, but worn by women of all ages. Now, when you want to have a longer and fuller ponytail, you might want to put some hair extensions. This trick saves you both time and money.
For starters, it saves you money, as you do not need hair extensions to have fuller-looking and longer ponytail. And at the same time, you can do it in just a few minutes, and save time in your morning routine. Great addition to the 5-minute hairstyles. Sounds good enough for you?
4. Hair Bow

A hair bow is the perfect hair accessory for a cute and girly look. And now, you can make it from your own hair. It will only take you five minutes to do that. Style up your hair and stand out from the crowd with this pretty and cute hair bow.
The best part about hair bows is that they are versatile. Suitable for both a classical and formal outfit, they also work great on a casual and romantic look.
5. Rope Braid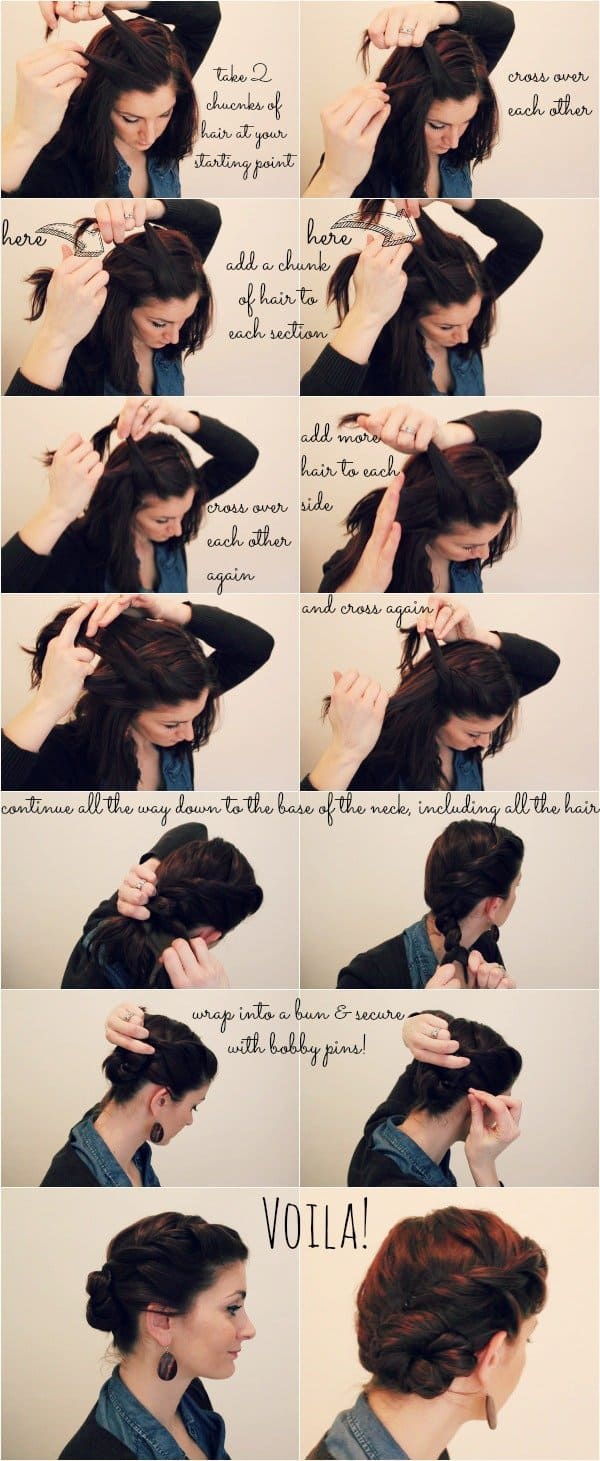 We said at the beginning that we will not give your complicated braids as ideas. And we stand by that. Braids are great hairstyles for a formal event. But in the morning, you do not have much time to complete your look.
That is where this quick braid comes into play. You still get all the benefits of braided hair, but done in less than five minutes. Doing the rope braid is a little bit different from the traditional three-strand braid and its variants. But that is why we are here to teach you how to do it.
6. Half Up, Half Down

Half up half down hairstyles are less schoolgirl, and more of a modern woman trend. And celebrities love them. In the past few years, we've seen a lot of celebrities wearing this huge hairstyle trend. The hairstyle takes less effort, but looks just as polished as a full updo.
Here we have just one example of how you can do it. And if you love it, check some more half up half down hairstyles that can help you get inspired for the next busy morning.
7. Easy Chignon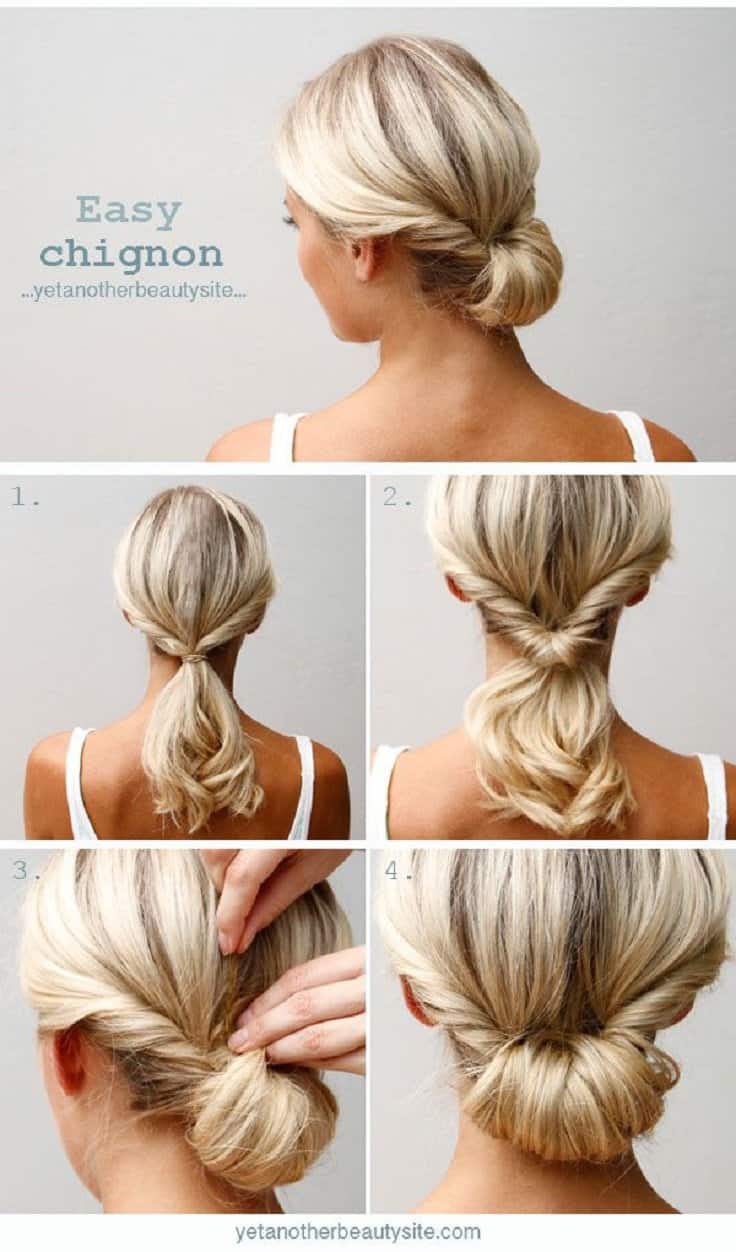 A chignon is a popular type of hairstyle that originates from France. Generally achieved by pinning the hair into a knot at the nape of the neck or the back of the head, chignons are versatile and come in different variations.
The problem with chignons is they usually take a lot of time. But this is where this easy tutorial helps. You keep it classic, chic, and simple. You can say it is the fastest way to deal with messy hair. And do it in a fancy way that will make you look beautiful, as you've spend hours in front of a mirror.
8. 5 Minute Curls

When women try to get curly hair, or those beach waves we all love, they usually do it overnight. But you do not have as much time on a daily basis. Some days, you have nothing more than 10 minutes to prepare your hair and makeup, and that is all.
Well, when that happens, and you still want to wear curly hair, think of this hack. And you do not have to wash your hair and wrap it the night before. Yes, it is that simple.
9. 5 Minute Loose Hair Waves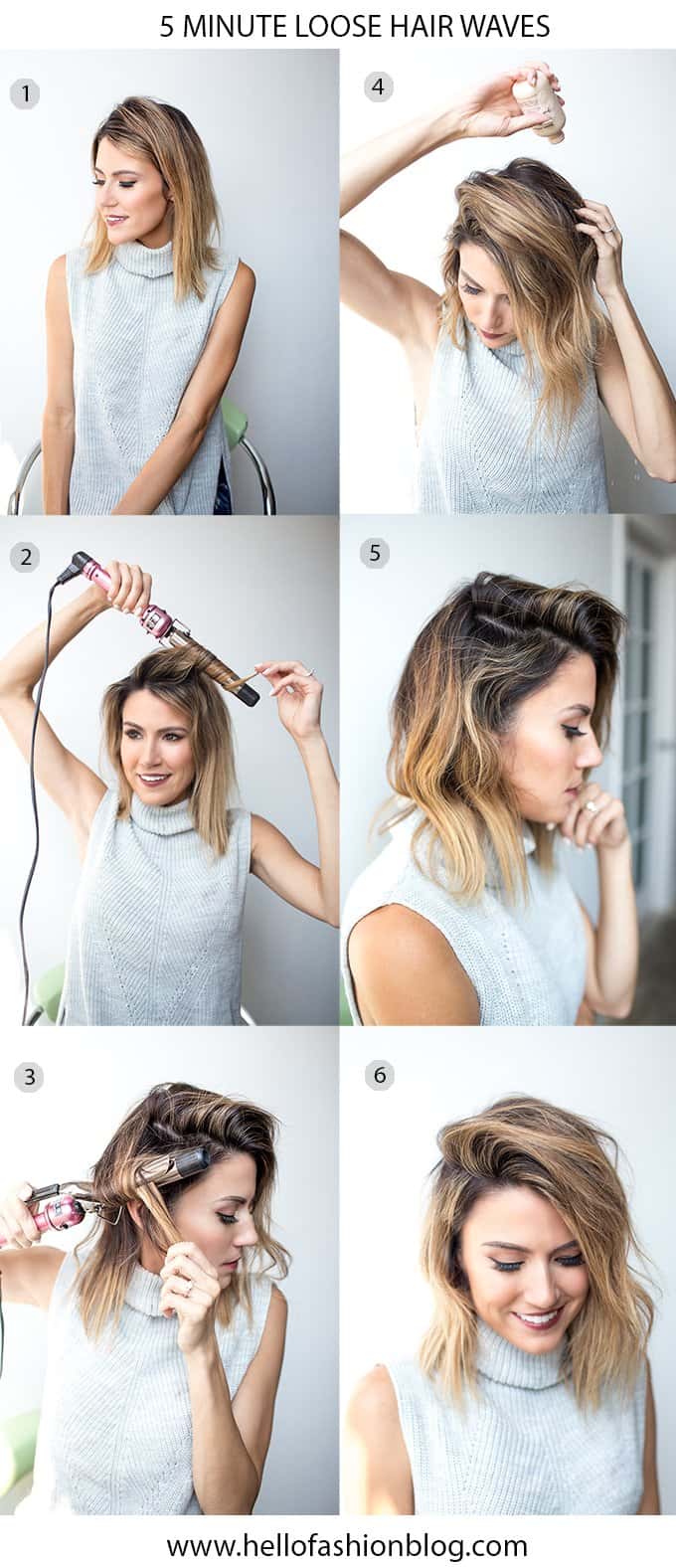 When you are in a rush to get ready, your hair might be the last item on the priority list. That is why you need to perfect some hairstyles. Like this messy curl, for example. You can even add volume to the look with an extreme side part.
If you want a bombshell effect, you can play up with the volume by adding some messy curls. Now isn't this a hairstyle that you want to have in your morning arsenal? We thought so.
10. 5 minute Summer Braids

Last, but not least on the list of 5-minute hairstyles is a hairstyle many women love. Summer braids help you look like a fairy out of some children's book. If braids are your go-to hairstyle, you probably already know how to achieve this look. But for ladies that are new to the braids, this is a five-minute hairstyle that will help you get right into the world of braids.
That is all for now. If you have any questions or comments, feel free to share them below.