Most women develop stretch marks at one point in their life. That is just a fact. You can hide them, but you cannot ignore them. If not treated, stretch marks can lead to saggy skin. And if there is one thing that can ruin a woman's confidence and self-esteem is saggy skin.
Finding the best stretch mark reduction solution doesn't need to be an expensive exercise and is something that can be treated while in the comfort of your own home. Today, we will talk about how to use aloe vera for stretch marks removal.
Stretch marks can appear anywhere on the body. However, mostly, they appear on the arms, legs, breasts, abdomen, hips, and thighs. In the initial stage, they look reddish or pinkish. However, over time, they turn into silver lines.
Why stretch marks appear?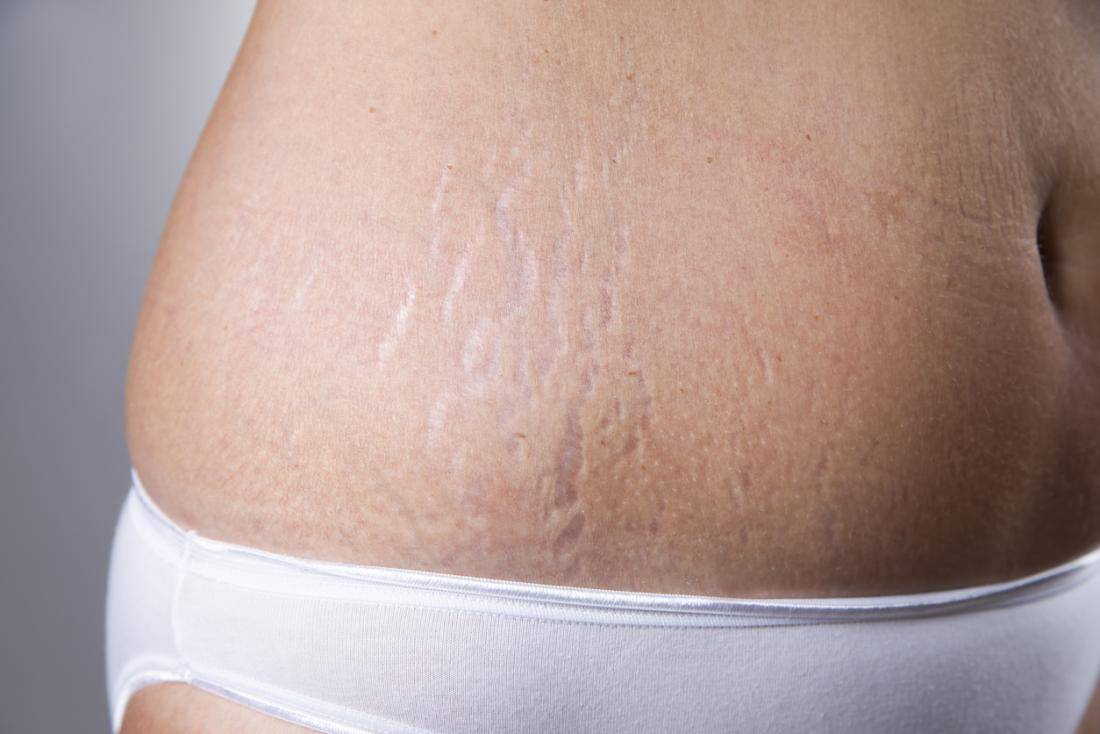 The main cause of stretch marks is sudden weight gain or weight loss. They are also called striae, and happen when skin changes rapidly due to growth. Just a reminder, stretch marks are not a symptom of something wrong with your health.
Commonly, women get stretch marks, but both men and women can get them. Puberty and pregnancy are the two most common periods when people get stretch marks. After all, during pregnancy, women experience rapid weight gain, and then weight loss afterward.
There are remedies that can help with stretch marks, and most of them are natural. As mentioned previously, today, we will talk how to use aloe vera for stretch marks.
Skin benefits of aloe vera
Does aloe vera treat stretch marks? Yes, and it is all thanks to the many skin benefits. Aloe vera is one of the most common ingredients in skincare products due to its soothing and calming properties. In the same time, aloe vera contains nutrients that are good for our skin.
Here are some benefits of aloe vera for skin.
Rich in water, aloe vera helps keep the skin hydrated and moisturized
Aloe vera also contains essential nutrients and active compounds that restore the health of the skin
When used topically, aloe vera can boost collagen production
When used topically, aloe vera can smoothen the skin
Essential nutrients in the aloe vera gel nourish the skin
Aloe vera has antioxidants that help with oxidative stress and damage from free radicals, as well as repair the skin cells from within
Aloe vera boosts new skin cell growth
Regular use of aloe vera can boost the elasticity of the skin, treat stretch marks, and prevent a recurrence
How to use aloe vera for stretch marks
Pure aloe vera gel
This is the simplest way to reap the benefits of aloe vera and use it for stretch marks. Use it on a regular basis, and you will notice results within a few weeks.
Cut open the leaf of aloe vera, and extract the gel
Apply the gel on the area with stretch marks
Massage the gel for a few minutes, and then leave it there
Do not rinse, and apply two times per day
Aloe vera and Vitamin E
With this remedy, you can notice significant results within three to four weeks period. Vitamin E is another moisturizing agent that helps with the hydration of the skin.
Break open 10 vitamin E capsules, and then add the oil to ¼ cup of aloe vera gel
Mix well, and then massage the solution to the affected area for a few minutes
Leave for one hour, and then rinse with lukewarm water
Repeat two times per day
Aloe Vera and Glycerin
Glycerin is also a moisturizing agent. You can use it to make the aloe vera remedy more potent.
Extract the gel from an aloe vera leaf, and then add a few drops of glycerin and vitamin E oil
Add rose water to the mix, and apply to the stretch marks area
Massage gently for a few minutes, and then let the skin absorb the remedy
Rinse off with lukewarm water after one hour
Aloe Vera and Coffee grounds
The only downside of this treatment is that coffee grounds can be abrasive. You have to be gentle when massaging. Do not apply a lot of pressure. When done properly, this treatment will reduce the visibility of stretch marks within three weeks.
Mix 2 tablespoons of aloe vera gel, and 2 tablespoons of coffee grounds
Apply to the stretch marks area. Massage for one minute in a circular motion
Leave the mixture for 20 minutes, and then rinse with water
Apply moisturizer afterward
Aloe Vera and Rose water
Rose water is the hot new and trendy ingredient for skincare. Truth be told, it is quite effective in soothing skin irritation, reducing redness, treating infections, and healing thanks to the antioxidants inside.
Cut one aloe vera leaf and extract the gel. Add rose water in 1:1 ratio
Apply the mixture to the area, and massage for a couple of minutes
Rinse after 20 minutes. Repeat two times per day
Aloe vera and lemon juice
Lemon juice is a known natural remedy for bleaching. It can help you lighten the skin, which in turn will make stretch marks less noticeable. Combine with the soothing properties of aloe vera, and you have an effective remedy.
Mix 2 tablespoons of aloe vera gel and 1 teaspoon of lemon juice
Apply the remedy to the affected area, and leave it to dry naturally
Once it is completely dry, rinse with lukewarm water
Moisturize afterward
Repeat every day until you see results
Aloe vera and yogurt
Yogurt is one of the best natural ingredients for skin issues. It helps moisturize the skin, rejuvenate the skin, reduce fine lines and wrinkles, and fades blemishes.
Mix two tablespoons of fresh aloe vera gel, and half a cup of plain yogurt
Apply the mixture to your stretch marks. Massage gently for a few minutes, and then leave for 20 more minutes
Wash off with lukewarm water
Repeat once per day
Aloe vera and castor oil
Castor oil is another popular remedy for skin issues. When used regularly, it can help reduce and lighten stretch marks after three to four weeks.
Extract two tablespoons of aloe vera gel from the leaf, and mix with 1 tablespoon of castor oil
Mix together, and lightly warm the remedy
Apply the warm liquid to the affected area, and then massage for two to three minutes
Leave for 30 minutes, and then rinse with lukewarm water
Repeat daily for maximum result
Aloe vera and cocoa butter
Cocoa butter is rich in phytochemicals, natural substances that improve blood flow to the skin. They slow down aging, protect the skin against skin damage, and smooth wrinkles and marks on the skin.
Combine 2 tablespoons of aloe vera gel, oil from 2 vitamin E capsules, and 1 teaspoon of cocoa butter
Heat the contents together so they mix well
Apply to the stretch marks area
Let the solution dry on its own for 15 minutes, and then rinse with water
Aloe vera and olive oil
Olive oil is a natural moisturize most of us have at home. It is a staple in the kitchen, but also staple in skincare DIY remedies.
Mix ¼ cup of each aloe vera gel and olive oil
Massage the affected area for three minutes, and then leave it to stay vernight
Shower in the morning