Silver hair is one of the hottest hair trends at the moment. It is more of an attitude than a hair color. Some years ago, silver, or even ash silver hair was reserved for the elderly women. Nowadays, silver suits every woman.
Chic, sexy, edgy, and super cool, silver hair looks fashionable, but only when chosen and placed right. Be careful, silver hair is high risk and high reward move. You can look amazing, but you can also look awful.
The bottom line is that ash silver hair works, and we have the ideas to help you pull it off.
1. Earthy Brown With Silver Ash Tips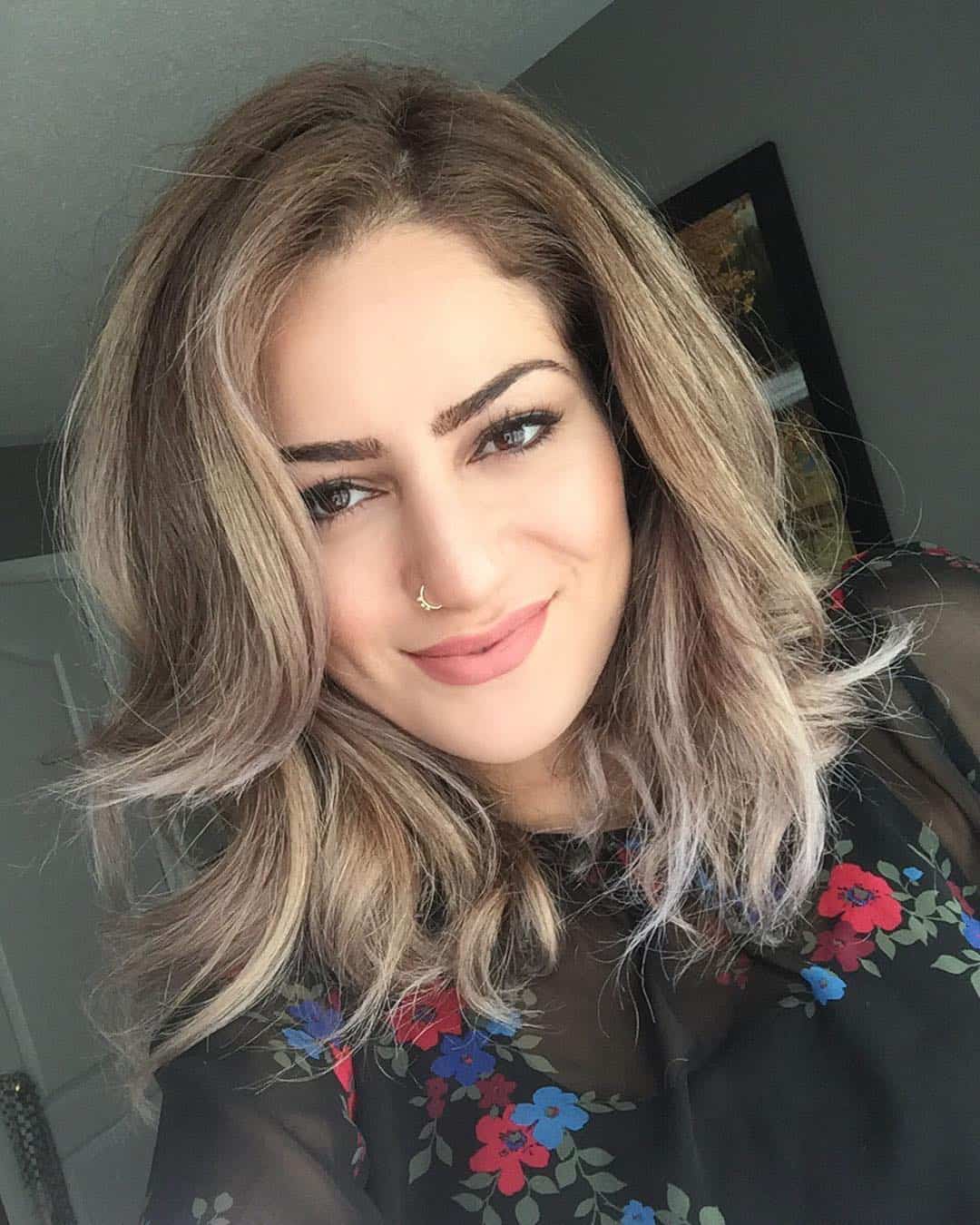 Let's start with something more subtle, and less silvery. For those of you that just want to try the trend, some silver highlights are more than enough. And they work perfectly on brown hair.
2. Dark Roots With Blue Toned Silver Ash Balayage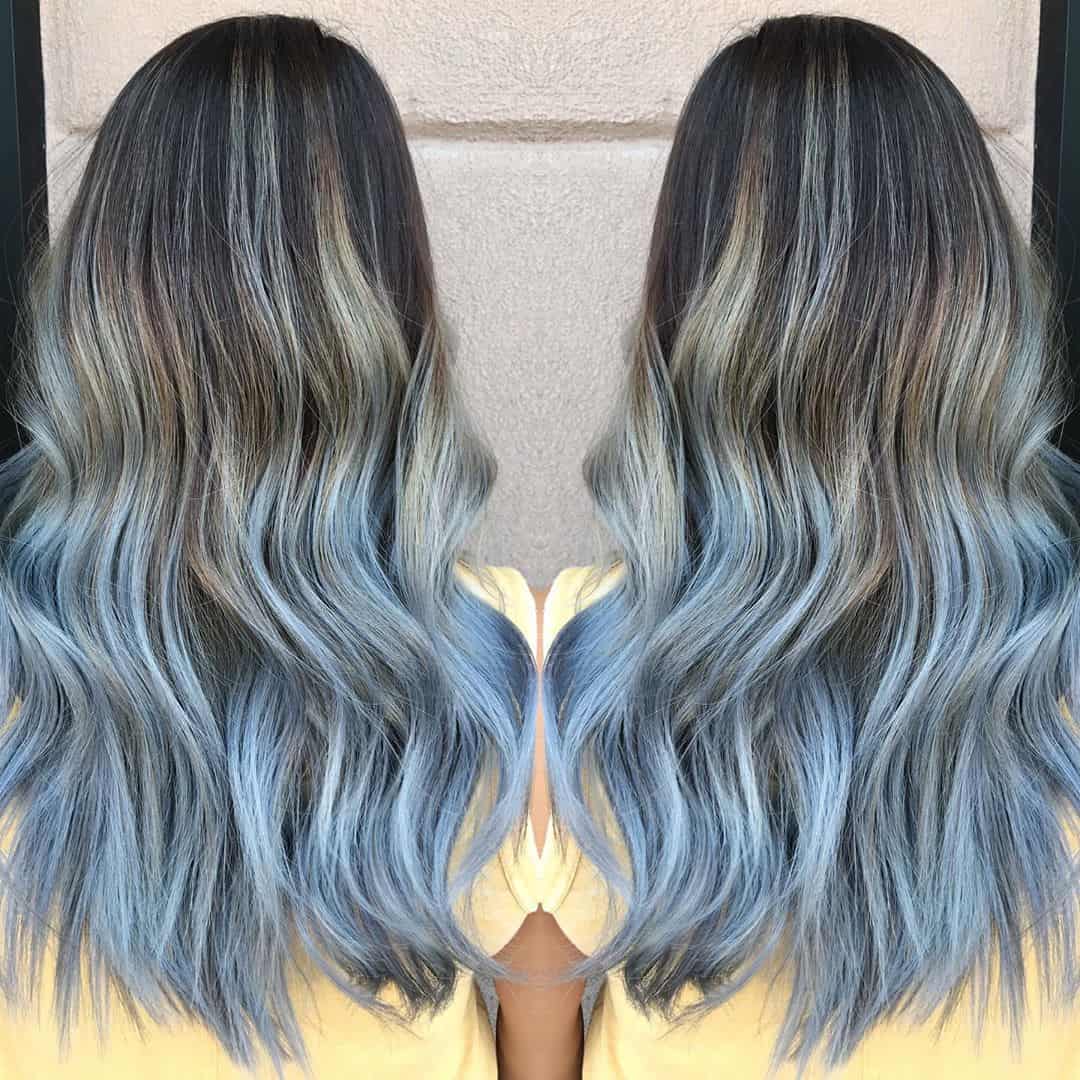 Ash silver and black work wonderfully in contrast. And with the balayage technique, you get a hair color that looks more naturally colored. You go from dark to light, and the contrast is just perfect. The best part about a balayage is there is no strict line where the black ends and silver starts.
3. Platinum Ash Silver Bob With Darker Roots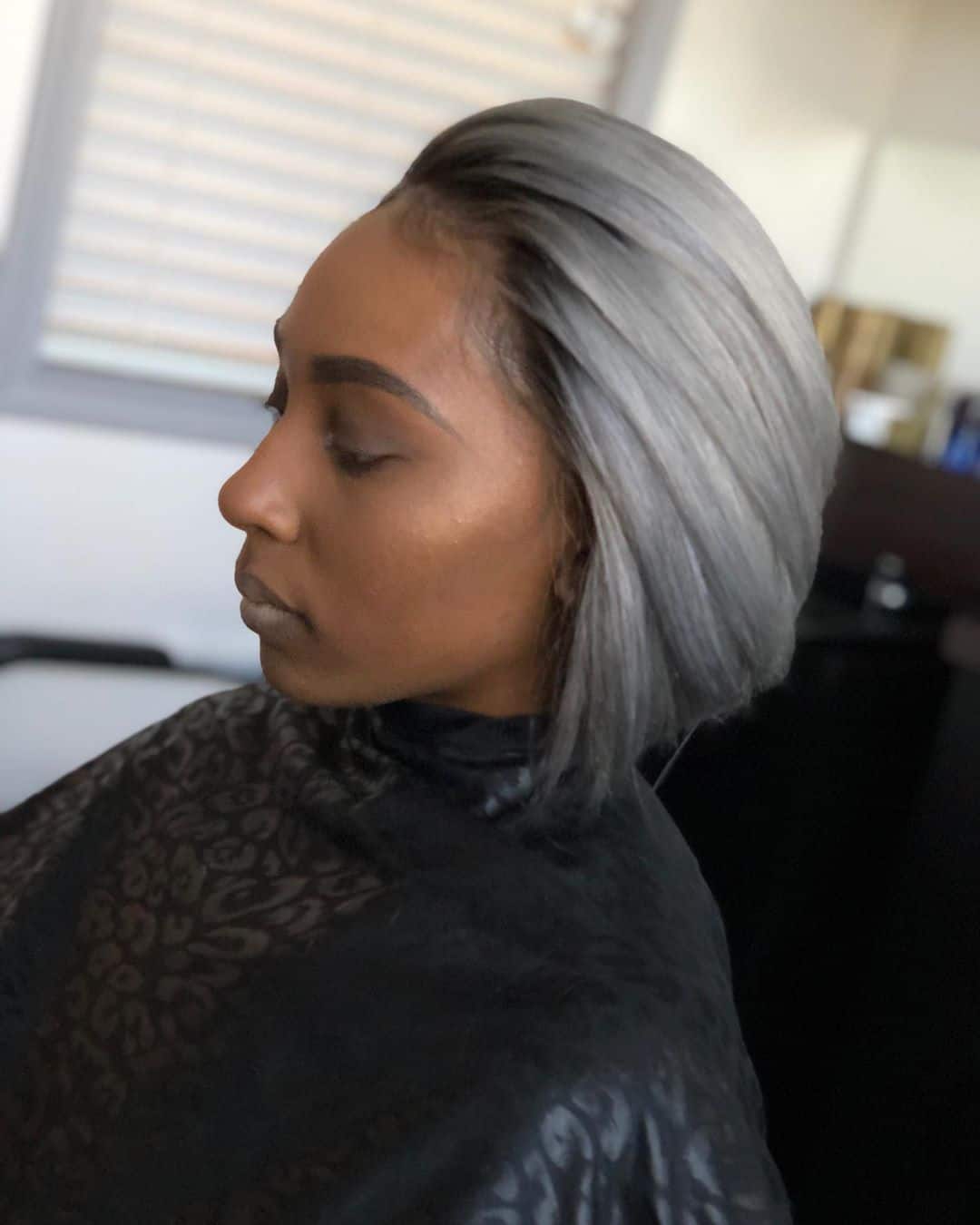 You would be surprised, but ash silver looks good even with dark roots. Same as with the balayage technique above, it is all about the contrast. And even on short hair, the contrast is emphasized.
4. Long Wavy Ashy Silver With Dark Blonde Babylights
When it comes to highlights, wavy hair is the way to go. Probably the best shape and form to emphasize your highlights. And with silver highlights, it looks even more amazing if you can manage to combine different shades.
5. Dark Brown Silver Ash With Subtle Violet Melt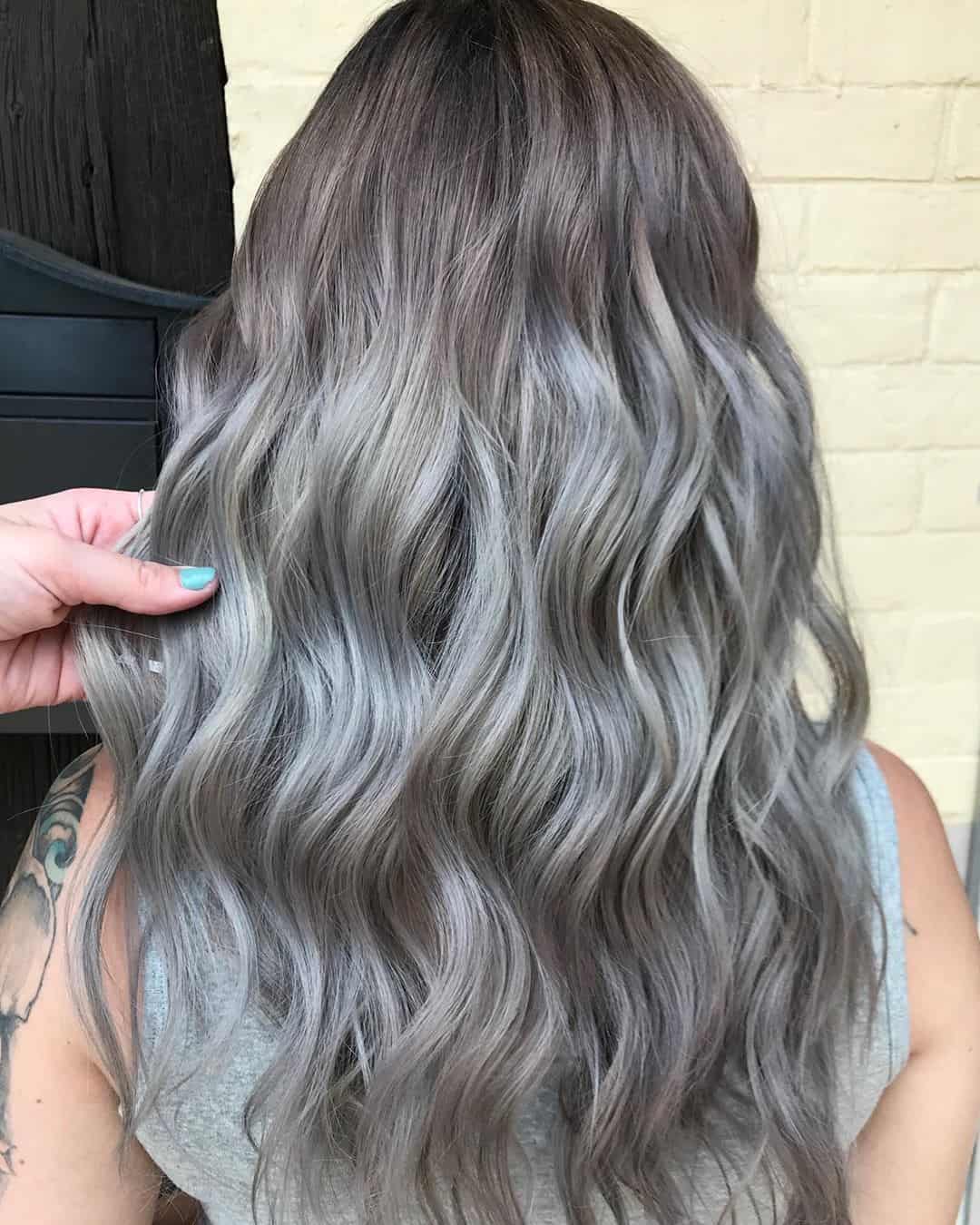 You will be surprised how versatile silver hair can be. You might think it is something only select few women can wear. But the reality is that ash silver is versatile, and works well with other colors. You can even add some different color highlights, like violet, for example.
6. Ash Silver Highlights On Light Honey Brown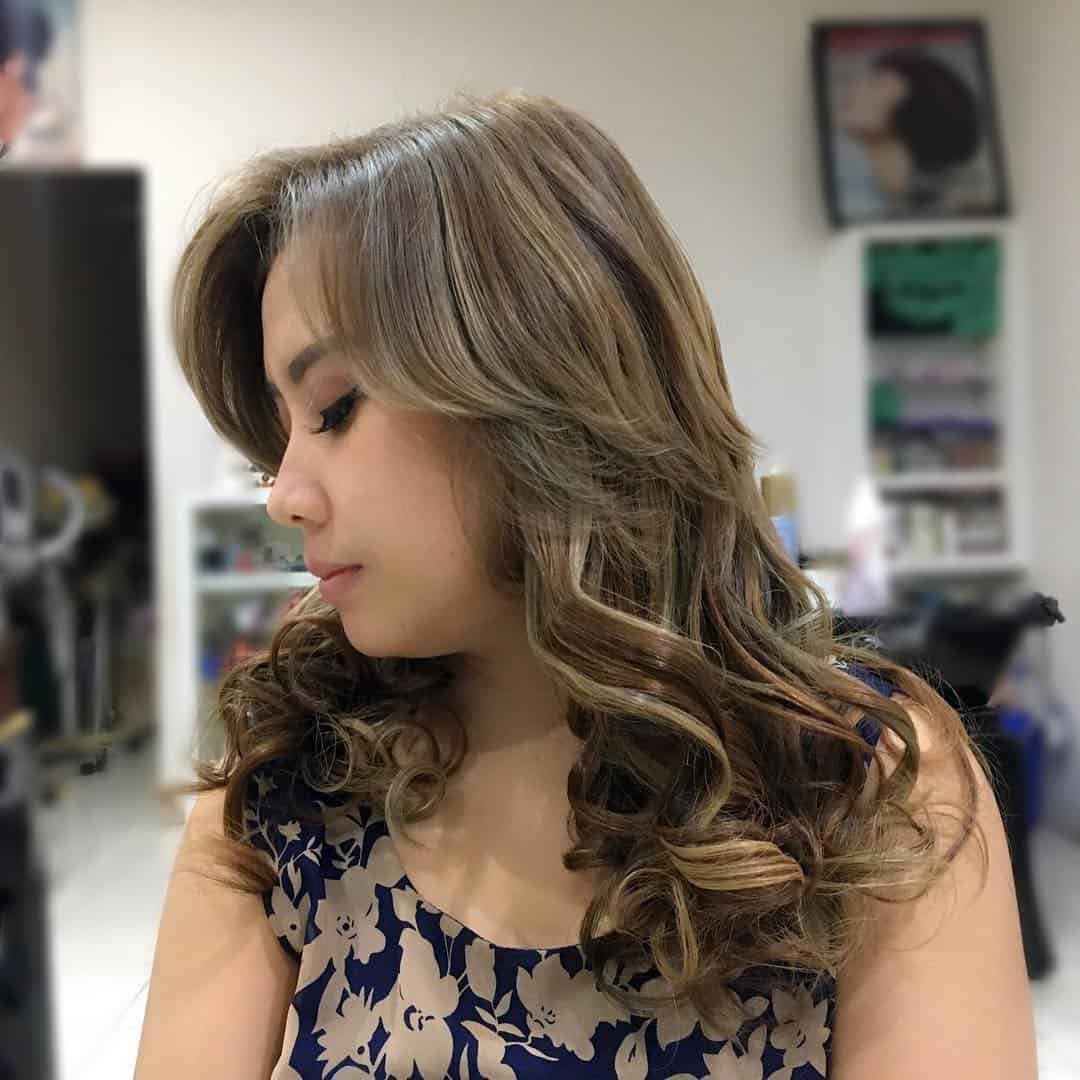 Blonde highlights on brown hair are nothing new. In fact, this trend has been around for centuries. Now, you can give it a different twist thanks to the ash silver trend. If you want a bit lighter blonde highlights, the ash silver is the way to go.
7. Shadow Roots With Silver Ash Balayage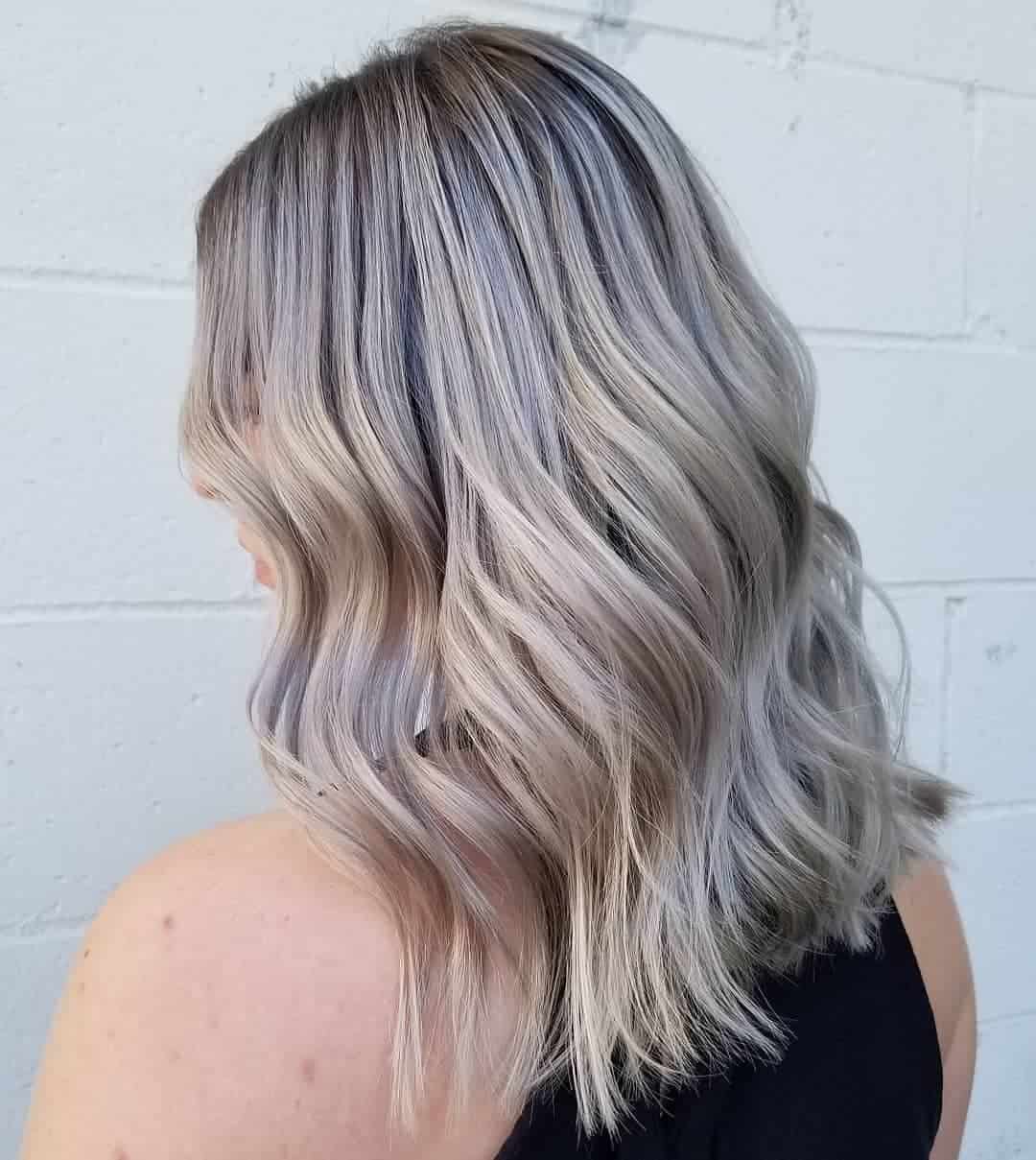 As mentioned before, balayage helps you create a natural and softer gradation of your hair color. You get a fresh and amazing look as a result.
8. Icy Blue Silver Ash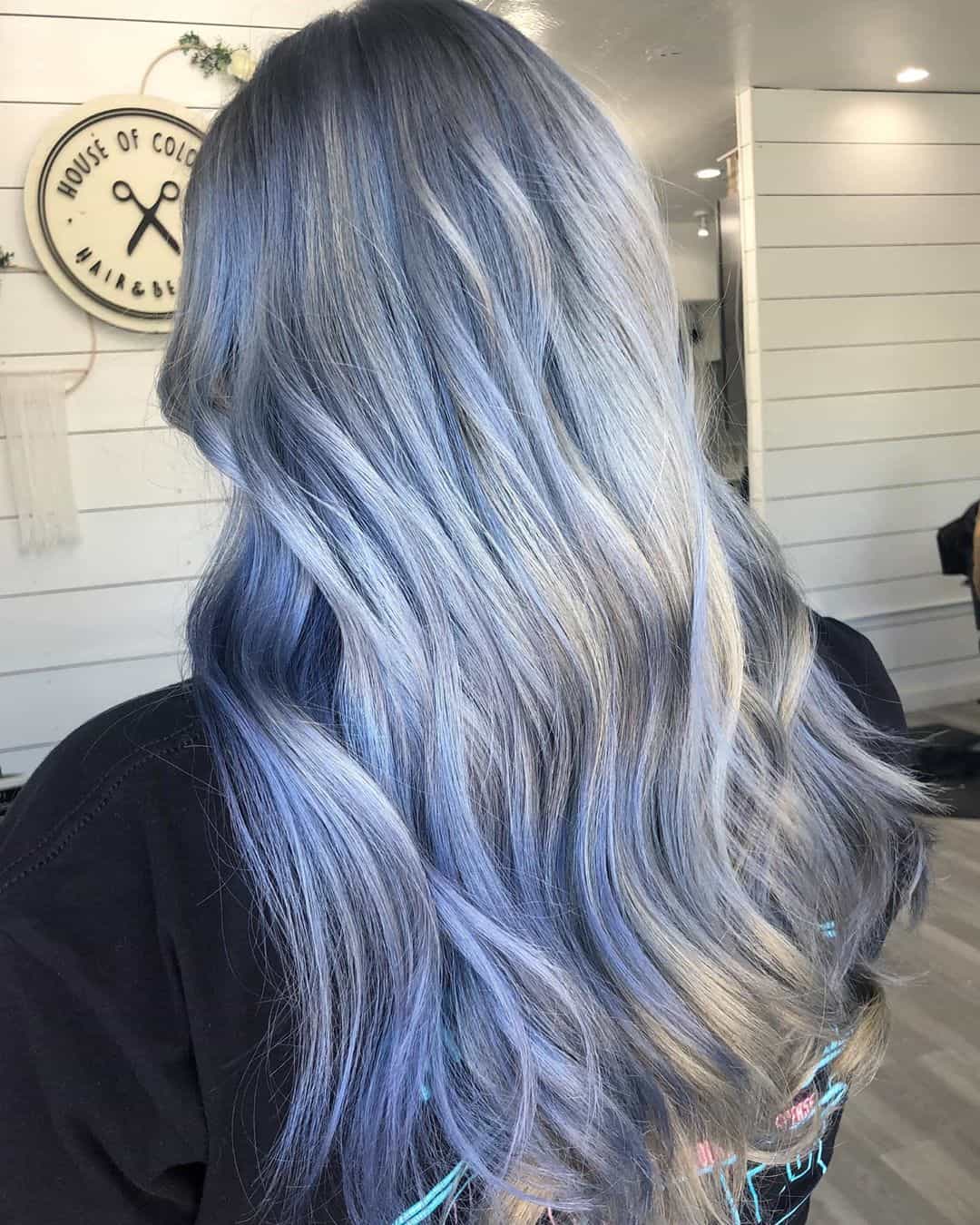 Another trend that is popular lately is the neon coloring of your hair. Yes, neon coloring. You read that right. And the beauty is, you can actually combine those two colors together. Ash silver and blue work perfectly, like a match made in heaven.
9. Blonde Shoulder Length With Heavy Silver Ash Melt Balayage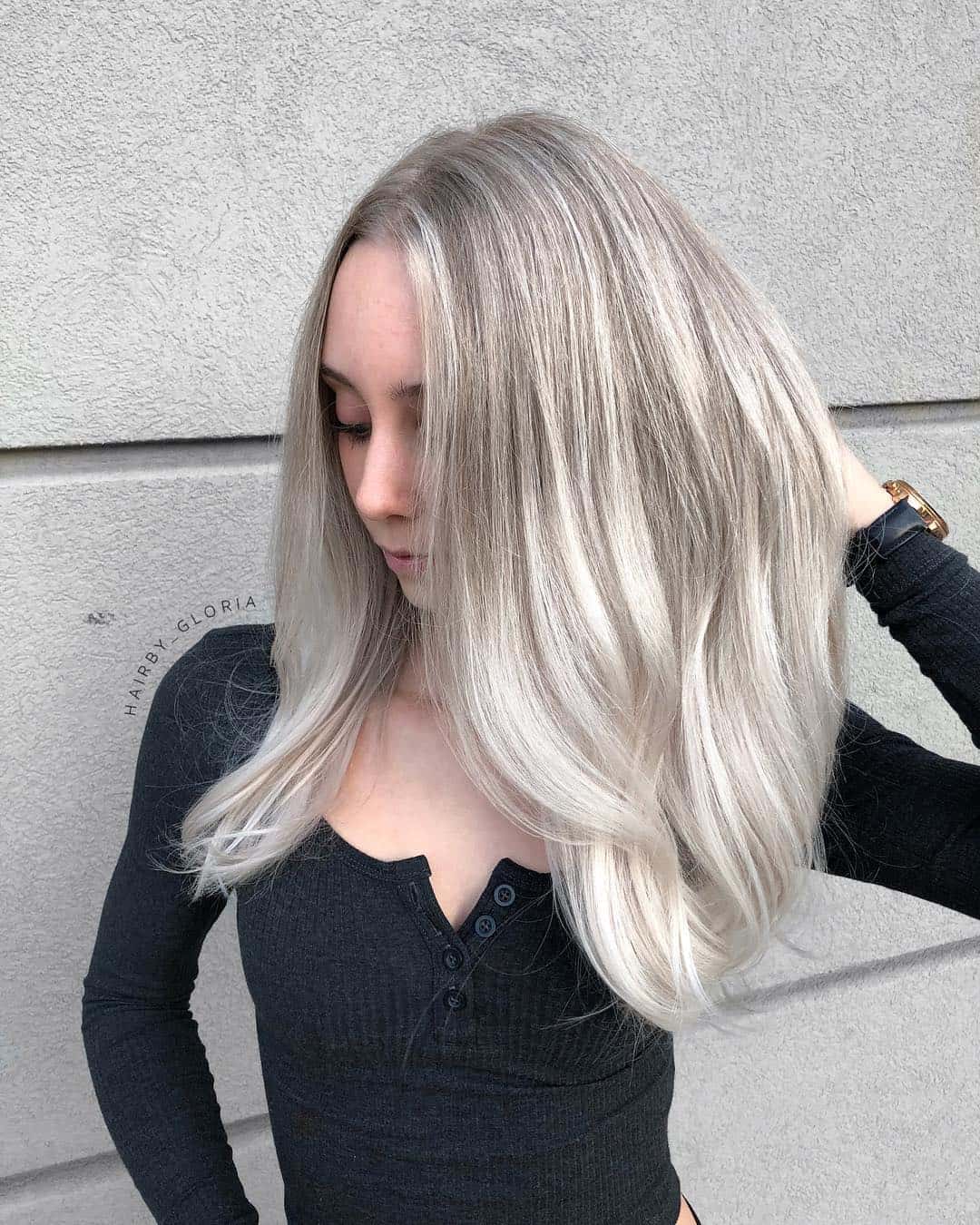 Some ladies dye their hair blonde first, and then they go for the silver color. That works as well, as you can see here. Basically, ash silver is your next level blonde hair.
10. Ashy Silver Hair With Sunny Blonde Balayage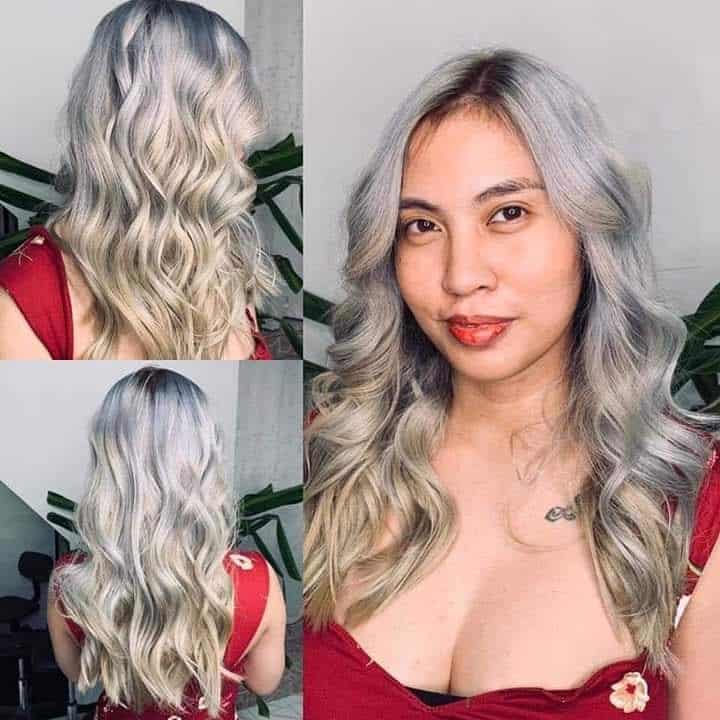 When you do a balayage, your hair gets that summer beach treatment you crave for. And it doesn't have to be summer to get it. Want a fresh and cool new look? Go for balayage silver. It is as simple as that.
11. Brunette With Ashy Violet Silver Balayage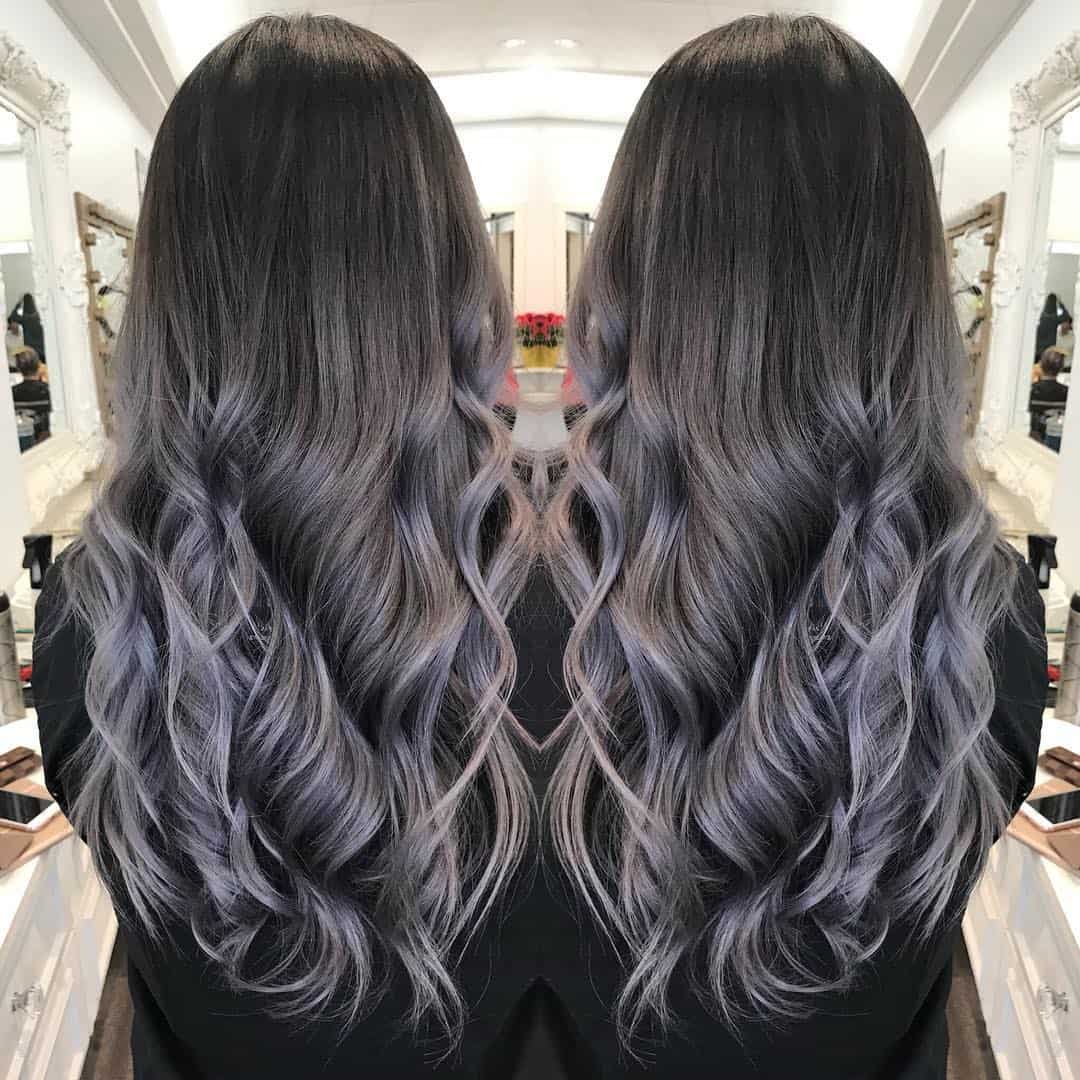 We talked before how ash silver is versatile and works with other colors. And we even had an example with violet. Here, however, the violet is a bit more emphasized. It gives your hair a touch of a royal and elegant look. Get ready for a formal event!
12. Straight Ashy Silver Blonde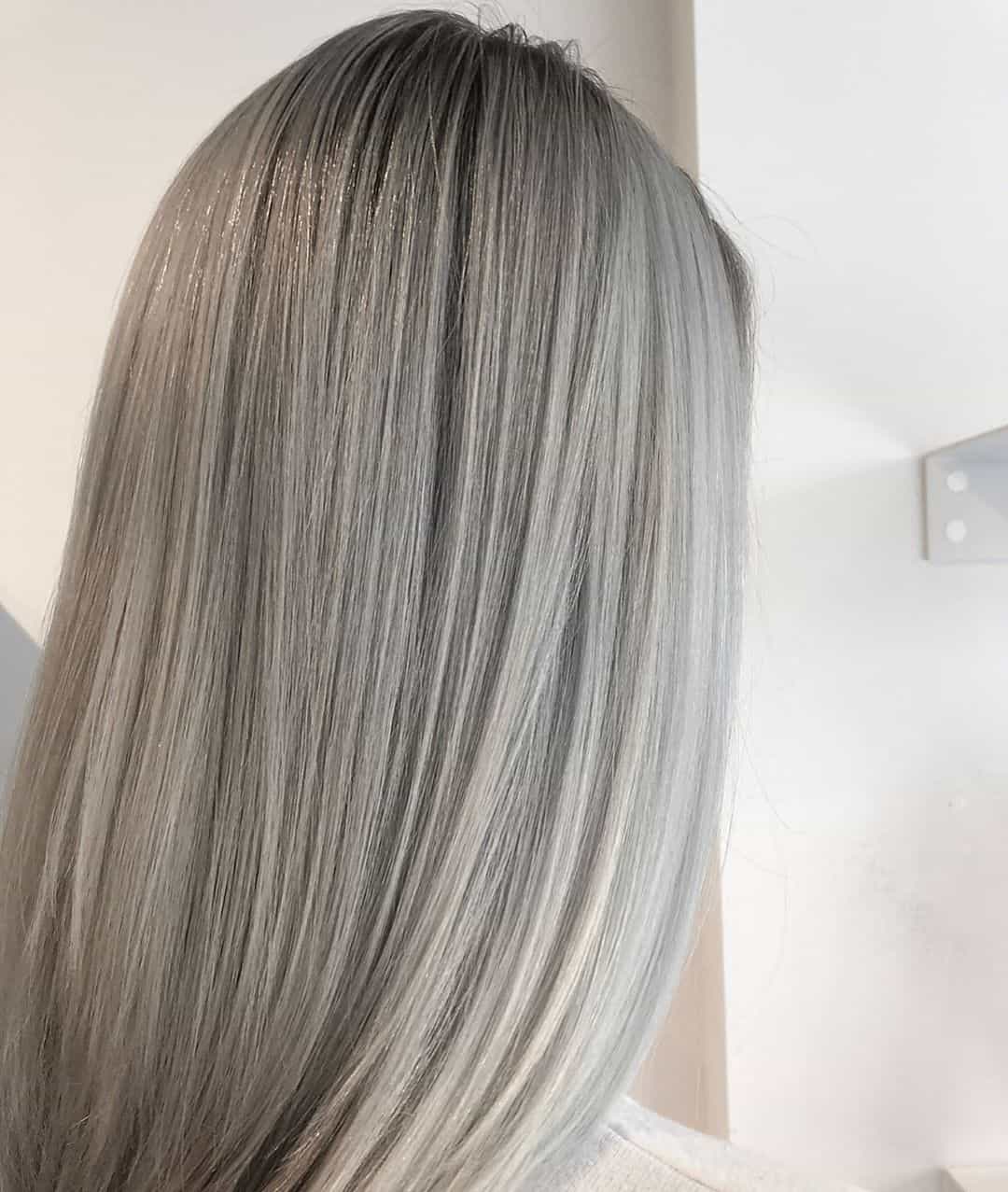 We touched on how ash silver is the next level of blonde. And while some women go for wavy hair, straight hair is also an option. Just remember, with straight hair, your highlights are not as emphasized. And you might not even notice where the blonde ends and silver begins.
13. Blonde Ashy Silver A-Bob With Faint Purple Roots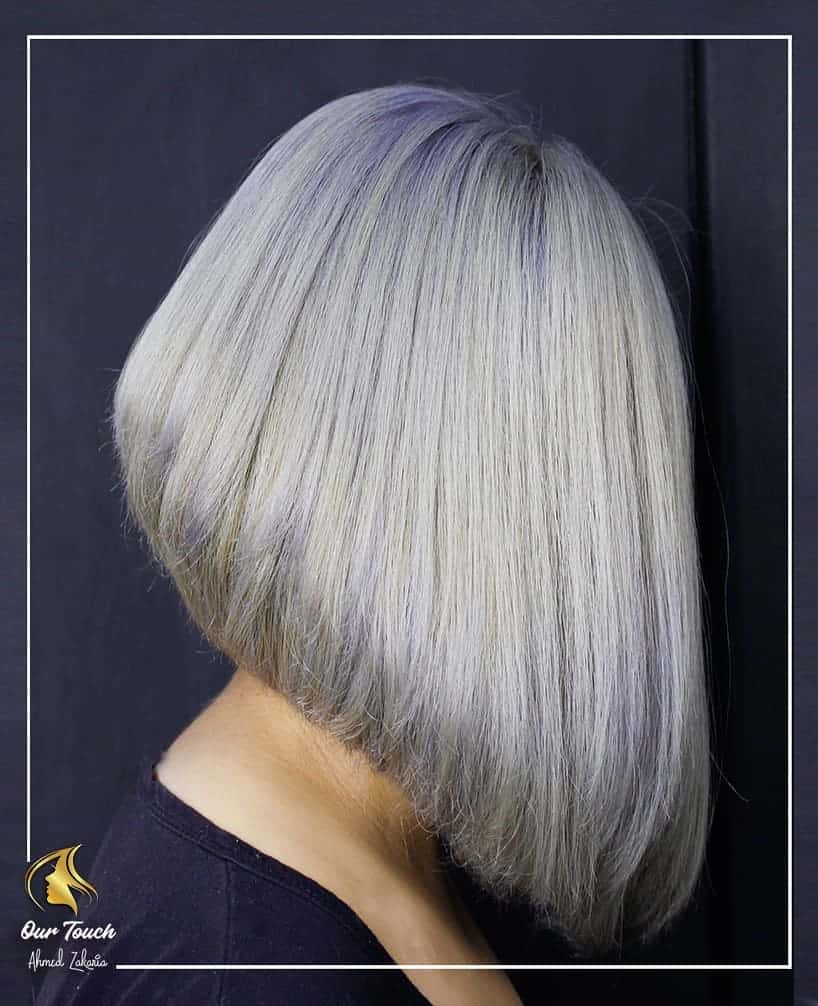 Some women want a bit of edginess and kick in their hair. No problem, that is possible as well. Think purple, or some other vivid color that complements ash silver. You can make your hair edgy with vivid color, or a unique shape and form. Here, we have both.
14. Unicorn Tiel To Pink Silver Ash Balayage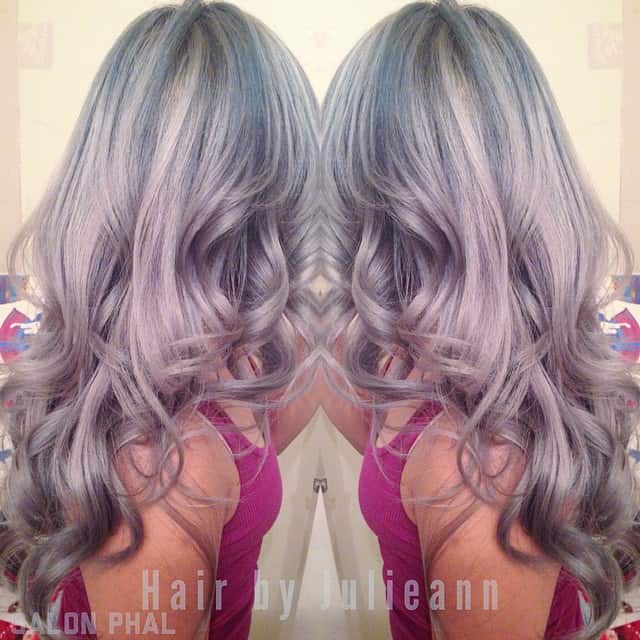 Unicorns are not extinct. And they are not just mythical creatures. Jokes aside, the colors of the unicorn are the latest hair coloring trend. They are so chic, but also neutral and subtle. Here, we go with the full coverage unicorn color for a more saturated look.
15. Dark And Light Blonde With Ashy Silver Tones In Babylights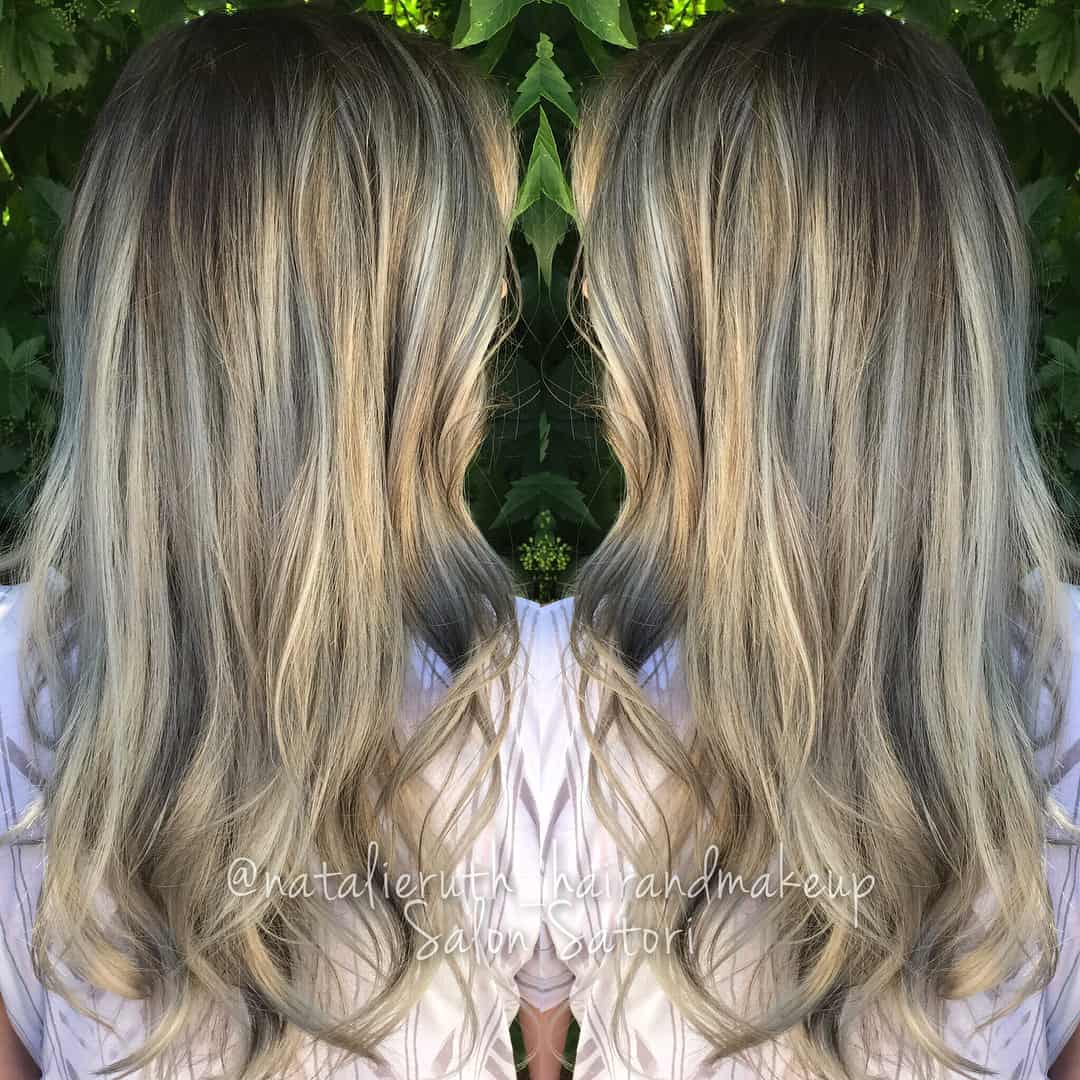 If you cannot decide whether you want dark blonde or light blonde, why not both. That seems to be a solution for most dilemmas. And it works perfectly here.
16. Gray Silver Ash With Bright Red Undercolor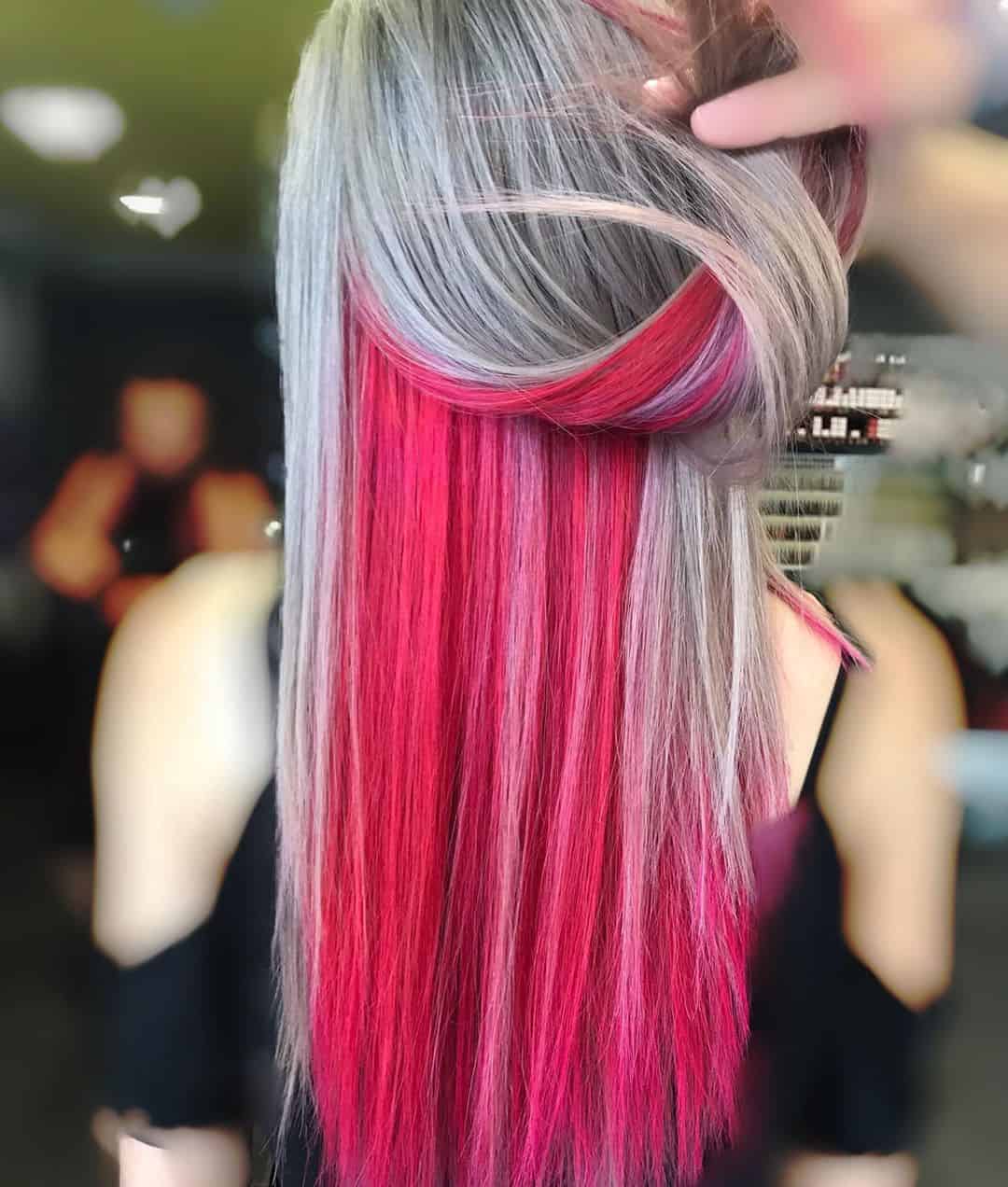 Some years ago, we had the undercut trend. Basically, shaving your head on one side. Now, we have the under color trend. And it is just as bold. To get you started, we give you one of the most vivid and bold colors, red. Perfect contrast with the calm and neutral silver.
17. Dark To Light Blonde Ashy Silver Highlights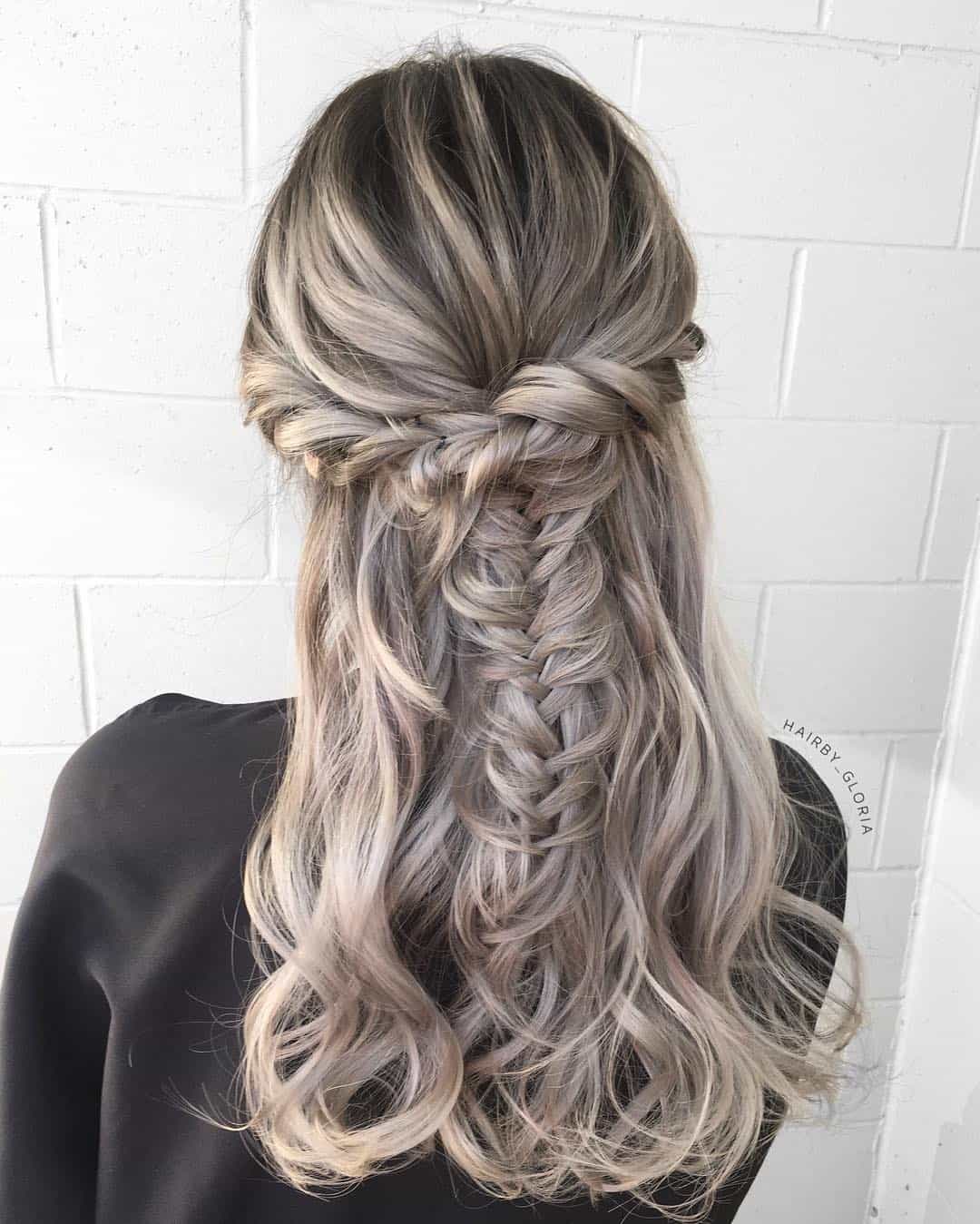 We had black to blonde before. But now, we go from dark blonde to light blonde. It is the same concept and idea of contrast. Just with different colors. The only downside here is that it requires a lot of coloring, which can be damaging for your hair.
18. Baby Cyan Ashy Silver Balayage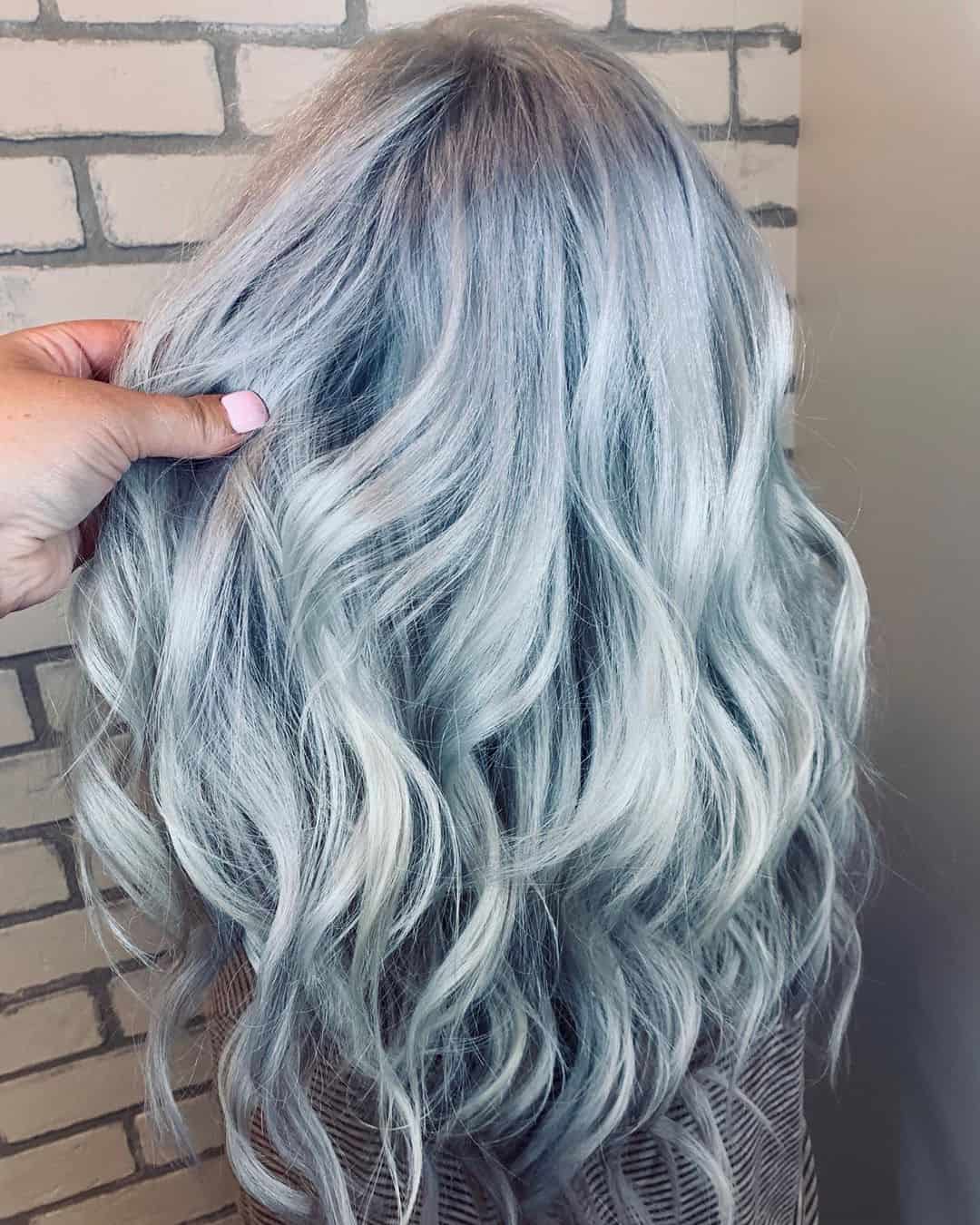 If you want a vibrant addition to your ash silver hair, there is always an option. Cyan is a vibrant, but also down to earth color. It will leave your hair looking amazing, and unique.
19. Blonde Pink Hued With Ashy Silver Balayage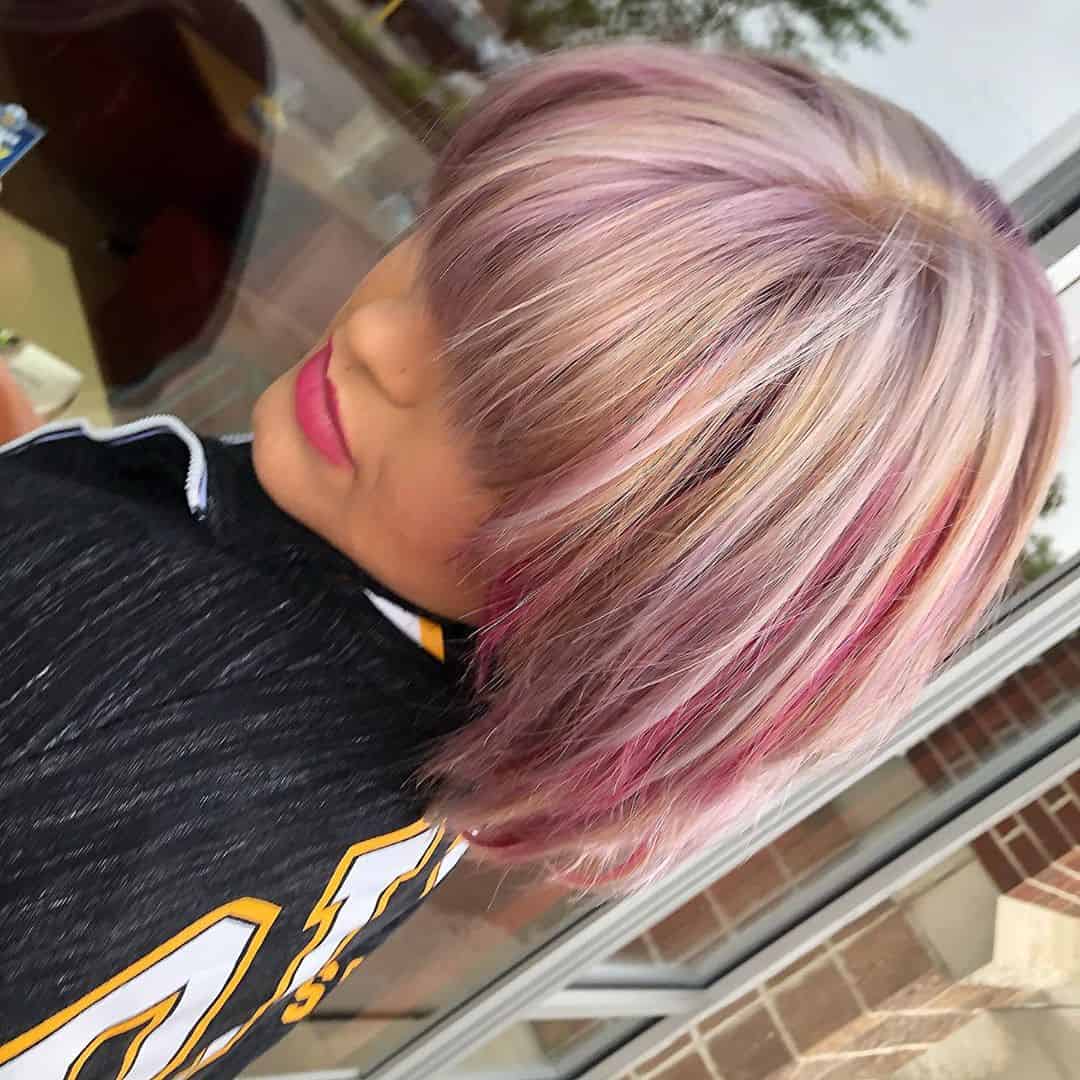 It is time for some out of the box and unconventional ash silver ideas. Let's go with pink. Why pink? Because it is girly color, and it gives you more of a younger and youthful look. And in the same time, you get a unique color that not everyone can wear it.
20. Light Brown With Ashy Silver Highlights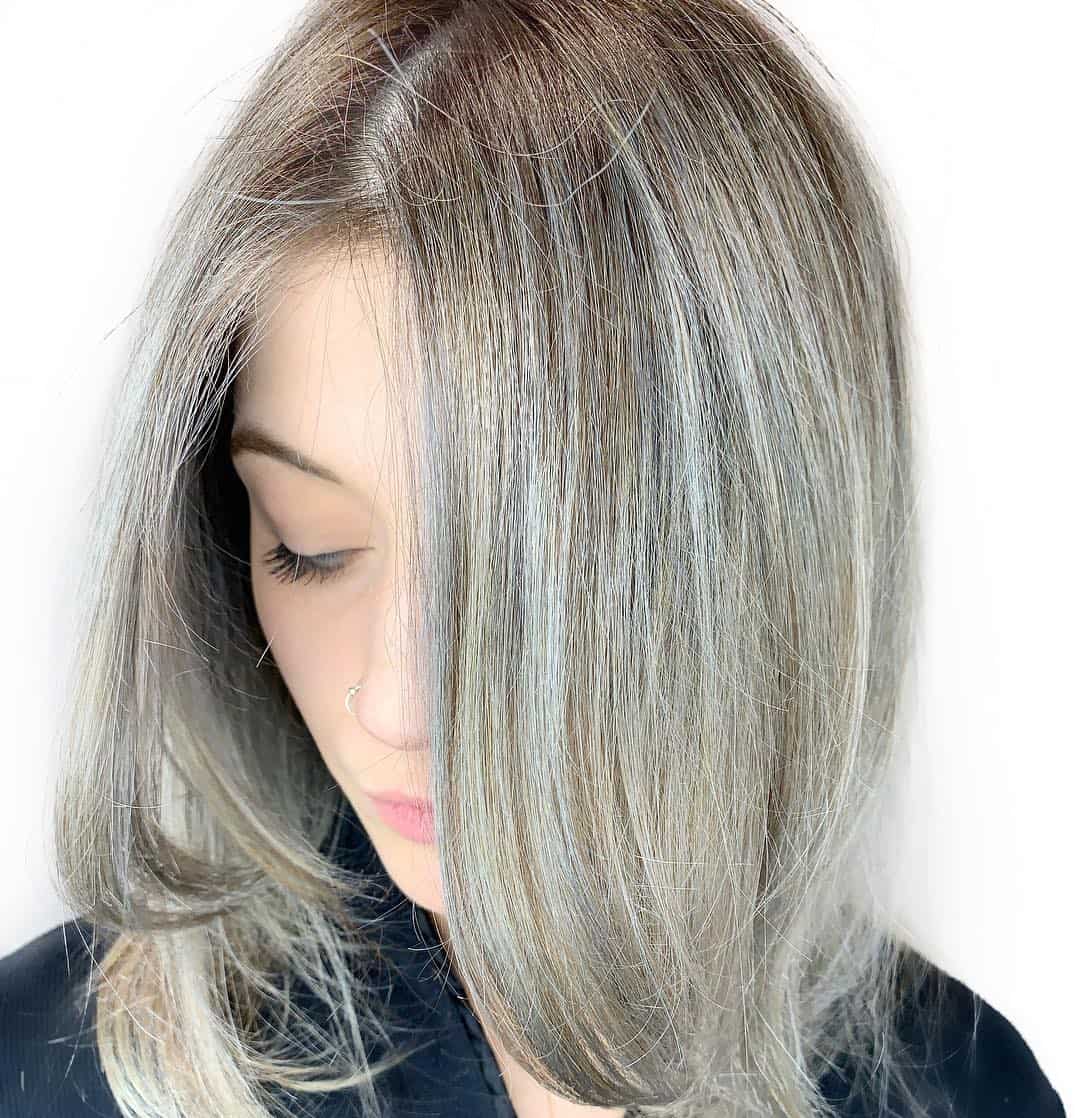 Light brown and brown combination is a classic. For some women, it might sound boring. But little black dress is a classic as well, and it is not boring at all. Sometimes, the simplest solution is the best one.
21. Ashy Blonde Balayage Highlights
There are just so many ways to get the ashy balayage look. Some women go for lighter, others for darker shade. We try to give you a couple of different ideas and looks. That way, you can choose the one that suits you the most.
22. Rose Toned Ashy Silver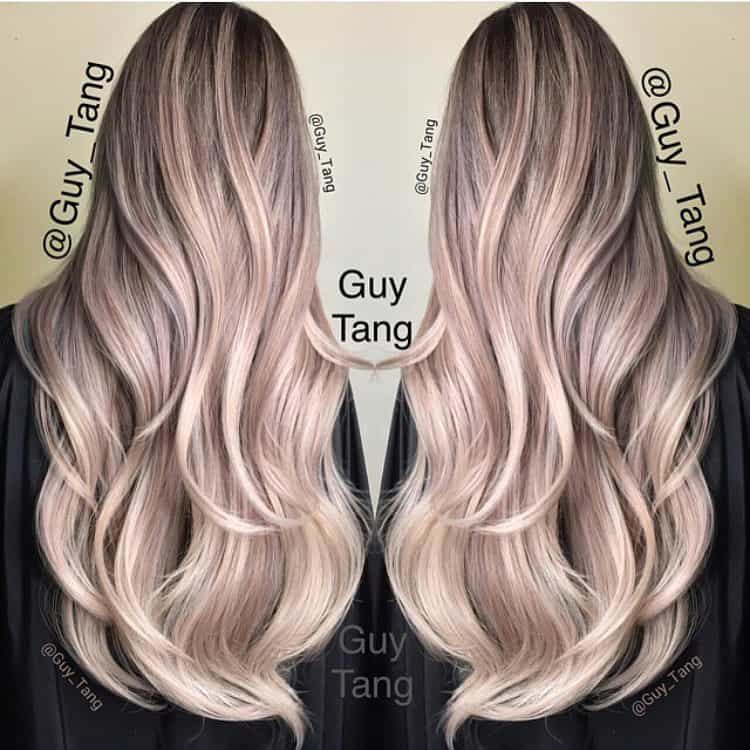 We said before that you can add other colors to your ash silver hair. Rose, violet, purple, they all look great. The trick is to add a color that is more feminine, sexy, and chic. After all, you want something that says your ash silver hair does not result of aging. You are young, but you embrace silver hair color.
23. Black On Ash Silver Ombre Highlights With Pinkish Tones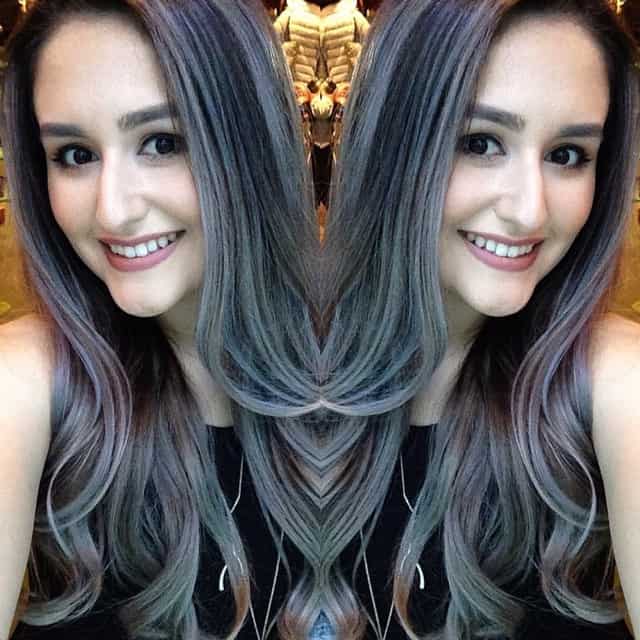 We had a couple of balayage ideas, and now it is time for ombre. Truth be told, the balayage technique is much more popular lately. And for a simple reason, it gives you a more natural gradation of color and look. But do not sleep on the ombre. It is still one of the cool ideas for hair coloring.
24. Dark To Light Ashy Silver Ombre Balayage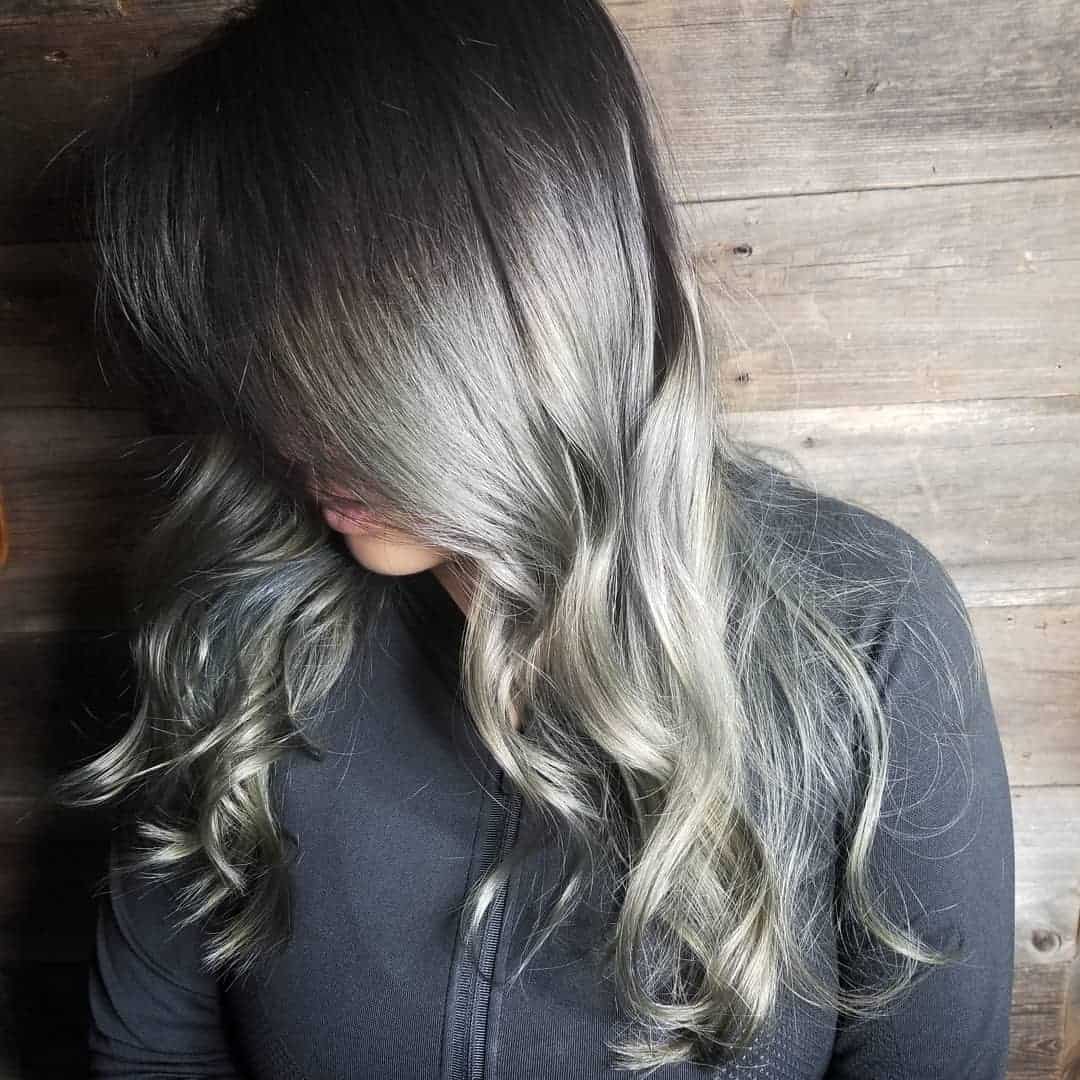 Ombre can help you achieve light to dark, or vice versa coloring easily. Ombre means shading, and that is what you love here. You get darker color at the roots, and lighter at the ends.
25. Auburn Bob With Bangs With Ashy Silver Balayage Highlights
The beauty of ash silver hair coloring is that you can get it in small doses, or go for full coverage. And it will look amazing in both cases. For example, you can see how just a touch of silver completely transforms this girl's look.
26. Straight Platinum Ashy Silver Gray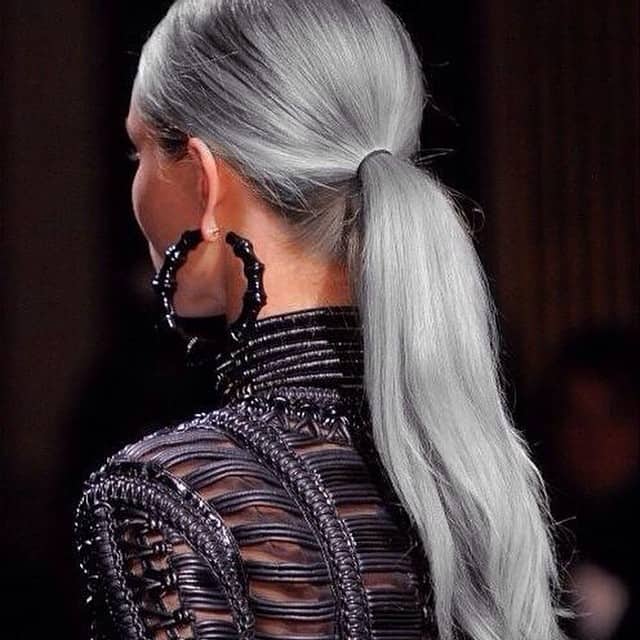 It is only fitting that we finish off with a full coverage ash silver blonde on straight hair. Embrace the trend, and try some silver hair coloring.
We are long past the days when silver and gray hair was only for older ladies. And of course, do not hesitate to share your silver hair with the rest of us.