Box braids are the latest protective hairstyle trend. They keep your hair protected, and also give you a ready-to-wear hairstyle that looks elegant and stunning in the same time. Having big box braids is already having a hairstyle, but there are a few things you can do to twist and tweak it.
They are everywhere right now, and there is a good reason for it. They are beautiful and provide a versatile way to wear your hair.
If you want a protective hairstyle that will help you stand out of from the crowd, these jumbo box braids are the way to go.
Luckily for you, we've collected a couple of box braids tutorials and image ideas for short, medium, and long hair. It is up to you to choose the one that fits your lifestyle the most.
#1. Cornrow Box Braids Bun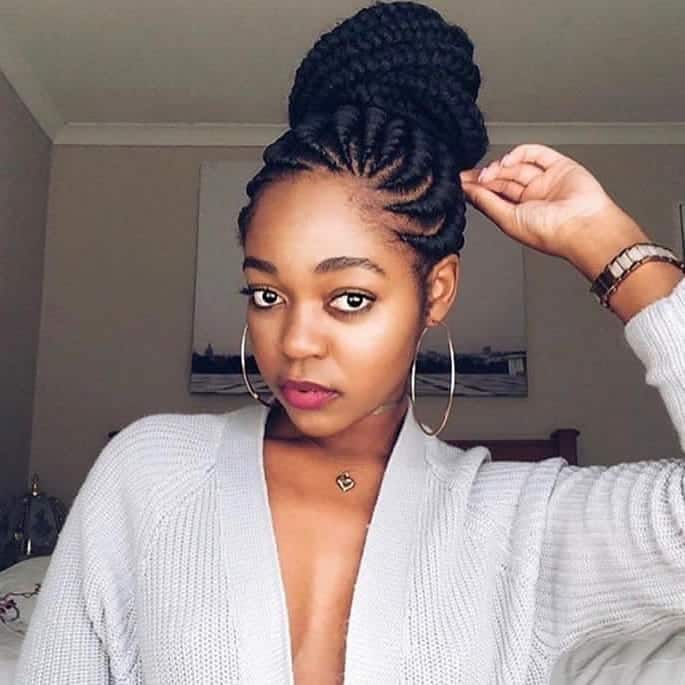 Box braids can be bulky, so start with something fancy.
Coiled in a textured high bun and slicked back with cornrows weave, this hairstyle is a perfect example of how even big box braids can give you a sift and elegant look.
#2. Pentagon Parted Braids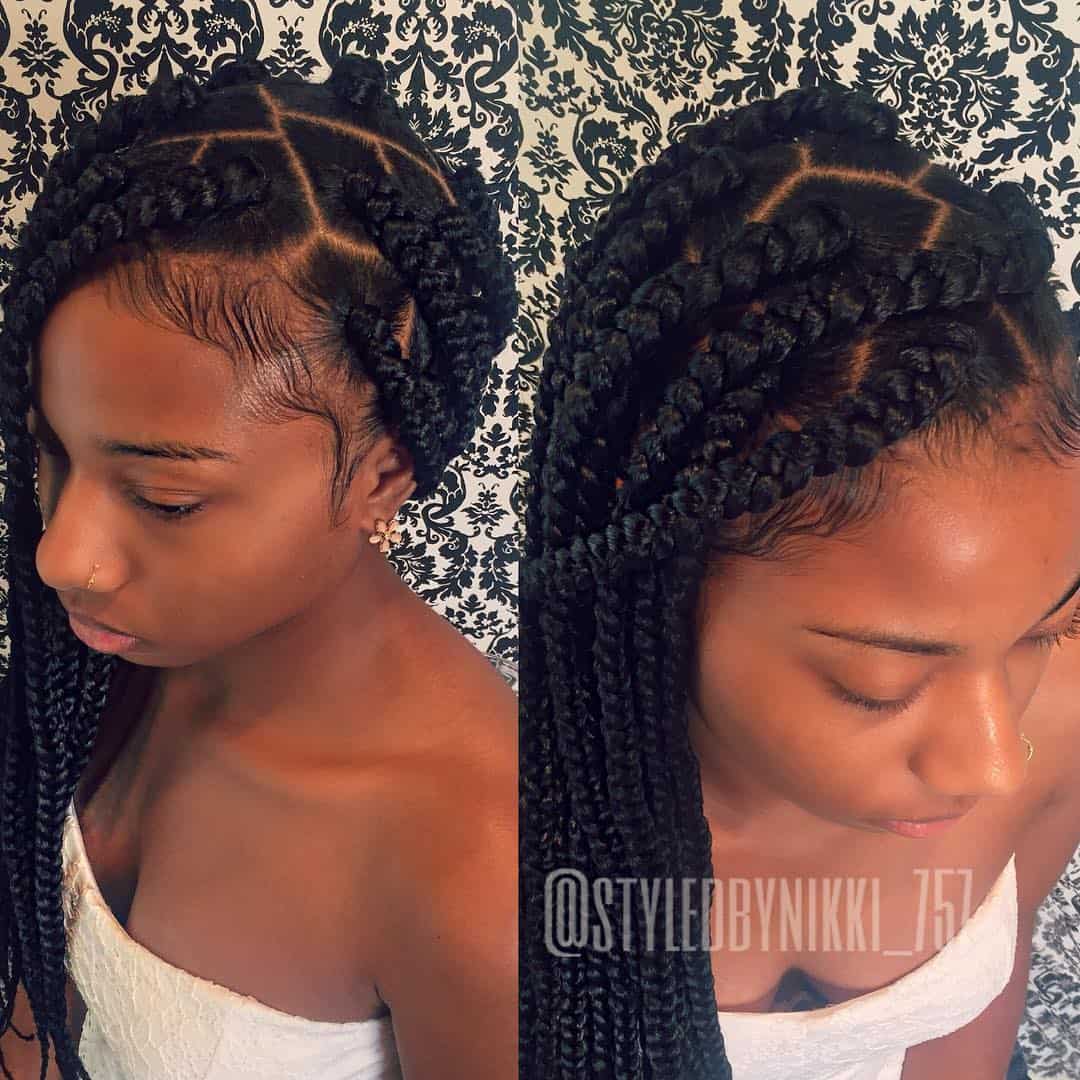 The appeal in box braids and others of its variants is that you can play with shapes during the parting.
Most common shapes are squares and triangles, but any shape can be done, like these pretty pentagon box braids.
#3. Jumbo Box And Twist Braids With Loose Ends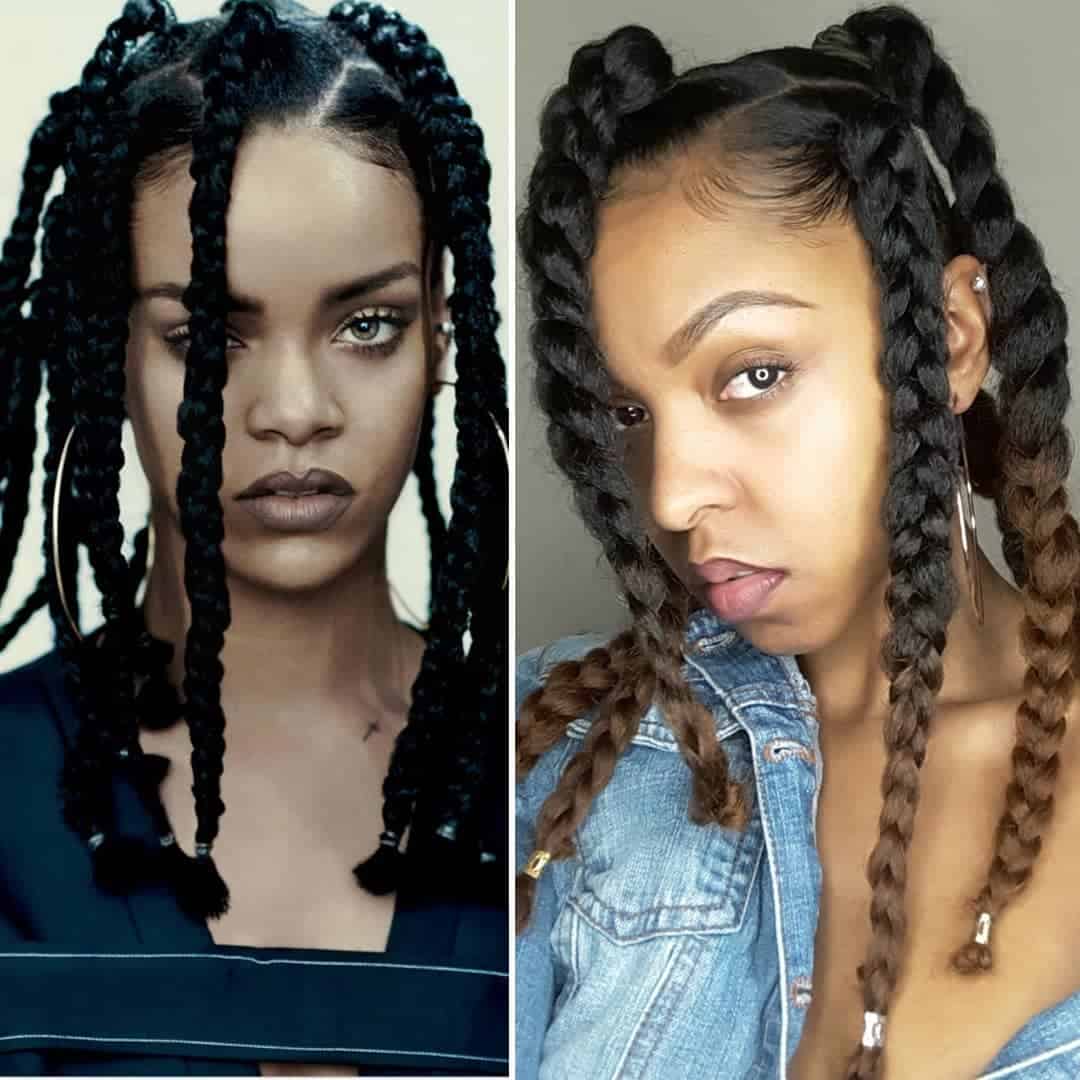 Copying hairstyles from the magazine don't always turn out the way we like. That is not the case here.
The jumbo braid look is even better than the source inspiration. A combo of chunky box braids and twist braids with ringed cut-off ends is gorgeous, even without added hair extensions.
#4. Medusa Box Braid Bob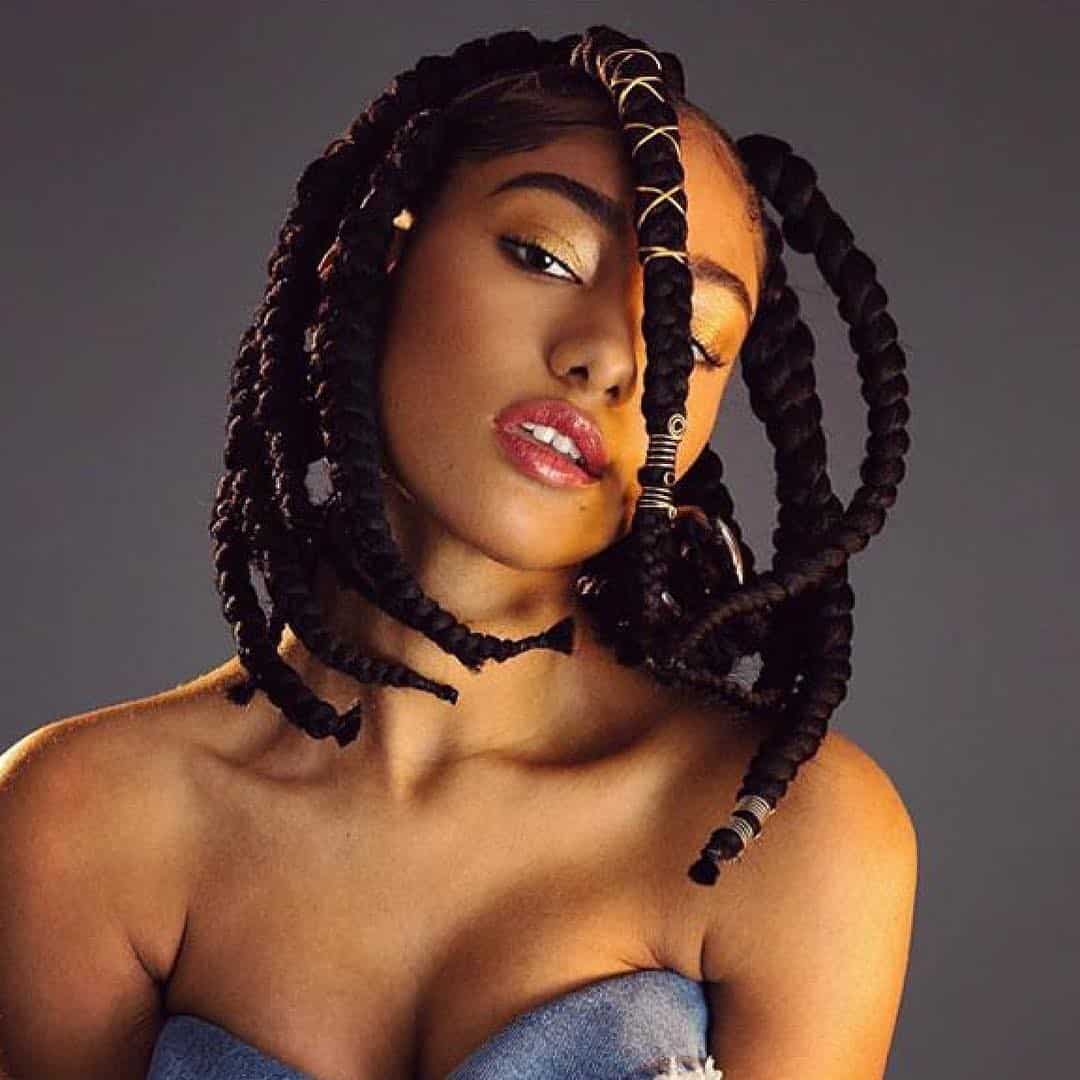 Short chunky box braids may remind you of the petrifying mythological creature Medusa, bud they are anything but terrifying.
In fact, this hairstyle is fun and spunky. With a few hair rings and zigzag string, and you have yourself a runway look.
#5. Violet Triangle Parted Box Braids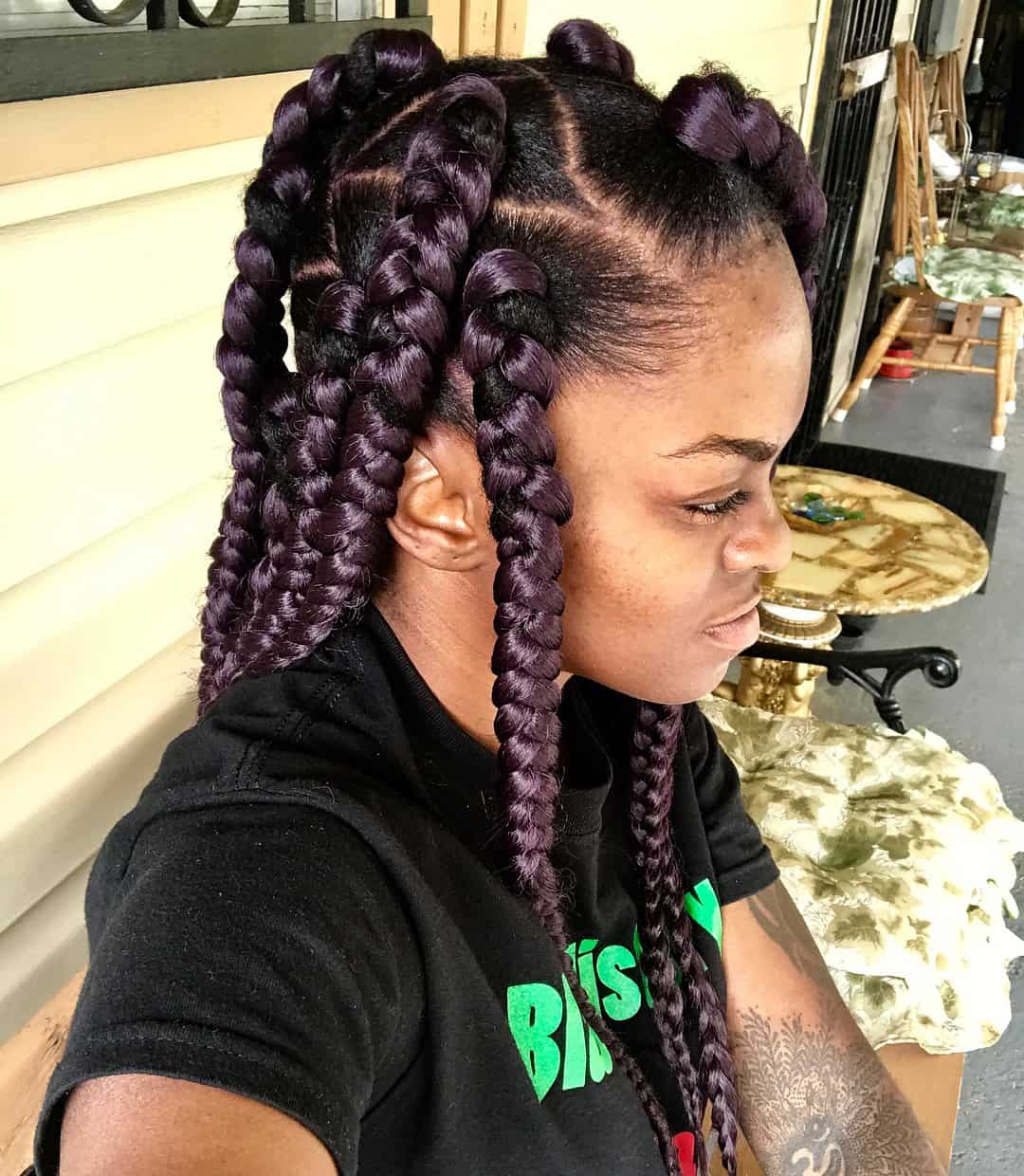 Triangle parts are most common in box braids, giving you a simple, yet gorgeous look.
Throw in some color to stir things up. Dark violet is perfect if you're going for a subtle, but mysterious look.
SEE ALSO: Best Hair To Use For Crochet Braids – Human Or Synthetic?
#6. Auburn Beauty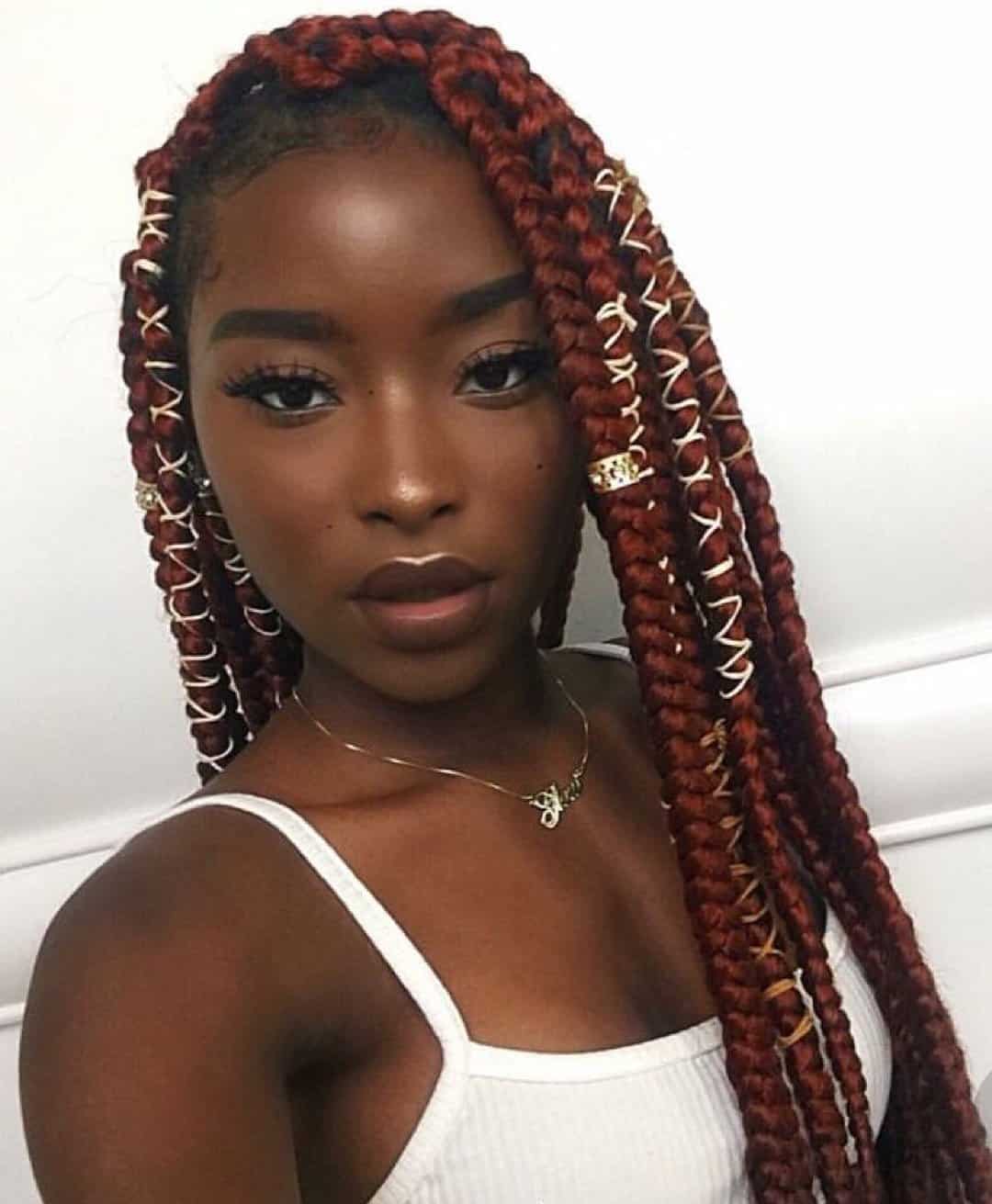 Copper and auburn hair colors look really flattering on dark skin tones.
It complements it so well, that the color alone is enough to enhance your beauty. Add chunky box braids with some accessories and you're a true knock-out.
#7. Valentine's Day Hair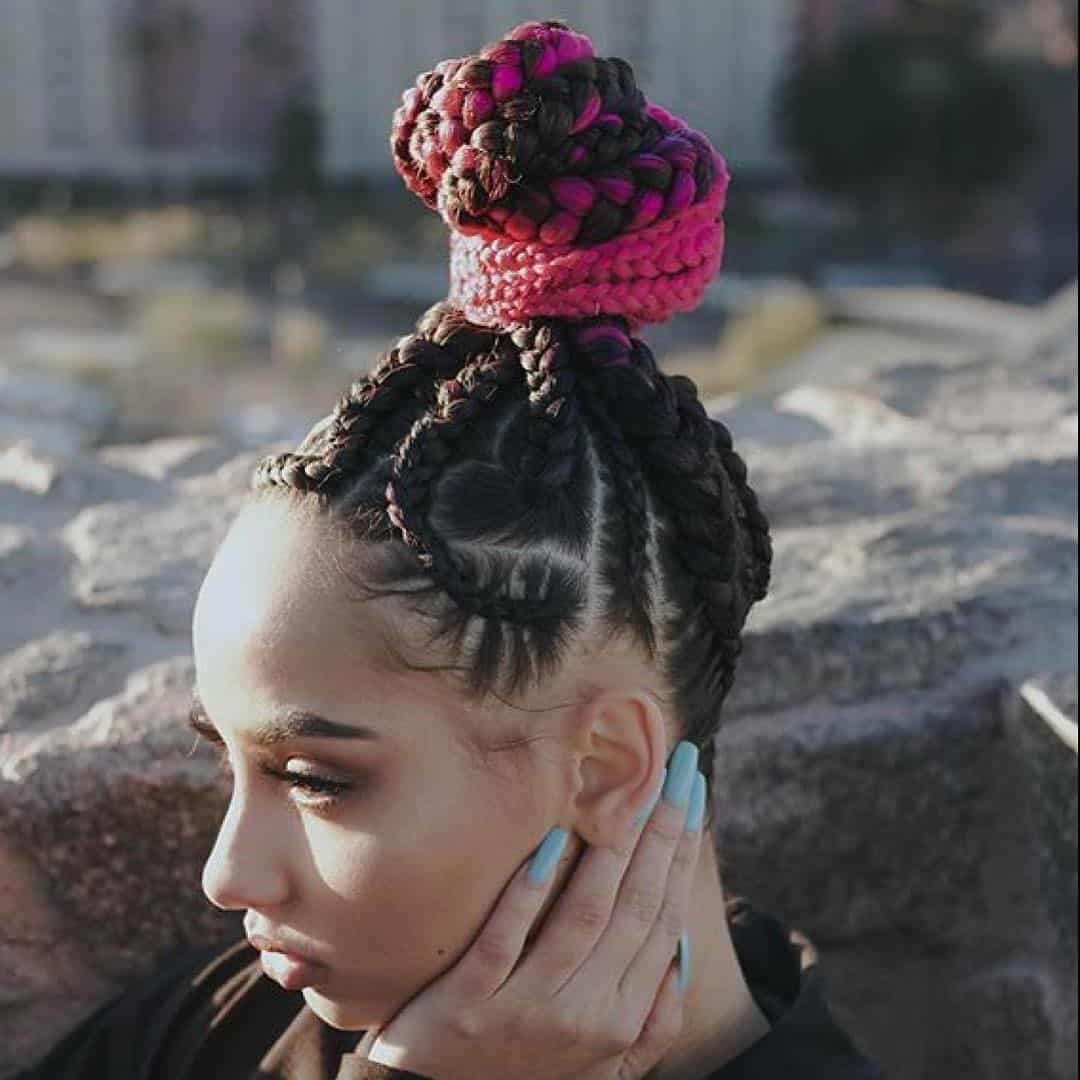 Oval patterned part is a bit more tricky to do, but not impossible. In fact, any shape can be done with some effort.
Like this romantic big box braid top bun. In addition to the bright pink accent braids, the heart shape on the side done with some thinner braids, shows they're plenty of love in the air.
#8. Gray And Purple Chunky Box Braids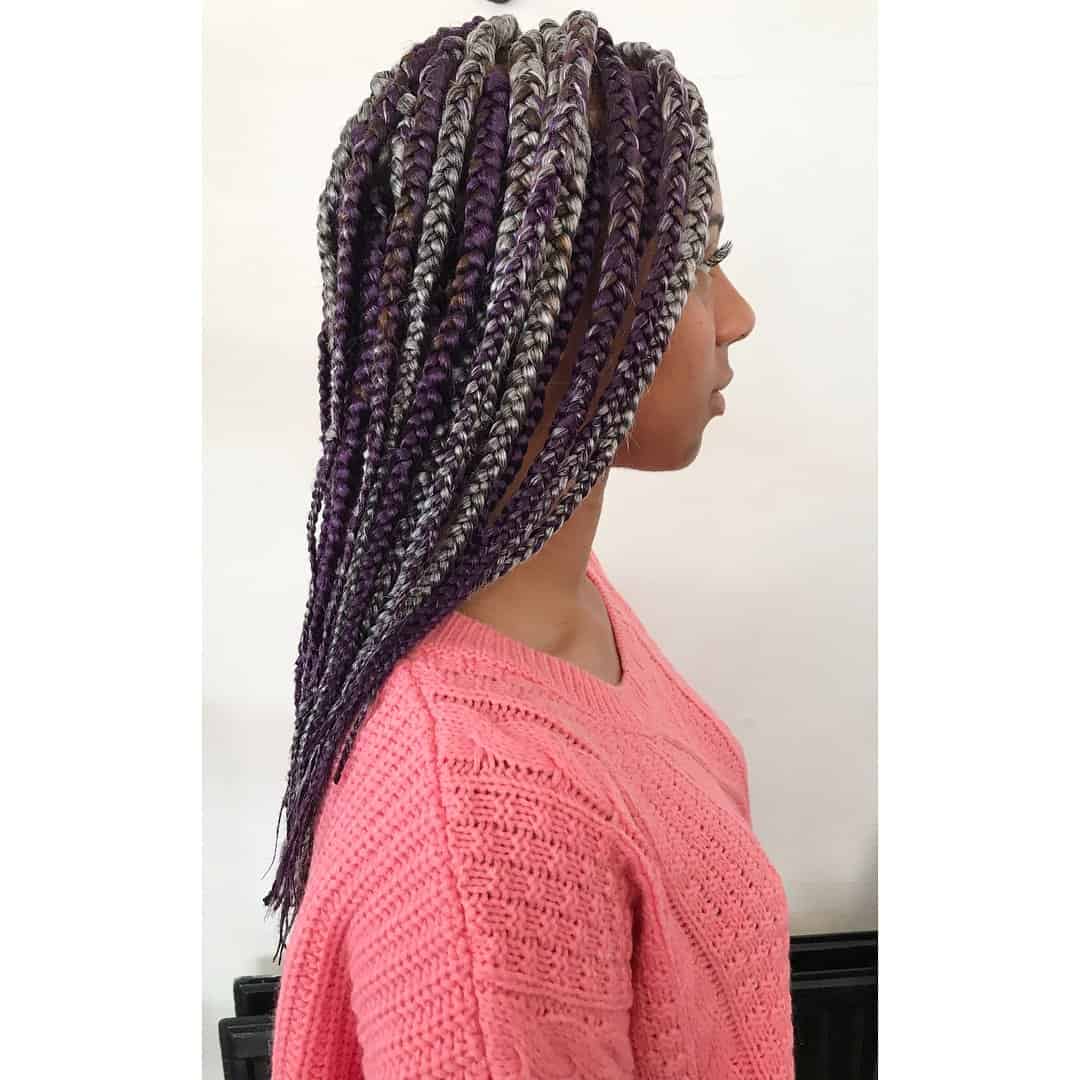 Following color trends can be a bit intimidating, yet it's fun to try new thing, at least once.
After all, how can you pass the chance of looking this amazing in purple and gray. Trying this color combo on box braids, and you'll have the "it" hairstyle of the season.
#9. Spiderweb Parted Big Box Braids In Space Buns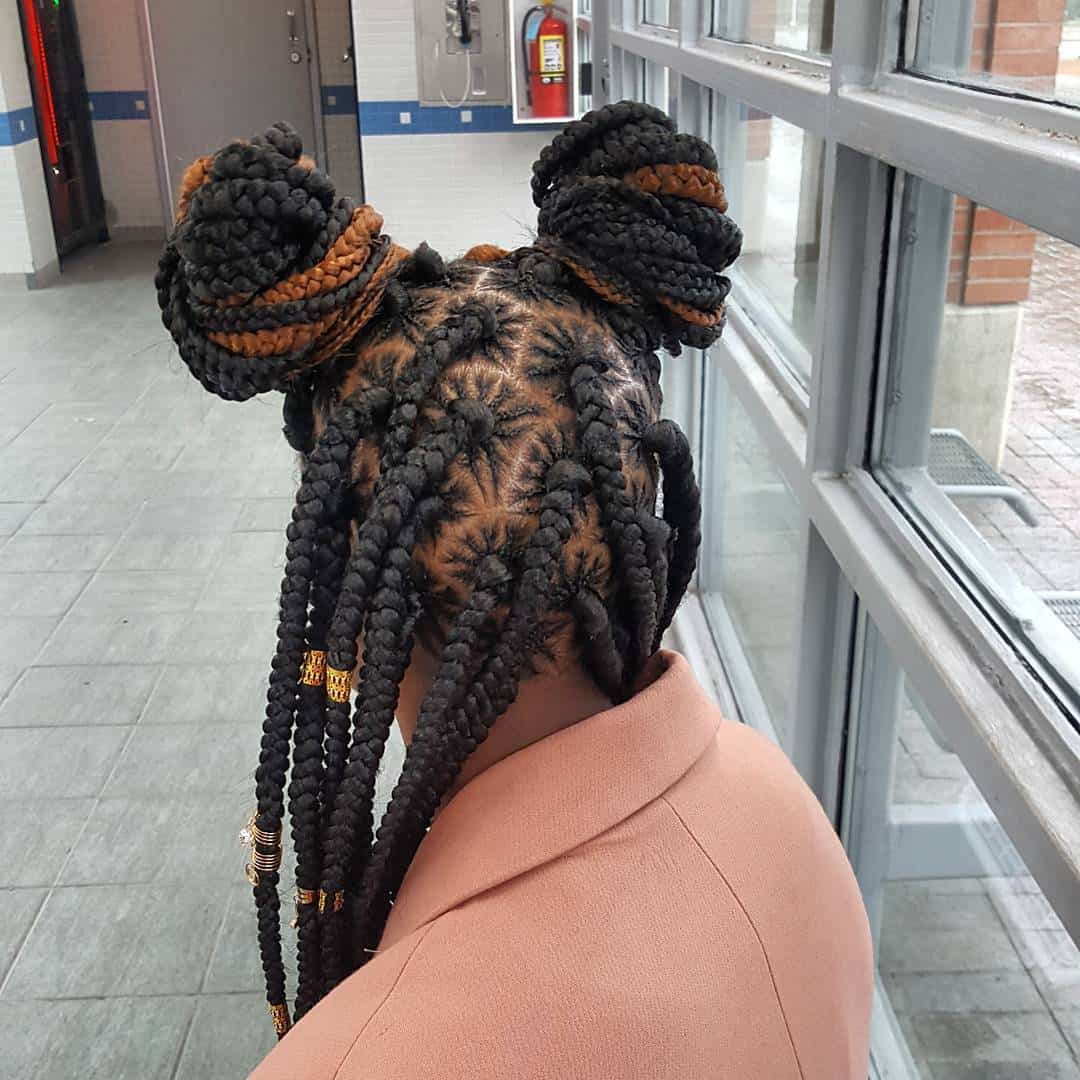 To really turn heads with box braids, you must try this amazing spiderweb parting.
It brings a whole new texture and bold look to the hairstyle. And if you want to go really crazy, do a cute and fun space bun half-updo.
#10. High Wrapped Ponytail Box Braids
Regular ponytails aren't that interesting, even when you have great box braids.
Turn heads with this high ponytail, with several box braids wrapped around the base. Now, that's a fierce look.
#11. Midnight To Blue Ombre Box Braids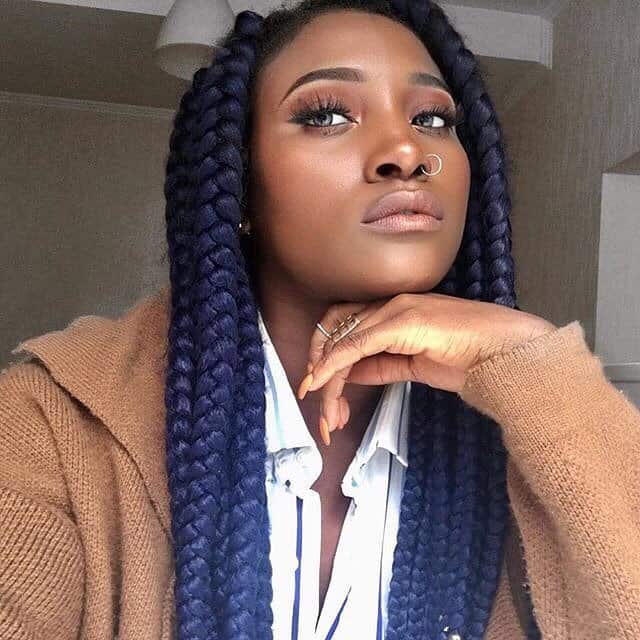 As we mentioned, adding color is the easiest way to add some personality to box braids.
Here is a cool navy blue ombre, going from dark to light, giving your strongbox braids a softer wavy feel of the ocean.
#12. Side Twist Box Braids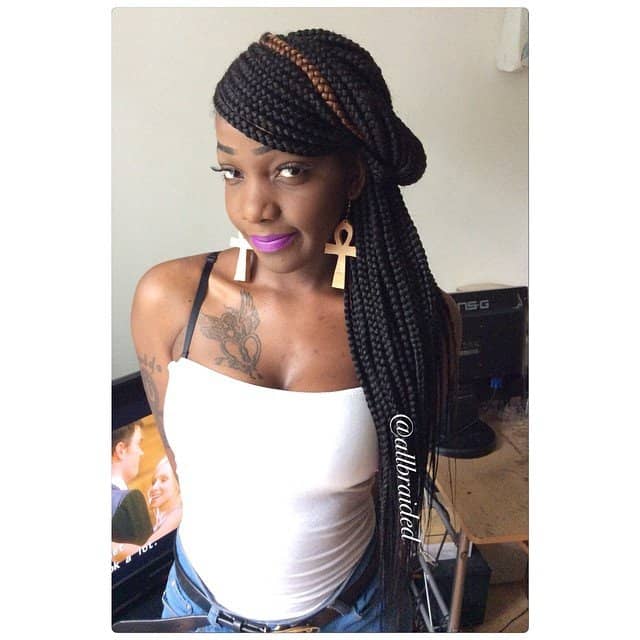 Long box braid can get heavy and hot after a while. Pulling them up in a ponytail is the easiest way to get relief, but why not do something more exciting?
For a more dressy, yet everyday look, you can try this lovely hairstyle of twisting the box braids half up and slightly to the side. Effortless elegance.
#13. Loose Ponytail Box Braids With Undercut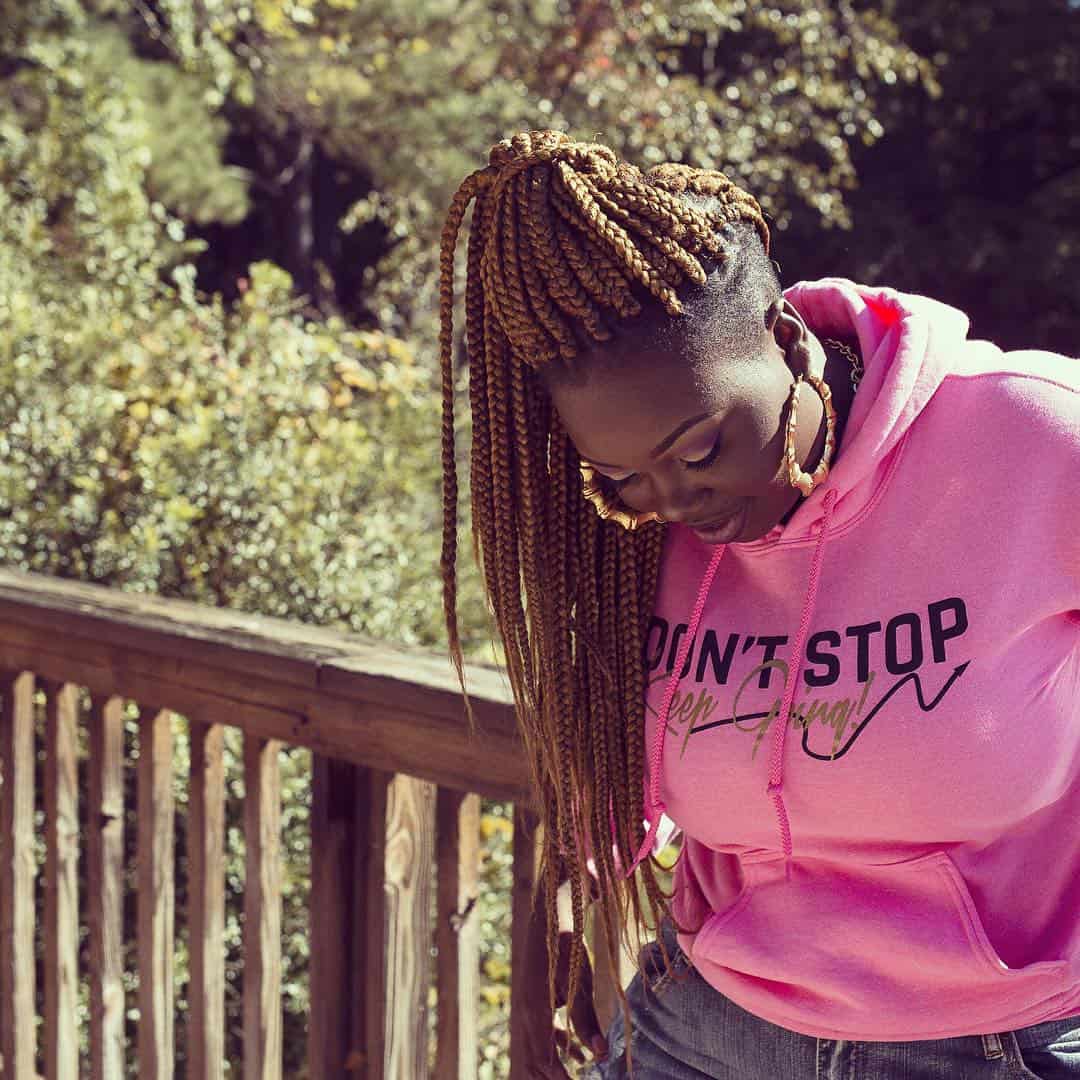 The great thing about tying up your hair when you have box braids is that you don't need a hair tie.
One of the box braids can do the job of securing your hair, and for an even edgier flashy look, dye your hair a nice golden hue. If you want to go a step further, an undercut is a way to go.
#14. Half-up Bun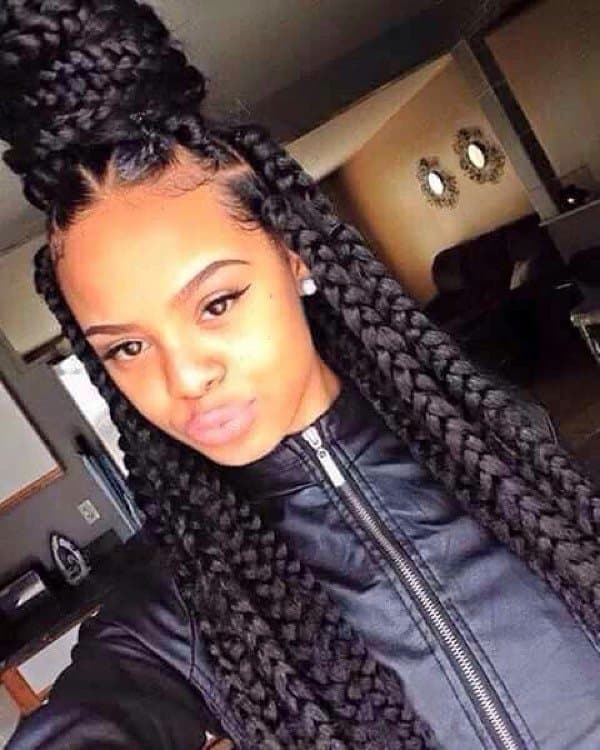 Big box braids are a statement in and of themselves, so you don't need to do much to make them eye-catching.
On lazy days, you can do this half-up bun that will show off those nice triangles parted box braids, and you're good to go for the whole day.
#15. Copper Highlighted Box Braids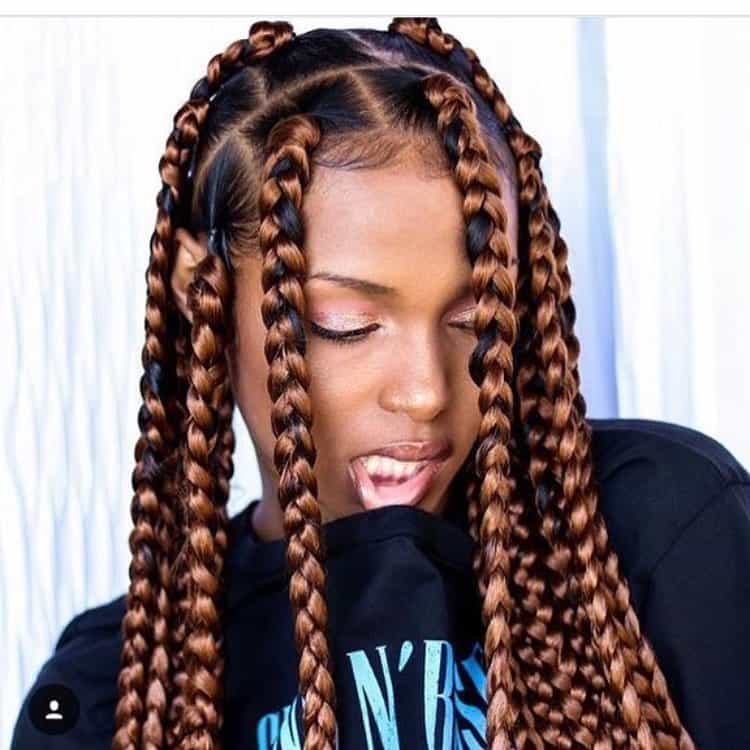 Box braids dyed in monotone or accent colored braids are neat, however, to make them really colorful you need highlights.
After the braids are done. the colors mix and blend together giving you a playful look. So, for a natural, yet exciting look, you can try this hairstyle: complementary copper color and some neat rectangular partings. Simple, but special.
#16. Cornrow Ponytail Box Braids With Zigzag Hair Rings On Top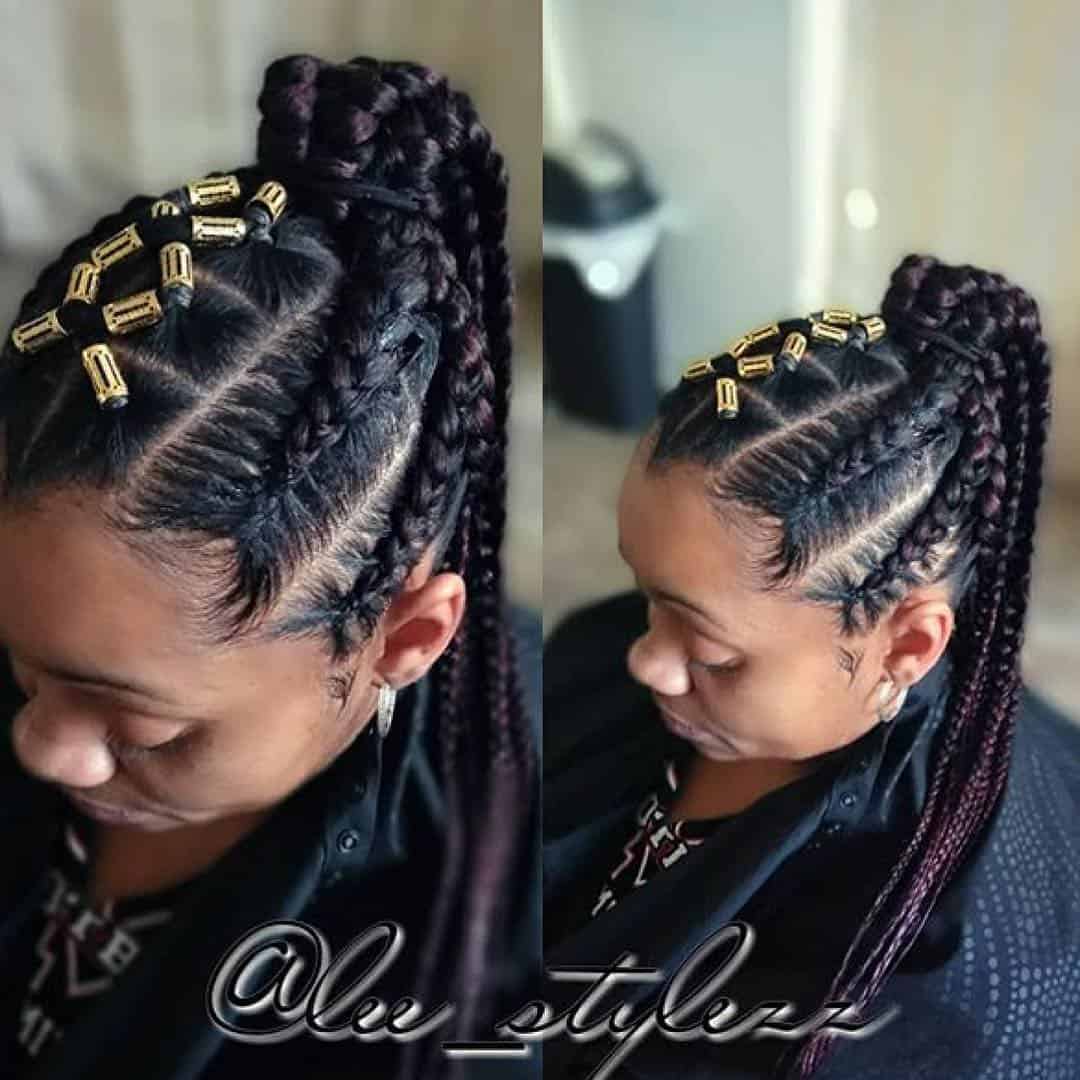 Talk about texture and bling, this hairstyle has it all.
The cornrows may not be very typical for box braids, but they get the job done. Just look at these spiderweb partings, tied up in neat ponytail, but the real bling comes from the zigzag arranged hair rings at the top of the head covering the small braids with square parts.
#17. Blunt Box Bob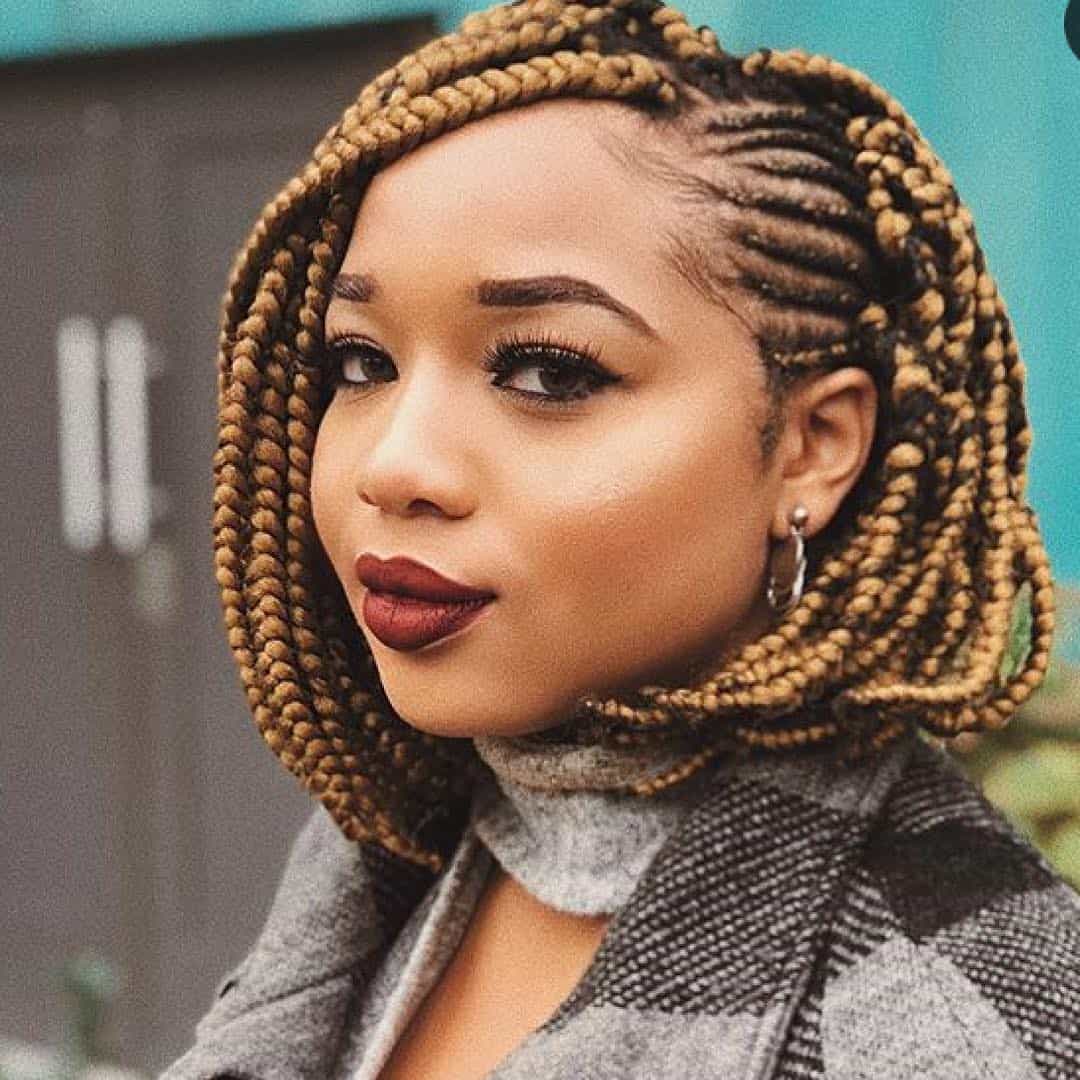 We've shown you how awesome box braids are on short hair, and here is another hairstyle idea to try.
Give some character to short box braids by dying them dark blond and doing some neat side cornrows for a ready-to-go style all the time. The box braids in this hairstyle may be on the medium size, it will work great with jumbo braids as well.
#18. Big Box Braids Ponytail With Micro Cornrows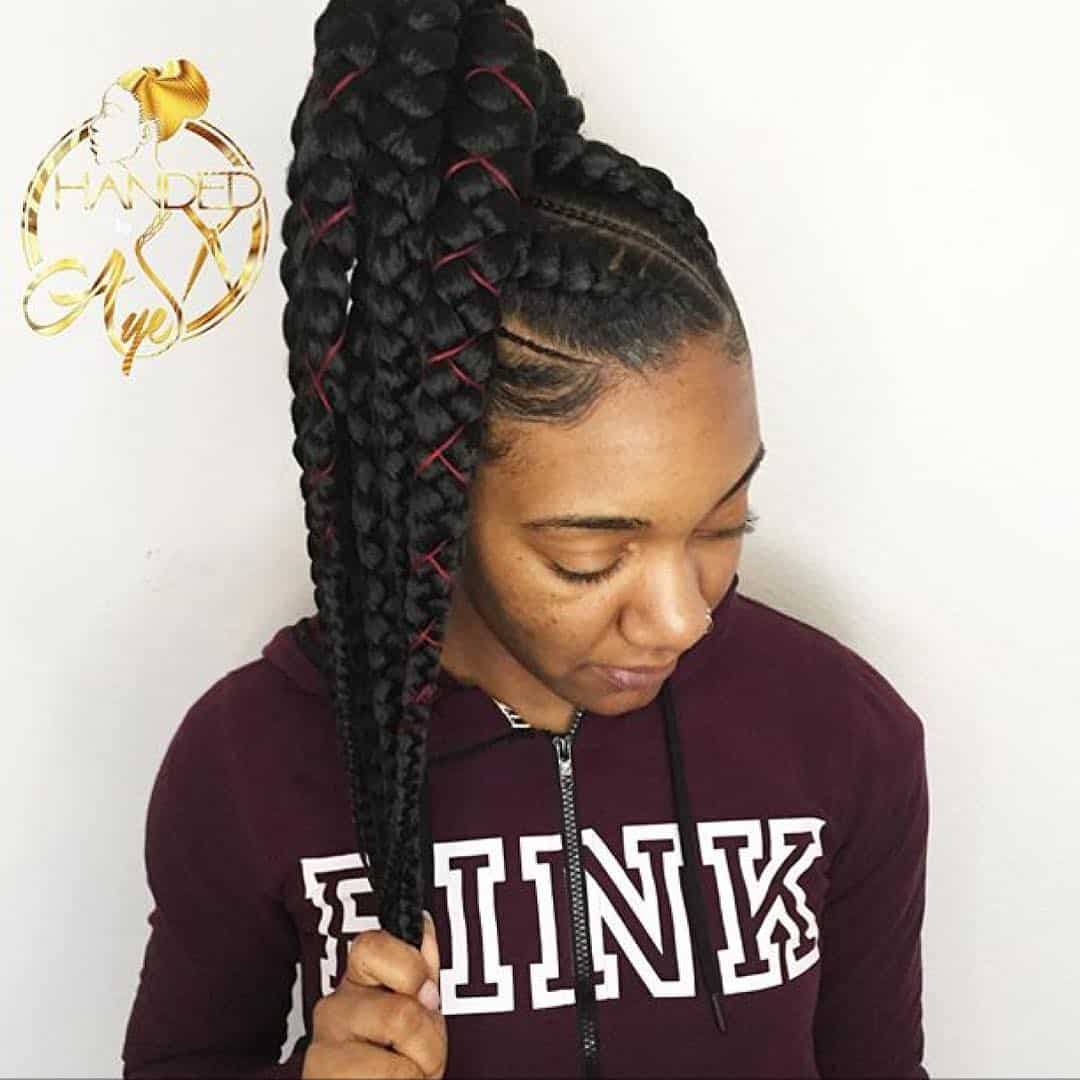 To balance out the heavy bulky appearance of the big box braids, throwing in a few micro cornrows is a nice way to go around it.
That way, even when you style the braids into a ponytail, you get a slick light look that is textured and fun,
#19. Turban-Like Styled Box Braids
As fancy as they look, the turbans can be tricky to wrap. You may find that styling hair can be somewhat easier.
You get to try out how a turban may look on you without  actually getting one. An exotic style, combined with platinum blond plaits, it 's gorgeous.
#20. Big Box Braids In Cornrows To The Back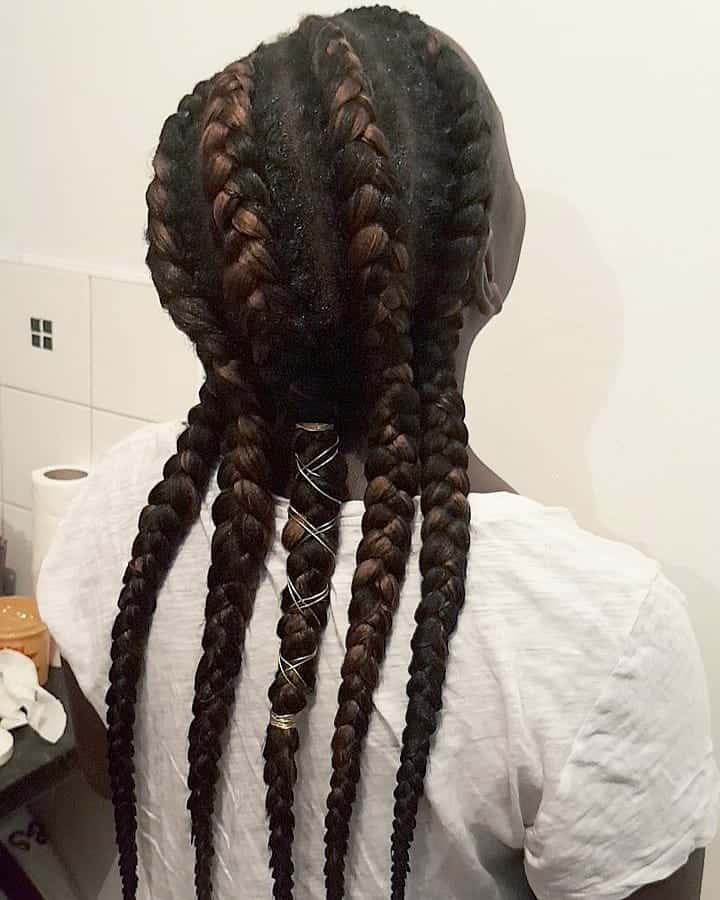 When you hate the constant flailing around of heavy braids, yet can't resist the style, this is the perfect solution.
Done in cornrows all the way to the back of the head, with these box braids you get you to enjoy your favorite hairstyle, without the hassle of tying it up all the time.
#21. Flower Triangle Parted Big Box Braids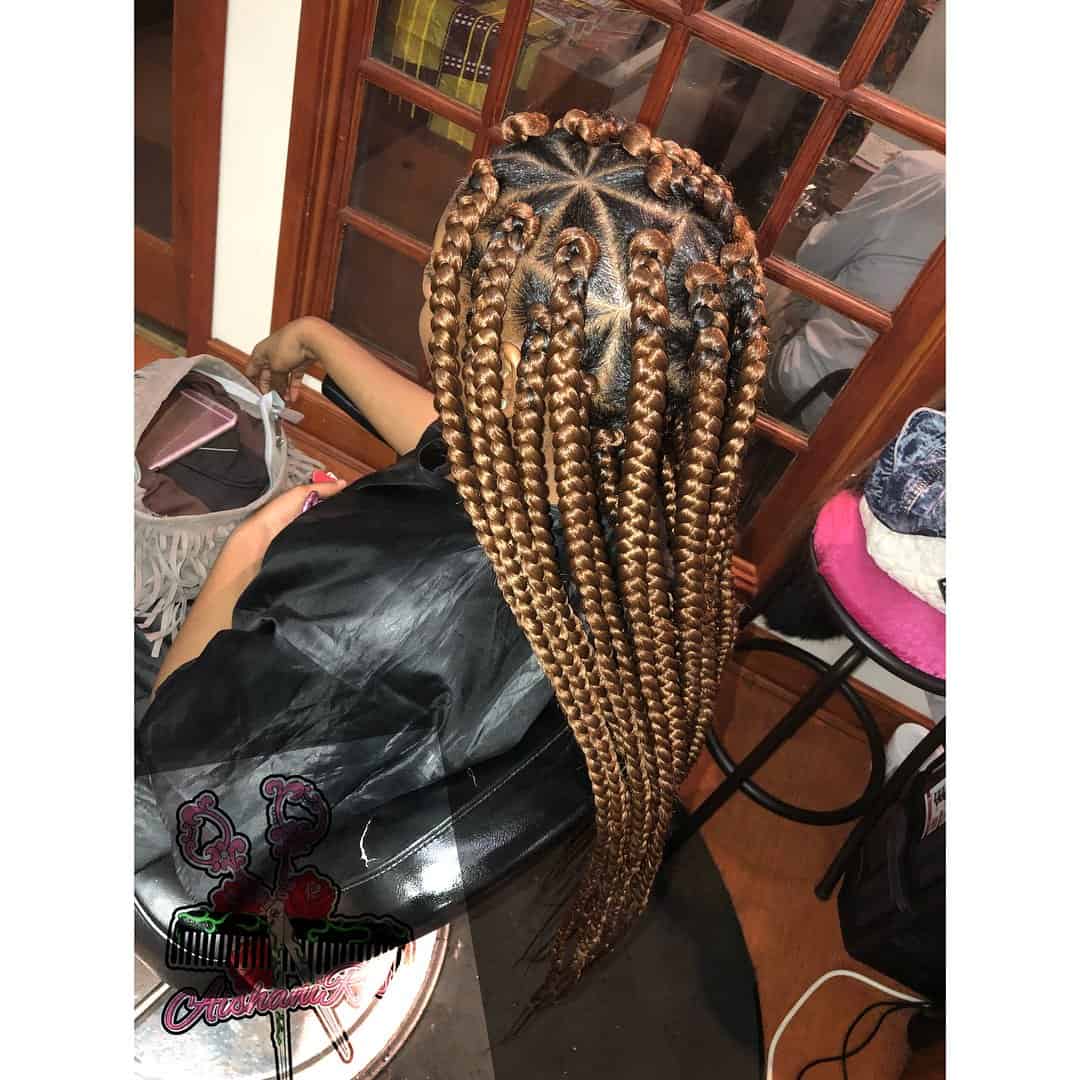 In the end, you don't need much when choosing big box braids to look amazing. The magic happens during the braiding process.
Here is a wonderful triangle parted box braids with the triangles going around in a circular pattern. So, you get a geometrical looking flower in your hair that doesn't need anything else.
#22. Sweet Ponytail Big box Braids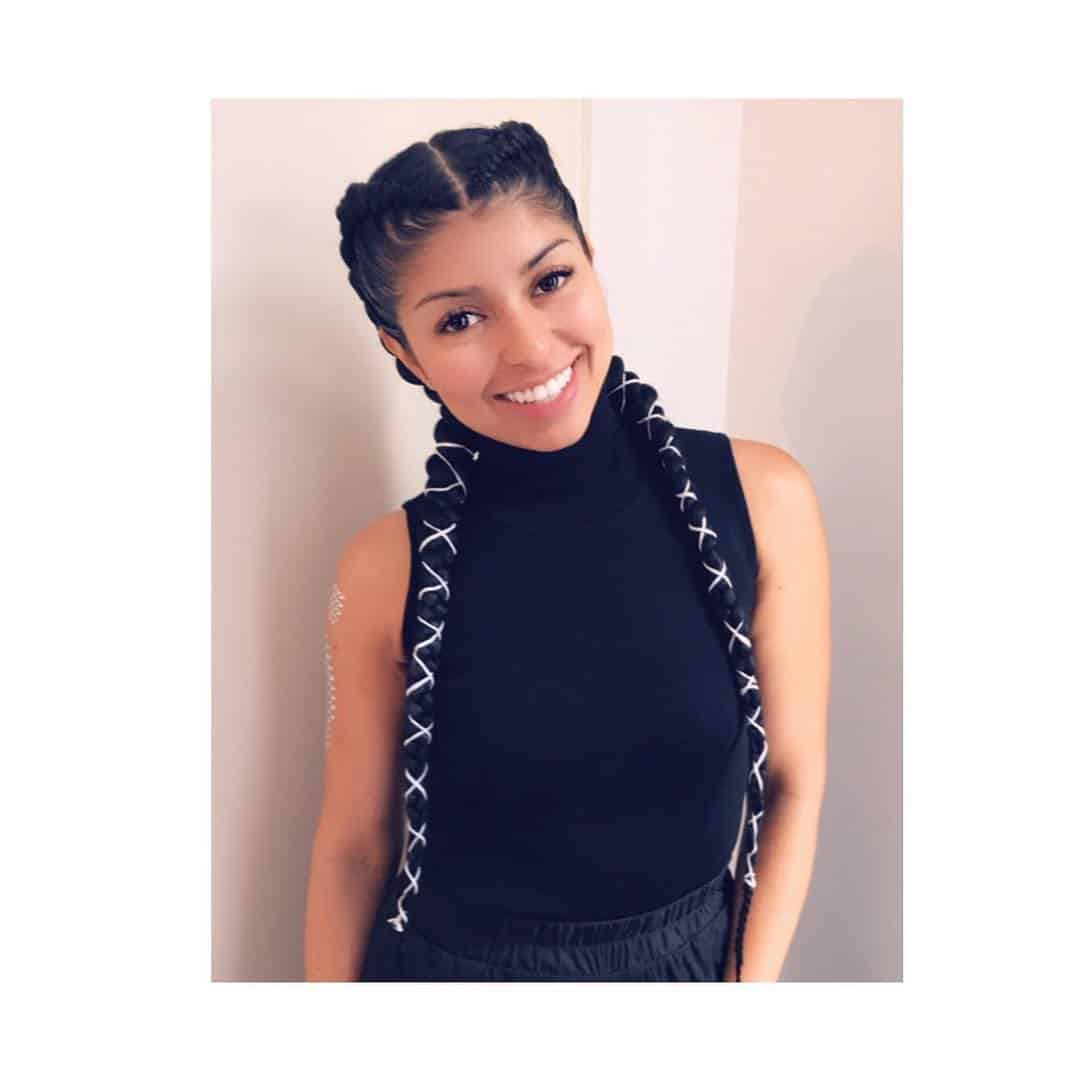 For times when you just want to look sweet with a dose of flirty, these cute pigtails are the style for you.
With cornrow chunky box braids with a hing of spiderweb partings, you can complete the look with zigzag strings in any color for more charm.
#23. Micro Cornrows Gathered In Big Box Braids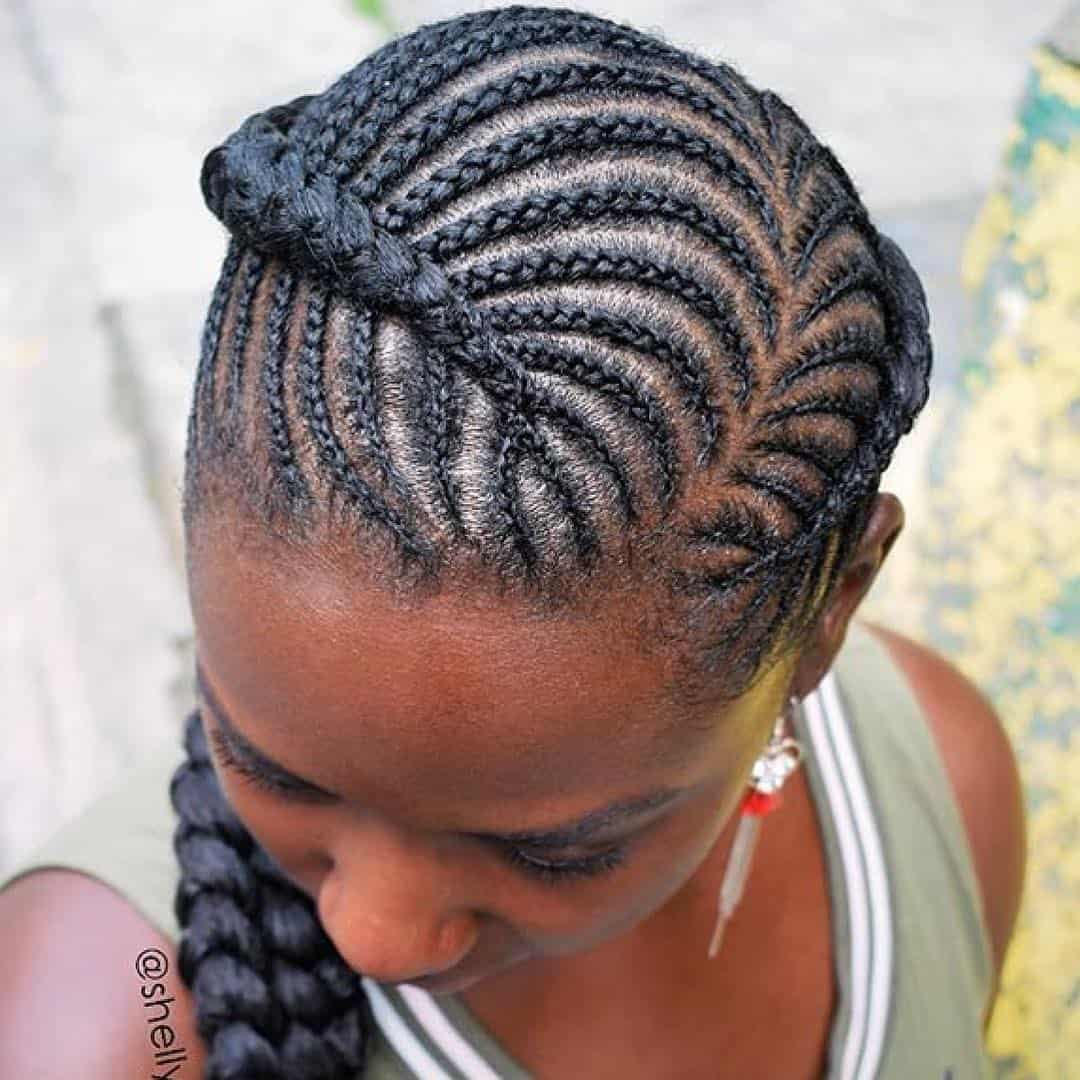 Most women might prefer the thin or micro box braids for their look and versatility. Doing them takes twice the time and effort needed for box braids.
Getting the best of both worlds, you can get the chic texture of the micro box braids and the faster plait of the big box braids, by doing some micro cornrows ending in several chunky braids.
#24. Half Pulled Back Big Box Braids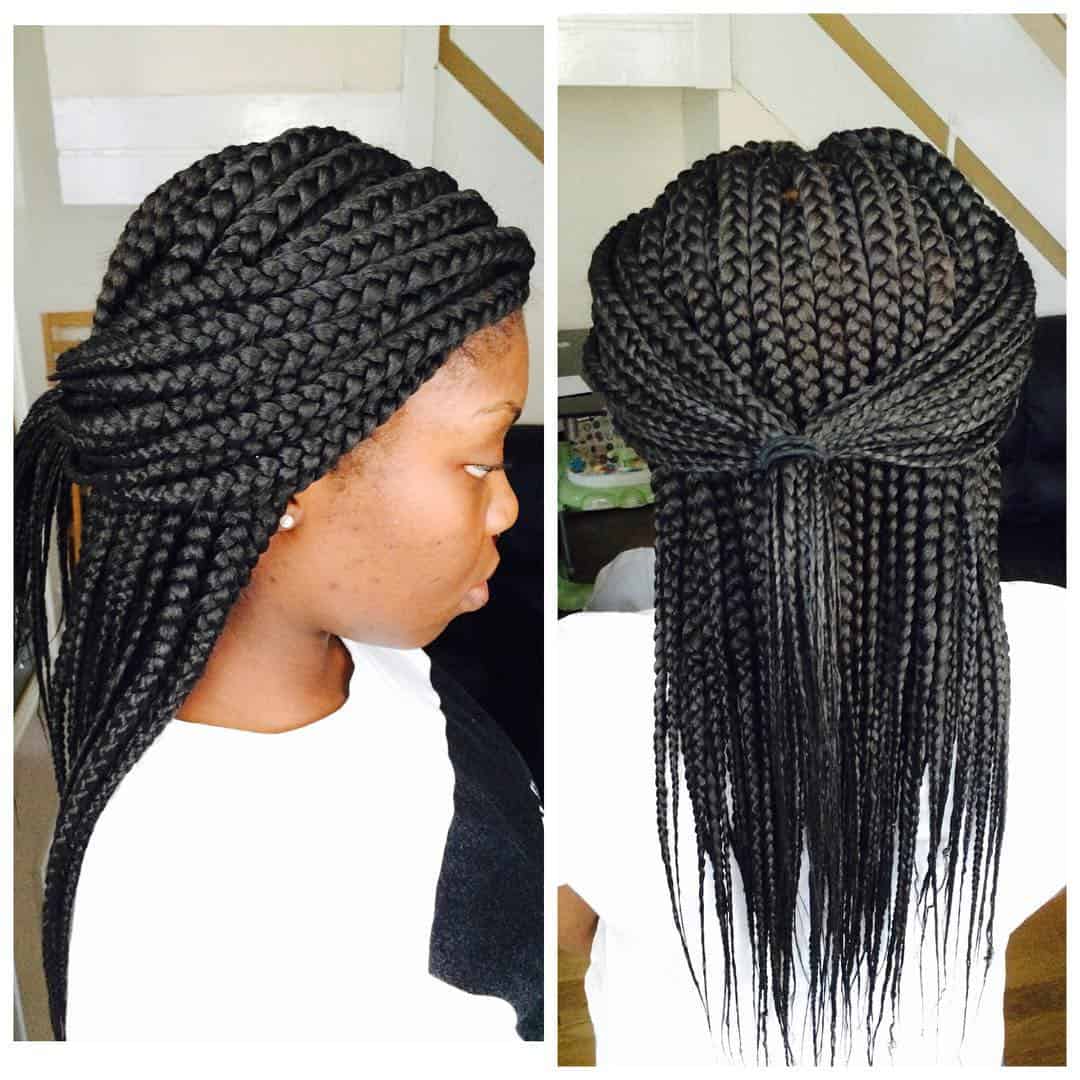 Choosing the classic box braids leaves you free to experiment with styling them the way you feel like.
Pulling them back in a half pony is a fast and easy hairstyle that frames your face perfectly and shows off the beautifully done braids.
#25. Cross And Star Parted Big Box Braids
For our final hairstyle, we give you a rare and unusual box braid parting that will give you a star-quality look.
The reason is the actual star-shapes in the partings surrounded with crosses. It's an exiting pattern that is visible even if you leave your braids loose. What more can you want?