Blondes are known for having more fun. At least that is what they say. But if you are not into dyeing your entire head blonde, you can do the next best thing. And that is to get some blonde highlights.
With the amazing trends for blonde highlights, you can easily get a unique hairstyle that looks amazing. There are many different blonde shades you can try, like chestnut blonde, caramel highlights, or some medium and exotic blonde hues.
With that in mind, if you really want to lighten up your looks with fresh hair colors, we have some of the best blonde ideas for highlights. You can even go ice blonde or ash blonde.
So, all that is left is to check the photos, and get inspired before your next hair appointment.
1. Long Wavy Brown With Shiny Blonde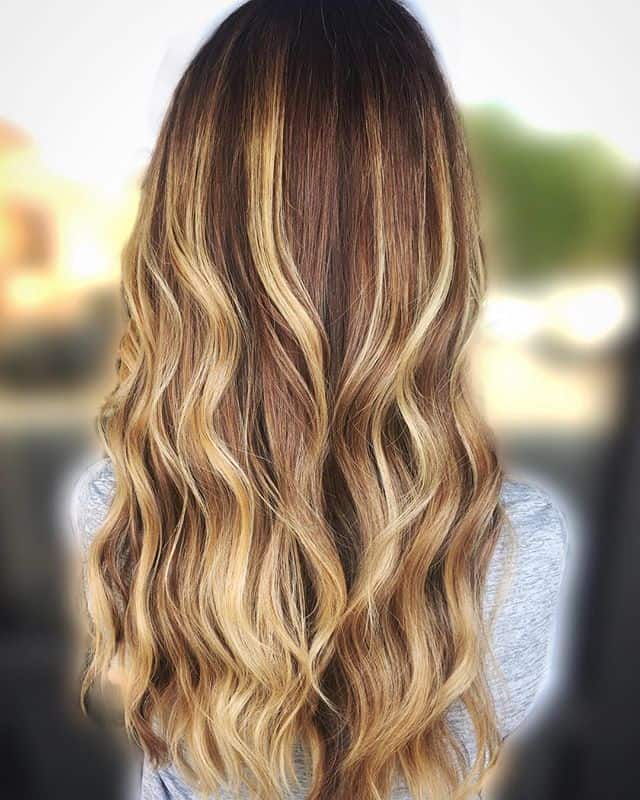 We start off with with a classic brown hairstyle with blonde highlights. Waves are the best way to emphasize your highlights, and let them shine. Start slowly at the roots, and then go hard on the tips.
2. Straight Dark Brown Lob With Ashy Blonde Highlights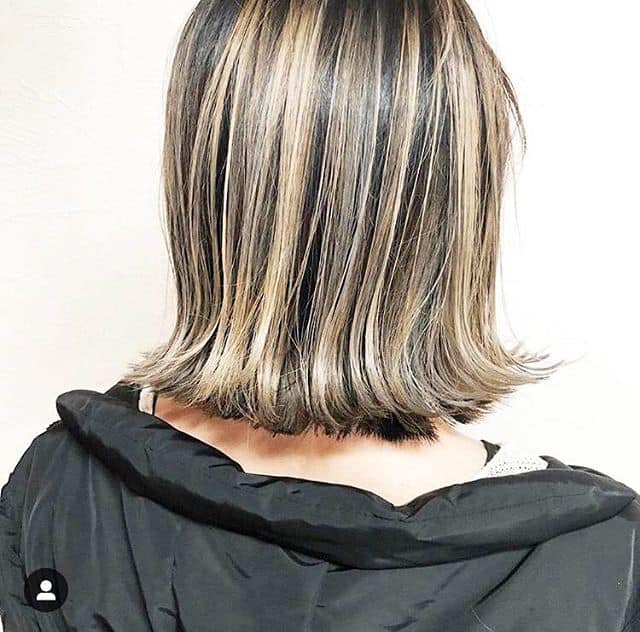 Blonde offers a huge palette of colors for you to choose. Many women go for the classic blonde highlights. But then you have those who want something more extreme. Like ash blonde, for example.
3. Dimensional Light Brown With Multi Toned Blonde Highlights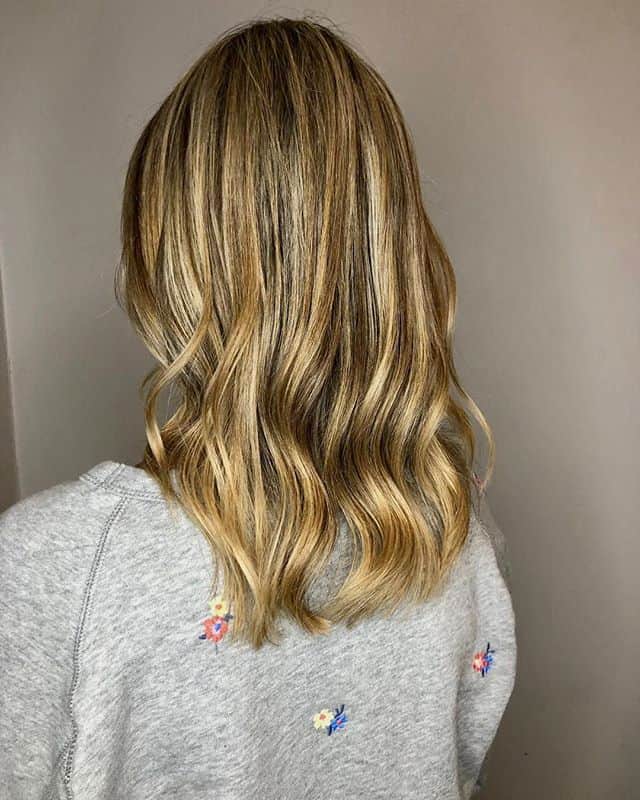 If you want to get a more natural look, you can do one of two things. The first one is try balayage, technique that blends your natural hair color with highlights. Or, what we have here, and that is a combination of a lot of different blonde hues blended together.
4. Light Brown With Subtle Blonde Highlights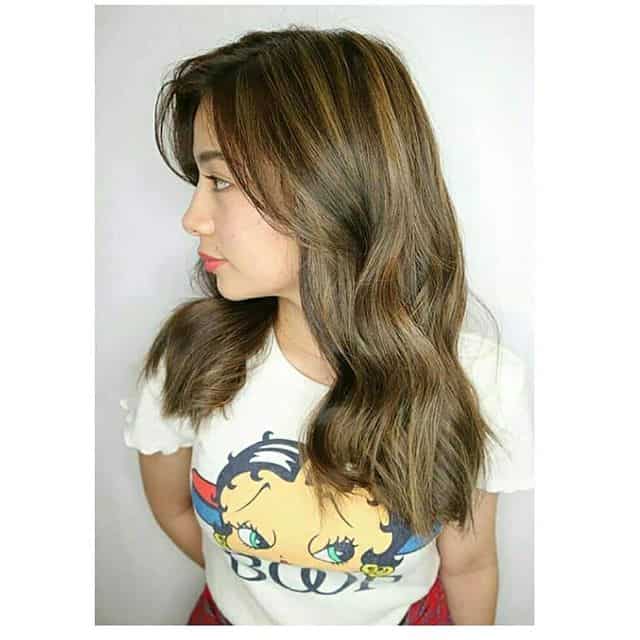 Some women want their highlights to shine, others want them to stay hidden. Or just subtle enough. If you fall into the latter group, here is an idea for how to get highlights that will not pop out right away.
5. Layered Brown With Red Undertones And Blonde Cut-Out Highlights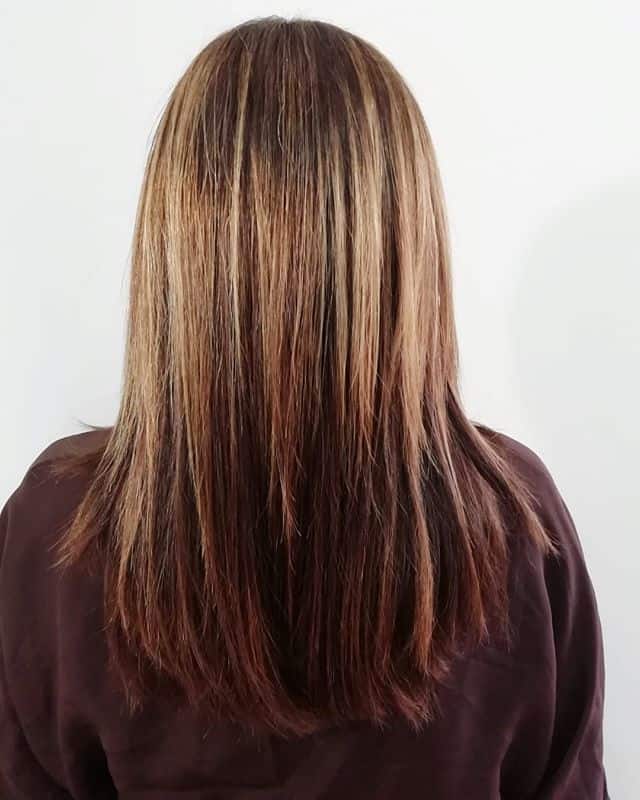 After all, red and blonde work together perfectly. You can use both colors on your brown base, and get a unique hairstyle in three colors.
6. Brown Bob With Champagne Blonde Highlights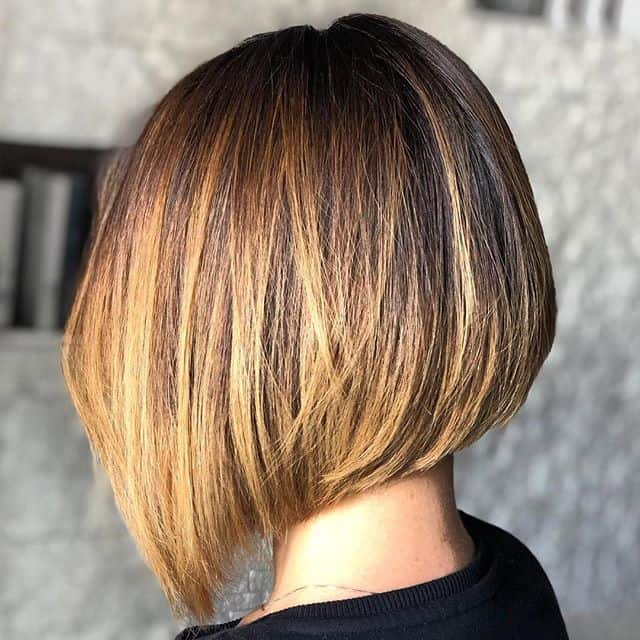 Bob is a popular hairstyle nowadays. And while many women think they cannot get highlights on such short length hairstyle, the reality is different. In fact, bob highlights look so playful and vibrant.
7. Curled Long Brown With Honey Balayage And Highlights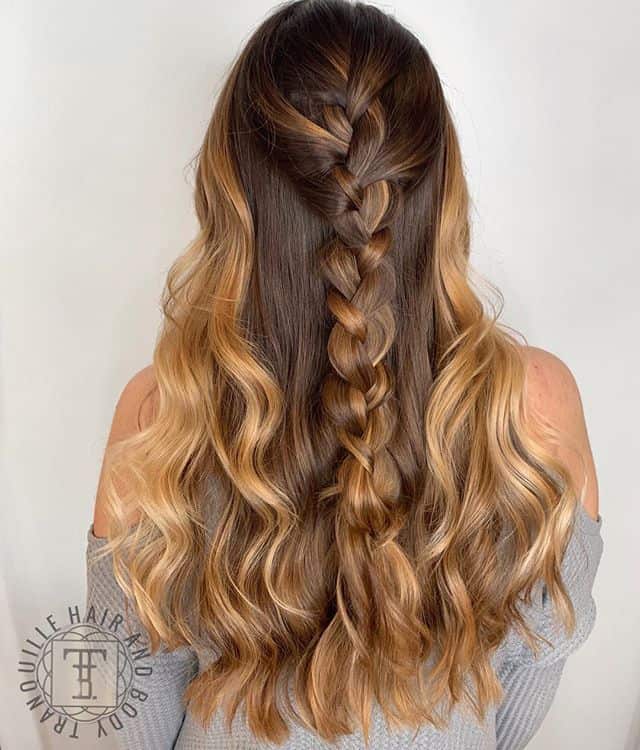 This is the balayage technique we mentioned earlier. Just see how the colors blend together. It is like they the blonde highlights overflow your brown hair. Add in a curled ponytail, and you have texture, color, and volume.
8. Brown With Sandy Blonde Highlight Balayage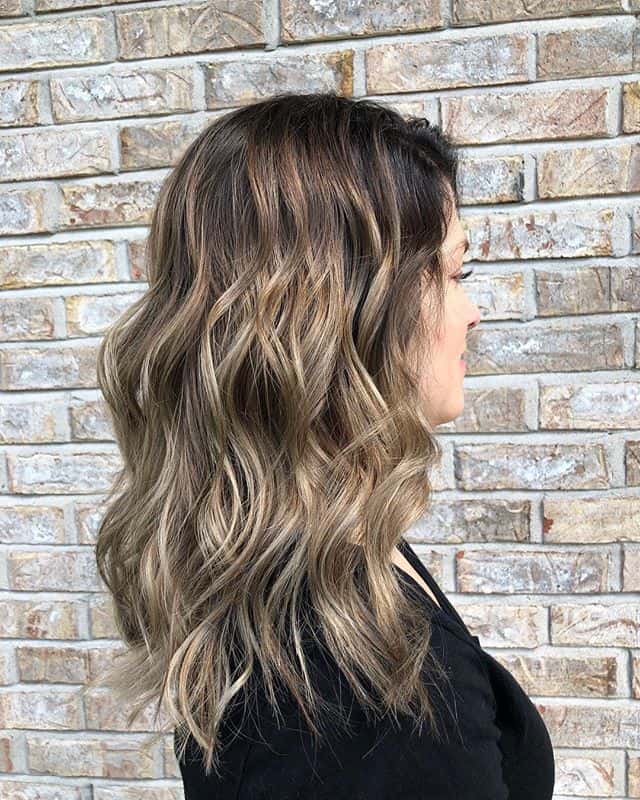 Here is one beach hairstyle you just have to try once in your life. It is the classic beach hairstyle you can see on all the commercials, videos, and movies with beach theme. It is just a must.
9. Brown With Several Blonde Toned Highlights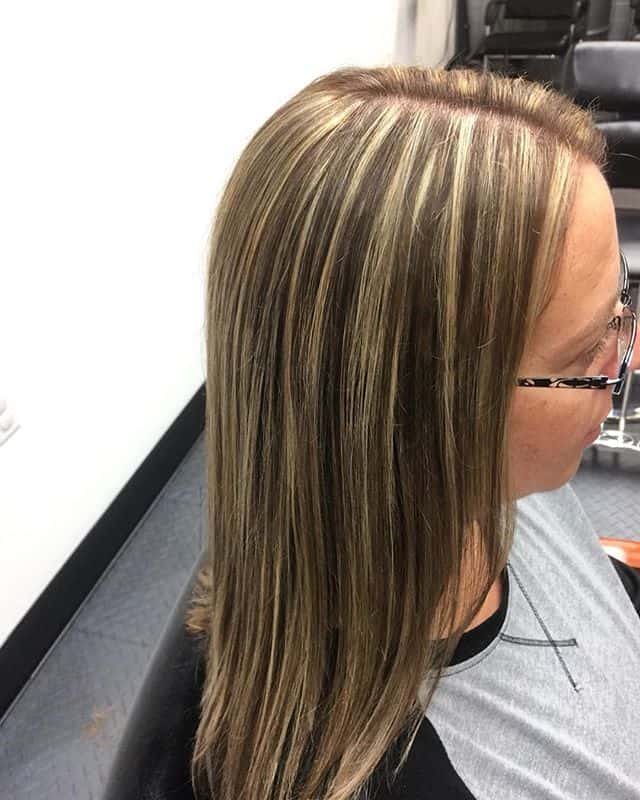 We had a hairstyle with different blonde highlights. Now, on a straight hair, they look even better.
10. Brown Nano Rings With Caramel Blonde Highlights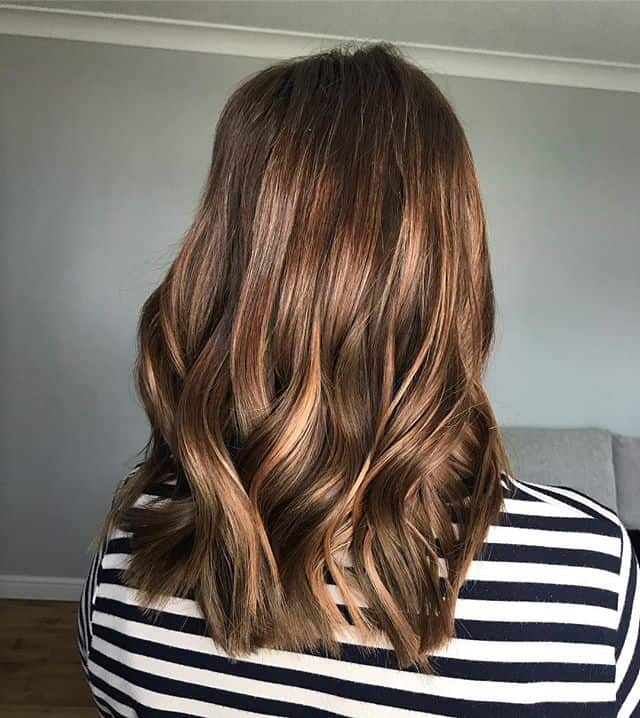 We said previously that waves are one of the best ways to emphasize your highlights. Whether you choose baby waves, or more frequent waves, it is up to you. But they give your hairstyle texture and volume.
11. Wavy Brown With Honey And Caramel Highlights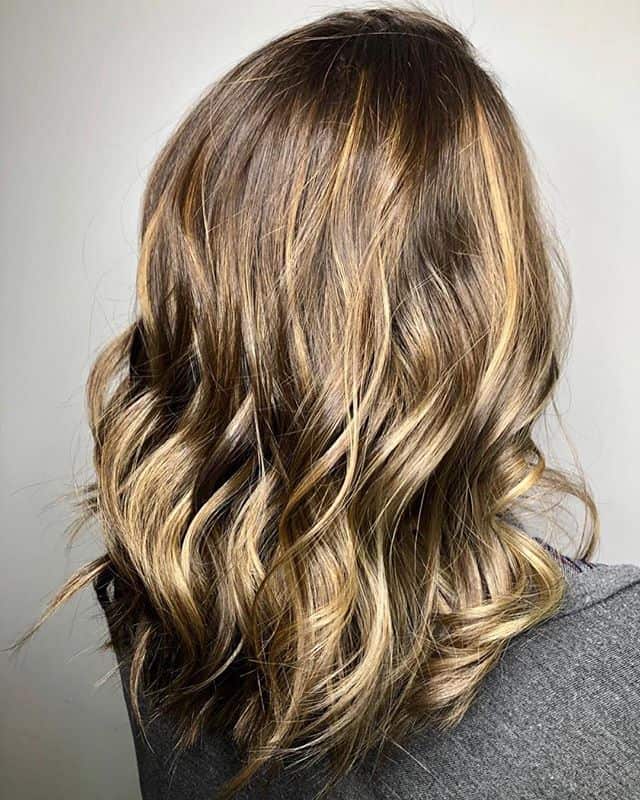 Honey and caramel highlights are the two most popular blonde options at the moment. You can choose either of them, and you will look amazing. Or, you can take the next step, and get both of them.
12. Dark Brown Bob With Chunky Blonde And Red Highlights
We said red and blonde work perfectly when combined with brown. The beauty of brown is that versatility. You can add any hair color, and still look amazing. Not many hair colors deliver the same result.
13. Natural Curls With Sunny Blonde Highlights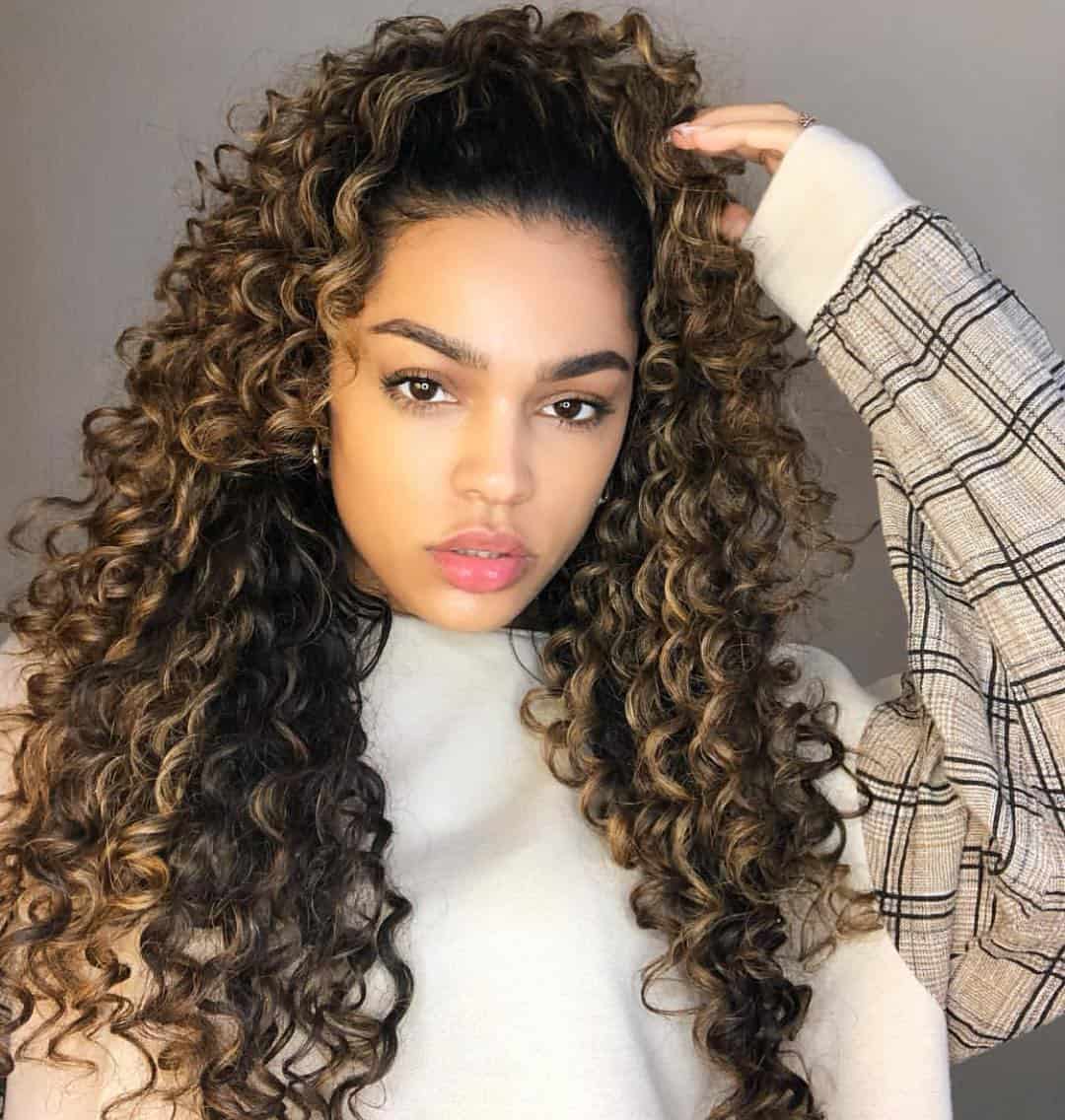 If there is one hairstyle that was match made in heaven for highlights, that is natural curls. And the more you have, the better. Just look at how vibrant and playful that hairstyle looks.
14. Choppy Layers With Light Blonde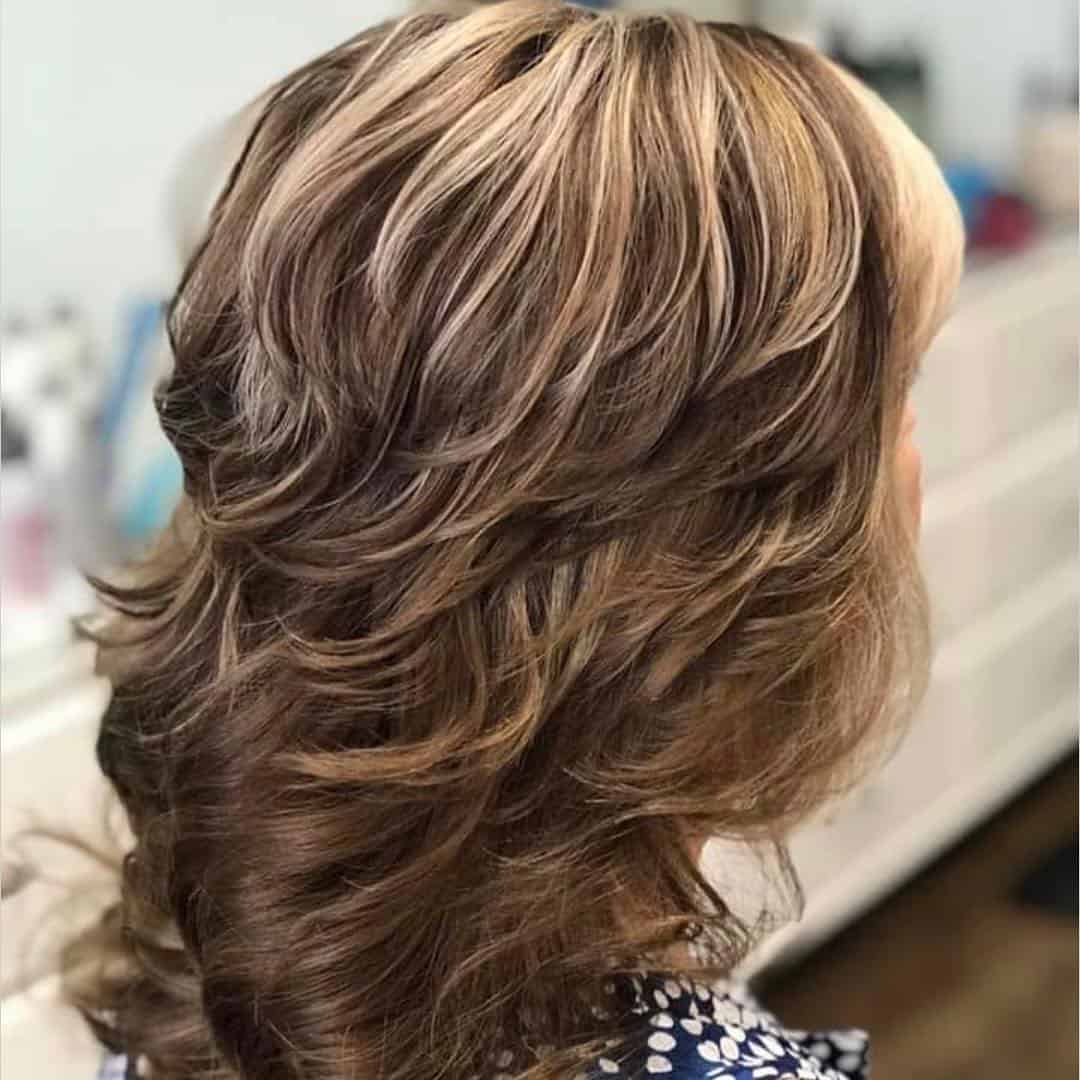 Choppy layers are one of the best ways to add volume to your hairstyle. They also add definition and movement. Add in some highlights, and you get a playful and unique hairstyle.
15. Side Swept Dark Brown With Auburn Blonde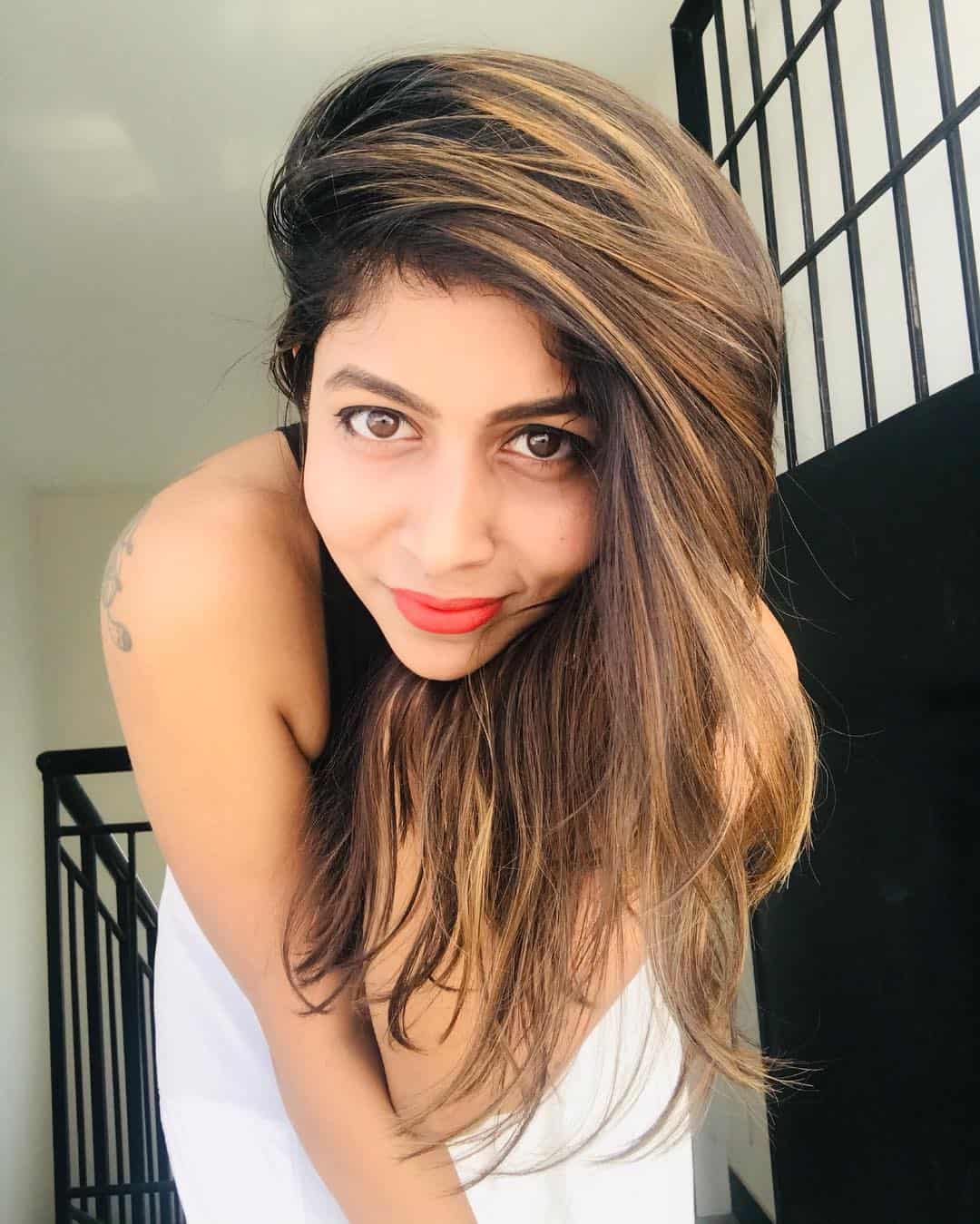 Side swept hairstyles are great when you want to play with symmetry. And with highlights, it is an even better way. Use highlights only on the side, and you have the perfect contrast.
16. Light Brown With Beach Wave Blonde Highlights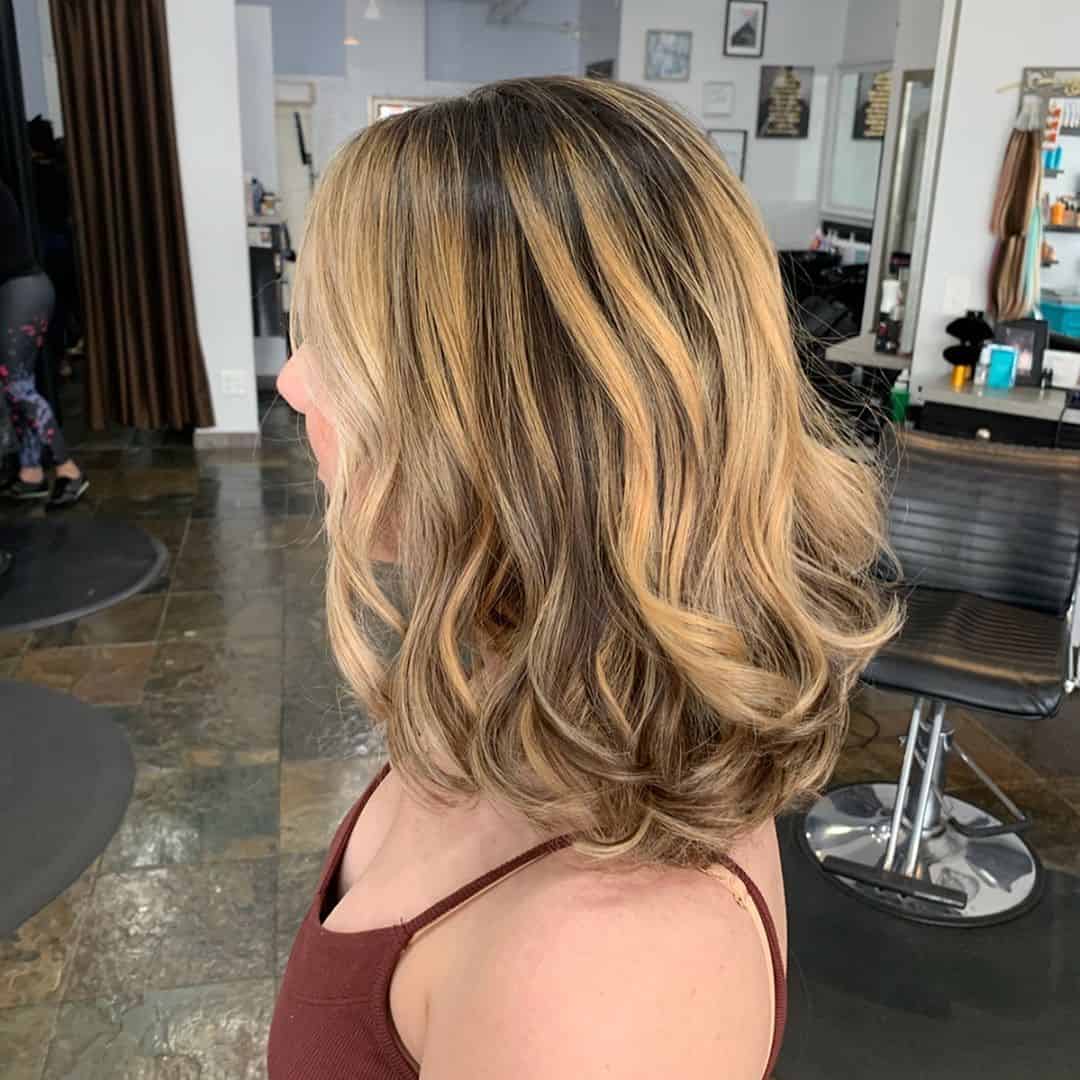 Bleaching is not something you can do often. After all, it can damage your hair. But every now and then, if you want blonde highlights, you have to apply bleaching agent.
17. Dark Brown Pixie With Blonde Highlighted Front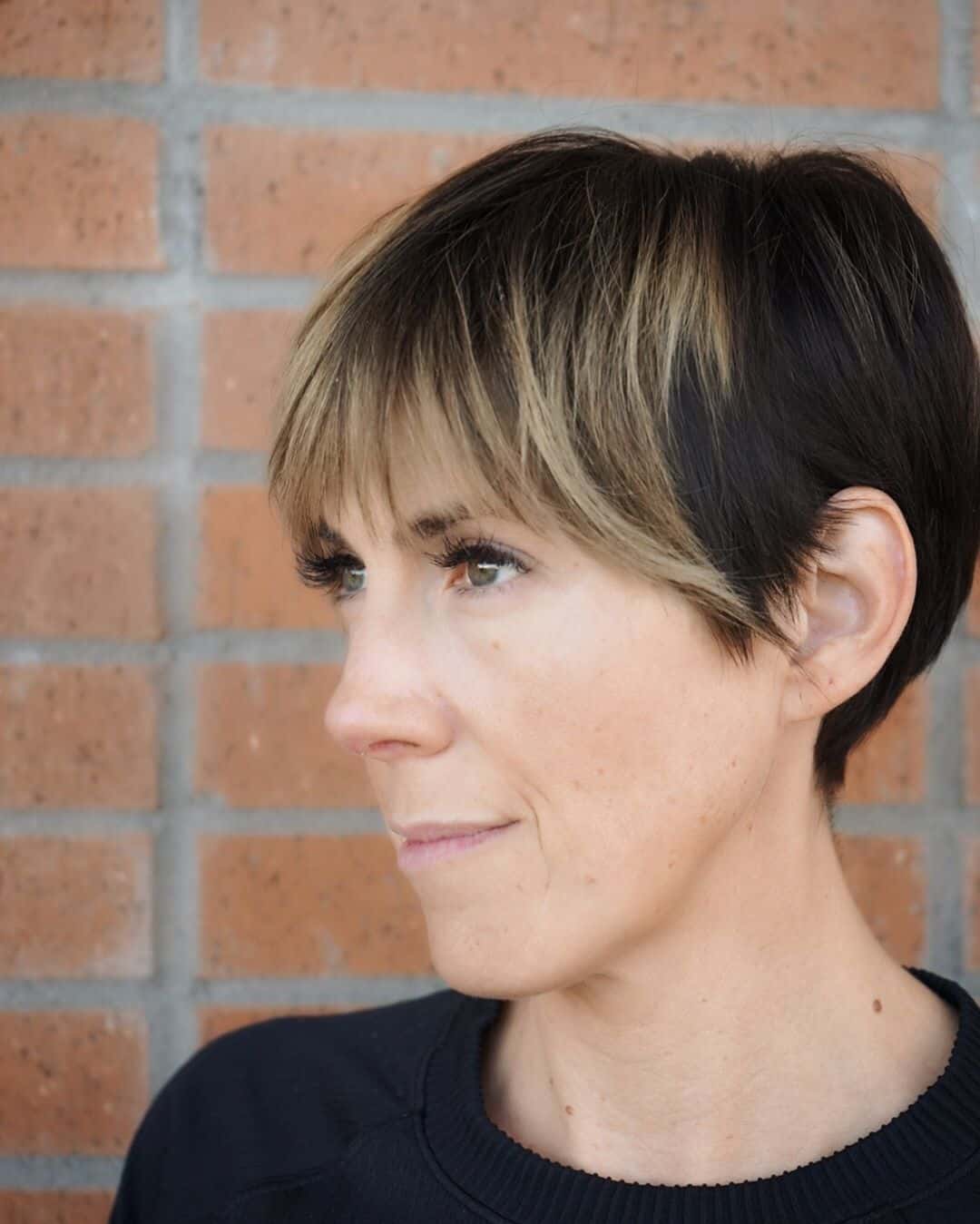 No matter your hair length, blonde highlights are a nice touch. We saw it on bob, and now we have it on ultra-short pixie hairstyle. Any length is suitable for highlights.
18. Dark Brown With Medium Champagne Highlights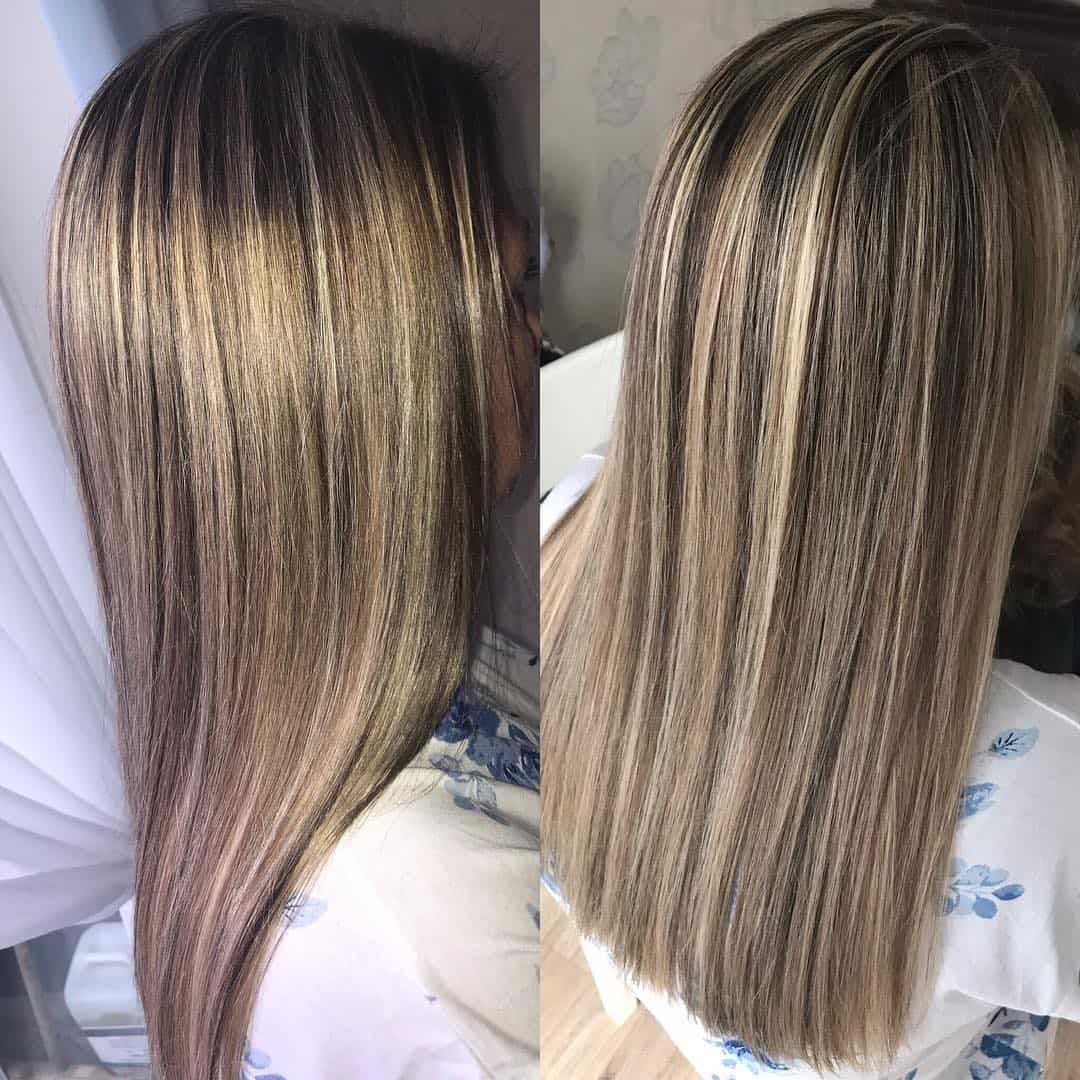 Champagne highlights are perfect for ladies with medium complexion and brown eyes. Your highlights will sparkle just like champagne, and you get a cool and warm blonde hair color.
19. Brown With Red Undertones And Honey Beach Blonde Highlights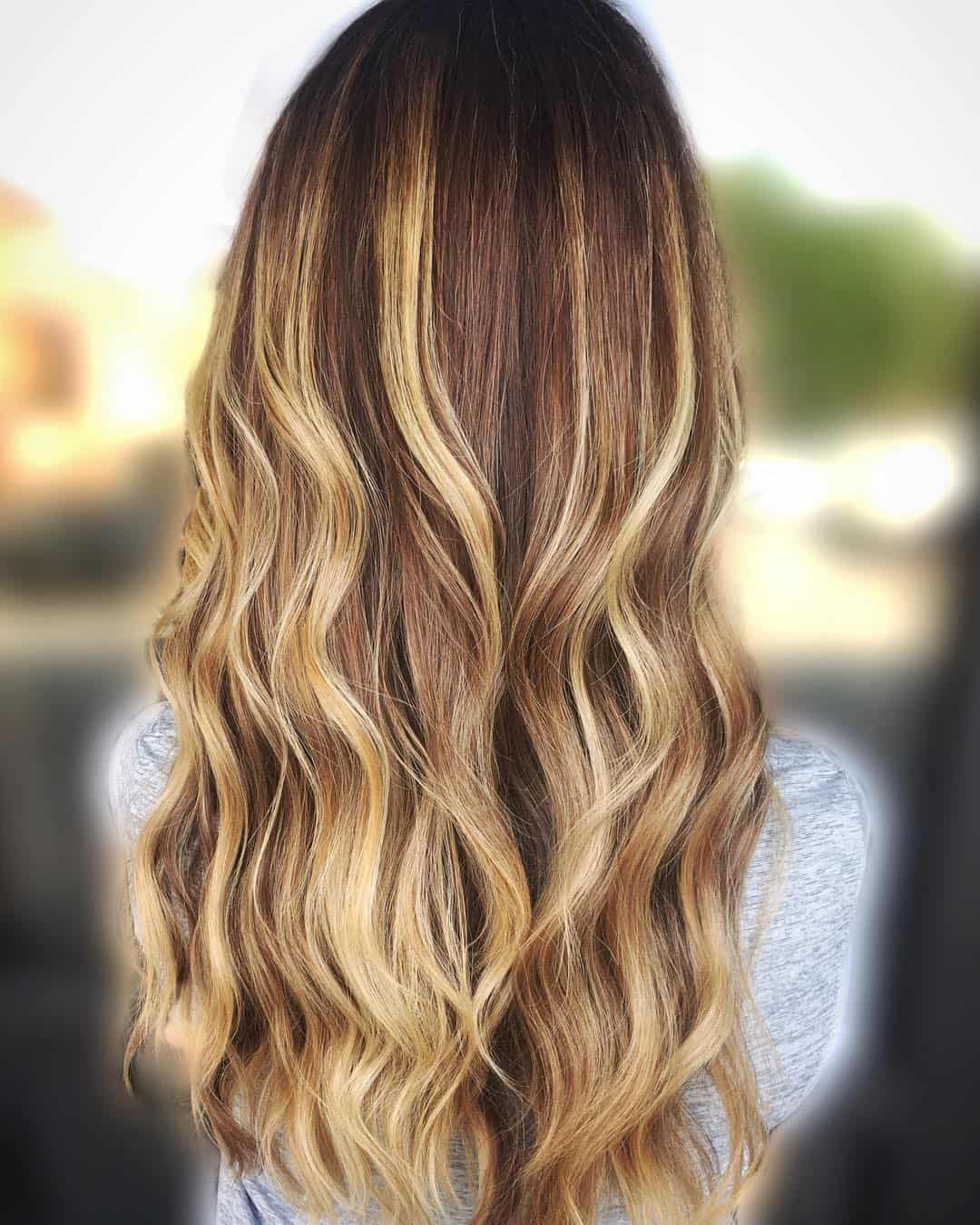 There are many ways you can play with red and blonde. Honey highlights can help you brighten your face. They look perfect with beachy waves, and that is exactly what we have here.
20. Choppy Asymmetrical Pixie With Sandy Blonde Highlights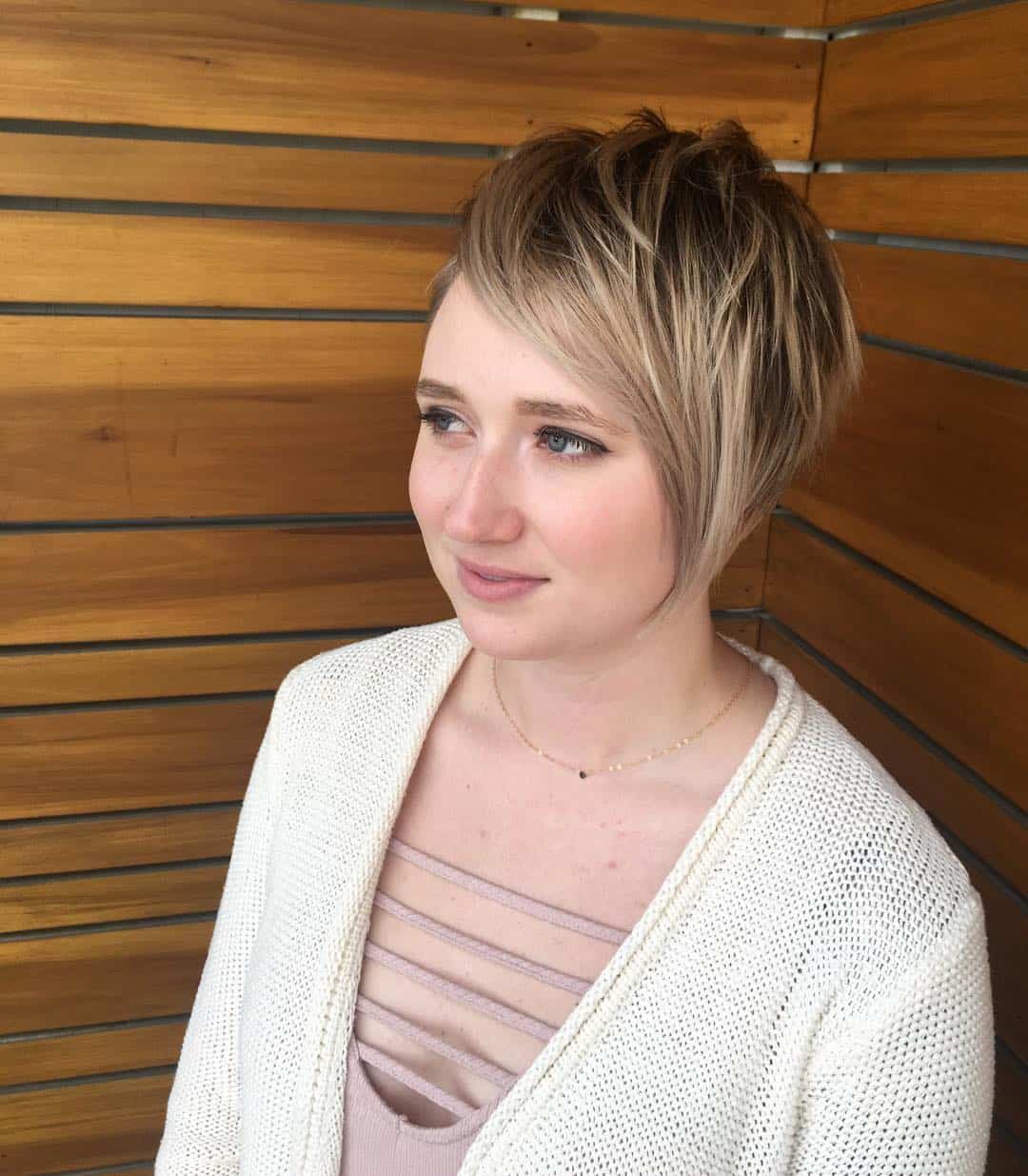 Pixie is a short and sassy hairstyle. It is one of the easiest to wear. Because it is ultra light, you get a comfortable feel wearing it. And with some symmetry and highlights, you get the most out of your pixie.
21. Ombre Rose Gold Highlights On Medium Brown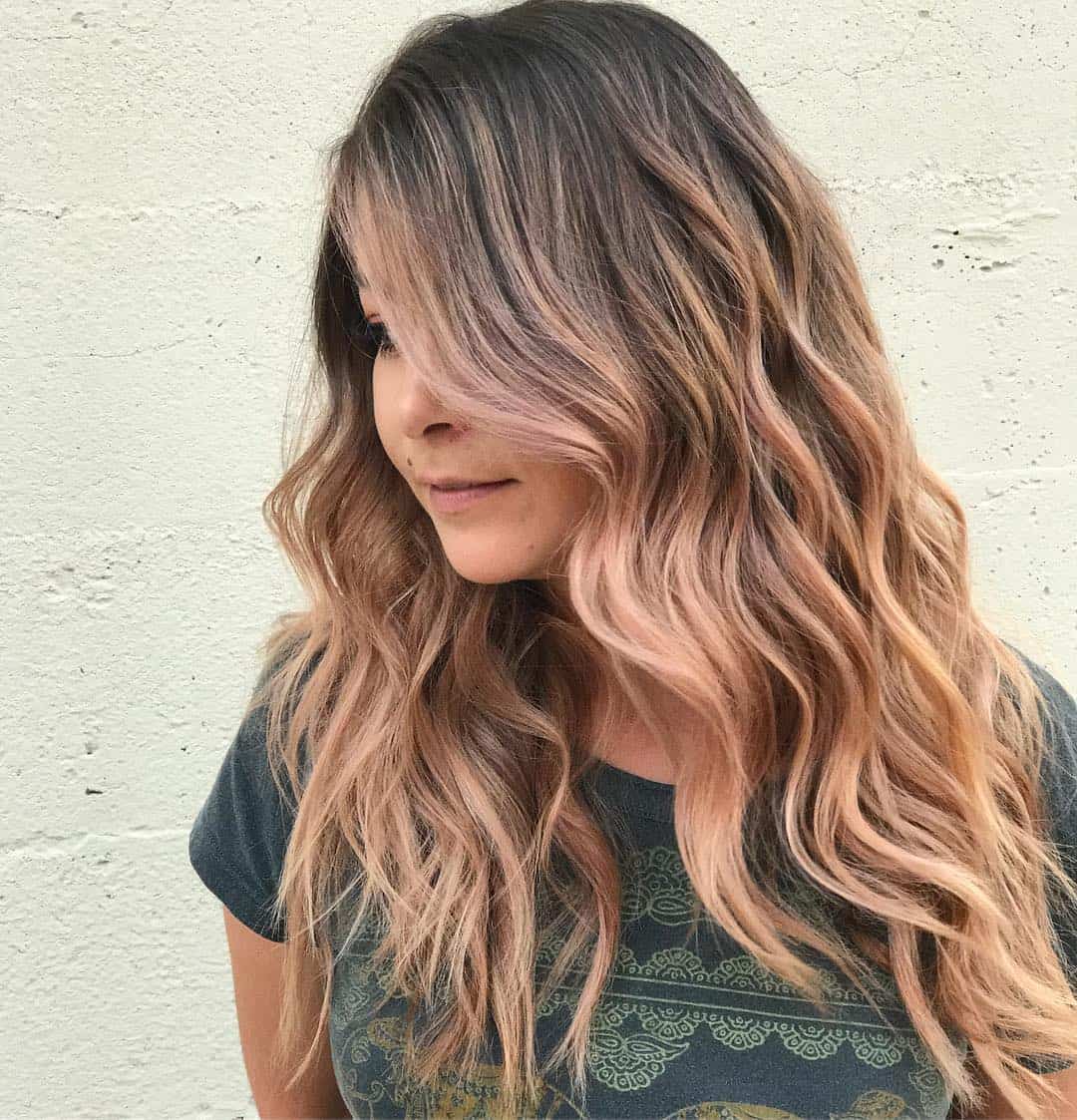 You cannot make a highlights list without ombre. After all, it was the ombre technique several years ago that again popularized highlights. Ombre is a technique in which the hair is darker at the root and through the mid-shaft, and then gets lighter at the ends.
22.  Brunette Bob With Matte Ashy Highlights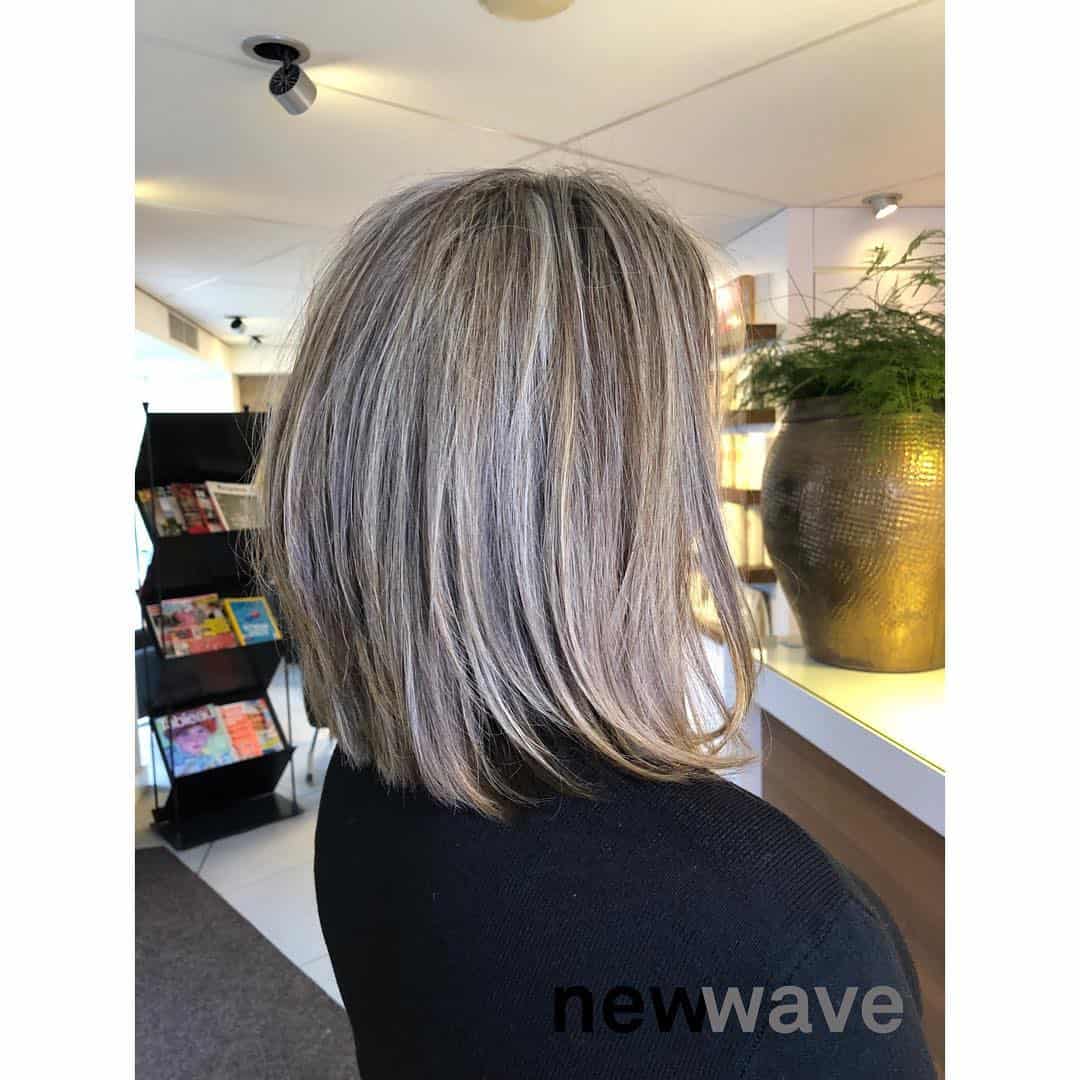 When it comes to ash blonde, it is a color for women who embrace silver and gray hair. It is a trend in latest years, and we have love it. Just be careful, it adds a couple of years to your look.
23. Dark Brown Straight With Blonde And Chestnut Babylights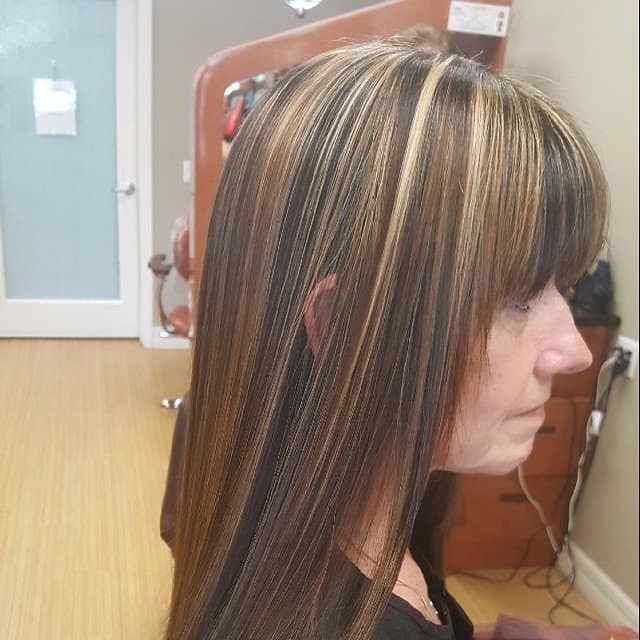 If you want to spice up your brunette look in a subtle way, chestnut highlights might be the best option. After all, they are very close in shade to the natural brown color. Chestnut highlights help you add dimension to your hair, all while maintaining dark strands.
24. Bright Ash Blonde Ombre Highlights On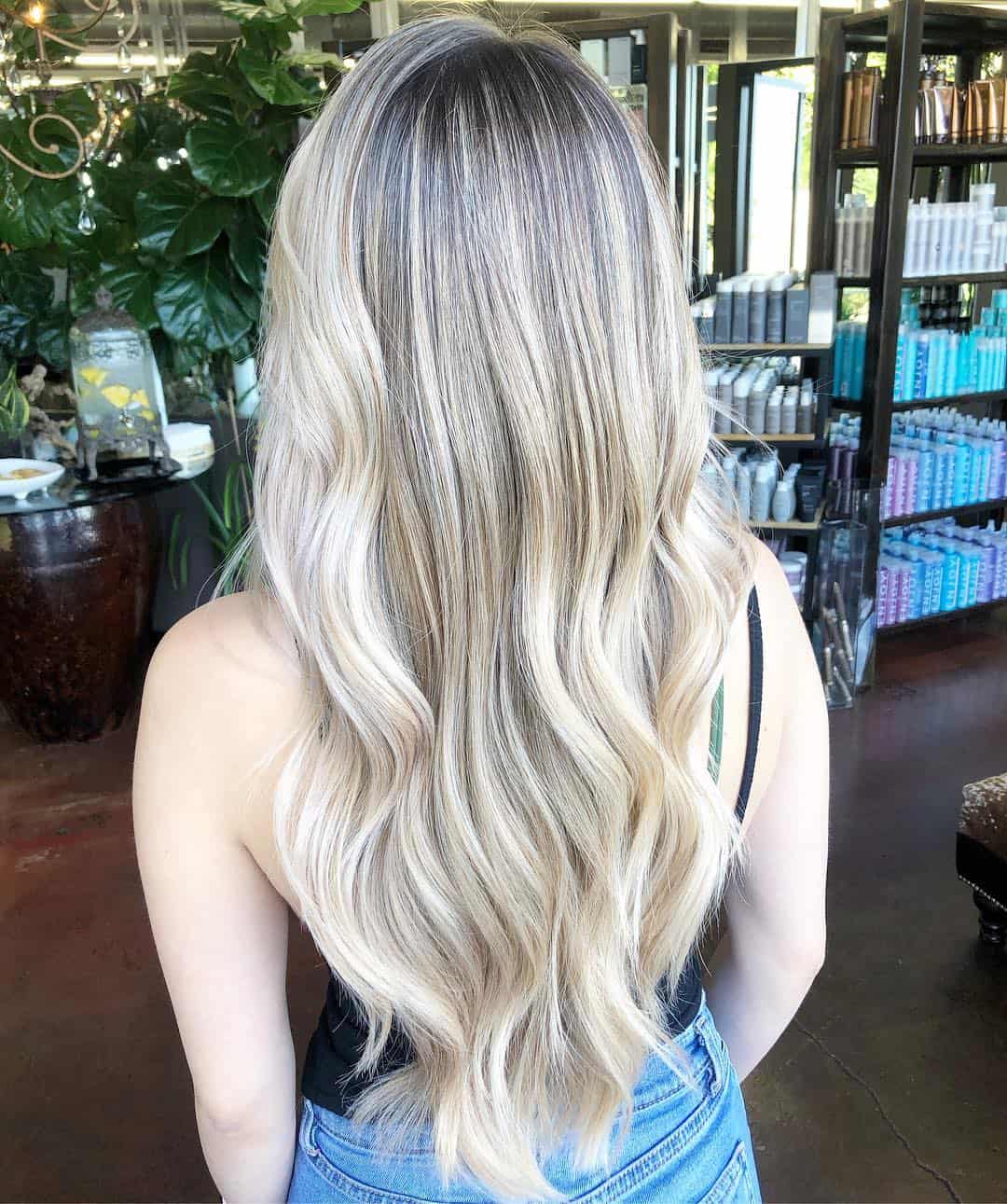 Here is another take on the ombre hairstyle. This time, we go with ash highlights. As you can see, there is a way to combine different blonde trends.
25. Wavy Brunette With Chunky Sunflower Blonde Highlights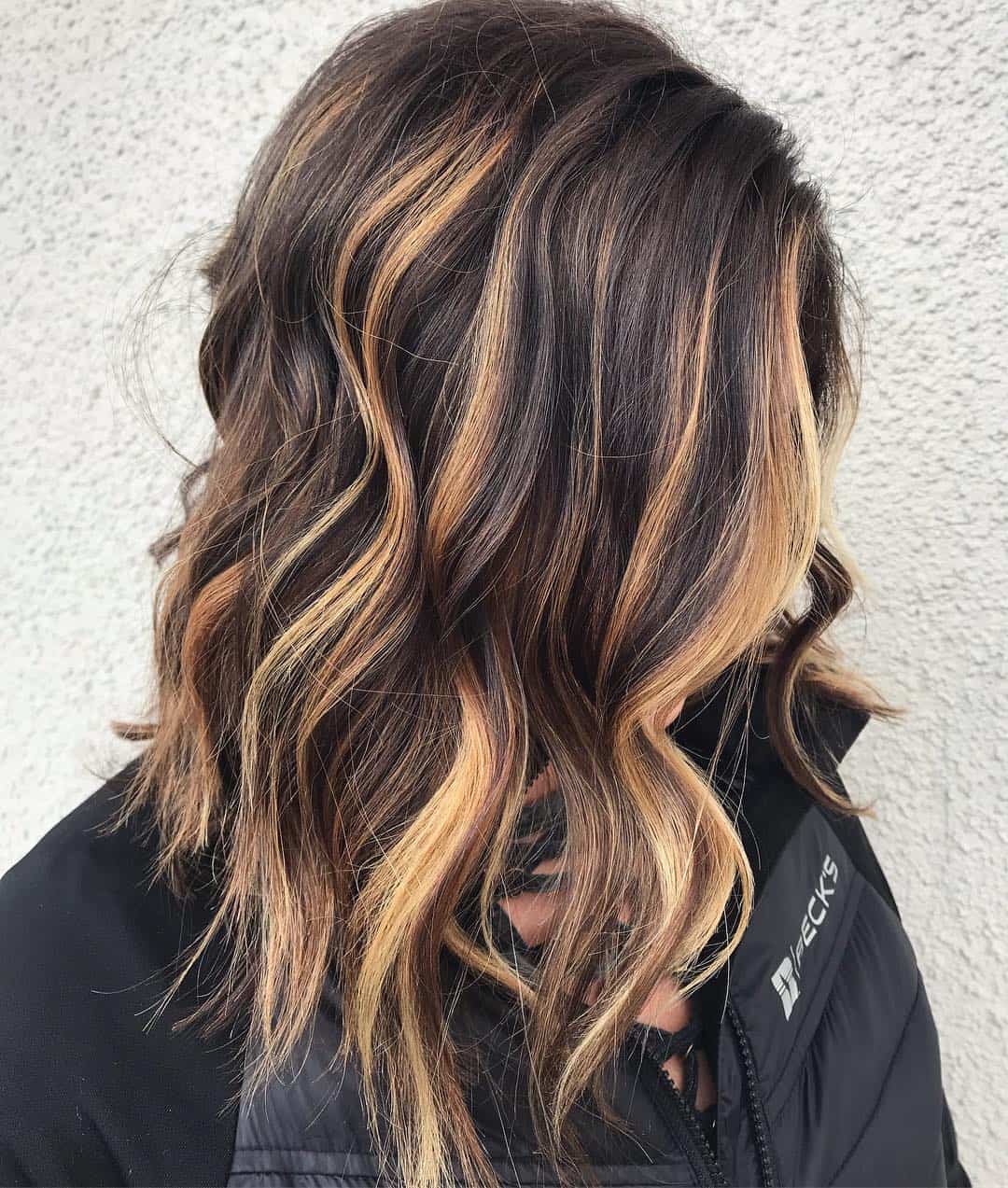 Waves are the best option for brunettes to boost their creativity. You can choose from long wavy layers, curls, and much more.
26. Long Brown Waves With Platinum Blonde Ombre Highlights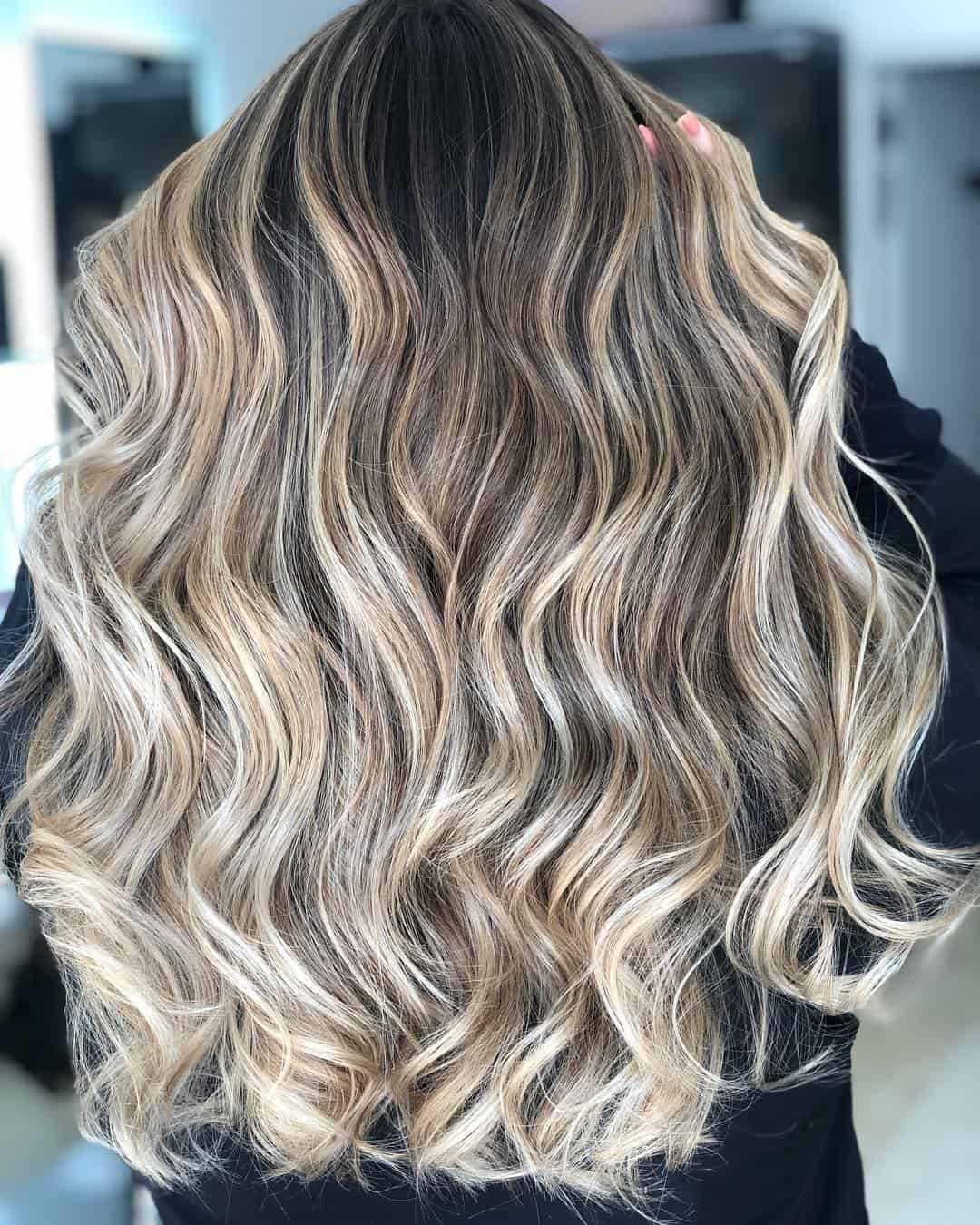 Don't you just look at this picture, and think it came out of a hair commercial. It is just that perfect. If you are blessed with long hair, this is something you just absolutely have to try. Tons of volume, color, texture, and dimension. Absolutely stunning.
27. Short Brown Cut With Honey Caramel Highlights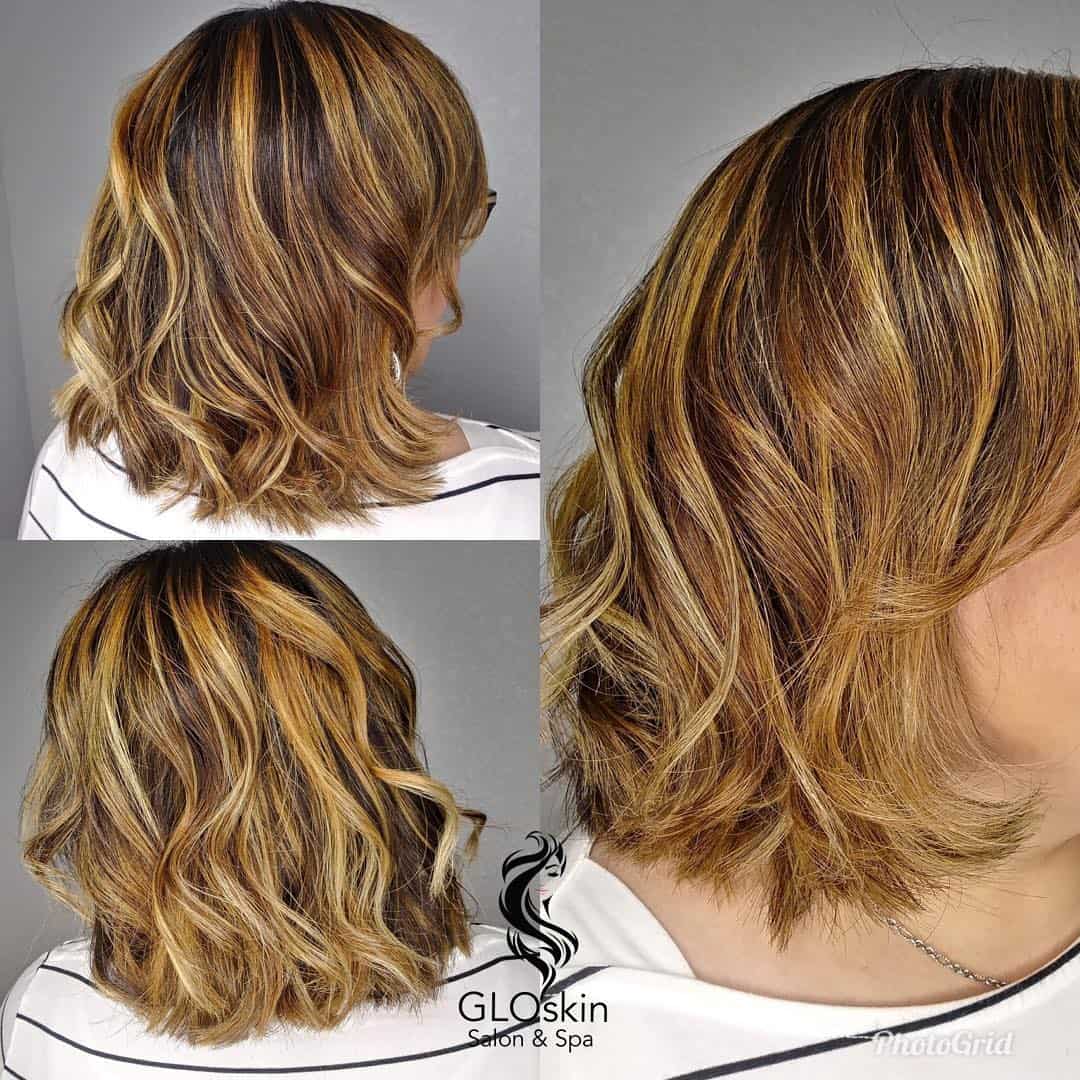 Light or dark hair with caramel highlights is one of the sexiest looks at the moment. Caramel highlights are the best option and most popular season trend for brunettes. You absolutely have to try it.
28. Short Ash Brown With Gray Blonde Highlights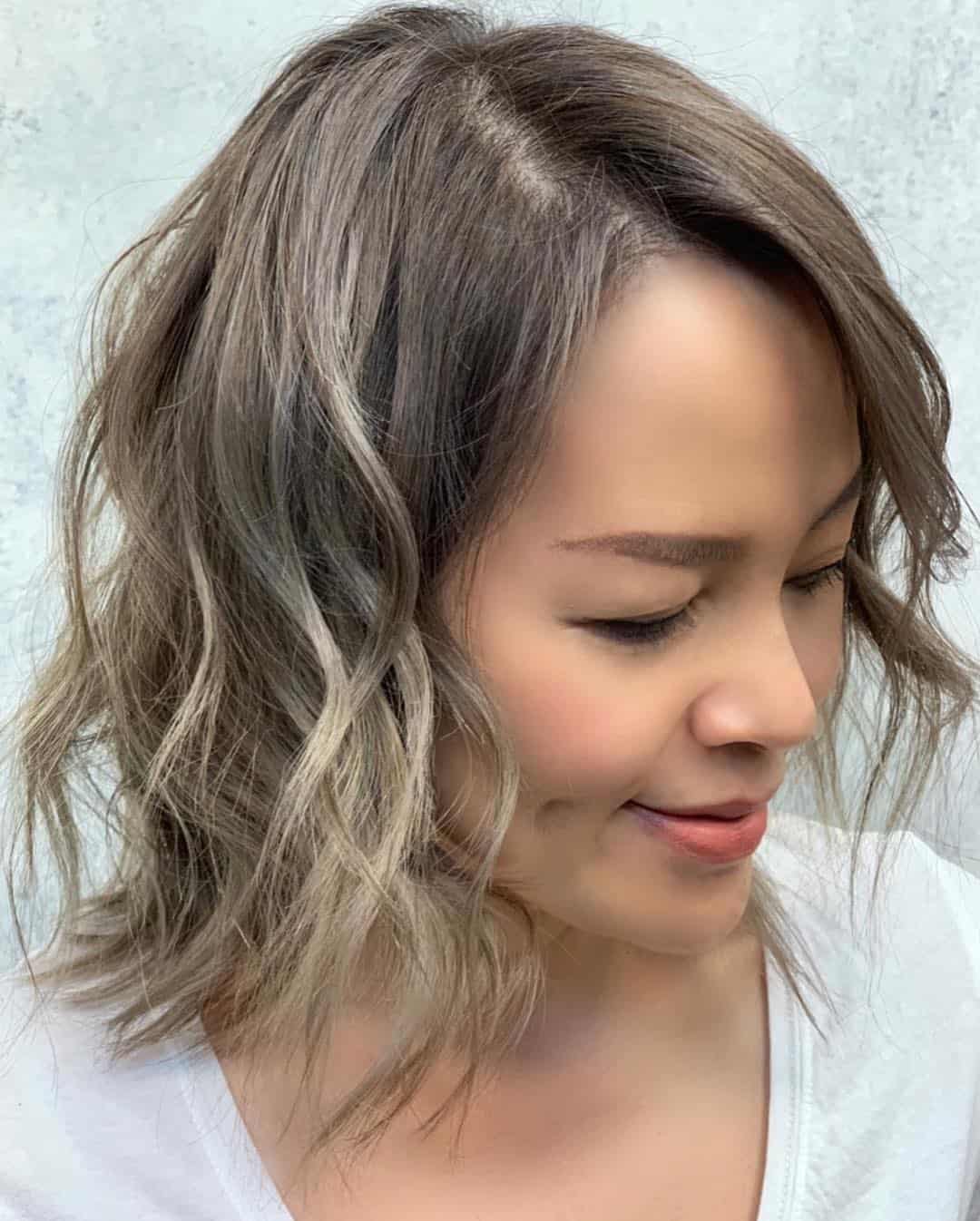 We finish off with an unconventional short hair idea. While ash blonde works perfectly on long hair, as there is a lot more hair to showcase the color, it is a rather out of the box idea for short hair. But gray blonde highlights are that much versatile, they can work on anything.
Hopefully, you found something that will interest you and prompt you to schedule a visit to the hair specialist.