How many people do you know who don't love chocolate?
I can say with certainty that there are only a few people I know who absolutely don't love it.
So today I'm going to dedicate this article to all the chocolate lovers out there.
Yes, it's about nails, but I can think of several people who would absolutely "eat your fingers."
If you're a chocolate lover, I don't think you'll be able to resist trying some of these designs.
1. Cherry Chocolate Nails with Rhinestones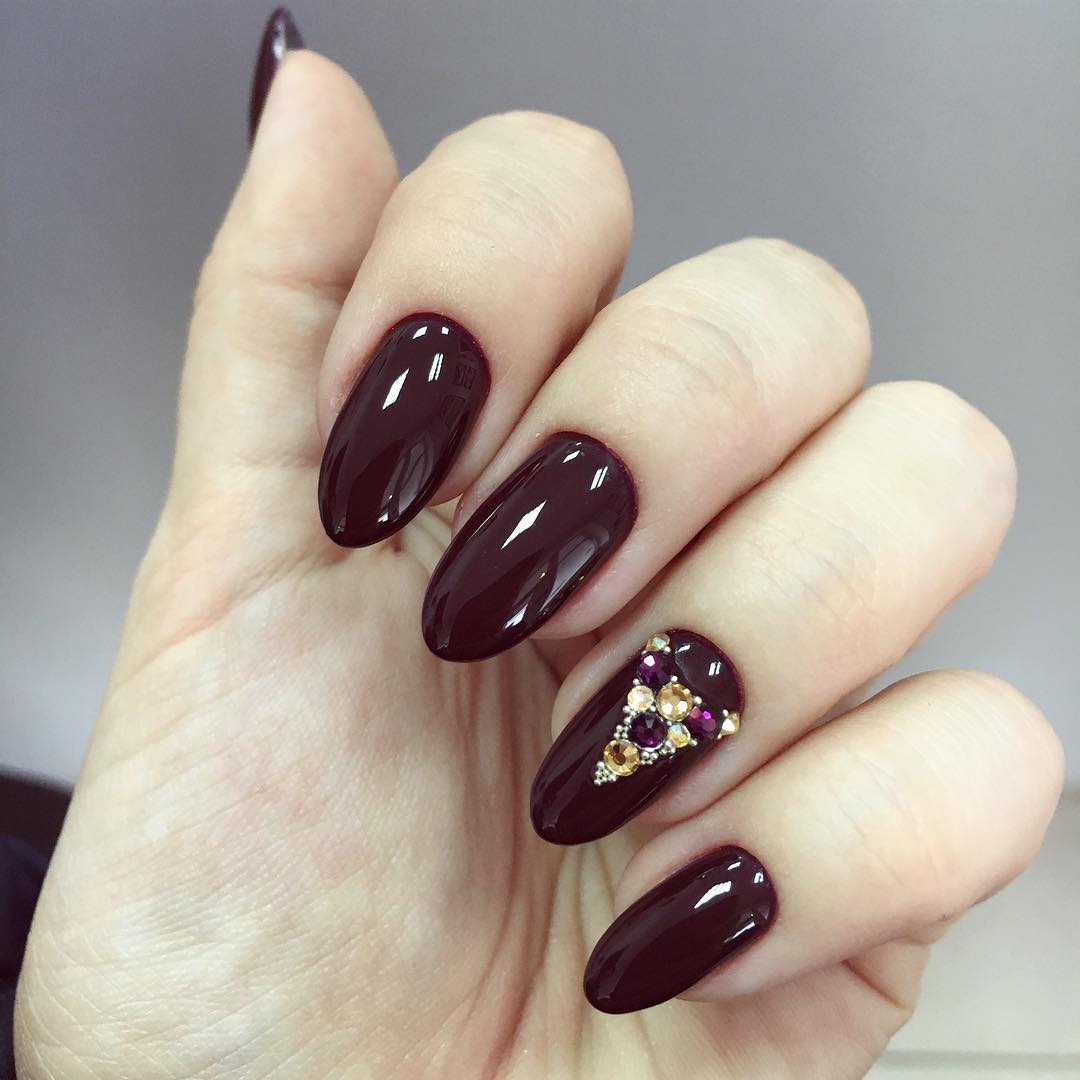 When you think of chocolate, you think of that dark brown color. But there are some other hues that remind you of chocolate too. And cherry chocolate is definitely a fan favorite color. Sophisticated, elegant, and with a refreshing touch, this design will make your nails pop.
2. Gold Glitter Chocolate Nails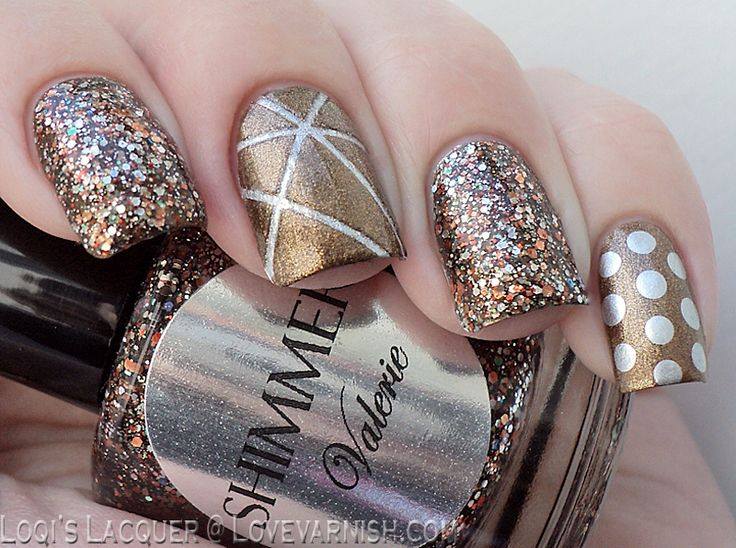 One thing is certain: nails with glitter are always in demand. No matter what the trend is, you can always add some glitter to your nails. There's just no avoiding that.
3. Brown and Orange Marble Nails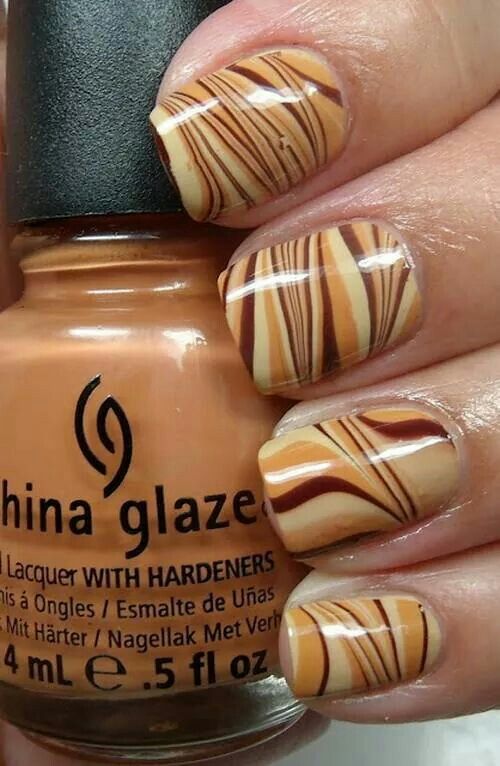 It's time to give you the true chocolate caramel nails. Don't they look like a chocolate bar? Don't you want to eat them? Well, I know I do.
4. Brown and Beige Triangle Nails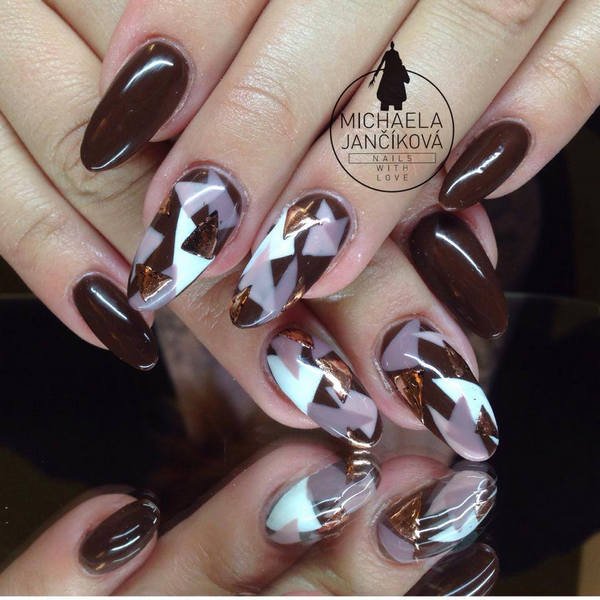 Another nail design that looks exactly like a chocolate bar. The brown color is spot-on, and the triangles make your nails look whimsical. Plus, I love the reflection.
5. Matte Brown, Two-Tone Nail with Leaf Detail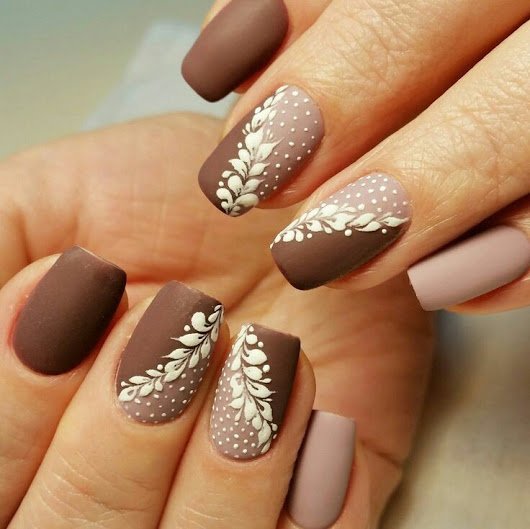 One thing I've noticed over the years is that some women simply don't like shiny nails. They prefer matte colors. And I have nothing against that. In that spirit, I want to give you some matte chocolate options. And who can resist that leaf?
6. Chocolate Nail with Bird Detail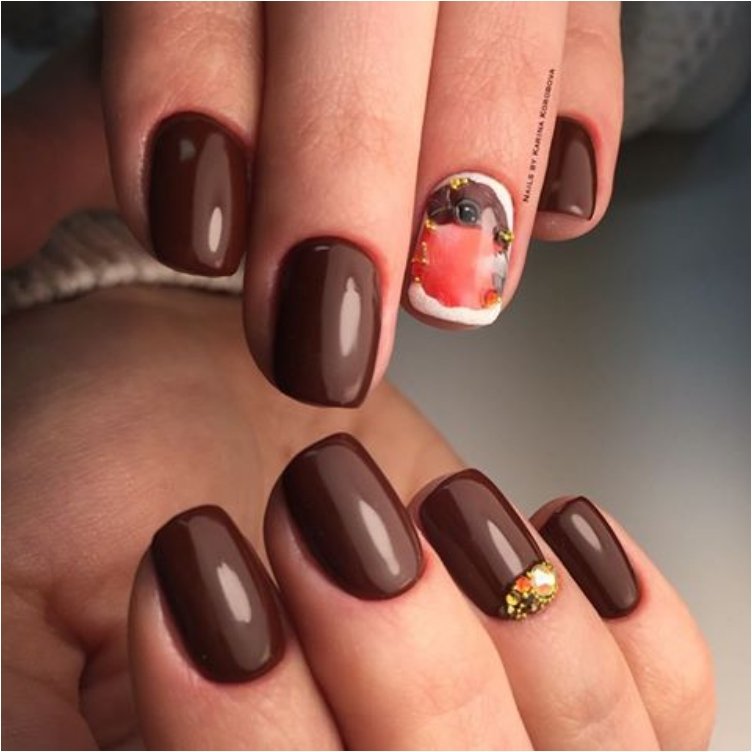 One of the biggest trends in manicures the past few years is accessorizing your nails. Women tend to put everything on their nails. Some take the simple, small jewelry path. Others go for more detail. In that spirit, we have a bird on a chocolate design. True, birds and chocolate have nothing in common. But the bird looks so pretty in a subtle brown nail design.
7. Chocolate Matte, Shiny and Glittered Nails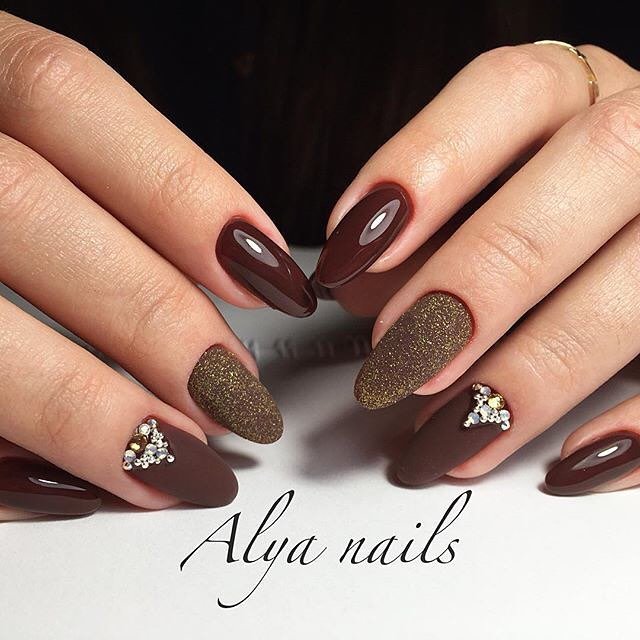 Glitter and accessories—one way to make your nail stylist hate you. Jokes aside, the design is perfect. You get everything, and the nails look elegant. They certainly are not offensive.
8. Brown Ombre Dot Nails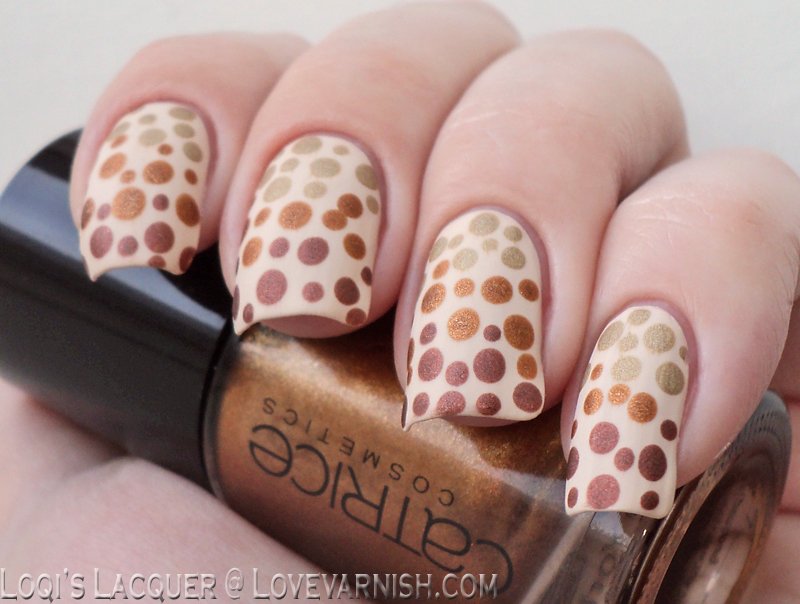 In the beauty industry, there is one rule: "everything can go everywhere." In essence, that means that a hair trend can end up in the fashion world. A fashion trend can break into the world of interior design. And everything in between. That being said, ombre has been a huge part of the makeup industry in the past few years. So, why not ombre nails?
9. Striped Glitter Nails
You will notice that the smallest and simplest details make the biggest impact. Such is the case here, with the stripes completely changing the look of the nails.
10. Chocolate Decorated Coffin Nails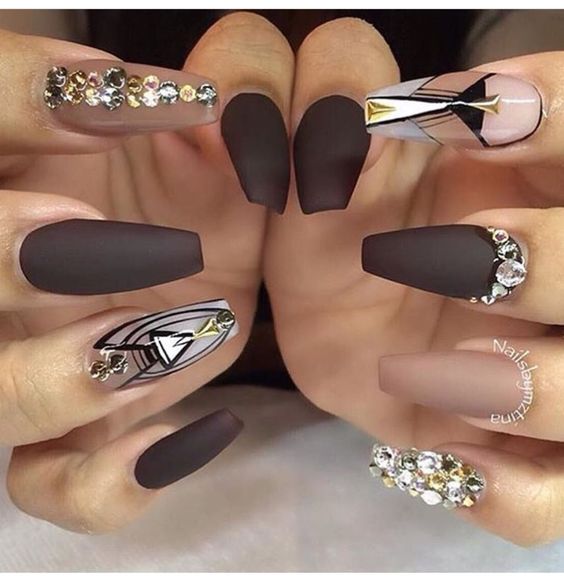 Since we are talking about manicure trends, we can't avoid the coffin nails. They have been such a huge trend in the past year or two. The shape is unique, and the length still allows you to work normally.
11. Chocolate Dragonfly Nails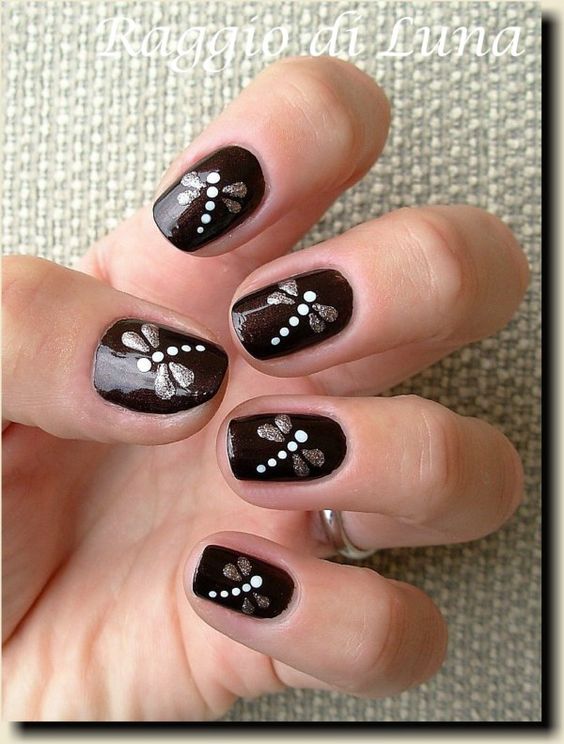 I said previously that accessories on nails are a must for many women. There are so many options for accessories. And I must be honest—I think you can't go wrong with anything you choose. It's just a matter of perspective and preference.
12. Brown and Pink Rose Nails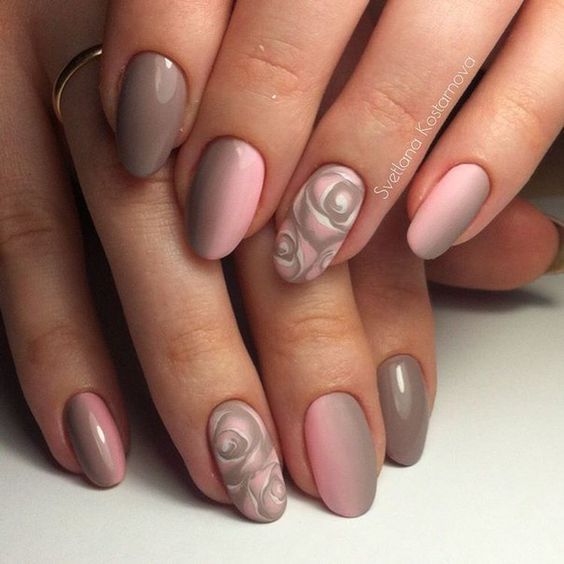 The good thing about chocolate nails is that brown is flexible—you can combine it with different colors and still get a great design. The romantic aspect of the pink here masterfully blends with the darkness of the brown.
13. Chocolate Lace Nails
Another way you can accessorize your nails is with lace. People say you can never go wrong with lace, and I second that. No matter where you add lace, it looks astonishing.
14. Ombre Chocolate Nails with Floral Design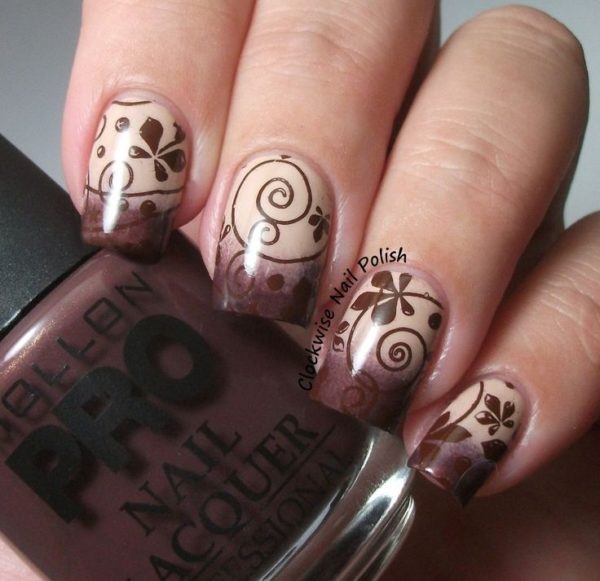 We had ombre chocolate nails with dots, and now we have ombre chocolate nails with flowers. This is a more girly, feminine design, one that will definitely require a little bit more attention to detail and patience when doing your nails.
15. Chocolate Leopard Nails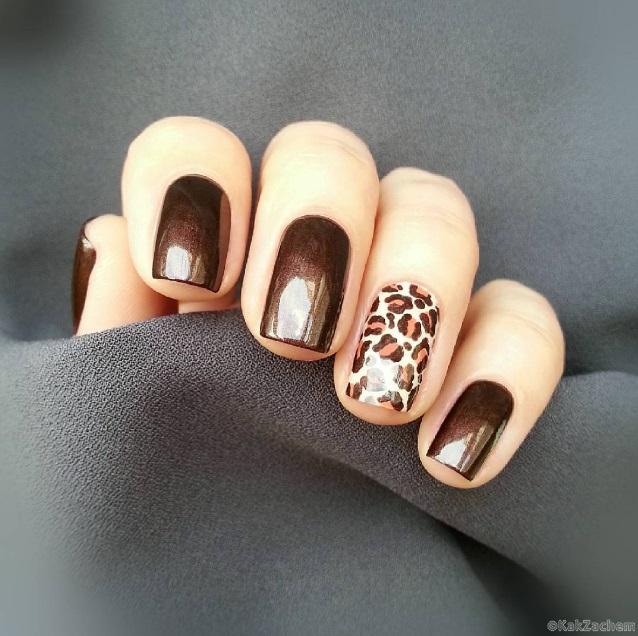 I'm not a fan of animal prints. A leopard print is at the top of animal prints, but that's when you go over the top. When you add a print in a subtle manner, the print only emphasizes your original idea. In this case, the print works perfectly.
16. Chevron Chocolate Nails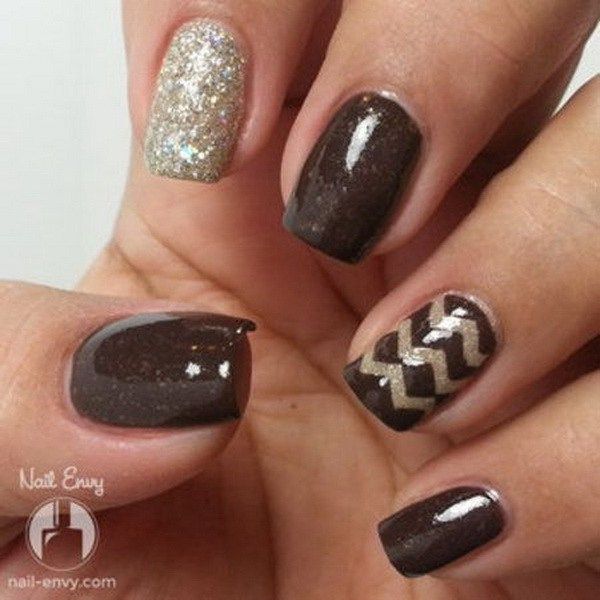 The chevron is a pattern that people choose when they want something simple, yet playful. The logo is such an interesting graphical element that you can use it in almost everything, and that includes much more than nails and manicures. I've seen it masterfully used in interior design and fashion as well.
17. Intricate Brown and Gold Pattern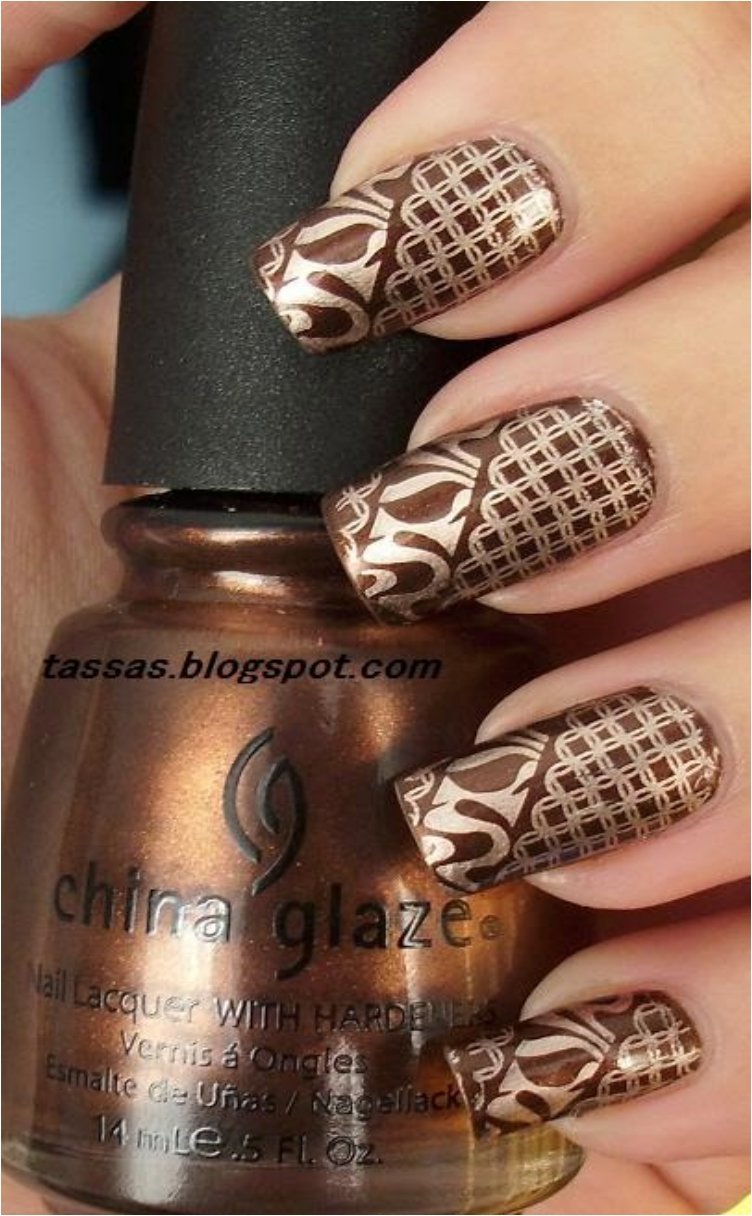 Brown is probably one of the best colors you can use when you want to include gold in your manicure. The neutrality of brown is the perfect base for gold. We all know that gold can pop and make your nails a bit over the top. But brown neutralizes that aspect.
18. Brown V-Tip Nails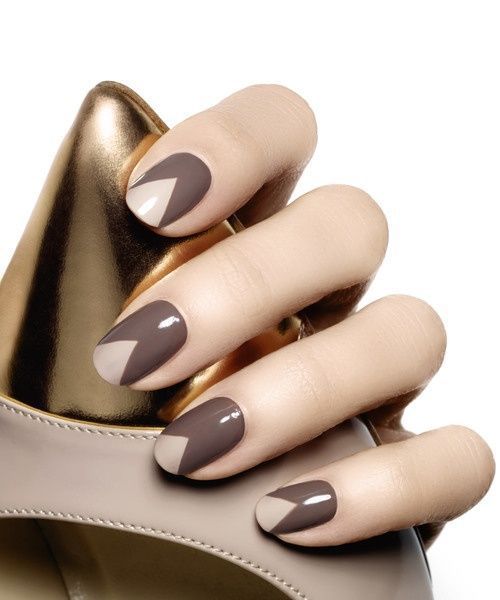 Think of the V-shape as a slightly sharper chevron graphical element. Basically, they achieve the same thing. You add sharpness and playfulness to your nails. And at the same time, your nails are still sophisticated.
19. Chocolate Nude Ombre Nails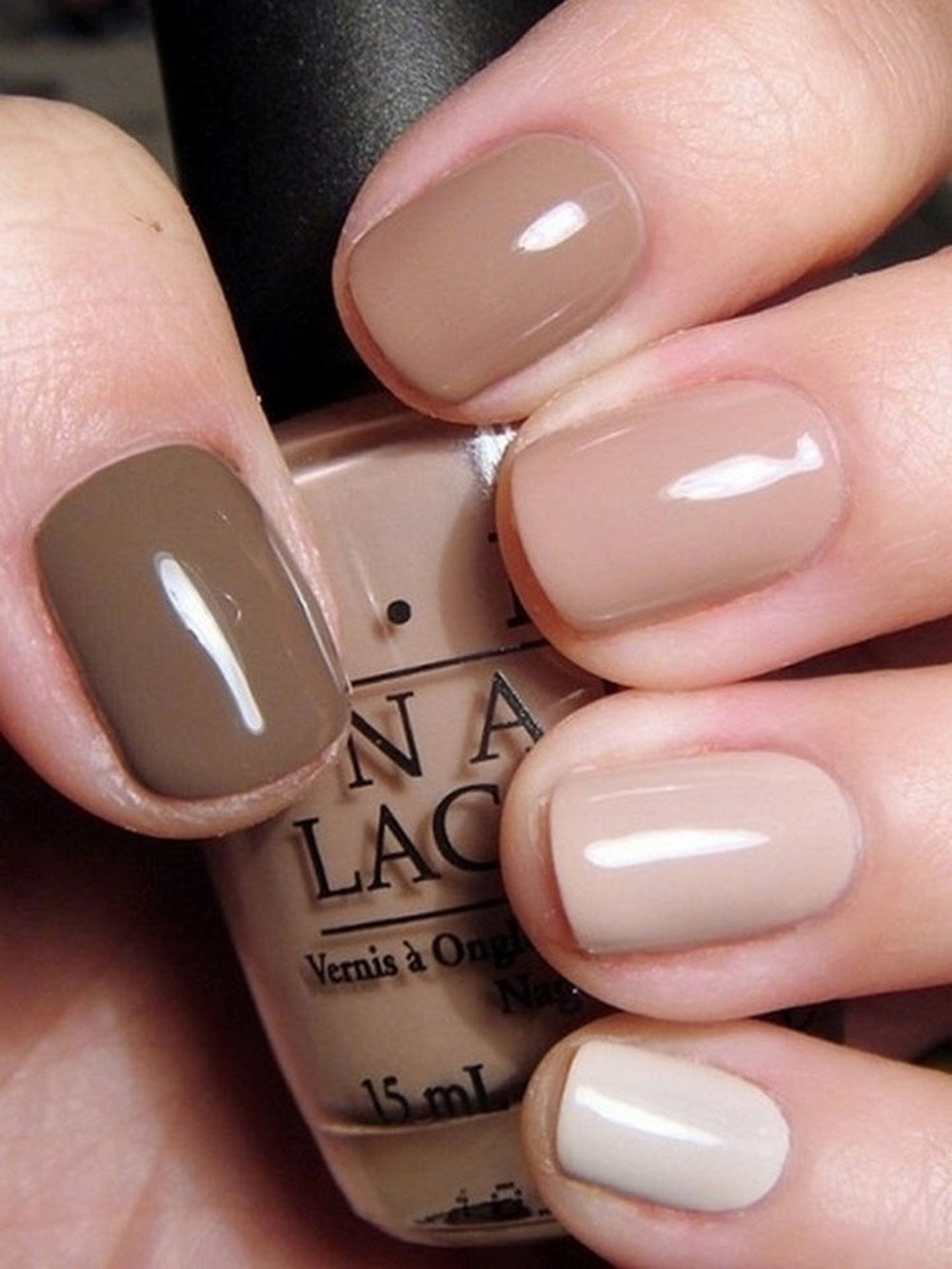 You might not even notice the ombre in this design. The trick is that the shade of your nails goes from light to dark with the next nail.
20. Gradient Brown Nails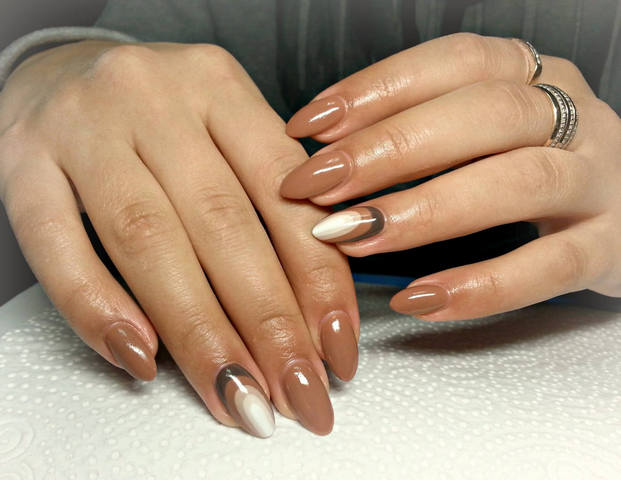 Speaking of gradually going from light to dark, here is another example. No, this isn't ombre. But it's still a perfect example of how you can try different shades of the same color on your nails. Painting just one nail makes the nail pop.
21. Chocolate Nails with Colorful Swirl
The swirl is what makes this design so delicious. Anyone who has ever had chocolate with something like strawberries appreciates the colorful aspect of chocolate. And that's the goal here.
22. Chocolate Camouflage Nails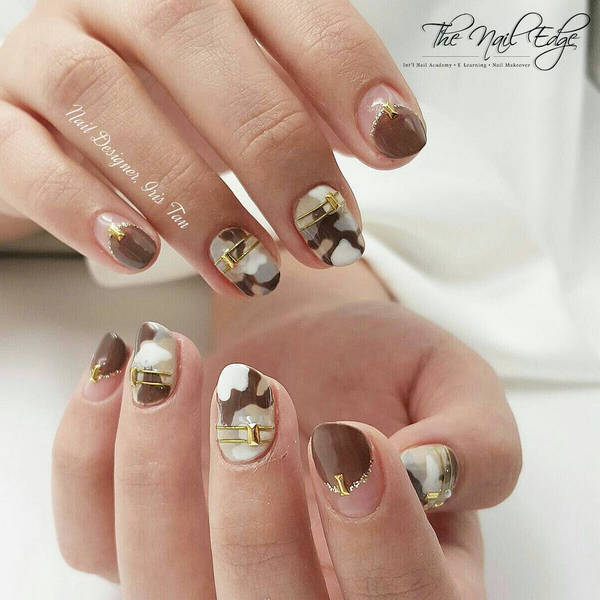 Now, I know some of you might not appreciate this military-inspired design. After all, military designs don't belong in the makeup and beauty world. But the camouflage trend was huge in the fashion world during the past few years, so why not try it on your nails as well?
23. Chocolate and Beige Nails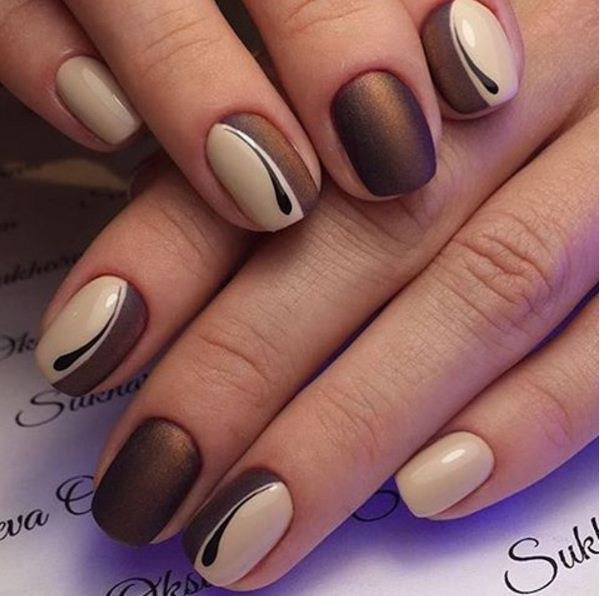 I am a simple person, and I love simple things. In that spirit, I love dual coloration. Think of it as yin and yang in brown and white. Definitely a great design.
24. Stripe Glitter Nails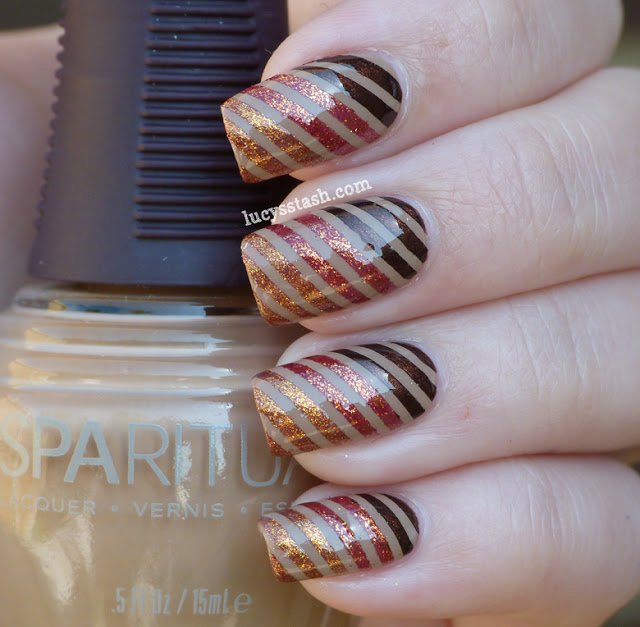 Now doesn't this design remind you of chocolate and candy? I know I think of those Christmas candies immediately.
25. Chocolate Gold Dip Nails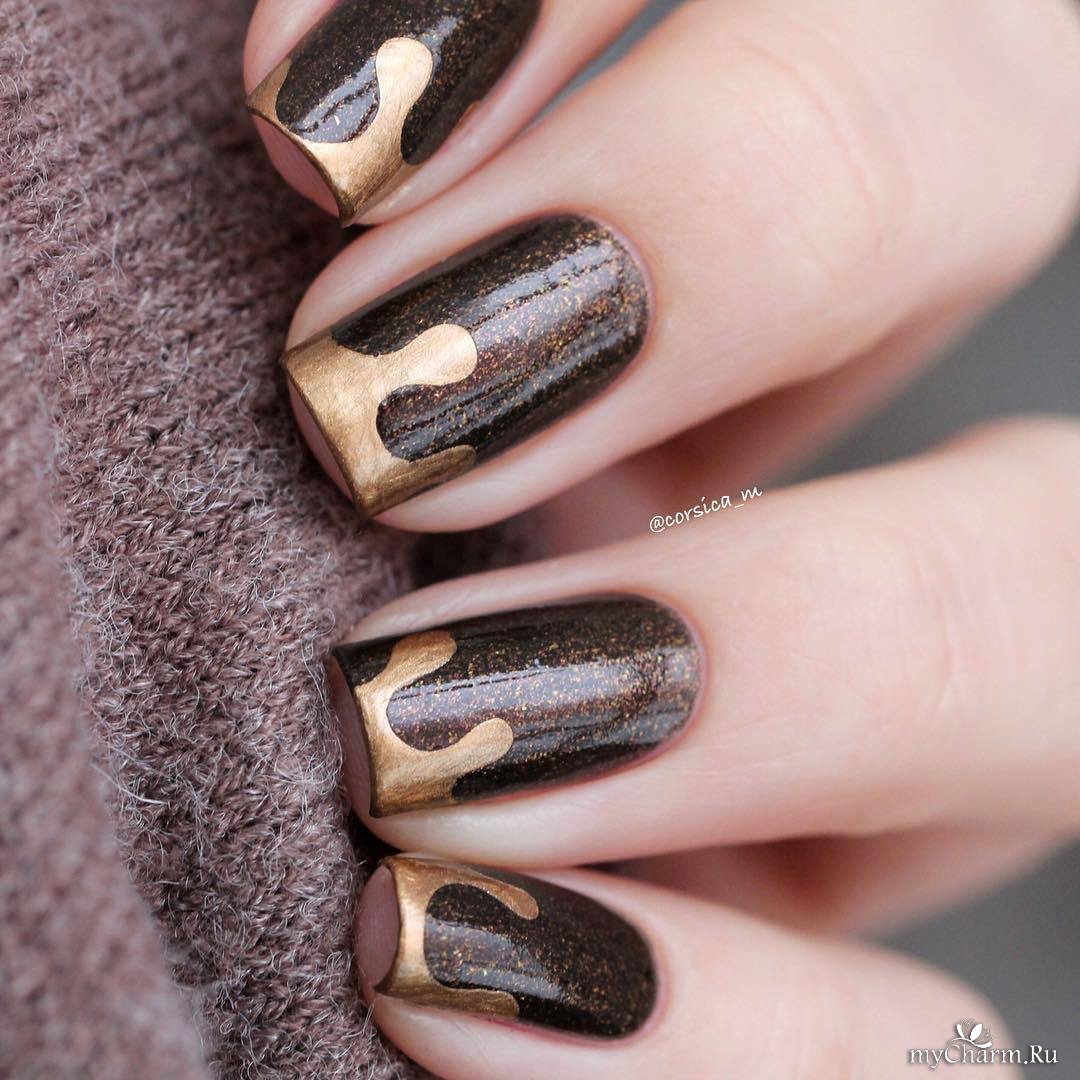 I've already mentioned that chocolate brown is the perfect base for gold. This is a different take on that coloration. It looks like you've dipped your nails in gold.
26. Chocolate Mocha Nails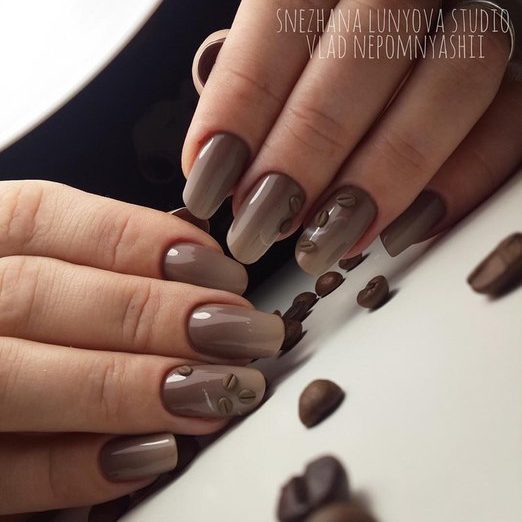 Well, you can't say that chocolate and coffee don't go hand in hand. I know a few people who really appreciate a chocolate flavor to their coffee.
27. Brown with Gold Glitter Nails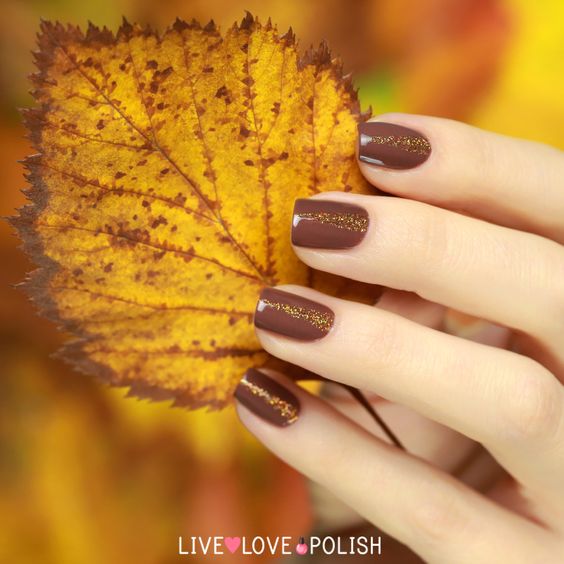 Yep, the autumn leaf is a perfect example of this design's appearance. I know many people prefer spring to autumn, simply because it's sunnier. But autumn has some of the best, most beautiful colors. Now you can have those colors on your nails!
28. Stripes and Swirls Chocolate Nails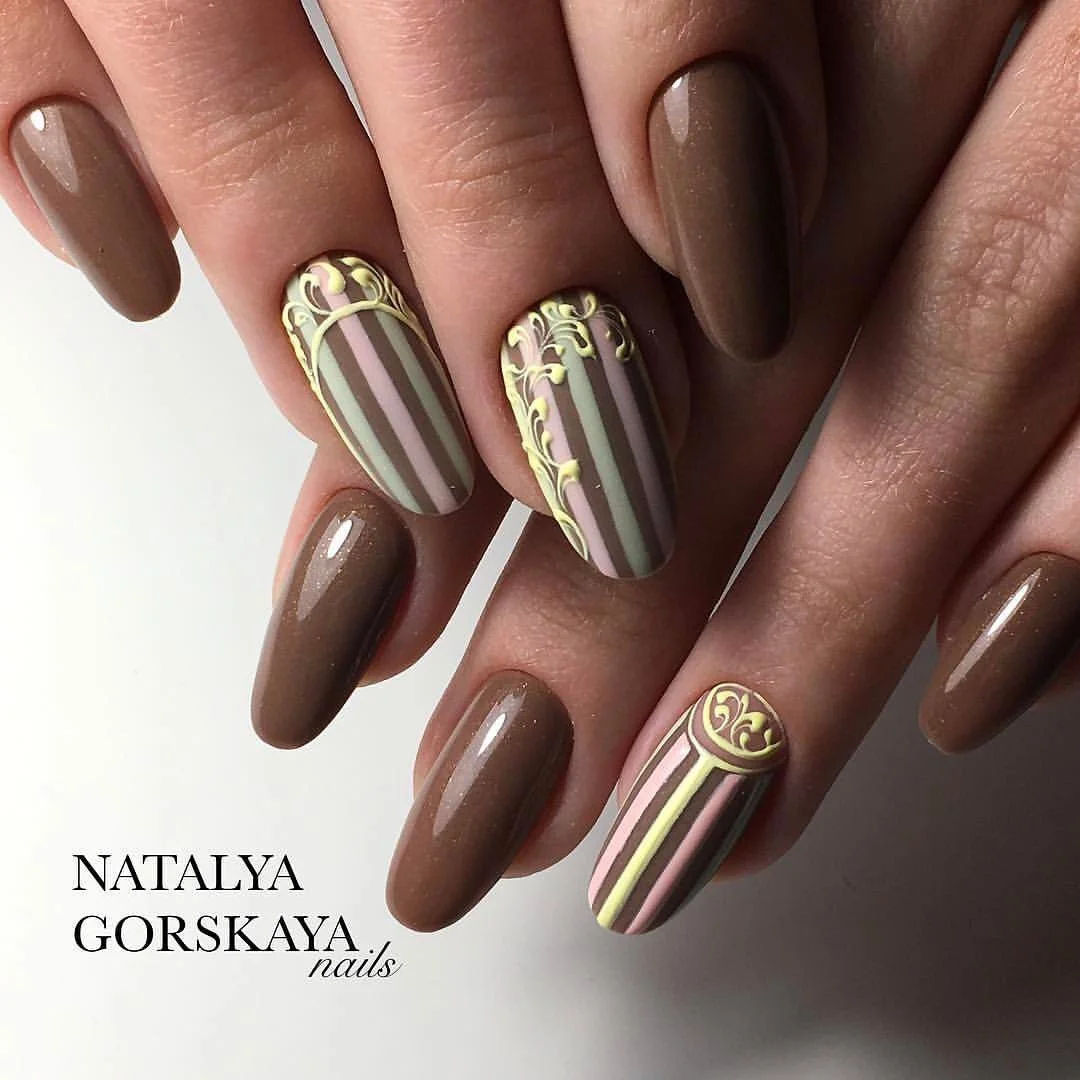 We had stripes. And we had swirls. So why not combine those two in a perfect mixture?
29. Matte Chocolate Nail with Heart Design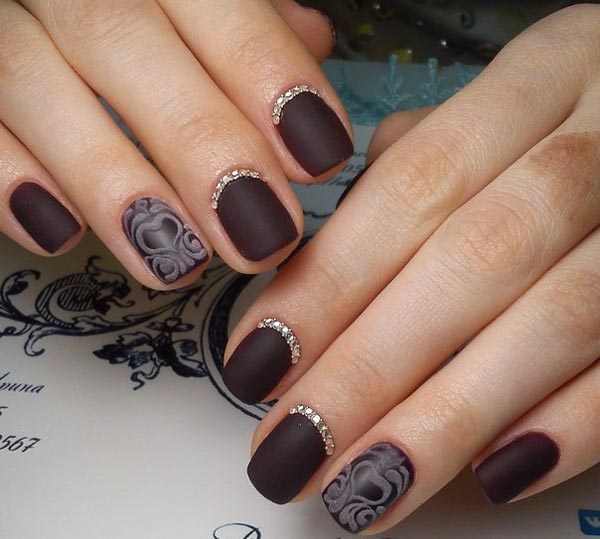 Some people will notice the heart first. But I'm more attracted to those diamonds that look like a ring on your finger. Well, we all notice different things.
30. Dark Chocolate Nails with Gold Detail and Beige Script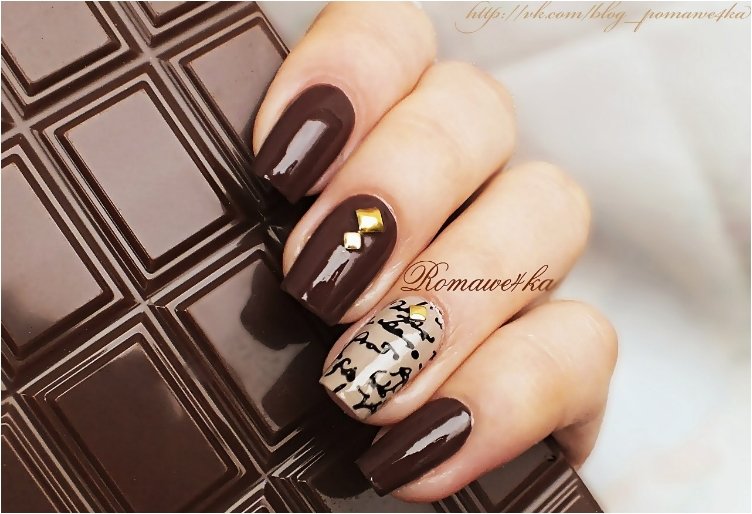 I noted a few times that gold and chocolate brown are a perfect match. That being said, it's only appropriate that we finish off with such a design.
All you ladies can share your chocolate nails in the comments below.