Cut crease makeup is one of the newest and hottest trends in makeup. Just as the name suggests, it is basically a technique used to define the crease by cutting across with a contrasting eyeshadow color. You add little to no blending, and you have the look.
When done properly, a cut crease will completely change your makeup game. It is perfect for those with medium to heavy fold. The makeup technique helps you lift your eyes and make them appear more open.
The best part about the cut crease makeup is its versatility. You can go either way.
For example, you can go for a super soft look, or for a dramatic look. It all depends on your mood. And when you are new into this technique, we recommend you keep the intensity to the outer corner of your eyes.
With that in mind, we have gathered a couple of ideas to help you get started.
#1. Orange Smokey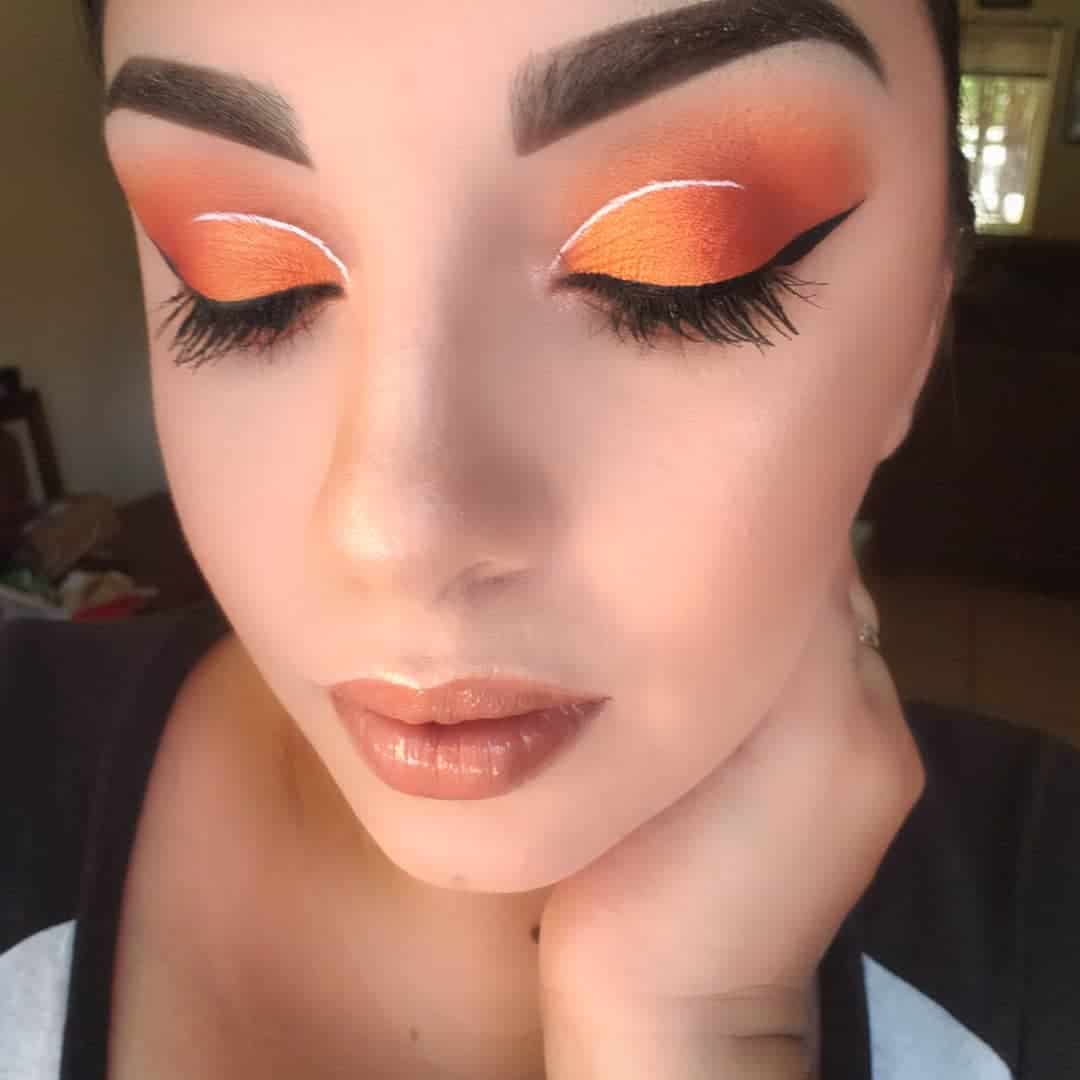 We start you off with a makeup look that combines two of the popular trends. One is the cut crease makeup look, and of course, the never-out-of-fashion smokey eyes. We think a dramatic orange color will give you a warm look, that goes well with some dark outfit.
#2. Full Blue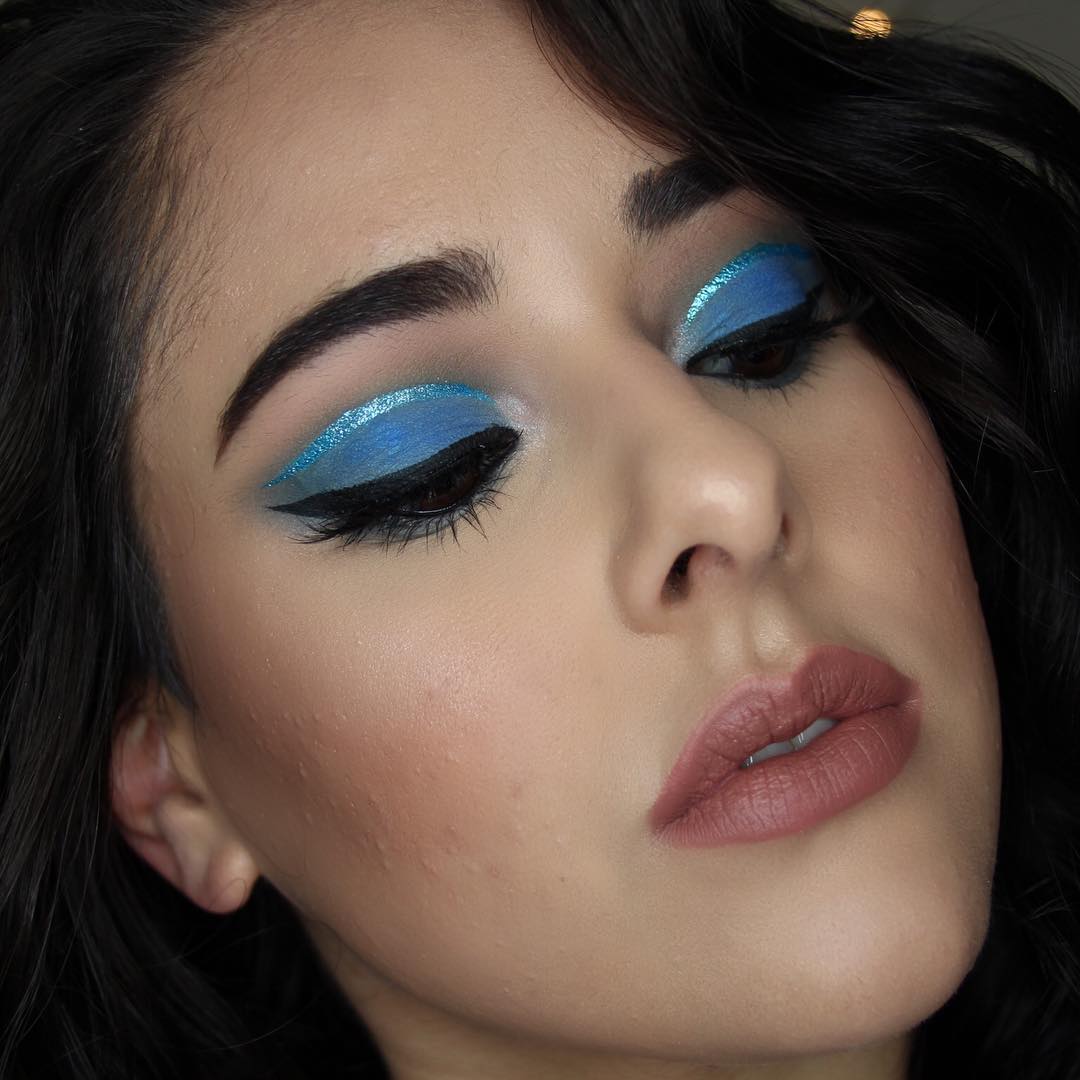 As we mentioned in the introduction to the cut crease look, the trick is to cut the crease with an opposite color. But sometimes, you can blend in two colors, and use the shade of the color as the opposite. As you can see here, we have light blue with some glossy blue for a contrast.
#3. Purple And Pink Whiteout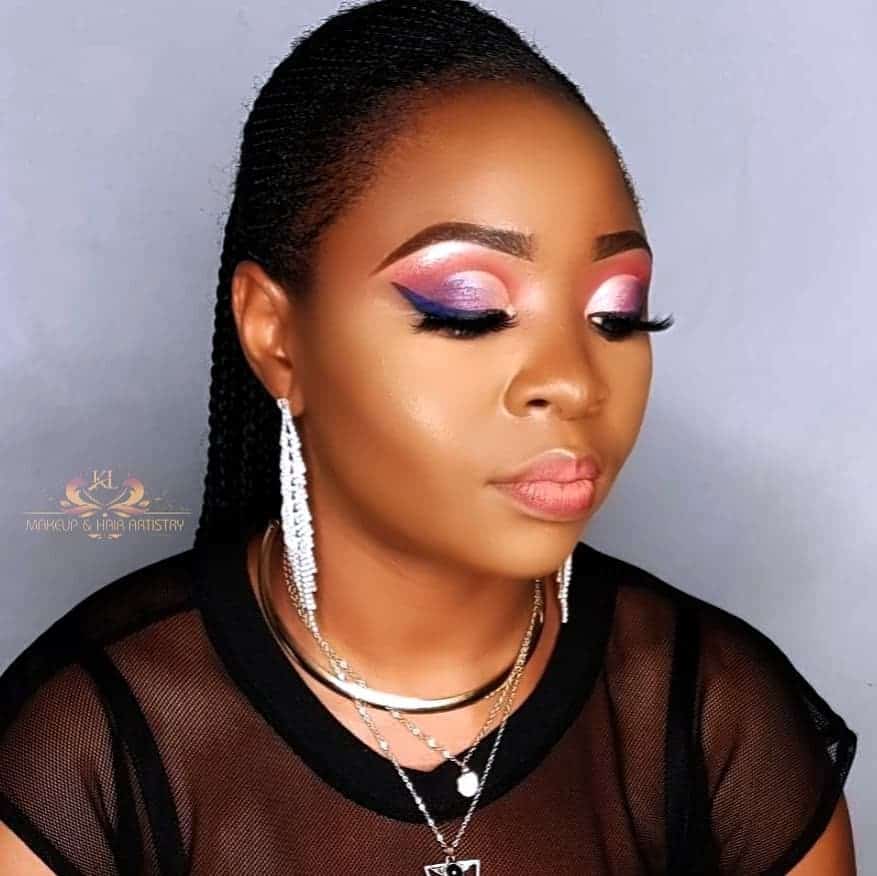 Once you master the technique, you can try some more complicated looks, like this one. It requires a lot more precision, as you have to be careful not to mix the colors. Experiment with simpler looks, and once you are confident in your ability, try something like this.
#4. Golden Black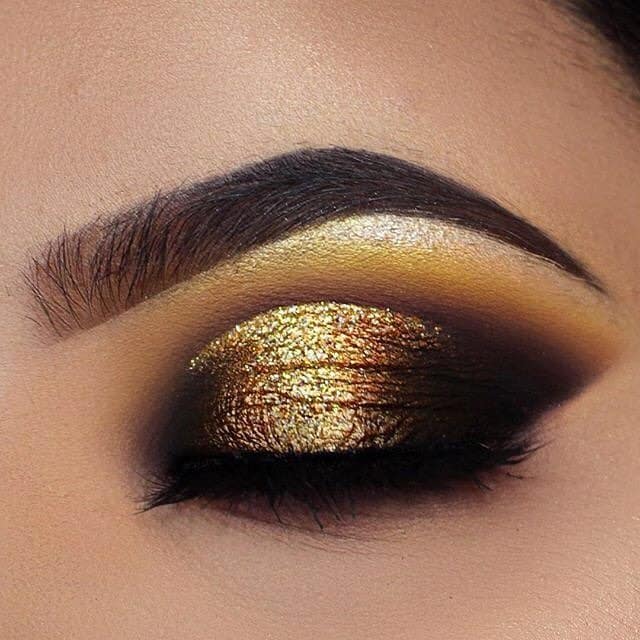 Golden black has been the standard in luxury makeup for a couple of years now. Or as some might say it, it feels like forever. And that is true. Mixing gold and black has been a simple, yet very efficient way to add glamour and luxury. And that applies to everything, not just eye makeup. But here, we give you a very nice way to look dramatic and glamorous. Red carpet here we come!
#5. Glitter Smokey Glitter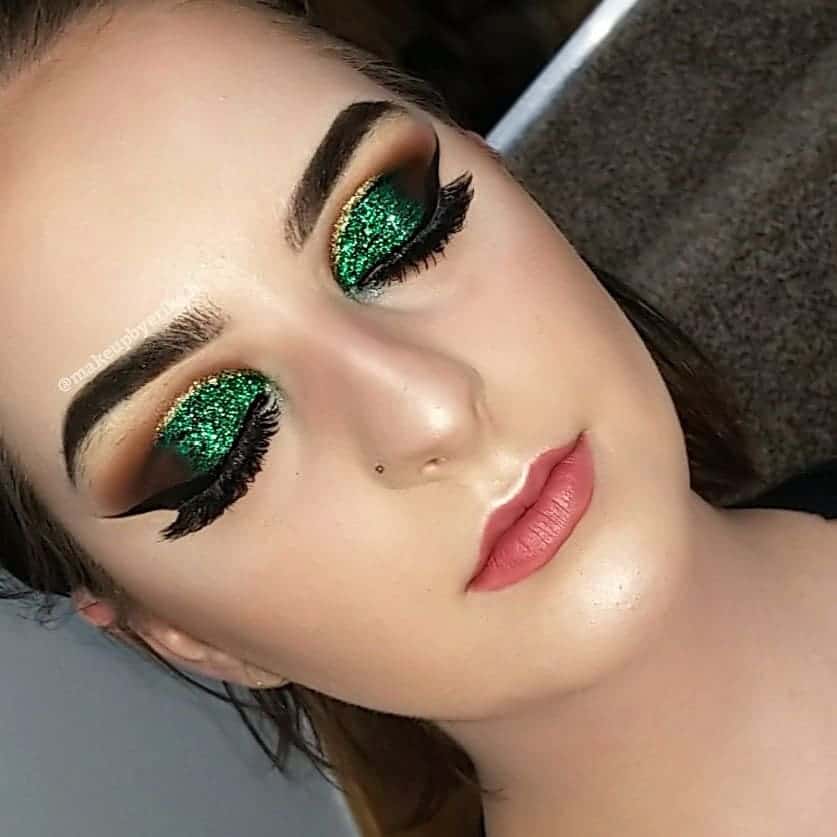 Glitter is another way you can use it to make your cut crease makeup stand out of the crowd. Want something sparkling, but you are not so sure about a glittery dress? Well, add glitter to your eyes to go with your little black dress.
#6. Halo Cut Crease Blue And Purple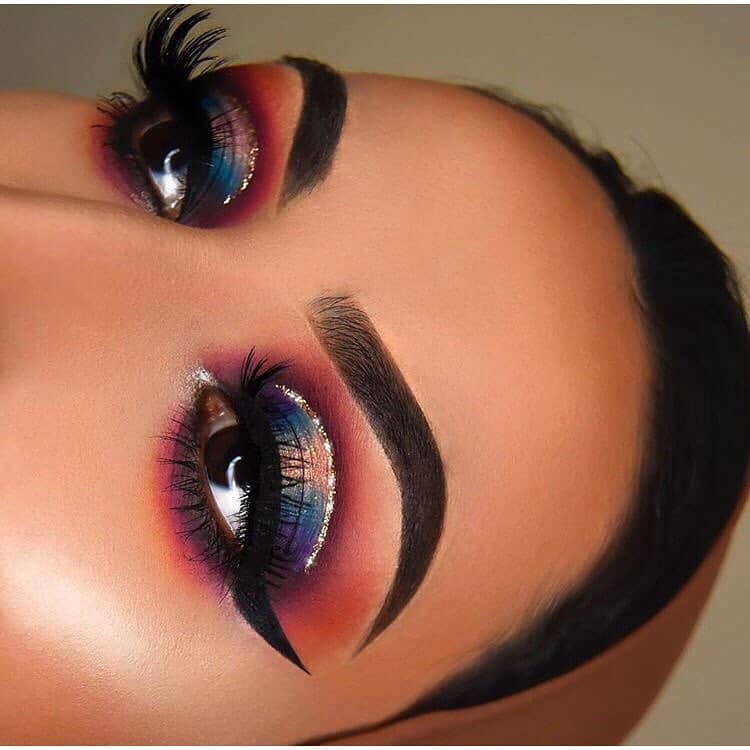 This is another of those complicated and not so easy to master looks. As you can see, we play with a couple of colors, but each one has a clear and defined line. That is the hardest part.
#7. Summer Sunset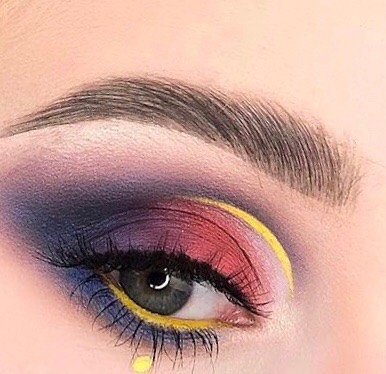 Who doesn't love the colors of a summer sunset? It is arguably one of the best sunsets in the year. Those orange, yellow, and red colors just match perfectly. And if you are craving for the summer, show it on your eyes.
#8. Peacock Vibes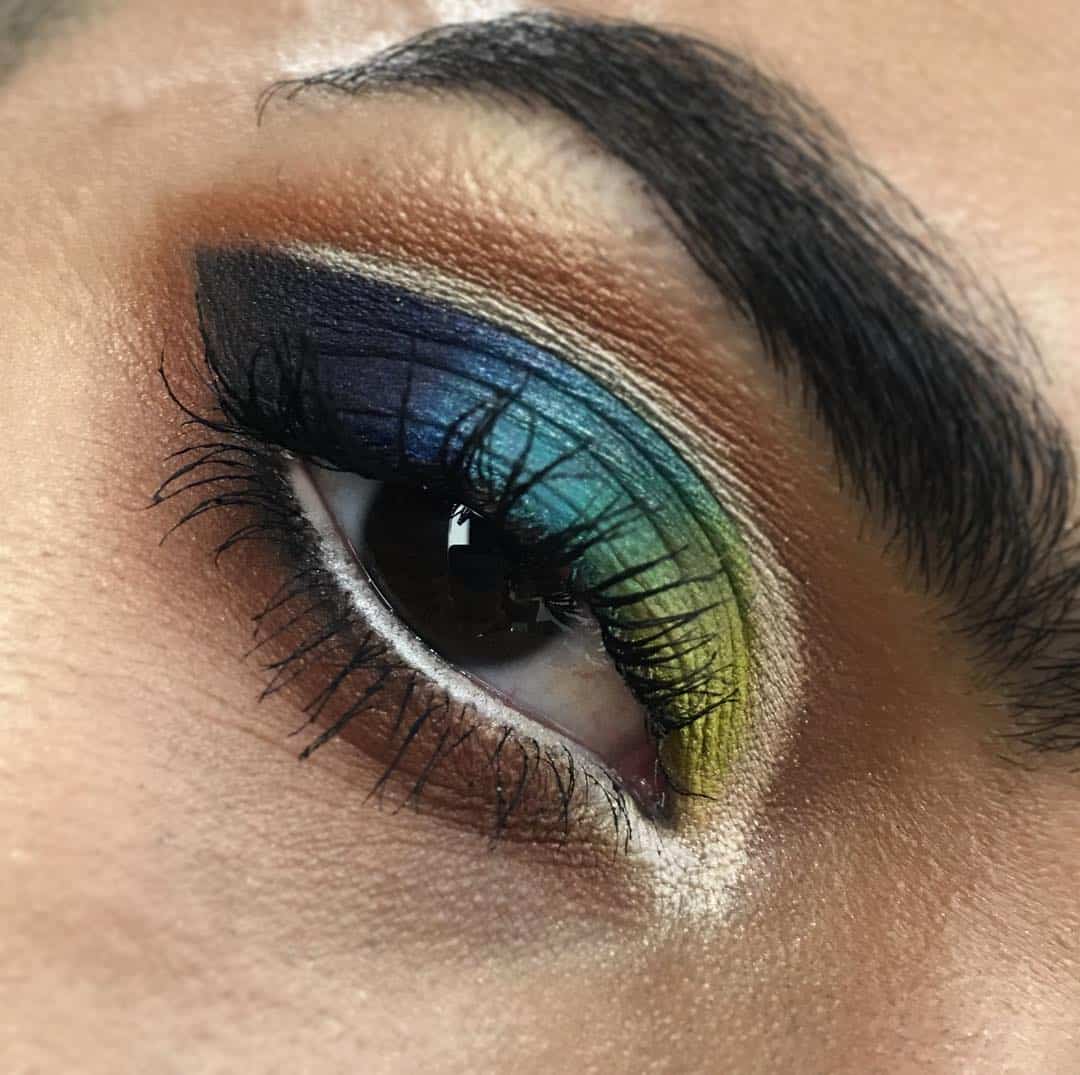 Another look that you absolutely must try is the peacock look. The timeless look is one that will give you applause for sure. And it works wonderfully for a formal event.
#9. Icy Blue And White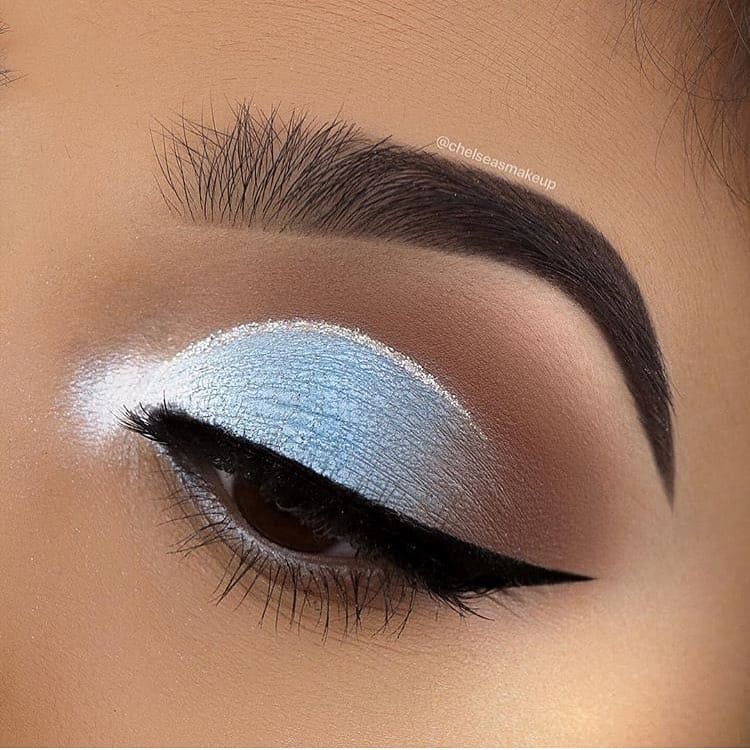 Do you want to be a ice princess? Here you have the makeup look that will go perfectly with your Elsa dress. Ice princess or not, the blue and white is great contrast, and adds subtle drama to your outfit.
#10. Pink Smokey With Gold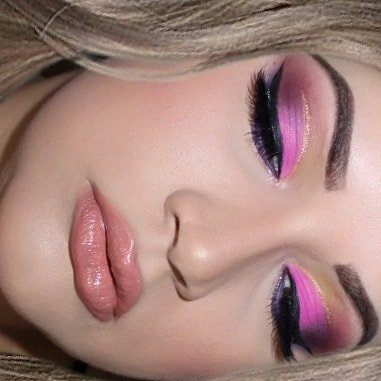 We are long pass the days when smokey eyes could be done only with black or dark brown eyeshadow. Nowadays, every color is suitable for smokey eyes, including the very light pink. Add some gold for a touch of glamour, and you are ready to go.
#11. Natural Tone Glam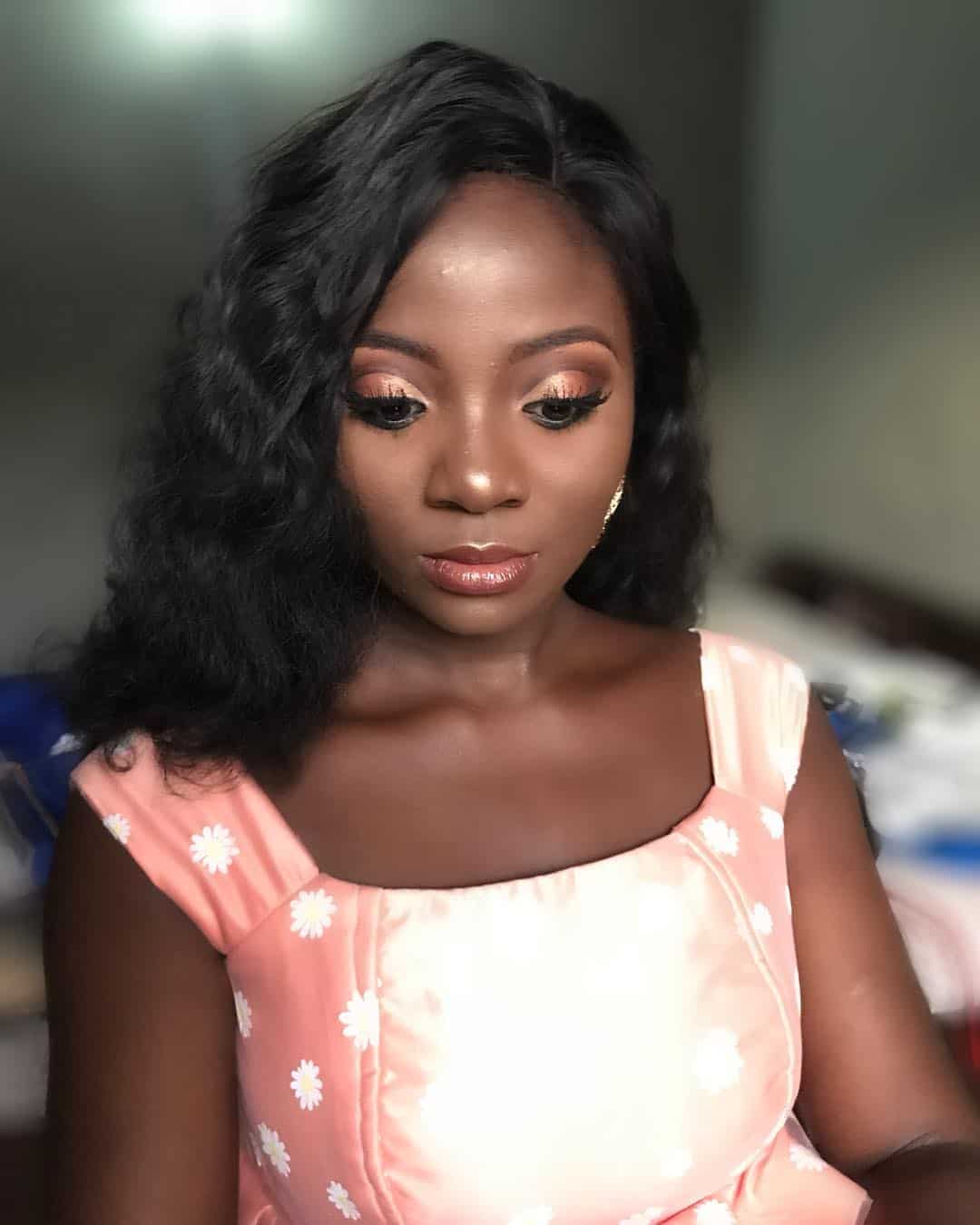 We mentioned at the beginning that the beauty of cut crease makeup is versatility. You can use it for almost any look you want to achieve. And if you want to look as natural as possible with skin tones of your eyeshadow, you can do that as well. Be our guest.
#12. Mother Nature Colors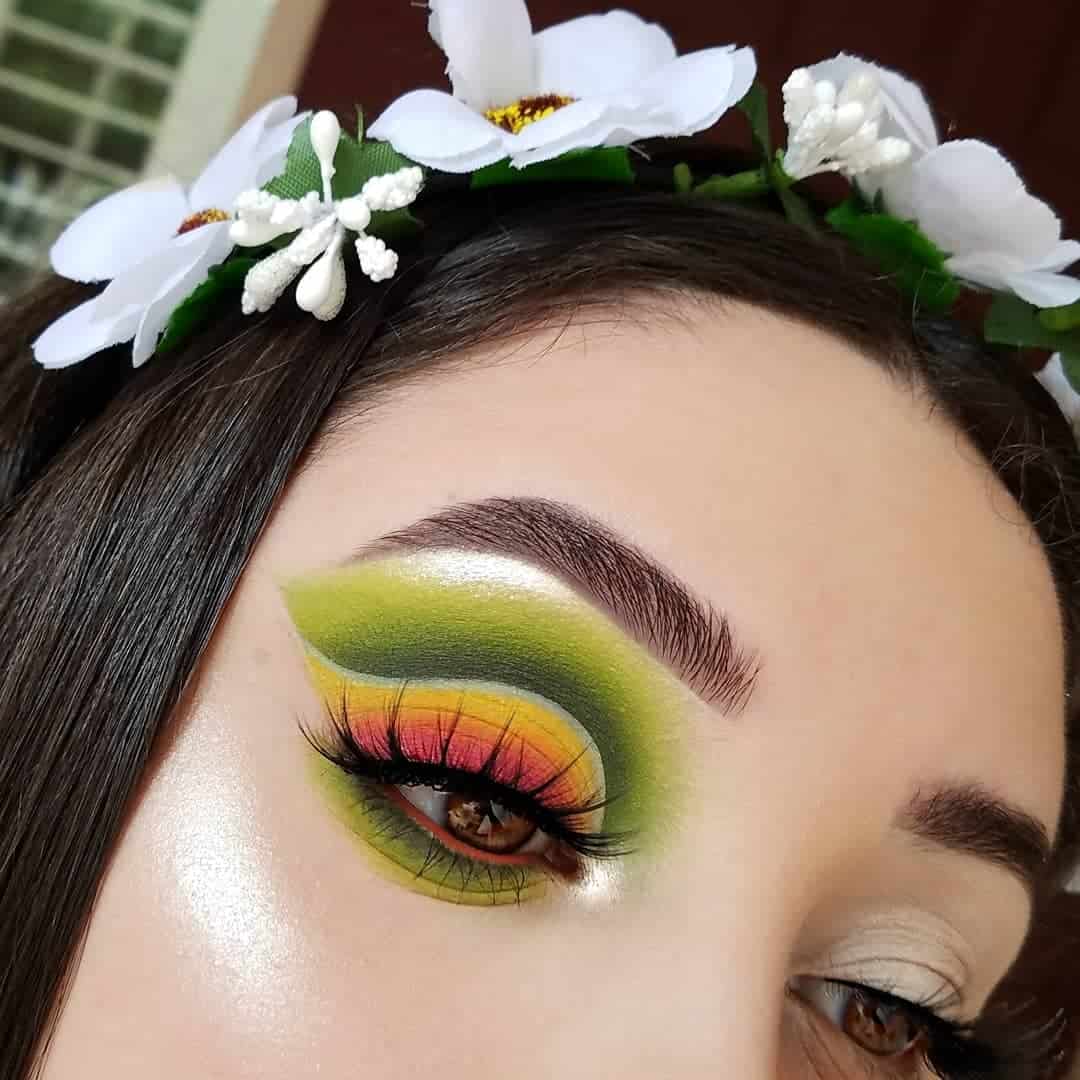 Speaking of natural look, why not be one with the nature? Go for the tones Mother Nature gave us, like yellow for the sun, green for the trees, and some red. Now, the look might be a bit challenging given there are four or five different colors you need to mix with precision, but it is worth trying.
#13. Pink And Blue Gold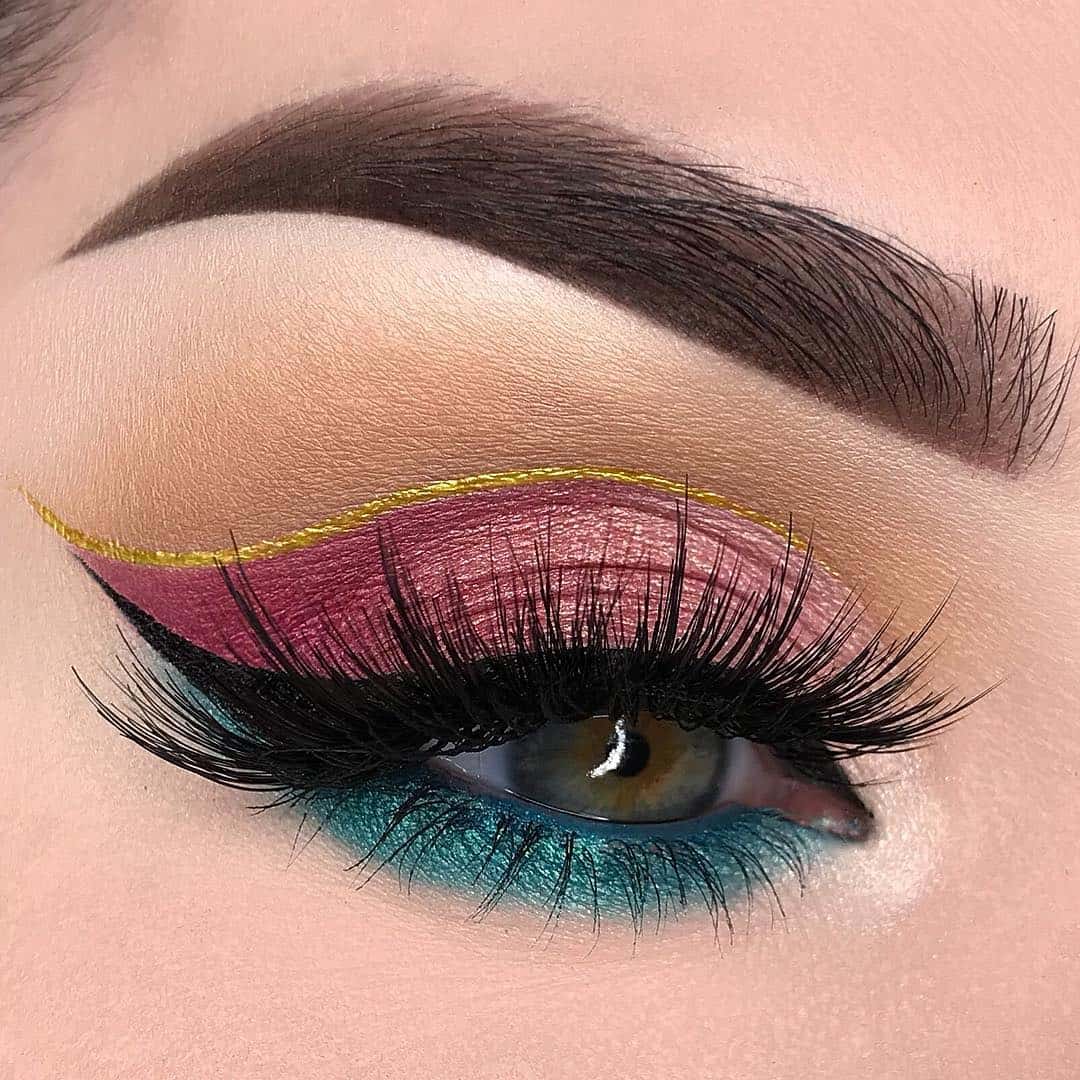 In most cases, when you go for cut crease look, you apply it only to the upper eyelid. Well, why not go a step further, and add some color under your eyes as well. It is a great contrast, and you can easily pull it off with colors that are close in the color palette.
#14. Warm Fall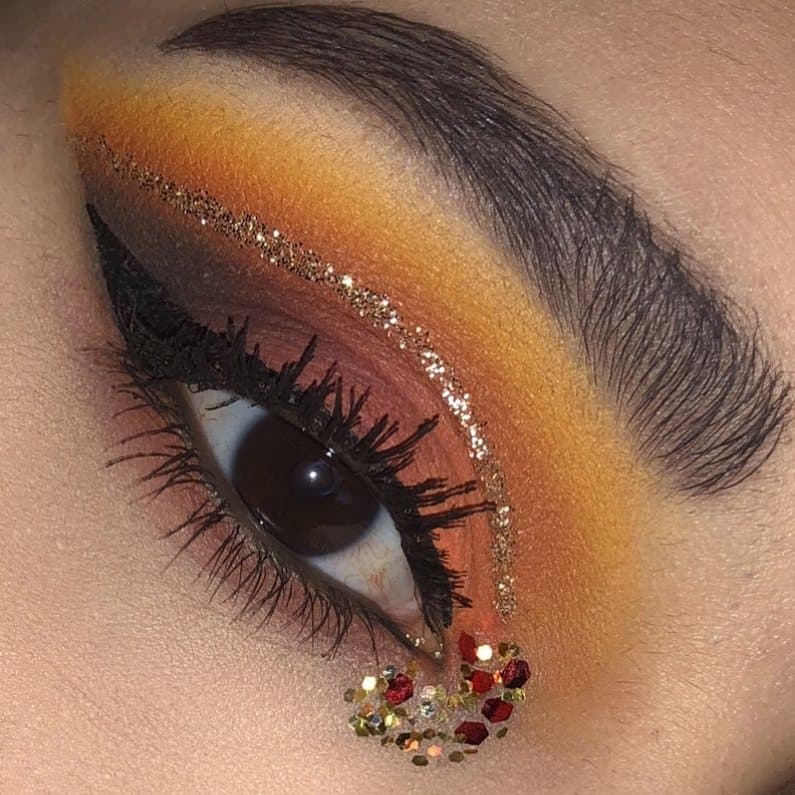 This look instantly reminds us of Thanksgiving. Pumpkin, apples, chestnuts, cinnamon, and some warm tea, and you are set to go. If you want to add some warmth to your look, the colors of Thanksgiving are definitely a great idea.
#15. Black And Blue Mystique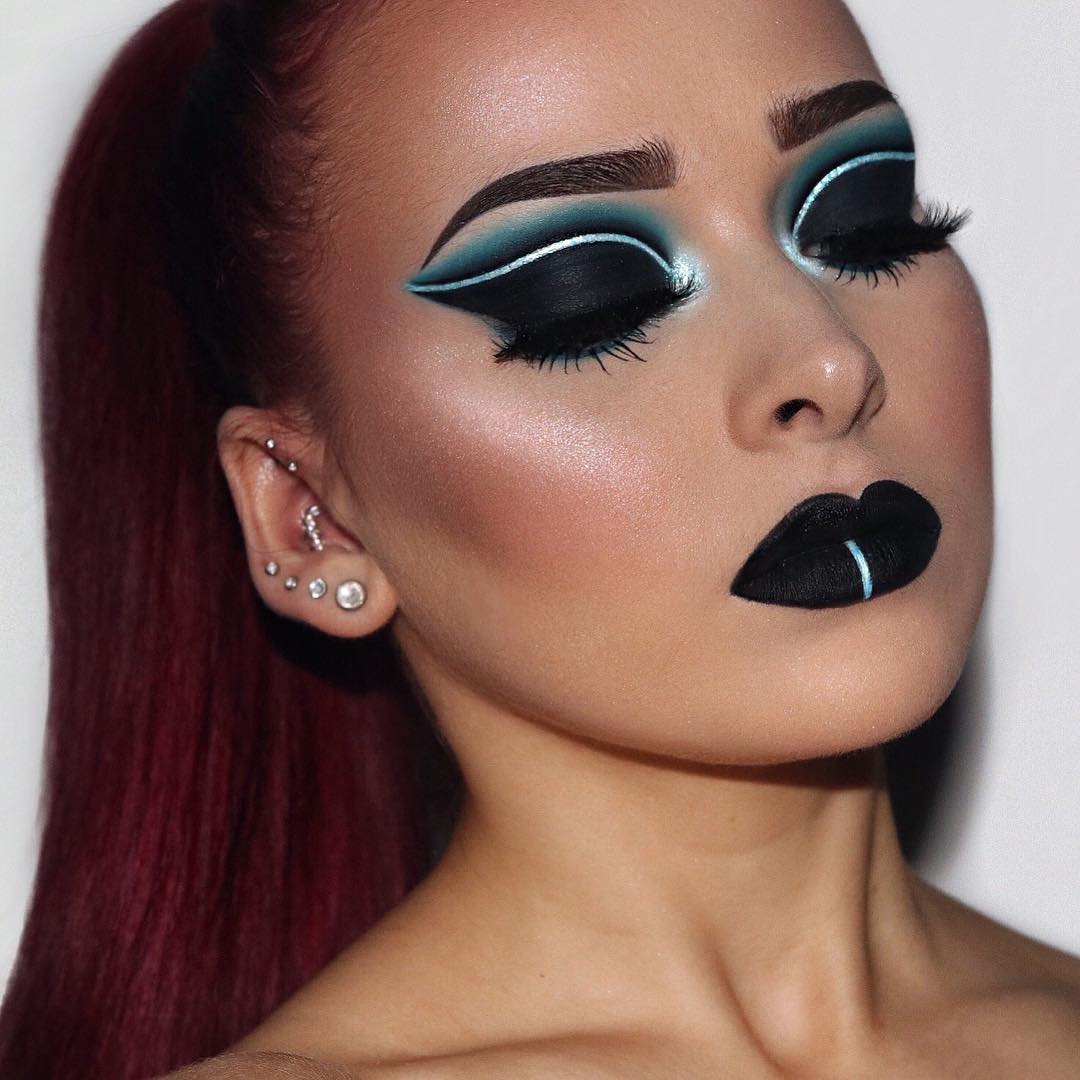 Mystique is a popular comic book character, and if you want to get close to her look, this makeup will definitely do the trick. Want to be a drama queen? Well, we've got the makeup that goes with that attitude.
#16. Fire Gold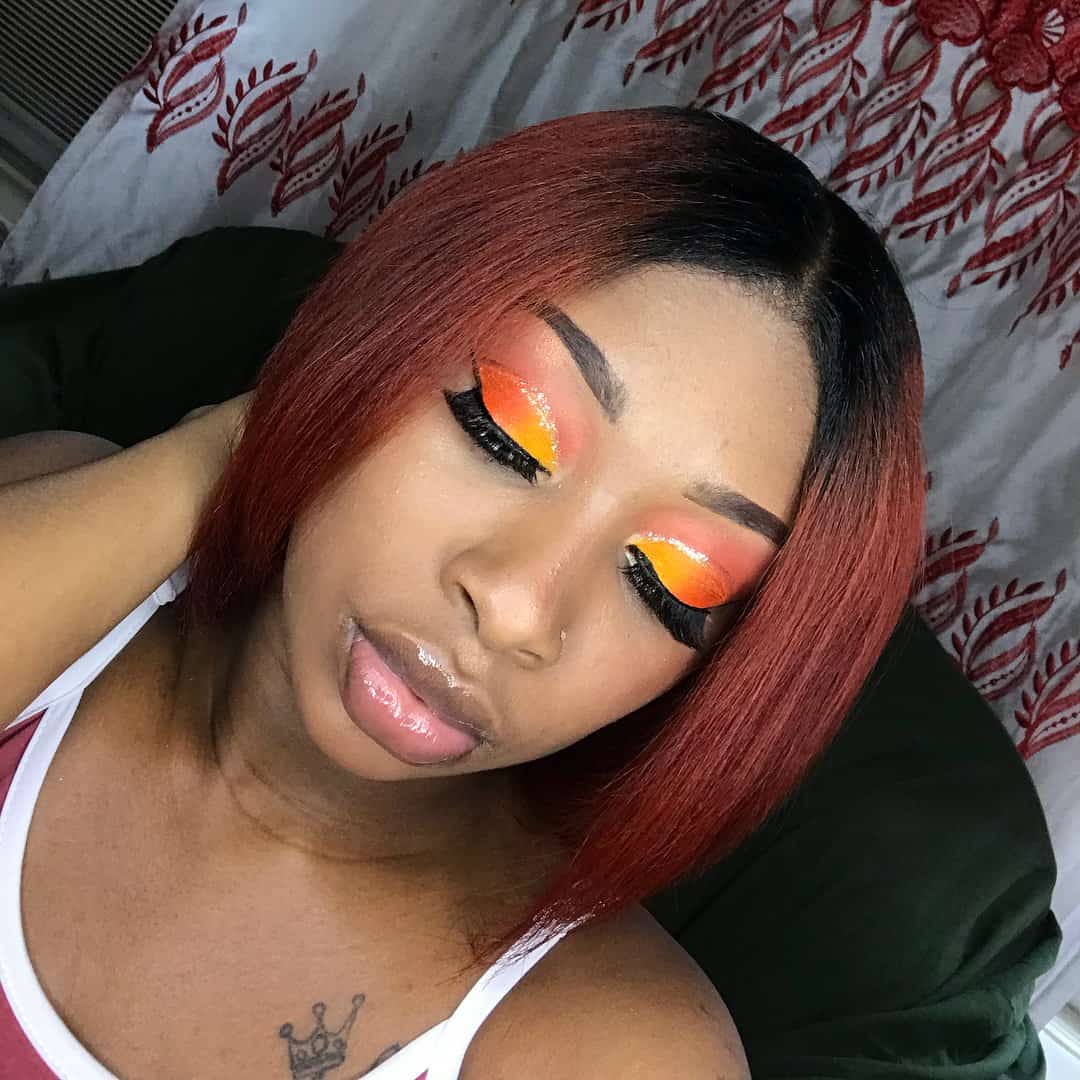 You want to make your eyes pop? Nothing makes that better than a touch of red, orange, and yellow. These colors shine bright like sun and fire, and everyone will be looking at you. Make it worthwhile.
#17. Unicorn Eyes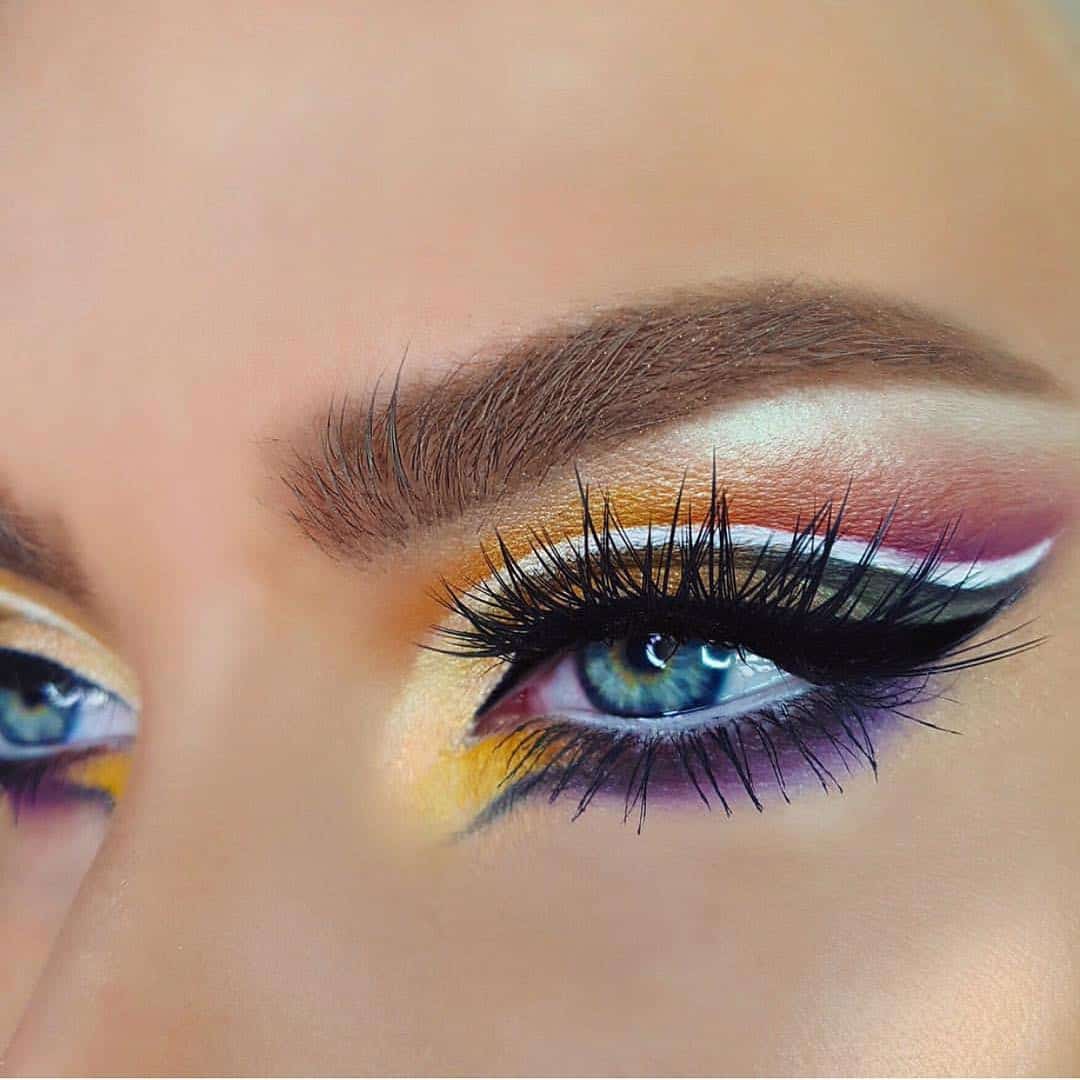 Women often want to look like some mystic and mysterious creatures. Nymphs, unicorns, angels, and so on. Unicorn eyes are perfect makeup when you want to look colorful, but sophisticated in the same time. Elegant look for your evening date.
#18. Beige And Black Glam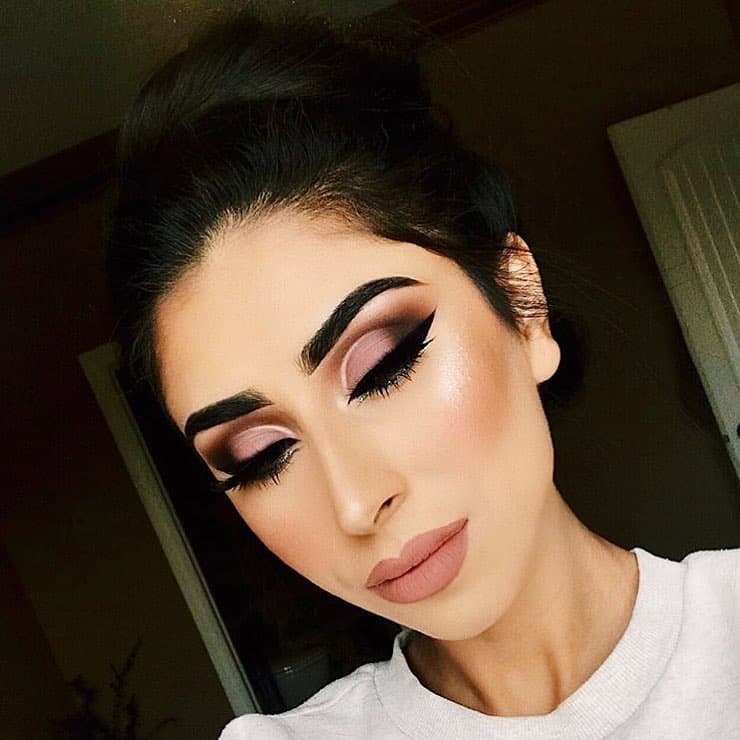 There are many glamorous looks you can try. Gold and black is not the only one. Beige can look just as glamorous, and you give yourself a more natural look.
#19. Blue And Brownish Orange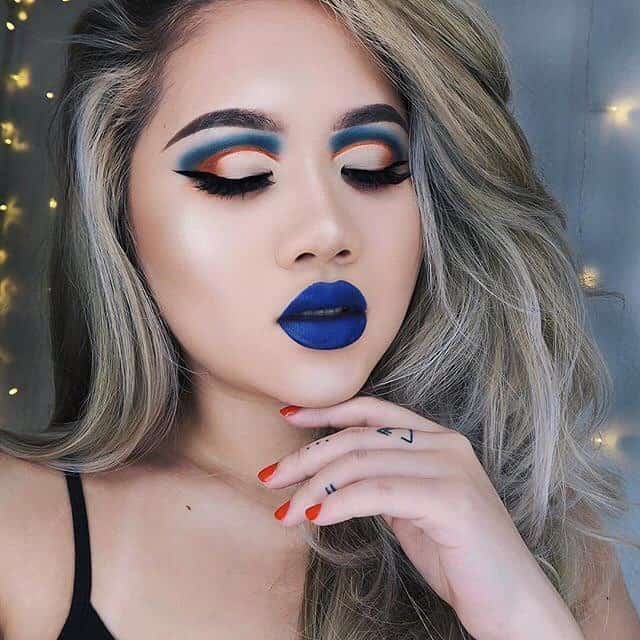 If you are into makeup that looks out of this world, here is an idea you can try. To be fair, you can even use this makeup look for a masquerade party. Definitely dramatic, and looks like you are from another planet.
#20. Hot Summer With White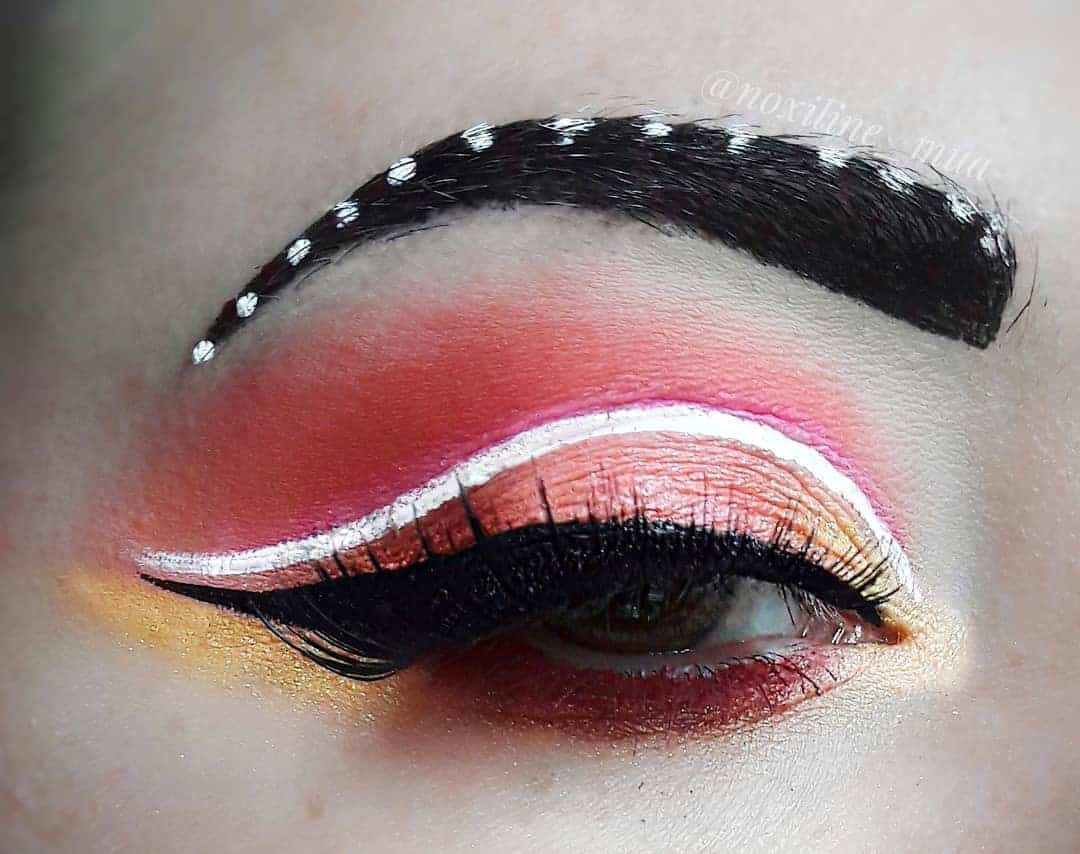 When you look at the sunset in the summer, and the sun is almost gone, there is just a little spot that looks like a radiant white. This look is inspired by that picture.
#21. Sunset Over Ocean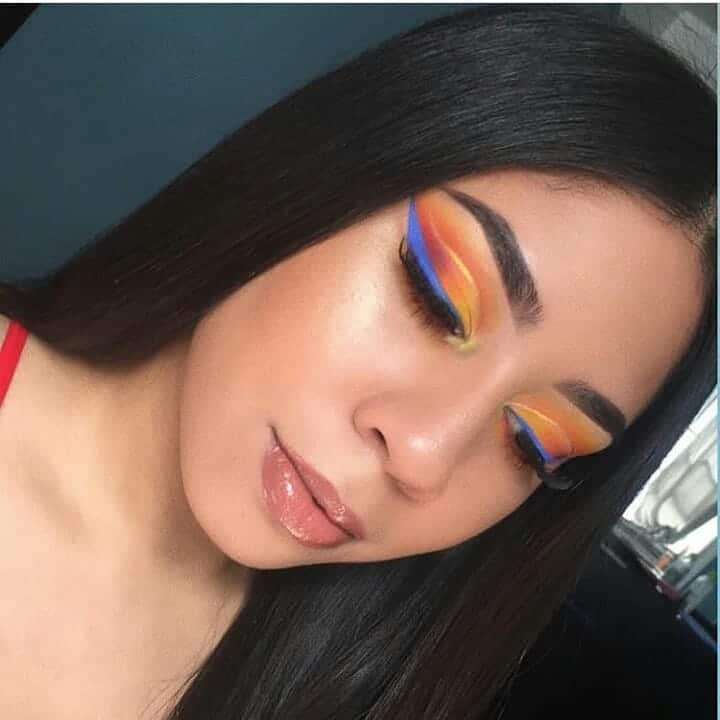 As you can see, we can draw a lot of inspirations from the sunset. Be it a normal sunset, or one over the ocean, you can definitely do no wrong with a sunset cut crease look. We suggest you try the one that works best for your lifestyle.
#22. Magenta Yellow Silver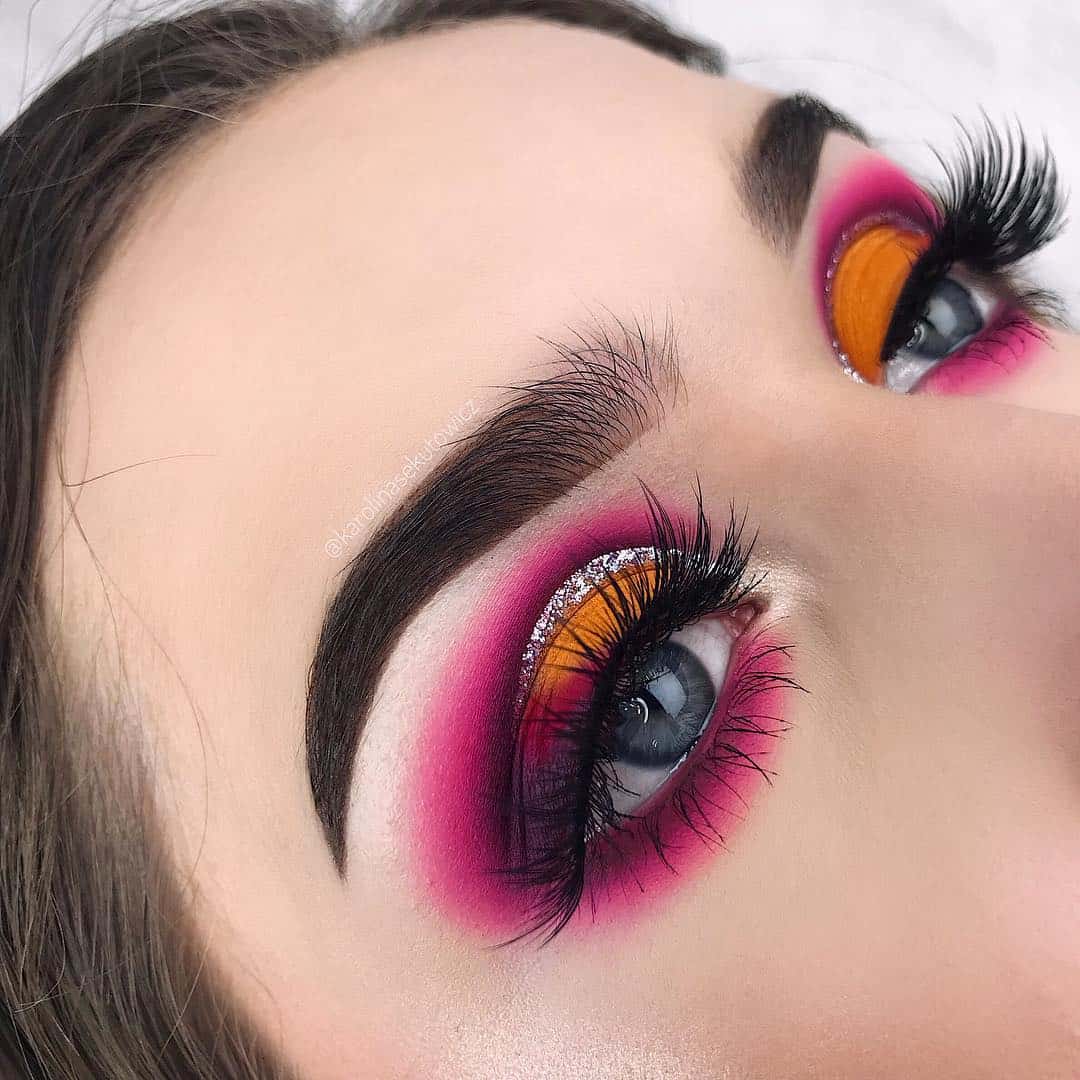 What helped cut crease look get so popular and trendy is this type of look. You have colors that absolutely pop. They are vibrant, intense, and look dramatic. For those of you that want to go back to basics of the look, this is a must try idea.
#23. Emerald Jewel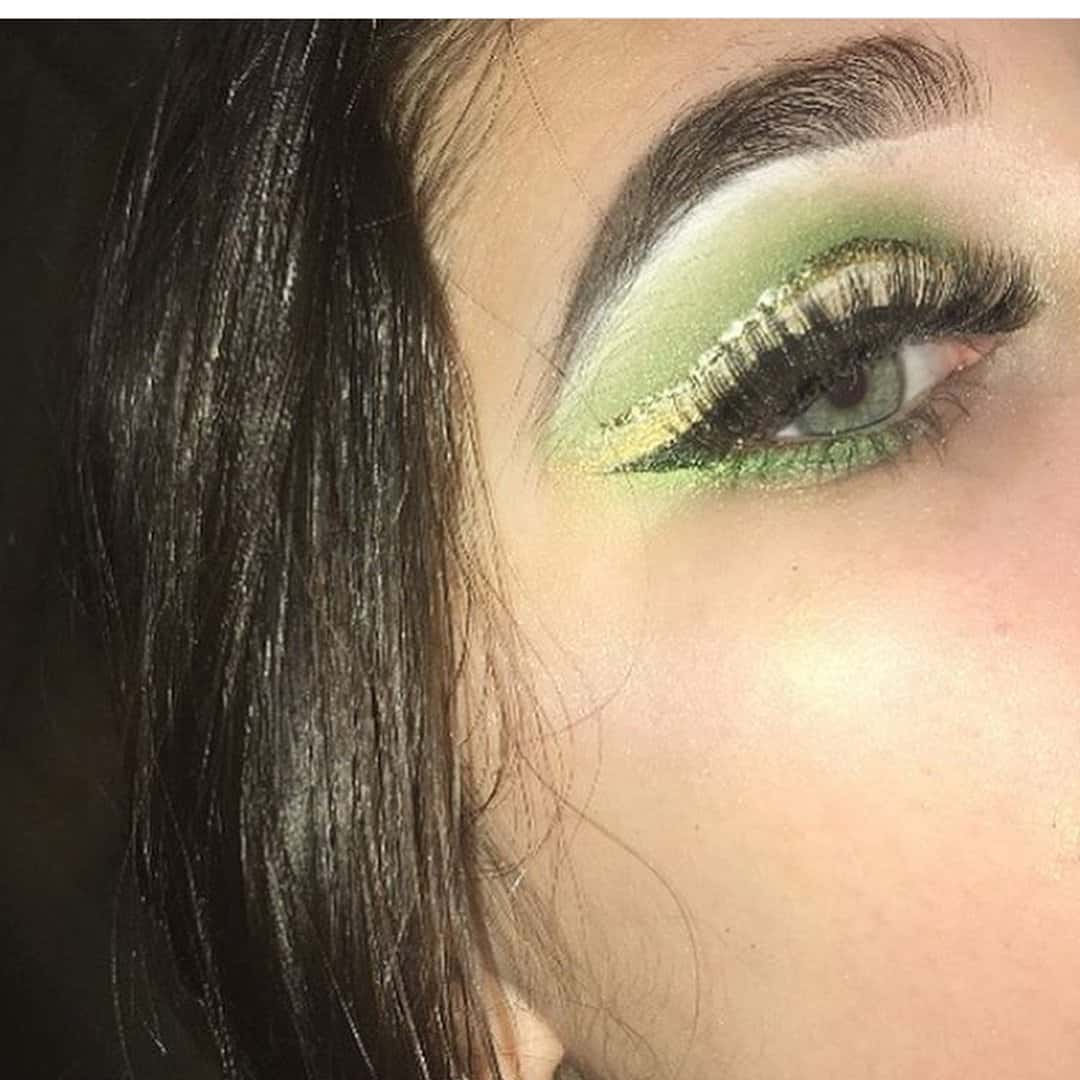 The beauty of cut crease is that it can look dramatic, and subtle in the same time. It depends on your mood, and what you want to achieve. If you are in for a subtler look, green is a good color. After all, green is light and does not pop in most cases.
#24. Baby Pink And Brown Cut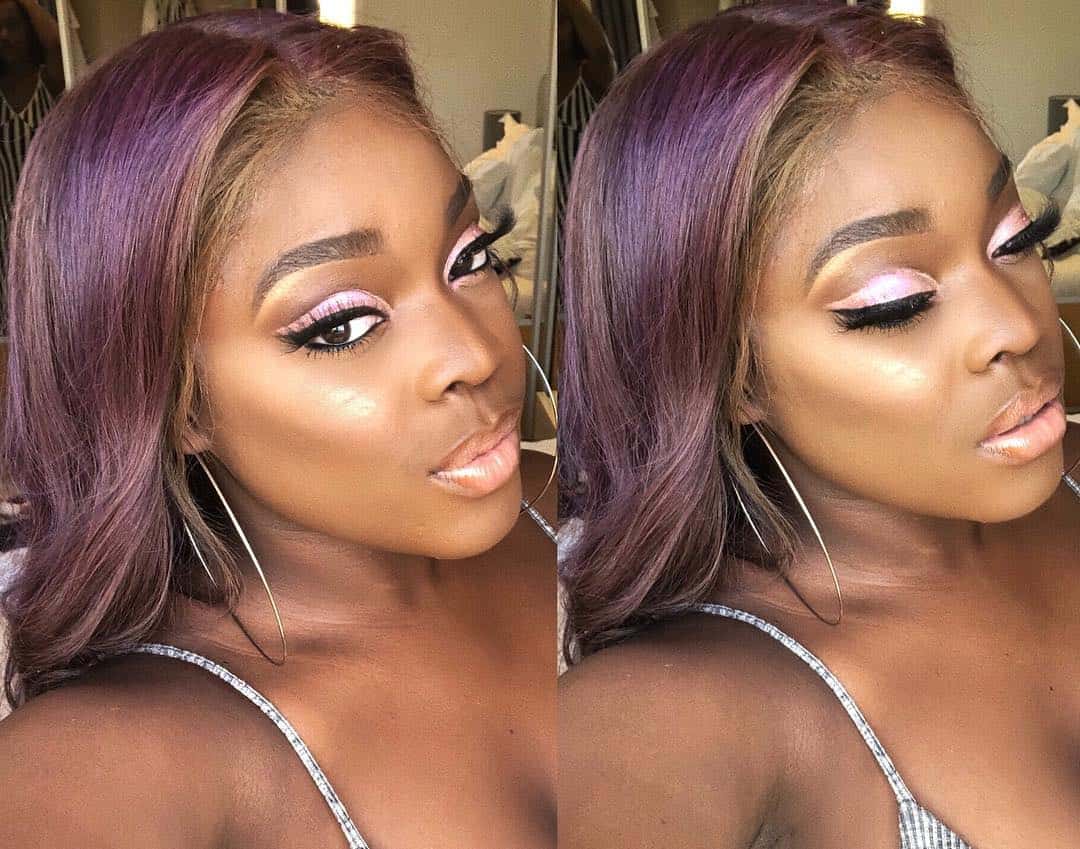 We've seen a rise of popularity in baby colors. From baby pink to baby blue. It is a color that makes you look younger, and more like a teenager. You can definitely shed a couple of years of your resume with this look.
#25. Black With Neon Pink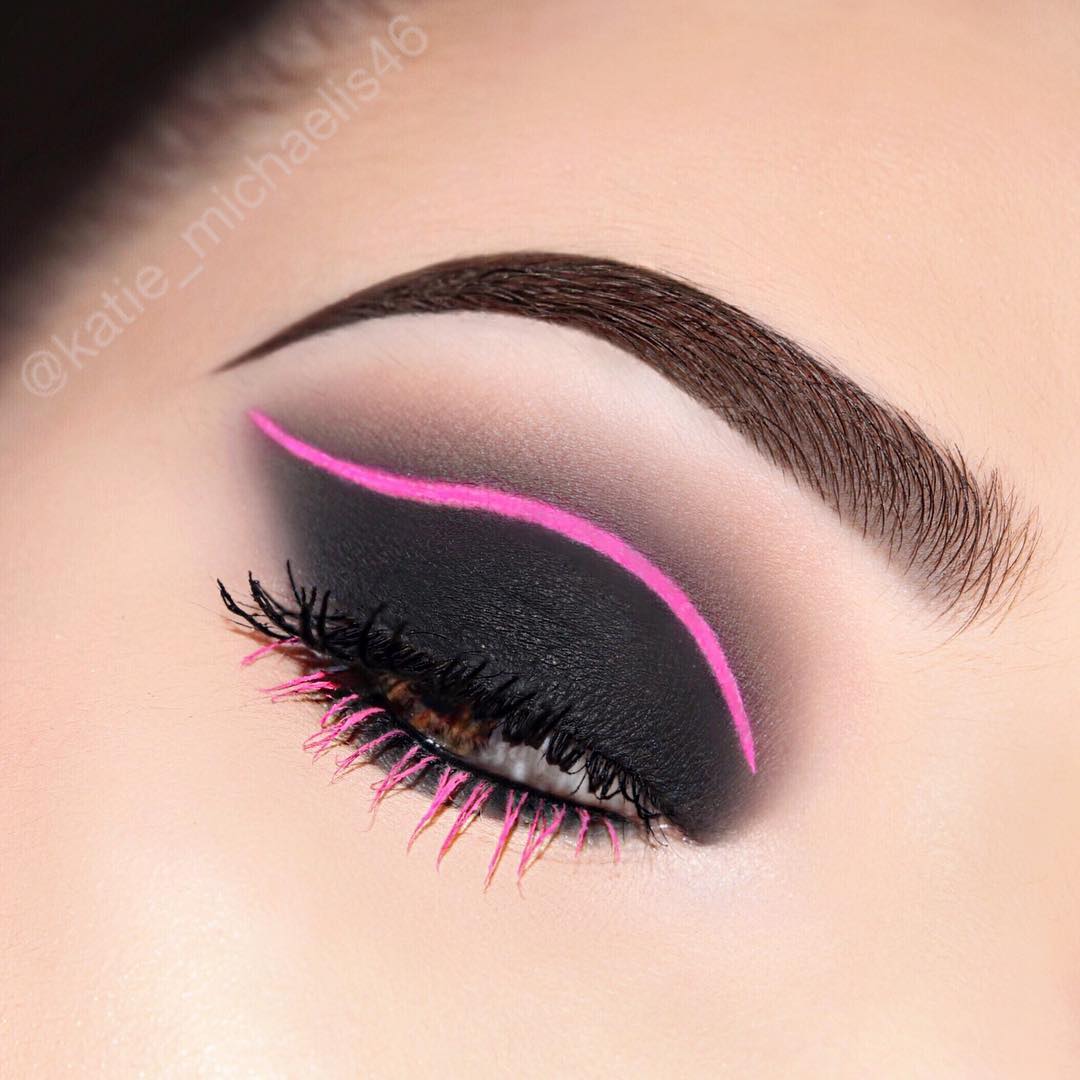 Black is a color that works great in any combination. Be it a dramatic color when the complimentary color pops, or in a subtler matte look, black is timeless. Here, for example, we go for a pink that just cries for attention.
#26. Bright Yellow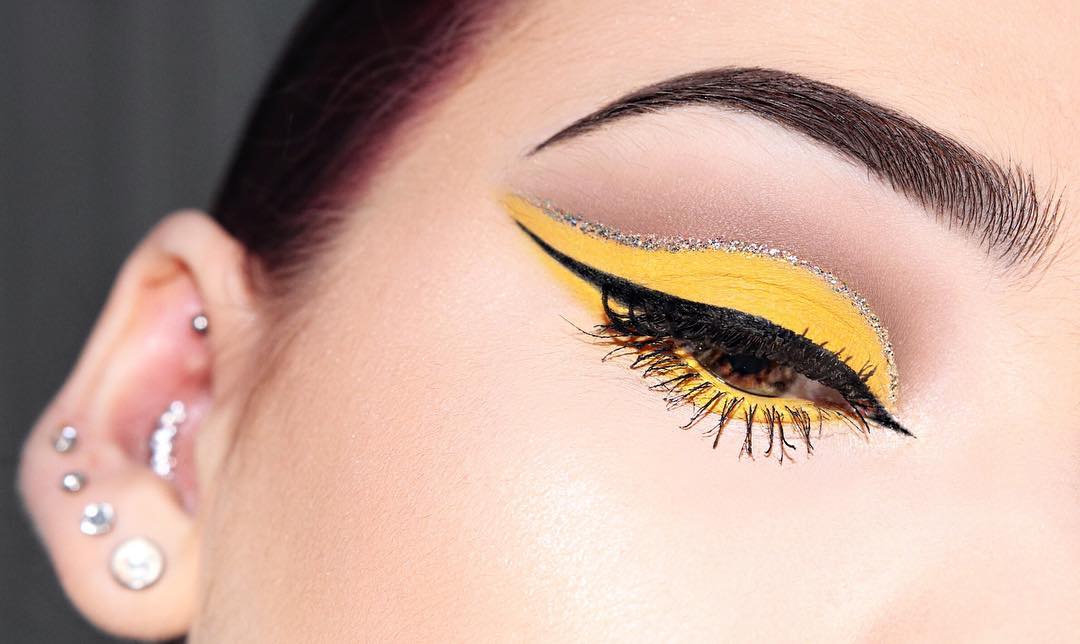 We talked how this type of makeup is what made cut crease popular. Yellow is one of the most used colors in cut crease ideas, and we want to give you one that is absolutely all about yellow. Bring the sun to your eyes.
#27  Naked Eyeshadow With Neon Yellow Line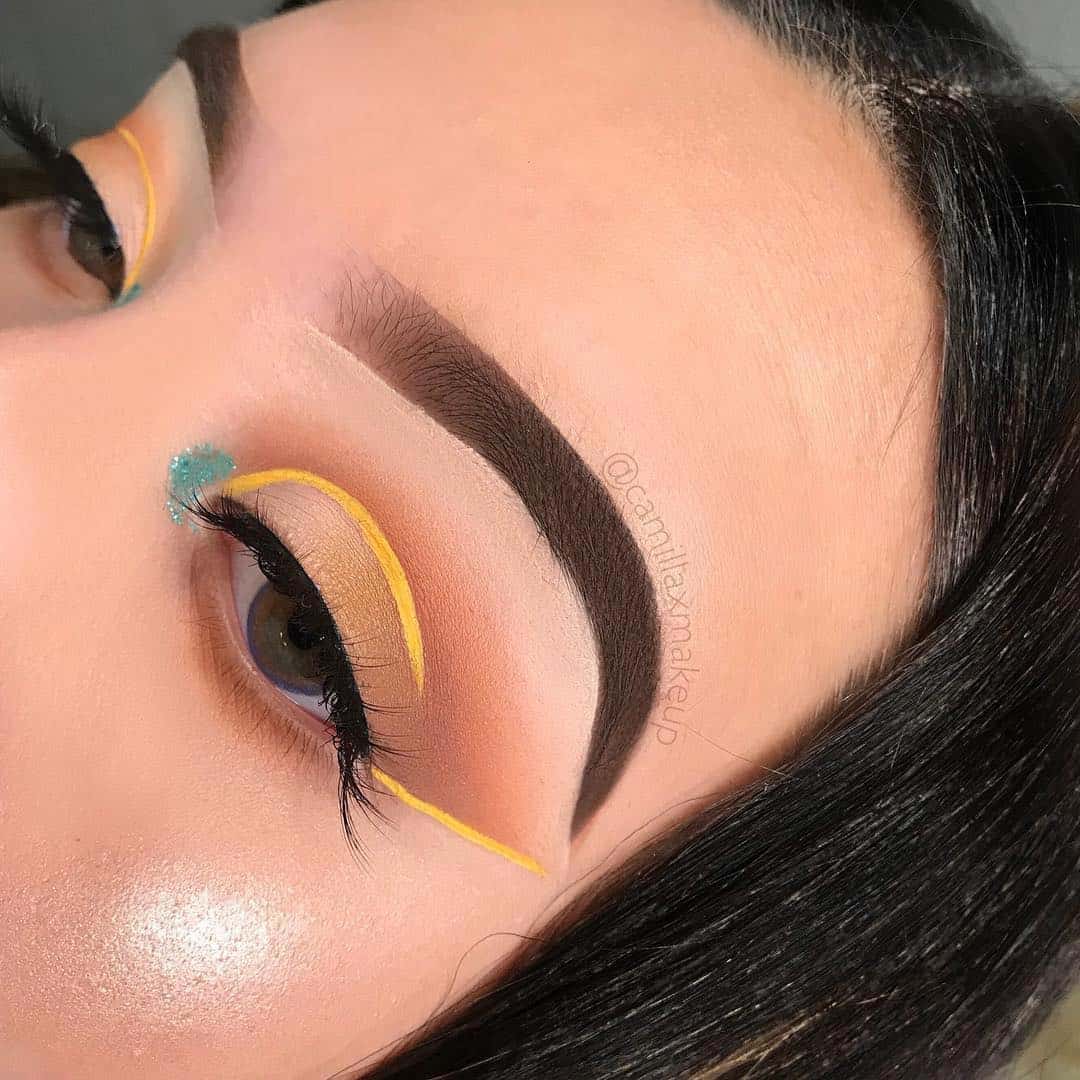 One of the popular trends in makeup in the past few years is "naked makeup". Even celebrities are following. The trend calls for no makeup. Well, if you want to put makeup, but still get close to the trend, here is an idea that will work.
#28. Semi Cut Brown Smokey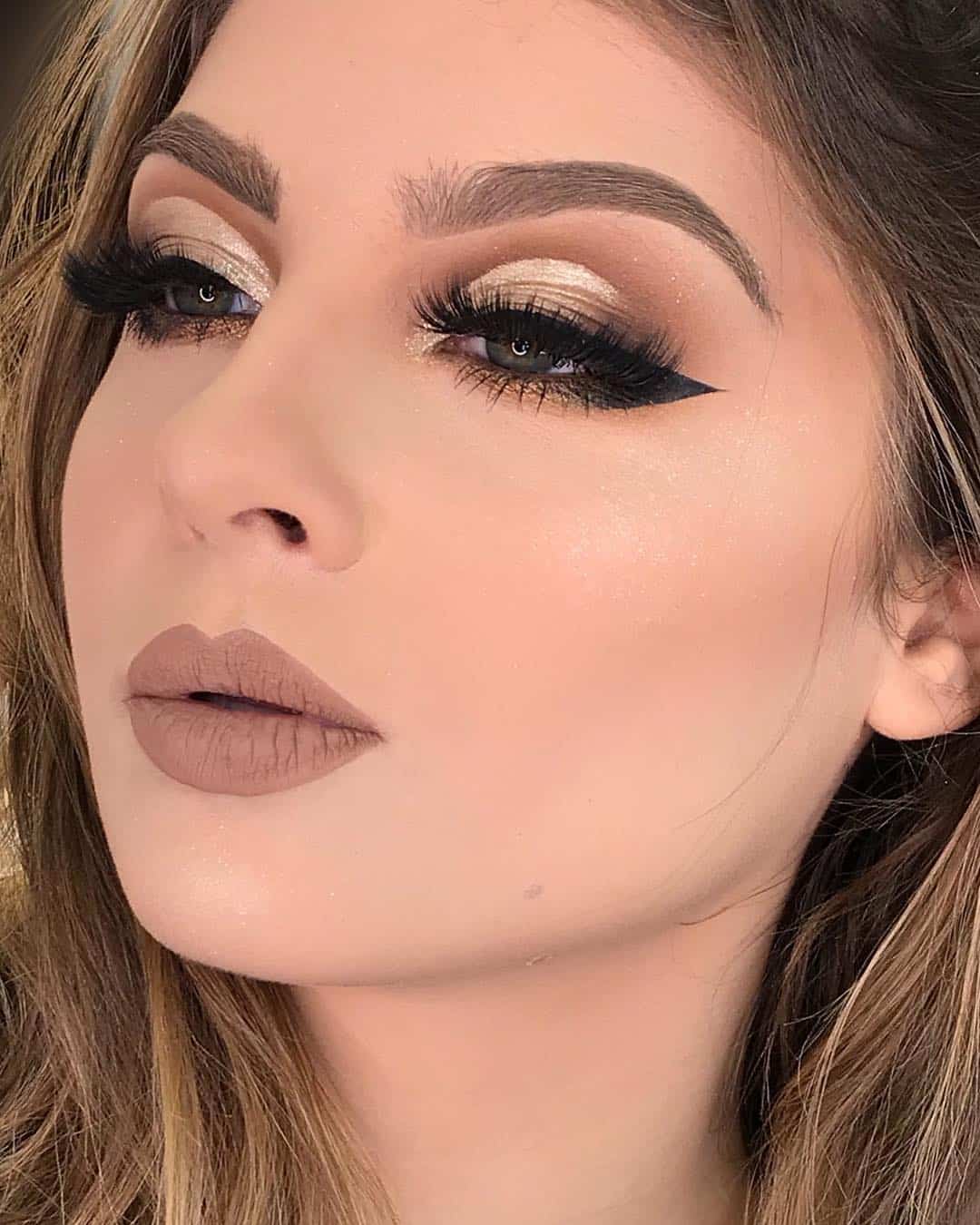 This is one of the most natural looks you will find. Cut crease works perfectly in combination with smokey eyes. And we stick to basics with the brown eyeshadow.
#29. Crease Cut Variety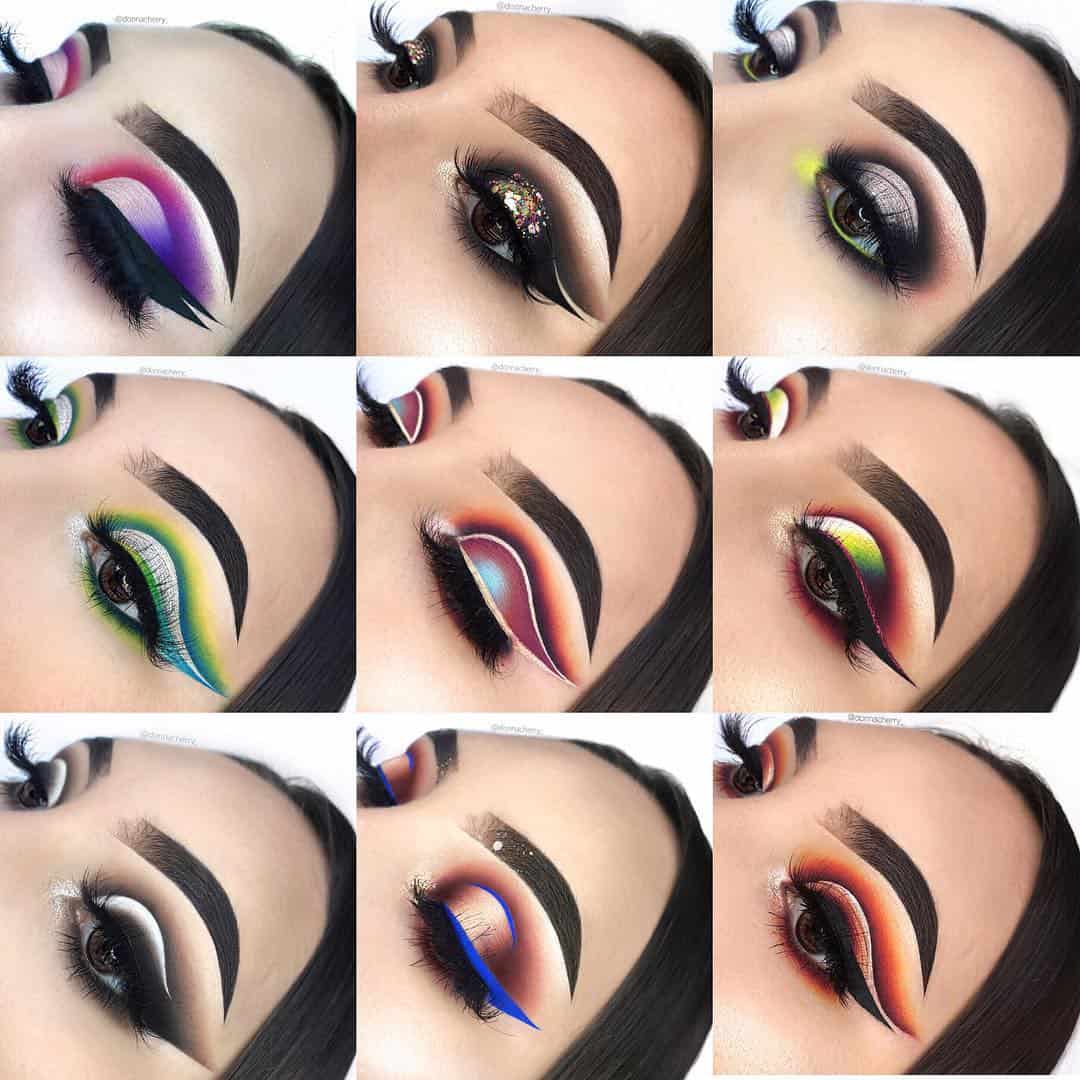 Usually, for our last idea, we want to give you a 3 in 1 option. Or in this case, 9 in 1 picture that shows cut crease makeup in its full glory. Hopefully, by now, you have an idea of what you would like to try.