Most of us cannot function without a cup of coffee in the morning.
Yes, coffee is that popular beverage we drink to get our energy level up.
But coffee is more than just a beverage.
In addition to improving our energy levels, coffee can also enhance your skin's beauty.
You might probably do not know this, but coffee is one of the most popular ingredients in the cosmetic industry.
Now, we are firm supporters of natural products, and that is why instead of buying something from the drugstore, we recommend you try these DIY coffee face mask treatments.
Benefits of coffee for the skin
Before we get to the coffee masks, let's talk about coffee benefits.
How does coffee enhance the beauty of your skin?
Well, for starters, coffee is rich in antioxidants and caffeine, and those are two ingredients our skin loves.
Caffeine can reduce the appearance of wrinkles and fine lines, while antioxidants prevent and fight off free radicals and oxidative stress damage.
In addition, antioxidants improve the elasticity of our skin.
Moving further down the list of coffee skin benefits, caffeine, the main compound of coffee, has anti-inflammatory properties which reduce inflammation of the skin, and calm the redness symptoms on your skin.
That means you can use coffee to treat puffy eyes, dark circles, and much more.
Coffee will help you repair and prevent damage done by UV rays.
We all know that the sun damages our skin, and the signs are quite visible.
Well, a coffee mask is just what the doctor's ordered.
Another benefit is that when applied to the skin, coffee increases the production of collagen and elastin.
Now, before we get to the masks you can try to inject life into a dull and tired complexion, we have to warn you: use organic coffee beans for all of the masks.
Just for your information, coffee is among the most heavily chemically treated foods in the world, so you want to use organic and natural sources.
Now, let's talk face masks.
DIY Coffee Masks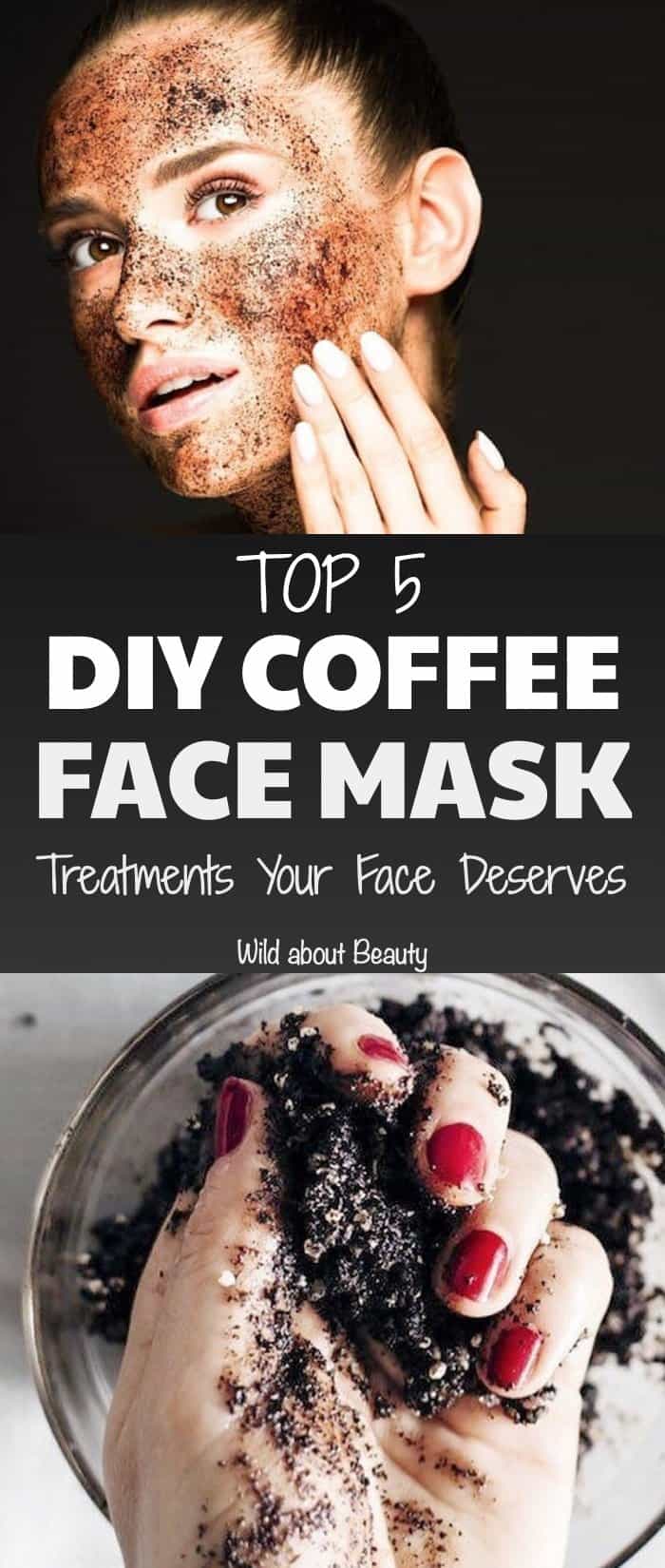 Coffee mask for tired face
Think of this mask just like your morning cup of coffee.
Your morning cup injects life in your body and gives you energy.
Well, this mask does the exact same thing for your face.
When your face looks dull, and your complexion is tired, you need to breathe some life into it.
Best part, this mask is ideal for all skin types.
This is just one of the many variations of a coffee mask, so, let's get to the ingredients list.
Ingredients:
½ cup of ground organic coffee beans (buy pre-ground or grind your own)
½ cup of organic, unsweetened cocoa powder
1 cup of unsweetened whole milk (for those who do not like dairy, substitute with almond milk)
1 tablespoon of lemon juice (for those with dry skin, go for olive or almond oil instead)
1 tablespoon of honey (for those with oily or acne prone skin, go for more lemon juice instead of honey)
How to do it?
In a bowl, start mixing the coffee beans and cocoa powder
Add milk, and stir until you create a paste. If you want a thicker paste, use less milk
Add in lemon juice and honey, and apply to your clean face
Allow the mask to dry for 20 minutes, and then wash off. Store any leftovers of the mask for up to 3 days. You can apply it the next day as well
If you want extra exfoliation, apply the mask in a circular motion for a quick scrub
Every ingredient in this mask brings a unique set of benefits for your skin.
For example, coffee helps with redness and inflammation, cocoa powder is another great source of antioxidants and repairs damage done by environmental pollutants, while milk helps to exfoliate your skin thanks to lactic acid and natural enzymes.
Lemon juice also works as an exfoliation agent and brings natural C to your skin to tighten and brighten your complexion.
And honey helps lock in the moisture and provide anti-bacterial properties to your skin.
Coffee mask for clear skin
You can use this mask for your face, but also as a remedy for puffy eyes. By the way, you can find some great masks with natural ingredients from Innisfree.
It is a simple two ingredients mask that will help you clear your skin from dirt and dead skin cells.
In the same time, thanks to the milk addition, the mask will make your skin soft and smooth.
Coffee will help reduce the inflammation of the skin and any redness signs.
Ingredients:
How to do it?
Mix the two ingredients in a bowl to create spreadable paste
Wash your face and then apply the mask
If you use coffee grounds, let the mask sit for 3 to 5 minutes before applying to face
Gently massage the mask onto your face, and let it dry for 15 to 20 minutes
Rinse off with cold water, but massage for 1 to 2 minutes while rinsing to exfoliate any dead skin cells on your face. Repeat 2 to 3 times per week.
Coffee mask for glowing skin
The main benefit of this mask is that you up the vitamin C and antioxidants benefits.
Therefore, you can use it to lighten your dark spots and patches. In the same time, you will keep the skin firmness and tautness by upping the collagen production.
Last, but not least, you have lactic acid that will reduce acne breakouts and appearance of wrinkles.
Ingredients:
1 tablespoon of coffee ground or instant coffee
1 tablespoon turmeric powder
1 tablespoon yogurt
How to do it?
Mix all the ingredients in a bowl
Wash your face, and then apply the mask on your cleansed face
Let the mask dry naturally on your face for 20 minutes
Rinse with normal water, and massage for 2 minutes to renew and rejuvenate your skin
Repeat the mask for 2 to 3 times per week
Coffee mask for tight skin
Think of this mask as a mixture of 3 superfoods.
All of them can help you exfoliate your skin, and provide extra antioxidants to your skin.
The signs of aging will be gone in a minute, and your skin will be tight, firm, and wrinkle-free.
In the same time, the mask helps you regenerate your skin cells, giving you your skin youthful and radiant look.
Ingredients:
1 tablespoon of coffee ground
1 tablespoon of yogurt
1 tablespoon organic honey
How to do it?
Mix the ingredients in a bowl until you get smooth paste
Wash your face, and then apply the mask
Let the coffee mask sit on your face for 20 minutes
Rinse with normal water, and then massage your face for a minute or two for extra exfoliation
Two ingredients homemade coffee scrub
This mask combines two of the most beneficial ingredients for your skin.
We already talked about how coffee helps, but now we have coconut milk.
In the past few years, coconut has become a staple in the beauty industry, and for a good reason.
Coconut oil helps you moisturize your skin, and leave it clean, clear, and soft.
Ingredients:
½ teaspoon coconut oil
½ teaspoon finely ground coffee beans
How to do it?
Mix the coconut oil and coffee. Wash your face, and apply the mask to your face using circular motions. Try to avoid getting the mixture in your mouth, nose, or eyes
Leave the mask to stay for 15 minutes, up to 30 minutes
Rinse with warm water and enjoy your glowing skin
Bonus: Coffee Massage Oil for Face
We had five coffee face mask treatments, and now we have a coffee oil you can use to moisturize your skin.
This oil can be used as a light and moisturizing face or body oil.
If you have stretch marks or cellulite, use it to massage the problematic areas.
Ingredients:
1 cup of virgin coconut oil
¾ cup of ground coffee
How to do it?
In a jar, combine the two ingredients. Put the lid on and shake well
Store for 3 weeks, shaking every day or two
At the end of the 3 weeks, strain through a coffee filter