Fine jewelry isn't solely for the gift-giving season, even though it sure is nice to receive such gifts on major holidays. There are many occasions throughout the year that present an opportunity to give special gifts as a way to show your partner or any loved one how much you care. Handcrafted fine jewelry is the perfect gift for someone to wear each day and for years to come.
Forever-lasting fine jewelry is a lovely surprise on a momentous birthday, a romantic gesture on Valentine's Day, or as an adoring "just because" gift. Get some ideas below on specific fine jewelry to consider and a variety of occasions to match. Remember that timeless classics never go out of style, and be sure the fine jewelry company uses stunning gemstones as well as ethically sourced diamonds and precious metals.
For Your Love on Valentine's Day
Fine jewelry is the ultimate symbol of romance on Valentine's Day. If you want to make a passionate statement that doesn't need words, think about jewelry made with richly-colored gemstones in red, purple, or blue hues. Rose gold and heart-shaped jewelry are other thoughtful options for your sweetie.
Ruby Earrings with a Diamond Halo
A halo setting is a can't-miss style. You'll see this on-trend look in a variety of jewelry, from rings to necklaces, where small diamonds encircle a gemstone or center diamond. Imagine the big sparkle from a pair of halo earrings. A pair with a dainty diamond halo surrounding a bright red ruby would be perfect for Valentine's Day.
Diamond Pendant Necklace
A designer-quality diamond pendant necklace is a beautiful piece for any occasion, but Valentine's Day is your time to shine. In your search for a diamond pendant, look to a fine jewelry company that offers a variety of diamond necklace styles that you can customize without the designer markups. Custom jewelry options let you select the metal color, diamond clarity, or total carat weight for a dream pendant—and the best brands allow you to do this while working around a budget.
For Your Anniversary Celebration
Every year, a wedding anniversary presents an opportunity to share memories and reflect on how far you've come. What better way to celebrate your love than with a gift of fine jewelry? Whether it's been a year or 40 years, fine jewelry is an excellent choice. From small hoop earrings sparkling in diamonds to an emerald-shaped gemstone ring, you can celebrate with milestone metals or gemstones according to tradition or choose something entirely out of the box.
A Diamond Ring
A significant anniversary can be a good time to gift your love a stylish diamond ring or maybe even propose again and renew your vows if that's something you want to do. Even if they already have a wedding ring, you could get another ring or upgrade their current one for something new, such as a classic round halo engagement ring. The 10th anniversary is considered the diamond milestone anniversary, and couples will often upgrade or choose a more elaborate setting. If they love their ring as it is, small hoop earrings with diamonds or classic diamond stud earrings are other beautiful choices.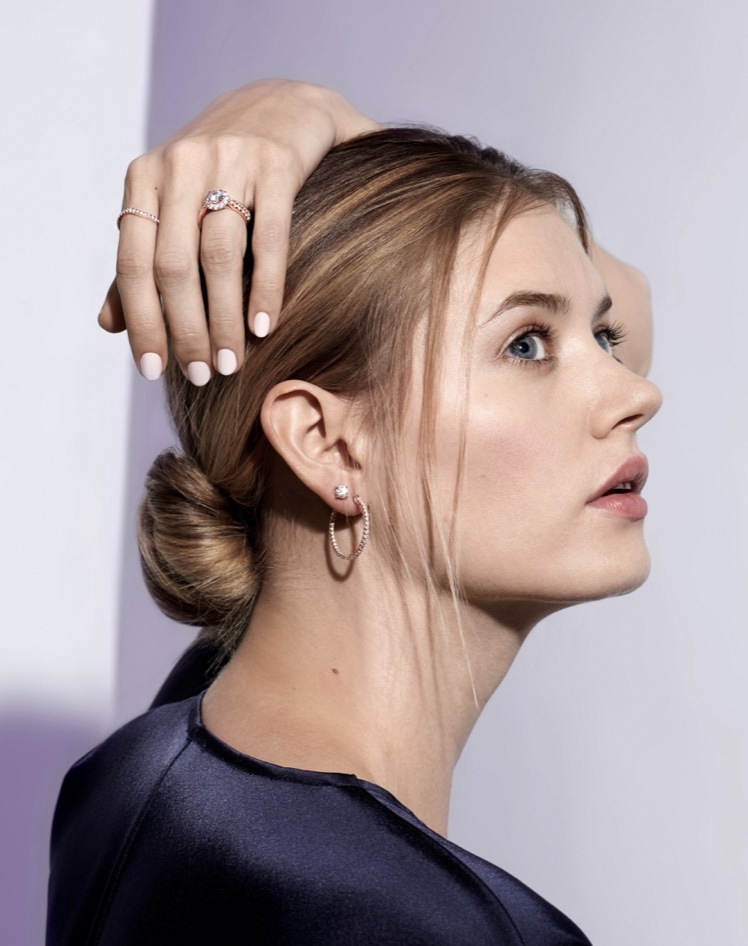 An Emerald Ring
The official gemstone for 20th anniversaries is the emerald, also recognized as the gemstone of royalty. The gift of a one-of-a-kind emerald ring would be quite the gesture. Think about an emerald diamond halo ring set in rose gold, a forever-lasting piece that's as timeless as your love. An emerald drop necklace is another gorgeous option your life partner is sure to love.
To Show Your Love 'Just Because'
You don't have to wait for a holiday, anniversary, or special occasion to give the gift of fine jewelry to someone you care about. Surprise a loved one at any time of the year just to let them know you think they are amazing and that you are so happy they are in your life. 'Just because' fine jewelry can be anything you think they will adore. Diamonds and gemstones are always a nice surprise, but fine jewelry doesn't necessarily have to include them.
Small Hoop Earrings with a Twist
Add some sunshine to someone's daily jewelry collection with a pair of 14K or 18K gold small hoop earrings. A special pair may have a minimal and straightforward design and be lightweight enough to wear every day. A pair of gold twist hoops has a modern feel and will always add a special touch to any outfit. Hoop earrings are essential in a fine jewelry collection.
Gold Chain Necklace
Another fine jewelry staple for many is a high-quality chain. A chain in 14K gold looks beautiful as a stand-alone necklace and makes a stylish layering chain as well. Some of the most popular styles are rope chains, curb chains, paperclip chains, and figaro chains. There's always something timeless and classic about high-quality chain necklaces. Find the perfect chain for your favorite person and it's sure to put a smile on their face.
For the Perfect Birthday Present
Do you want to be the person who chooses the thoughtful gift of fine jewelry on your loved one's special day? From birthday gemstones to classic diamonds, beautiful jewelry is an ideal gift for commemorating a birthday. Whether it's a 16th birthday for a daughter getting fine jewelry for the first time or a momentous 50th birthday, anyone would be thrilled to receive a unique piece of fine jewelry.
A Sophisticated Bangle
A delicate bangle adds instant sophistication to a jewelry collection and a wrist. A white gold or yellow gold bangle is a lovely choice and easy to layer with other bracelets. Discover bangles that you can't find just anywhere, such as 14K or 18K gold bangles with an infinity knot design at the center to represent your bond with the person you're giving it to. Or, elevate their look with bangles dispersed with sparkling diamonds that look like twinkling stars.
A Diamond Bar Necklace
If you're looking for a dainty classic, a bar necklace with a row of tiny diamonds is a perfect option for your loved one. Seek a piece that's delicately handcrafted with ethically sourced diamonds and precious metals. This necklace style is something to wear on its own or paired with favorite everyday essentials. You can never go wrong with designer-quality jewelry for someone's birthday.
There are few things more heartfelt than the gift of fine jewelry. Your special someone gets to enjoy your thoughtful gesture year-round for decades to come if it's handcrafted with forever-lasting fine materials.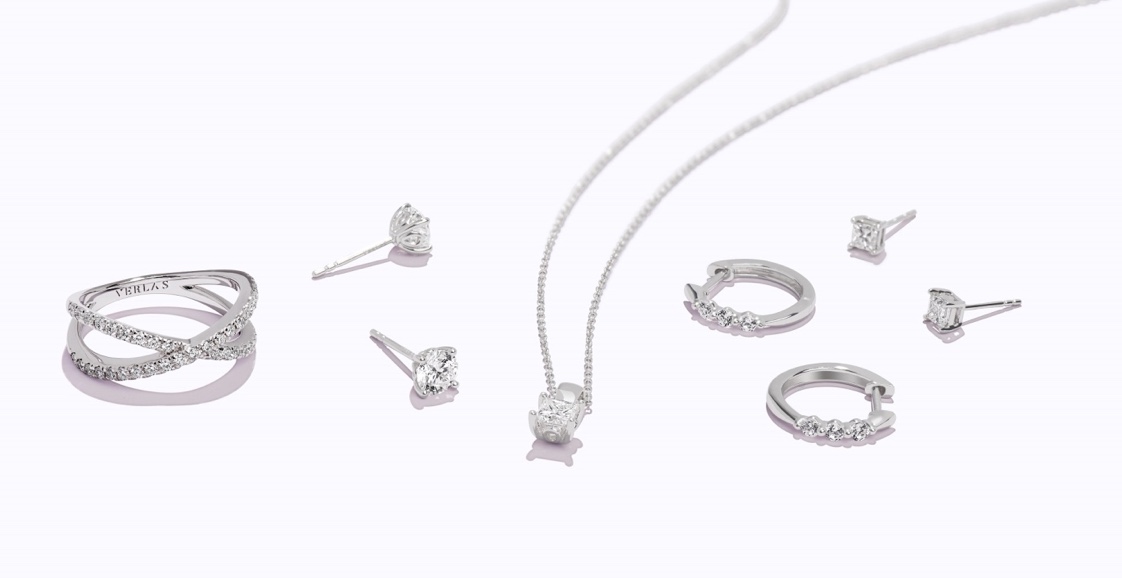 About Verlas
Verlas is a direct-to-consumer brand founded by female industry experts Nidhi S. Dangayach and Nityani Riziya, and they're changing the way people view and buy fine jewelry. The RJC certified Verlas Studios have a team led by female Master Artisans working within an environment that follows international labor laws. They handcraft each piece using ethically sourced diamonds and raw materials to provide quality high-end jewelry with sustainability as a top priority. Whether you're picking out a pair of small hoop earrings or thinking of popping the question with a classic round halo engagement ring, you can trust Verlas to provide you with forever-lasting fine jewelry. You can see every detail online with the brand's 3D Every-Angle-View and use Verlas's Try-at-Home program to test out replicas of your favorite pieces from the comfort of your home.
Choose handcrafted, thoughtfully designed fine jewelry from Verlas at Verlas.com