The French manicure has long been upheld as a paragon of nail beauty, revered for its sophisticated simplicity. However, the universe of nail art abounds with creative possibilities to elevate the traditional French tip, transforming it from mundane to mesmerizing. As nail artists, we revel in the artistic liberty that the blank canvas of a classic French manicure affords us, knowing that with a few inspired touches, we can imbue it with a fresh and captivating essence.
In our quest to revitalize this iconic style, we explore a plethora of nail art designs that promise not just a modern twist to the conventional look but also infuse a dash of personality and fun. With the wealth of design elements at our disposal, including color variations, embellishments, and innovative techniques, we stand on the verge of redefining elegance. Our guide is crafted to inspire and offer practical insights into creating French manicures that are not only aesthetically pleasing but also reflective of individuality and current beauty trends.
1. White French Mani Dusted With Black And Rhinestone Rim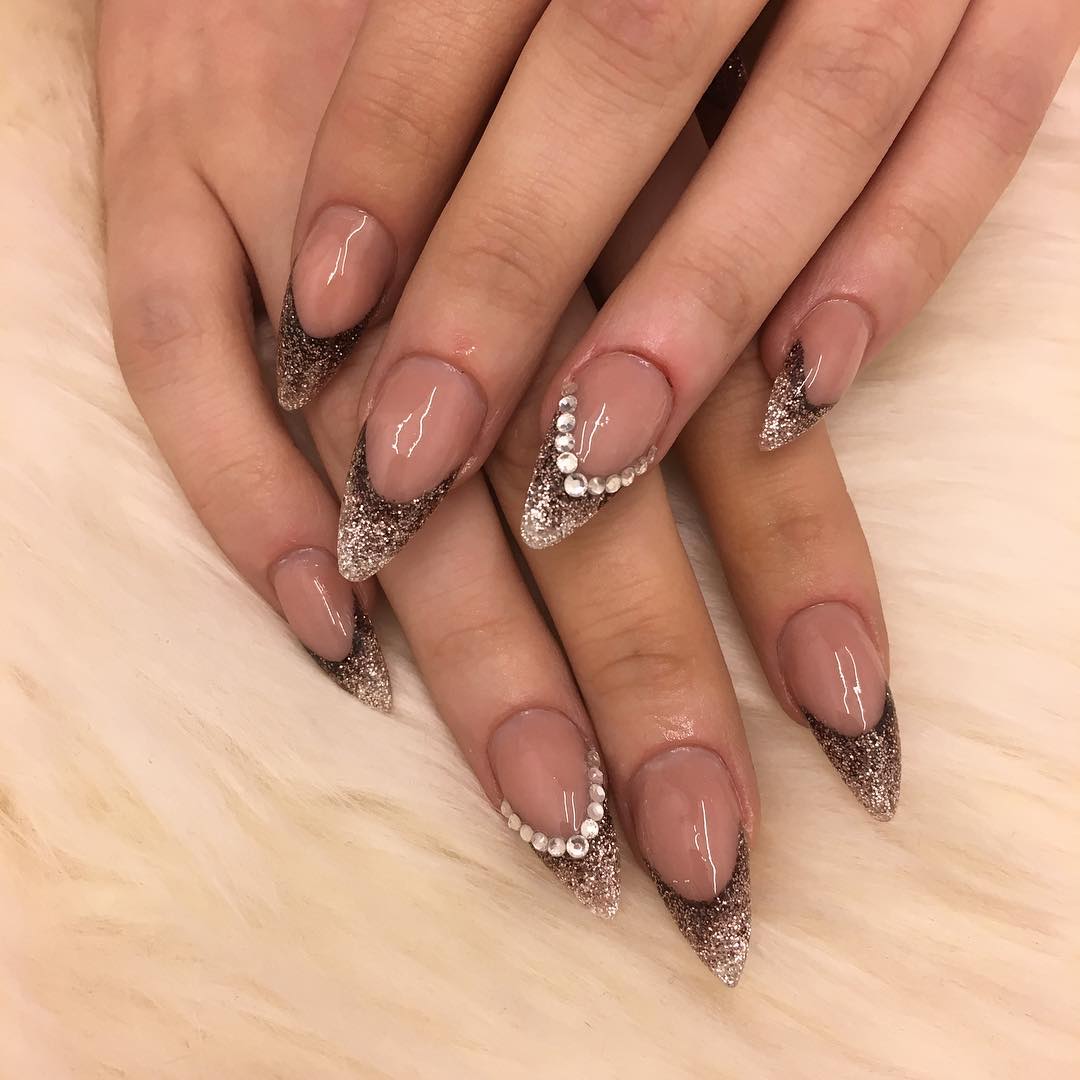 We recognize these nails for their:
Shape: Stiletto points, embodying elegance.
Color: Classic white tips, contrasted with subtle black.
Embellishment: Rhinestones, adding a pearlescent charm.
These elements marry to form a manicure that exudes both sophistication and allure.
2. Silver Disco Tips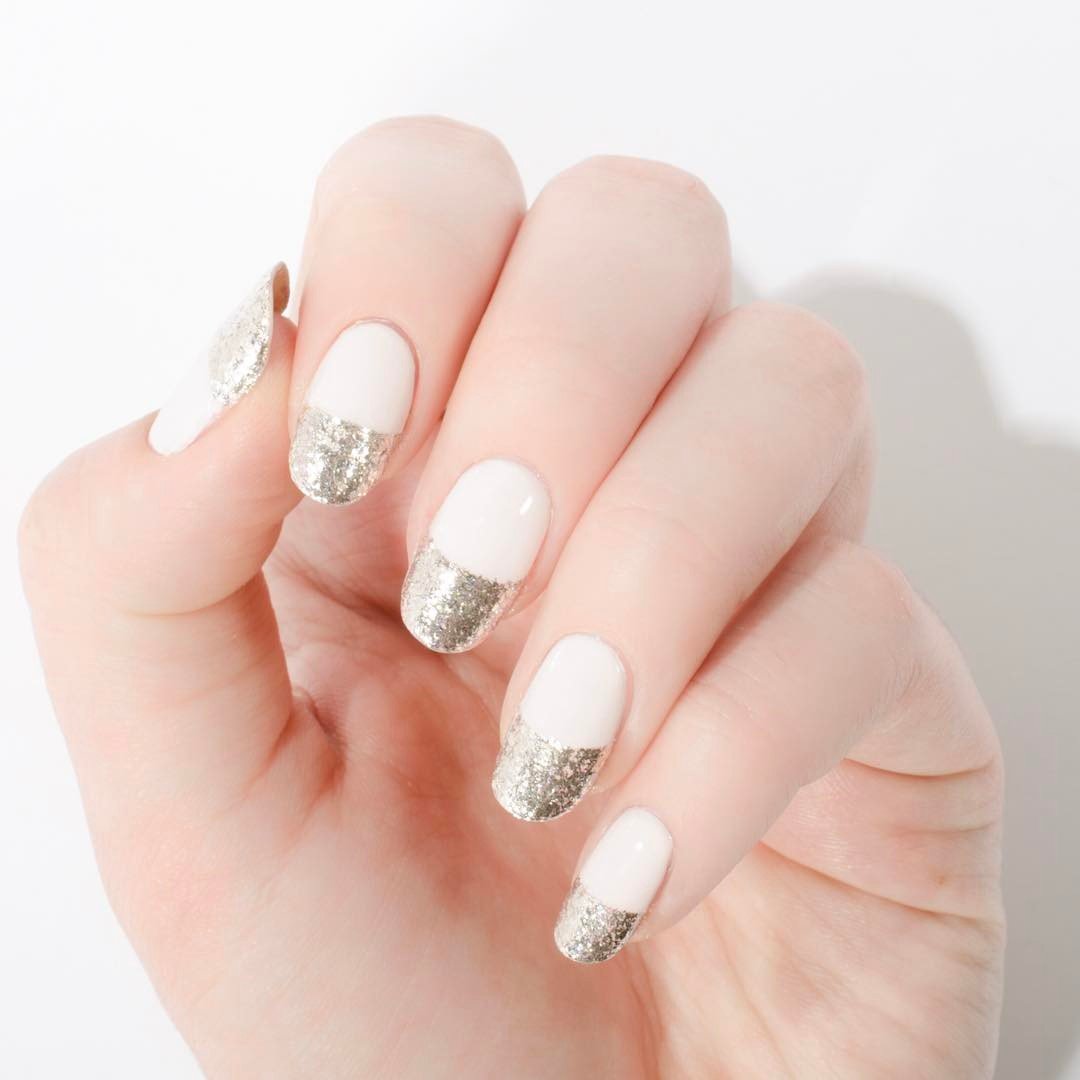 We embrace the retro 90s vibe with a unique French manicure upgrade.
Our nails flaunt shimmering silver tips, ideal for throwback-themed festivities.
| Aspect | Detail |
| --- | --- |
| Inspiration | 90s French Manicure |
| Occasion | 90s Parties |
| Color | Silver |
No traditional white tips—we opt for bold, eye-catching silver.
Perfectly complements partywear, ensuring our style is cohesive from tips to toes.
3. Hot Rod Flames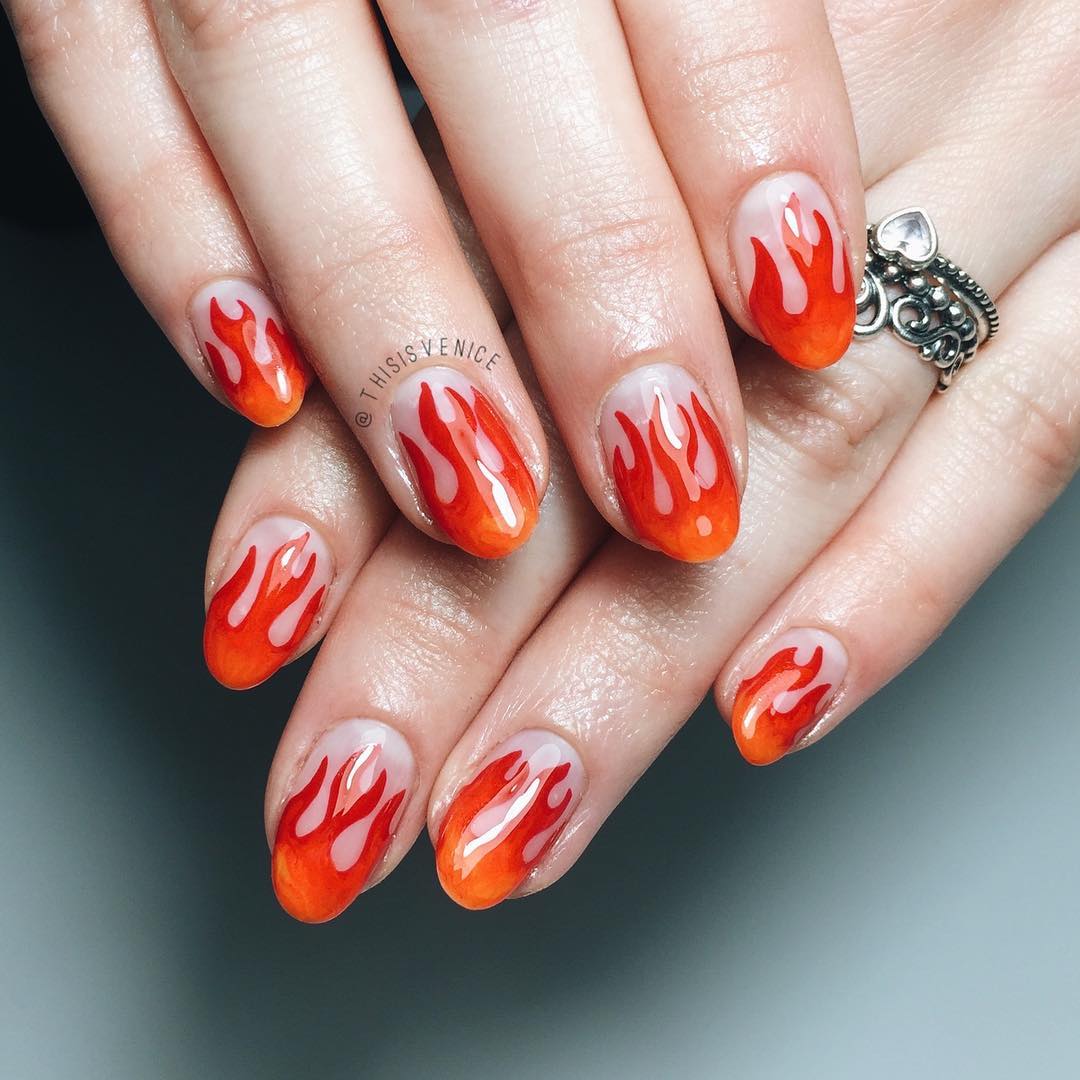 Edgy Appeal: The bold flames offer a fresh take on the French manicure, infusing drama with their striking design.
Dramatic Flair: These nails captivate with a design that's both daring and provocative, ensuring a dramatic impact.
4. Black Flower Lace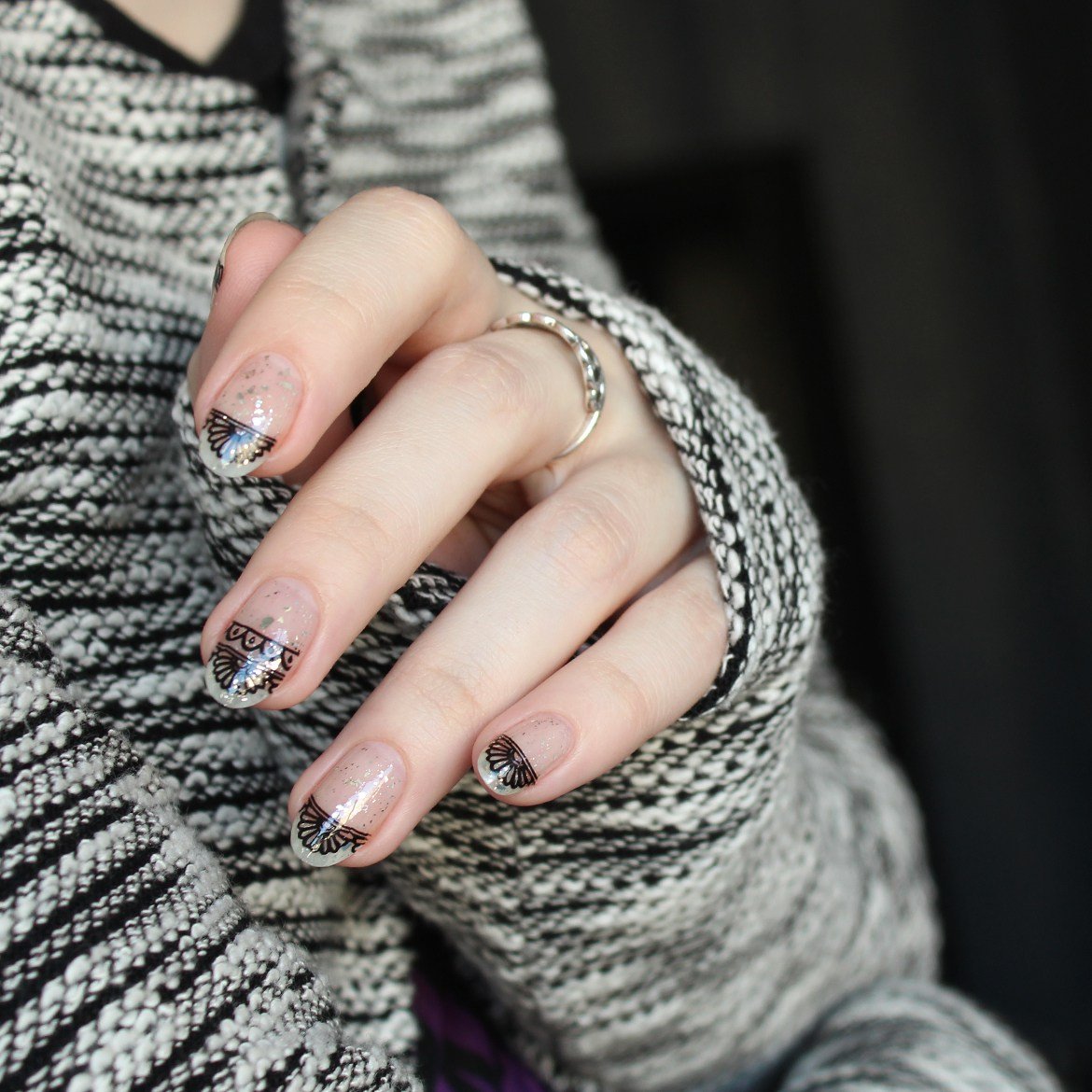 We recommend incorporating lace into your style for a blend of romance and allure. Lace serves as a timeless element across various fashion aspects.
Manicure Trend: Adding lace patterns on nails manifests a subtle yet captivating charm.
Fashion Statement: Lace dresses balance delicate femininity with an edge of sophistication.
5. V-French White Mani With Gold Glitter Accent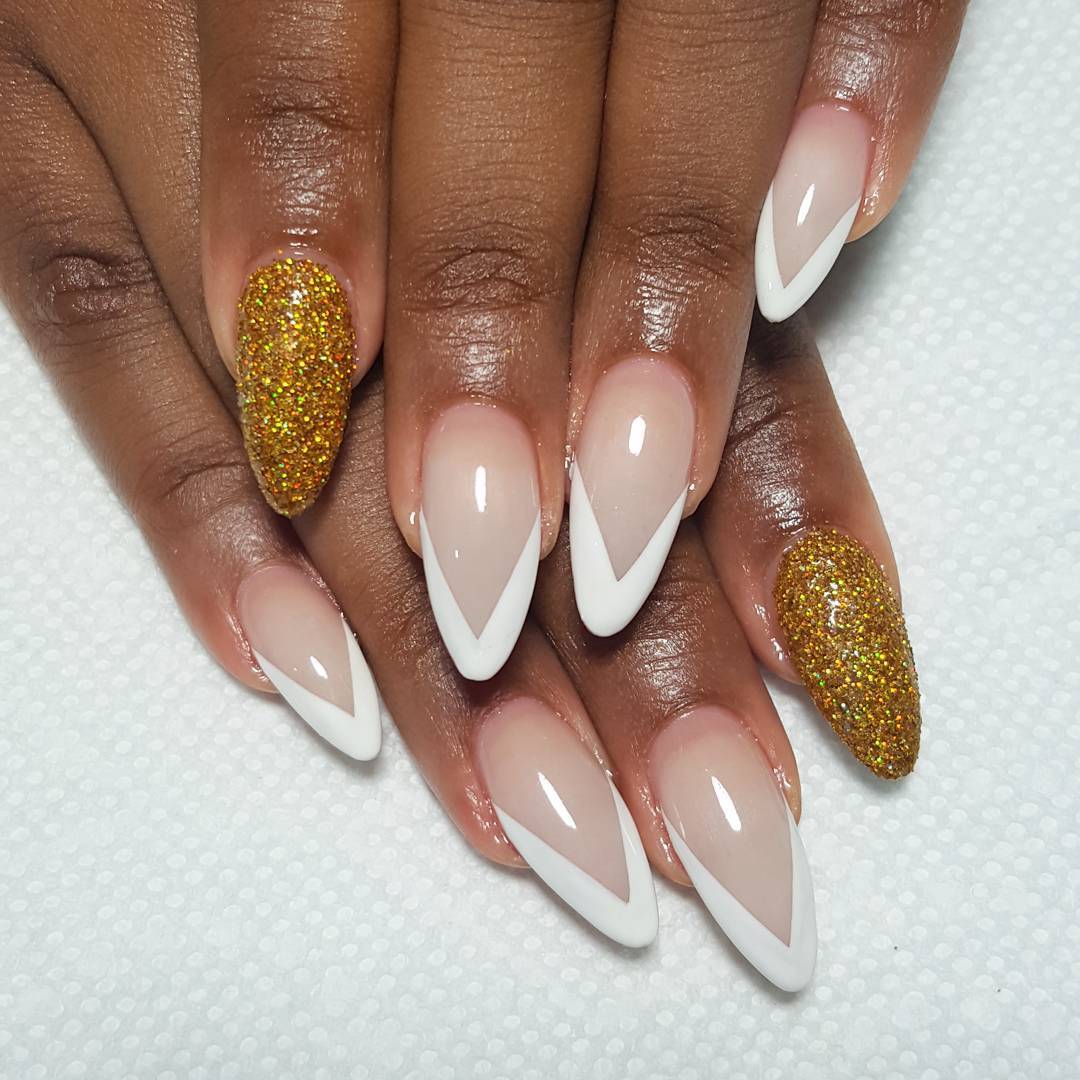 Design: V-shaped French manicure
Accents: Gold glitter
Appeal: Edgy, chic
Versatility: Suits various occasions
6. Short White French With Drawn Pattern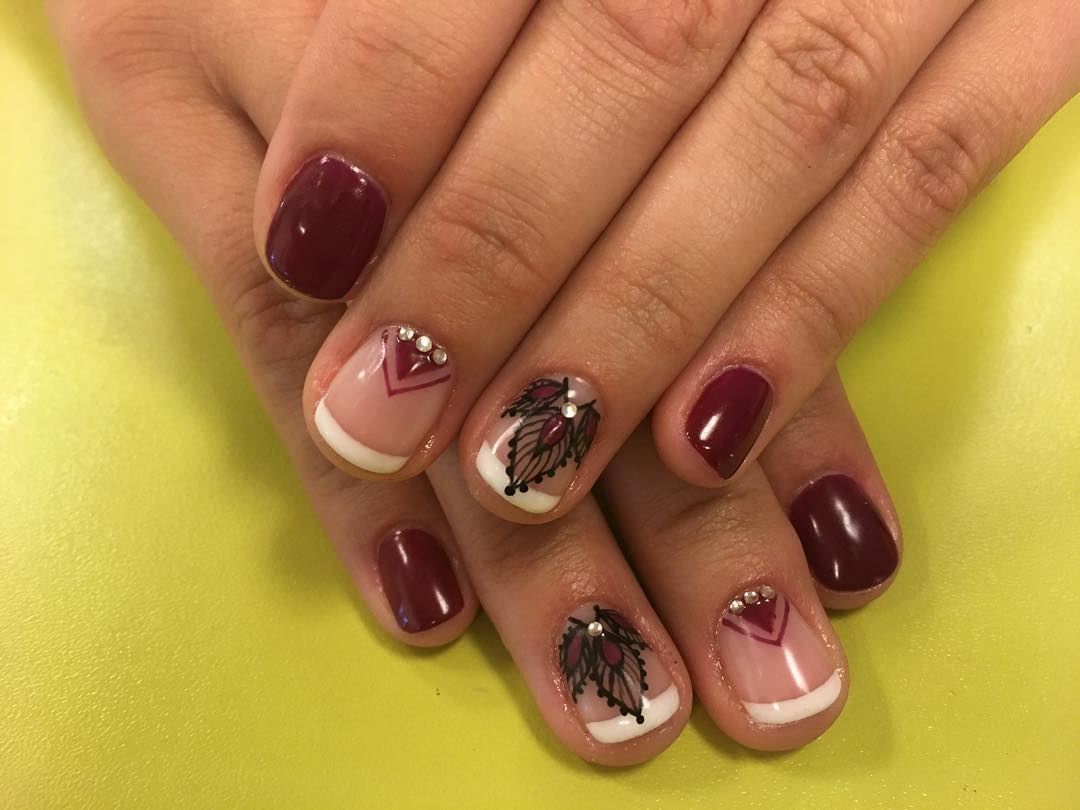 Design: V-shaped French manicure
Accents: Gold glitter
Appeal: Edgy, chic
Versatility: Suits various occasions
7. Yellow Neon With Black Flower Pattern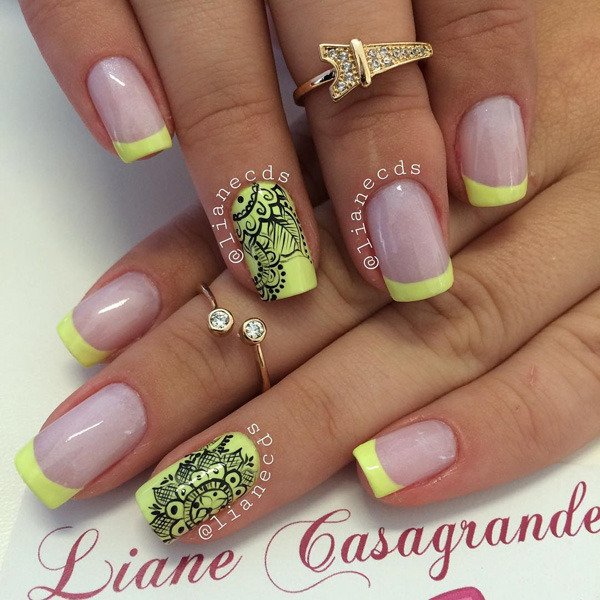 We transform the traditional French manicure by embracing vibrant yellow neon tips, moving away from conventional white. Introducing an accent nail patterned with black flowers adds a distinctive flair. See how it instantly changes the character of your nails.
Neon: Yellow
Pattern: Black Flower
Break Tradition: White → Yellow Neon
8. Extended French Mani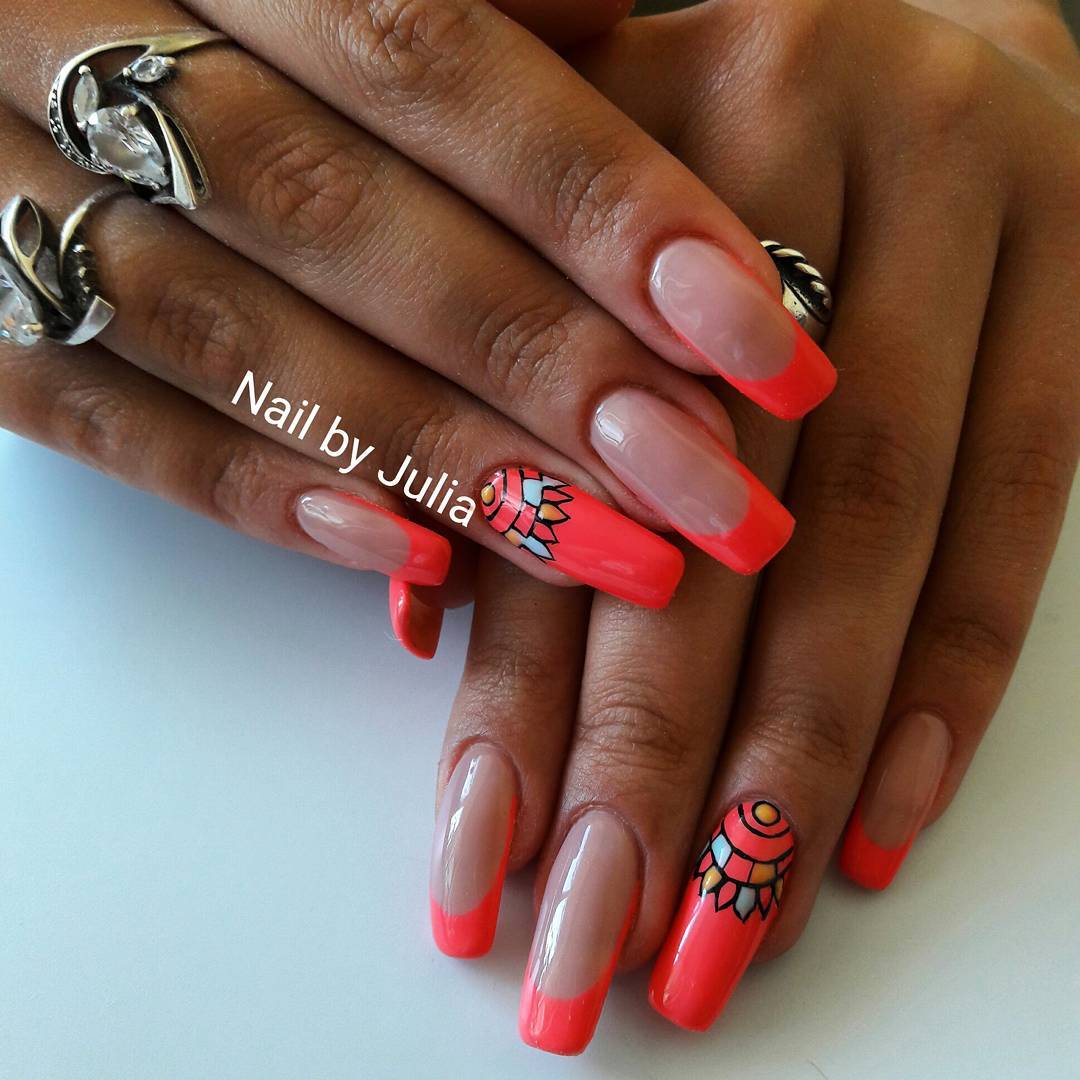 For those who adore long nails, we recommend the Extended French Manicure, which accentuates length by extending the tip color, imbuing a chic edge to the classic French.
9. Butterfly Wing Pattern
Inspiration: We draw from the charming beauty of butterflies for unique manicure ideas.
Seasons: Ideal for summer and spring.
Palette: We embrace a palette that echoes the vibrant hues of butterfly wings.
Technique: We incorporate butterfly patterns into the French manicure tradition, enhancing its elegance.
10. Red Flower Petals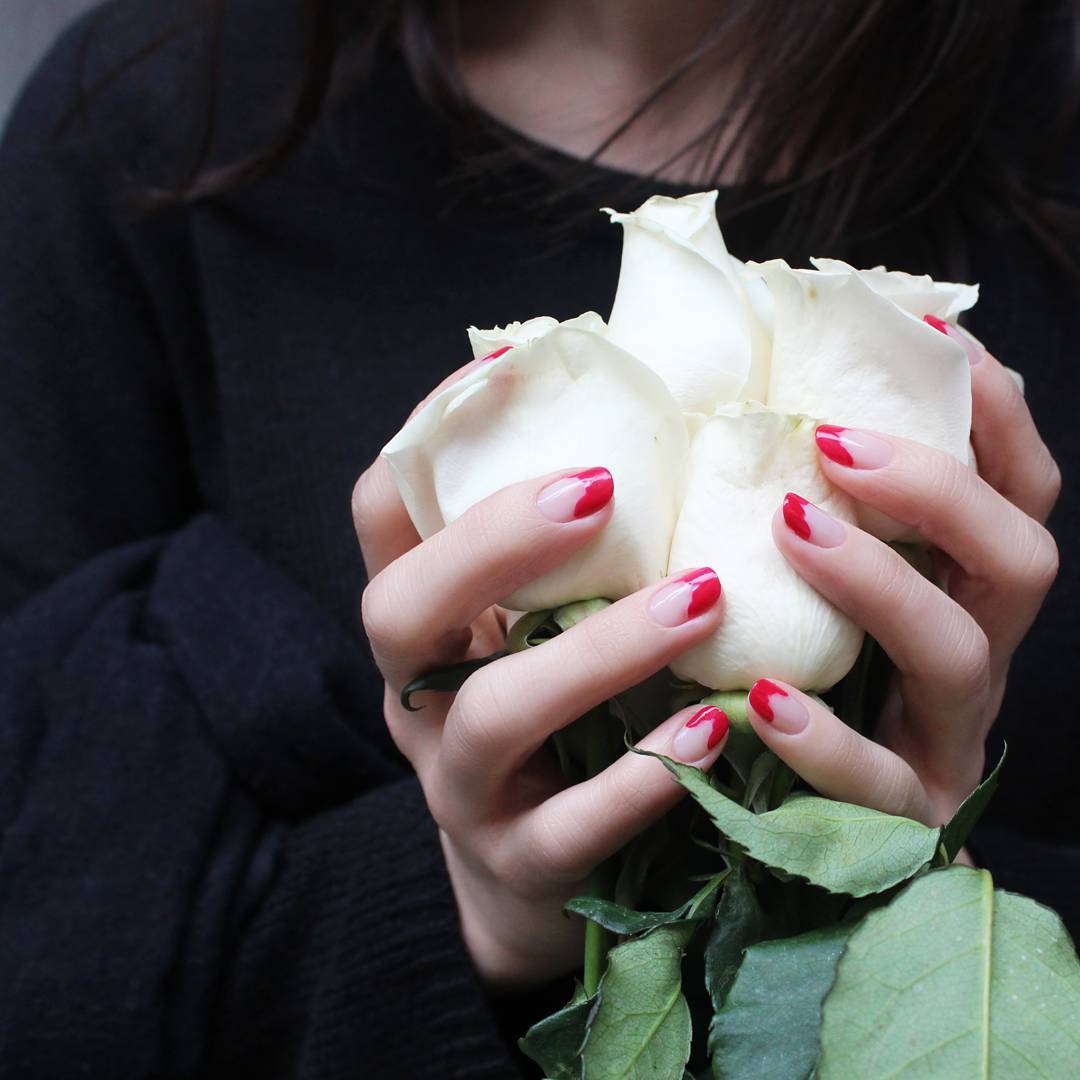 | Style | Description |
| --- | --- |
| Red Tips | Classic with a vibrant twist. |
| Red French Tips | Elegant, with a pop of color. |
| Red French Manicure | Timeless, with a floral touch. |
Our choice for an unconventional yet sophisticated look infuses the charm of red roses into our nail art. Imagine the allure of red flower petals adorning each nail, transforming a simple manicure into a statement of elegance and style. Let's embrace the beauty of roses beyond bouquets.
11. Two Tone Blue With Silver Border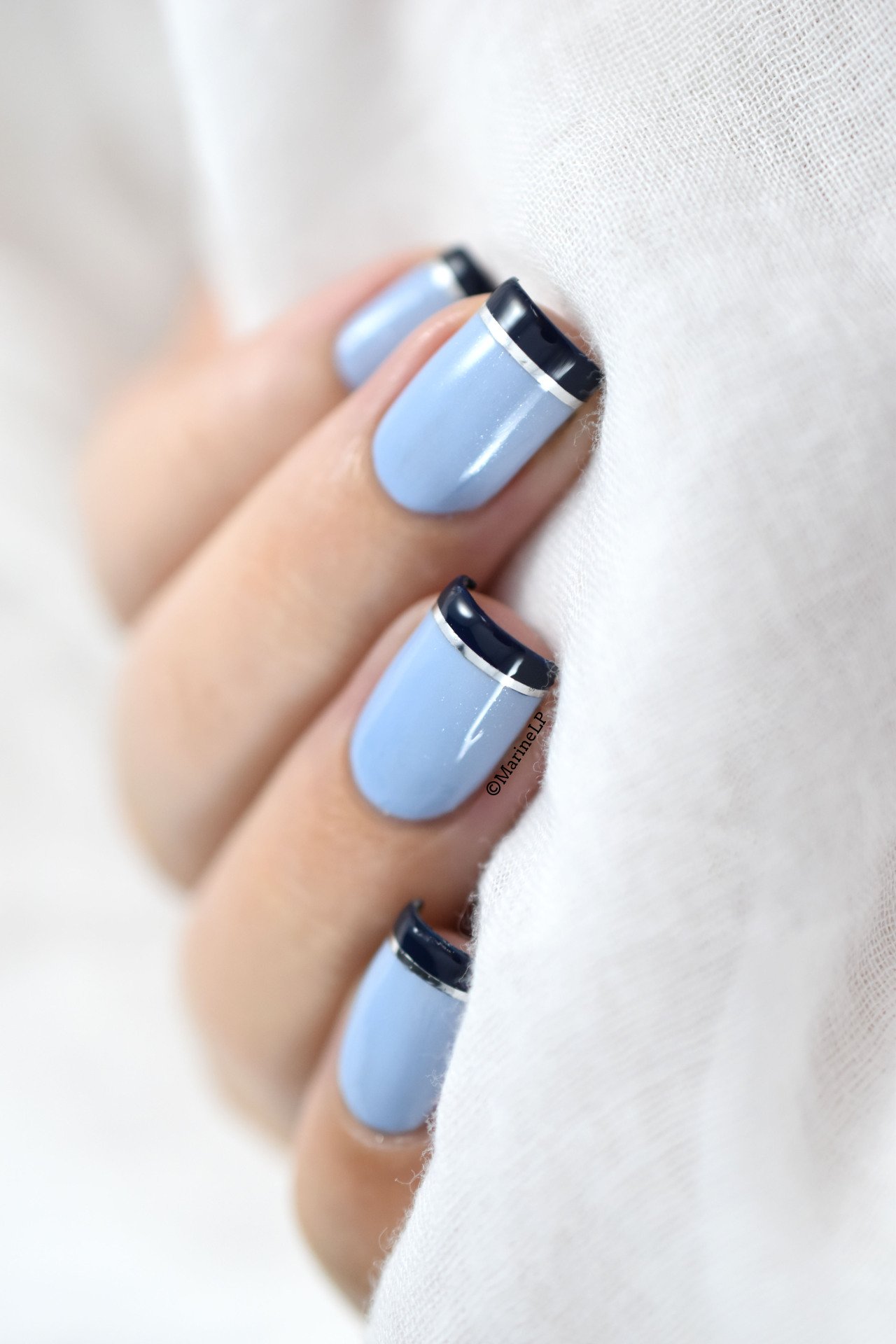 In creating a French manicure, we embrace the two-tone trend, moving beyond traditional nude and white. For a striking appearance, consider a combination of blue for the base and a sleek silver for the tips. It's a flexible approach, inviting personal flair.
Base color: A dominant blue hue covering most of the nail
Tip color: A thin, sharp silver line gracing the tips
12. Green Glitter Accent French Mani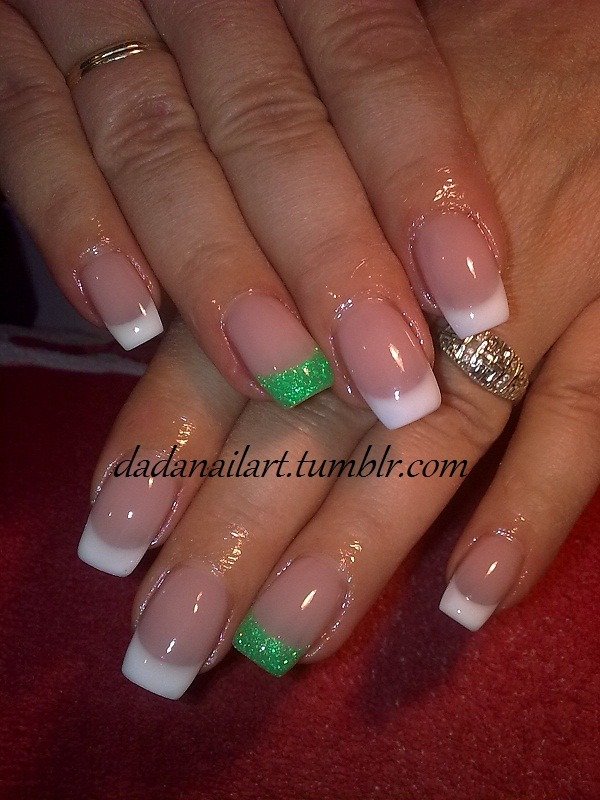 We update the classic French manicure with a playful twist. Applying glitter to an accent nail adds flair—green is not compulsory, but certainly eye-catching. It's a simple yet effective way to enhance a timeless style.
13. Blocked French Mani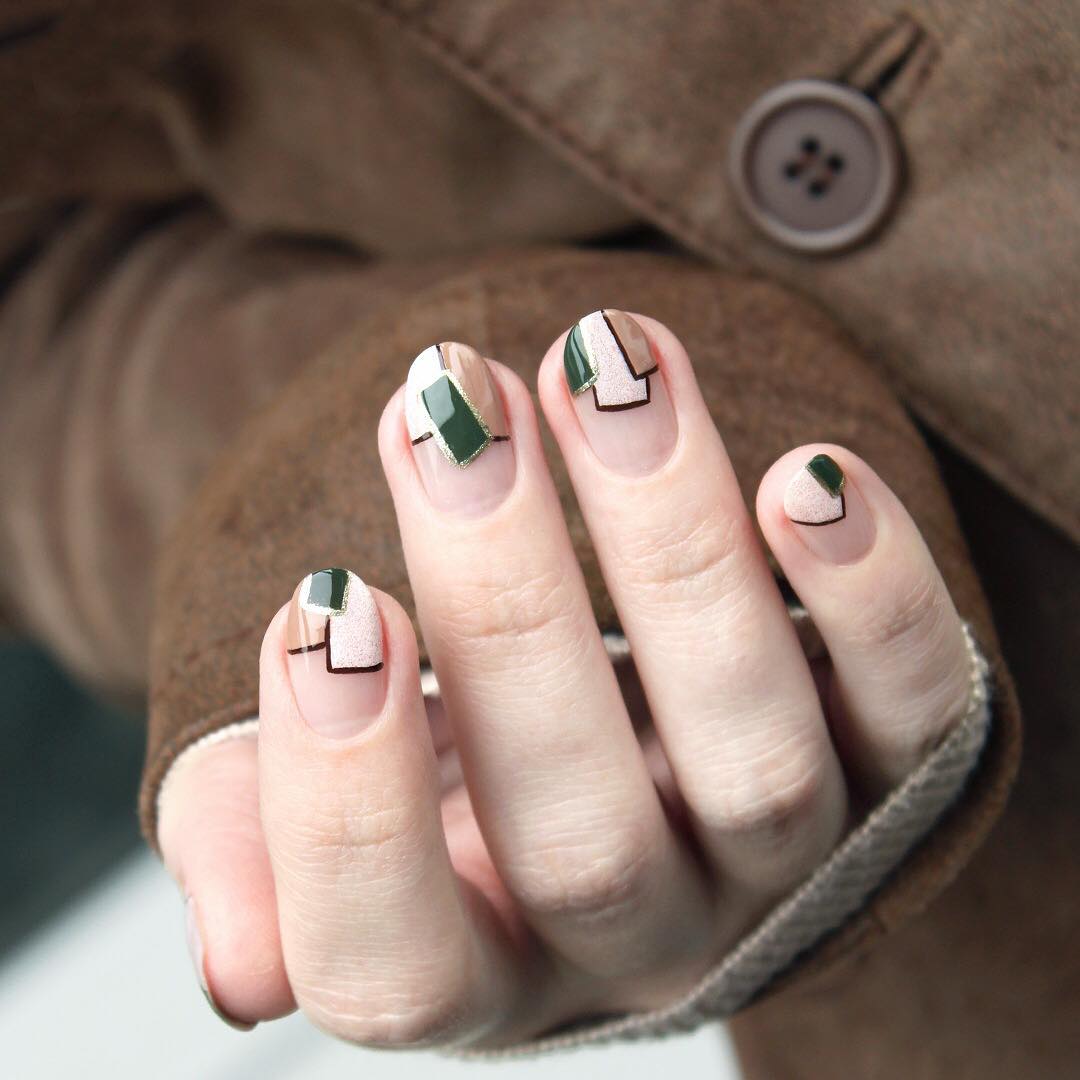 Inspiration: Modern geometry in fashion.
Design: Incorporation of shapes and forms.
Look: Precision-cut color blocks on nails.
14. Rainbow Lightened French Mani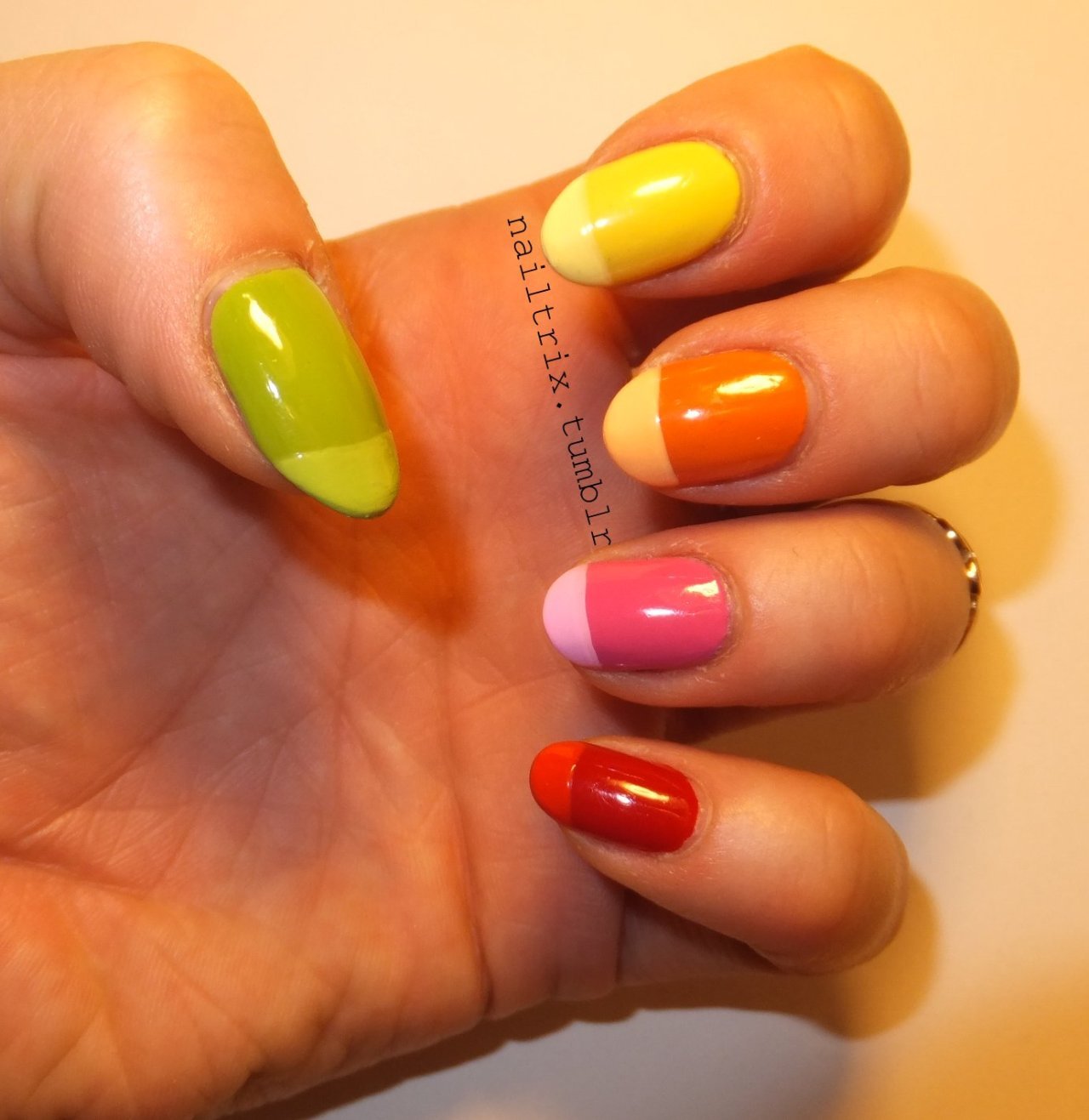 Our twist on the classic French mani brings a gradient of joy. Each nail flaunts a unique two-tone combo, crafting a tie-dye effect that's playful yet sophisticated. Perfect for those who adore a spectrum of shades on their fingertips.
Gradient Glam: Each nail transitions between two vibrant hues.
Fun Factor: A lively alternative to traditional French manicures.
15. Purple Violet French Mani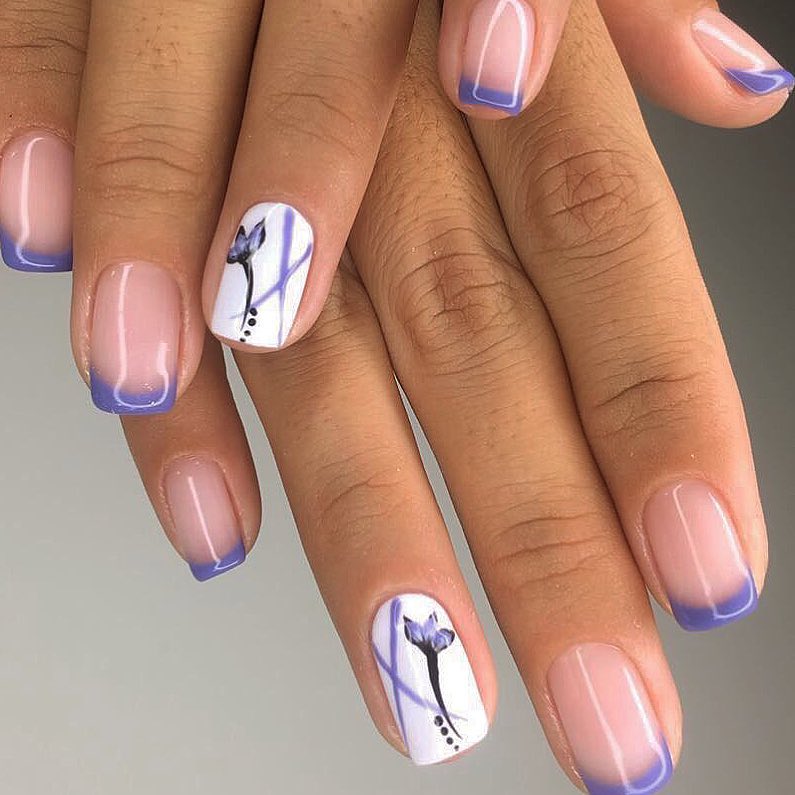 We embrace the sophistication of purple violet French manicures. Known for its regal associations, violet enhances the classic French tip with a luxurious twist.
Color Theme: Regal Violet
Accent Nail: Adds distinction
Feel: Sophisticated Elegance
16. French Chrome With Chain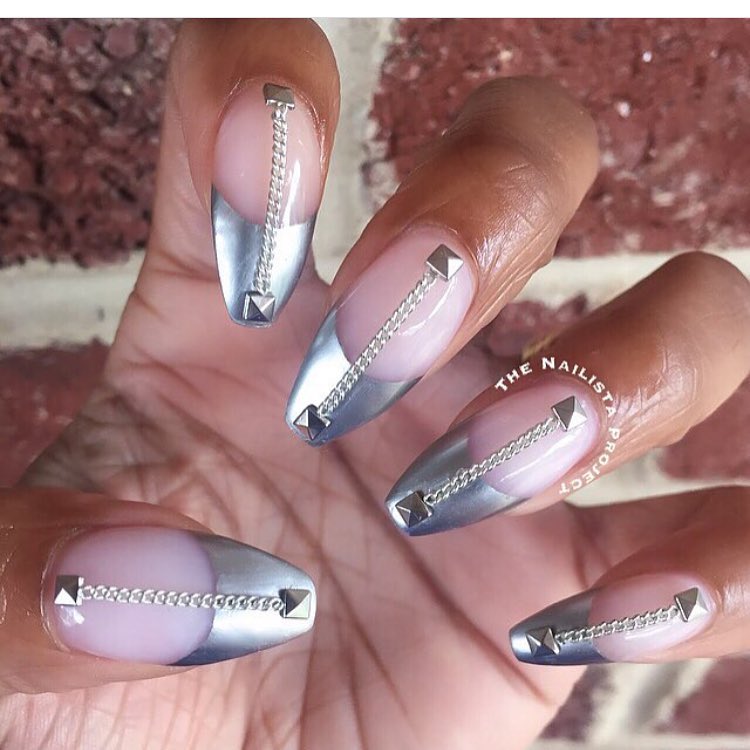 We are embracing bold and edgy twists on the classic French manicure. Consider pairing chrome polish with intricate chain accents for a look that's as daring as it is elegant. We encourage enthusiasts to experiment with this avant-garde style.
17. Deep Pastel French Mani With Gold Border
Shape: Our preferred almond shape offers ample space for design.
Length: Ideal for showcasing a meticulous color blend.
Style: Minimalist with a hint of opulence.
Detailing: A slender gold border adds a classy finish.
Palette: Soft pastel hues create a serene aesthetic.
18. Green Cut Apple French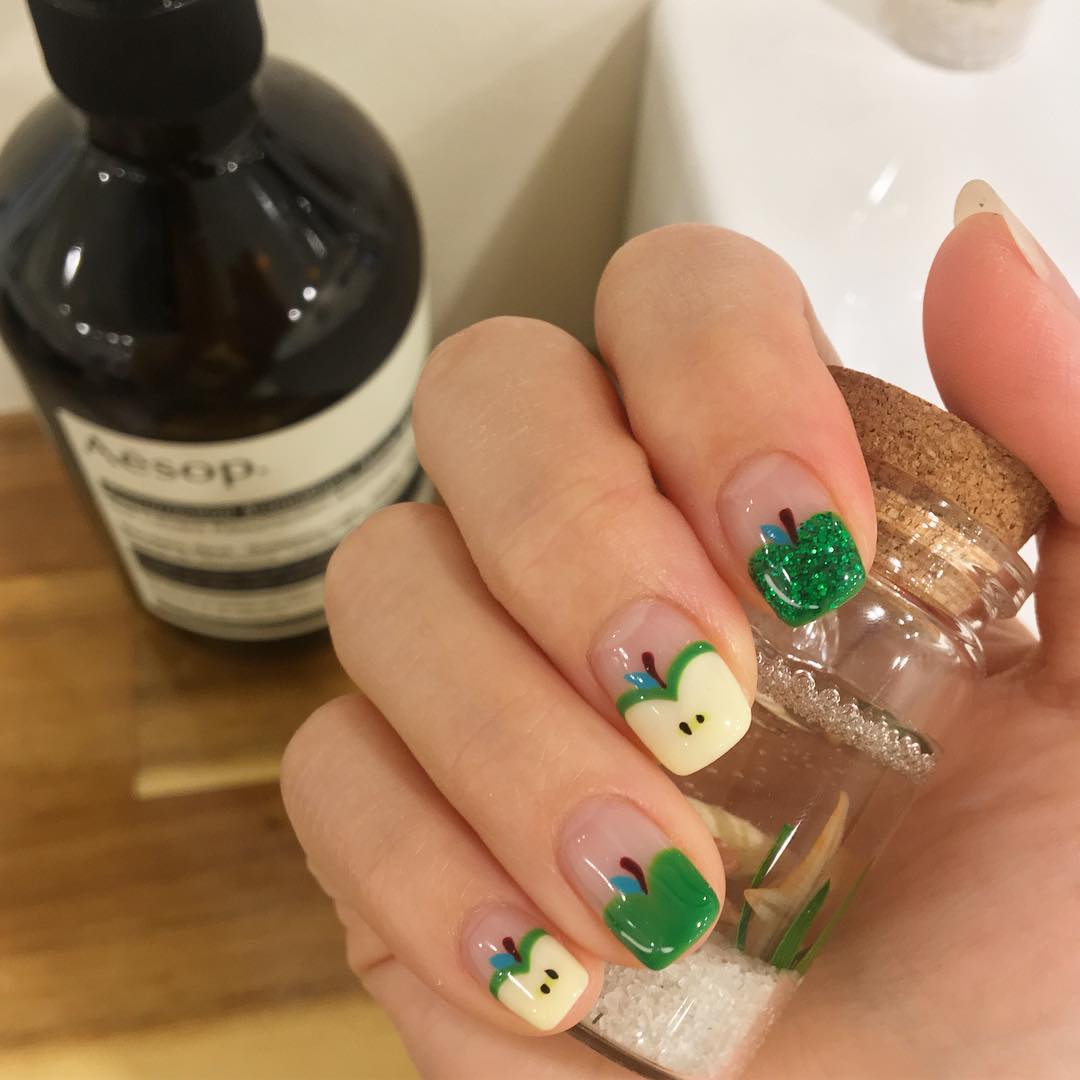 Accentuation: Bold green hues add a bright twist.
Approach:
We incorporate bold green across every nail for a bright statement.
The charm of green amplifies a cheerful aesthetic.
Execution:
We design each nail to feature a green hue reminiscent of a fresh apple.
No single accent nail; the theme extends uniformly.
19. Three Colored French Mani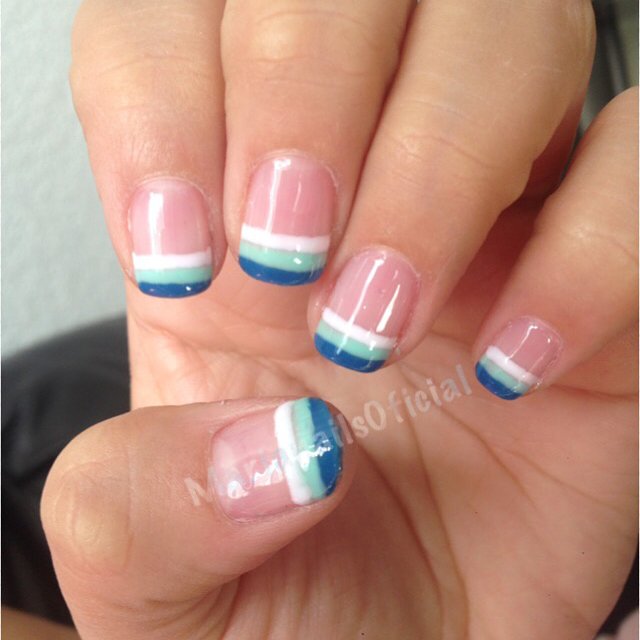 Base Color: White
Mid-Tone: Light Blue
Tip Color: Royal Blue
Our take on the French manicure embraces a multi-colored approach, gracefully transitioning from a crisp white to a serene light blue, culminating in a striking royal blue tip. It's a colorful French manicure that epitomizes sophistication with a refreshing twist.
20. Soft Pastel Rose Mani With Gem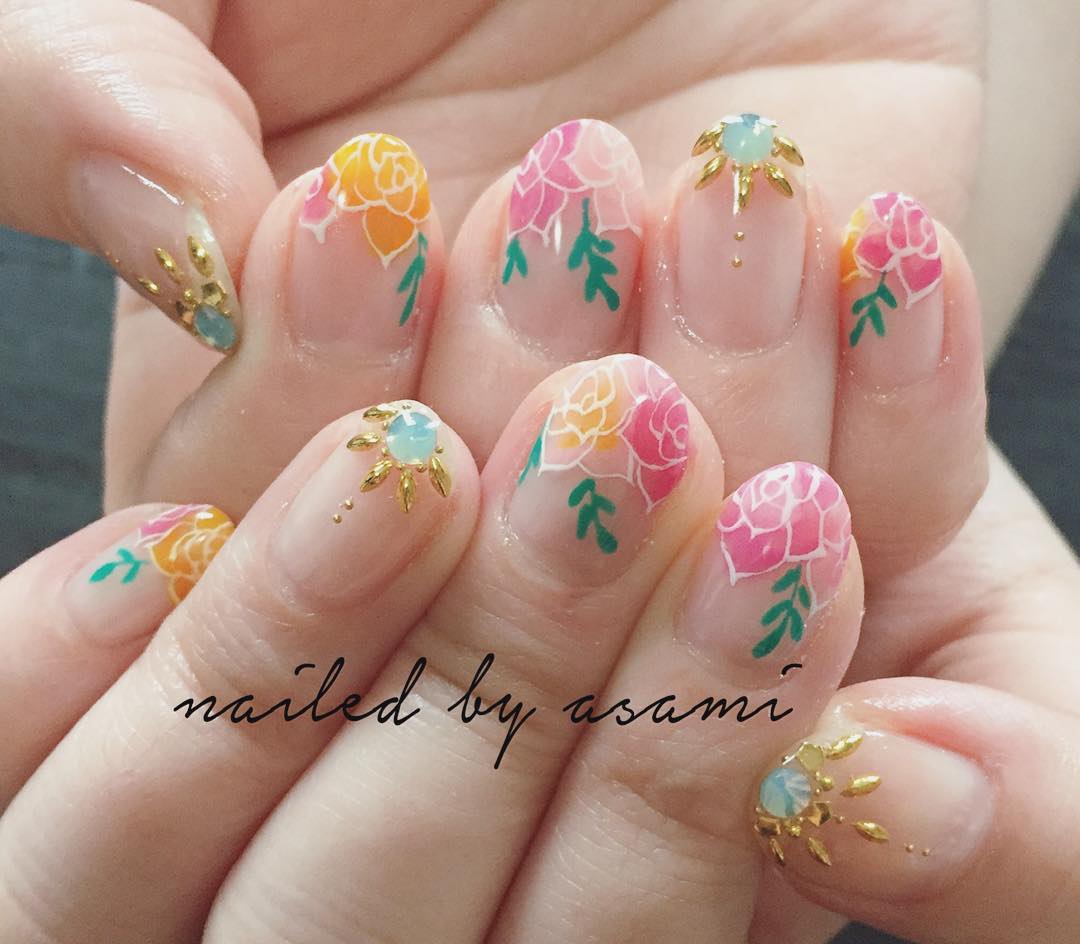 Color: Soft pink tones
Style: Pink French manicure
Occasion: Perfect for weddings
Detail: Adorned with delicate gems
21. Blue-Black Twist French Mani With Naked Half Moon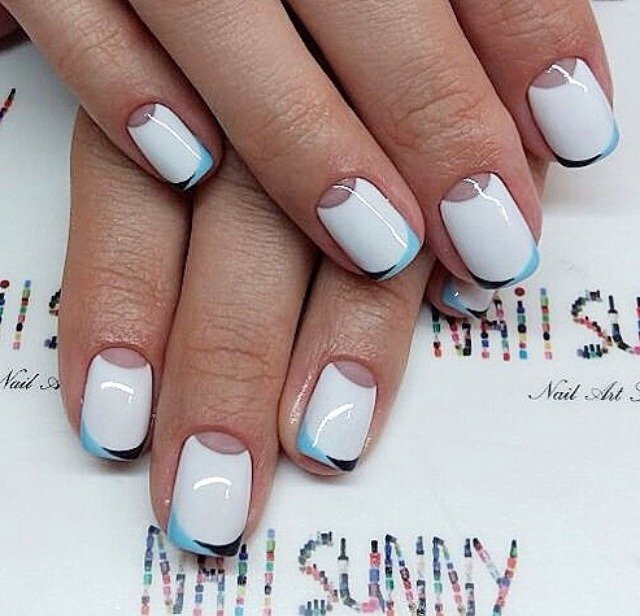 We embrace the elegance of negative space and the chic contrast of blue-black in our French mani twist. With the inverted approach, the half moon adds a subtle yet striking detail.
Base: Clear
Half Moon: Naked
Tips: Blue-Black
Finish: Gloss
This style is a testament to our versatility and attention to modern nail trends.
22. Tropical Leaf With Silver Gems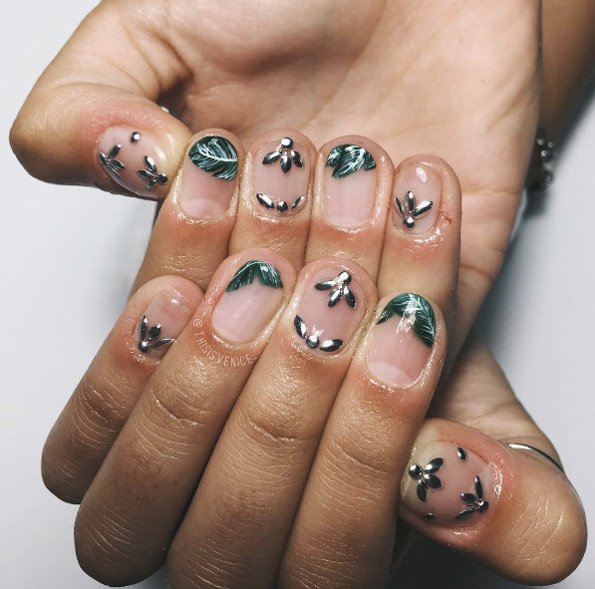 Seasonal Theme: Our summer-inspired French manicure adds a dash of playfulness.
Design: A tropical leaf pattern, perfect for beach outings.
Accent: Embellished with delicate silver gems.
Visual Appeal: Elevates the whimsical charm of nail art.
23. Turquoise Diagonal French Mani With Silver Lines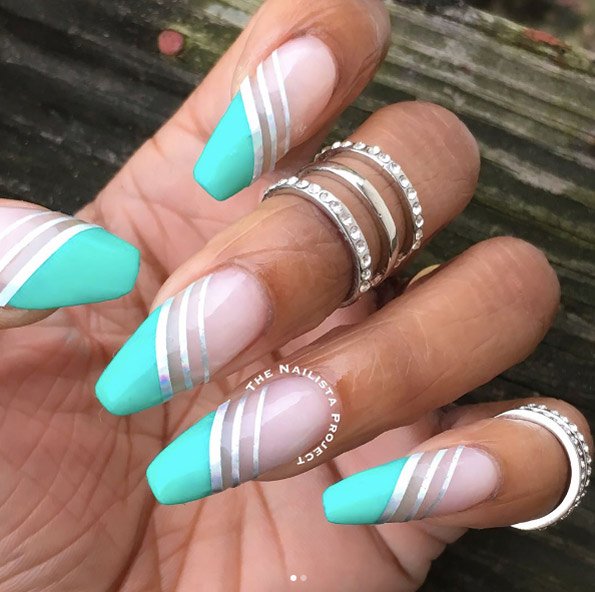 Design: Geometric twist to the classic French manicure
Style: Diagonal turquoise lines accompanied by silver accents
Inspiration: Evolving the traditional straight manicure lines
24. Black And White French Mani With Half Moons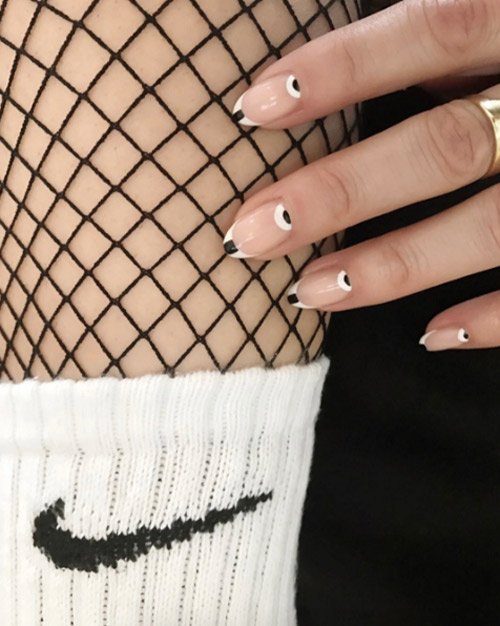 We recommend the black and white French mani adorned with half moons for an evergreen look. This chic style embodies elegance and is suitable for any occasion.
Color Palette: Classic Black & Pristine White
Design Detail: Prominent Half Moons
25. Dotted French Mani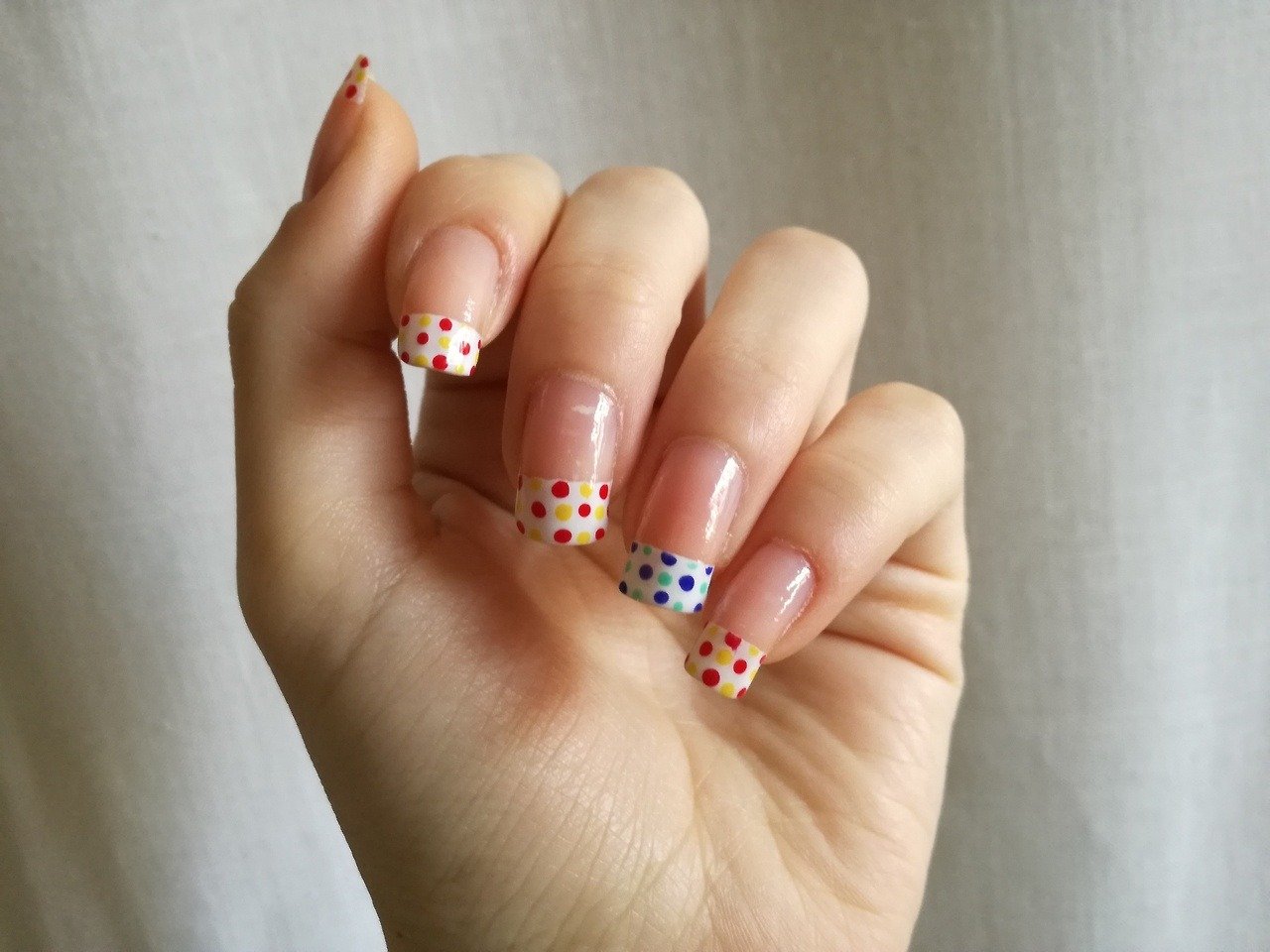 Aesthetic: Whimsical, reminiscent of simpler times
Vibe: Invokes our inner child
26. Louis Vuitton Inspired French Mani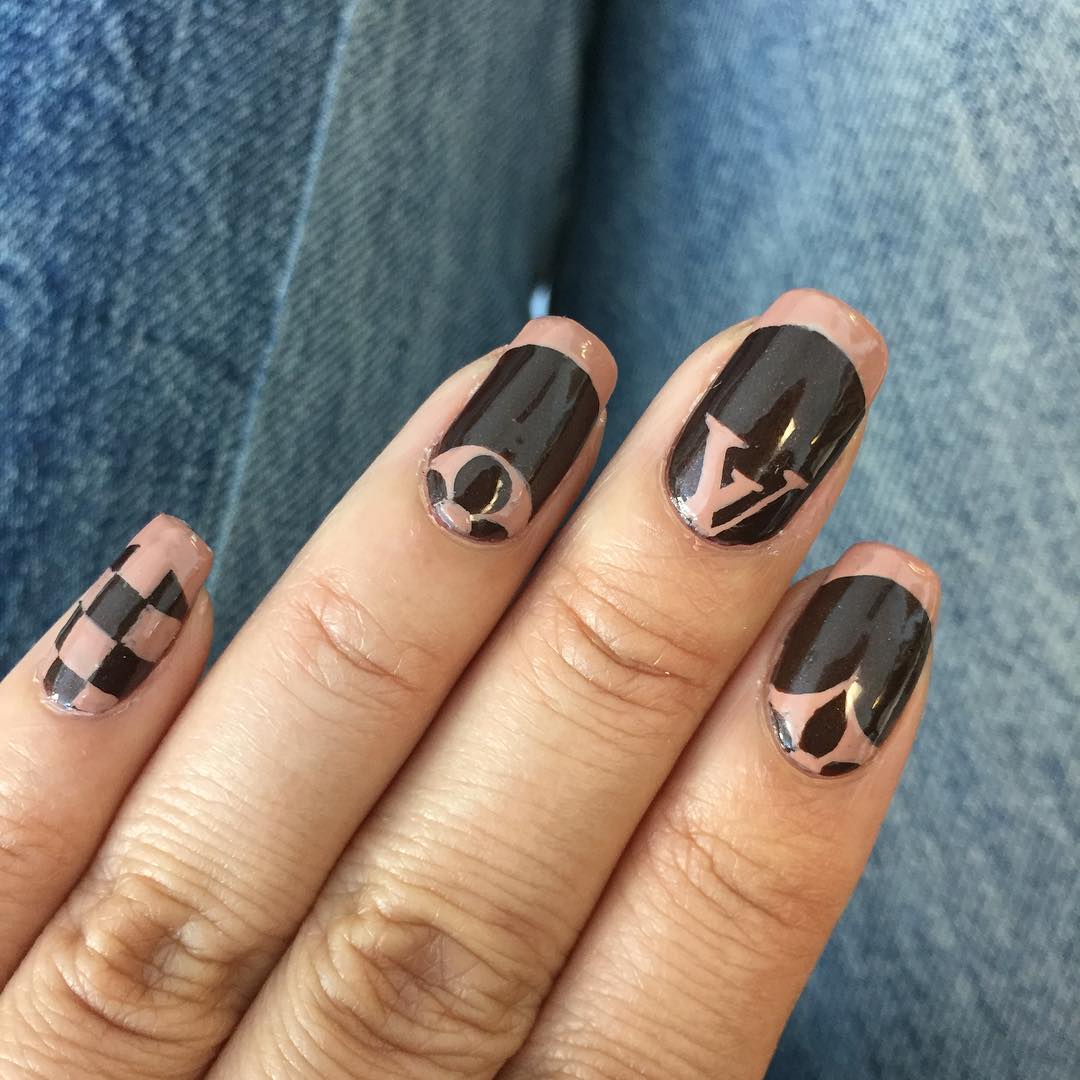 Embrace the luxury of Louis Vuitton with this chic French manicure. Here are the key highlights:
Theme: Louis Vuitton's iconic pattern
Inspiration: High-fashion brand
Imagery: Authentic, unlike imitation products
Engagement: Share your results or ideas in the comments
We present a manicure that incorporates the elegance iconic to a brand synonymous with high fashion. Our approach ensures an authentic representation, steering clear of imitation, and reflecting true brand appreciation at your fingertips.