French manicure is a timeless design. But let's be honest for a moment.
The classic white top French mani is boring.
With that in mind, there are countless of ideas you can use to make the French mani more interesting and unique.
There is so much potential in French mani.
Today, I want to show you how you can make it playful, whimsical, and interesting.
Let's try and give the French mani a new twist, shall we?
1. White French Mani Dusted With Black And Rhinestone Rim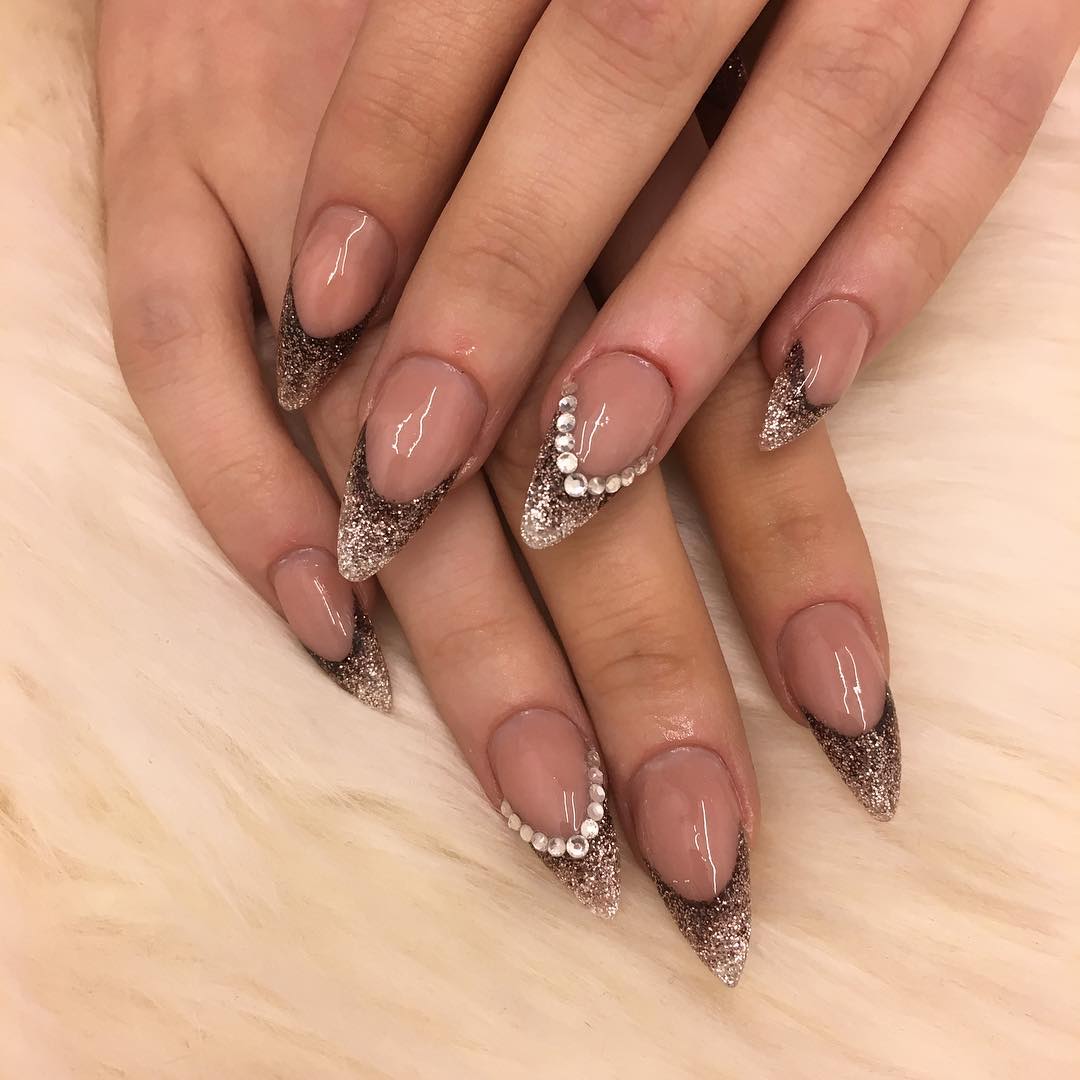 You won't even notice the white manicure here. What I like the most here is the shape of the nails. They look like stiletto nails, which is one of the most feminine and sexy nail shape. Toss in those rhinestones that look like pearls, and you've got an elegant and sexy design.
2. Silver Disco Tips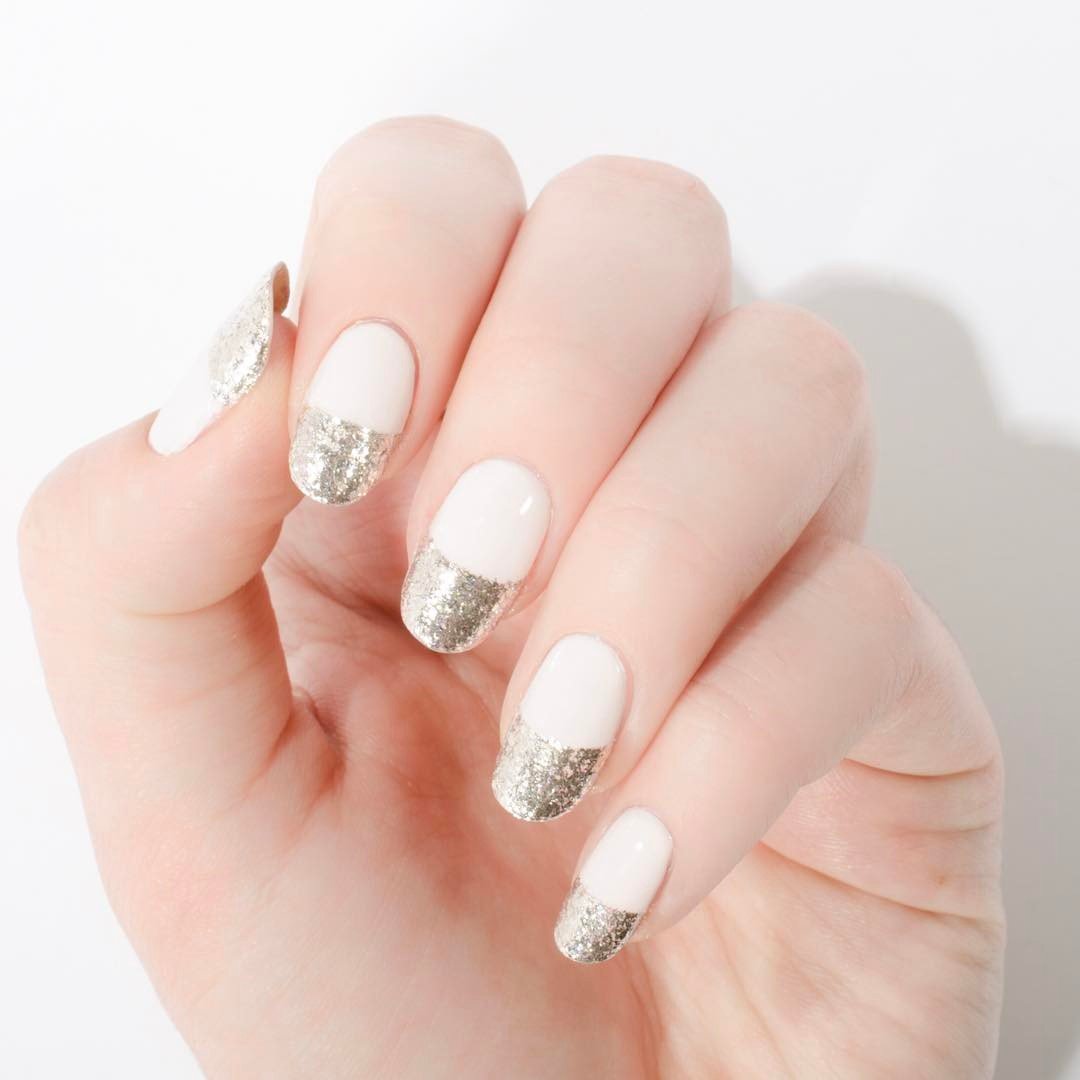 Go back to the 90s for a moment with this twist on the French manicure. 90s parties are widely popular in recent years, and now you have a manicure that will go perfectly with your outfit.
3. Hot Rod Flames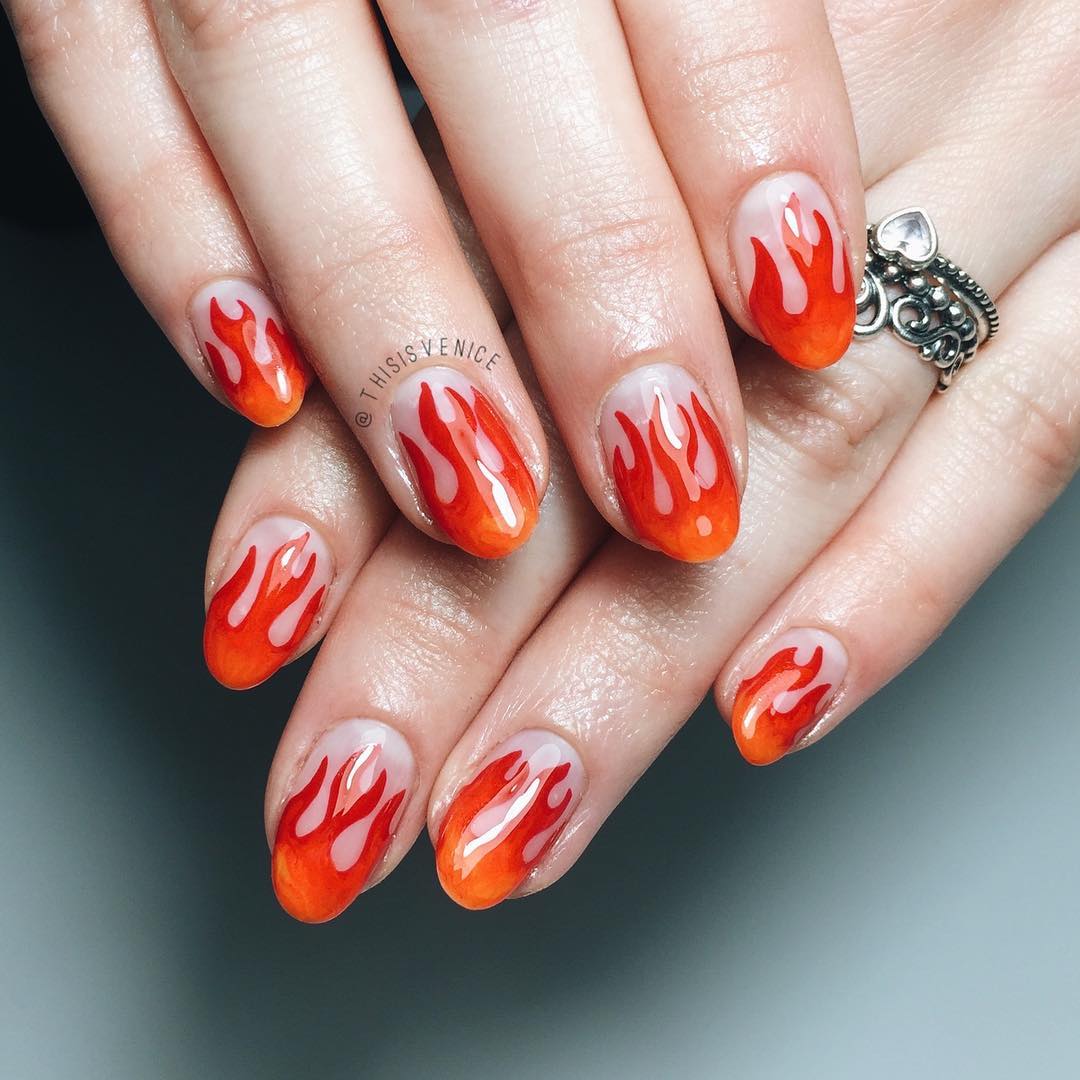 Now, I know what you might think. How is this a French when the entire nails are covered? Well, think outside of the box for a moment. What is important is the sexiness of these nails. Just look at those flames. They are just perfect.
4. Black Flower Lace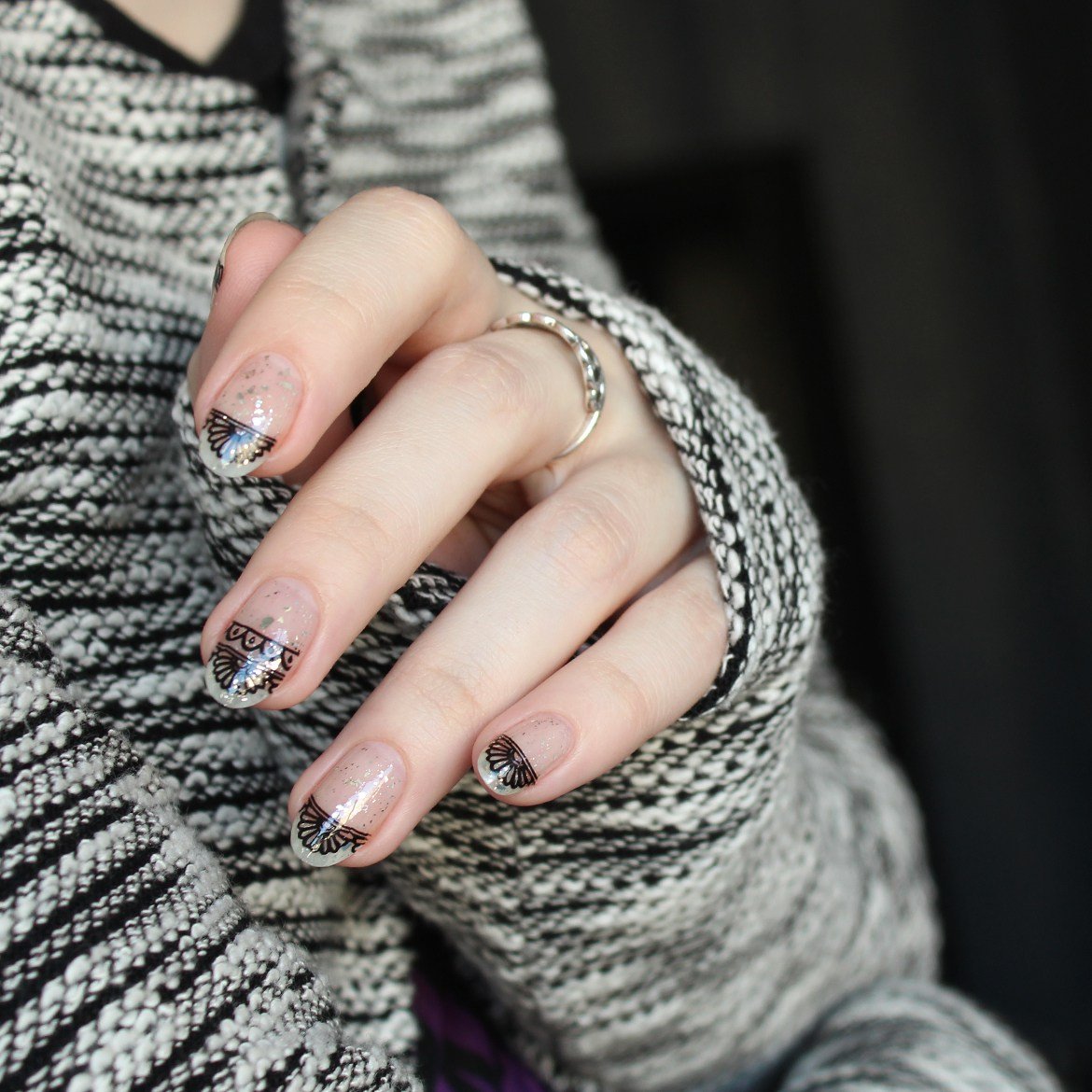 When you want to be romantic and sexy in the same time, opt for lace. It is a standard for everything in fashion, be it clothing, or manicure. When you wear a lace dress, you are playing with your romantic side, but still look sexy. And when you add some lace on your fingers, you are allowing that romantic side to creep out.
5. V-French White Mani With Gold Glitter Accent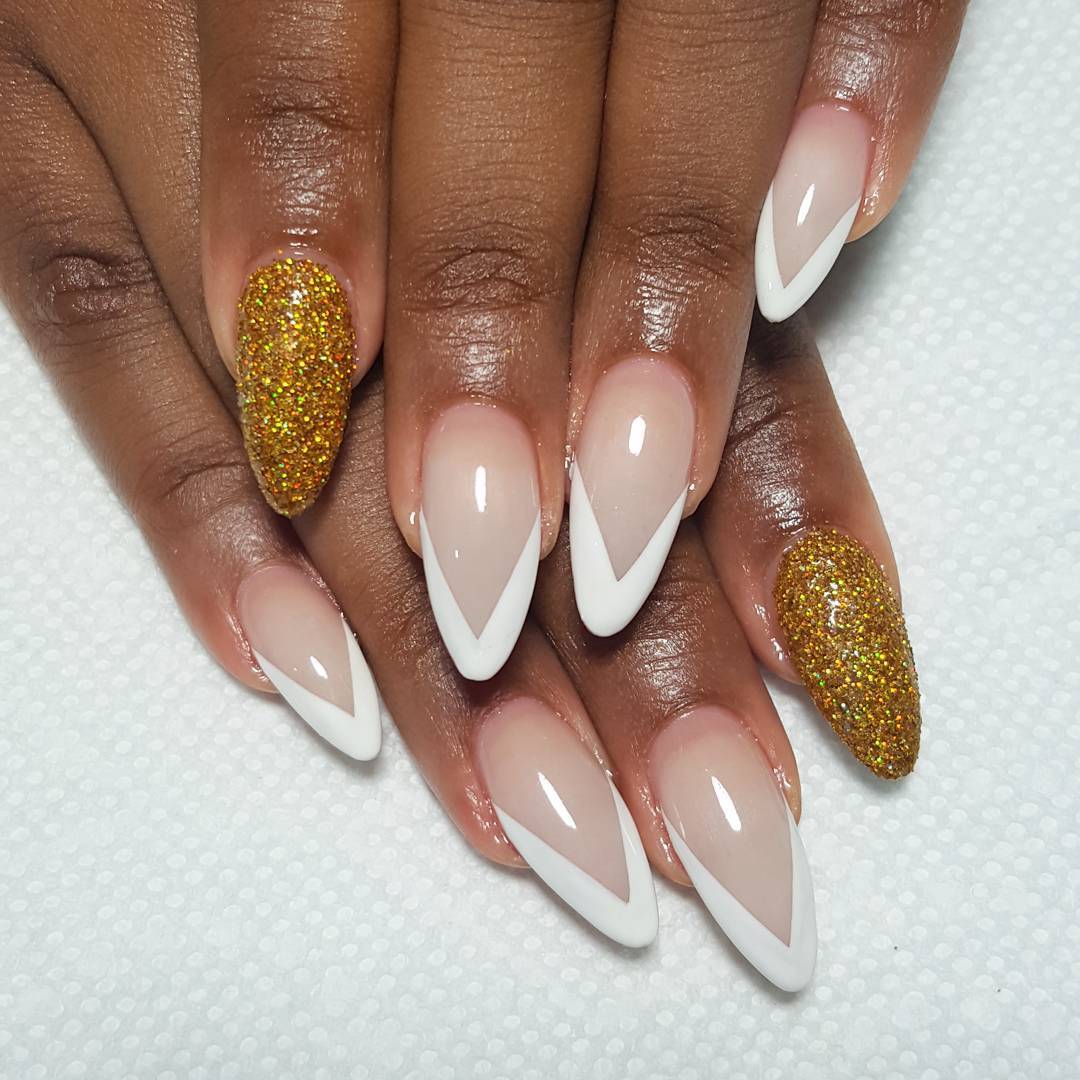 The V shape makes your French nails that much sexier. There is a certain edge in the V-shape, and you just cannot ignore it. The gold glitter accent is just cherry on the icing.
6. Short White French With Drawn Patter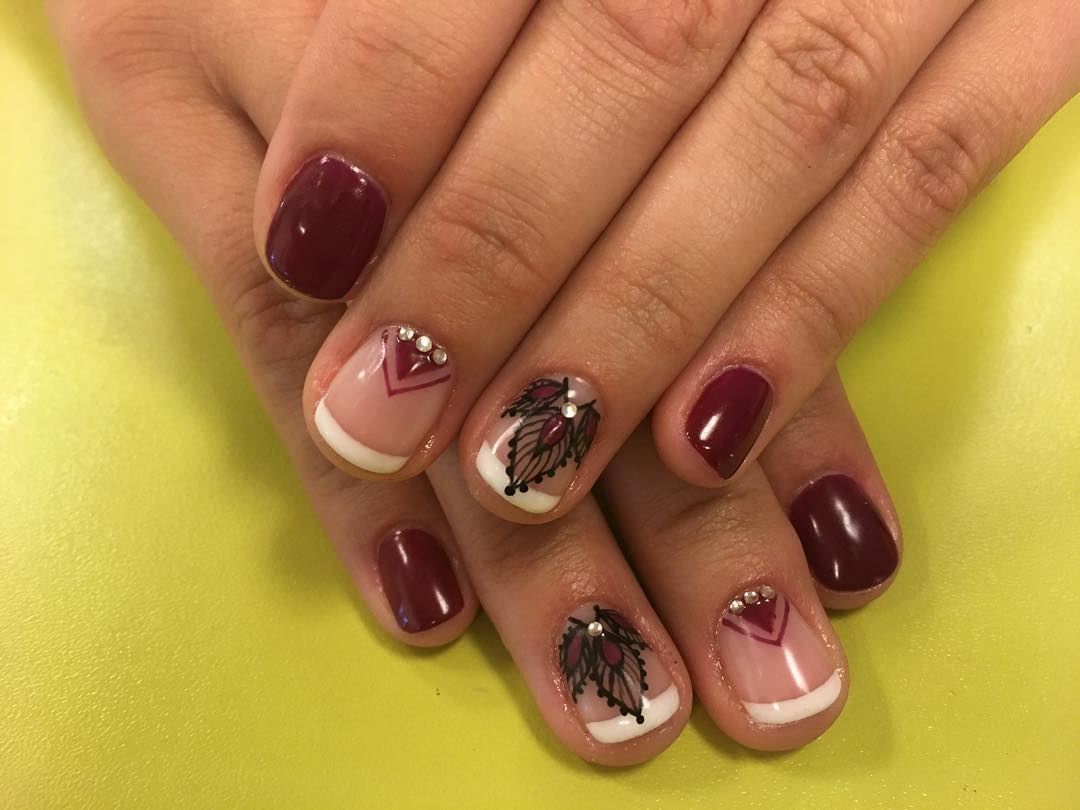 When you look at these nails, you won't even think it is a French manicure. But the basic principle of French is there, and that is white tops. Everything else is just creative thinking.
7. Yellow Neon With Black Flower Pattern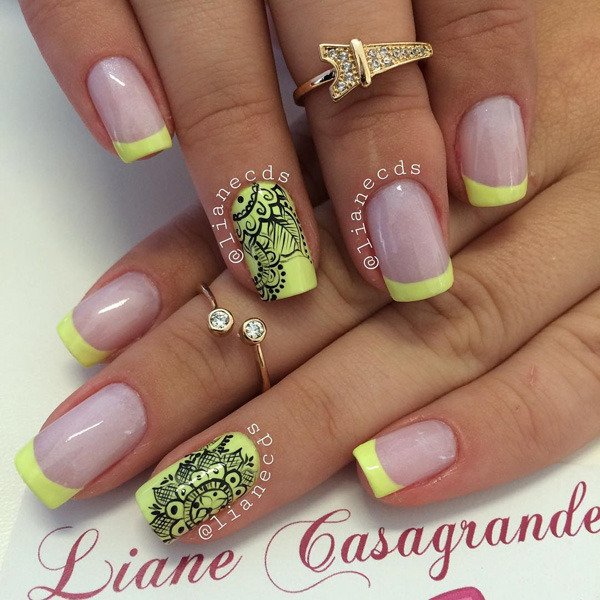 Lots of people think that white is the standard color for French. Well, you cannot be more wrong. Just change the color of your tips, and you'll see how differently your French will look. Add in some accent nail in the mix, and you've got a unique manicure.
8. Extended French Mani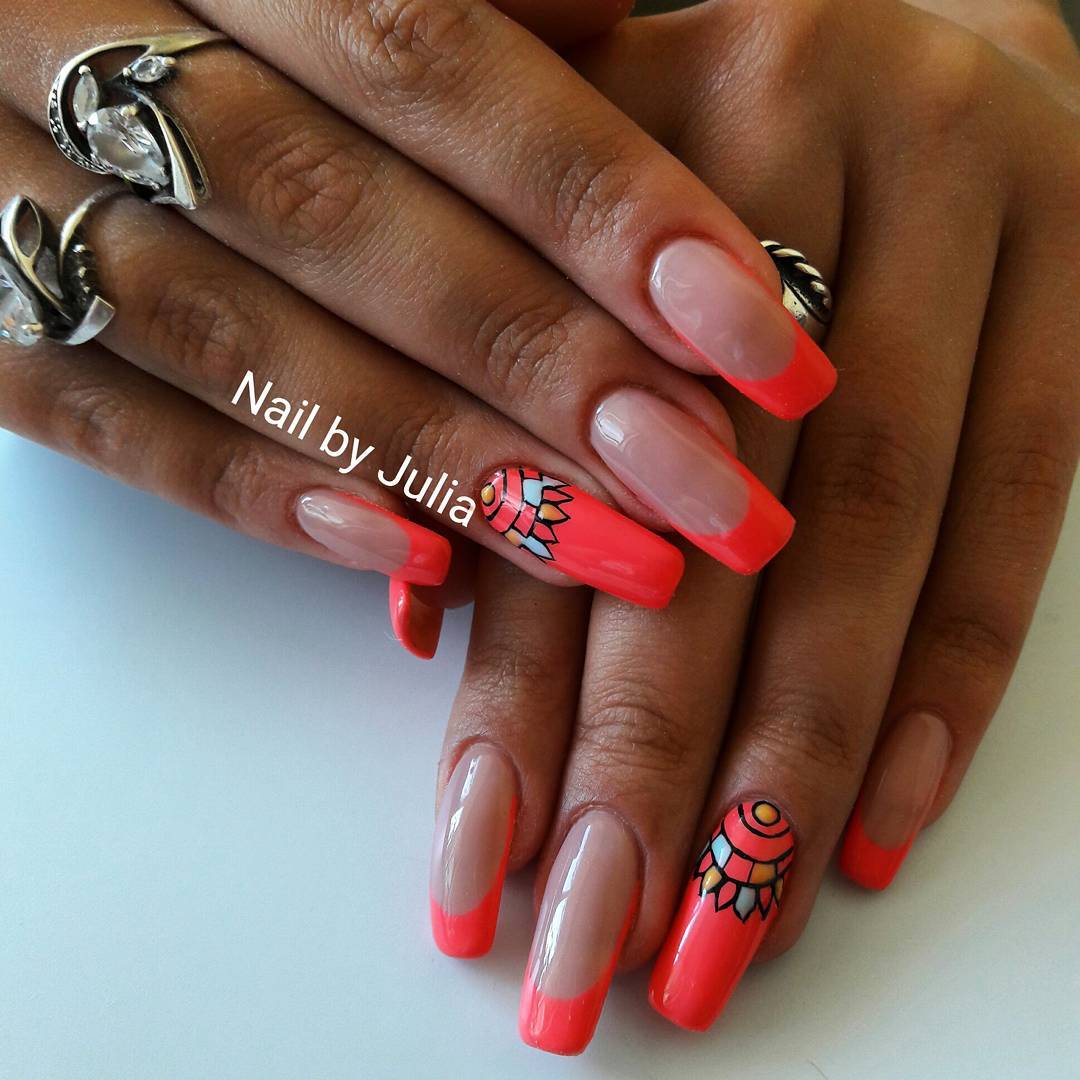 Some women prefer longer nails. And I have no problem with that. Personally, I do not find long nails that much good. But if you want French manicure on long nails, you can further emphasize the length by extending the color on the tips.
9. Butterfly Wing Pattern
When I think of cute and adorable manicure, butterflies are among the top 5 ideas. With that in mind, I want to show you how to make butterfly manicure as part of your French tradition. The colors are just perfect for a summer or spring manicure.
10. Red Flower Petals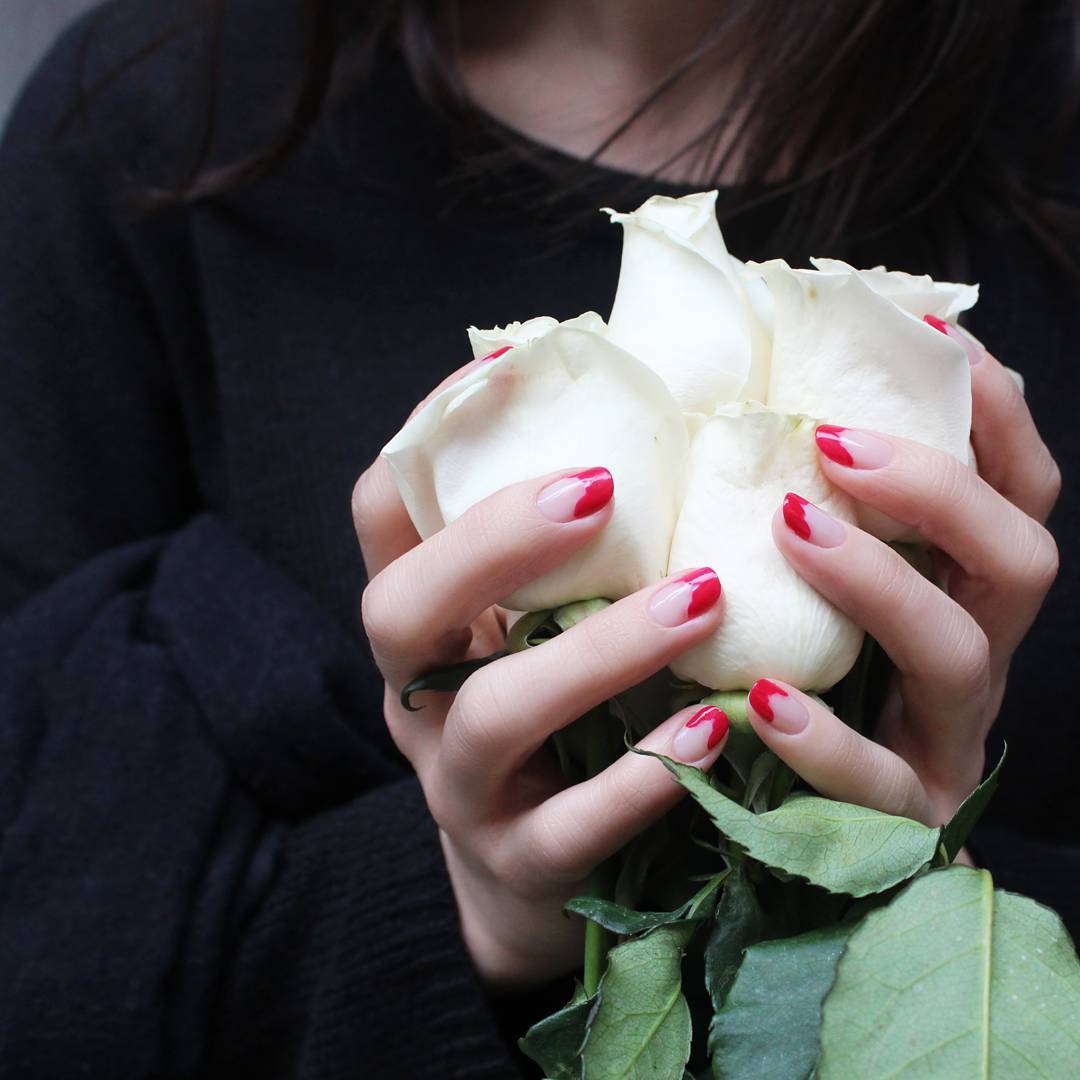 The stereotype is that all women want flowers. And no matter how stereotypical it sounds, it is mostly true. And when it comes to flowers, roses are always on the top of the list. Therefore, I want to give you a way to wear flowers on your nails. If you like it, try it.
11. Two Tone Blue With Silver Border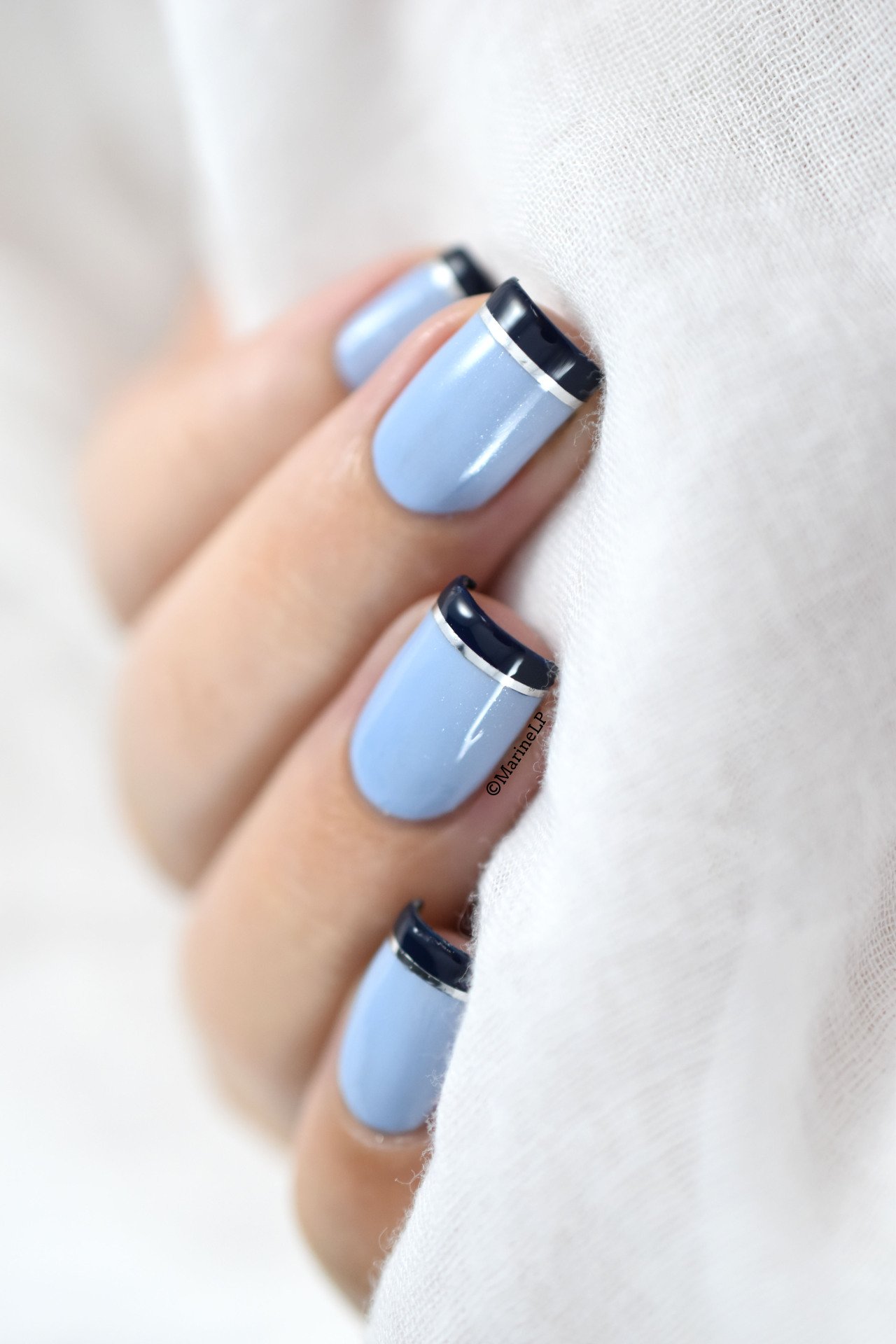 The basic principle of French manicure is two colors, with one just a line on your tips, and the other occupying most of your nails. What you chose for those two colors is totally up to you. As you can see here, you do not always have to go with nude and white as a combination.
12. Green Glitter Accent French Mani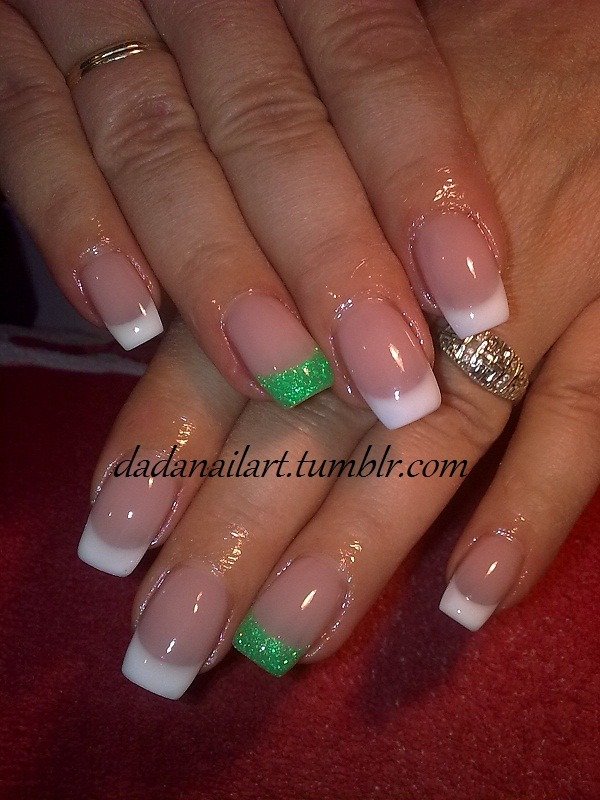 As you can see, just a little tweak on the classic French and you already have playful manicure. One nail is all that it takes. Put some glitter on one accent nail, it doesn't have to be green, and you have yourself a fun Frenchie.
13. Blocked French Mani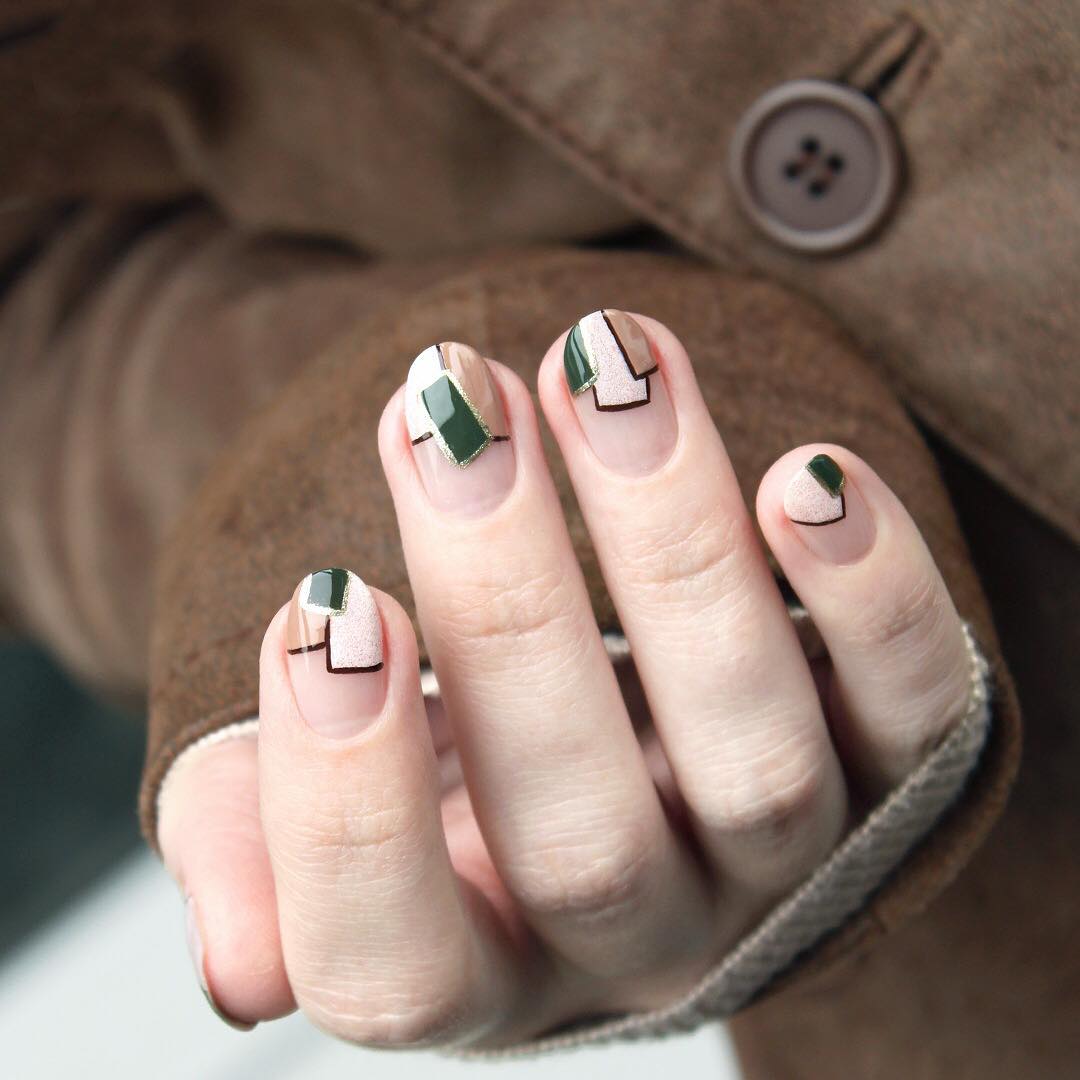 Geometry is a huge part of fashion in the past few years. You can say that this "block" French mani is actually tribute to geometry. Just look at those shapes and forms.
14. Rainbow Lightened French Mani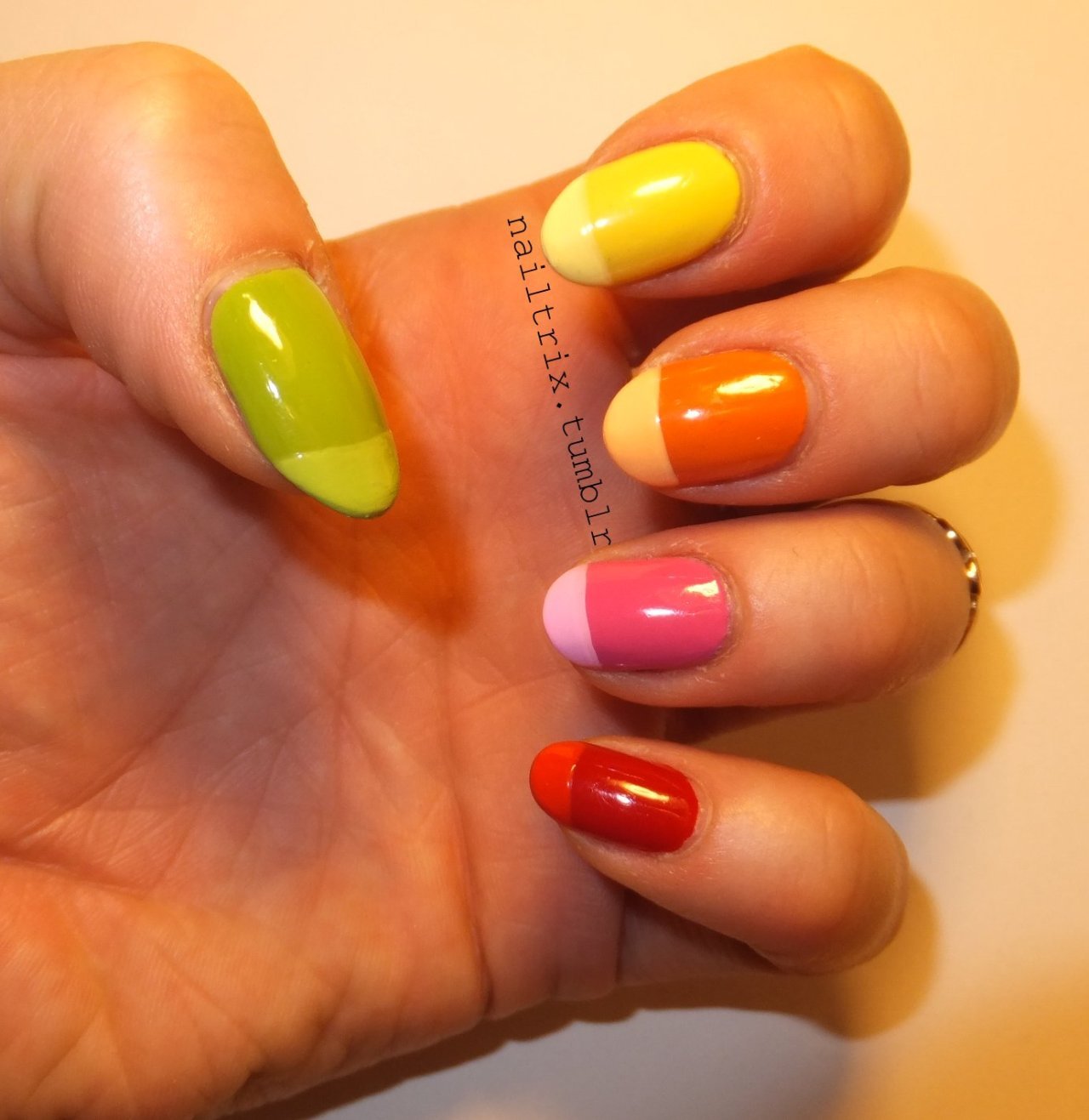 All right, we officially enter the colorful world of French manicure now. French is usually two color scheme, but some women just LOVE colors. And if that is the case, I give you a rainbow idea for your French. Basically, every nail is in a different two color scheme. Fun right?
15. Purple Violet French Mani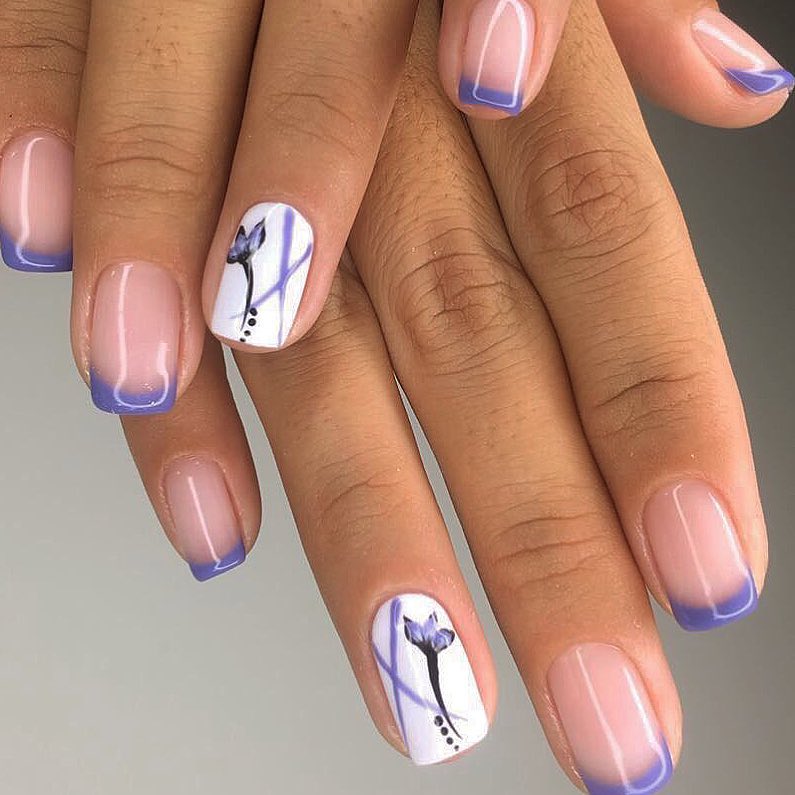 Sophisticated and elegant, that is all I have to say about this manicure. Violet is a color of royalty and elegance. And with that accent nail in the middle, you get even more elegance.
16. French Chrome With Chain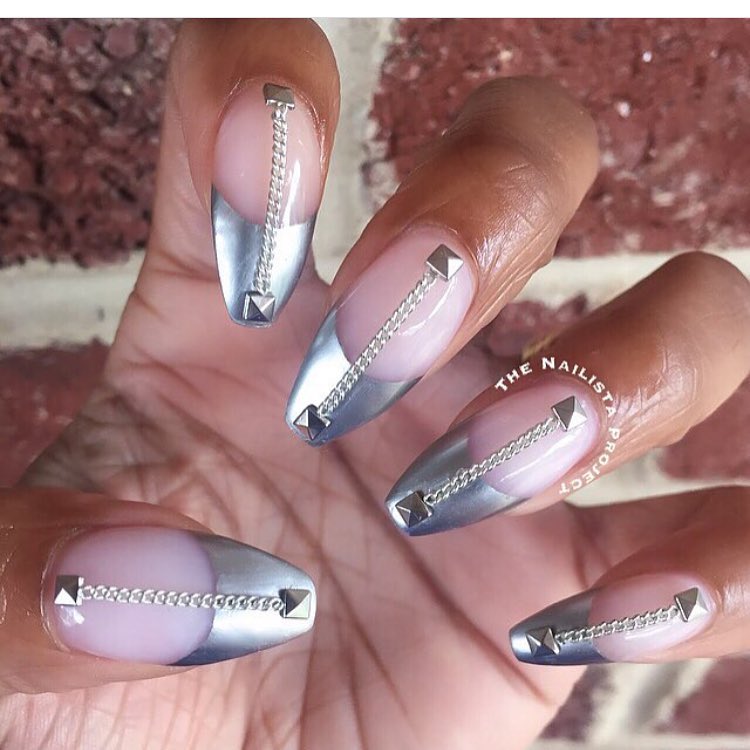 As you can see, there are also some alternative and rebellious takes on the French manicure. This one, for example, looks like something Lady Gaga would wear on her nails. Who knows, she might have tried it once. And if that is something you dig, go for it.
17. Deep Pastel French Mani With Gold Border
I said previously that I am not much of a fan of long nails. But this length is just perfect. Almond shape is one of the best shapes for manicure. And because of the shape, you have just enough space for the colors that are delightful.
18. Green Cut Apple French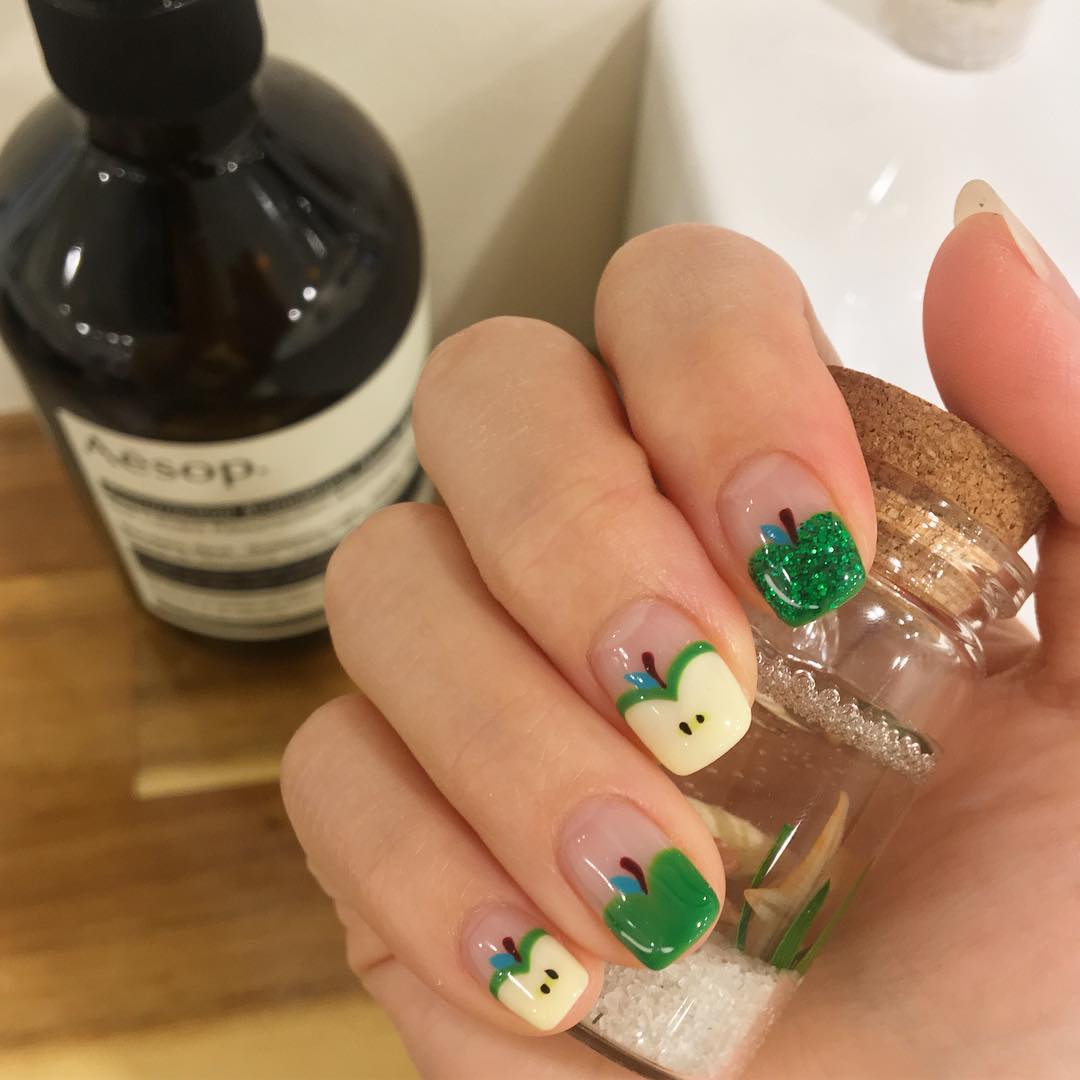 We saw previously how green glitter can completely transform your nails. Now, let's go a step further. Green is such a cheerful and joyful color, it would be a shame to limit just to one accent nail. With that in mind, while apples are cute and adorable, this manicure is definitely awesome.
19. Three Colored French Mani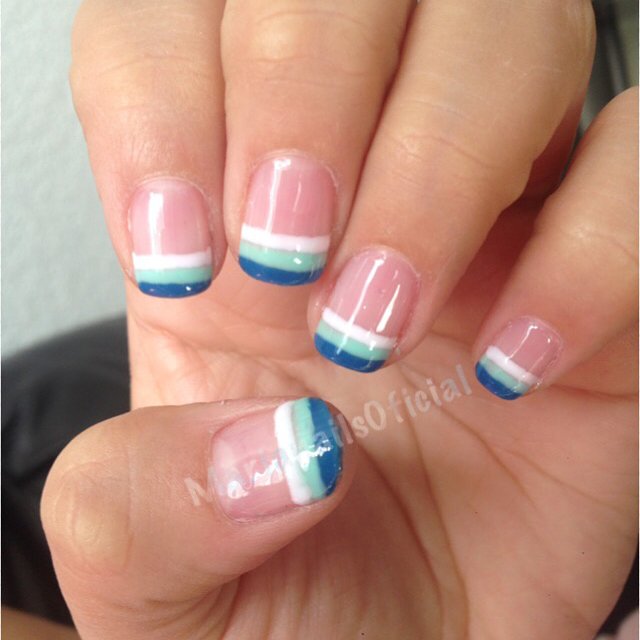 I said several times that French is basically a two color scheme. Well, sometimes, you can add an extra color and get something of an ombre effect. From white, to light blue, to royal blue, this manicure is just pure elegance.
20. Soft Pastel Rose Mani With Gem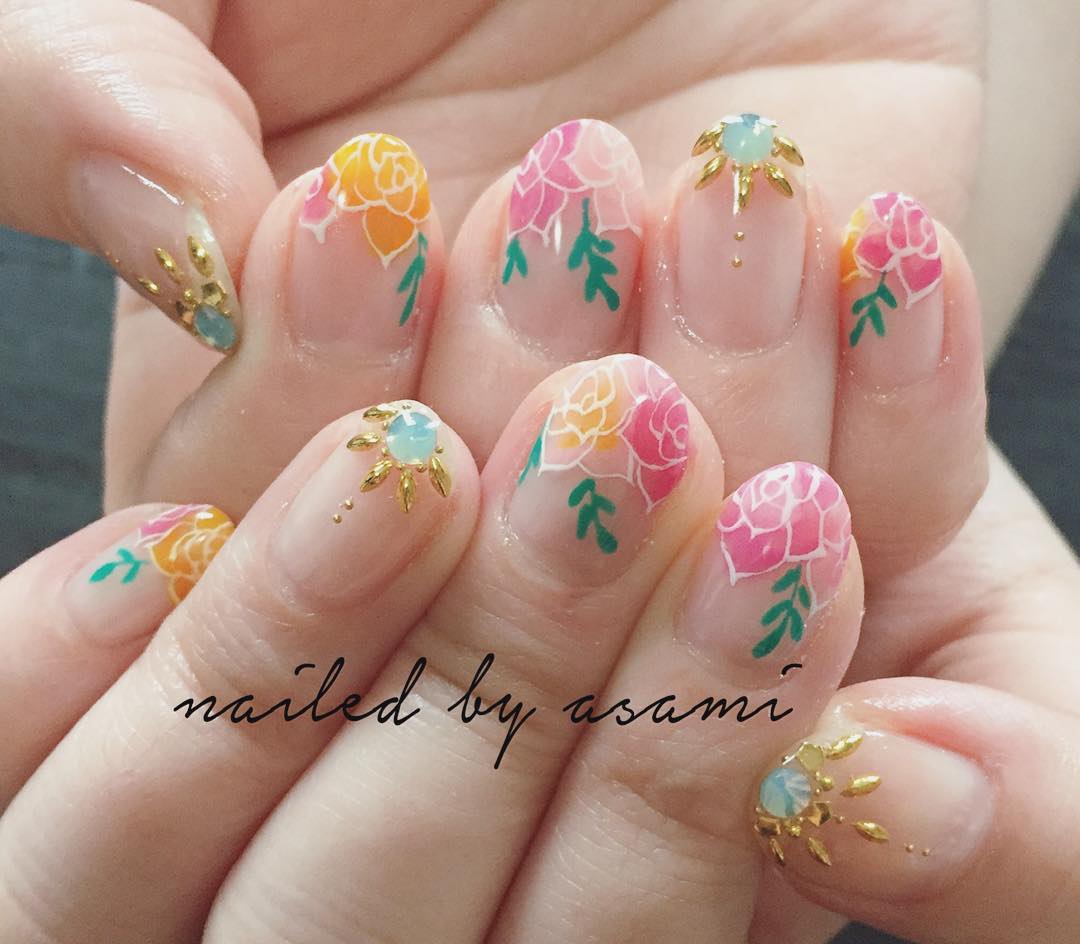 You can say this manicure is a work of art. Think of your nails as a white canvas, and just roll with it. Definitely an artistic and creative manicure that requires attention to detail.
21. Blue-Black Twist French Mani With Naked Half Moon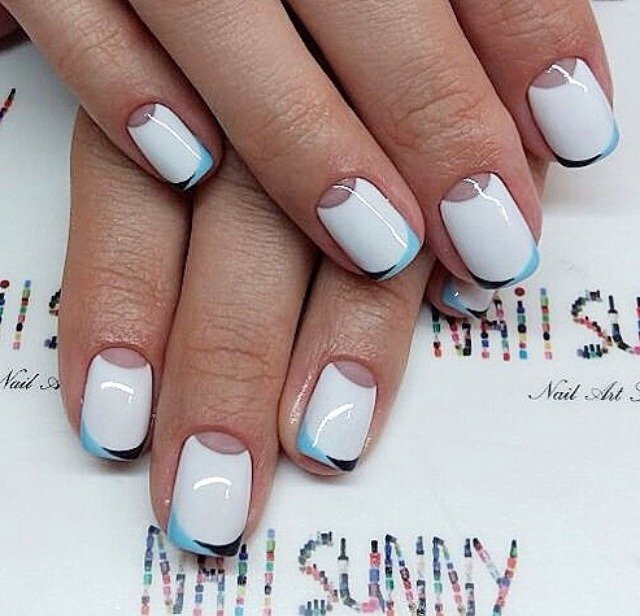 What I love here is the mix and match approach to the Frenchie. You have several different styles of manicure, all mixed in one perfect end product. The half moon is somewhat similar to the French. Or some people like to call it the reverse French. Whatever the case, you cannot deny the fact that these nails are pure perfection.
22. Tropical Leaf With Silver Gems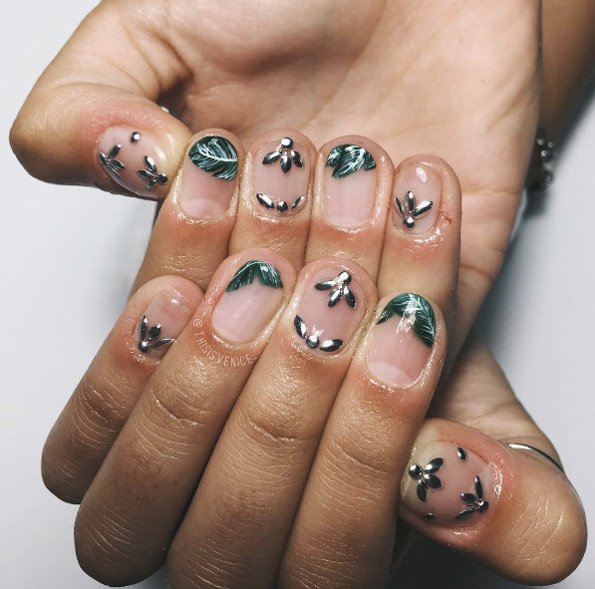 I said at the beginning that I will give you ideas to make your French whimsical and playful. Well, I deliver on my promise. Is there anything more playful than a beach (summer) themed manicure?
23. Turquoise Diagonal French Mani With Silver Lines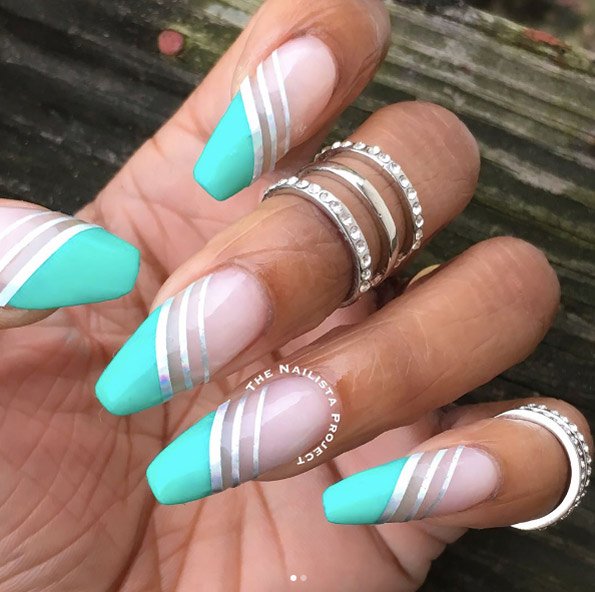 People like to play with different things when it comes to the French manicure. One way to tweak is to change the line. Go from straight line to a diagonal line, and you already have a different perspective.
24. Black And White French Mani With Half Moons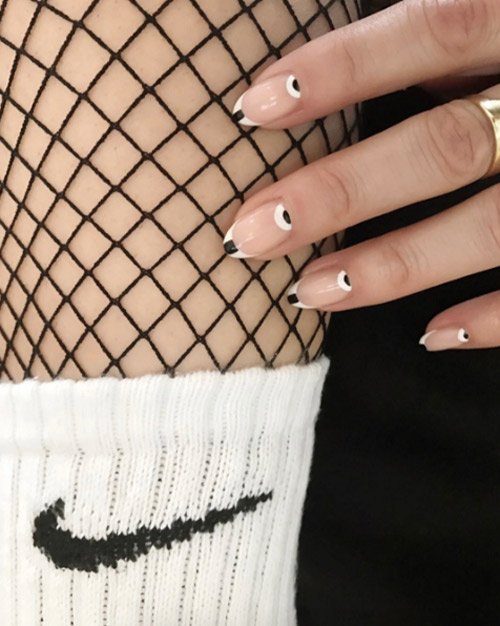 If there is anything more timeless than French, that is black and white. When in doubt, go for a black and white combination. And it applies to anything, not just manicure. Be it clothing, fashion, interior design, or your nails, black and white is a combo that you can never go wrong with.
25. Dotted French Mani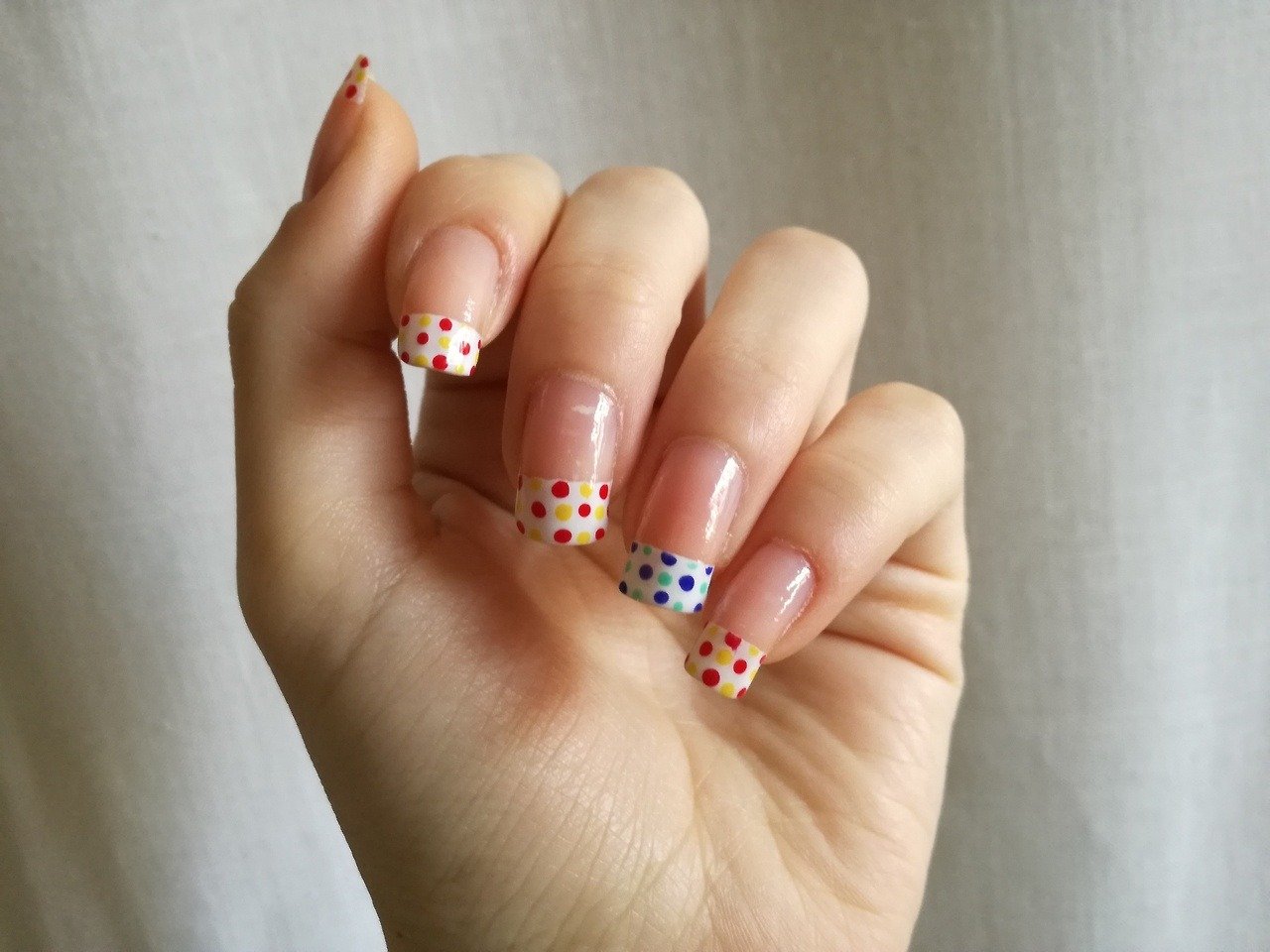 Dots are just perfect when you want something cute and adorable. They reminisce childhood memories, and that is something we like to get. We all want to cater to our childhood spirit every once in a while.
26. Louis Vuitton Inspired French Mani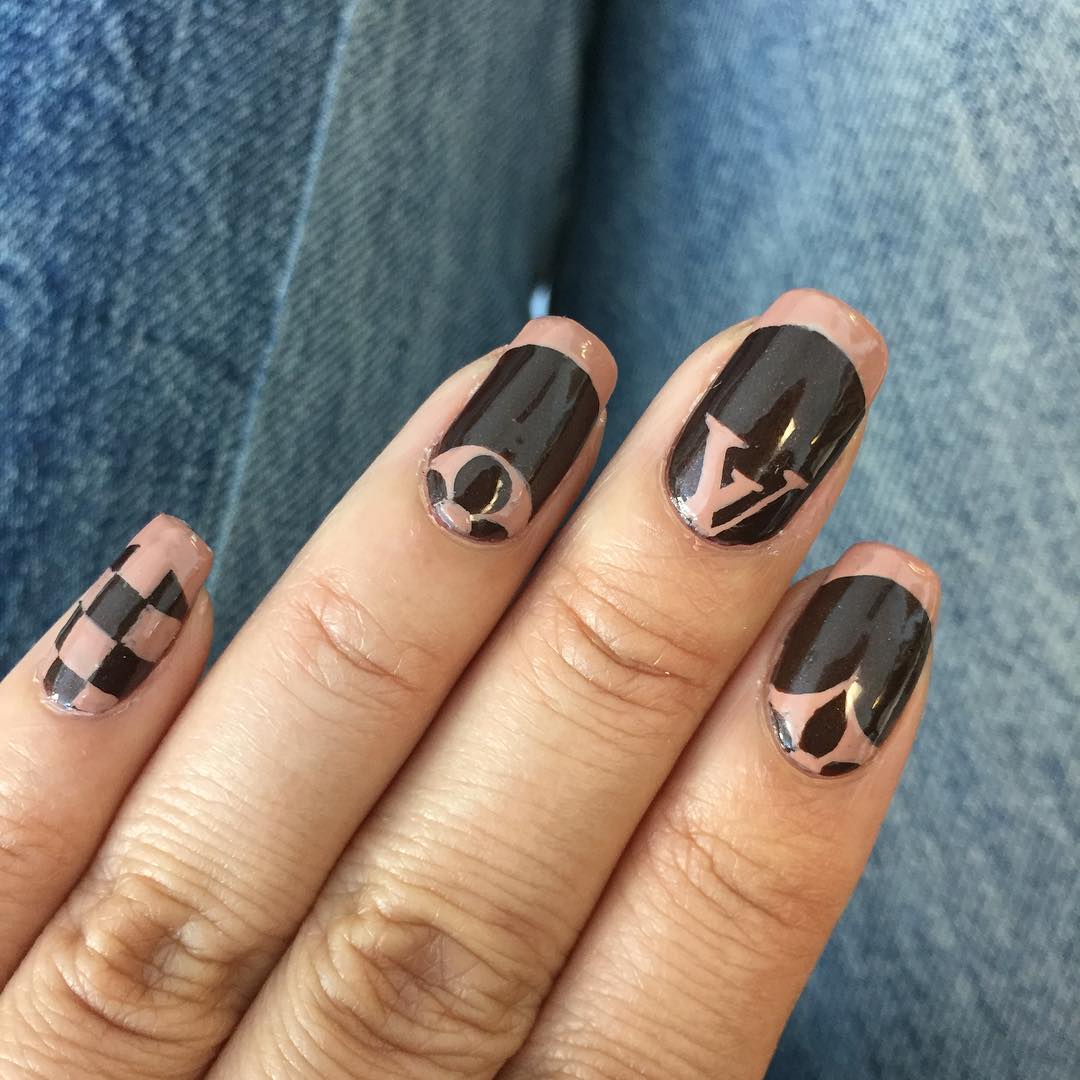 We finish off with a fashionable manicure. When you think of fashion, Louis Vuitton has to be among the top 5 things you can think of. With that in mind, we have a manicure inspired by the popular fashion brand. And no, this is not one of those fake bags.
I hope you found some inspiration among the ideas. Feel free to share your ideas in the comments. Or if you try some of these manicure ideas, show us the result.