The summer lasts only for three months, but your refreshing manicure can last through the entire year.
These nails are so fresh and fruity, you'll have a hard time keeping away from them.
Even though the summer might be over, you can still go for some summer-inspired manicure.
With that in mind, let's take a look at some fruity nails that are fun and beautiful in the same time.
1. Sun Yellow With Watermelon Slices Accent Nail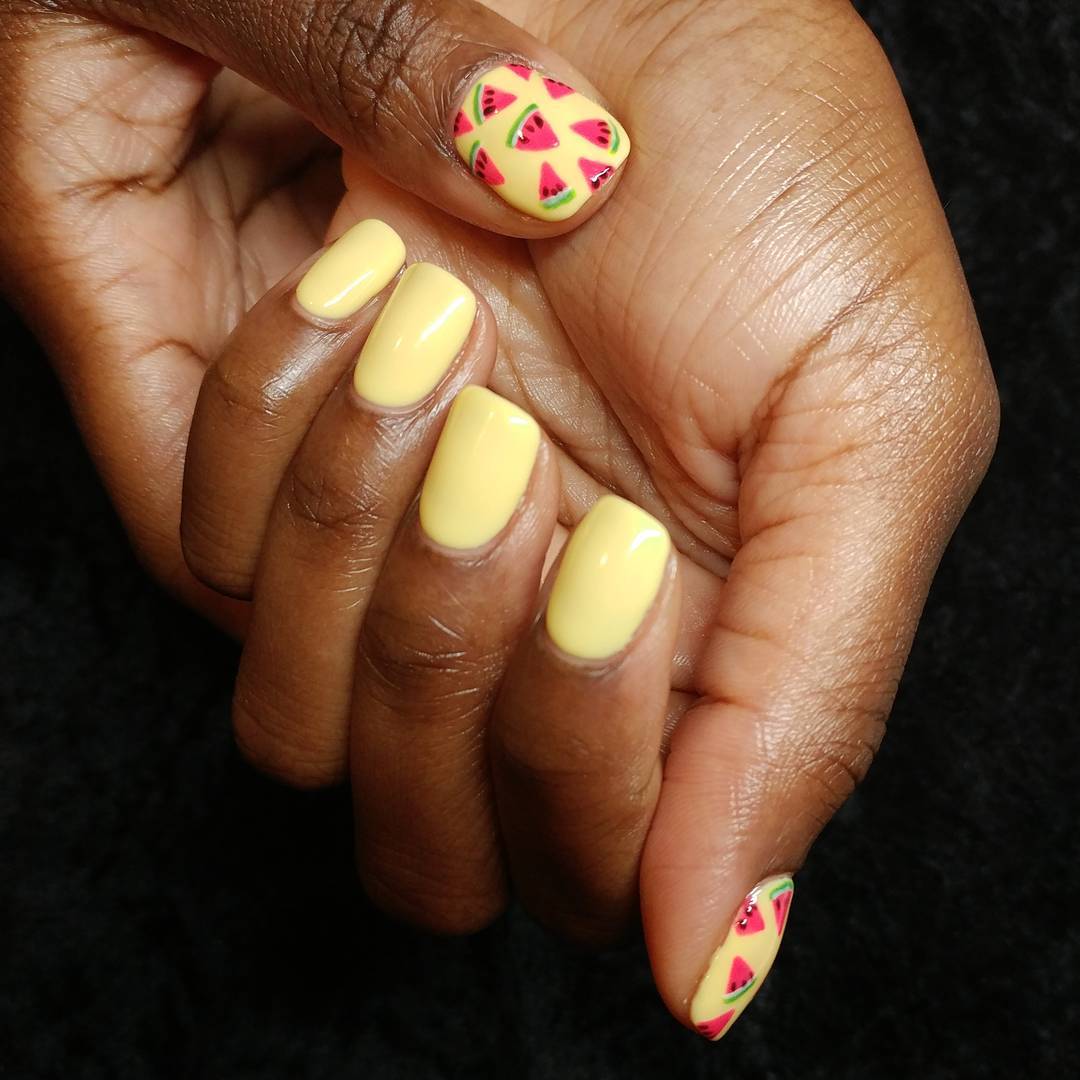 When you think of summer, you think of summery yellow for sure. And that is why we start off with the signature summer color. Yes, the sun might be in demand after the summer. So, go for the summer yellow manicure. And watermelon is the signature summer fruit. It is only logical we pair these two together.
2. Red Strawberry Nails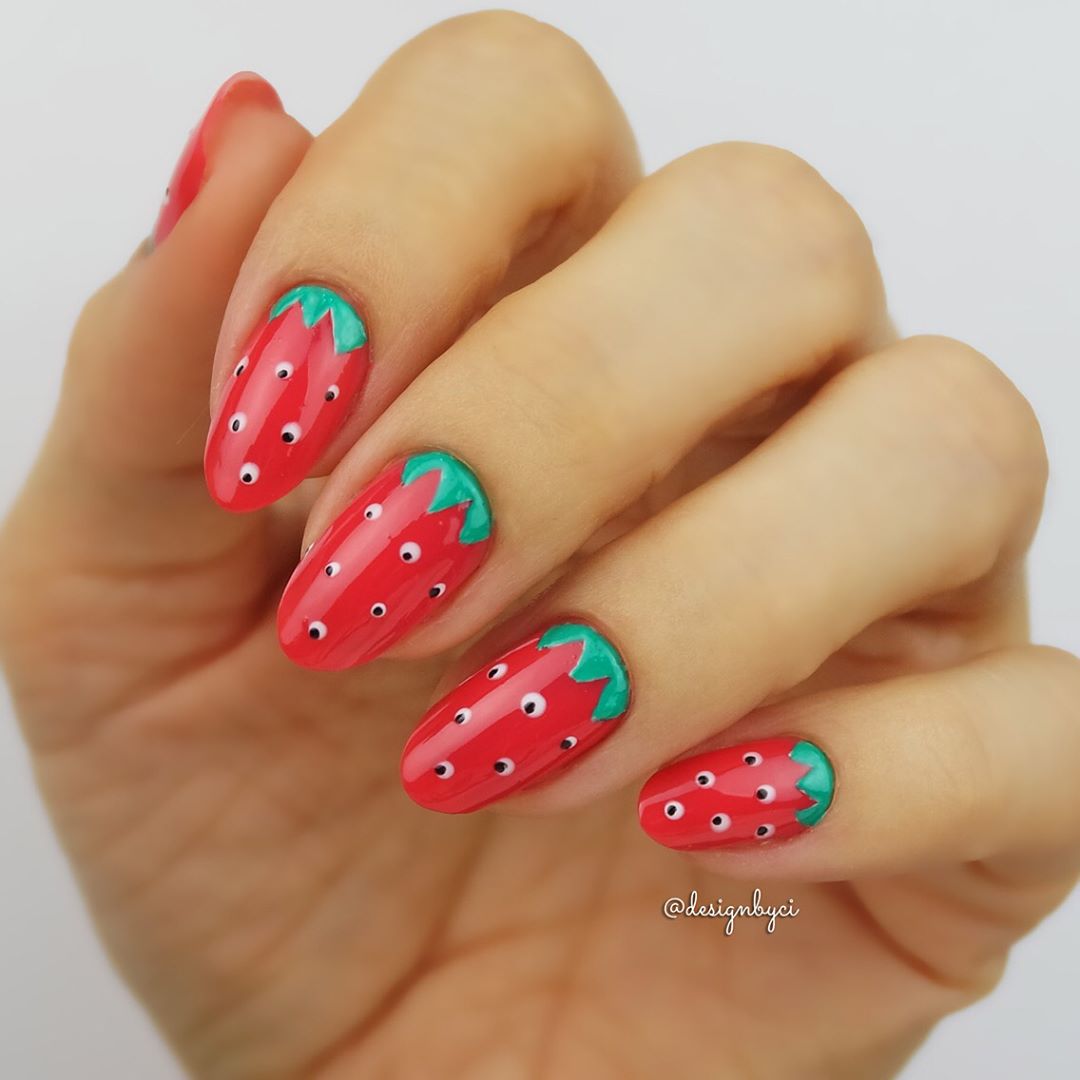 You just cannot have enough strawberries during the summer. One of the most refreshing fruits for sure. If you dig strawberries, try them on your nails as well.
3. Naked Nails With Striped French Mani And Lemon Slices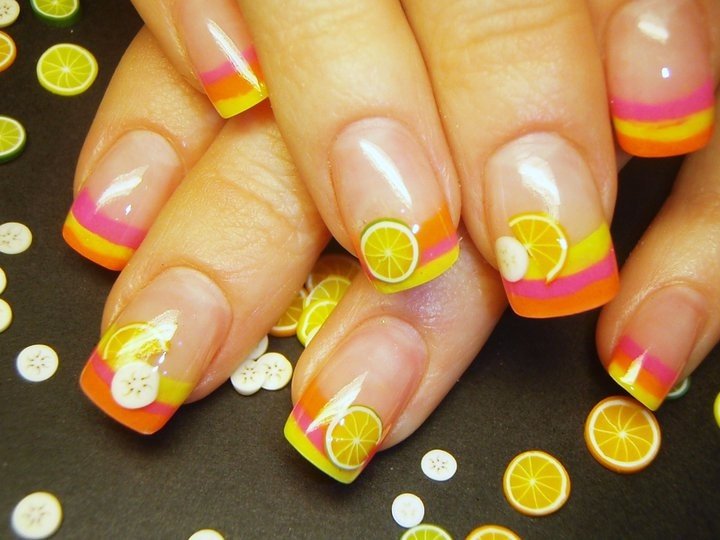 I've written a lot about how French mani can look vivid, playful, and whimsical. People think that French is that boring white line on your tips. No, French is so much more. And for your summer-inspired French, nothing beats the lemon slices and lemon color.
4. Teal Acrylic Nails With Pineapple Accent Nail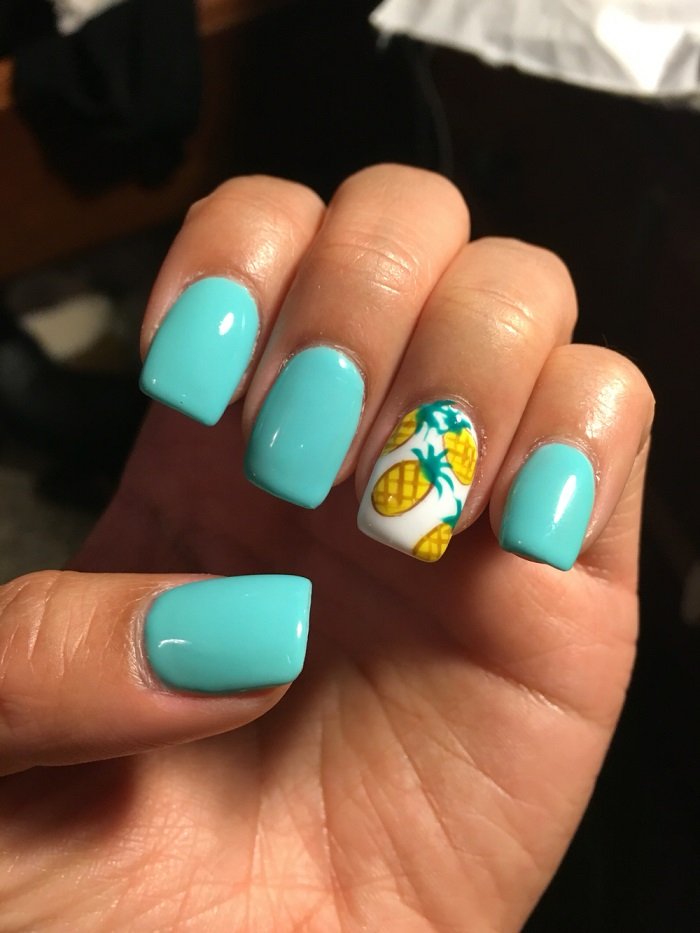 To be fair, any fruit you chose is great. There are so many colors that make your summer manicure shine. Teal is more of a subtle and down to earth color. One that will not pop as much as others. The pineapple follows that line as well.
5. Pretty Pink Nails With Watermelon Accent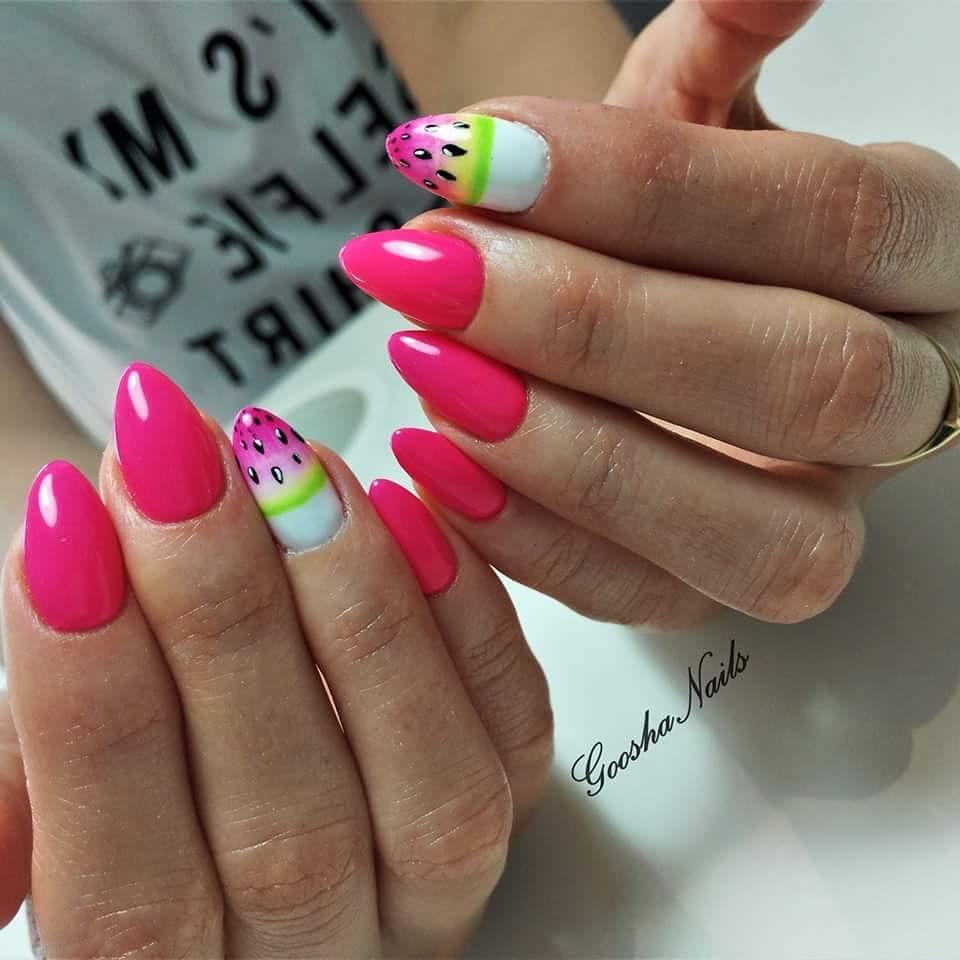 The color of the watermelon, and the watermelon on top of it. Is there anything more beautiful and more summery?
6. Fruit Salad On White Base Nails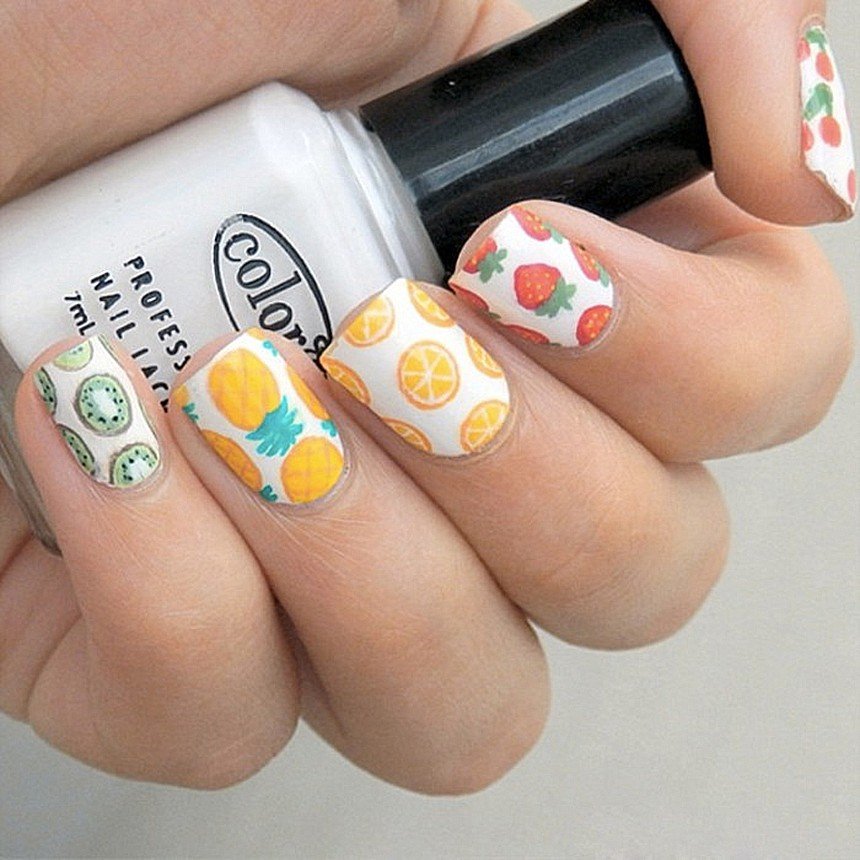 When you want to include more fruits into your manicure, you need a base suitable for that. As a neutral color, white works perfectly for that occasion. So, there you have it. Your very own fruit salad on your nails. Just don't bite them.
7. Pineapple White Nails With Orange And Green Stripes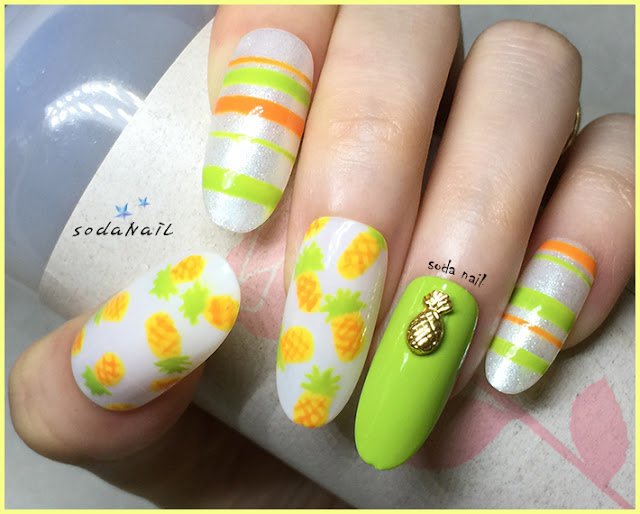 As we go down the list, we will have several different alternatives for every fruit. We had pineapple on teal base. Now, we get a white base with some other accent nails. Basically, a more playful take on the pineapple nails diet.
8. Red And Green Apple Nails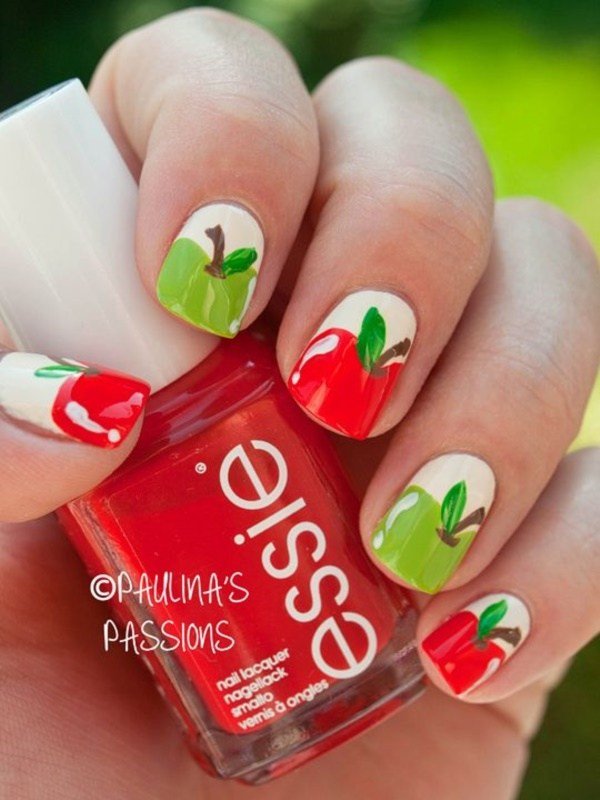 Apples are a fruit that most of us associate with the fall. Maybe because they work great with some cinnamon for the perfect fall taste and flavor. But they are basically a summer fruit. And they bring so much color to your manicure. Be it red or green, both colors are just so vivid.
9. Sliced Fruit Salad Nails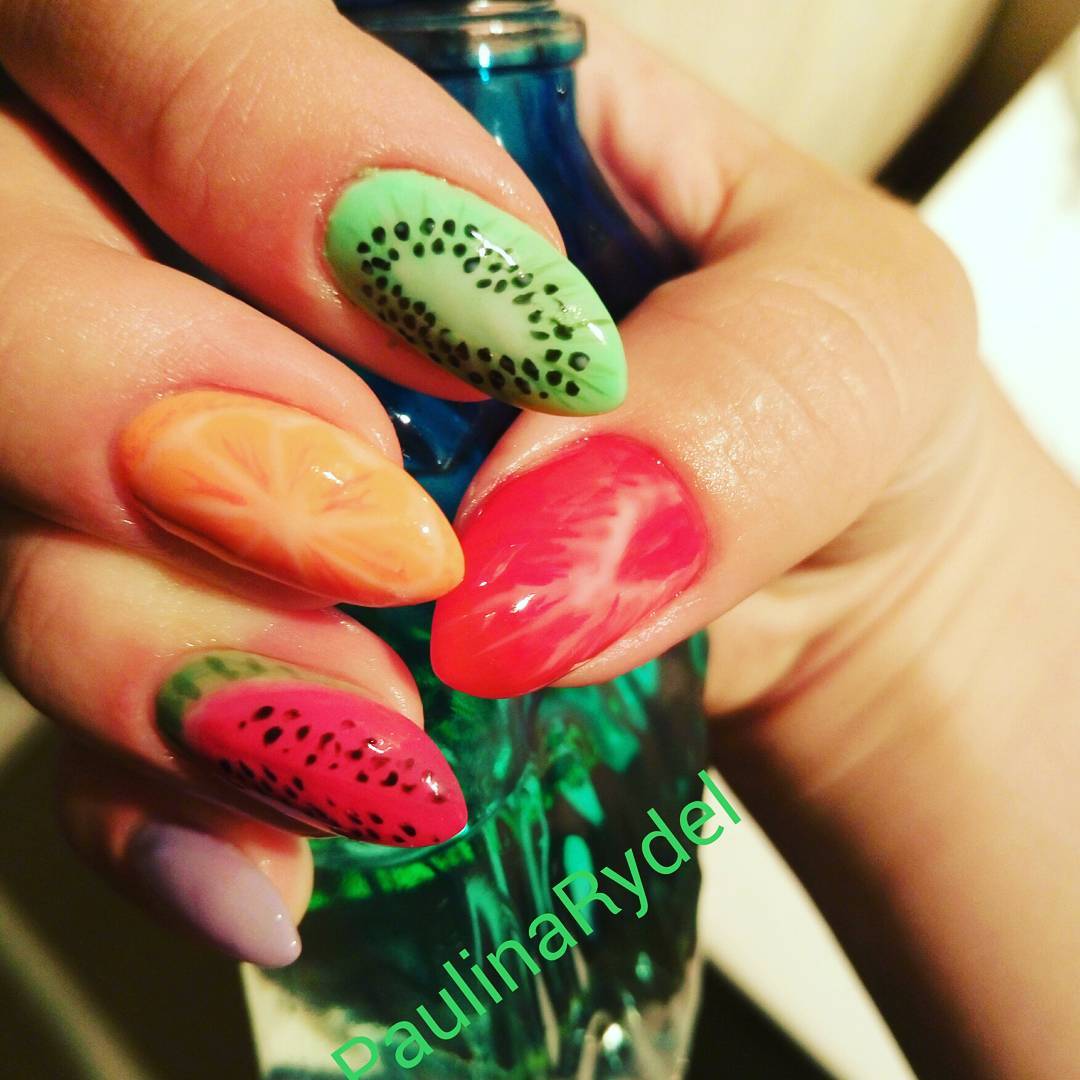 We had a fruit salad with whole fruits. Now, we get a fruit salad with sliced fruits. It is basically a more detailed take on the idea.
10. Lemon Nails With Red Flowers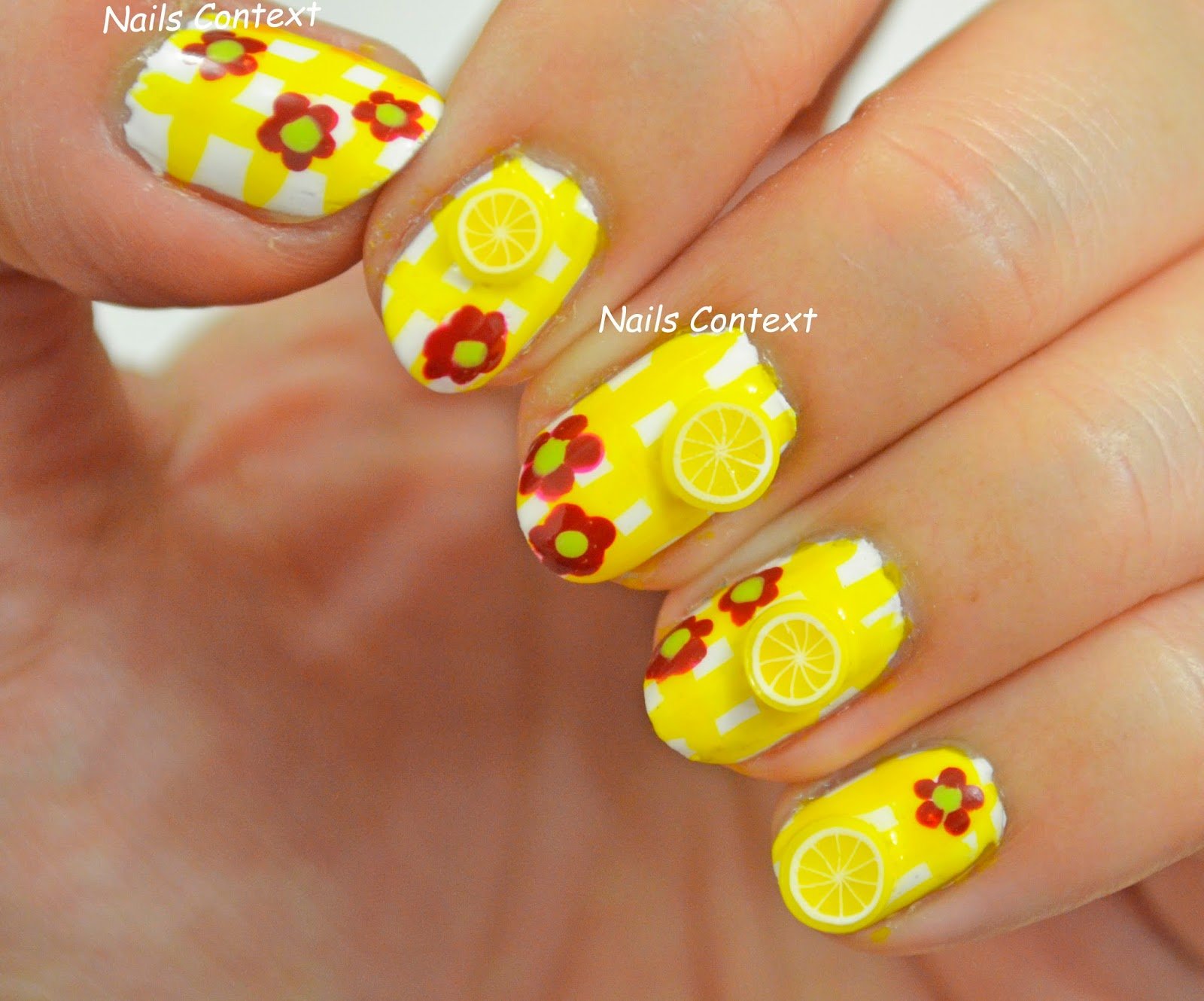 Fruits go wonderfully with flowers. That is something you should always consider. And we see a perfect example of how beautiful the lemon yellow is. Most people opt for sunny yellow for the summer manicure. But lemons deliver a great color as well.
11. Purple Blueberry Nails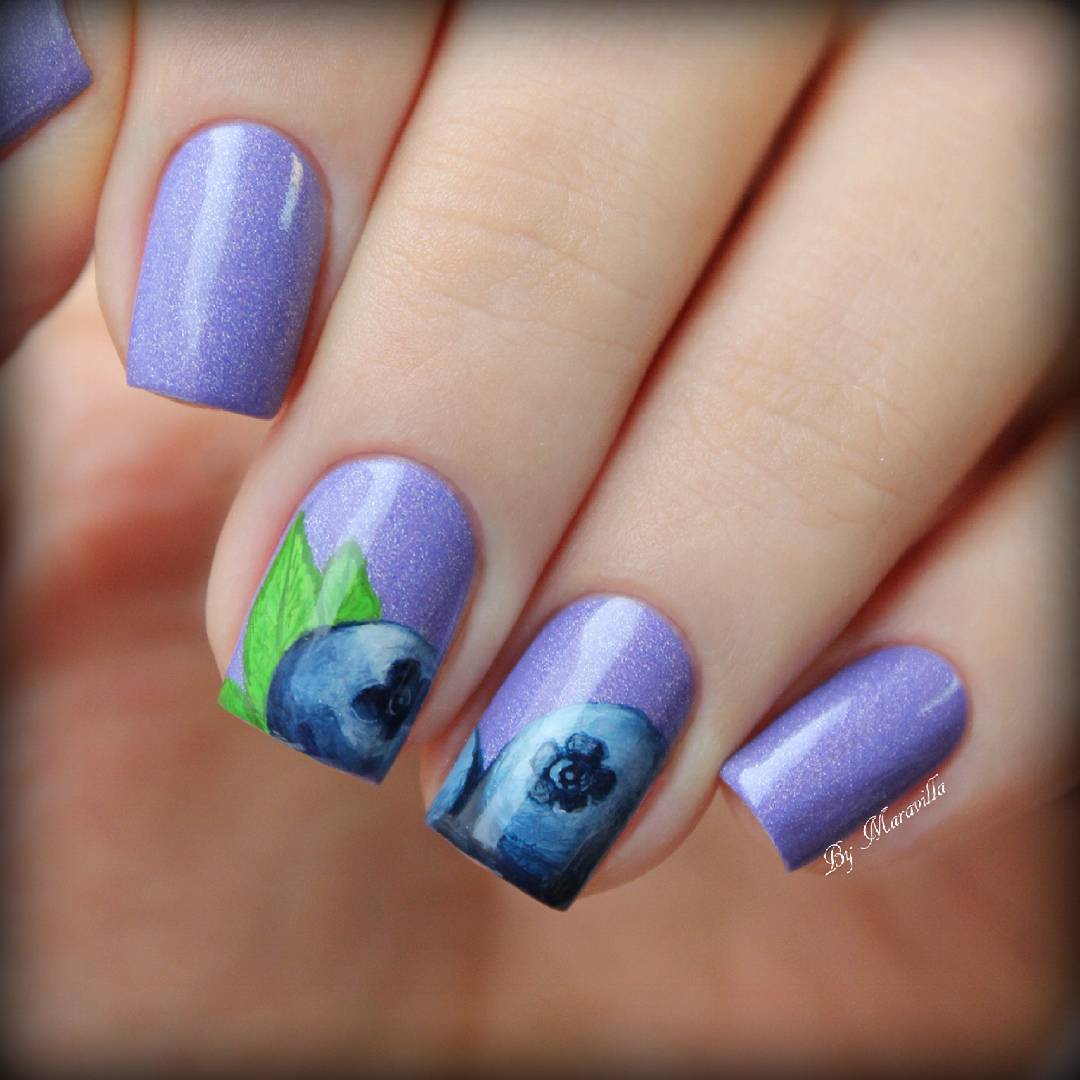 This is a manicure that you can try for a more elegant look. Fruit nails look girly in most cases. And they are rarely suitable for an office job. But his blueberry design delivers a color scheme that is more elegant and down to earth.
12. Red Watermelon With Dots And Green Lined Accent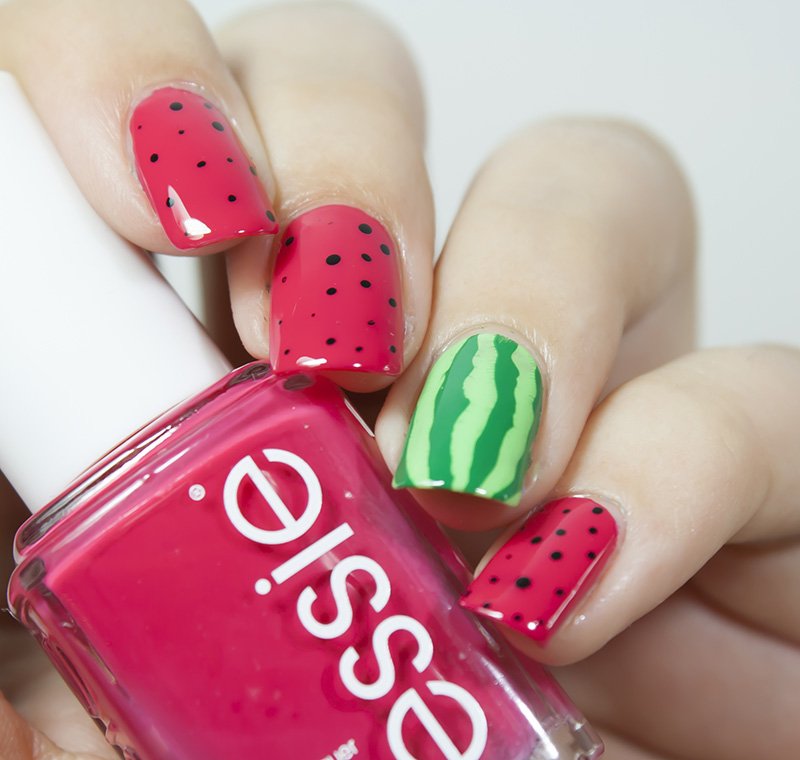 You have the watermelon fruit. And you have the watermelon crust. Basically, all parts of the watermelon on your nails.
13. Naked Nails With Corner Sliced Fruit Design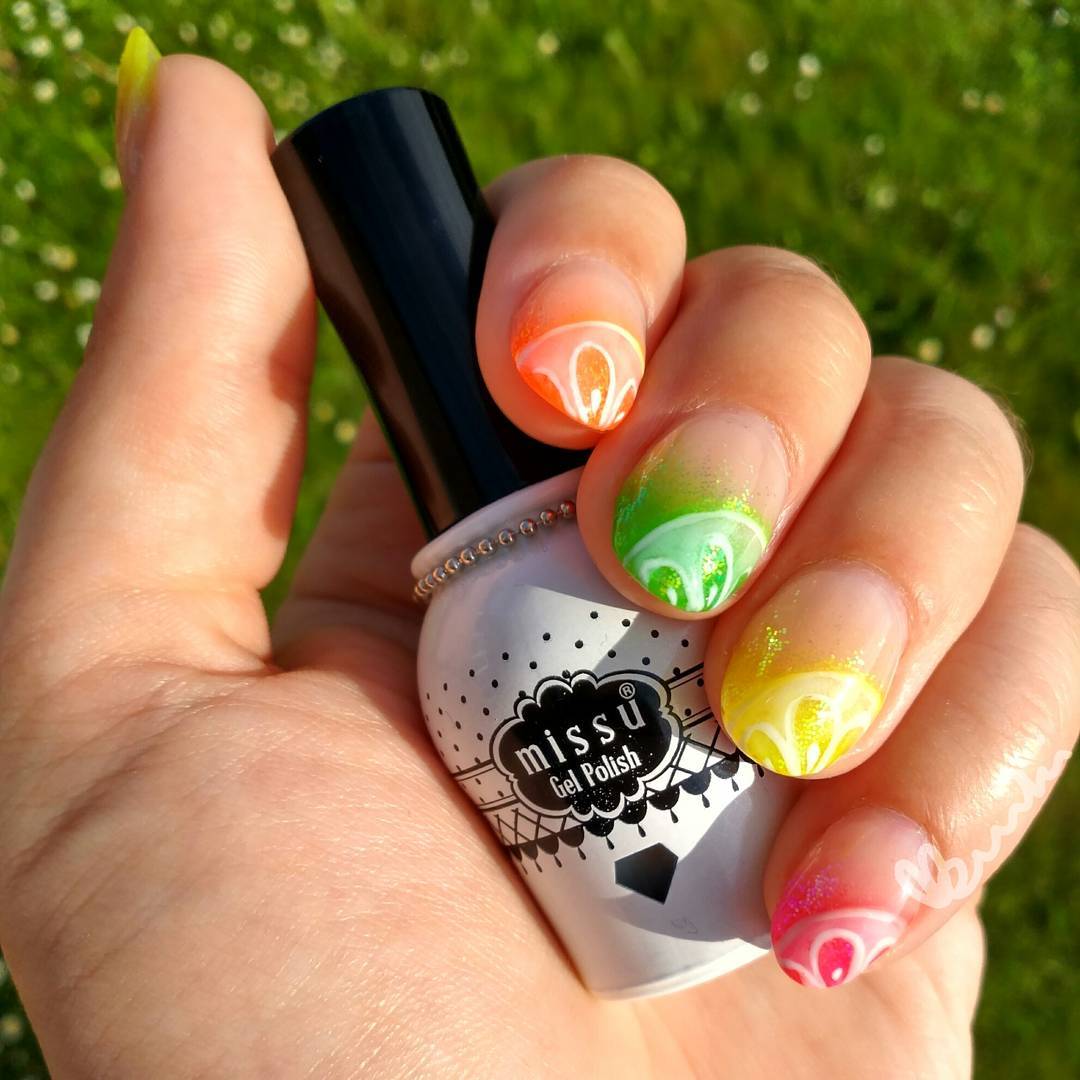 You can say this is a great example of a French manicure with fruits on top. I like how they do not feature a whole fruit, just a slice. And the many colors definitely make this design interesting.
14. Peach Design Nails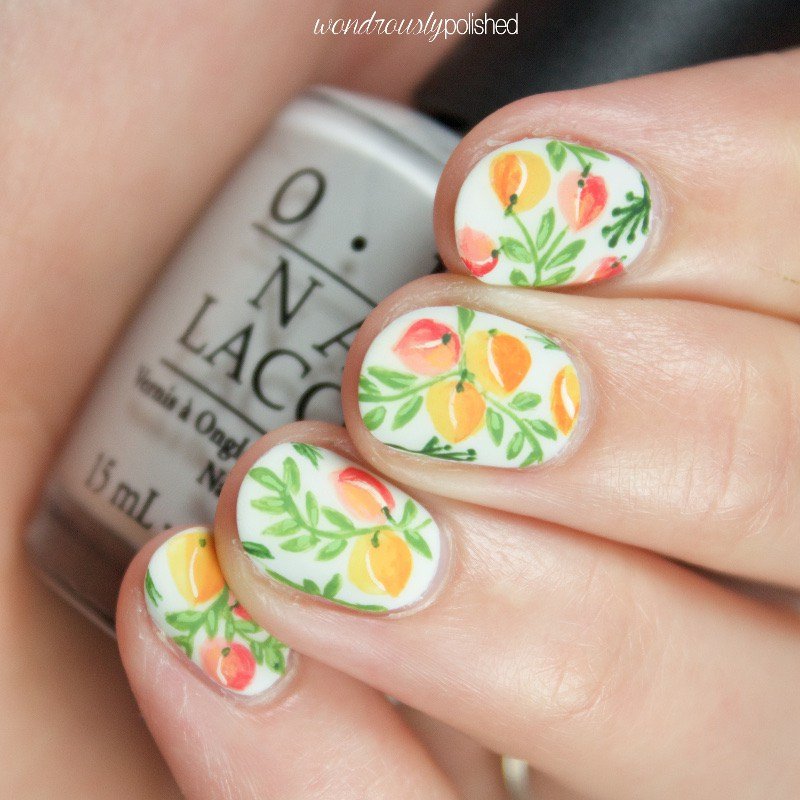 Some people go for a single fruit. Others, want to take things to the next level. This is more than just a fruit inspired manicure. The whole manicure is basically a work of art. A masterpiece if you like. Your nails are the canvas, and they are ready for a story.
15. Cherry And Raspberry On White Base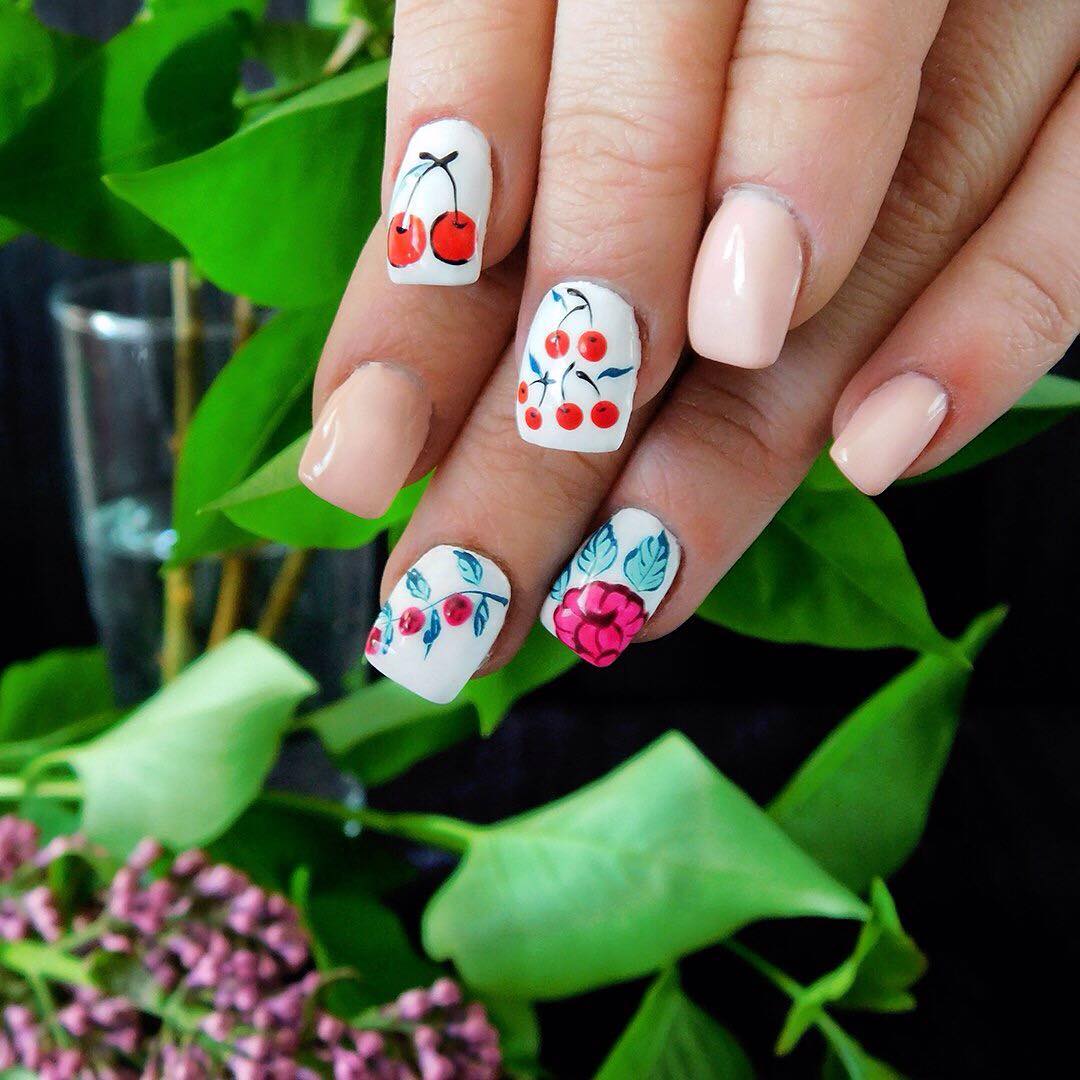 Some of the most interesting and fun fruits to play with your manicure are berries and cherries. And they both make it to this manicure. White base, and fruits on top of it. That is all you need for a fun nails design.
16. Lemon Slices And Silver Glitter Accent Nails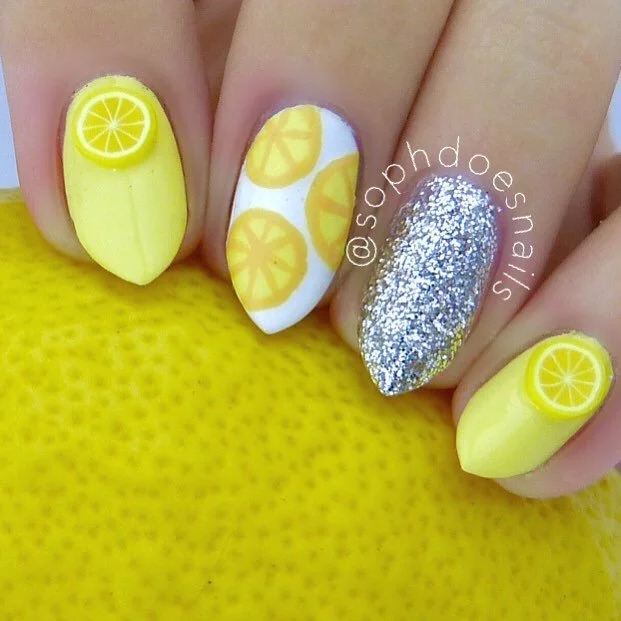 If you want to get a fruit manicure that is more elegant, glitter accent nail is the way to go. You can pair it with many colors, but the lemon yellow is one of the best. Lemons provide a perfect contrast to the glitter, as they are balancing and calming fruits.
17. Kiwi Nails With Black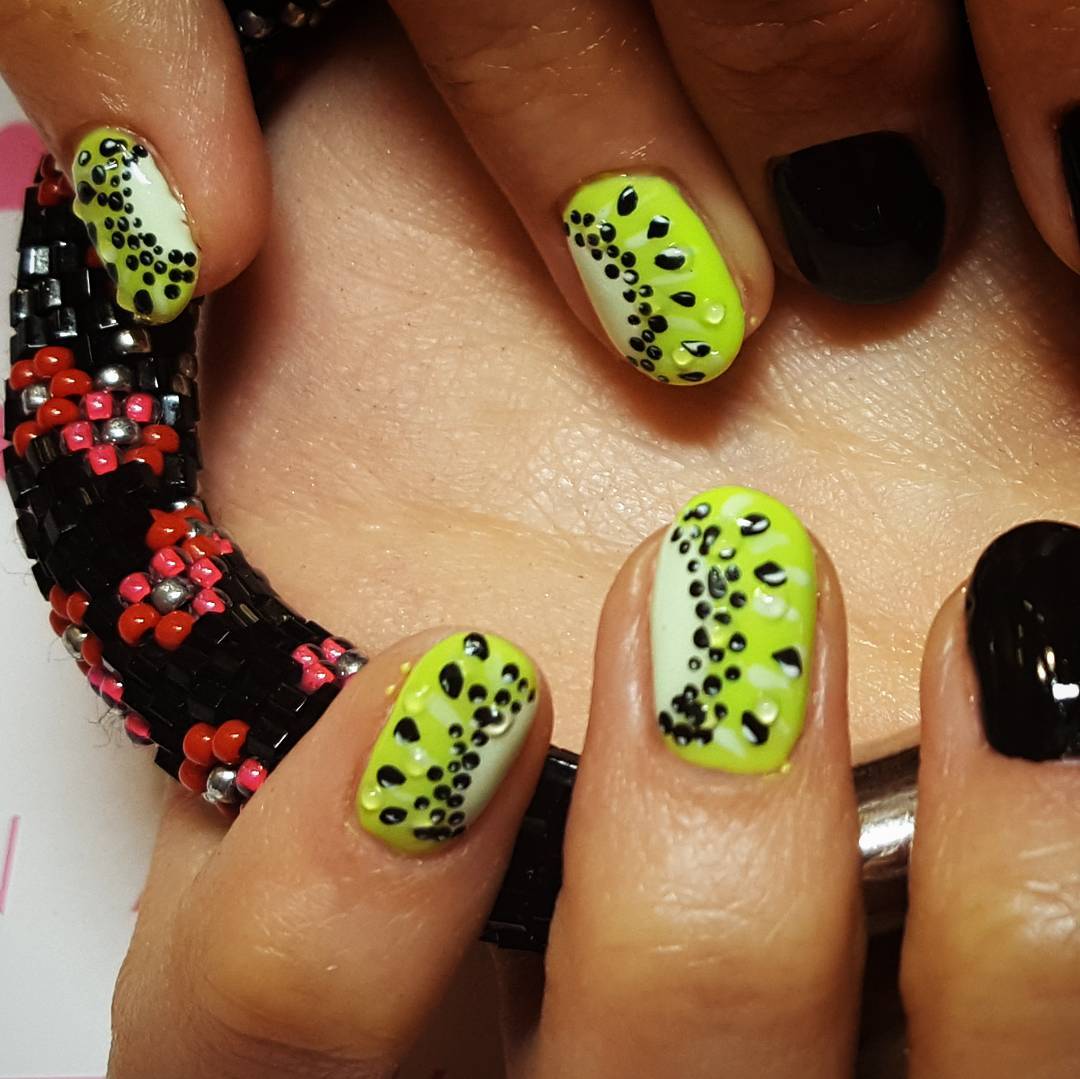 If you've ever eaten a kiwi, you know it features little black dots. Well, that is why kiwi works wonderfully for a black manicure. The accent kiwi nail features black as well as your main nails.
18. Orange Polka Dots With Pineapple Nail
If you think about it, orange and pineapple are very similar in design. Polka dots are a huge trend in the past few years. Be it fashion, interior design, art, or even manicure. And when you look at this manicure, you see that pineapple is just orange with polka dots.
19. Glittery Grape Nails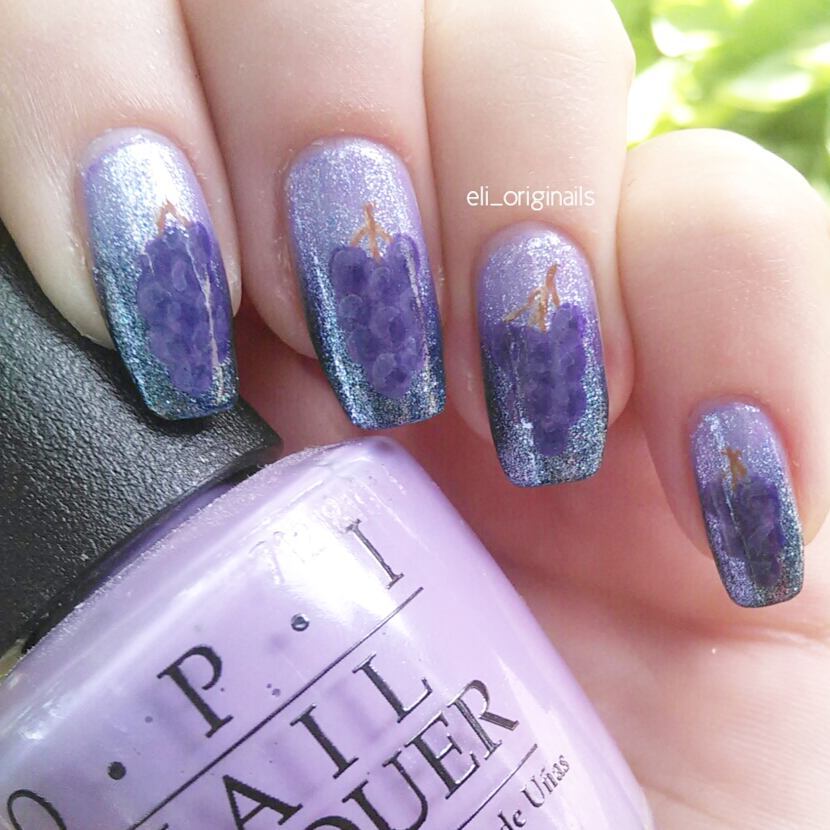 To be fair and honest, not many fruit nails can deliver elegance and sophistication. But grape nails with some glitter can fill that role as well. The grapes are almost non-visible and non-recognizable.
20. Fruity Half Moon Pineapples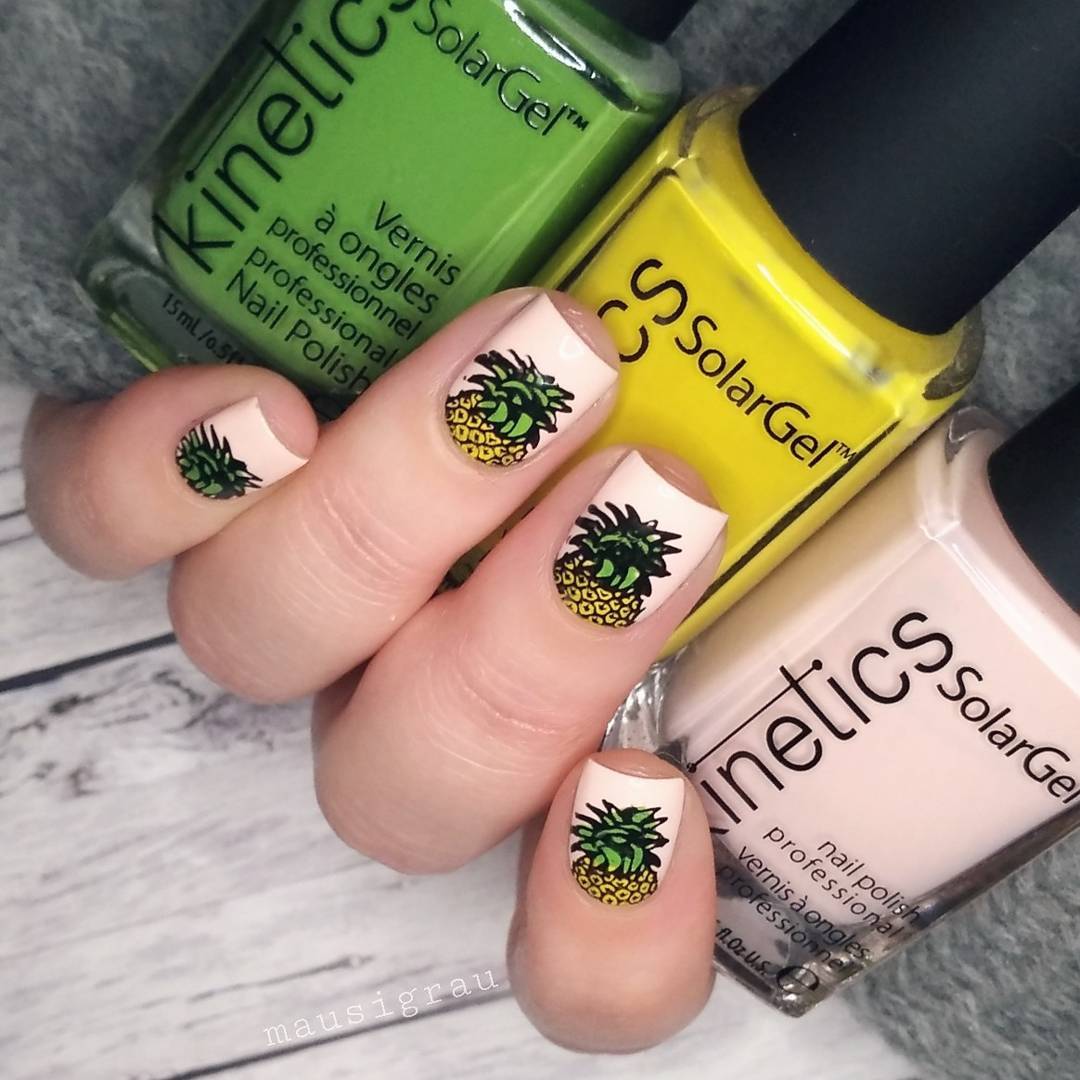 Half moon is another manicure trend that is rising up the ranks lately. And you can execute in different ways. As you can see, you can even use pineapple for the half moon.
21. Acrylic Orange Slices With Glitter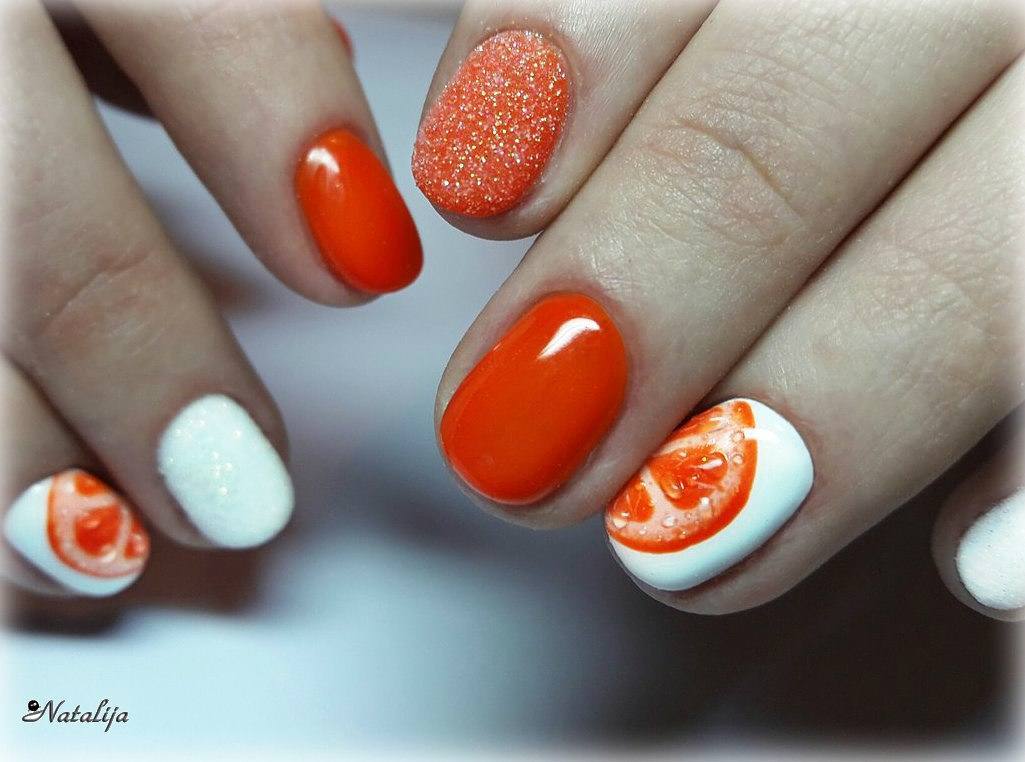 Another fruity manicure that can look elegant and suitable for going out. Orange is a color associated with social communication. Therefore, do not worry. You can wear it for your office days.
22. Black And White Dotted Nails With Plaids And Cherries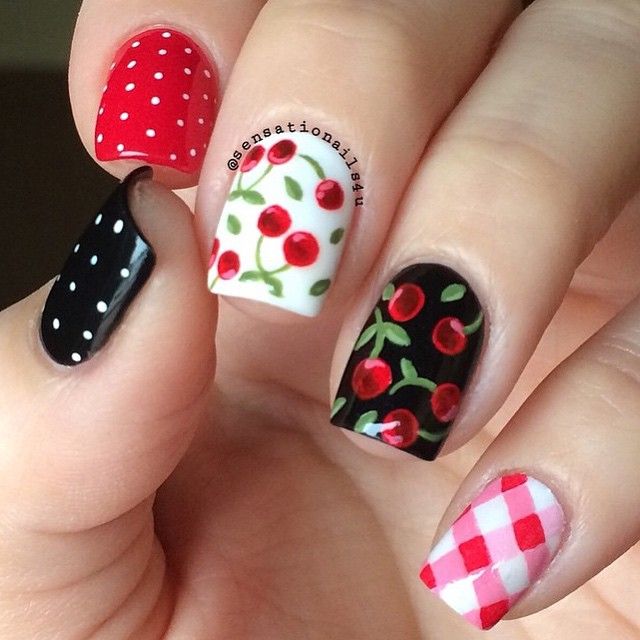 There are so many different techniques used here. But the basis is the fruits. They bring everything together. Fruits are so versatile, that they allow you to combine them with dots and plaids.
23. Ombre Green Lime Nails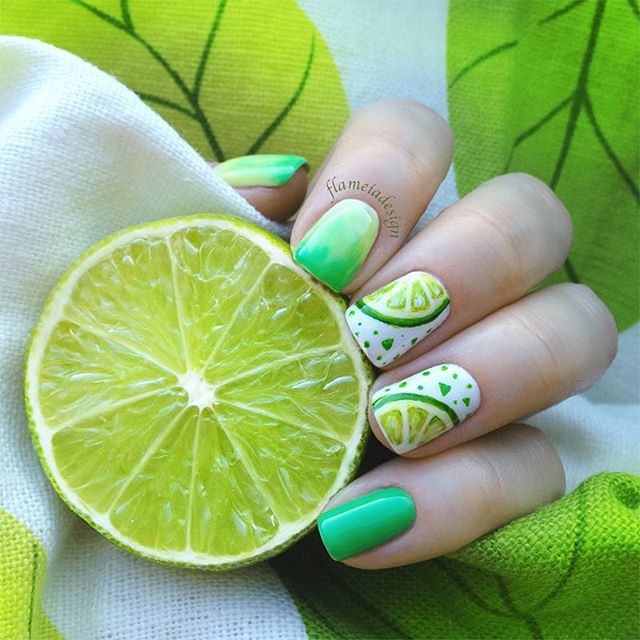 I am sure you expected some ombre. You knew it was coming. There is no way to escape the ombre. I am sure ombre will be a huge trend in the next five years for sure. And it comes as a no surprise. Ombre is so versatile, you can use it for different purposes (fashion, home interior), and in different color schemes. Here, we see some lime green.
24. Watermelon, Apple Or Kiwi Designs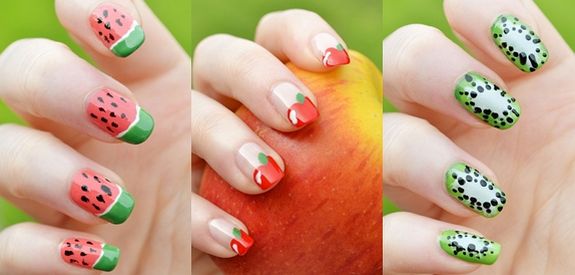 You know I love giving you different ideas for the same manicure. Well, if you look at these three, two of them are very similar. The apples and the watermelon can fall into the French category. Kiwi, on the other hand, are just a whole fruit slice.
25. Orange Ombre Nails With Sliced Orange Slice Stamps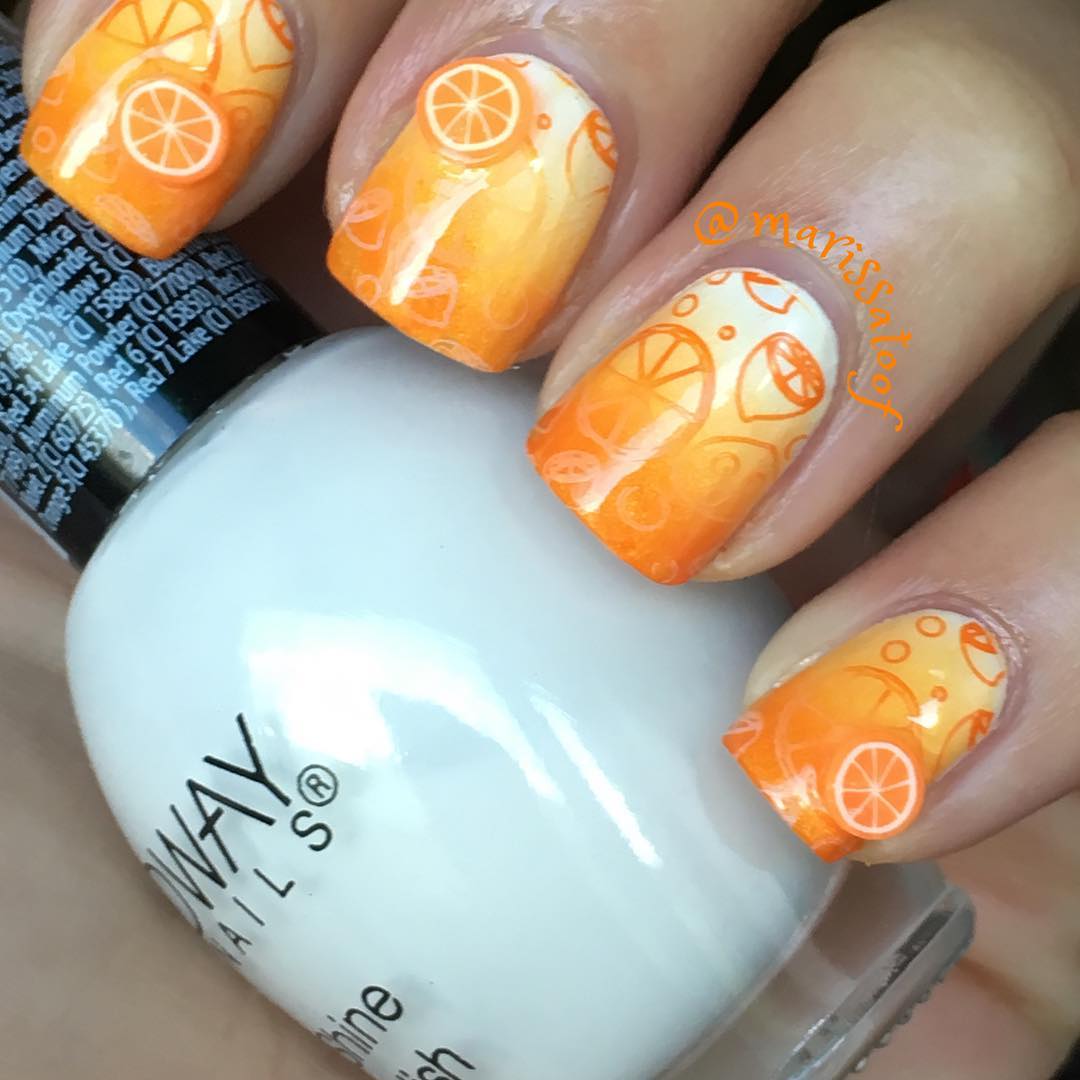 Unlike the green lemons/lime ombre, this one features much more fruits. And in different design nevertheless. If you look closely, you'll see that your nails are basically a glass filled with orange juice, and an orange slice on top of it.
26. Yellow Lemon Nails With Leaves And Stripes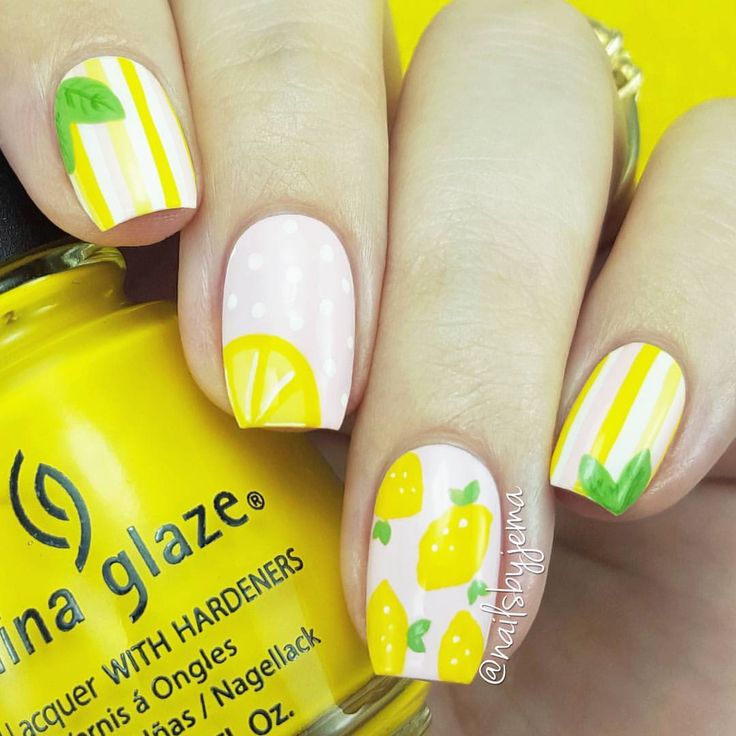 A manicure that will represent all of the different aspects of the lemon. The lemon is one of the signature summer fruits. After all, it is part of many summer cocktails.
27. Sliced Kiwi Design With Red Nails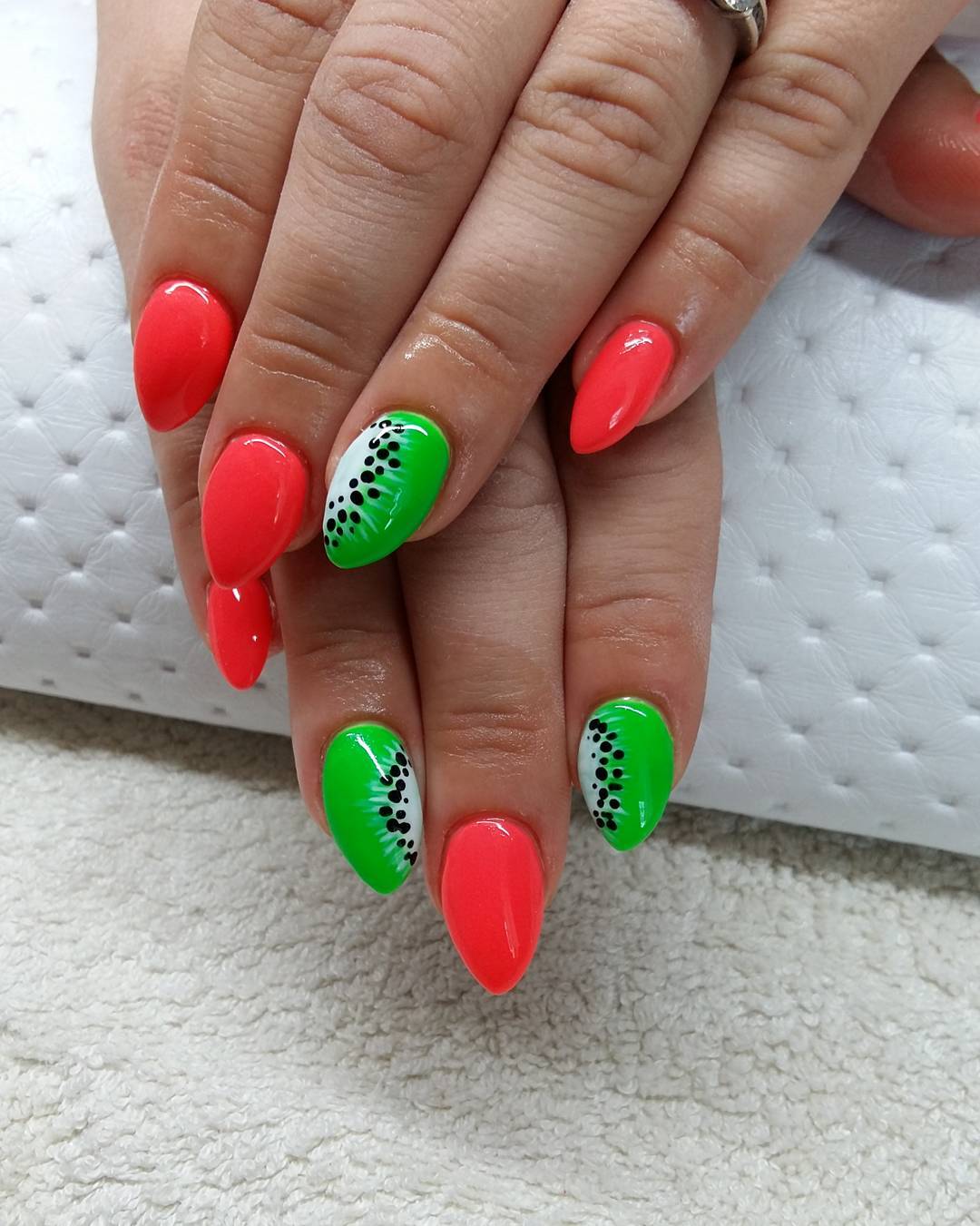 Red and green are a perfect pairing. And you can see that here. Usually, when people go for kiwi nails, they stick just to the fruit. But as you can see, kiwi is perfect for pairing with other lively colors as well.
28. Confetti Pink Grapefruit Nails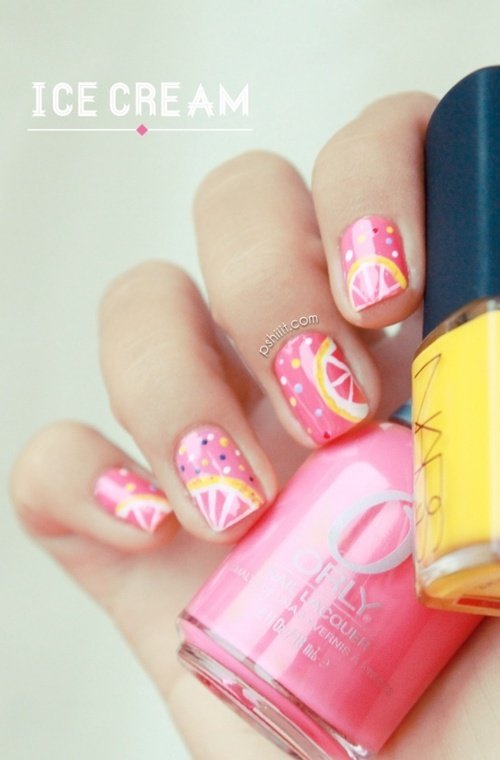 As if fruits are not enough for a girly look, you throw in some confetti in there as well. I have nothing against girly manicure. If that is what you like, fruits and confetti are your best option.
29. Strawberry Yogurt Nails
We had a fruit salad before. Now, let's try some fruit yogurt, shall we? If you've ever been to the fruit yogurt section, you know strawberry is one of the best flavors. Well, it is only logical we chose that fruit for this manicure, right?
30. Pointy Dark Pink Nails With Cherry Accent Design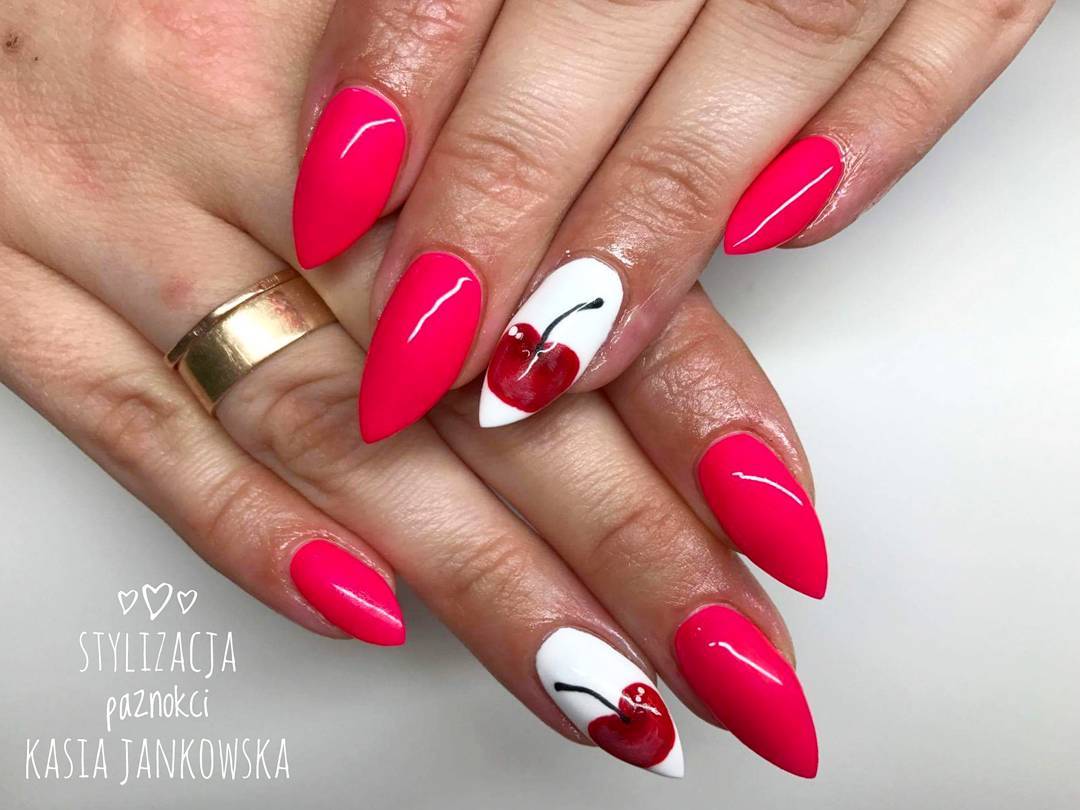 I know for some people that this pink will be just too much. But that is all right. Not all of us are used to some bold and vivid colors on our nails. However, there are women that just love pink.
31. Naked Half Moon Fruit Salad Design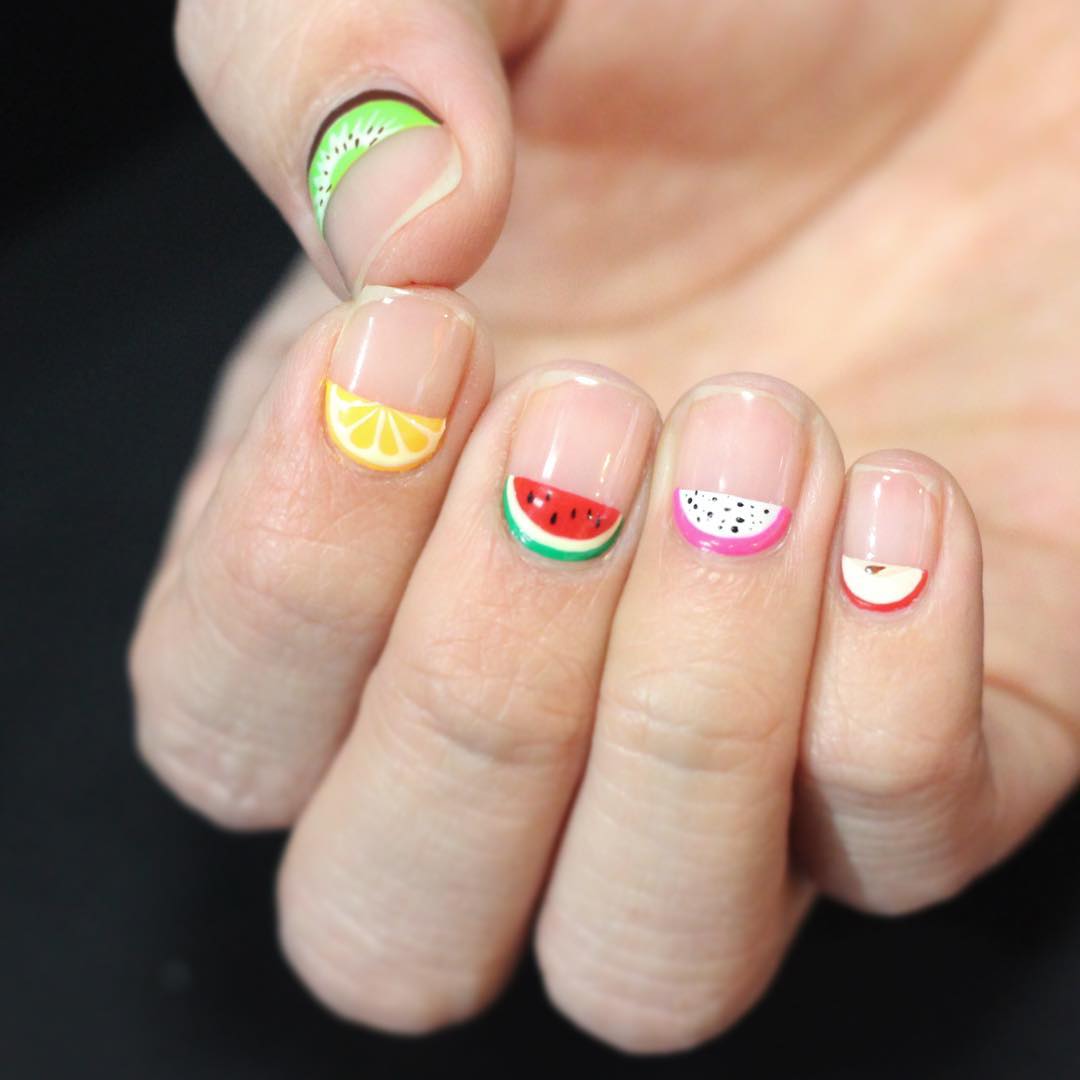 Being that we talk about fruits, it is only logical that we finish off with a bowl of fruit salad. Once again, I know the summer is over. But I am sure you can appreciate the refreshing look of the summer-inspired manicure through the whole year.