You might be getting older, but that doesn't mean you should not be fashionable.
Truth be told, when I go to my hair stylist, I see a lot of older women getting their hair done.
Nothing wrong there.
And no, you don't have to stick to some boring old lady hairstyle.
Yes, even if you are over 50.
Actresses like Meg Ryan and Helen Mirren are great examples that when you get older you can still experiment with hair color and hair texture.
That is why I want to share with you some fashionable and stylish haircuts for women over 50. I am sure you will love them.
There are haircuts for every hair type and face shape. Whether you have short hair, medium hair, fine hair, thin hair, straight hair, long hair, curly hair, wavy hair, we have some short haircuts for women over 50.
Best Hairstyles For Women Over 50
1. Short Brown Hairstyle With Long Red Bangs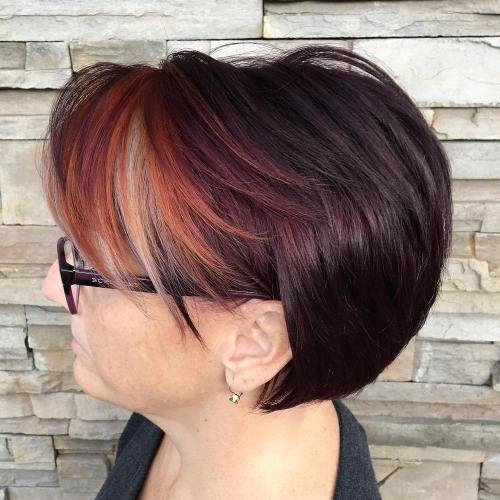 If you thought colored hair was just for young women, think again. No, I am not talking about coloring your hair dark so you can hide that gray hair of yours. I am talking about being hip, and being stylish. Get in the wild spirit with some red bangs. Amazing short hairstyle for older women.
2. Wavy Caramel Lob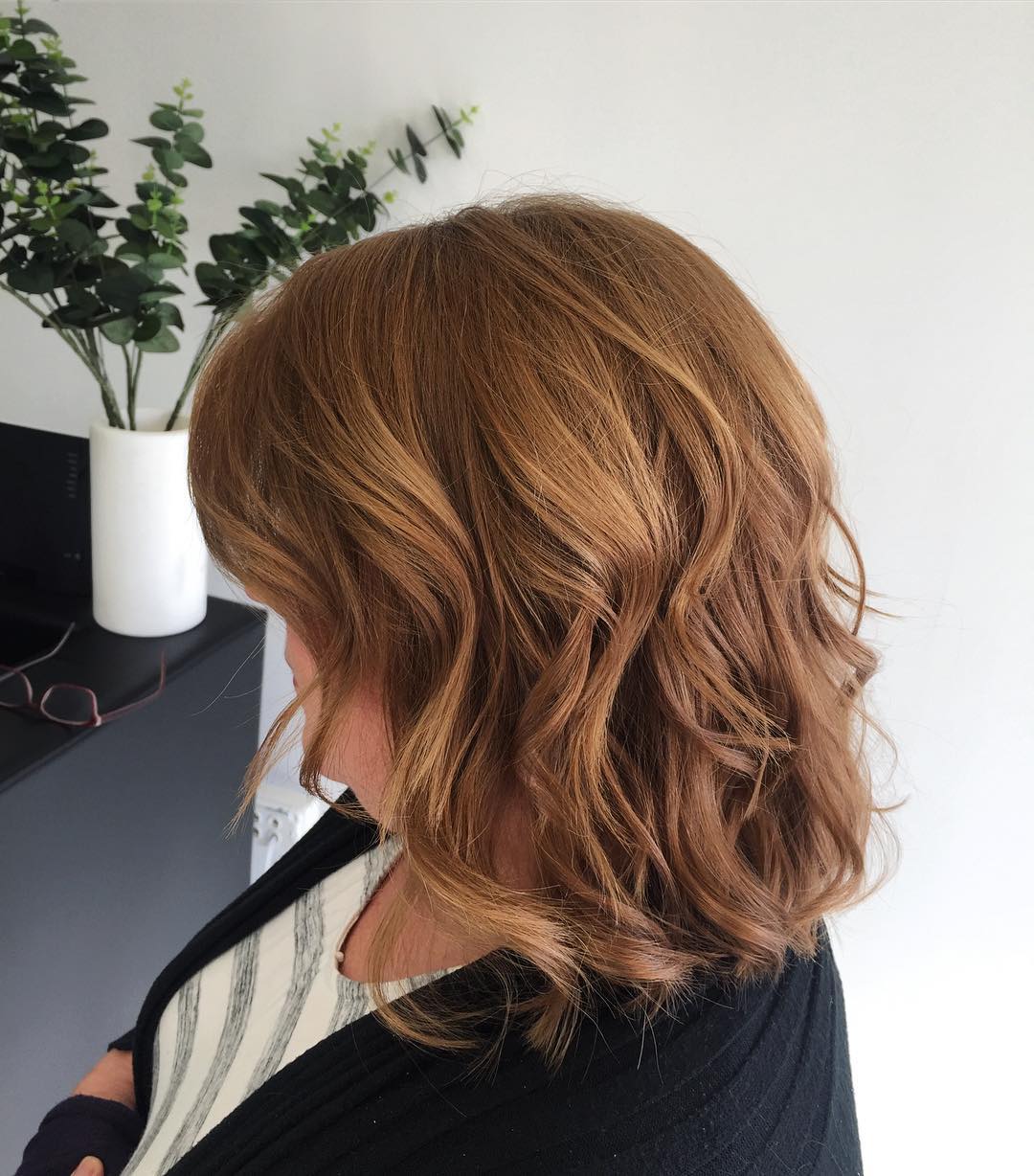 On first glance, this is one of those old lady hairstyles we talked at the beginning. But that is until you notice the hair color. Caramel is usually color reserved for young girls that want to experiment with being blonde. Well, no more. And the lob is a hairstyle that looks great on all hair types. The lob is a perfect balance between long and short hair.
This tweak on the classic bob hairstyle is ideal for older women.
3. Long Pixie Streaked With Purple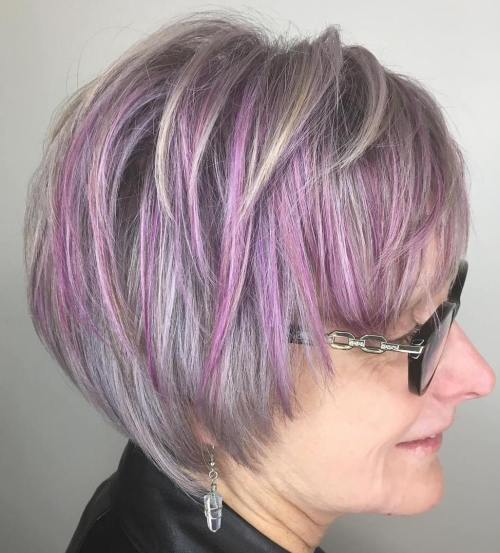 Get this short haircut, and you will be sure all of your relatives at the party will talk about you. There is no other way around it. You will be the star of the night. Not many women over 50 go for a pixie cut like this one. Think of Jamie Lee Curtis in Freaky Friday.
4. Mid-Length Auburn Layered Hair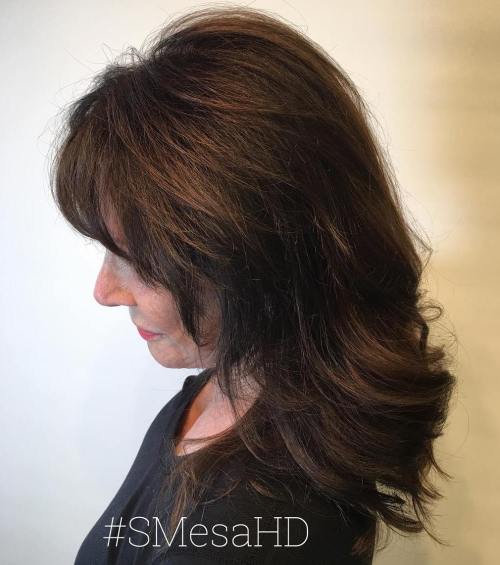 Let's be honest, as we get older, our hair loses volume. But there are hairstyles that you can use to add volume to your hair. Case in point.
We said you can have medium hair and still find idea for your hair texture.
5. Asymmetrical Pixie With Side Part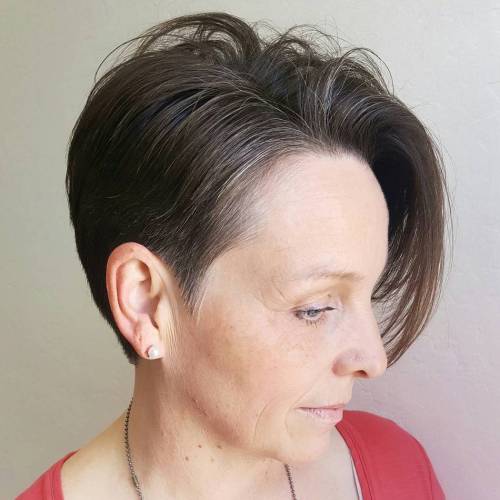 Not only you are being stylish, you are also being a rock star with this hairstyle. The golden years (over 50) are a time when you can still rock a hairstyle and look like you are ready to party. After all, don't we all want to party? Get this pixie haircut and let's go to the disco.
6. Tousled Blond Bob
As I mentioned earlier, there will be some haircuts that look exactly like you are 50+ years old. And that is all right. The trick is to add flair to an oldie, if I can say that. Nobody expects you to look like a 20 year old woman when you are 50. But you shouldn't look like an 80-year old as well. This light blue bob cut is perfect for a sophisticated night out.
7. Lavender Pixie Cut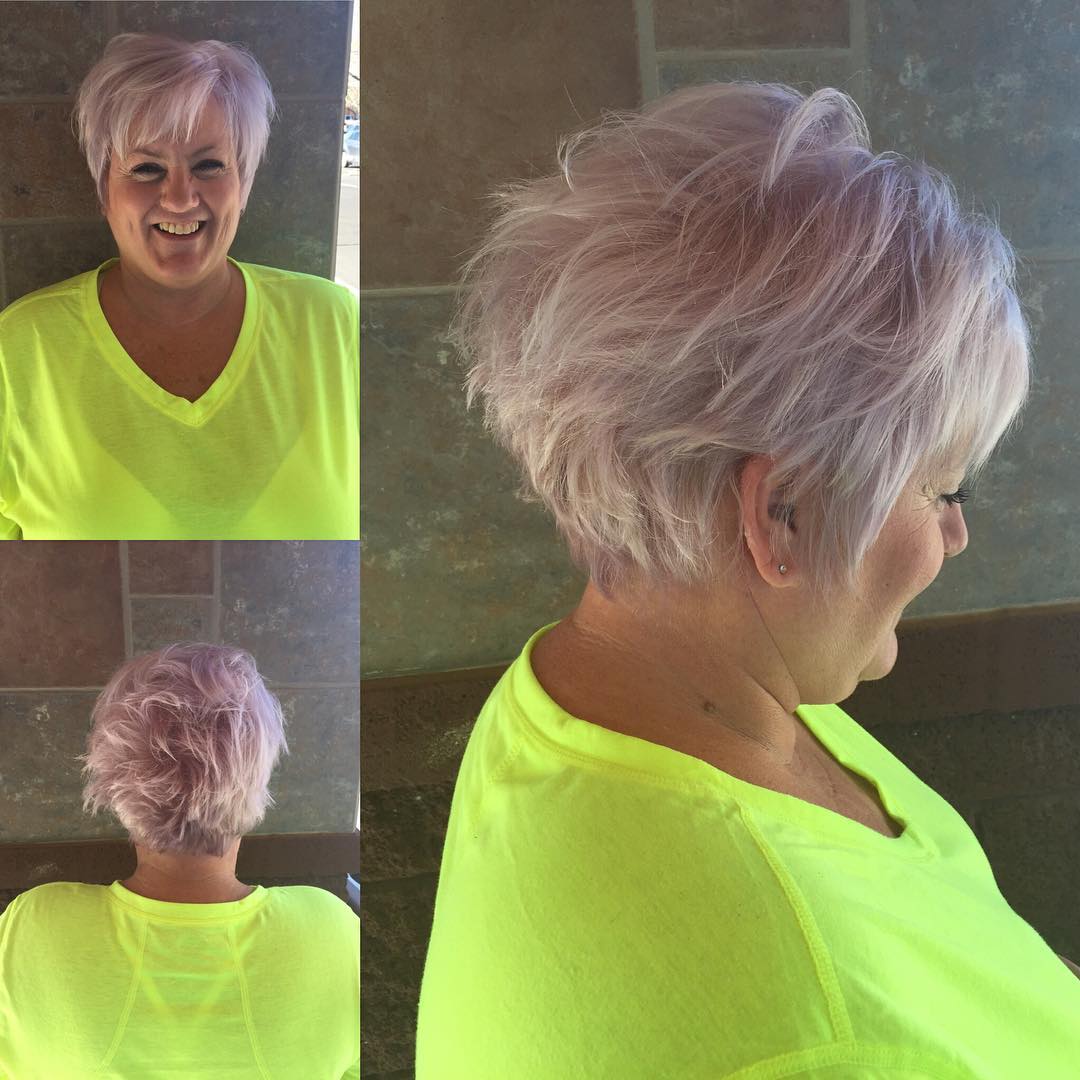 Lavender is a very nice color for older women. Not to sound insulting and stereotypical, but lavender is a calm and relaxing color. It looks elegant, and sophisticated. Younger women want to look sexy, and lavender does not help with that. But when you are over 50, lavender is the perfect color to look classy. And it goes with any hairstyle, not just the pixie haircut.
8. Bob With Choppy Bangs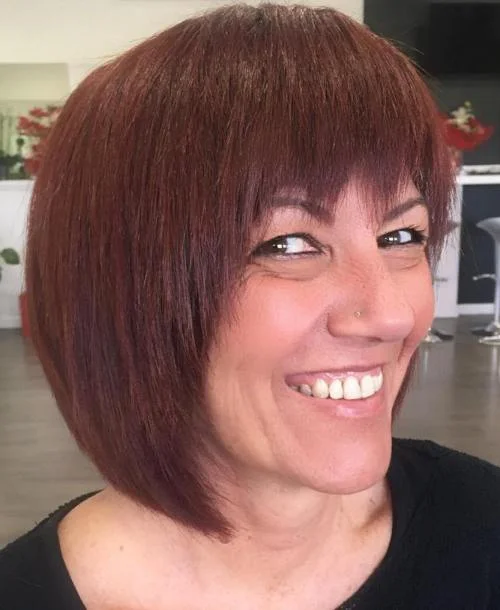 When I was younger, I remember women experimenting with bangs in their teenage years. You can even say that bangs are something teenage girls do. As you grow older, you understand that bangs require a ton of attention. And that is something you do not have much time in your 20s and 30s. But when you are in the 50s, you can spare some more time for fixing your bangs.
A bob haircut is ideal for trying something sophisticated, yet fresh.
9. Shoulder Length Blond With Bangs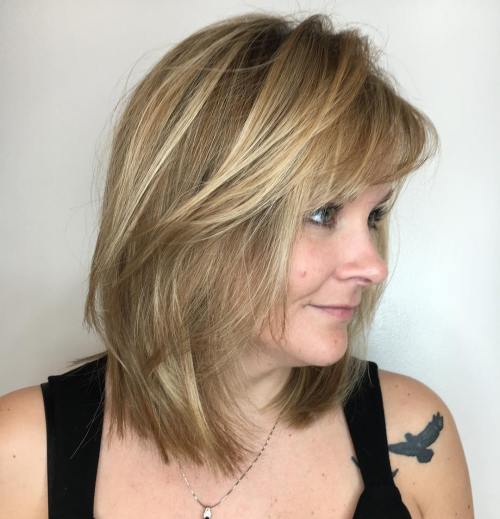 Be honest, look at the picture, and tell me how old you think that woman is? If you said 50+, I am willing to bet you are lying. She looks like she is in her late 30s or early 40s. And it is all because of the hairstyle.
There is no reason not to have long hair in your 50s. And even try some blonde highlights.
10. Auburn Stacked Bob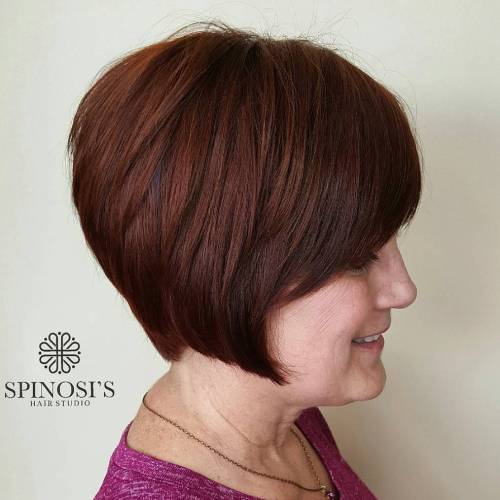 The bob is a perfect hairstyle for older women. But that is as long as you have thick hair. The bob haircut gives you elegance and class. Few other hairstyles can do that.
11. Layered Bob With Highlights For Thick Hair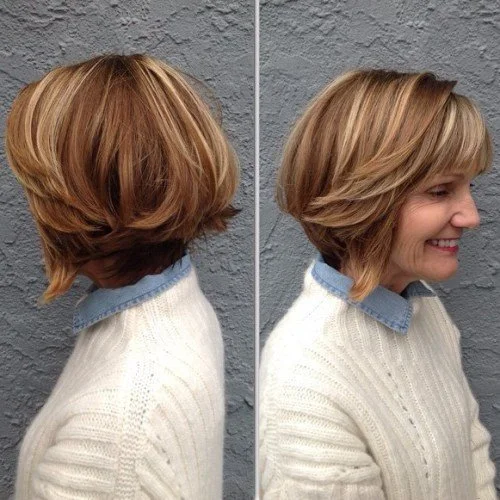 Speaking of the long bob, you can always take it a step further. You can do that by adding layer and layers of color. I always recommend a tad lighter hue than your natural one. I firmly believe that is the best path towards a successful layered bob.
12. Mid-Length Balayage Butter Blond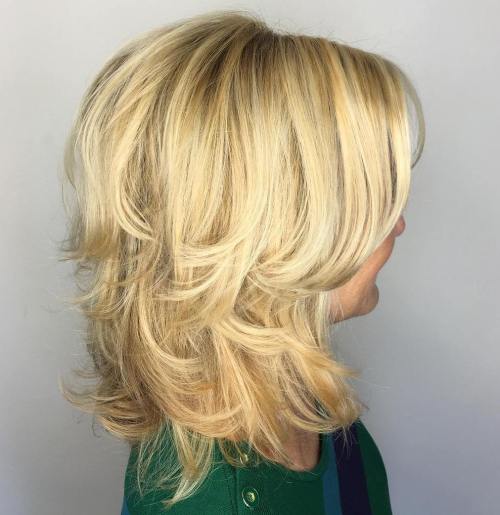 The balayage is one of the most popular hairstyles these days. And yes, you can wear it even if you are 50 years or older. The French technique has gained international popularity. So why not benefit from that? Women in France know their hairstyle.
13. Inverted Spiky Bob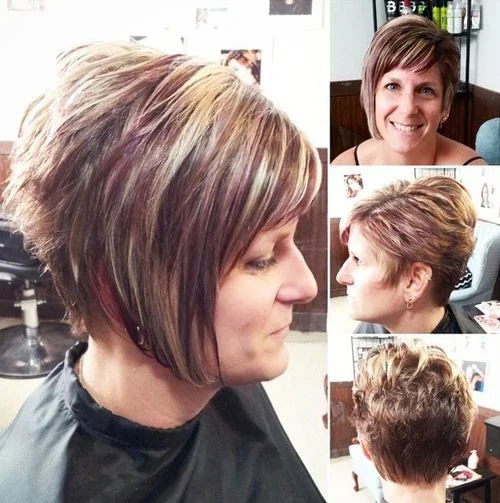 Spikes make your hair sharp and elegant. Make them in different colors and your hairstyle will be that much more fashionable. How do you like this style? We can say it is among the edgiest short hair cuts.
14. Flipped Out Medium Length Hair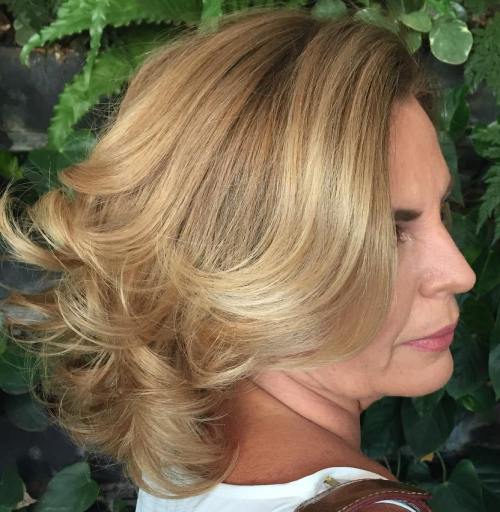 There are so many things you can do with medium length hair. When you are in your golden years, you have to be careful though. This hairstyle is definitely great for an everyday look. You can easily make it.
15. Short Hair With Longer Front Pieces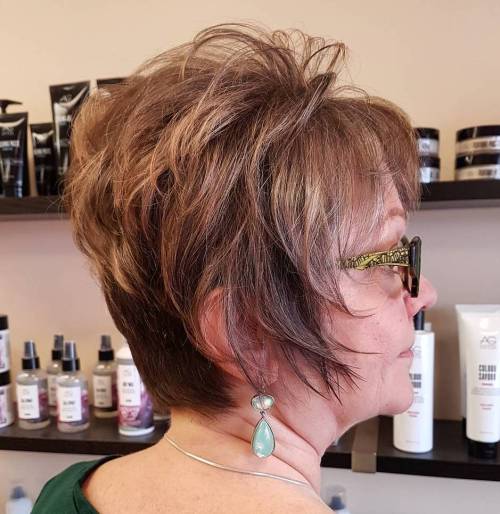 I can safely say this is one of the prototype short hairstyles for women over 50. Just take a look around women you know that are over 50, and you'll see many of them wearing this hairstyle. And rightfully so. It is one of the most stylish hairstyles for women who no longer have thick hair.
16. Strait Shoulder Length Bob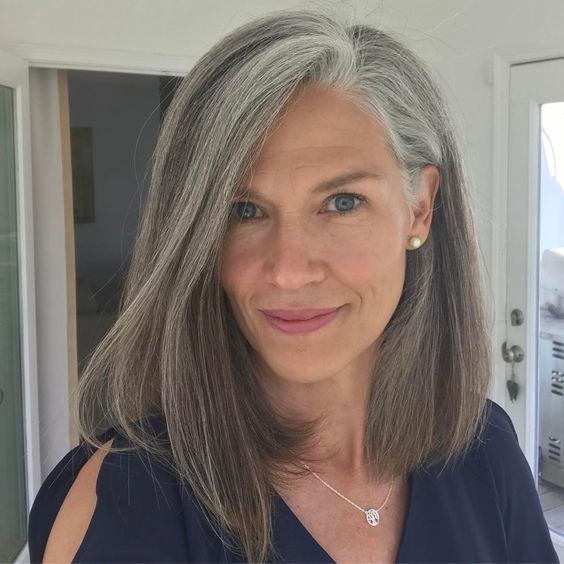 In most cases, gray hair does not look good. It is a sign you are getting older and you have too much stress in your life. But sometimes, gray can look sophisticated and elegant. This is one of those cases. You have to love the way the hair falls down to the shoulders.
Hey, Helen Mirren has gray hair and wears it with pride. And she is in her 70s.
17. Wavy Salt And Pepper Undercut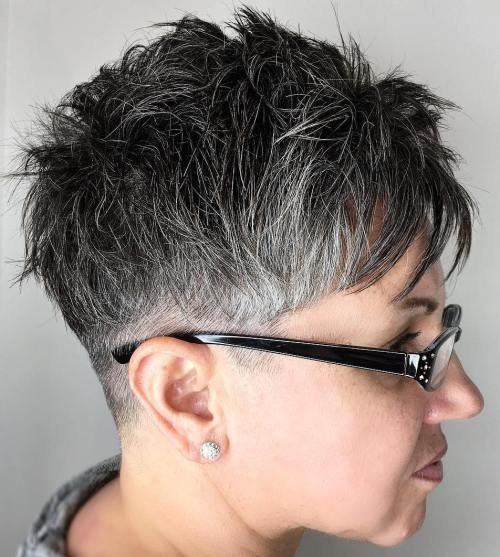 Many older women decide to cut their hair short. It is understandable. Given the fact that most of their hair falls down, they want something short and sweet. And this is exactly that.
18. Medium Layered Honey Colored Hair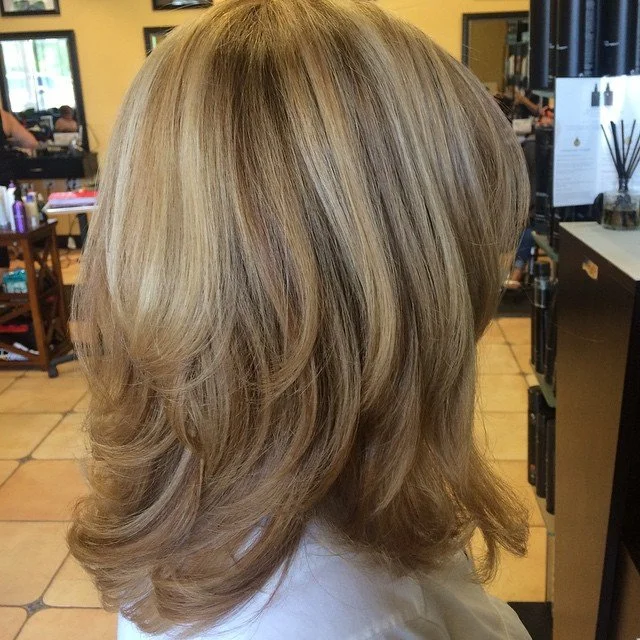 Honey is an universal color. Younger women use it to look more mature. Older women use it to look younger. In both cases it works perfectly. Which is why I recommend it as one of the premium hair colors for medium length hair for women over 50.
19. Black Bob With Chunky Gray Highlights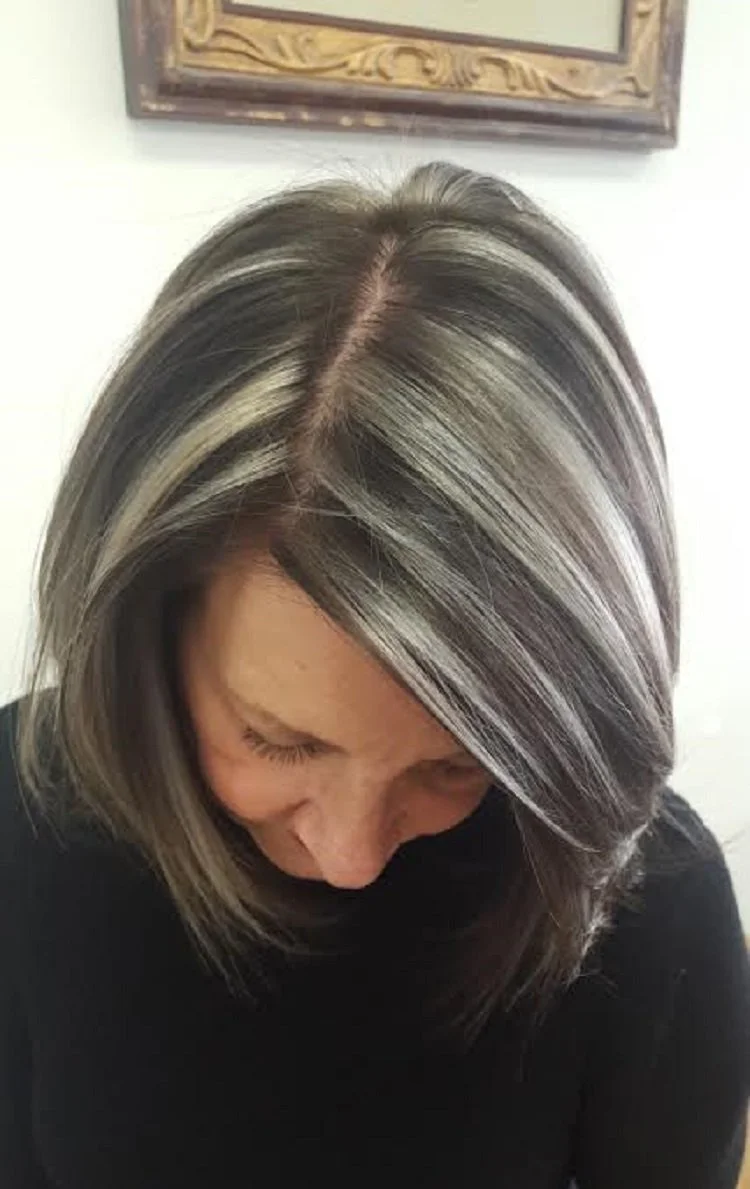 As I said earlier, there are times when gray hair looks perfect. When you want to embrace your age, one of the tricks is to emphasize your gray hair. You can do that with a short bob and highlights. Just don't overdo the highlights. You want to keep it balanced, like 60% black and 40% gray highlights.
20. Copper Red Choppy Angled  Bob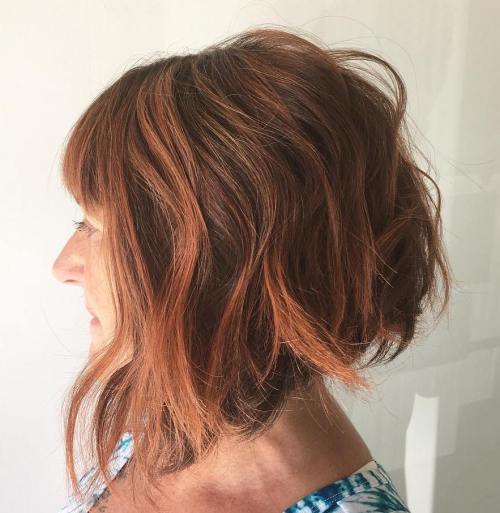 There is absolutely no reason why older women should not try some more bold hair colors. And more bold hairstyles in that regard as well. A choppy angled bob haircut is very elegant, but also stylish in the same time. You will look like a model for sure.
21. Long Hair With Blue Black Lowlights And Blonde Highlights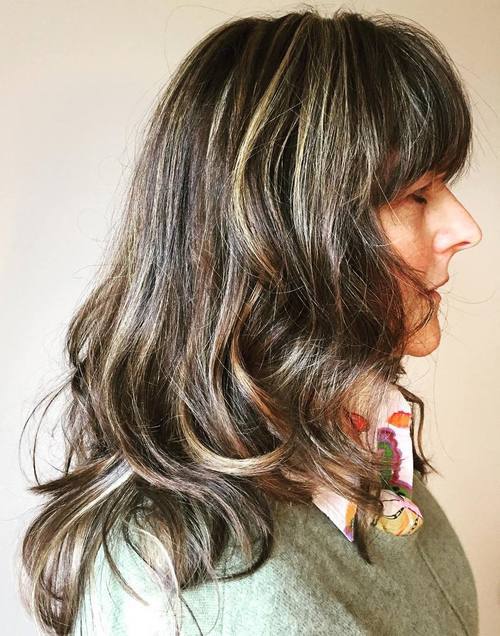 A combination of several colors, the trick here is to make your hair look playful and whimsical. You want to keep things interesting, and that is why you go with lowlights and highlights in the same time.
22. Layered Bob With Bangs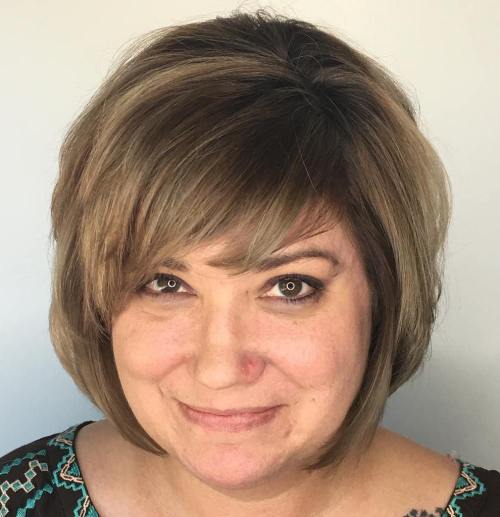 By now, you've noticed that there are many bob haircuts on the list. Think of the bob as a mature hairstyle. After all, younger women get it when they want to show they are mature and old, and not in their early 20s . One way to make the bob more stylish is with layers. Another one is with bangs. Now, the challenge with bangs is that they might cover up your entire face and block your eyes. But if you have large forehead, that might be just what you want.
Long layers are what make this style one of the perfect haircuts for women over 50.
23. Long Grayed-Out Curly Hair With Purple Ombre Tips And Undercut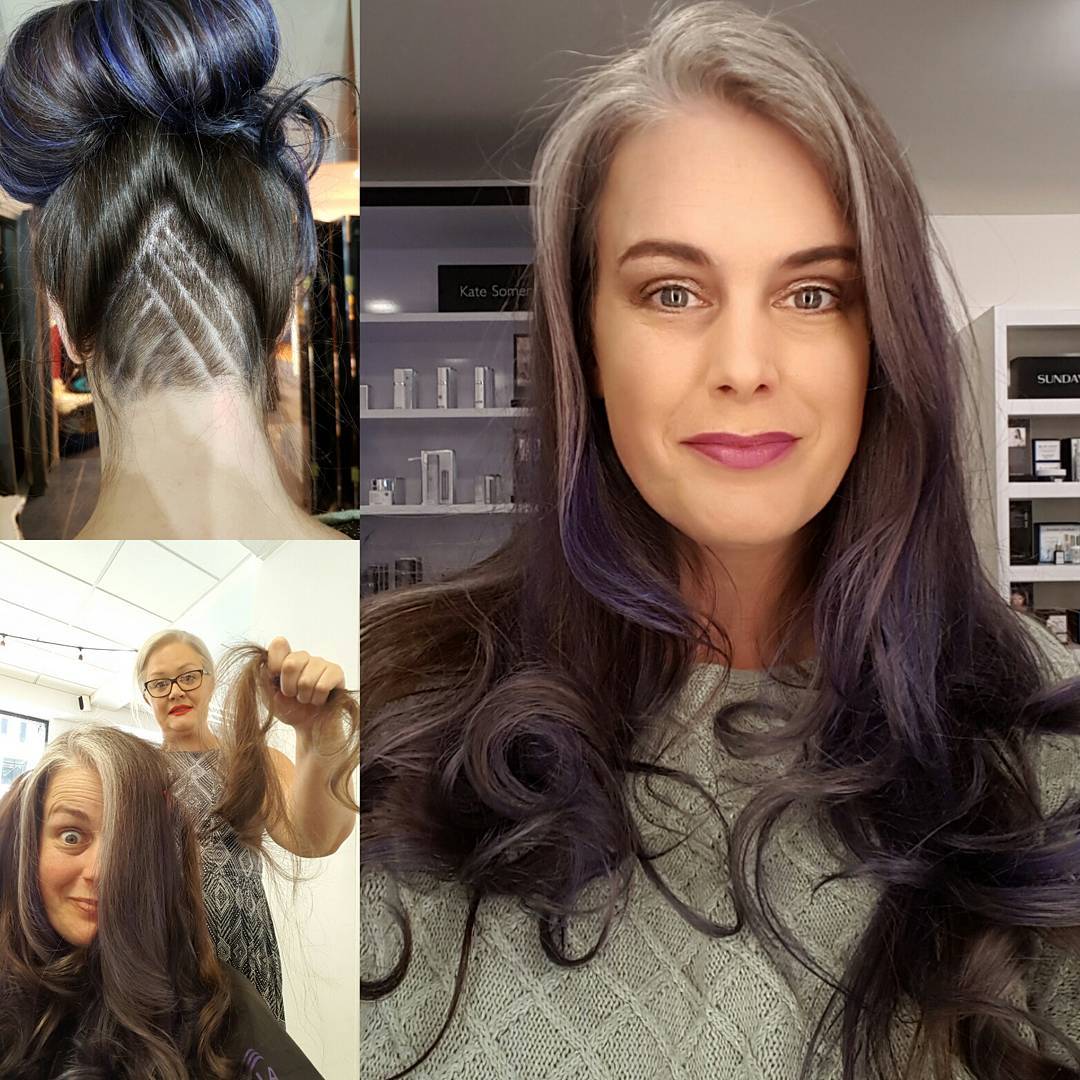 This is one fun lady to be around. With a hairstyle like that, you can only imagine how much fun she has in her life. She is definitely an adventurer. You can be one as well. First step – get an undercut. And then add ombre at the top.
24. Raven Side-Parted Bob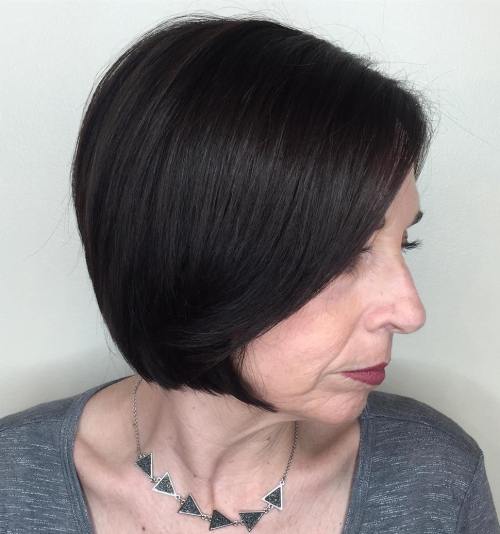 Classy and simple, this is a hairstyle you can use on a daily basis without much effort. Some women want something effortless when they are older. And the bob is exactly that.
25. Wavy Pixie With Colored Accents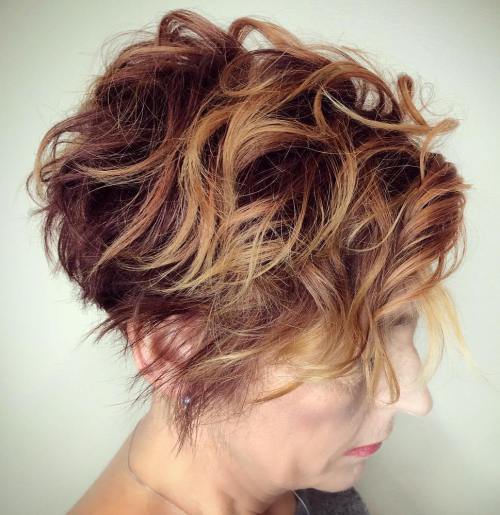 We had quite a few pixies on the list as well. As I said earlier, the pixie can be boring. But you can always add a touch of flair by coloring your pixie in different colors. We had a lavender one for a more elegant look. This one is more of a sexy and sensual look.
26. Black And White Long Straight Ombre
Given the fact that your hair starts to fall and go gray, it might be time to think of a black and white ombre. After all, gray is a result of black and white. That being said, it shows you are in peace with your gray hair. You've embraced it, and you want to make it look stylish.
27. Feathered Pixie With Undercut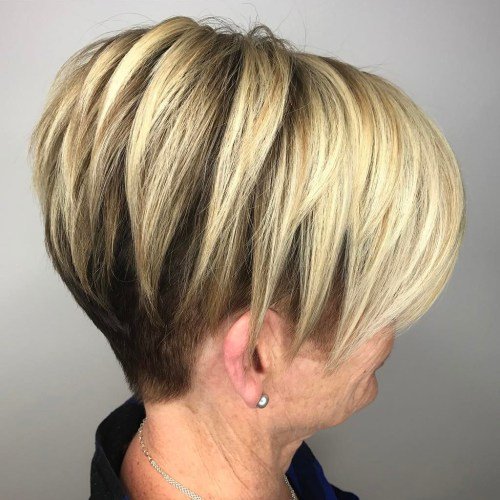 An undercut is not something older women usually get. One reason, you need to cut your hair like once every two weeks. And we can say that not many women have the time for that. Or the desire. But you cannot deny the fact that a pixie undercut looks awesome.
28. Long Blow Wave Gray And Blond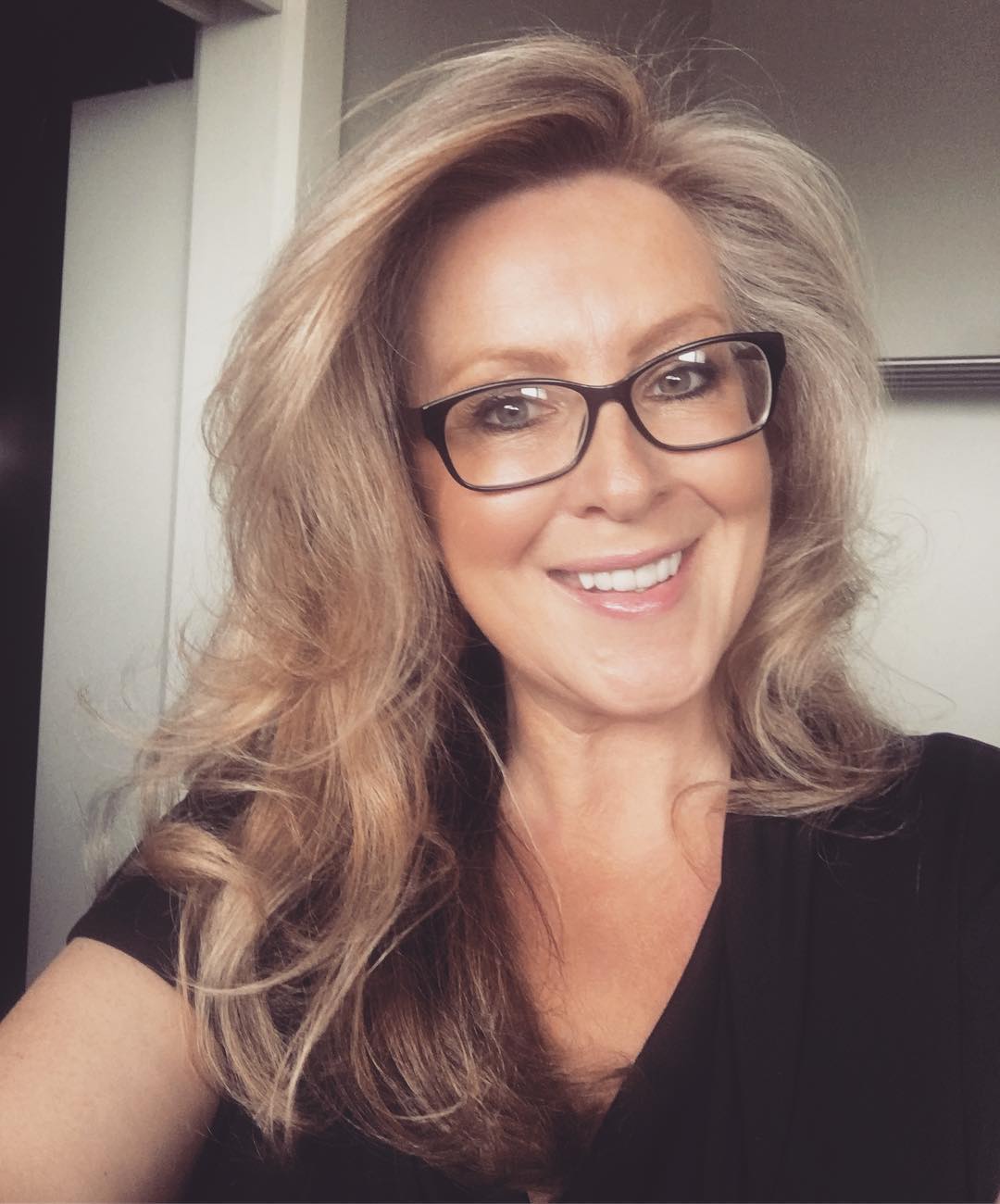 Given that gray hair is synonymous with women over 50, it is only fitting that we finish off with a hairstyle that embraces it. Gray and blonde hair is a perfect match. That being said, this is all for today.
I hope you found an inspiration for your new hairstyle.