The half-moon manicure we see on celebrities nowadays gives your nails an instant upgrade.
The best part about this trend is that you can use it in a number of ways.
For example, you don't like a scarlet red manicure because it's too much?
Well, with a half-moon design, you neutralize the boldness of the red.
Or, for example, say you need a base for an animal print.
An animal design can also be too much, but you can balance it out with a neutral color in the half-moon.
At the end of the day, a half-moon nail design is an easy and fun way to spice things up.
Today, I want to give you some interesting designs to try out.
1. Soft Turquoise Half-Moon Nails with Rhinestones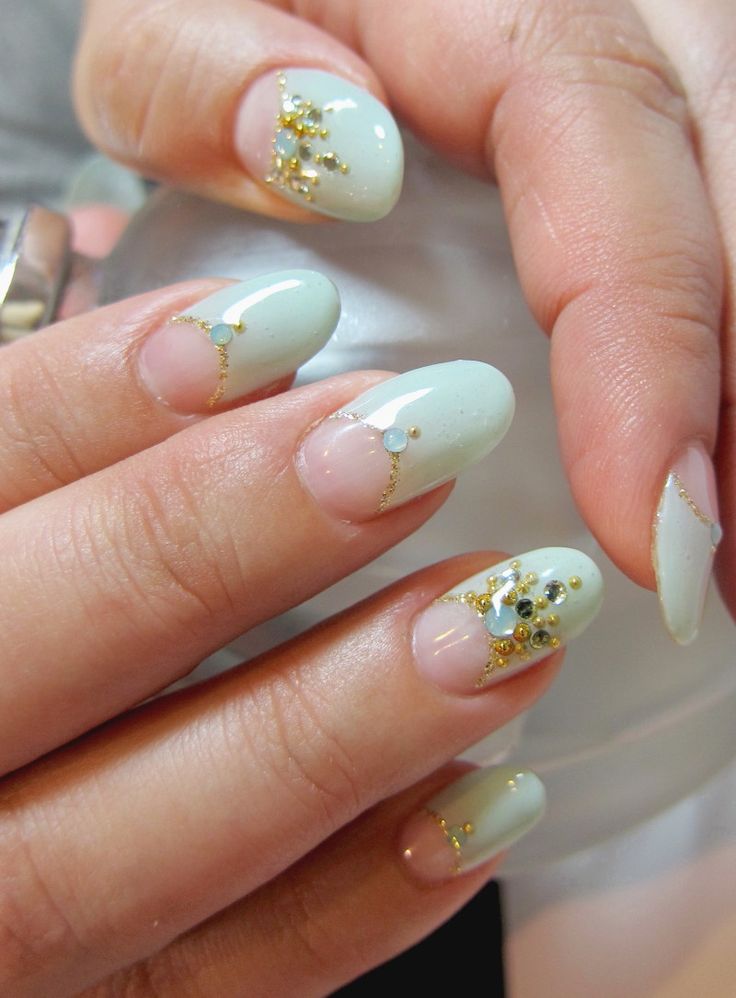 As I said at the beginning, people usually go half-moon so that they can neutralize bold, vivid colors. But you can also use it for pale and baby colors like turquoise. They blend together perfectly.
2. Brown Half-Moon with White Designs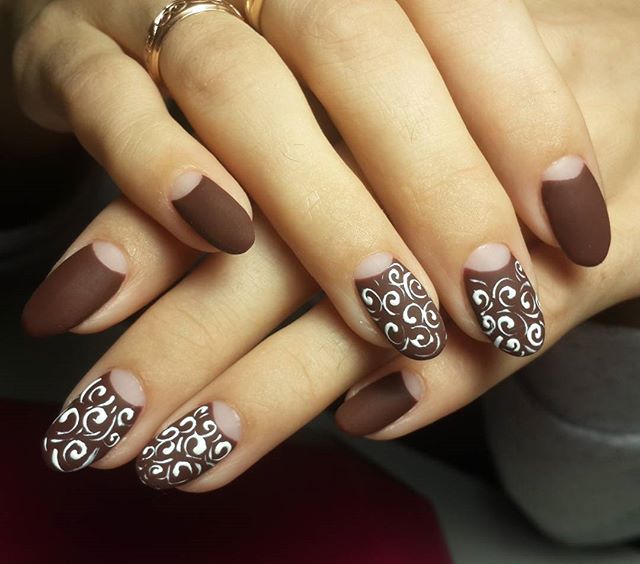 Speaking of those bold colors, we instantly get a brown manicure design. I've written previously about chocolate nails and how elegant they look. With the half-moon trick, you can emphasize your brown mani even more.
3. Colorful Pink and Purple Half-Moon with Gold and Black Touches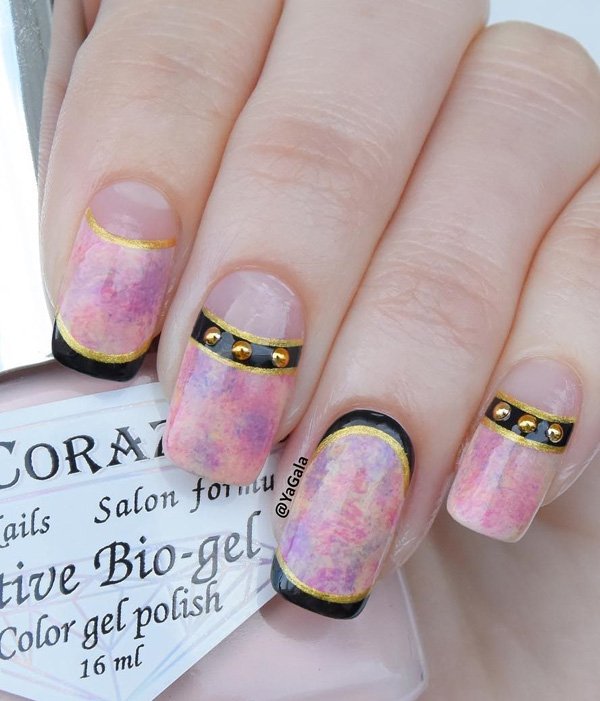 I've already noted that the half-moon can be a great way to set up a base for the rest of your manicure. This design is what I was talking about. You basically have two designs on your nails: one for your half-moon, and one for the rest of the nails.
4. Yellow Neon Half-Moon with Zebra Pattern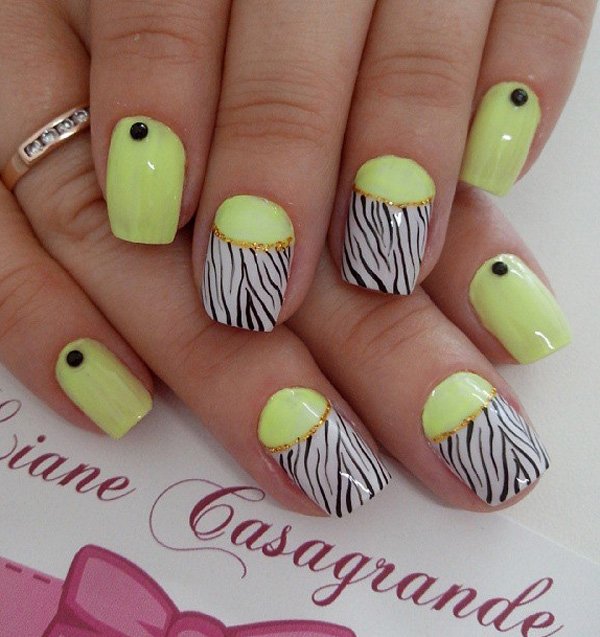 That animal print I talked about at the beginning? It's time that I showed you how it looks. The zebra might not be as offensive as leopard, for example, but it's still an animal print. Utilizing the half-moon will help enhance your manicure.
5. Golden Accent Half-Moon with Geometric Pattern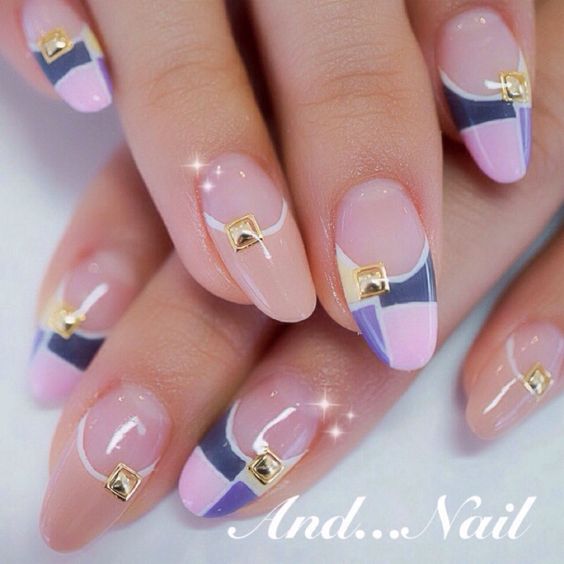 Essentially, a half-moon is a geometric object. Some people want to roll with it and go for geometric shapes on their nails. The golden accent gives your nails a perfect ending. When you think you need something more to finish off the manicure, the golden accent can do that.
6. Silver Half-Moon with Stamp Design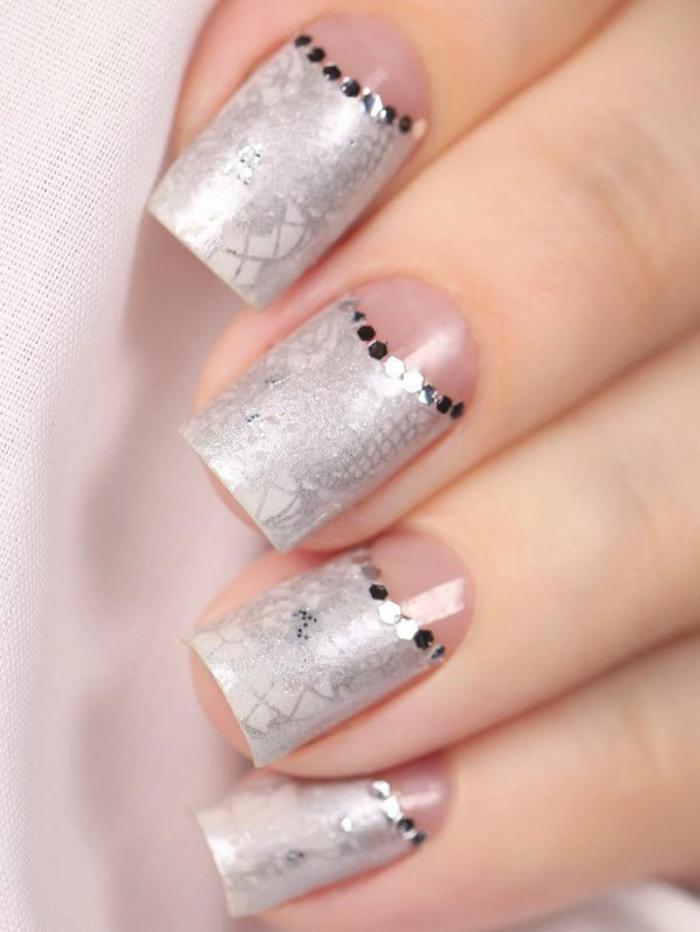 I love how the stamp represents a type of border. You have your silver nails, but you don't that color over the entire nail. You get a border, and let the half-moon be nude.
7. White and Blue Ombre with Bunny Accent Nail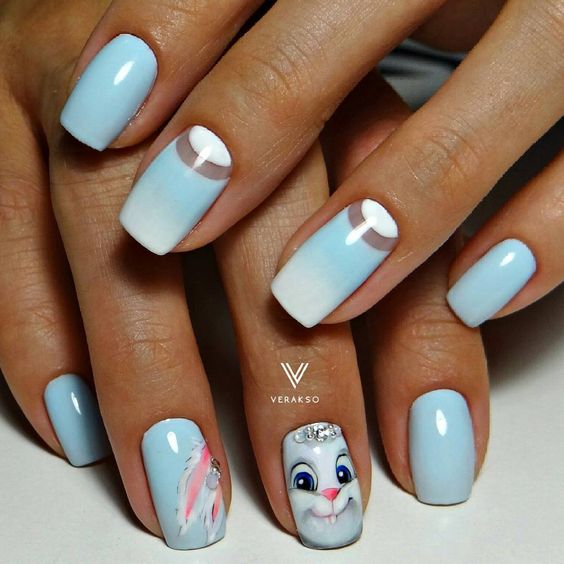 One of the ways to try ombre on your nails is with the half-moon. The challenge usually is to find two colors that are suitable. White is always great, since it's the best base. You can try other colors when you master the ombre. As for the bunny, some people just love to find ways to feed that inner child spirit.
8. Purple Half-Moon with Dotted Design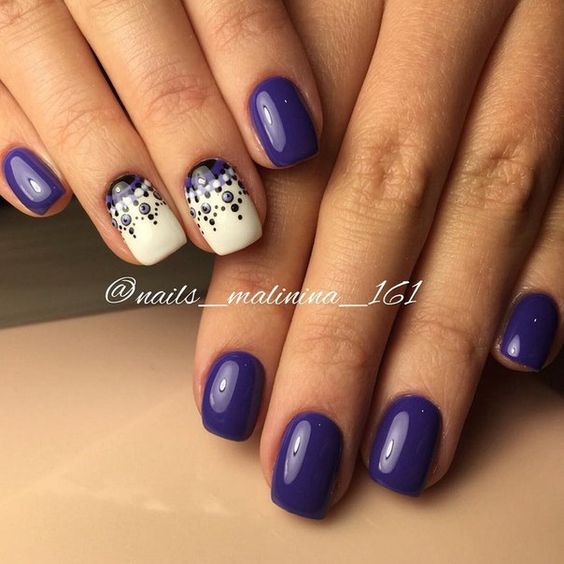 As you can see, you can use the half-moon design to continue the flow of your nails or go for some contrast. We have the latter in this case. Since purple is a rather dark color, the two white nails pop instantly, creating the perfect contrast to the rest of your manicure.
9. Negative Space Half-Moon with Gold, Purple and Black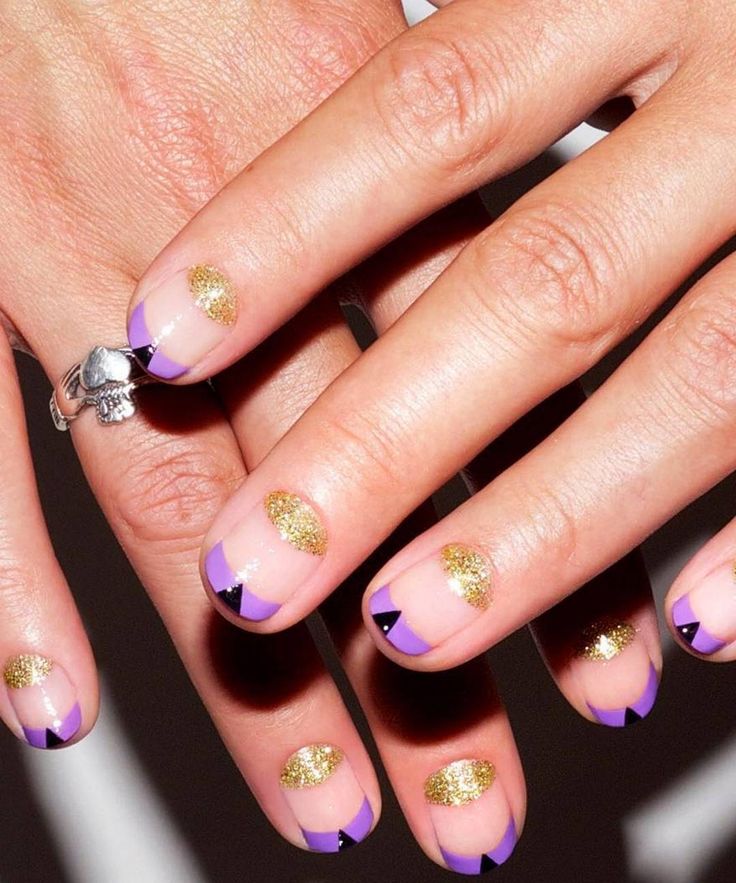 Layering is one of the popular trends in manicure. The challenge here is to hit the right colors. One thing that you can't go wrong with is white. The reason why the middle is white here is because white needs to be the base for both the gold and purple decoration.
10. Red Two-Tone, Glittered Half-Moon Nails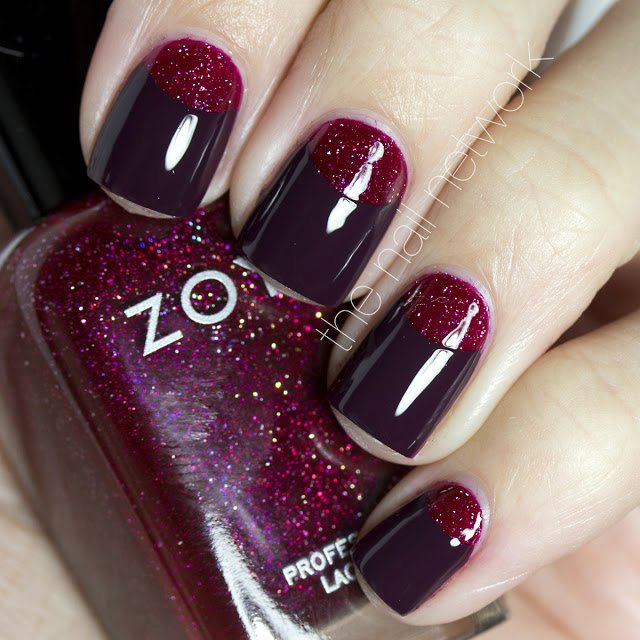 If there is one contrast that absolutely pops, that's black and red. In this case, we have a rather darkish brown/purple instead of black. But there's no denying that if you want your nails to pop, this design will do that for you.
11. Blue Half-Moon with White and Yellow Ombre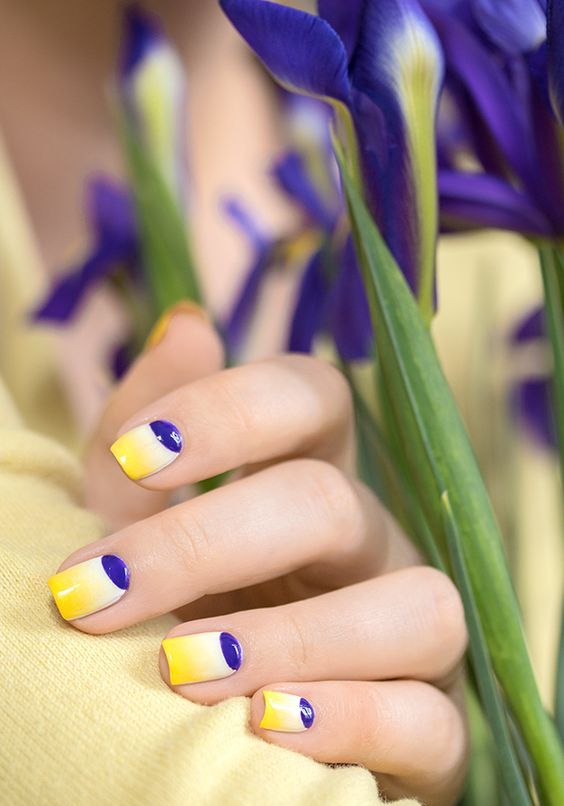 This is probably one of the most cheerful manicures I've seen. All of the colors are bright, vivid, lively, and very joyful. And the way the yellow blends in with the white is just masterful.
12. Half-Moon Pink Nails with Black Stripes on White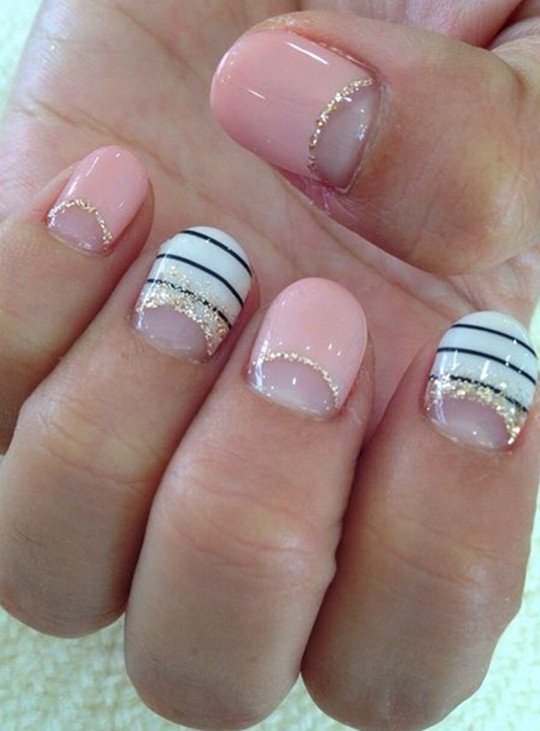 You don't have to have the same design on every nail. That's something you learn as soon as you start manicuring your nails. And in that spirit, I wanted to give you something playful. Baby pink can be a bit of a boring color for nails, so we wanted to make things interesting with stripes.
13. Naked Half-Moon with Lace White Design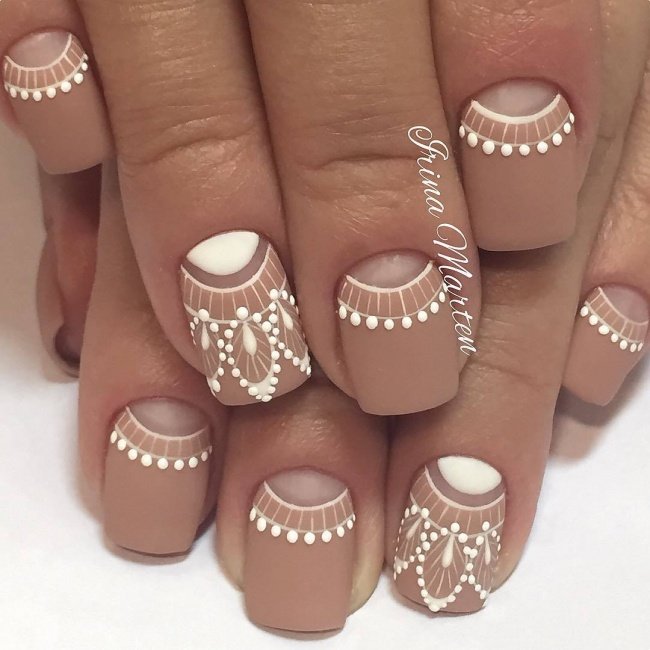 I always say you can never go wrong with lace. If you want a romantic look, lace is the way to go. It's as simple as that. And the best part about lace is that you can try a different design on every nail.
14. Red and Naked Half-Moon Nails with Black Leaf Pattern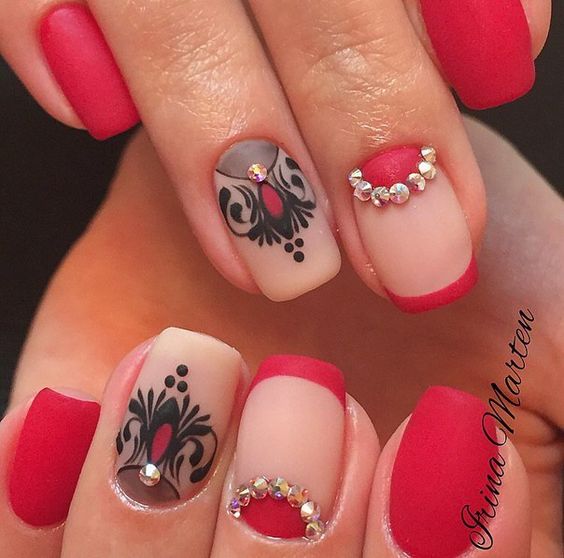 If you remember, at the beginning I said that the half-moon is perfect for red nails. After all, red nails, especially scarlet red, can be too much, and the half-moon helps to neutralize the bold color.
15. Outlined Blue and White Half-Moon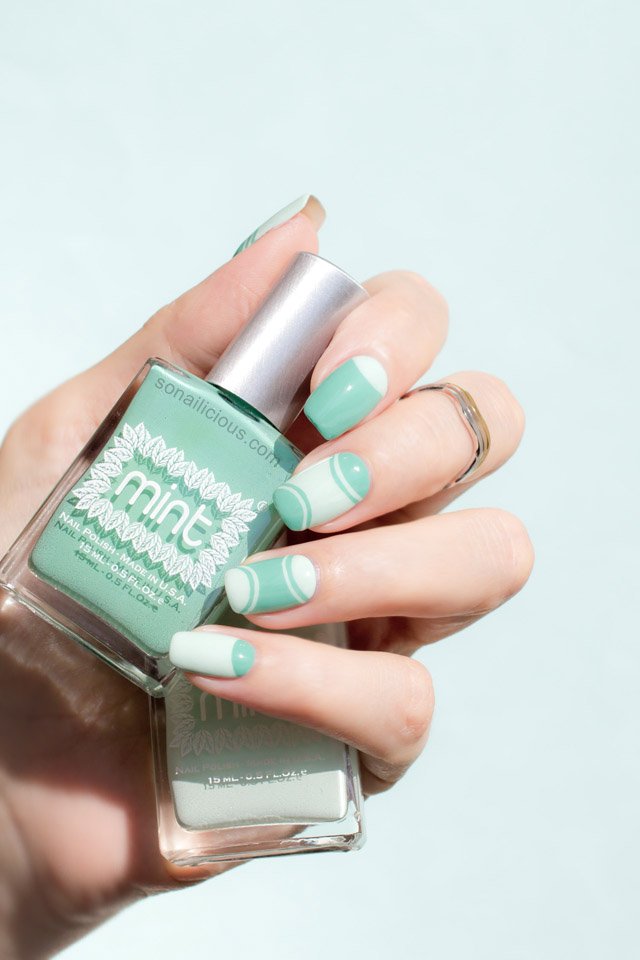 To be honest, blue and white is one of my favorite color mash-ups. Especially when you go sky blue or baby blue. Those two very gentle and romantic colors are just perfect. The downside is that this manicure is not feminine, but it is very beautiful.
16. Lemon Half-Moon with Pink Glitter Nails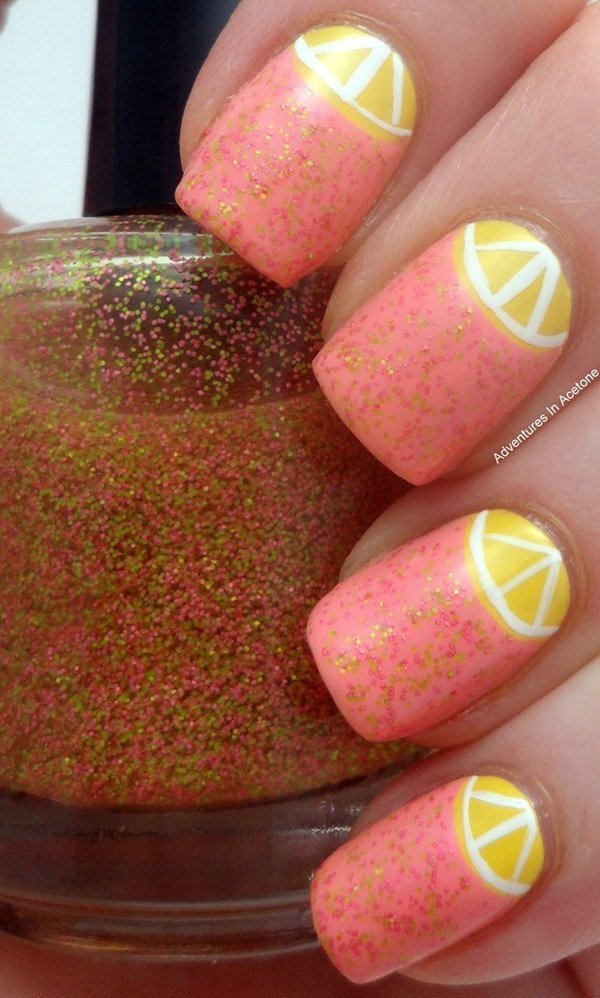 I wrote previously about yellow as a color option for your nails. Yellow is one of the most lively and cheerful colors, and when you want to show everyone how happy you are, nothing beats yellow.
17. Blue Half-Moon with White Floral Design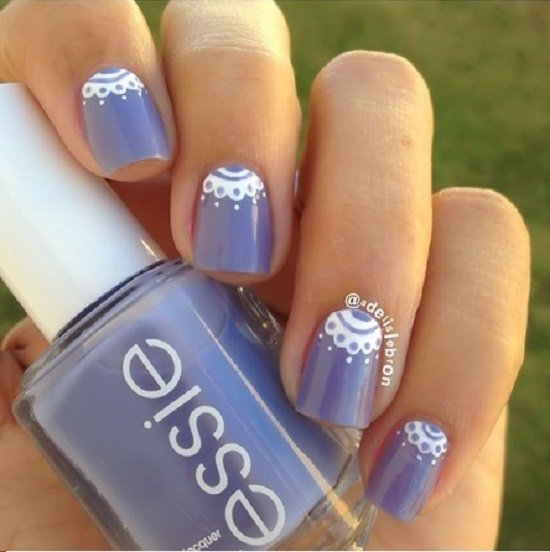 Going back to that blue and white design, I want to give you something extra. To be fair, you can add anything on your nails and still look good. But flowers are something that you add when you want to further emphasize that baby girl look.
18. Pink Glittered Half-Moon on Black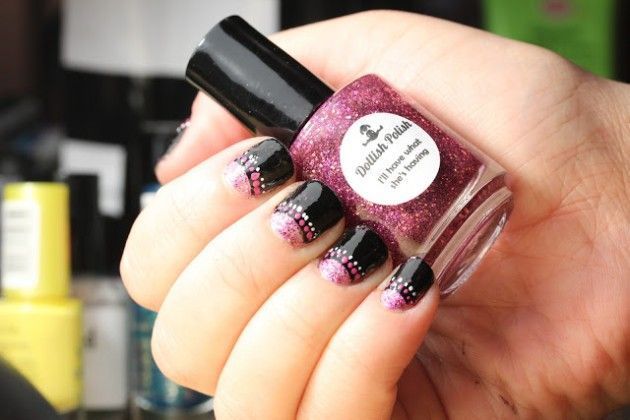 We had a similar design, but with red instead of pink. Red is a color you choose when you want to be bold. Pink is something you go with when you are not as brave and confident. You still get a rather sexy look that pops, but it's not as racy.
19. White Half-Moon on Pink and Purple Nails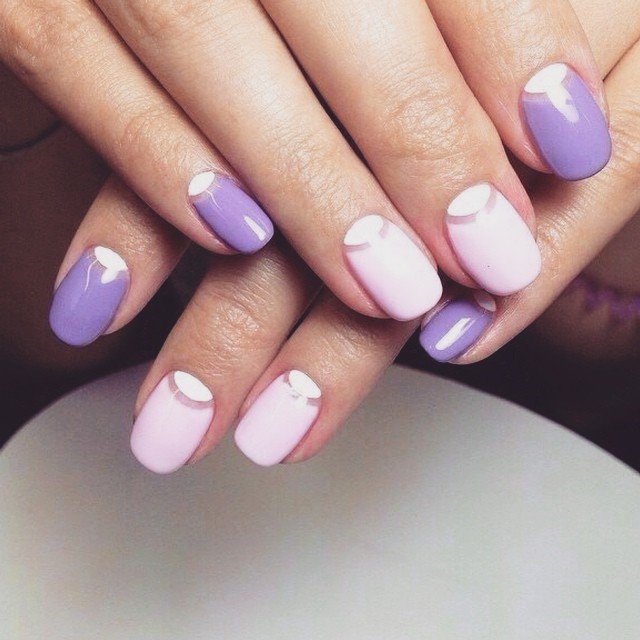 In a way, pink is very similar to blue (at least the baby shades of these two colors). Both work well with white for that baby, innocent look.
20. Light Pink Half-Moon with Sheer Black Lace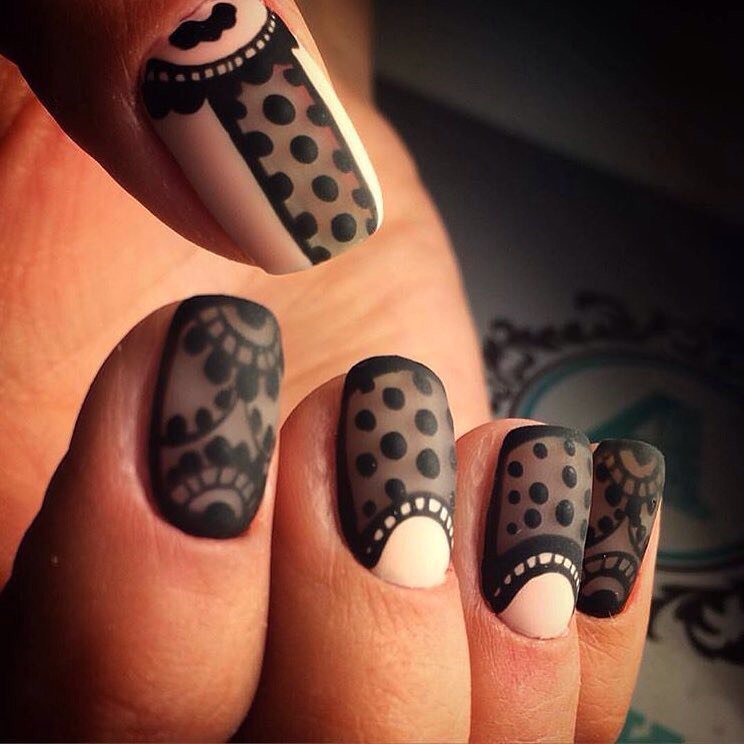 You can even say that your nails look like a very expensive dress, to be honest. We had white lace, but black lace is a completely new level. After all, black lace is something you go to when you want to look feminine, sexy, and innocent at the same time.
21. Colorful Half-Moon Dots on Gray Nails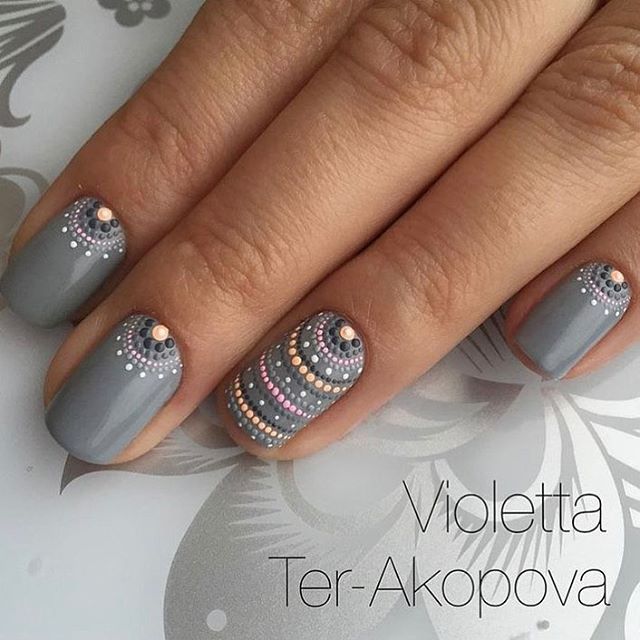 The biggest challenge here is the dots. As in, they can be painfully irritating to make. You need to be very patient and careful. And you can be sure this design will take you at least one hour. But it's well worth it in the end.
22. Three-Tone Half-Moon Design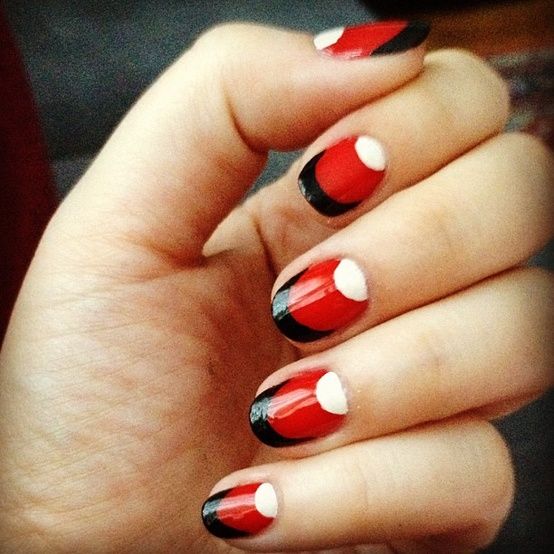 We had a few layered and three-tone designs previously. We had blue, white, and yellow ombre. But this is not ombre; this is a very racy and sexy design here. After all, the black and red combination is definitely something that pops.
23. Floral Half-Moon Design on Naked Nails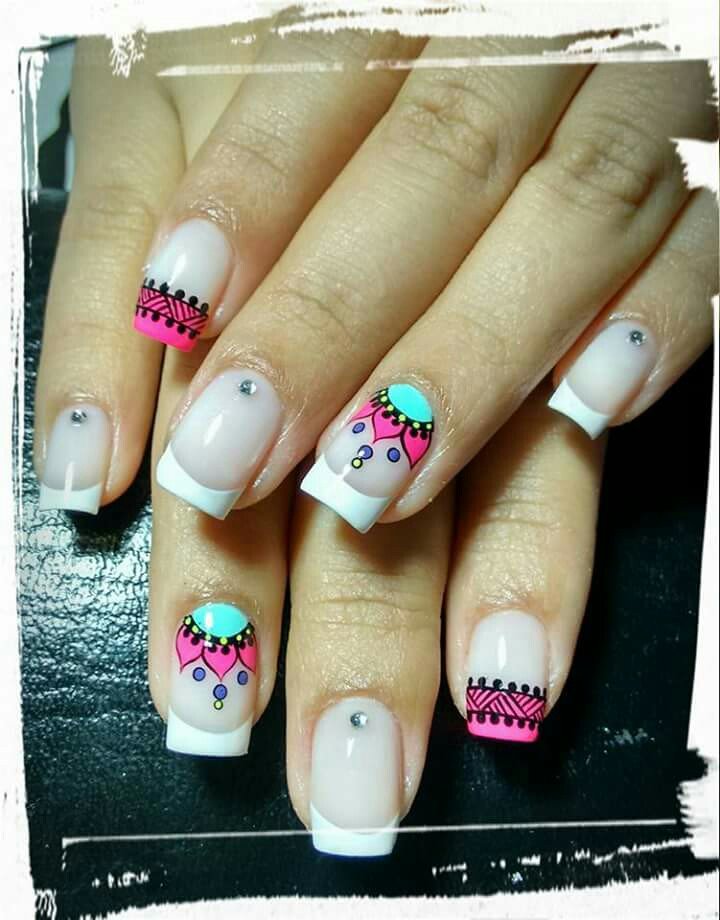 I said previously that white is the best base for every other color or design. But nude can be good as well. A French manicure with floral designs is something that will make you look like a teenage girl. If that's your goal, feel free to go for it!
24. Naked Half-Moon with Baby Blue Lace Design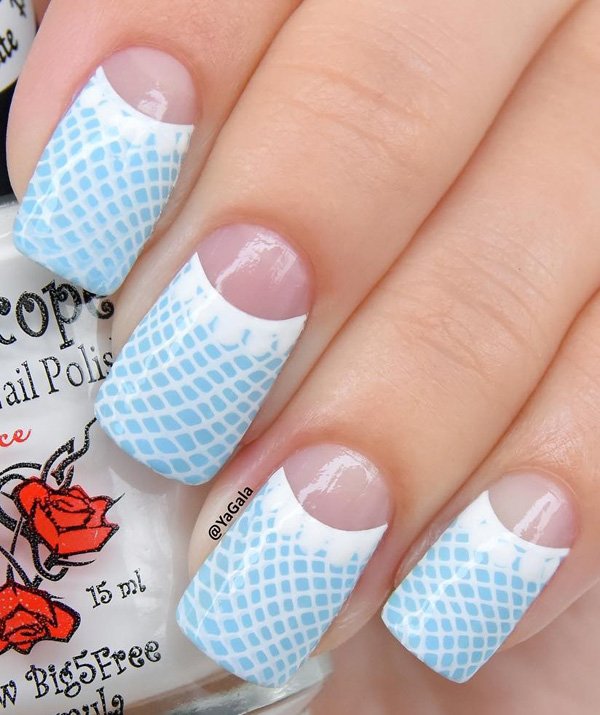 Well, I said baby blue is one of my favorite colors, be it on nails or lace. White is too sophisticated, black is too sexy, and baby blue falls just in the middle. A romantic and feminine look all the way.
25. Plaid Patterned Half-Moon Nails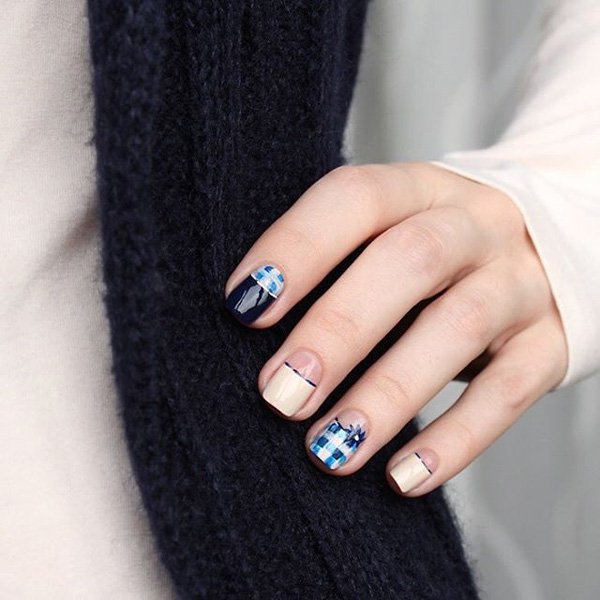 For the last design, I want to give you something a little bit more complicated. Patterns can be challenging since you need a lot of attention to details. But they will get you noticed for sure!