We are nearing one of the most unique, colorful, fun, and entertaining holidays.
Yes, I am talking about Halloween.
When it comes to decorations, accessories, themes, and clothes, nothing beats Halloween.
There are just so many ideas, so many colors, and so many decorations you can use.
The best part about Halloween is that you do not have to limit yourself to being scary or spooky.
There are many Halloween-inspired themes that have nothing scary in them.
Sometimes, it is all about the mystery of the unknown.
But with that in mind, let's look at some Halloween themed manicure.
Since Halloween is one of the scariest holidays, it deserves equally scary nail art designs. Luckily for you, I have some elegantly scary nail ideas you can try.
1. Forest In The Night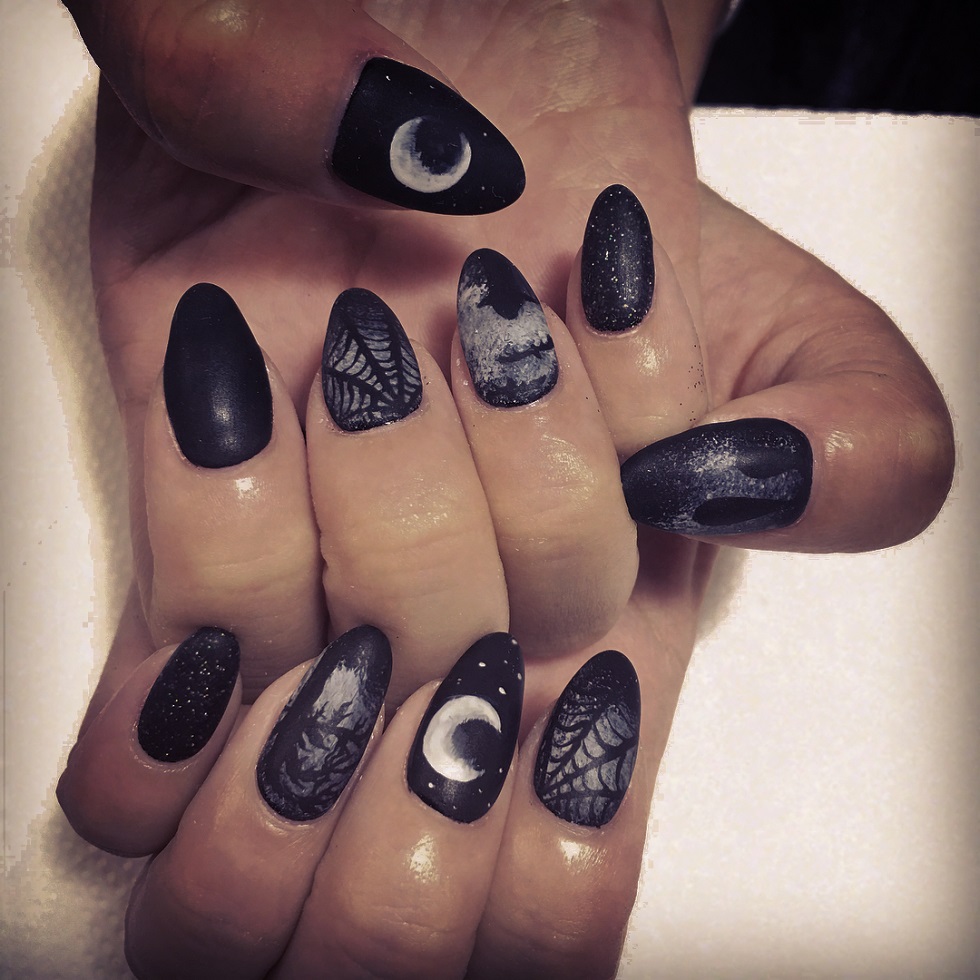 I said it is not all about being scary right?
In this case, it is all about the mystery of the night. And the elegance it brings.
2. Ghoulish Black And Purple Nails With Rhinestones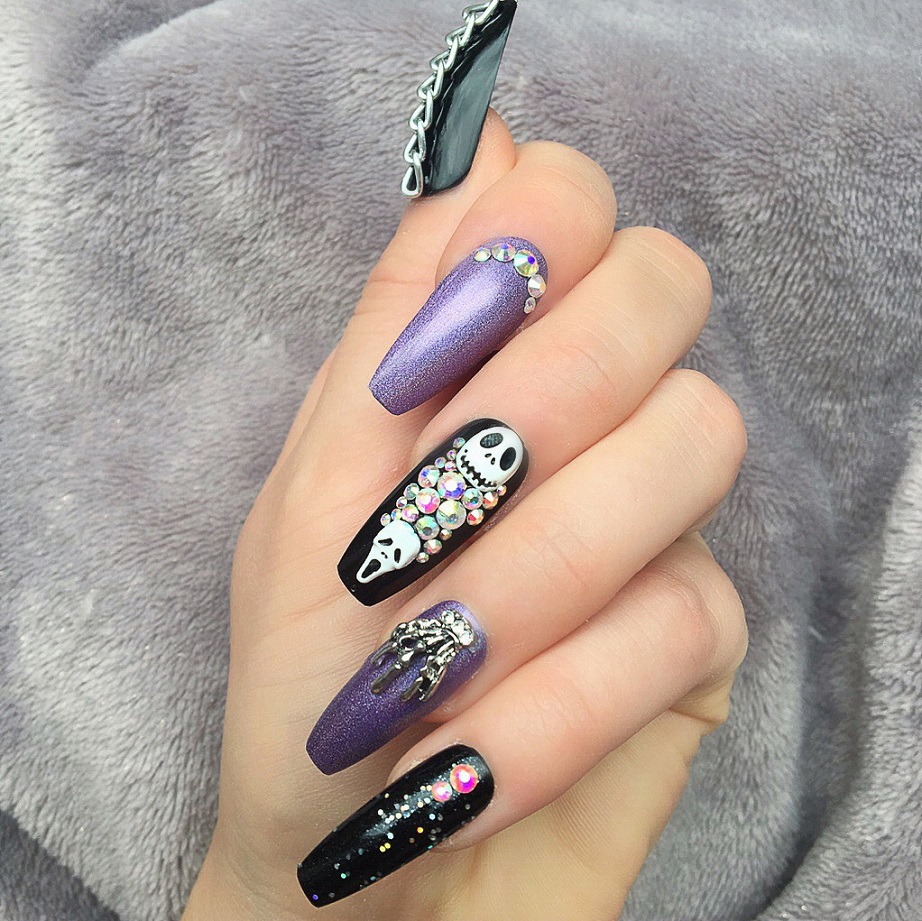 If you are wondering what are ghoulish nails, they are scary nails.
What makes this manicure particularly scary is the length of the nails.
The longer, the scarier.
And you just have to love every accessory.
3. Black And Red Glittery Ombre With White Spider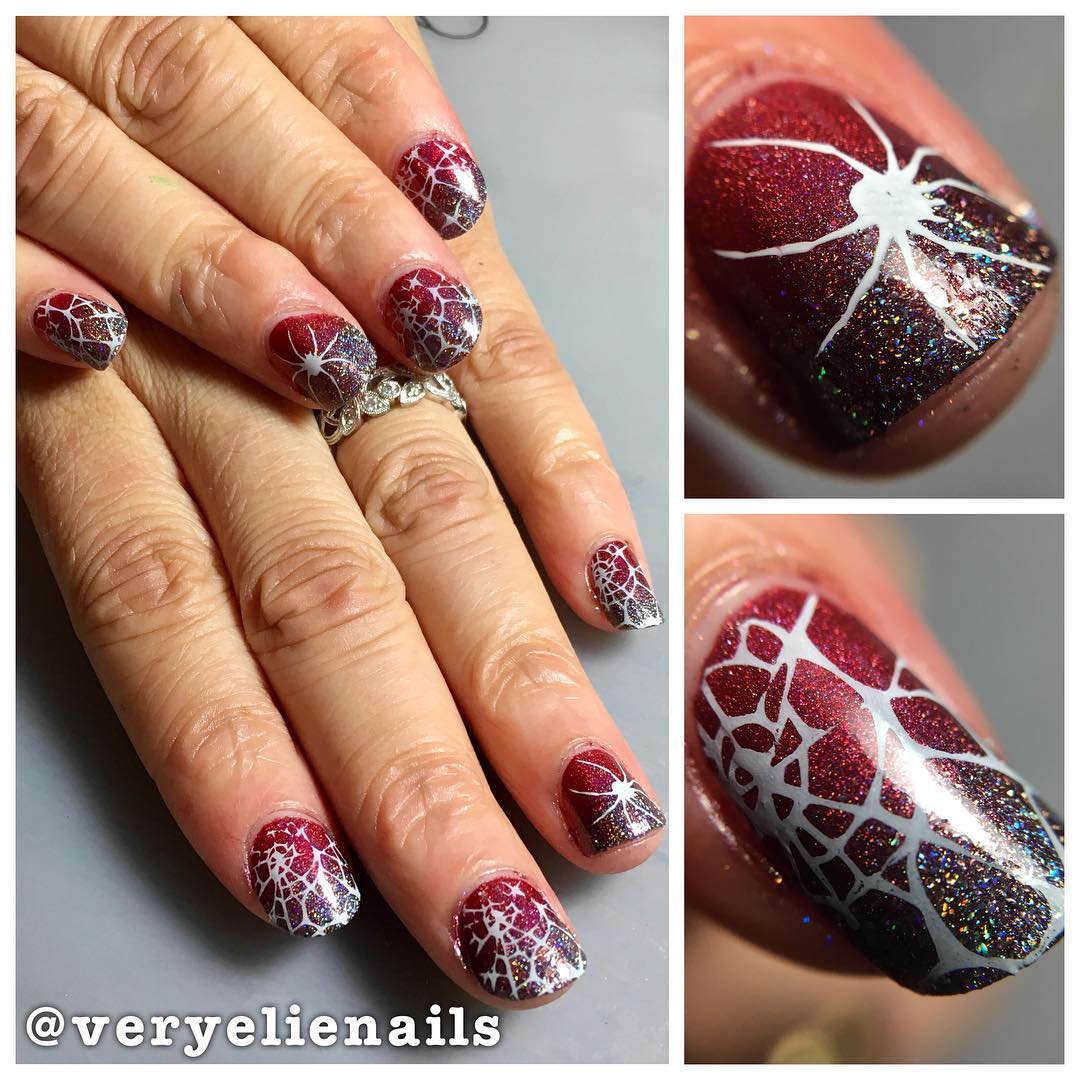 As you might have noticed, not all Halloween nails have to be scary.
They can be quite elegant if you think about.
This manicure is a perfect example.
The red and black ombre is just amazing, and all you need is a spider web for a more Halloween-themed manicure.
4. Sugar Skull Designs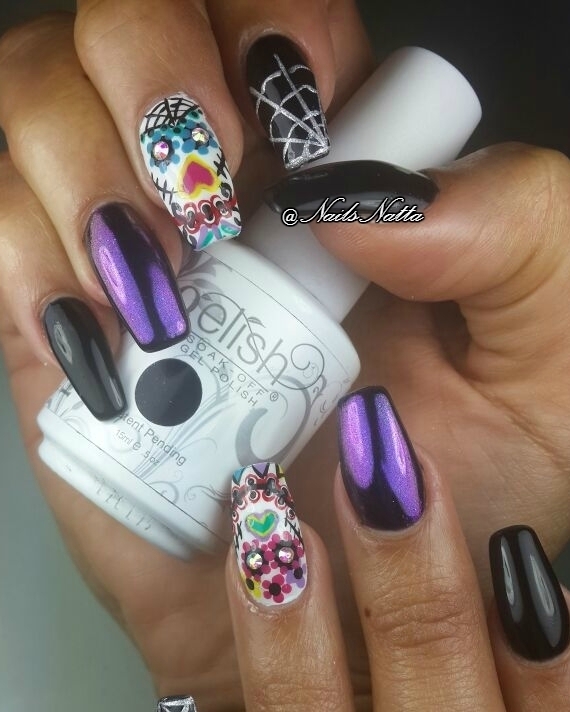 The skull design is a common idea for Halloween nails.
And there are many different versions and variations of it.
This is a more cute and adorable skull version.
In addition to elegant black and purple nails, the skull makes the great accent contrast.
5. Orange Glow-In-The-Dark Spiderweb Nails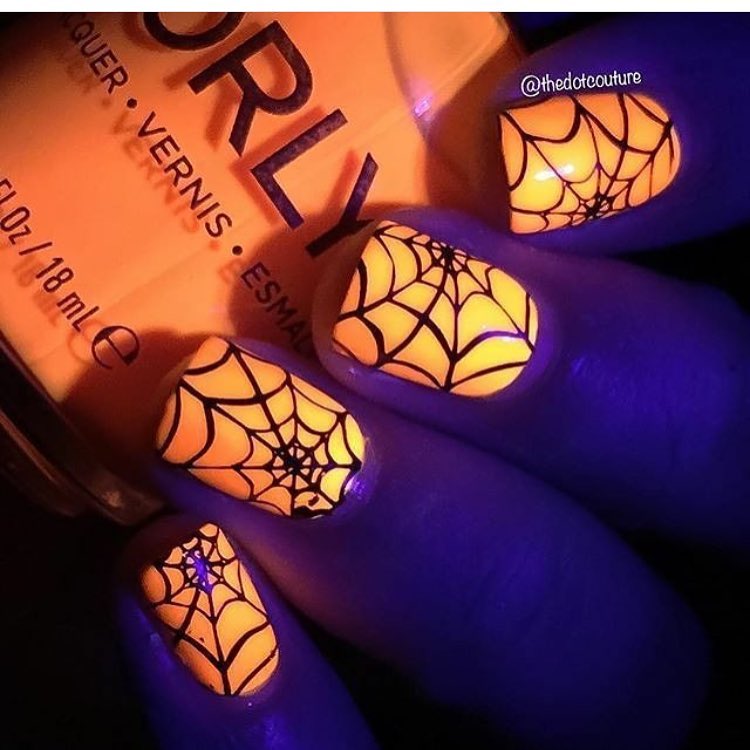 Glow in the dark elements are quite popular during Halloween.
It is no surprise that the same effect can be used for your manicure as well. And you have the signature elements.
Orange color, the color of the pumpkin, and the spider web.
6. White Blood Splattered Coffin Nails
Is there anything more spooky than coffin nails with blood on them?
If you know how coffin nails got their name, you'll understand.
They resemble the shape of a coffin. And the blood looks as real as it could be.
7. Black Matte Spooky Teeth Accent Nails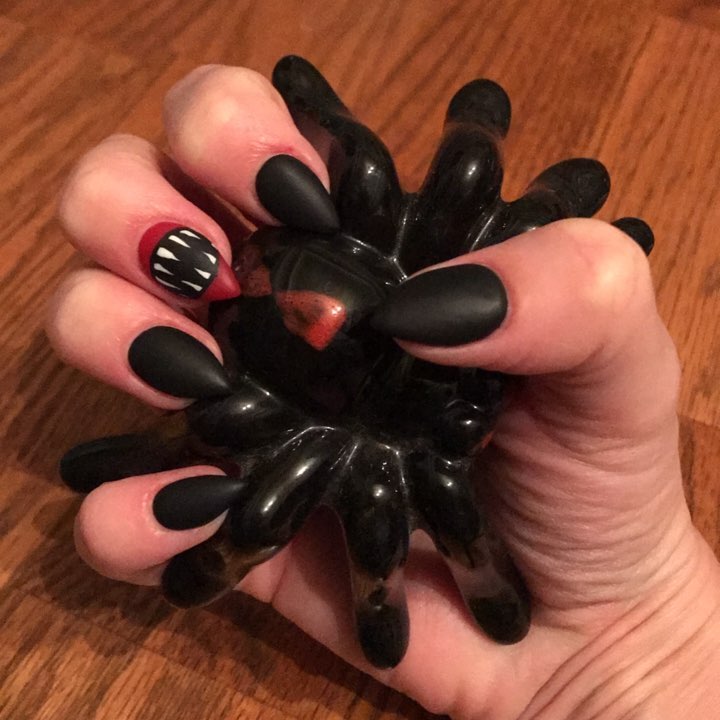 If you like to keep things simple, black matte nails is the way to go.
You'll need one accent nail, and you can do the teeth.
Simple, yet very effective. For those of you limited in time, this manicure will do the trick.
8. Pretty Pink Spiderweb Nails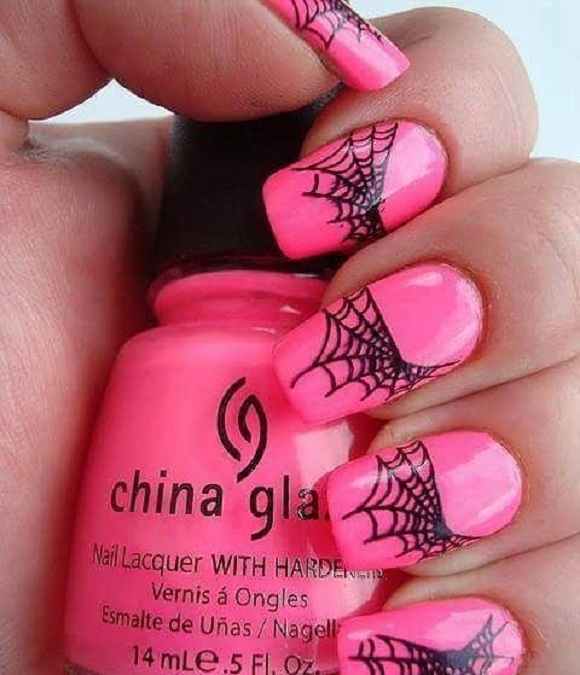 Some women love spooky and scary, others want girly and cute.
Pink definitely falls into the latter category.
The classic pink nails with spider web are one of the more popular manicure ideas around Halloween.
9. Purple Glittered Nails With Dancing Skeletons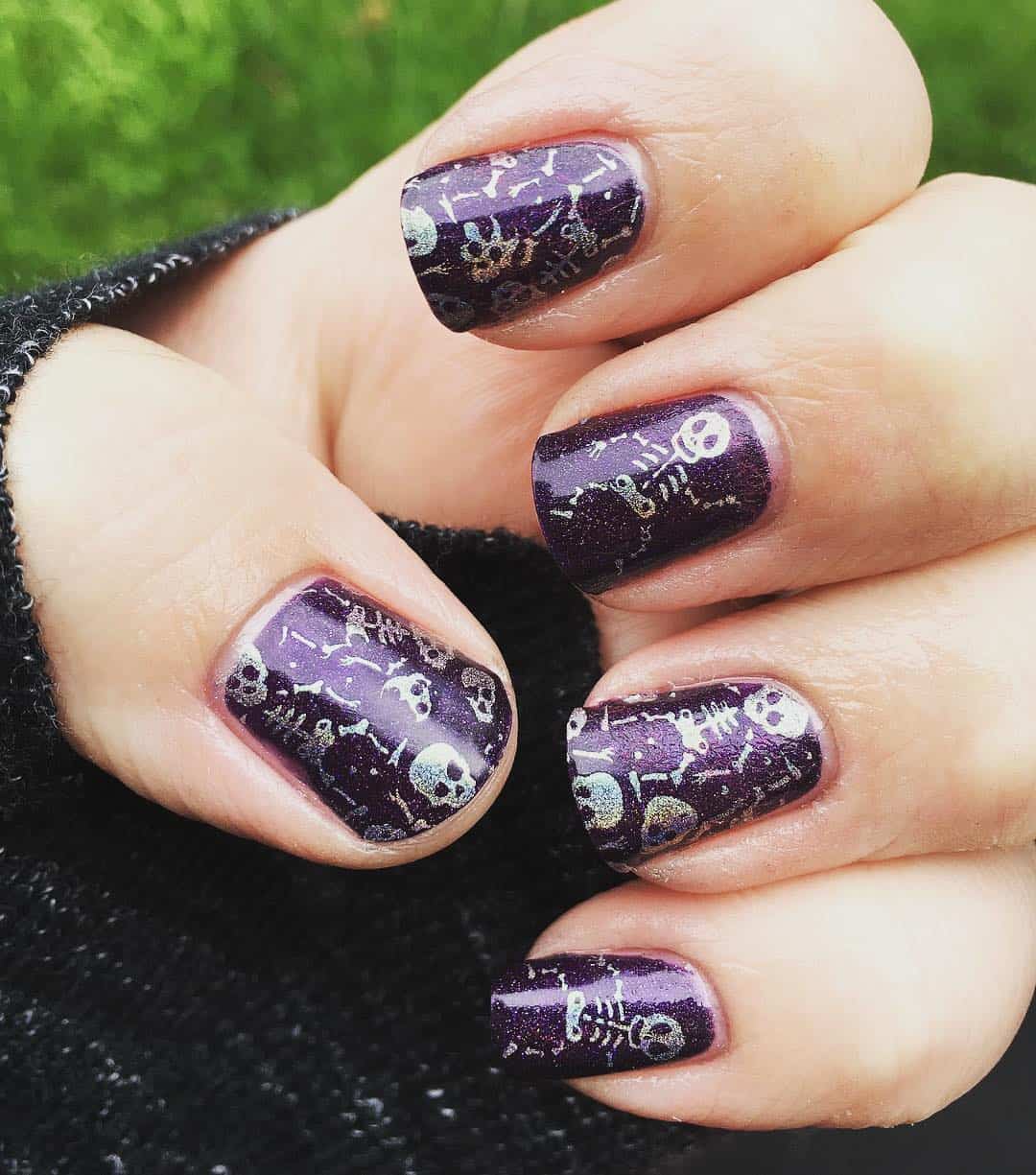 I said that Halloween nails can be entertaining, right?
Well, skeletons dancing to an imaginary music is definitely something unusual and funny. Fun all around us, right?
10. Scary Black Cat Eyes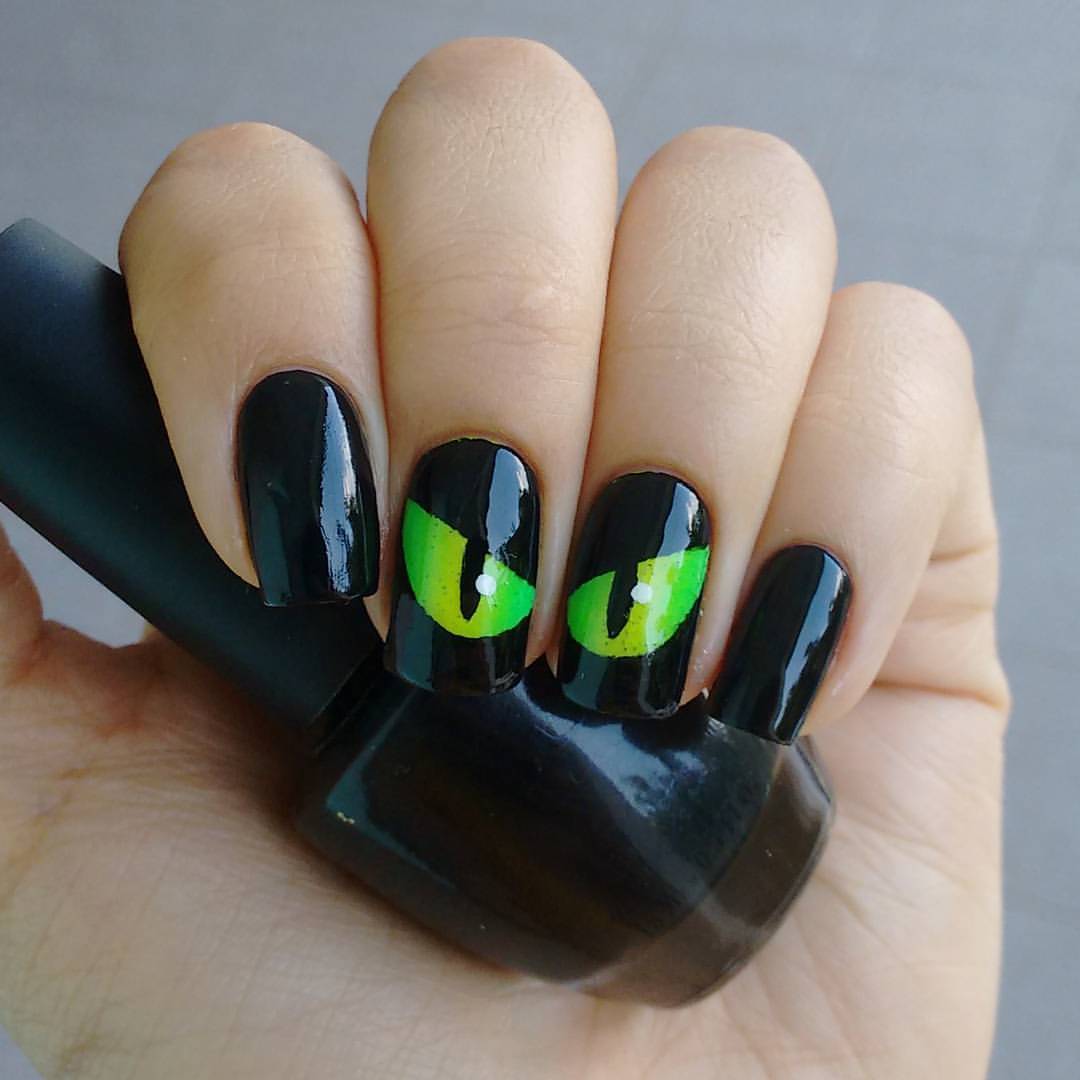 The black cat is more of a Friday 13th symbol.
But that does not mean you cannot use it for Halloween. And this manicure looks just scary good.
Just look at those eyes, and how are they looking at you. Goosebumps to be honest.
11. Stripes In Halloween Colors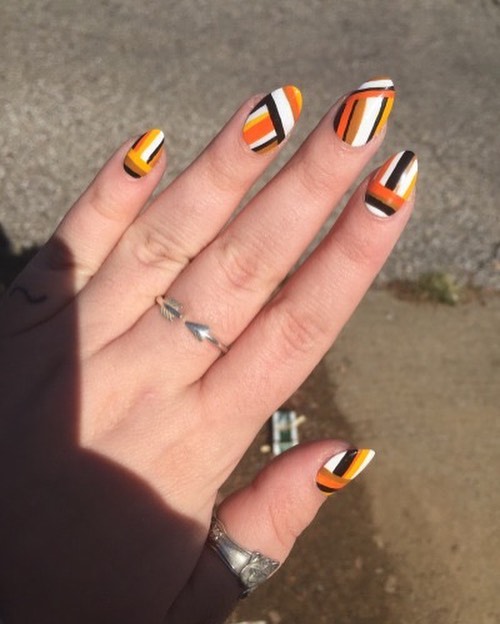 The colors of Halloween are a good idea for a woman that doesn't want to be scary, but wants to keep up with the trend.
Just throw in some orange, black, and white on your nails, and you are good to go.
The design, patterns, and shape is up to you. But here is an idea to get you started.
12. Creepy Ghouls 3D Nails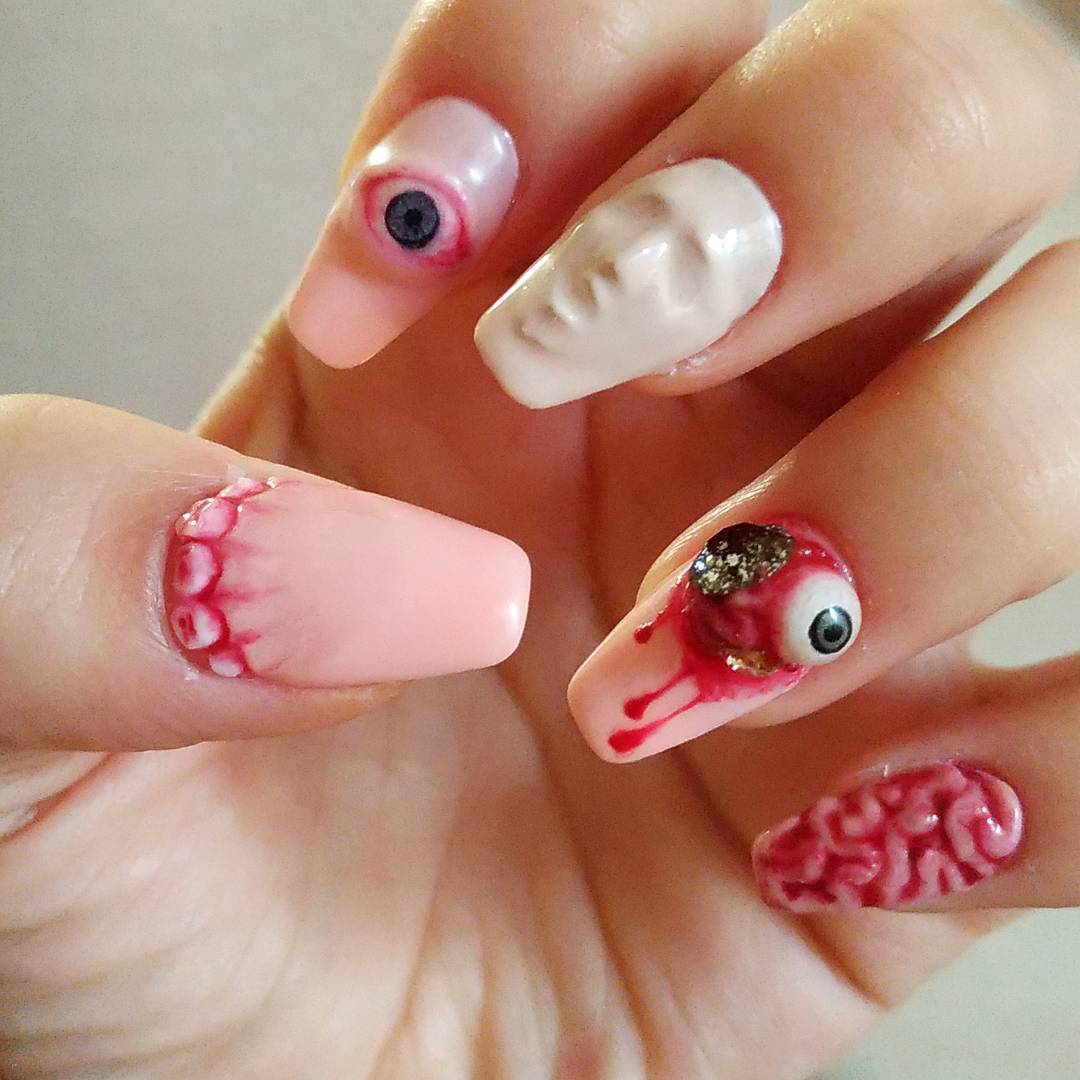 If you expected something cute and adorable from Halloween nails, you are at the wrong place.
You should have expected something as creepy as these 3D nails.
I just love how real they look. You will definitely scare someone with them.
13. Blue Batty Nails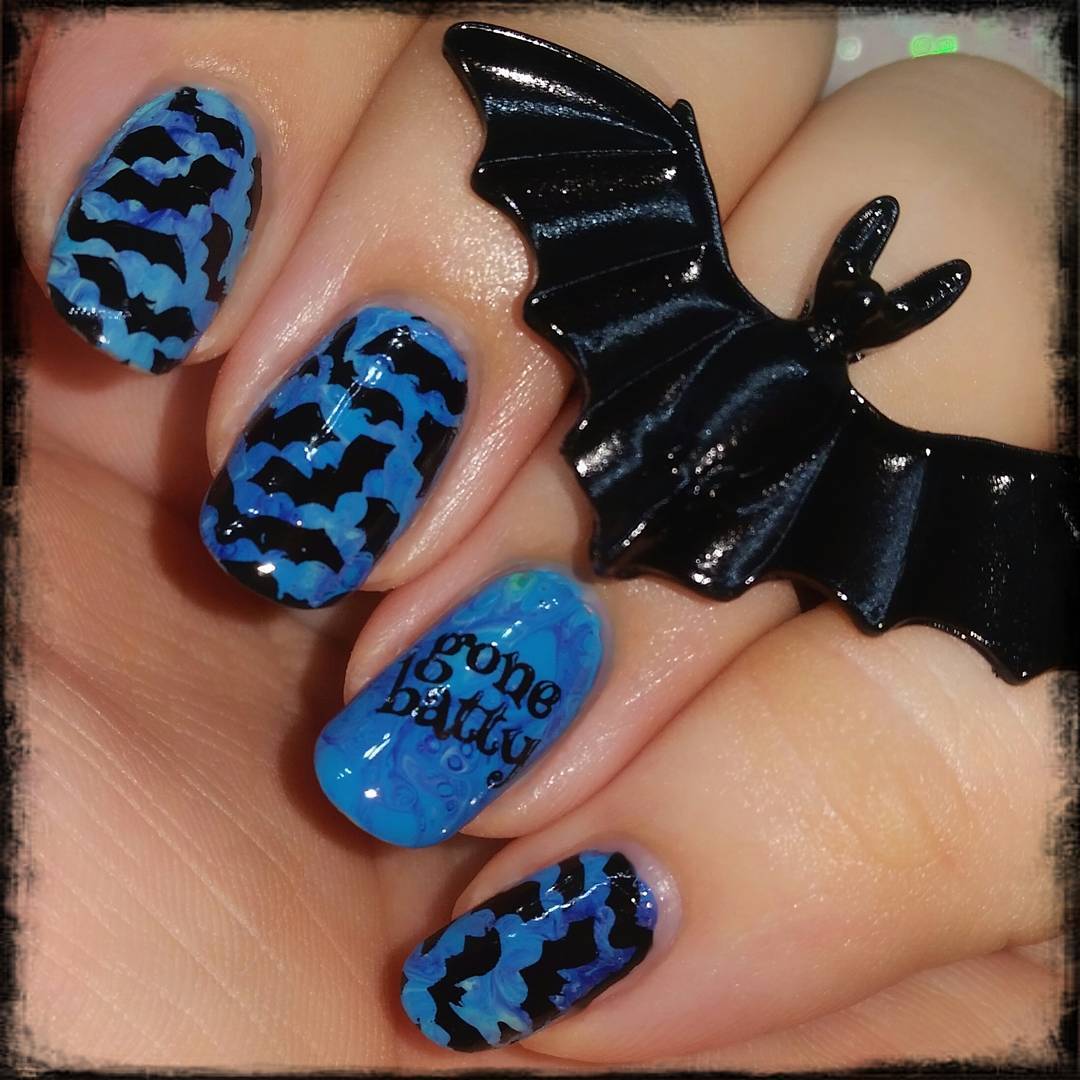 A perfect mix of scary, mysterious, and adorable at the same time.
Bats look good, and the blue color is elegant enough to fit them.
14. Black Witch Symbol Nails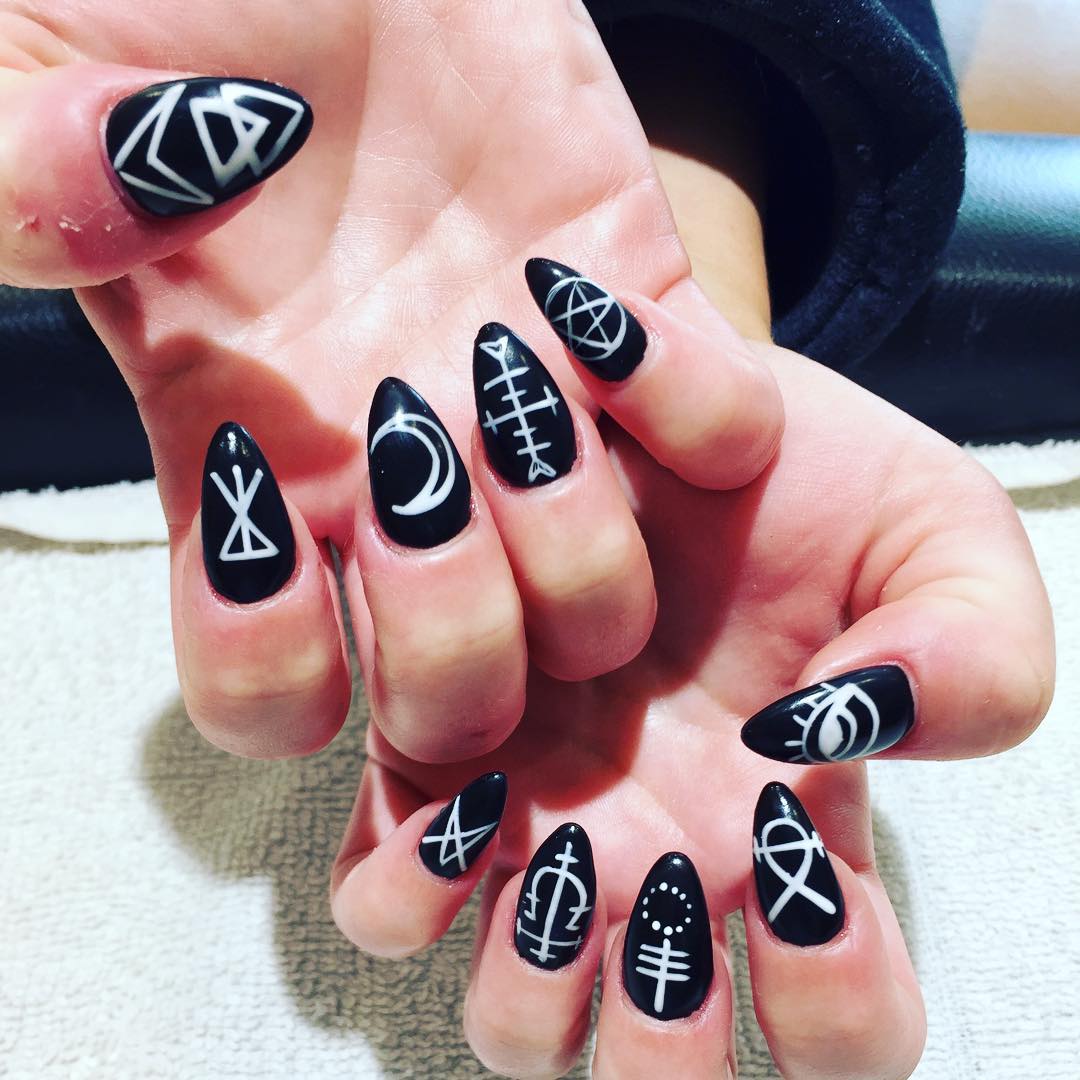 If mystery is what you like, there are many ideas.
The trick with mystery is to put something on your nails that is not obvious.
For example, these symbols are hardly something everyone will recognize at first glance.
Now, the downside is you might get a ton of questions what are the symbols.
15. Candy Corn Nail Design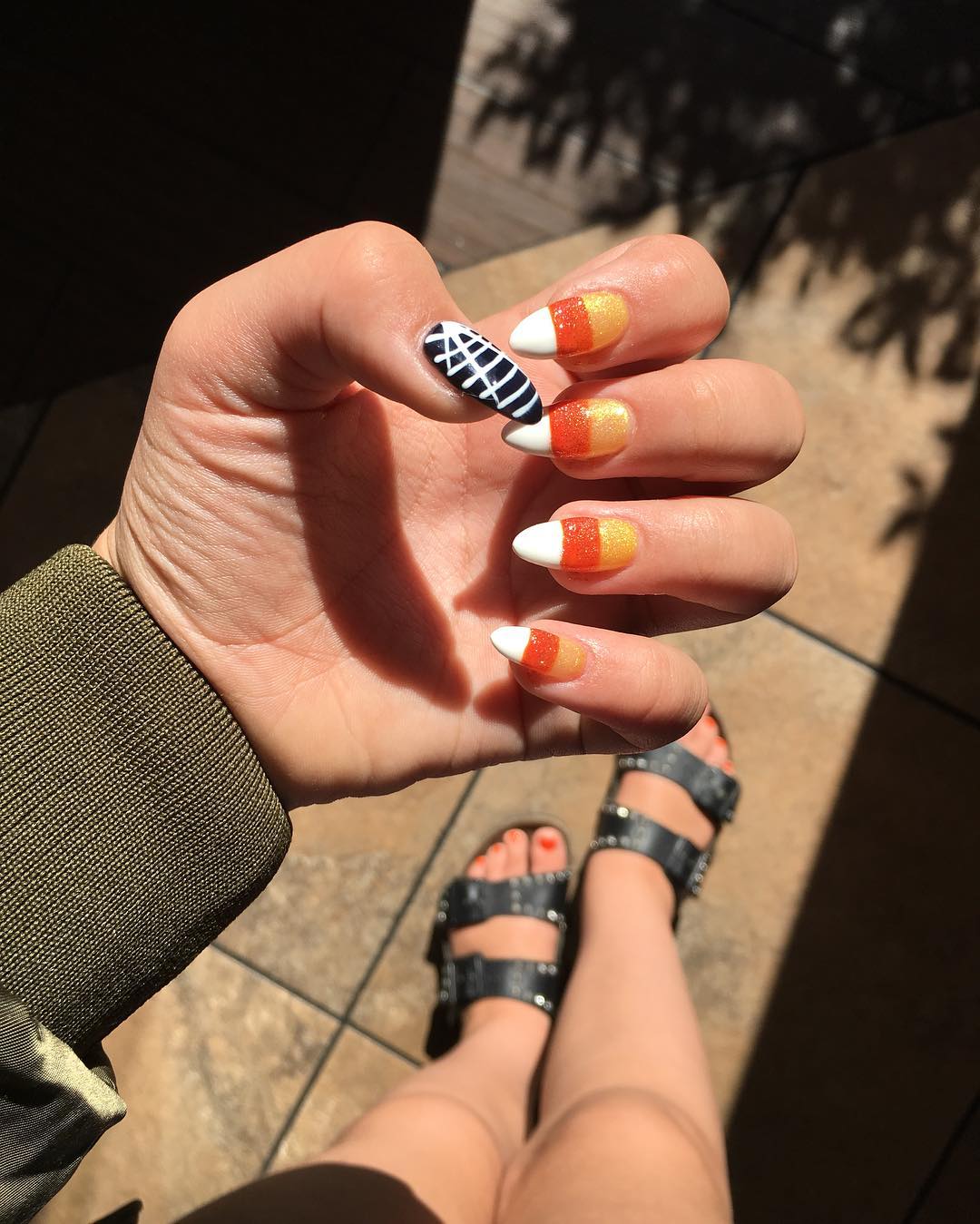 When you think of sweets and candies for Halloween, the candy corn is probably one of the most popular.
You can use that popularity for your nails and get a perfectly cute, sweet, and Halloween-inspired manicure.
16. Spooky Houses In Twilight Design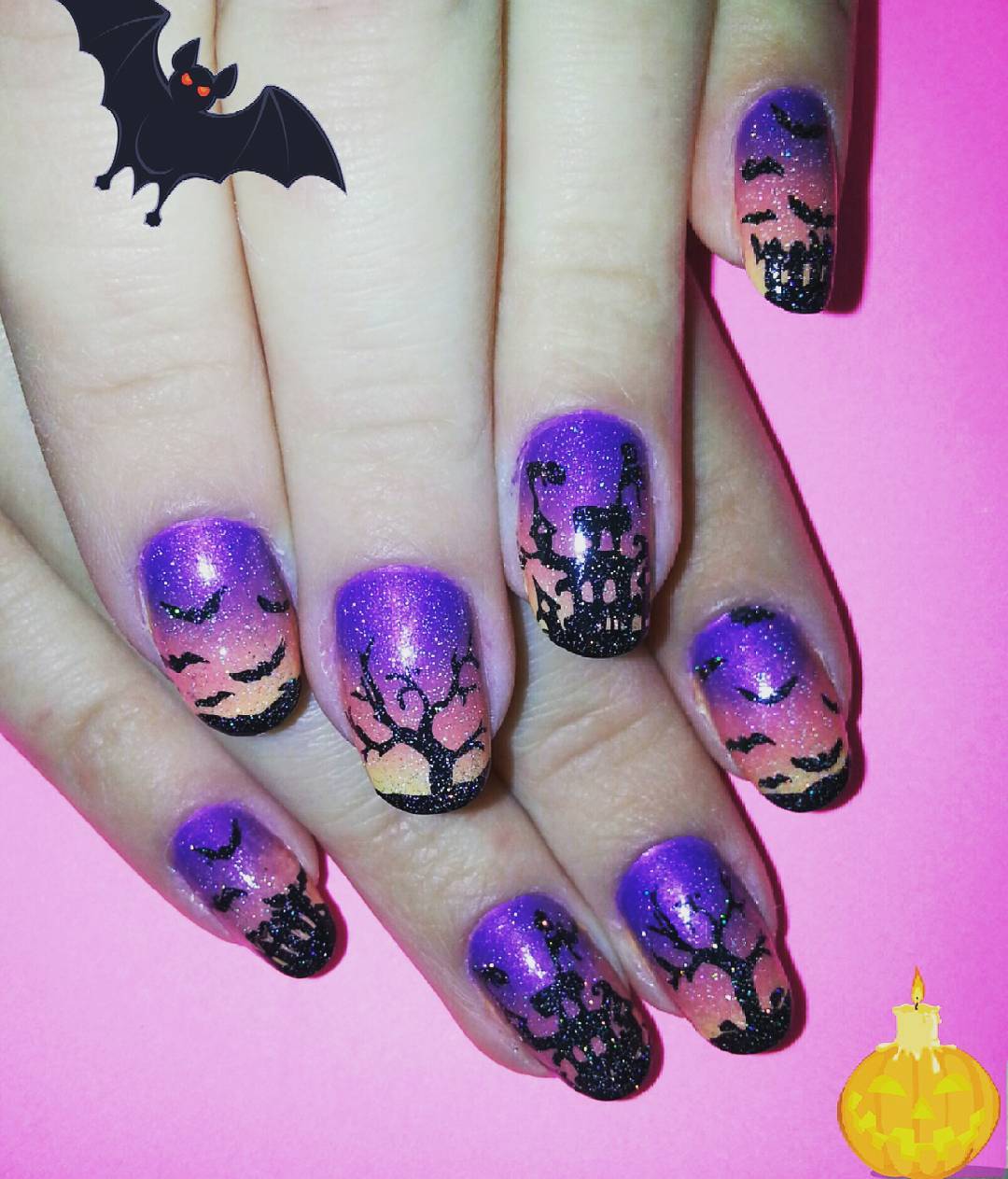 The spooky and scary house is a place not many are brave enough to enter.
Your nails might scare some people off, but that is the goal. The biggest challenge here is the twilight color.
17. Bloodied Vampire Fang Nails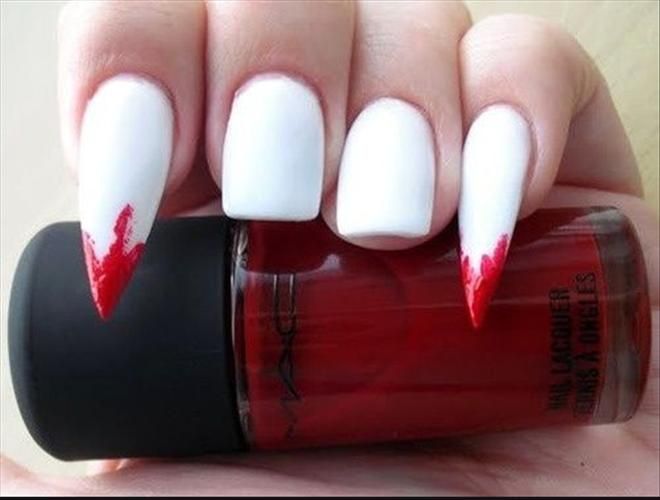 Remember when we had coffin nails with blood earlier?
Well, these vampire nails are just as scary. It is all about being as visual as you can.
I must say, looking at these nails gives me goosebumps, but in a bad way.
18. Opened Wounds Nails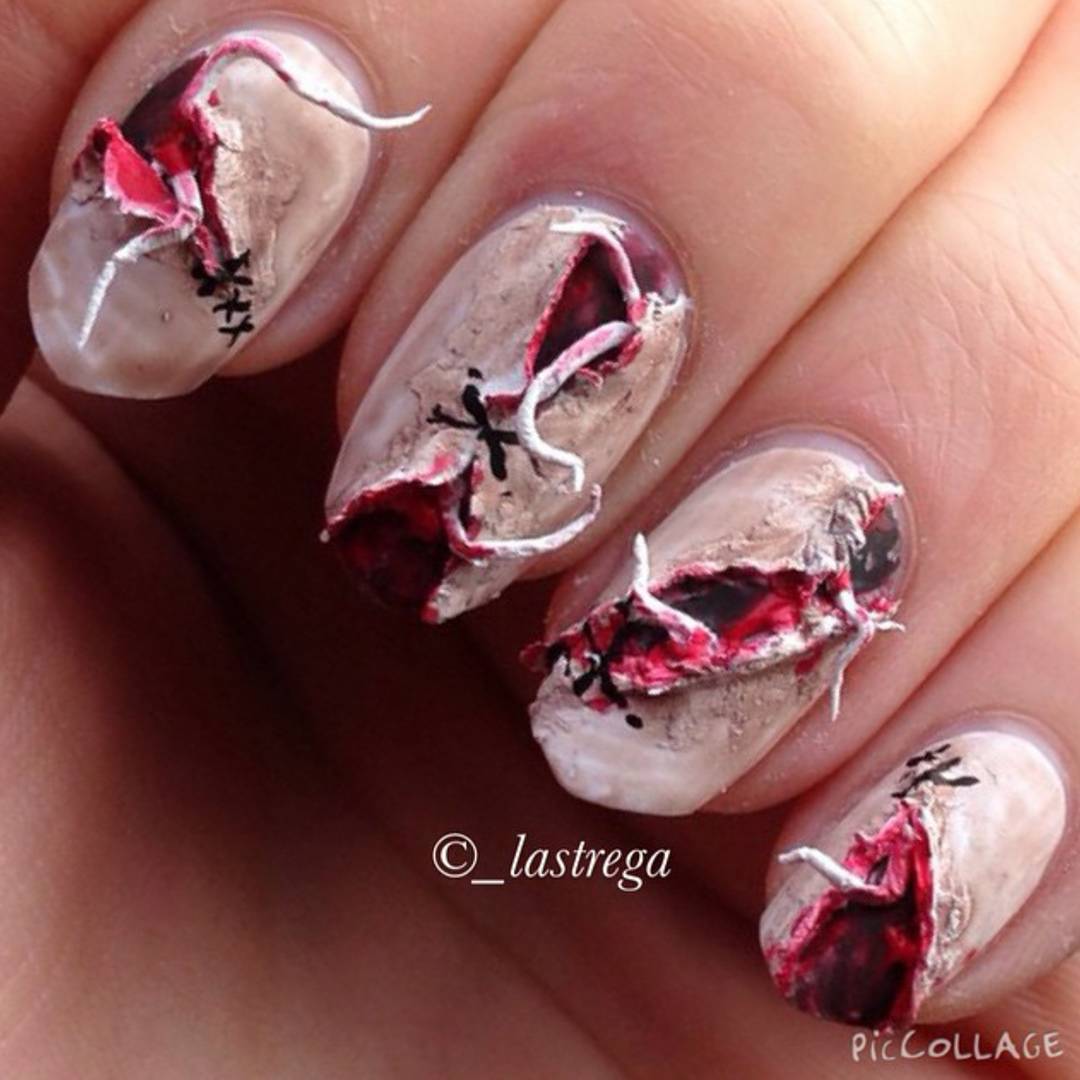 I am sure many of you will want to throw up after looking at these nails.
They are scary good. And as real as they can be. If you can stomach looking at them 24 hours per day, go get them.
19. Glittery Frankenstein Family Nails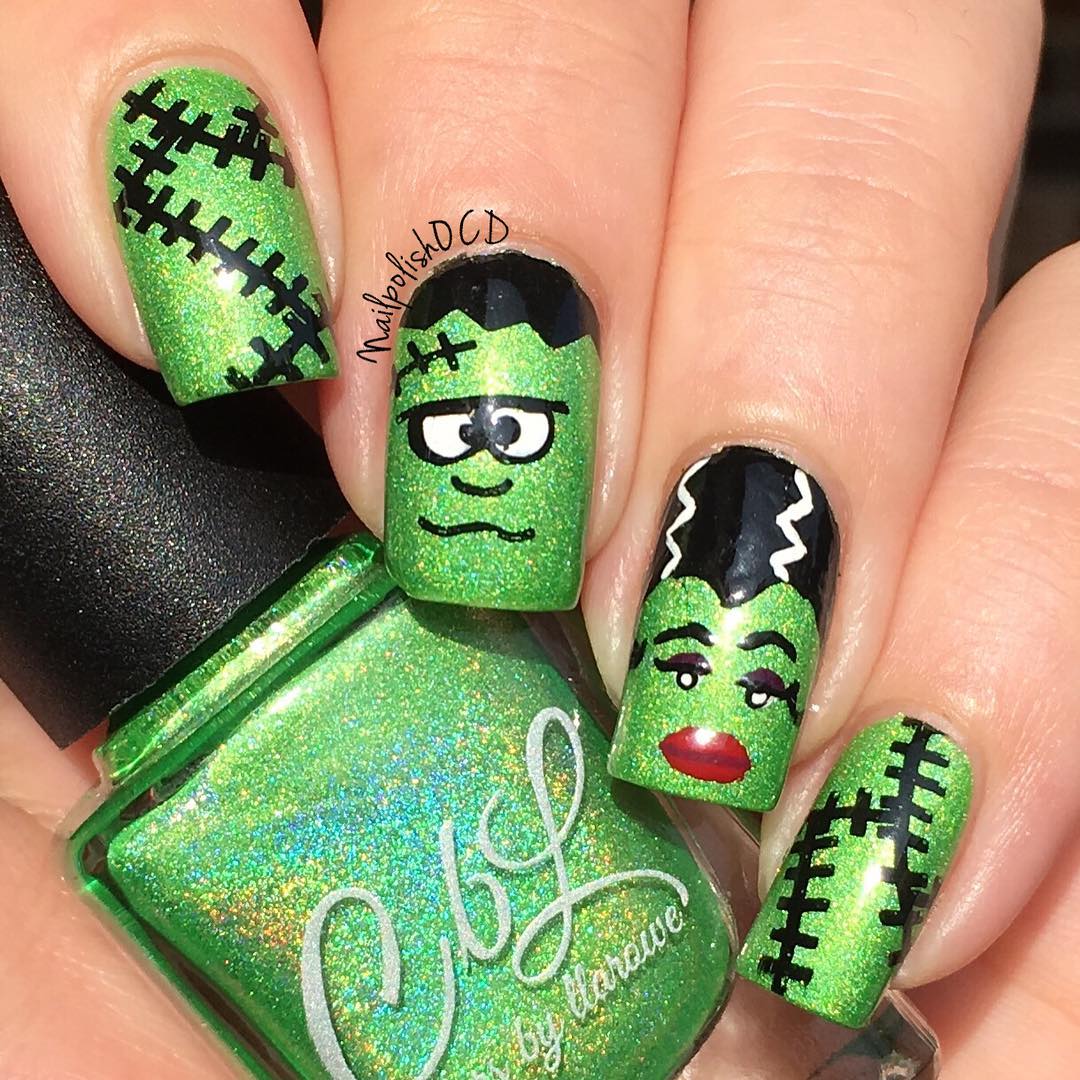 I have to give you some cute and adorable ideas as well.
The Frankenstein family is definitely one of the more adorable manicure designs you can get.
Just be careful, green does not work with any outfit.
20. Nightmare Before Christmas Themed Design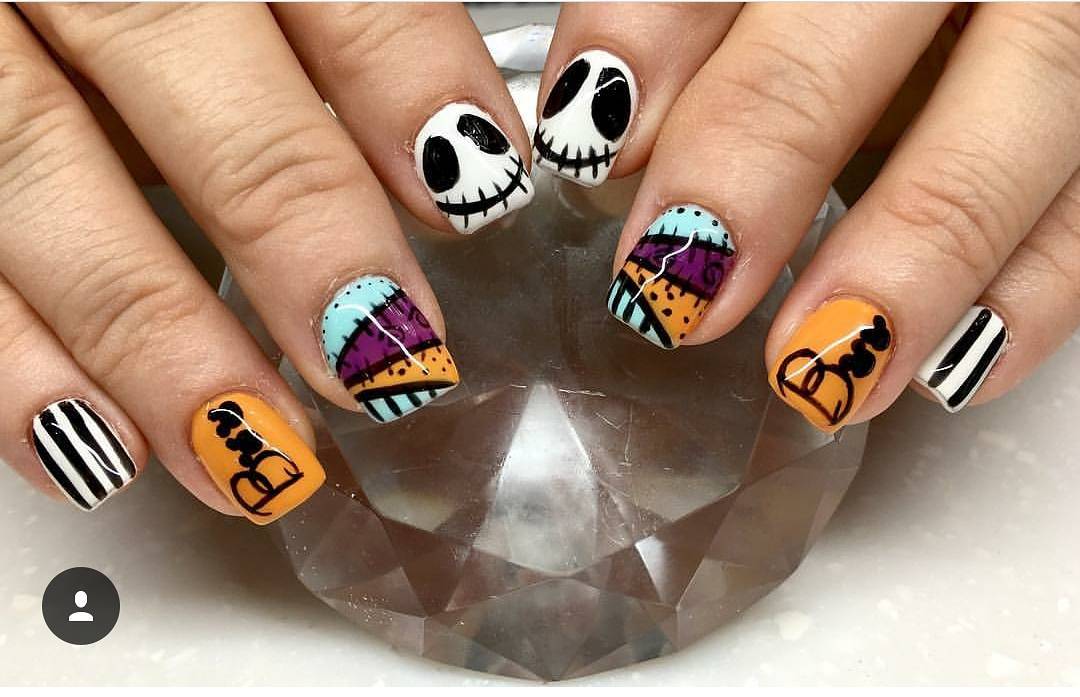 Some people call Halloween the nightmare before Christmas. And that is the perfect description for the Holiday.
Just a few weeks before Christmas, you get a holiday that is all about being scary and spooky. And your manicure can reflect that.
21. Bloodies Miniature Hand-prints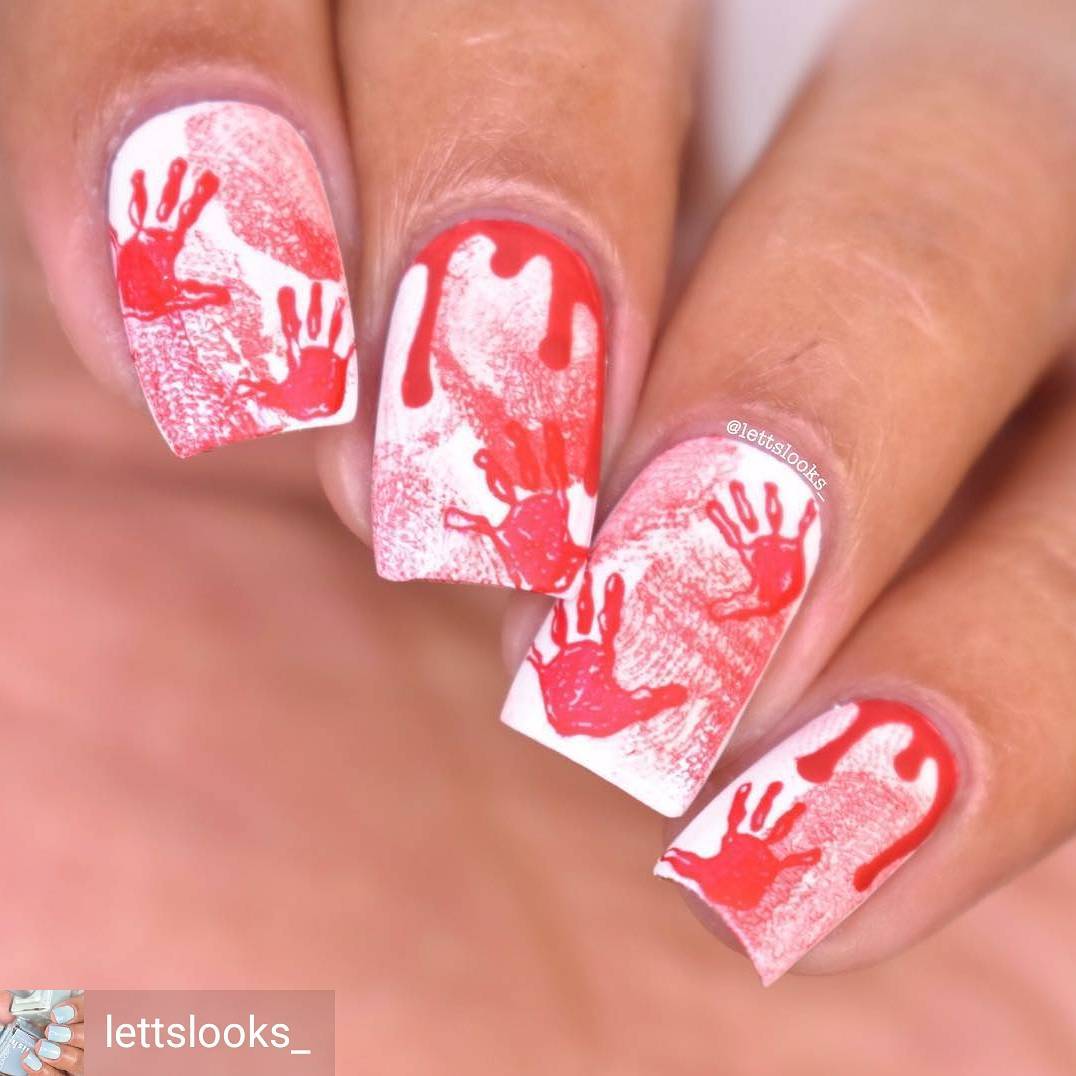 It looks like hand-prints from people trying to escape doom. But nobody can escape his end, whether it is violent or normal.
The blood on your hands makes you look like a serial killer. Just so you know.
22. Witches Shadows And Purple Acrylic Flowers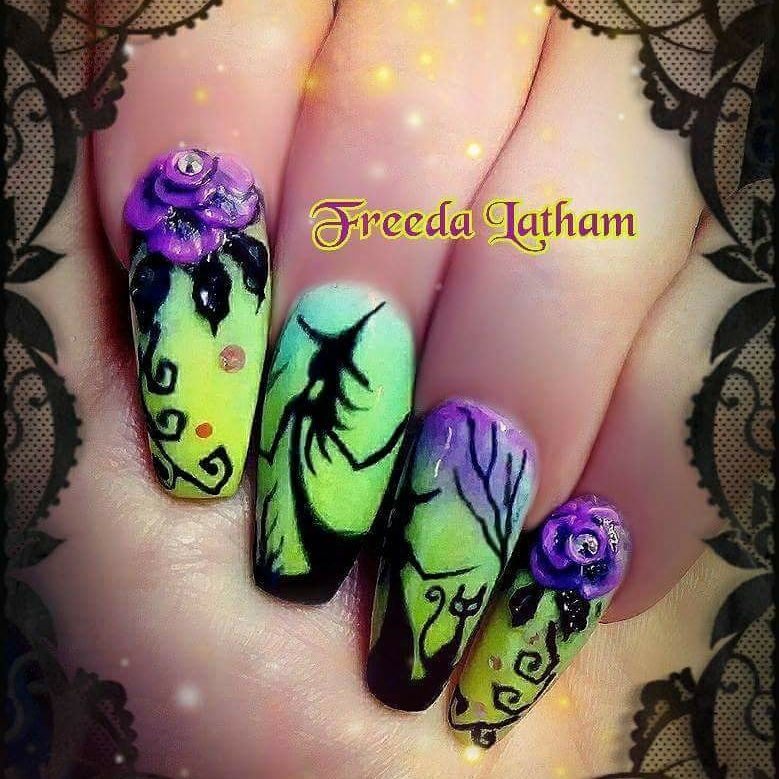 It is always a good time to be artistic. No matter the holiday, artistic looking manicure will be welcomed.
This is a perfect example of a woman going to the distance to get the most beautiful nails she can. And be scary at the same time.
23. Black Cats Design And Skeletons With Red Plaid Design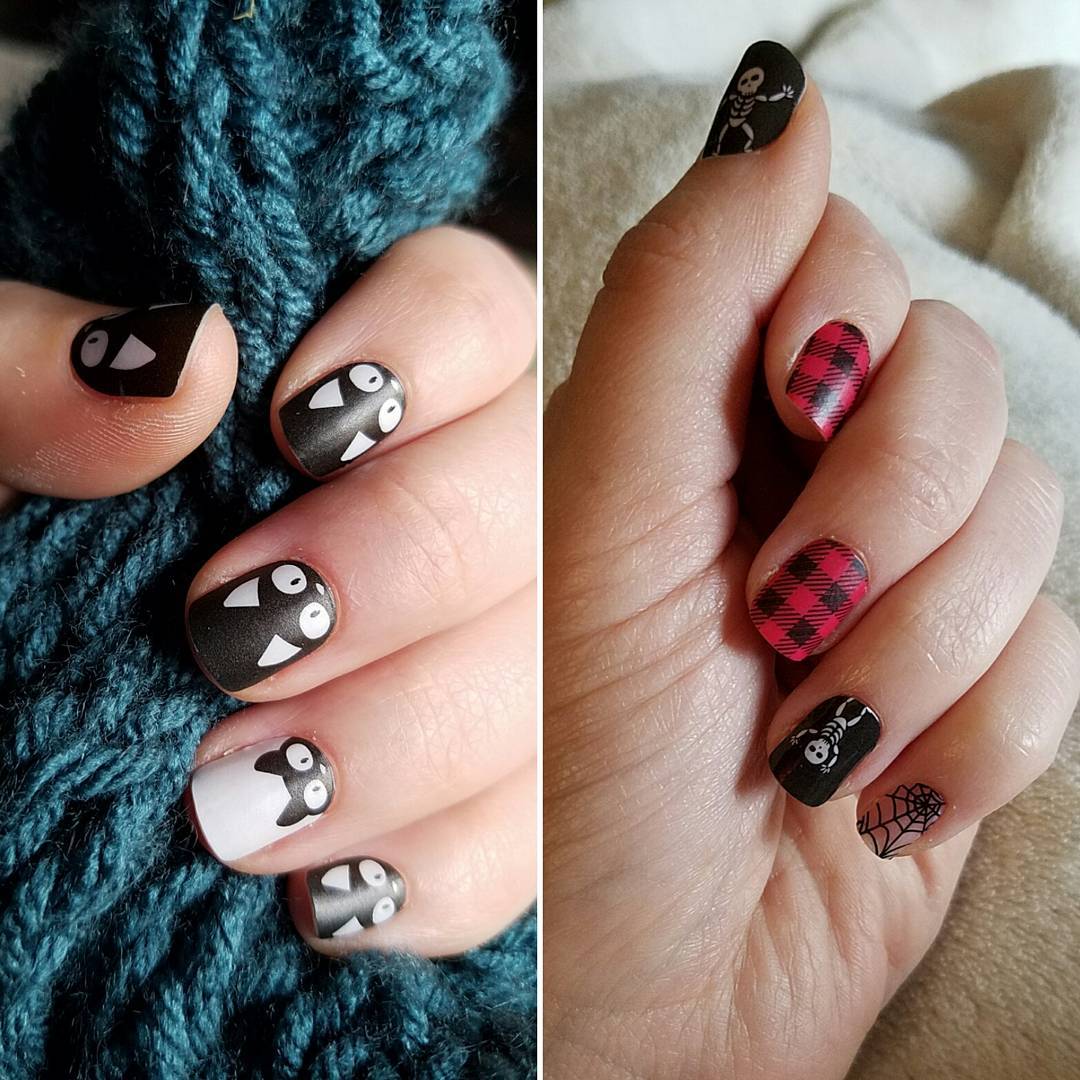 We had a black cat that looked scary before. And now we have black cats that look more cute than scary.
But it is all about how you perceive yourself, and how you want to present yourself to the outside world.
24. Spooky Tree And Gravestone Design With Nail Charm Piercing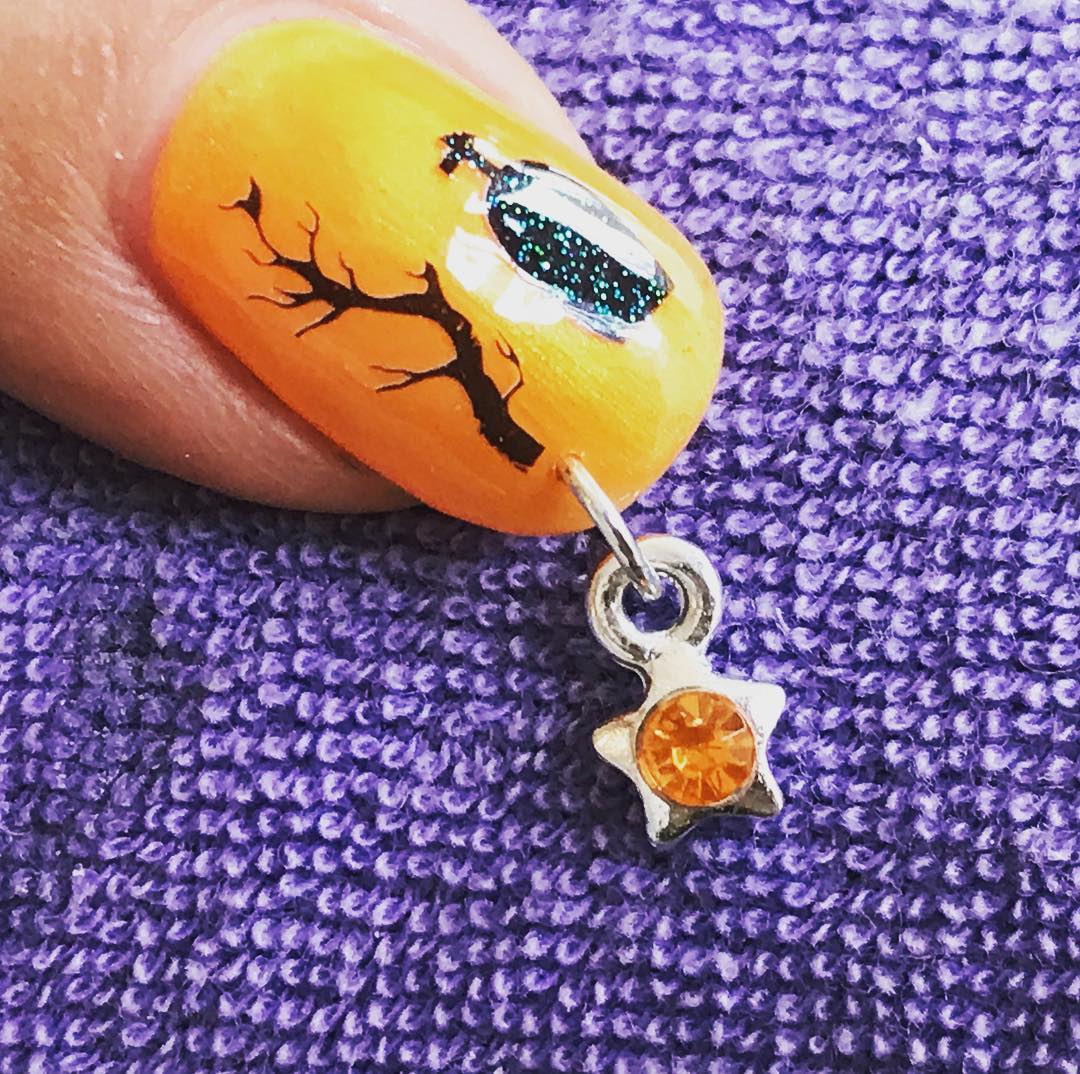 With the popularity of nail piercing, we just had to find a way to include it on the list.
The piercing matches the Halloween-themed orange color.
As for the manicure itself, it is quite remarkable, especially that gravestone.
25. Gray Marble Design With Scary Spider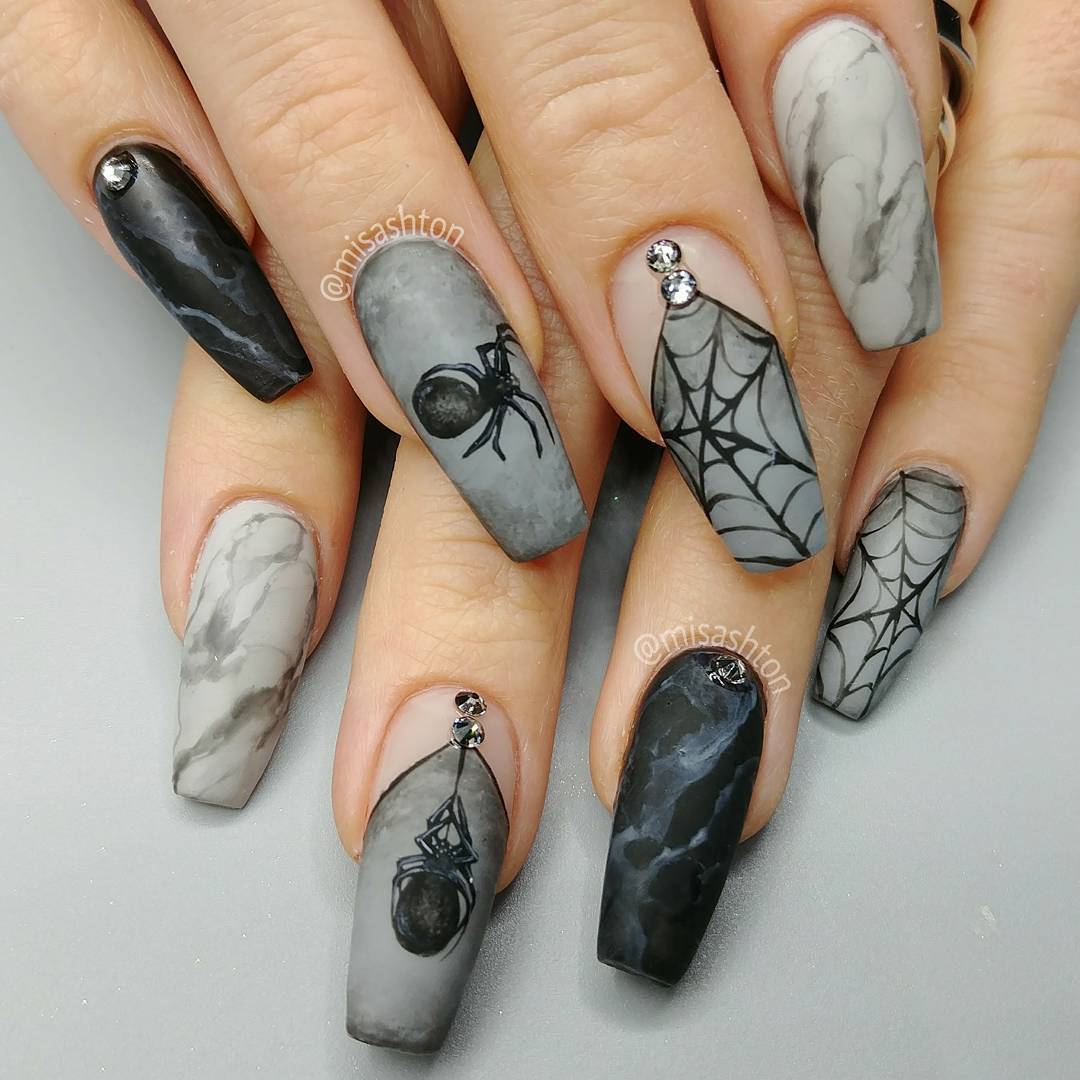 Marble nails is another manicure idea that is trending right now.
As we saw by now, every manicure trend of 2017 can be turned into a Halloween idea.
The same goes for marble nails, as they get the spider treatment.
26. Glittery Jack-O-Lantern Design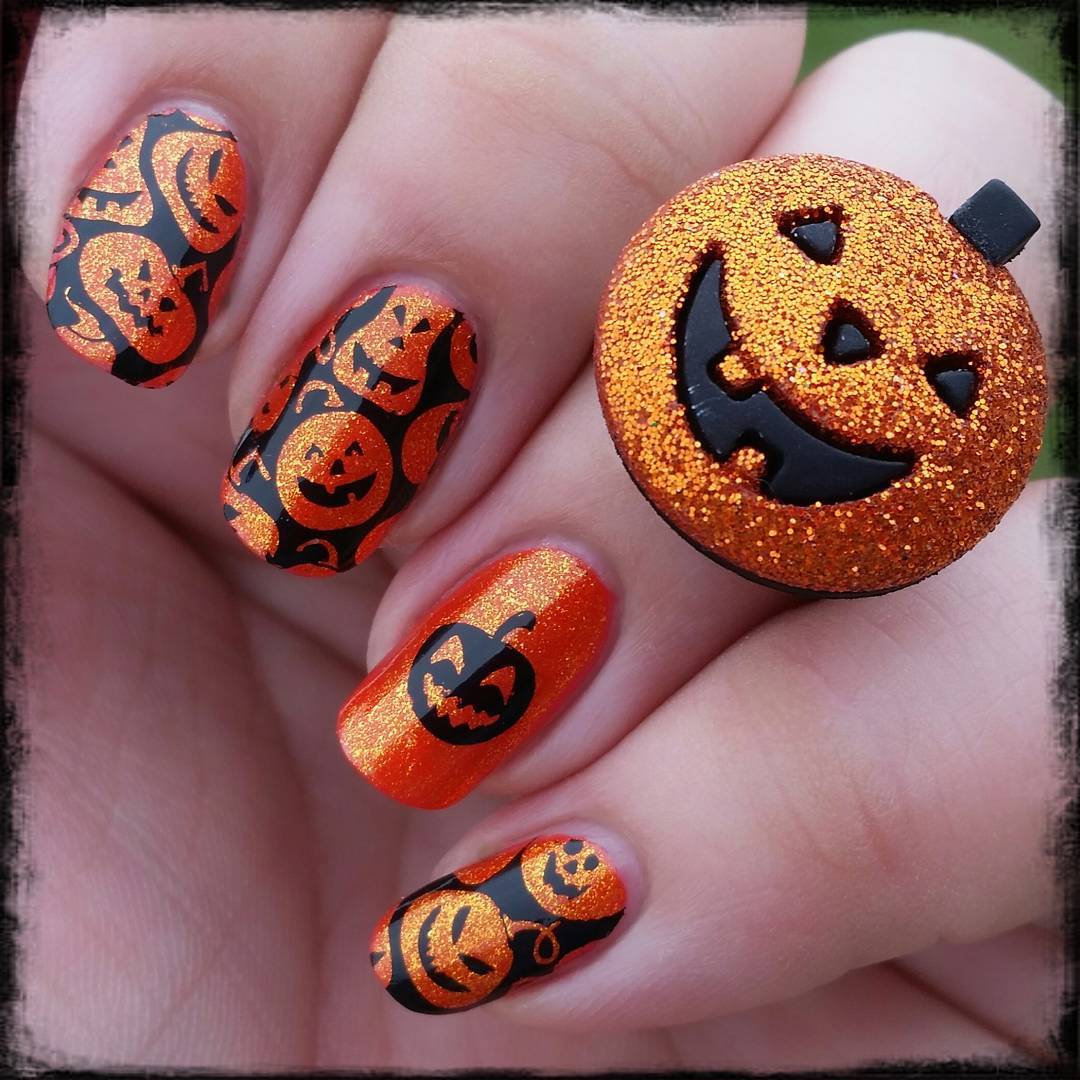 You just cannot escape the Jack-o-Lantern.
He is the logo of Halloween, and it is up to you to find a way how to incorporate in your celebrations.
Whether it is a manicure, or some decorations in your, that is up to you.
27. Black And Red Redrum  Design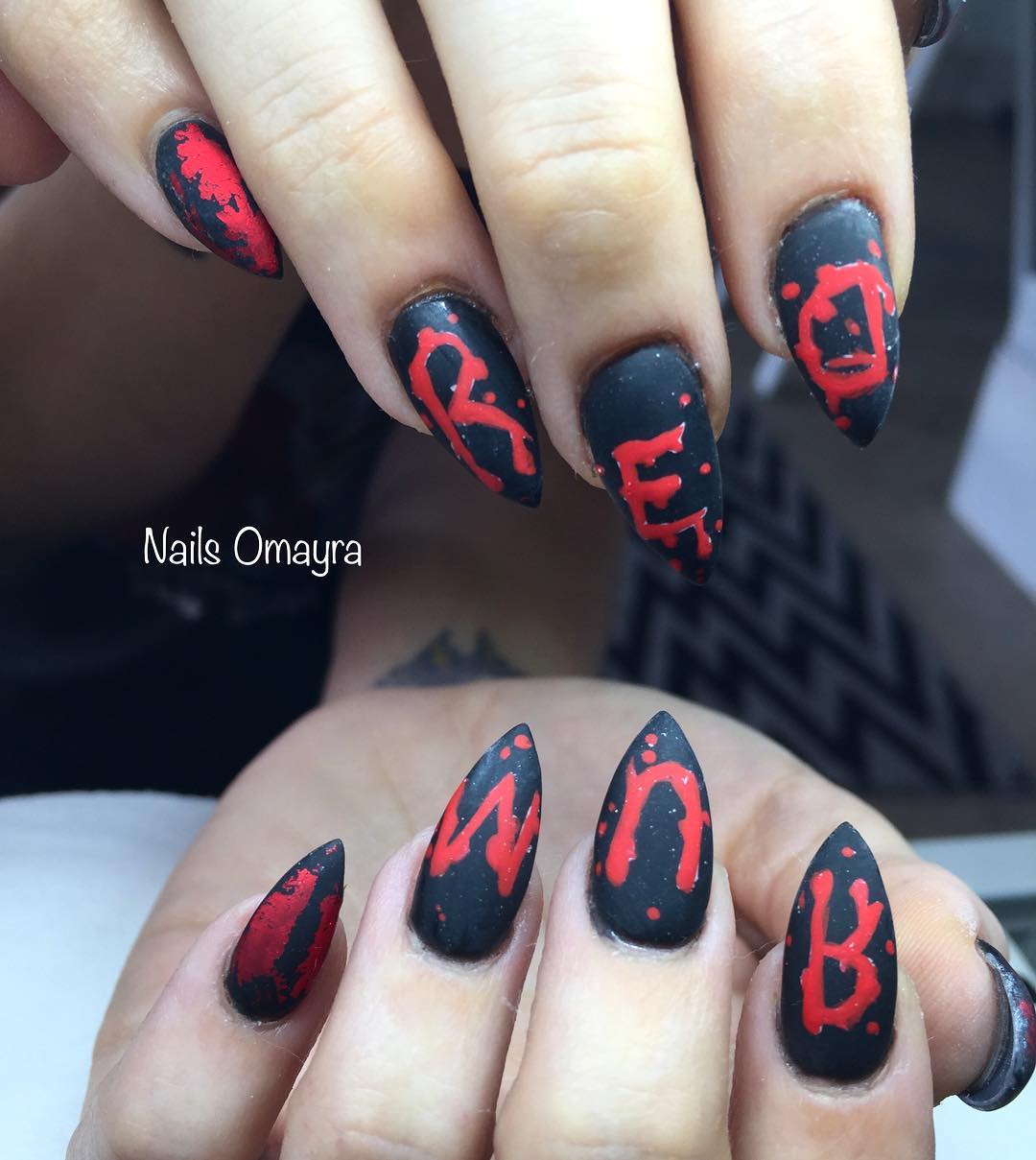 If you thought red blood on white nails is scary, wait until you see the black and red combination.
Now, this is definitely something taken out of a horror movie.
28. Skull Nail Decal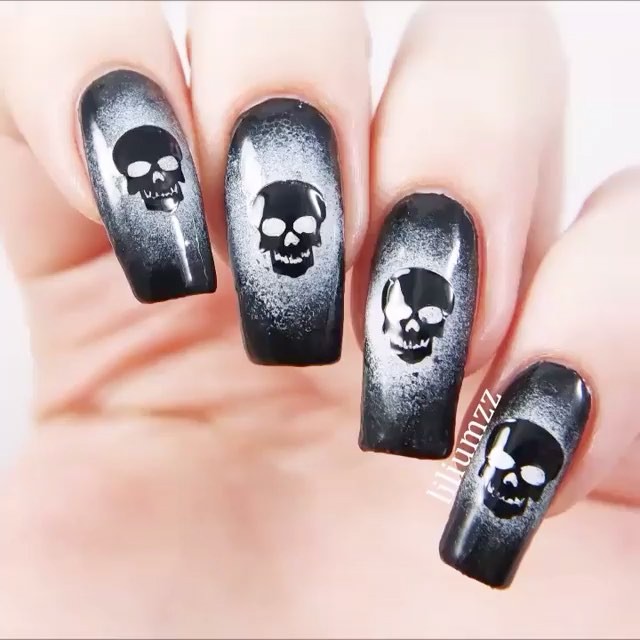 It is time we give the skull the scary treatment it deserves.
We had some comical and cute skull heads, but it is time for the true nature of the symbol.
And that is being scary and spooky.
The manicure is like a masterpiece of art, and the skull deserves that.
29. Realistic 3D Dripping Blood Nails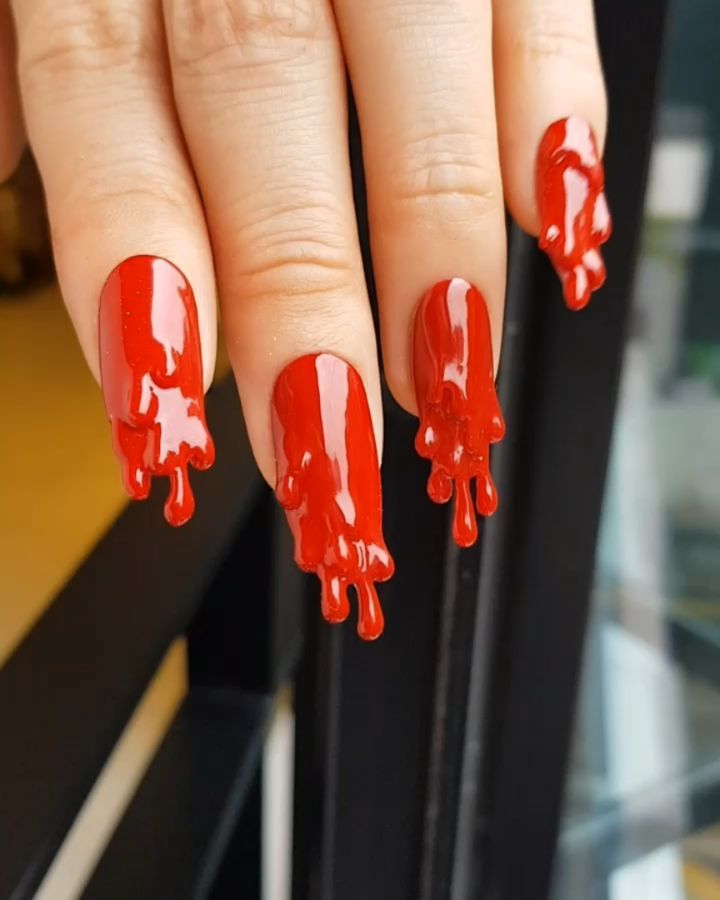 As we saw by now, blood nails are definitely scary.
No matter if the blood is on a white or black base, or your entire nails are bloody.
There is no denying that some people will be scared just by looking at your nails.
Or at least they will feel something in their stomach.
30. Phantom Nails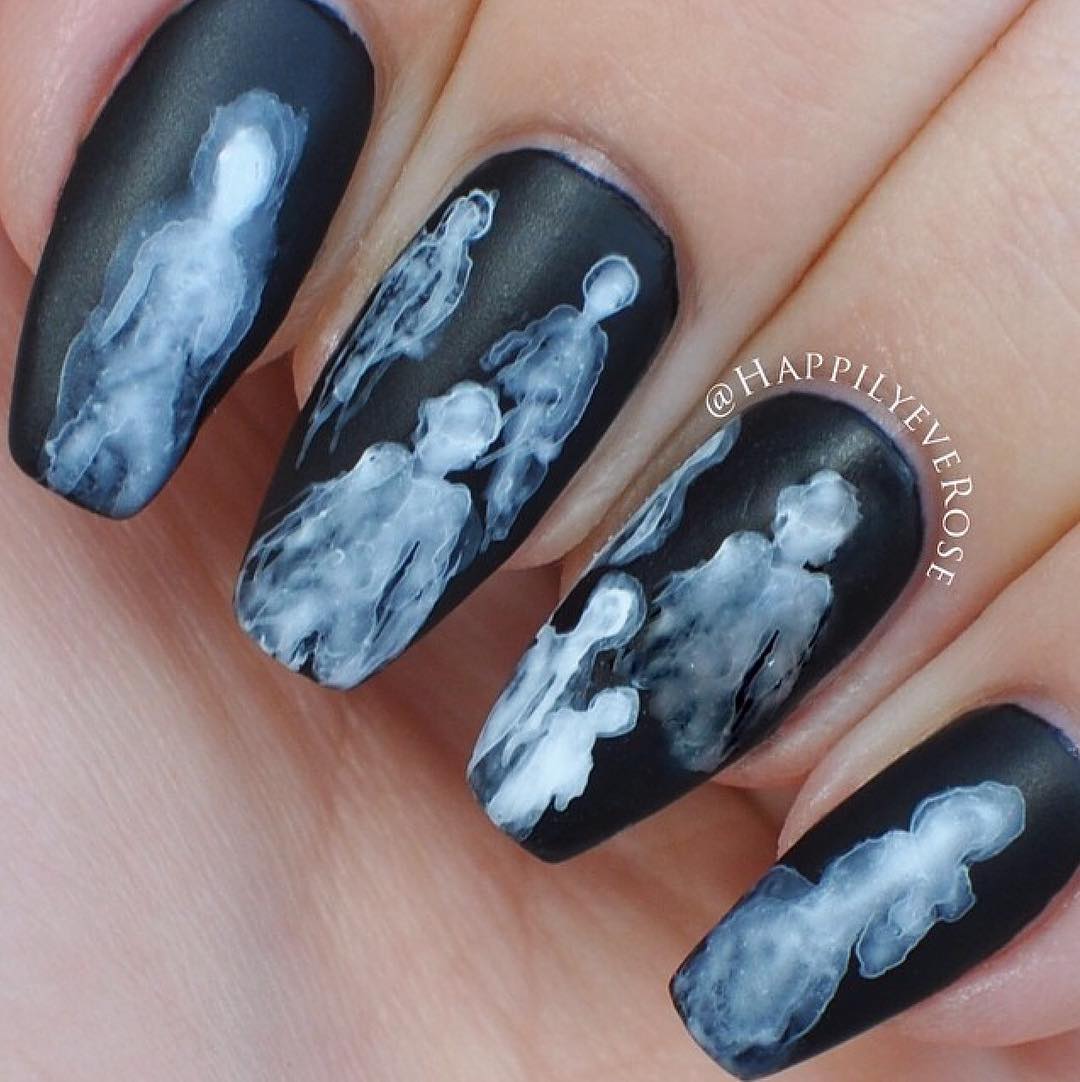 Truth be told, we are long pass the phantom and ghost scary things.
I remember when I was a child, ghosts were scary.
But we are now into the era where ghosts are more just a nice idea, and nothing spooky.
31. Halloween Icons Nails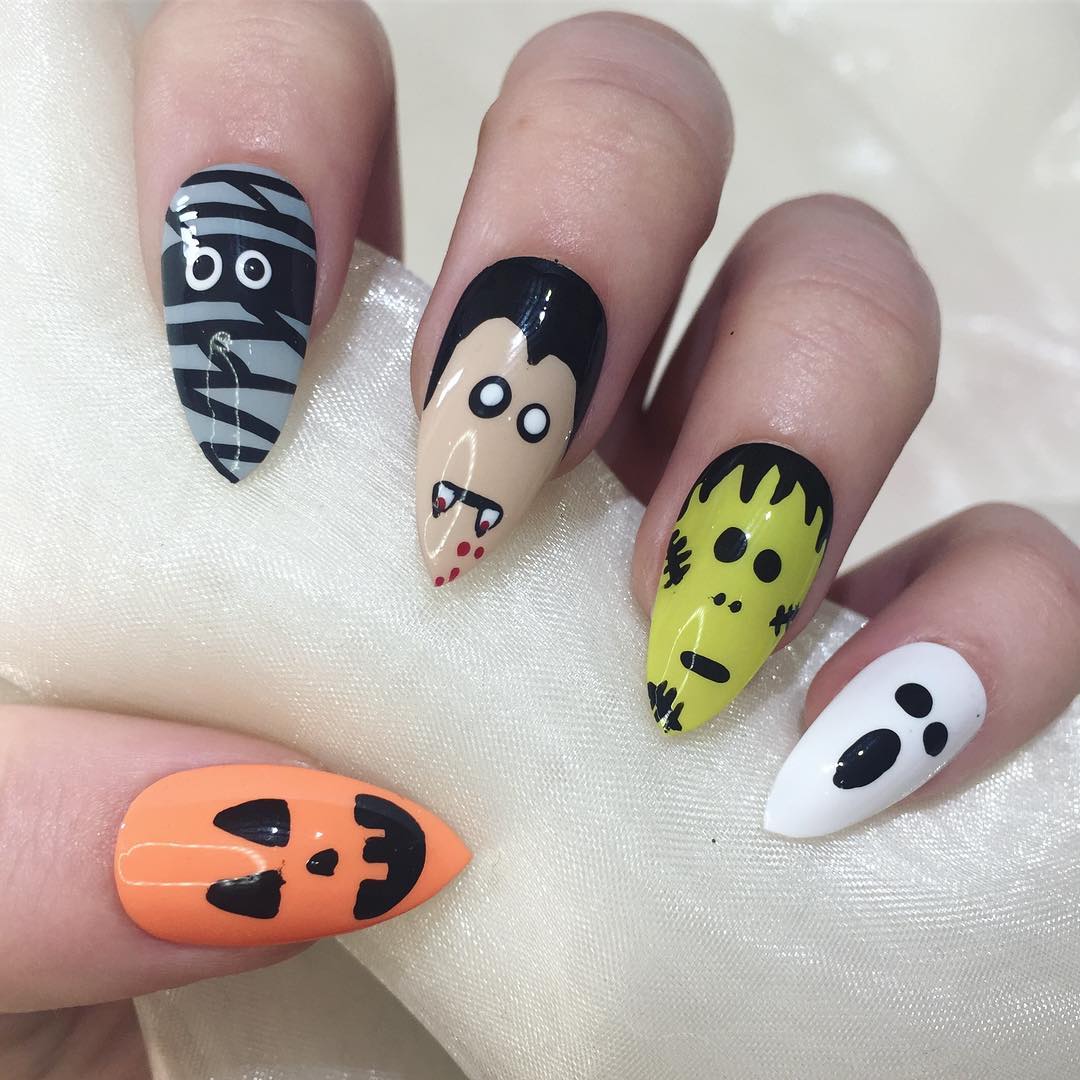 I appreciate women that want to make every nail different.
That takes effort, dedication, and time, to be fair.
If you can spare some time, this is definitely one of the cuter ideas.
It might not be as scary, but it is definitely worth trying.
32. Blood Red Jack-O-Lantern Nails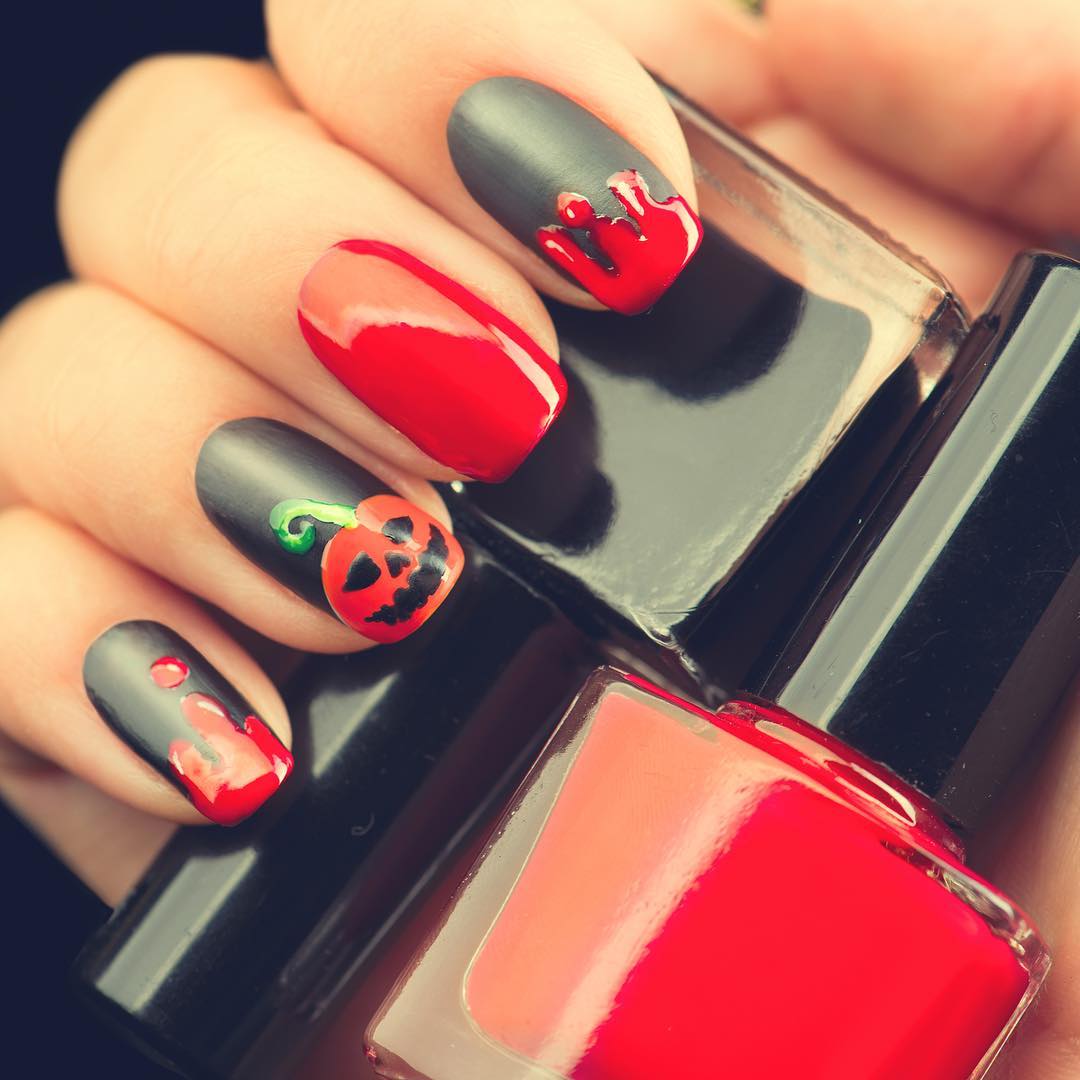 We had the classic Jack-O-Lantern, so why not try something different.
Most people will go with the classic Jack.
If you want to stand out from the crowd, make Jack scary with some blood on him.
33. IT Themed Nails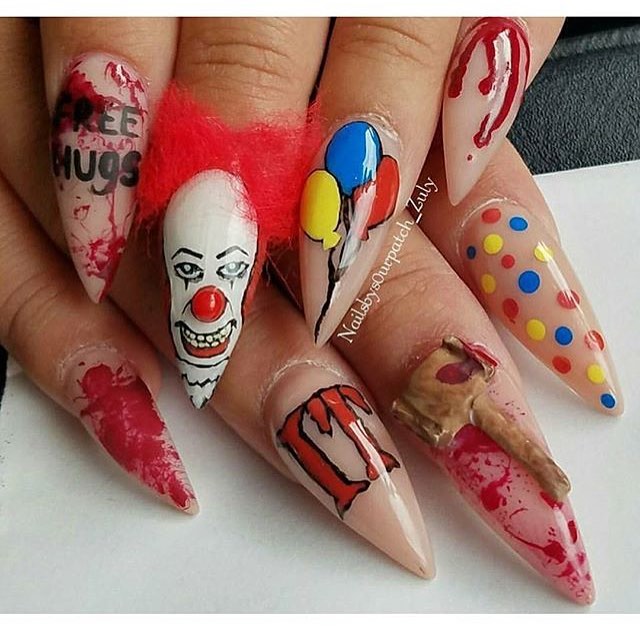 For those of you that haven't seen IT, go watch it. It is definitely one of the scariest movies of all time.
And no, we are not talking about the 2017 remake.
Watch the original, and you'll understand why some people are still afraid of clowns.
34. Green Glowing Skulls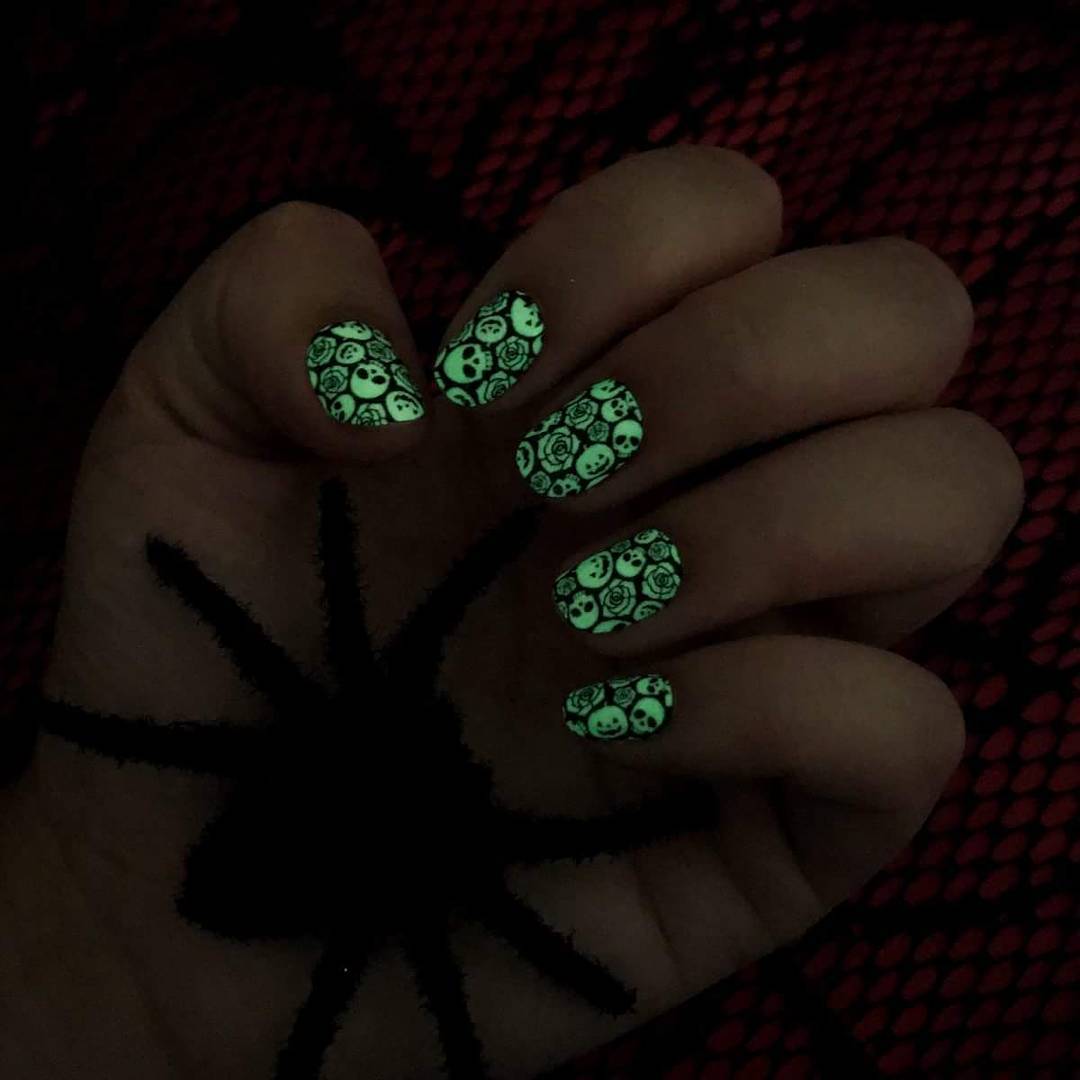 I mentioned previously that glowing nails are a huge trend.
All glowing items are good for Halloween.
When you think that you will spend most of the night in a dark room, glowing nails will look much scarier.
35. Matte Black Coffin Design Coffin Nails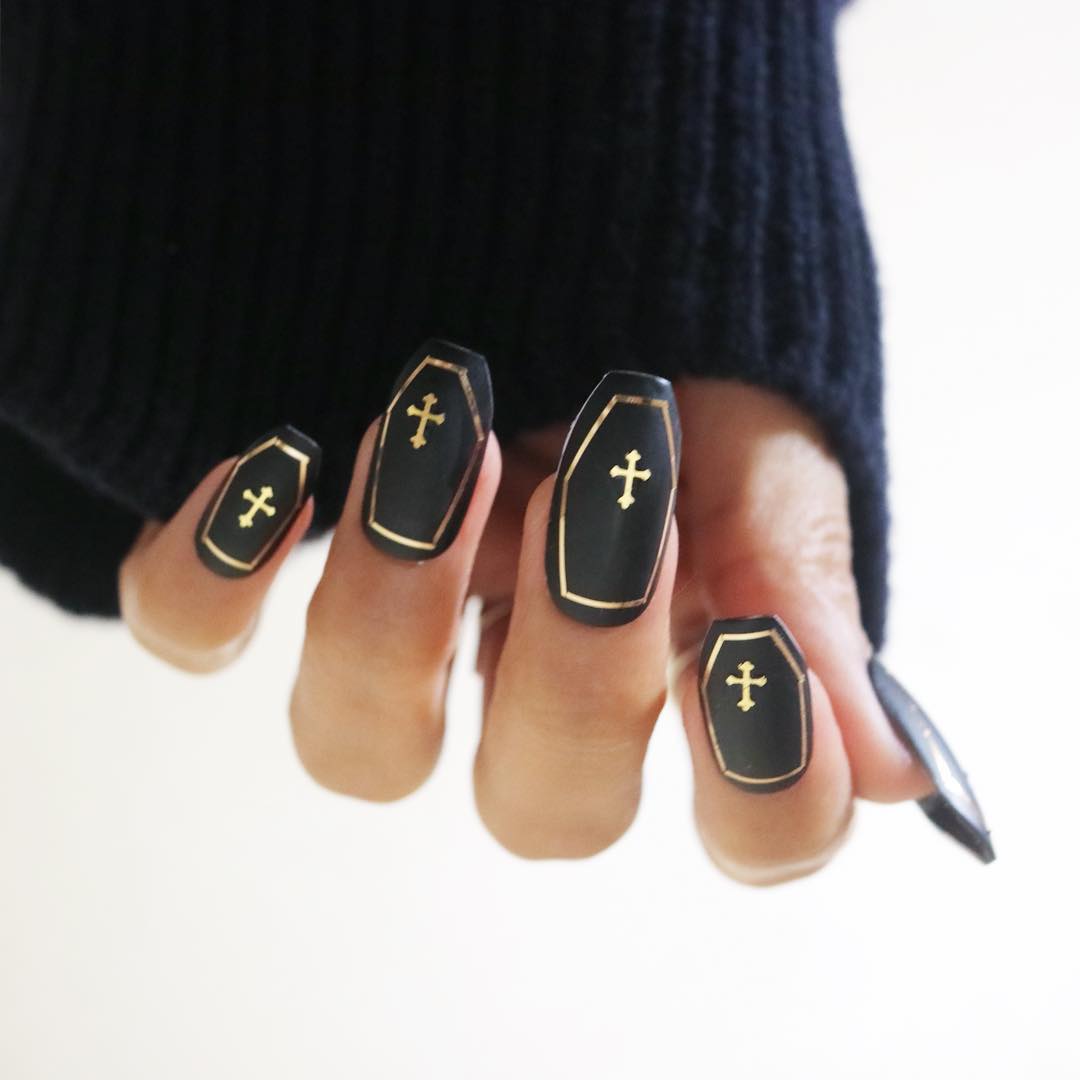 For the very end, I want to give you a classic. And that is the black coffin with the cross inside.
The funeral manicure is definitely morbid and spooky.
With that in mind, let's exchange ideas for Halloween nails.
We have some time before the Holiday arrives, so be cooperative. Sharing is caring ladies!