Maxi dresses really are a thing of fashion dreams. In a few seconds and with literally the least effort possible, you not only have an entire comfortable outfit on your hands, but a ridiculously elegant and stylish one at that! If you're thinking of adding a maxi dress into your wardrobe rotation and you're not really sure where to get started, you're going to need a couple of handy styling ideas up your sleeve to keep you on the right trend track. Keep reading for some fashion forward dressing tips that'll have you reaching for your brand new maxi time and time again…
Boho chic
The maxi dress is a real staple when you're looking at any kind of bohemian dressing. The style is long, floaty, flattering and all kinds of dreamy, making it the perfect centre point for a beautiful bohemian get up that you'll love to reach for on balmy summer days. Boho up your simple white maxi dress with a pair of chunky leather sandals or boots, stacks and stacks of bangles, layered bold and colourful necklaces and a fringed leather bag. Extra points for hoop earrings, a whimsical woven braid and even a silky kimono thrown over the top – for good measure.
Keeping it casual
Hey, who says maxi dresses have to be saved for your big nights out on the town? You can easily take that simple gown and make it work for your everyday life, too. It's just a case of some clever styling, that's all. Swap your heels for a pair of white leather sneakers, add an oversized denim jacket over the top, grab a tote bag and your favourite pair of sunglasses, you're pretty much done! Wear to brunch, coffee, dates and everything in between.
French style
Ooh la la, that maxi can help you channel the French girl cool vibe you've been coveting forever. Keep it simple yet stylish to get this look just right. Add a pair of rattan earrings, some neutral espadrilles, an oversized basket bag a la Jane Birkin and keep your hair and makeup relatively relaxed and minimal. You can add a swipe of red lipstick and some chunky gold bracelets to up the impact a little, if you like.
Oversized tailoring
Thinking of a way to completely change the look and feel of your simple white maxi dress? Throwing on an oversized blazer is such an easy way of making your maxi dress work for more corporate events or even for the office, too! This is brilliant if you feel like bringing something a little extra to your workplace or if you just want to feel more put together while you're out there running your errands. Finish with a pair of brogues, a leather satchel and a ponytail for an awesome look that works for so many different occasions.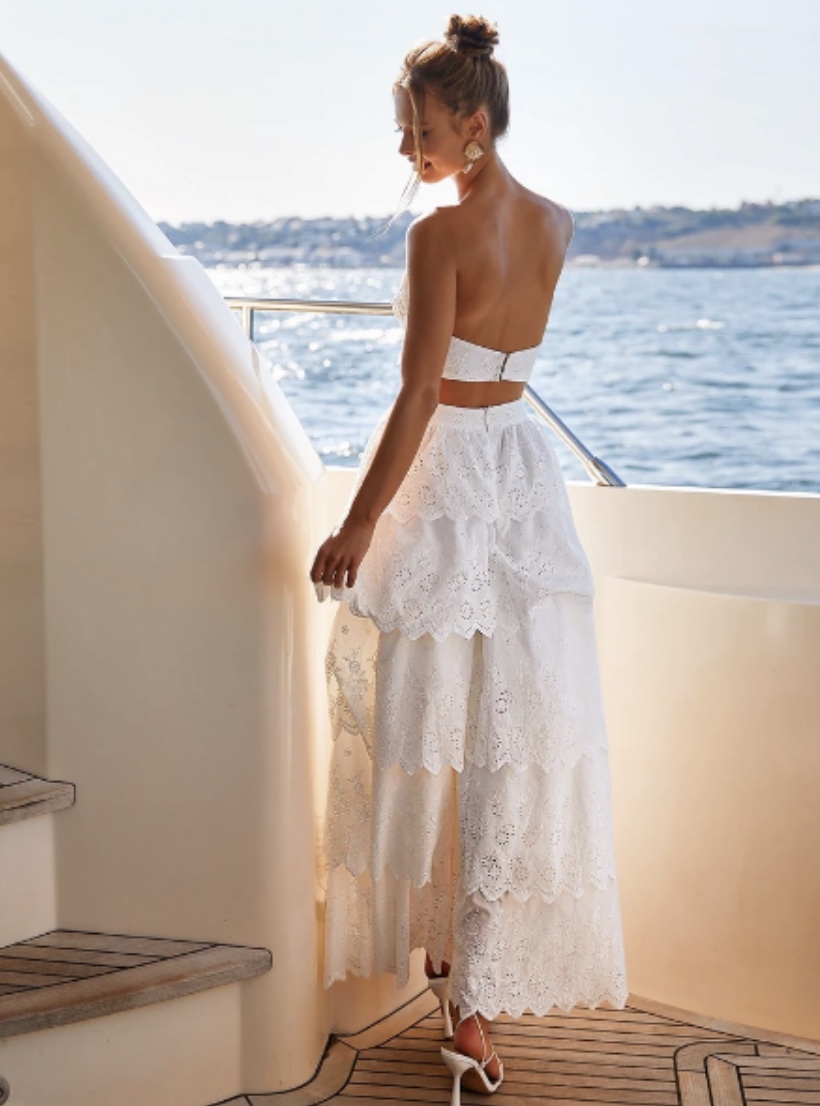 Image via Alamour The Label
Ethereal accents
Because your maxi is oh so flowy, folded and feminine, it's actually really easy to get that gorgeous glowy ethereal look in a matter of minutes. Start with your white maxi dress as your base, step into some simple strappy heel sandals and drape as many tiny delicate gold and silver chain necklaces around your neck as you can. Add a few dainty rings, some shining gold earrings and pile your hair into a messy bun. You can drape a sheer silk shawl over your shoulders and carry around a small cream or studded pearl clutch bag for added impact. This look is perfect for black tie or really formal occasions where you want to feel as stunning as possible.