Matte colors help you get an easy, effortless look.
When people think of matte colors, they usually think of matte black, and I have to admit that black can get boring.
But the truth of the matter is that matte has just as wide a color palette as glossy and glitter.
When you want a bit more of a sophisticated and elegant finish to your nails, matte is the way to go.
And yes, matte can look flashy and gorgeous just as much as glitter can. Here are some ideas you can try.
1. Red and Black Gradient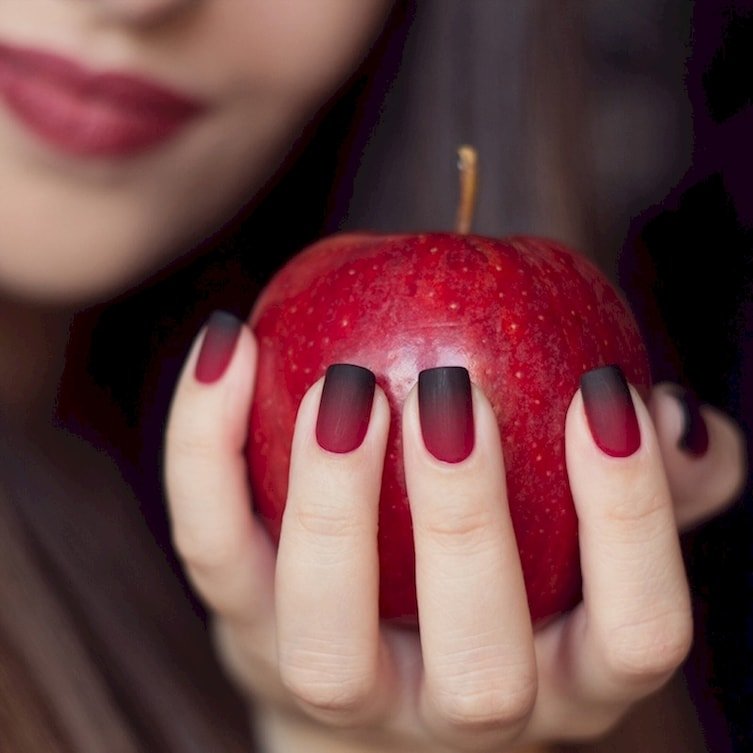 We start you off with a classic. Red and black is as classic as black and white. Definitely one of the more elegant looks.
2. Purple Matte and Silver Glitter with Marble Design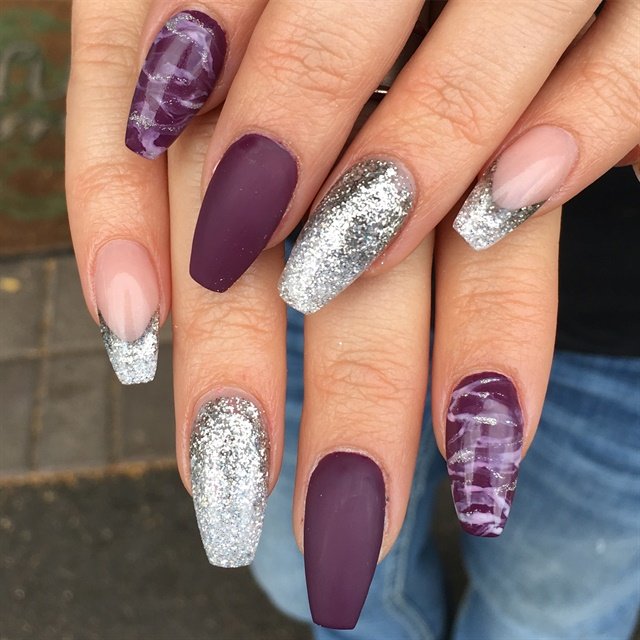 I said at the beginning that matte can be as flashy as glitter. And there's no reason why you can't combine the two. Matte works wonderfully with coffin nails, as there is so much more room on your nails for color.
3. White Negative Space Mani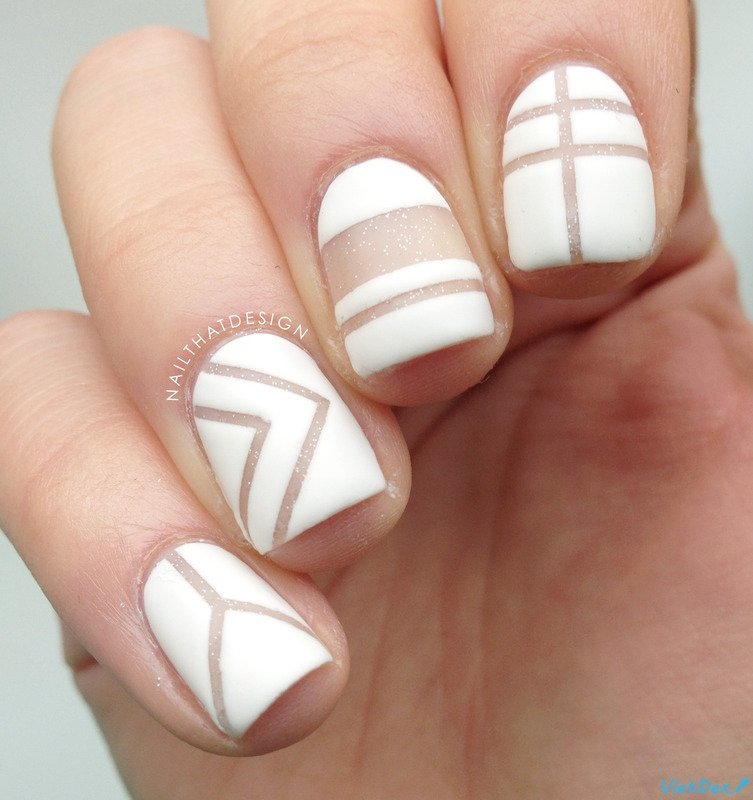 I've heard it over and over: white is boring. Well, it is boring only if you let it be boring. The truth of the matter is that white can be whimsical and playful. You just have to make it like that.
4. Green Ombre with Sparkle Center Line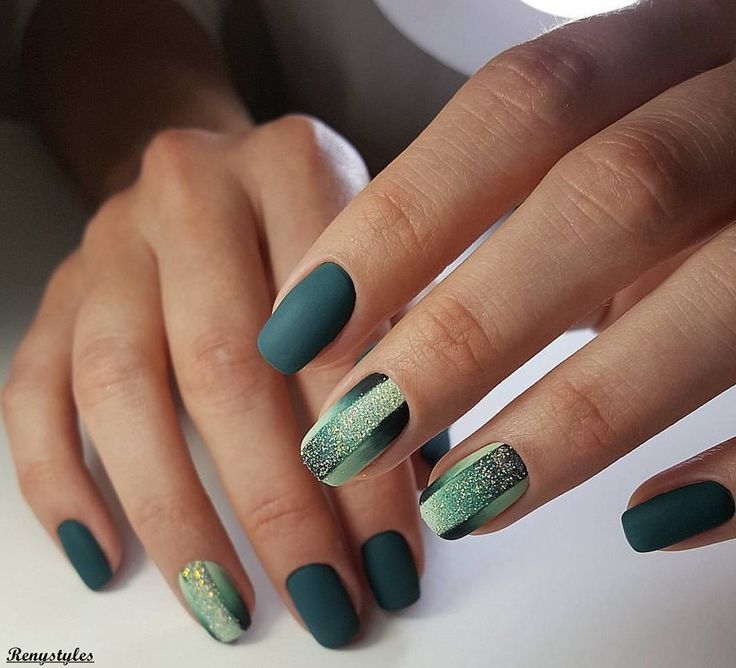 Green is another color that works well in matte. It looks sensual, feminine, and independent. Definitely a color tailor-made for strong, confident women.
5. Black to White Chevron Ombre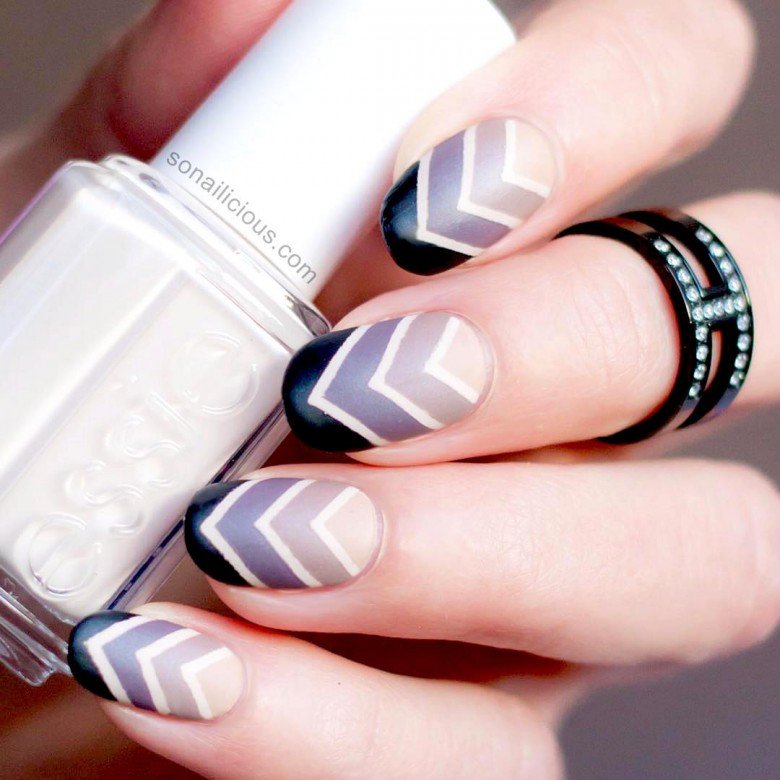 Remember when I said that black and white is an immortal classic combination? Well, that's definitely true. But the trick with black and white is to find a way to make it look unique, interesting, and different. The chevron sign is definitely one way to do that.
6. Pink Matte with Half Heart Rhinestones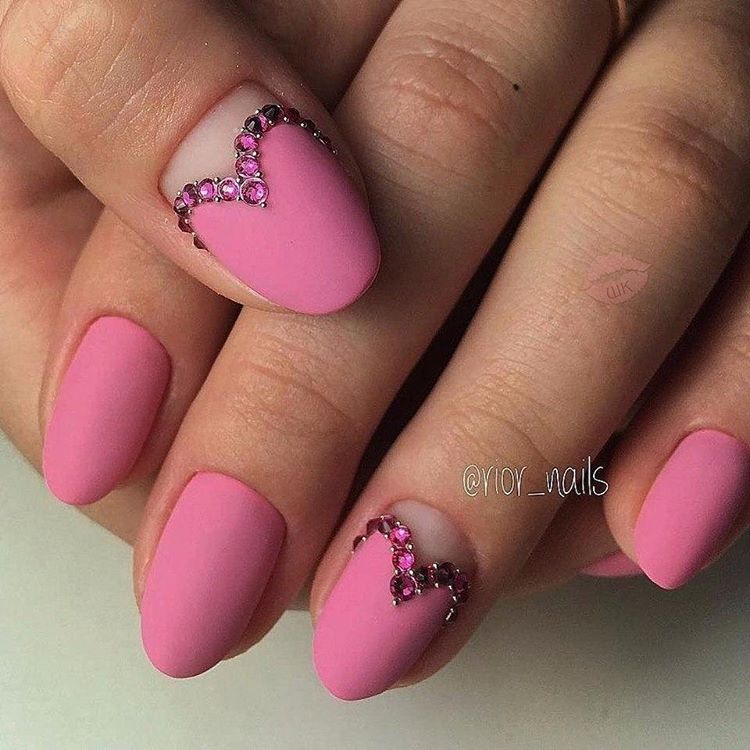 When I talk about nail accessories, I always mention rhinestones—they are such a simple and elegant way to add a touch of flair. Pink might be thought of as a girly color, but pink is feminine and can be worn by more mature women as well. It all comes down to the shade of pink, and matte is one of the ways to get an elegant pink.
7. Matte Pastel with Negative Space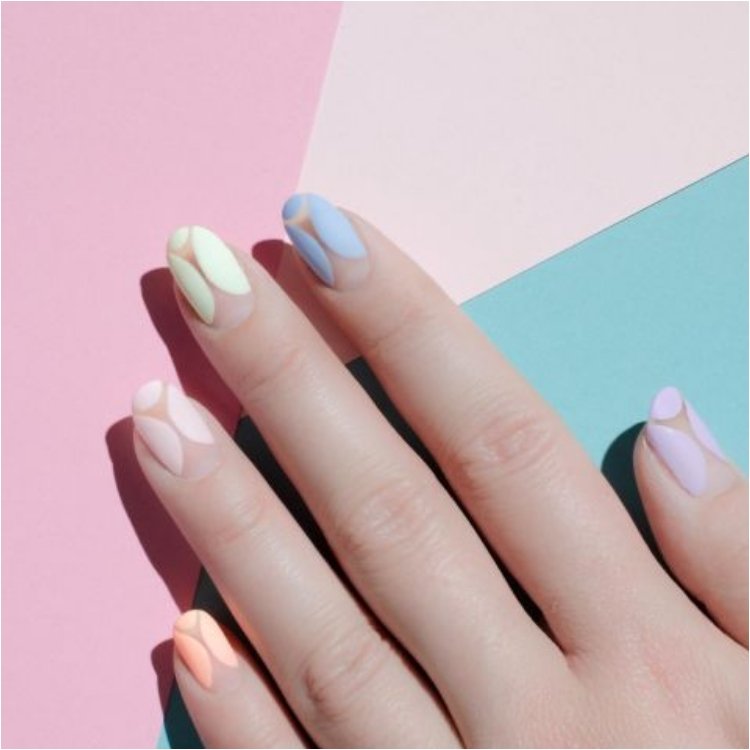 Some people say matte doesn't work well with pastel colors. Well, just one look at this manicure and you'll have a different opinion.
8. Gray Matte with Metal Tips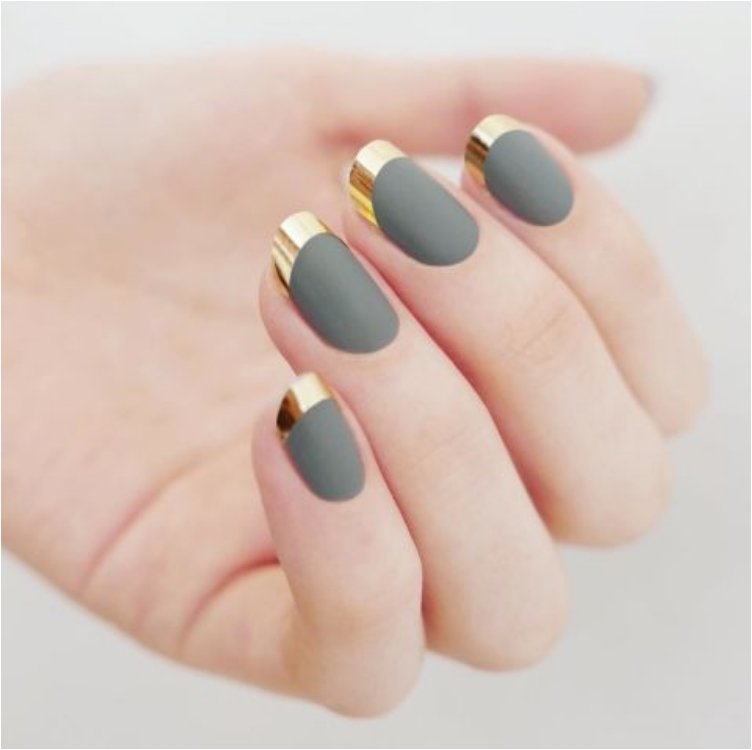 The best part about a matte manicure is its flexibility. You can combine a matte finish with almost everything else. For example, you can go for the gold metal finish, as in this case. Or you can mix it with some glitter. And you can always add flower and rhinestone accessories.
9. Sea Blue Ombre Coffin Nails with Rhinestones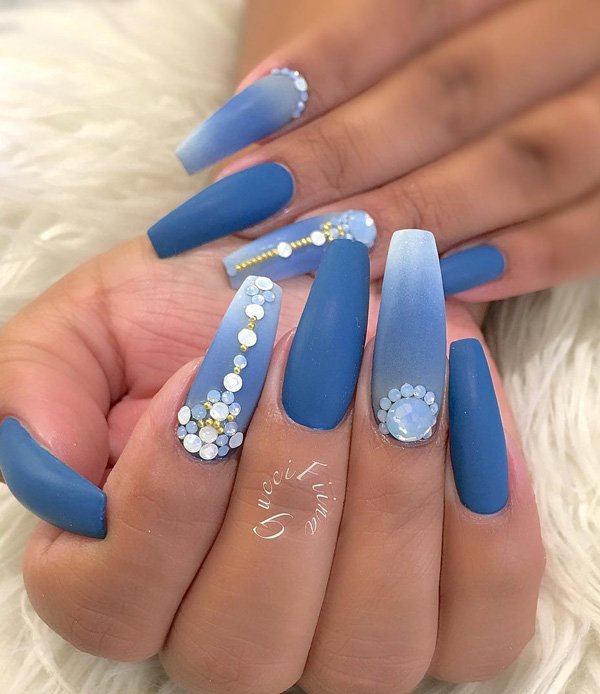 I said previously that coffin nails are perfect for a matte color. They give you so much more space and room for color. And with so much space, you can definitely add several hues of the same color, which is essentially ombre.
10. Baby Pink Nails with White Ombre Design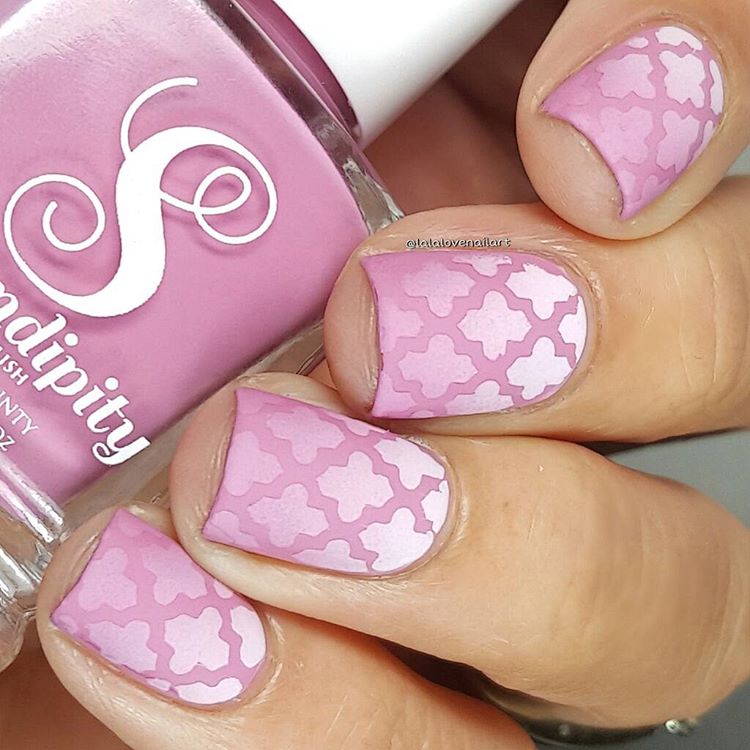 We already saw how pink can be elegant and sophisticated with a matte finish. But you can go a girly way, and you can go a teenage way as well. This is more of a romantic and feminine look at the pink color.
11. Merlot Oval Nails with Rhinestone Accent Nail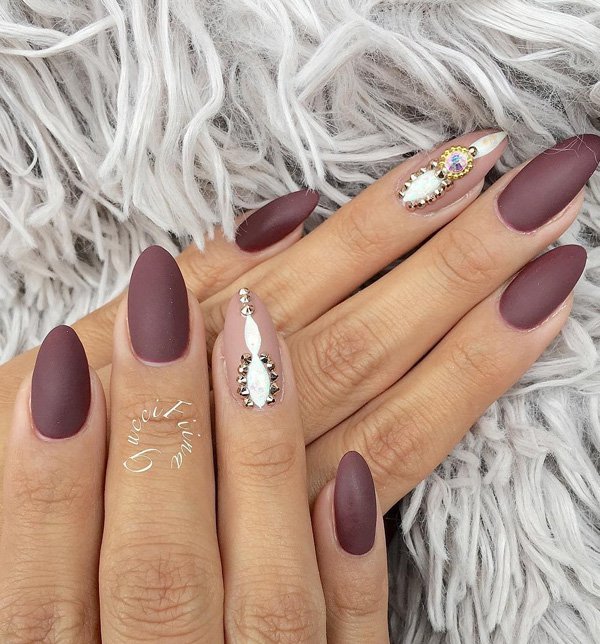 For women who love wine, here is a wine-colored manicure. This color is a great option for women who work in offices where the more feminine and vivid colors are not allowed. Merlot still looks great and sexy.
12. Gradient Nails with Gold Splatter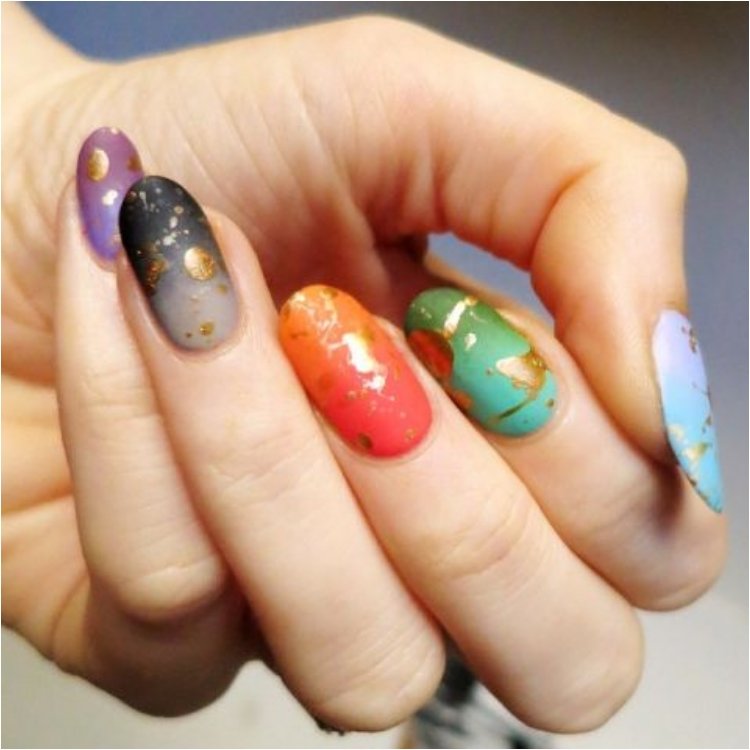 This is a great example of a colorful matte finish. Just look at all the colors. Feels like a rainbow, doesn't it?
13. Peach Neon Ombre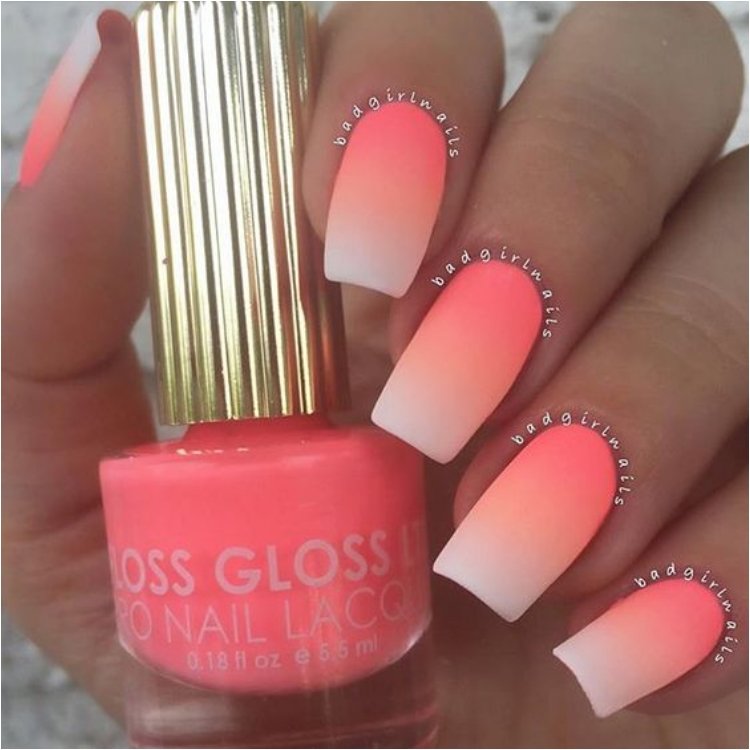 Speaking of colorful and girly manicures, peach is right there at the top. Thanks to the ombre design, you get a bit more of a playful manicure.
14. Earth Tones with Black Lace and Rhinestones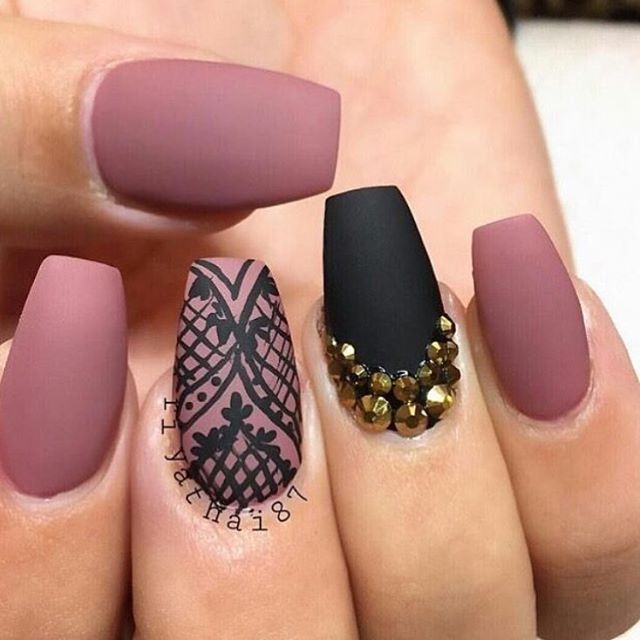 Every time you want something feminine and sophisticated at the same time, you go for lace. That applies to clothing as well as manicures. Lace looks so great as a decoration on your nails, you just have to try it at least once!
15. Blue Geometric Nails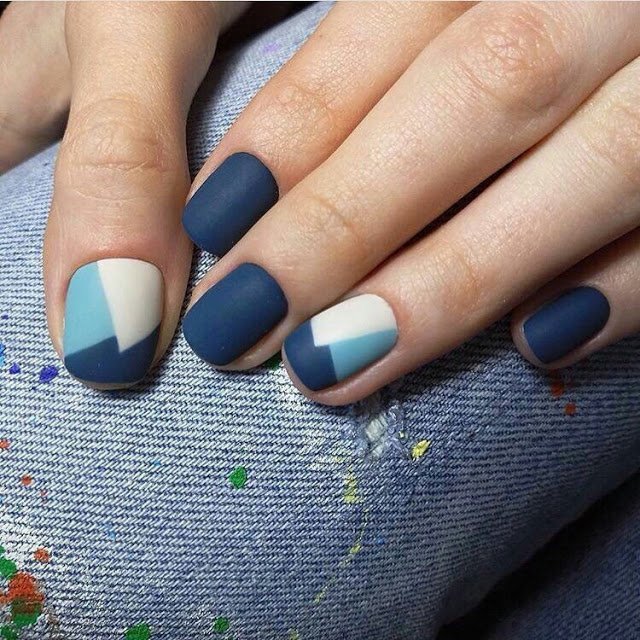 Geometry has been a huge fashion trend the past few years. We can safely say that geometry has taken over the world, and it all started thanks to interior design. Now geometry makes its way to fashion clothes as well as to manicures and pedicures. And blue is a great color for geometric patterns, providing a bit of a navy manicure.
16. Peach Matte with Black and White Marble Design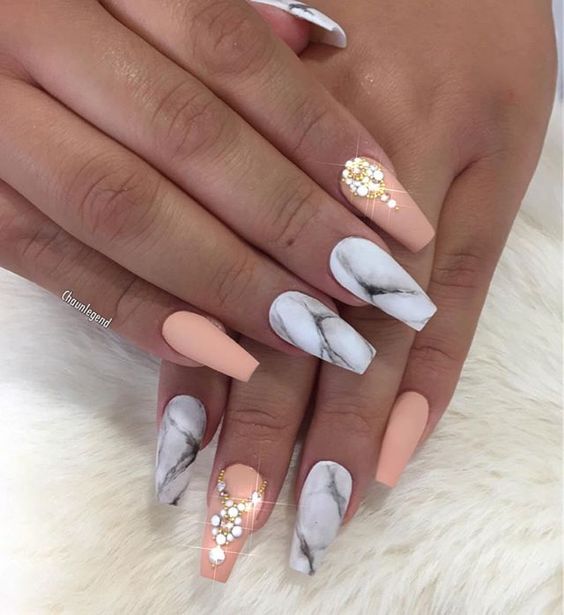 We had a peach color that was a bit girly, and now we get a peach color that is more feminine. It all comes down to the shade. Plus, that marble design is just out of this world.
17. Khaki Coffin Nails with Gold Band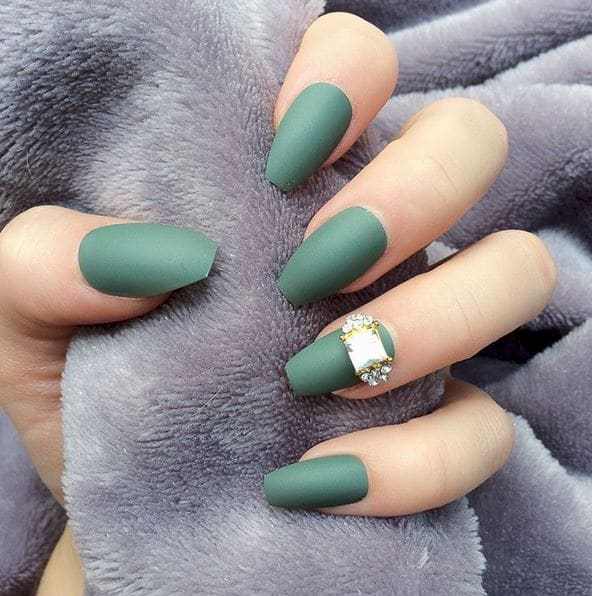 Khaki was such a popular color some five years ago. Since then, the color has fallen off in popularity. But that doesn't mean you shouldn't try it. And besides, you can enrich it with some accessories, as in this case.
18. Dark Purple Matte with Edgy Rhinestone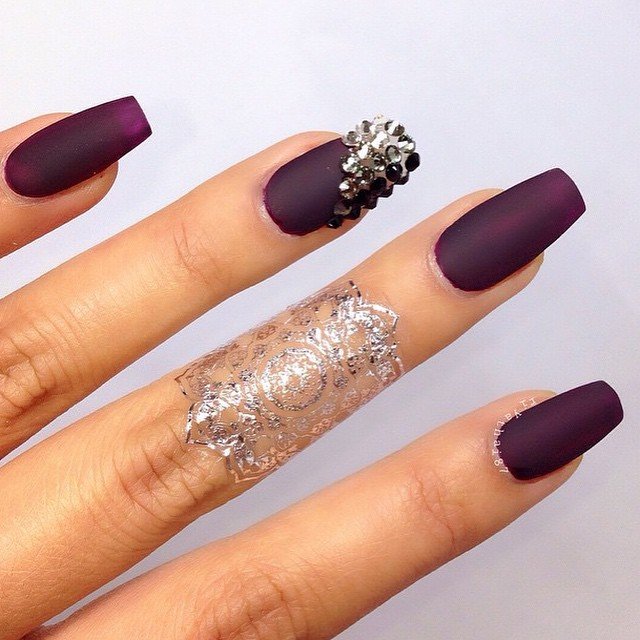 I've said several times that rhinestones make a great addition to any manicure. No matter the color, and no matter the style, rhinestones are always a good idea. In this case, we have an elegant look that requires something sparkly.
19. Black Matte Nails with Rainbow Splatter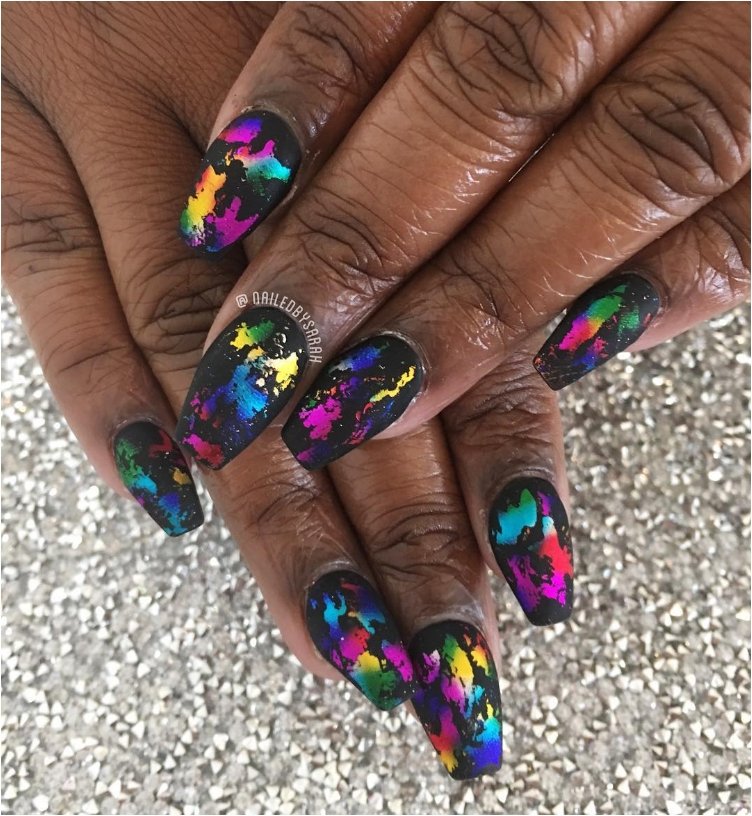 There are many ways you can mimic the rainbow on your nails. What I love about this design is that it symbolizes the Earth in a way.
20. Green Comic Matte Nails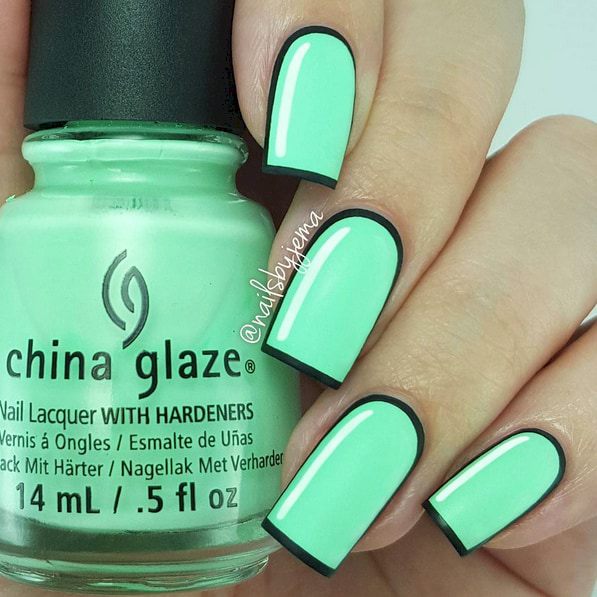 One of my favorite shades of green is mint green. It's a refreshing color that's also sophisticated at the same time. A few seasons ago, mint green was among the most popular choices for wedding dresses. Now, not so much. What I like here is how the black frames give the nails a perfect shape and form.
21. Matte Nails with Glitter Gradient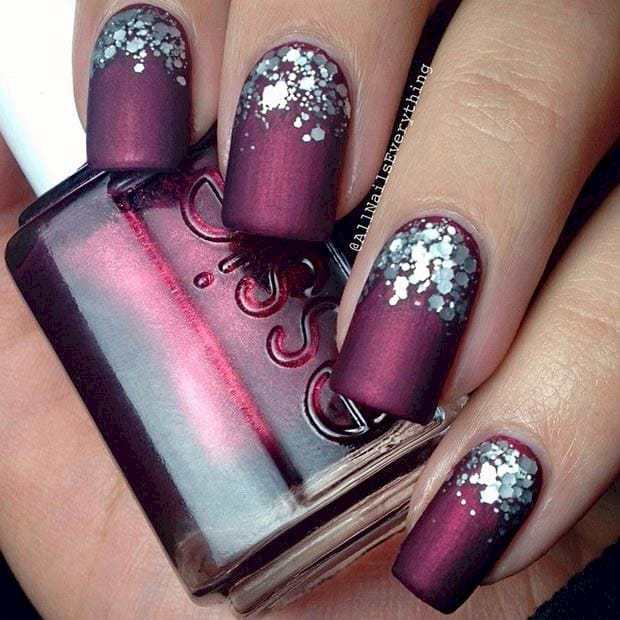 We had several combinations of matte colors with some glitter. I've said it over and over: you can always combine two styles. No matter how opposite they are, some styles are just made for each other, and that certainly applies to glitter and matte colors.
22. Neon Matte with Tribal Design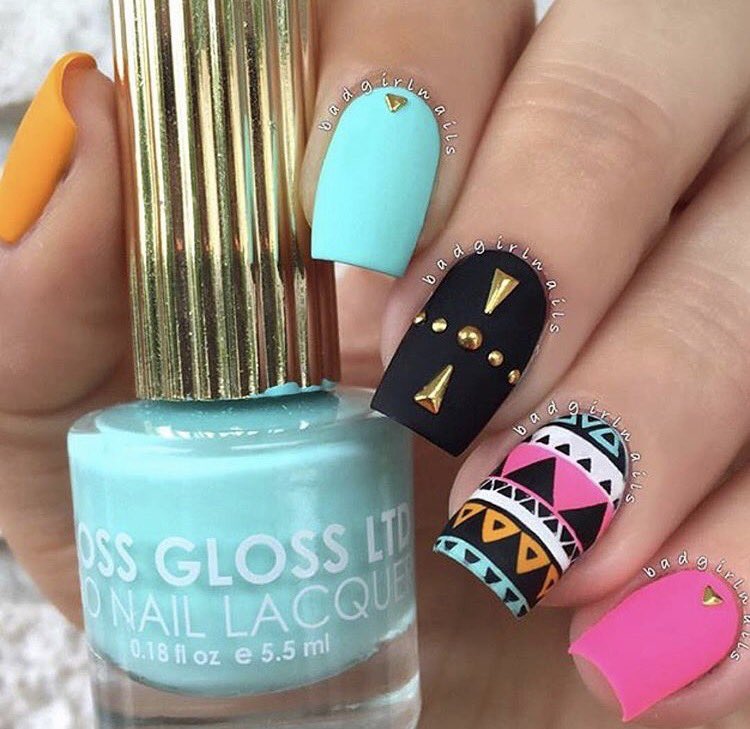 Truth be told, I tried to stay away from tribal designs for your manicure. But even I couldn't resist it. Tribals are just popular designs that have gone from tattoos to everything else.
23. Orange Neon with Inverted V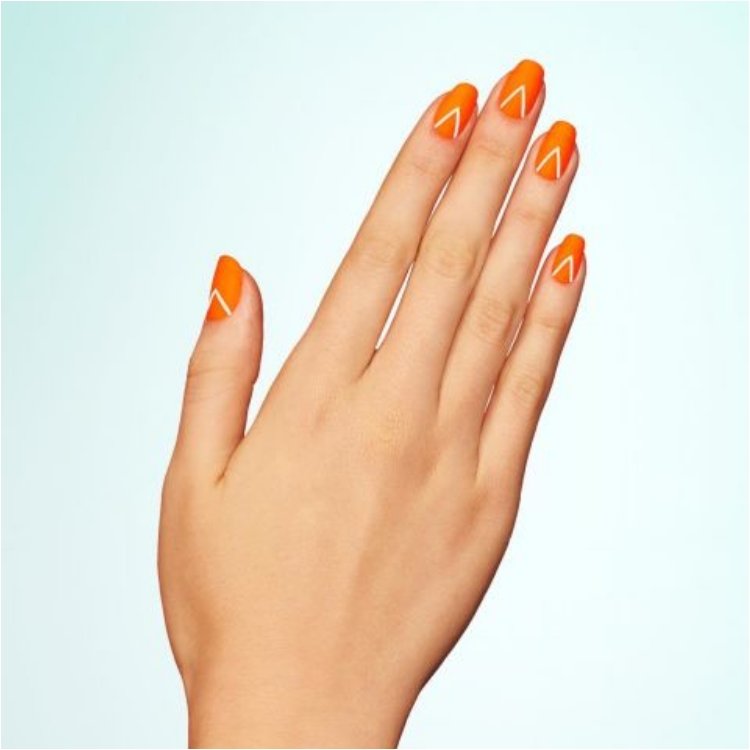 Definitely one of the best refreshing, summer looks. Orange is an underrated color in my opinion. Sunny yellow is always the first choice for a summery color, but orange is a good option as well.
24. Gray and Black Aztec-Inspired Nails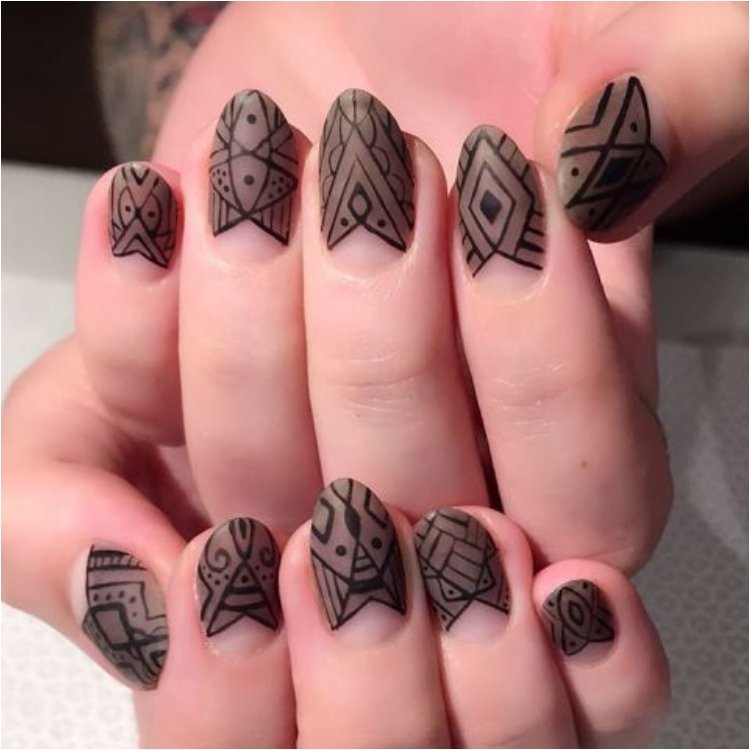 We finish off with a design that's a tad strange and complicated. Not many will think of Aztec symbols for their nails. But that's what makes this manicure special. Sometimes, you just have to think outside the box!