Some women describe medium length hair as dull and boring. Others, as perfect. It is easy to explain the disparity. Medium length hair is not daringly short, and not enviably long. That is why it easily lands in the boring category for some women.
However, others describe it as the sweet spot between short and long haircuts. The reality is that if you make a few smart layers, and with the right angles, medium-length hair can be just as alluring as long hair.
One of the best things about medium length is the versatility of your hair. It is definitely one of the most versatile lengths, and timelessly chic.
With that in mind, we give you a couple of ideas what you can do with your medium-length hair, and how to transform it for a red-carpet look.
1. Brown Uneven Shoulder Length With Soft Waves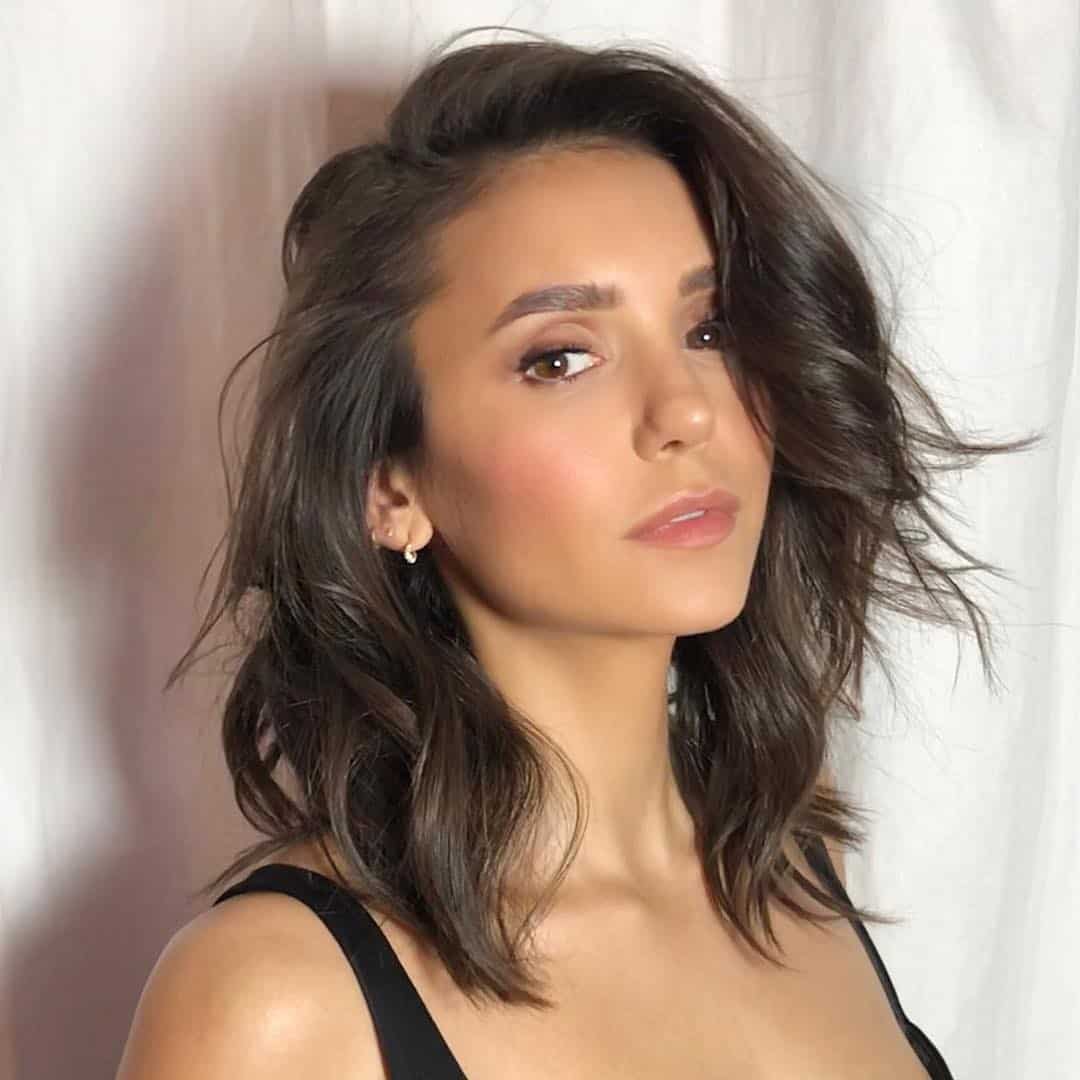 The simplest and easiest change you can make to your medium length hair adds some waves. Learn how to use the curling iron, and you can transform your hairstyle in a matter of minutes. Some women go for soft curls, others for more emphasized ones. We leave it up to you.
2. Ginger Soft Curls With Babyligths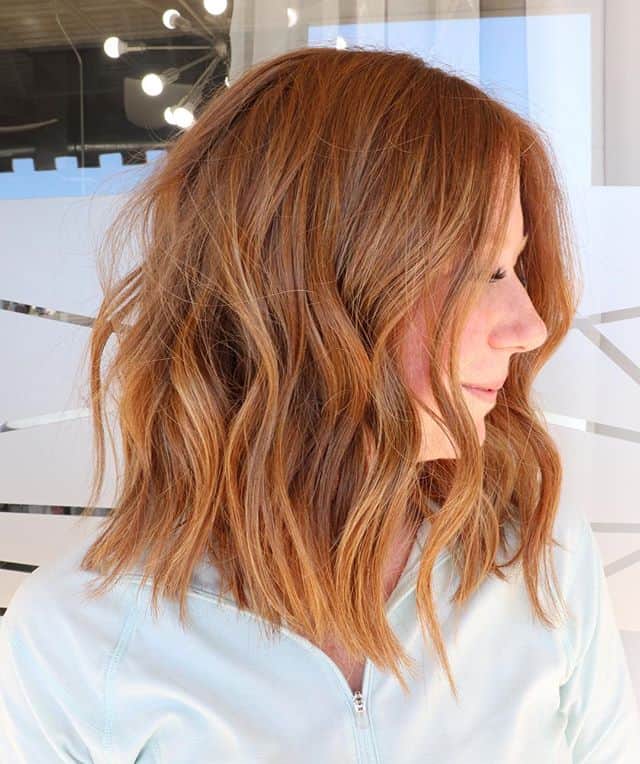 Speaking of curls and changes, another option is to add some highlights. Baby lights is the new term used for highlights that are as subtle as nonexistent.
You basically cannot notice them, because unlike regular highlights, they are not as frequent. It is a small and subtle change, but one that people will notice.
3. Black Silky Curls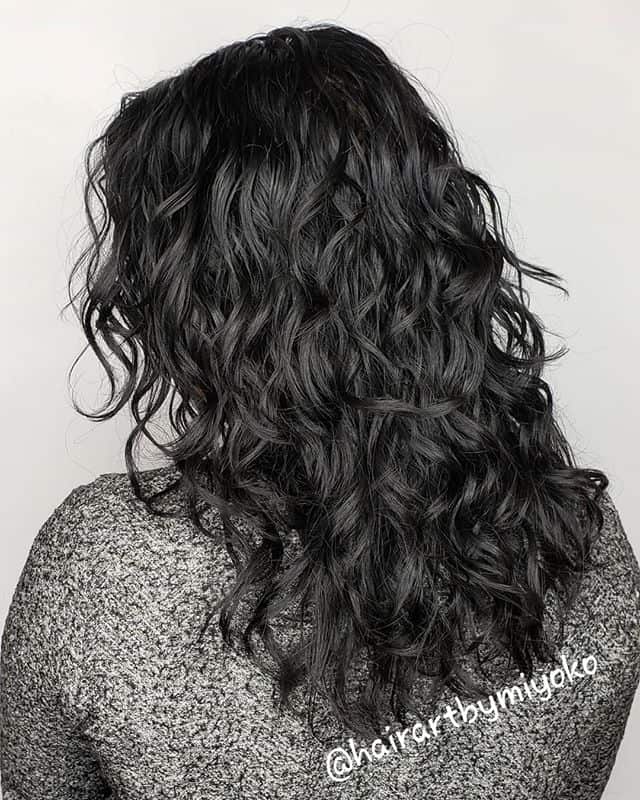 Curls look so damn perfect on black hair. The more frequent they are, the better. Your hair has never looked so playful.
4. Brunette With Few Highlights On Straight Cut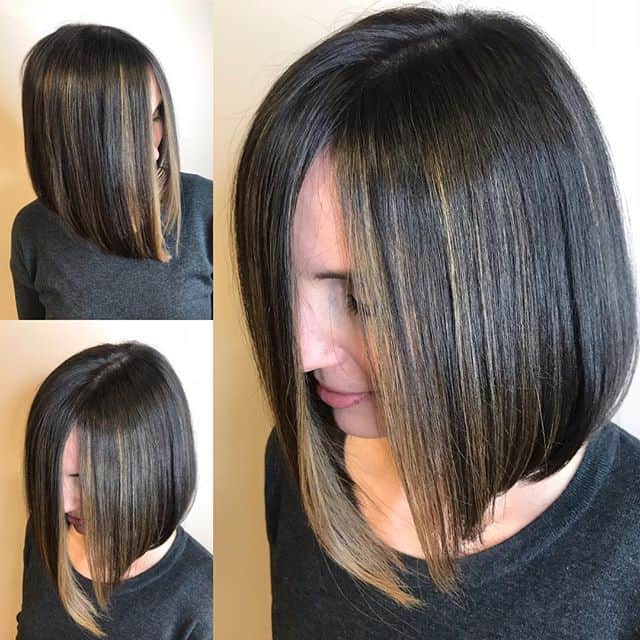 They say blondes have more fun, and brunettes are boring. Well, the reality is quite the opposite. There are so many options for a brunette.
Subtle highlights are one of the simplest changes. And of course, one that doesn't require high maintenance.
5. Sectioned Cut With Gentle Blowout And Blonde Balayage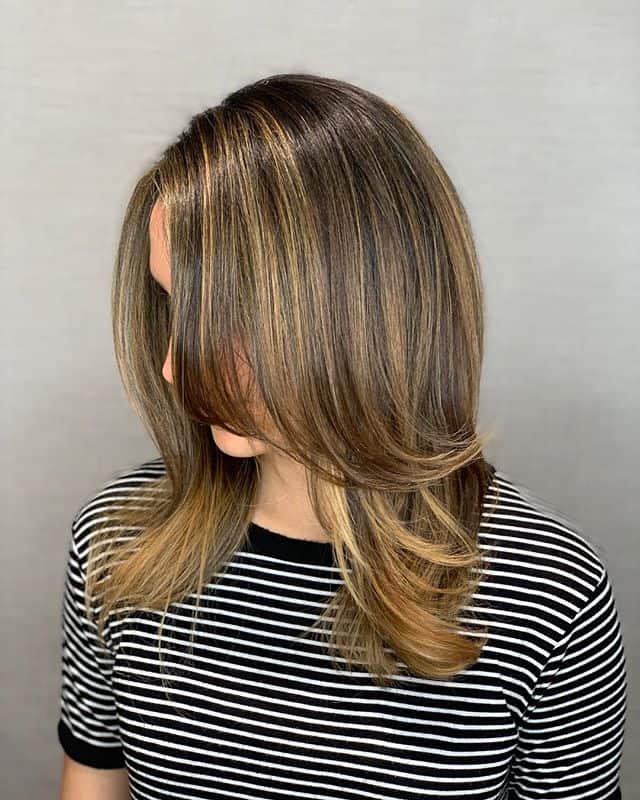 We mentioned at the beginning that layering is a great trick to use for medium length hair. Here, we have different layers of hair thanks to the sectioned cut. The balayage is just a bonus.
6. Waved Ash Blonde With Golden Hues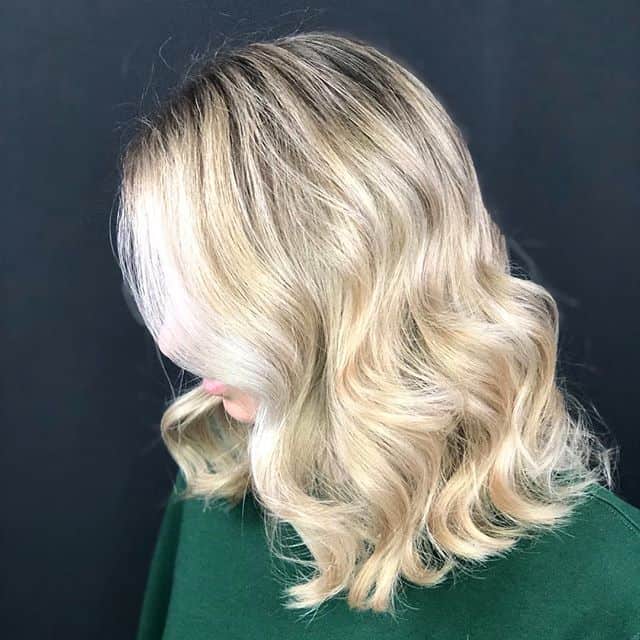 One of the downsides of medium length hair is that it is high maintenance if you dye it. Being there is so little hair, the original hair color roots quickly appear. But who cares when ash blonds look so damn amazing?
7. Wild Sandy Brown With Bangs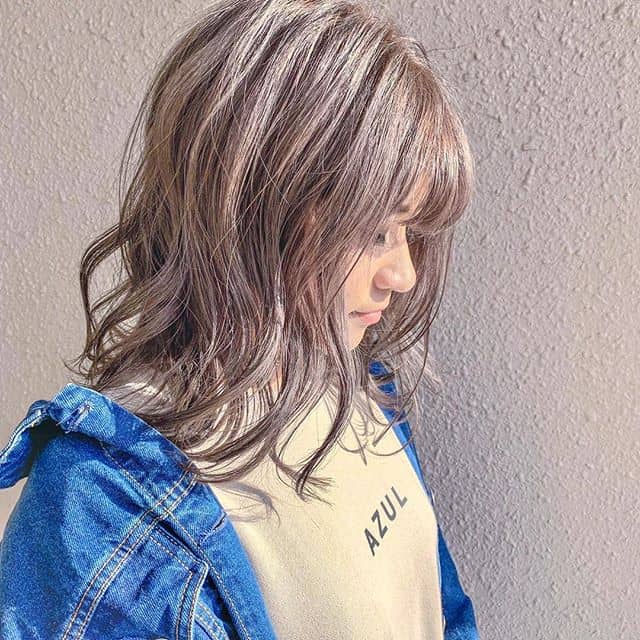 You might say that bangs can cover your face and make your medium length hair look even shorter. But with tactical cutting and angles, bangs only make your hair look better.
8. Purple And Silver A-Line Long Bob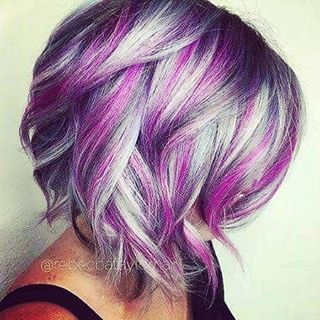 Bob is a hairstyle that is just perfect for medium and short hair. And if you have medium hair, you can even play with other trends. Like trying an A-line bob, and adding some unicorn colors.
9. Blonde Shaggy Cut With Feather Bangs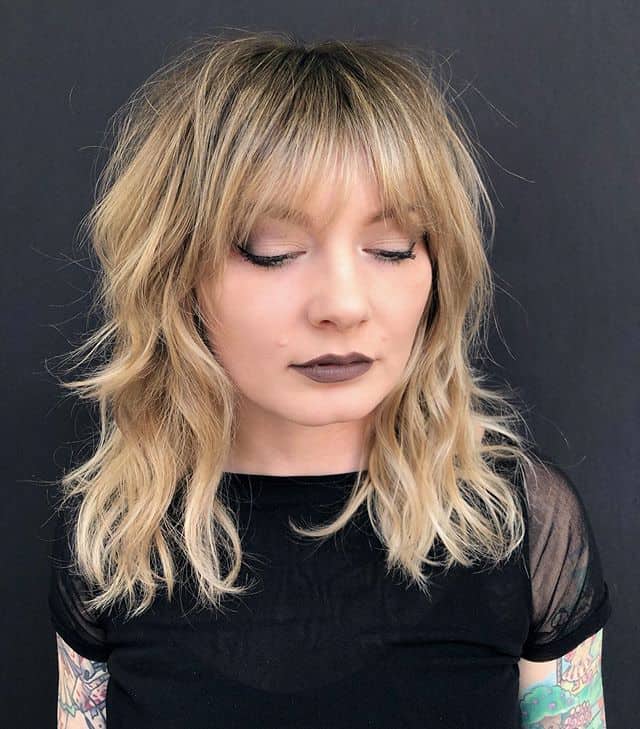 The shaggy cut is a perfect hairstyle for medium length. Why? Because it adds various lengths to your hairstyle.
Basically, the hairstyle is layered to various length, making the hair full around the crown. If you want to make your medium length hair more voluminous, the shaggy cut is the way to go.
10. Dark Brown Face Framing Section Cut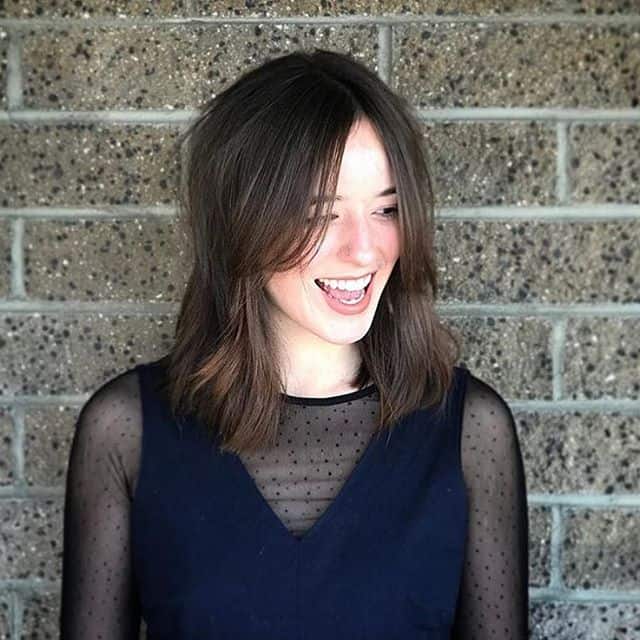 This hairstyle works perfectly only on certain face types. The idea is to frame your face. But if you have a round face, this hairstyle is not for you.
Try something else. However, if your face needs framing, this hairstyle is great. It will put even more emphasis on your beautiful smile and eyes.
11. Ice Platinum Blonde Waves With Ash Roots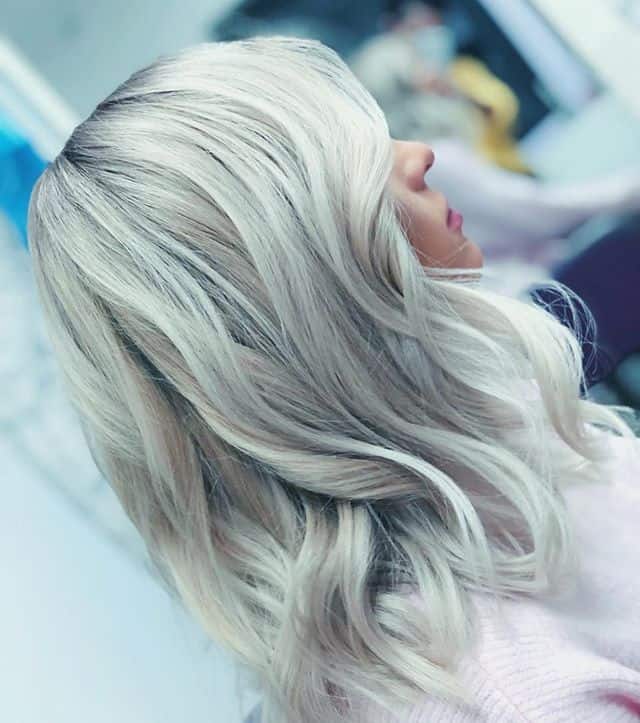 Waves, waves, and even more waves. As you can see, that is one of the tricks to make your medium length hair alluring.
And yes, you can have a different color at your roots. It may even look more beautiful.
12. Forest Hued Shoulder Length Layers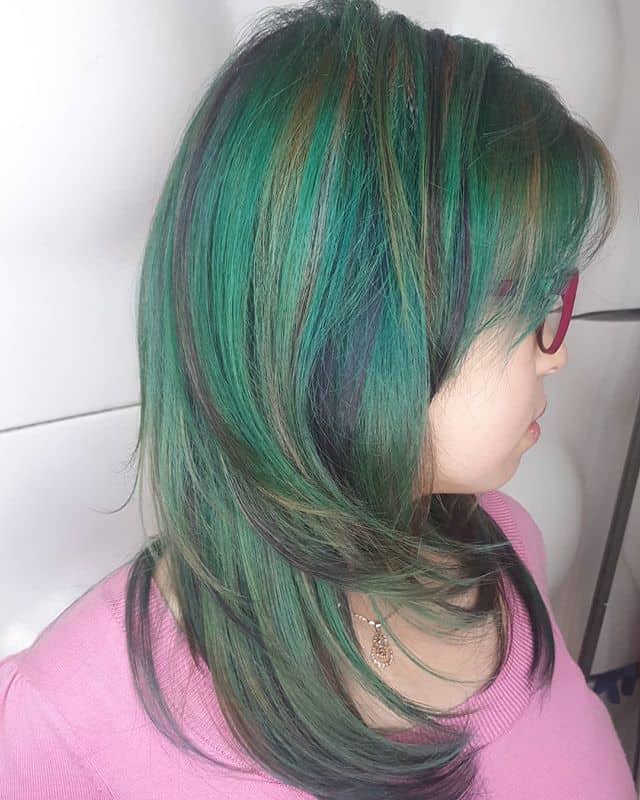 Some women just want to experiment with hair colors. We have to be honest, that is not for everyone.
But if you are into trying different hair colors, and even making them unique, try something out of the box. Forest colors certainly fit that description.
13. Warm Brown And Blonde Dimensional Cut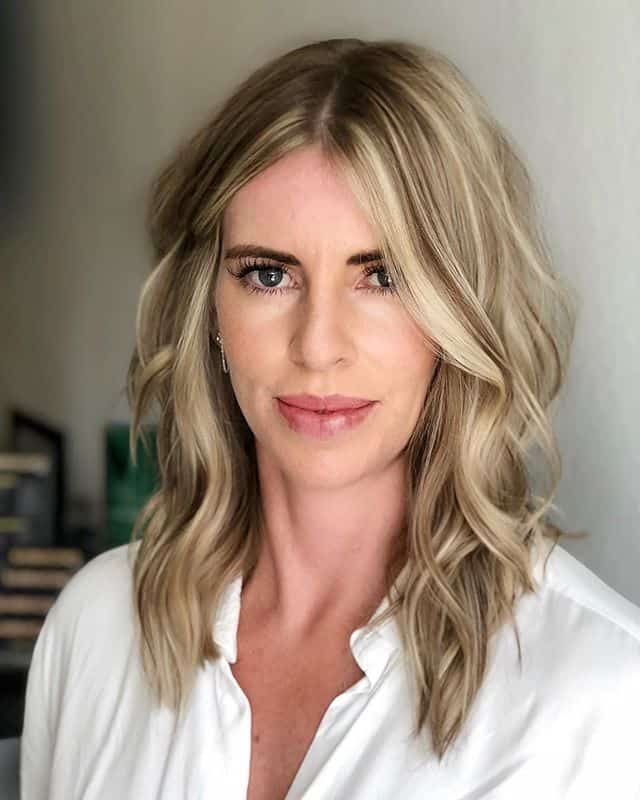 A lot of brunettes try to go blonde. It can go horribly wrong if not done properly. The trick is to make the roots not noticeable.
You do not want your roots to stand out and be on the complete opposite side of the color specter of your tips and waves.
14. Iridescent Lilac With Waves And Razor Tips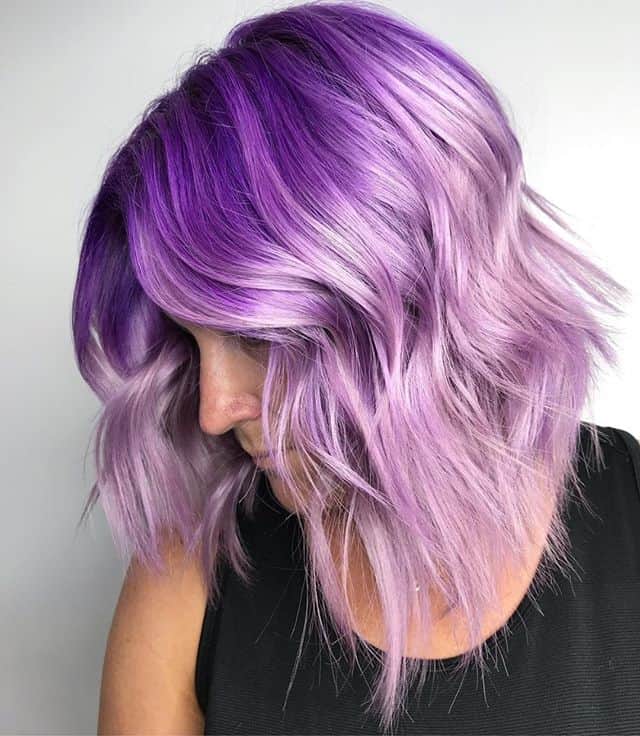 Razor cuts add edginess to your hairstyle. Now, in some cases, you might want that extra dose of edgy. But if you go lilac color, one might say you already have all the edge you need.
15. Voluminous Fun Curls With Thick Bangs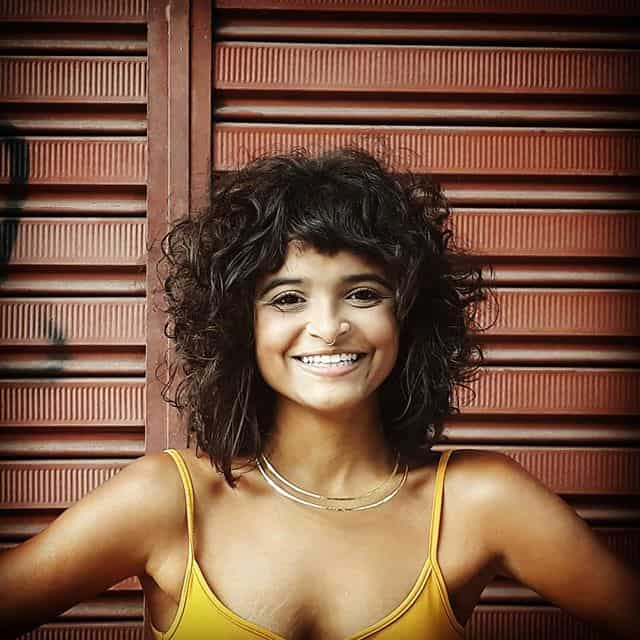 When you want to add volume to your hair, curls and bangs are the way to go. Yes, your hair might look a bit shorter, but with much more volume.
16. Blonde Mullet With Undercut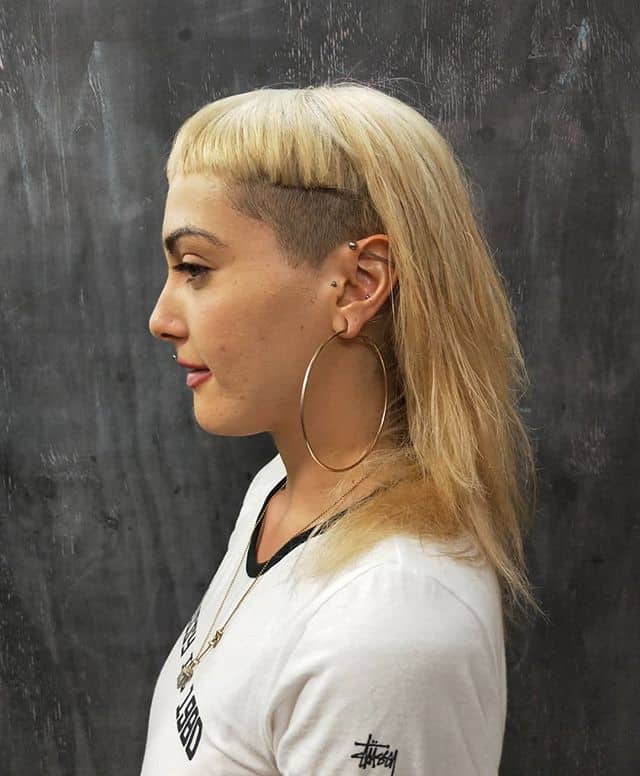 The Beastie Boys popularized this hairstyle. Truth be told, men around the world wore mullet long before the Beastie Boys described it in their songs.
Originally, it is a men's hairstyle. But when has that stopped women from wearing it? The idea to cut your hair short at the front and sides, and leave it long at the back. The next level is to combine with an undercut, as shown in the picture above.
17. Medium Beach Waves On Mahogany Brown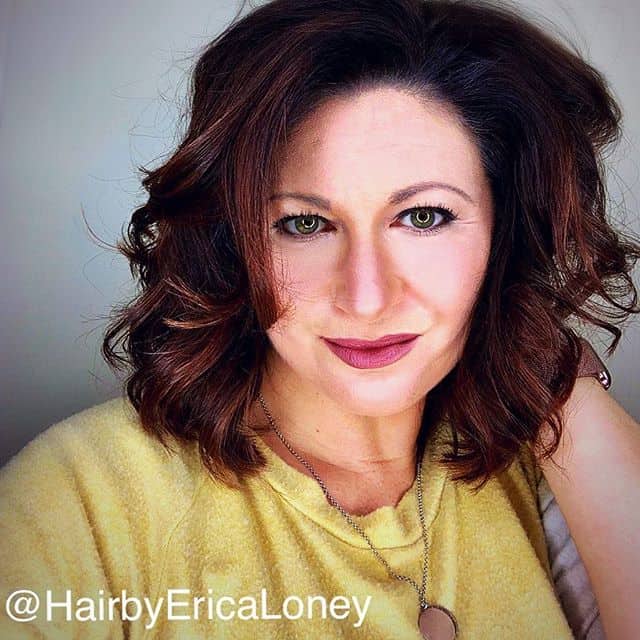 Beach waves will never go out of style. It is as simple as that. After all, we love going to the beach, and this is one look that is synonymous with summer.
18. Aquamarine Medium Length Mermaid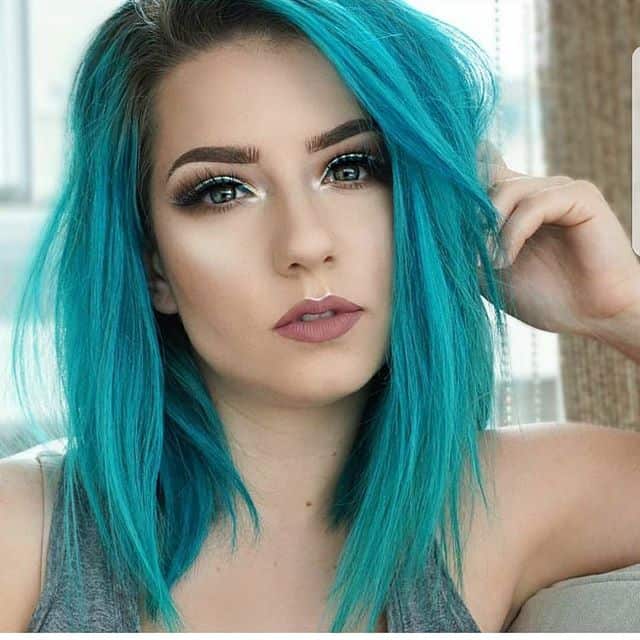 In the past few years, we've seen a couple of unique hair coloring trends. Mermaid colors are one of them, along with rainbow, and unicorn hair. Whatever suits your style.
19. Magenta To Fire Red Color Melt Waves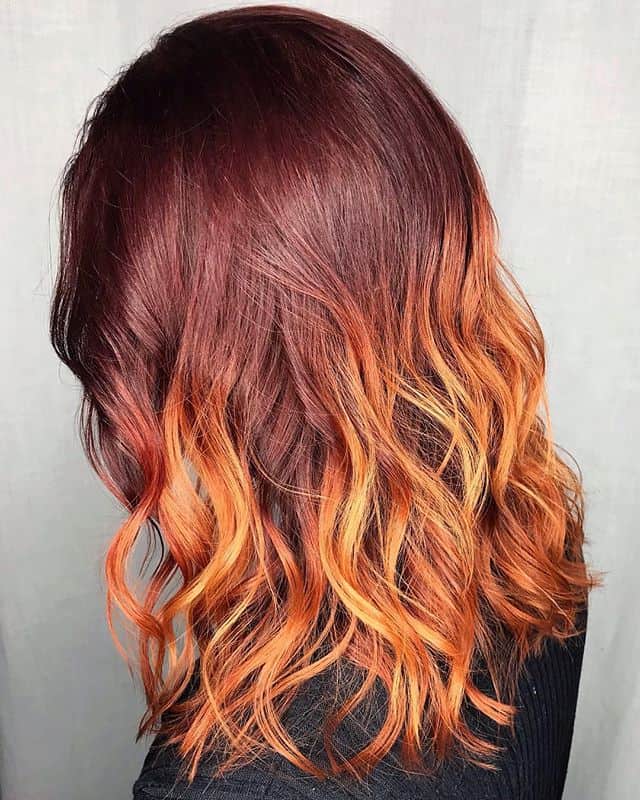 Now, this is a hairstyle for women who want to leave their imprint. And women who want to be noticed.
Red is considered a bold color in any industry, and that applies hair as well. Fiery and independent, this woman doesn't let anything stand in her way.
20. Dark Shaggy Invisible Layers With Baby Bangs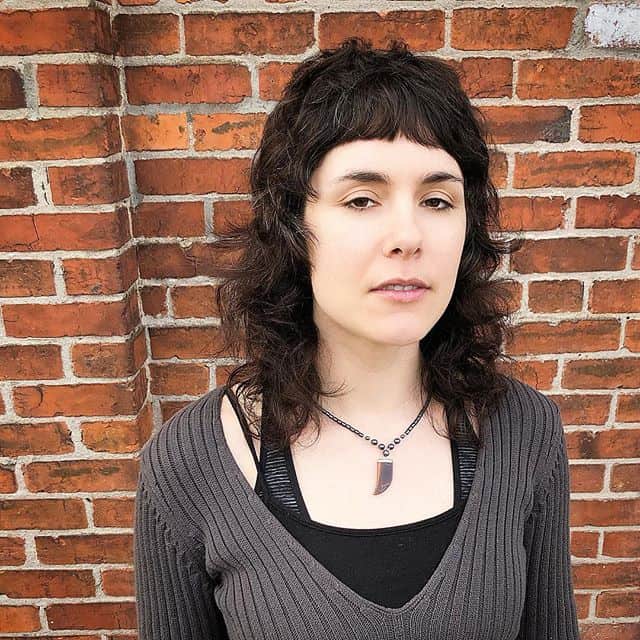 This hairstyle is more cute and adorable than it is sexy. But some women like it no other way.
For those of you ladies who want to look a bit clumsy, teenage-like, and generally cute, the shaggy and bangs are the way to go.
21. Silver Gray Balayage With Elegant Chunky Curls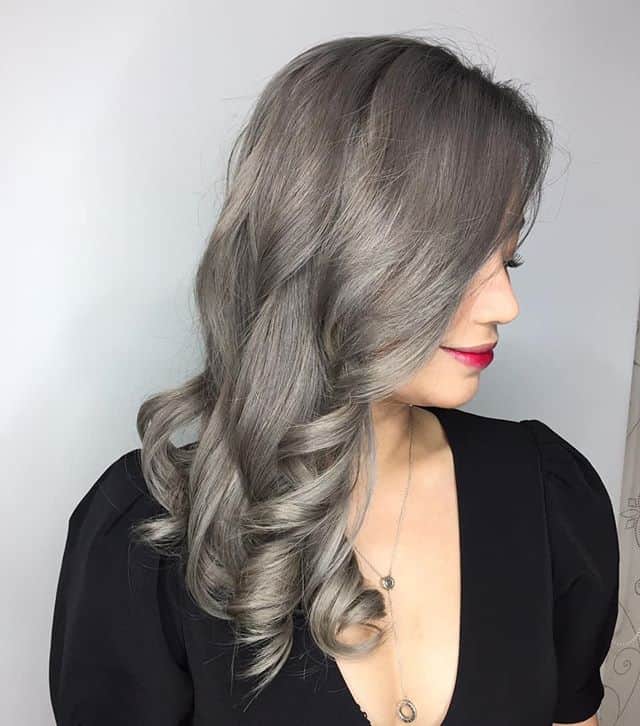 There are women who panic when they see their first gray hair. And then there are those who embrace gray hair and wear it with confidence.
You do not even have to wait for your hair to go gray. After all, it is one of the more popular hair coloring trends.
22. Platinum Blonde Lob With Dark Roots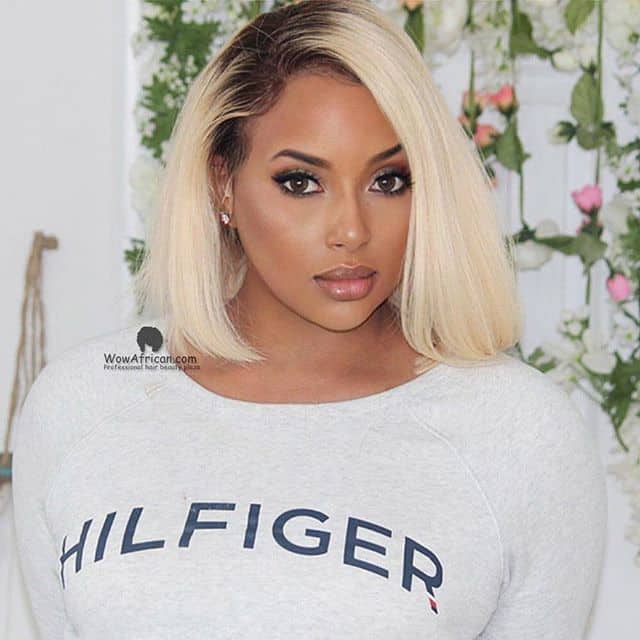 The long bob, or lob, is when you cut your hair in a bob haircut at shoulder level or just below.
Basically, a proof you can have a bob even with longer hair. It is a great middle ground between long hairstyle and short bob.
23. Tight Bouncy Curls With Bangs And Blonde Highlights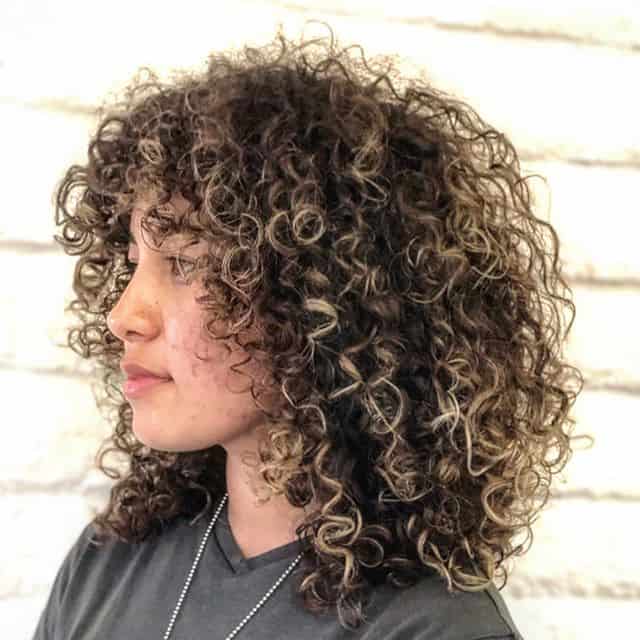 Bouncy curls look playful, and when you add some highlights, you have a treat. Think Jennifer Beals and her curly bangs in Flashdance. Definitely an iconic hairstyle.
24. Wavy Two Toned Shoulder Length Brown Style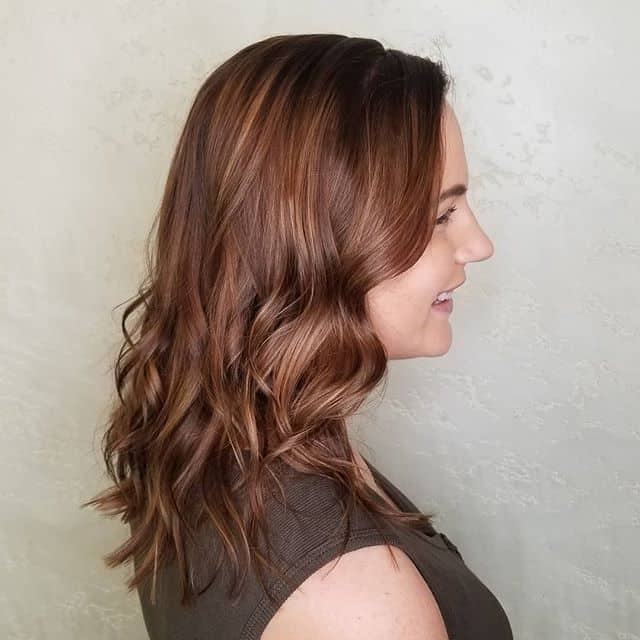 We mentioned at the beginning that the simplest trick to make your medium length hair look alluring is to add layers.
You can do that in a number of ways. One is to add different colors to your waves.
25. Light Brown With Golden Blonde Balayage Lob
We had a classic lob before. But now, we take the lob to the next level. You can have a bob haircut and waves. Add in some highlights, and you get a unique hairstyle any woman would crave for.
26. Medium Length Red Box Braids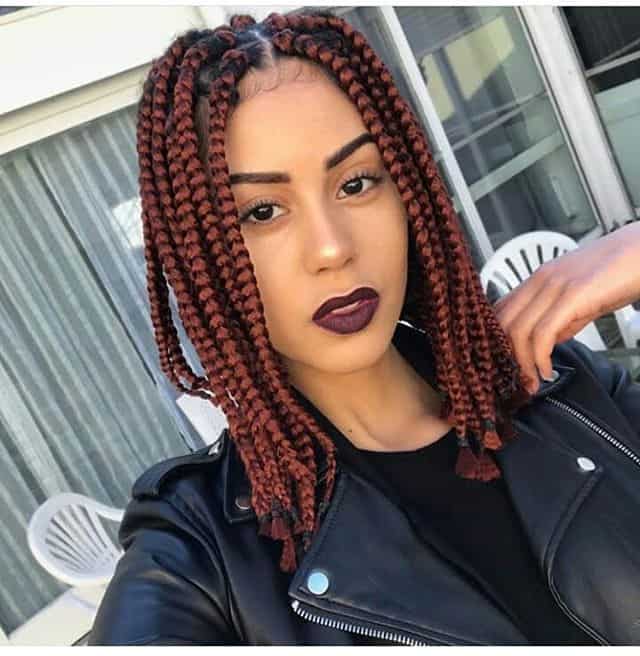 Box braids are a nice way to protect your hair and get more volume. The hair looks extra fresh, even if you haven't washed it for a couple of days. Definitely, something you can use for busy days.
27. Blowout Layers In Coral Pink With Bright Tips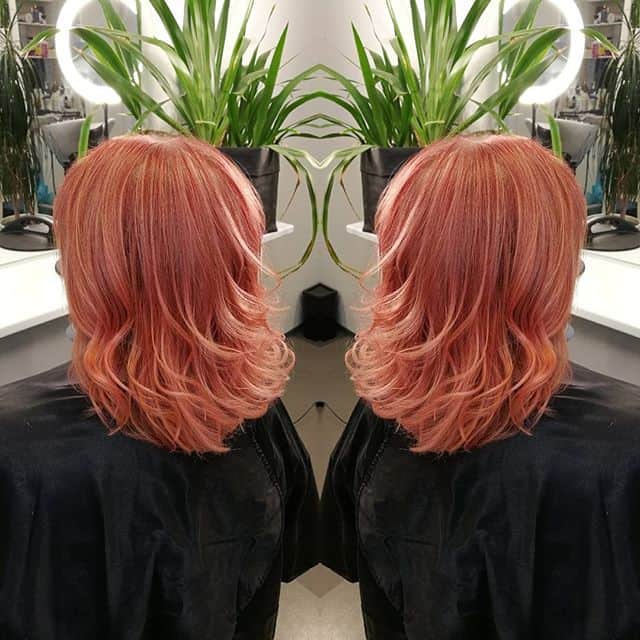 This hairstyle will definitely make you look like a model for Victoria's Secret. After all, most of the Angels on stage have blowout layered hair.
With a unique hair coloring, you are ready for a red-carpet event.
28. Choppy Wild Baby Pink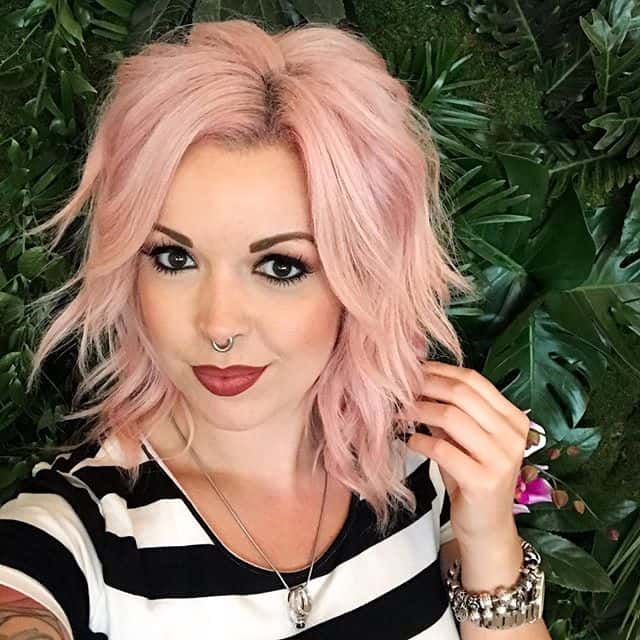 Some women want elegant hairstyle, others want to look like rebels. Well, for the latter group, we recommend this pinky hairstyle.
29. Popping Layers In Caramel Dimension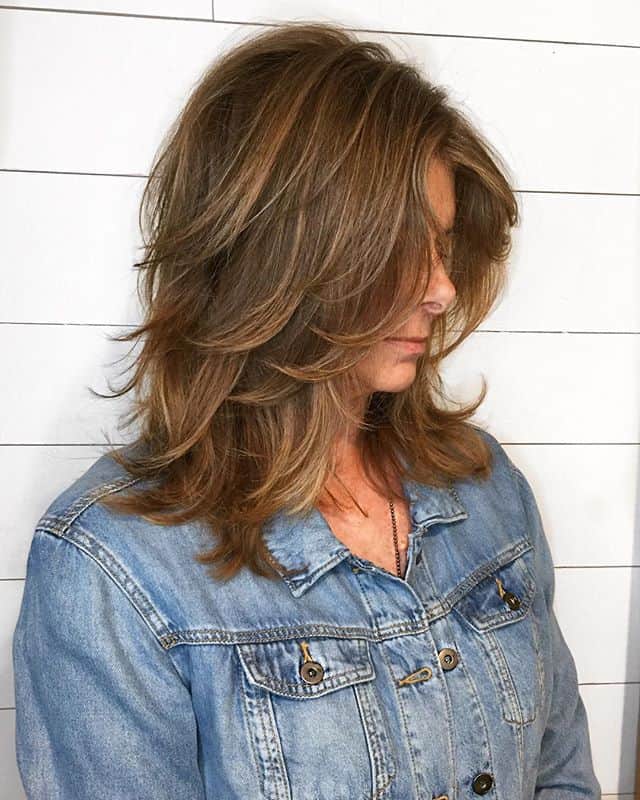 We finish off the list of medium length hairstyles that look alluring with a classic look. Layers in different brown color are always a good idea. And caramel is the hottest hair highlighting color at the moment.