Peekaboo highlights are the latest trend when it comes to highlights. They are quite unique, and completely different than regular highlights.
While regular highlights are there to emphasize your hair, peekaboo highlights are hidden under the top layer of your hair.
Usually, women get peekaboo highlights at the back of the head. But you can get them on any spot you want. And of course, there is no limit to colors as well. Choose any color you want.
Just remember, the trick is the color you use as peekaboo hair highlights to pop. No need of playing it subtle and cool.
What are peekaboo highlights?
As we said before, peekaboo highlights are quite different than regular ones. They are also known as hidden highlights, because they are applied underneath the top layer of hair.
If you wear your hair down with normal parting, you cannot see them. The good news is you can apply them to any hair type, be it short hair, long hair, curly hair, or anything in between.. With that in mind, here are some peekaboo highlight ideas.
1. Gray Silver Hair With Purple Peekaboos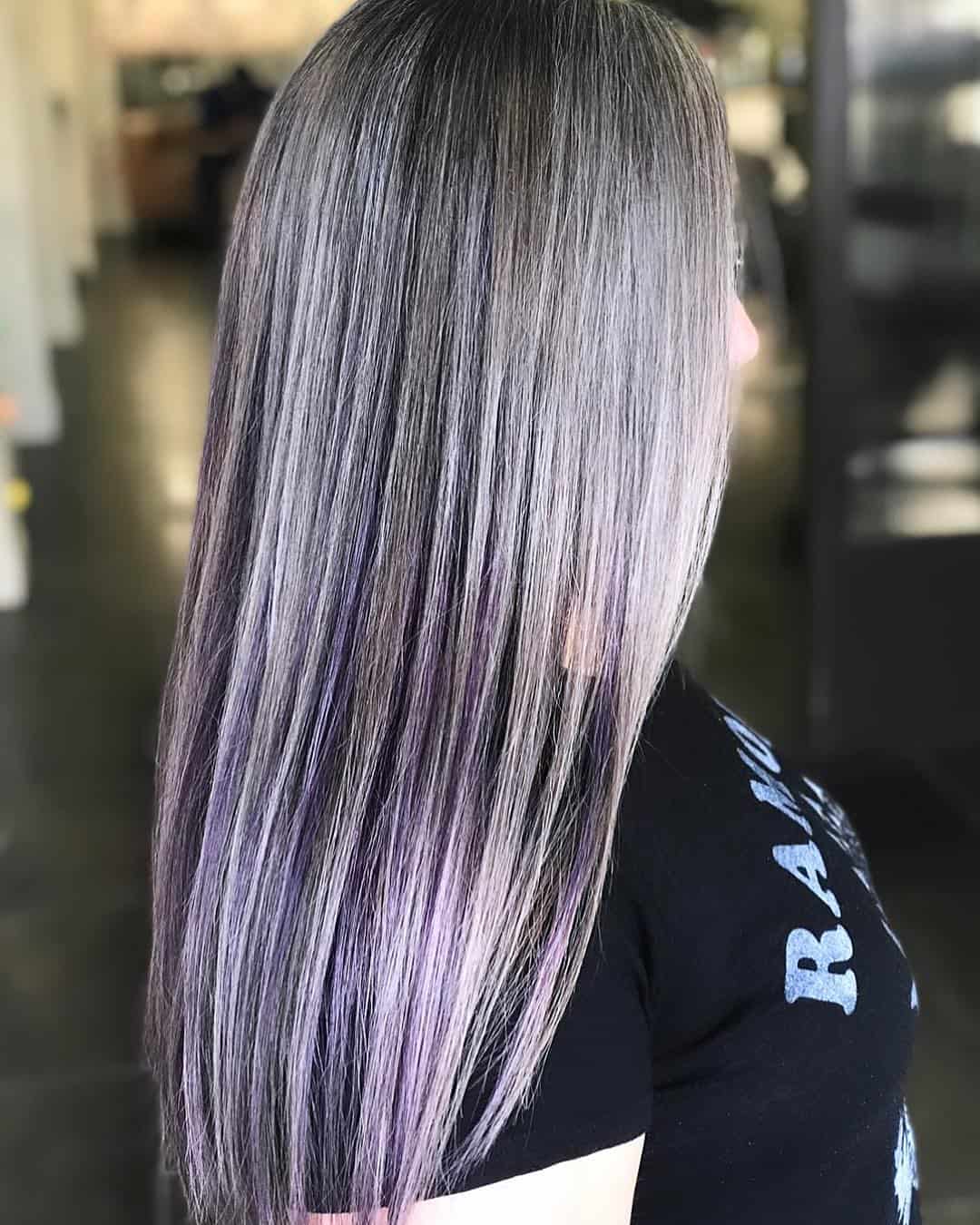 Let's start with something unconventional. Gray hair is still a taboo topic among women, despite the latest trends of embracing it. And because gray hair lacks richness, you can combine it with one of the richest colors of the spectrum, purple.
2. Rich Red Copper Hair With Balayaged Peekaboos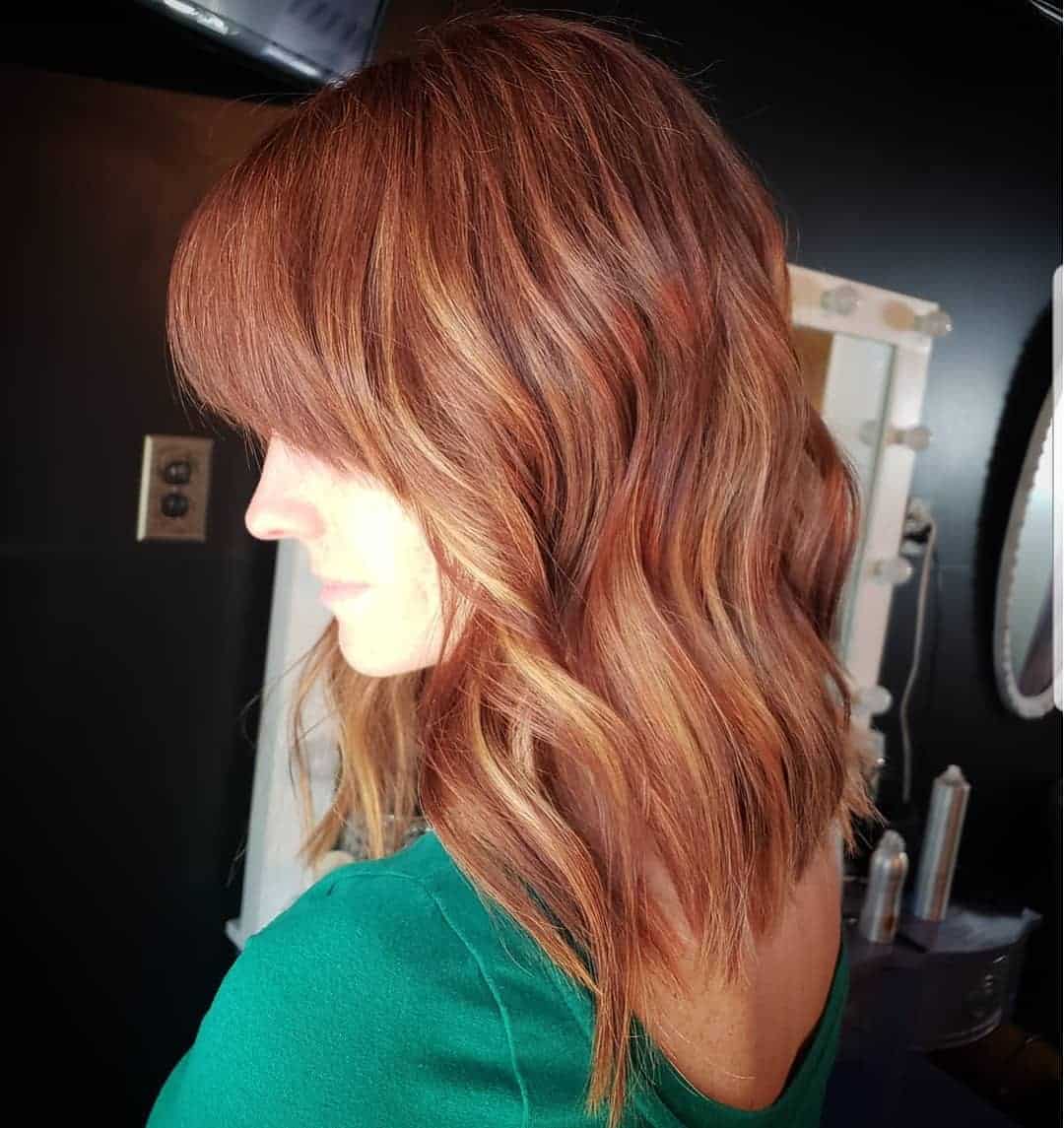 While in some cases peekaboo highlights take just a small portion of your head, some women opt for something different. As you can see, peek-a-boo highlights can easily be combined with other hair coloring techniques. In this case, that is the balayage technique.
3. Coral And Pink Peekaboo Highlights On Straight Black Hair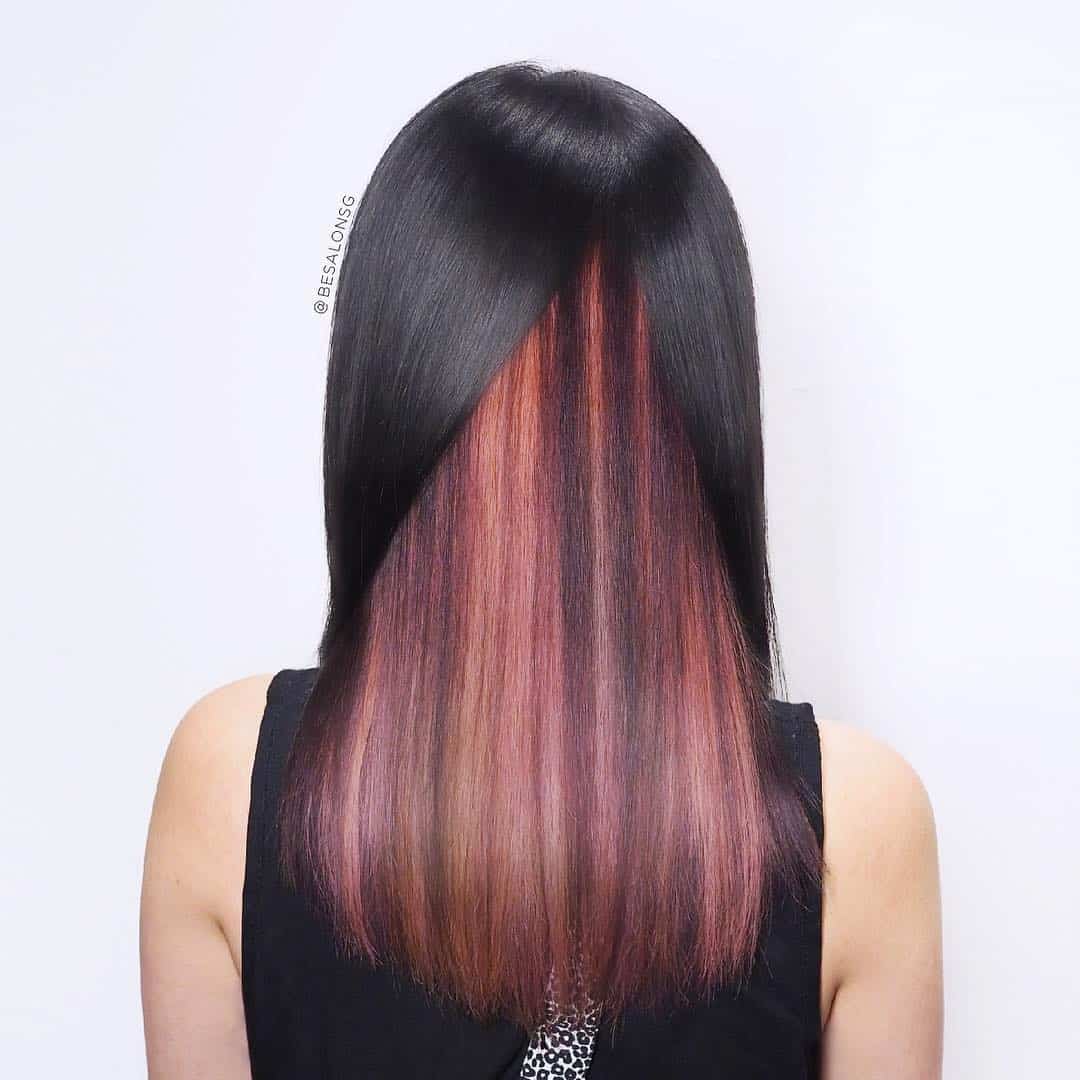 Black hair is the best for peekaboo highlights. Why? Because it is dark, and serves as the perfect base for any other color. No matter what you put on black, it pops instantly.
4. Sky Blue Peekaboo Highlights On Balayaged Blonde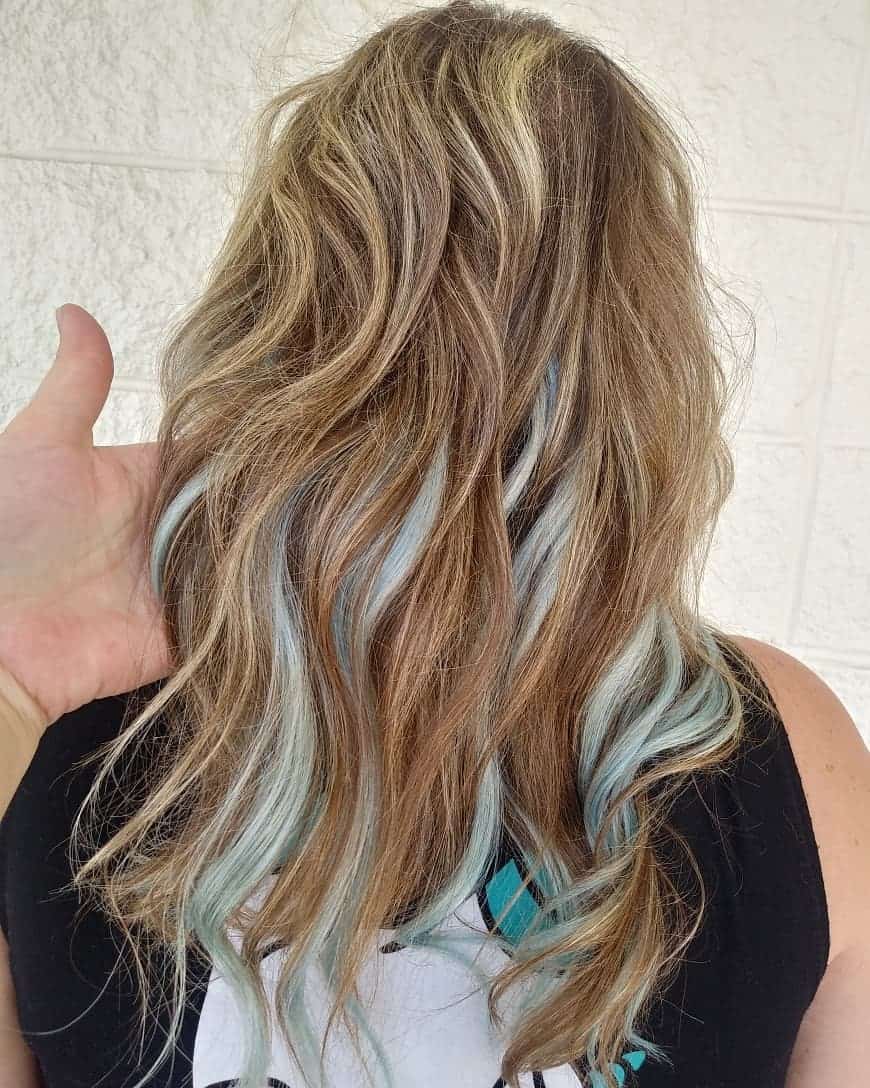 Now this is something we love. Perfect hairstyle for a beach photo session. It is a great take on the iconic blonde wavy hairstyle. There is always something new you can add to the mix.
5. Dark Brown Bob With Orange Peekaboo Highlights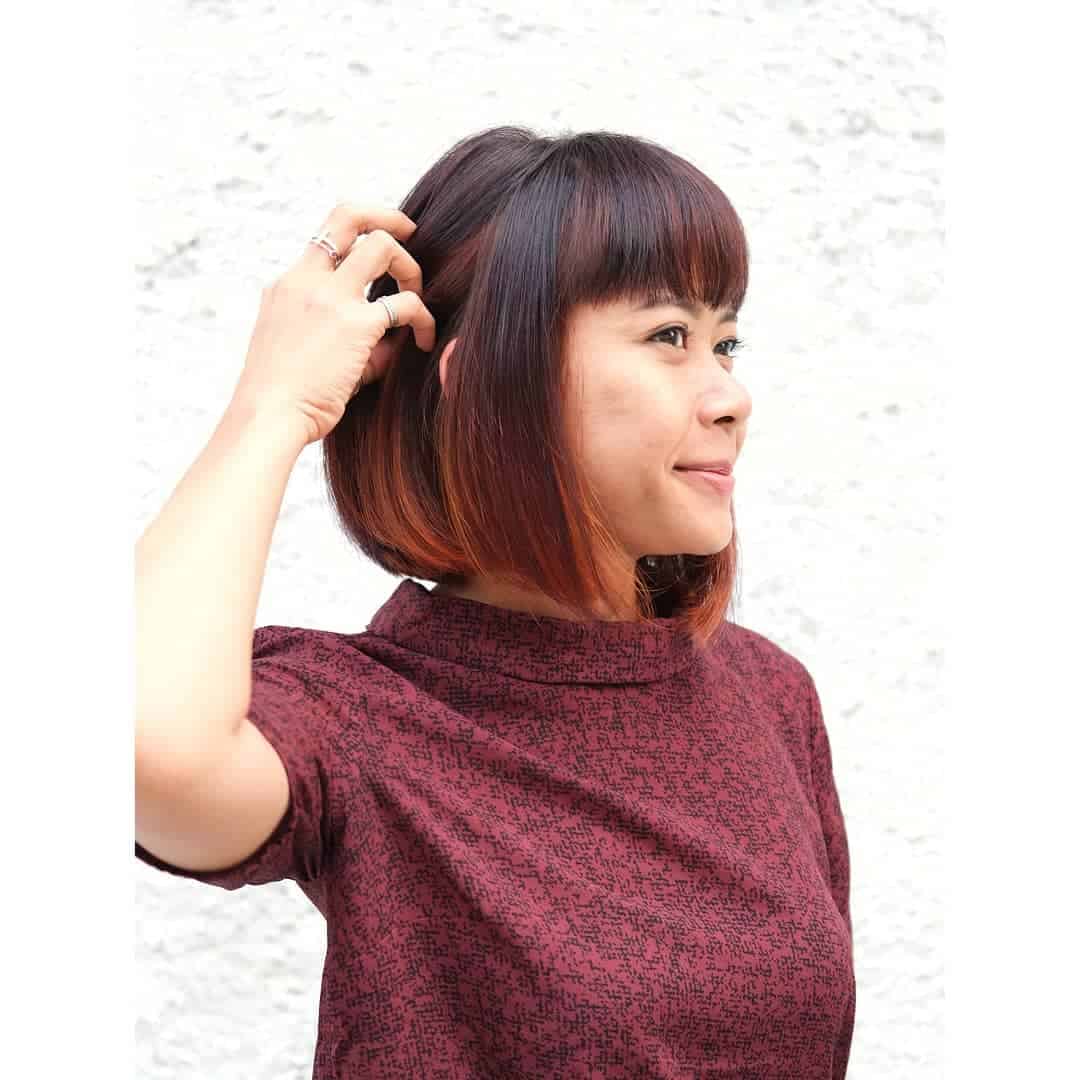 We know that the bob is perfect for some highlights. So, why not try something new and out of the box? Peekaboo highlights will add some depth to your dark brown hair.
6. Pink And Blue Peekaboo Highlights On Honey Blonde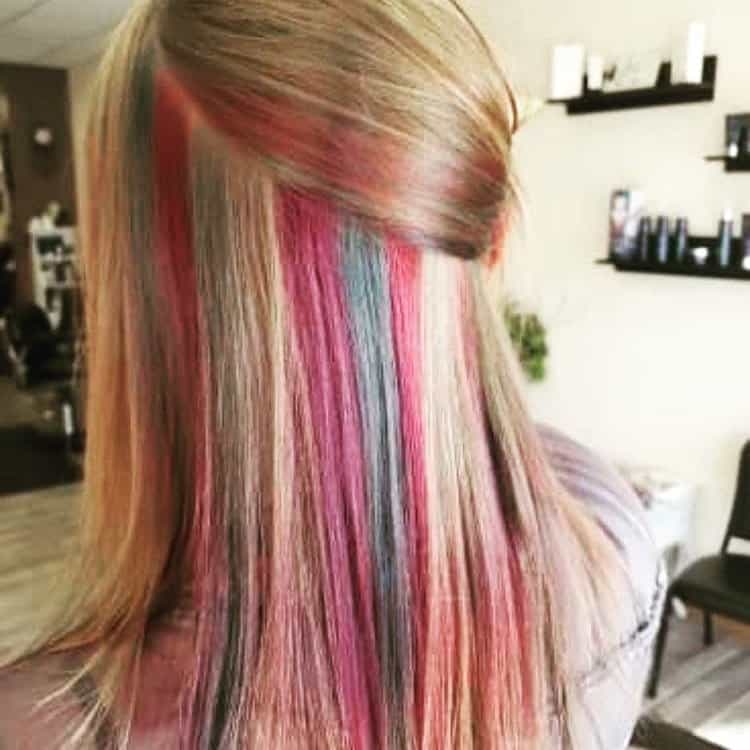 We said at the beginning that you can play with colors any way you see fit. Some women elect to add highlights on their already colored hair. And if you like your highlights to pop, pink and green are definitely two peekaboo hair color options that can help you achieve that.
7. Sun Yellow Peekaboo Highlights On Ash Light Brown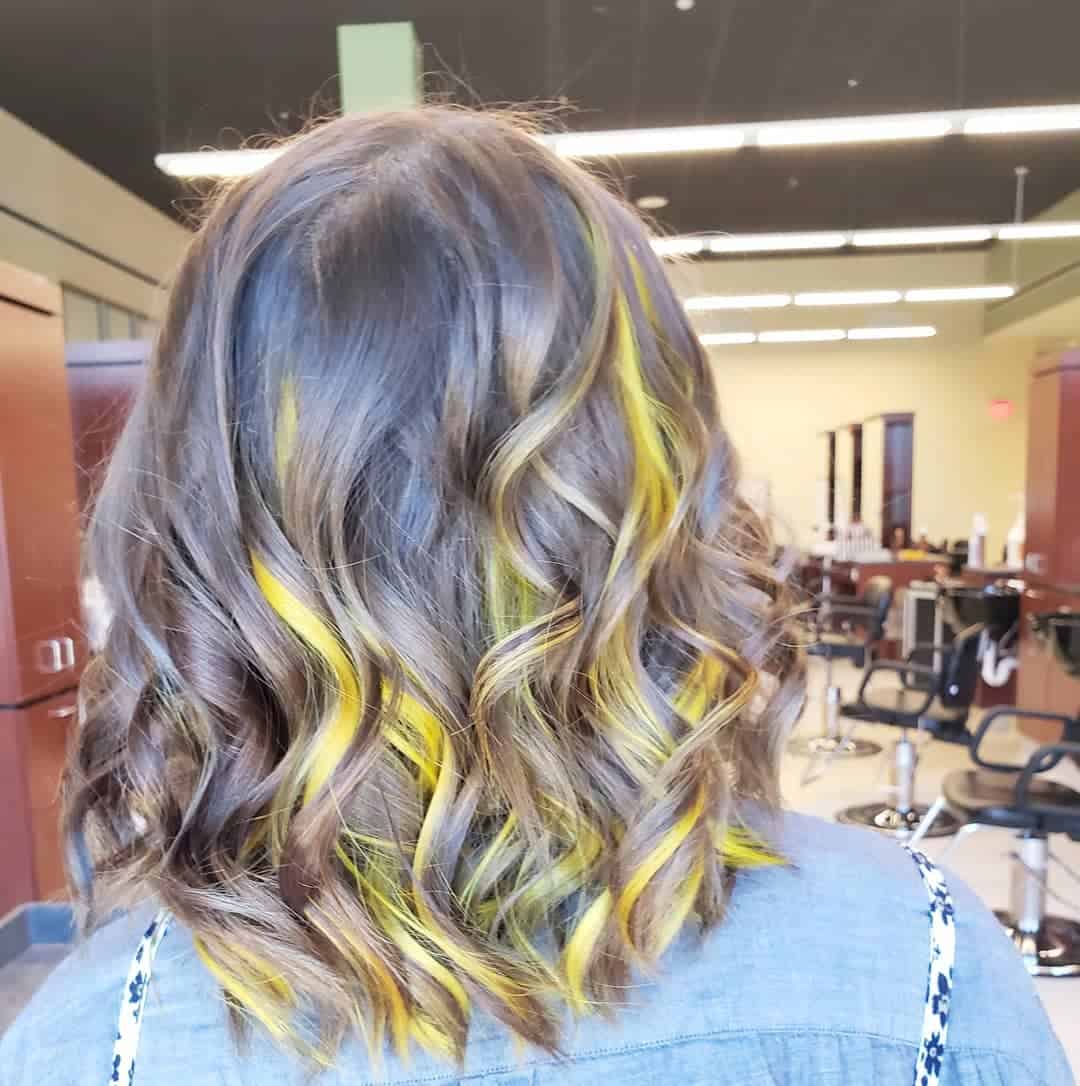 Wavy hair is one of the best hairstyles for highlights. We already knew that. And with so many different styles, women are always looking for something new and unique. Well, looks like we have something new for those wavy beach highlights.
8. Dark Brown Bob With Peekaboo Blonde Highlights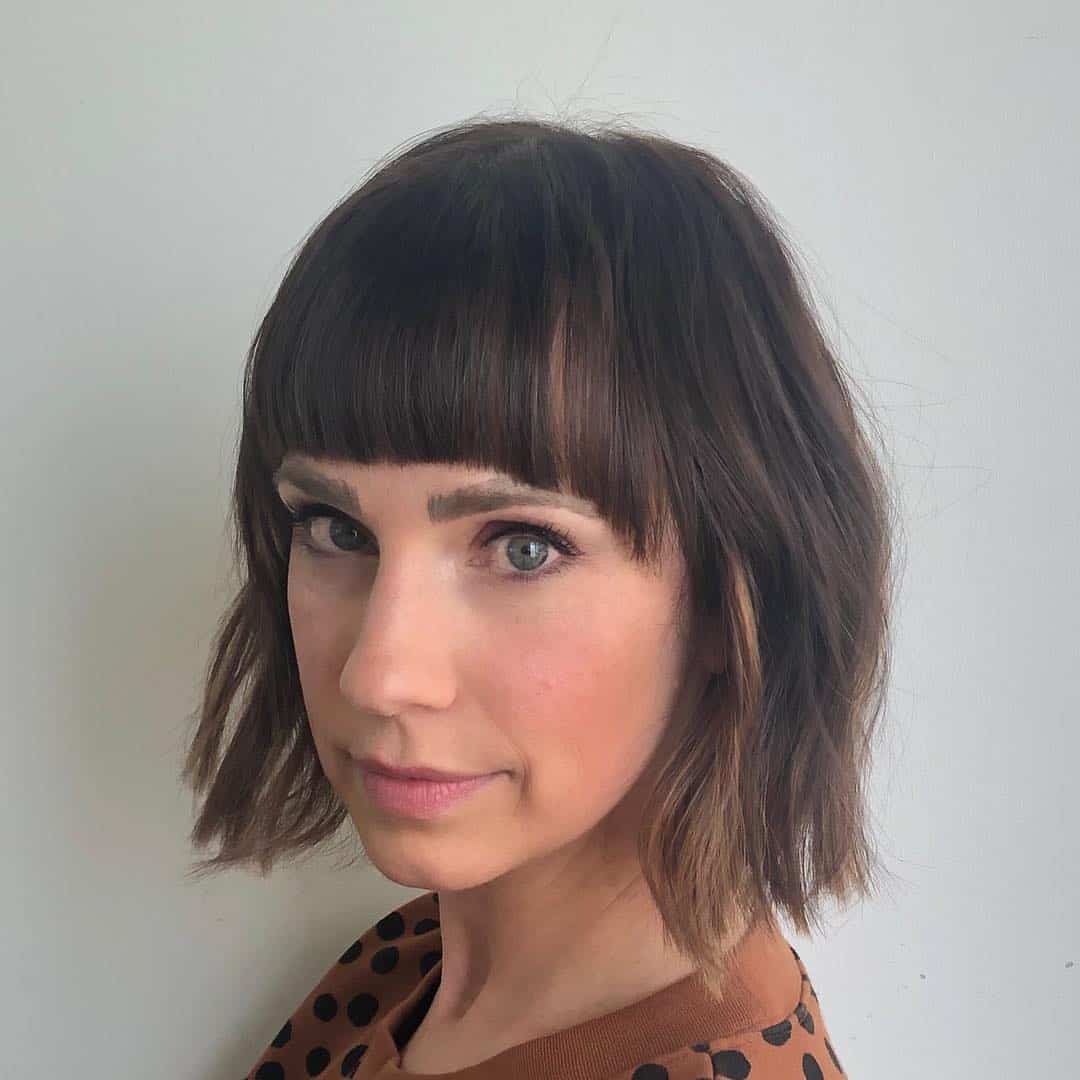 We said that some women want to try subtle highlights. And that is perfectly normal. In most cases, peekaboo highlights are not designed to be subtle. But if you do not want to go over the top, you can still try the trend.
9. Opal Green Peekaboo Highlights On Chocolate Brown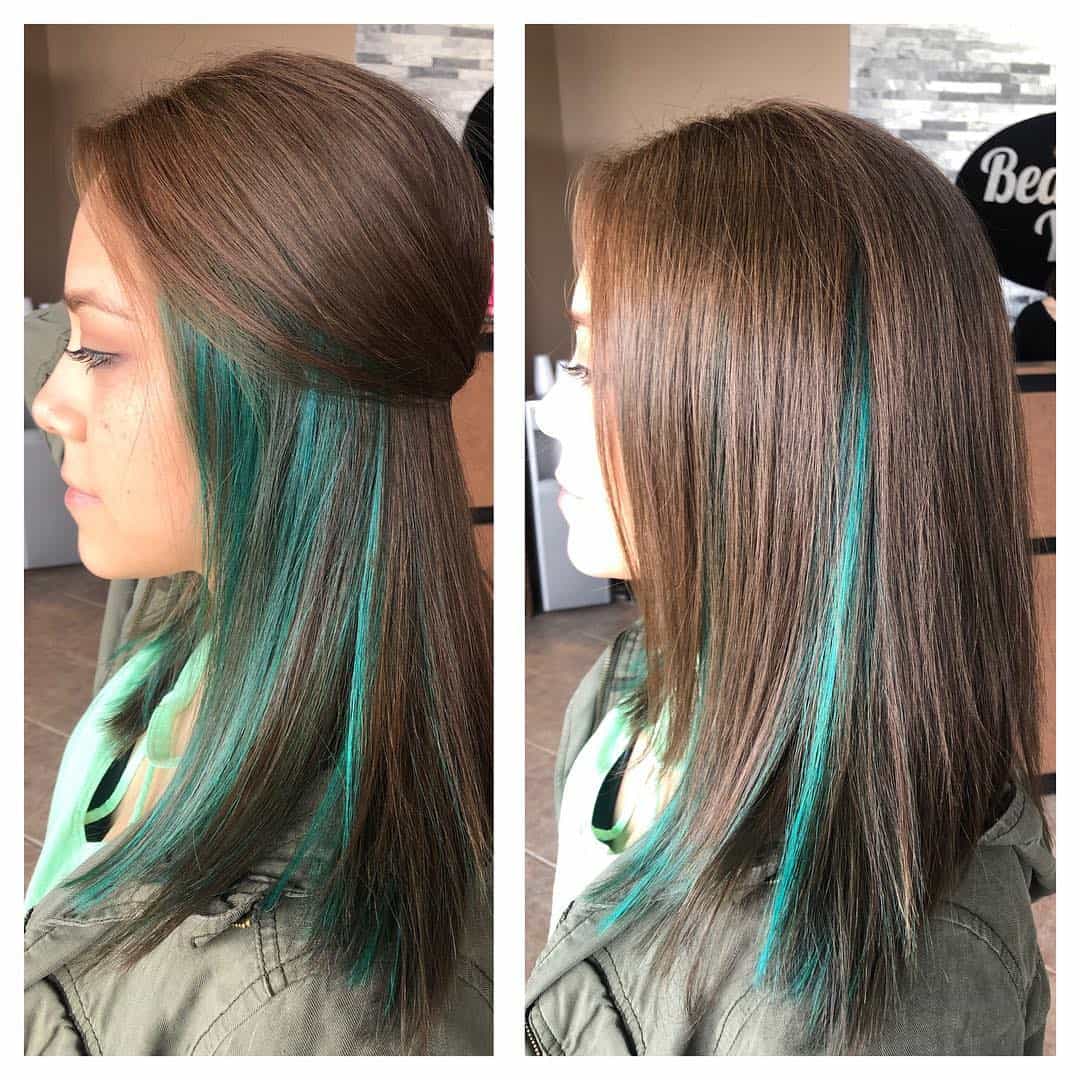 This is probably one of the most original and classical takes on the peek-a-boo highlights trend. As you can see, you have your hair dye that pops instantly. And you get the highlights only in specific area.
10. Fire Red Peekaboo Highlights On Curly Peach Blonde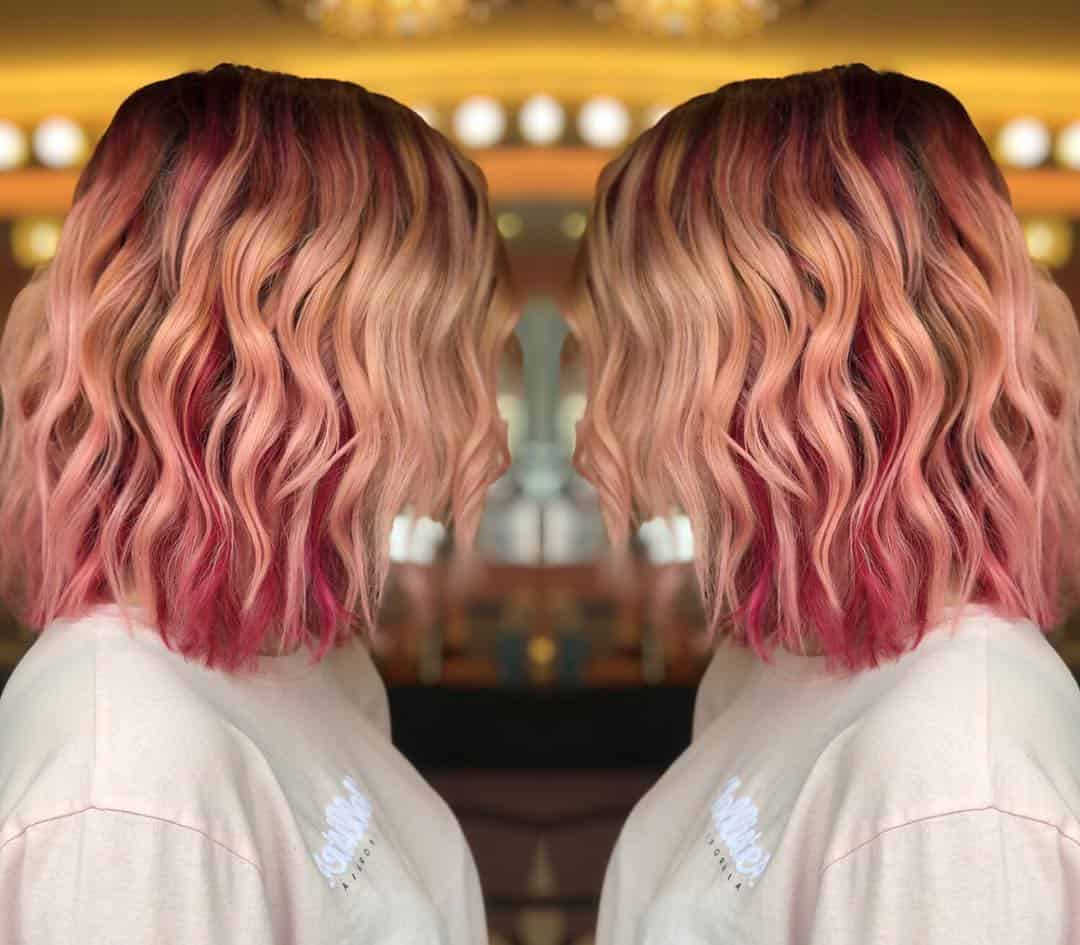 Blonde hair is also a good base for highlights. While it might not be compatible with all colors as black is, blonde is still good way to go. And considering red and blonde go so well hand in hand, it is no surprise this hairstyle looks amazing and natural to a degree.
11. Caramel Peekaboo Highlight On Chocolate Brown Hair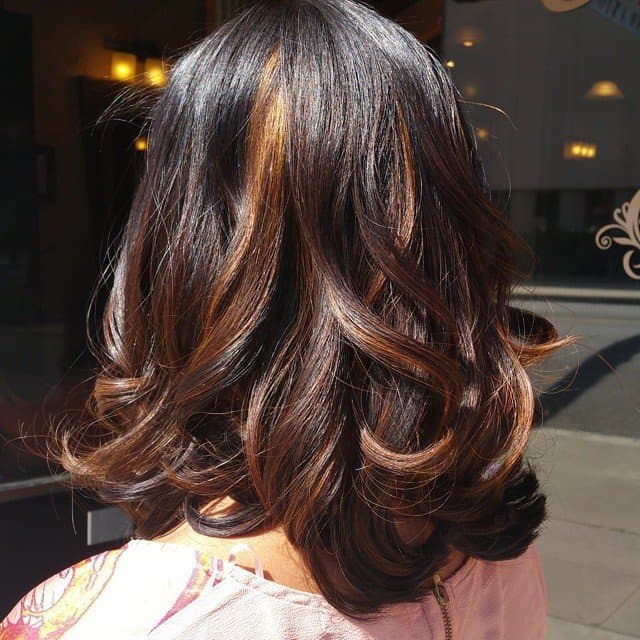 Caramel highlights are some of the most popular blonde highlights nowadays. And this is a way to get them, but in a different way. Why try the normal highlights, or balayage highlights? Peekaboo is something new, trendy, and fun.
12. Bright Blonde Peekaboo Highlights On Violet Magenta Base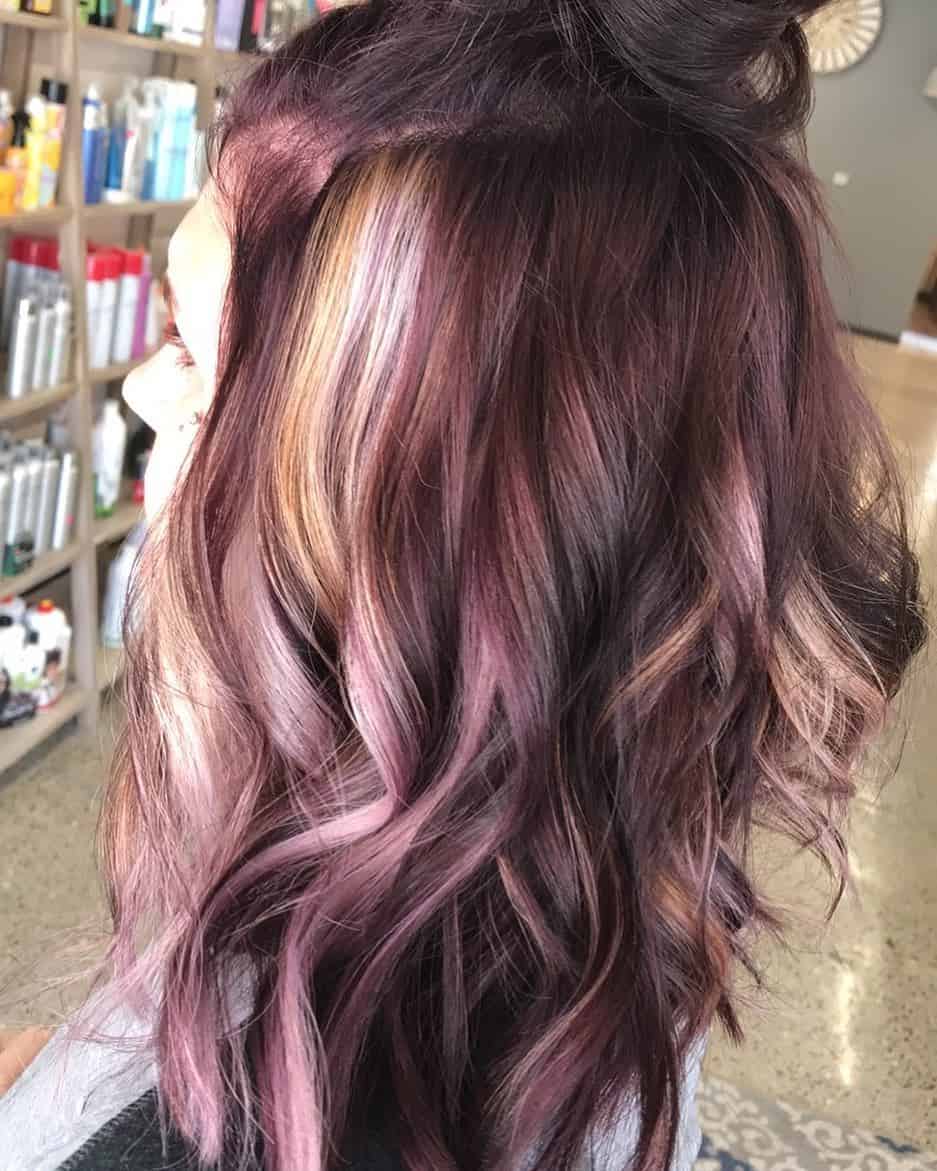 If you want highly-visible, and intense red hairstyle, go for magenta. And then, you can balance it out with some blonde highlights. As you can see, even magenta can serve as a good color base for highlights.
13. Peacock Peekaboo Highlight On Straight Black Hair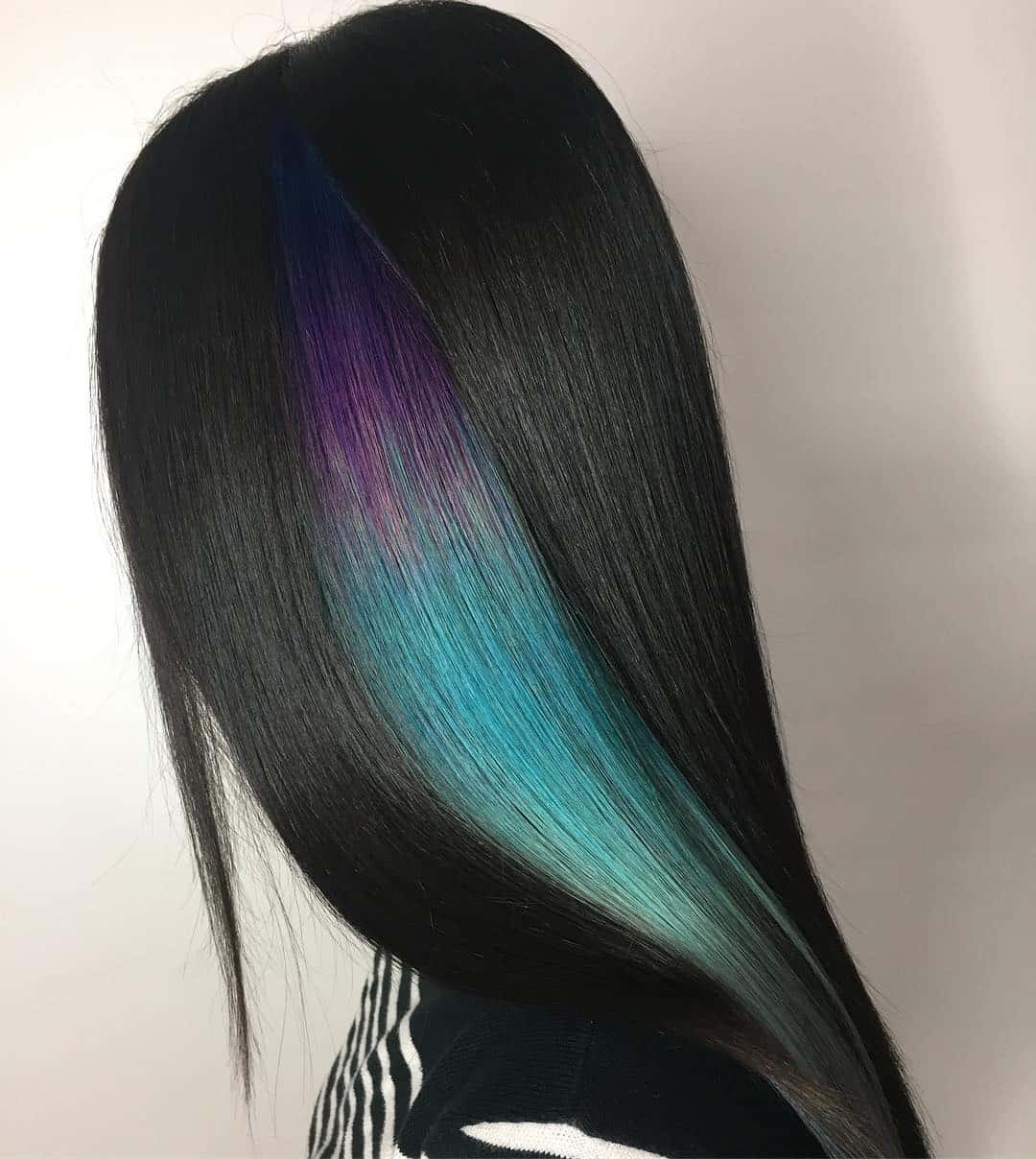 We said it before, black hair is the best for peekaboo highlights. It serves as the perfect neutral base. And then, you can add some color that pops. And we love this feathery like peacock hair coloring.
14. Icy Blonde Peekaboo Highlights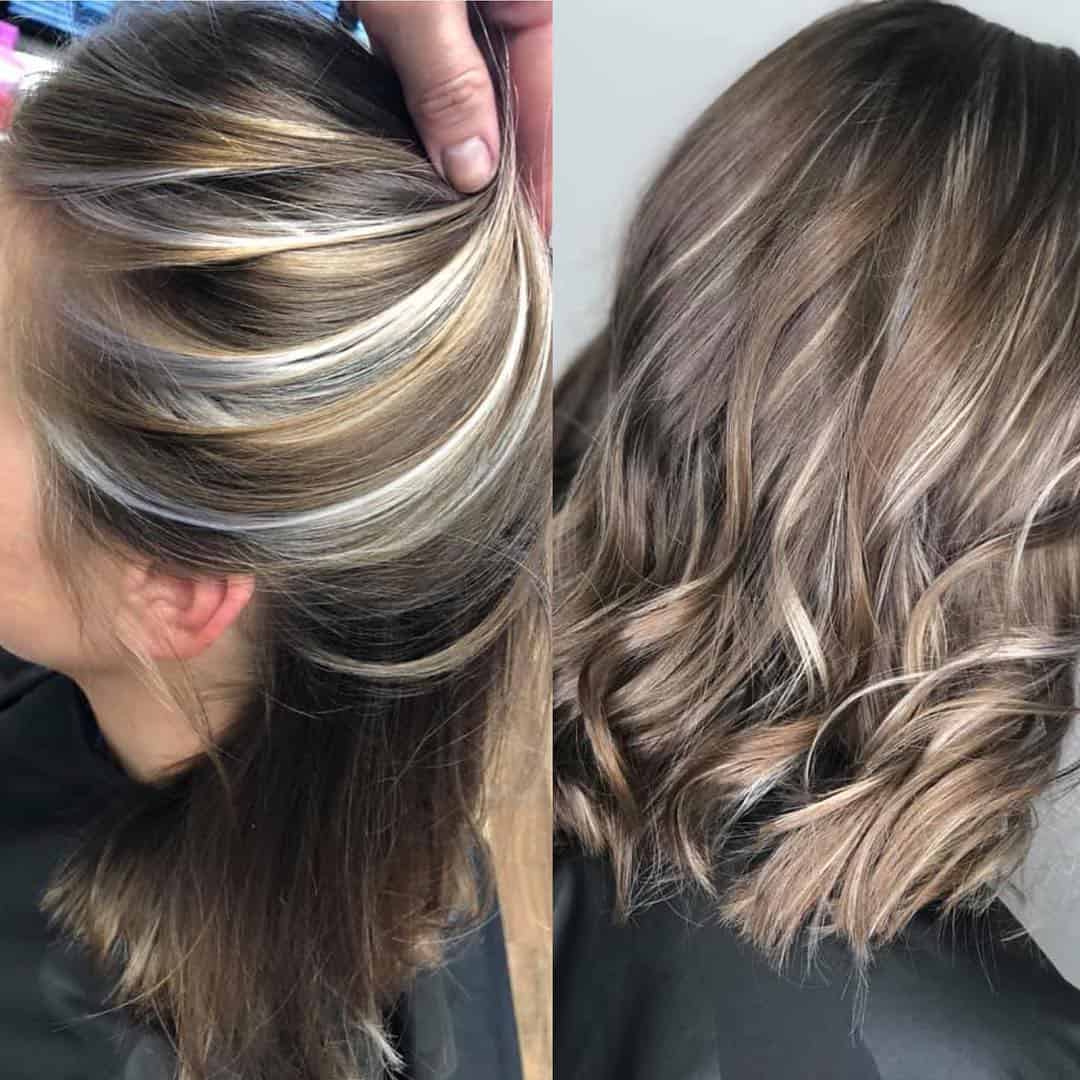 If you have blonde hair, and you want to make it more interesting and fun, you can add even more highlights. Ash blonde is definitely something that is trendy, cool, and beautiful-looking. Waves make it even better.
15. Unicorn Peekaboo Highlights On Platinum Blonde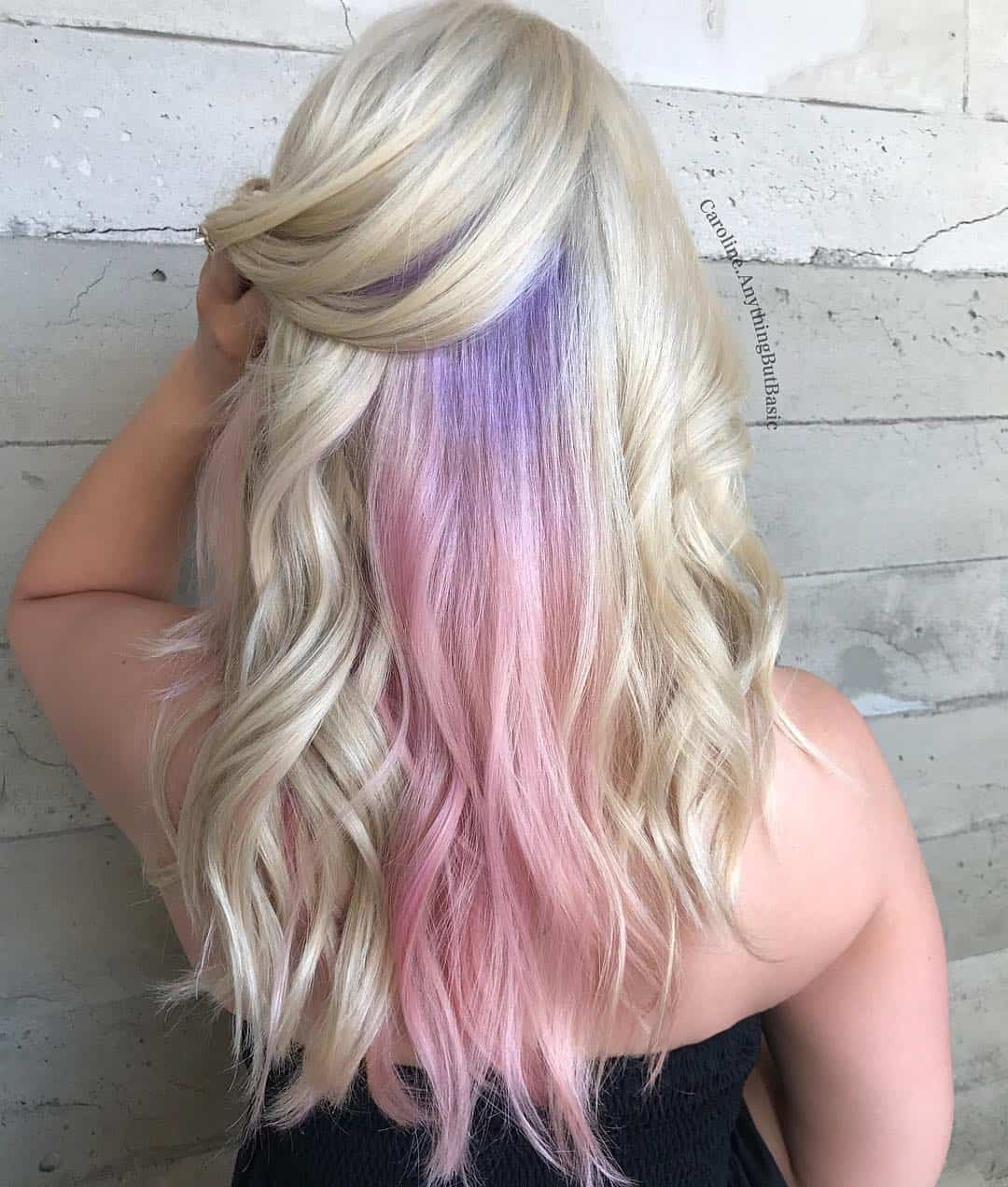 When it comes to hair coloring trends, rainbow and unicorn are some of the more popular unconventional options. And they are tailor-made for peek-a-boo highlights. Even on a blonde colored hair, unicorn colors pop, and they look feminine.
16. Lavender And Icy Peekaboo Highlights On Blonde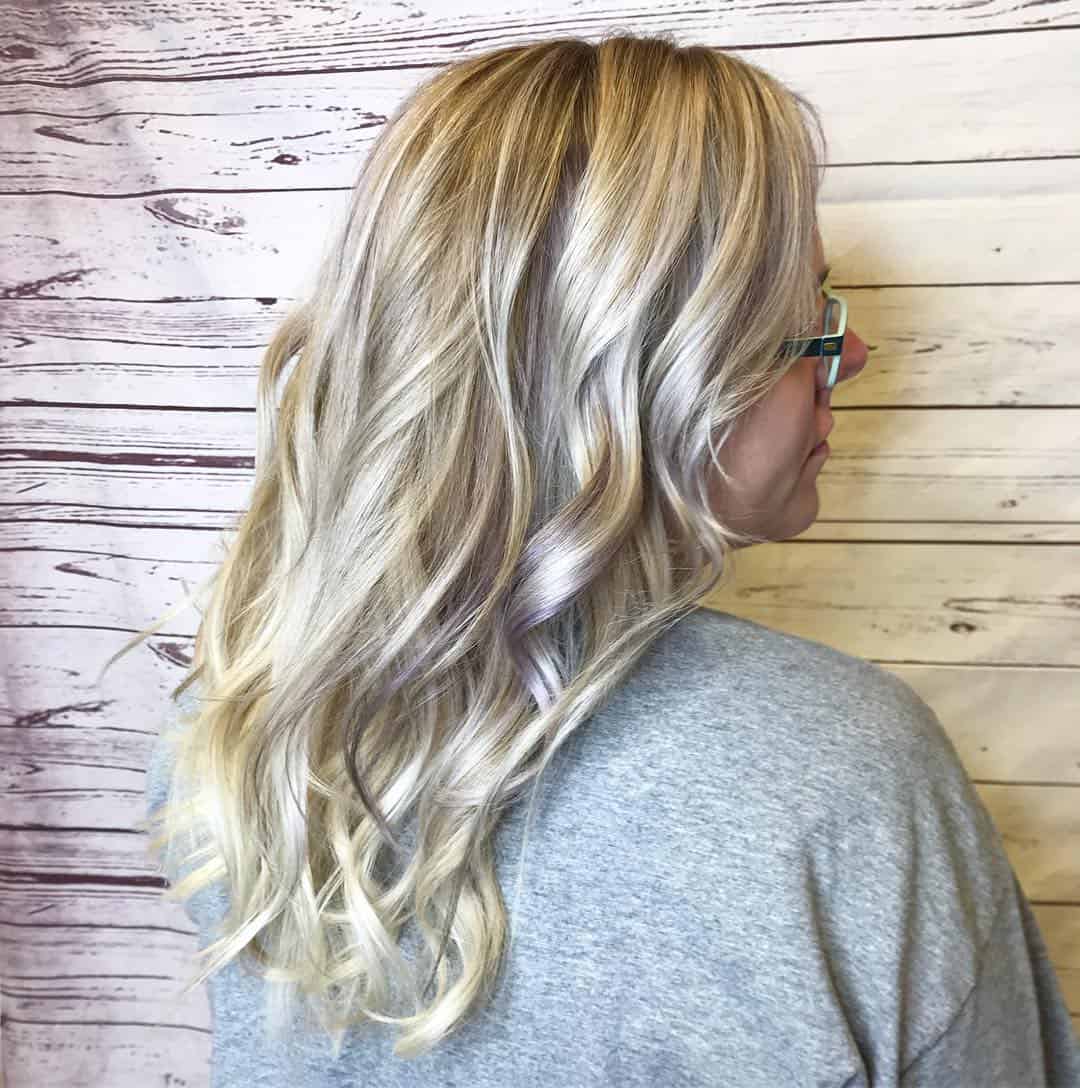 We said previously that peekaboo highlights can be subtle. They do not have to pop. In this case, you get exactly that. It is like you do not even notice the lavender color on your blonde colored hair.
17. Prismatic Peekaboo Highlights On Dark Brown
You can say this is the original idea of peekaboo highlights. Some touch of color popping out of nowhere in your dark brown hair. And you want colors that are vivid. Look no more than prismatic colors.
18. Plum And Mahogany Peekaboo Highlights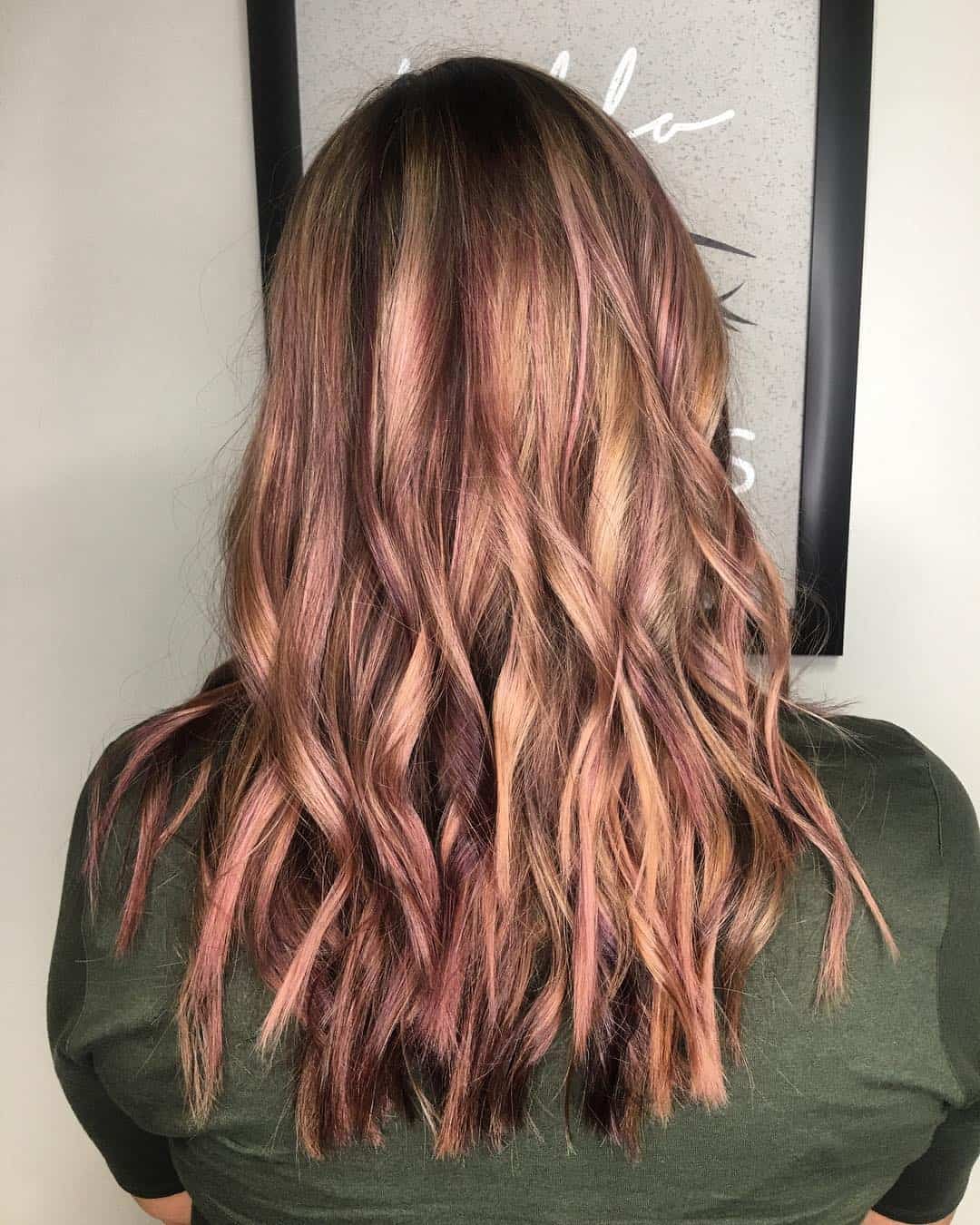 Some women go for a look that is blended and looks natural. For that purpose, you need highlights all over your head. And opt for colors that are very close in the color spectrum.
19. Rainbow Peekaboo Highlights On Purple Hair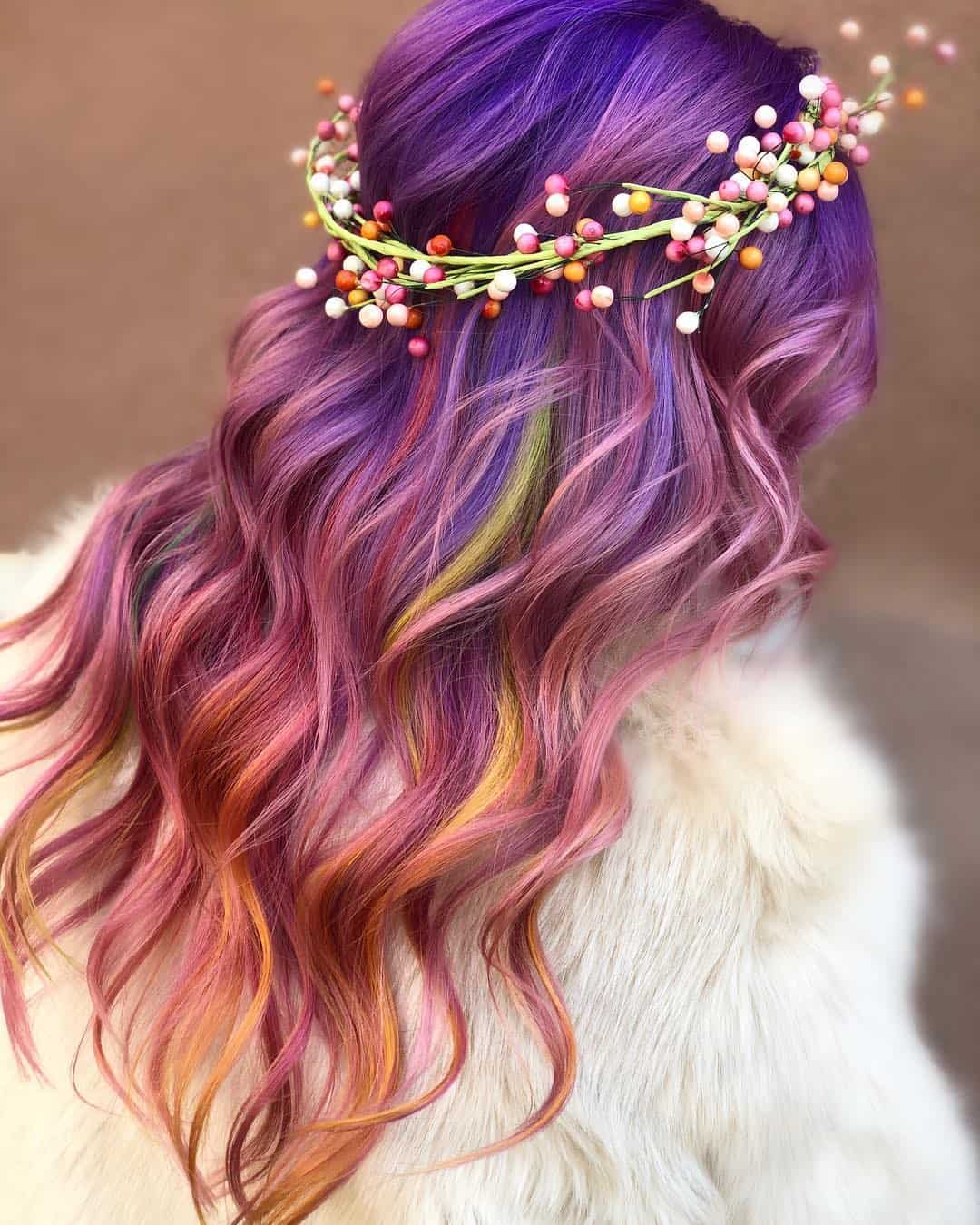 We had the unicorn highlights. So, we have to have rainbow highlights as well. And then there is the twist. The base is purple color. But if you are looking for colorful look, this one is amazing. It is just a matter if you can wear it in an office.
20. Purple And Blue Peekaboo Highlights On Silver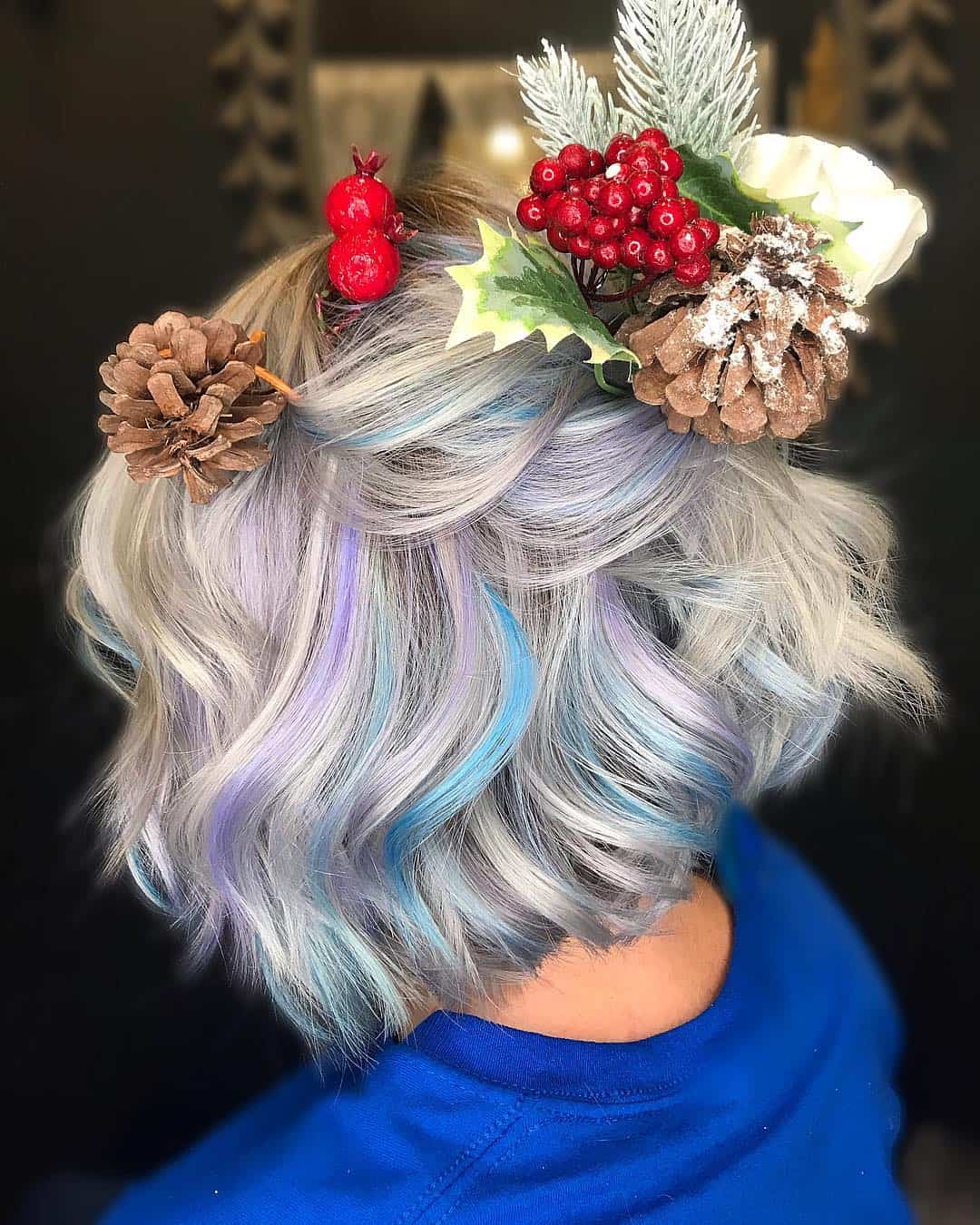 Blue is perfect to add some edge to your hairstyle. With some blue highlights or purple highlights, you can achieve a unique look. You can even say blue is one of the most gorgeous shades for peekaboo highlights.
21. Soft Pink Peekaboo Highlights On Dark Blonde Balayage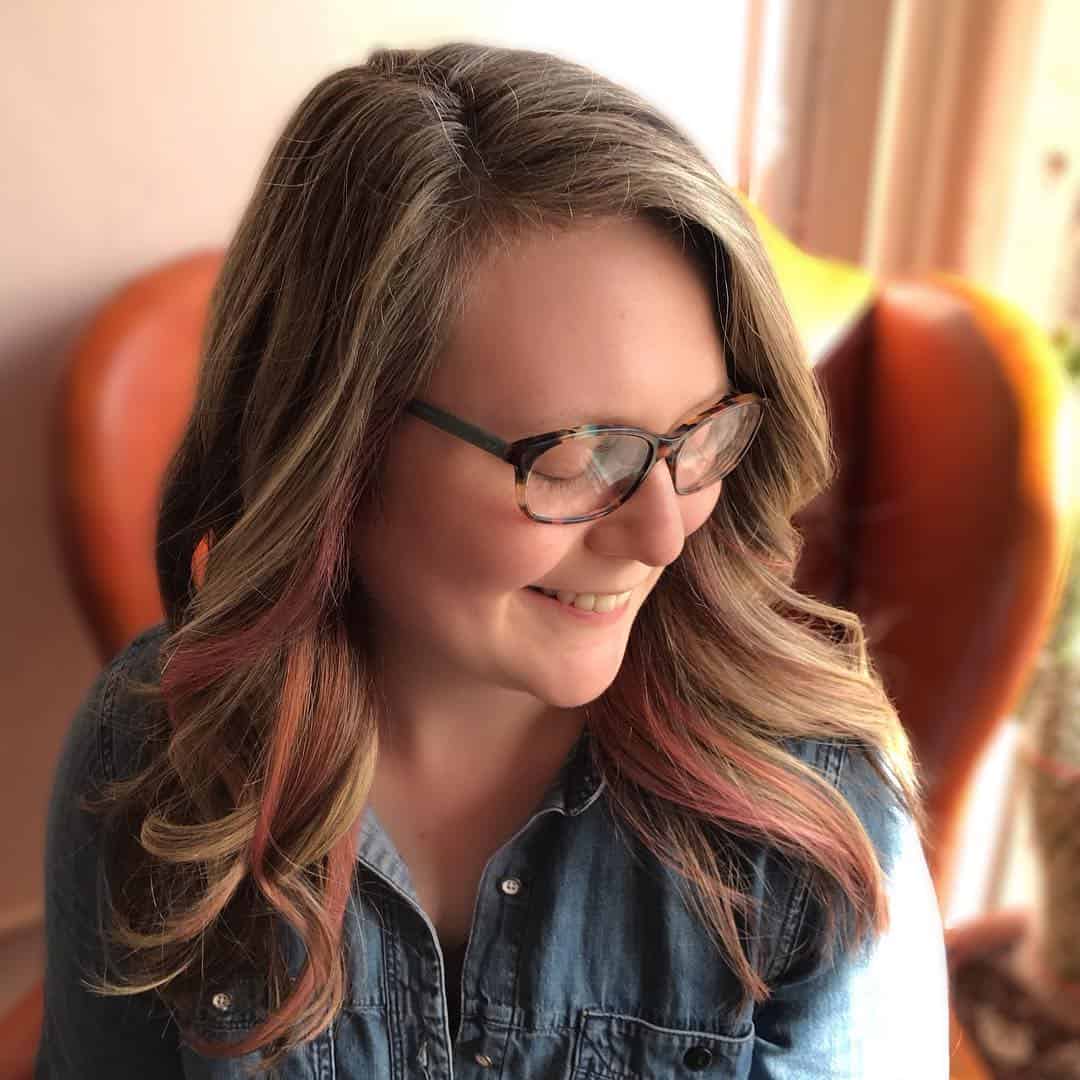 With pink highlights, you can spice up your hairstyle with fun and fierce highlights. Blonde is always fun, but with some highlights, you can make it even more fun. So, bring some hair dye to life.
22. Purple Coral Peekaboo Highlights On Blonde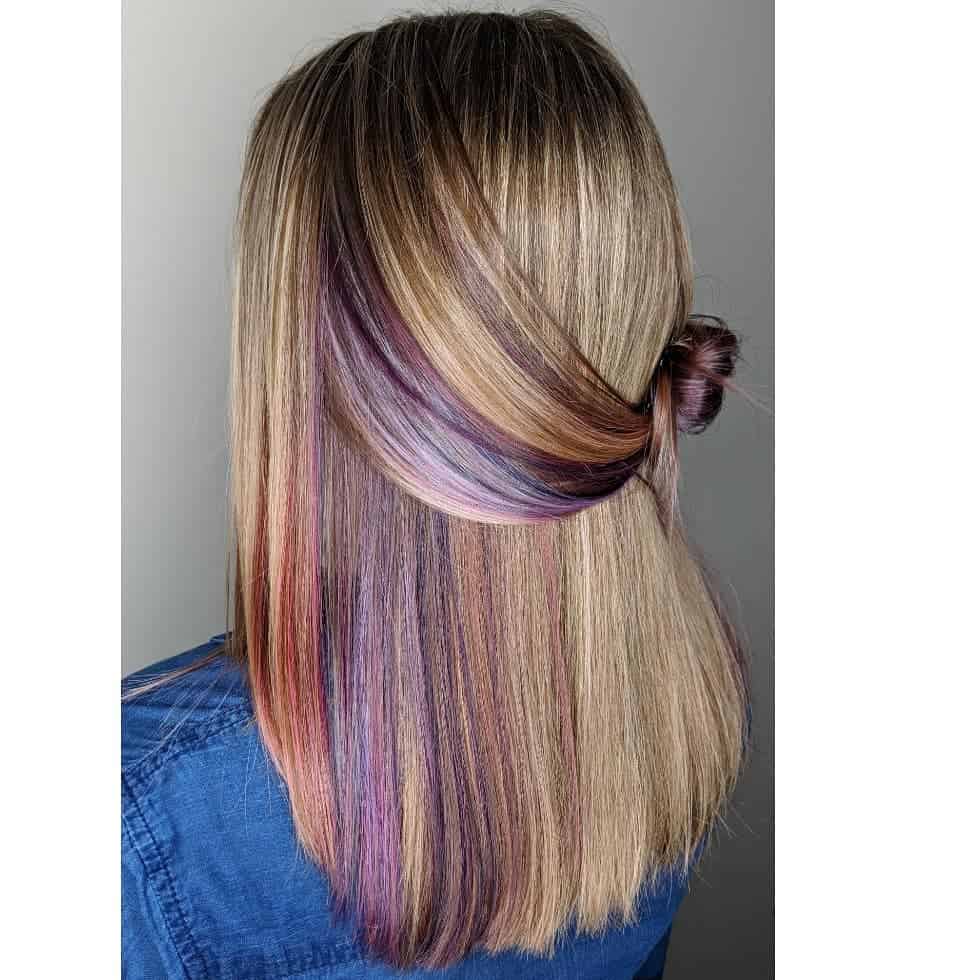 Purple can compliment your blonde color perfectly. Go for some thin highlights to create a unique and playful look.
23. Copper Red Peekaboo Highlights ON Short Curly Dark Hair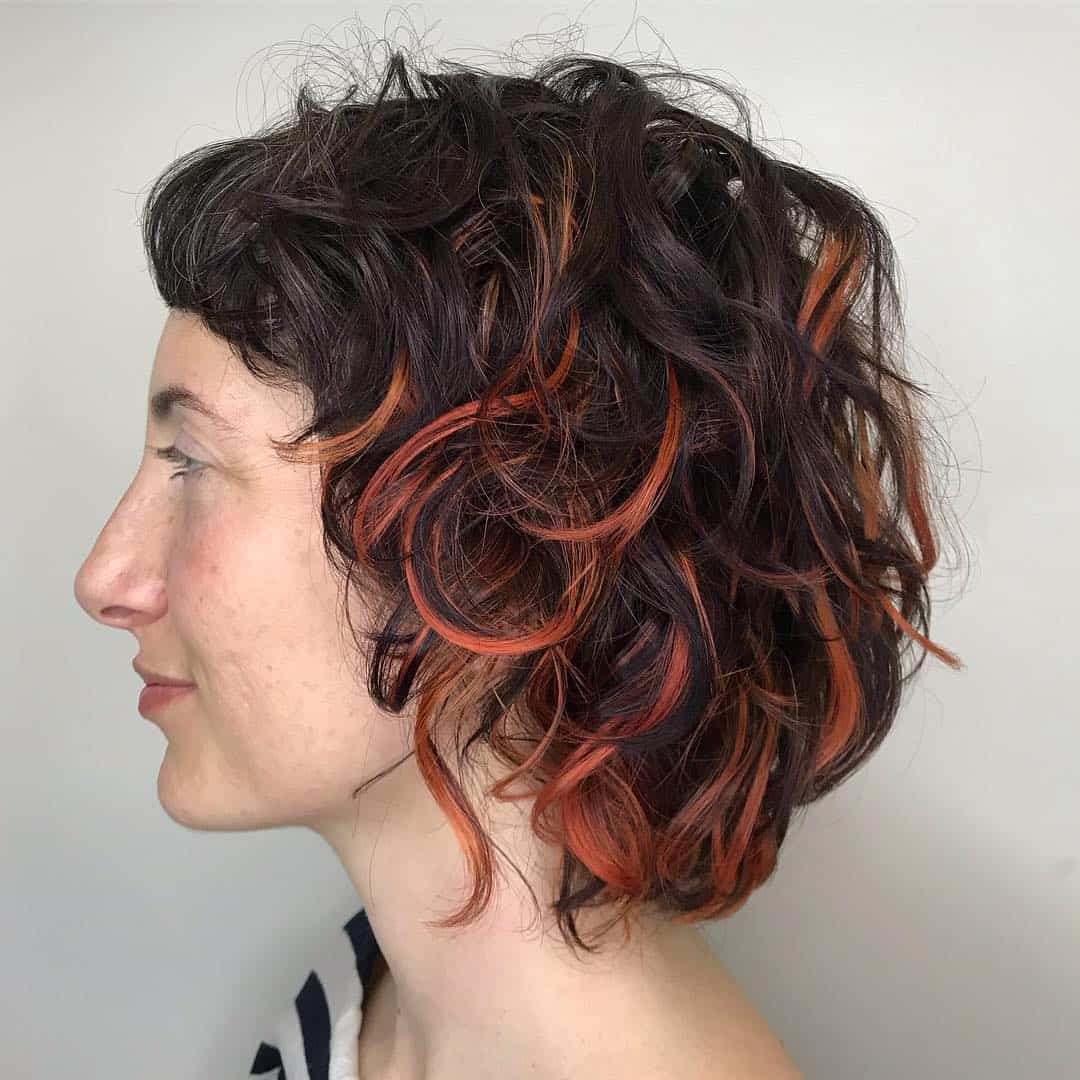 Red is edgy, fierce, and bold color. And it is a great way to add that extra pop of color. Even on short hair, red highlights and copper highlights work perfectly. Don't worry about the length.
24. Midnight Blue Peekaboo Highlights On Black Waves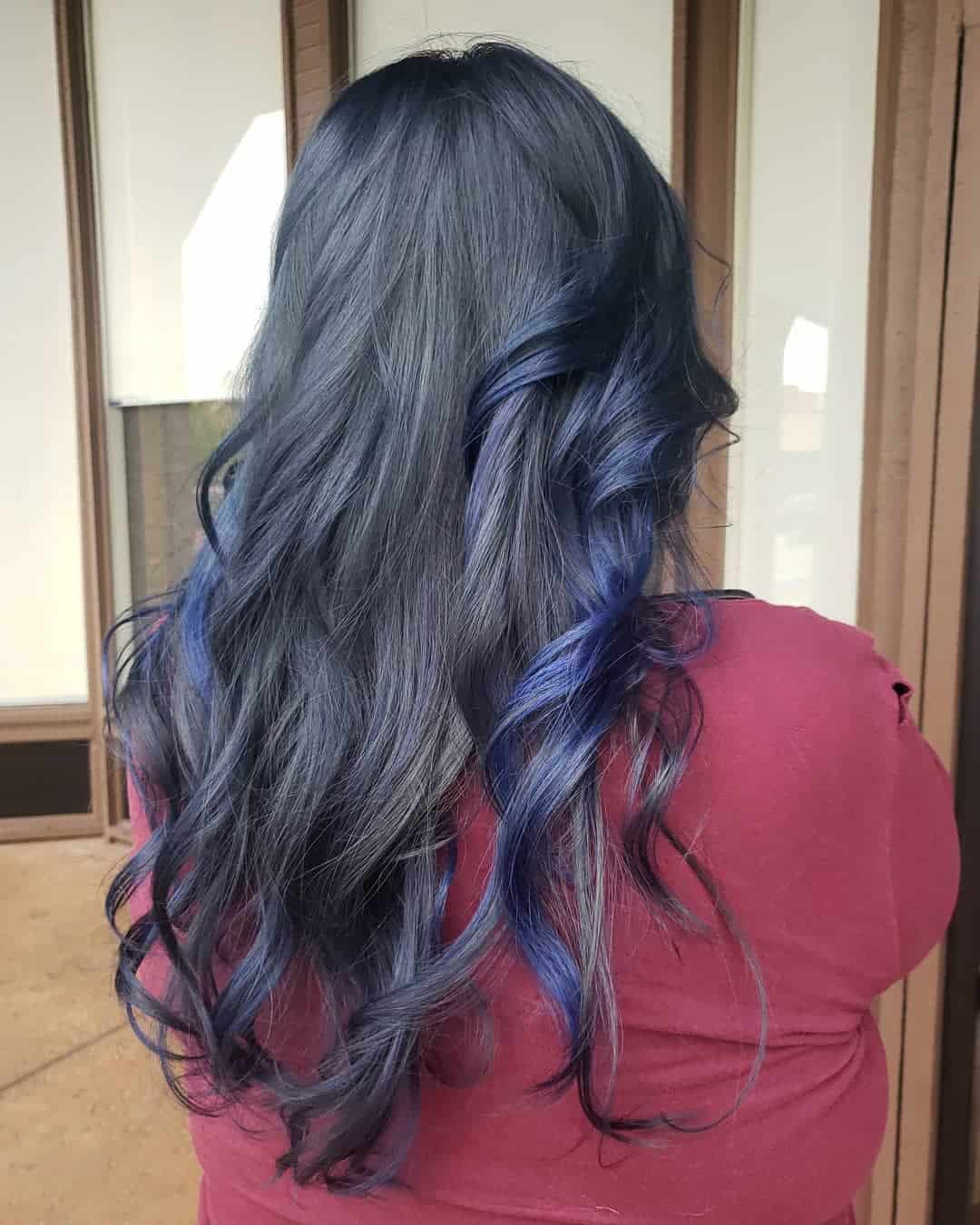 We saw how blue can pop out of nowhere. But it doesn't have to be the case always. Sometimes, blue can be subtle, and blend perfectly with your hair color.
25. Dark Violet Peekaboo Highlights On Honey Blonde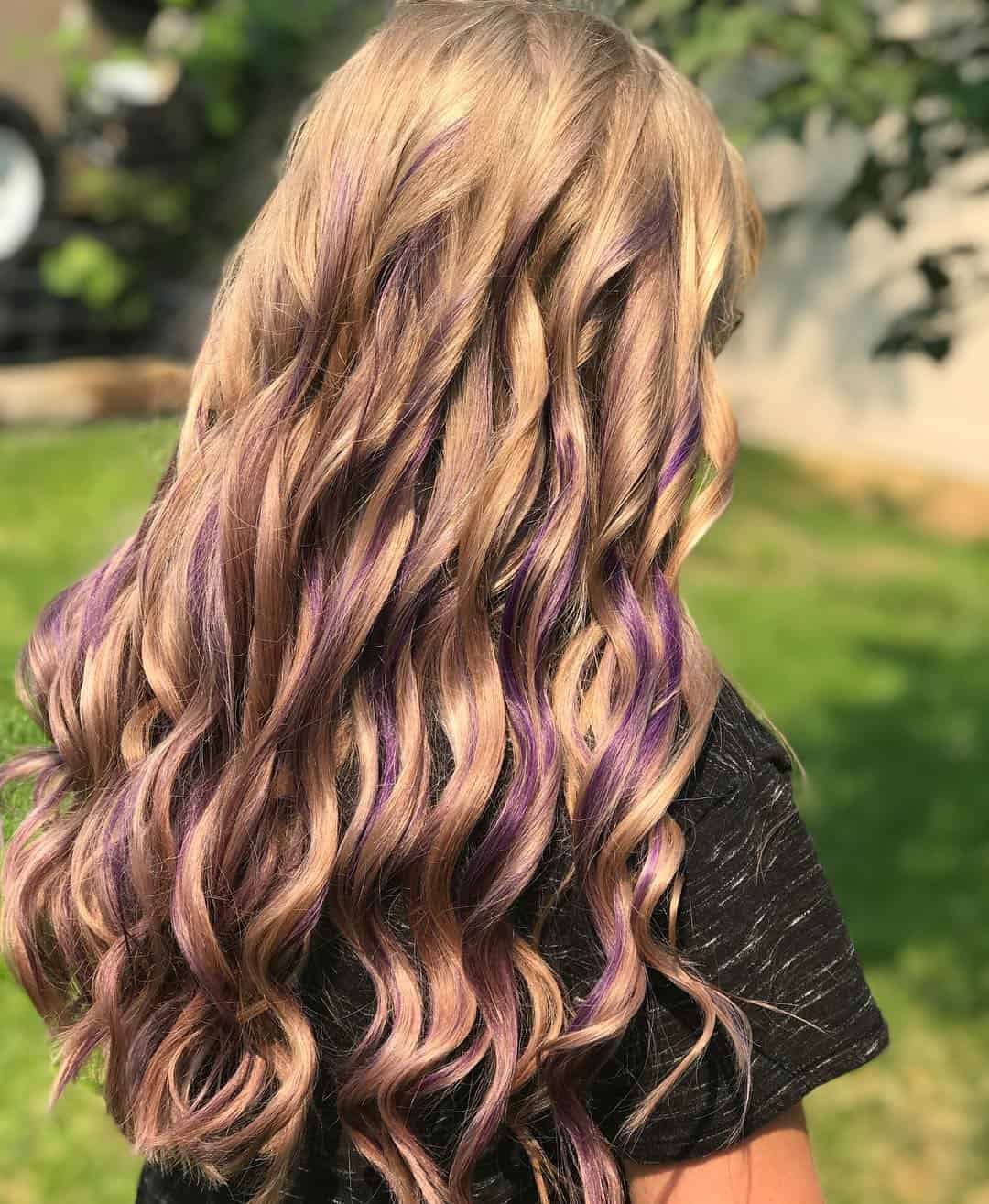 Violet is so rich color, and it adds richness to your blonde hair as well. This hairstyle looks spectacular like taken out of a magazine cover or a commercial. And that is a look that will make people gaze at you, no matter if you are out for coffee, or at a red carpet event.
26. Rainbow Peekaboo Highlights On Black Curled Hair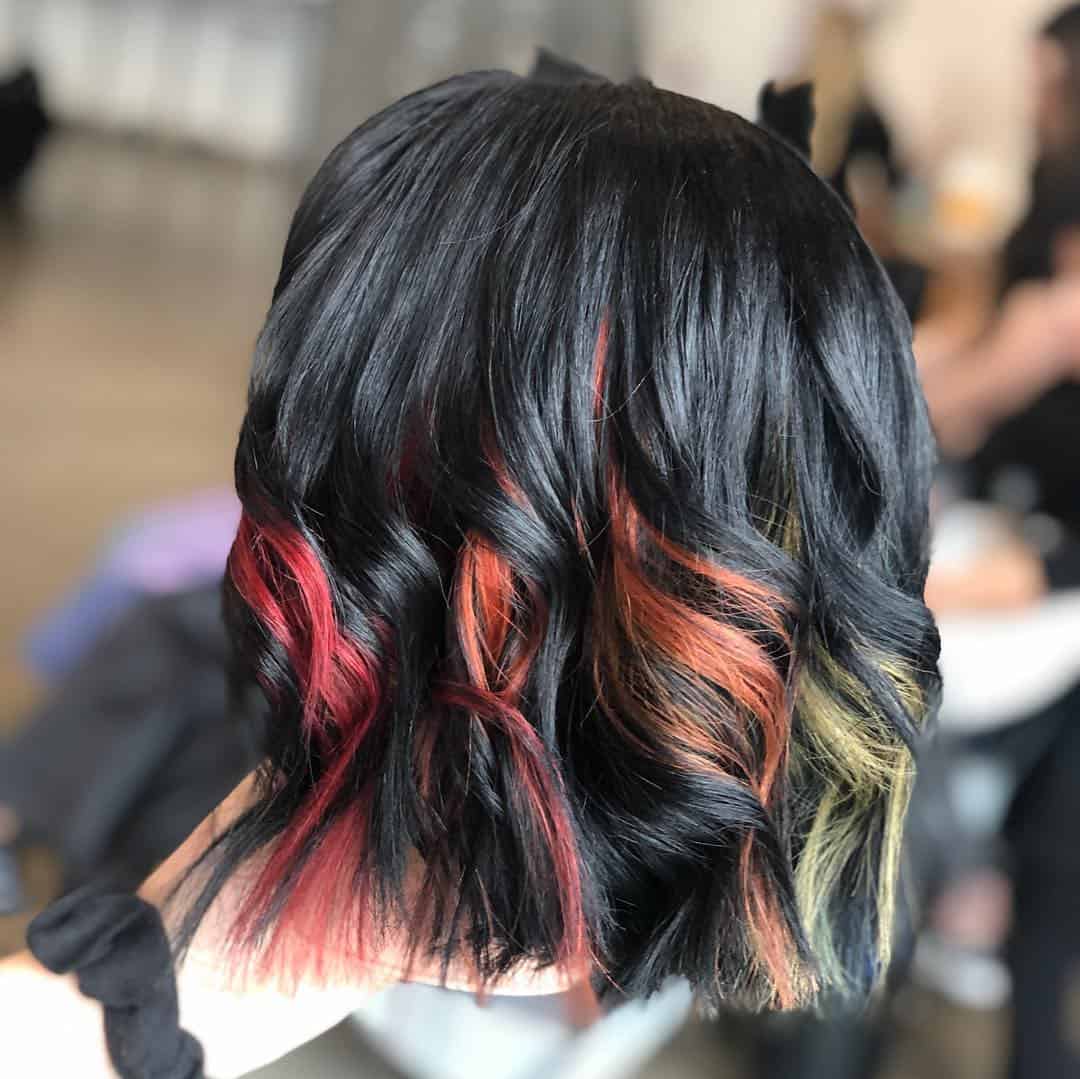 Here is another rainbow idea you can try. Again, they look amazing on black color base. And it doesn't mean you have to put all of the rainbow colors. Here, we opt for more of the yellow to red shades.
27. Pink And Purple Peekaboo Highlights On Chocolate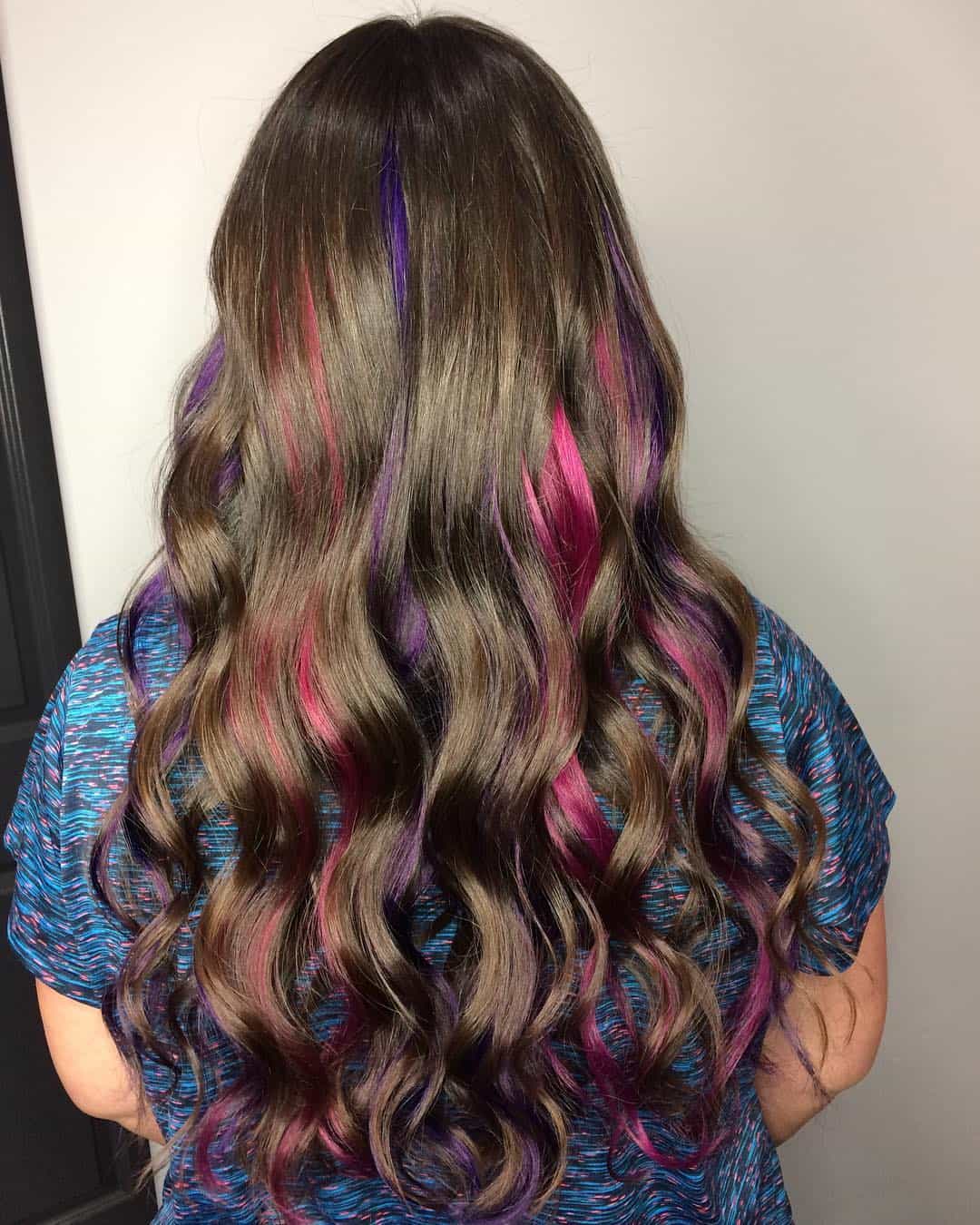 By now, we can safely say that pink and purple work well on any base. We saw it on black, blonde, and now on brown chocolate base. No matter your hair color, pink and purple are just spectacular.
28. Aqua Green Peekaboo Highlights On Black Hair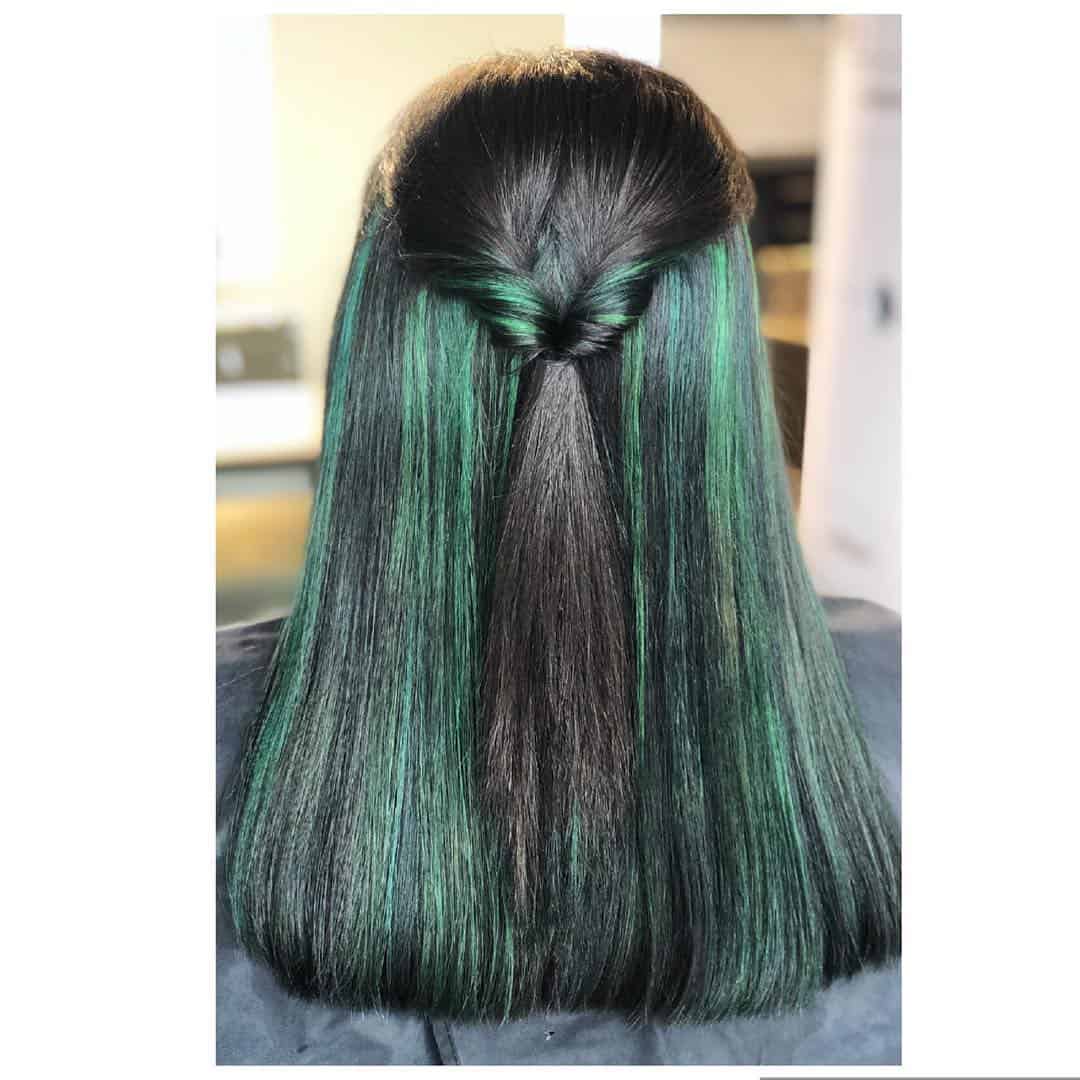 You can say that this aqua green highlights are inspiration for the peekaboo highlights trend. The look is classic, sophisticated, and elegant.
29. Rich Pink Peekaboo Highlights On Black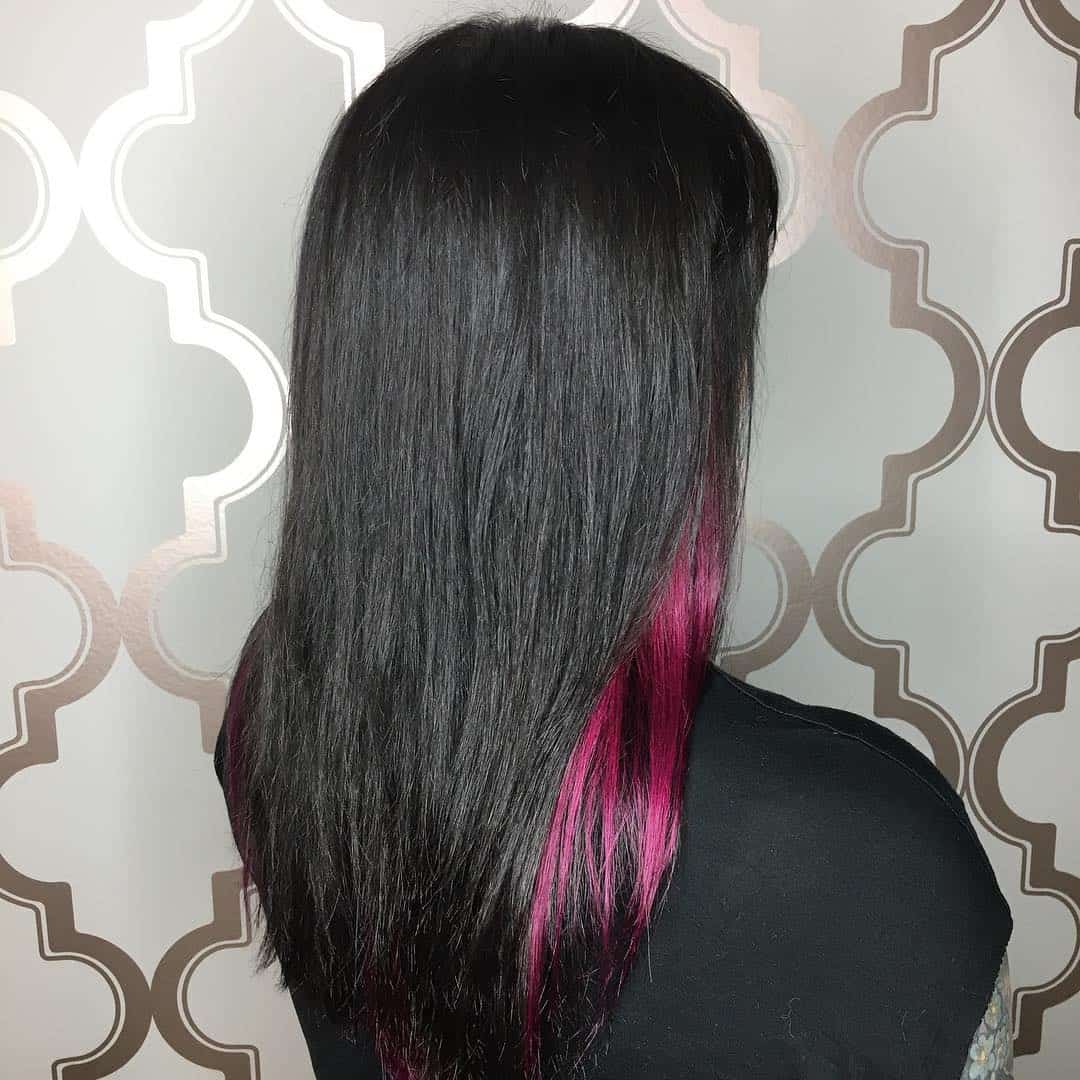 Let's finish the list of peekaboo highlights with the classic purple pop of color on black hair. This is the OG of peek-a-boo highlights. You get rich color, that adds a new dimension to your hair.
So, with that in mind, get ready for a new hair color treatment. Schedule a visit to the saloon.