When you are from an exotic country like Barbados, you naturally have radiant and glowing skin.
Rihanna is a great example.
The young singer is one of the most beautiful women in the world, and she has the genetics to thank for that.
But she also takes care of her hair, skin, and body.
And that is why the pictures of Rihanna without makeup will not surprise you, we know she is beautiful.
Known for her distinctive and versatile voice, as well as her fashionable appearance, this natural beauty appeals to everyone, from young to adults and even veterans.
Bad Girl Riri has a very simple fix for looking flawless, and that is something even dermatologists recommend.
She cuts down on alcohol and drinks a lot of water.
Hydration is key to having radiant and flawless skin, and Rihanna also tries to use as natural and as green products as she can. The famous singer also owns Fenty beauty, which sells Fenty skin care products. According to the Barbados celebrity, it should empower women to makeup fun.
With that in mind, let's take a look at the pictures of Rihanna without makeup that will wish she is your only girl in the world.
1. Walking in the city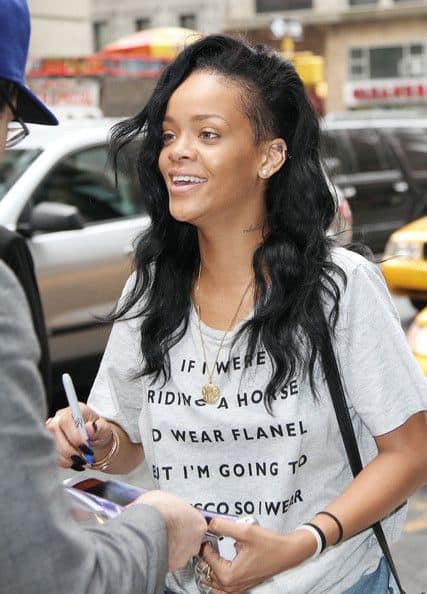 One thing that Riri has over many other celebrities, she loves to wear fun shirts.
That is one of her best features when it comes to being fashionable and stylish.
And when you are wearing a print shirt, you definitely want to look as natural as possible.
Here is Rihanna strolling around the city without wearing any makeup.
And she has no problem to stop for a photo.
2. Getting ready for an event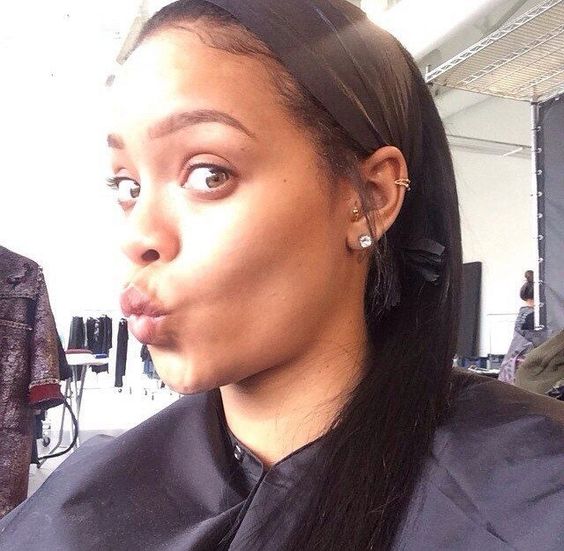 Now, here she is waiting for a makeup artist to get her ready for an event.
But even without any makeup, she looks gorgeous.
The secret is in being charismatic and fun. Just look at that smile and natural beauty.
Have you ever seen a "fish face" makeup free selfie looks so good?
Not many people can pull it off, but Riri is definitely on the top of that list.
3. A different look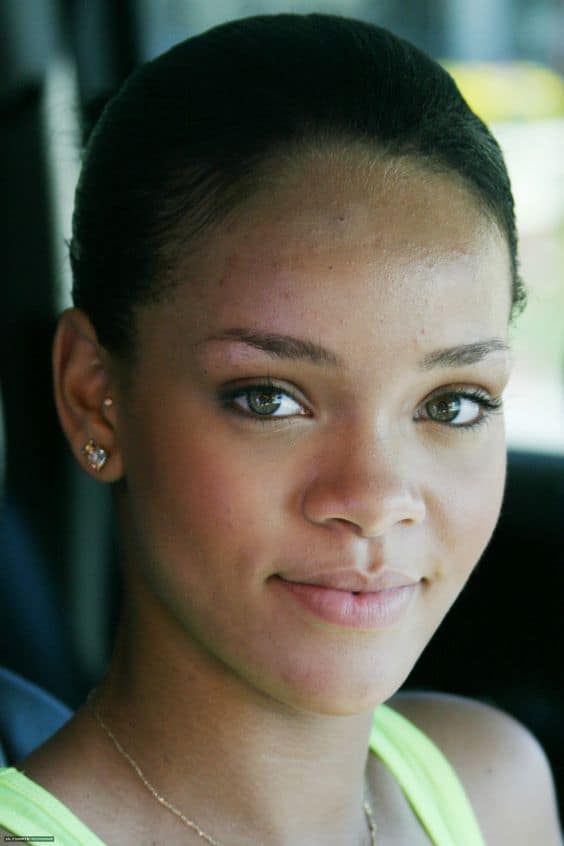 Now, you can say that this is a completely different person.
And you will not be wrong.
The truth is, all of us look different without any makeup.
But is she beautiful? Yes.
Does she have radiant skin?
Yes, she does.
And do you wish to be as beautiful as her?
We sure think so.
Rihanna can get away because she has amazing looking eyes, and skin to die for.
4. Bikini body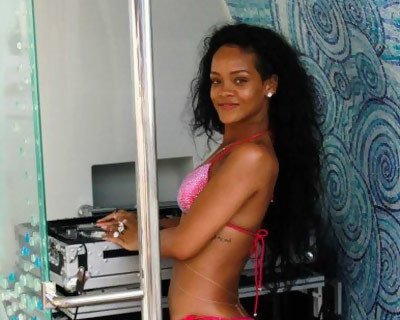 Looking like an innocent teenager, Rihanna shows off her truly glorious body.
Cute smile, curly hair, and sexy body is definitely a killer combination.
While she does not look like her usual edgy self here, she definitely nails the no makeup look.
Blessed with natural good looks, the Barbados girl definitely does not need any help from makeup products to look gorgeous.
And this picture proves that.
5. All natural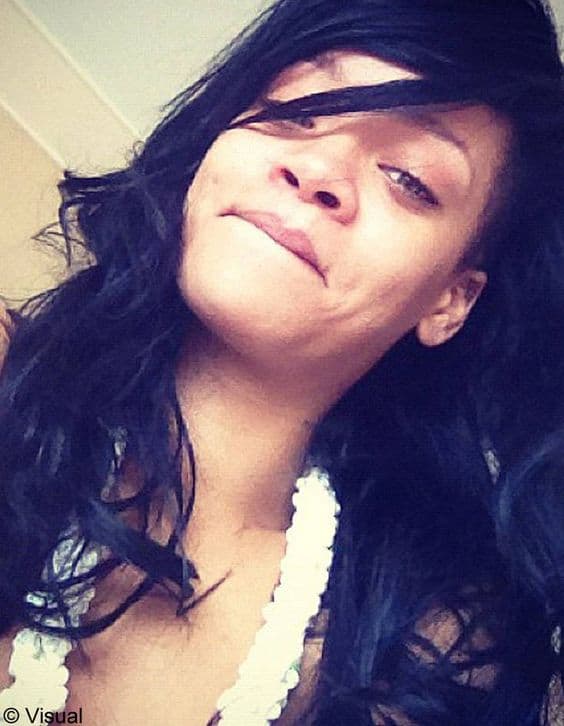 Rihanna is never afraid of posting pictures without makeup on her social media accounts.
This one, for example, was posted on her Instagram account.
That clearly shows she knows she is beautiful, and will not hesitate to go out without any makeup on.
Talk about a woman in charge of her confidence.
6. Just a regular photo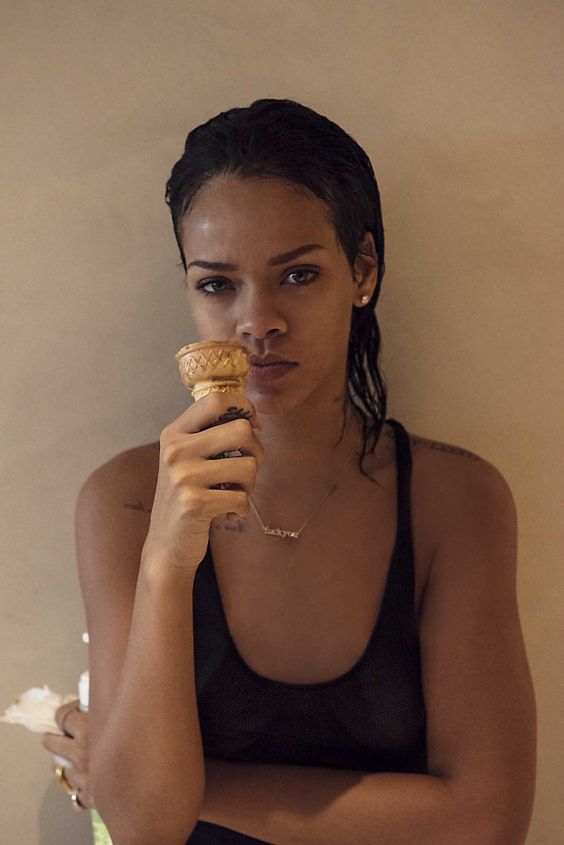 When you are a celebrity, even a picture of you eating an ice-cream makes it to the headlines.
Such is the life for people like Rihanna.
The good news is she wants to use these photos to promote the all-natural look.
RiRi is one of the celebrities that have embraced the no makeup look, and she loves to show women you can be beautiful in your natural state.
Definitely one of the more beautiful pictures of the singer. Simple, yet very powerful.
7. Going out naturally
One of the things we love about Rihanna is that she loves to experiment.
Short hair, long hair, curly hair, she has done almost everything.
There is not a style that Rihanna hasn't tried in her life.
And with that in mind, she also loves to try going out with no makeup, and see the reactions of people.
Here is a photo of RiRi going out to dinner, captured by paparazzi, and there is not a single trace of makeup on her face.
8. Just woke up
Here is how Rihanna looks when she wakes up in the morning.
She has probably taken care of her hair, but other than that, she is as close to natural as possible.
This just shows how confident she is in her body, her face, her skin, and everything else.
9. Black and white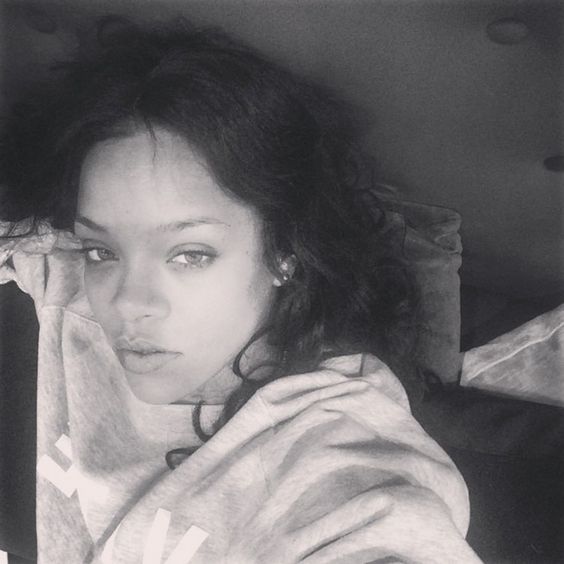 Truth be told, almost any picture looks better in black and white.
And when you are not wearing makeup, a black and white photo is perfect.
And this is one of those examples where the singer takes a makeup free selfie of herself, and posts it on social media.
We definitely want more of these pictures, right?