Ponytails never go out of style because they're the easiest way to tuck away your hair. No styling skills needed, just something to tie your hair with. It's fun, fast and easy.
All the things that make the basic ponytail great are also what makes it dull, and maybe inappropriate after a certain age. Yet, we all still want to have the option of wearing a ponytail.
Luckily, there are ways to spice up the boring ponytail to a point that it will become your favorite hairstyle from casual events to fancy parties.
Don't worry, you won't have to see a professional or ask a friend to help recreate these awesome ponytails. You can do them all by yourself and with no trouble at all. Follow these tutorials and flip the ponytail back again.
#1. Twist Ponytail

This is not your ordinary ponytail.
With several twists and tucks, it almost looks like a fishtail braid and just as fancy, making an effortless style for romantic outings or other special occasions.
#2. Voluminous Wrapped Pony

You'll love this pony when you are strapped for time and need to look elegant in a hurry.
During the day you can tame your hair with this chic wrapped pony, which can easily transition into an updo ready for a fancy party.
#3. Ponytail Bow

To make a basic ponytail more exciting, accessories are the best option.
When you don't have any at hand, you can create your own, like this cute-looking bow atop the ponytail. And you can do it as fast as tying the ponytail itself.
#4. Braided Ponytail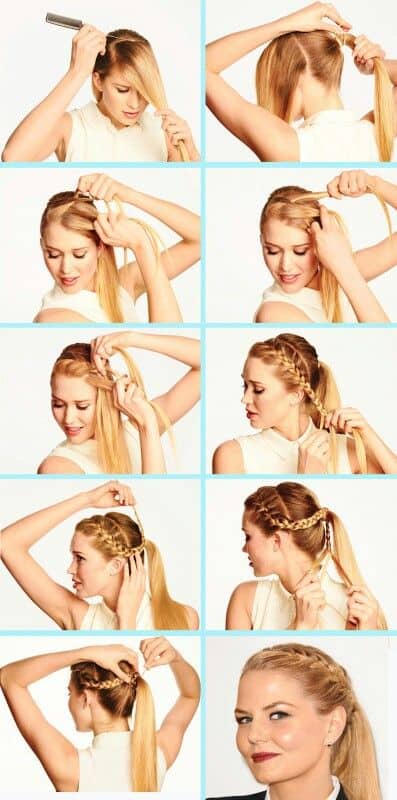 A ponytail isn't exactly an office-appropriate hairstyle, unless you do it like this.
A french braided half-crown ending in a high ponytail gives you a dressy, no-nonsense style you can create for work or for more formal events.
#5. Topsy Tail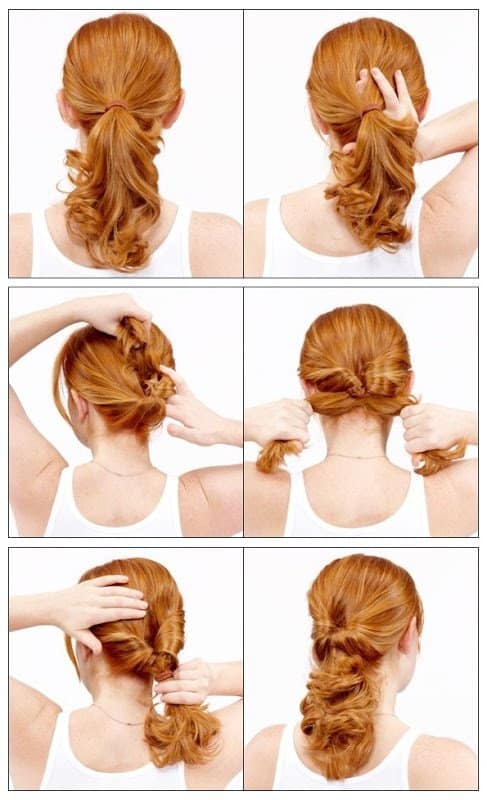 When simple is all you need, then you want the topsy tails.
With a twist and a tuck, this easy style will give you a fun, retro vibe to the ordinary everyday pony.
#6. Bouffant Side Ponytail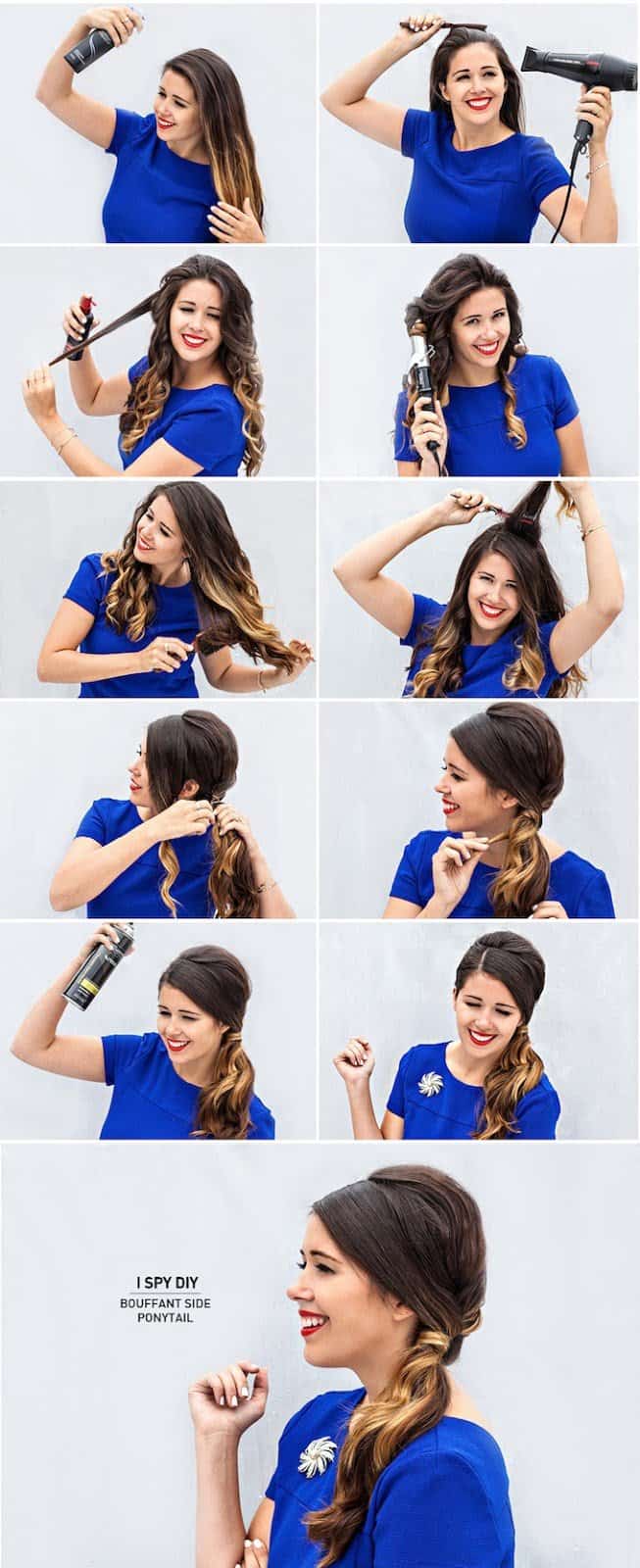 This lovely ponytail is a perfect example of how to give a modern twist to a vintage hairstyle.
A throwback to the 50's hairstyles, this pony takes the bouffant flip and updates it with a fun wavy pony, giving you the best of both worlds.
#7. Double Ponytail

When you have long thick hair, a ponytail can look bulbous. However, when you have thinner hair and want a more voluminous look, this is a ponytail for you.
This double ponytail gives you a full looking hairstyle with a simple trick of tying two ponytails one over the other. With the small rise on the top and you get a mixture of elegant and casual looking hairstyle.
#8. Short Hair Ponytail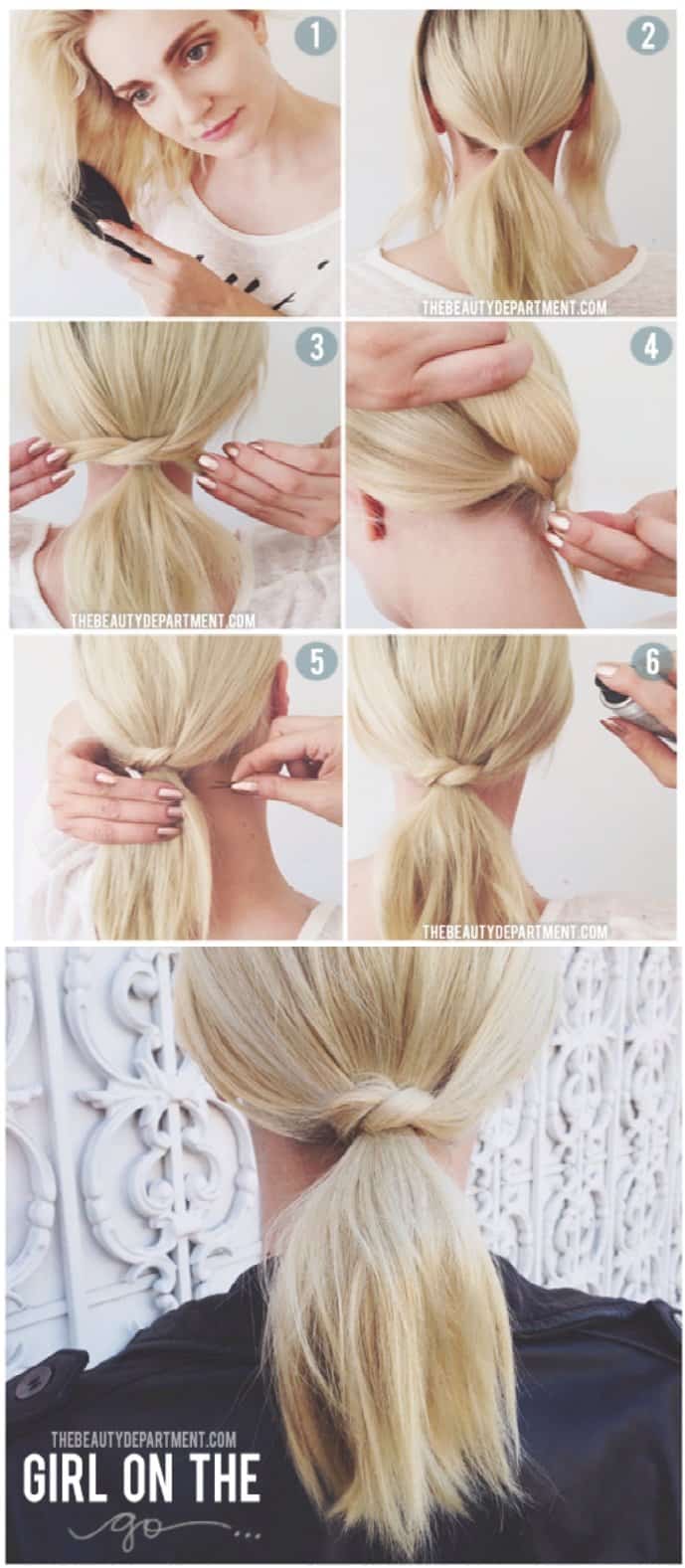 Sometimes even short hair can get in the way, but there's only so much you can do with it.
This interesting ponytail is perfect when you want a chic hairstyle and you're pressed for time. A little loop goes a long way and looks great on short hair.
#9. Gym Tiered Ponytail

You don't need a fancy hairdo when you're working out, but you do need a functional one. Sometimes even a ponytail can get in the way if your hair is too long.
This ponytail is easier to do than it looks and will give you that extra stability to your hair while you're doing your routine.
#10. Staircase Braided Ponytail

A staircase braid ponytail is that "just-right" hairstyle, not too casual, not too fancy.
It gives you a lot of options to work with and it is much easier to do than it looks. So, when you need an effortless, yet eye-catching hairdo, you might want to give this one a go.
#11. Bubble/Topsy Segmented Pony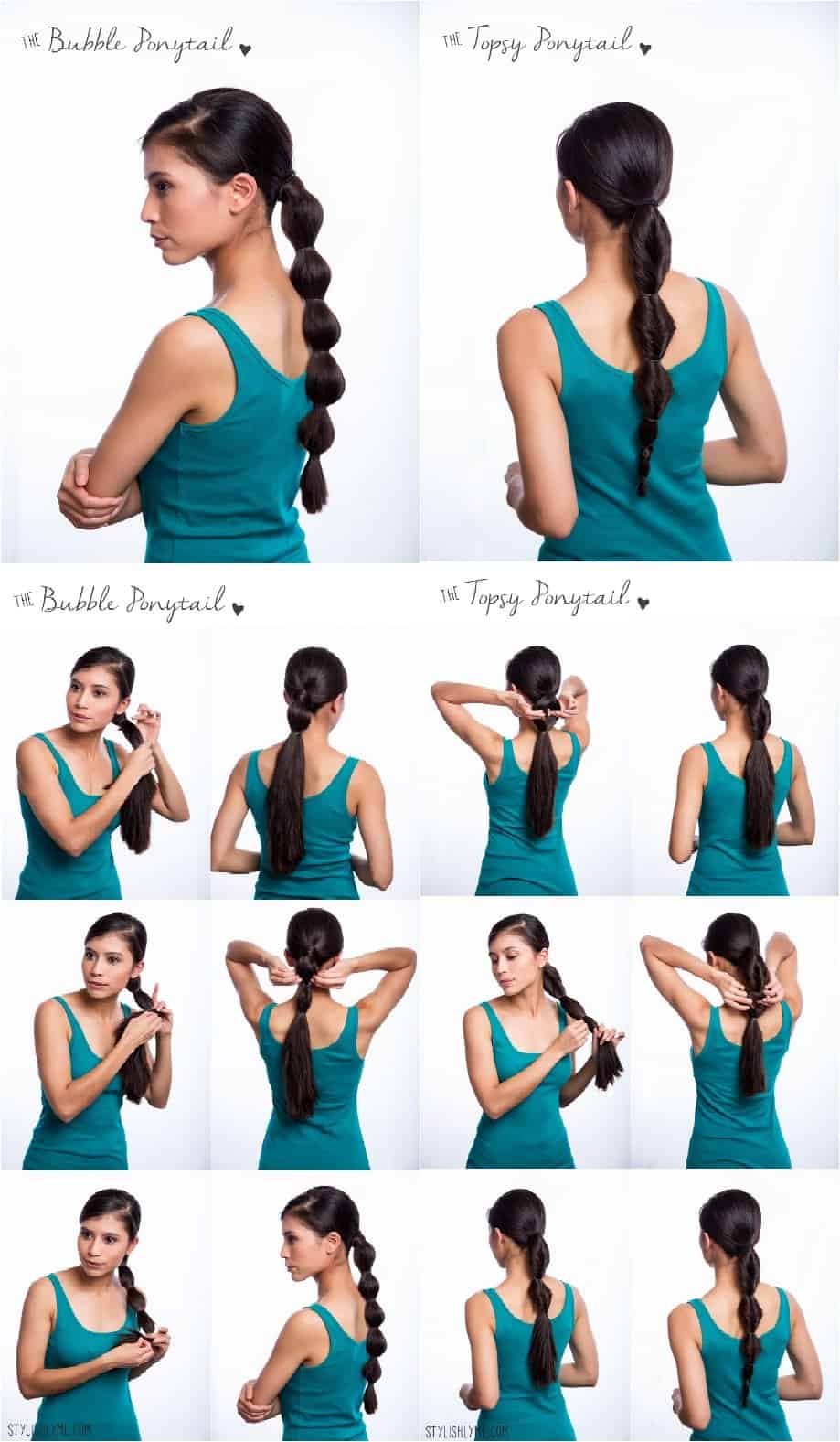 What hairstyle are you in the mood for? Bubbles or topsy? These two different hairstyles have the same base.
They're so easy, intriguing, yet pleasing, you'll have a hard time deciding which one you like more. A few hairbands, a little pull and/or tuck and you get a nice sleek ponytail every time.
#12. Side French Braid Ponytail
You don't have to change the ponytail to make it more interesting, just add something on the side, like a braid.
Mastering a side french braid can be tricky since you have to do touch alone, but once you've mastered it, you'll want to wear this look every day.
#13. Quiff Faux-Hawk Ponytail
https://www.youtube.com/watch?v=VlgSv_8k1CQ
A little bit more dressy ponytail, but a lot of fun to do.
The faux hawk is always an edgy elegant look, and now you can incorporate it into a stylish ponytail ready for a night out with friends or a more special event.
#14. Wrapped And Twisted Ponytail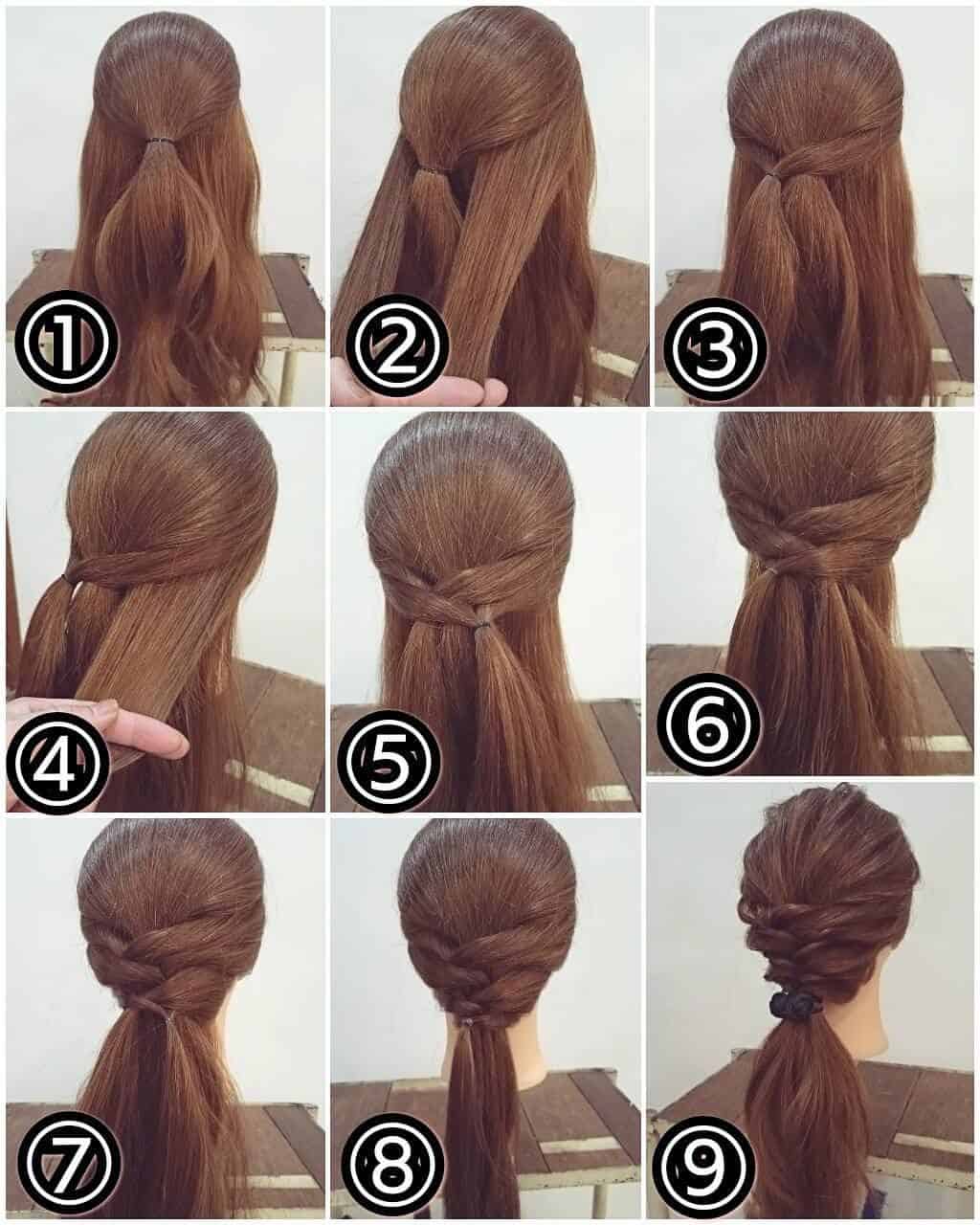 You never know how your day is going to be, so it's nice to be prepared.
This wrapped and twisted ponytail look gets is done in five minutes, yet gets you ready for a whole day's worth of activities. So even if you have an unplanned evening event after a routine day, you won't have to worry that your hairstyle is too casual.
#15. Knotted Side Ponytail

There are those days when you don't plan on doing much but still want to look and feel good.
This relaxed simple alternative to putting your hair back is just what you need. Laid back with a bit of boho, a bit of romance, with a few bobby pins and a hair band you can do this sweet side ponytail.
#16. Messy Crossover Ponytail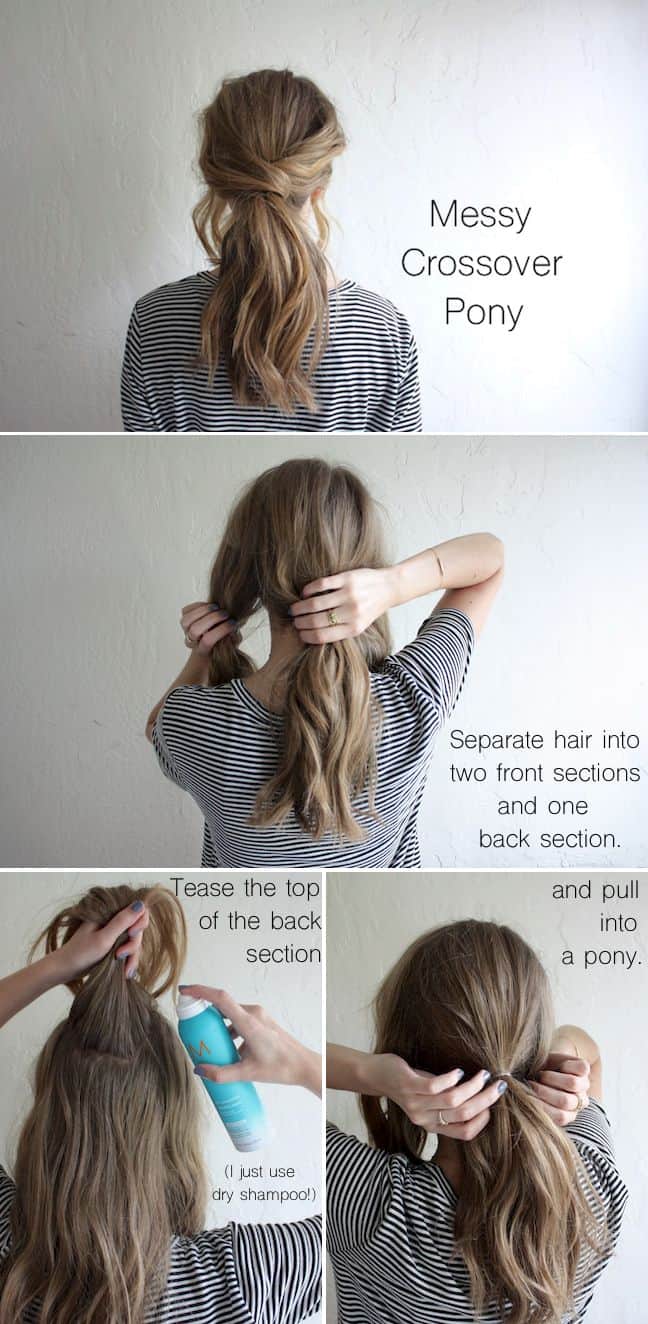 A low ponytail is the most casual style you can do, but one of its downfalls is that it's not very secure.
Since it tends to slide off after a while, you have to retouch it, but if you do a wrap like this one you get the comfort of the low ponytail with the security of an updo.
#17. Dutch Braid To Ponytail

The Dutch braid is a graceful do, appropriate for all ages and can be thrown in many different hairstyles.
Here is a perfect example of how to flourish up your ponytail with this crowd-favorite braid. Fast, easy and excellent choice for whatever the day has to offer.
#18. Fishtail Ponytail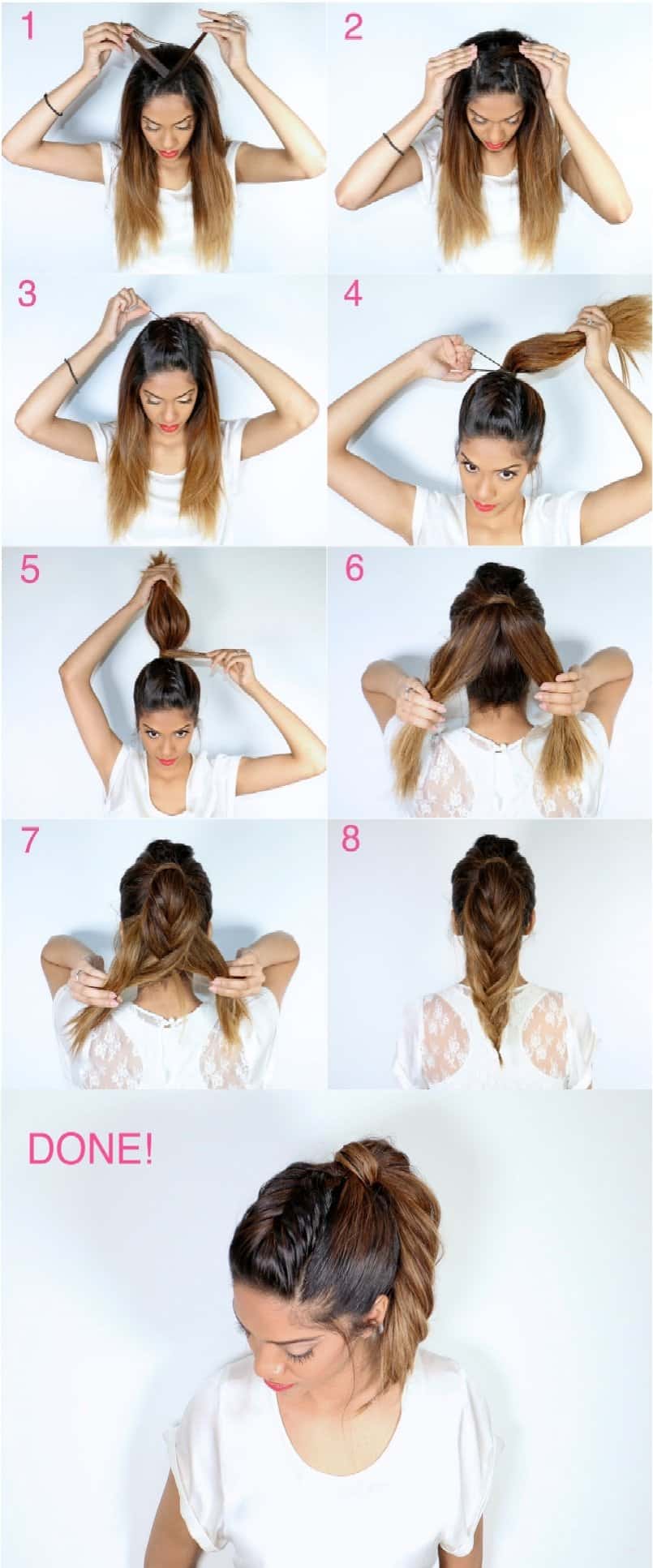 Our last ponytail is an effortless, yet cool hairstyle that is just rocking amazing.
This super versatile fishtail braid is chick, beautiful and textured hairstyle