Drawing on the nails to make them more fun and interesting is something everyone enjoys doing. As exiting nails art can be from the most elaborate to the simplest one, not everyone has the time or money to visit a nails salon and get their nails done.
There is always that option of doing the nails all by ourselves, which most of us are reluctant of doing, thinking we'll just end up with a big mess at the end. No worries, since today you can find tutorials on anything, even nail art.
Here we made for you a list of tutorials for doing striped nails. There is a simplistic beauty in this nail art. It's simple to recreate, can look playful or elegant, and it's overall appropriate nail art for any occasion.
You might think that you need a steady hand to do stripes on nails, but as you will see, there are ways around it and tools you can use to do perfectly straight stripes each and every time.
Choose the one you like the most and you'll see how easy you can have lovely nails done in your home.
#1. Easy Striped Nails Hack
Let's start off with a brilliant nail hack using adhesive tape.
Using a small strip of tape you can make perfectly even lines over a clear coat of nail polish. Cutting even sections on the tape, you place it over your nail and paint over it. Remove it and you're done.
#2. Tapeless Striped Nails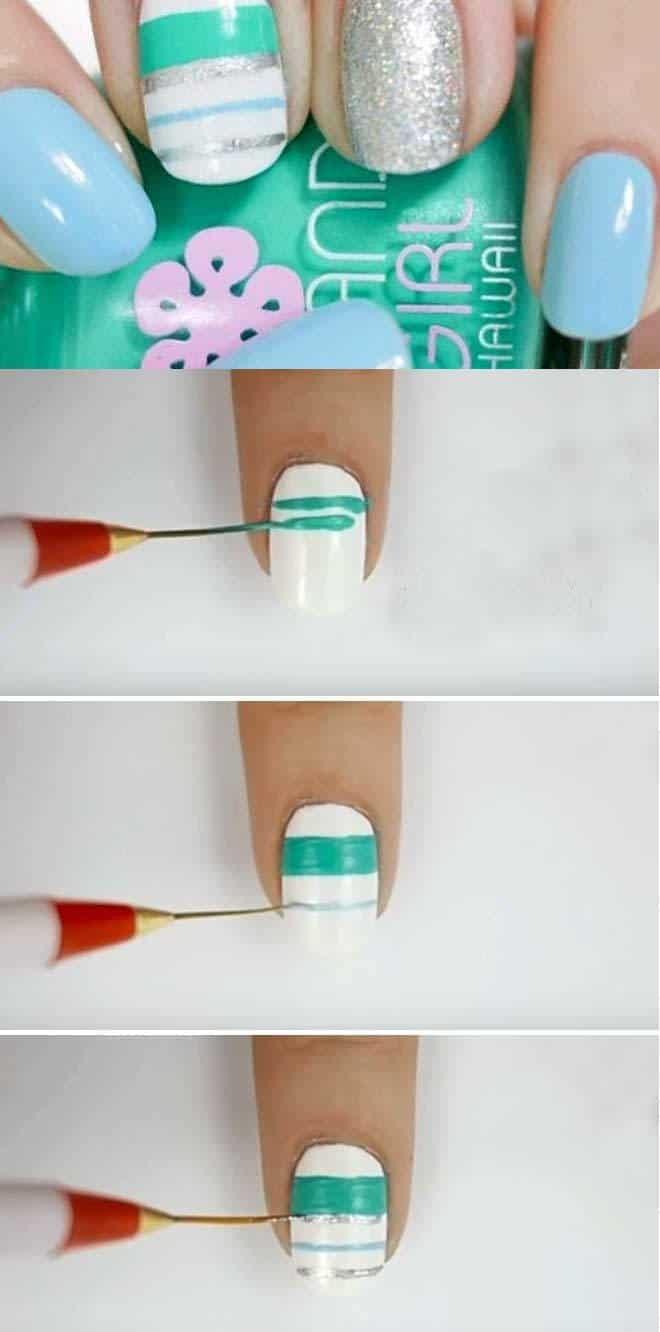 This nails design is simple and can easily be customized for any season.
This teal, blue, silver and white combo are great for summer, however you can switch it up with any color pattern you like. You just need a thin brush and a steady hand. Color away.
#3. Stamping Plate Nails

For those who want to play around with designs, investing in some stamping plates might be a smart choice for you.
Just look at the amazing striped design done with one of these plates. It's effortless, fast and fun, and you can do a different design every day.
#4. Negative Space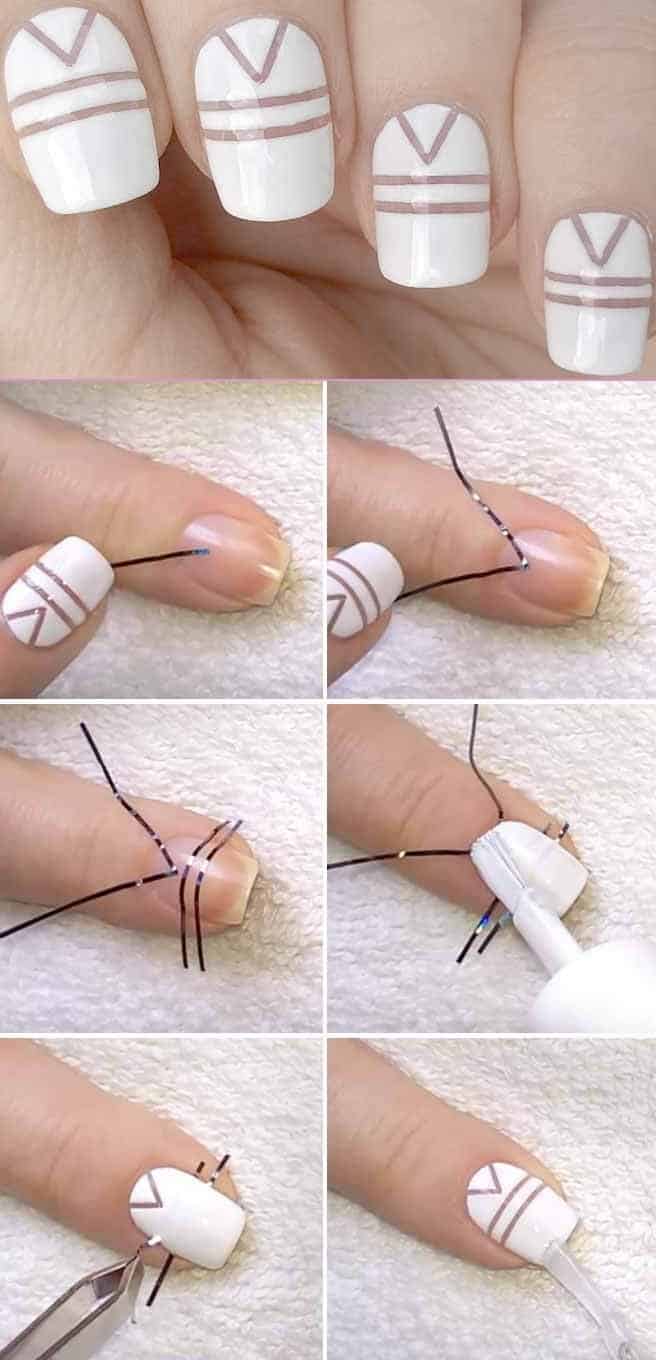 Don't you just love those negative space nails?
They are easier to do than you thought. Place a few striping tapes placed in a pattern of your choosing directly on your nal and paint your nails over them. Remove the stripes and you have beautiful negative space mani.
#5.  Quilted Nails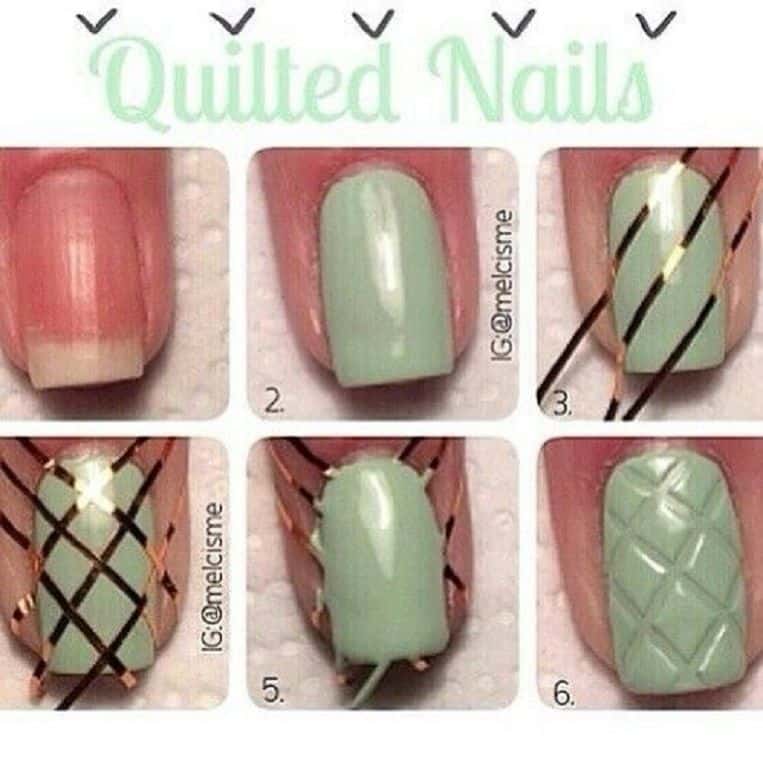 The 3D-like design on this quilted mani will make your friends go "Wow", not realizing you've done them yourself.
Just like with the previous mani, you place a few striping tapes over a painted nail and do a few layers over them to get that lovely pop-out geometric design.
#6. Nude And Neon Nails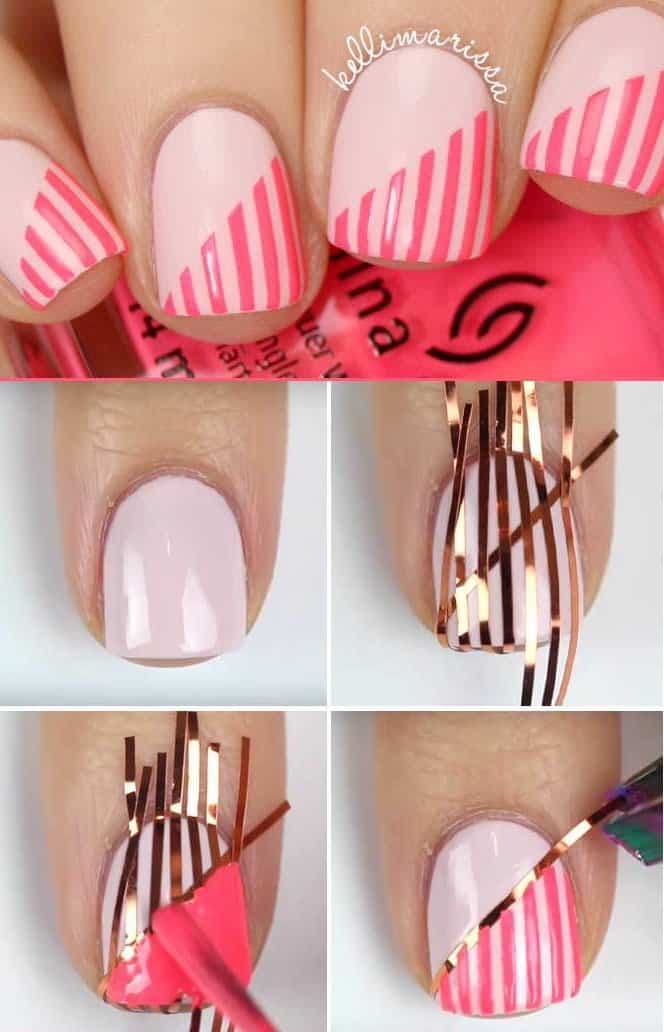 You will love this combo of neon and nude stripes.
With a diagonal line at the middle the neon stripes go to the tips of the nail giving just enough flare to the more toned down nude color.
#7. Zigzag Nails

This nail design is not a classic striped one, but we had to include it in our list.
The color scheme can be done with any two colors, and you need just a adesive tape and some zig zag nails to achieve this cute, jagged design.
#8. Colorful Striped Nails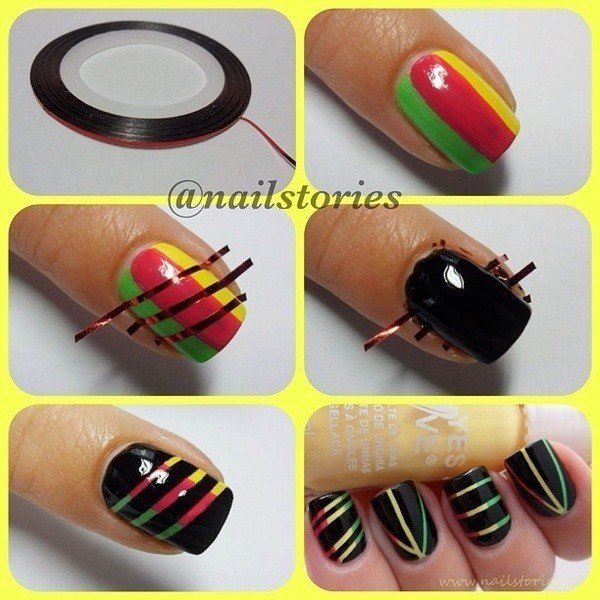 Here's the secret on how to create colorful stripes.
It's really simple, actually. First you do your nails in several color lines, like shown here, or any other pattern you like. Use striping tape for some lines, apply black nail polish, and when you remove the tape you're left with beautiful colored stripes.
#9. Flesh Toned Metallic Striped Nails

Here is a great way to add some pop to neutral colored nails.
Some diagonal stripes done in metallic nails polish, in this case silver and gold, is all it takes to turn a plain mani into an sparkly elegant design.
#10. Chevron Striped Nails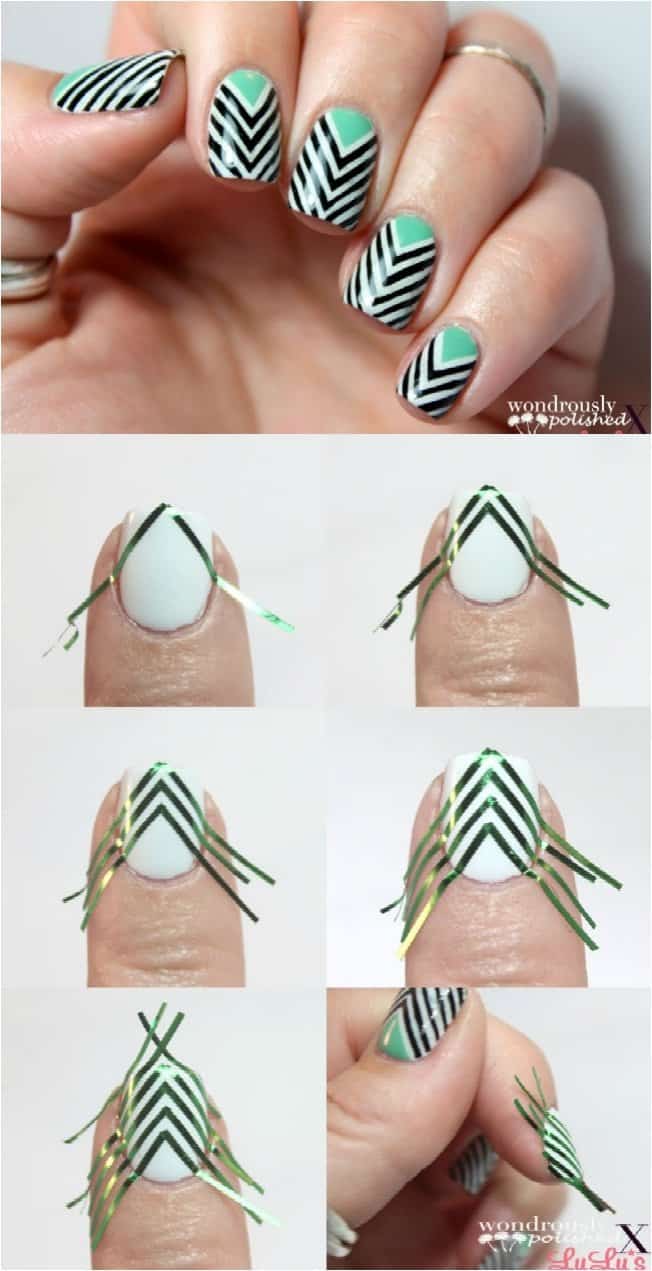 Doing the inverted V of the chevron pattern has never been easier.
In this nail art, again you'll need some striping tapes and some patience while arranging them, but once you're done, just color over them and you have yourself some charming chevron nails.
#11. Different Geometric Shaped Nails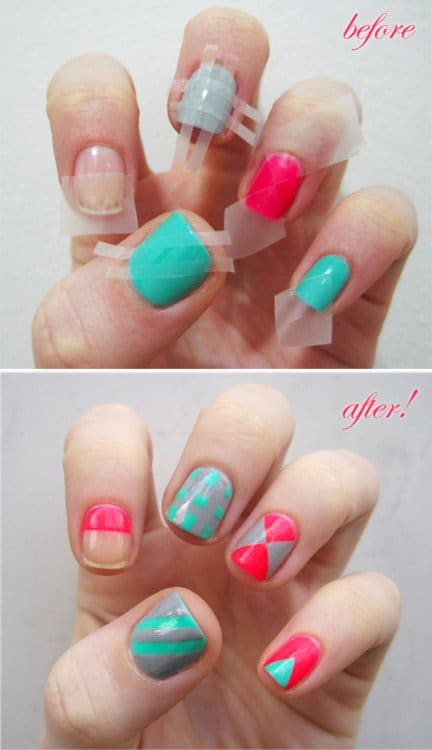 With striping tape or even scotch tape you can play around with geometric shapes as much as you want.
If you can't decide between  stripes, triangles, or zig-zags, you don't have to. Go all out and do each nail in different pattern.
#12. Black And White Free Hand Striped Nails

Stripes don't have to be all even and perfect.
A very thin brush, two nail polishes and some patience, and you can have your version of this stylish, swirly and cheerful manicure.
#13. Summer Mosaic Nails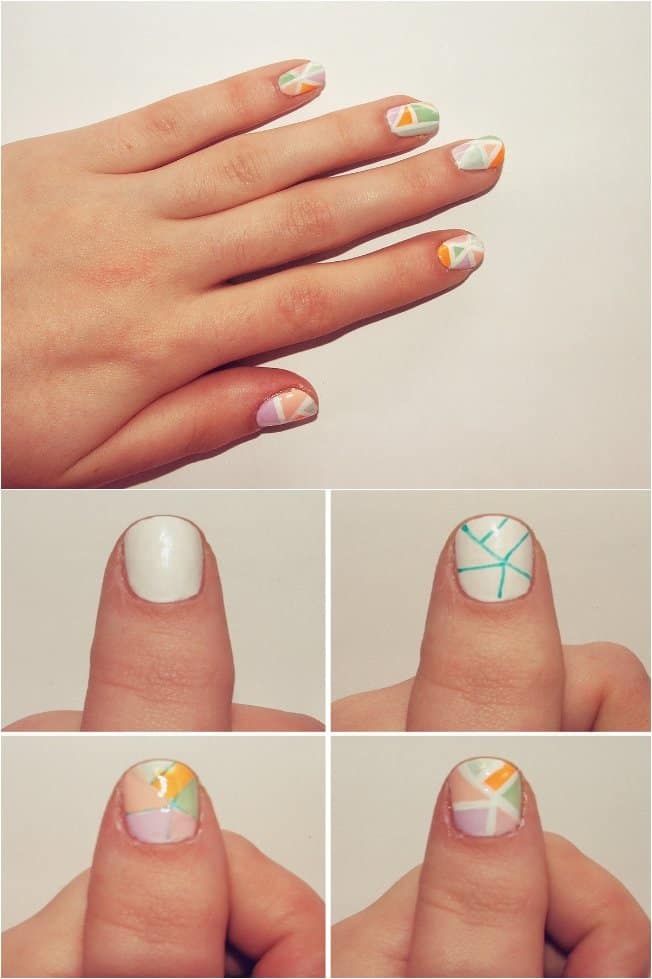 Here is a smart trick on how to make lines without striping tapes.
After the base coat use a pen or marker to outline your design and color in each section with the colors you like. At least, just retrace the lines with thin brush to make a neat mosaic look.
#14. Textured Triangles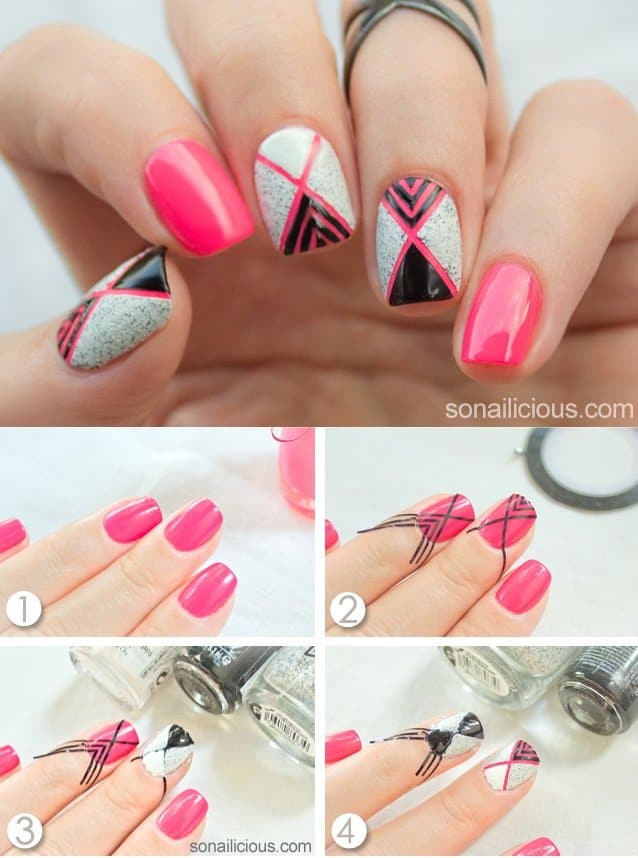 This is another way on how to add another dimension to your nails.
Instead of negative space or 3D effect, here you get to play around with shapes, colors and texture, by combining sharp contrasting colors like pink and black, balanced out with light textured nail polish. A fun look all around.
#15. Gradient Striped Nails Without Tape
Here is the trick on how to make the perfect gradient colored nails every time.
The trick is coating and doing vertical lines of color going from base to the tip of the nail. Each time you add a lighter color in a smaller section, ending up with one thin line down the middle of the finger. And the result is the gorgeous gradient nails you see here.
#16. Fun Striped Nails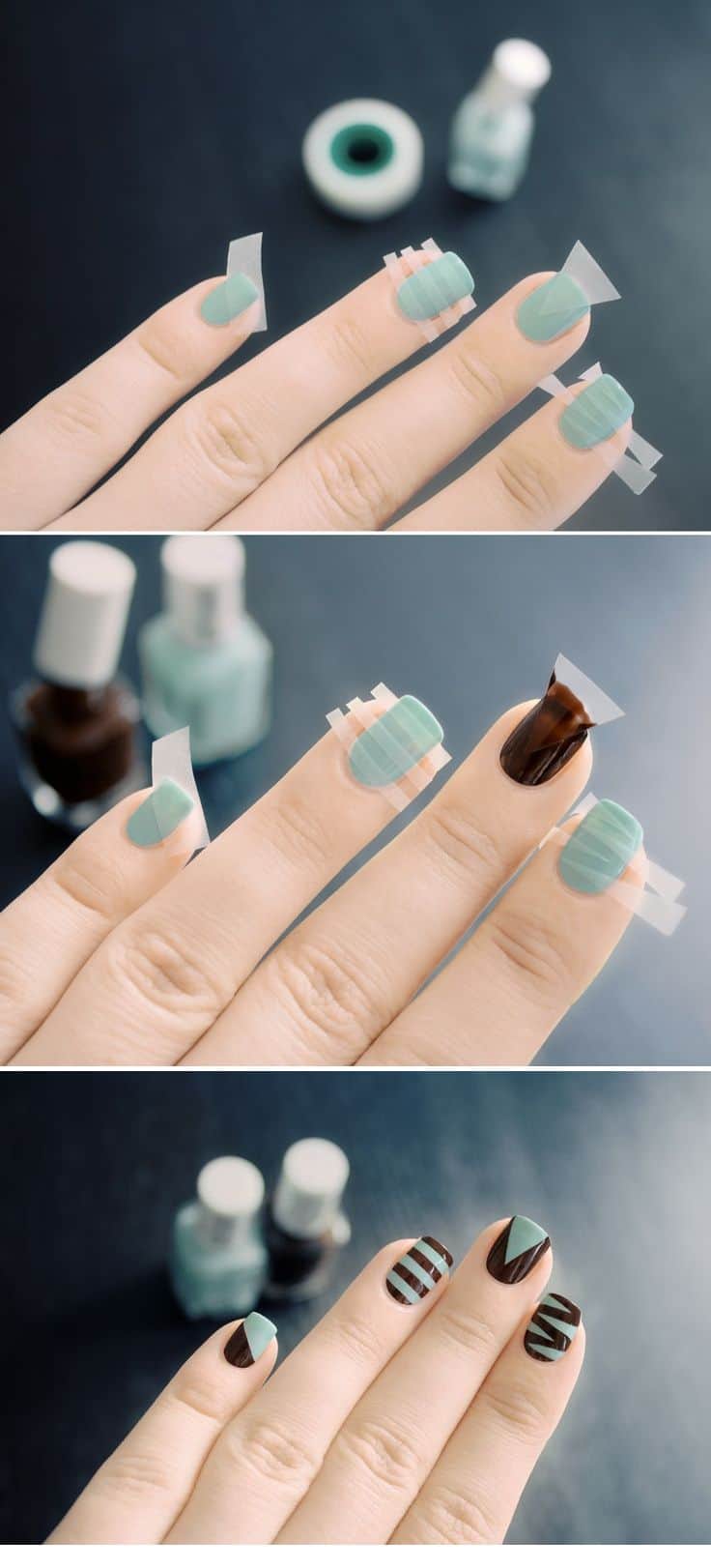 For our last striped nail design, we give you another group of playful geometric designs.
Using adhesive tape cut into different shapes you can create strips, diagonal cut, V-cut or zig-zag pattern. Choose one or use them all, they look great done in two tones, and if you're feeling extra daring use different colors for each finger. Be creative and enjoy.