Tea tree oil is a great remedy for a spot treatment that will speed up healing of pimples and breakouts.
However, it is not as simple as it sounds.
There are a few things you need to know how to use tea tree oil for acne, and mistakes you should avoid.
People often read that tea tree oil has antimicrobial, anti-inflammatory, and antibacterial properties that make it great for acne treatment.
But they assume they can use tea tree oil on their entire face as a lotion, moisturizer, and so on.
When it comes to tea tree oil and pimples, using it as a spot treatment is completely different than using it all over your face.
Tea tree oil is strong and potent. Most essential oils are.
If you use them the wrong way, you will actually do more harm than good.
Overuse it, and you can potentially irritate our skin, dry your skin, and harm the pH balance of our skin.
Overuse of tea tree oil can also interfere with the natural moisture barrier of your skin, and make it more susceptible to damage, leading to even more pimples.
How to use tea tree oil for acne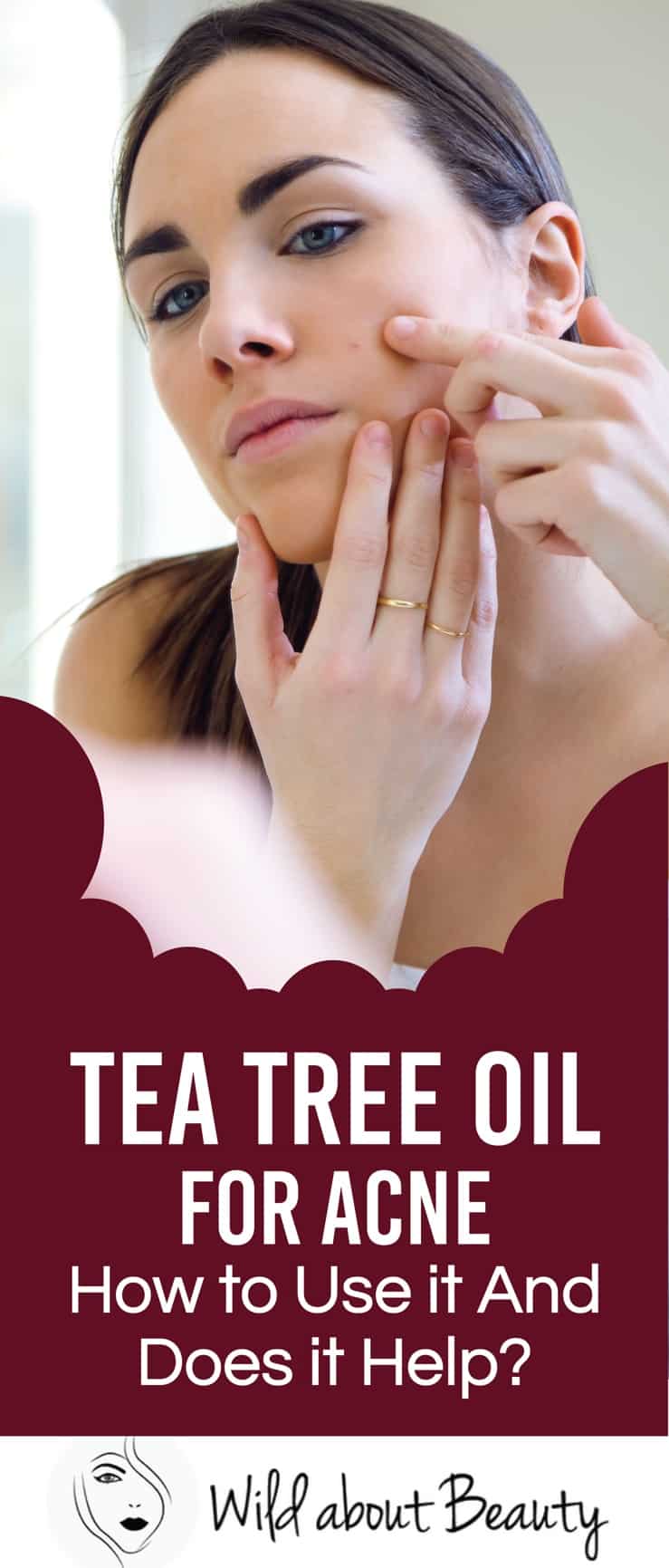 Apply directly to the skin
As mentioned previously, tea tree oil is best used as a spot treatment for acne.
You can apply it directly to pimples for effective treatment.
Tea tree oil has natural antibacterial properties, making it a safer natural alternative to synthetic chemicals.
Just a dab of tea tree oil will be more than enough to penetrate your skin and unblock the sebaceous glands.
Start by pouring few drops of tea tree oil onto the inside of your palm.
Use your middle finger, and just dab the tea tree oil onto any pimples or spots.
Leave it overnight, and in the morning, you will notice the redness and swelling are reduced.
Bear in mind, always apply tea tree oil to clean and dry skin.
Wash your face and apply any skin care products you want, and then tea tree oil at the end.
Also, use 100% pure tea tree oil, not products that contain tea tree oil.
Homemade remedy for spot treatment
Some people might not react as good to tea tree oil.
That is because pure and undiluted tea tree oil can be harsh on your skin.
It might also dry out your skin. If that is the case, you should try and mix it up.
For this remedy, mix a couple of drops of tea tree oil into a few teaspoons of aloe vera.
Same as before, apply the remedy directly onto a pimple.
Instead of aloe vera, you can also use raw and organic honey that has antibacterial properties and promotes speedy healing of the skin.
Face mask
Some people want to use tea tree oil as part of their face mask.
When you do this, make sure to apply only a small amount.
Here are two face masks recipes you can try.
Mask 1:
Mix 3 drops of tea tree oil, 2 tablespoons of green clay powder, and enough water to make the clay into a spreadable paste.
Apply the mask in the evening over your face and neck.
Leave it for 20 minutes.
At this point, the clay should dry, and you can rinse with warm water.
Pat your face dry.
Mask 2:
Mix 3 drops of tea tree oil, 1 teaspoon of jojoba oil, and stir in half finely chopped tomato.
Blend the ingredients or mash to make a puree.
Wash your face clean, and then apply the face mask.
Let it stay there for 10 minutes, and then rinse with warm water.
Homemade face scrub
You can also prepare a face scrub that you can use to fight off acne.
For this remedy, you'll need:
½ cup of sugar
¼ cup of sesame or olive oil
1 tablespoon of honey
5 drops of tea tree oil
Mix the ingredients in a small bowl, and then gently massage onto damp face.
Use circular motions, and massage for 2 to 5 minutes.
If you are suffering from cystic acne, it will be rough on your skin.
However, the scrub works wonderfully for mild to medium breakouts.
Add to your bath
If you have acne on your chest, back, and other parts of your body, a bath with tea tree oil can be helpful.
Add a couple of drops of the essential oil to your bath.
Bonus: You can breathe in the infused team to alleviate congestion.
Mistakes to avoid
Tea tree oil is great for acne, but if used incorrectly, you can actually hurt your skin.
You can ruin your face using it incorrectly.
For some people, tea tree oil responds great, but for some, it doesn't.
Use it only as a spot treatment, not all over your entire face
You cannot apply it to your skin directly
Never rub it on your skin, just dab it on top of your pimples
Do it at the very end of your skin routine. Wash your face, apply moisturizer, other things, and then tea tree oil on the end
Use tea tree oil only at night. Sun exposure can cause a reaction
Use it only once per day, do not apply tea tree oil multiple times during the day
Other benefits of using tea tree oil for your skin
Tea tree oil can help you with a number of skin conditions, not just your acne problem.
Here are some other uses of tea tree oil
Use it to remove makeup in the evening
Soften dry cuticles, by mixing tea tree oil with avocado oil and use it as a fungus fighter
Soothe sores by dabbing a single drop on the sore. Tea tree oil is an antiseptic, but be careful to avoid areas near your eyes and mouth
The aromatic tea tree oil can help you reduce sweatiness, fight odor, and leave your feet clean and fresh
You can use it to eliminate toenail fungus by applying a drop or two 100% pure tea tree oil to the discolored nail once per day
Reduce cold sores by applying directly on the cold sore three times per day, but avoid getting in in your mouth
Psoriasis patients can use it to relieve symptoms by diluting the oil in olive oil and then rubbing it on the psoriasis patches several times per day