Everyone has seen the gorgeous skincare shelfies that continue to take over social media. They usually showcase luxury skincare products and tools in a brilliant display that's stylish and matches in color and more. Everything from your eyelid lifting creams to the nutrient-rich serums at your bathroom beauty bar should go above and beyond for your skin. Bonus points if they're strategically packaged and organized for optimal performance and style.
It's time for you to curate a beauty shelf that's beautiful inside and out as it helps you reveal radiant-looking skin on the daily. Don't be afraid to play around and get creative as you level up your product lineup and organizational methods for a skincare shelf designed to impress.
Organization
How you highlight and store your skincare products can impact how your bathroom looks as well as how it makes you feel. All of your beauty products and tools should have a place that's easily accessible while also enhancing your experience when it comes time to use them.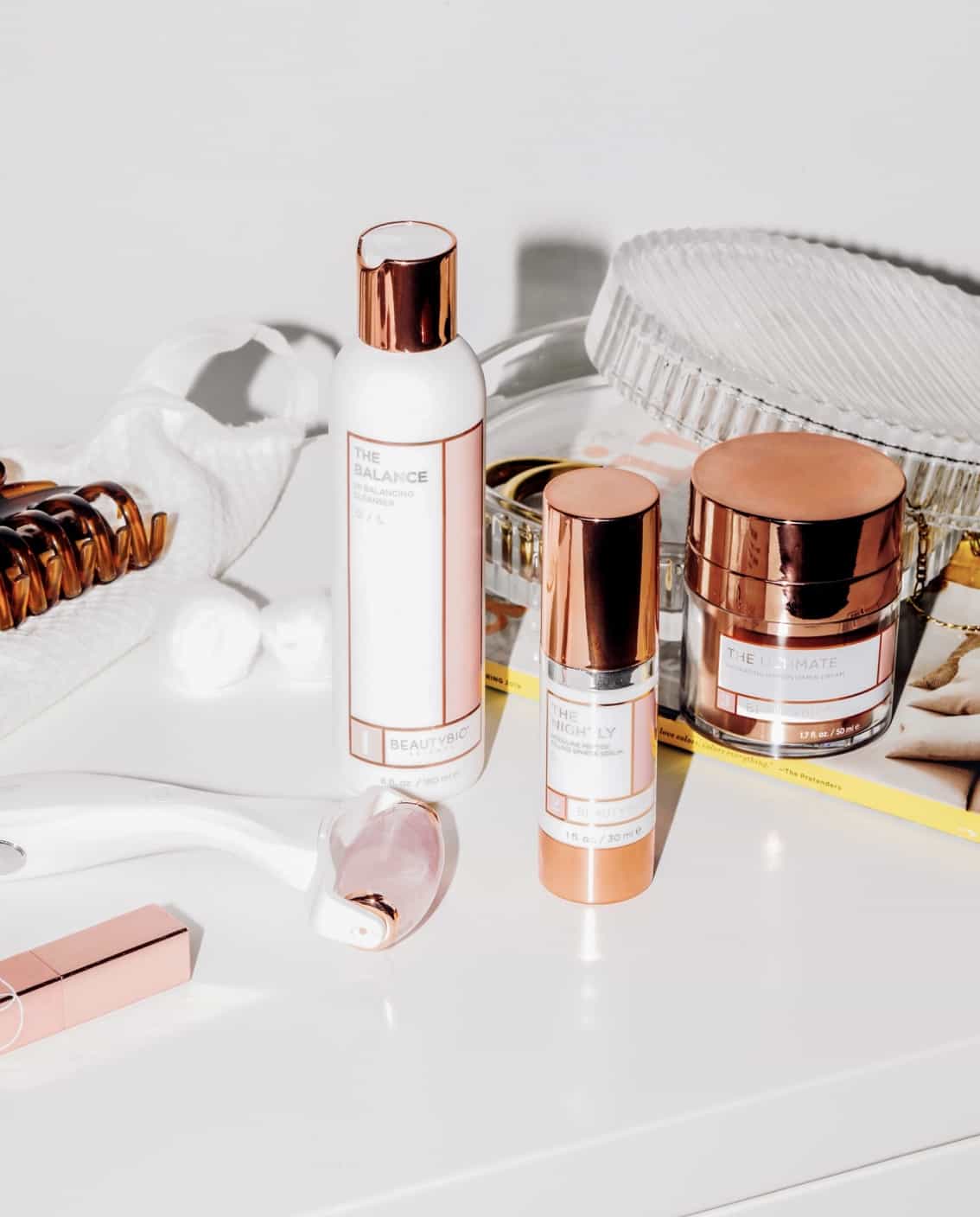 Stylish
As you strategize how to organize your collection best, you're going to want to invest in fashionable pieces. A skincare fridge is a convenient way to effectively store your skincare essentials for a cooling experience your complexion will thank you for. Consider a crisp, classic white for a clean organizational element to your shelf that you can display as is or personalize with stickers. Try keeping your rose quartz roller in the fridge, among other products, for a refreshing experience as you help your complexion appear instantly depuffed and contoured.
Current
Your organizational methods should ensure everything is current both in design and efficacy. Set aside time for spring cleaning to remove old or outdated products that expired or just take up unnecessary space. Be sure the beauty brand you choose offers a date for product longevity to help you experience maximum benefits.
Your organizers should also be current in their design, or at least align with your personal style or décor. Consider a sleek, modern stand for your microneedling tool to save space in a transparent material that can help your skincare shelf appear simple and on-trend.
Strategic
All of your skincare organizational methods should marry function and fashion, and a hard-case storage option can help you keep your products and tools in one compact, chic place. This approach is perfect for keeping your products safe and dry while you travel or just as a luxury-level organizer for your shelf.
Packaging
Now that you've mastered eye-catching organization, it's time to add the luxury skincare products to complete your shelf. Their packaging can impact not only your aesthetic but also the potency of your investment.
Eye-Catching Designs
As you upgrade your product lineup, you want to ensure your premium products are also gorgeously designed. Seek out sleek designs that can match one another along with your organizers. Consider crisp white, fun pink or even a trendy color like rose gold that companies like BeautyBio are taking full advantage of throughout their collection.
Airless Pumps
While you want striking packaging, you're going to want to ensure the designs support the formulas they carry. Airless pumps for certain skincare products are essential for protecting the integrity of the product's formula, plus they're super easy to use. Routine steps like applying your retinol night cream or eyelid firming cream should offer a pump mechanism to keep the ingredients fresh for the next time you want to target your skin's needs.
Performance
There's no use crafting an IG-worthy skincare shelf if the products do not help you reveal radiant-looking skin. As you build your routine, you want to be mindful of the brands you support and the types of testing, ingredients and tools they offer.
High-Quality Formulas
Invest in a skincare brand that's backed by science and performs clinical trials for their formulas. This level of quality is vital for those who want to experience products with scientifically proven results. You'll also want ingredients sourced from nature like licorice root or chamomile to deliver various vitamins, antioxidants and other nutrients. Try to avoid potentially harsh ingredients like parabens or sulfates in your skincare routine, and instead seek out a transparent company that's clear about their process, formulas and testing.
Tools for Absorption
Support your skincare products even further with tools designed to help the ingredients better absorb into skin and reveal a complexion that looks rejuvenated. Microneedling tools are a must-have for your skincare shelf as they support product absorption, can help minimize the visibility of fine lines and encourage skin that looks younger and firmer. Find a company like BeautyBio, for example, that offers a painless, at-home tool that can target your face, lips, body and more with varying attachments. Keep your microneedling tool on your vanity (displayed in your stand) and store your rose quartz and cryo rollers in your skincare fridge for when you want to encourage absorption and lymphatic drainage for a more sculpted appearance.
Addresses Your Needs
Now that you have found high-performing products and tools, you want to be sure that you strategically design your routine to address your specific concerns. If your skin frequently shows signs of redness or stress, you should use a moisturizer designed to help your complexion appear more even and calm. Or, if you want to target sagging eyelids, it's important to use a clinically proven product designed for the delicate eye area. If you're still unsure of where to start, seek out a brand that offers a virtual consultation quiz for guidance as you build a skincare shelf filled with high-performing products and tools for your complexion.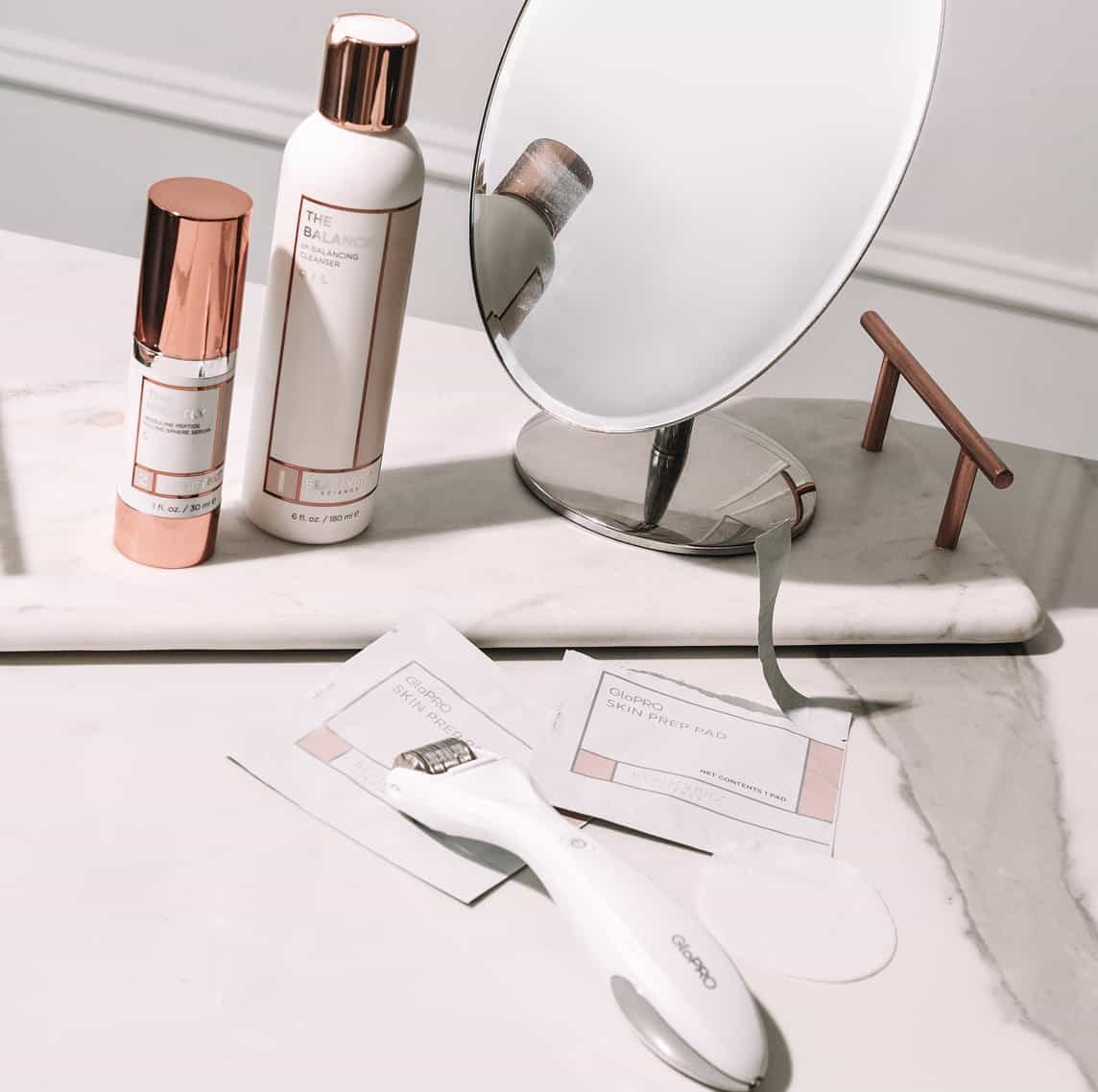 Don't forget to snap a picture of your skinfluential masterpiece to share online with friends and tag luxury brands known for perfecting the skincare shelf.
About BeautyBio
BeautyBio is the inventor of the GloPRO® Microneedling Rejuvenation Tool, the most-awarded at-home derma roller on the market. In just 60 seconds a day, you can help your skin restore volume and enhance product absorption. Use any of BeautyBio's microneedling attachments as part of your regular beauty routine, including microneedling for acne. Explore the award-winning collection of skincare products from BeautyBio to accompany your at-home derma roller tool. Best-selling and award-winning products from BeautyBio include The Quench, a face cream that helps repair the skin's moisture barrier, and R45 The Reversal, a three-phase retinol booster treatment. For eyes that appear well-rested, try the eye gels infused with colloidal silver. While you wouldn't put colloidal silver in eyes, the targeted under-eye gels are safe and effective. The beauty brand is an excellent resource for effective at-home derma roller tools and skincare products for both women and men. Let BeautyBio be part of your regular skincare routine for smoother and firmer-looking skin.
Upgrade your skincare shelf with BeautyBio at Beautybio.com