Even if you're a total stranger to barbershops and prefer to cut your hair yourself, there's no way you haven't heard about the fade haircut. This haircut has gained huge popularity in the last few years, and there's no wonder why: it's as neat as it's dramatic and as subtle as it's striking. In other words, it allows men to customize their haircuts in literally any way they want to achieve a top-notch look.
Also, you probably know the definition of the fade haircut: it's an upgraded tapering technique that graduates the hair into a spray-painted effect on the sides and back, recessing up from the nape area. A faded touch can enhance anything from undercuts, french crops, and quiffs to crew cuts, buzz cuts, and comb overs with smooth clean graduation.
But do you know how different this haircut can be and how variously you can individualize your look? Hair experts from MensHairCuts.com got it all covered in this article. Whether you already rock a fade or want to take your look to the next level with a great hair accent, here's everything you should know about the mighty fade.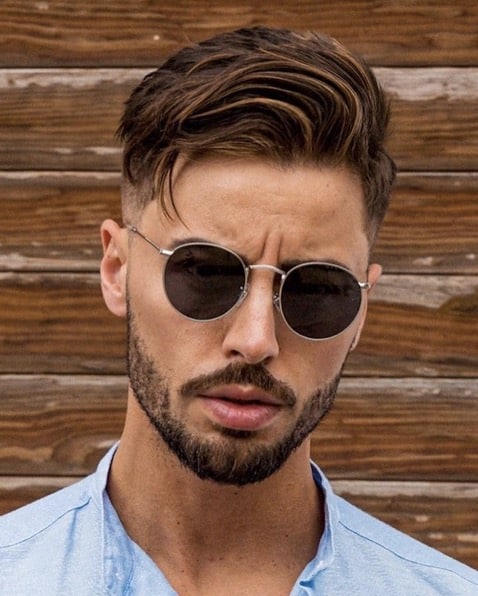 Source: Instagram
The 5 Types of Fade Haircut You Should Know
There are two reasons why fade is the number one choice of modern man. First, it gives a fresh and neat appearance. Second, it offers flexibility and, most importantly, versatility. Knowing the main types of fade will give you a clear picture of your ideal custom look, so meet the top 5 fade haircuts of today.
The Taper Fade
Barbers call the taper fade a crowd-pleaser for its perfect balance between neatness and sharpness. Starting at the nape of the neck, the taper reaches the parietal ridge and moves higher, becoming darker as it gets to the top.
The Low Fade
If you'd like to show some more skin, the low fade is your guy. It gives a more contrastive look compared to the taper, starting very low and blending the hair on the midway for a visible but soft contrast.
The Mid Fade
As the happy medium between the subtle low fade and dramatic high fade, the mid fade haircut offers you a fantastic balancing detail to your look. It starts just above the ears, giving a distinctive look that's still adaptable to popular men's haircuts and styles.
The High Fade
The statement-making high fade is known for its highly contrastive and bold look achieved with a foil shaver. Both the sides and back are shorn close to the scalp, making the hair super tight to expose the skin down to the temples. Cut a long story short, this type of fade is meant to make heads turn.
The Scissor Fade
If you want to discover neatness at its purest, the scissor fade is key. Instead of clippers, barbers use scissors to create tailored clean graduation based on your specific head shape. Since it's rather manual tedious work, it results in extremely immaculate and well-shaped looks.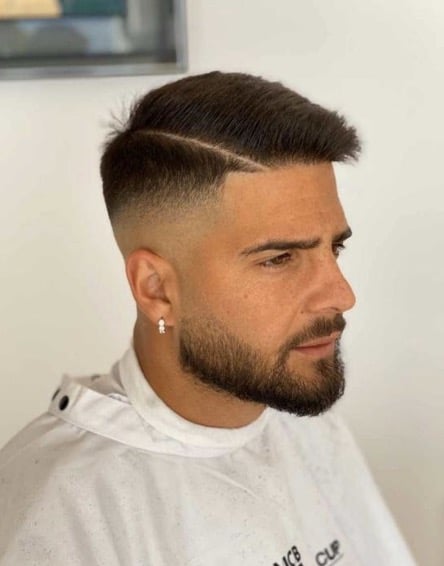 Source: Instagram
Hairstyles That Look Awesome with Fade Haircuts
Being familiar with the types of fade haircuts is one thing, and knowing how creatively you can use them for your cut and style experiments is another. Here are the hottest combinations that modern barbers suggest all men try this year!
Undercut Fade
It's no secret that the ever-popular undercut allows for endless customizations, but a fade is literally the best thing you can do with this cut, as it can create a whole new mood for your look.
Temple Fade
Also known as the saving grace for men with stubborn afro hair, temple fade will clean out any extra details, providing your curls or kinks with a fresh outline and fantastic shape on top.
Pompadour Fade
If you're looking for a way to add a modern twist to the retro-inspired Pompadour, look no further than a fade. Of course, it's better to go with something subtle, but it's all up to you. Whatever your choice is, the blurred shave on the sides will modernize the look.
Faded Quiff
A quiff goes well with all fades possible, but apart from the pleasant visual graduation, a fade can balance out the silhouette of the voluminous top, building the perfect harmony for your face shape.
Curls + Fade
Nothing can tame those unmanageable curls and whip them into good shape better than a fade. Everything is pretty simple: the sides are neat and balanced, transiting into a funky curly top.
Comb Over Fade
The comb over fade is another timeless classic that's gone viral for its sophisticated combination of classics and elegance. Plus, it adds more character to the familiar look.
A man can't choose a haircut randomly. There are a couple of crucial moments such as the lifestyle, face shape, and hair type to keep in mind when getting a new cut. However, things are different with a fade. With this haircut, you can tailor your perfect look, revealing the very best version of your style. And now that you know where to start, you won't miss out this year!
Source: MensHairCuts