Earrings are part of virtually every culture, and many earrings are so beautifully crafted they are wearable art. For thousands of years, people have worn them, often as status symbols. Women today often consider earrings essential accessories that give their outfits a finishing touch. Carefully chosen styles can also draw attention to attractive facial features and add sparkle to ensembles. Fortunately, with a few tips from fashion professionals, anyone can learn to choose the best earrings for every look.
Earrings Should Enhance Facial Features
Fashionistas understand the power of earrings to complement their faces. The key is selecting styles that look best with each wearer's facial shape. While there is no right or wrong style, smart pairings create an eye-catching, flattering effect. Those who need help finding earrings that suit them can simplify the process by following a few simple guidelines.
Each woman should determine which of the following facial shapes best describes her. That makes it easy to choose the most flattering earrings.
Oval
Women with oval faces are lucky because most earrings look great on them. Long, dangling earrings are incredibly flattering to these ladies' classic faces. Longer, teardrop styles can also be charming. Harper's Bazaar fashion editors recommend chandelier styles that give an edge to facial contours.
Round
A round face is generally as wide as it is long, so longer earrings can draw the eye down and emphasize softer, feminine features. It's an illusion that makes faces appear slimmer. Any baubles that include angular and geometric elements are ideal.
Narrow
Narrow faces are long and not wide, and the jaws, forehead, and cheekbones are approximately the same size. The right type of earrings can add attractive fullness, and round shapes work well. For example, round diamond, pear, or gemstone studs are good choices. All button earrings work well, so pearl and gemstone clusters are excellent choices.
Square
Women with square faces have jawlines and cheekbones that are about the same width. Faces are as long as they are wide, so it is smart to avoid wide earrings. Round styles like dangling circular forms, pearls, and button styles are flattering.
Diamond
A diamond-shaped face has prominent cheekbones with a forehead and chin that are narrower than the face's center. Long, dangling earrings with curving shapes can accentuate the cheekbones. However, it's wise to avoid diamond-shaped styles that do not harmonize with this facial shape. They could overemphasize the widest areas.
Heart
The chin is the narrowest part of a heart-shaped face. The shape gradually widens from the chin up, with the forehead being the widest area. As with the diamond shape, long, dangling earrings and curving shapes draw attention to cheekbones. Ornate chandelier styles look good on heart-shaped faces. Long metal, gemstone, or diamond teardrop earrings help soften a pointier chin.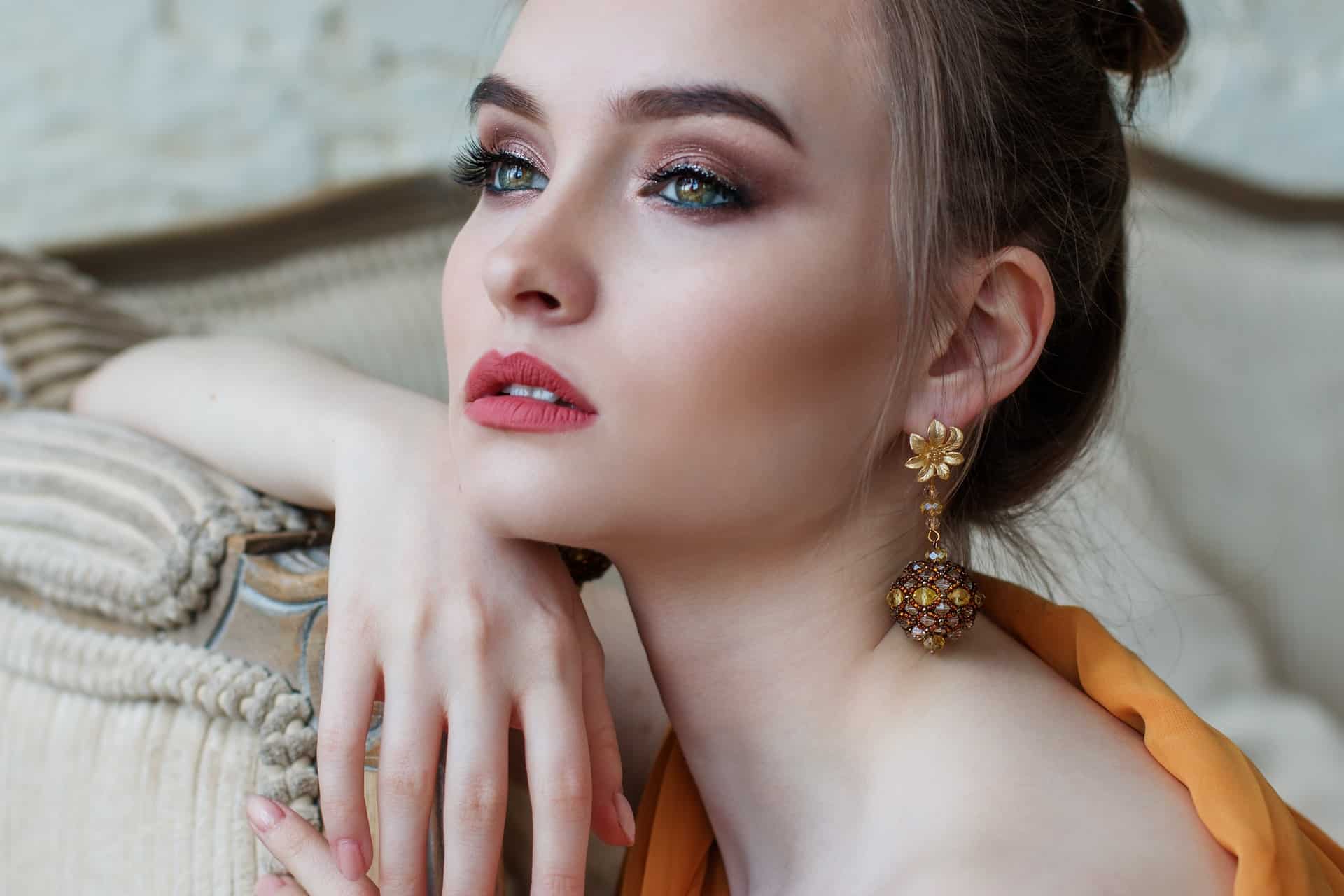 Match Earrings to Outfits
After facial shape, the next most important consideration when choosing earrings is matching them to clothing. The right choices can give outfits an entirely different feel. For example, carefully selected styles can make casual clothes look sophisticated and add an aura of elegance. However, it's essential to match jewelry to the occasion. Earrings that look stunning at work could be a mismatch for a formal event.
Personal preference and style play a big part in selecting accessories. Still, when it comes to earrings, there are a few expert guidelines that can ensure budding fashionistas do not make a misstep. Learning how to match hoops, studs, and chandelier earrings to outfits is an important key. Fashion writers for Elle also recommend investing in statement earrings that make a quiet but unmistakable impression.
Statement Earrings
Even the most in-vogue women should own unique statement earrings they wear just for fun. Unlike the classic styles, these pieces are more about personality than traditional looks. However, that doesn't mean they have to overwhelm outfits or detract from facial features. Jewelers offer dozens of pieces that add the perfect understated touch.
Studs
Busy women who need can't-miss accessories can depend on studs. They are usually small and made in a variety of shapes that look great on everyone. Studs are perfect for work, especially in environments with dress codes. Some companies even specify that studs are the only earrings allowed. The style has the advantage of matching every outfit. A single pair of diamond studs can go from boardroom to ballroom.
Hoops
One of the most popular styles, hoop earrings are classics. Jewelers make hoop earrings in dozens of sizes and styles as well as a variety of materials.
Dainty plain or gemstone hoops are ideal for casual or business wear. Just as versatile as studs, hoops look good on the beach or at a party. Suppliers also offer a lot of fun choices in shapes like triangles, rectangles, and squares, as well as traditional circles.
Most women find that oversized hoops look best with casual outfits but can be distracting at work. While hoops are not usually the first choice when choosing jewelry for formal attire, small, tasteful hoop earrings can give formal clothing a fun touch without sacrificing elegance.
Chandelier Styles
Usually considered a dressy option, chandelier earrings typically include a decorative stud attached to a dangling drop that falls below the ear. Some are made entirely of metal, but most are crafted using sparkling semi-precious stones or gemstones. Commonly worn with formal clothing, chandelier styles can also look great with jeans, as long as they mesh well with the top and shoes.
Some jewelers offer chandelier earrings in whimsical shapes and styles that include eye-catching beads or stones. Since chandeliers drop below the ears, they add instant interest to the face and clothing. Women who enjoy making a bold statement often opt for colorful chandelier styles that add a pop of color to low-key work or casual wear. It's a good idea to invest in several pairs in gold and silver because they go with almost everything.
Earrings add a finishing touch to clothing and can give outfits extra sparkle. To get the best effect, women should choose earrings that flatter the shape of their face. It is also essential to wear a style that is appropriate for the occasion and clothing.