Orange hair might not be the worst option. Or the worst color in the palette. However, it can be irritating and disappointing when you end up with orange hair after bleaching your hair blonde. And when it is uneven and patchy, it is that much worse.
It can happen to many of us, and the best thing you can do at that point is to use a toner for orange hair to balance your color and neutralize the orange tones.
Why does your hair turn orange?
Bleaching lightens your hair. However, bleaching does not help you get rid of the natural pigments of your hair. These pigments give your hair its natural color. Brunettes have orange and red undertones, which becomes the residual color after bleaching.
The darker your hair is, the more orange pigments you have. Even women with blonde hair have natural yellow undertones, and they can be irritating as well.
And another reason for why you get orange hair s because of a buildup of minerals. Using products that contain sulfates can result in your hair turning yellow and orange.
To get rid of brassiness, you need to use pigments that are on the opposite side of the color wheel, or in this case, green and blue. For getting rid of yellow hair, on the other side, you need purple pigments.
How to use toner for brassiness?
Toners can neutralize unwanted brassy orange tone on your hair. But it is not easy to select the right toner for your hair. Simply put, one toner might work for you, but not for your friend.
A common misconception is that toners are only for blondes. The reality is that toners can be used on brassy brown hair to achieve an ashy brunette. Generally speaking, blue toners are designed for orange hair of dark blondes and brunettes.
Light blondes are better off using a purple toner to remove yellow hair after bleaching. The best way is to look at the level of your hair and pick a toner accordingly.
Here is a quick guide:
Level 10 (pale yellow) – violet toner
Level 9 (yellow) – violet toner
Level 8 (yellow-orange brassy hair) – blue-violet toner
Level 7 (orange hair) blue toner
Level 6 (red-orange hair) – blue-green toner
Level 5 (red hair) – green toner
Level 4 (purple-red hair) – yellow-green toner
Your hair has to be lightened to at least level 8 in order to use the best toner. If you keep bleaching your hair, you might get rid of the orange tones, but the color treated hair will become yellow and possibly lighter than you want it to be.
Once you select the appropriate toner, apply it to the orange sections of your hair, not your entire head. Otherwise, you will end up with the opposite problem. Most toners are mixed with a volume of 10 or 20 developers.
How to apply a toner?
As mentioned previously, most toners work best with a volume 10 or 20 developer.
Here is a guide on how to apply the toner to get rid of unwanted orange tone in your colored hair.
Mix toner and peroxide in 1:2 ratio
Use an applicator brush to apply the toner and developer to your hair
Cover all the orange bits, and then leave the toner for no more than 45 minutes
Rinse with a sulfate-free shampoo
Homemade solutions for toner for orange hair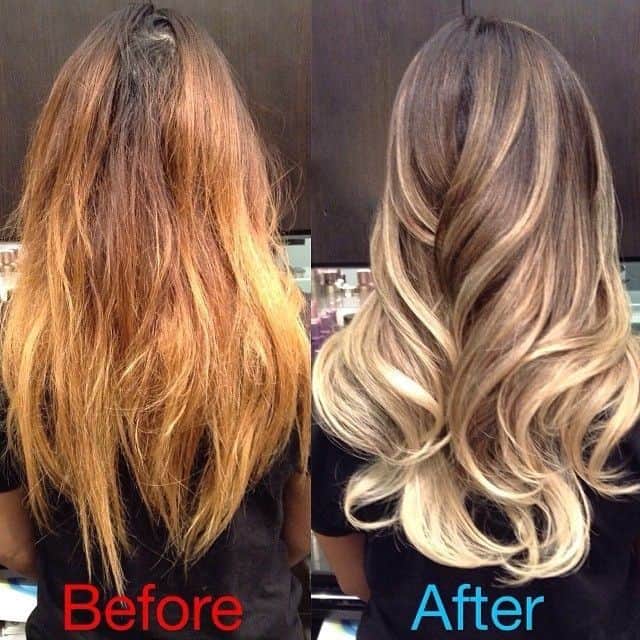 Here are three ways you can make your very own shampoo and toner for brassy hair at home.
Homemade shampoo with food colors
This is one of the simplest ways to prepare a toner for brassy hair and remove unwanted tone.
Stir purple food color in a glass of water, and then add a small amount of blue food color
Mix well, and once the water has turned dark blue, pour hair conditioner
Mix well until the solution turns light violet
Use a hair coloring brush to apply on your colored hair. Let it stay for 30 minutes, and then rinse it off completely to neutralize your hair color
Vinegar Rinse
Getting rid of brassy hair with vinegar rinse has proven to be effective as well. And it is one of the more popular methods in recent years you can use to fix orange hair.
Start by applying conditioner on your hair
Add purple food color in a glass of water and stir
Add an equal amount of blue food color, and a pinch of red food color
Stir well, and then pour vinegar into the color mix, and you have a toning shampoo. Rinse the conditioner, and then apply the food color rinse with vinegar
Mix evenly on your color treated hair, let it stay for 10 minutes, and then wash it off
Herb-based rinse
This is as natural as they come. Being there are no food colors this toner does not contain any chemicals
Boil water in a saucepan, and then add apple cider vinegar and hollyhock herbs
Cover with a lid, and let the ingredients simmer
The mixture will be thick, so leave it aside for 30 minutes
Shampoo your hair as you normally do, and then pour the mixture over your hair. Massage it well and evenly. Leave it to stay for 10 minutes, and then wash with cool water
Extra tips
If you have platinum bleached hair, be cautious when using purple shampoo. Use it only sparingly and rinse quickly to reduce the chance of turning your locks into violet
Heavily bleached hair is porous and can soak up color like a sponge, so be careful when using toners
Follow up your hair toner treatment with a good conditioner
If you are a beginner in the use of purple shampoo, add it to your routine every third time you apply regular shampoo. If your hair is still brassy, use it every time you shampoo your hair. If your hair gets too ashy, reduce the usage of toner and purple shampoo
If you overdo the toner and purple shampoo, do not panic. Just shower with a non-purple shampoo and it will fade off
Given that orange and red hues are on the opposite side of blue on the color wheel, a blue shampoo can help you. If your locks suddenly start showing a garish orange or coppery red brassy tone, apply blue shampoo to bring them back to brilliant brown