The reemergence of the undercut has captured the fascination of women's fashion, transforming the once classic men's hairstyle into a dynamic statement piece for anyone seeking to add a bold twist to their look. Initially a staple from the early 20th century, the resurgence in this century pivots on its adaptability, allowing variations such as the pixie cut and the shaved nape to flourish. Notably, the likes of Rihanna have propelled the style into the spotlight, underscoring its enduring appeal.
Embracing an undercut hairstyle invites a world of creativity, with options ranging from subtle hidden cuts that offer a surprise when hair is lifted, to flamboyant designs meant to be showcased. The versatility it provides has led to a host of interpretations—undercut pixie bobs, ponytail undercuts, and the daring disconnected undercut, to name a few. An undercut can redefine one's personal style with its sharp lines and shaved details, all of which we're eager to explore with you in the canvas of modern hairstyling.
1. Stylized Rose Undercut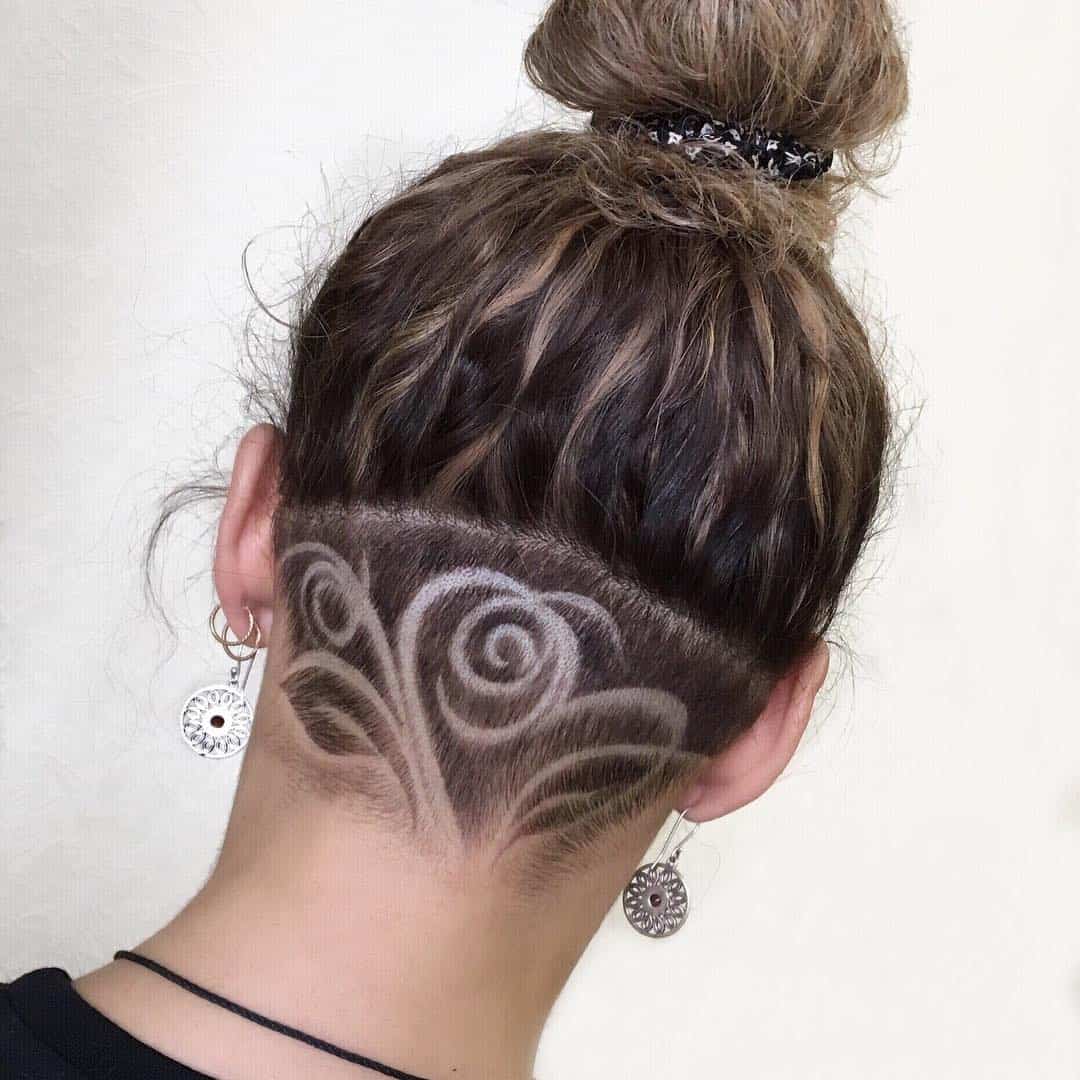 Design: Classic, romantic rose
Appeal: Expressive personal detail
Location: Shaved area of the head
Popularity: High among women seeking unique undercuts
2. 3D Cubes Undercut On Short Pink And Yellow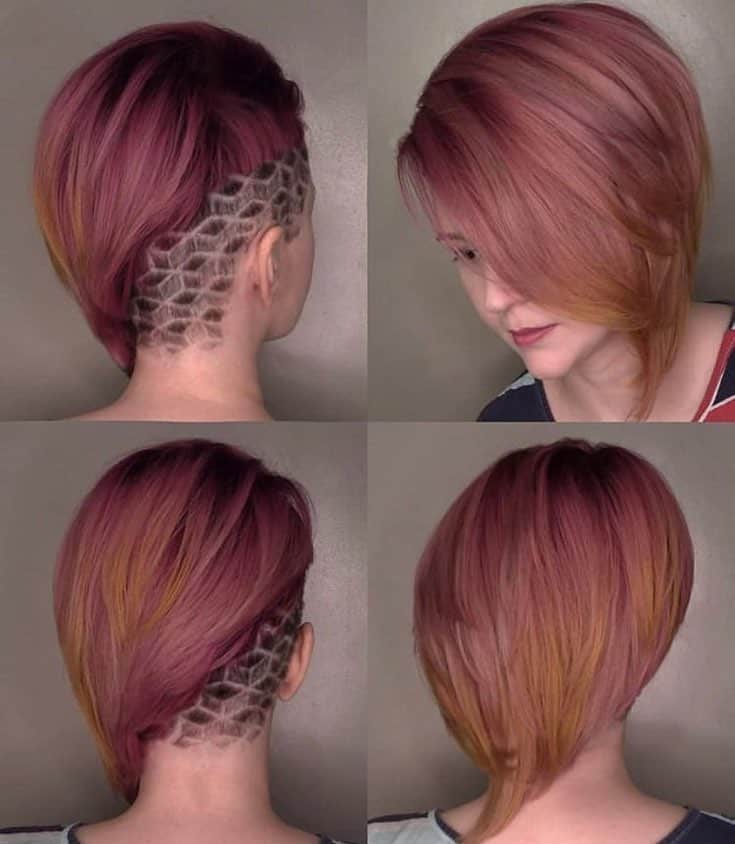 Styles: Unique 3D cube pattern
Palette: Vibrant pink and yellow hues
Appeal: Contemporary edginess
Inspiration: Geometric beeswax shapes
3. Spiderweb Undercut Design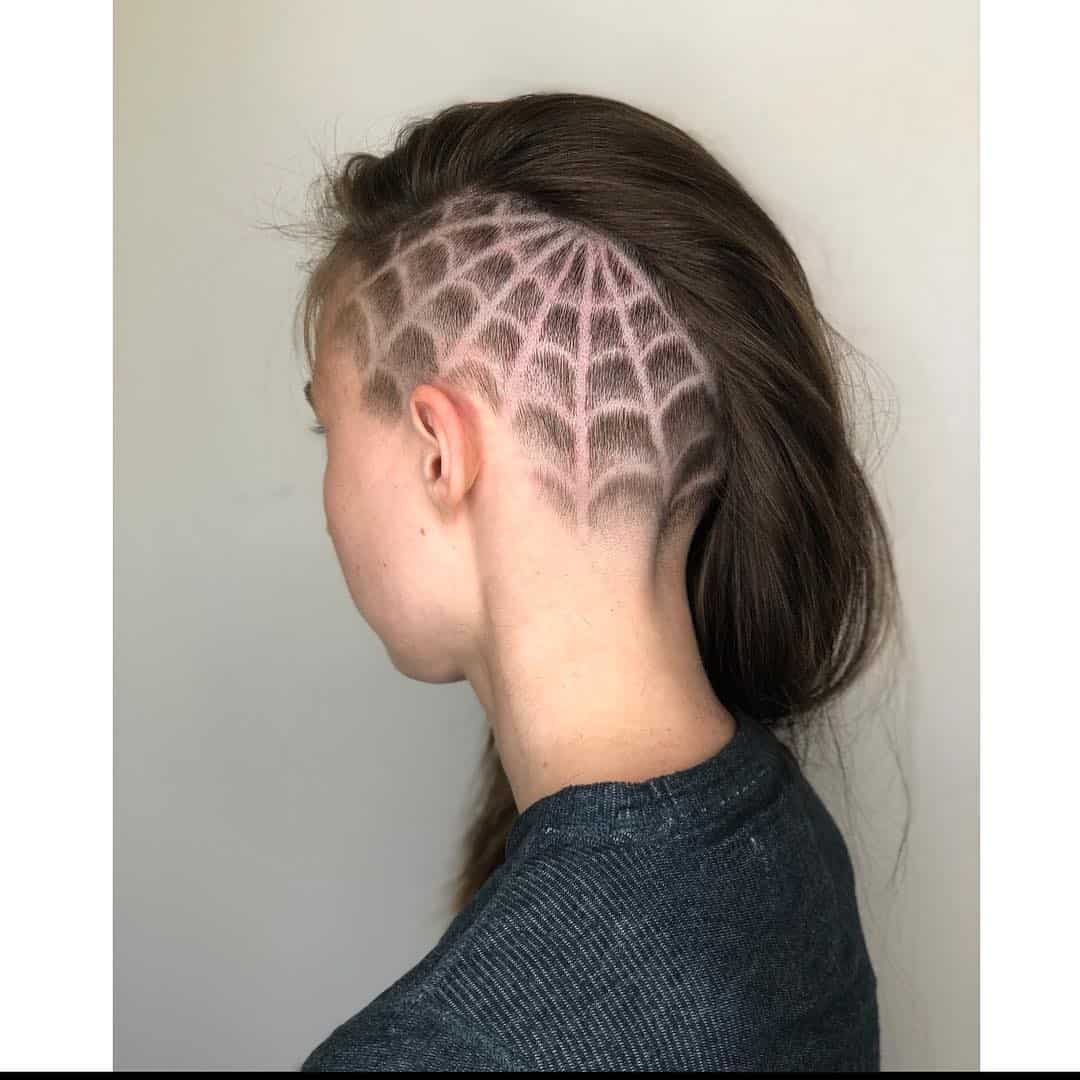 Style Incorporation: Can be blended with a Curly Mohawk for a dynamic look.
Personal Expression: Unique to each individual; like a personal emblem.
Aesthetic Appeal: Adds a creative touch to one's appearance.
We provide a diverse range of undercut designs to align with our personal essence.
4. Peacock Tail Undercut Design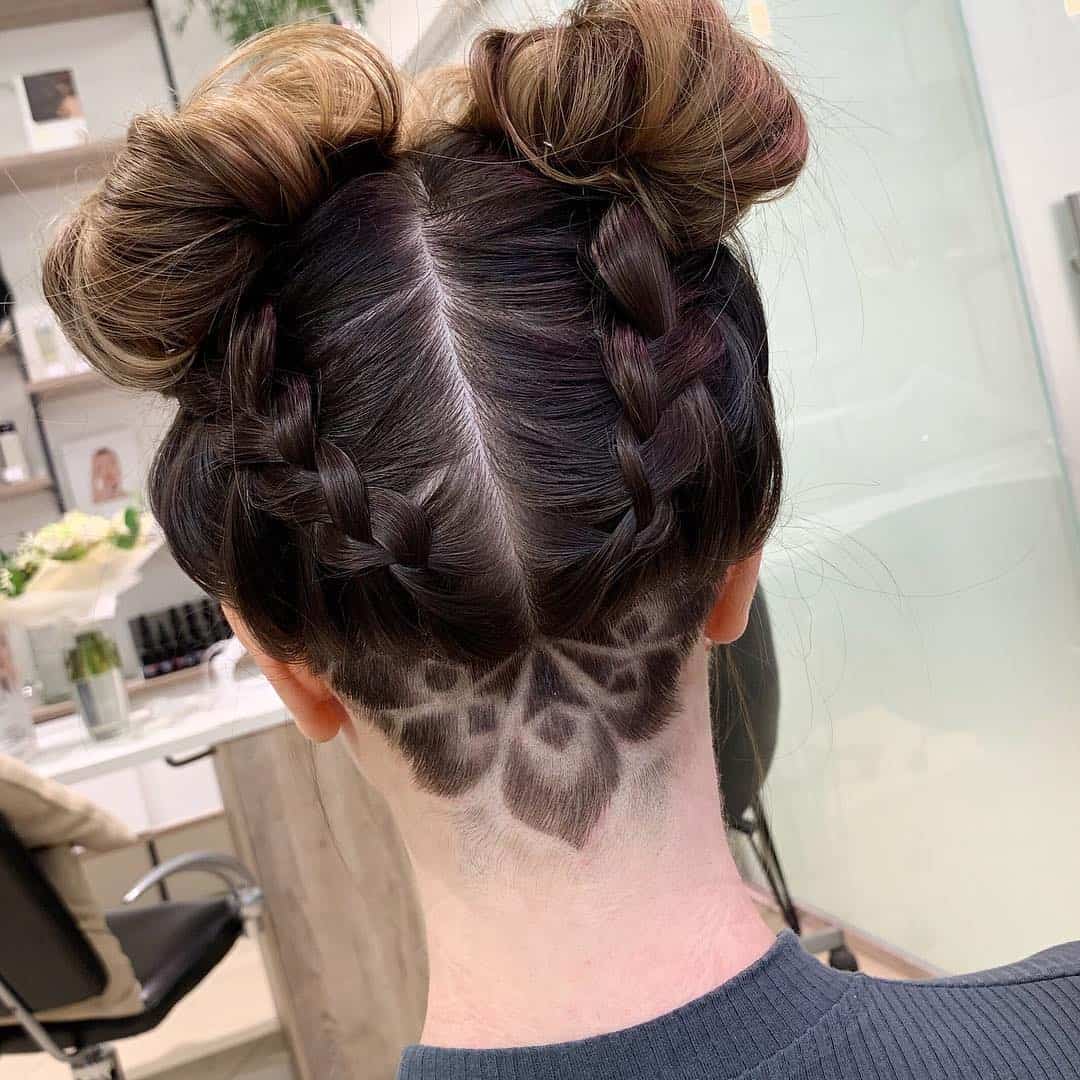 Our interpretation of the peacock tail in haircut designs is a testament to its timeless appeal. It carries the essence of sophisticated patterns, even in monochrome.
Popularity: High among various design disciplines
Application: Incorporated into haircut artistry
Detailing: Maintains elegance, sans vibrant hues
5. Colored Textured Roses Undercut Design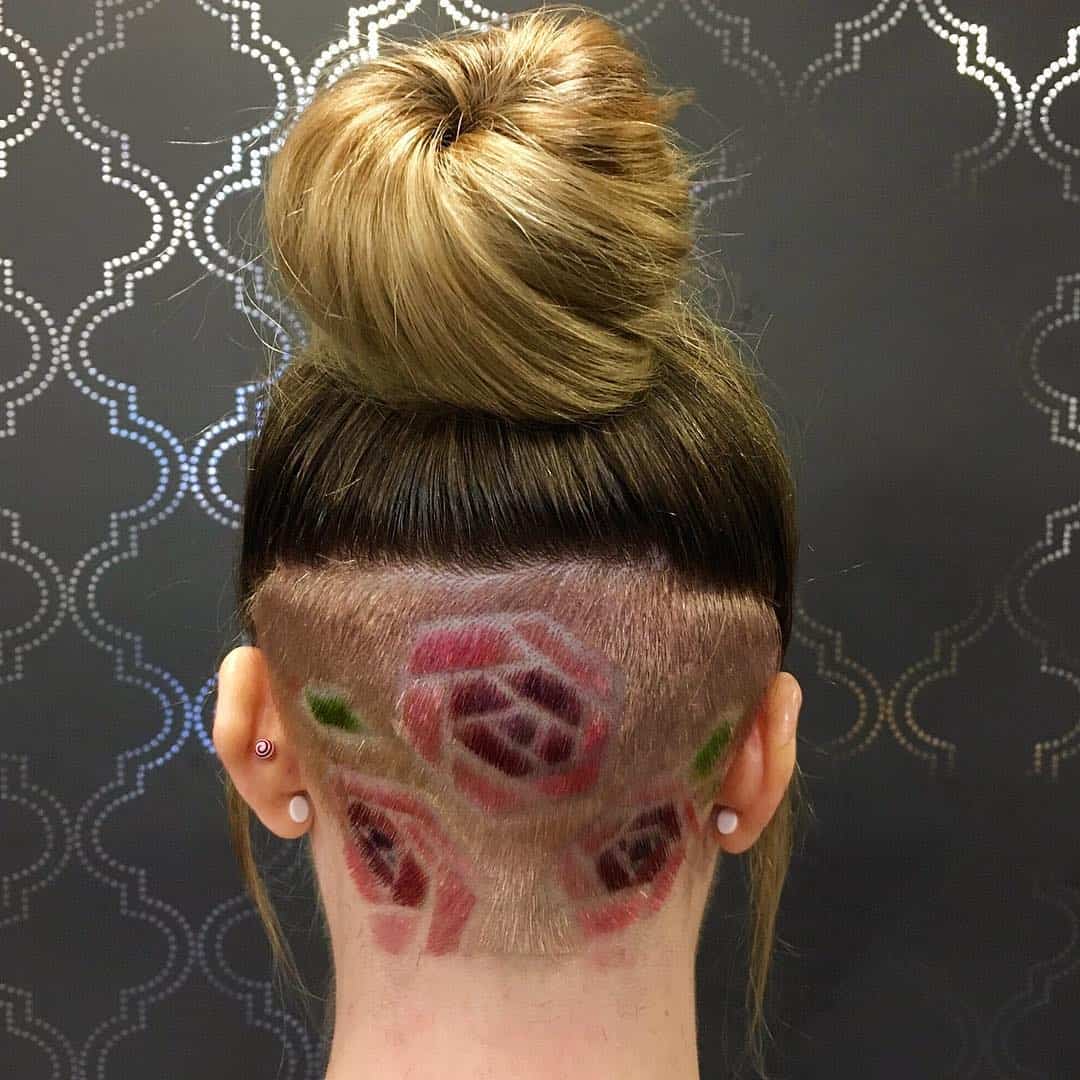 We select vibrant reds and greens to make our roses stand out. The pastel palette is a bold choice for an undercut, offering a subtle yet striking contrast.
| Color | Visibility |
| --- | --- |
| Red | High |
| Green | Medium |
Bold Reds signify passion.
Green hues bring a natural touch.
6. Side Dragon Undercut Design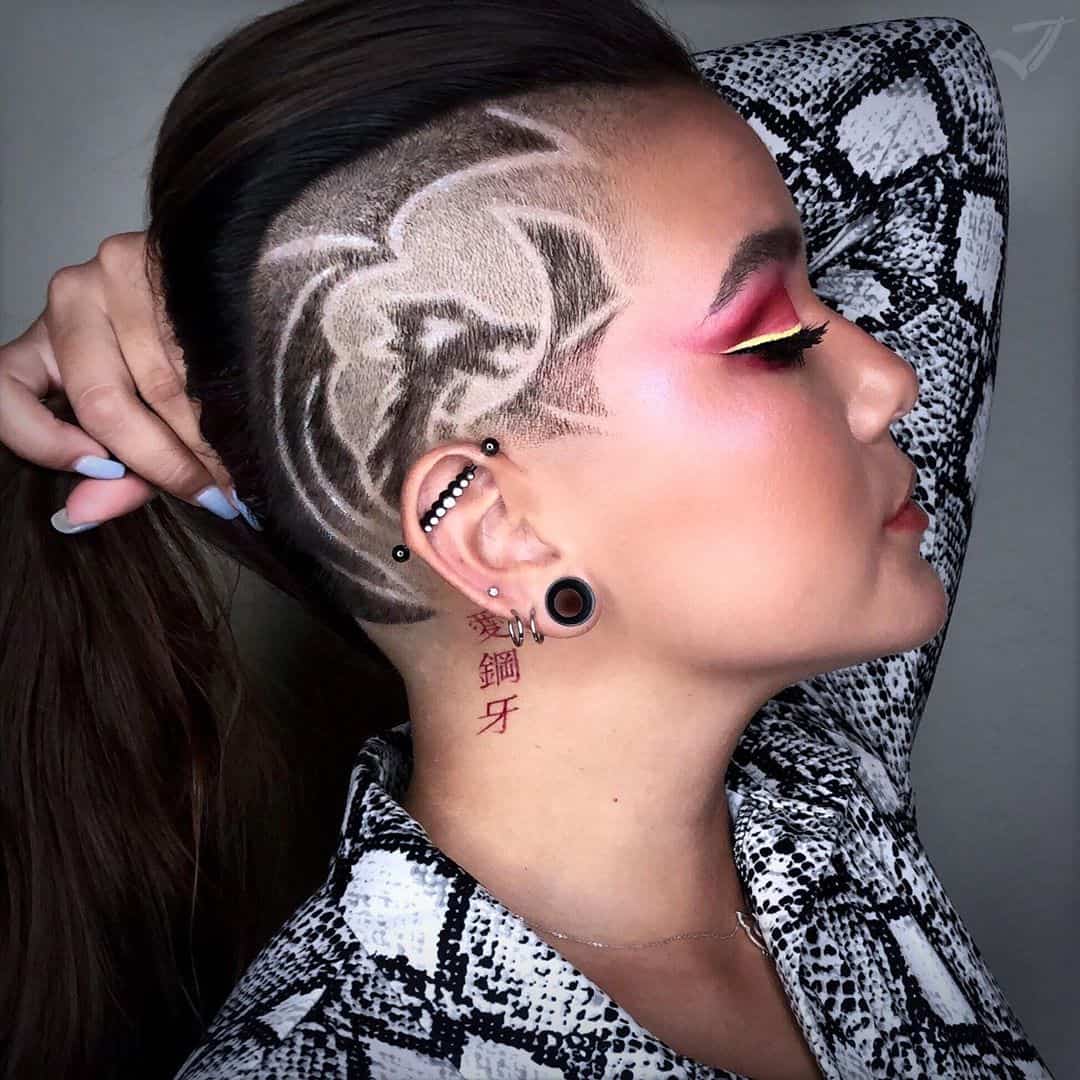 Design Resemblance: Our side dragon undercut design draws inspiration from body tattoos.
Popularity Influence: The motif echoes the iconic imagery from "The Girl with the Dragon Tattoo."
Impermanence: Unlike a tattoo, our undercut is a temporary, yet bold fashion statement.
7. Spiral And Geometric Undercut Design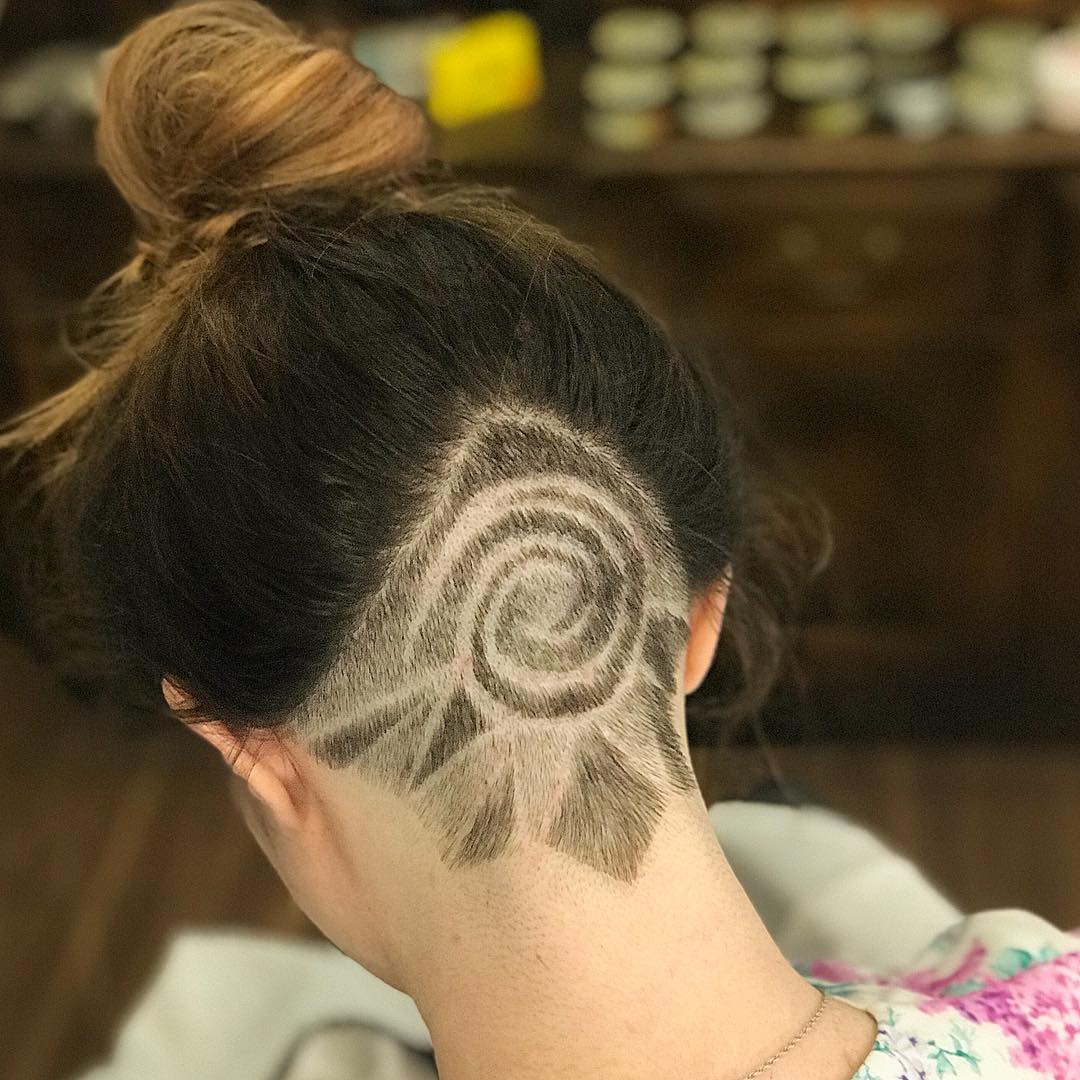 Geometry in Hairstyling

Adds dimension
Creates intrigue

Pattern Choices

Various shapes
Diverse sizes

Our Inspiration

Infinite patterns
Symmetry in spirals
8. Layered Rainbow Colored Undercut Design
Trend: The rainbow hair movement is unmissable.
Innovation: We combine vibrant hues with undercuts.
Visibility: Our design reveals layers upon lifting hair.
Style: Undercuts remain hidden for a versatile look.
9. Beehive Hexagon Undercut Design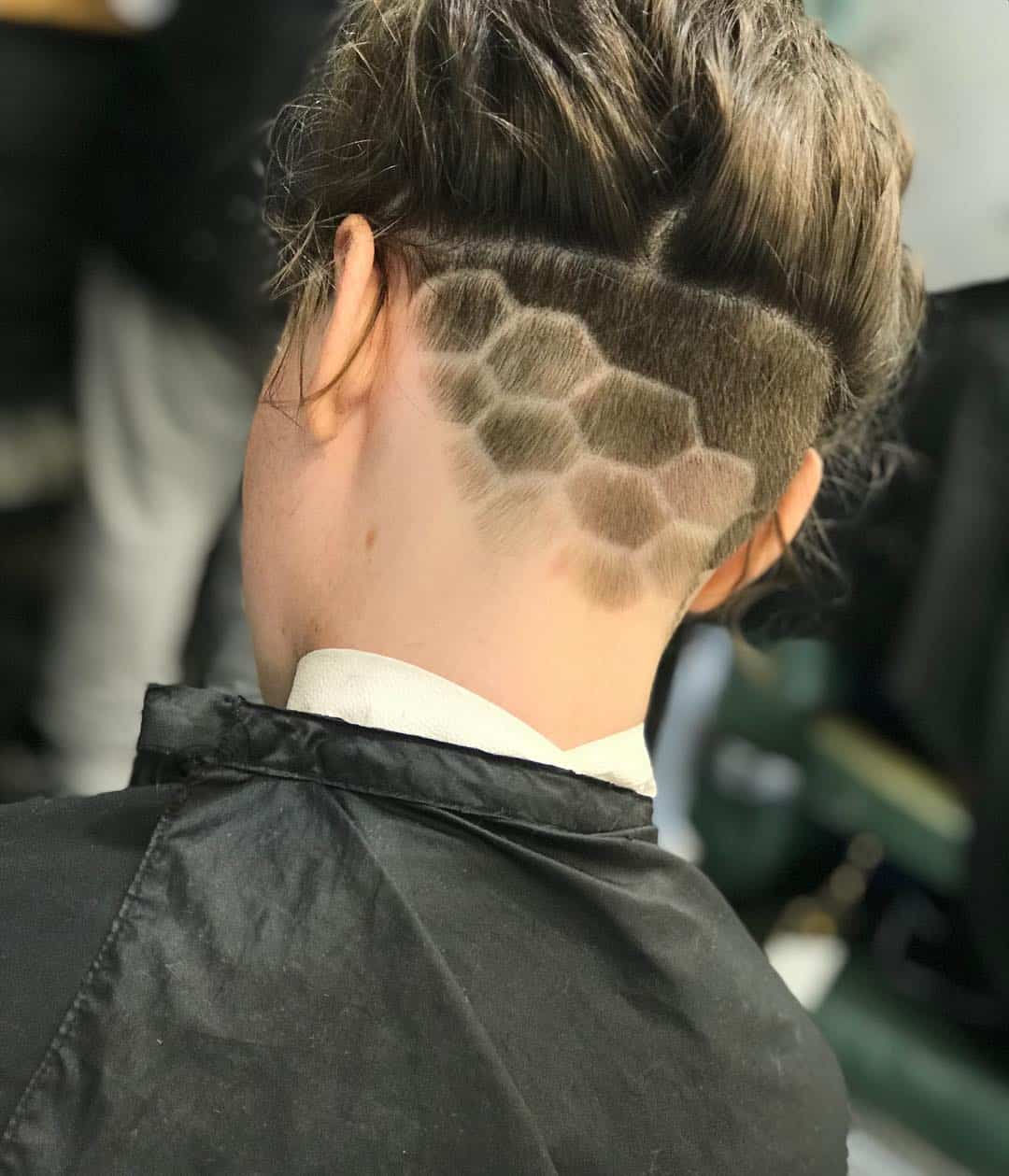 Inspiration: The beehive silhouette
Aesthetic: Perfect framing for the head
10. Curved Design On Violet Ombre Pixie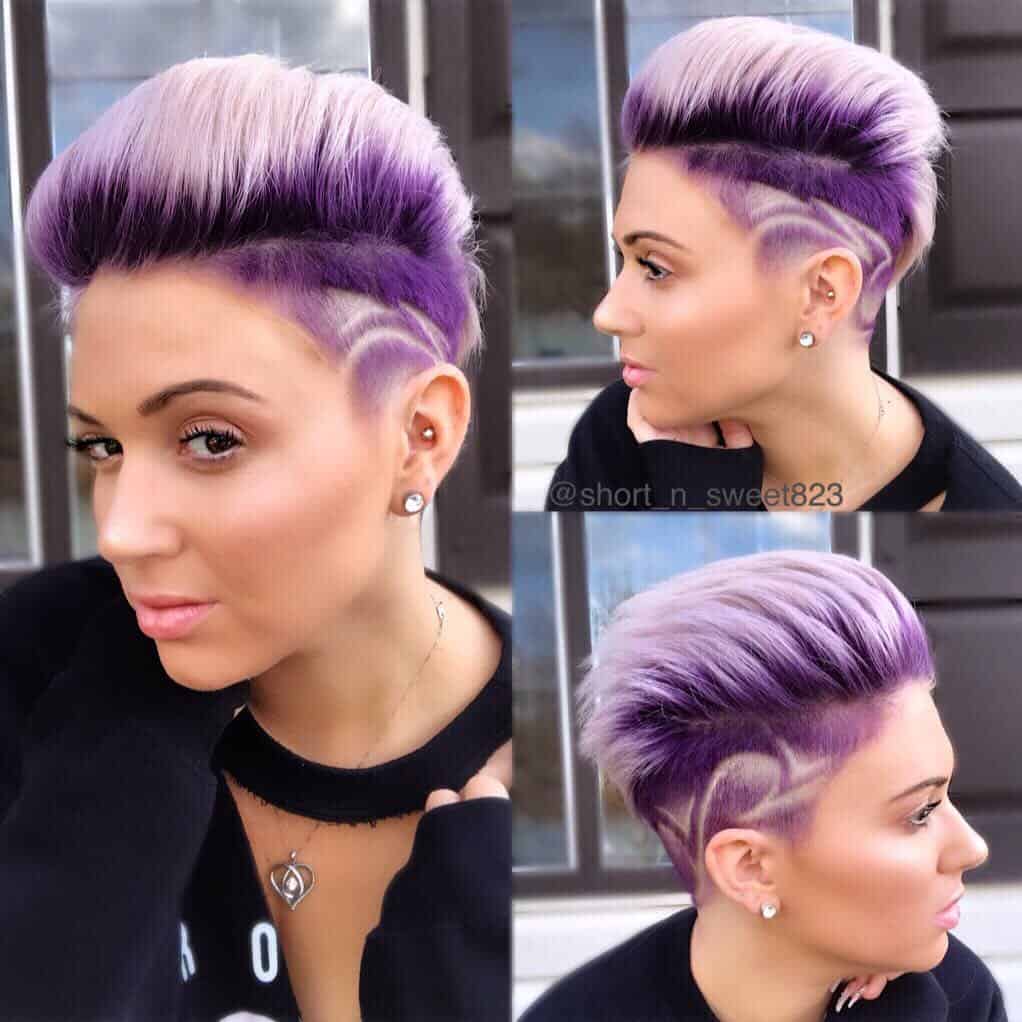 Ensure our pixie undercut complements the bold violet ombre.
Opt for curved designs that echo the dynamic hair color transition.
Match: Harmonize the cut with our overall style for a cohesive look.
11. Versace Mandala Undercut Design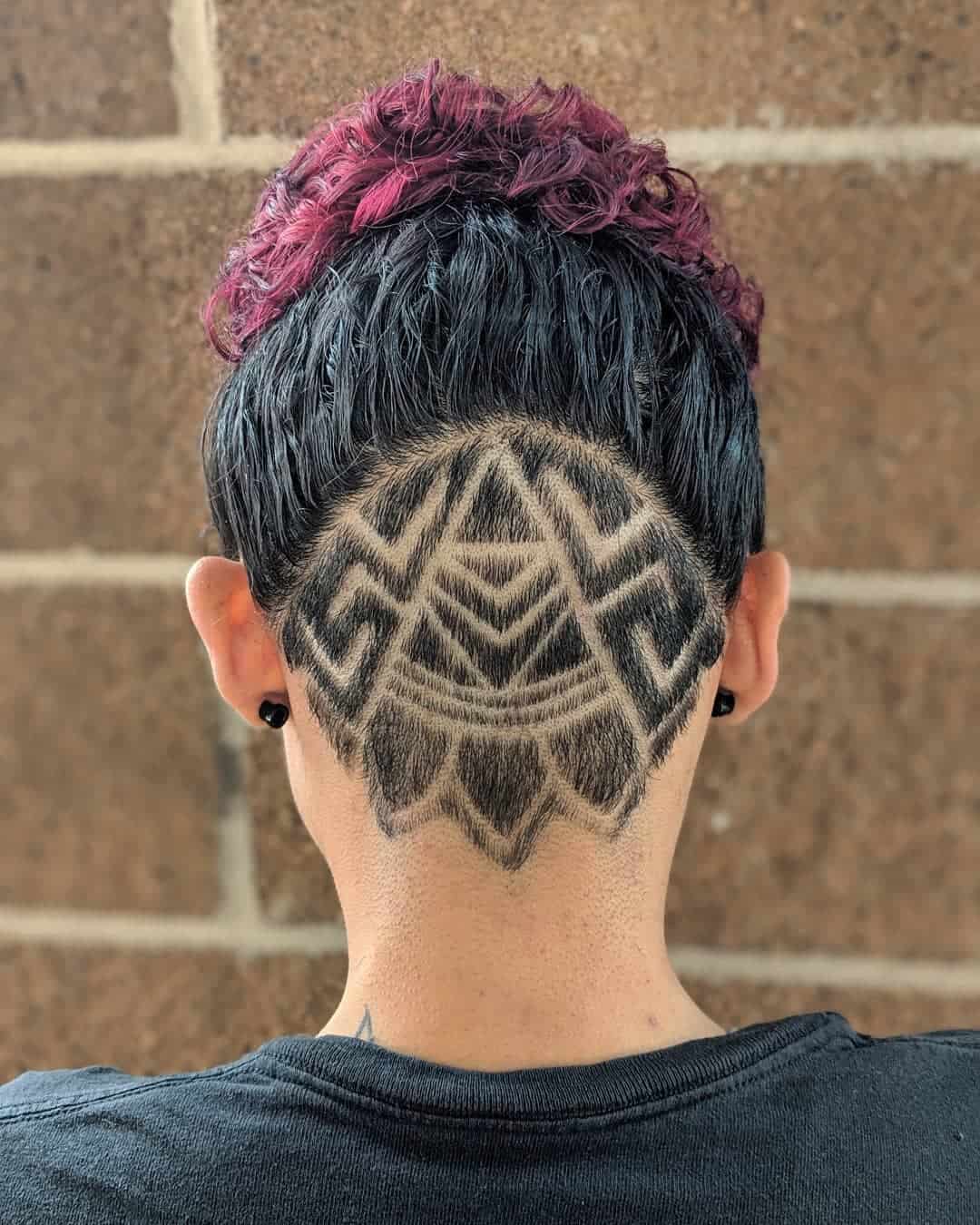 Pattern: Mandala
Designer: Donatella Versace
Statement: Bold experimentation
Challenge: Embrace the Versace mandala
Inspiration: Donatella's daring creations
12. Blue Mermaid Undercut Design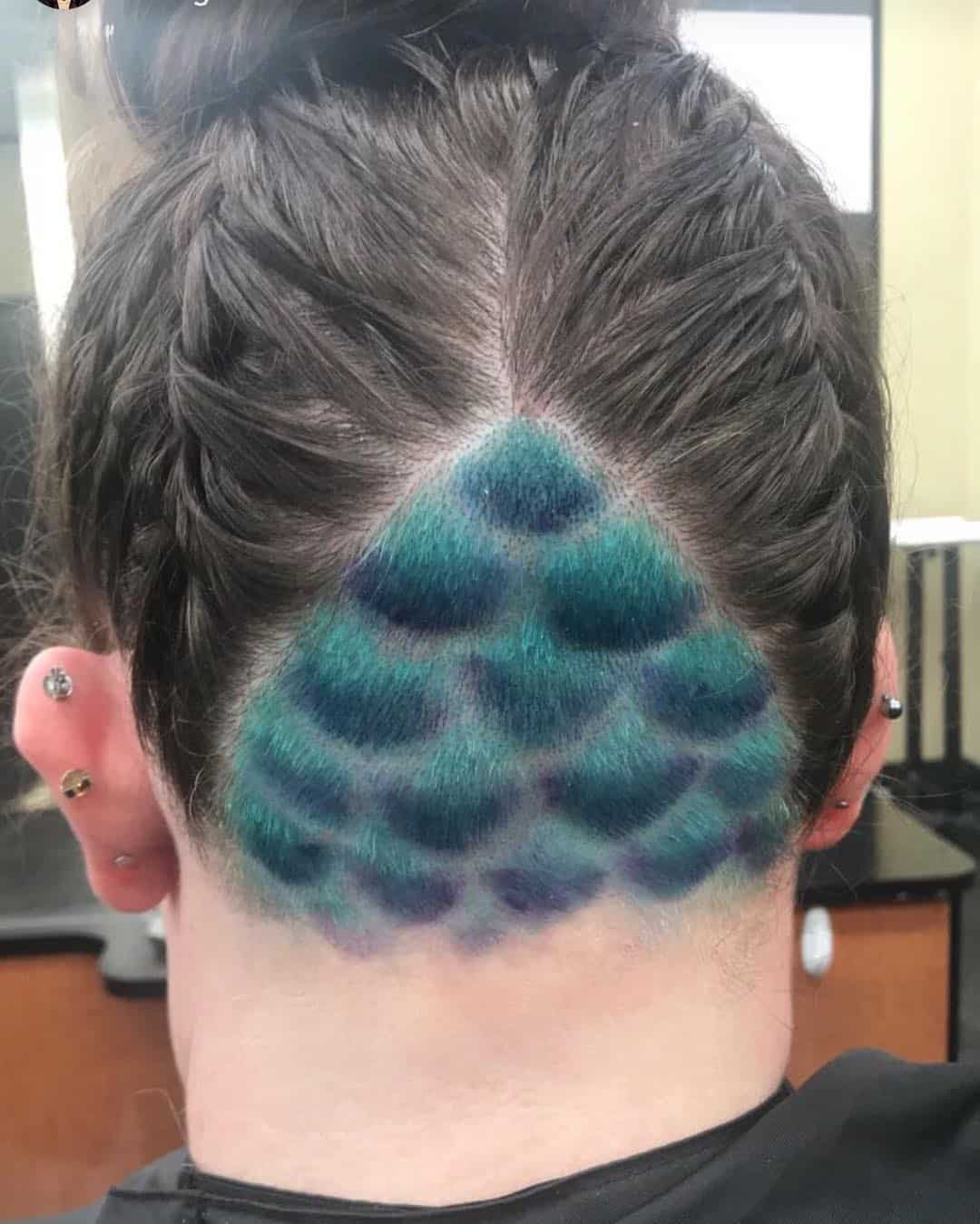 We recommend adding a striking contrast to your hairstyle with a blue mermaid undercut. The vibrant hue only on the undercut can create an eye-catching look. Here's how you can achieve it:
Color Selection: Opt for a blue dye that complements, yet stands out.
Dye Application: Apply carefully to the undercut area only.
Maintenance: This design might require regular touch-ups to maintain its vibrancy.
13. Glowing Diamond Undercut Design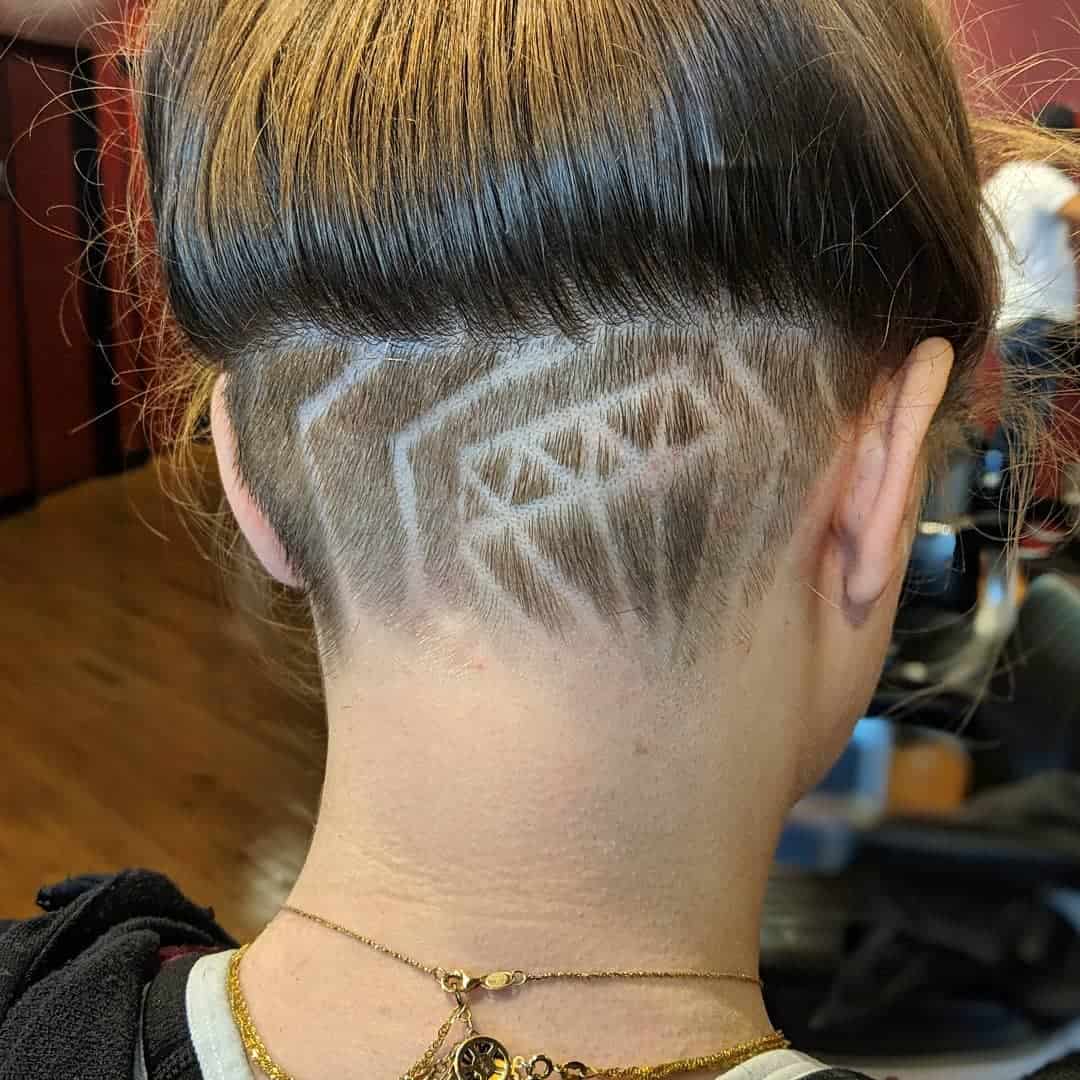 Visually striking: Our Glowing Diamond Undercut Design is both innovative and unconventional.
Appeal: Perfect for those who prefer edgy and unique styles.
14. Geometrical Stained Glass Undercut Design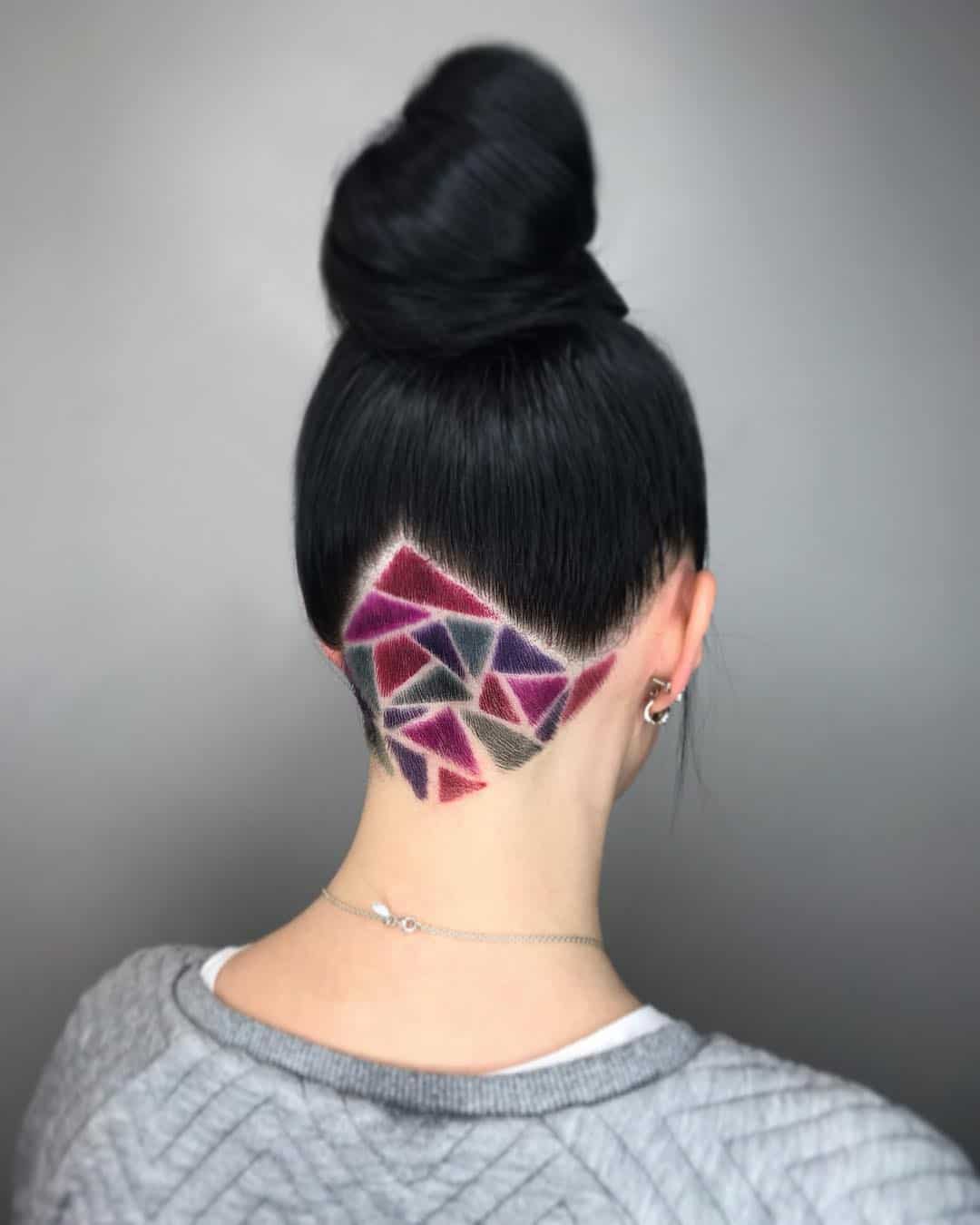 Boldness: Unites sophistication & daring
Audience: Tailored for the urban, powerful woman
15. Feathers Undercut Design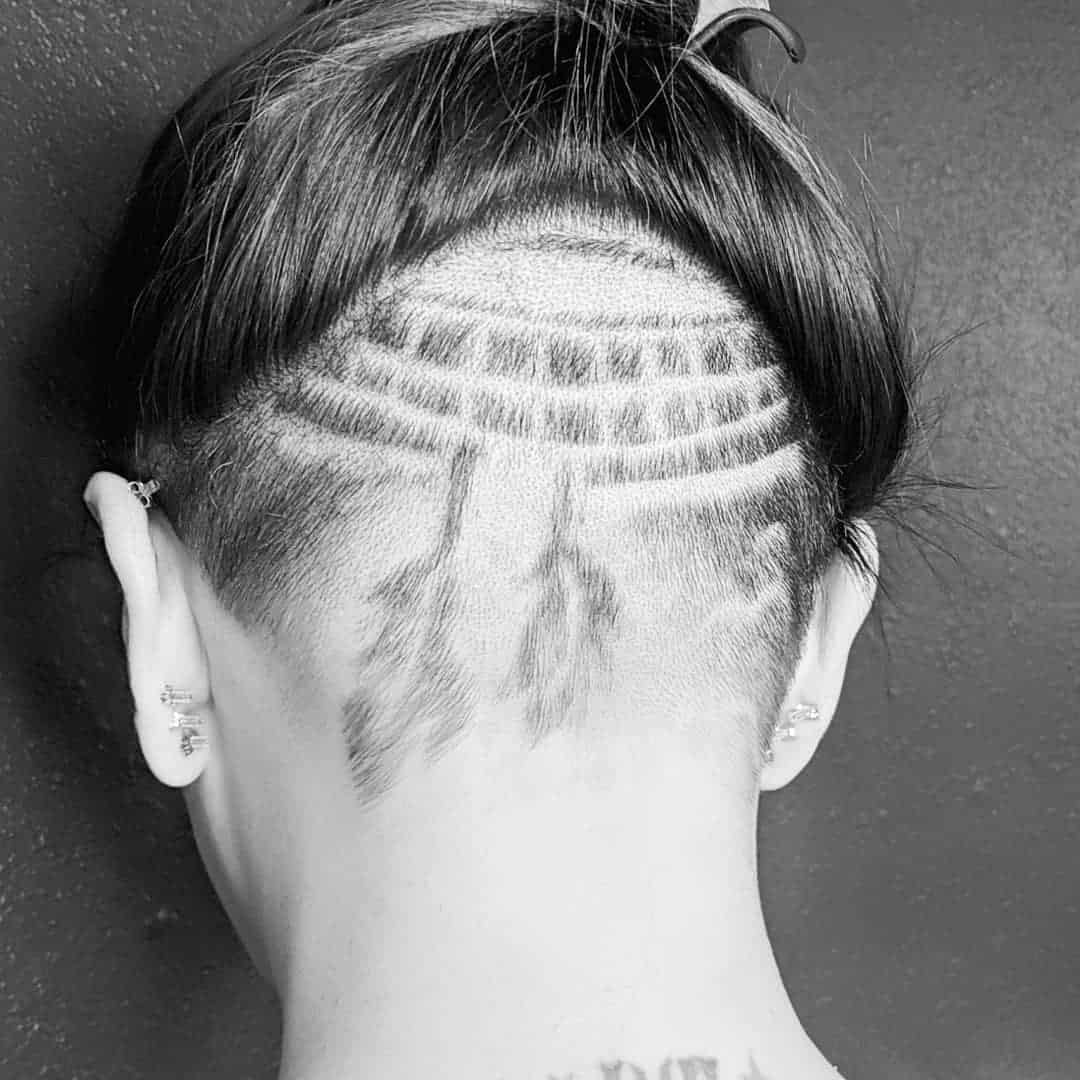 Historical Significance: Feathers represent cultural heritage.
Modern Appeal: Sought for diverse style needs—beauty to home décor.
Versatility: Ideal for personalization in undercuts.
16. Horizontal Two-Tone Chevron Undercut Design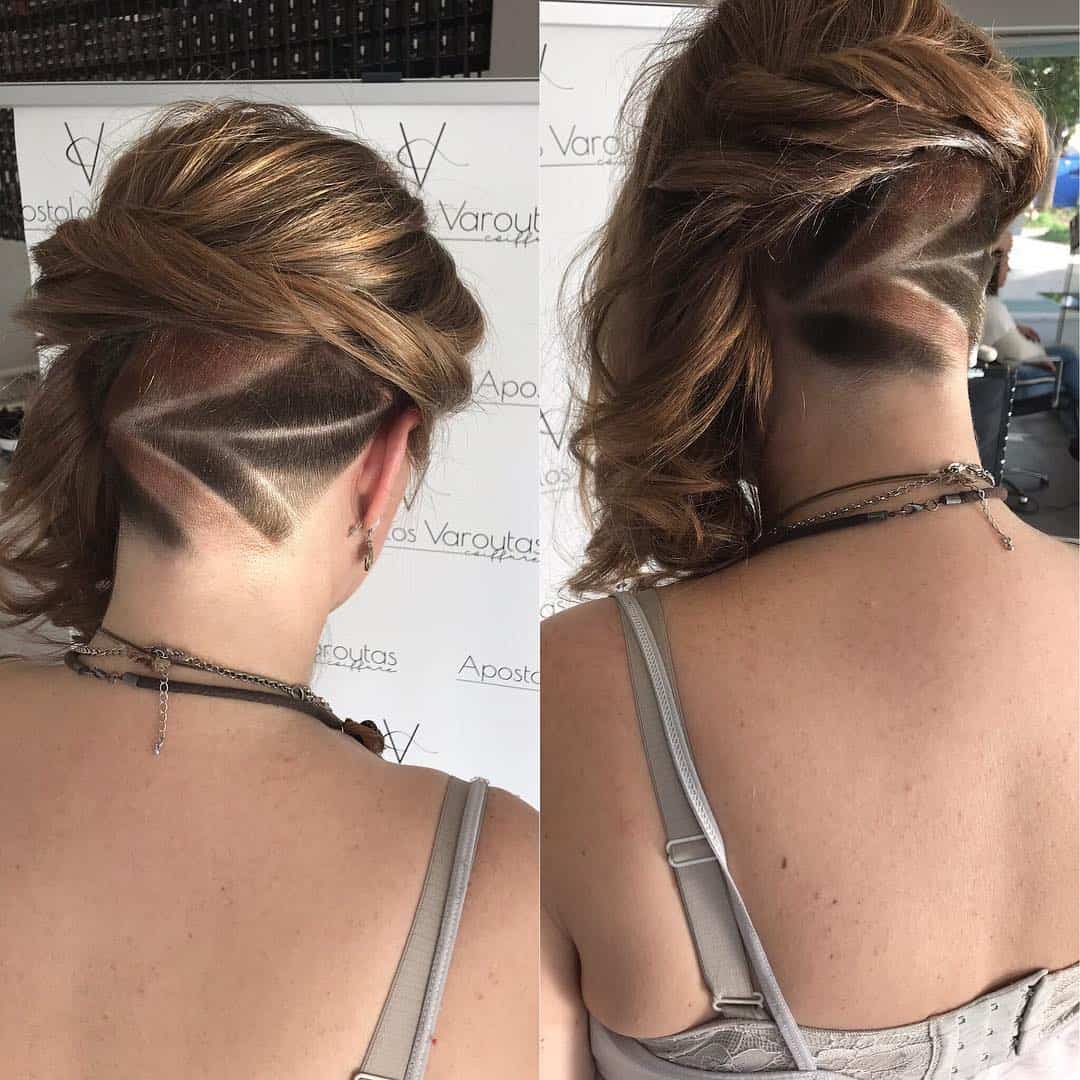 Visibility: A striking two-tone color palette enhances the edgy Chevron pattern.
Symbolism: Inspired by the Chevron's use in traffic signage for direction and emphasis.
Fashion Statement: Appeals to those seeking a bold, rebellious look.
Popularity: Gaining traction among women aiming to make a strong style statement.
17. Rectangle Tiled Undercut Design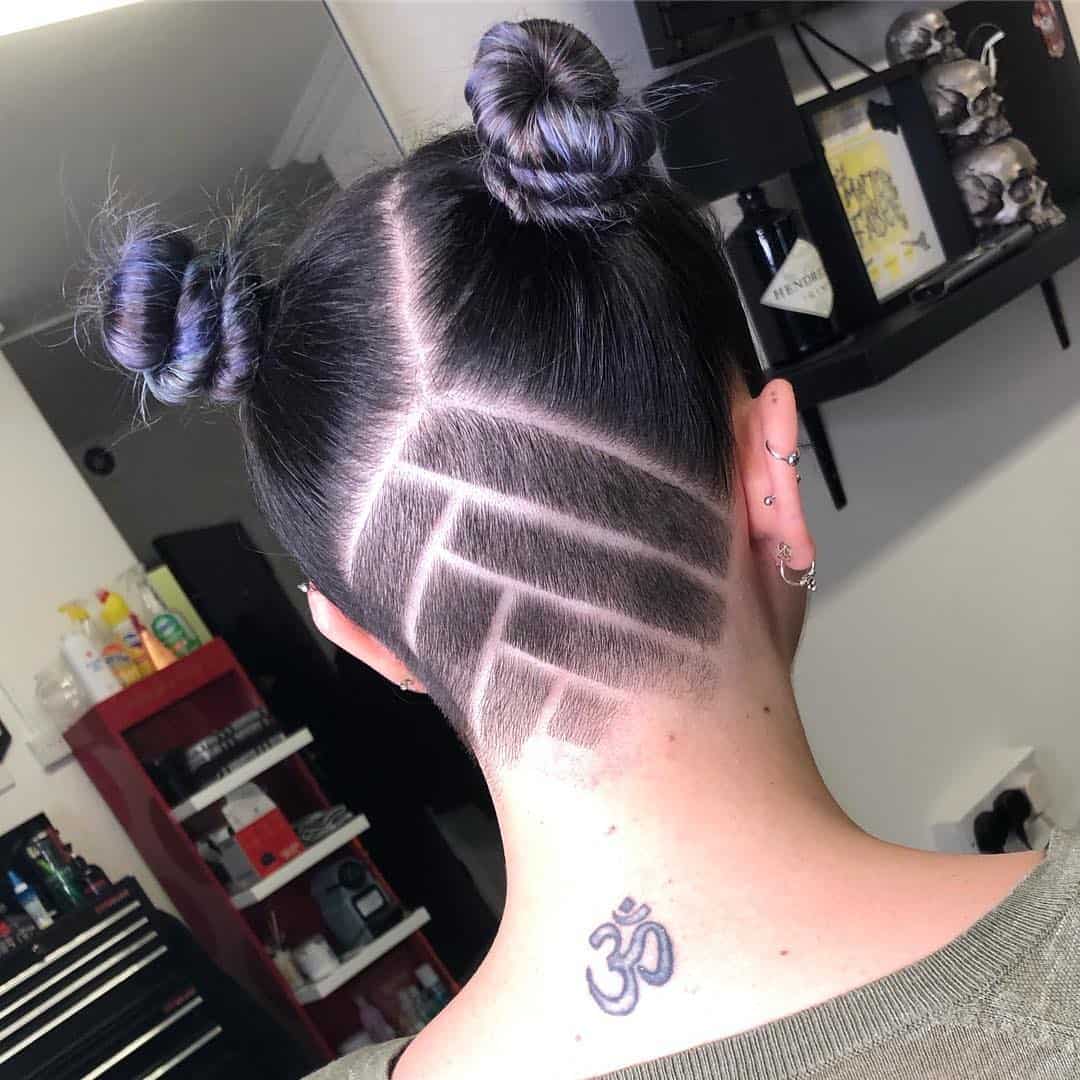 Structure: We use clear geometric sections.
Innovation: This approach elevates classic undercuts.
Visual Appeal: Varied sections generate a unique pattern.
18. Black And Blue Circles And Geometrical Undercut Deign On Platinum Mohawk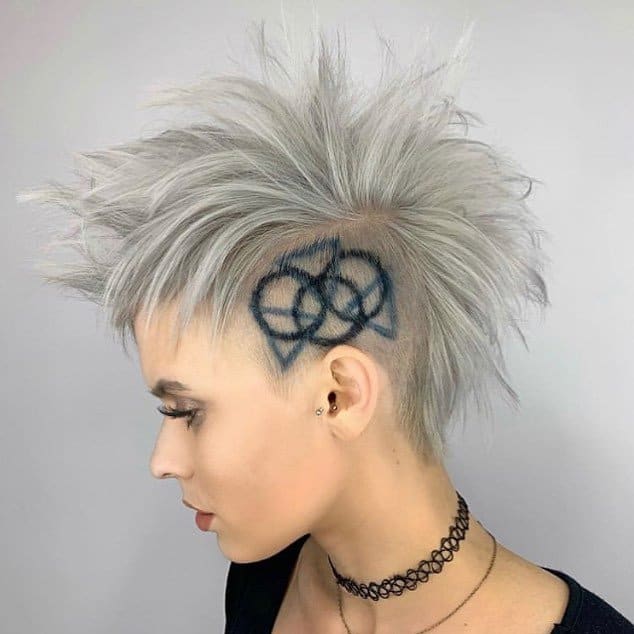 Trend Alert: Platinum Mohawks
Add-On: Black and blue circular patterns
Detailing: Geometric shapes on undercuts
We embrace the resurgence of the Mohawk with creative twists, adding mystique with bold undercuts.
19. Blue And Violet Dripping Undercut Design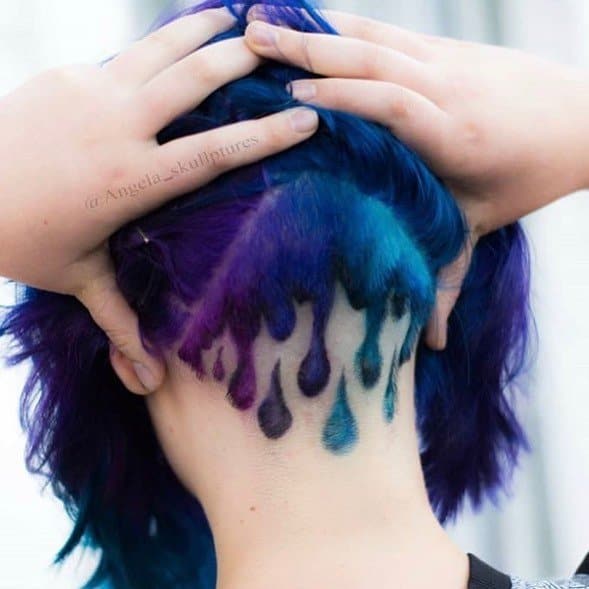 Color Palette: Blue and violet hues
Design Inspiration: 3D aesthetics
Trend: Reflects multi-dimensional artistry
We find this style embodies modern creativity.
20. Glowing Spiral Sun Undercut Design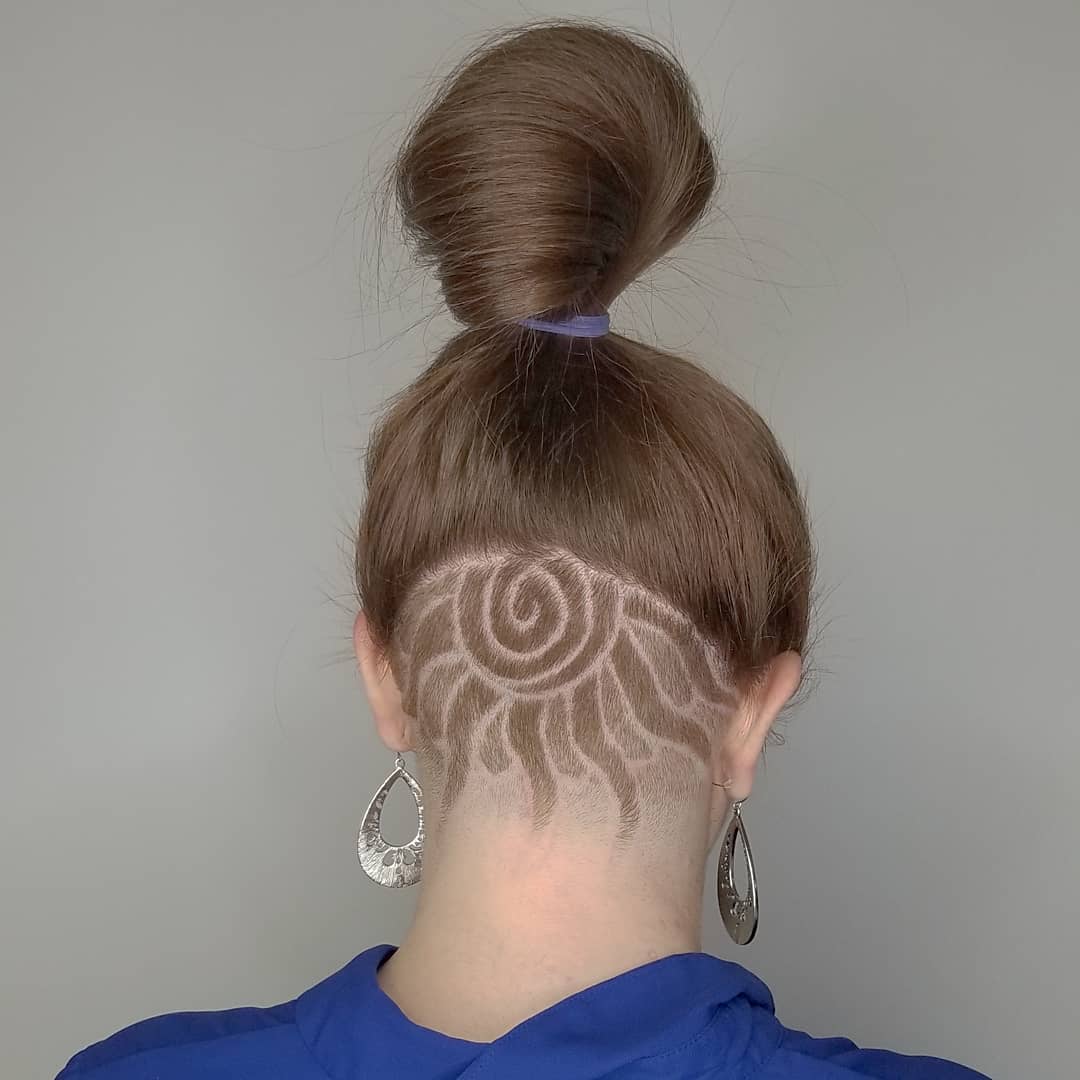 Design Inspiration: The sun, a symbol of life and vitality.
Cultural Significance: Embraced across many cultures for its representation of energy.
Our Take: We believe incorporating this symbol into an undercut signifies a zest for living.
21. Pulsing Star Undercut Design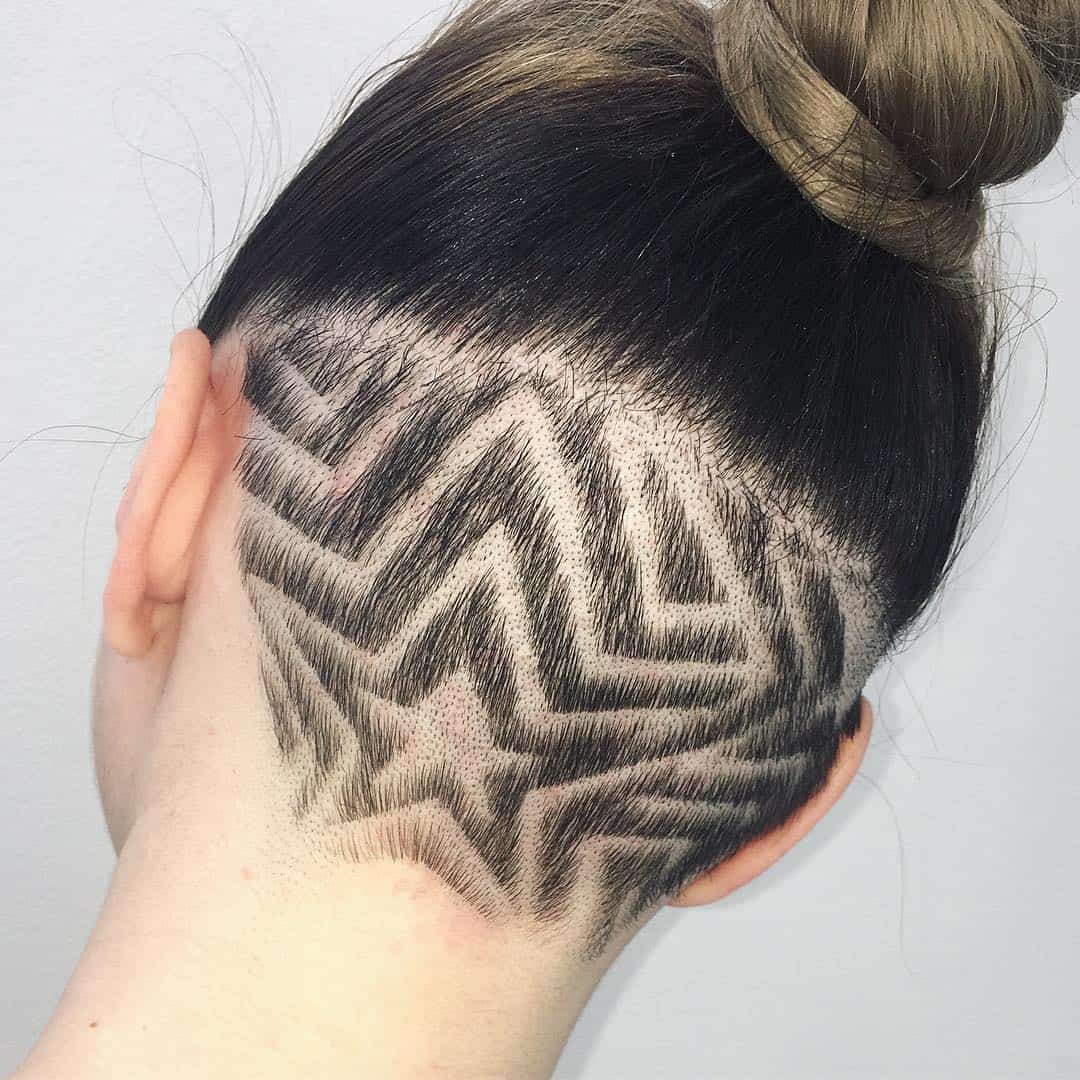 Inspiration: Pulsing stars maintain balance through surface layer fluctuations.
Design: Incorporates cosmic elegance with a vibrant star pattern.
22. Red Spiral Triangle Design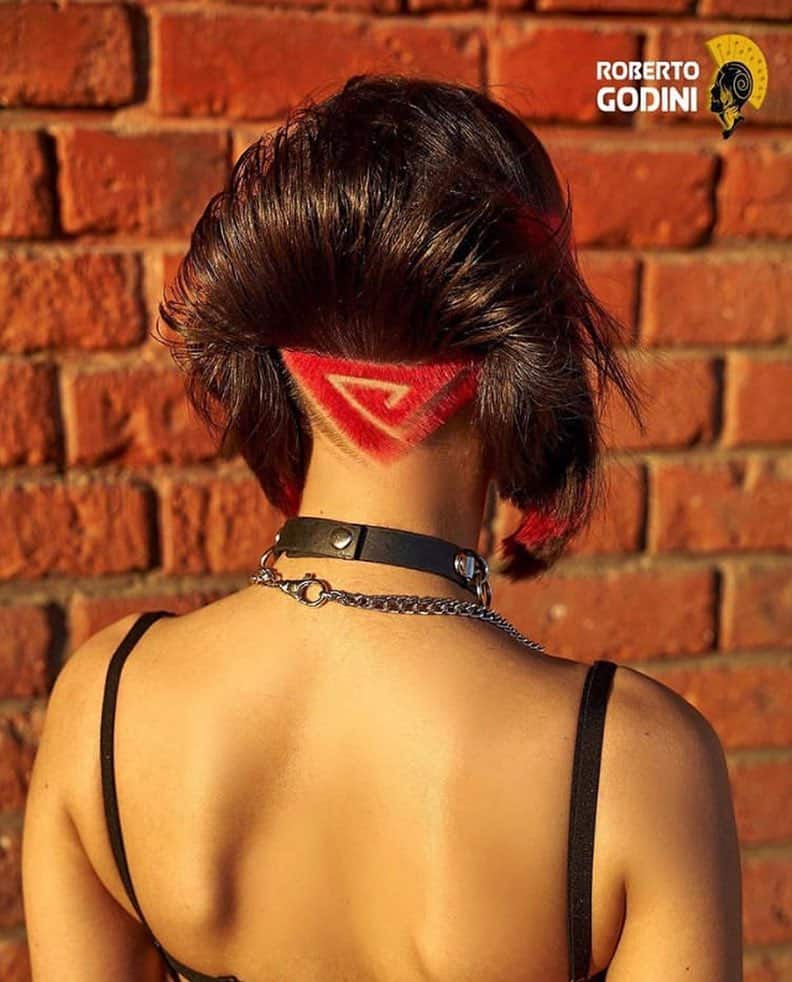 Design Element: Triangle symbol

Symbolism: Represents life's trinity
Adaptability: Can signify religious or lifestyle concepts
23. Faded Angled Curved Undercut Design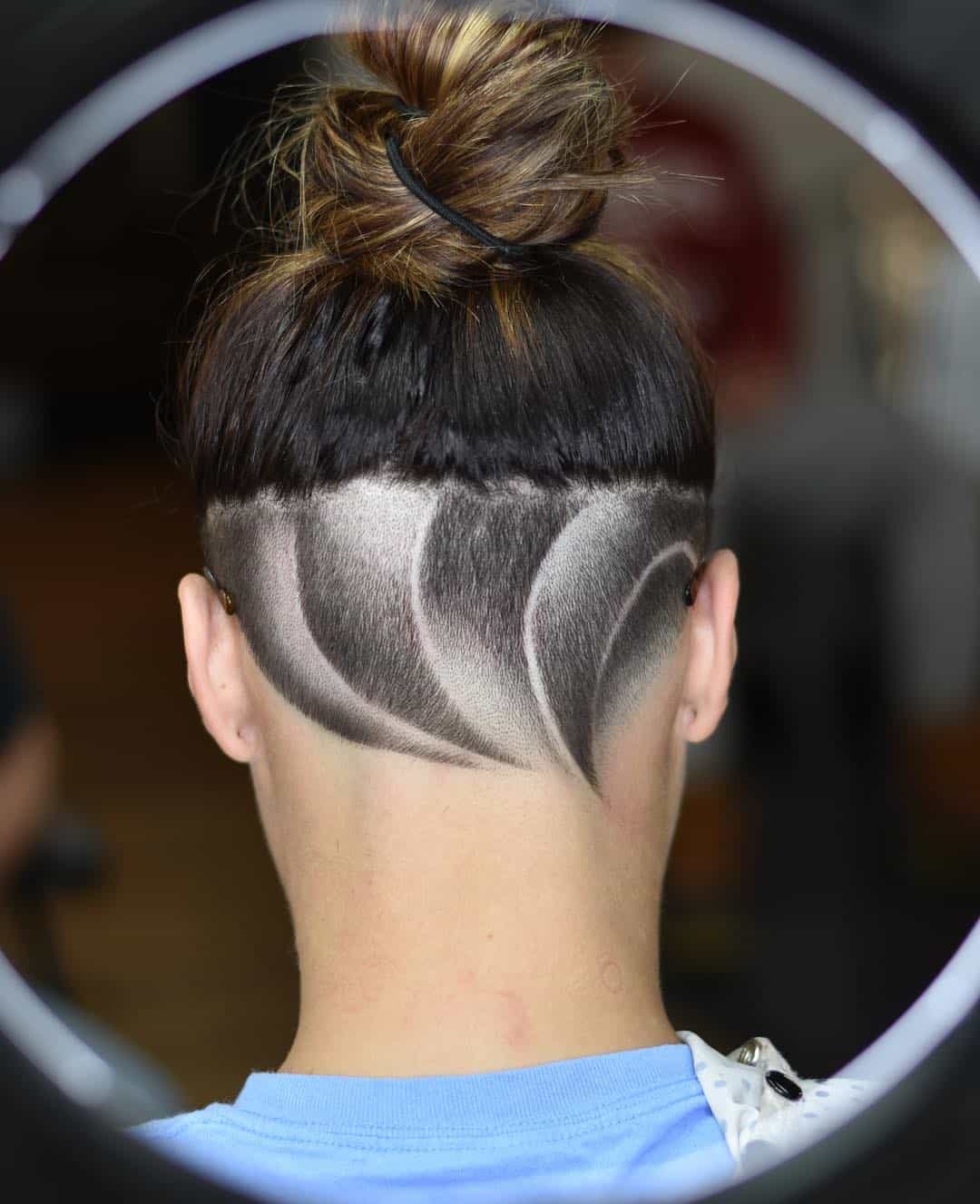 Visibility: We pair the undercut with the hairstyle's flow.
Design: Subtle, yet distinct.
24. Rainbow Splat Undercut Design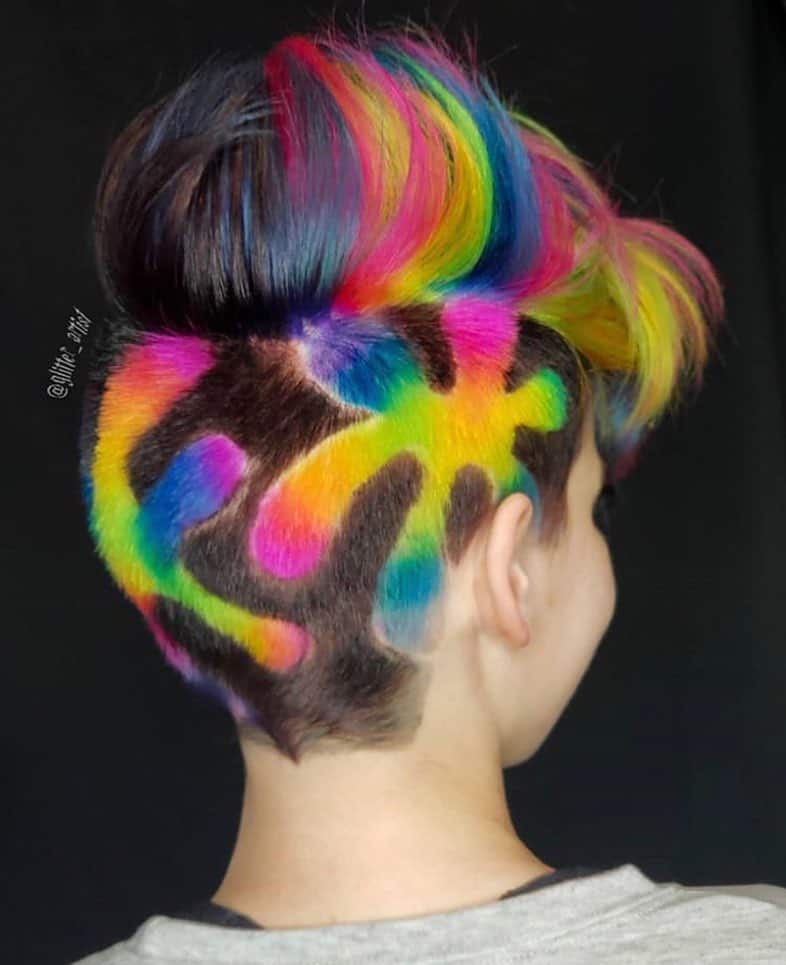 Popularity: Elevated interest in rainbow hair colors
Style: Unique blend, incorporating various hues in an undercut design
Interpretation: Multiple application methods
Visual Appeal: Striking, with a diverse color palette
25. Lotus Undercut Design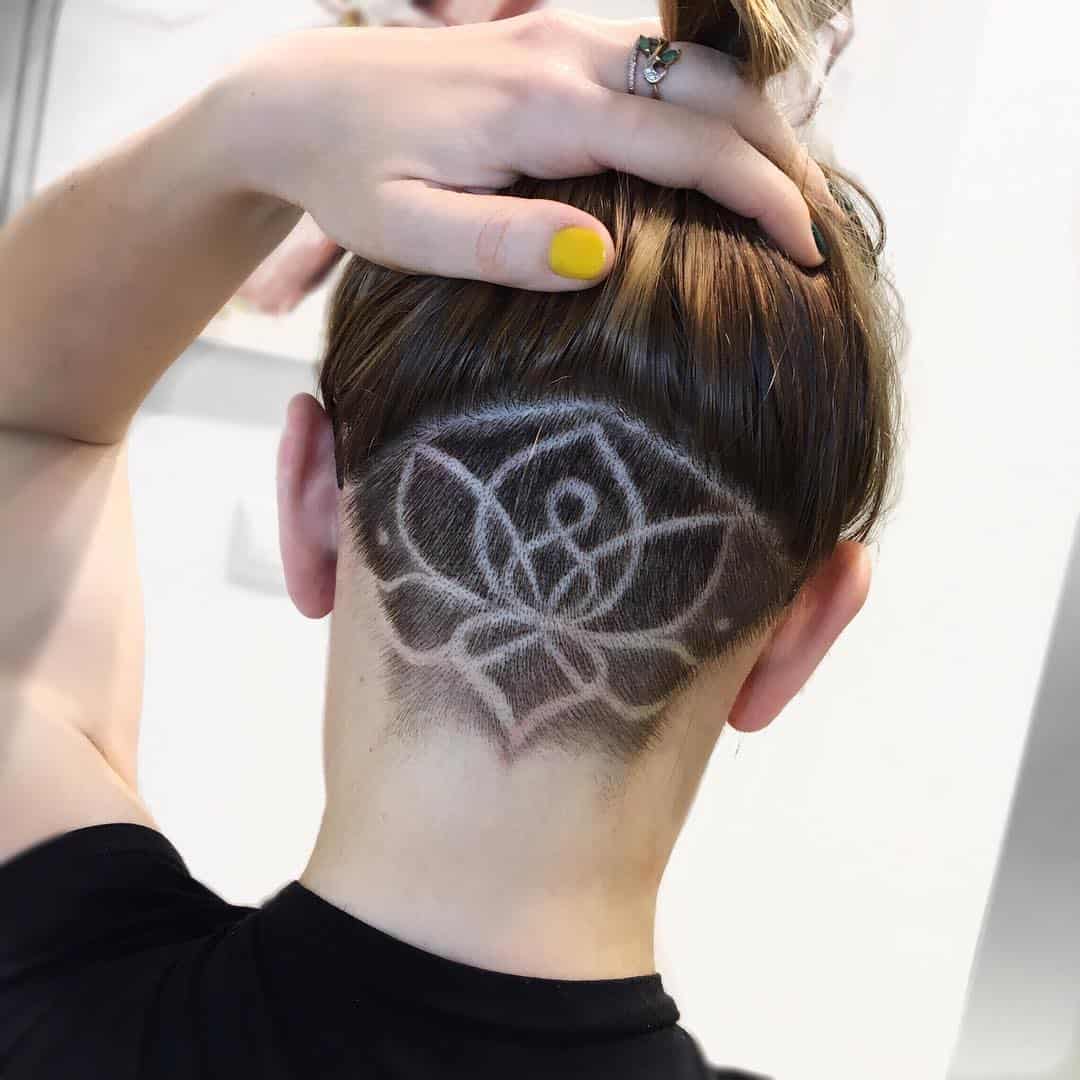 Design Inspiration: Lotus signifies purity and perfection.
Aesthetic Appeal: Captivating visual impact on observers.
Symbol: Represents an ideal state of being.
26. Diamond And Triangle Undercut Design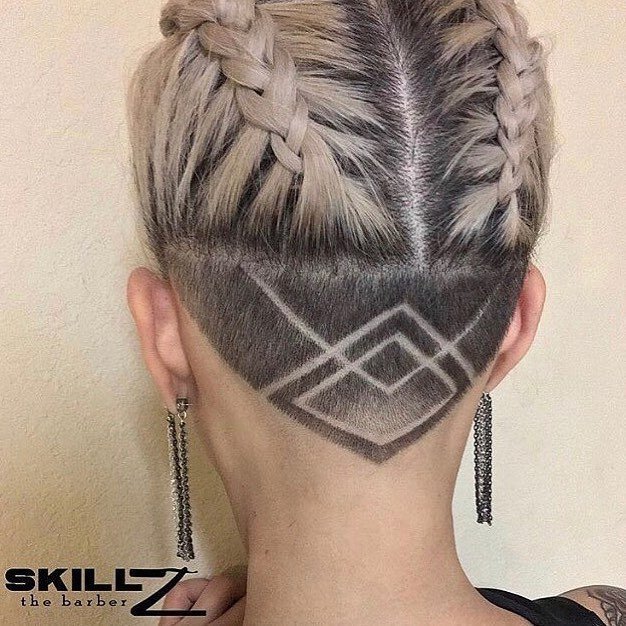 Shapes: Utilize geometric shapes for unique undercuts.
Preference: We often choose triangles and diamonds for a balanced look.
Mix & Match: Experimenting with shapes can enhance creativity.
27. Lucky Shamrock Undercut Design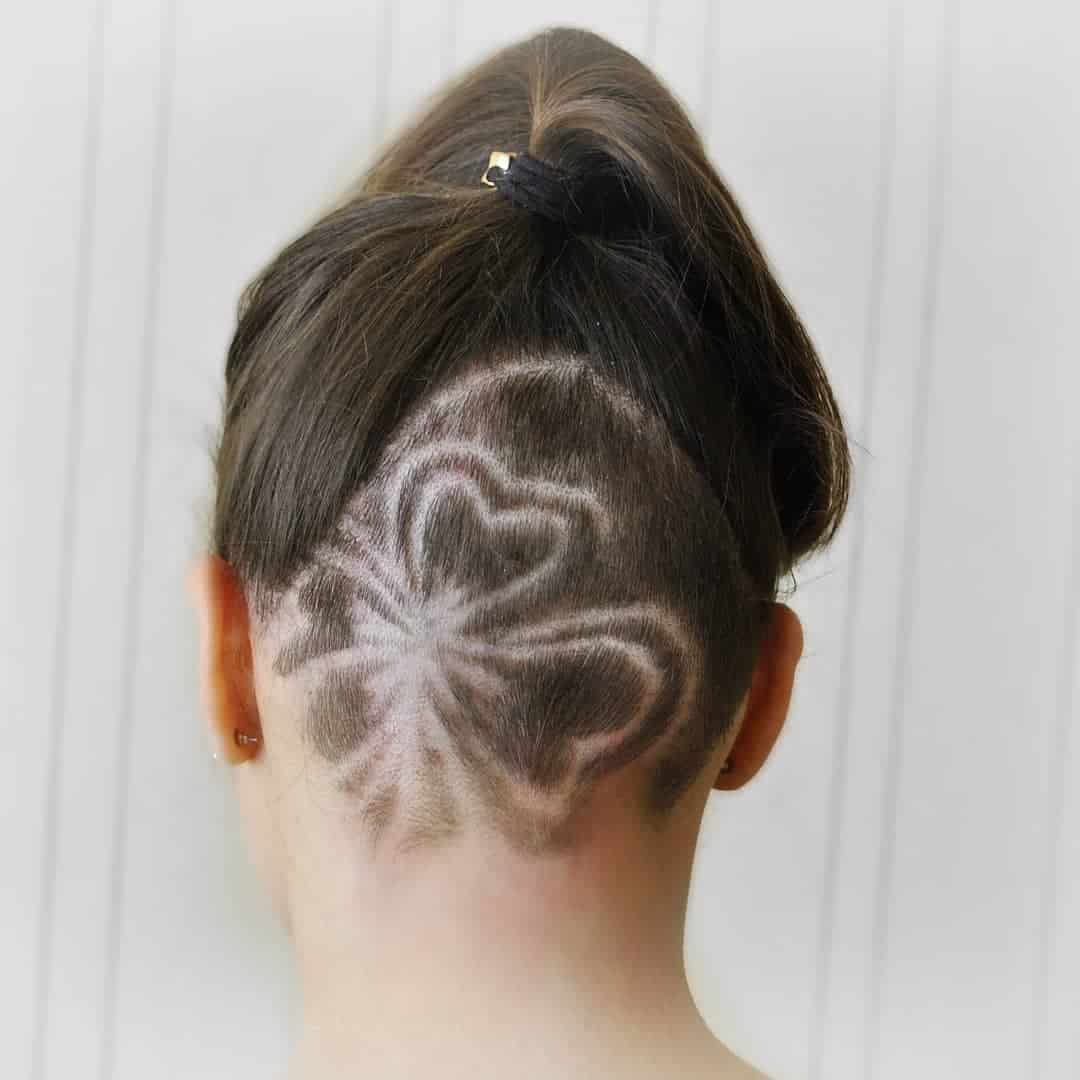 Symbolizes: Luck
Influences: Irish culture
Aesthetic: Unique, bold
Incorporate a shamrock into our undercut for that touch of fortune.
28.  Abstract Vine And Floral Undercut Design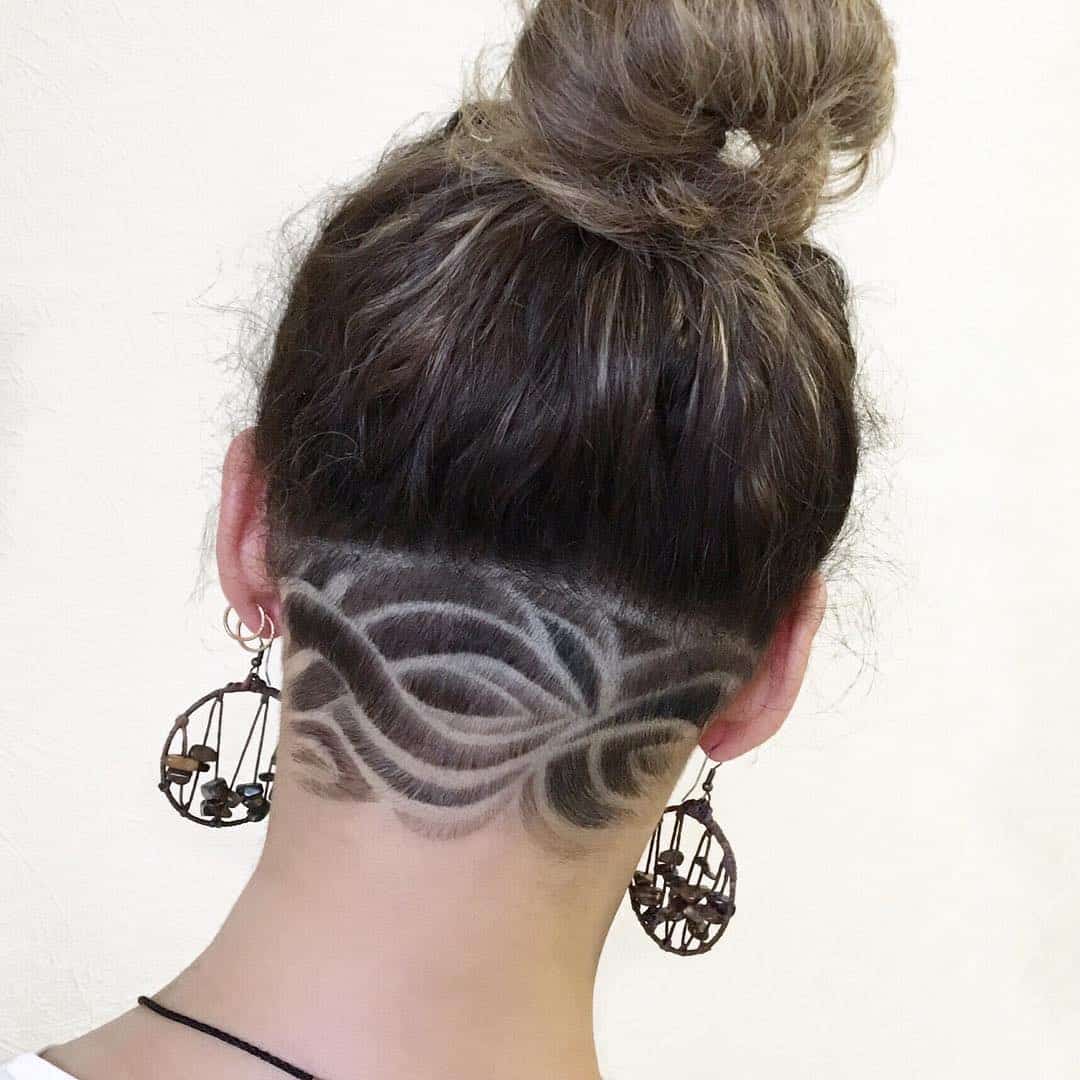 Popularity: Vines and floral patterns have surged as trendy choices for undercuts.
Imagery: We incorporate both flowers and leaves.
Aesthetic: Achieves a blend of playfulness amid a lively backdrop.
29. Mandala Heart Undercut Design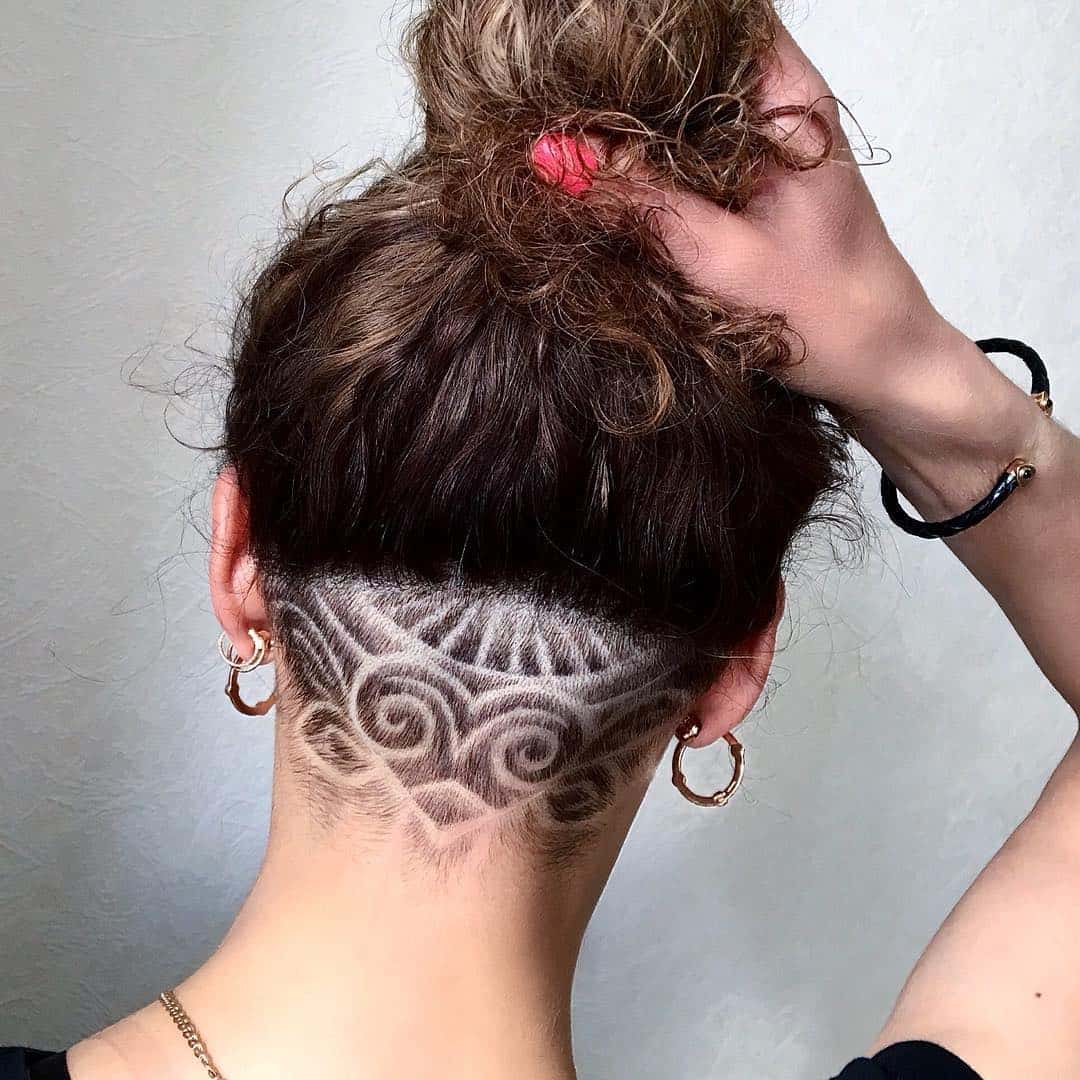 Incorporating a heart within a mandala, we capture a blend of emotion and spirituality in our undercuts. This pattern speaks to our inner romantic while symbolizing a deeper cosmic connection.
30. Complex Side Undercut Design With Colored In Details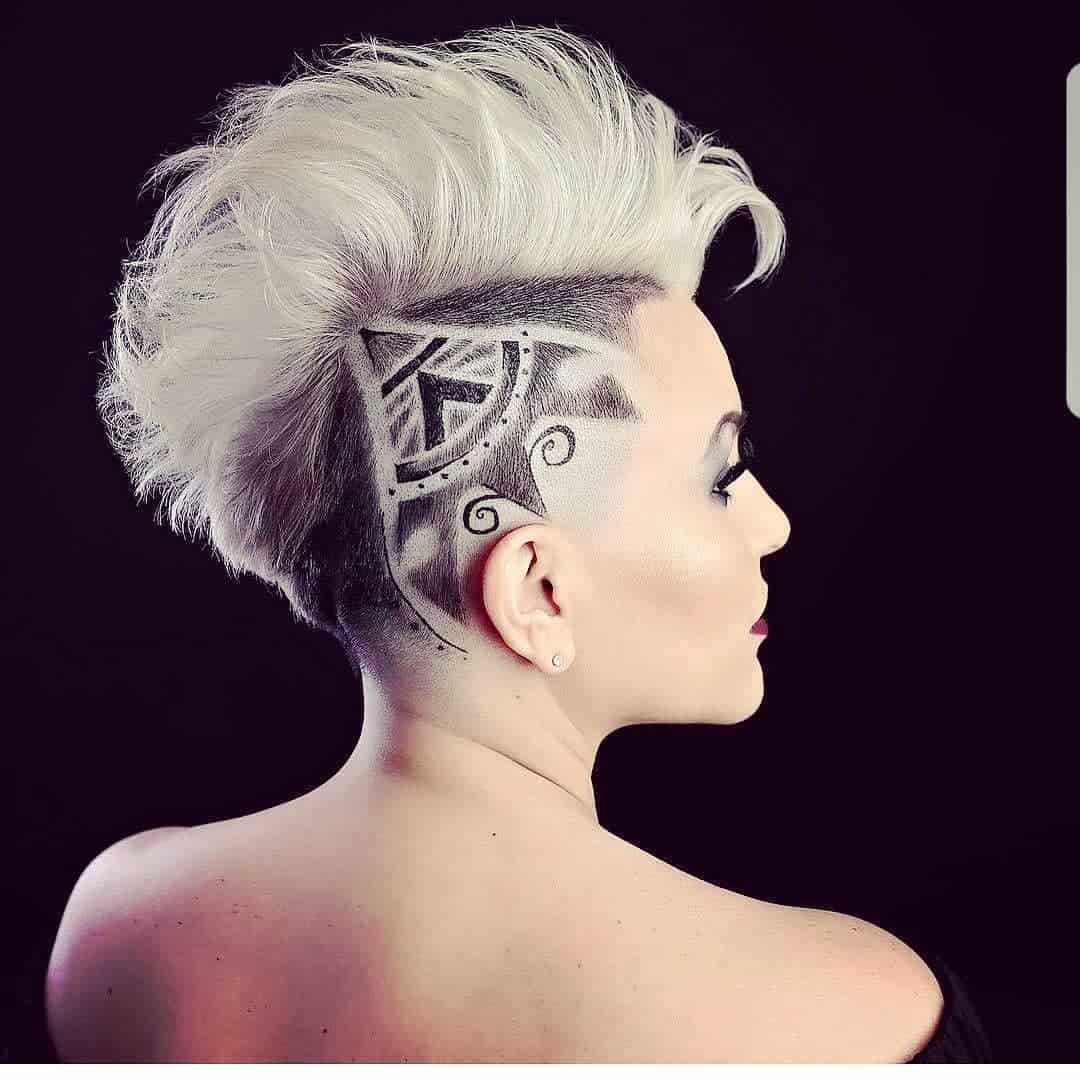 Style: Side undercut with intricate pattern
Colors: Vivid hues embedded in the cut
Ideal For: Those seeking a bold, personalized look
With that in mind, if you are feeling edgy and want to try something unique, we hope we provided enough undercut designs for your taste.