The undercut is a hairstyle that was fashionable starting from the 1910s to the 1940s. And it was predominantly a men's hairstyle. However, in the 2010s, the undercut became popular among women as well.
And it was all thanks to celebrities like Rihanna that popularized the undercut. What is an undercut? Basically, a hairstyle in which you shave the sides of your head, and then leave the top.
With that in mind, when it comes to on-trend hairstyles, the undercut is still among the most popular women hairstyles. Youthful, versatile, edgy, the undercut can work incredibly well. But choosing the right undercut is essential.
So, we want to show you the best collection of modern and edgy undercut hairstyles. Hopefully, you will find something among the amazing diversity of undercut hairstyles.
1. Stylized Rose Undercut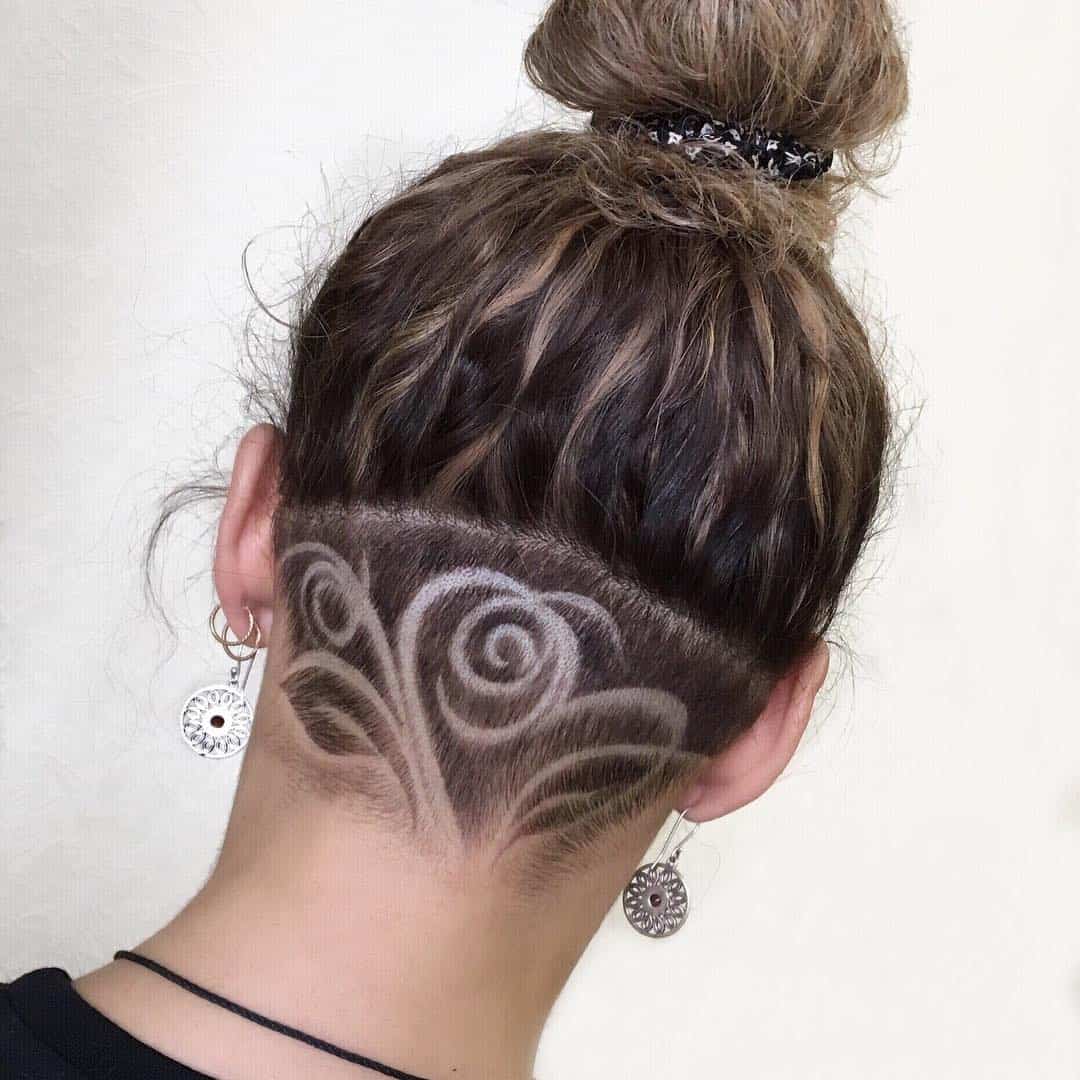 Let's start off with one of the biggest reasons why women go for undercut. They want to embed a detail on the shaved part of their head. And we start off with a classic and romantic looking rose.
2. 3D Cubes Undercut On Short Pink And Yellow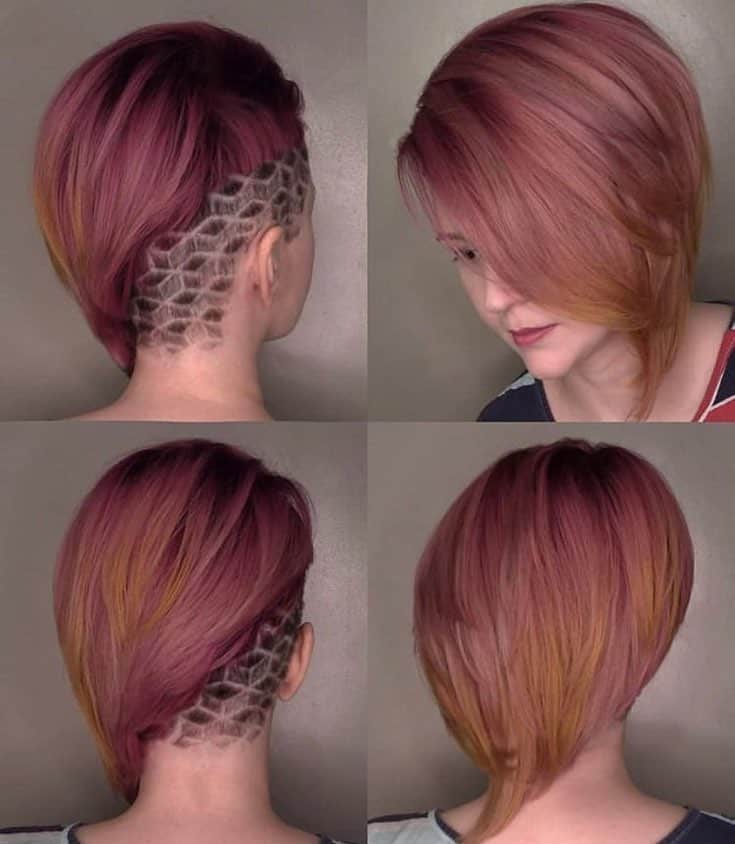 Here is another design of undercut hairstyle. But in this case, we have something more edgy and trendy than romantic. Basically, it is cubes like beeswax cubes. And they look amazing.
3. Spiderweb Undercut Design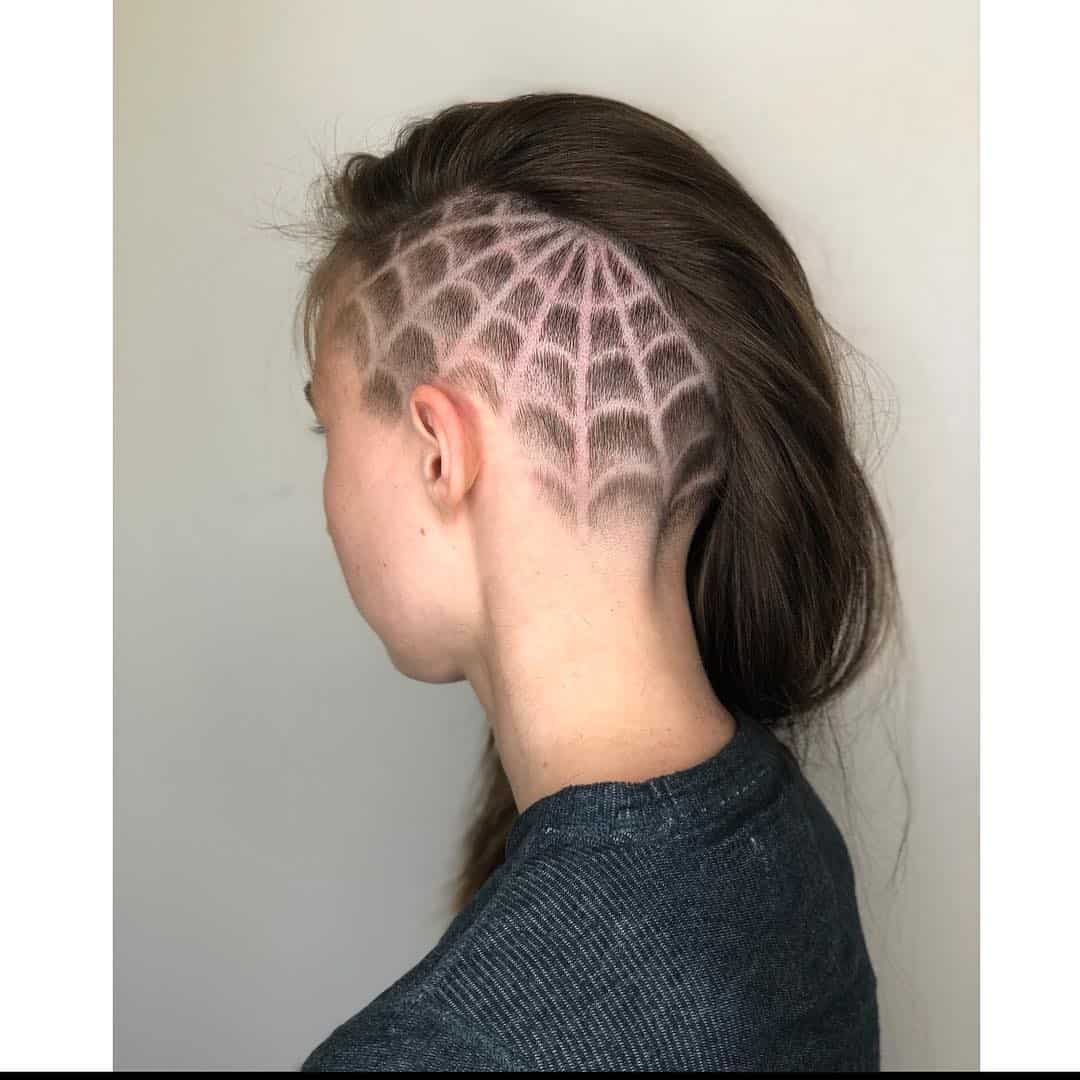 There are a lot of designs women try to put on their undercut. Think of it like a tattoo. There is no explanation what it represents, except only for the bearer. Just look at the designs, and hopefully, you will find one that suits your lifestyle.
4. Peacock Tail Undercut Design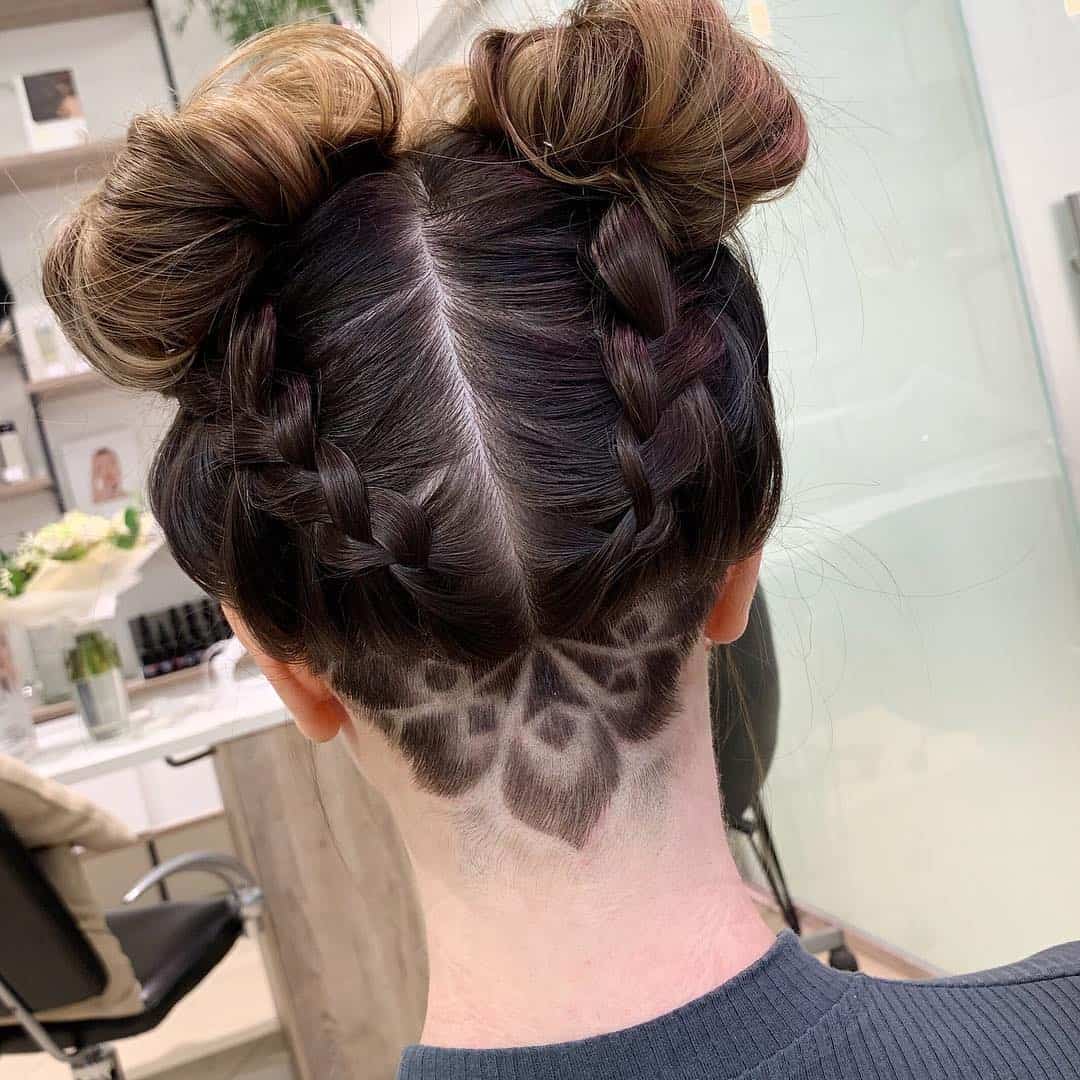 The peacock tail, for example, is one of the most popular designs in fashion, home decor, and more. Basically, every designer has once tried to implement the peacock tail into his designs. And while it might not look as good without the vivid colors, the detail is still nice.
5. Colored Textured Roses Undercut Design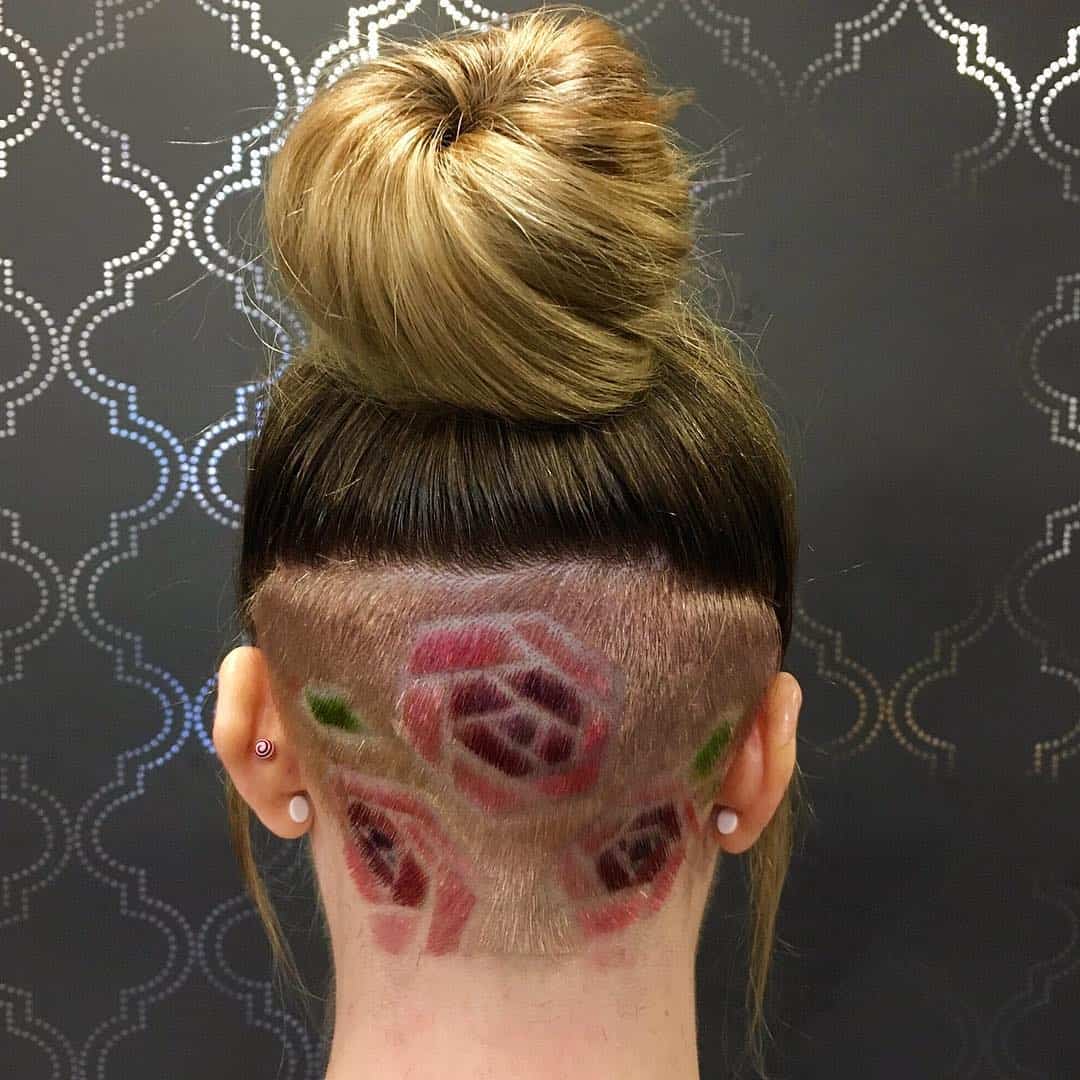 Speaking of colors, who says you cannot add some to your undercut design? You want the colors to pop? Well, you cannot go wrong with red and green.
6. Side Dragon Undercut Design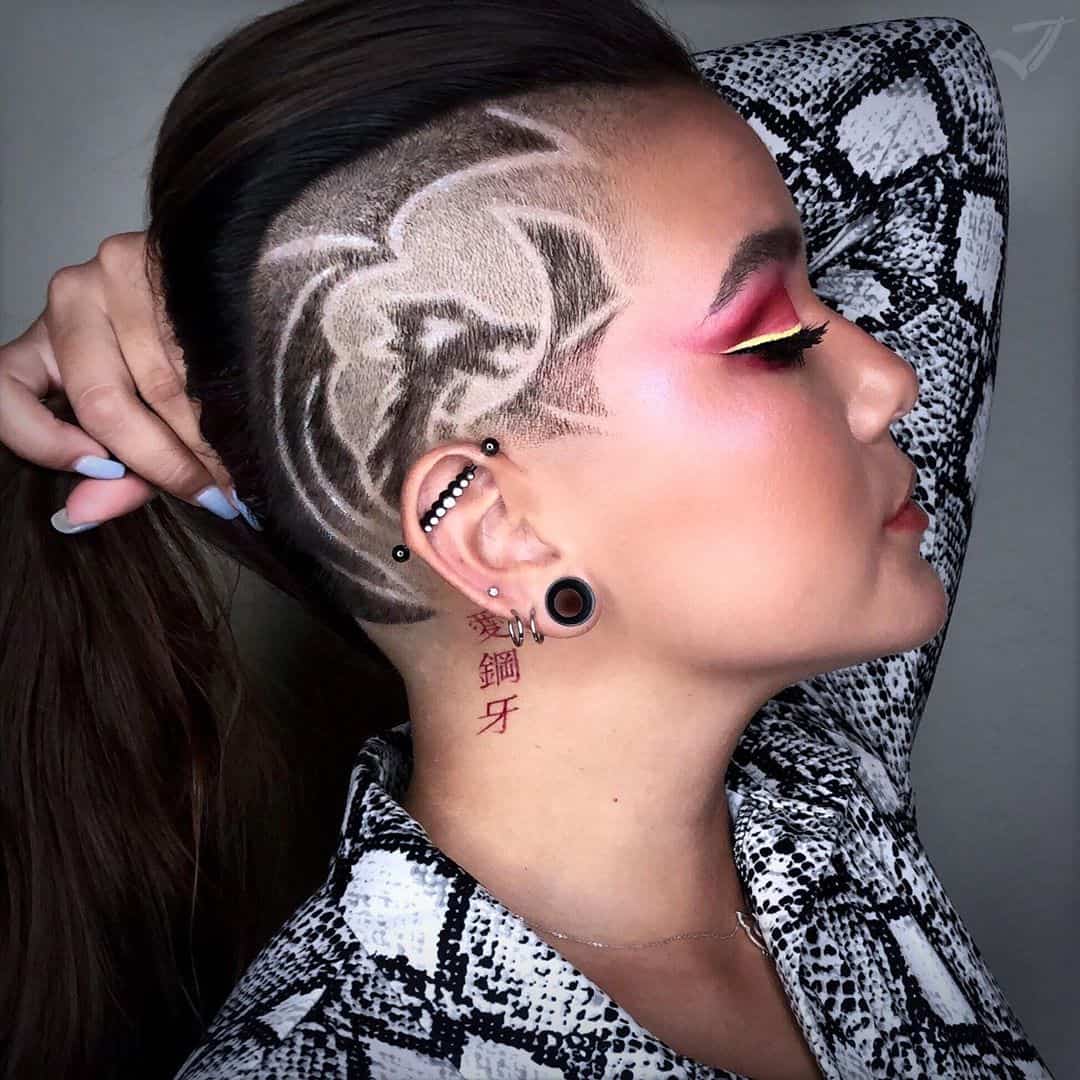 The Girl with the Dragon Tattoo was one of the more popular movies, or books if you like several years ago. And we said that the undercut design is like a tattoo. The only difference is that it is not permanent.
7. Spiral And Geometric Undercut Design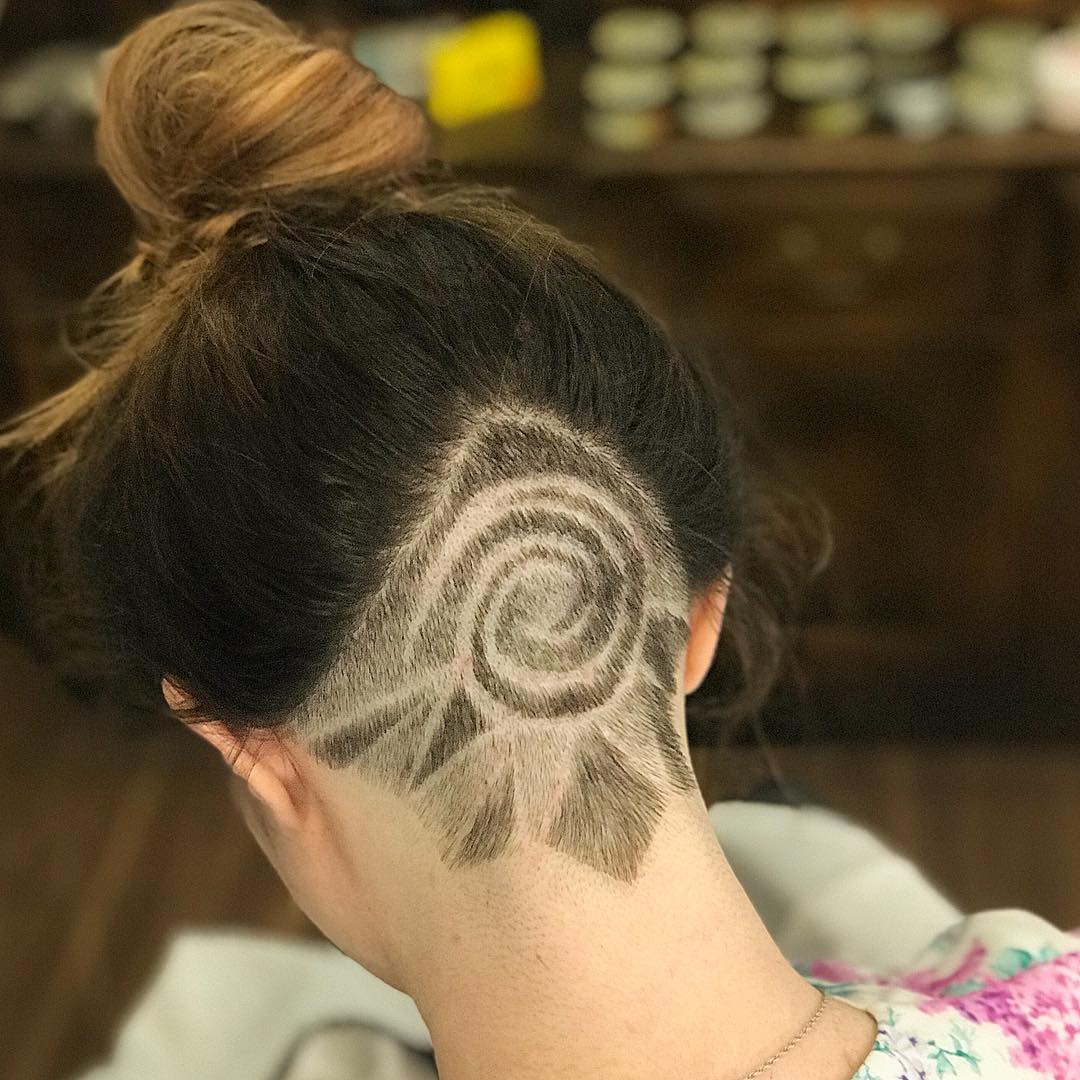 Geometry is a very nice way to add some dimension and mystique to your hairstyle. Dealing with all sorts of shapes, lines, sizes, and etc…, you can find countless of inspiration in geometry. Just choose your shape.
8. Layered Rainbow Colored Undercut Design
When it comes to hair coloring, the rainbow hair trend is just something you cannot avoid. In the past few years, dyeing your hair with the colors of the rainbow has become a trend you have to try. So, why not with an undercut?
9. Beehive Hexagon Undercut Design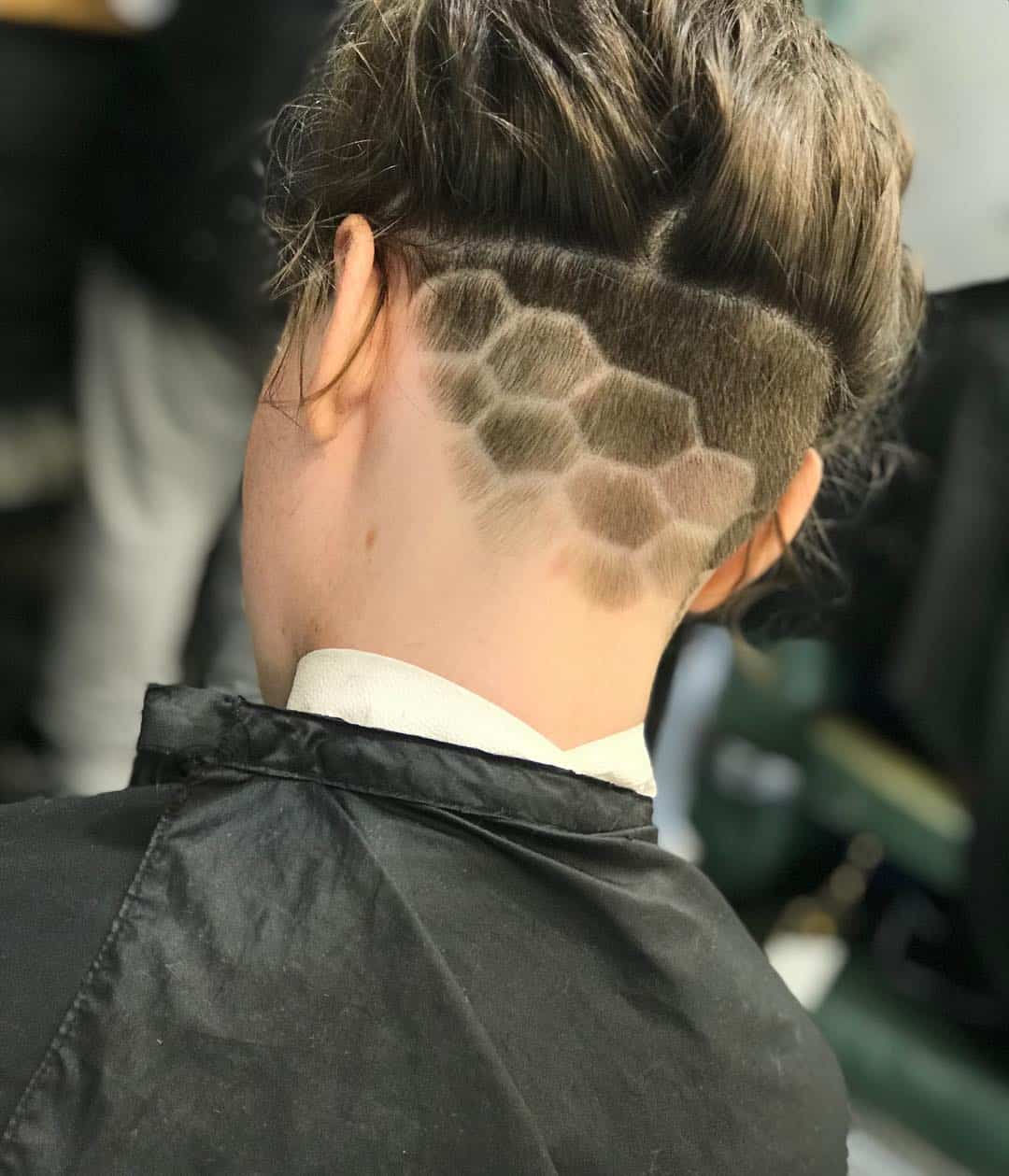 We had some beehive cubes previously, and here is another way how to get them. The beehive design is a popular one, because it frames your head perfectly.
10. Curved Design On Violet Ombre Pixie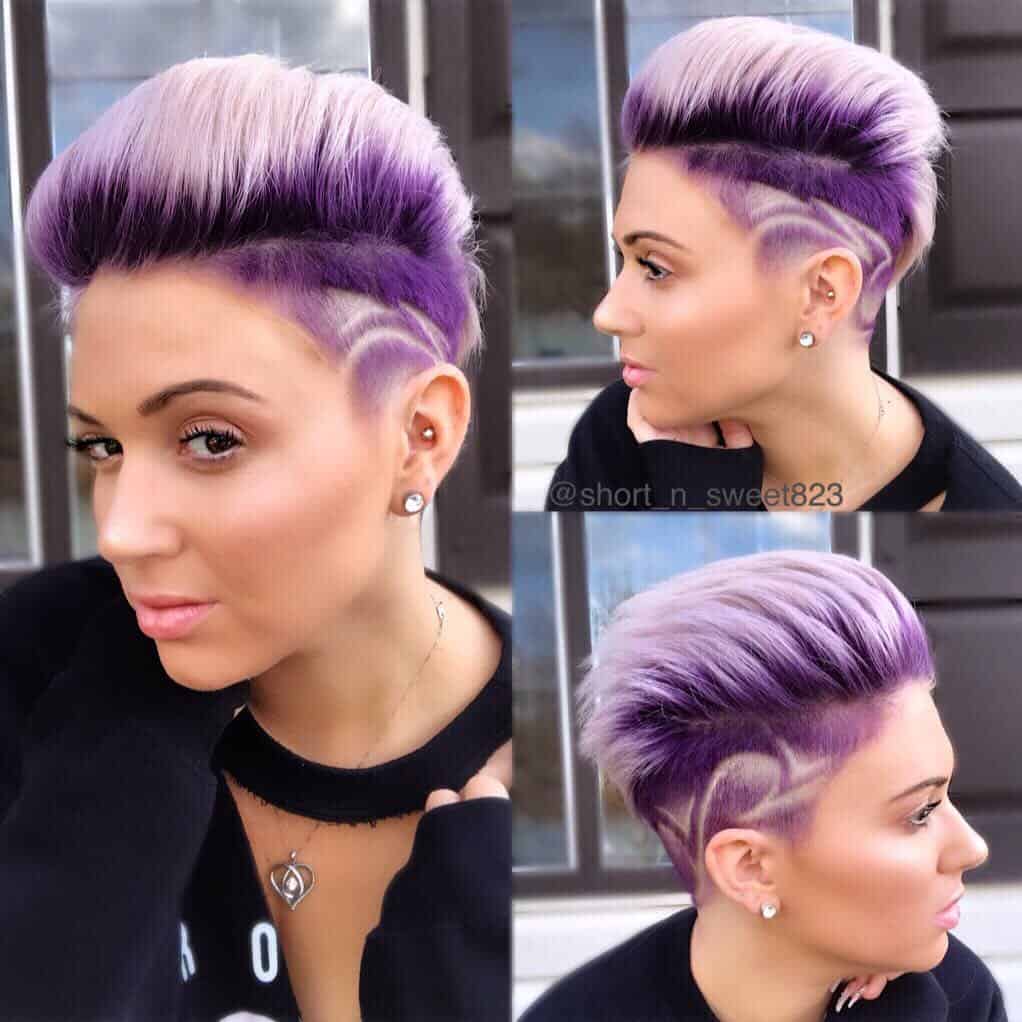 There is no limit to the things you can do. Just remember, your undercut design has to complement your whole look. So, if you go for something edgy in color, like violet ombre, go for edgy undercut design as well.
11. Versace Mandala Undercut Design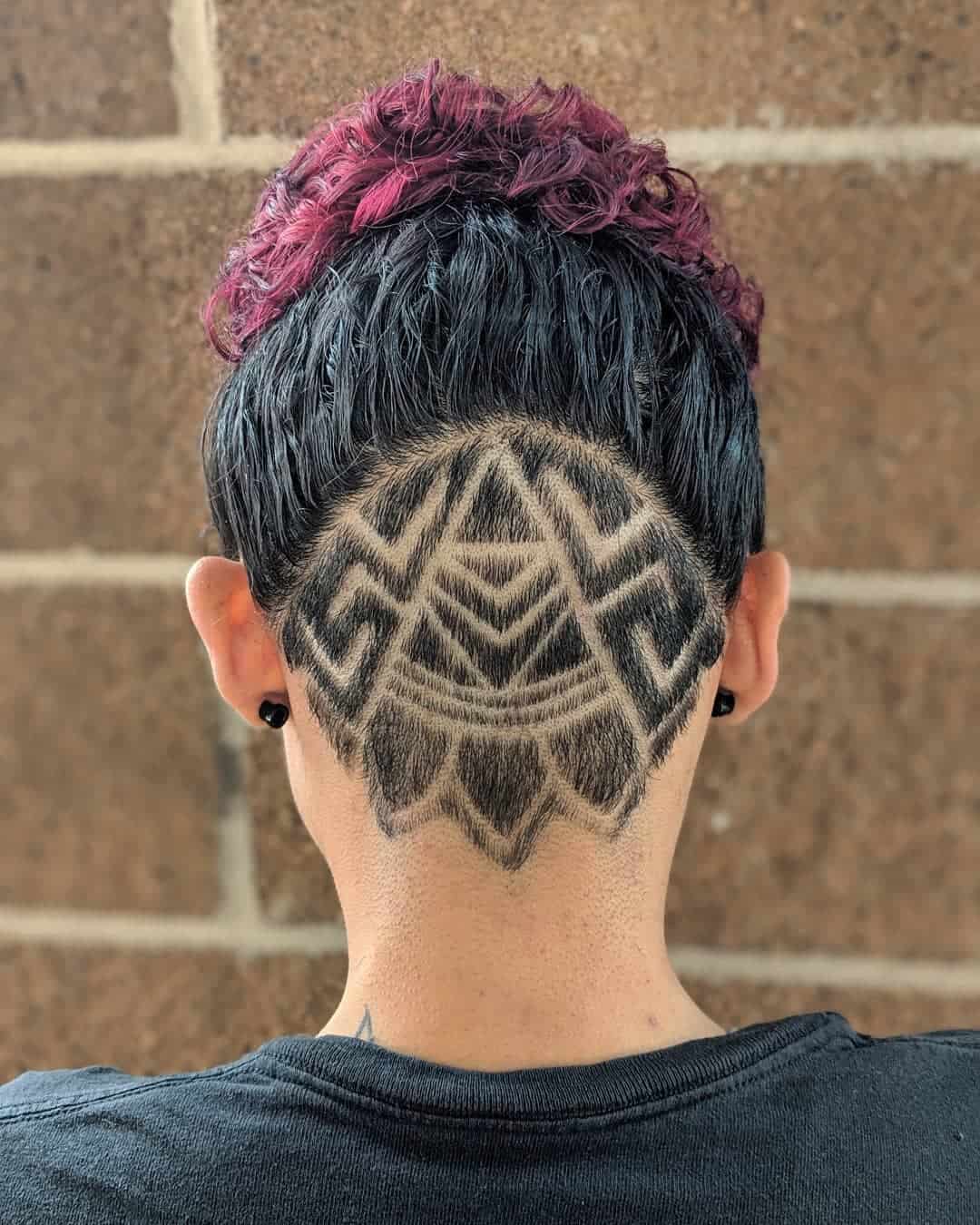 Donatella Versace made a name for herself out of mandala designs. She is one of the more bold designers that is not afraid of experimenting. You want to be bold? Try the Versace mandala design. If Donatella can, why not you?
12. Blue Mermaid Undercut Design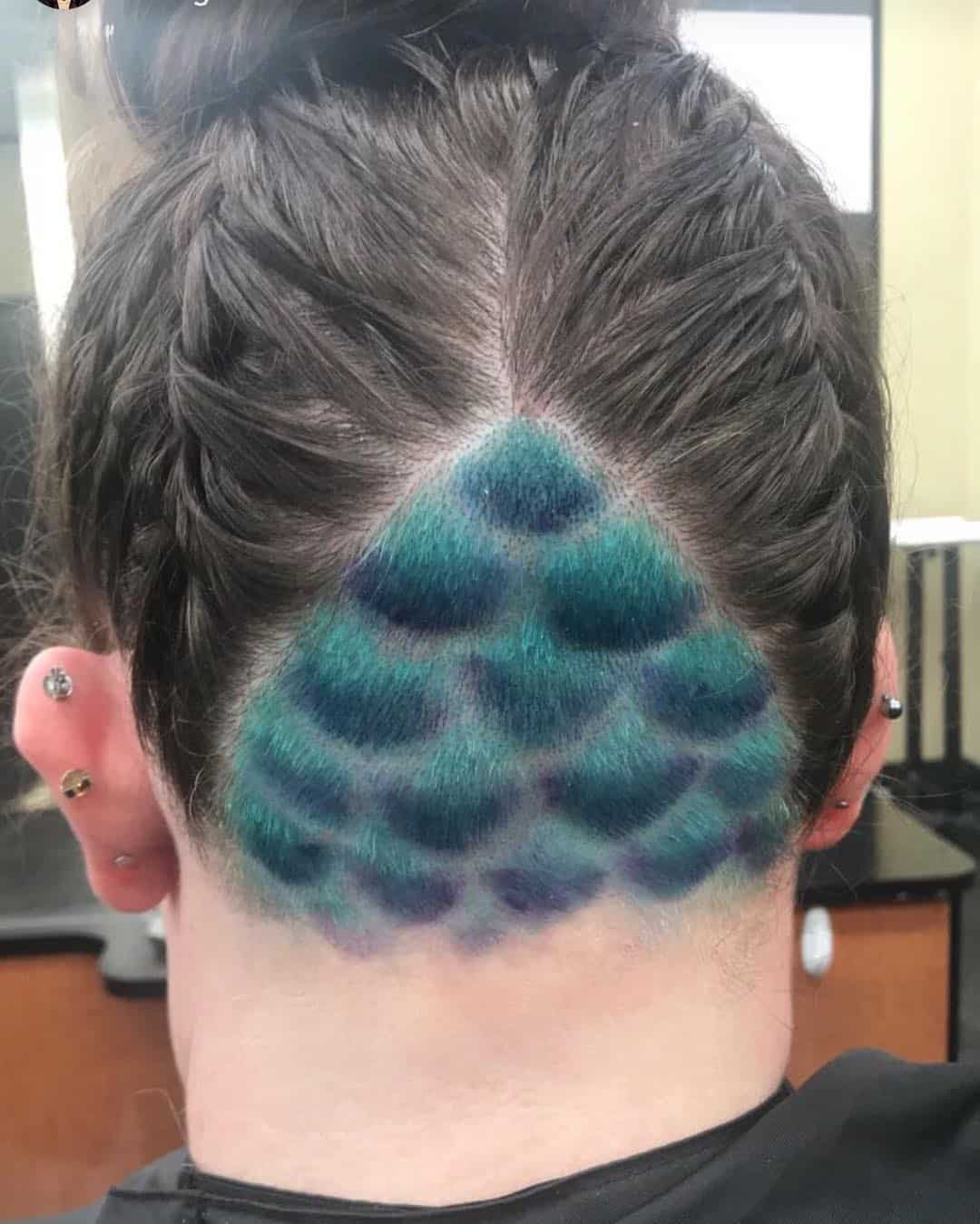 While some people prefer their undercut to complement their hairstyle, others go for contrast. And there is nothing wrong in that. If you fall into the latter group, there is no better way of a contrast than with dyeing only your undercut.
13. Glowing Diamond Undercut Design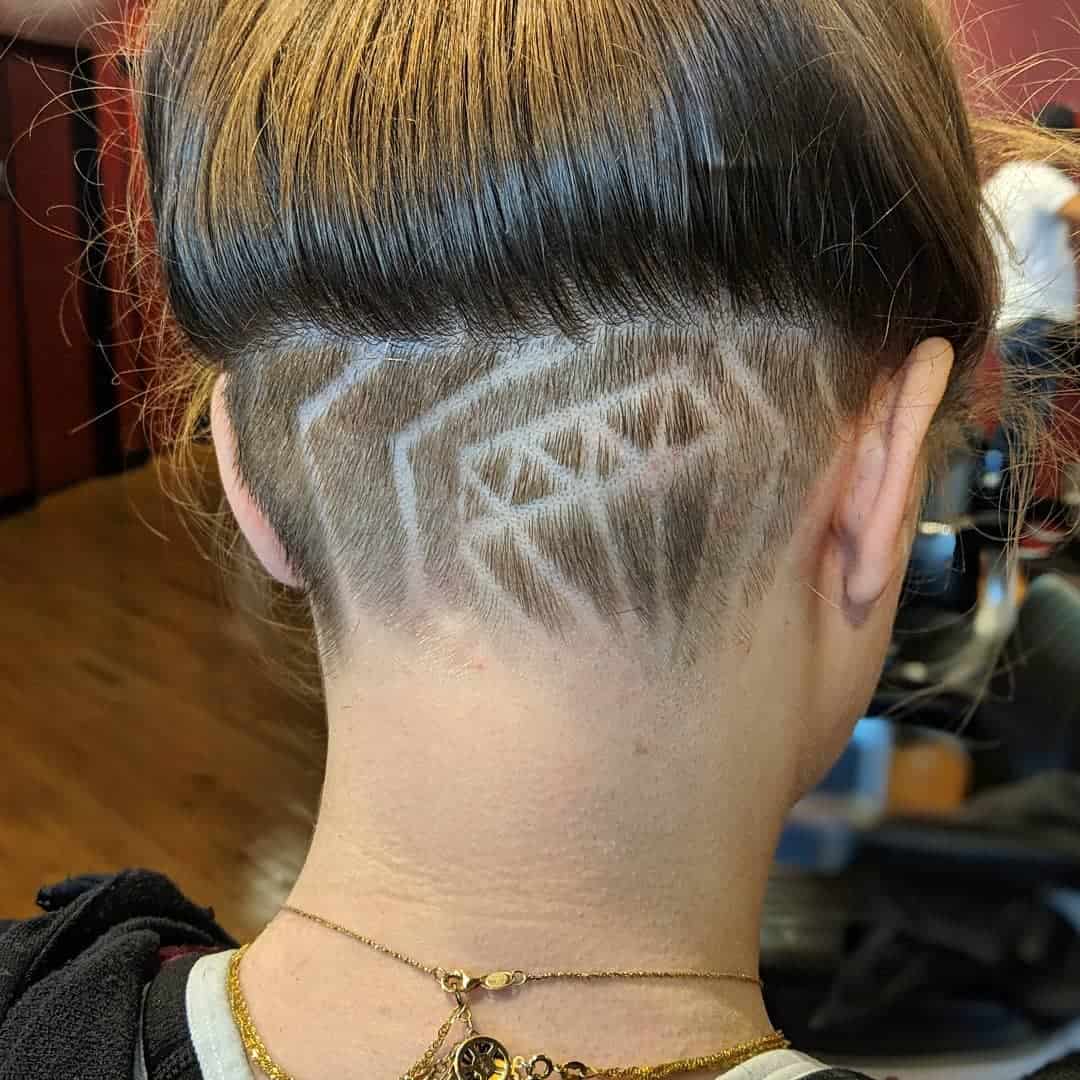 You want futuristic? There you go. There is no shortness of ideas when it comes to trying something strange and unconventional. Some people simply like to do things outside of the box.
14. Geometrical Stained Glass Undercut Design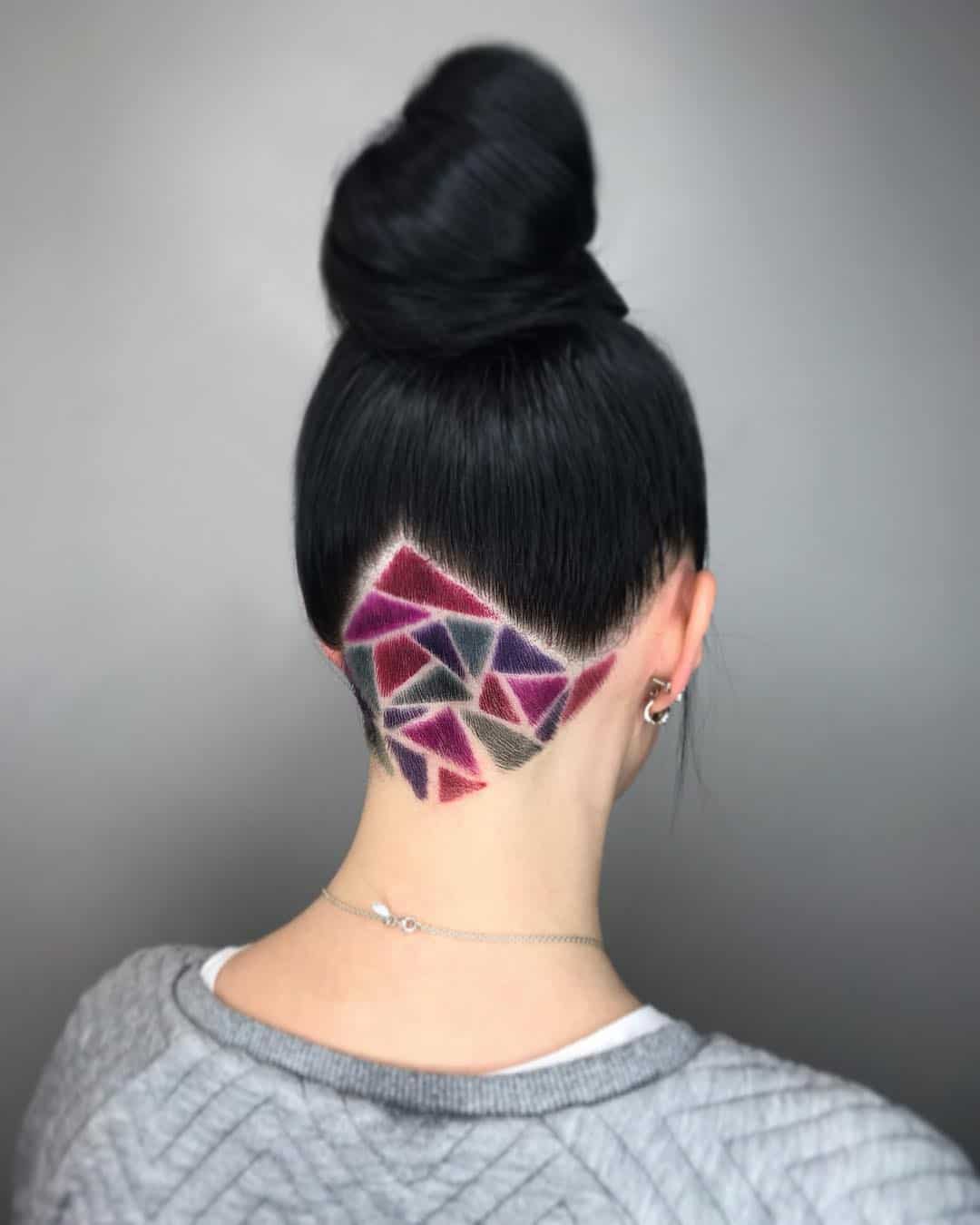 If this is not edgy, we do not know what is. Perfect for the chic and urban woman who is not afraid of showing her power.
15. Feathers Undercut Design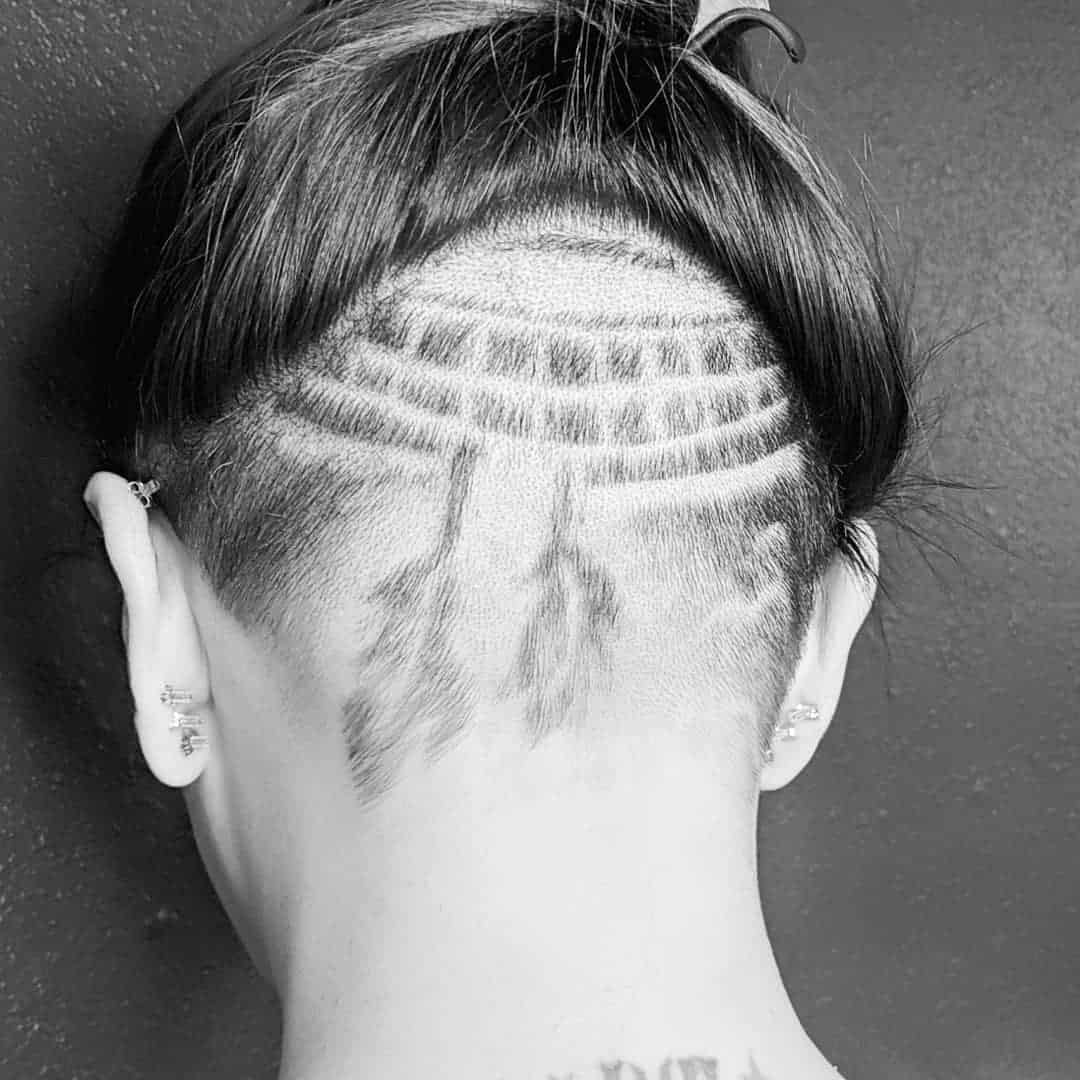 Feathers have a long history and tradition within American history. After all, they served as decorations for Native Americans. And they have survived the test of time. Even now, feathers are a wanted design, not just for an undercut, but for fashion and interior decor designs.
16. Horizontal Two-Tone Chevron Undercut Design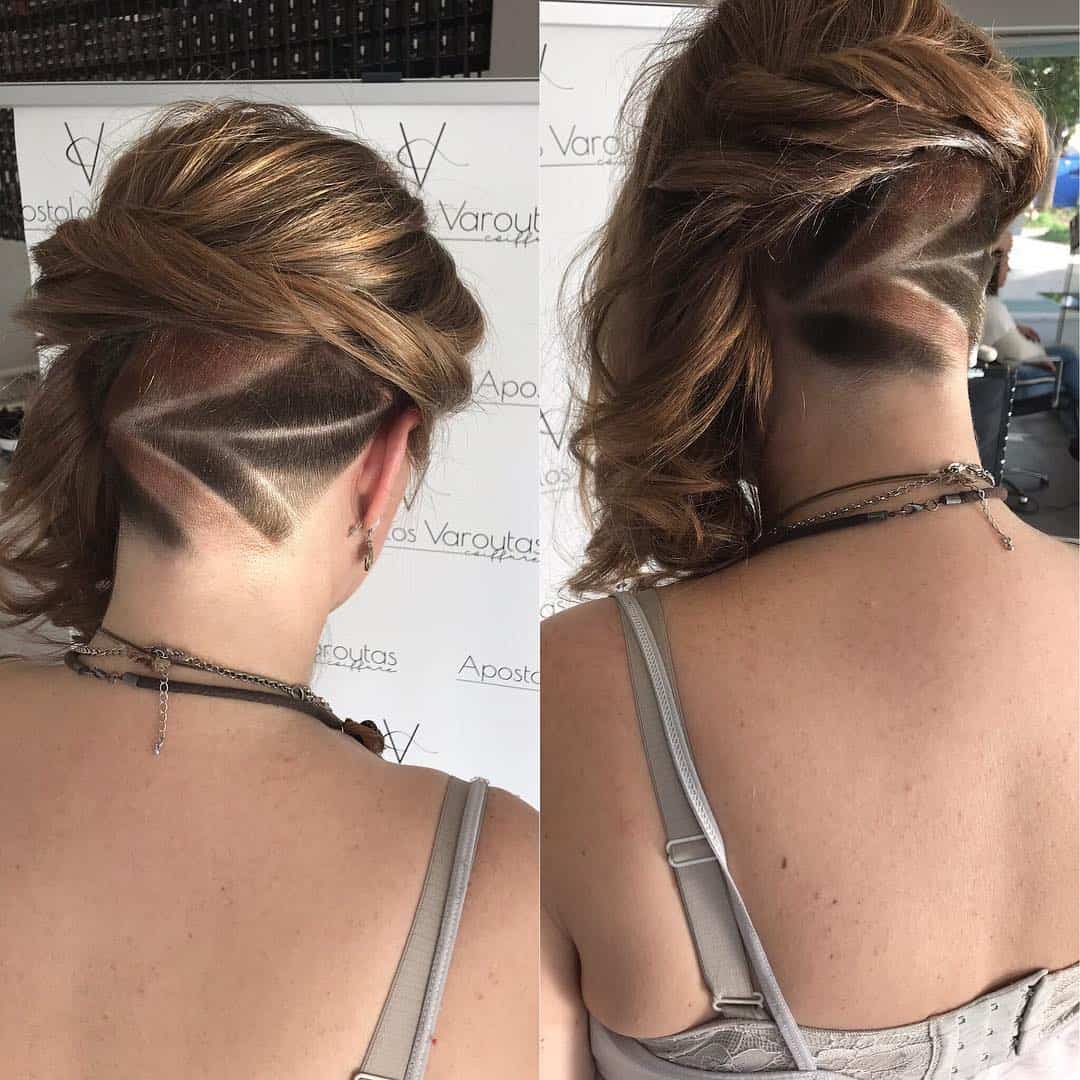 The Chevron sign is a classic. The sign is used to provide additional emphasis and guidance for a change in horizontal alignment of the roadway. But because of its design, the sign has become a popular detail in the fashion world. Especially for women who want to be more edgy and rebellious.
17. Rectangle Tiled Undercut Design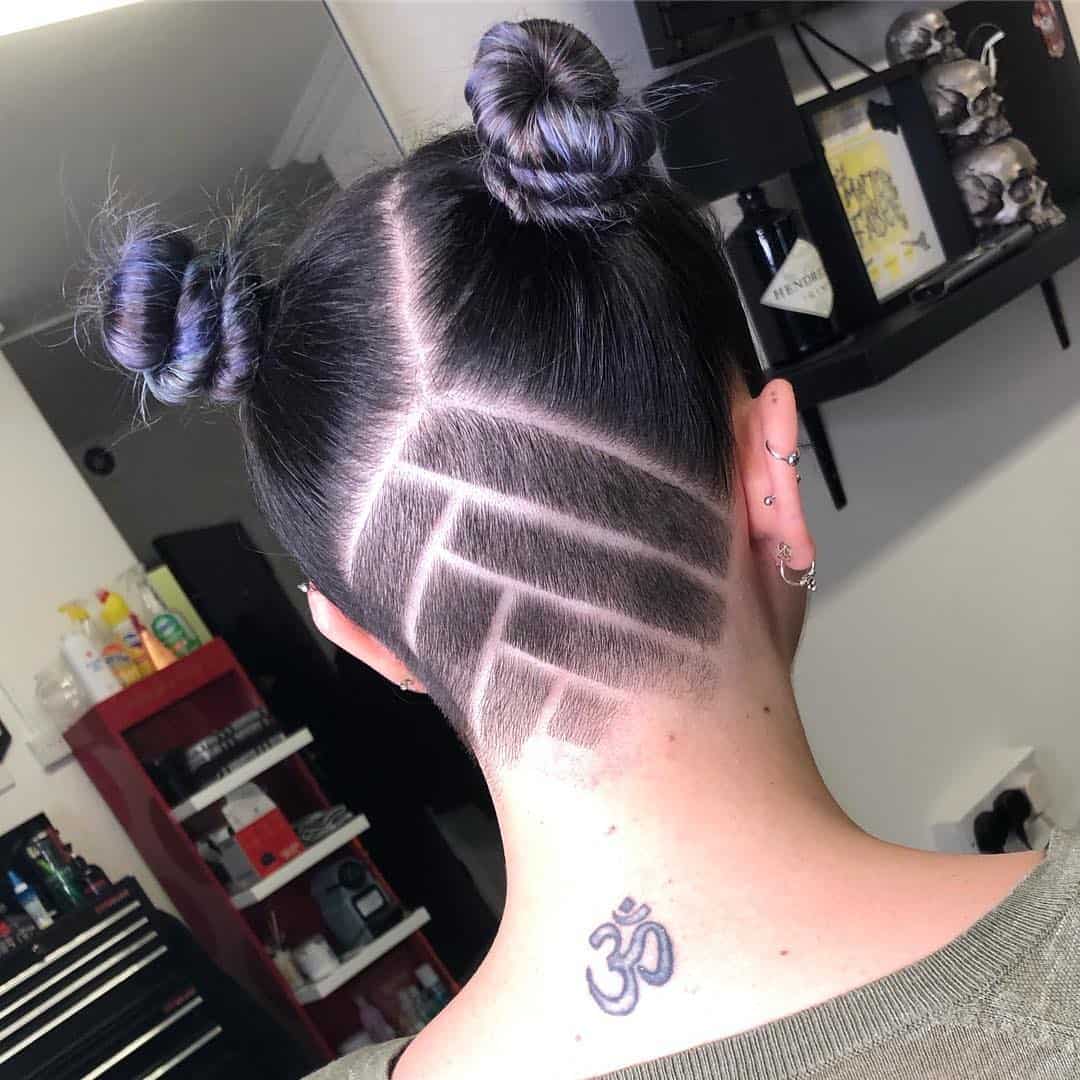 Taking geometry to the next level, you can make your entire head in a different shape. See how the hair is section in different parts of the head.
18. Black And Blue Circles And Geometrical Undercut Deign On Platinum Mohawk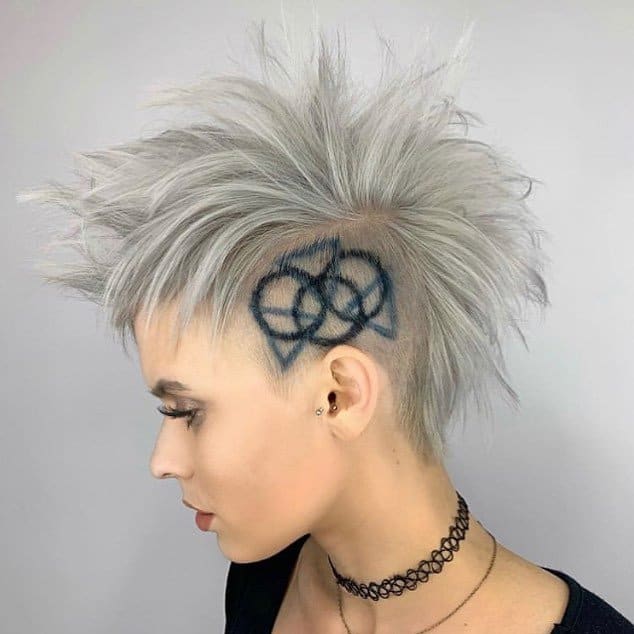 Just getting a Mohawk is edgy enough these days. The Mohawk has made a big comeback to the fashion and hair world. But if you want to take your rebel self to the next level, go for a mystic detail as well.
19. Blue And Violet Dripping Undercut Design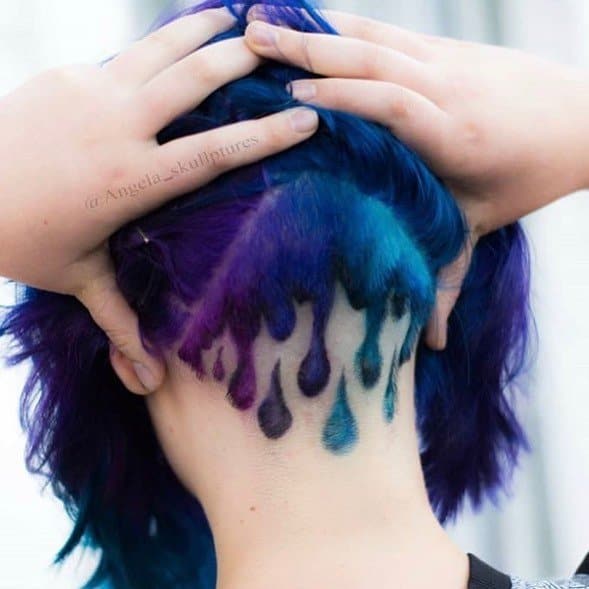 People are amazed with 3D design nowadays. We are living in more than one dimension for years. And this design is in that spirit.
20. Glowing Spiral Sun Undercut Design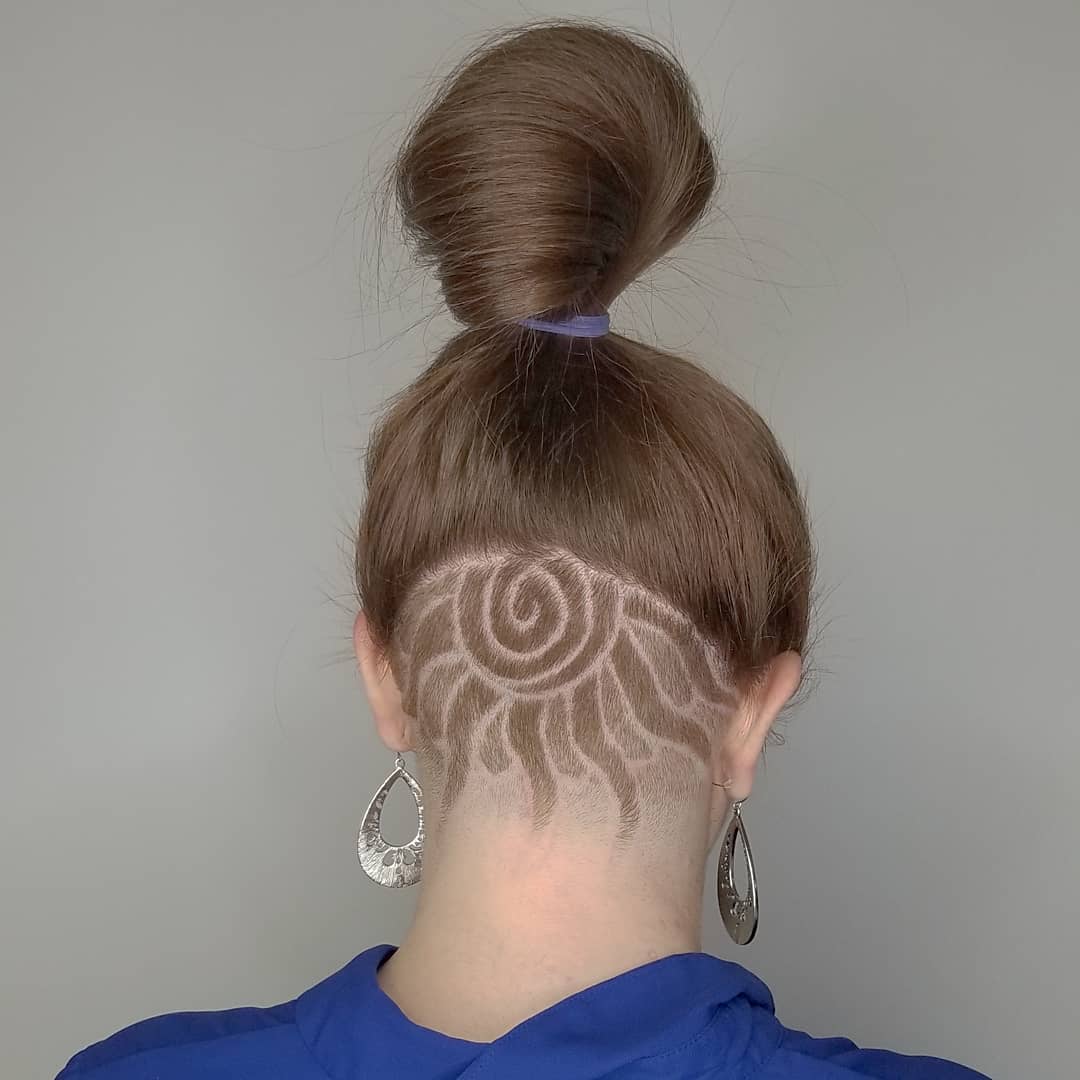 The sun is a universal symbol used by many cultures and civilizations. It is a symbol of life and energy. Adding it to your undercut hairstyle is a way to show your desire for living.
21. Pulsing Star Undercut Design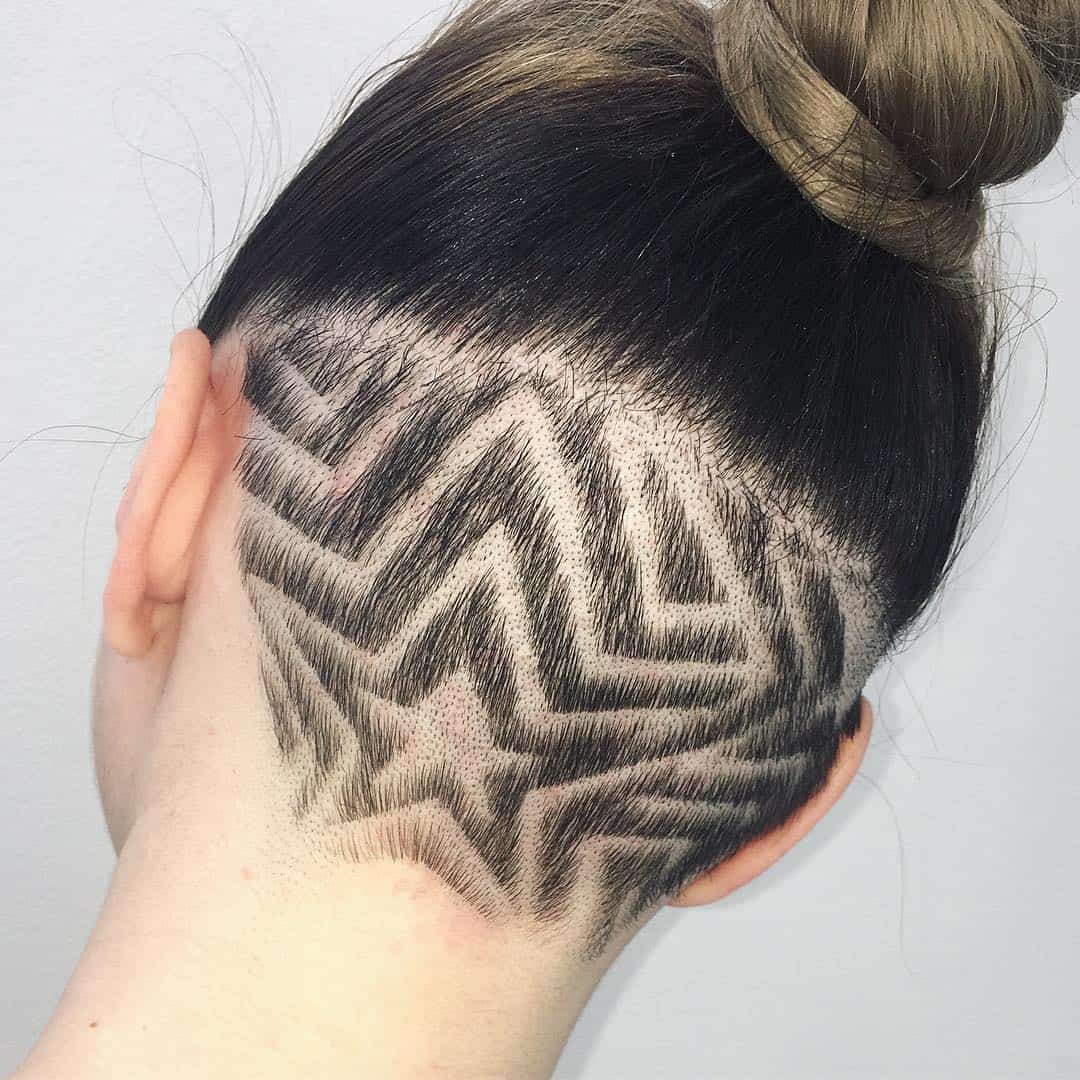 Speaking of stars and astrological signs, you can also try a pulsing star. Stars pulsate due to expansion and contraction of the surface layers. And it is a way for them to maintain equilibrium.
22. Red Spiral Triangle Design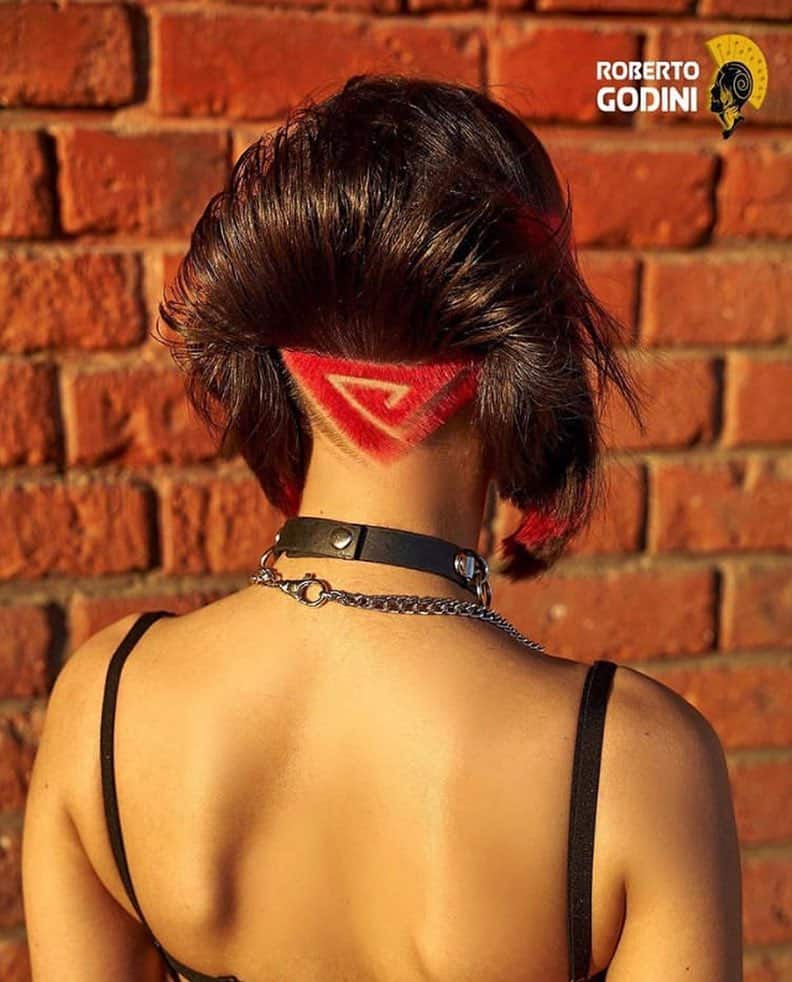 A triangle is always a nice idea as a symbol on your undercut. It represents the trinity of life. You can give it a religious meaning, or just lifestyle meaning. Like, the trinity of mind, body, and soul.
23. Faded Angled Curved Undercut Design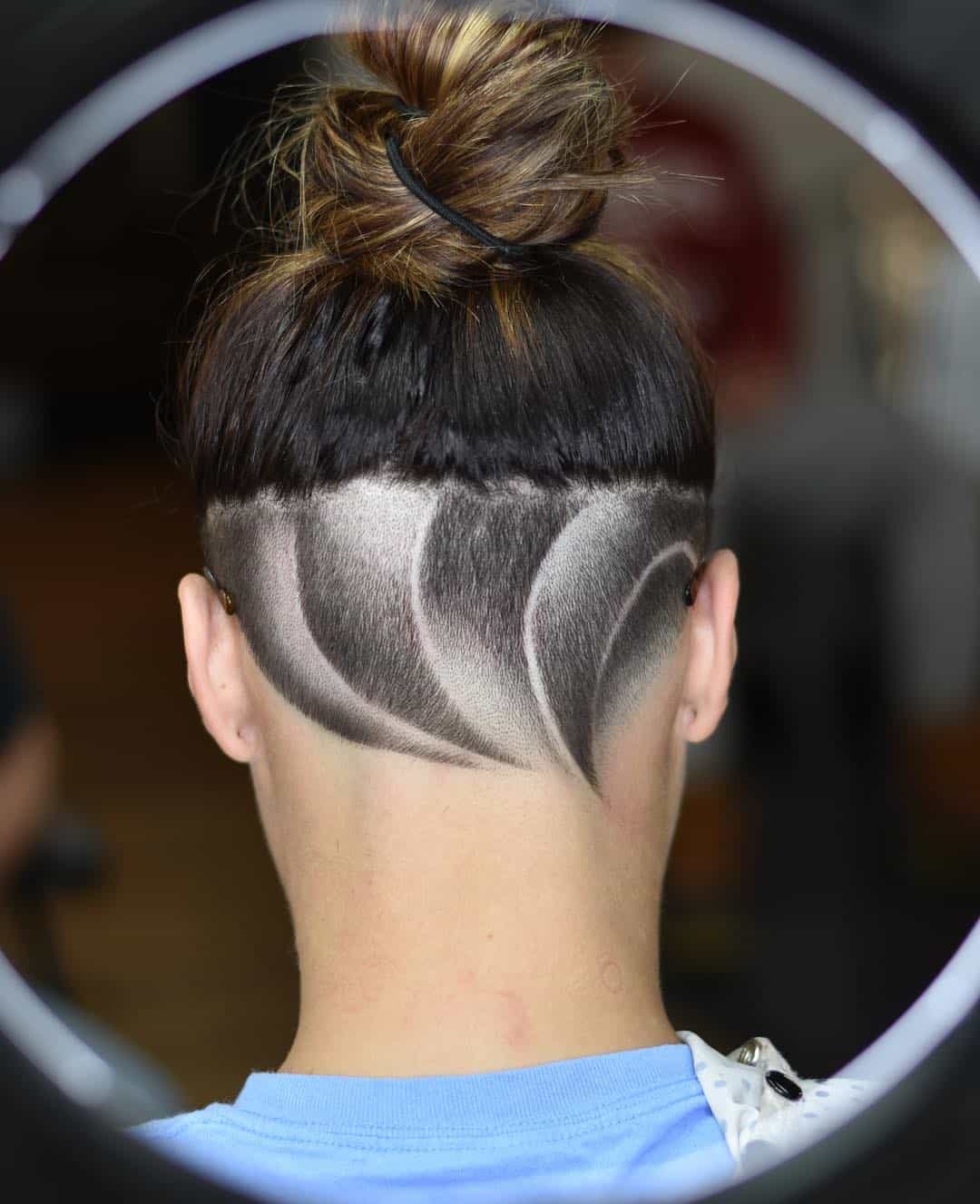 Some women want to make the undercut part and continuation of their hairstyle. This is one such idea you can try.
24. Rainbow Splat Undercut Design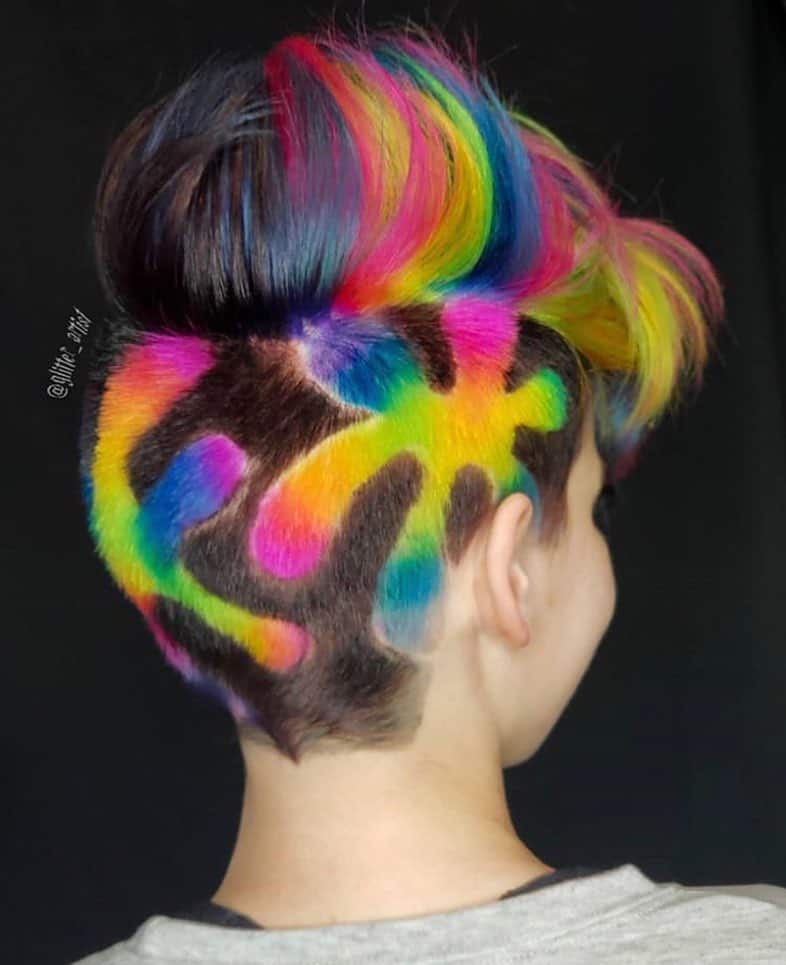 We said previously that there is no escaping the rainbow. When it comes to hair coloring, the rainbow design is one of the most popular lately. And there are many different ways you can try it.
25. Lotus Undercut Design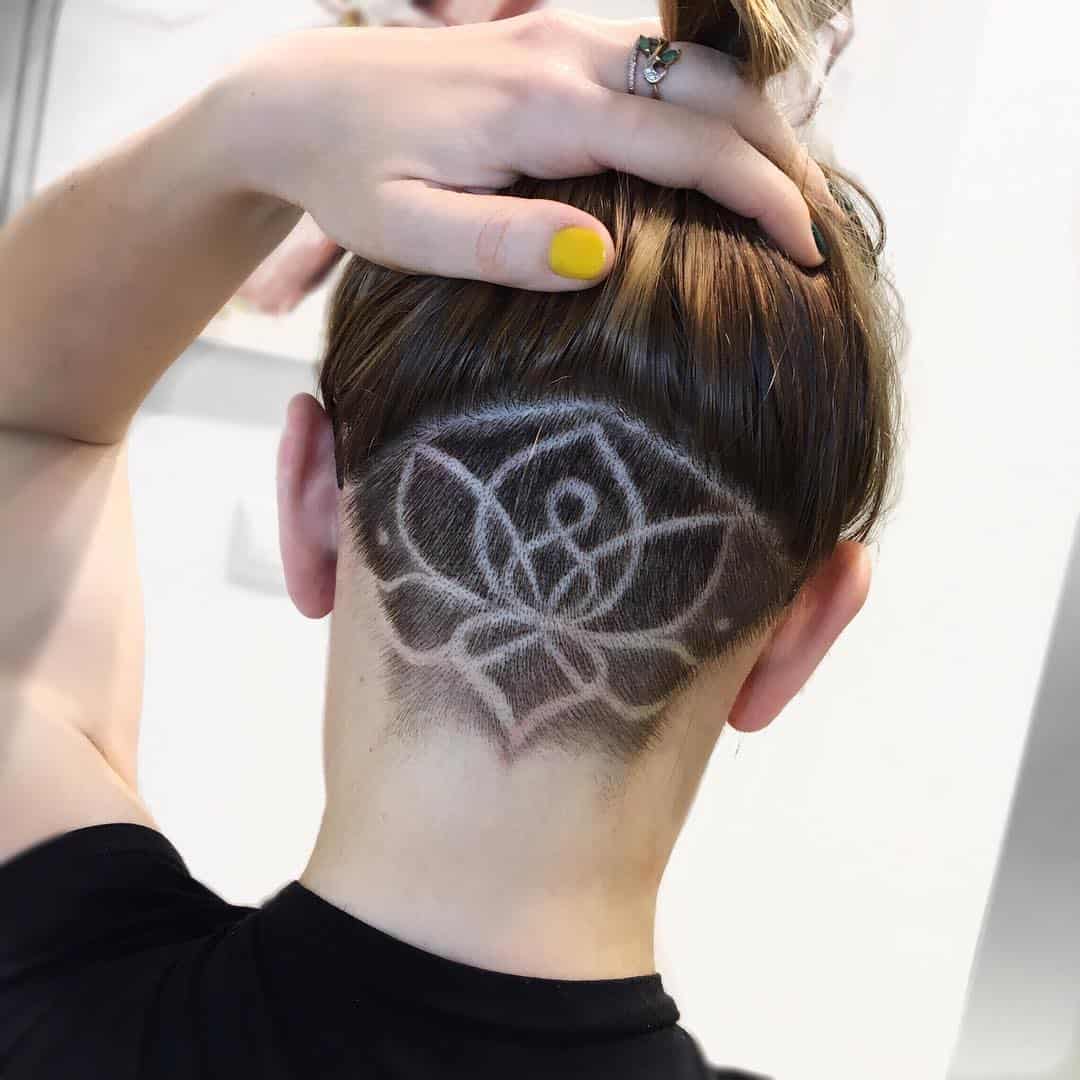 The lotus is symbol of purity of the body. Symbolizing an ultimate perfection, the lotus is always a nice idea. And it looks amazing as well.
26. Diamond And Triangle Undercut Design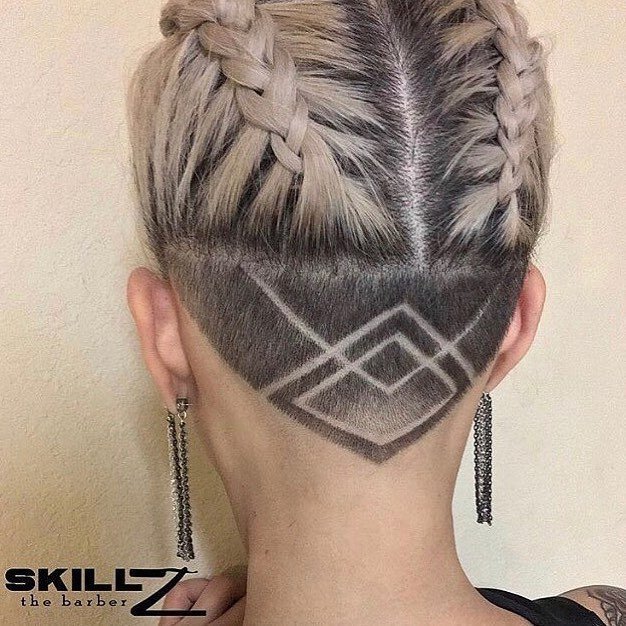 Some people love to play with different shapes and forms. And mix and match. When it comes to geometry and design, there are lots of shapes you can try. But most of us keep it simple, and stick to triangles and diamonds.
27. Lucky Shamrock Undercut Design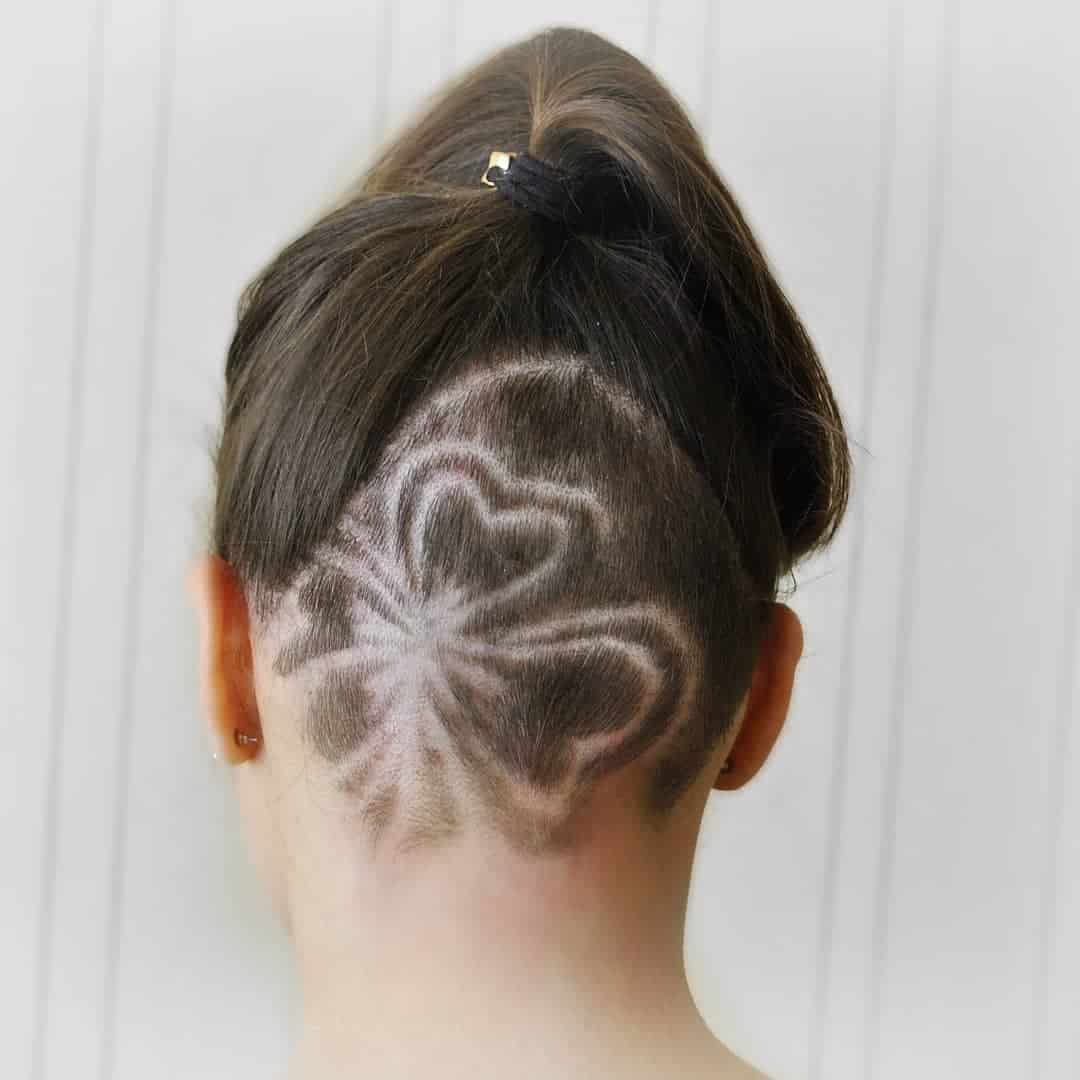 If you are in need of a bit of Irish luck, get your shamrock. As an universal symbol of luck, the shamrock usually bring luck to people. Who knows, try it, and see.
28.  Abstract Vine And Floral Undercut Design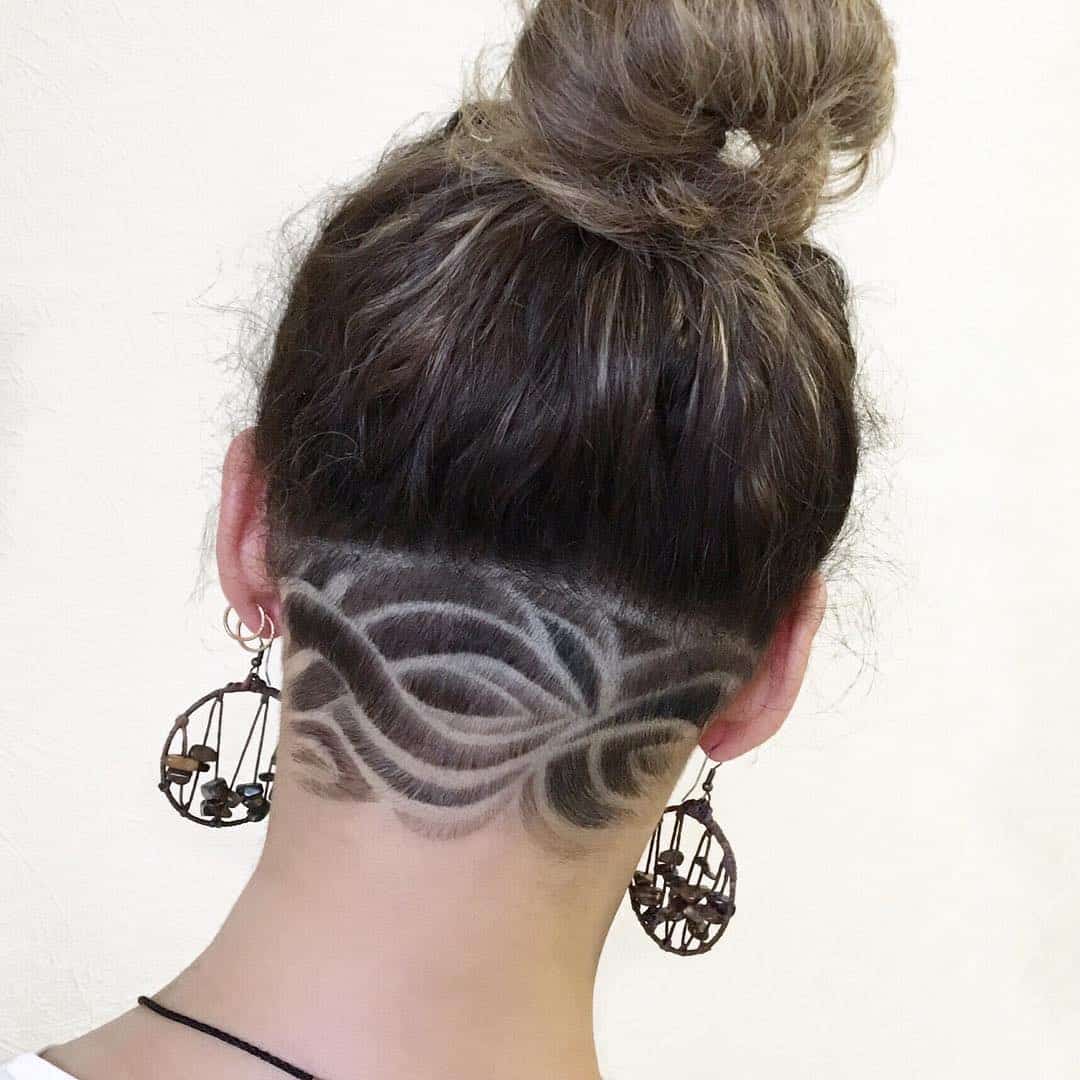 Vines are getting more and more popular lately. Not just as an undercut design, but as tattoos as well. They help you achieve playfulness and vivid environment.
29. Mandala Heart Undercut Design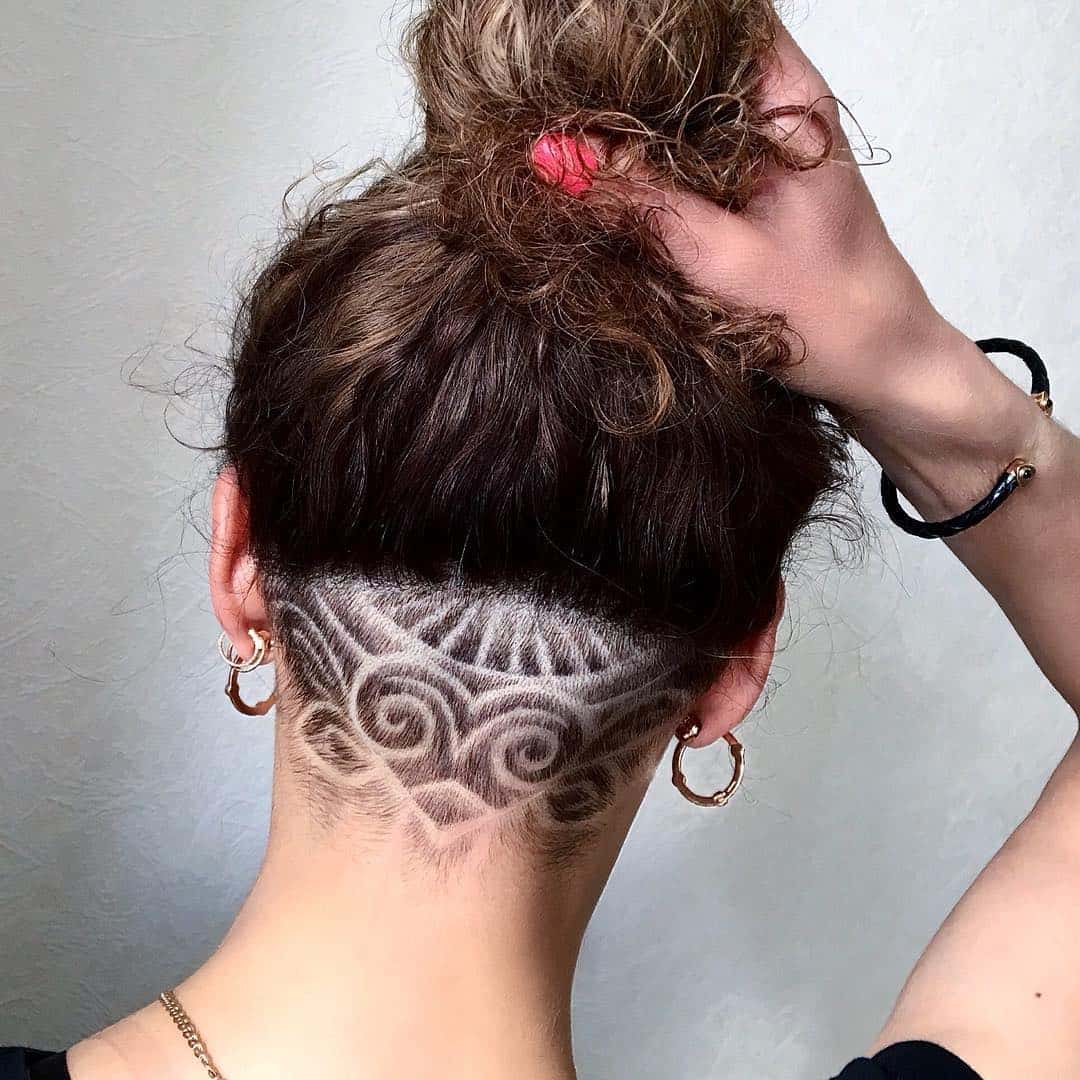 The spiritual and ritual symbol of Mandala in Indian religions is a common undercut design. There are many ways you can create a mandala design. If you are feeling more romantic, go for a heart mandala design.
30. Complex Side Undercut Design With Colored In Details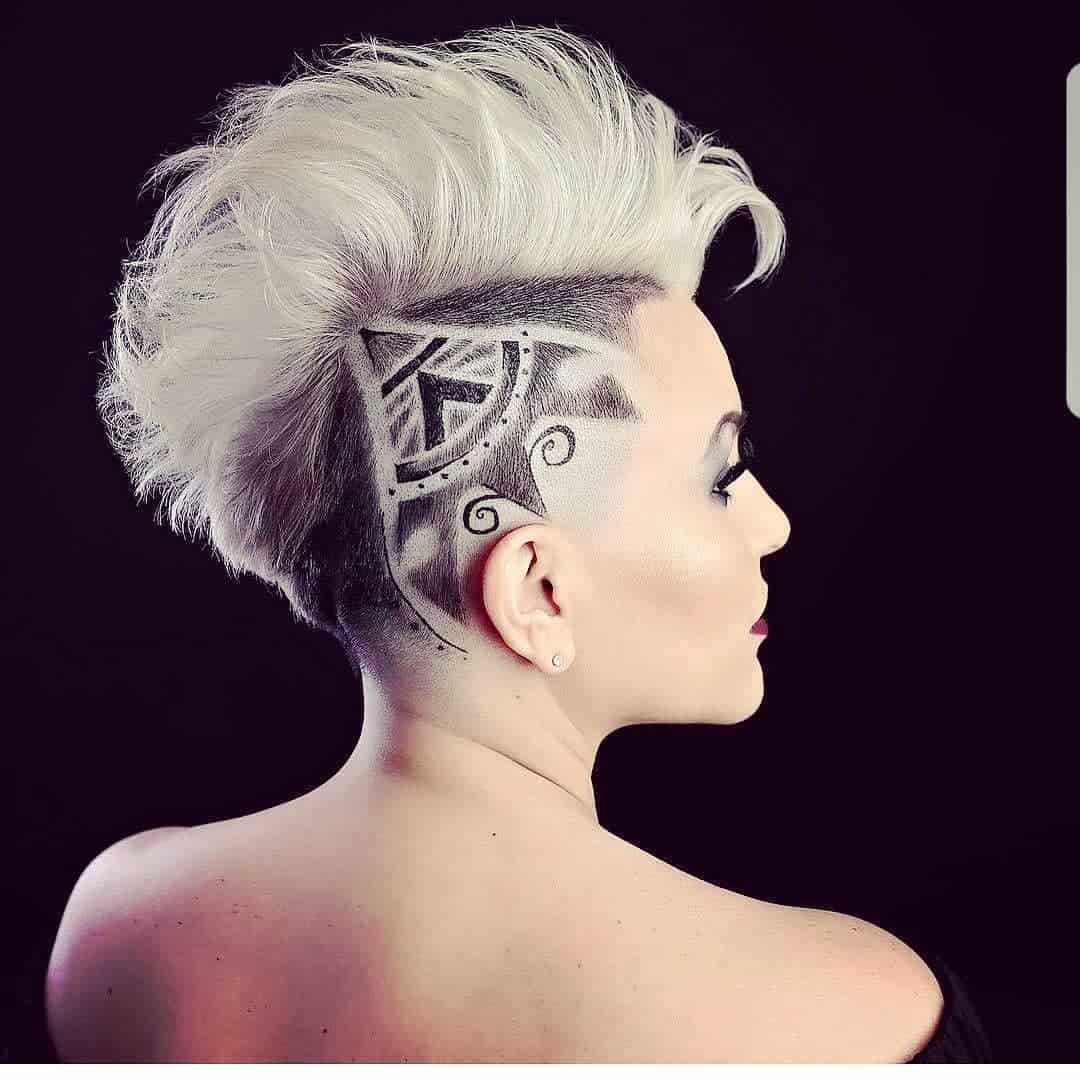 We started off simple, and we finish off strong. We want to give you one of the more complex designs at the end.
With that in mind, if you are feeling edgy and want to try something unique, we hope we provided enough undercut designs for your taste.