On the wedding day, every detail contributes to the creation of a magical experience, including the often-overlooked manicure. The bride's hands are paramount as they will be in the spotlight, holding the bouquet, exchanging rings, and featuring in wedding photos. Our goal is to ensure that brides have stunning nails that complement their overall look, harmonizing with the wedding theme.
Drawing from an array of wedding nail designs, including the timeless elegance of OPI nail polish colors, brides can find their perfect wedding manicure. Whether it's a classic French bridal mani or a more elaborate nail design, securing a skilled nail artist is essential for ensuring one's nails are as meticulously planned as every other aspect of wedding planning.
1. Naked Ombre White Nails With Lace Accent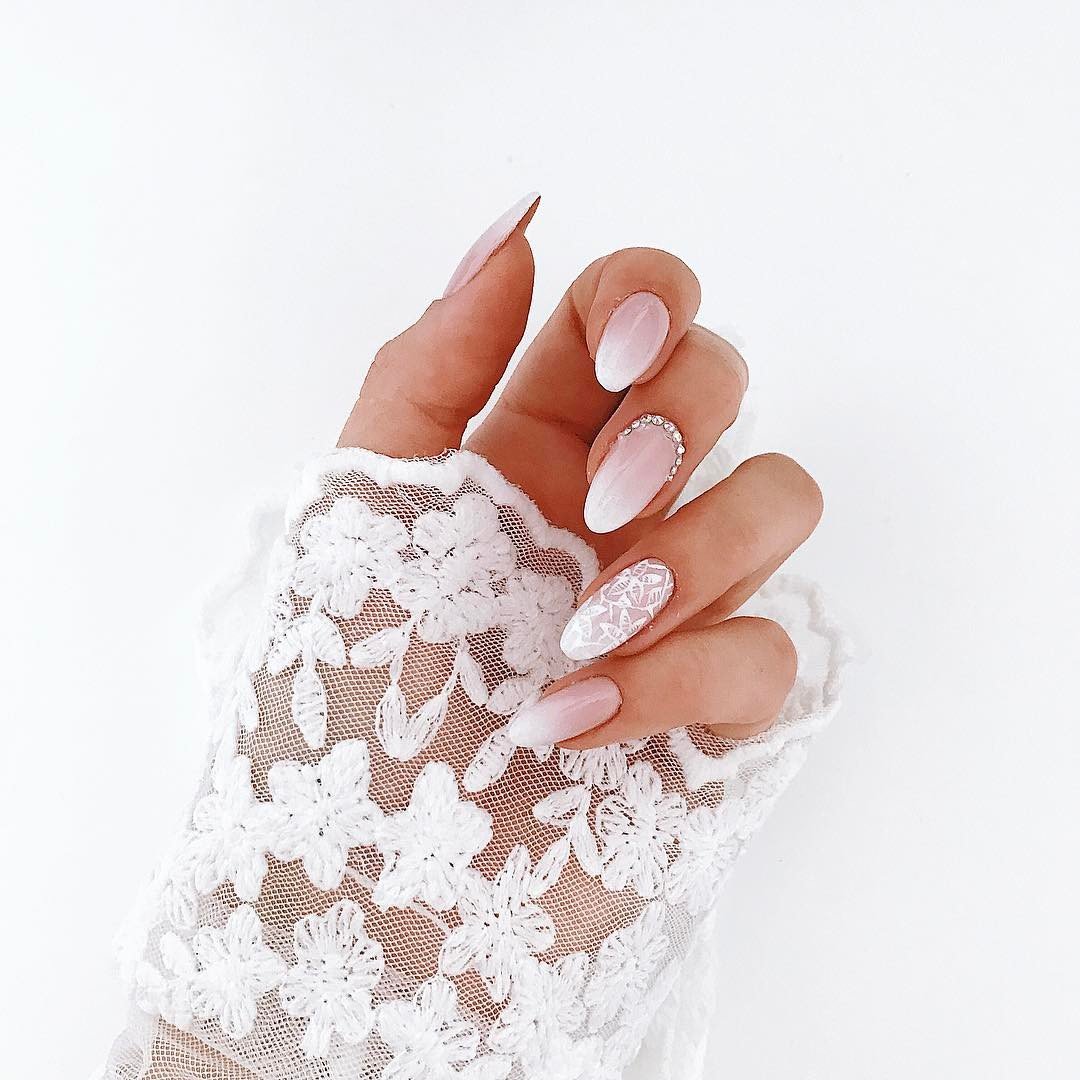 Base Color: White
Design: Ombre
Accent: Lace patterns
Style Notes: Ideal for weddings, complements lace gowns
2. V Tipped With Dotted Lines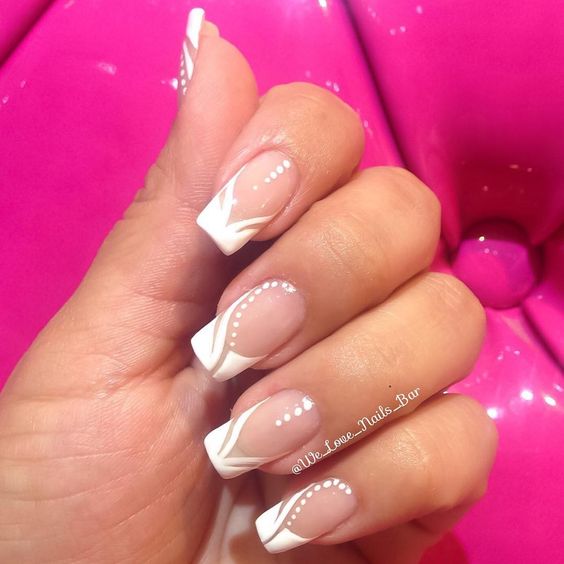 We often update the classic French manicure to enhance its elegance. A V-shaped tip offers a sharp, feminine aesthetic:
V Shape: A precise, angled approach for a modern edge.
Dots: Added for a subtle, romantic flair.
This style is particularly popular for weddings, where we aim to combine tradition with personal charm.
3. Gold Sprinkled Flower Nails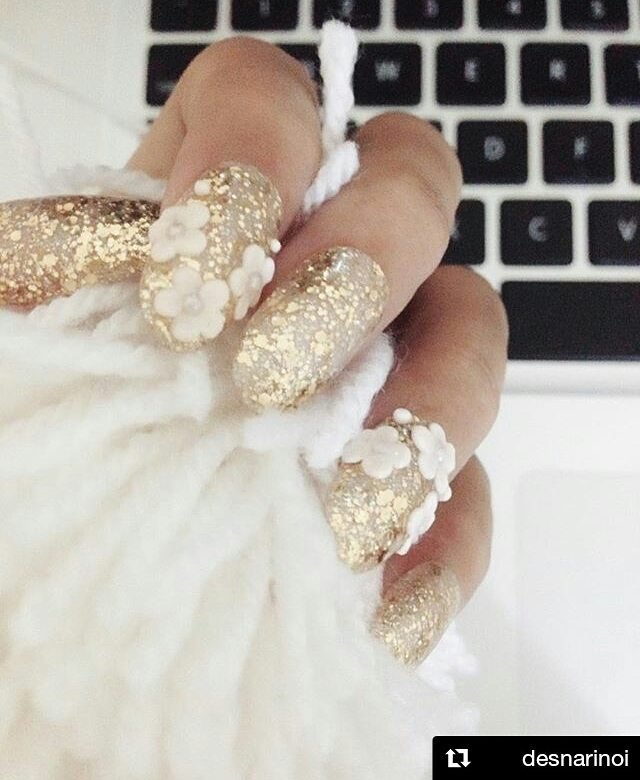 Trend: Gold accents
Design Appeal: 3D floral effect
Ideal Choice: Eccentric brides
4. Bling Nails With Acrylic Details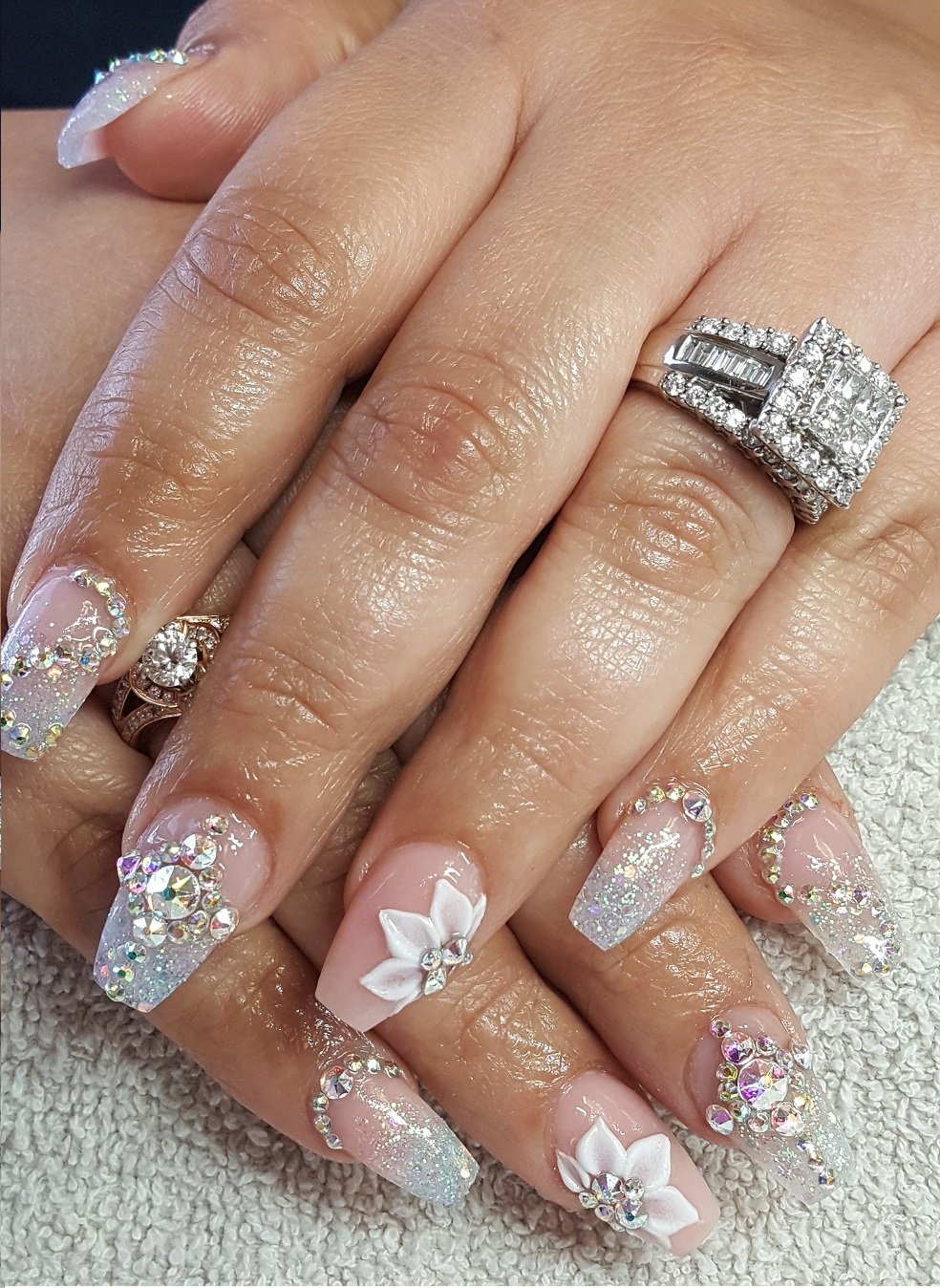 We incorporate gems into our acrylic nail designs for an extra touch of glamour. Our options include:
Rhinestones: For a classic sparkle.
Floral Accents: Adding a feminine flair.
Our styling knows no bounds—mix, match, and go bold with your bling choices.
5. Clear Glass Coffin Nails With Flower Designs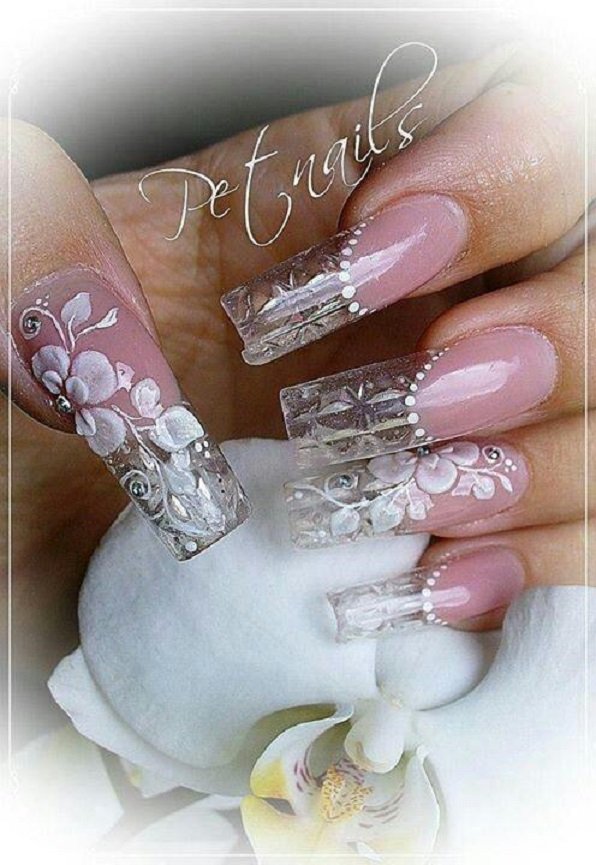 On a bride's special day, our clear glass coffin nails with delicate flower etchings stand out as a statement accessory. Although longer in length, these offer a striking look without the need for practicality.
6. Silver Glitter Criss-Cross Nails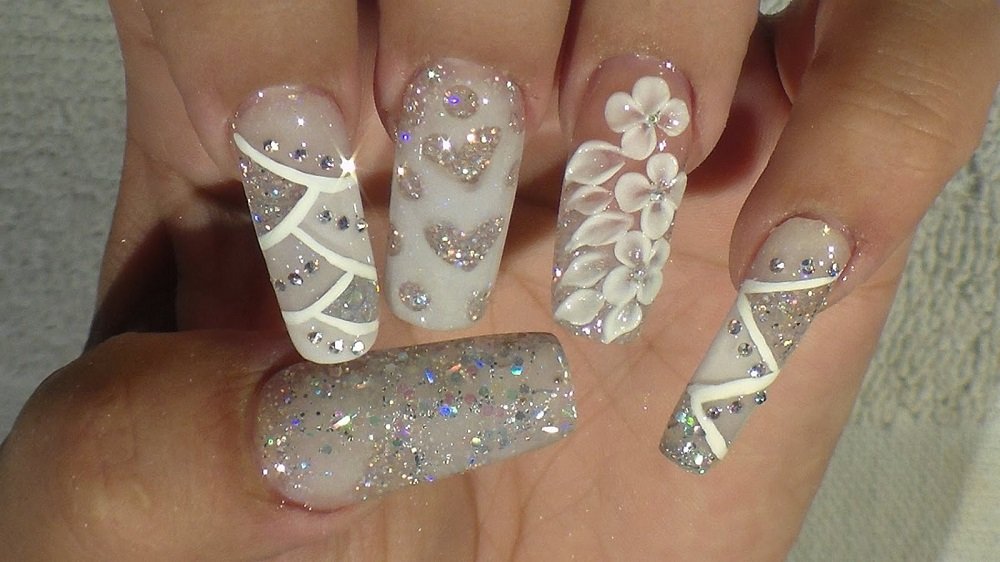 Decoration: Impeccable on each nail
Complement: Enhances the bridal ensemble
Detail: Meticulous attention to craftsmanship
Our nails capture elegance, ensuring a radiant complement to the bridal attire.
7. French Mani With Rhinestone Heart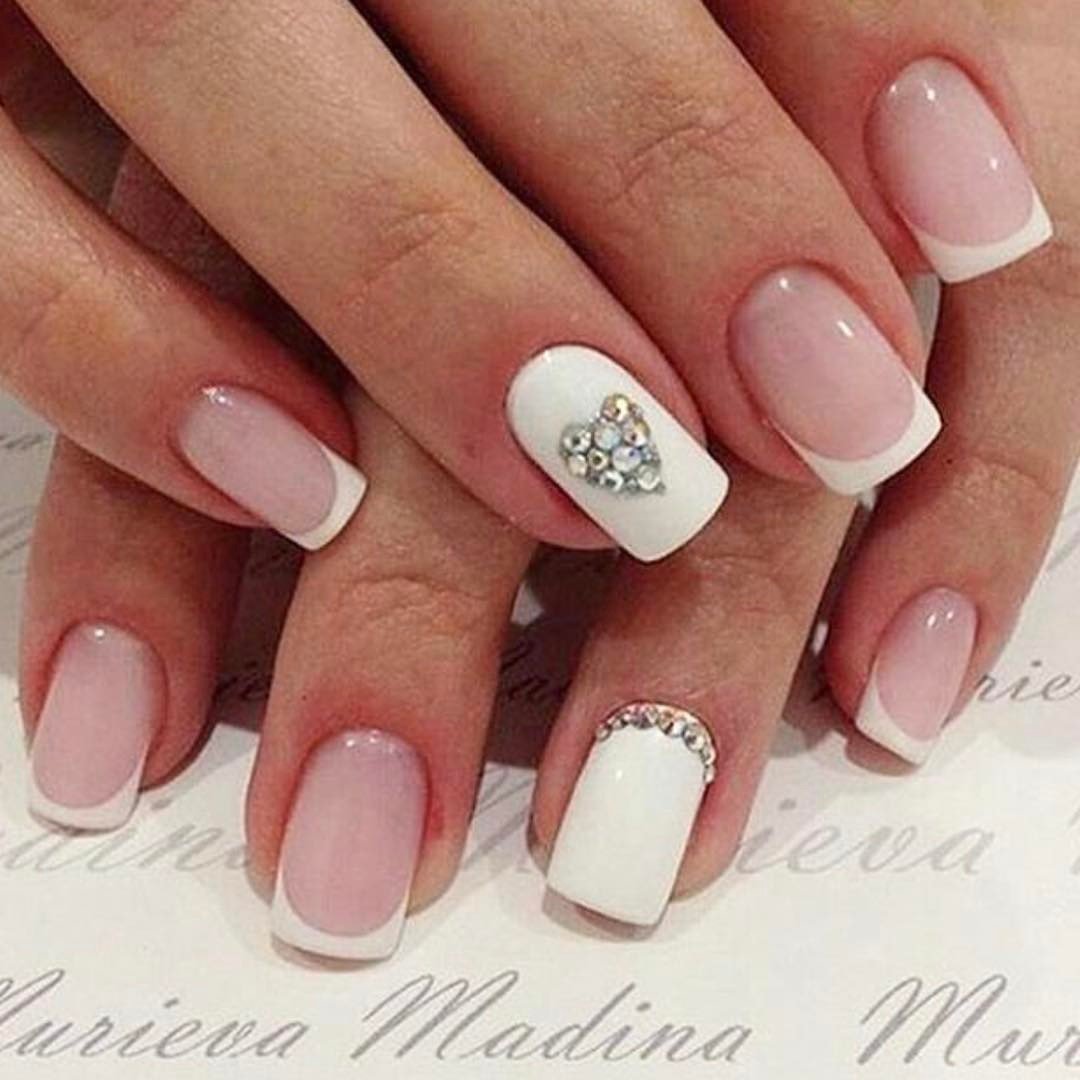 Design: Classic French manicure
Detail: Single rhinestone heart accent
Occasion: Ideal for weddings
Look: Understated elegance
8. White Ombre With Flower Petal Design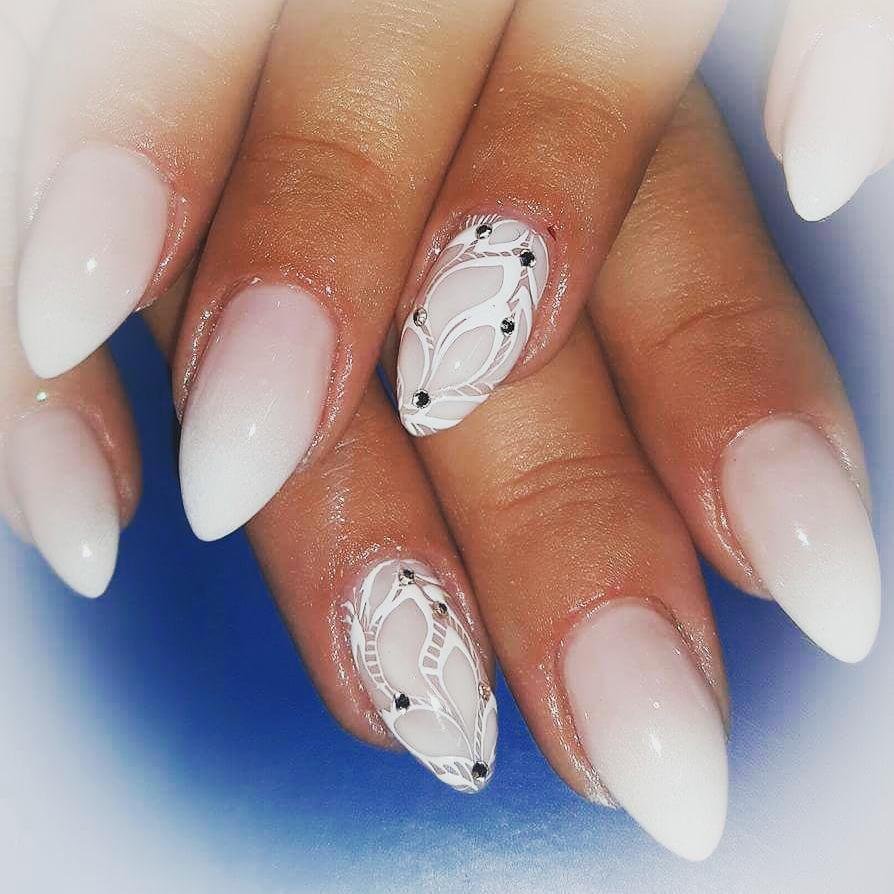 Technique:
Gradual blending of white to transparent
Decoration:
Single accent flower for a playful touch
Ideal For:
9. Sunset Glow-In-The-Dark Nails With Rose Glitter Design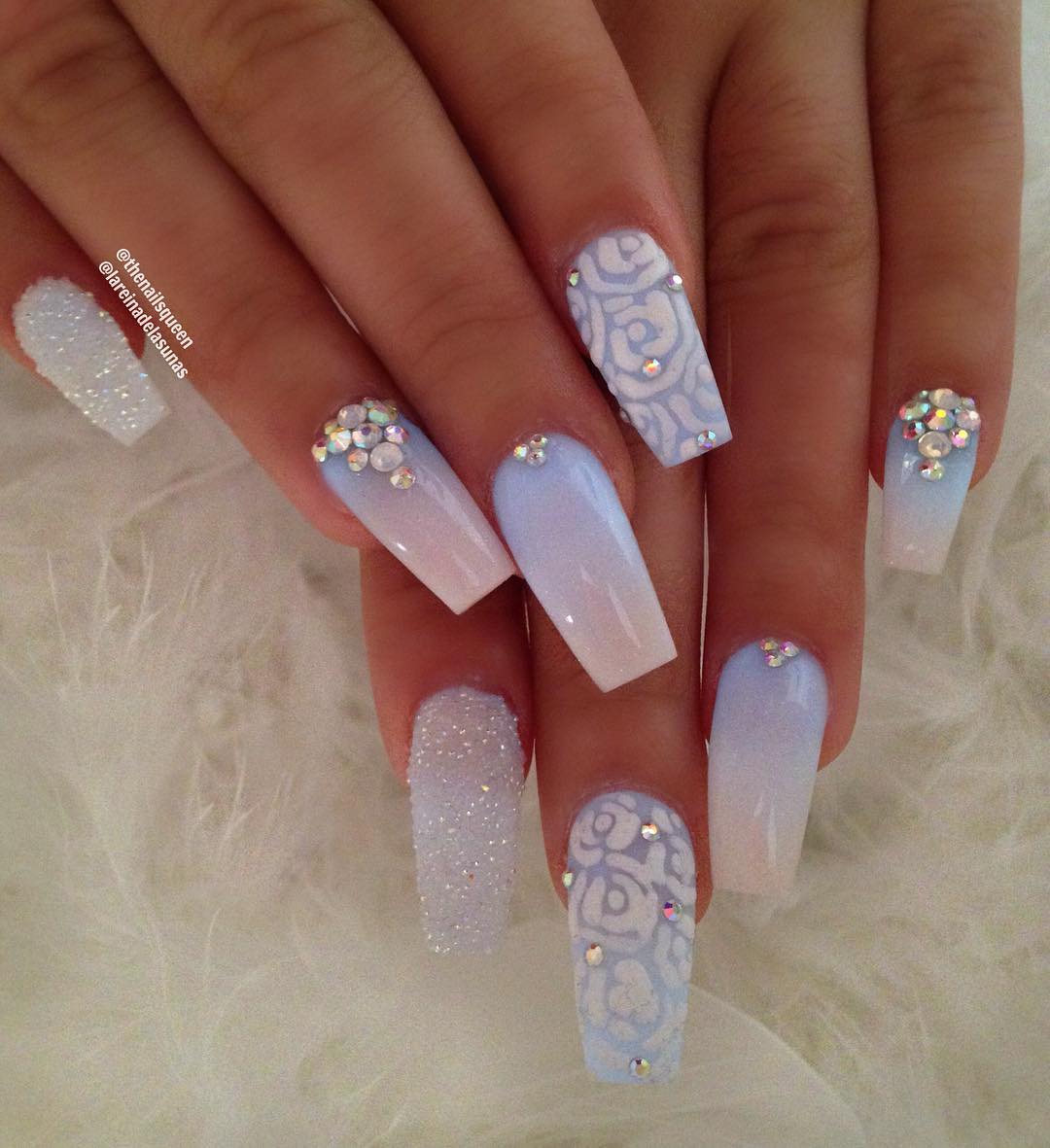 Glow Factor: Our nails radiate a captivating luminescence.
Rose Glitter: We integrate flawless glitter that complements perfectly.
Visual Appeal: The nails boast a harmonious blend of glow and sparkle.
Occasion-Ready: Ideal for events desiring a statement manicure.
10. Glitter Nails With Wedding Dress Design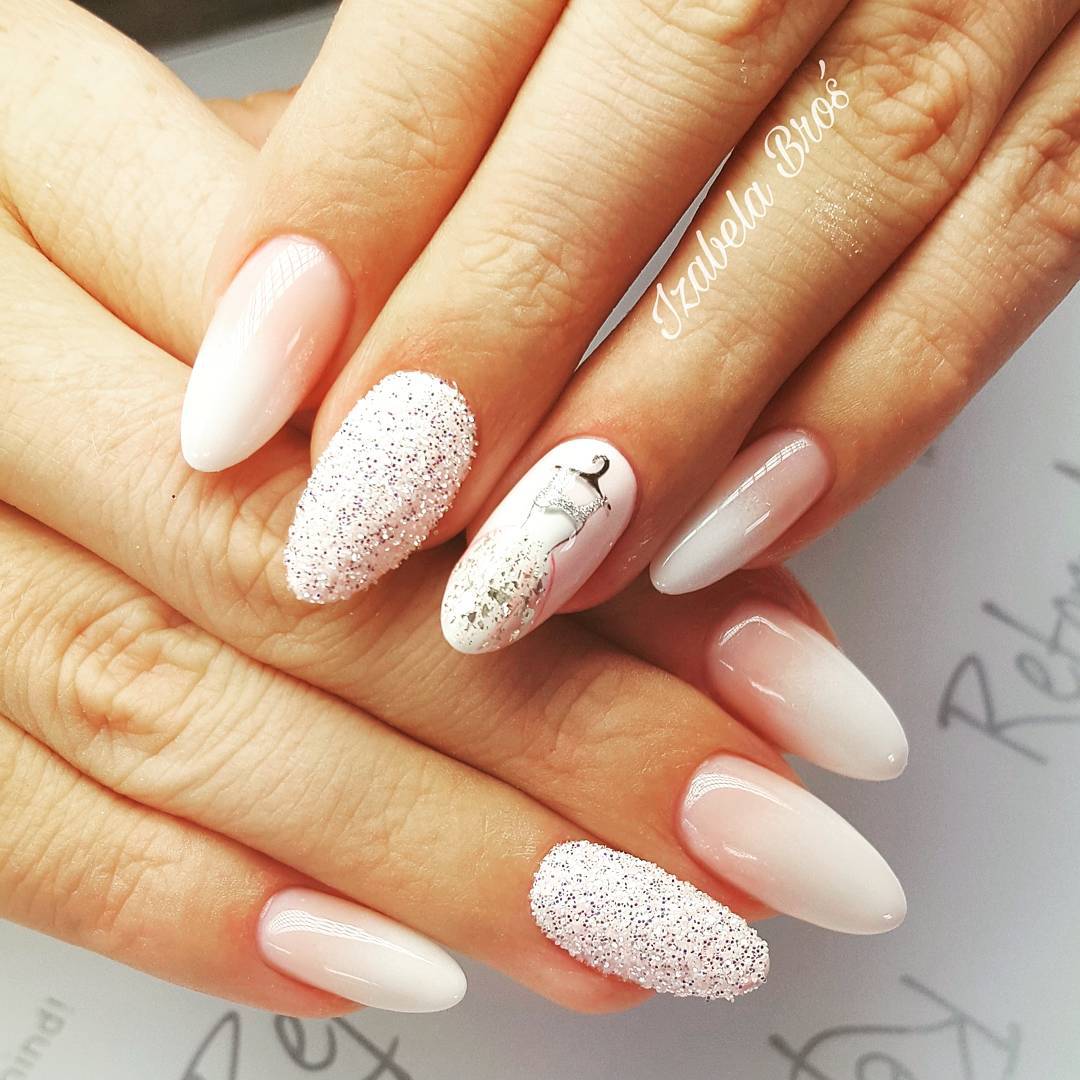 Inspiration: Wedding dress art on nails
Trend: Glazed donut nails with a sparkle
Approach: Incorporate creative sparkle to complement the big day
11. Coffin Diamond And Pearl Nails
We blend subtle detail with striking accents:
Edges: Discreet, unassuming hues
Center: Bold pearl statement
12. Baby Blue And Pink Lace Nails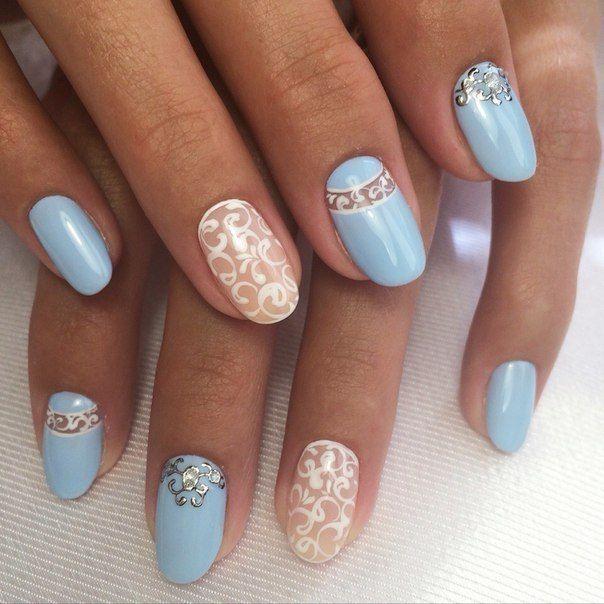 Colors: Soft pink and light blue pastels.
Style: Elegant lace detailing.
Palette: Gentle shades evoke sophistication.
We embrace the trend of incorporating subtle yet captivating hues beyond traditional colors for wedding nails.
13. Stiletto Nails With White And Gold Flower Design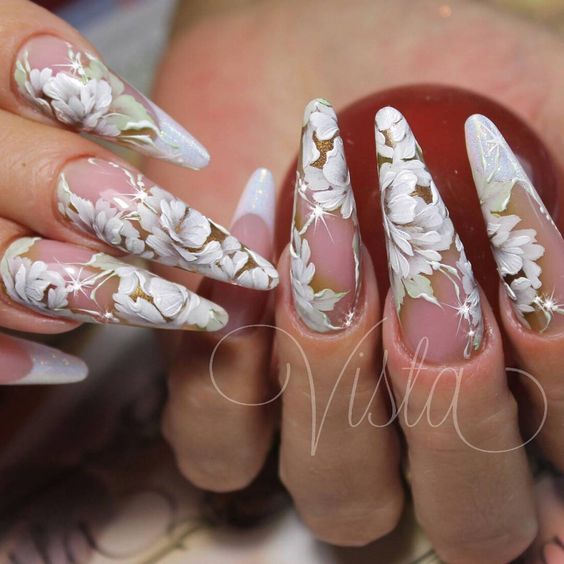 Embrace stiletto nails for a blend of femininity and allure
The white and gold flower design adds a touch of romance
Perfect for those seeking a seductive yet sophisticated look
14. Diamond Laced Naked Nails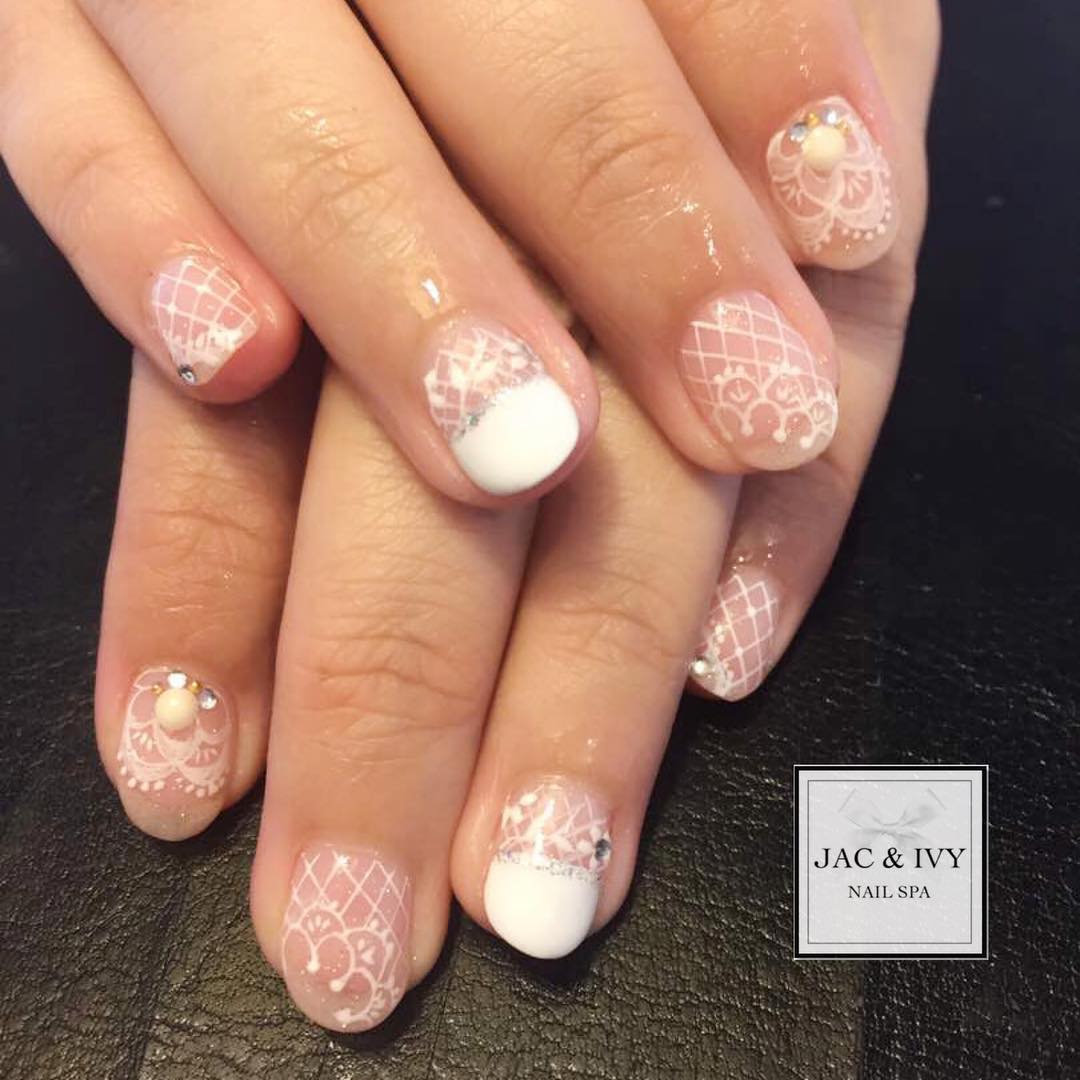 Texture: Glossy finish
Design: Subtle lace patterns
Inspiration: Marble elegance
Craftsmanship: Precision detailing
15. Almond Baby Pink Nails With Acrylic Flowers On Base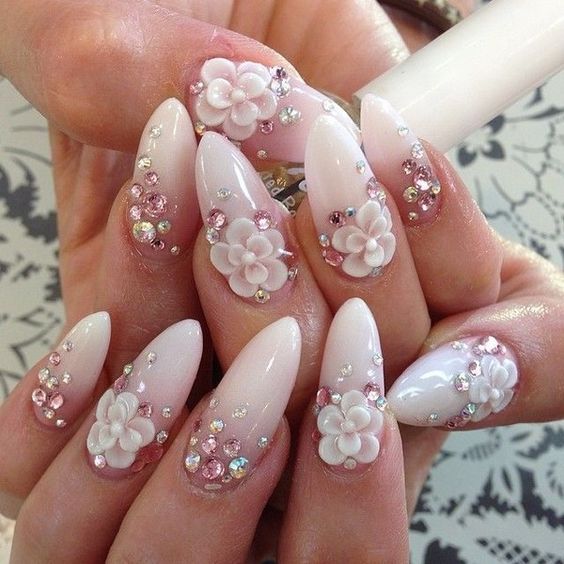 Nail Design:
Shape: Almond
Shade: Baby pink base
Design: Acrylic flowers
Features:
Opaque finish
Pearl embellishments
Classic nude undertones
Ideal for:
Complements:
Neutral, creamy wedding themes
16. Heart Shaped Tips With Rhinestones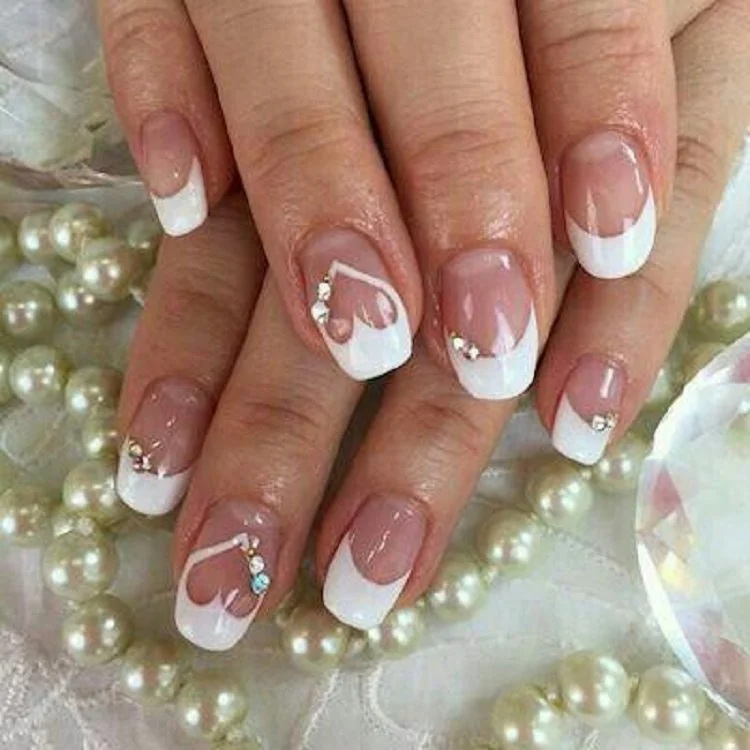 For an elegant manicure:
Base: Clear polish
Tips: White, heart-shaped
Accent: Single rhinestone
17. Clear Framed Nails With Yellow Flowers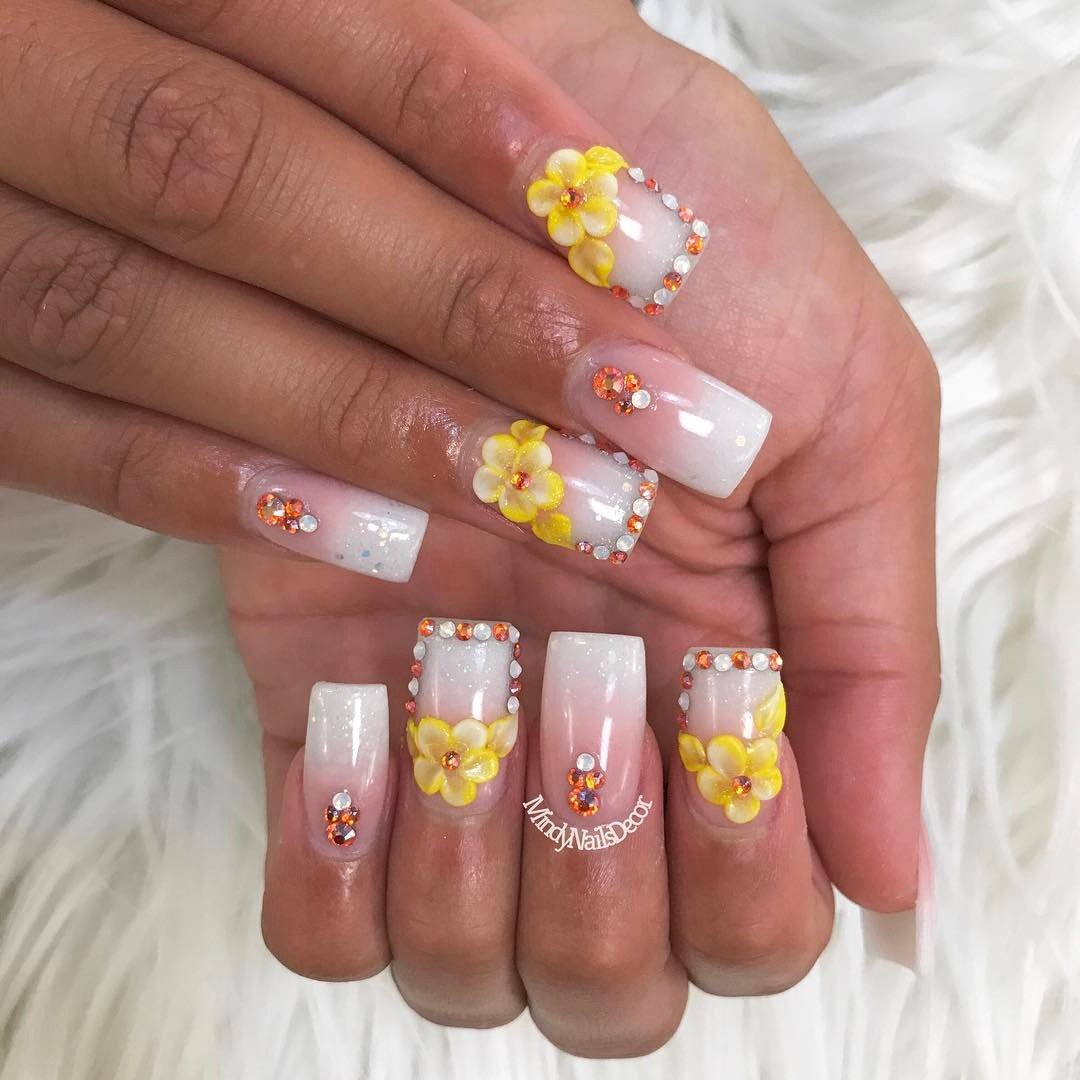 Color Symbolism: Yellow represents joy and positivity.
Design Choice: Clear nails accentuate delicate yellow florals.
Occasion: Ideal for wedding festivities to encapsulate a cheerful atmosphere.
18. Acrylic Rose Nails With Pearly Glitter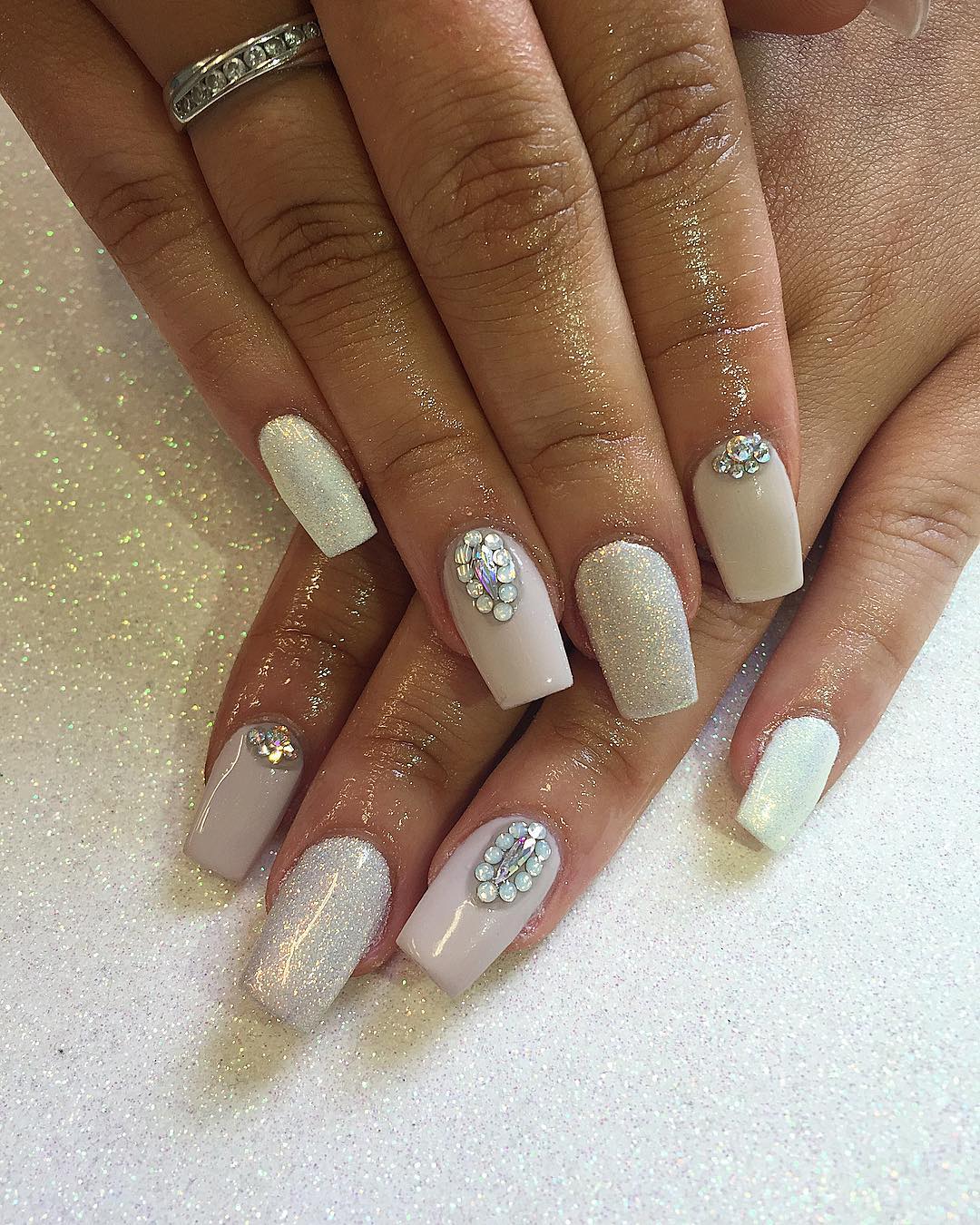 We embrace the shimmer of pearly glitter as a touch of sophistication. Our rose acrylics blend a subtle hue with a textured sparkling accent, perfect for any occasion where elegance is key.
Texture: Smooth with delicate sparkle
Accent: Pearly glitter
Vibe: Understated elegance
19. White Fairy Dust Nails With Rhinestones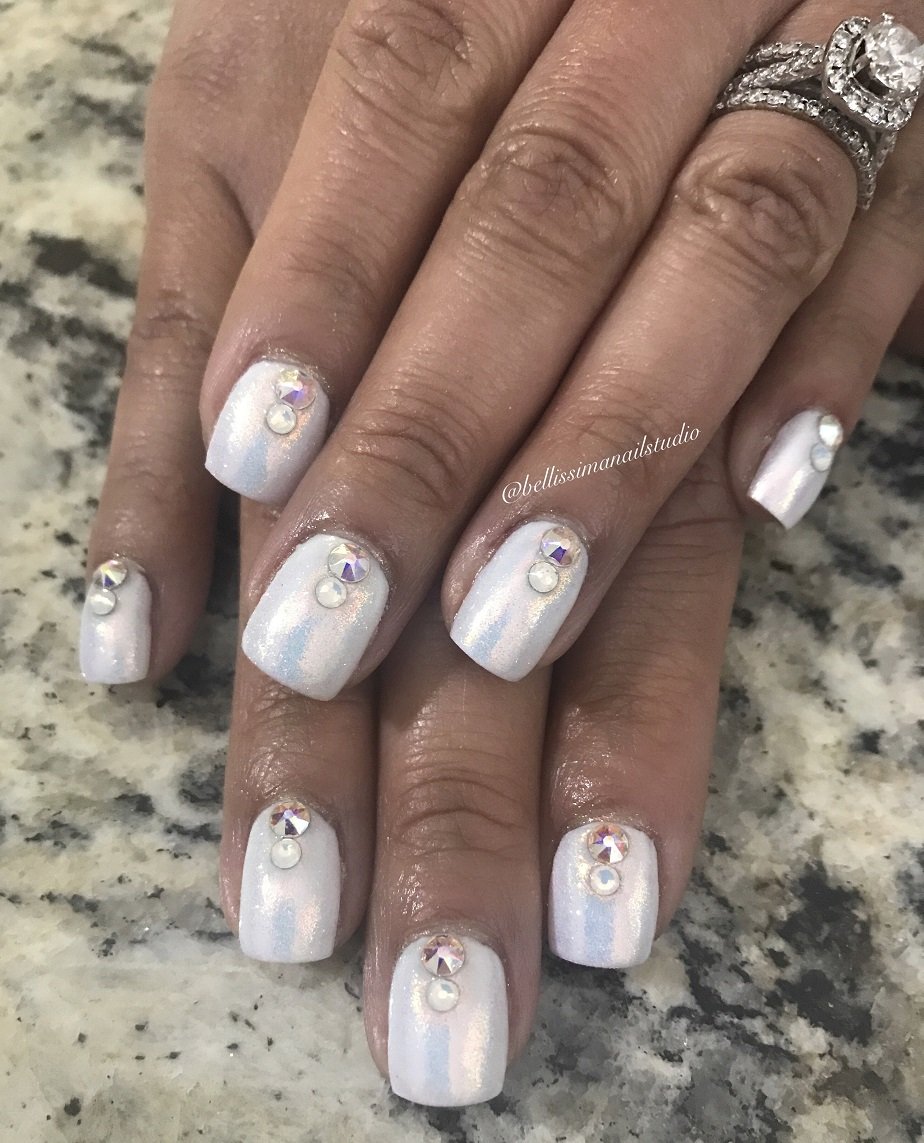 Shimmer adds a magical touch to our wedding day ensemble. We opt for white nails dusted with shimmery accents and delicate rhinestones for a charming look.
20. French Mani With Flowers And Green Leaves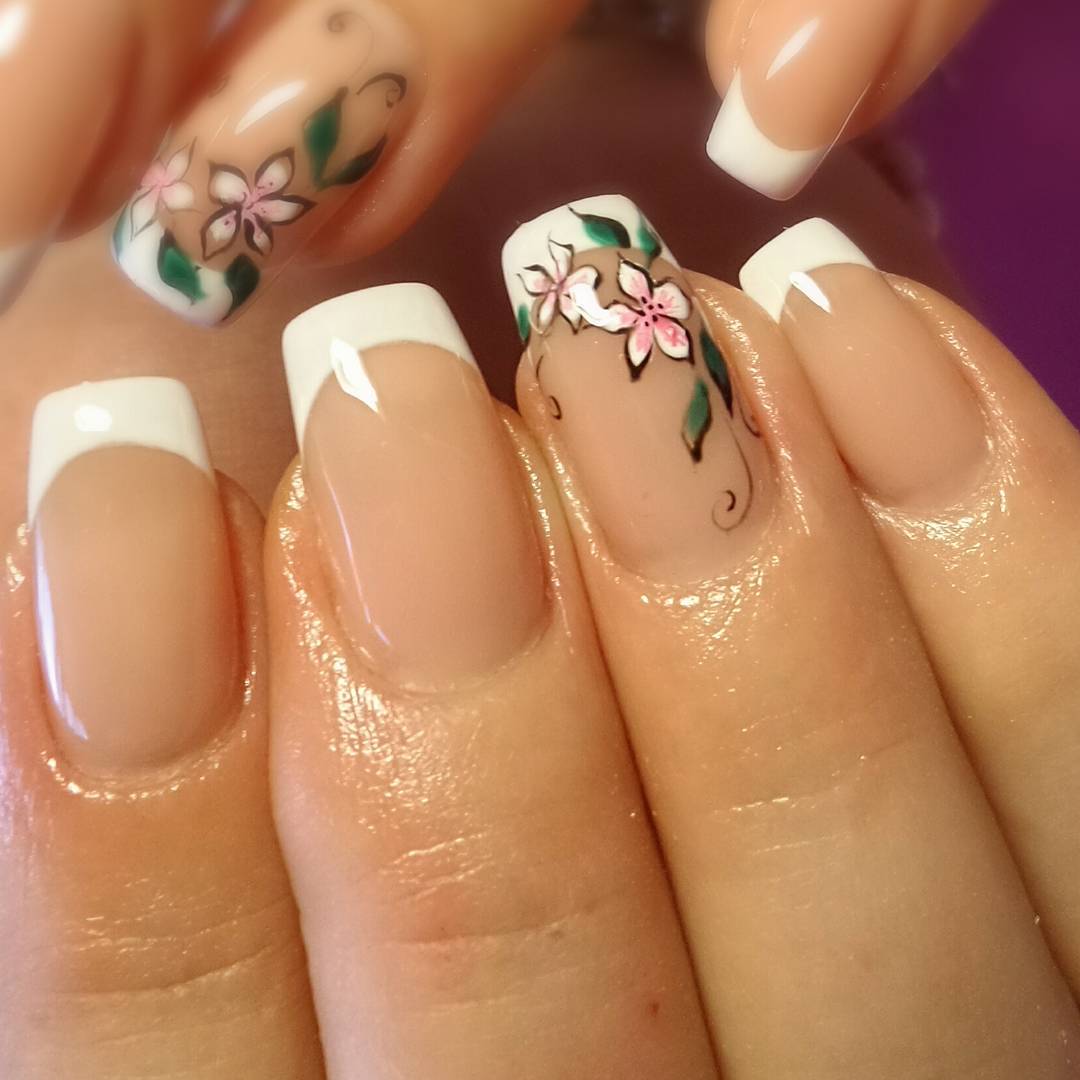 Design: French manicure base enhanced with vibrant floral designs.
Color Palette: Green leaves bring a fresh, natural look.
Aesthetics: A creative twist on a classic, proving it's anything but dull.
| Feature | Detail |
| --- | --- |
| Freshness | Green foliage |
| Vibrancy | Colorful flowers |
| Creativity | Unique artistry |
21. Delicate Lace With White Tips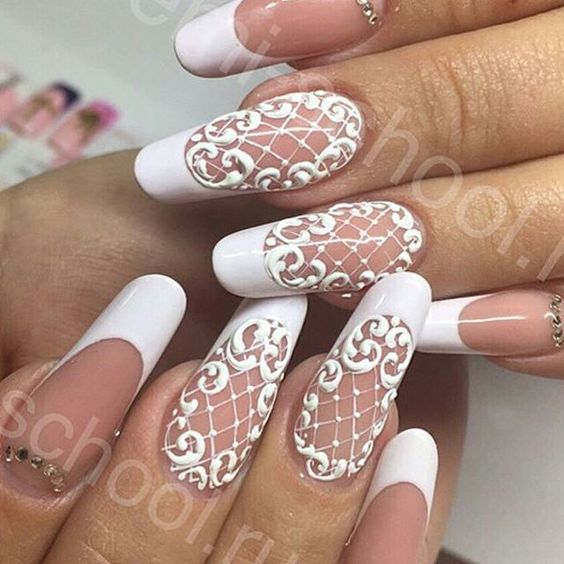 Sheer Elegance: We choose lace to echo the timeless beauty of wedding gowns.
White Tips: Our nails flaunt white tips, ensuring a seamless blend with delicate lace details.
22. Short Acrylic Nails With Gold Glitter And Pearls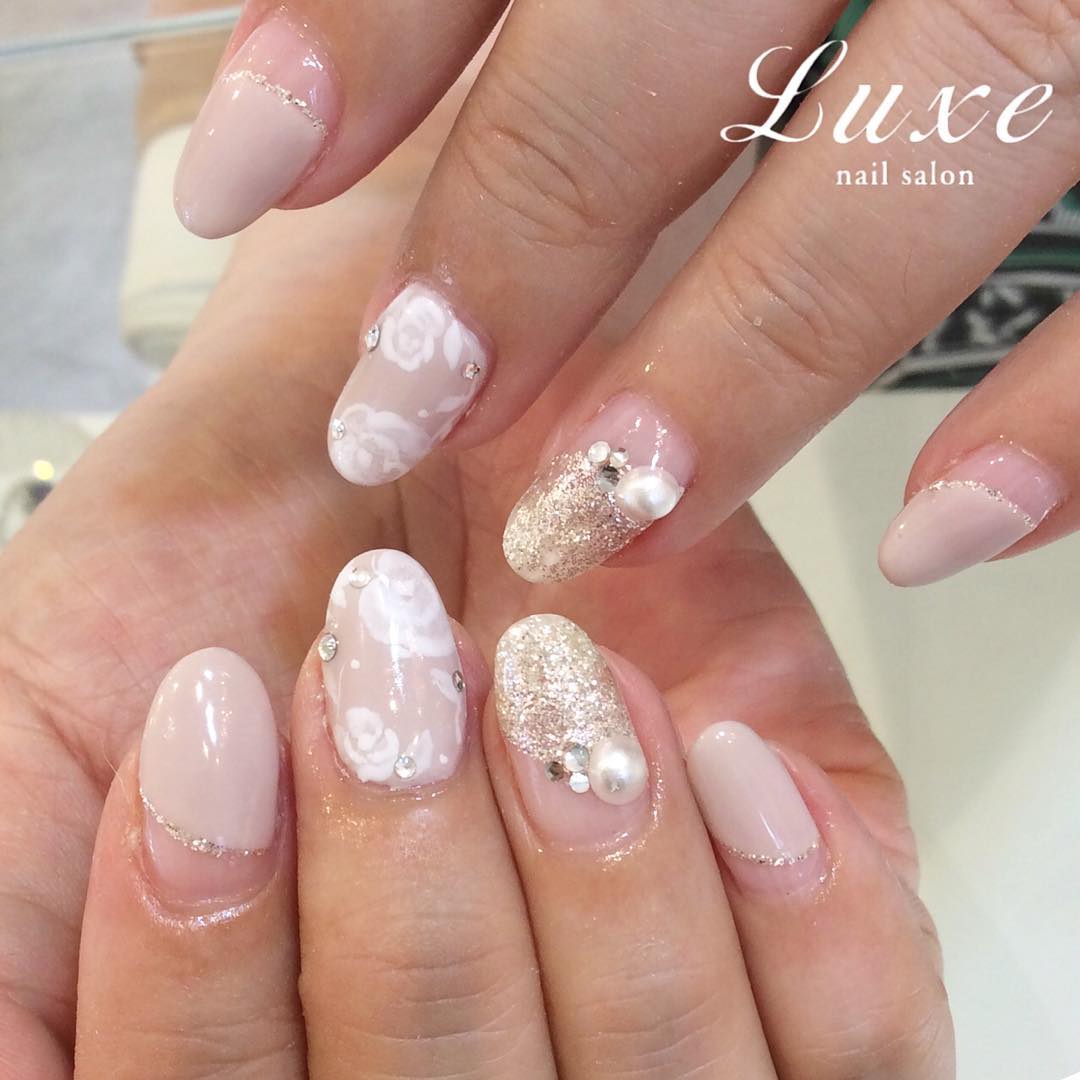 Essential Details:
Design: Short acrylic, pearl accents
Glitter: Half gold coverage
Ideal for: Weddings
Inspiration: instagram.com
Style Notes:
Elegance meets whimsy
Timeless wedding choice
Understated yet captivating
23. Tiffany Blue Glitter Nails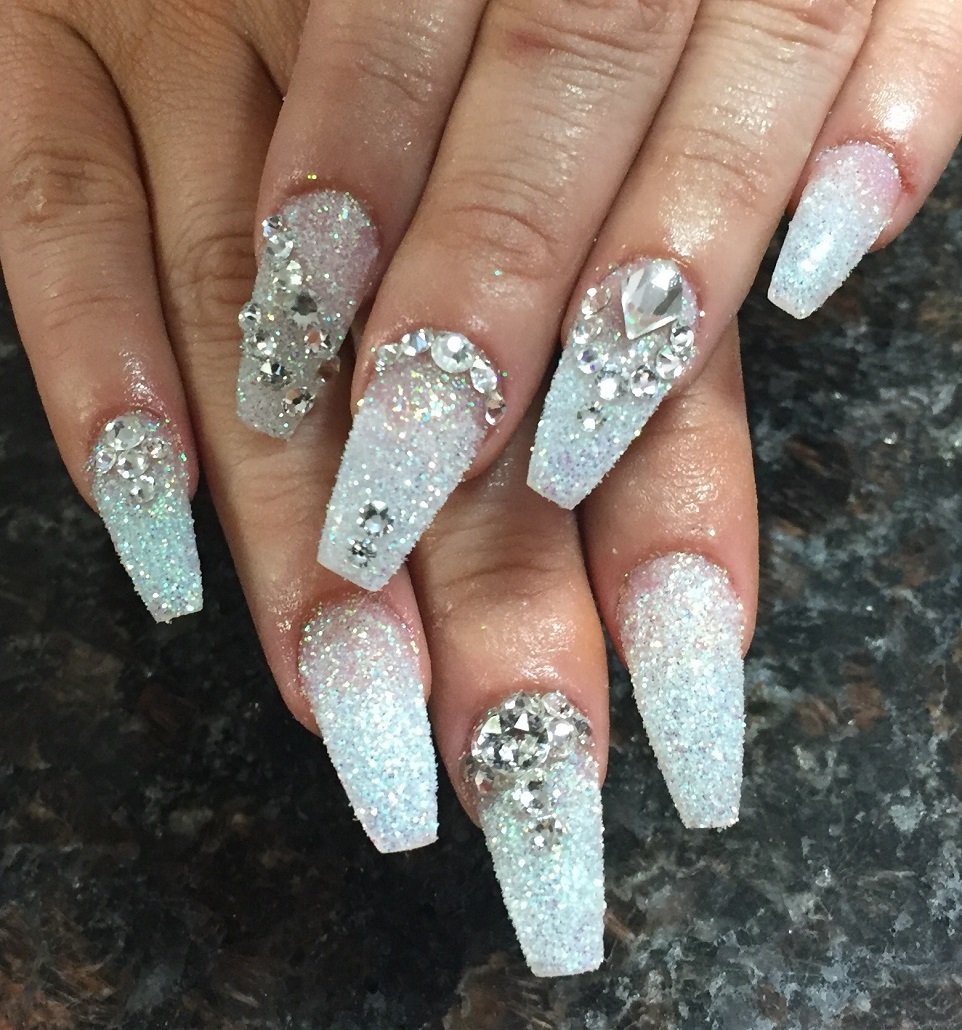 Color: Tiffany blue
Appearance: Glittery, reminiscent of high-end jewelry
Popularity: Desired by many
24. Pink Nails With French Mani And Acrylic Flowers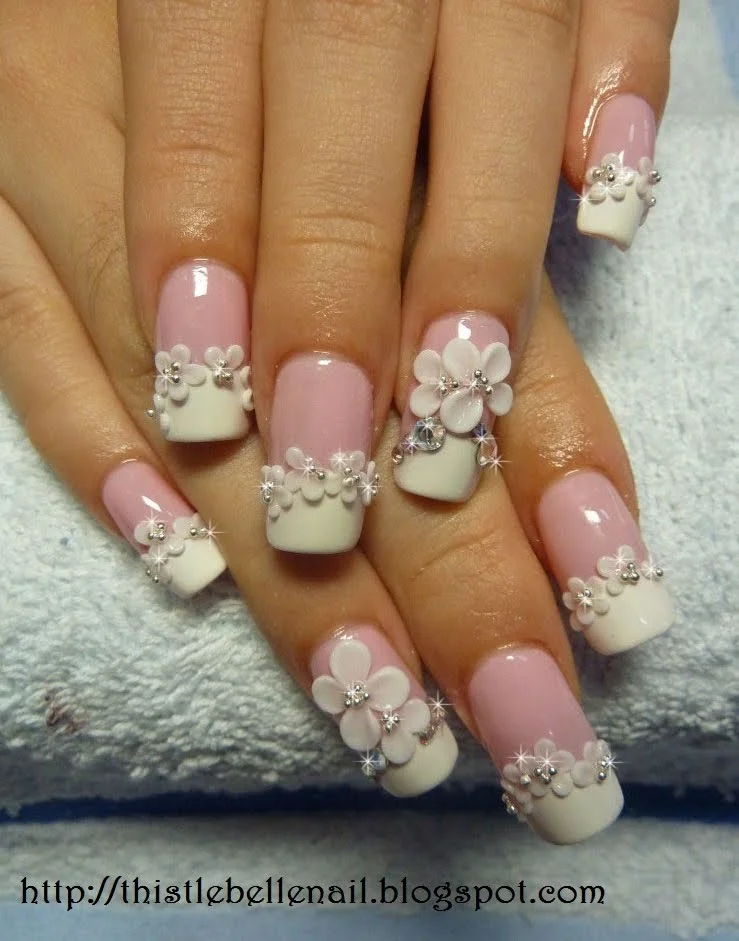 Color Palette:
Base: Sheer Pink
Design: Classic French Manicure
Features:
Accent: Acrylic Flowers
Vibe: Regal Elegance
Ideal for: Bridal Look
25. Diamond Rhinestone Covered Stiletto Nails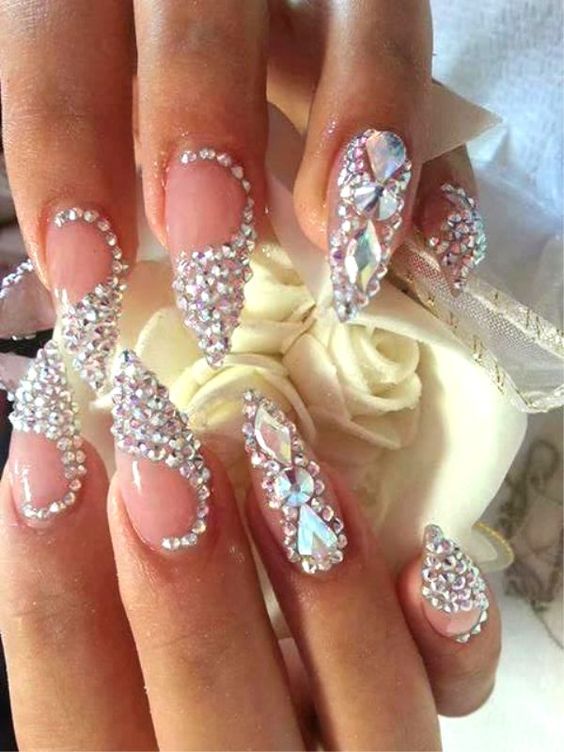 Accent: Gemstones elevate the allure
Design: Pure, unadulterated glamour
Appeal: Escalates sexiness beyond classic looks
26. Classic French Tip With Lace And Glitter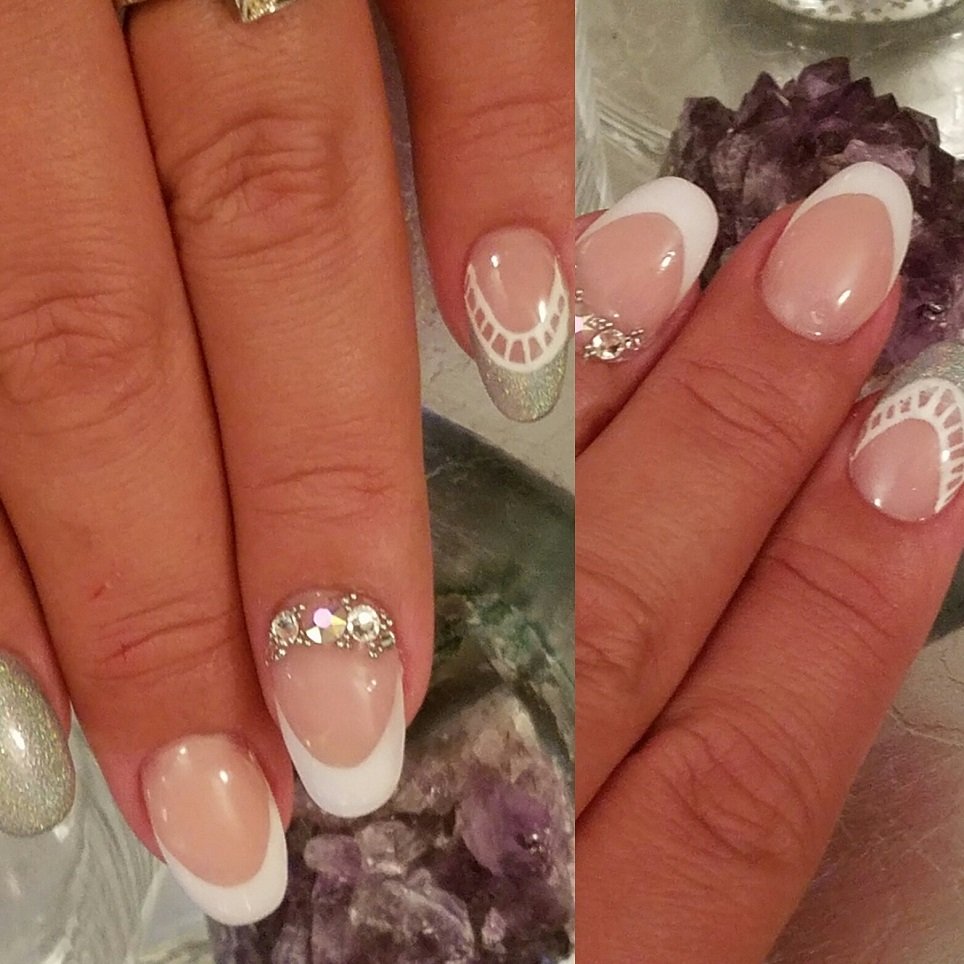 Design: Classic French manicure with lace and glitter accents
Color Palette: Subtle shades of wedding white
Ideal for: Brides seeking understated elegance
Visual Appeal: Adds a touch of sophistication with delicate lace; glitter provides a festive sparkle
27. Clear Nails With Leafy Design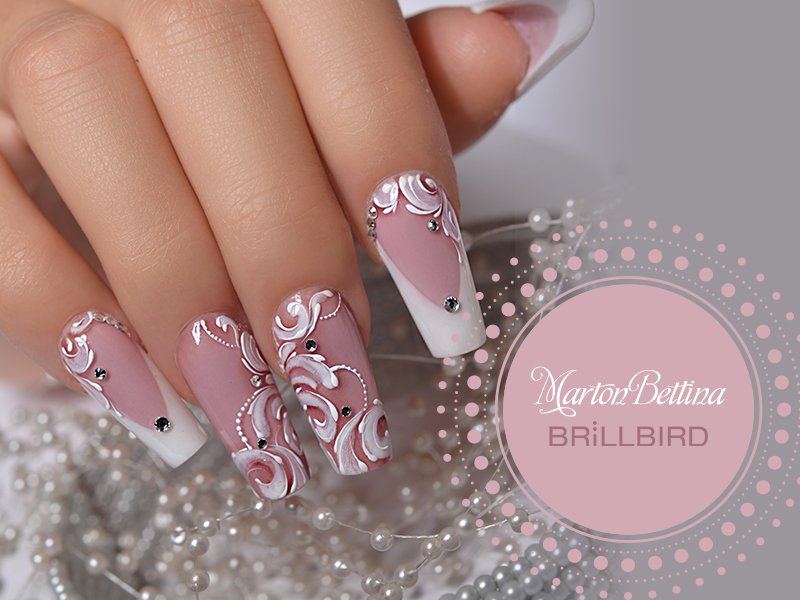 Trend Alert: We're embracing transparent tips adorned with delicate foliage.
Inspiration Source: Exquisite designs worthy of gallery display.
Visual Delight: Our manicures transform into botanical exhibits.
28. Ombre Nails With Diamonds And Rhinestones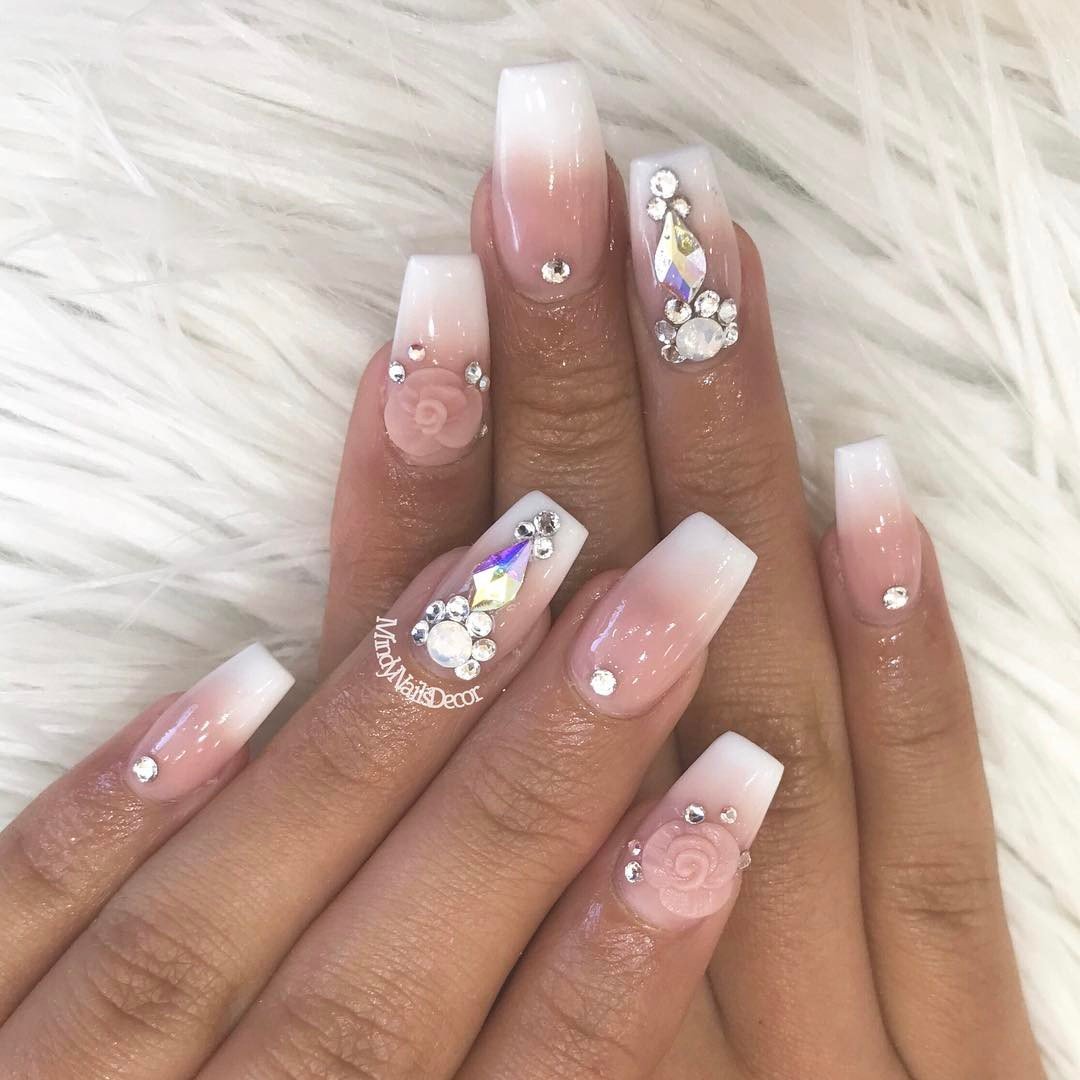 Accentuated with 3D flowers, our design elevates the classic gradient.
Intricate diamond rhinestones add a touch of glamour.
29. Flower Lace Design With White Accent Nails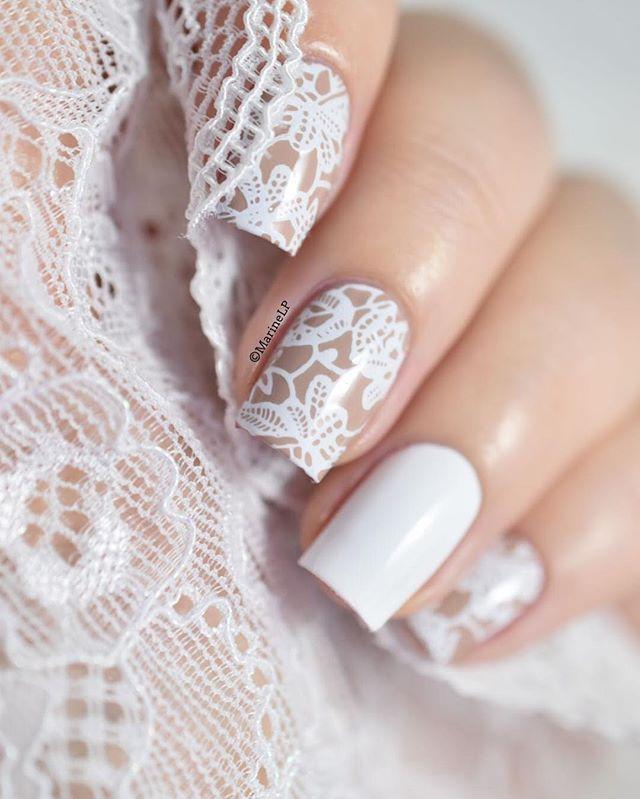 Timeless elegance
Perfectly complements bridal attire
Ideal for dream wedding aesthetics
| Feature | Detail |
| --- | --- |
| Pattern | Flower lace |
| Accent Nail | Clear white |
| Inspiration | Bridal gown matching |
30. Mr. And Mrs. Nails With White Daisies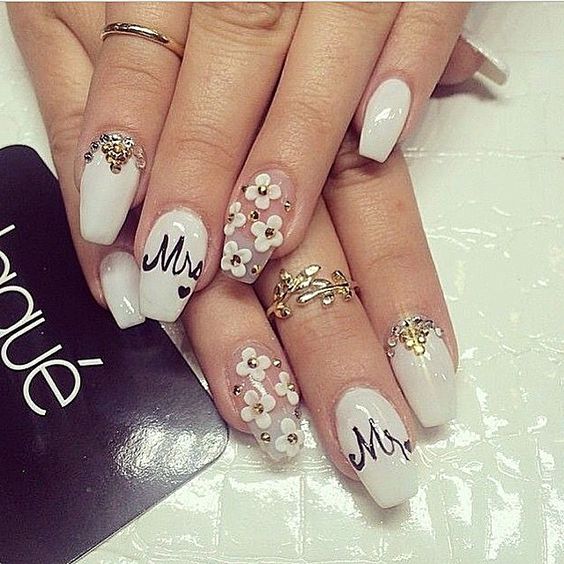 We recommend concluding your special day with an equally memorable nail design that celebrates your new union. A design featuring Mr. and Mrs. along with delicate white daisies expresses the joy and longevity we hope infuses every aspect of your shared life. If you're inspired or have your own ideas for a wedding manicure, we encourage sharing them, fostering a community of creativity and celebration.