When it comes to the wedding day, most brides focus most of their attention to the wedding dress, hair, and makeup.
And rightfully so.
But as with everything else in life, the last final touches are just as important.
Just think of this scenario.
You have your dream come true wedding dress, you look like a princess thanks to hair and makeup, but your nails are not done.
That spells trouble.
And that is one trouble you will wish would have avoided.
The final touch on your wedding day is beautiful nails.
For that, we have several ideas you can look at.
1. Naked Ombre White Nails With Lace Accent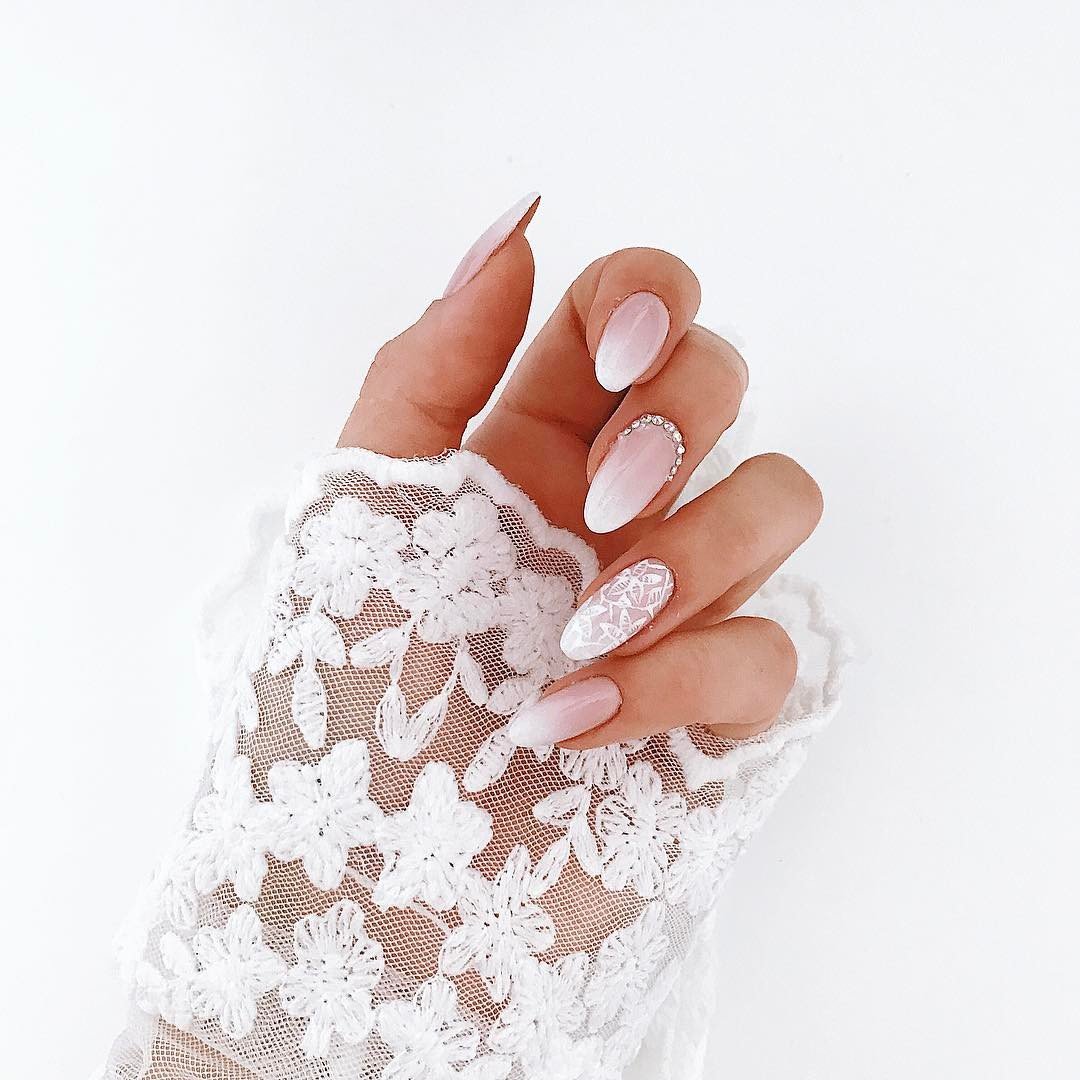 The perfect wedding manicure thanks to that lace tying perfectly with your lace dress. Most of the nail designs here will be white. But even a white design needs something more. In this case, that is the ombre effect and the lace.
2. V Tipped With Dotted Lines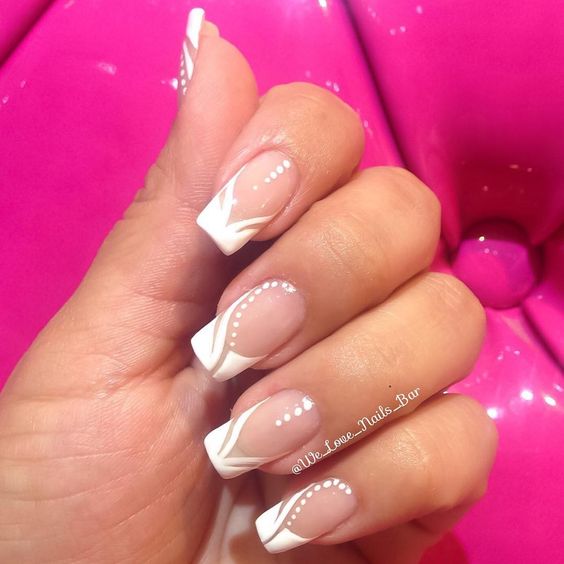 You can think of this manicure as a tweak to the classic French. The top is all you need, and in a V shape, it looks even more sharp and feminine. The dots give it a little romantic touch, something we all want on our wedding day.
3. Gold Sprinkled Flower Nails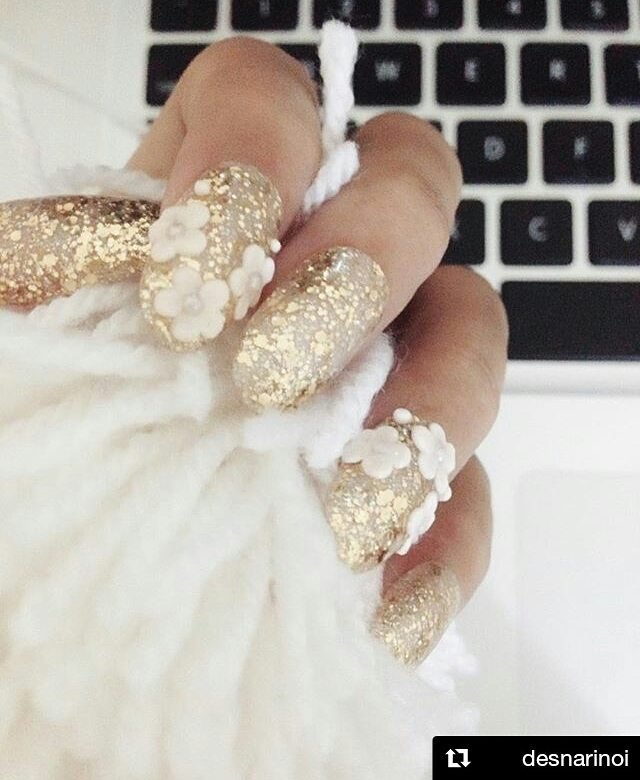 Some brides are more eccentric than others. If you are in the eccentric group, gold nails are definitely something to consider. With a flower arrangement, you get a 3D effect.
4. Bling Nails With Acrylic Details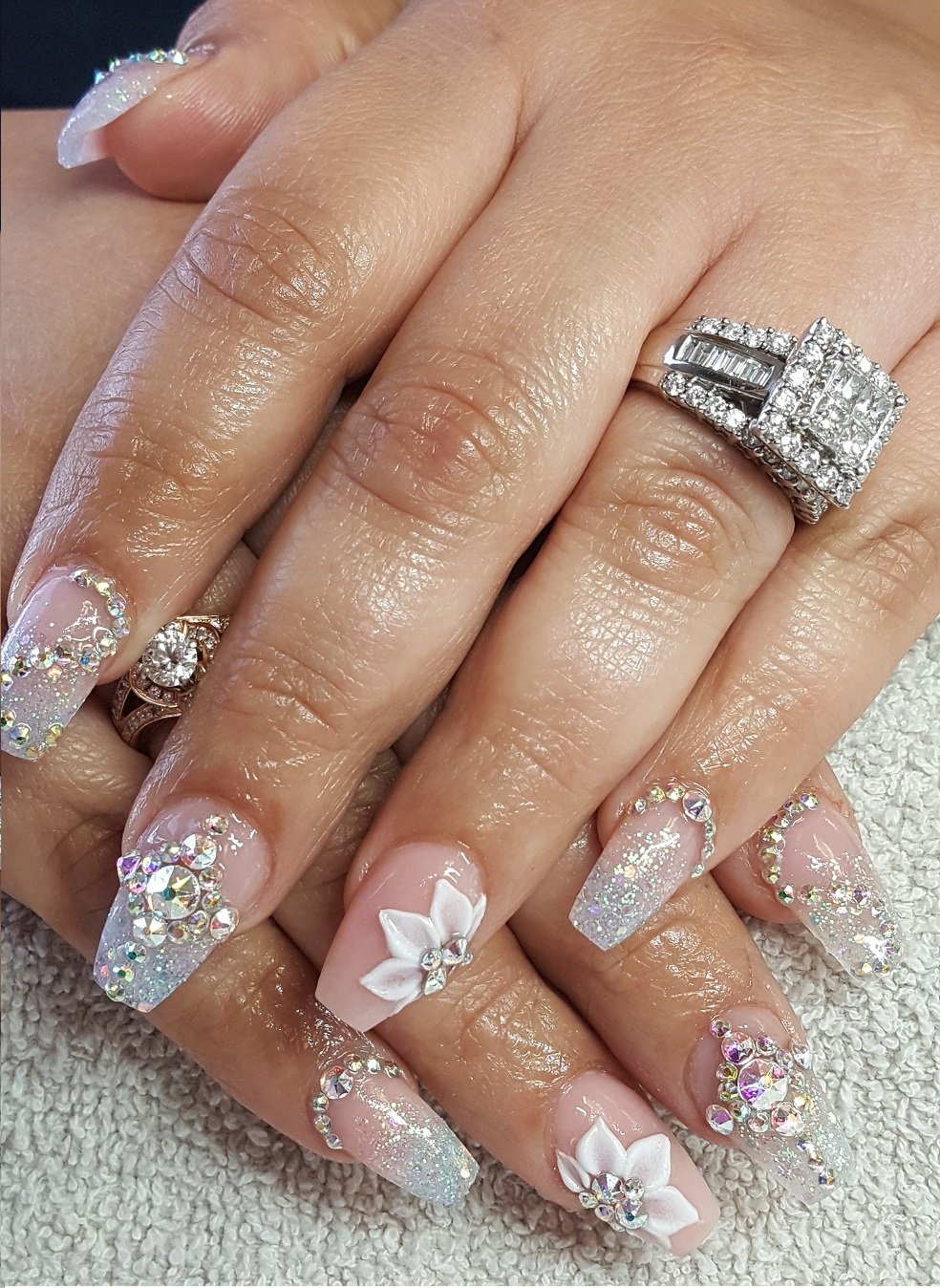 Accessories are a huge trend in manicure in the past several years. You can add different accessories, be it rhinestones, some flowers, or anything in between. And no, there is no limit to how many nails you can accessorize and how many different accessories you try.
5. Clear Glass Coffin Nails With Flower Designs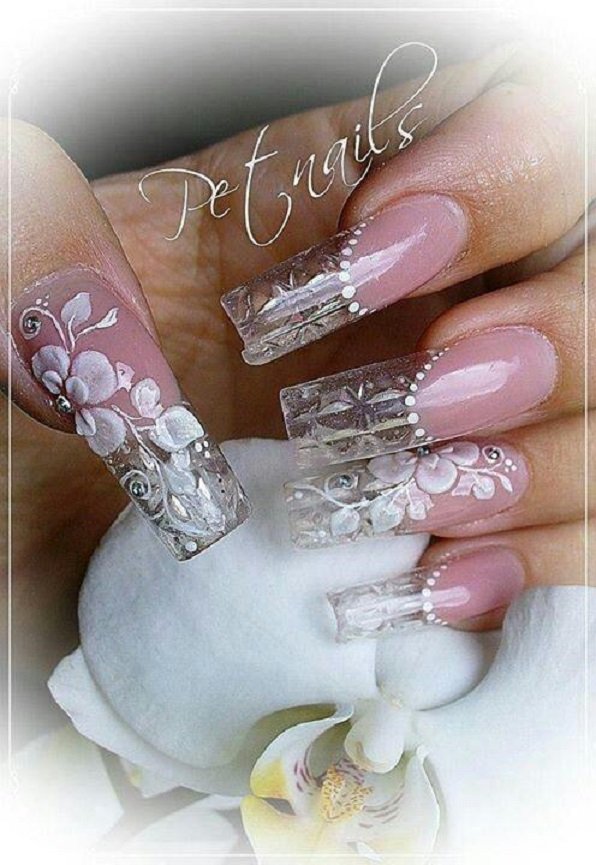 For a moment, we must look at the length of these nails. Yes, they are a bit longer and one might say unpractical. But you do not need practical at your wedding day. Some brides want that WOW factor. And these glass nails will definitely bring it.
6. Silver Glitter Criss-Cross Nails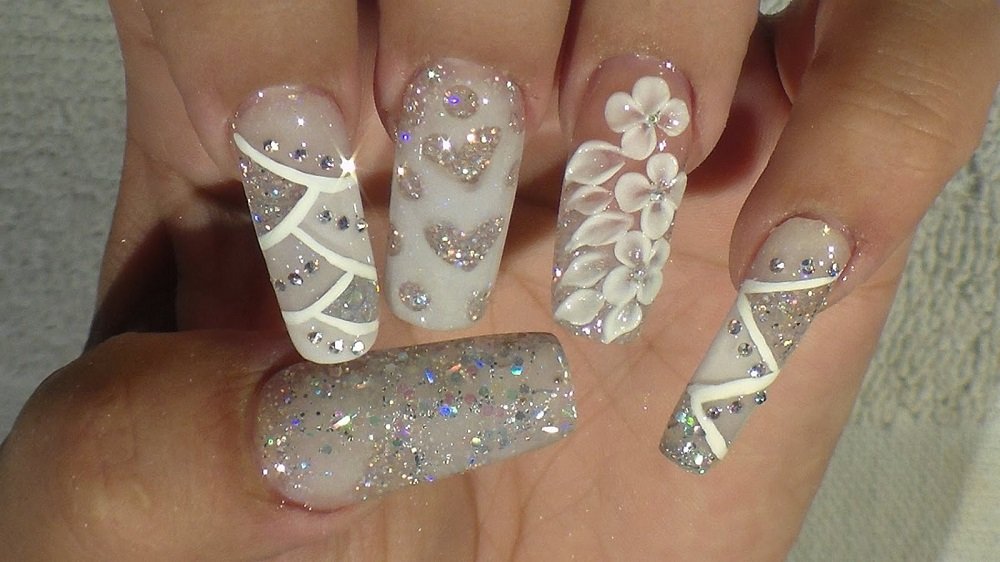 In this case, your nails might even look more beautiful than your wedding dress. Or you can say that your nails perfectly complement your dress. Every single nail is perfectly decorated. Talk about attention to details.
7. French Mani With Rhinestone Heart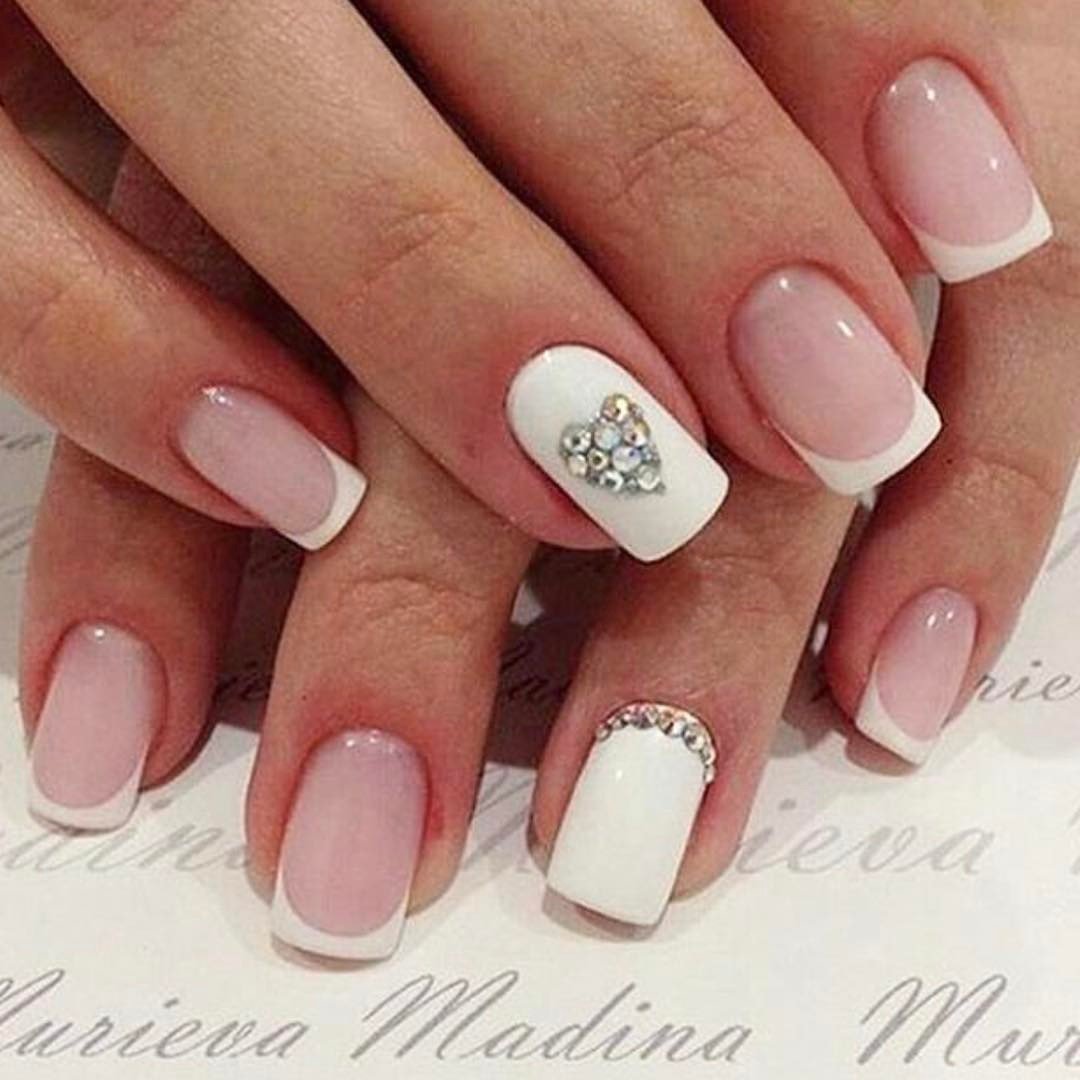 Simple and classic, the French is a design that will never disappoint you. You can not go wrong with French, especially if you want low-key wedding.
8. White Ombre With Flower Petal Design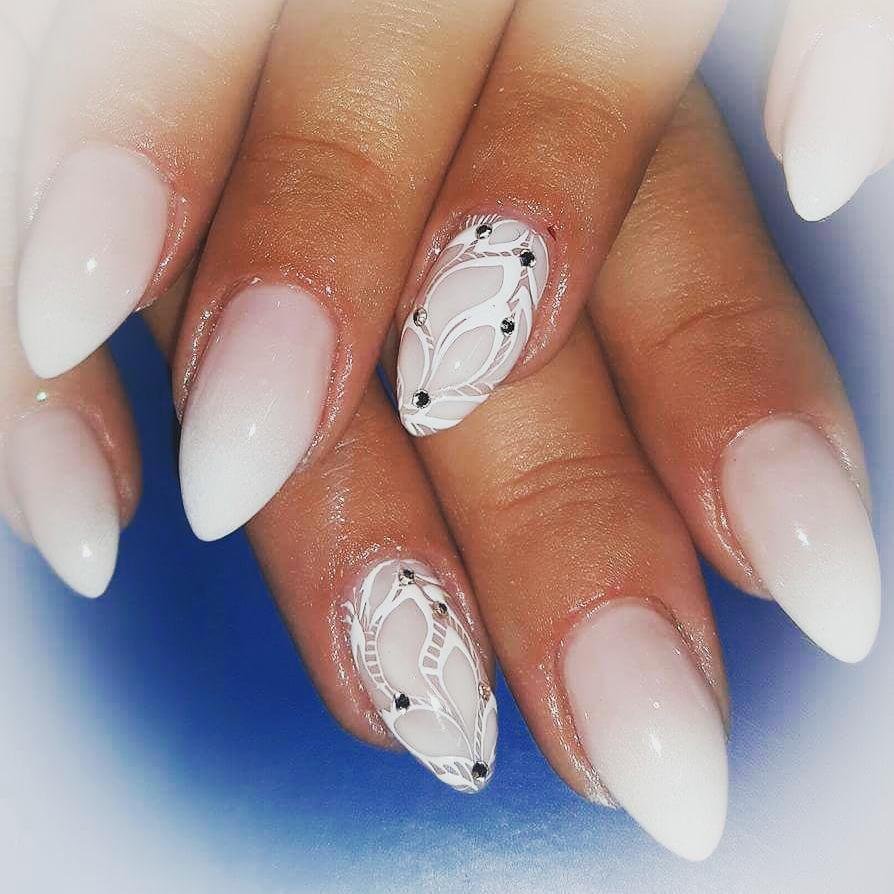 We had ombre at the beginning. And we will have few more down the line. Ombre is one of the best techniques you can get for more playful and whimsical white nails design. The accent flower fits perfectly.
9. Sunset Glow-In-The-Dark Nails With Rose Glitter Design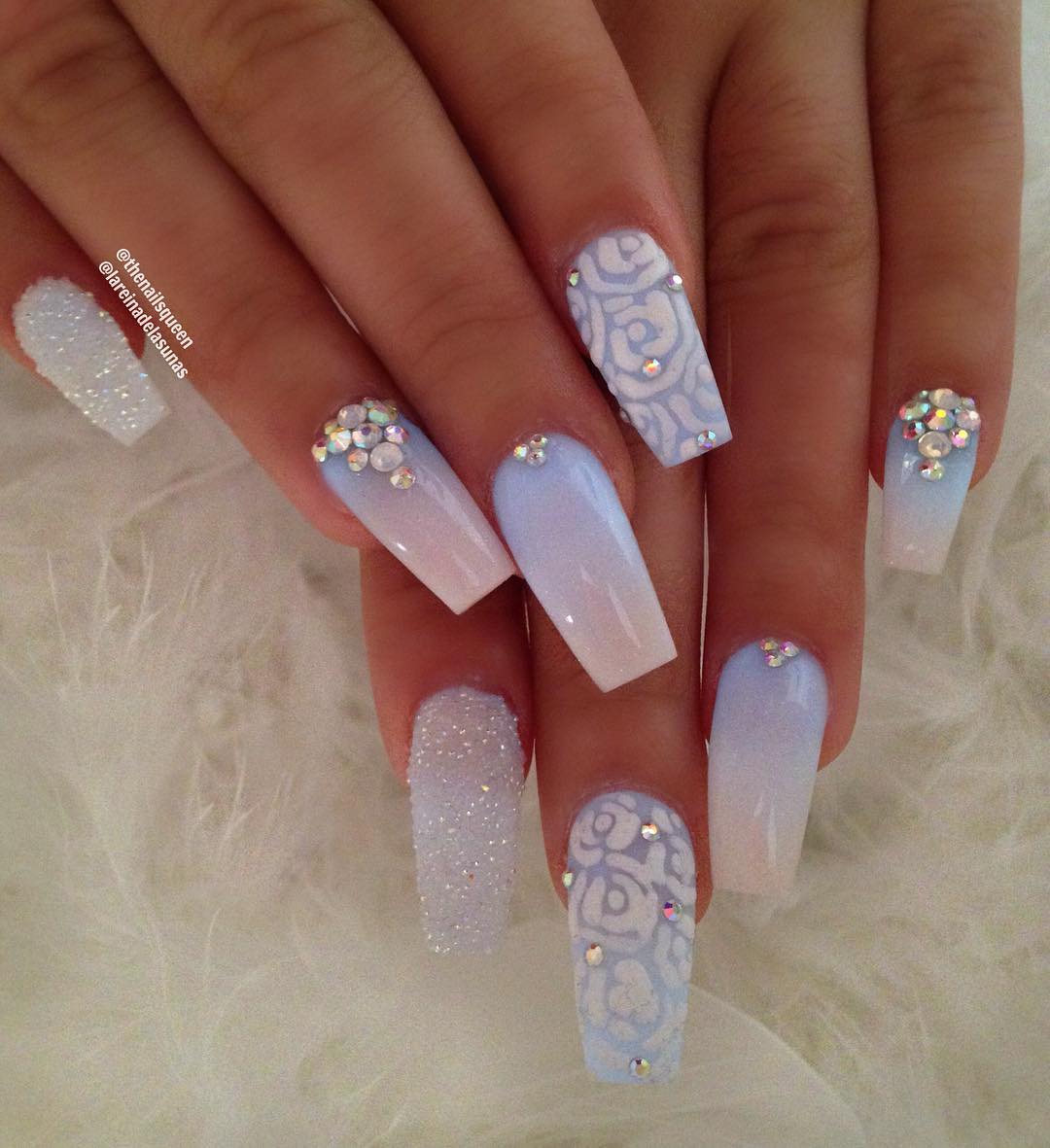 Glowing in the dark is definitely not a low-key manicure. That much is certain. But what makes this manicure perfect is the glitter. Rarely a glitter fits so perfectly and seamlessly like in this case.
10. Glitter Nails With Wedding Dress Design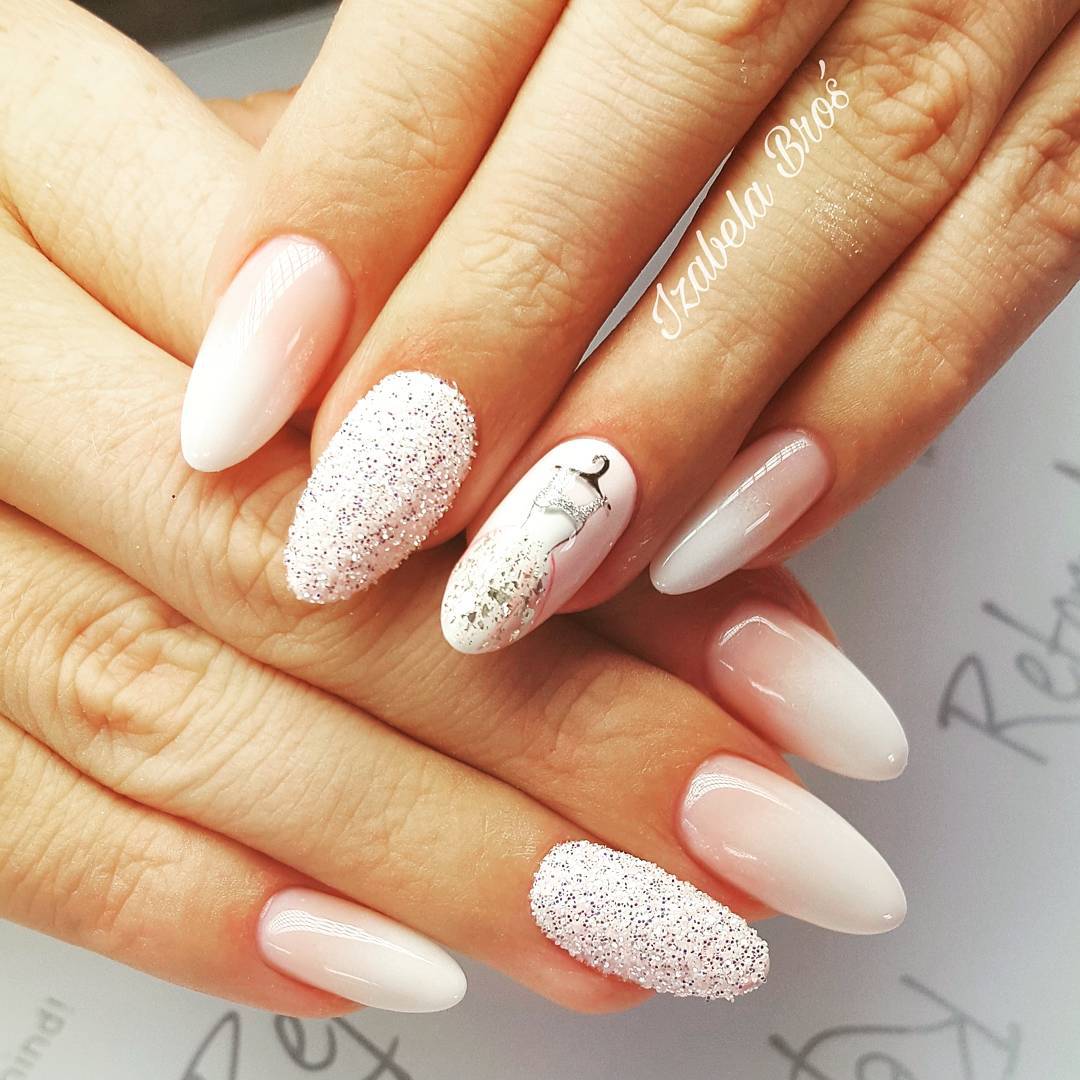 Speaking of glitter, we have another example here. I must say, the previous one fitted better. But the key here is the wedding dress design on your nails. Now that is a creative solution.
11. Coffin Diamond And Pearl Nails
There are so many different techniques mixed here. But they all fit perfectly with each other. You have low-key on the sides, and a focal point in the middle.
12. Baby Blue And Pink Lace Nails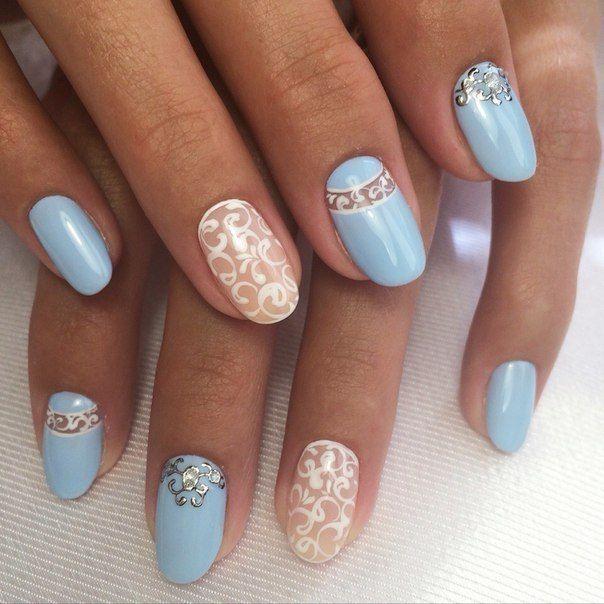 I said at the beginning that most wedding manicures are white. However, there are other colors you can try. After all, even wedding dresses are no longer exclusively white. Baby blue and pink are great options, as they are both close to neutral and pale color as white.
13. Stiletto Nails With White And Gold Flower Design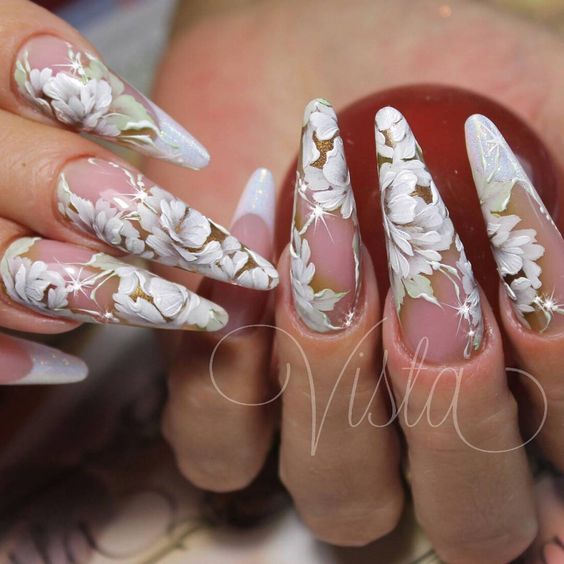 If you want to be sexy, feminine, and romantic in the same time, stiletto nails are  the way to go. Their length makes them sexy, but the design is what matters as well. The flowers here balance the sexiness and edginess of the long stiletto length.
14. Diamond Laced Naked Nails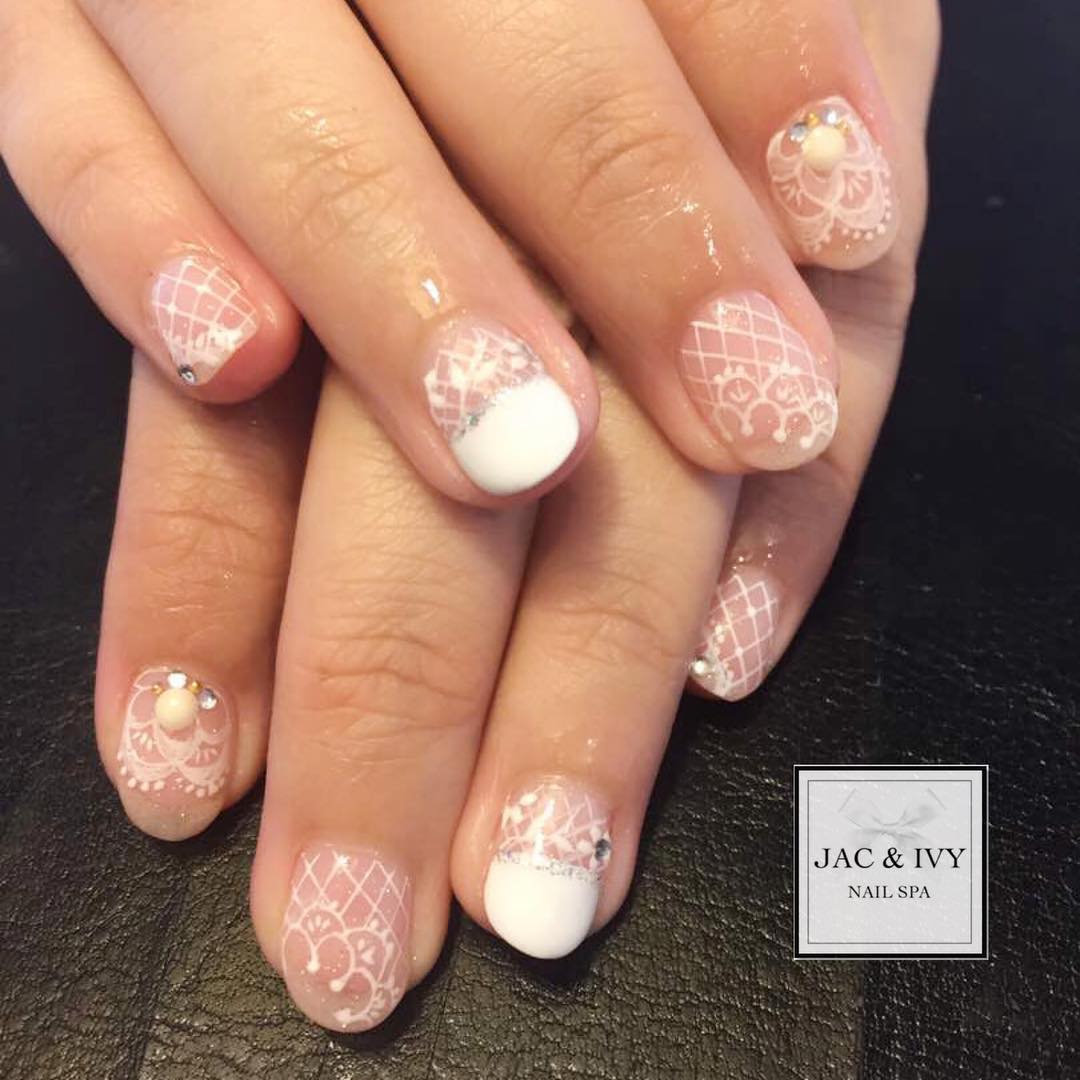 These are some of the more creative manicure ideas I've seen. I must say, someone had hard time getting also that lace drawn on your nails. But your end result is perfect.
15. Almond Baby Pink Nails With Acrylic Flowers On Base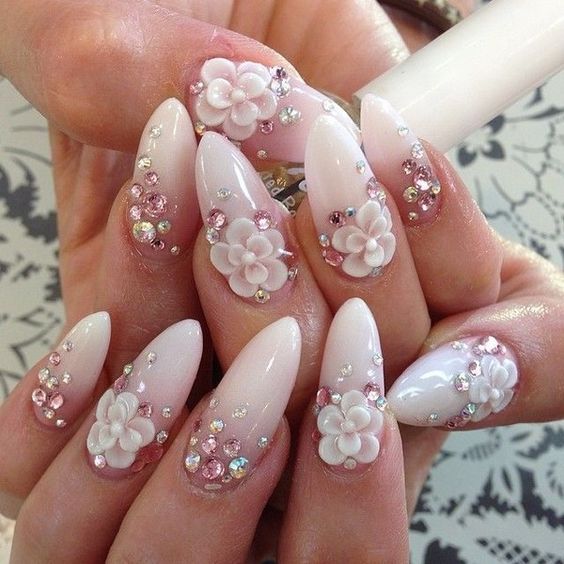 Weddings and flowers go hand in hand. So, get some flowers on your nails to further boost the flowers amount at your wedding. As for the baby pink, this is another color that is a good substitute to white.
16. Heart Shaped Tips With Rhinestones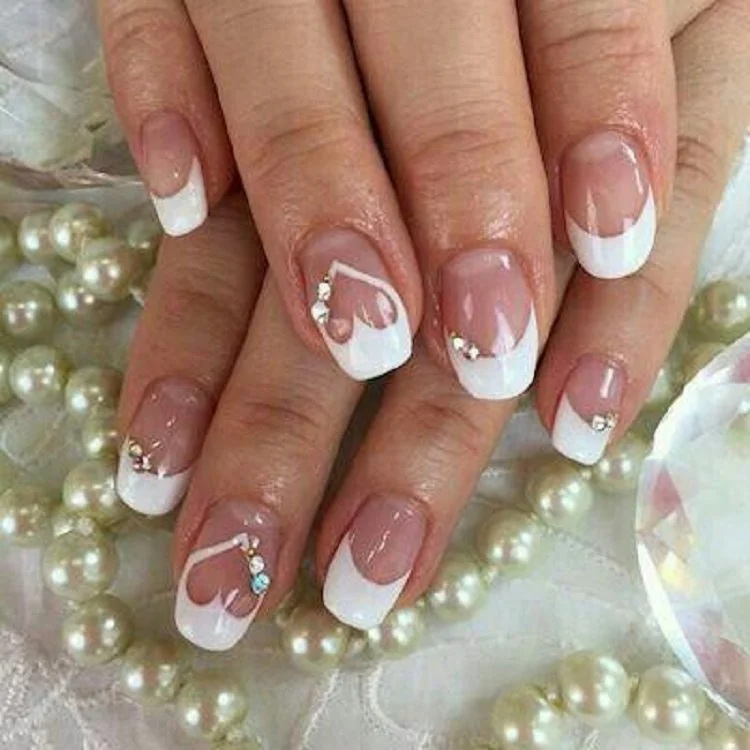 As you might have noticed, most manicure ideas were "pop-up" ideas. But I want to give you more low-key ideas as well. This one is simple, yet very elegant and beautiful. Sometimes, you need just a touch of rhinestone to make your nails look special.
17. Clear Framed Nails With Yellow Flowers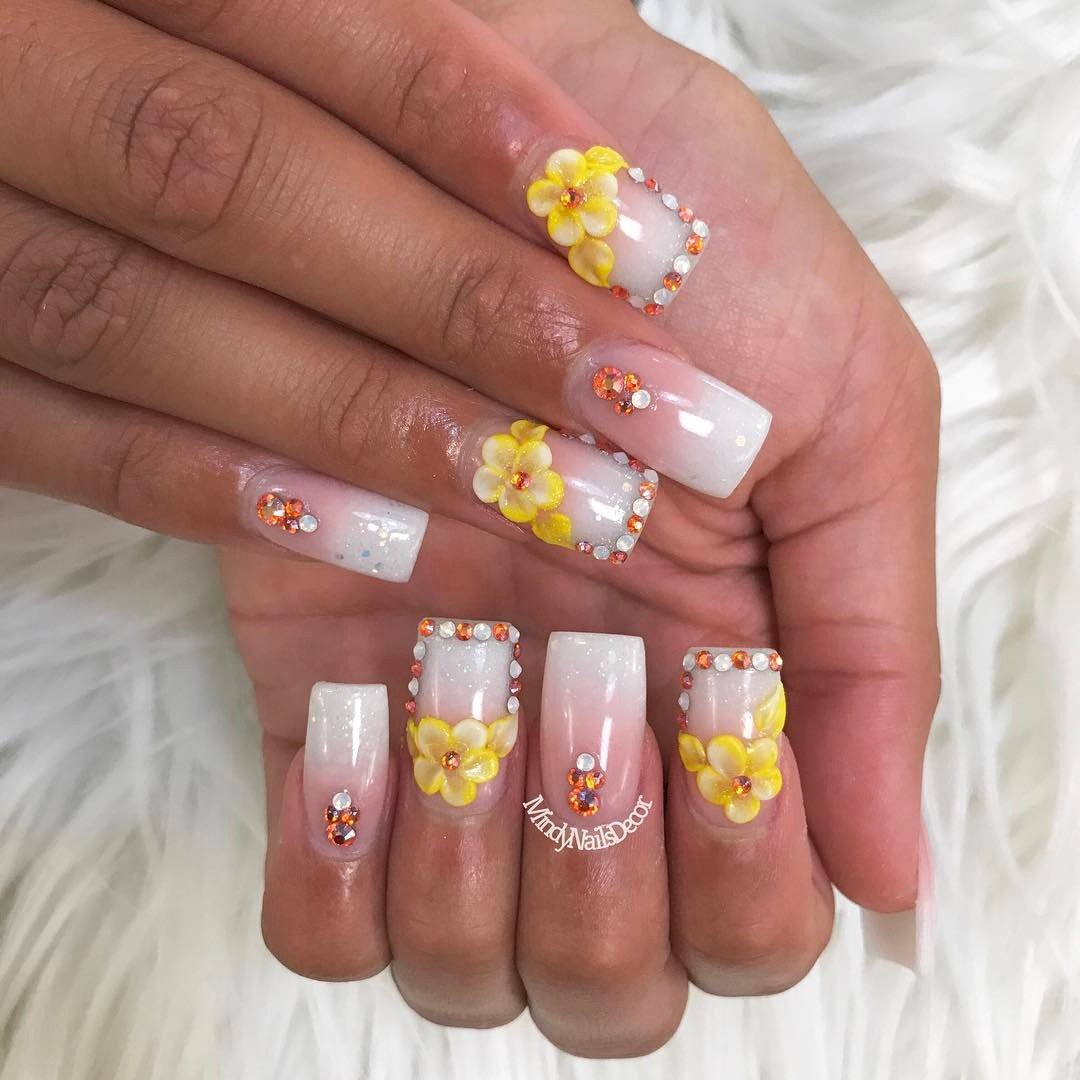 I talked about flowers and how they are more than welcomed on your wedding day. With more yellow flowers, you bring joy and cheerful vibe to the table. It is all about positive energy on your big day.
18. Acrylic Rose Nails With Pearly Glitter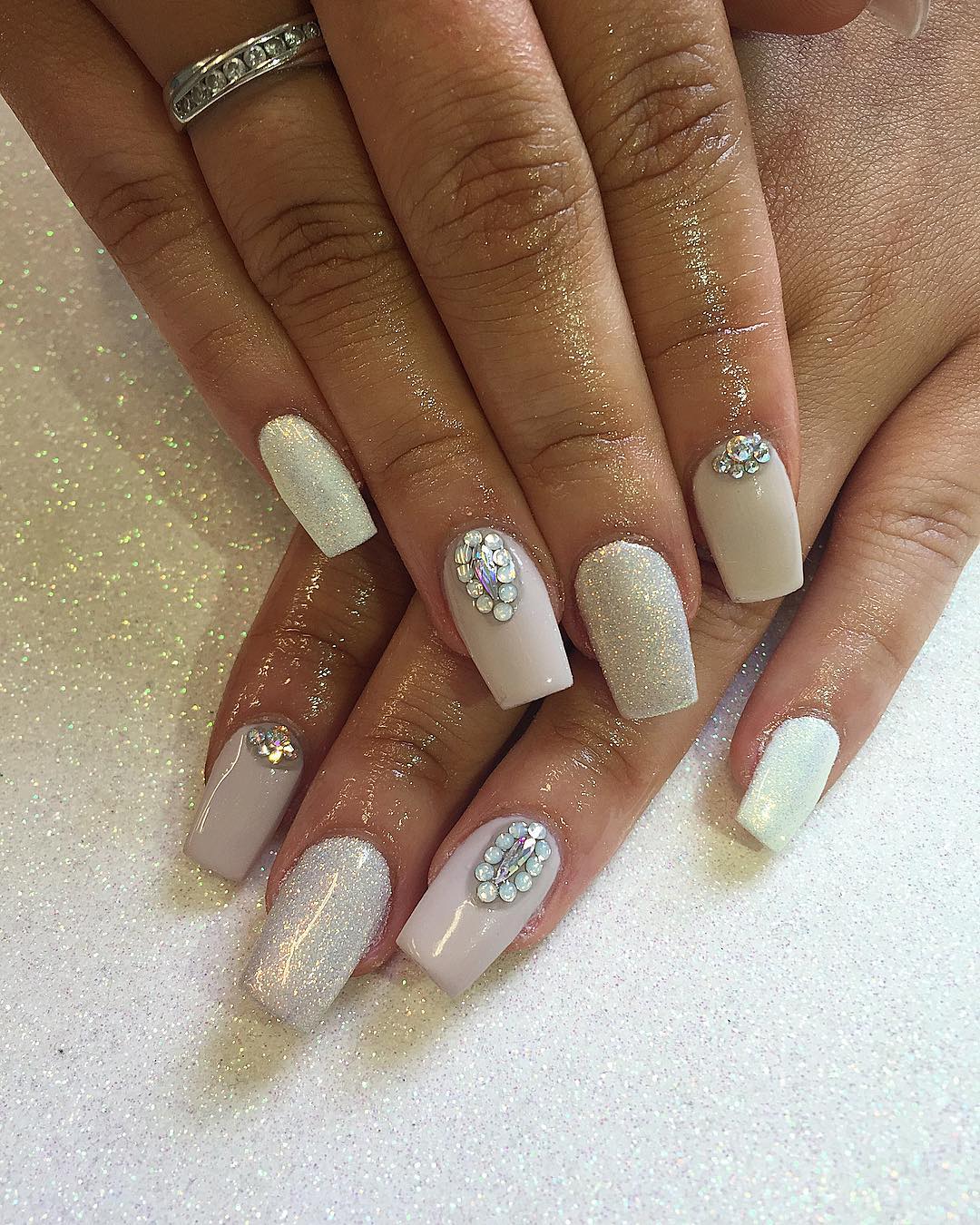 Now this is glitter that fits so perfectly with your nails. When it comes to glitter, I think the most important aspect is not to be too offensive. You want little more subtle color and texture.
19. White Fairy Dust Nails With Rhinestones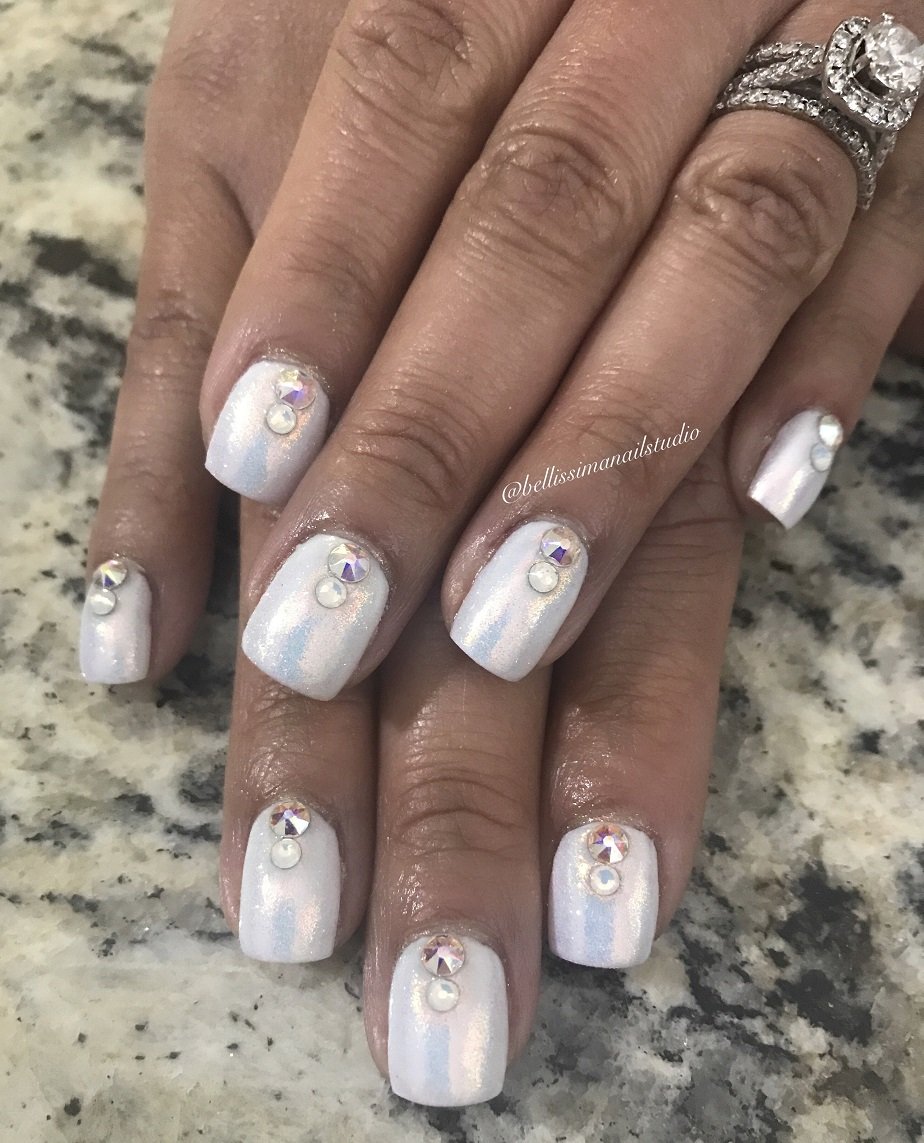 Well, after all, your wedding day is your fairy tale come true. In that spirit, you can find place for some fairy dust, right? If nowhere else, at least on your nails.
20. French Mani With Flowers And Green Leaves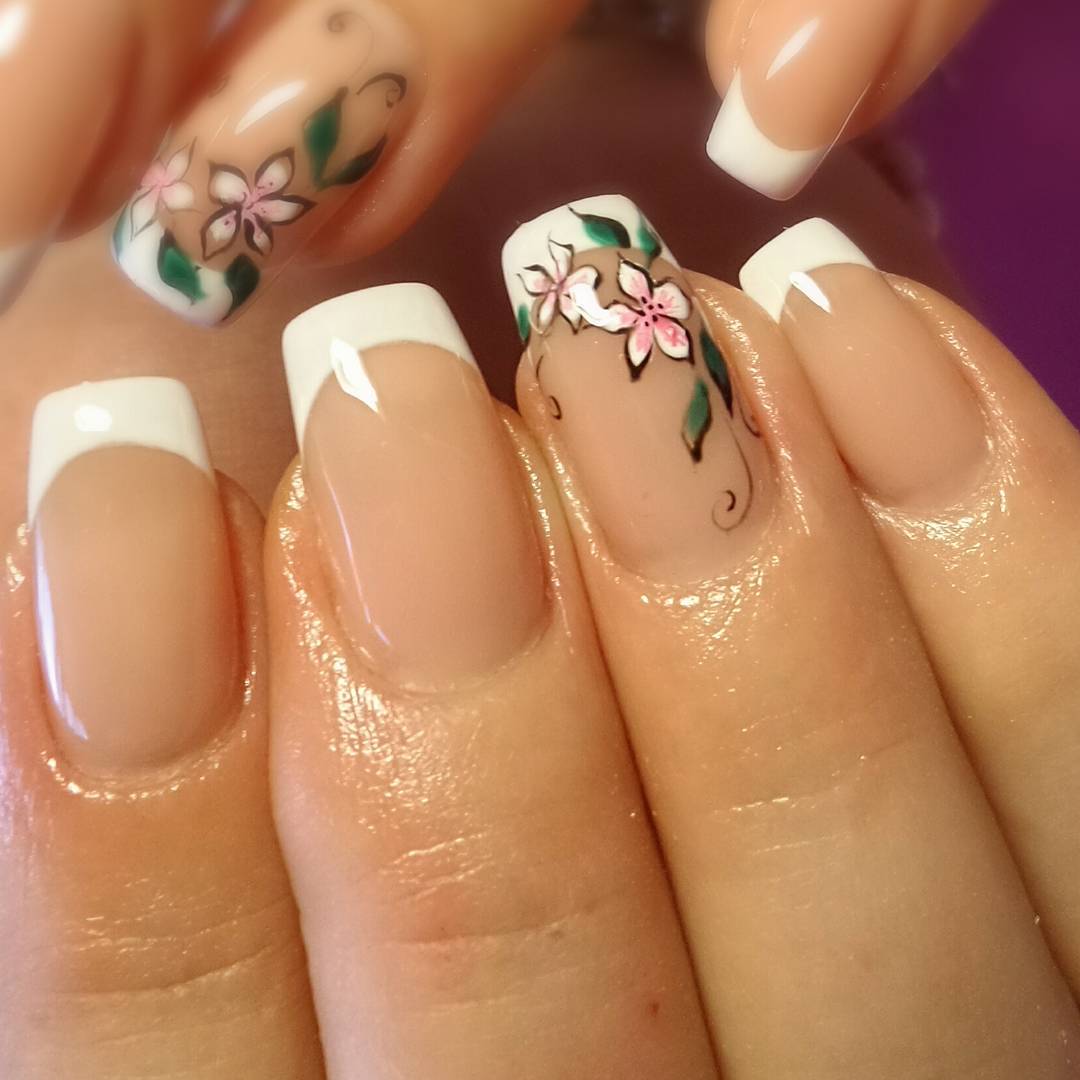 If someone tells you that French manicure is boring, show him/her this example. The common misconception is that French is boring. Well, those are words coming from people with no creativity. Just look at those flowers, don't they pop?
21. Delicate Lace With White Tips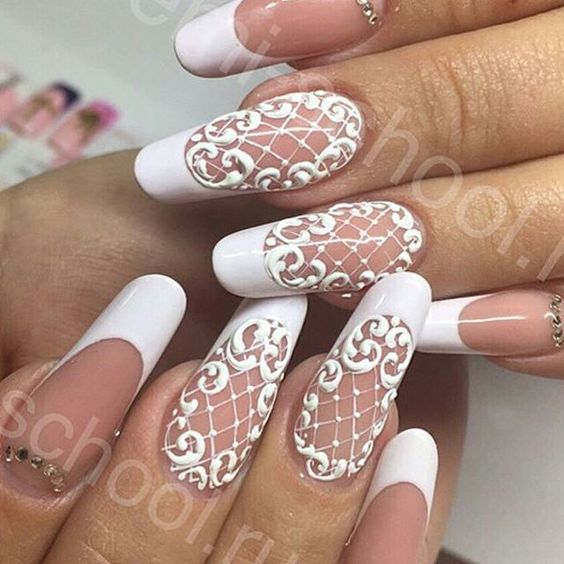 Lace is one of the classic and timeless designs for wedding manicure. After all, most wedding dresses are rich with lace. If you want your nails to complement your dress seamlessly, lace is the way to go.
22. Short Acrylic Nails With Gold Glitter And Pearls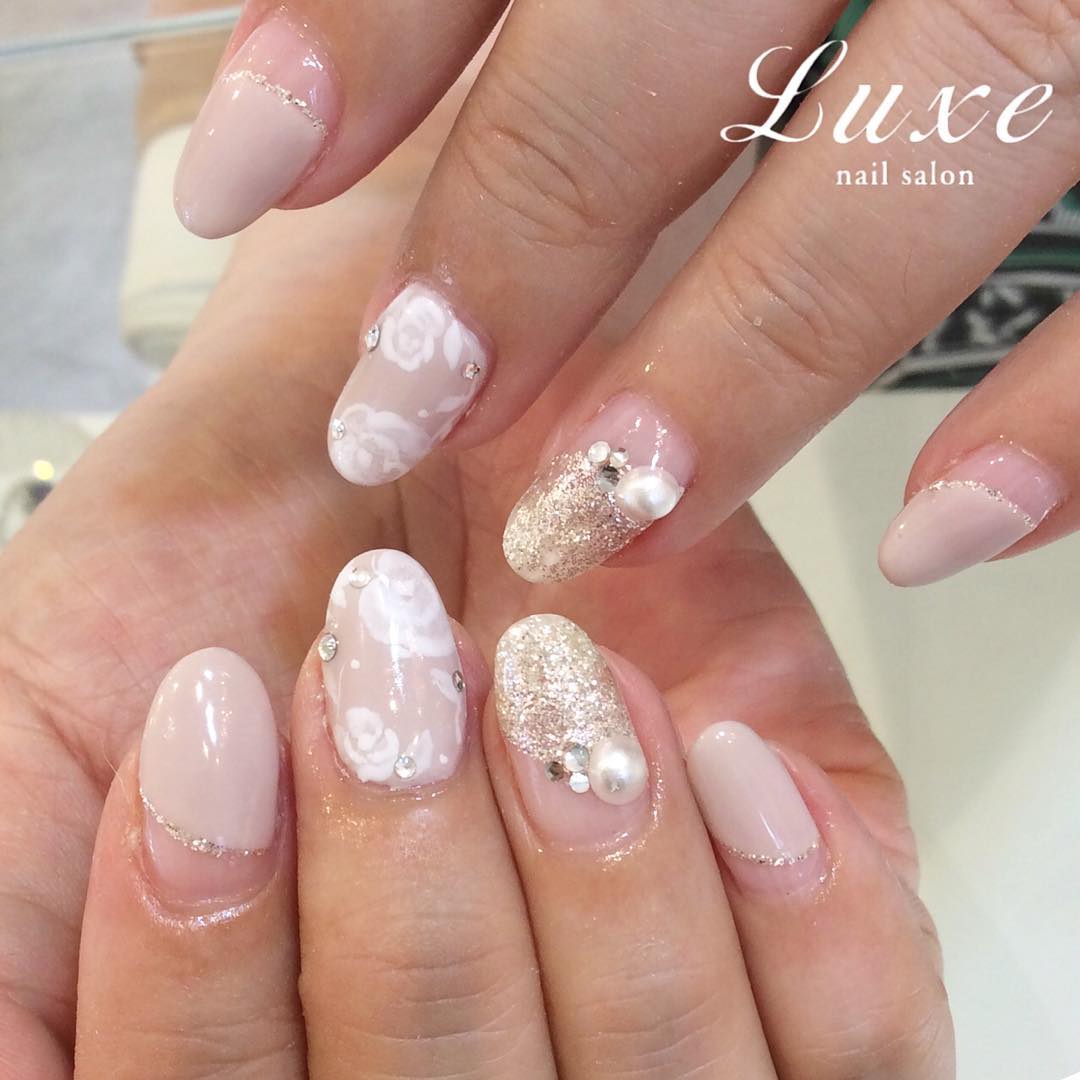 Pearls, gold glitter, and flowers, what more can you ask for? These short acrylic nails have everything wedding needs.
23. Tiffany Blue Glitter Nails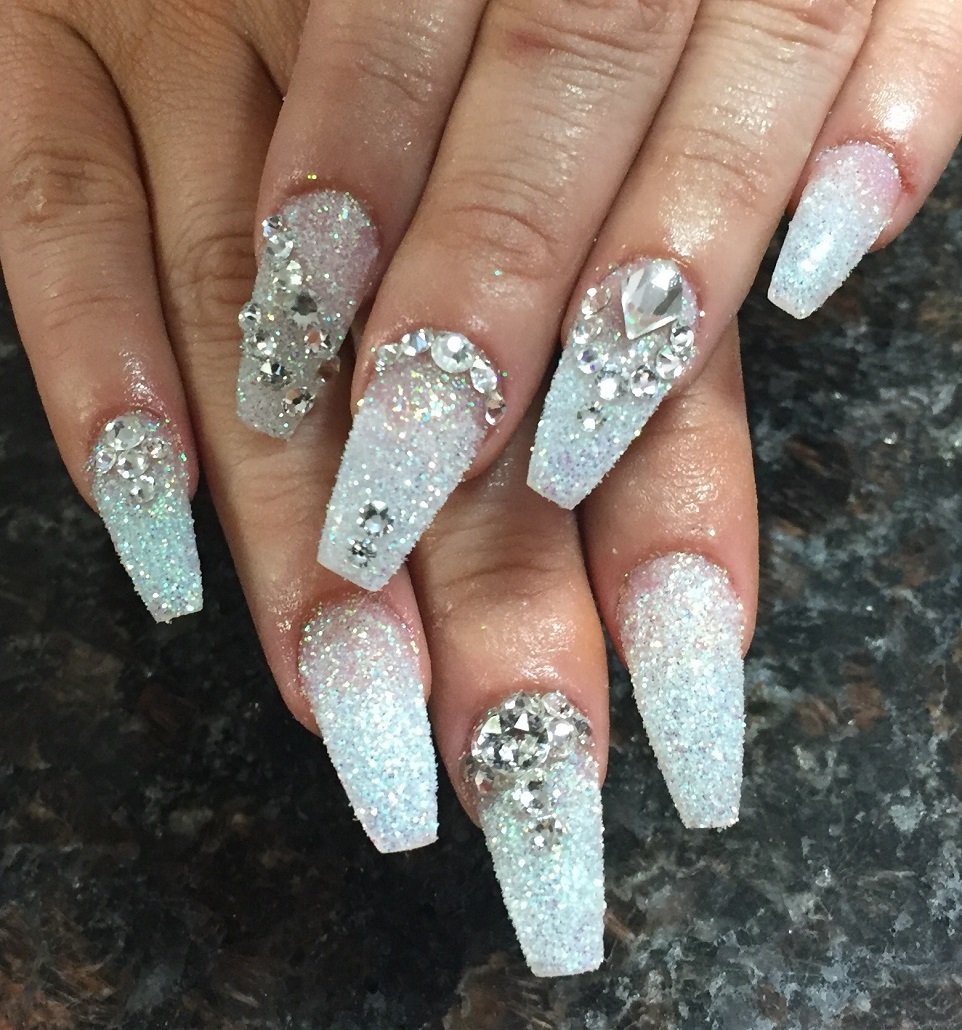 Talk about nails that look like jewelry. And expensive jewelry no less. I don't know if Tiffany's sells this manicure, but I am sure a lot of ladies out there would want it.
24. Pink Nails With   French Mani And Acrylic Flowers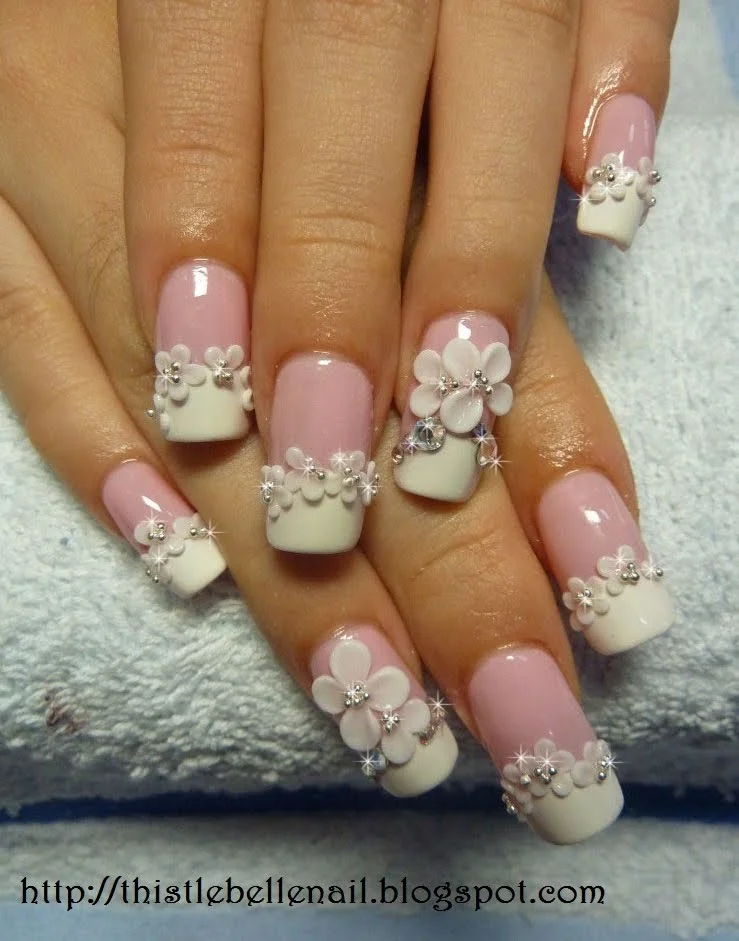 These look like tailor made for a princess. And we know most girls want to be princesses on their big day. Simple, yet elegant, the French manicure is all that you need.
25. Diamond Rhinestone Covered Stiletto Nails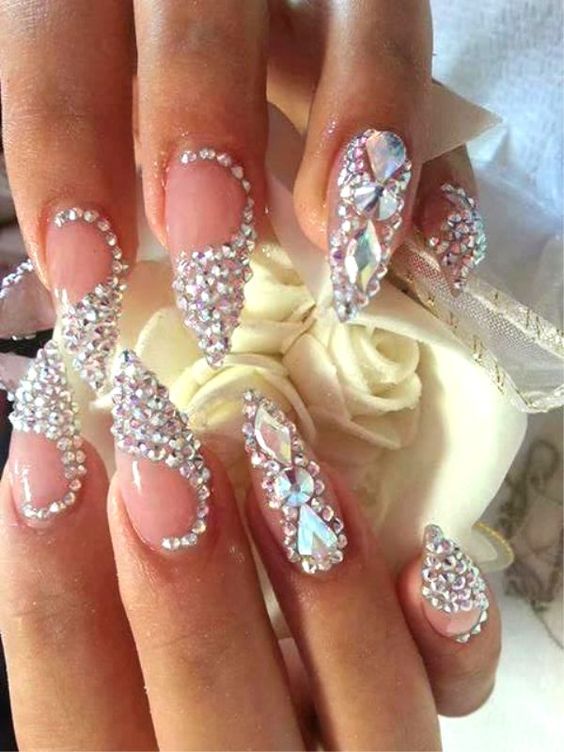 I said previously that stiletto nails are the most sexy nails. And that is true again. In this case, the difference is there is no romantic balance. Instead, you go a step further towards sexiness with some diamonds.
26. Classic French Tip With Lace And Glitter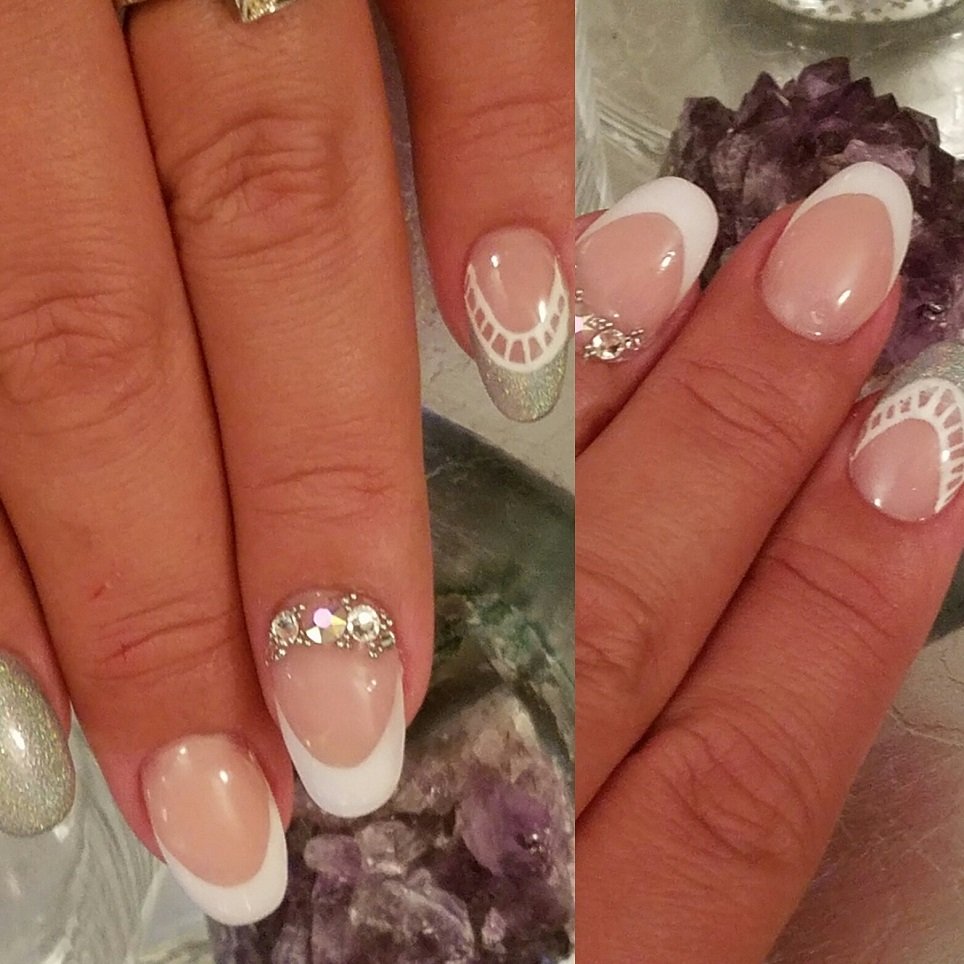 Here is another manicure design for ladies that want to stay low key, but still have beautiful nails on their wedding day. This is one of those "little boring" French manicures. However, that is all some women want at times.
27. Clear Nails With Leafy Design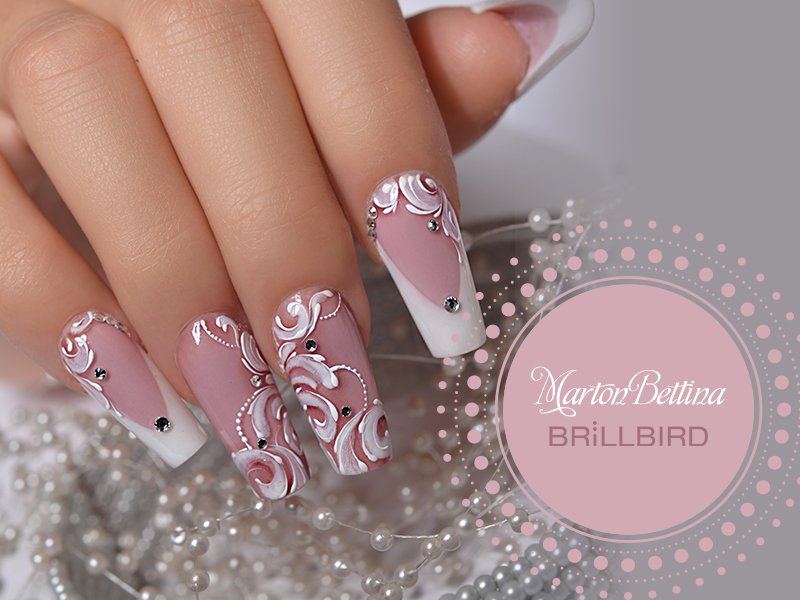 In the past several years, manicure has become a work of art. And these leaves show exactly that. Just look at those nails. They are like masterpiece you would hang in your living room.
28. Ombre Nails With Diamonds And Rhinestones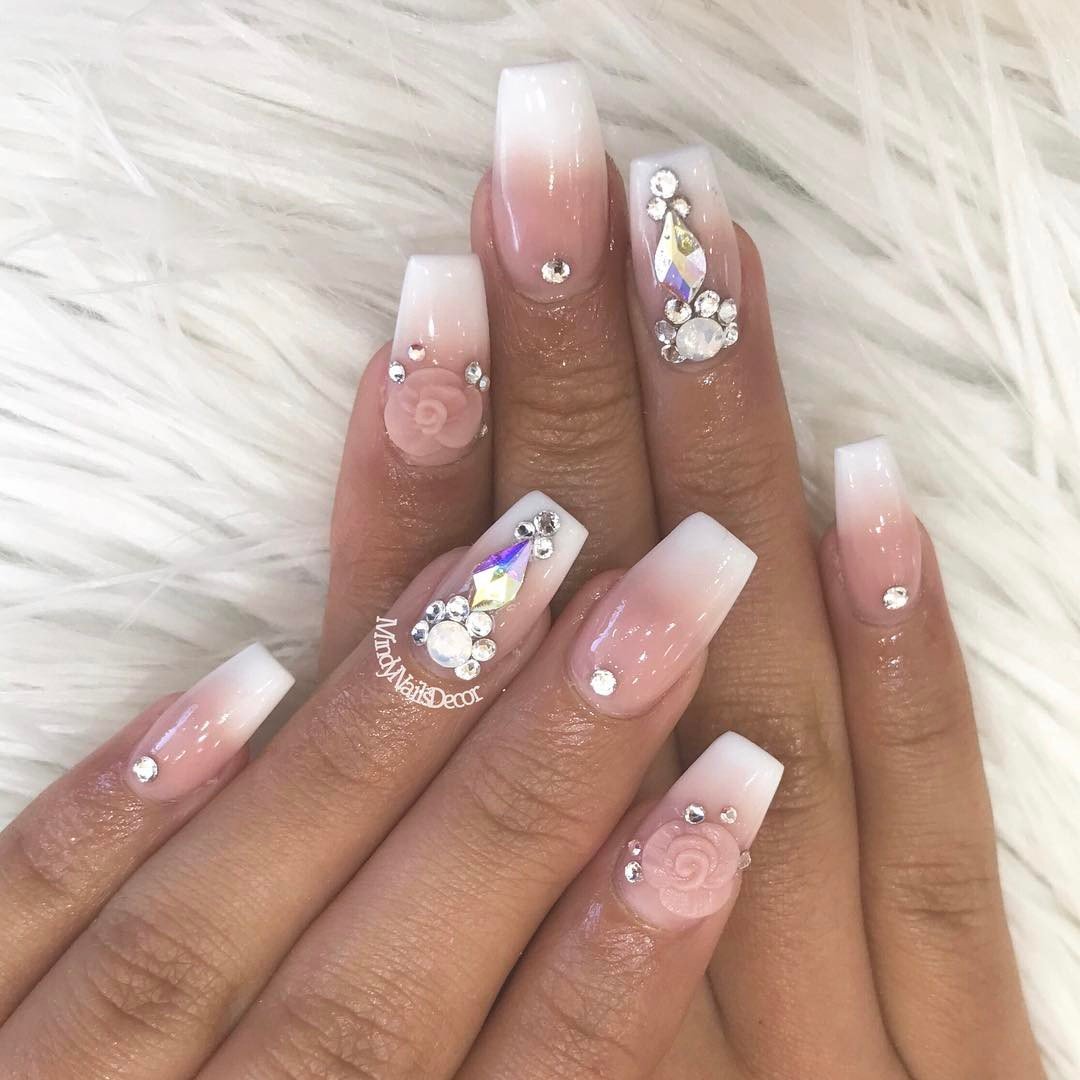 We almost forgot about the ombre. We had quite a few ombre designs. This one puts the emphasis on accessories, and there are few different ones. My favorites are the flowers.
29. Flower Lace Design With White Accent Nails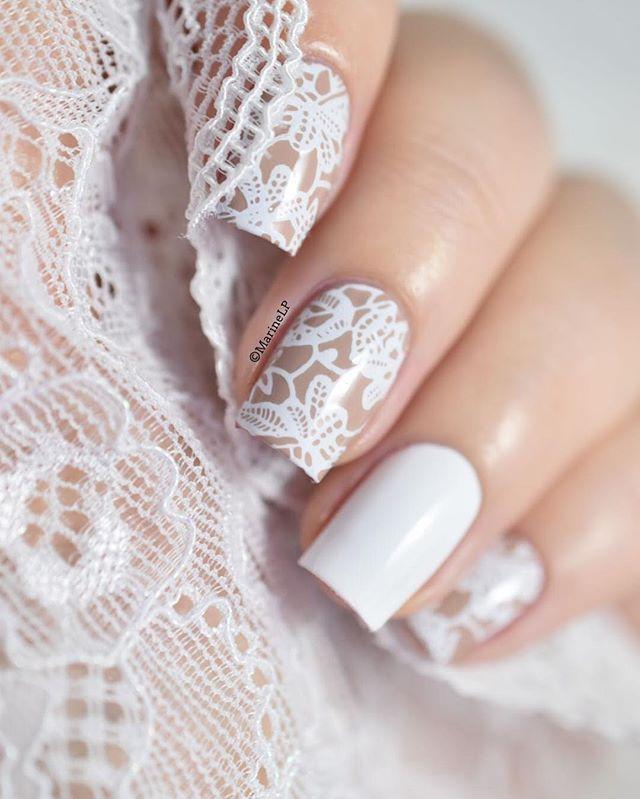 I love the fact you can see the dress next to the nails. Just look how perfectly they complement each other. That is the dream, right?
30. Mr. And Mrs. Nails With White Daisies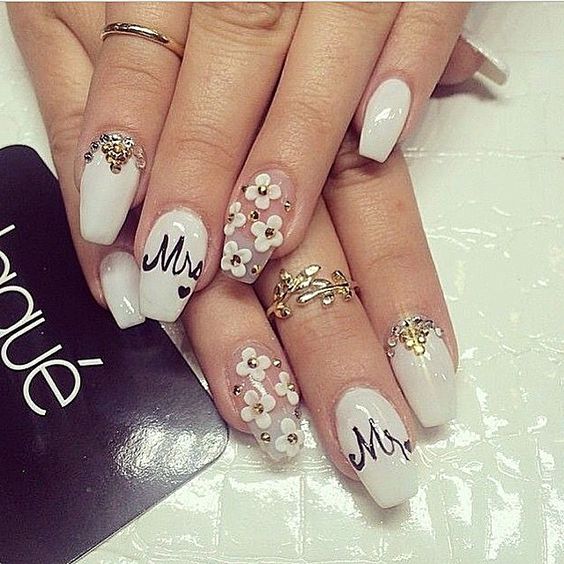 Being that after the wedding day you will be Mr. and Mrs, it is only fitting that we finish with that type of a nail design.
I wish you all love and happiness in your marriage. May it be a long one. If you have other ideas for wedding manicure, share them with the rest of us.