In the dynamic world of nail fashion, the almond nail shape has emerged as a sought-after style that seamlessly blends the elegance of long nails with the practicality of shorter lengths. Almond nails strike an alluring silhouette that mimics the natural curve of the almond, creating a sophisticated canvass for nail art that appeals to a diverse audience.
On social media platforms like Instagram, almond nails have become a staple for those seeking a chic and modern twist to their manicure. From the classic French tips to intricate nail designs, the versatility of almond nails makes them an ideal choice for acrylics or natural nails. Whether you opt for a minimalist French manicure or elaborate nail art, embracing the almond shape can elevate your nail game to the next level.
Perfect Rose Almond Nails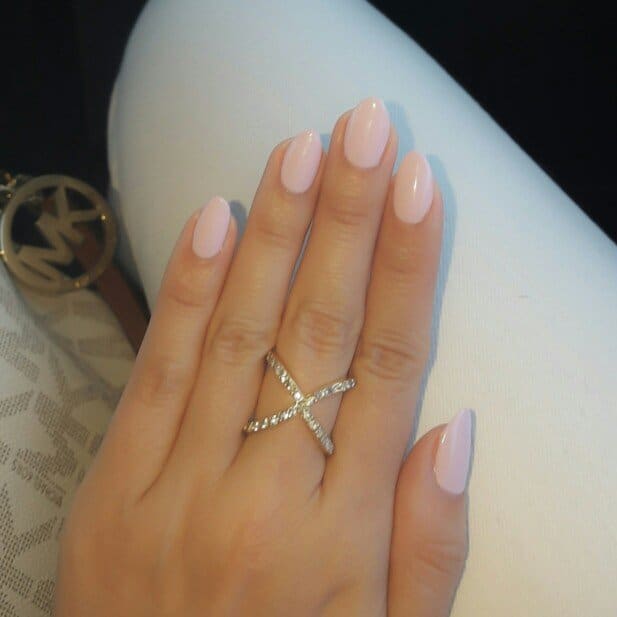 Geometric French: Subtle edginess aligns with chic aesthetics.
Modern French: We reinvent classic sophistication, ensuring elegance that does not demand the spotlight.
Soft Blue Almond Nails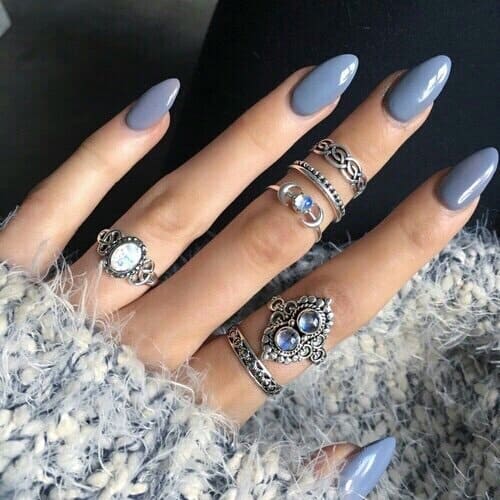 We recommend soft blue almond nails for a noticeable manicure. They typically feature:
Sharper Tips: Creates a distinctive, appealing look
Ombré Effect: Adds a touch of elegance
Here's how to enjoy this style:
| Step | Action |
| --- | --- |
| Base Color | Apply a soft blue hue as the base. |
| Gradient | Gently blend into a lighter shade at tips. |
| Finishing Touch | Seal with a top coat for lasting sheen. |
Opt for this design to make a statement without words.
Nude Almond Nails
Durability: Last 2-3 weeks
Workplace Appropriate: Yes
Maintenance: Minimal
We opt for short almond nails polished in nude for a stylish yet work-friendly aesthetic, ensuring elegance with no risk of color clash or excessive statement.
Brown Almond Nails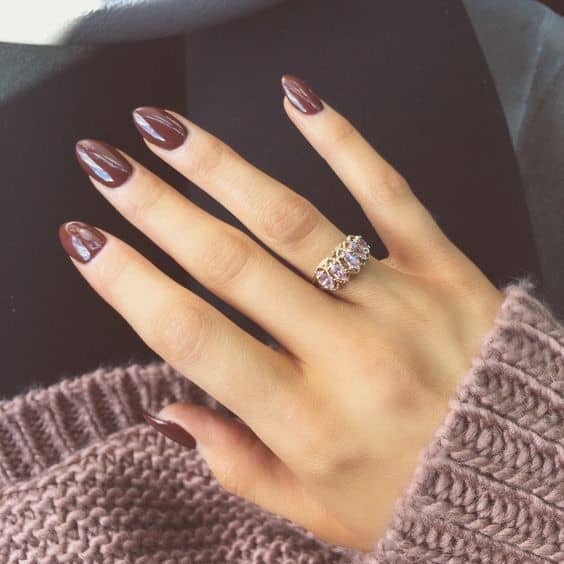 Color Choice: We perceive brown as a sophisticated alternative to classic red.
Popularity: Gaining momentum in manicure trends.
Design Appeal: Offers a subtle, yet appealing aesthetic.
Suit Analogy: Comparable to selecting a brown suit for its distinguished charm over the conventional black.
Perfect Almond-shaped Nails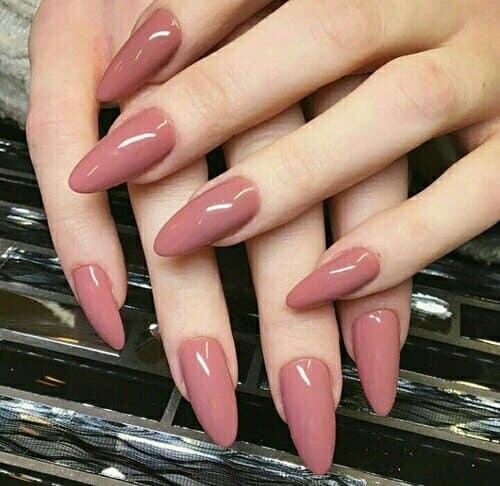 Nail Shape: Almond-shaped nails are characterized by a rounded tip that tapers towards the end, creating a sleek appearance.
Versatility: This shape is versatile, suitable for both casual and formal settings.
Flattering Design: It's particularly flattering for longer nails, adding sophistication with its modern contours.
Ideal for: Office environments or any setting where elegance is key.
Ashy Purple Almond Nails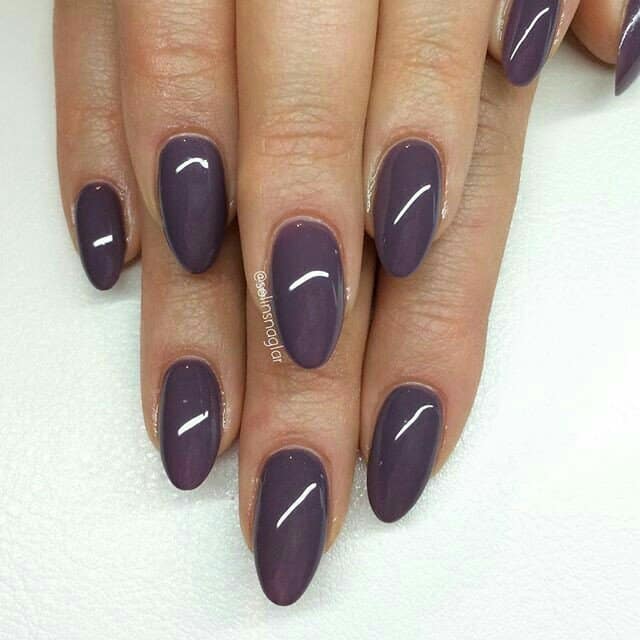 We present an exclusive ashy purple shade, symbolizing sophistication and reflecting our penchant for the regal. These almond nails captivate with their unique hue, offering a twist on the traditional purple:
Color Palette: Ashy purple, merging tradition with contemporary style.
Shape: Almond, for a natural and elegant profile.
Expression: Signifies power and luxury with a distinct flair.
Suitability: Perfect for those desiring standout nails that exude confidence.
Lavender Almond-shaped Nails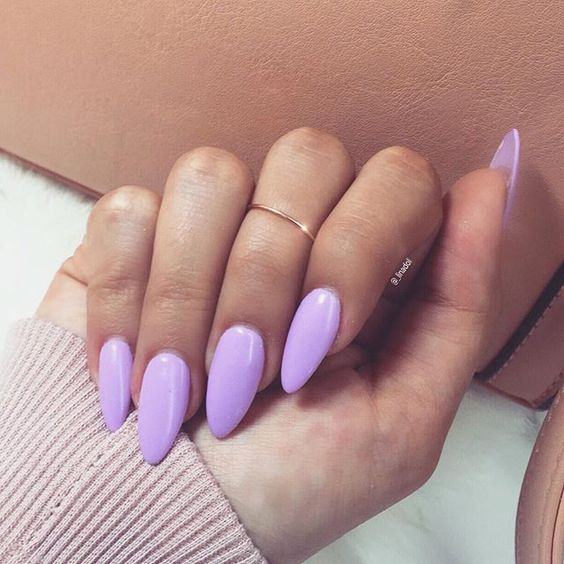 Color: Lavender, a soft and romantic hue
Shape: Almond, versatile for any outfit
Appearance: Chic, without overpowering
Beige Almond Nails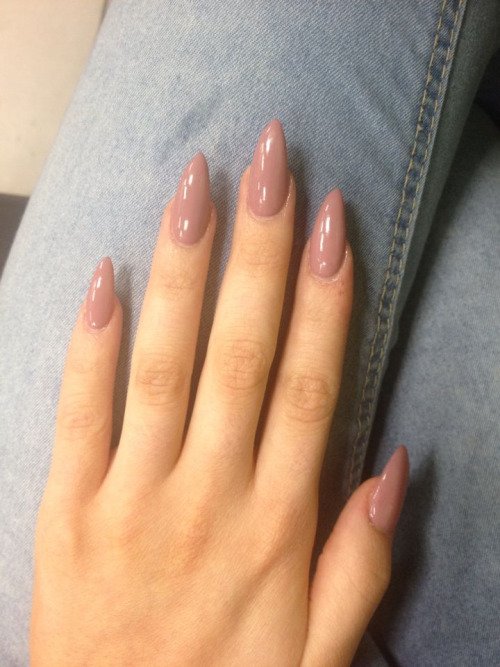 Shape: Almond; noticeably longer, ends taper to a rounded peak
Size: Extended length for added allure
Color: Nude palette maintaining a classic aesthetic
Appeal: Combines subdued tones with bold shaping for a provocative look
Our take: We embrace the understated elegance of nude almond nails, crafting a balance between demure and daring.
Fruity Almond-shaped Nails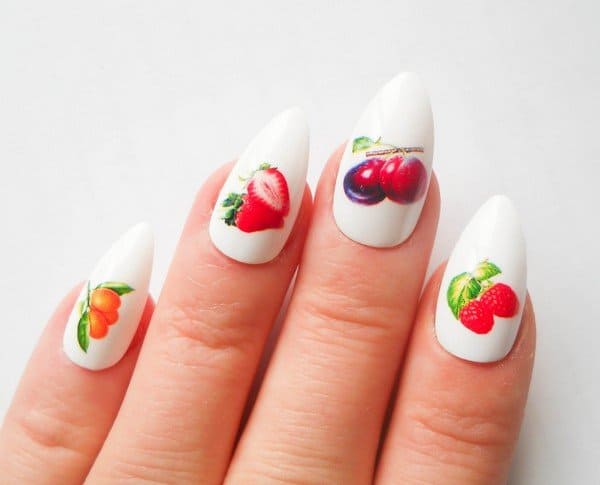 Design Features:
Almond Shape: Mimics the contour of an almond.
Fruity Patterns: Inject fun with colorful fruit motifs.
Style Considerations:
Best suited for playful and vibrant personalities.
Can incorporate polka dots or rainbow nails for a whimsical twist.
Bright Pink Almond-shaped Nails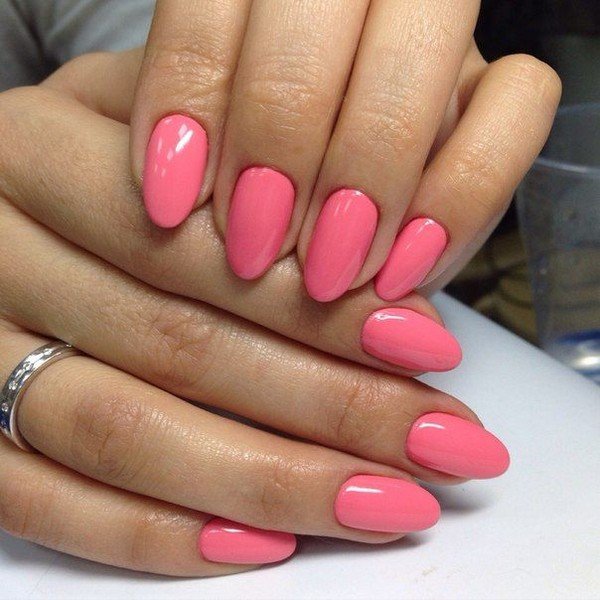 Color: Bright pink
Shape: Almond
Accent: Red tips optional
We embrace bright pink for its versatility, straddling playful girlish charm and bold sensuality. Adding red tips can enhance its sophistication.
Almond-shaped Nails with Rhinestones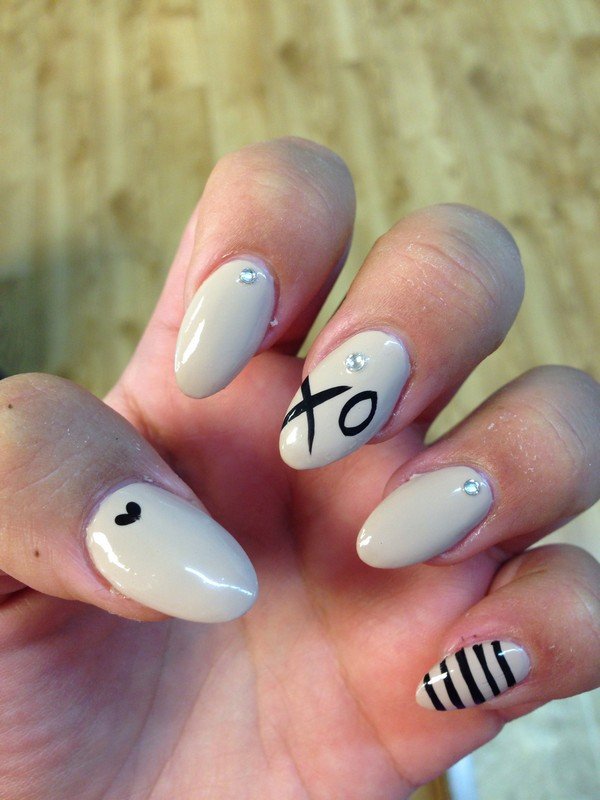 Glitter and pearls: Enhance elegance.
Rhinestones: Add a touch of class.
Our selection elevates your nail game.
Mint Almond Nails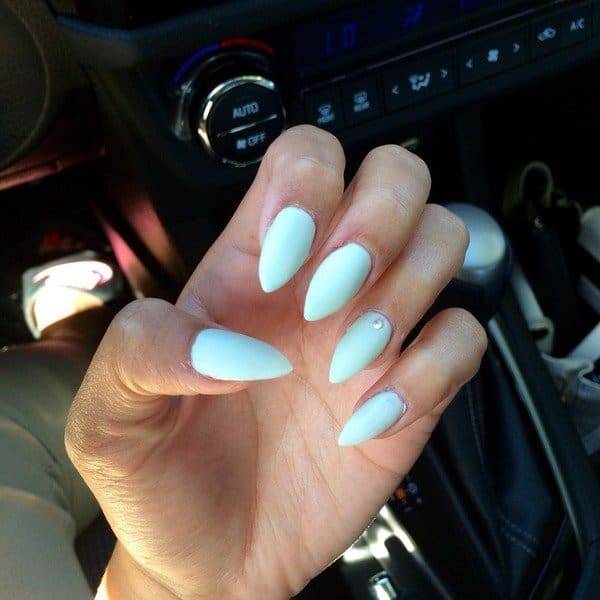 Color Trend: Mint, a fresh alternative to pink, embodies romance and femininity.
Versatility: Perfectly complements various outfits.
Advice: We encourage embracing this hue for a touch of elegance.
Almond-shaped Nails With 3-D Art Design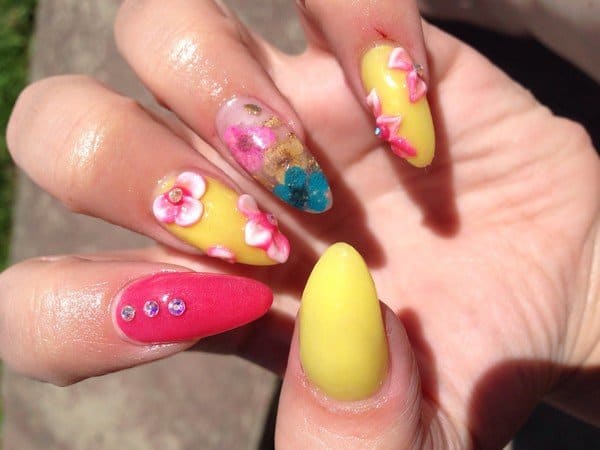 Accent Nail: Incorporates abstract shapes for a standout look.
Texture: We add dimension with 3-D designs, elevating nail artistry.
Visual Appeal: Our technique ensures a playful and trendy vibe.
Almond-shaped Flower Nails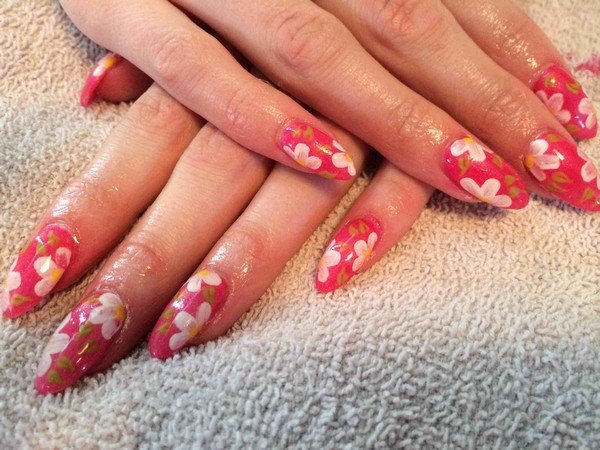 Design Appeal: Captures a romantic essence
Flower Nails: A must-try trend, evoking a sense of sophistication
Comparison:
Fruity Nails: Youthful charm
Flower Nails: Mature elegance
We recommend exploring flower nail designs for their timeless allure.
Pretty Pink Almond Nails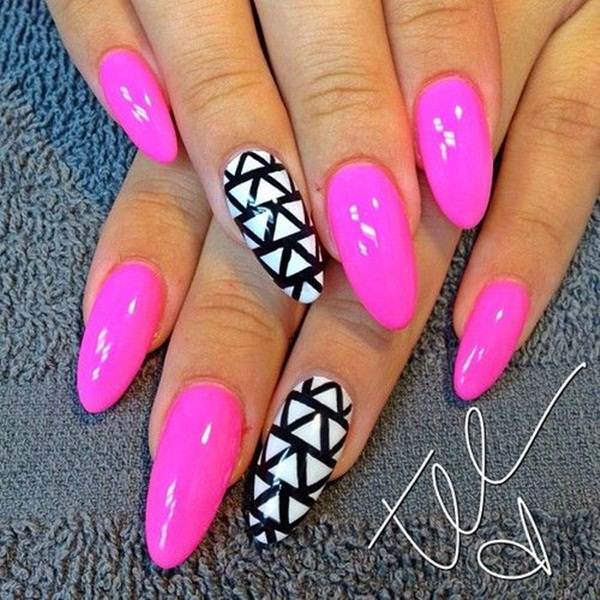 Color Palette: Predominantly pale pink
Length: Extended elegance
Accent Nail: Striking black and white design
Vibe: Playful twist on classic femininity
Nude with Tribal Almond Nails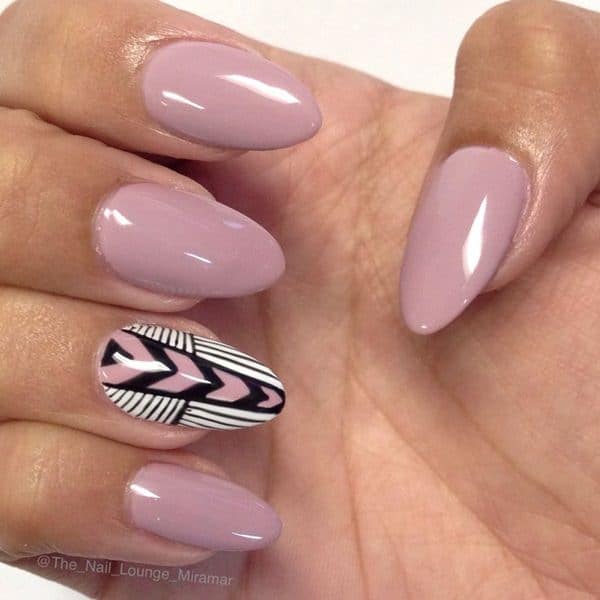 Shape: We opt for longer, sharper almond nails to accentuate elegance.
Color: We choose a nude palette that exudes simplicity.
Highlight: A single nail features a tribal design, making it a focal point.
Embellishment: We sometimes add rhinestones for a subtle sparkle.
White and Gold Almond-shaped Nails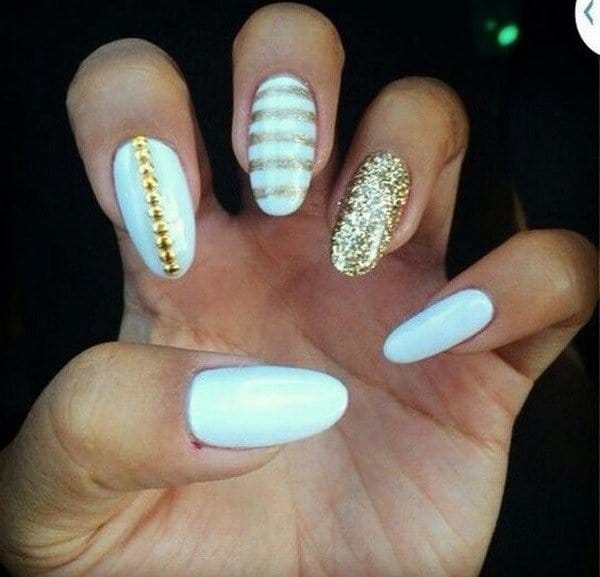 We often opt for sophistication with a touch of glam. White almond nails, accented with gold, encapsulate this style. They're not your standard French tips but a step up with their unique character.
White Base: Represents classic elegance
Gold Highlights: Add a luxurious flair
Almond Shape: Timeless and feminine
These nails are suited for those who carry themselves with confidence. Embrace them for an exquisite statement.
Blue Matte Nails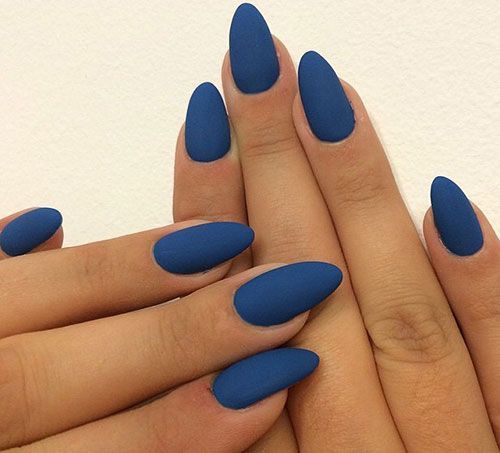 Color: Royal Blue
Finish: Matte
Shape: Almond
Inspiration: Reflects a sense of sophistication akin to purple nails' association with power. Royal blue carries its majestic essence with confidence in every gesture.
Baby Pink and Black Almond Nails with Animal Prints for Accent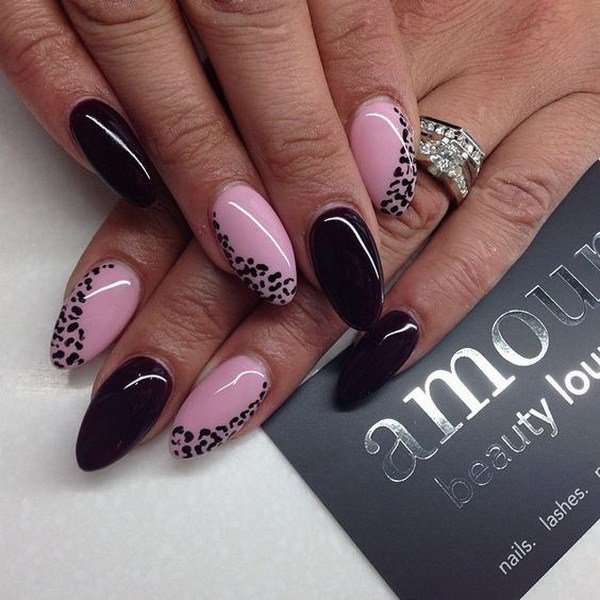 Color Palette: Soft baby pink base, bold black accents
Patterns: Chic stripes, classic leopard print details
Inspiration: Celebrity-favored designs
Nail Shape: Almond, for a modern look
Versatility: Perfect for any occasion, easily replicable
Light Pink Almond Nails with Silver Applications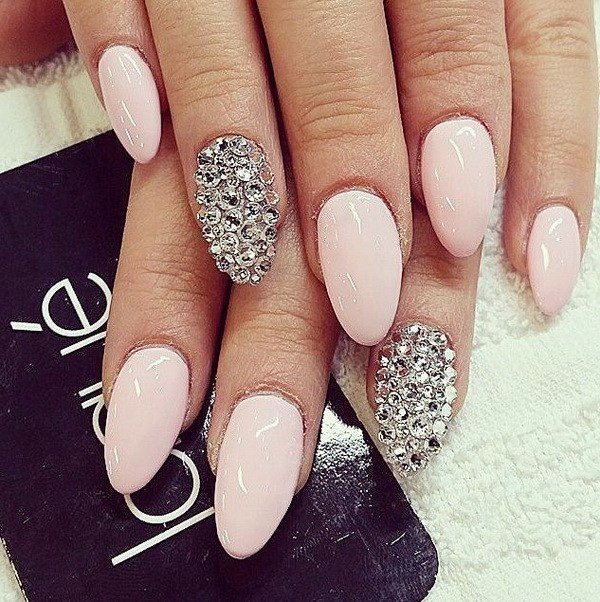 We offer a range of almond nail designs.
Silver accessories ensure your nails stand out.
Rhinestones are more subtle; silver is bold.
Consider incorporating silver for a striking look.
Sheer Black and Nude Almond Nails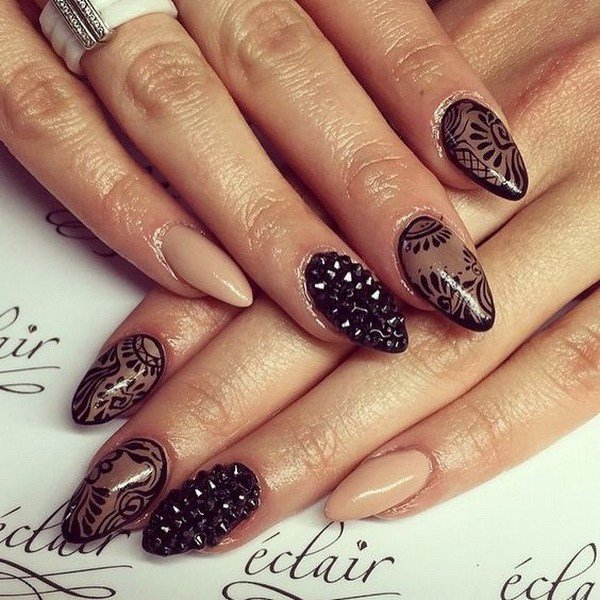 Versatility: We opt for monochrome attire to complement these nails.
Fashion Tip: Bold, single-colored ensembles enhance their elegance.