When it comes to nails, most women think that picking the color is their biggest decision.
But they're wrong.
Picking the color is not the only decision you need to make – picking the right shape is just as important.
The shape will set the tone for the color you want.
The almond shape is the latest trend in manicures, and for good reason.
It's a perfect balance between long nails and no nails at all.
Just imagine that tasty nut and its shape, and that's what you get on your nails.
Almond shaped nail designs are here to stay. They are not just a short phase.
So, in order to get you ready for the latest trend in manicures, we have some almond nails ideas you can try. You can have short almond nails or long almond nails, it doesn't make much difference.
Perfect rose almond nails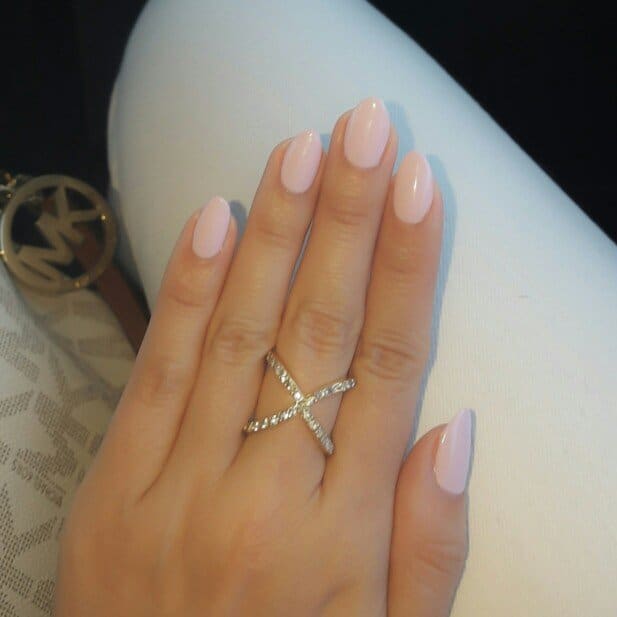 This is something you wear if you stylish, good-looking nails but you don't want to stand out or your nails to pop.
Sensational almond nails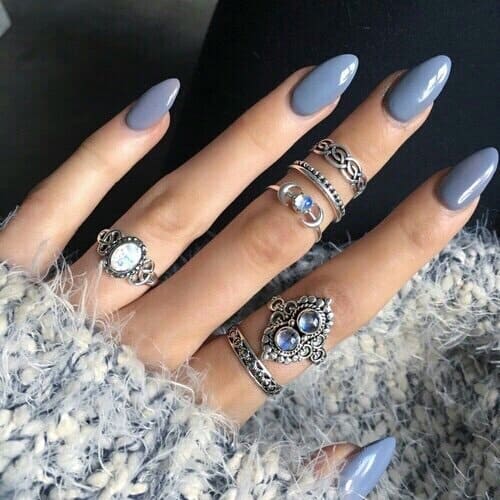 If you want something that will draw attention, you go for an unconventional color.
Also, notice how the top is sharper than usual. This manicure just screams sex appeal. Among the many almond nail designs, this one definitely demands attention.
Nude almond nails
Some people can't wear color on their nails.
Their job description just doesn't allow it. And for them, nude almond nails are just perfect.
You still have stylish nails that can last for two to three weeks without any care, and they are appropriate for the work environment.
Brown almond nails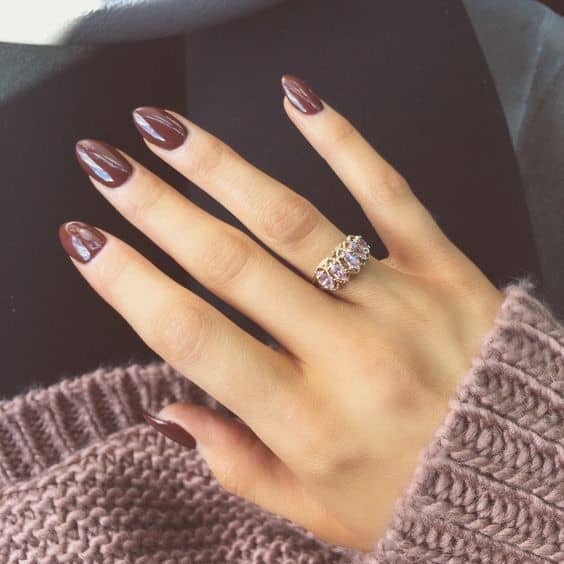 Brown has been making its way into the manicure world for a few years now.
I've come to understand that women opt for brown when they want something sexy, not red.
You can say the same about men who choose brown suits instead of black.
Perfect almond-shaped nails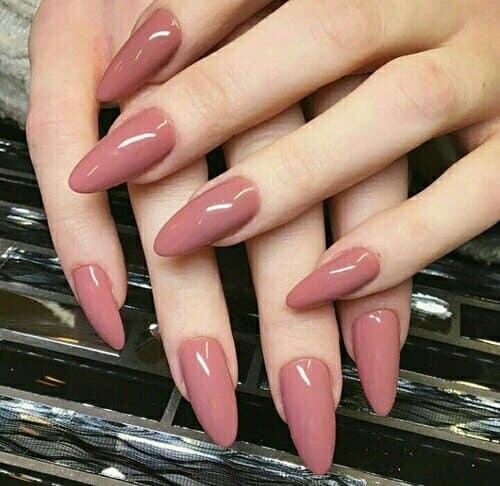 Very close in color to the nude color, and a very classy, office-inspired design and color. If you want an almond nail shape for your acrylic nails, here is a perfect idea.
But as most of you know, women working in offices just have to find a way to look elegant!
Ashy purple almond nails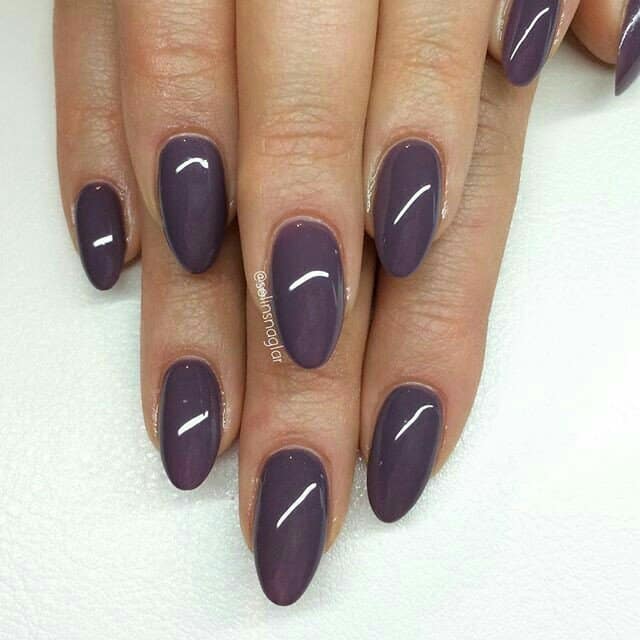 Purple is one of my favorite colors; it's often associated with royalty, power, and luxury (which is exactly what you want sometimes).
And while this is not your normal purple color, it is still very close to it. In fact, the ashy version brings a certain flair and uniqueness to it.
Lavender almond-shaped nails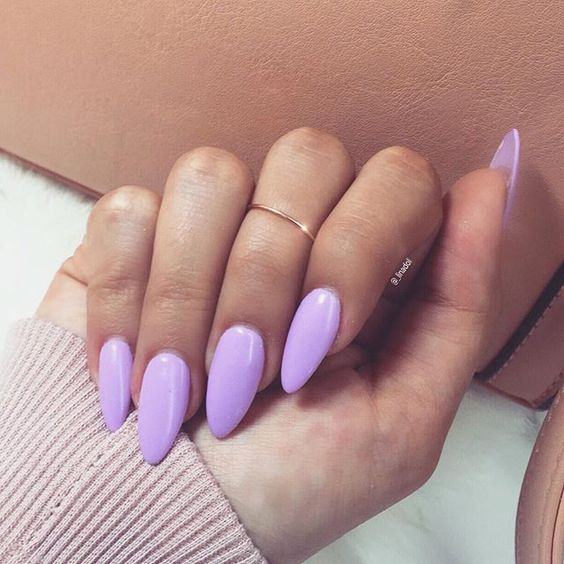 Lavender is another color that is gentle, romantic, and stylish at the same time.
Lavender isn't a color that will make you the star of the night, but these almond acrylic nails will be easy to combine with any outfit.
Sweet almond nails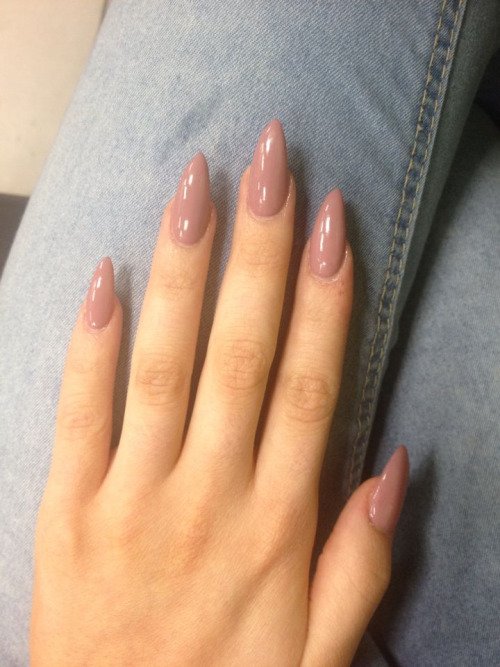 If you have to have nude nails, at least do something with the shape and size. And that is exactly what happens here.
Notice how the length is longer than usual, and the top is sharper than usual.
You can wear nude nails and still be sexy and provocative at the same time.
Fruity almond-shaped nails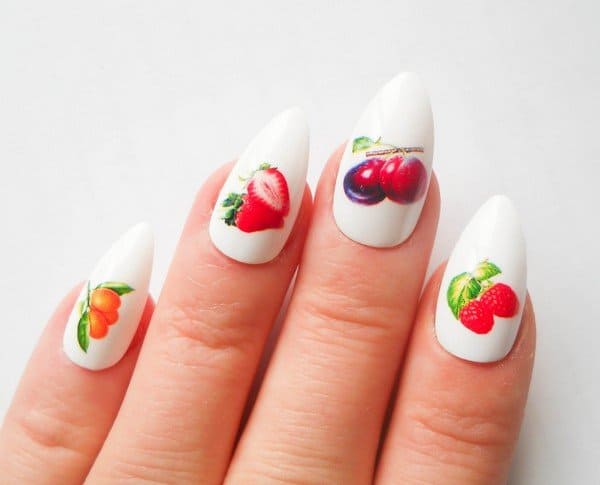 Every once in a while, every woman wants to experiment with her nails. So why not try something like fruity nails?
They are awesome. The only thing you need to worry about is if they are in line with your character.
Bright pink almond-shaped nails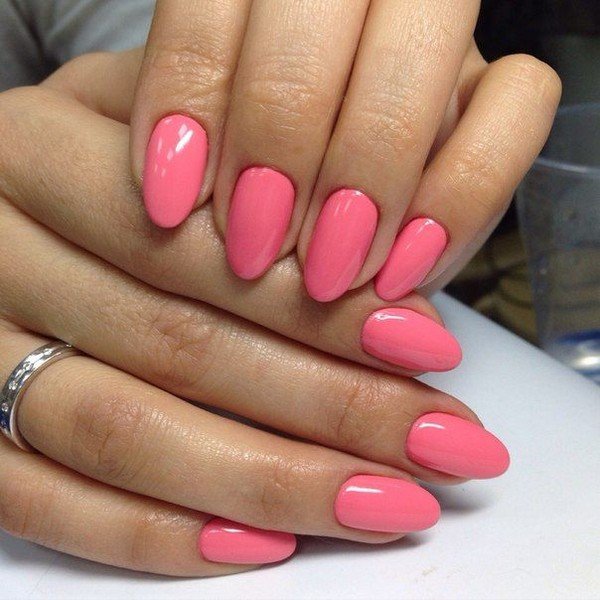 Pink can be sensual and romantic, but pink can also pop.
Yes, it looks more like a teenage, girly color. However, that doesn't mean you can't wear it.
Almond shaped nails with rhinestones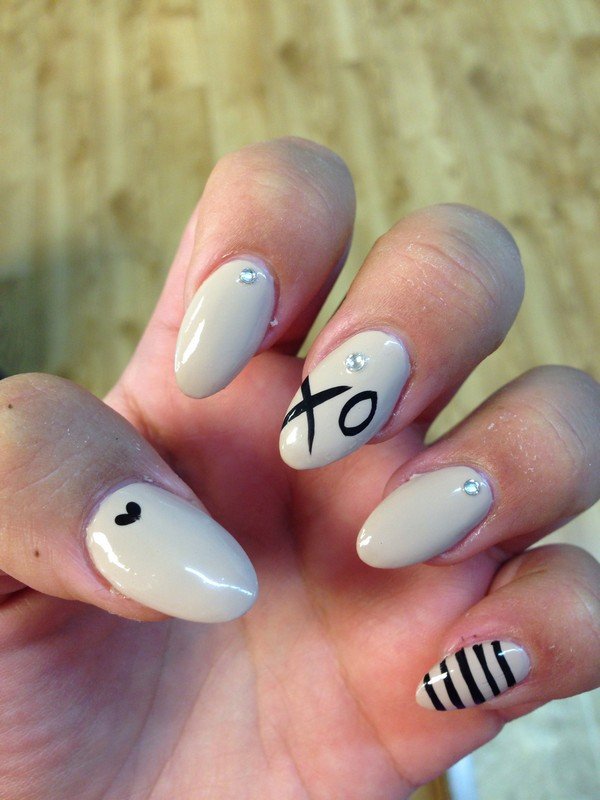 As with every nail design and size, accessories are part of the almond nails as well.
There are many options when it comes to accessorizing your nails.
Rhinestones are just one option, but it's definitely a classy one.
Mint almond nails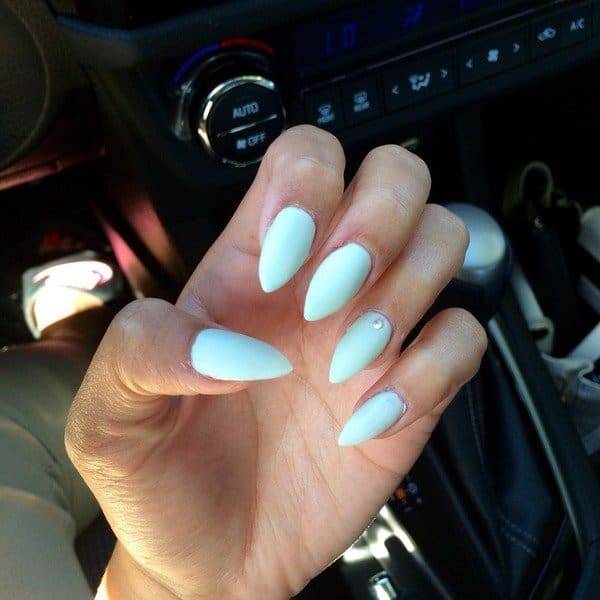 I've noticed that in the past few years, mint is making an entrance into the fashion world.
Call it the new pink if you like, but mint is a romantic, gentle, and girly color.
And it is definitely one that can work with different outfits. So, go for it.
Almond shaped nails with 3-D art design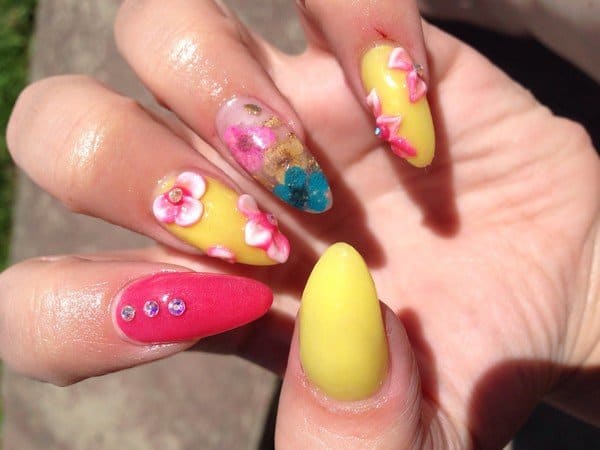 One thing is certain: the girl making your nails will hate you.
But in the end, you'll come out with a playful design. And that's more than many of us can hope for.
Almond shaped flower nails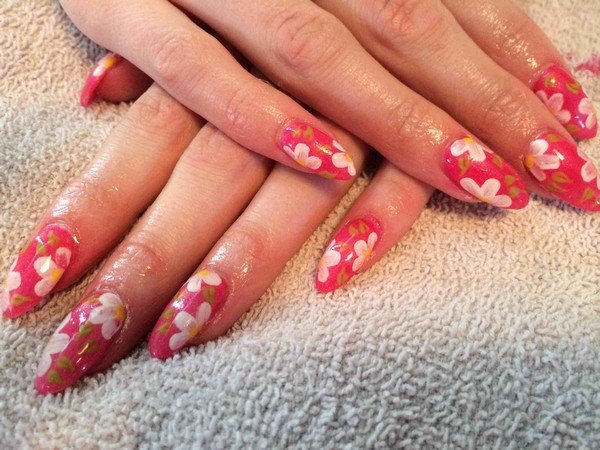 Same as with fruity nails, flower nails is a design you just have to try once in your life.
And while fruity nails make you look like a little girl, flower nails define you as a romantic at heart.
Pretty pink almond nails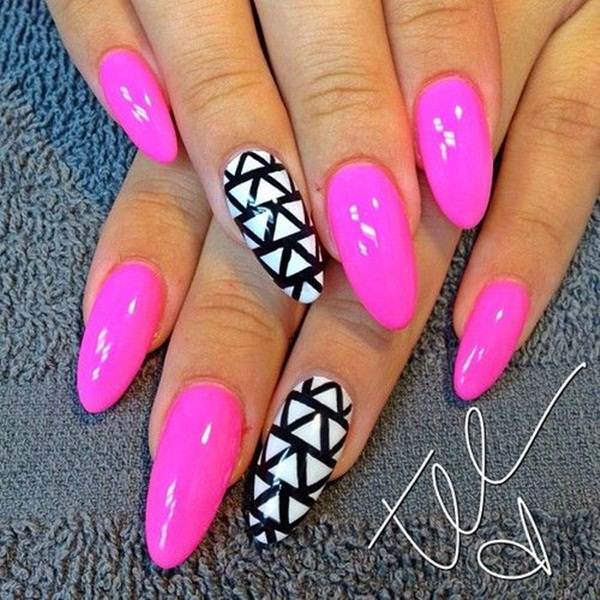 We had girly pink nails before. These are a bit different, as in, they are longer.
But they are also different in the color scheme.
A black and white nail in the middle is a great way to make things different and playful.
Nude with tribal almond nails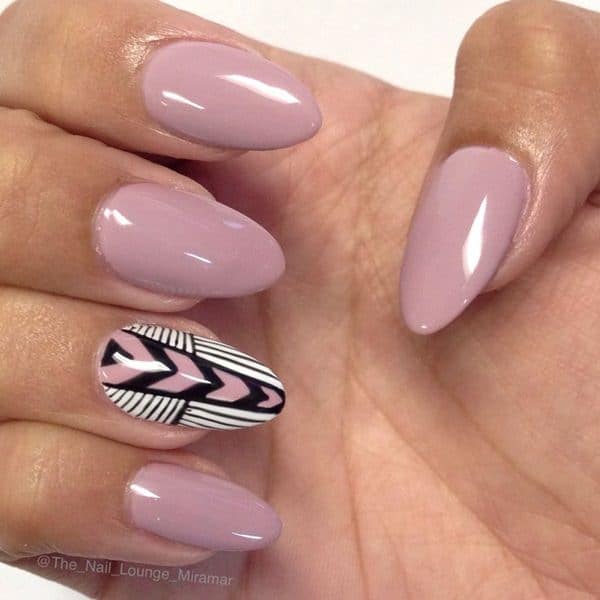 As I've said a few times by now, even if you go with a nude color, you can still have good-looking nails.
There are a few ways to do that.
One is shape and size, as in longer and sharper.
Another way is with accessories, like rhinestones. And yet another way is the design way.
As in, making one nail stand out with a different design, such as tribal.
White and gold almond-shaped nails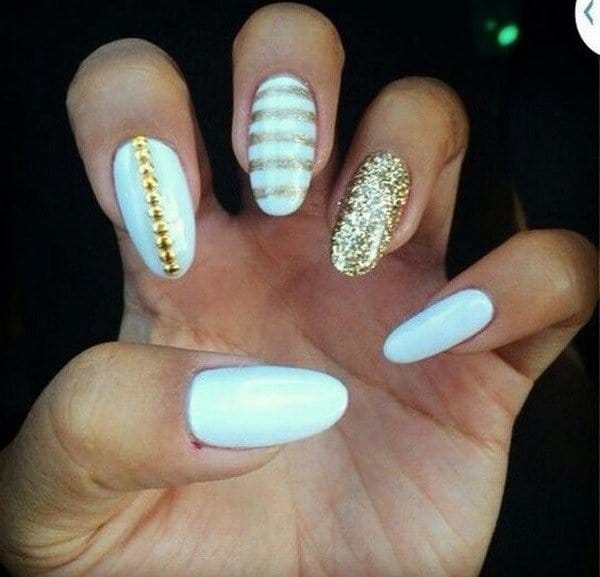 Personally, I'm not a fan of glitter and gold. But that doesn't mean that the nail design doesn't look good. This nail art might not be your typical French manicure white almond nails, but it is even better.
However, it takes a certain character to wear these nails with pride and confidence.
You have to be confident in yourself—otherwise, you'll look awful!
Blue matte nails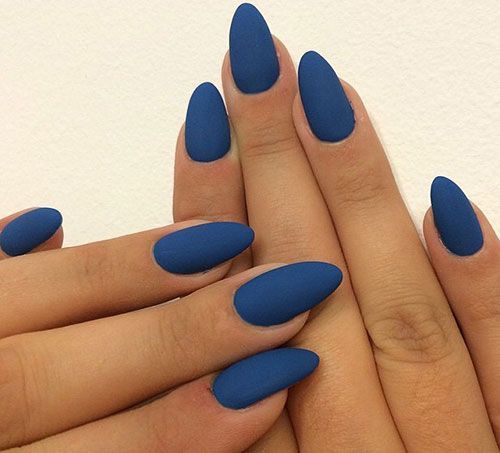 Remember when we talked about purple nails, and how they show power and royalty?
Well, this blue matte nails design is very close to that as well. After all, they don't call it "royal blue" for nothing!
Baby pink and black almond nails with animal prints for accent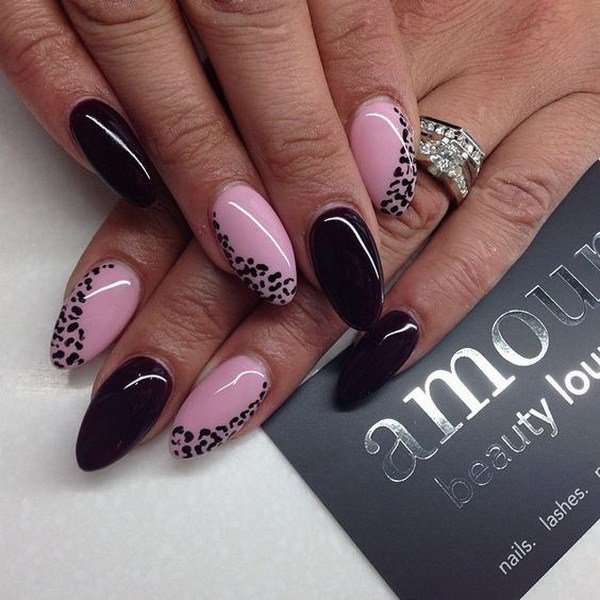 These look like they're taken from Kylie Jenner's book.
Hollywood A-listers love designs like this one—and they're something you can mimic at any time.
Light pink almond nails with silver applications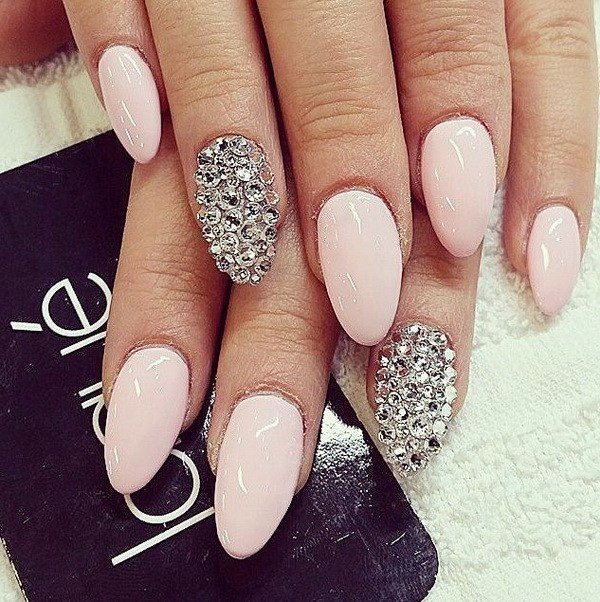 We had rhinestones, and now we have silver accessories.
Unlike rhinestones, which are more subtle and hard to put on, silver is something that really pops.
And if that's what you're looking for, I'm not the one to stop you. You might want some trendy almond nail designs.
Sheer black and nude almond nails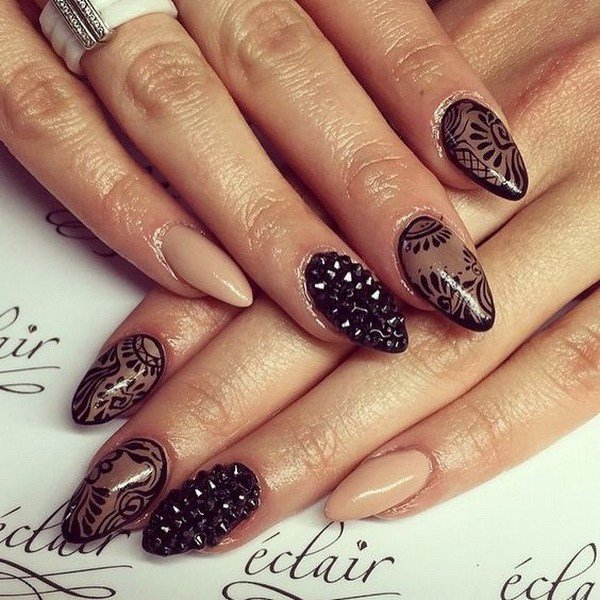 Now, these nails look awesome.
But the thing is, they limit you in what can you wear with them; you just have to wear a black or white outfit.
You simply cannot go out with a colorful dress and these dark nails.