Thinking of floral manicures we get the image of warm sunny spring or summer days, a bit lazy and carefree, much like the flowers we could wear on our nails. A good feeling, we can carry with us every time we choose to put a flower on our nails, no matter the season.
What we often overlook is that the beauty of flowers is endless. Part of it might be because they are so fleeting, bringing color and scent in our lives only for a short while, making us want them even more. On the other hand. flowers can be both classy and fun, joyful and elegant, pliable enough to be suited for any occasion.
Given that there are so many flowers and color schemes to choose from, we offer you this lovely list of flower nail designs to make you get the perfect flower manicure for you.
#1. Nude Blue Rose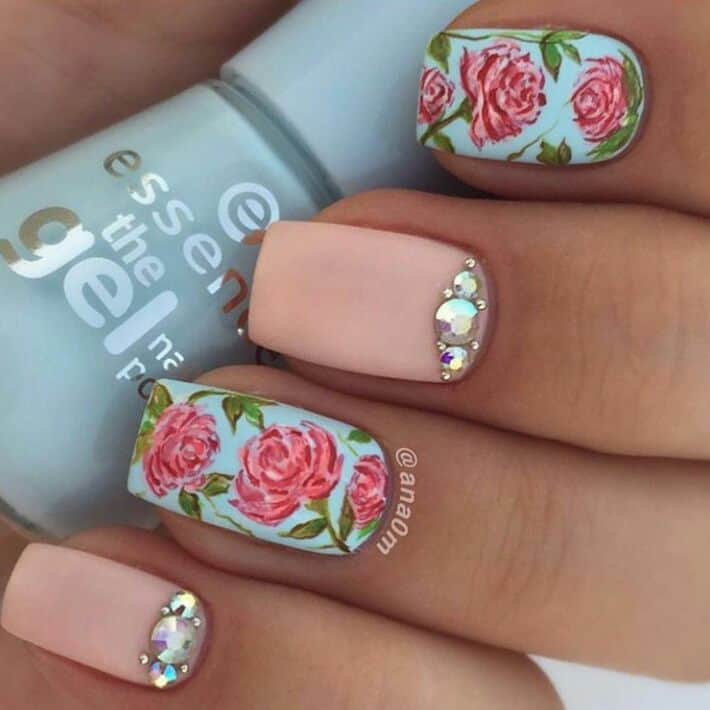 This rose nail design is artistic, polished and glittery that looks great on short and long nails alike.
The rhinestones at the base give a nice contrast to the nude colored nails and complement the blue base nails with the stemmed rose design.
#2. Glitter On Black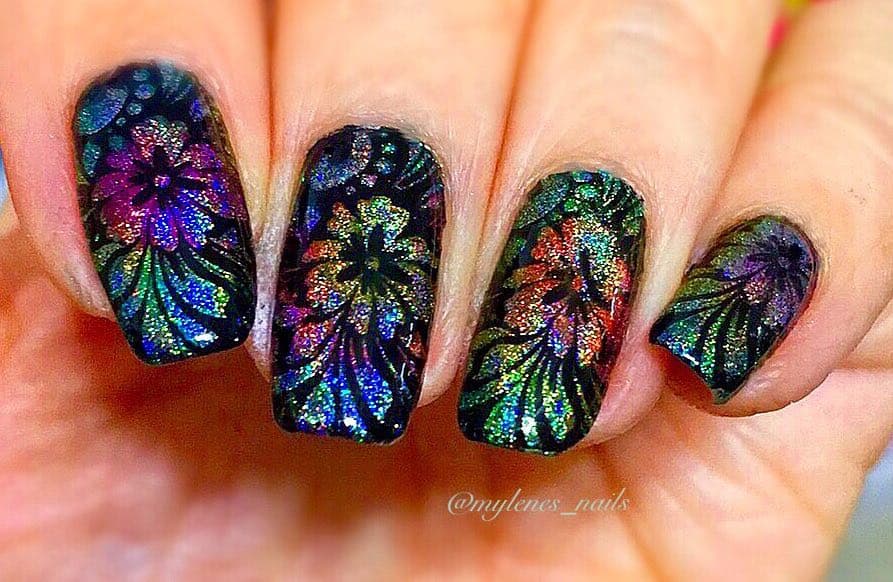 Photo: Instagram.com
When you're in the mood for some glitter that isn't too girly, you need this mani.
A hypnotic glitter floral pattern on a black base look just stunning and are the perfect accessory for party night.
#3. White And Black Summer Flowers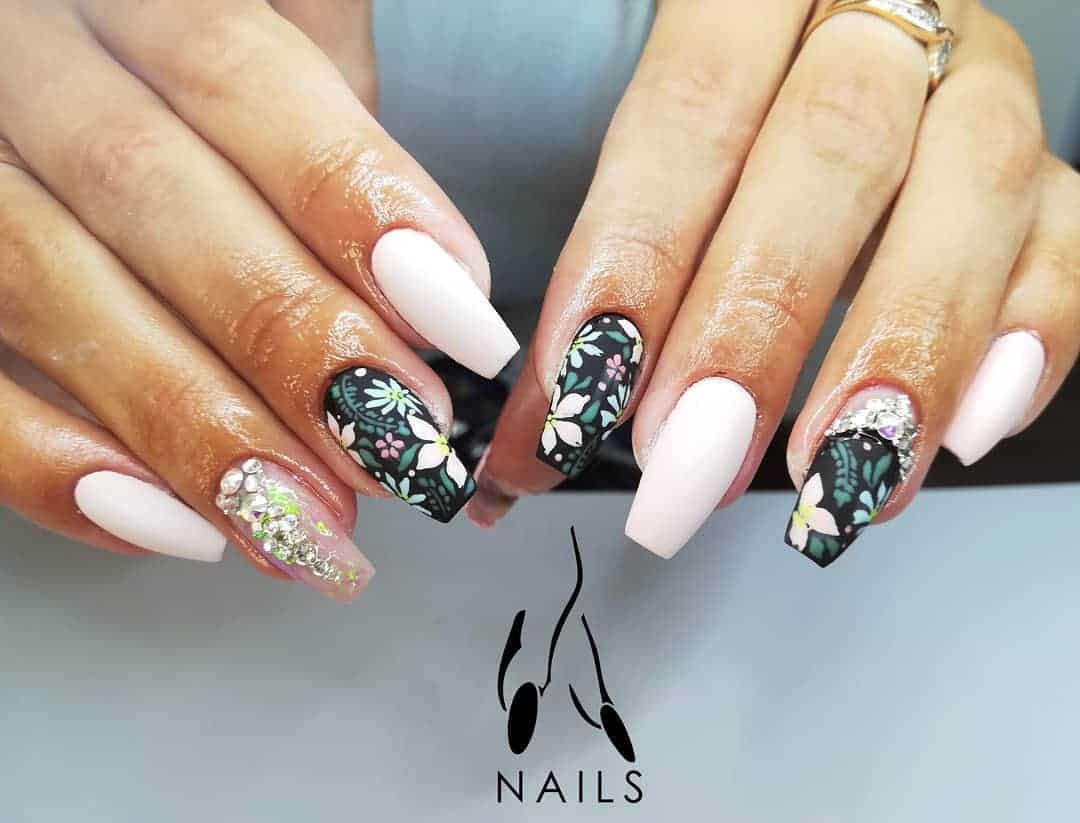 Baby pink is a soft, neutral color that begs for something with a bit more punch.
Some acrylic accents with rhinestones and vibrant summer flowers with leaves on black give a very chic look to a fashionable mani.
#4. Sunflower French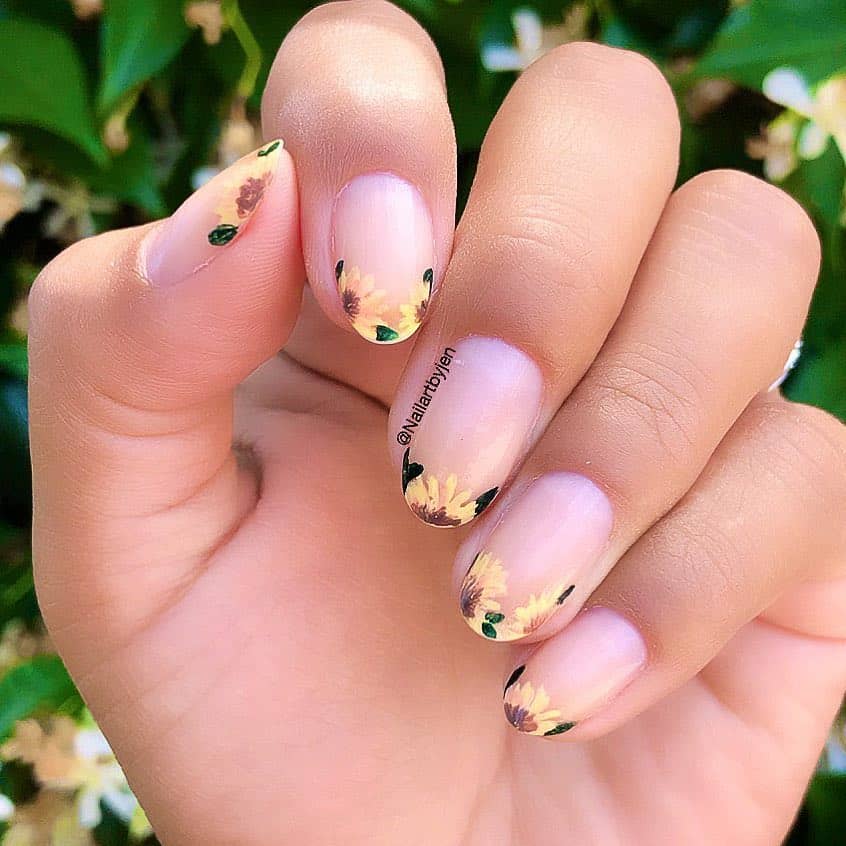 Summer floral manicures should be light and easygoing, just like the season.
This French mani offers you just that. Gentle half-sunflowers at the tips on nude nails is abdolutely adorable and feminine.
#5. Neon Pink And White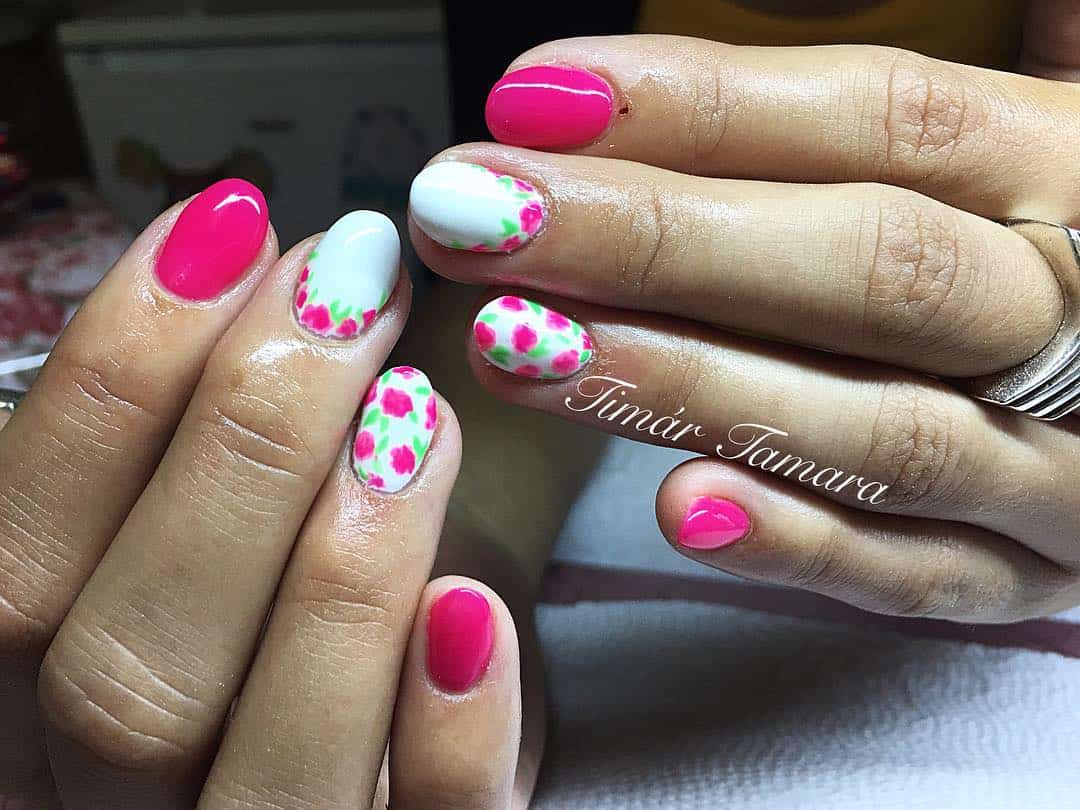 Crimson red isn't the only hot nail polish you can choose.
Neon pink nail polish is just as sexy and striking, and to tone it down a notch, you can make some white accent nails with tiny flowers at the base or all over the nail, like this fab mani.
#6. White And Blue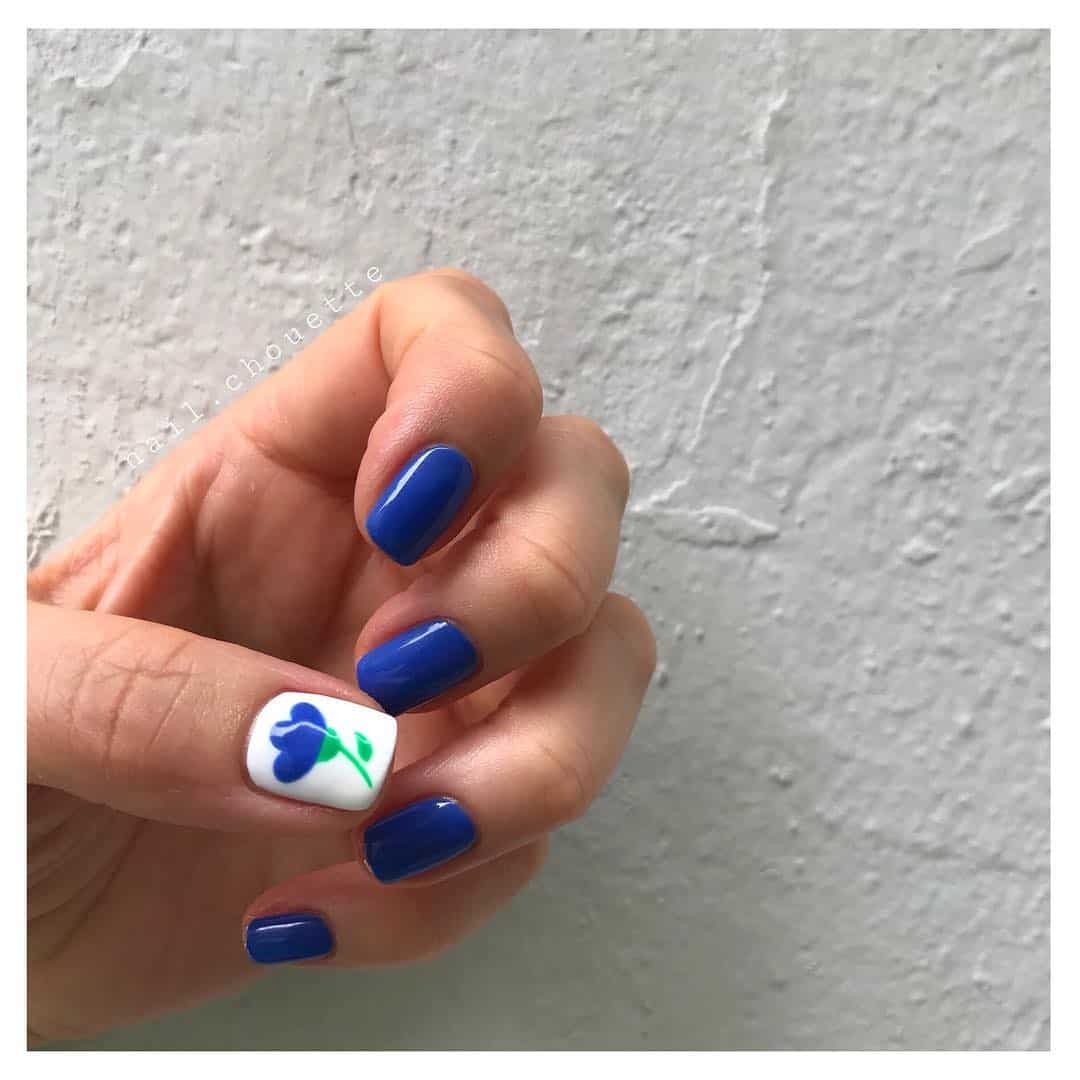 Blue is a neutral calming color, although a bit more challenging to wear when choosing a nail polish.
This one is a lovely navy blue mani toned with a white accent nail decorated with a soft three petal flower, you can't help but admire.
#7. Gel Ombre Nude With 3D Flower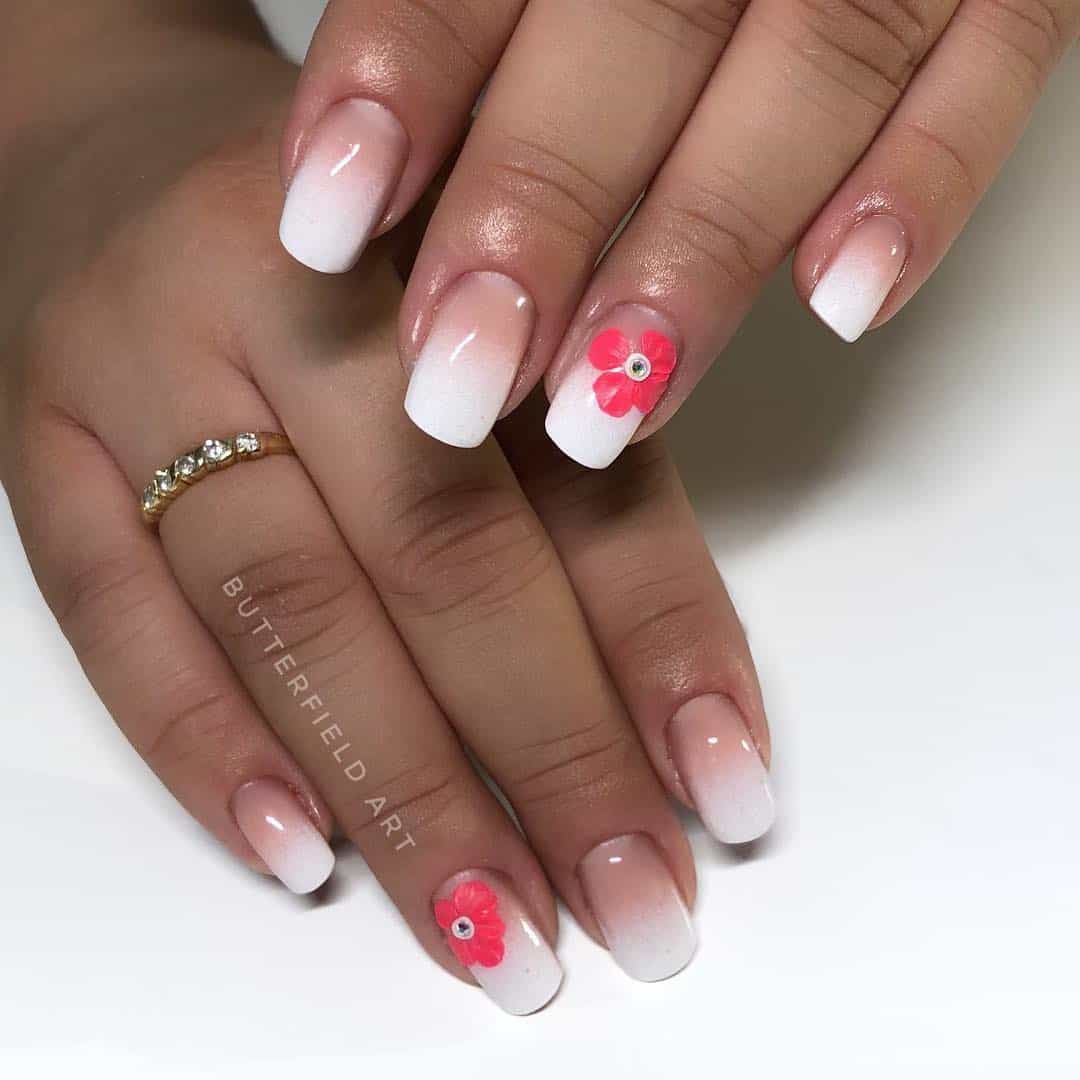 If a French mani would melt in the heat you'd probably get this awesome ombre nude design.
The gel coating blends the white to the skin tone color perfectly, leaving a gentle flower with a rhinestone center enough to turn an ordinary mani into a floral one.
#8. Brown- Purple Nails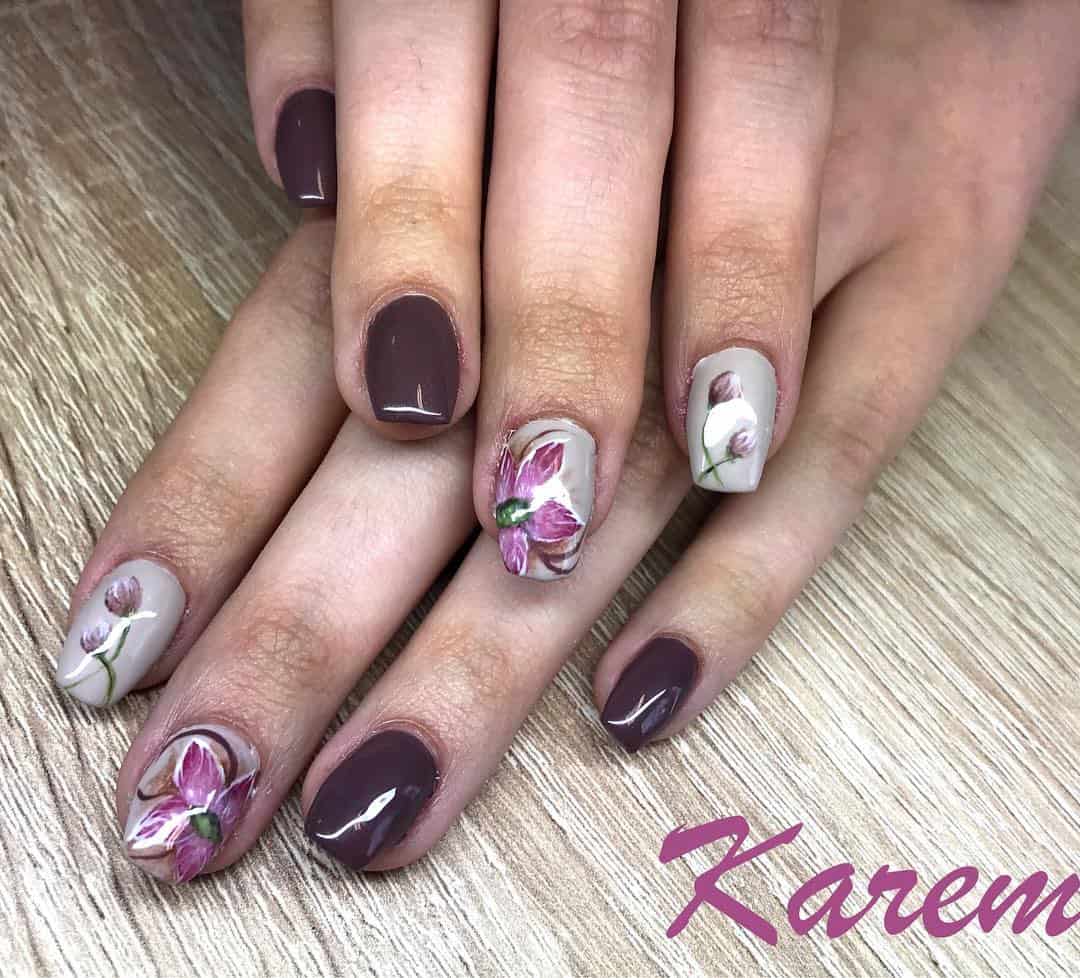 Flower designs don't have to be only for spring and summer seasons.
This elegant mani is great for the fall season. Clear dark brown combined with purple flowers on creamy base is simply beautiful.
#9. Orange Green Flowers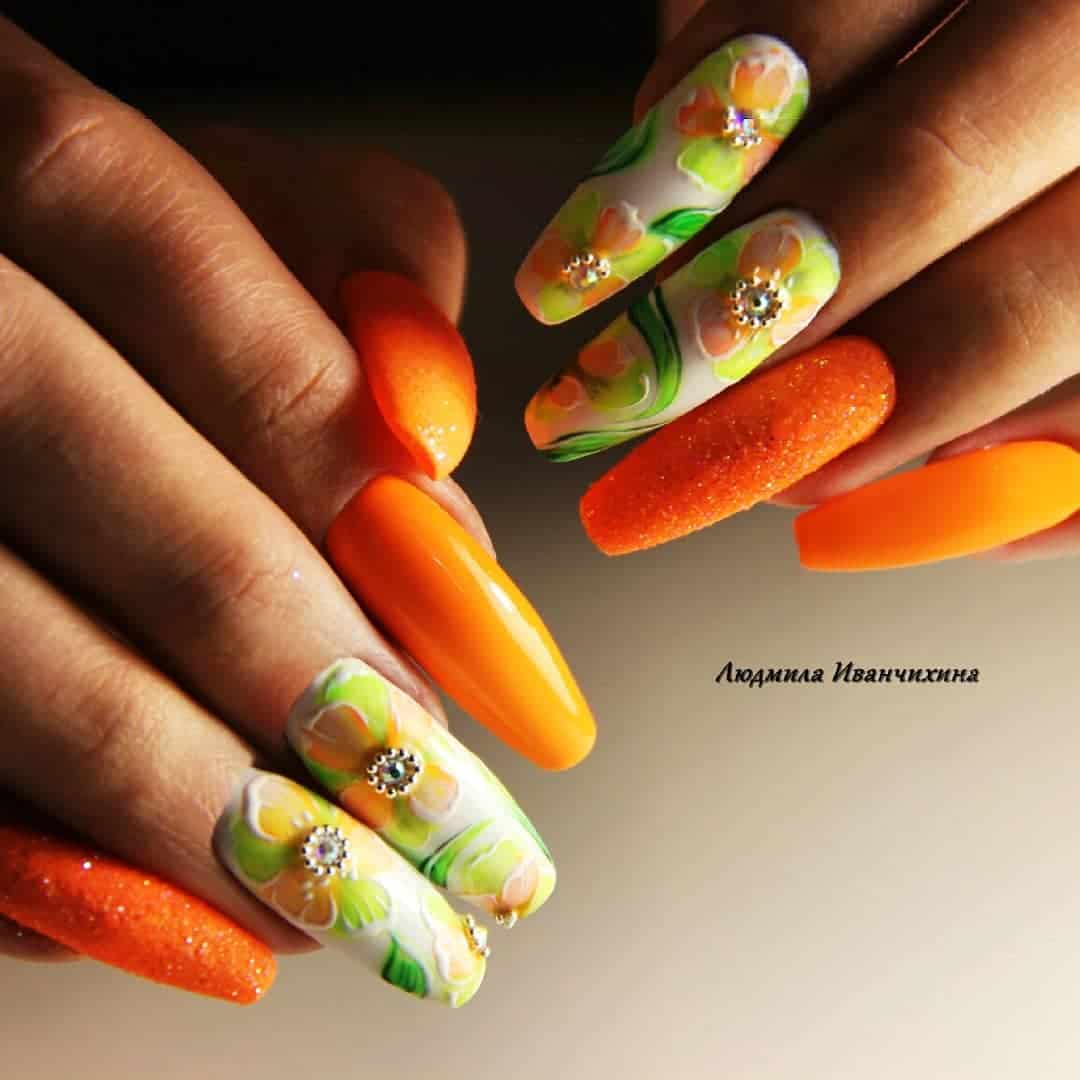 Cheerful and colorful, these long sparkly nails are will brighten up your day.
Orange with and without glitter, acrylic rimmed flowers in yellowish-orange and green decorated with rhinestones and golden pearls, a manicure sure to put a smile on your face.
#10. Rose Gold Flowers
Rose gold has been quite a popular color choice for some time now.
This color combo has all the rose gold elements, with added white flower stamp pattern and delicate pearls and rhinestones that is just too cute to ignore.
#11. Red Lipstick Nails With Acrylic Flowers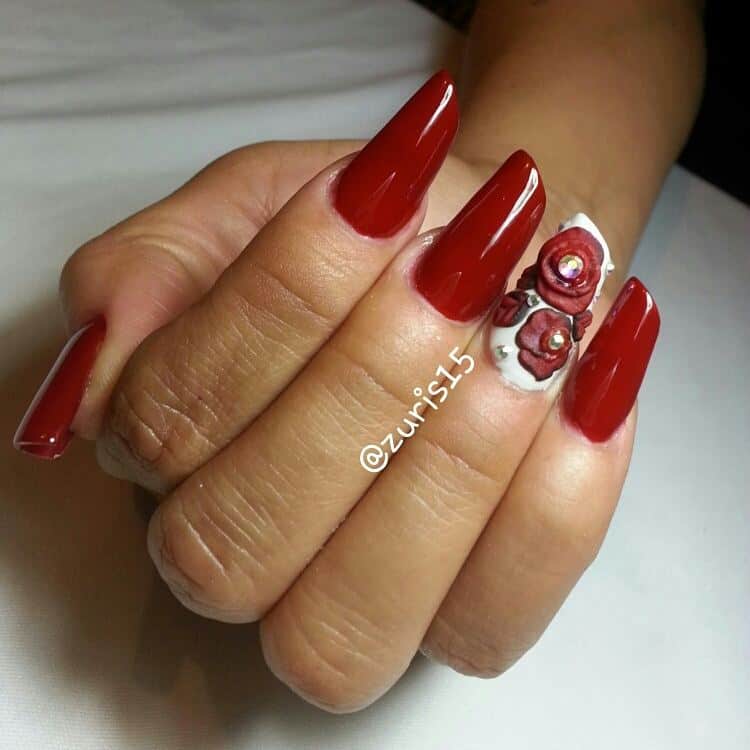 Crimson red is a powerful sexy color, many women prefer on their lips. Why not have it on the nails as well?
On nails done at an angle mimicking a lipstick, this red really pops out, and with an acrylic 3D flower design, this mani is pure seduction.
#12. Velvet Flowers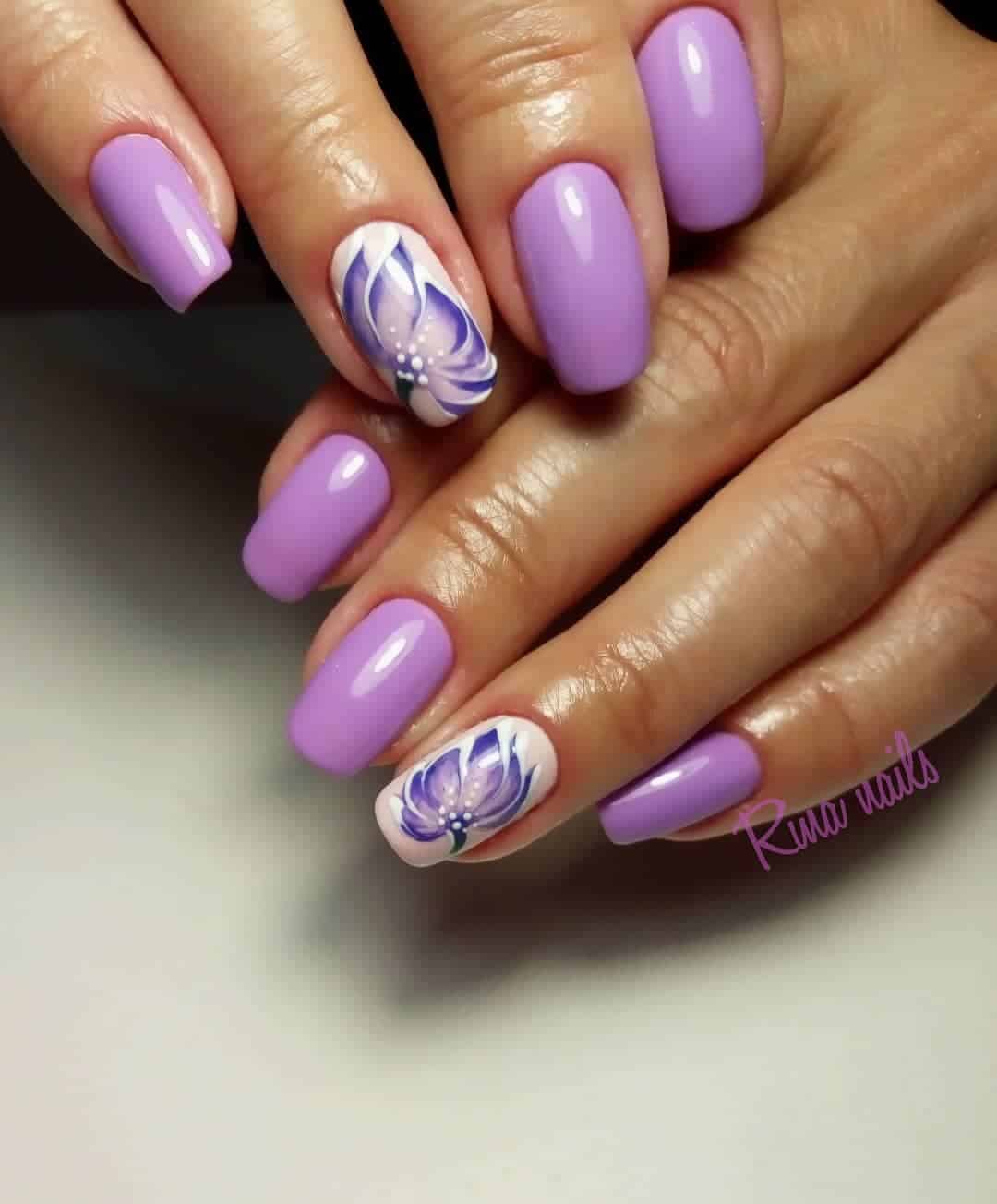 Pale purple is a color that is calming but not unnoticeable.
A flowing floral design only enhances the gentleness of this color, putting you at ease every time you look atyour nails.
#13. Blue And Silver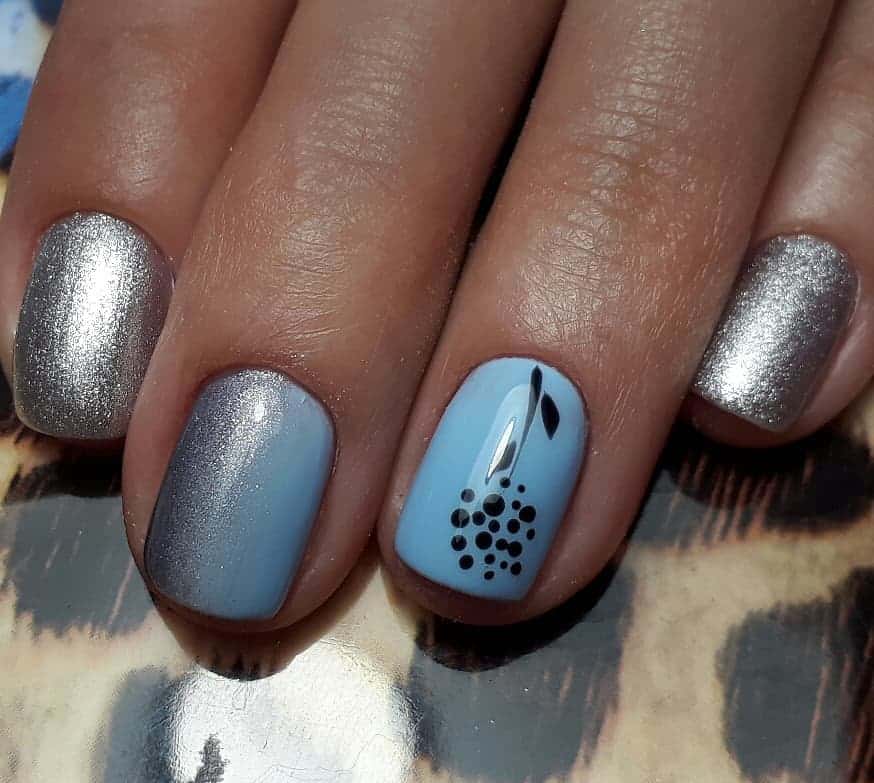 Silver sparkle nails may seem outdated, but if you're a fan, here is how to give them a modern twist.
Combine them with sky blue matte color that will blend from nail to nail and add a minimalist dotted flower at one nail. A rocking combo for sure.
#14. Dark Green Nails With White On Beige Flower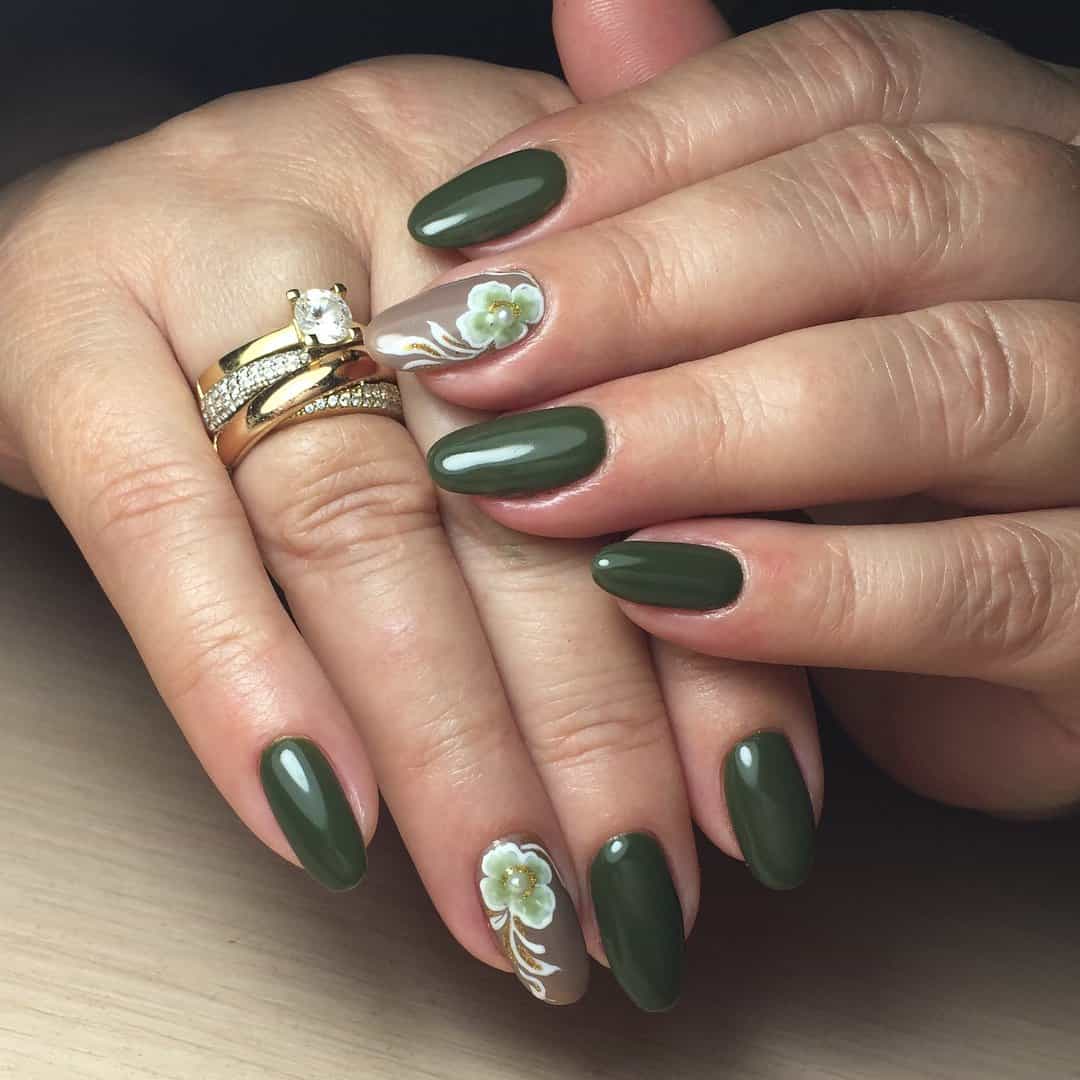 You don't have to have a green thumb to enjoy this foresty mani.
A glorious pattern of dark green nails with white-green flower and a dash of gold glitter to help you get touch with your inner nymph.
#15. Wedding Nails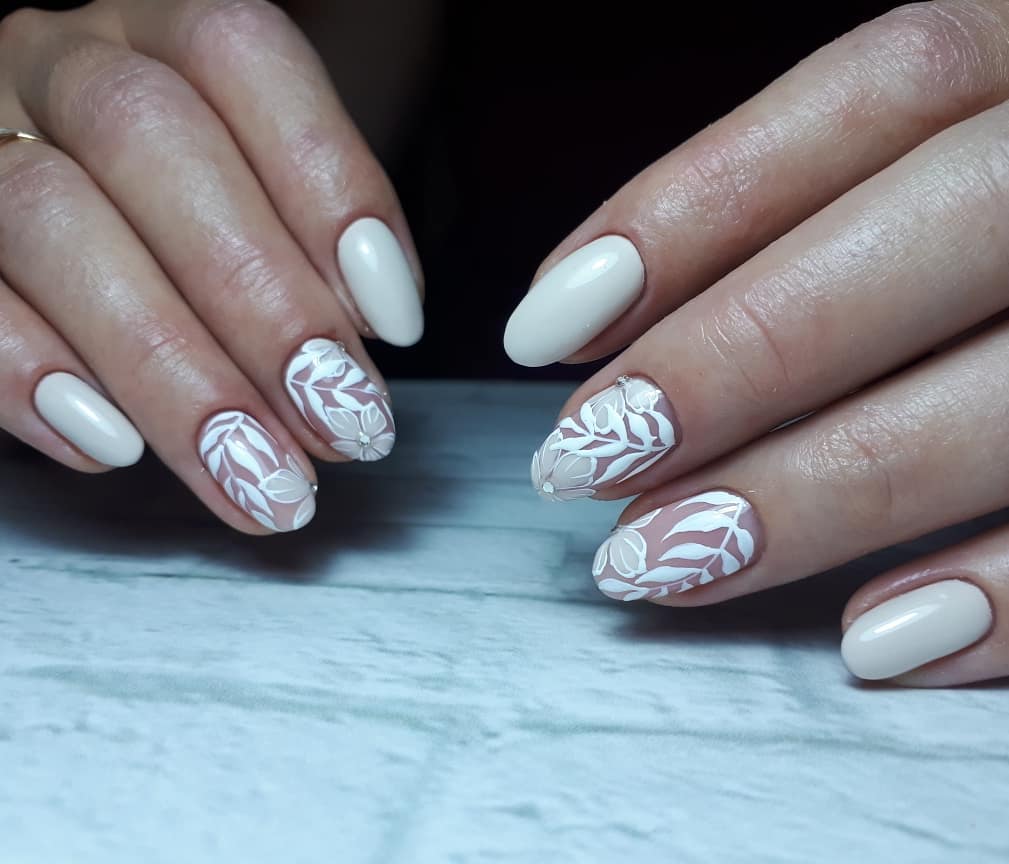 Wedding nails without flowers just won't do and these are no exception.
Pure and white, just like the bride, these floral nails have a lacy floral and leaf pattern on couple nails with plain white on the rest, adding diversity to a monochrome mani.
#16. Pink Rhinestones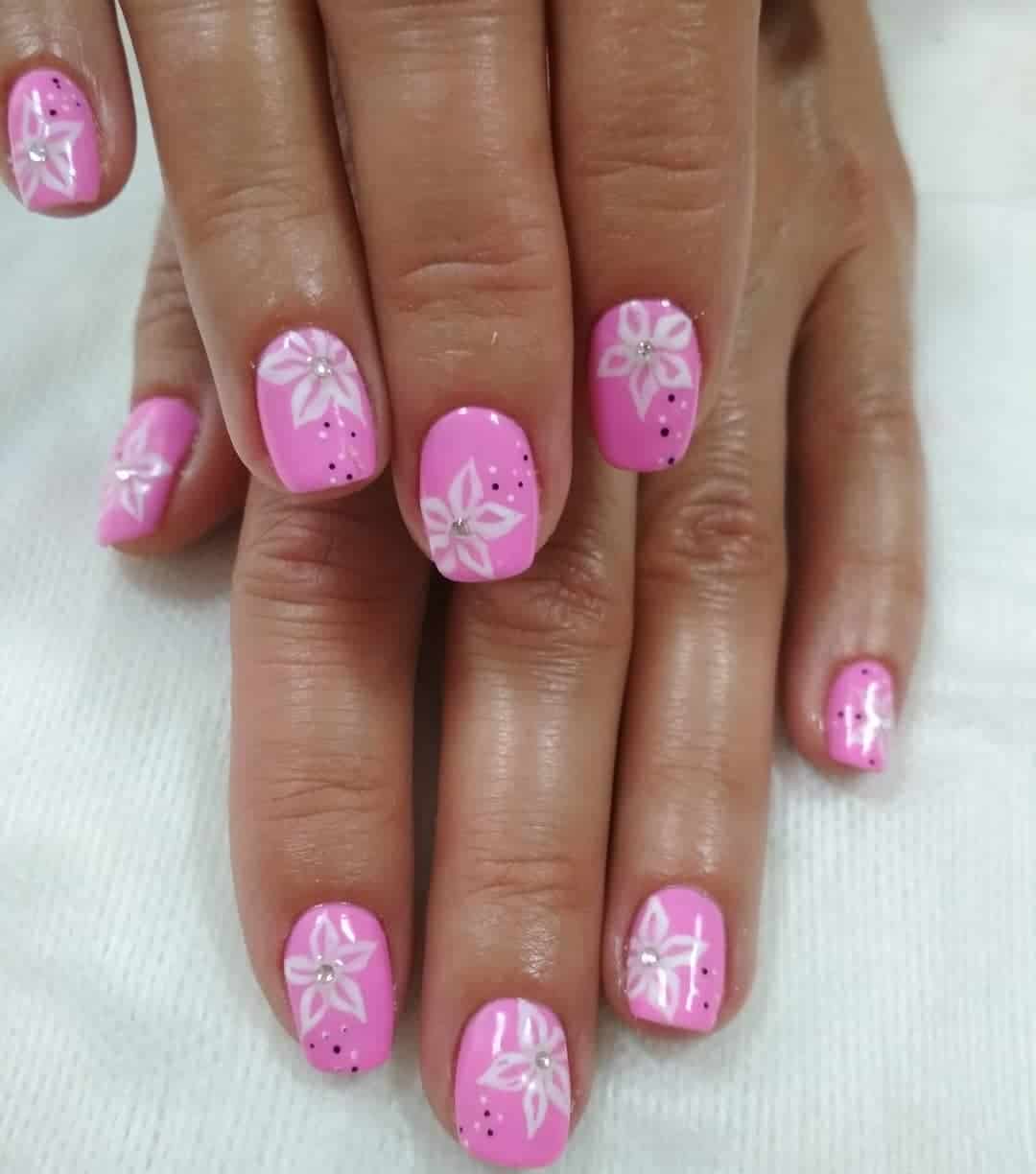 Youthful and fun, pink nails can make anyone more cheerful.
Glam it up with a simple white flower with a sparkly rhinestone in the center, and a few darker dots on the side are enough for some color mix.
#17. Cool Mint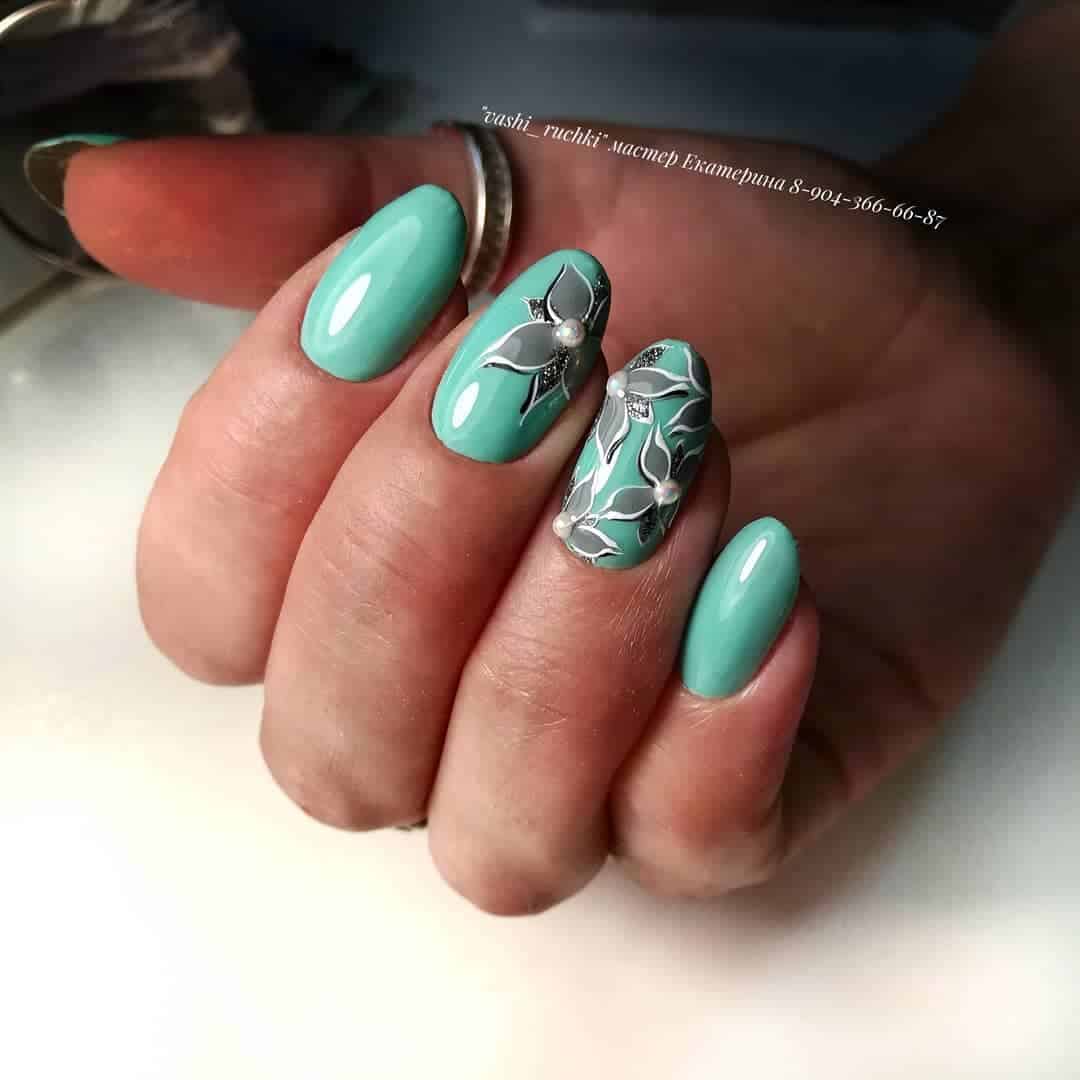 Turquoise and gray are a stunning combo you can play around with, and flowers are no different.
Here is a stunning example of gray flowers with silver glitter on cool mint background.
#18. Purple And Yellow Design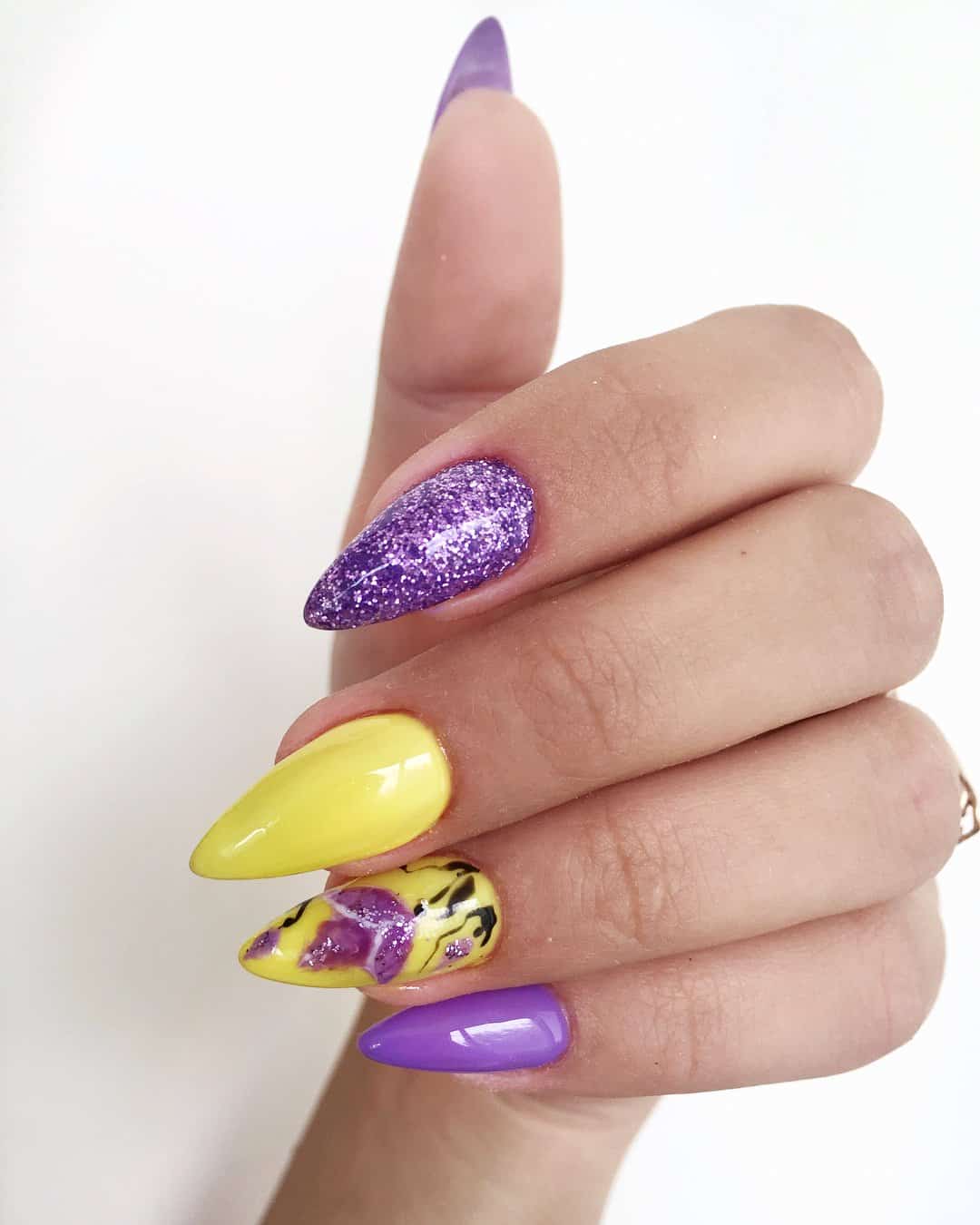 Cheerful and sunny, just the mani you need on a colder day.
Purple and yellow are a common combo, they go so well together. Here we have a merry mix of plain, glitter and floral design on short mountain peak nails. Bring on the smiles.
#19. Gentle Peach
This dainty mani is what you need when you feel mellow.
Velvety peach in glossy and matte color with a hint of ombre, with accented flowers that blend from nail to nail. So soothing and feminine.
#20. Mustard Yellow Frame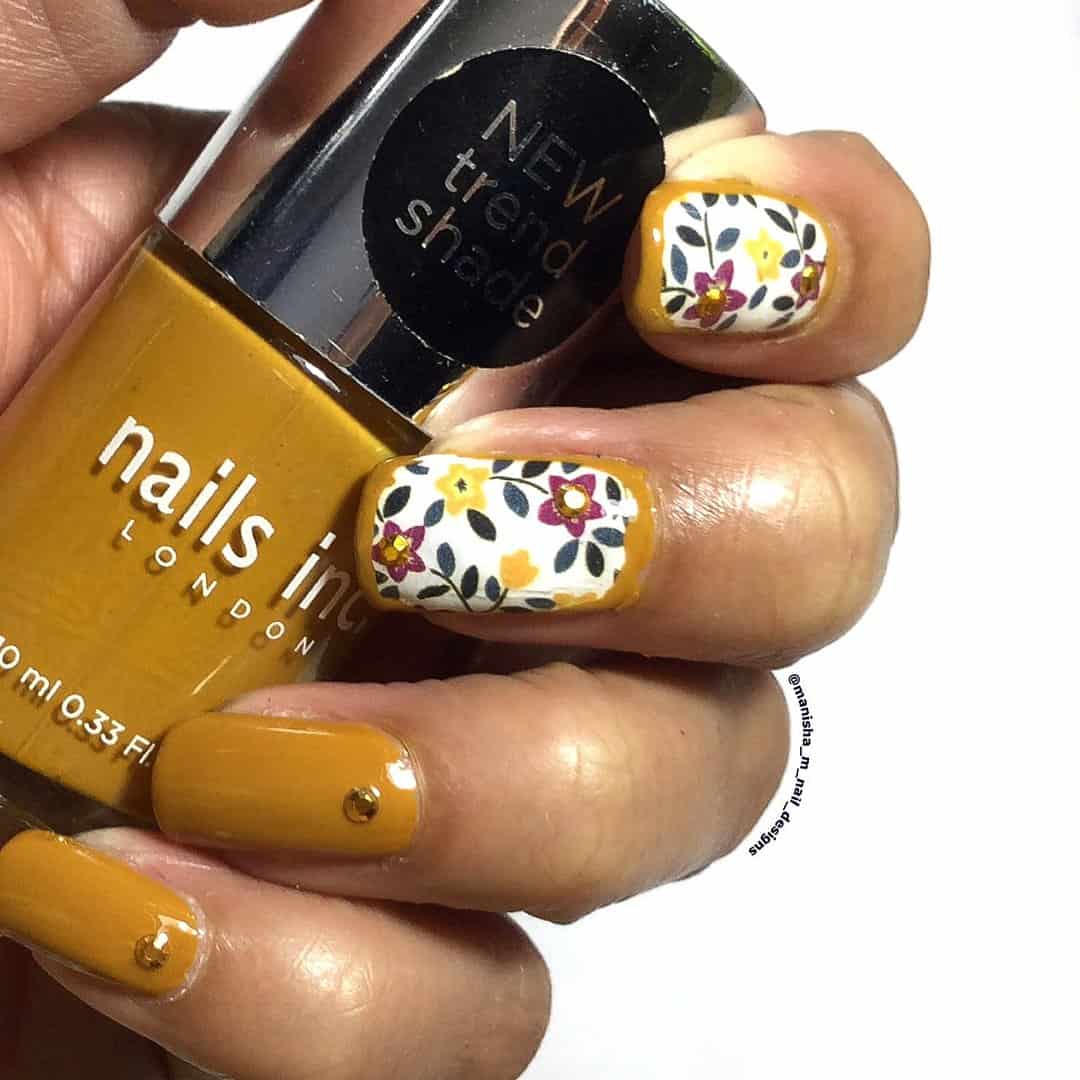 If you fancy some yellow nails without the brightness, you should give these mustard yellow nails a try.
Framing a colorful simplistic floral design, these mustard colored nails will quickly grow on yo, becoming a new favorite.
#21. Gray And Silver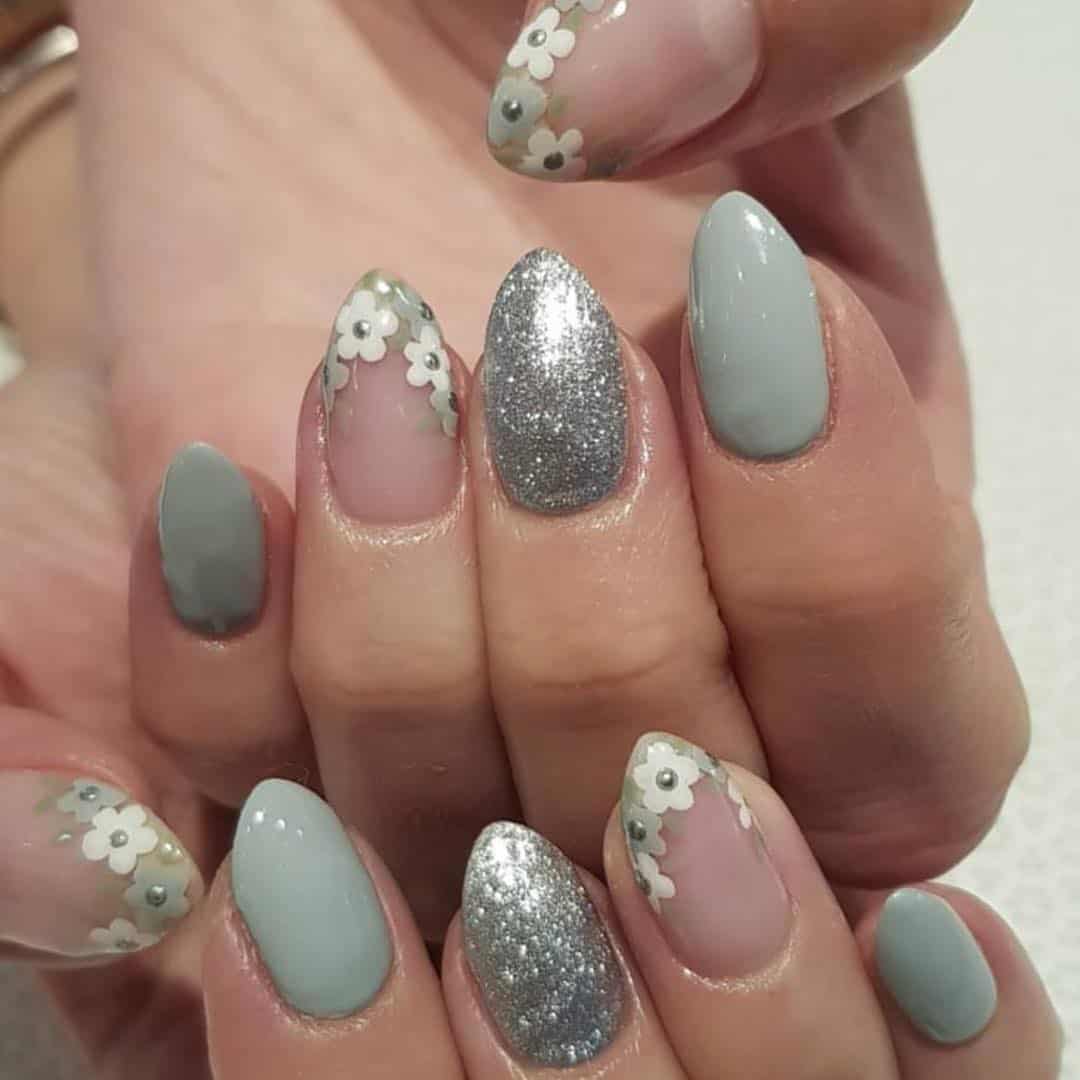 Flowers can be combined with colder colored nails to make thaw them down.
This icy design gives you a great idea how to put some subtle floral French mani on a sparkly cool gray and silver.
#22. Matte Black With Accent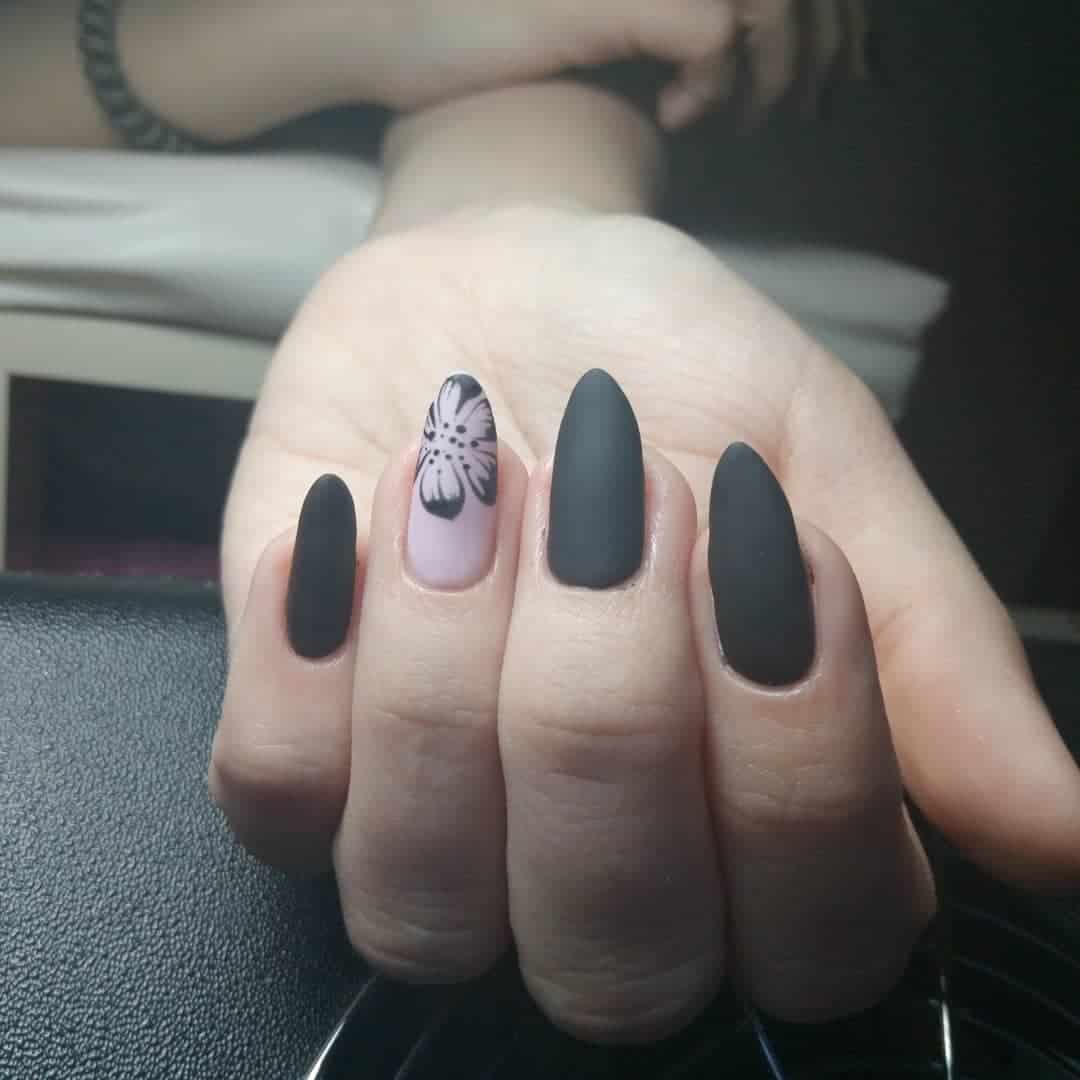 This black mani will help you channel your inner goth without looking too grim.
A stylized flower on nude background will balance out the matted black nails, leaving you with some pretty elegant nail design.
#23. White and Blue Navy Roses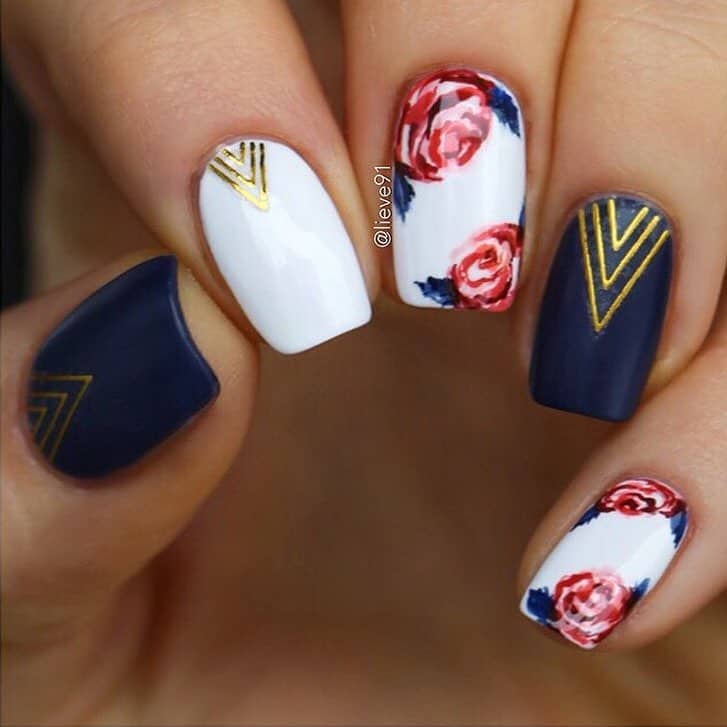 Red white and blue design is classic and great if you feel patriotic but don't want to be too obvious about it.
This nautical design is a great way to go about it, with navy blue, white, and red roses, with geometric golden lines.
#24. Orange Brown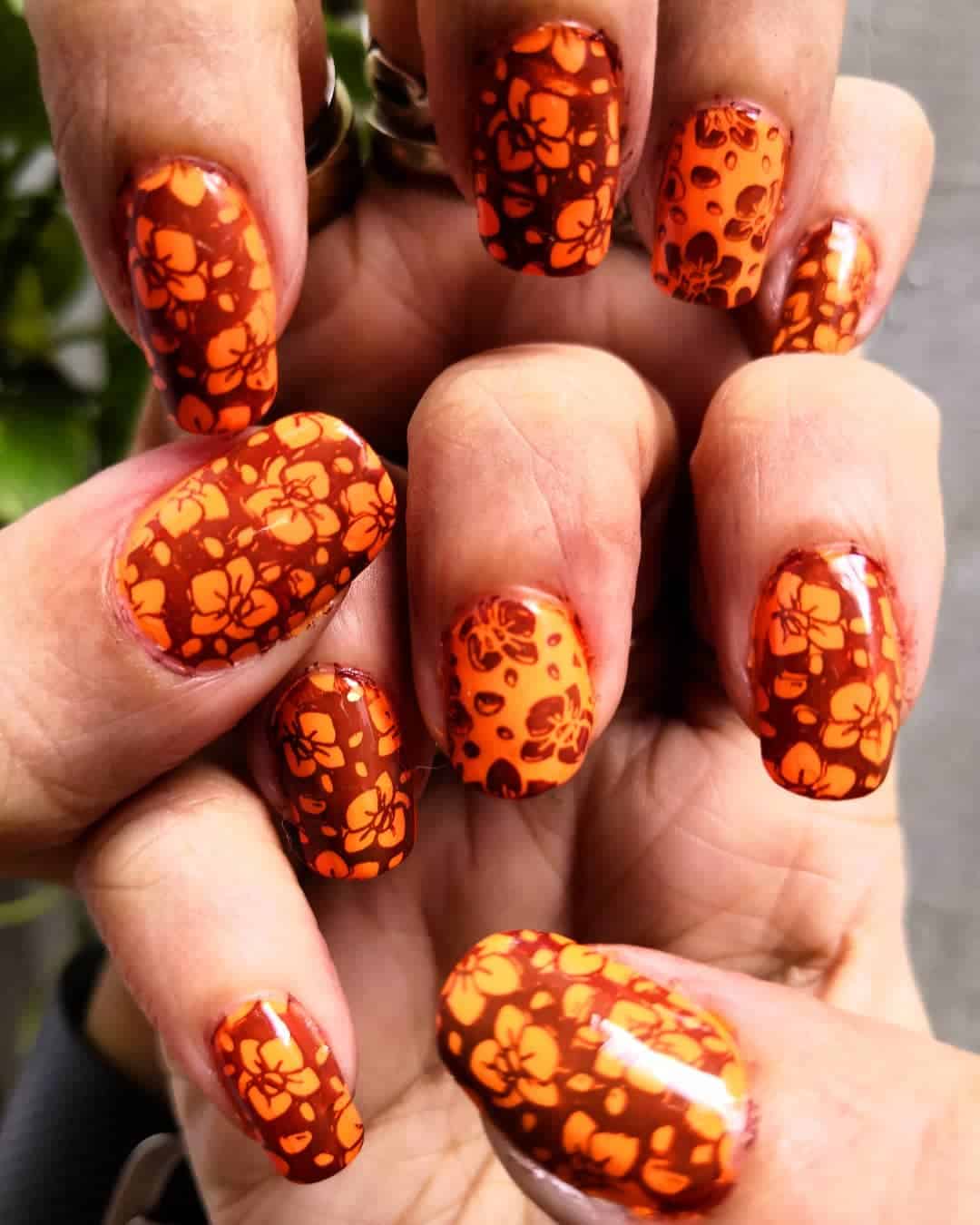 Fall nail designs don't have to be yellowish, orange or brown leaves, it can be with flowers too.
This complex design invites you to give it a close inspection, picking up the flowers among the leaves. A true warm autumn nails.
#25. Fairy Colors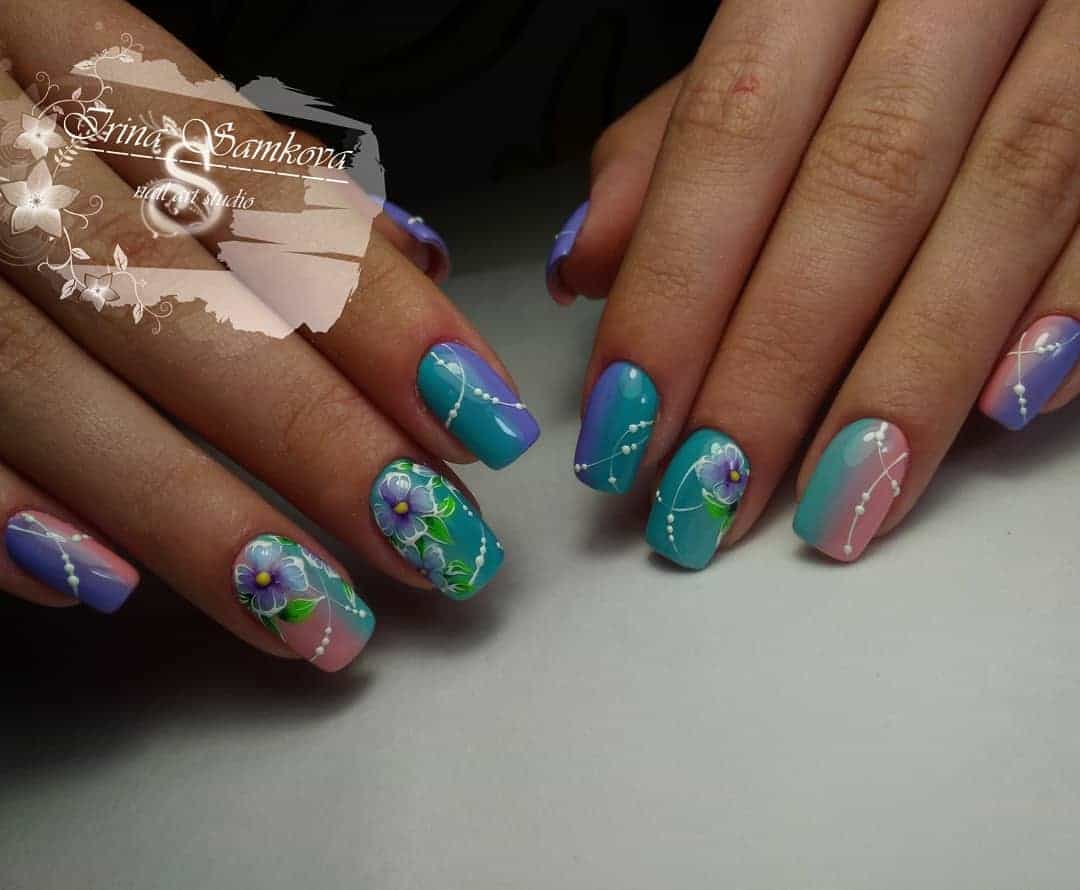 For our last nail design, we offer you something more whimsical.
Blending cold and warm tones, creating a soft three-tone rainbow, sprinkled with a few delicate flowers and white lines. A mani to make you feel like a fairy queen.