Braided hairstyles are more than just a trend—they're a canvas for individual expression and a nod to cultural heritage. For black women, the range of styles from goddess braids to Bantu knots serves not only as a protective measure for natural hair but also as a testament to creativity and fashion. Stars like Alicia Keys, Gabrielle Union, and Rihanna have showcased the versatility of black braided hairstyles, making statements with elegant updos, bold baby hairs, and intricate patterns.
We recognize the dedication it takes to maintain braids, considering the hours spent crafting the perfect look. Yet, the payoff is immensely rewarding—a diverse selection of styles fit for various occasions, hair types, and personalities. Celebrities such as Tessa Thompson, Tracee Ellis Ross, and Zendaya have illustrated the adaptability of braids, effortlessly transitioning from red carpet elegance to casual chic. Braids are more than a hairstyle; they are a celebration of cultural identity, an embrace of natural beauty, and a means to protect hair against environmental factors and breakage.
1. Two Black Braided Buns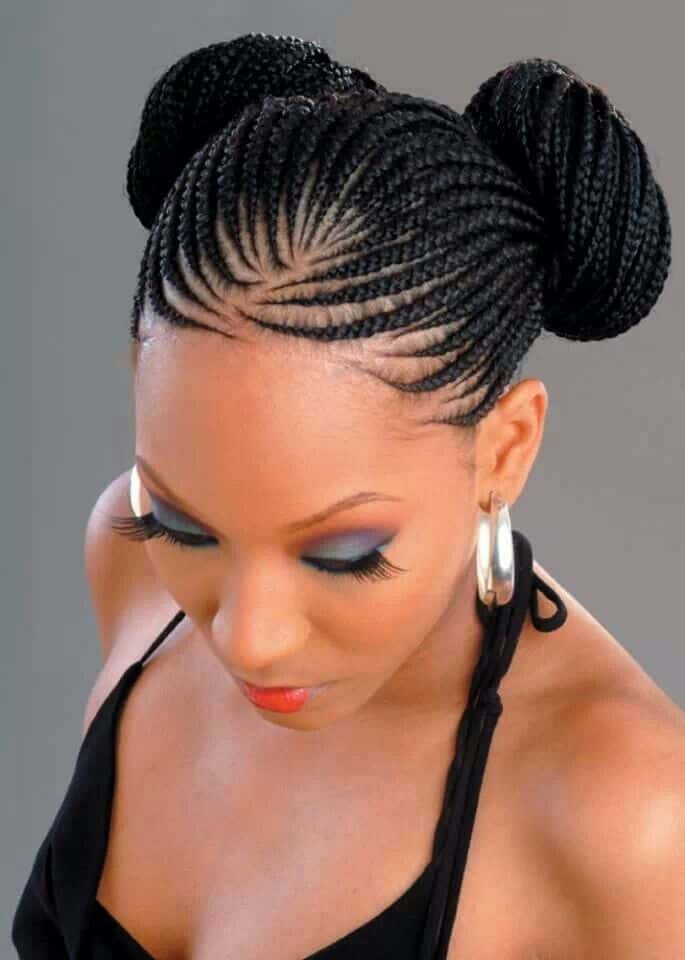 The style we're discussing pairs the elegance of braids with the playful vibe of space buns. We often consider this a go-to because of its simplicity and timeless appeal. Here's a glance at its charm:
Traditional yet fresh
Embodies classic beauty
A favorite for its versatility
2. Half Cornrows Half Individual Braids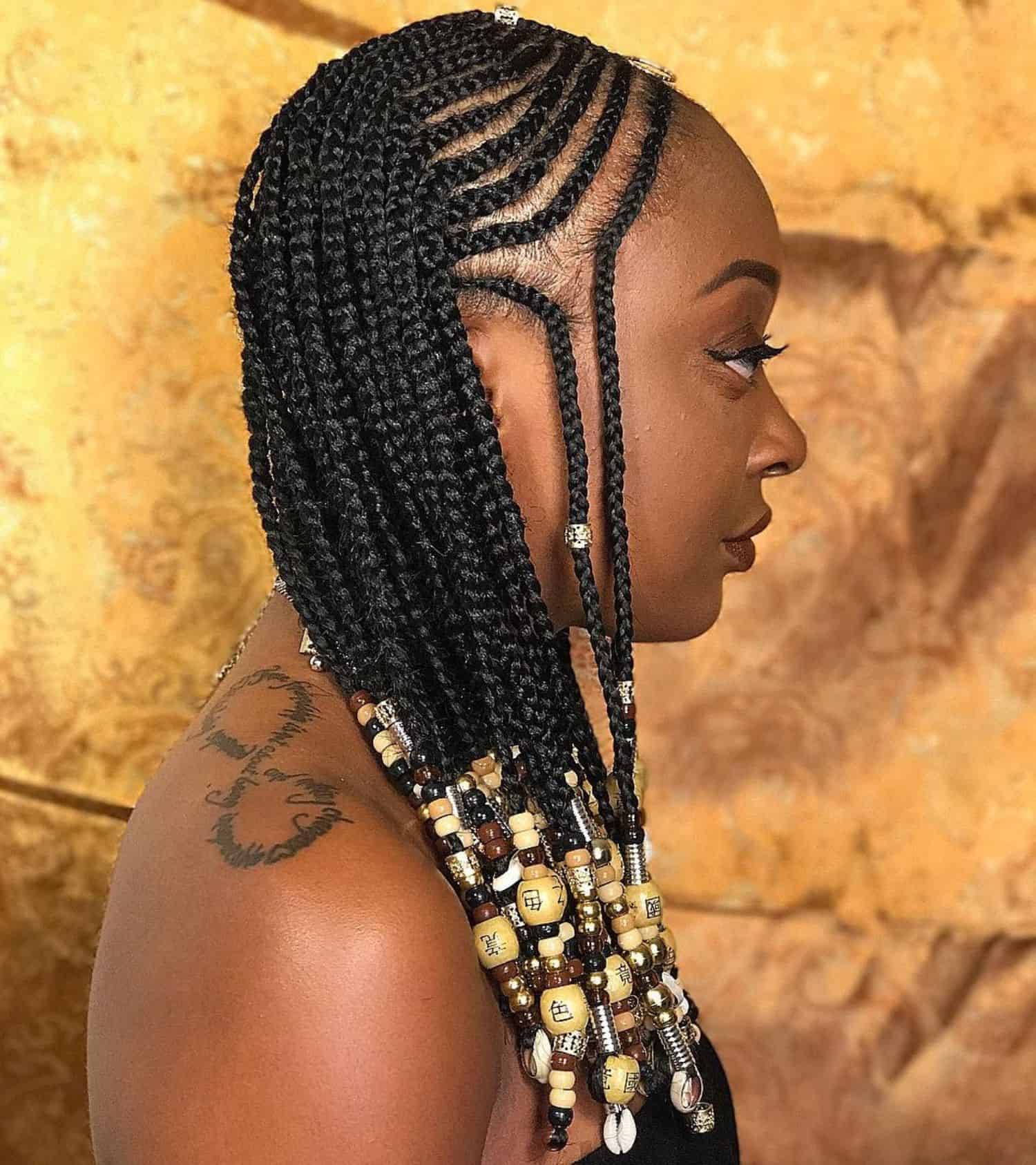 Aesthetics: Blends the sleekness of cornrows with the versatility of individual braids.
Cultural Relevance: Reflects a captivating fusion of Caribbean flair with mainstream hair culture.
Functionality: Offers a creative solution for those seeking the illusion of length without extensive hair growth.
Styling: Enables us to sport a combined hairstyle that's both trendy and practical for various occasions.
3. Bold Triangle Parted Box Braids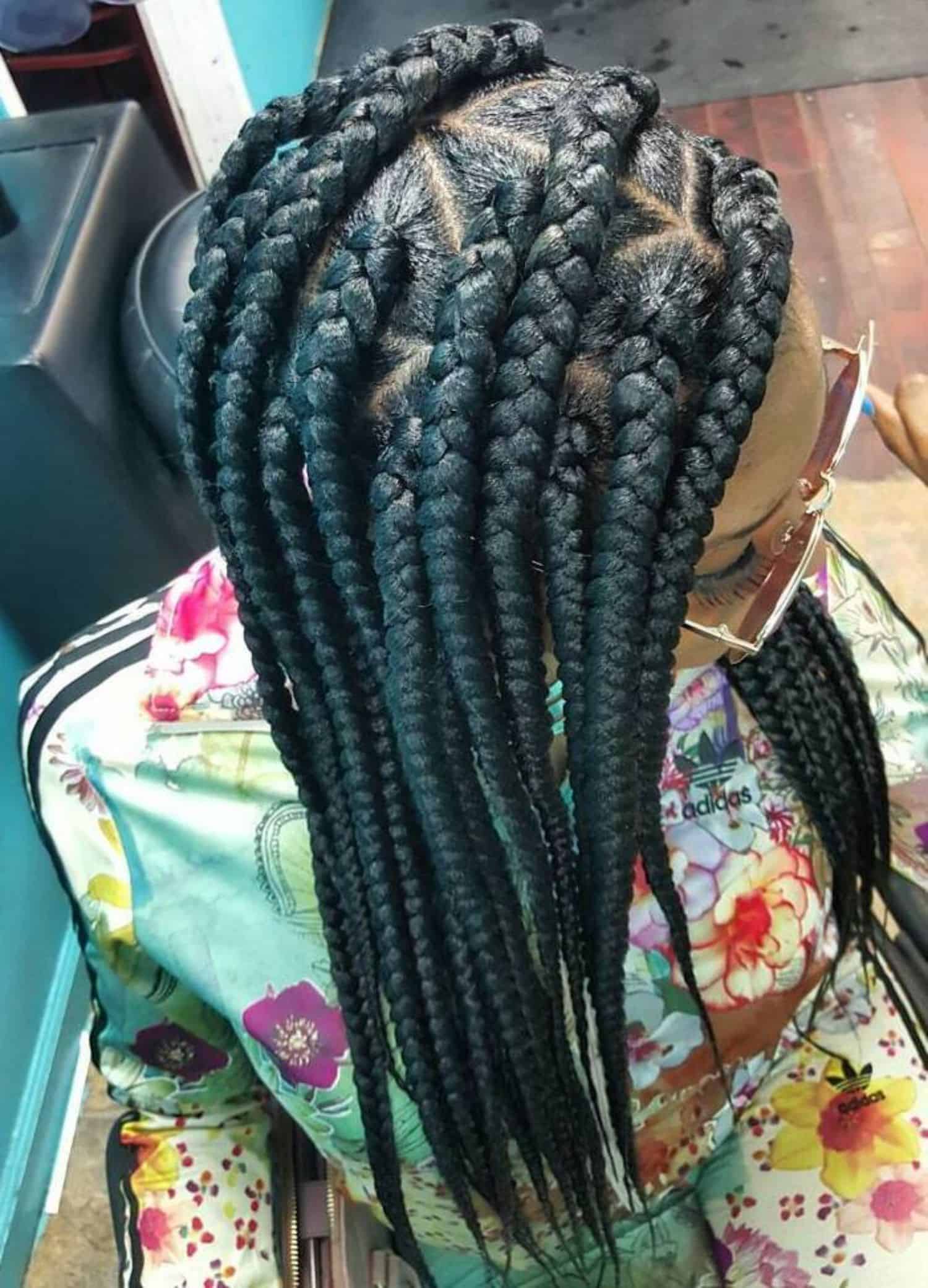 For a striking look, we recommend the bold triangle parted box braids. They offer a distinct pattern and are a staple for those favoring unique shapes. Here's a quick overview:
Type: Triangle parted
Size: Jumbo/Medium
Pattern: Geometric and standout
Preparation Time: Higher due to intricate parts
Styling Tip: Accessorize to enhance appeal
Experience the flair of jumbo box braids with a twist. These braids make a statement, rewarding the extra effort with an eye-catching finish.
SEE ALSO: 25 Big Box Braids That Will Make You Stand Out Of The Crowd
4. Lovely Side Updo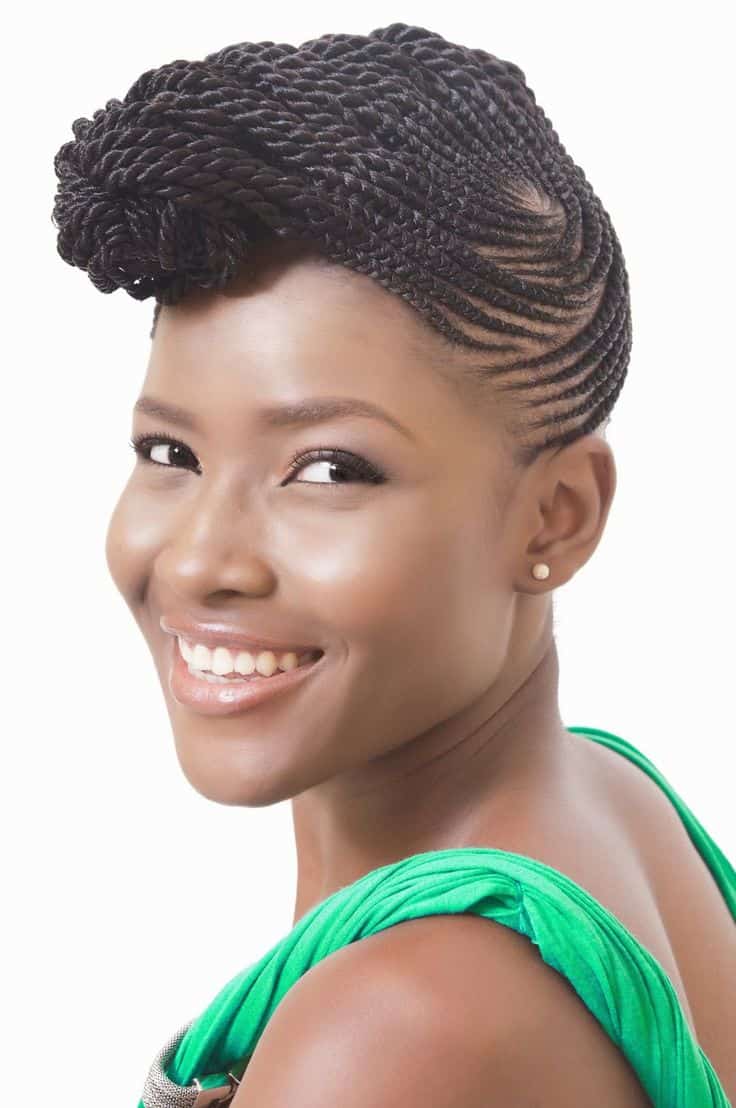 Appearance: Chic and youthful
Features: Opens up the face
Benefits: Highlights the eyes
How to Achieve:
Start with a braided low bun on the side
Ensure the updo showcases the eyes
5. Senegalese Twist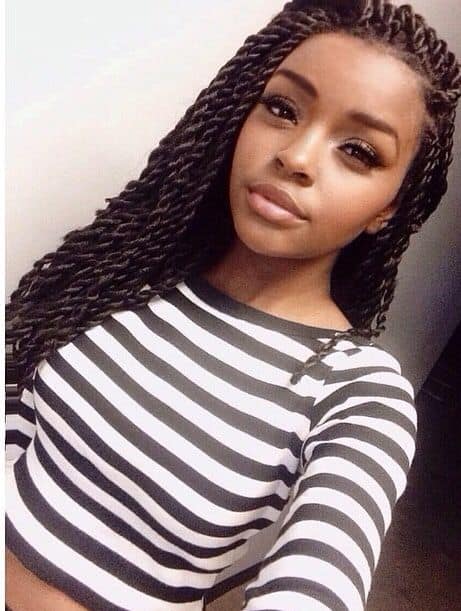 Twist Characteristics:

Adds thickness and density
Eye-catching

Protective Benefits:

Shields hair from external damage
6. Braided Up Marley Twist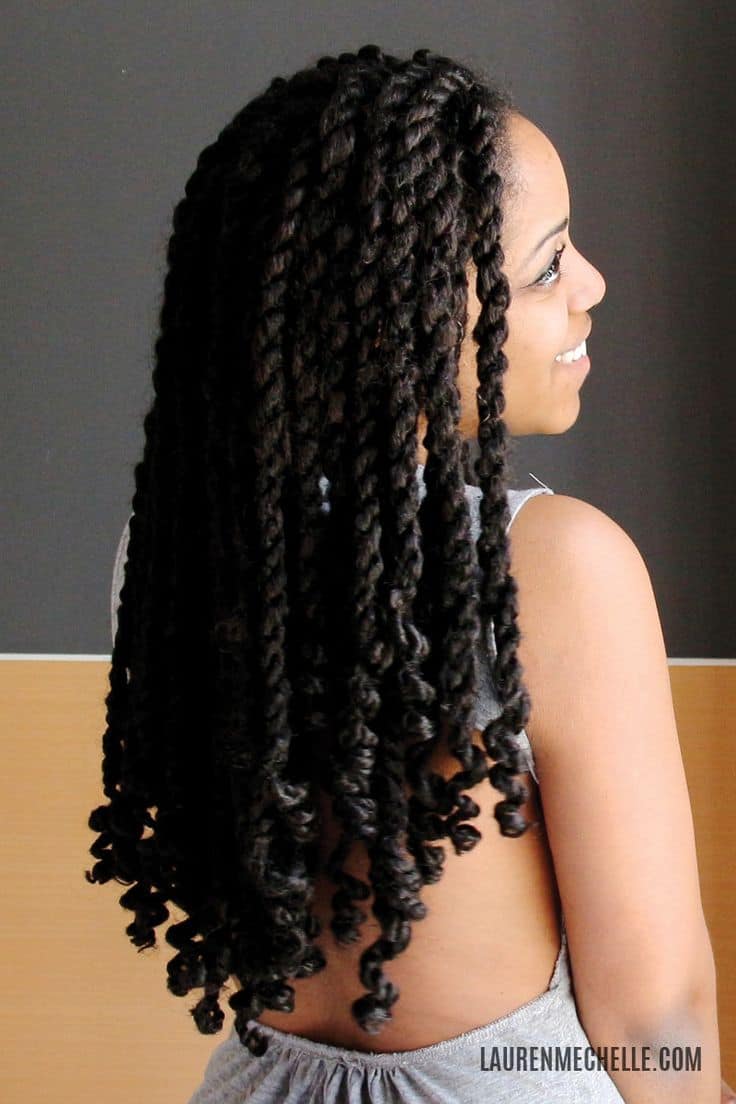 Appearance: Thick, dreadlock-like twists.
Ideal For: Those eager to try new looks.
7. Poetic Justice Braids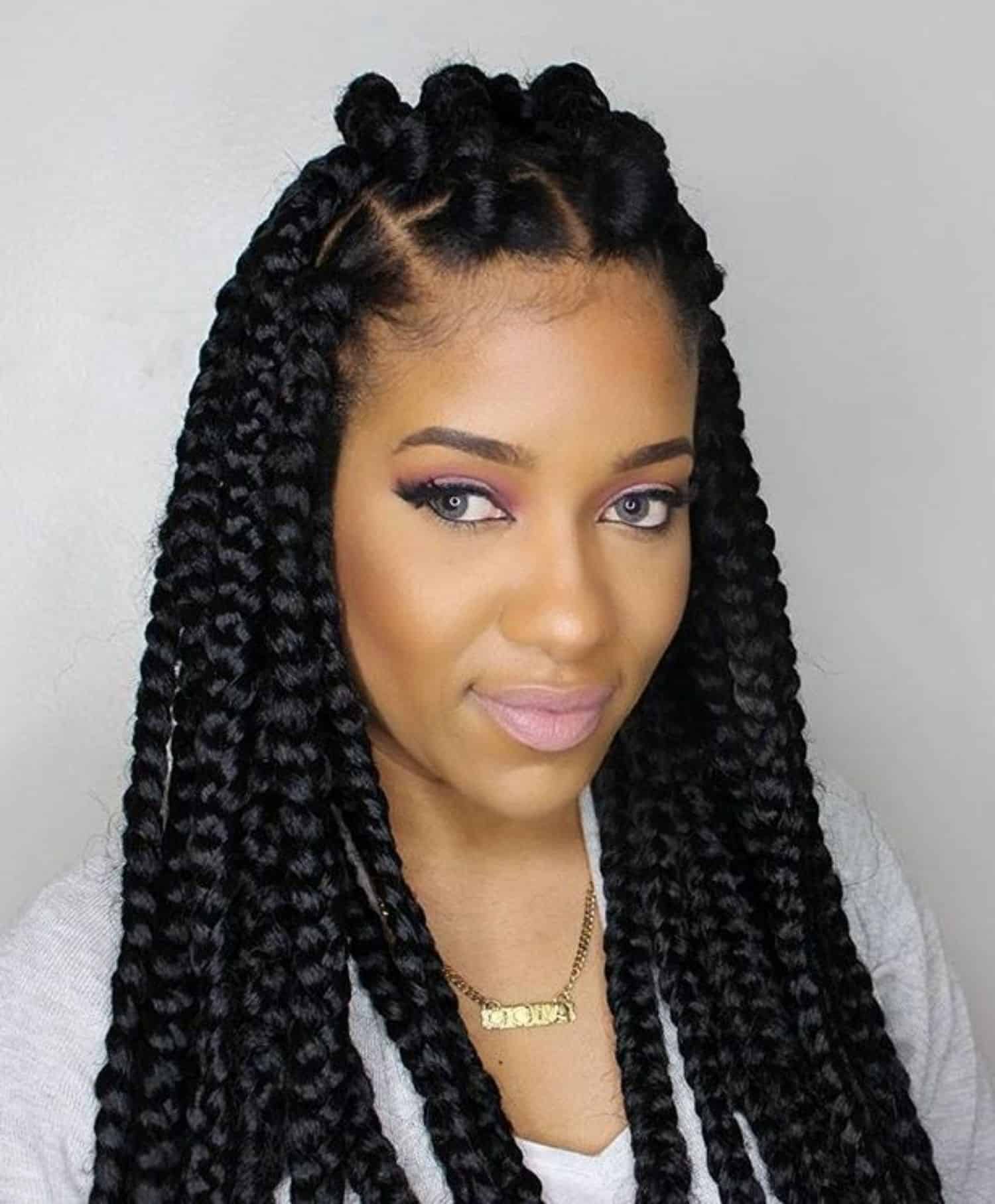 Easy Styling: We embrace the simplicity of crafting these braids.
Comfort: Despite appearances, they're surprisingly lightweight.
Ideal Choice: They offer a positive experience for anyone exploring braided hairstyles.
8. Thick Pigtails

Jumbo Braids: We opt for larger braid extensions.
Big Box Braids: Our method integrates thick braiding hair.
Pigtails: Achieving symmetrical thickness is our goal.
9. Fulani Braids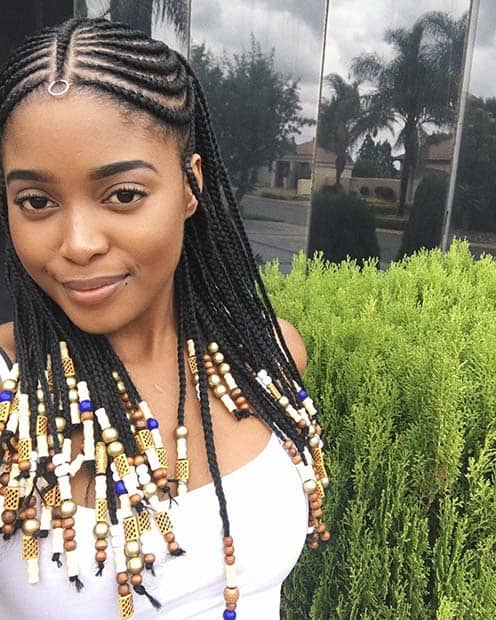 Our Fulani braids, adorned with vibrant beads and shiny hair cuffs, are drawn from the tradition of the Fulani people of Africa. These stylish beaded braids offer a glimpse into cultural heritage while providing a modern aesthetic.
Beaded Accents: Adds color and personality
Hair Cuffs: A touch of elegance and detail
10. Ghana Braids

Origin: Known as Banana or Cherokee braids.
Style: Braids progress from front to back in a straight line.
Benefits: Offers a protective style, promoting hair growth.
Skill Level: Mastery required for creation.
Result: With expertise, we achieve a distinctive and protective hairstyle.
11. Micro Tree Braids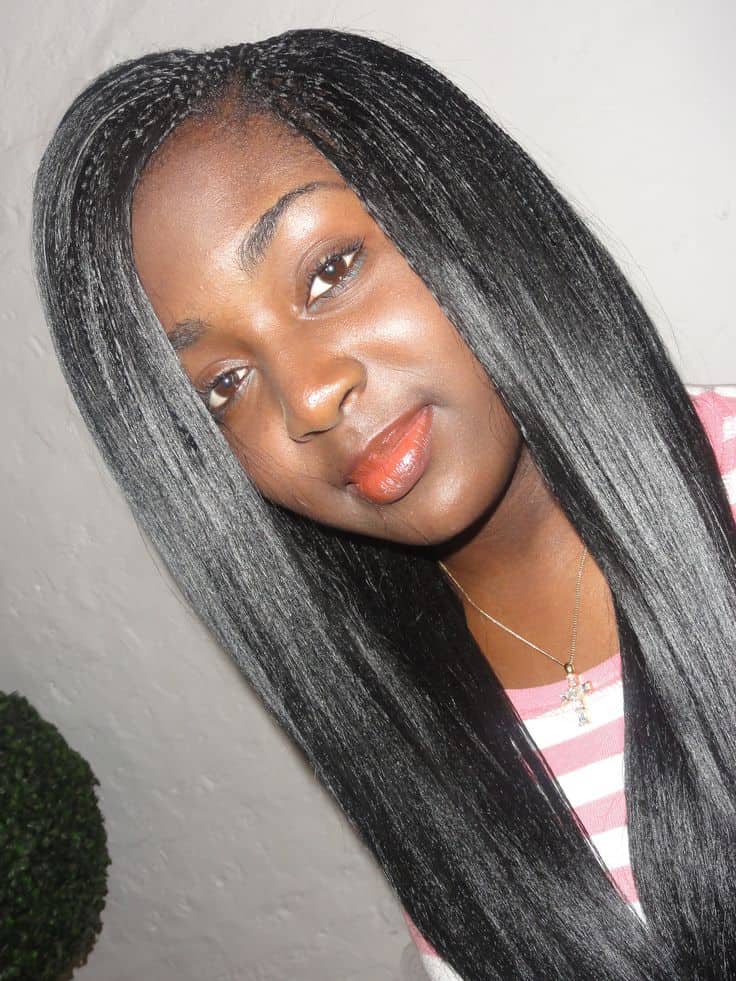 Popularity: Increasing traction for their protective qualities.
Benefits: Ideal for fragile edges and dry strands; adds length.
Origins: Evolved from the traditional cornrows.
Utility: Counteracts hair brittleness.
12. Pocahontas Braids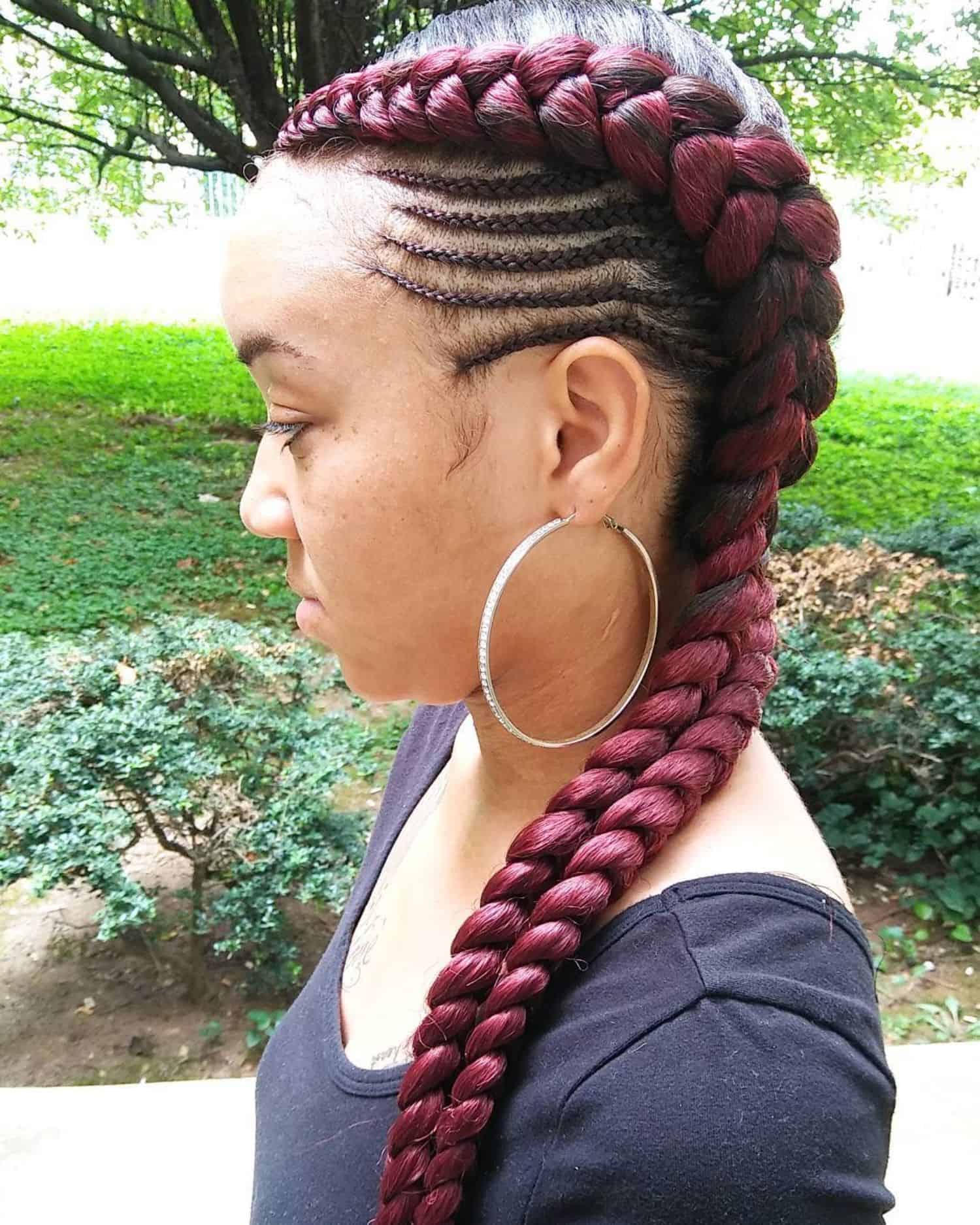 Style: Dual braids
Association: Youthful appeal
Inspiration: Named after the animated character
We can achieve a high-school vibe by opting for Pocahontas braids, a nod to the much-loved character's free-spirited style.
13. Spiral Bun

We incorporate braids to elevate the classic bun, creating a sophisticated Spiral Bun. This style involves:
Top Knot: Starts with a braided base, adding texture.
High Bun: Elevates the style, creating an illusion of volume.
Braided Top Knot: Twirled to form the spiral, adding an elegant twist.
Top Bun: Neatly secured to complete the look.
14. Half-up, Half-down Box Braids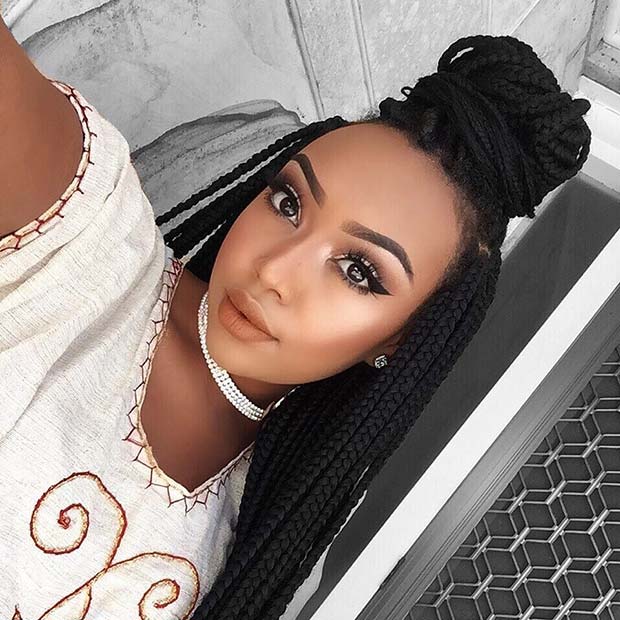 We find the half-up, half-down style pairs wonderfully with box braids. It offers a striking contrast that frames the face beautifully. For an added flair, we incorporate curls into the hanging braids, merging texture with the sleekness of the braids.
15. Havana Twists

Similarity to Senegalese Twists: Havana twists share a close resemblance.
Hair Requirements: Opt for hair that offers a tight, smooth finish.
Installation: We can use both Havana and natural hair extensions.
| Type | Diameter | Texture |
| --- | --- | --- |
| Havana Twists | Thinner | Smoother |
| Jumbo Twists | Larger | Bulkier |
Versatility: Suits a wide range of hair types.
16. Two Toned Box Braids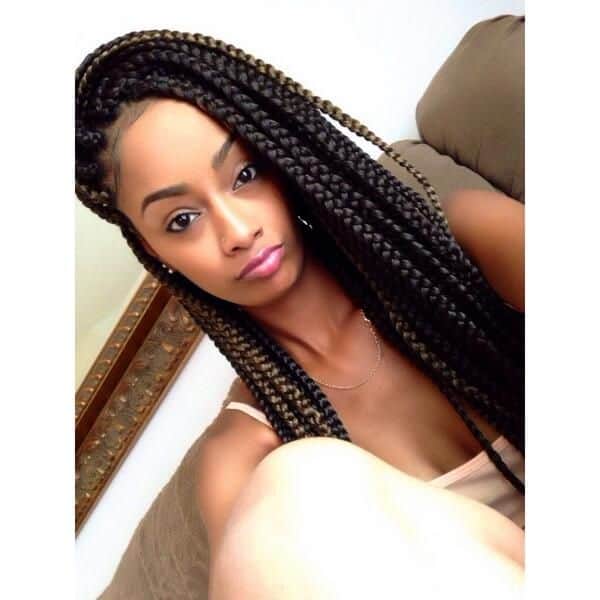 We can elevate the classic box braid by incorporating a second hue, creating a striking two-toned effect. This style not only adds a playful dimension to your look but also allows for personal expression through color.
Key Features:
Color Variety: Introducing a bold color like red to traditional knotless braids enhances visual interest.
Style Updating: Perfect for those seeking a fresh take on a timeless style.
Personal Touch: Choose hues that best represent your style or mood.
More adventurous styling can be achieved by experimenting with the contrast and placement of the secondary color, such as red, within your braids. It's a subtle yet effective way to personalize your braided hairstyle.
17. Half Up and Braided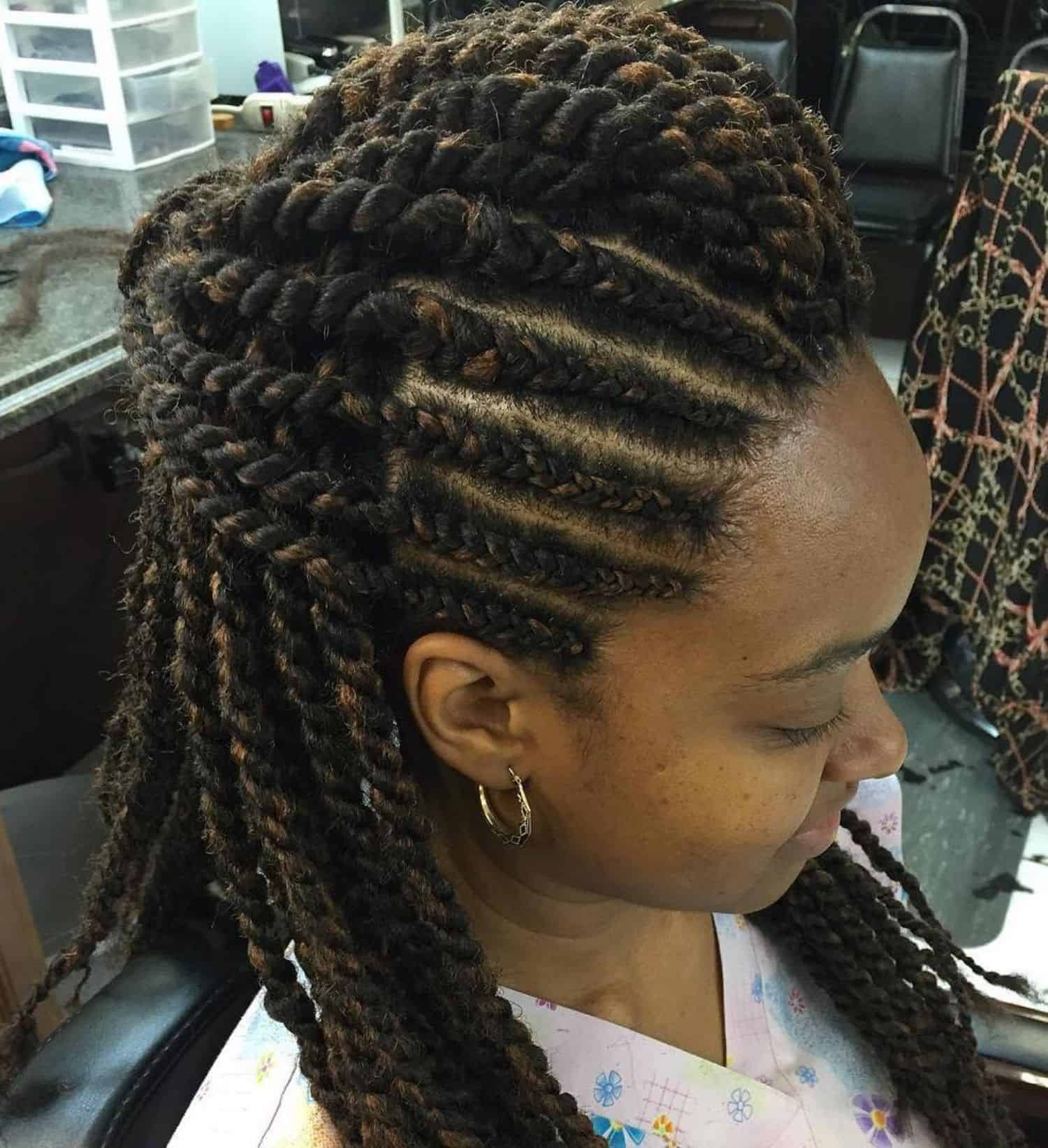 Versatility: Braids offer flexibility in styling.
Hairstyle: We prefer the half up, braided look.
Bob Braids: Incorporates well into a braided bob style.
18. Length Braids

Instant Length: Achieve butt-length hair swiftly
Endless Versatility: Customize braid length easily
Hair Protection: Braids safeguard against damage
We can transform our look with braids, gaining both style and hair health benefits.
19. Blonde Braids To The Side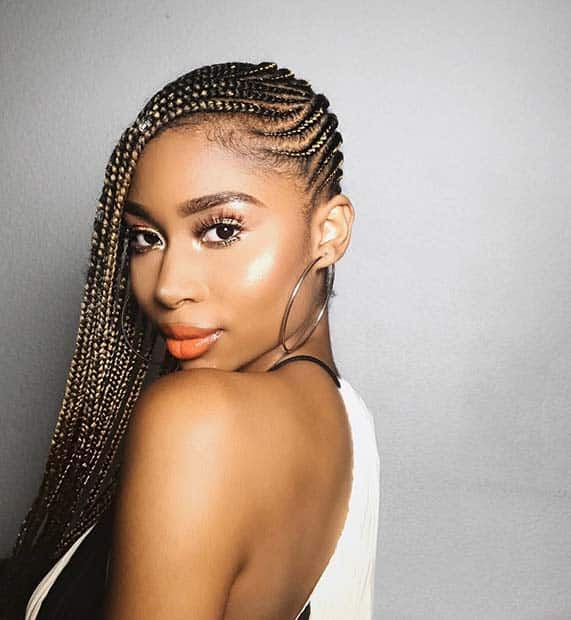 | Style Element | Description |
| --- | --- |
| Color | Blonde, symbolizing a fun and spirited vibe |
| Type | Box braids, known for their versatility |
| Arrangement | Side-swept, offering a dash of elegance |
Occasions:

Red-carpet events
Formal gatherings
Blonde braids bring a deluxe essence to our look, while side-swept braids infuse a graceful flair, perfect for those special events on our calendars.
20. Nubian Twists

Afro-centric: Embrace afro-textured hair.
Variety: Suitable for all hair lengths.
Creative: Option for ombre styling.
Protective: A twist that safeguards your strands.
Similarities: Shares qualities with faux locs.
21. Long Black and Grey Box Braids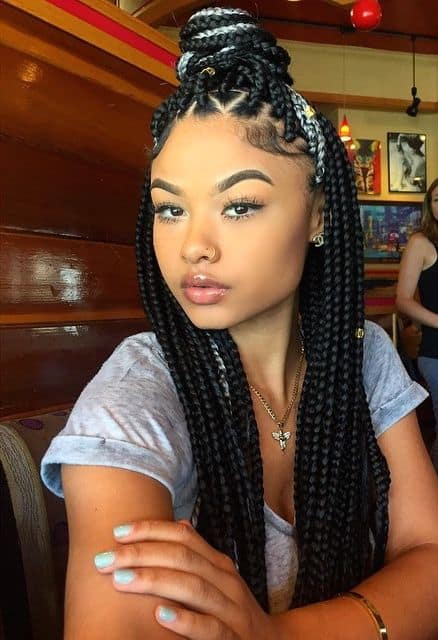 We see grey as a bold, statement color rather than a sign of aging. Embracing this trend, we recommend long box braids with a blend of black and grey for a striking contrast. This style carries a sense of confidence and modernity, demonstrating that grey can be a deliberate and fashionable choice.
Hair Type: Long box braids
Color Palette: Black and grey mix
Style Quotient: High contrast, statement look
22. Dutch Braid Crown for Black Hair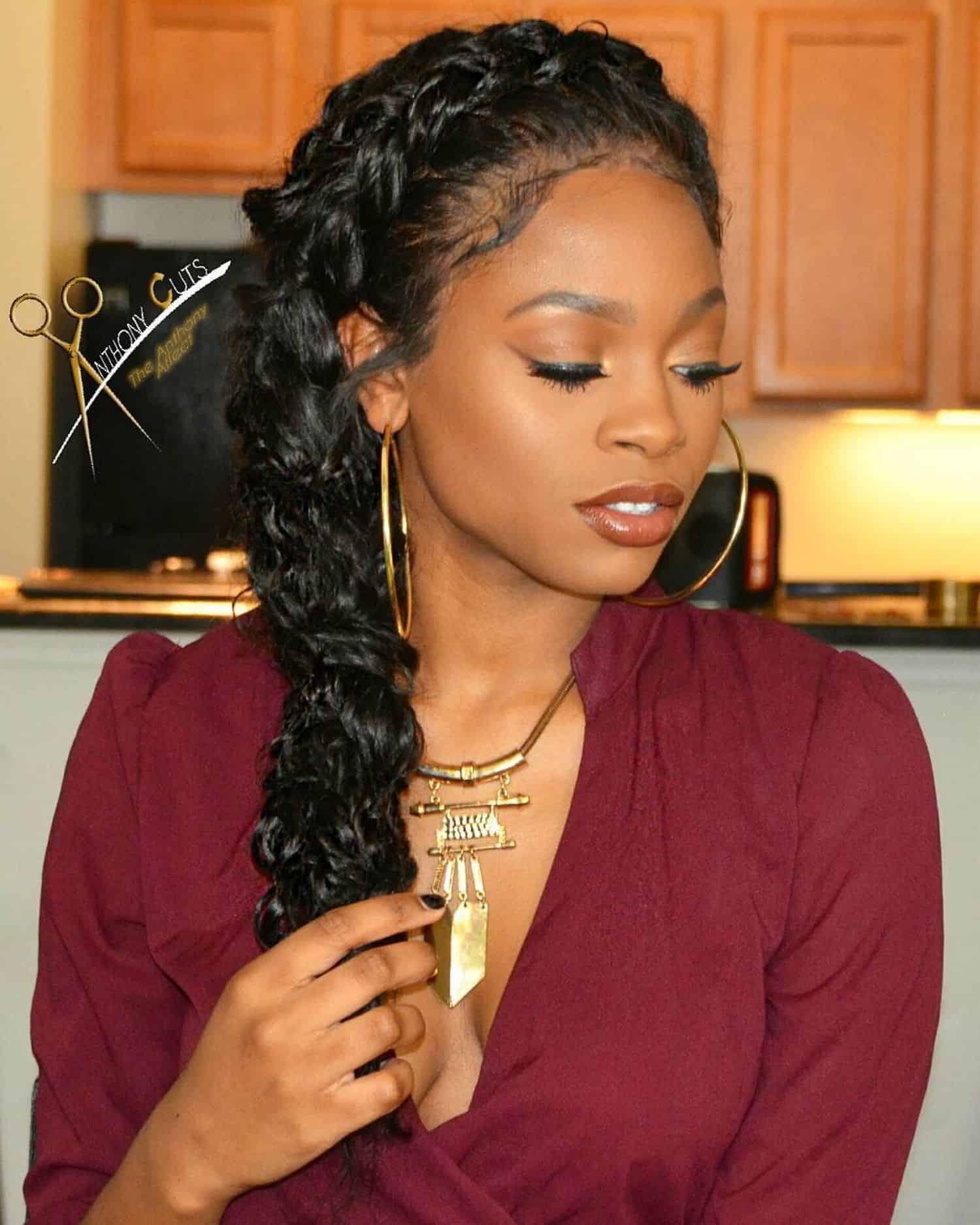 Black hair can be stunningly accentuated with a Dutch braid crown. Transcending its classic roots, we bring modernity:
Begin with traditional Dutch braids
Integrate braiding extensions to enhance volume
Style into a crown braid, wrapping around the head
Secure firmly to achieve a halo braid appearance
This contemporary twist retains the charm of crown braids while refreshing the look.
23. A Shaved Braid

Choosing to shave our heads can be a powerful declaration. It defies traditional expectations tied to femininity and sparks conversations. When we opt for such a style, we must embrace both curiosity and scrutiny that follow. It's our narrative expressed without a word—bold and unapologetic.
24. Long, Thin Cornrows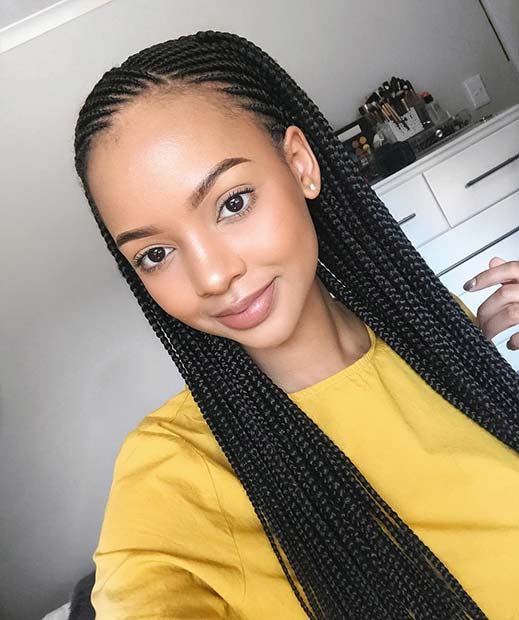 Versatile Style: We embrace both thick and thin variations.
Aesthetic Choice: Thin cornrows offer a sleek, delicate appearance.
Personalization: Adaptable to our individual tastes.
25. Loose Ends

Braids with curls enhance visual appeal.
Curly braids offer a dynamic contrast.
We value the subtlety of varied textures.
26. Cornrow Braids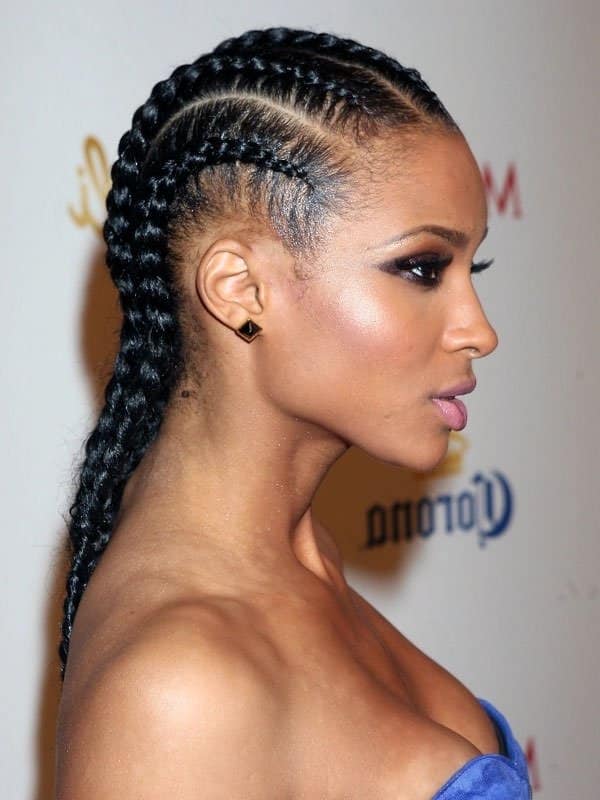 Classic Style: We embrace the simplicity of traditional cornrow braids.
Accessories: Add clips for a personal touch.
27. Long Black Yarn Twist
Thickness & Strength: The yarn twists create a rich, full look while maintaining a robust feel.
Weight: Despite the added volume, they are surprisingly lightweight.
28. Revamped Braided Ponytail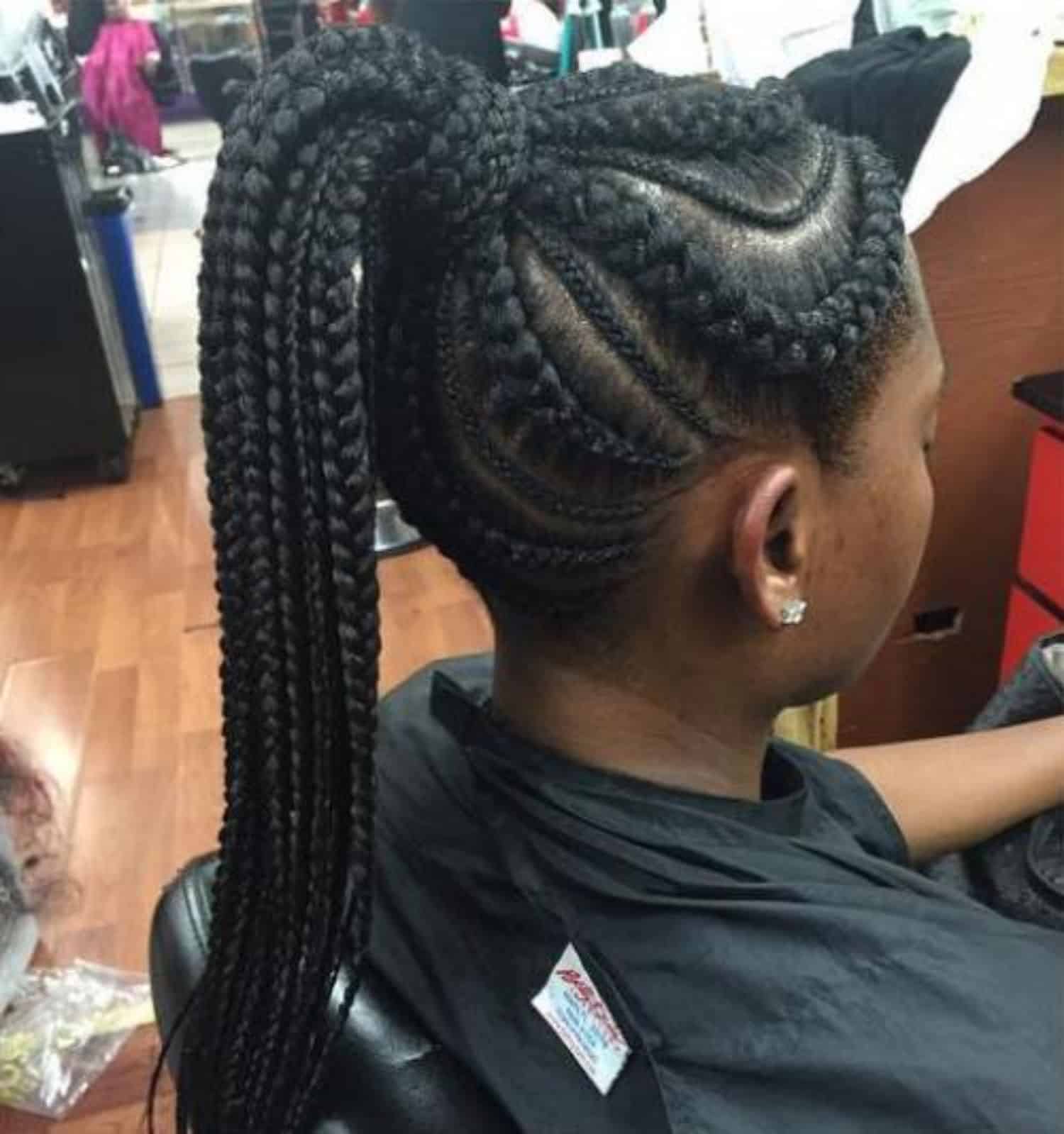 We seamlessly blend braids into our ponytails for an evolved style, shifting from classic to contemporary sophistication. This approach adapts the youthful ponytail for the modern business environment. Here's how to achieve it:
Start with a side braid.
Secure into a ponytail.
Enjoy a refreshed, professional look.
29. A Twisted Updo

This braided updo, while intricate and time-consuming to achieve, rewards us with longevity. Once styled, its elegant complexity can be maintained for weeks, providing a stunning and durable look.
30. Mohawk Braids

Popular Trend: A symbol of empowerment.
Style Expression: Inspires and expresses individuality.
Audience: Aimed at women seeking a bold statement.