Classic braids are constantly being reinvented and brought back to life. And with every new reincarnation, something new is added to the mix.
That makes choosing one of the many braided hairstyles hard and challenging. There are so many different lengths, styles, and even colors available.
With that in mind, cannot help you narrow the list to just one hairstyle. What we can do is show you a couple of options, and let you make an educated decision.
The trick with braids is that they take hours to achieve. And once you get them, you want them to look fresh and awesome. Braiding is a tradition that goes back to centuries, and it is now part of the mainstream look. Enjoy it while it lasts.
1. Two Black Braided Buns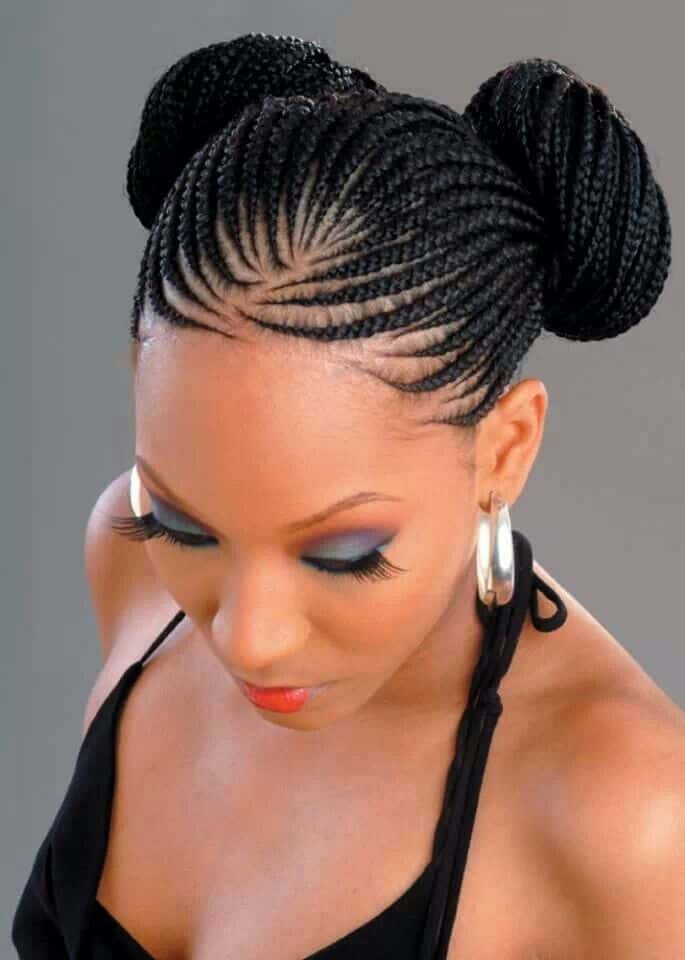 Let's start with a simple, yet very effective hairstyle. Two buns is basically the classic black braided hairstyle every woman tries at least once in her lifetime. If you are into classic stuff, this is the way to go.
2. Half Cornrows Half Individual Braids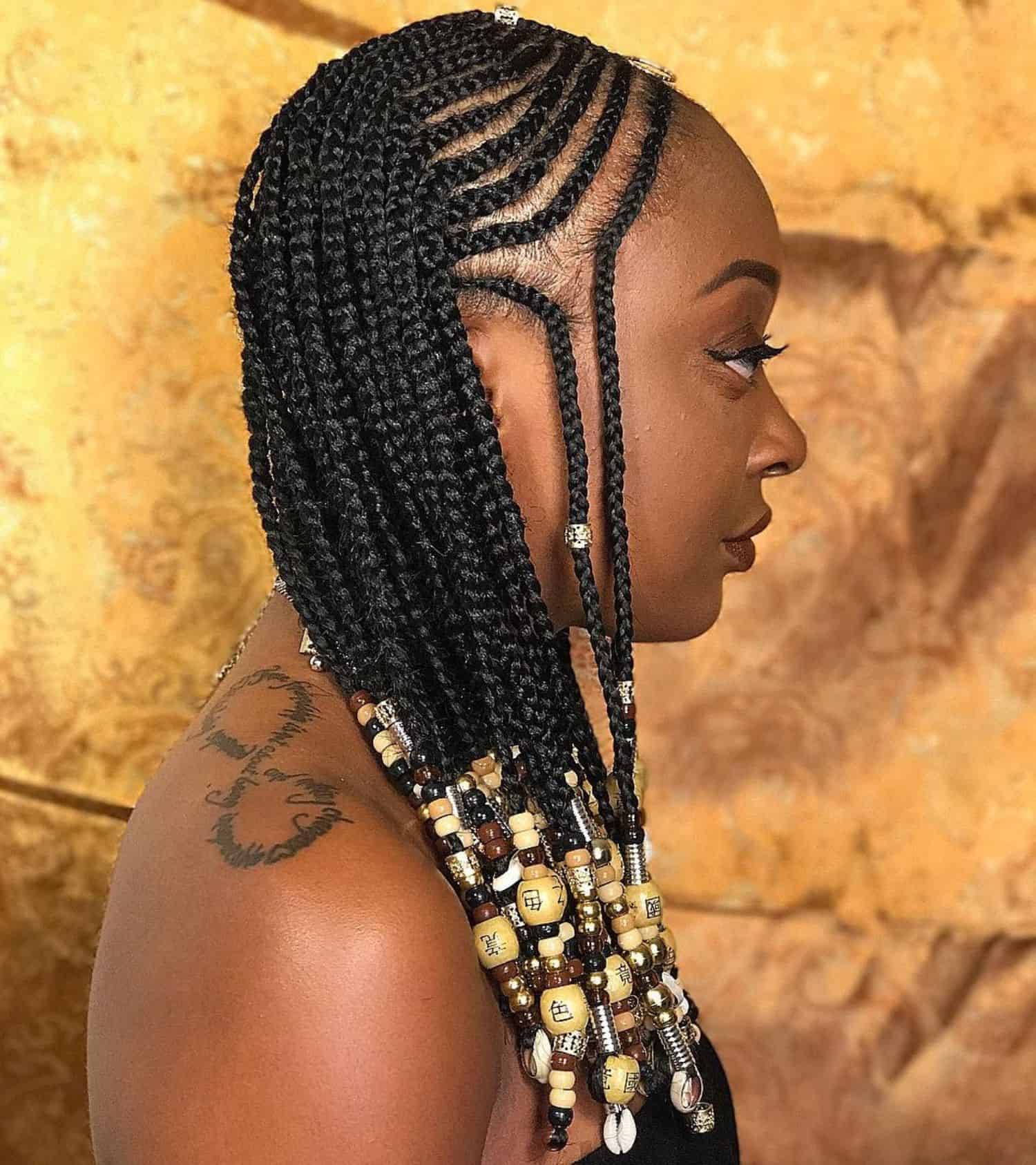 When it comes to braids, not many women have the length to get their long braids. This is where cornrows come into play. The
A caribbean hairstyle is becoming part of the mainstream hair culture, and we are all benefiting from it. This is a hairstyle that helps you get longer hair, and braided at the same time.
3. Bold Triangle Parted Box Braids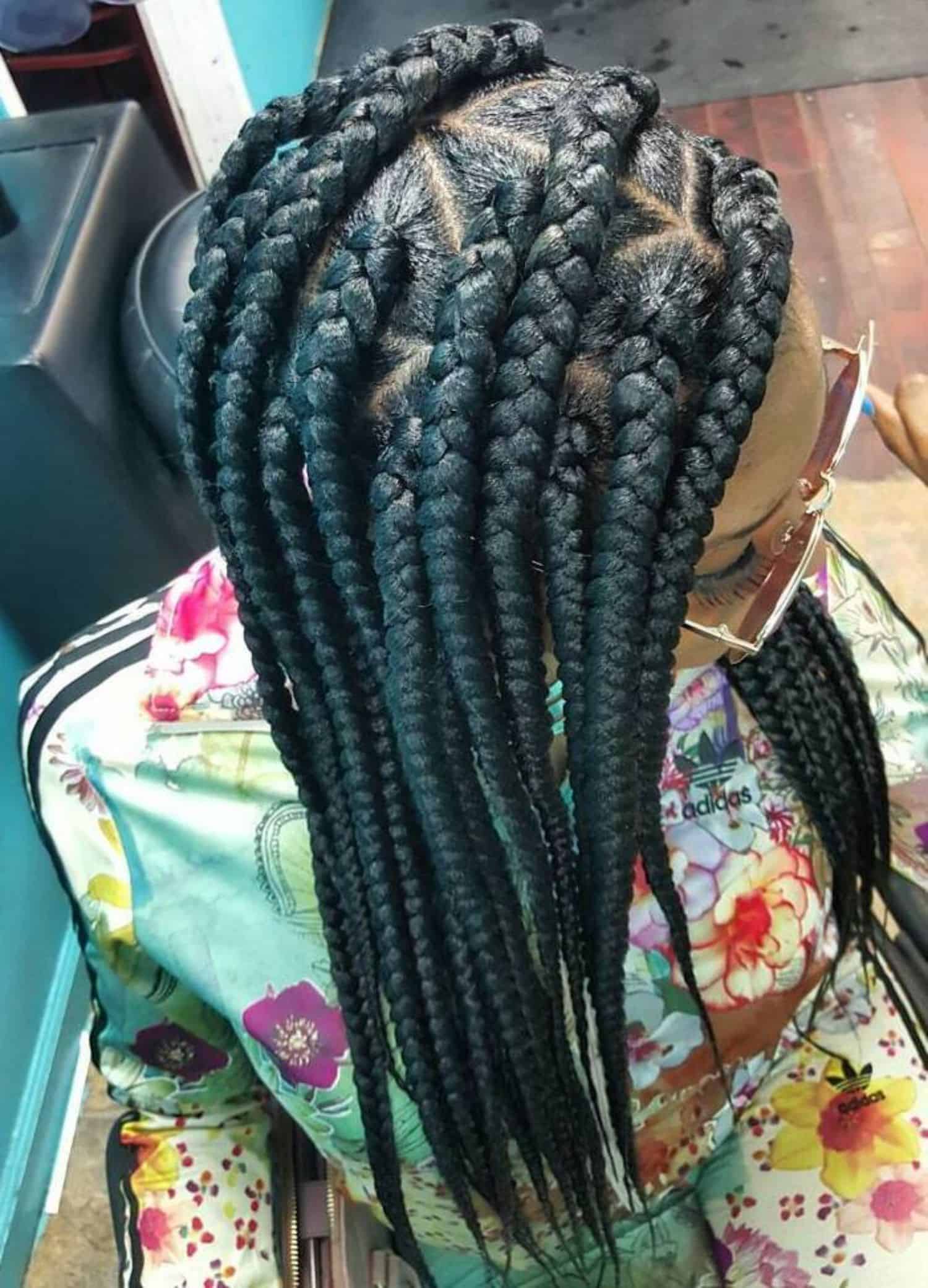 If you are into statement hairstyles, look no further. Some women love to get fancy with their hairstyles, and this is exactly that. It might take a little longer to get the braiding, but it is worth the time and effort.
SEE ALSO: 25 Big Box Braids That Will Make You Stand Out Of The Crowd
4. Lovely Side Updo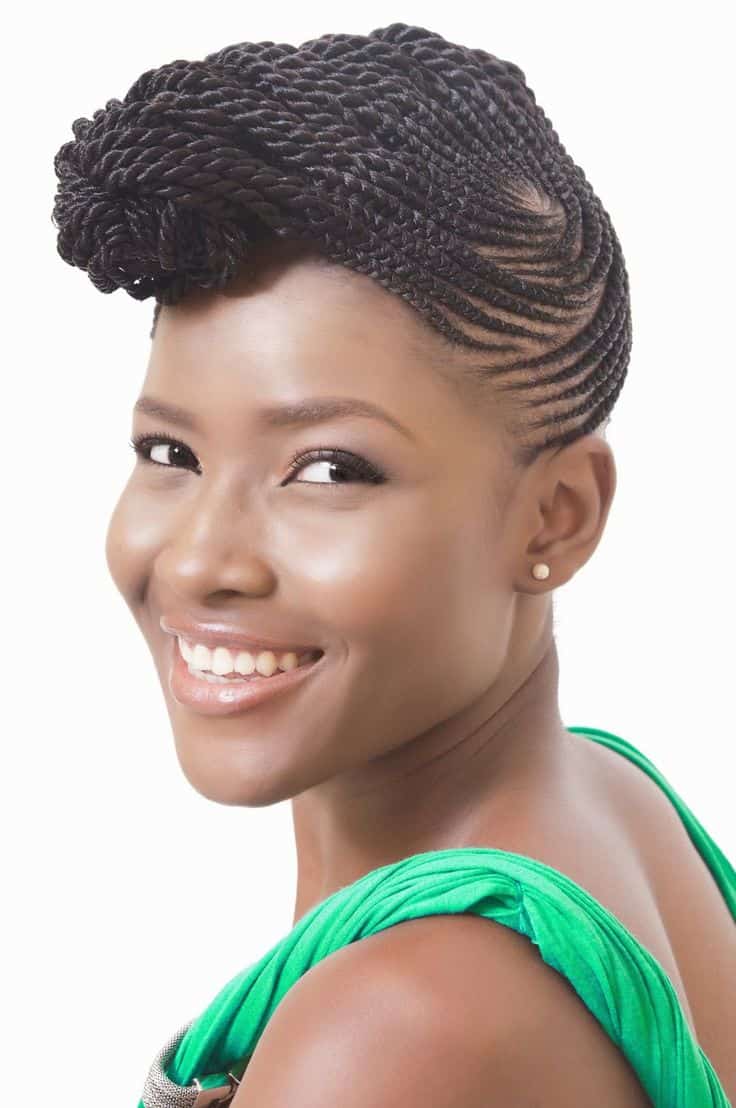 Chic, youthful, and fancy, all at the same time. What more can you ask for? What this hairstyle does is open up your face, and allowing the world to see your full beauty. Show those beautiful eyes.
5. Senegalese Twist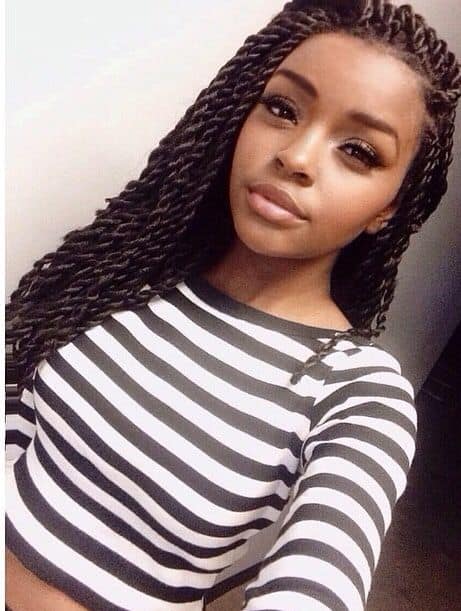 The Senegalese twist is for women who want more thickness and density. Senegalese twist is one of the best ways to get a hairstyle that will turn heads quickly. And at the same time, protect your hair from outside damage.
6. Braided Up Marley Twist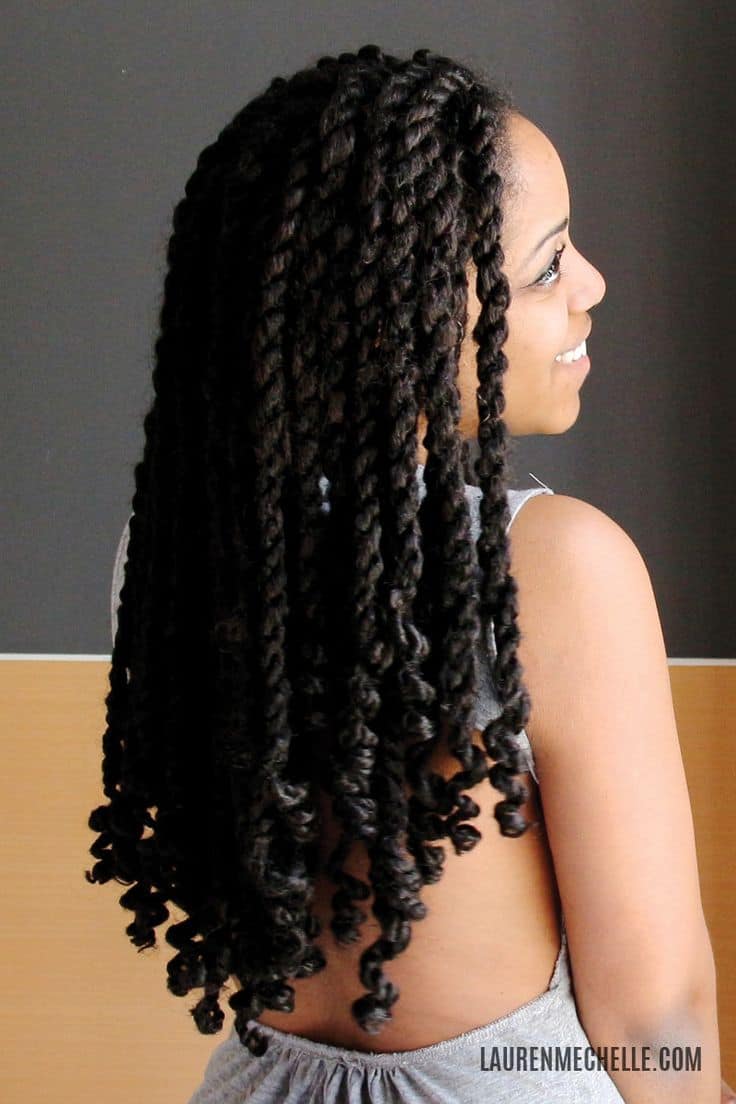 Designed to give you a thick dreadlock, the Marley twist is great for women who love experimenting with their hairstyle. And it is quite inspirational, to be honest.
7. Poetic Justice Braids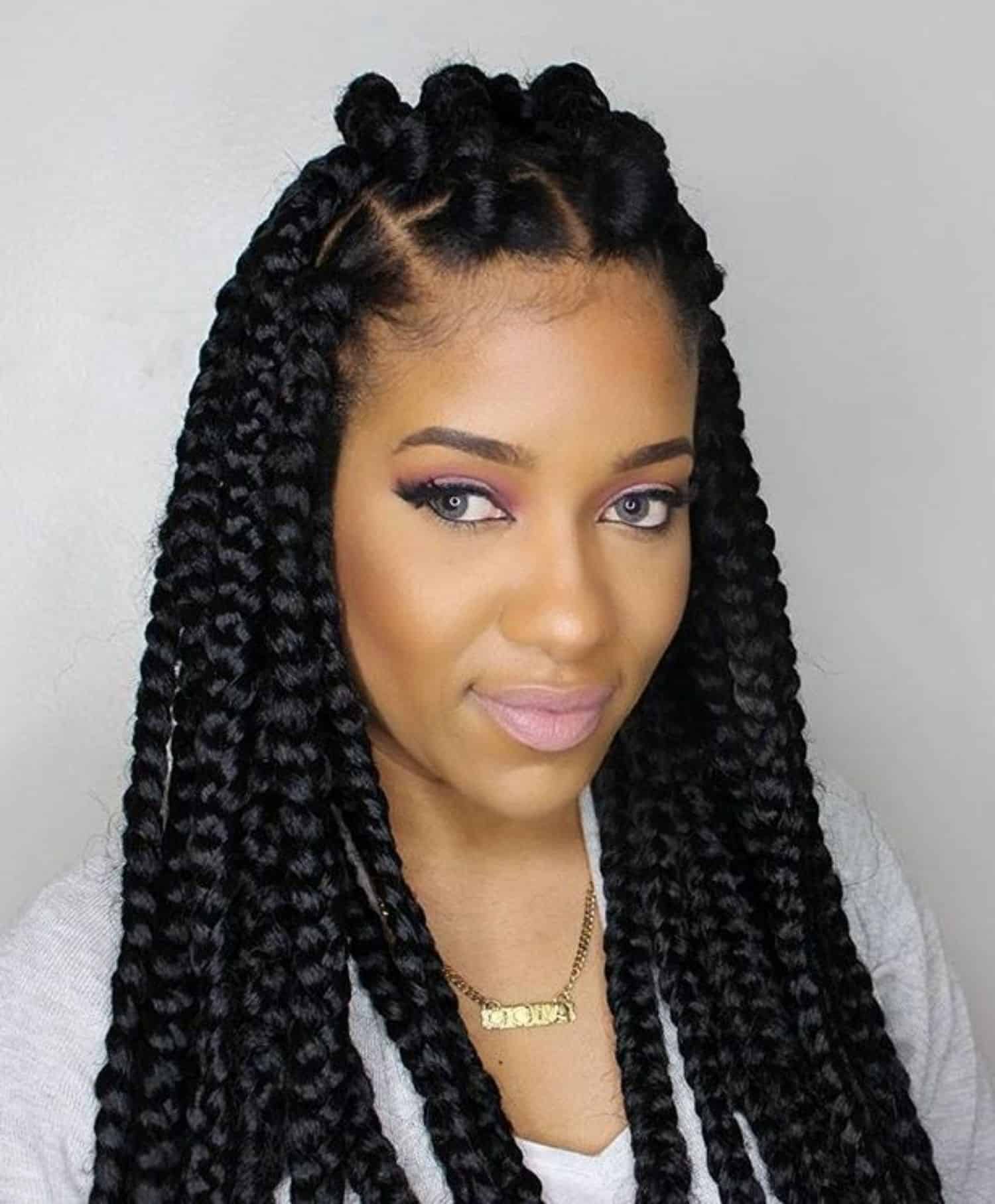 Your initial reaction might be that the braids are heavy on you. But they are not. This is also one of the easiest ways to style your braids. And those are all positives for women who want to try braided hairstyles.
8. Thick Pigtails

Pigtail is a term we use for twin braids on opposite sides of the head. Some people prefer them thick, others do not. This is a tutorial for how to add thickness to your braids.
9. Fulani Braids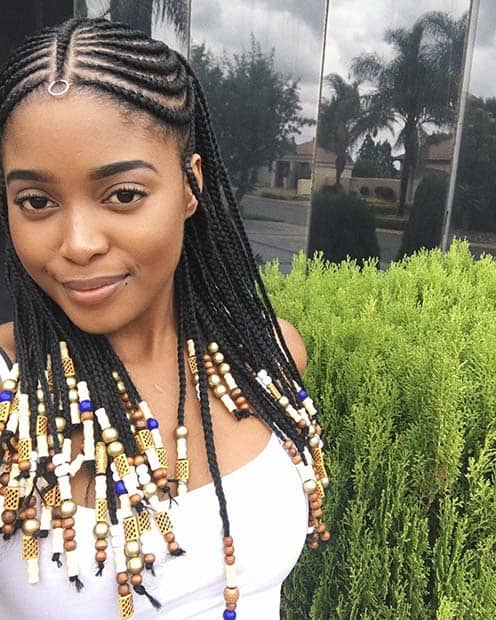 A lot of the hairstyles we see in the past few years have been inspired by people from Africa. The Fulani braids follow that trend, inspired by a pastoral ethical group called Fulani people. Essentially, these are braids with beads. It is more of a traditional take on the braiding.
10. Ghana Braids

These are also known as Banana braids and Cherokee braids. The trick is the hair and braids go straight from the front to the back of your head. And that gives you a protective layer of your hair, and allows your hair to grow out. They require a special skill to make them, but once you master the technique, you are in for a treat.
11. Micro Tree Braids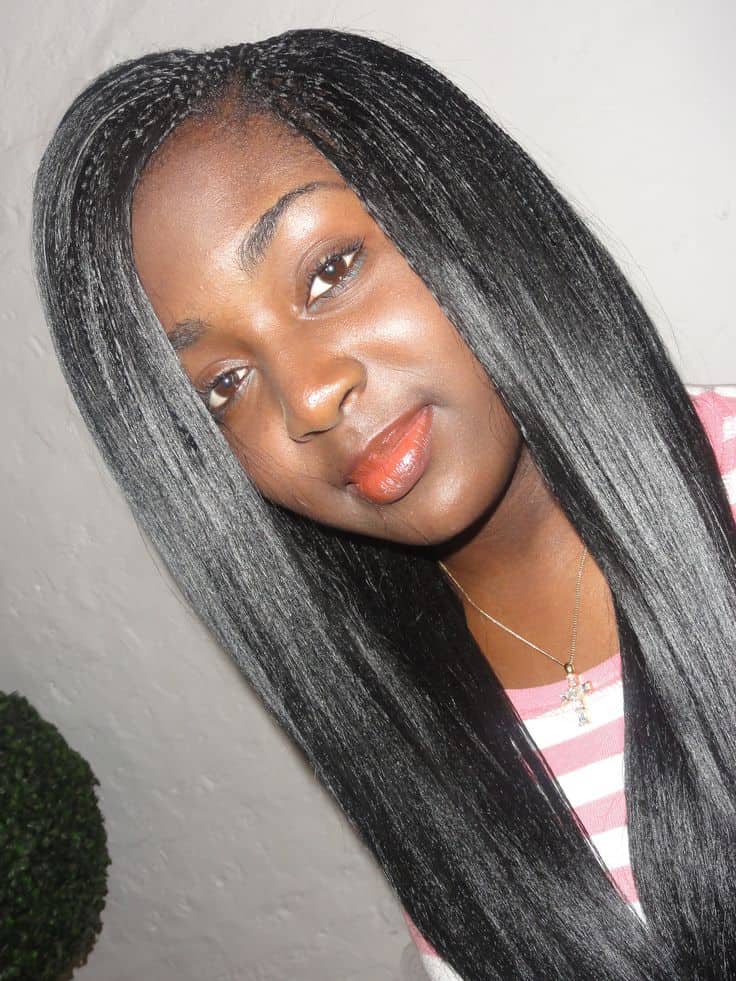 Tree braids are a natural type of hair extensions that are gaining more and more popularity. They are a great solution for hair that keeps falling apart at the edges, as well as dry hair that doesn't have enough length. Derived from cornrows, the tree braids are traditional and historic hairstyle you can use to solve brittle hair.
12. Pocahontas Braids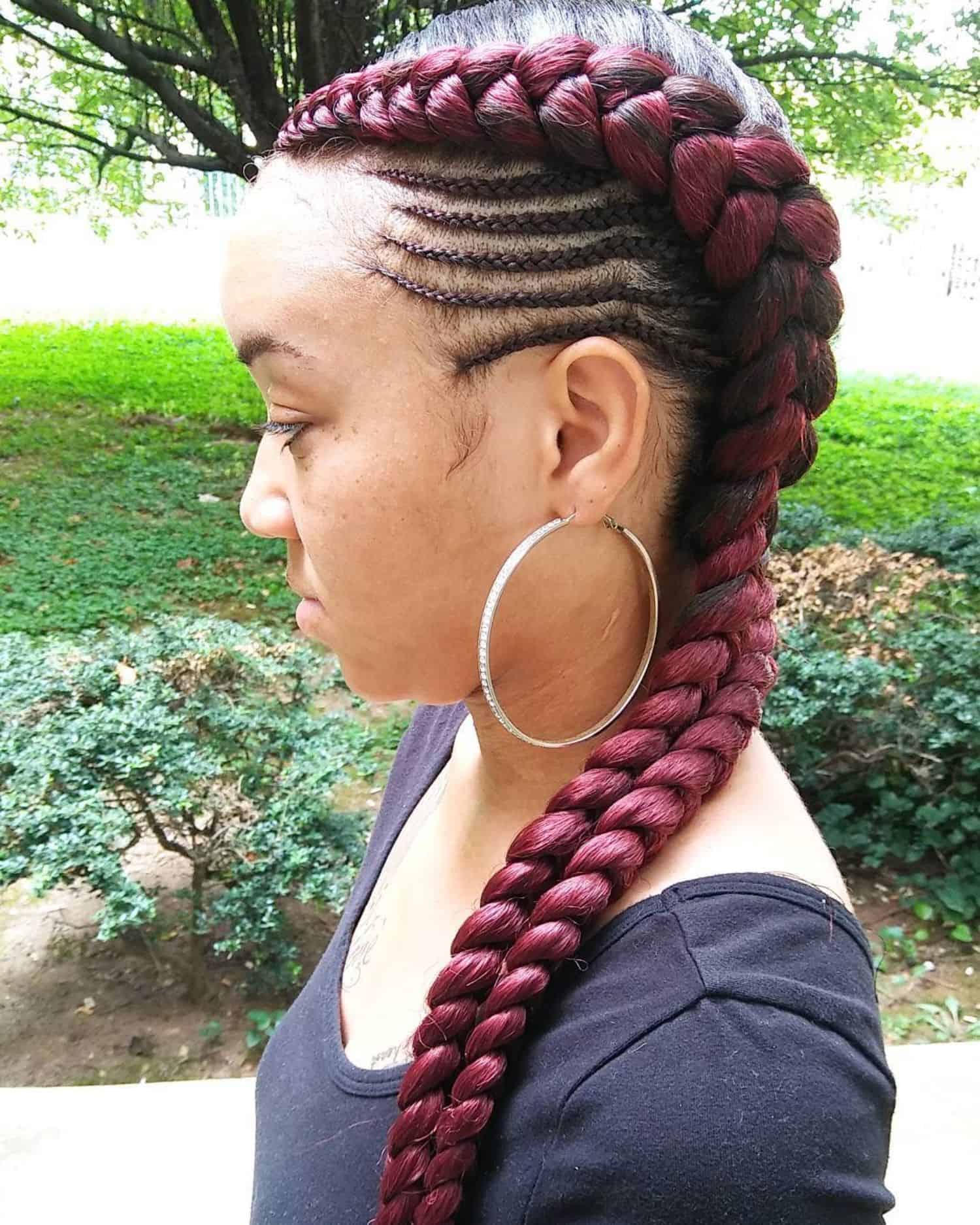 Most of us have seen the animated movie, Pocahontas. The animation movie by Walt Disney was an instant success when it came out. And while Pocahontas wore her hair lose most of the movie, there are braids named after her. And they are perfect for a high-school youthful look.
13. Spiral Bun

One of the big benefits of braiding hair is that you can combine with other hair styling techniques. Braids are great way for adding volume to the hair, and that applies to anything you choose. Be it a bun, ponytail, or anything else, braids will make your hairstyle look more elegant.
14. Half-up, Half-down Box Braids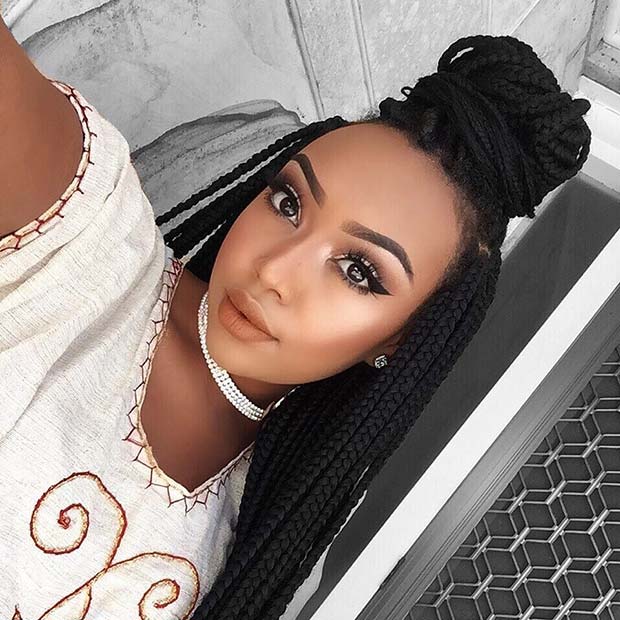 Speaking of hairstyles that work great with braids, we have another one. The half up half down is another classic style that looks amazing. Who doesn't love some contrast?
15. Havana Twists

The Havana twist is rather similar to the Senegalese twist. The main difference is in the hair used. Havana twist usually requires hair that gives you a tighter and smoother look. But Havana twist is thinner in diameter and less dreadlock-like.
With that in mind, you can use it on a variety of hair types, and you can install with both Havana hair extensions and your natural hair extensions.
16. Two Toned Box Braids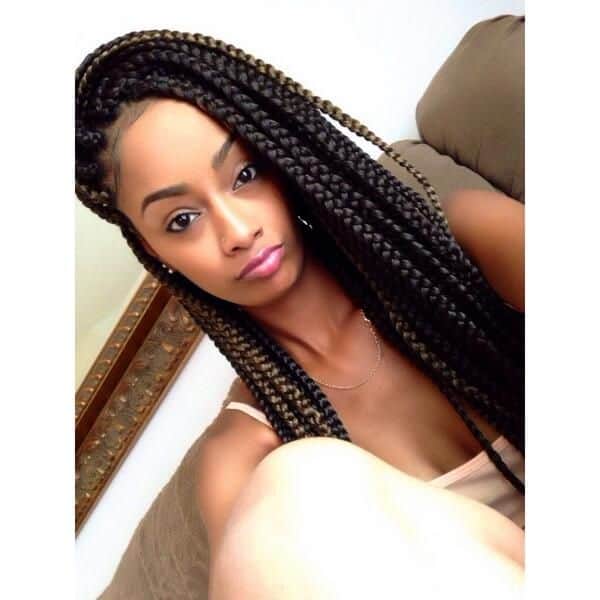 We said at the beginning that braided hairstyles offer versatility even in color. With that in mind, here is an example of how you can include other colors into your braids. It is a nice tweak to try every now and then.
17. Half Up and Braided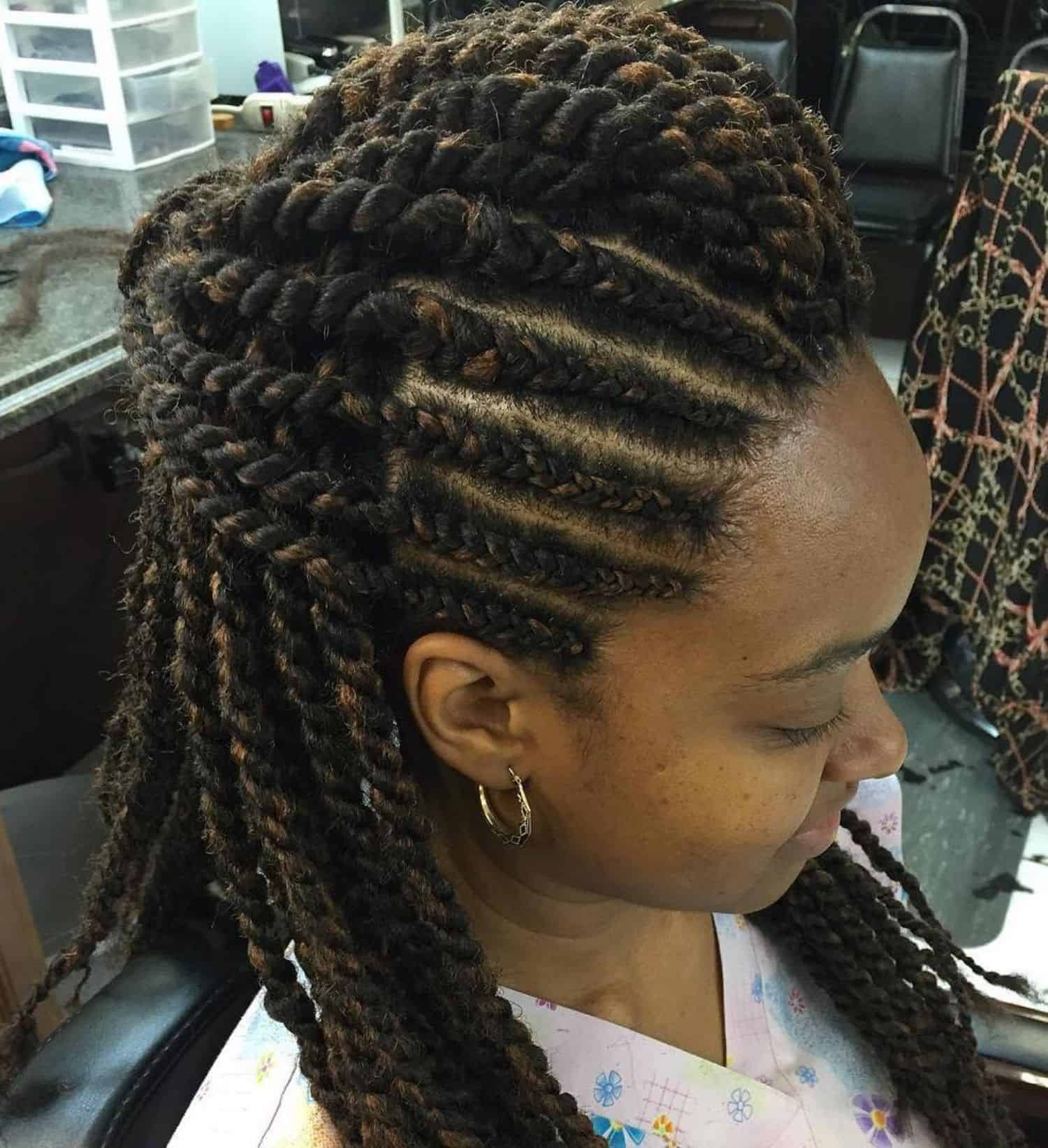 There are a lot of hairstyles that work with braids. The sky is the limit. We had half-up and half-down hairstyle, and now we have only just one half of it. Versatility is one of the best features of braids, and you have to use it to the maximum.
18. Length Braids

A lot of women dream of having butt-length hair. But they cannot wait to grow it for years and years. The solution? Try some braids. You can extend the length of your hair as much as you like, and even give your hair a protective layer. Sounds good enough for you?
19. Blonde Braids To The Side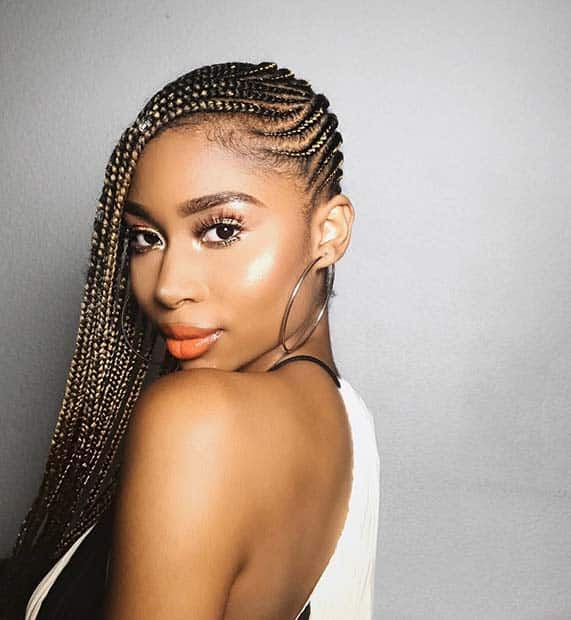 Going blonde is a fancy way of showing the world you are fun and "good crazy". They also add a touch of glamour and luxury to your hairstyle. A true red-carpet event hairstyle if you like. The only thing remaining is to check your calendar and see when you have a formal event coming up.
20. Nubian Twists

You want to go Afro, and you want braids at the same time? Enter the Nubian twist, which is a great way to embrace your afro-textured hair with a protective twist in all lengths. You can even go ombre if you like.
21. Long Black and Grey Box Braids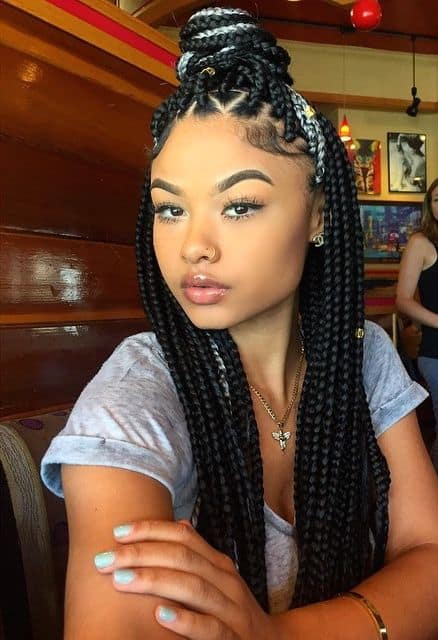 Grey hair is one of the first signs of aging. And many women freak out the moment they see some grey strands in the mirror. Well, on the flip side, some women embrace grey as a bold and statement color. You can dye even your braids, and grey gives a perfect contrast.
22. Dutch Braid Crown for Black Hair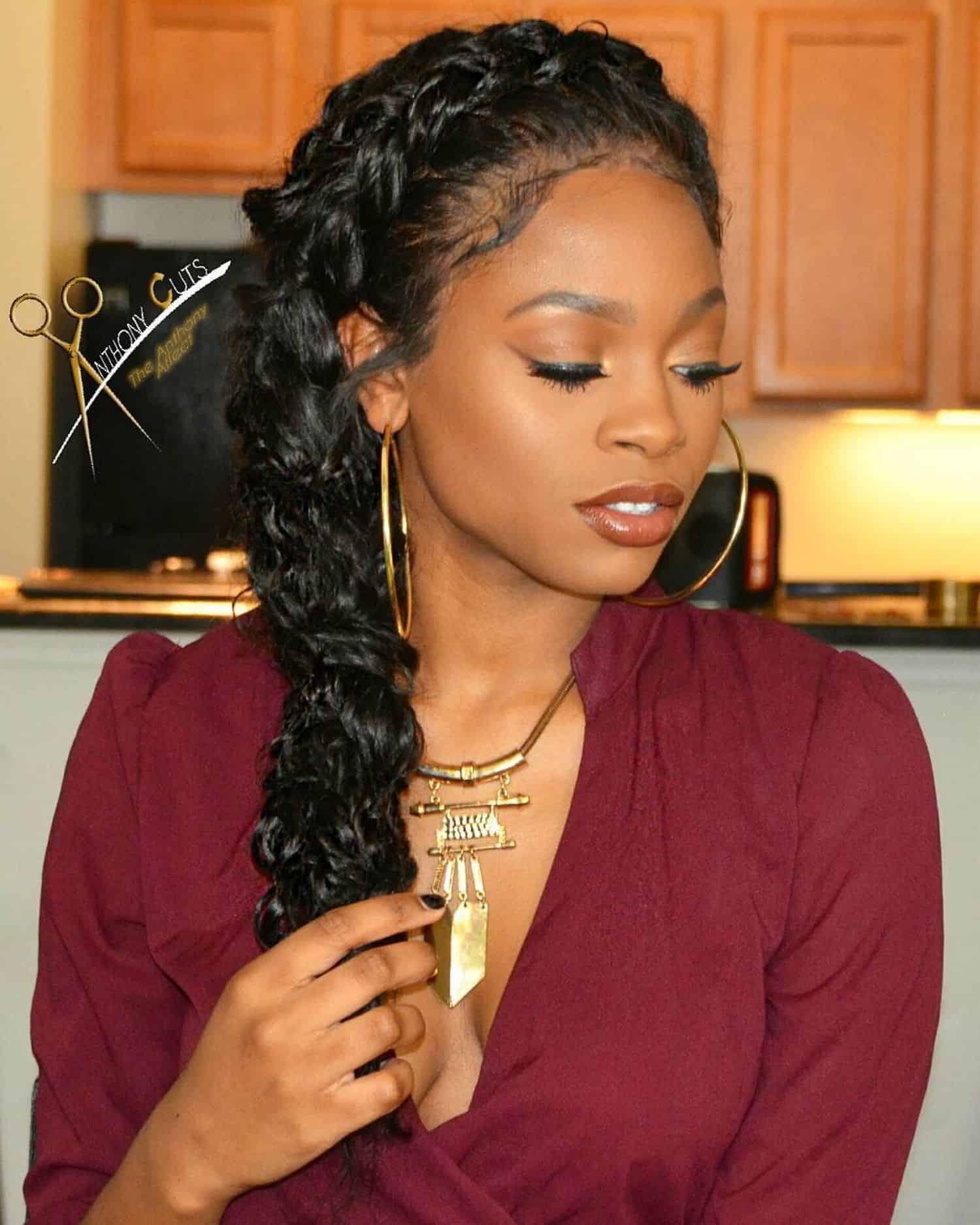 If there is one staple in braiding, that is the Dutch braid. Every woman has tried it every now and then. You just have to try it once in your lifetime. And while it is a staple, it is also boring and too-classic. Well, one way to give it a subtle tweak and make it more modern-like is with some crown and braiding extensions.
23. A Shaved Braid

Not many women can pull off this bold hairstyle. When we look at women, we expect them to have a lot of hair. So a shaved head is always a statement, whether you like it or not. It is your statement, so be ready for all the questions and weird looks.
24. Long, Thin Cornrows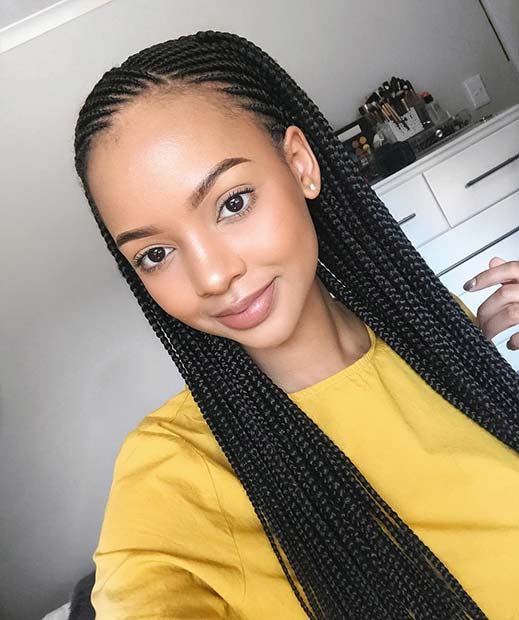 We had some thick cornrows, but the beauty is that they work in any thickness. If you are more into thin cornrows, be our guest.
25. Loose Ends

There is no rule that says your entire hair has to be braided. In fact, just look at how awesome this contrast looks. Loose ends is a subtle touch, but one that is rather visually effective.
26. Cornrow Braids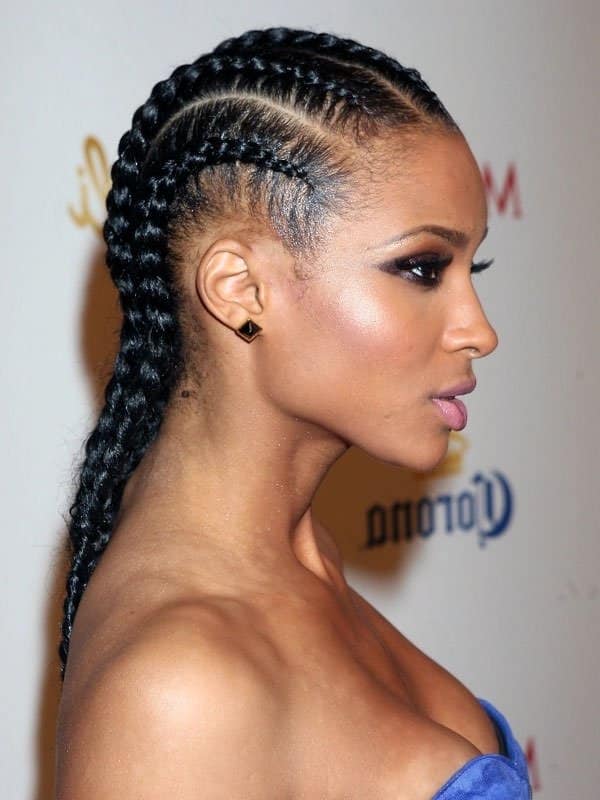 Some women want to keep things classic. And there is nothing wrong in that. So, with that in mind, try this classic and common cornrow braid hairstyle.
27. Long Black Yarn Twist
The Yarn twist is a go-to hairstyle for women who want more thickness. Due to the amount of twist inserted in yarn, you get an appearance that is thicker. And at the same time, it looks stronger. Do not worry, it is not heavy on your head.
28. Revamped Braided Ponytail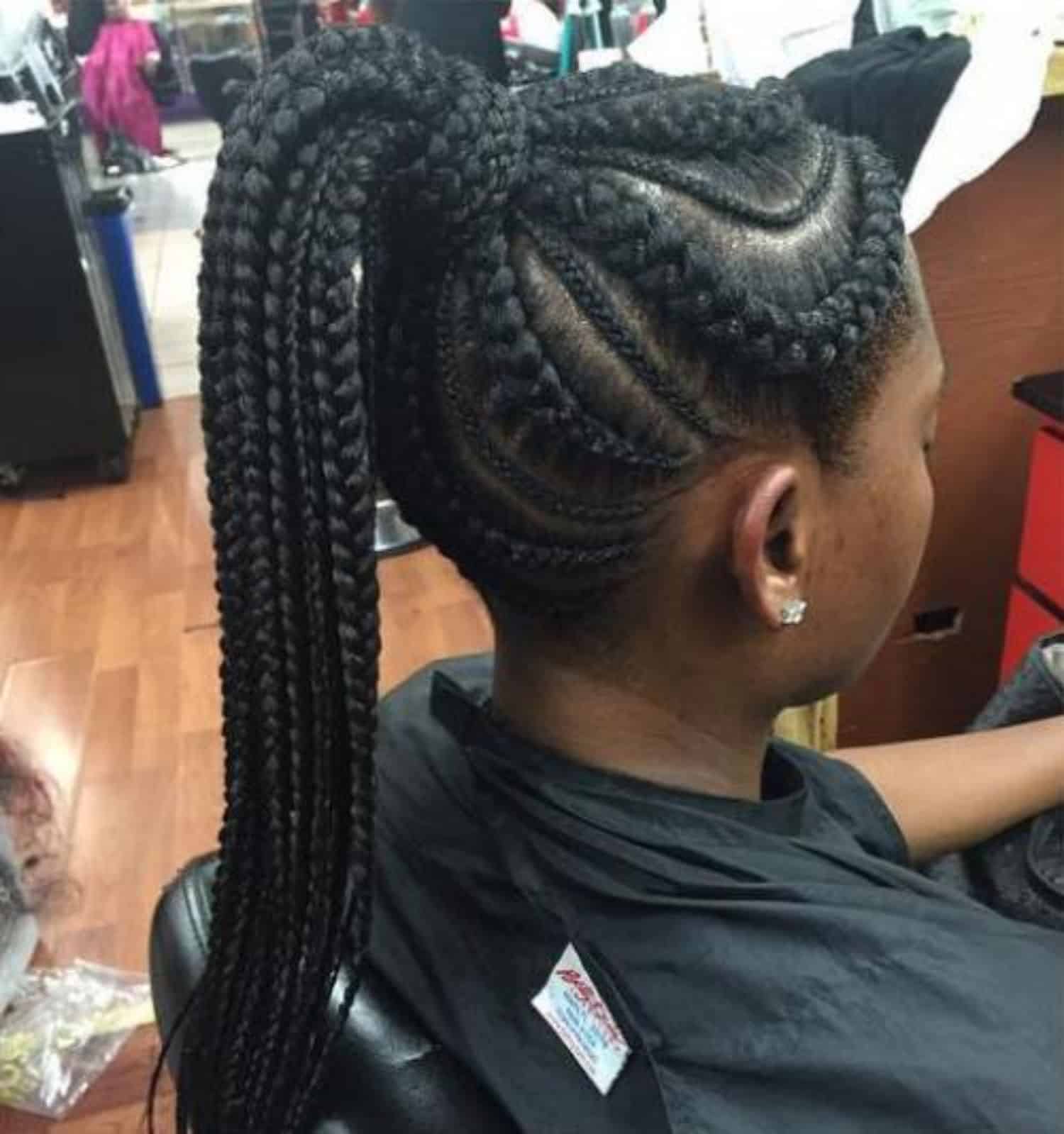 The ponytail is a classic youthful and teenage-looking hairstyle. But as you grow older, you want to give it a modern look and touch. Enter braids, and your ponytail looks sophisticated. Perfect for the businesswoman in you.
29. A Twisted Updo

With so many twists and turns, the only downside of this hairstyle is the amount of time it takes to style it. But the good news is that once you style it, it stays locked for a couple of weeks. And it looks amazing.
30. Mohawk Braids

We cannot ignore the Mohawk trend. It is one of the go-to hairstyles for women who are feeling empowered, and want to empower others. Serve as an inspiration, and go Mohawk.