The wedding is one of the most important days in a woman's life and wanting to look her best is only natural.
Like everything in life, not all weddings are grandiose or on a limitless budget. In fact, many couples today prefer a small ceremony inviting only the closest friends and relatives. And sometimes, the wedding is on the spur of the moment decision, leaving the bride to be very little time to prepare.
In those situations, an appointment at the salon might be impossible, but that doesn't mean the bride can't make herself look fabulous, does it?
There are many ways to do a bridal hairstyle in your home and on your own and look absolutely breathtaking.
Take a look at these bridal hairstyle tutorials and choose the one you want for your wedding day.
#1.Super Sleek Bun For Short Hair

When you don't have time to grow your hair and don't want hair extensions, you can still style your short hair.
This super sleek net-bun is easy and graceful. A simple ponytail, wrapped in a net and twisted around, add a decorative accessory and you're good to go.
#2. Long Hair Messy Updo

You don't need a curling iron to get a voluminous curly updo.
Twist thin strands of hair and pull them in. Tie it all in a bun and no one will know the difference.
#3. Floral Twist On A Plaited Bun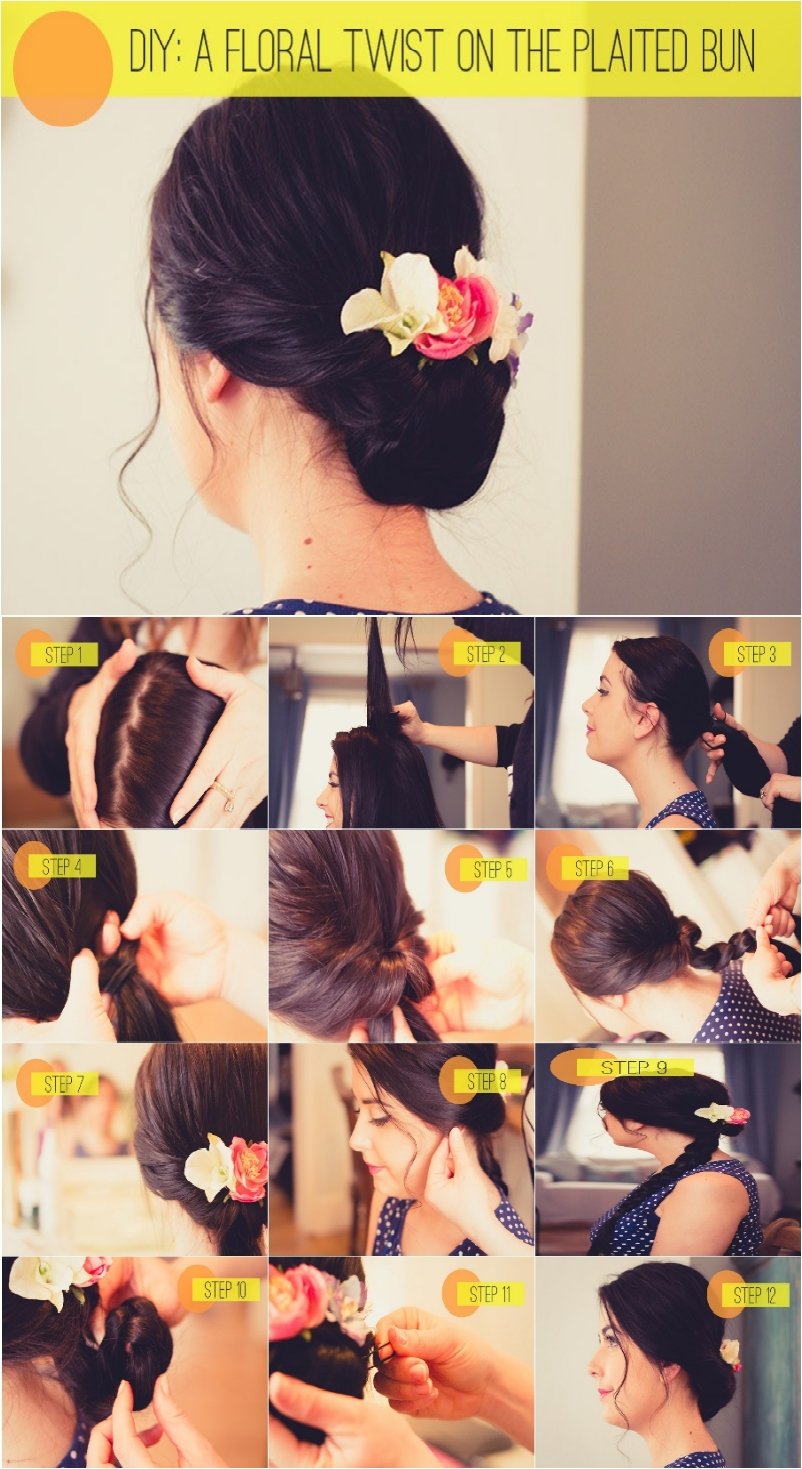 Here is a nice plaited chignon, great for adding floral accessory.
One pull trough pony, a french braid twisted into a braided rose, secure it with a few pins. That's it.
#4. Elegant Fishtail Chignon

Long thick hair is what every woman wants, but styling it on your own for a wedding can be tricky. Here's one fabulous way.
Gather it in a fishtail braid with some loose strands. Tuck the braid in, loop the strands around it to make is more secure, and you have a lovely messy low, long bun.
#5. Messy French Twist

Graceful hairstyle done in minutes, that's what this messy french twist is all about.
All you have to do twirl your hair vertically from the tip to the base around your
6. Layered Twisted Chignon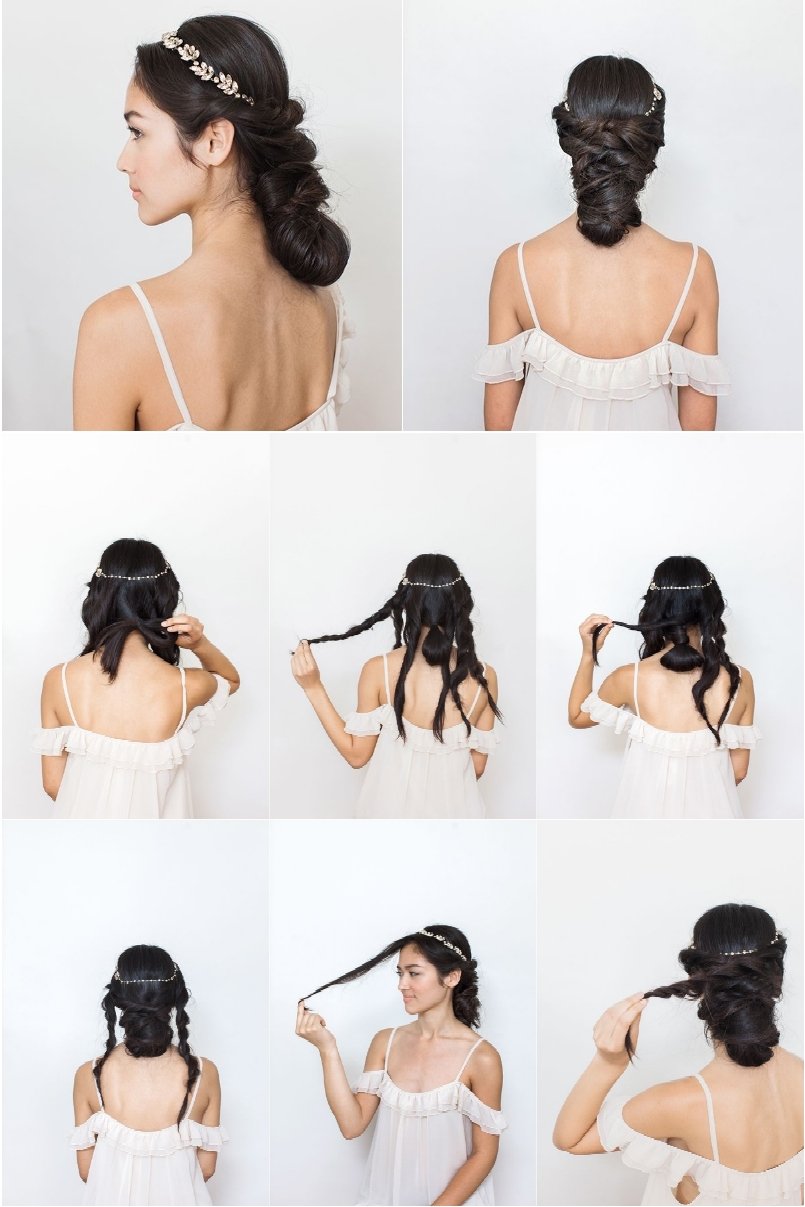 This chignon looks polished, but it's all twists.
Separate the hair in few sections and start twisting and tucking until you get this lovely layered chignon.
#7. Easy Wedding Bun Updo

The bun is a go-to hairstyle for many occasions, so why would weddings be any different.
For this bun you need a scrunchy and a few hairpins, to create a small bud that you wrap sections of hair around. The end result is a cute messy flower bun.
#8. Braid Into Bun

The ballerina bun is another elegant choice, but it needs something to spice it up.
Like the hairstyle her, just do a couple of inside out braids on the side that you'll connect to the bun.
#9. Low Twist Chignon

For this hairstyle, you might need some help. But don't worry, anyone can make this.
A deep-parted twisting braid made from one side to the other, ending in a messy tucked bun. Fabulous look, minimum effort.
#10. Knotted Updo

Here is an interesting half-updo with few options.
Create knots from three sections of hair from top to nape in a diagonal line.
At the end, you are left with a ponytail you can curl, straighten or tuck in for a full updo. Your choice.
#11. Double Dutch Braid Bun

A plain double dutch braid can go a long way.
Here we have the basic double dutch tied back and wrapped around a bun. Fast and easy.
#12. Waves And Braids

If you're not into updo's here is an effortless half-up hairstyle.
Make some soft curls with a curling iron, plait two french braids on each side and overlap them in the back.
#13. Loose Braided Updo

Looking for an elegant messy updo with some braids? You got it.
Great for medium curly hair, just raise the top half a bit, gatherer hair in a bun and frame it with some braids. Simple and superb.
#14. Halo Braids

Here's another favored bridal hairstyle: the halo braid.
A single braid from one temple all the way around to the same side of the neck, with the rest of the hair braided and circled around in a crown.
#15. Chick Shoelace Braid Updo

Here is an updo that doesn't need a veil, but will look great with one two.
A fun textured lace braids on top ending with a fishtail braid wrapped in a nice crown-like bun, will make you feel and look like a queen.
#16. Updo With A Twist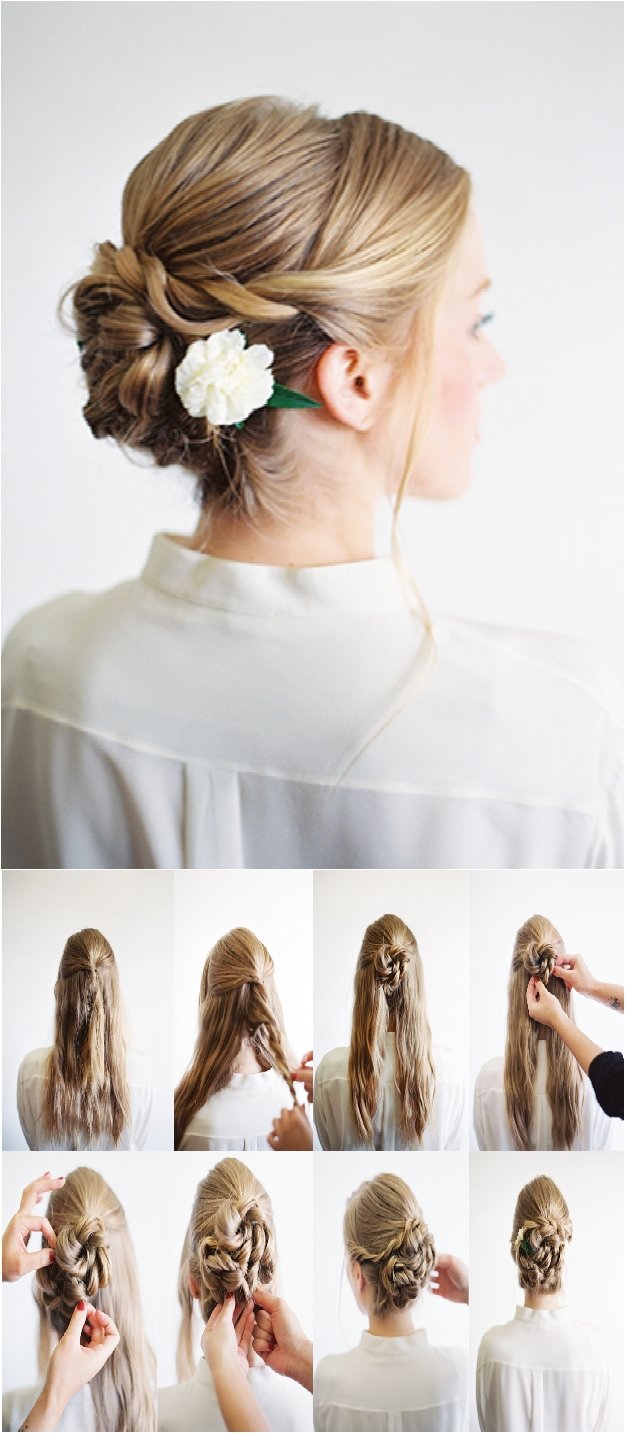 A lovely bundle of twists and turns, a fancy organized mess.
With a few twist braids circled around a base bun, you get a complex professional looking updo right at your home.
#17. Rope Braid Updo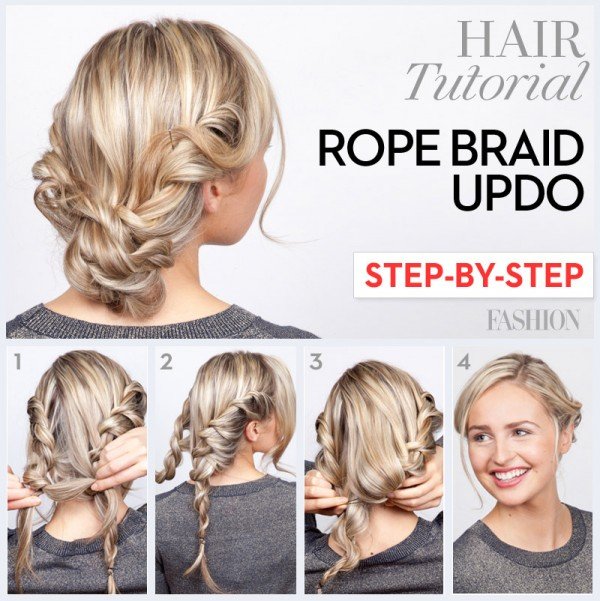 Here is another updo you don't need braiding skills for.
Like the twist braid, the rope braid is easily done with a few twits, and you just tuck the ends in to create the bun.
#18. Updo For Thick Long Hair

An easy hairstyle for taming luscious heavy locks.
You don't even need braids to achieve this look, just criss-cross strands of hair and pin them in place.
#19. Simple Braided Chignon

For our last hairstyle in the list, we give you another easy posh chignon.
With just two pigtail french braids and some thinner ones, you can twist a plaited chignon in minutes that is simply astonishing.
That concludes our list of bridal hairstyle tutorials. Which one do you like best?