Simply put, braided updos are a fun way to pull long hair up and out of the way. Usually, we go for a braided updo on a warm summer day, in a way to get our hair away from the head.
The beauty of these gorgeous braided updos is they can serve any occasion, be it casual afternoon, or a formal occasion. In both cases, they look feminine, lovely, and romantic.
With a braided updo, you will quickly and easily become the star of the night. So, with that in mind, if you want to change up your style, a braided updo is a great way to do it.
This style can easily turn any traditional looking hair into an eye-catching hairstyle. With that in mind, we have a few ideas for creating the perfect braided updo. Take a look.
1. Halo Pipe Braids Drop Bun Updo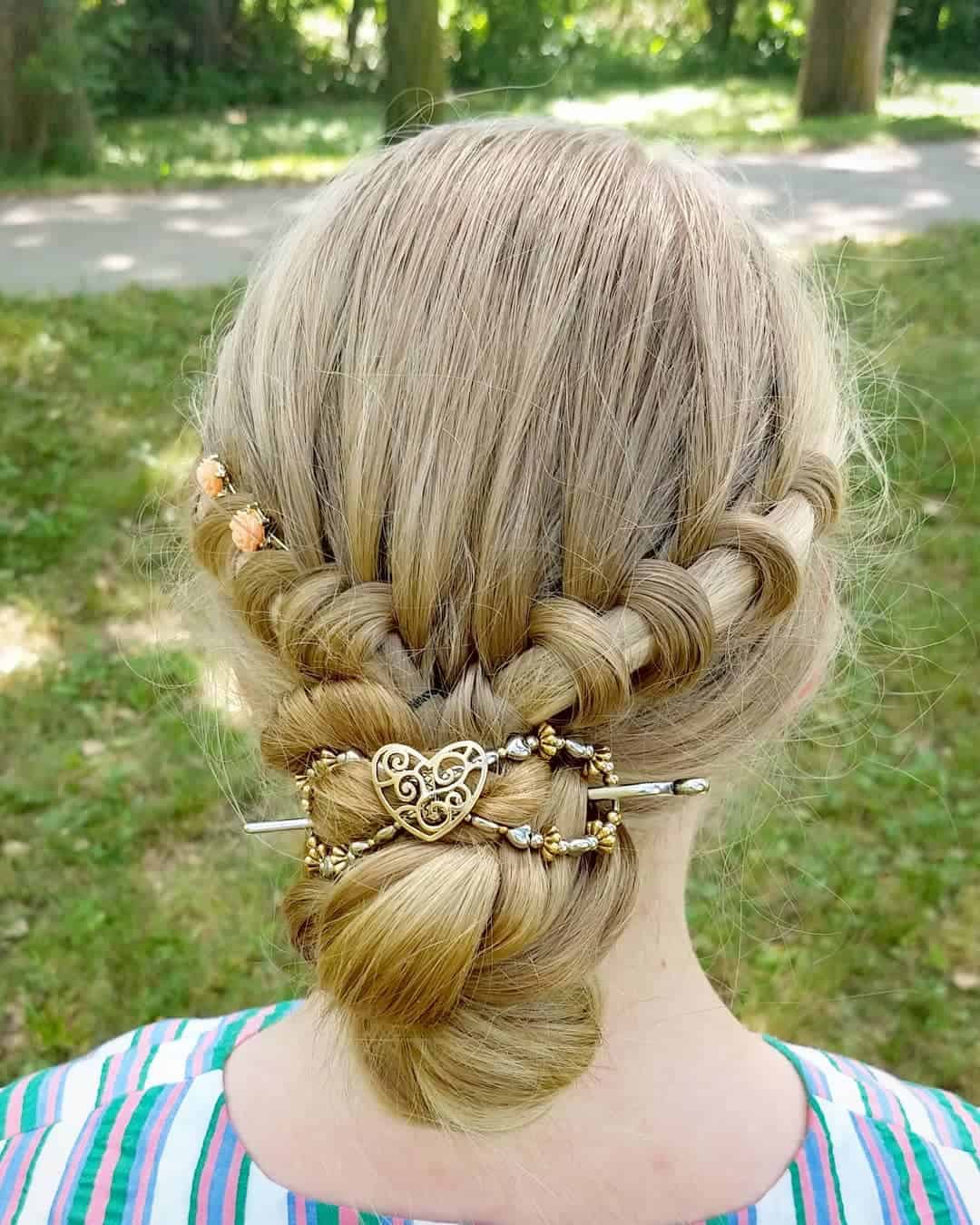 Let's start with a twist on the braided updo, and a reverse one. Getting your hair in a bun is a simple, yet effective way to get it out of the way. And it looks stylish in the process. Perfect for casual daytime dates.
2. Double Cornrows Ending in Braided Space Buns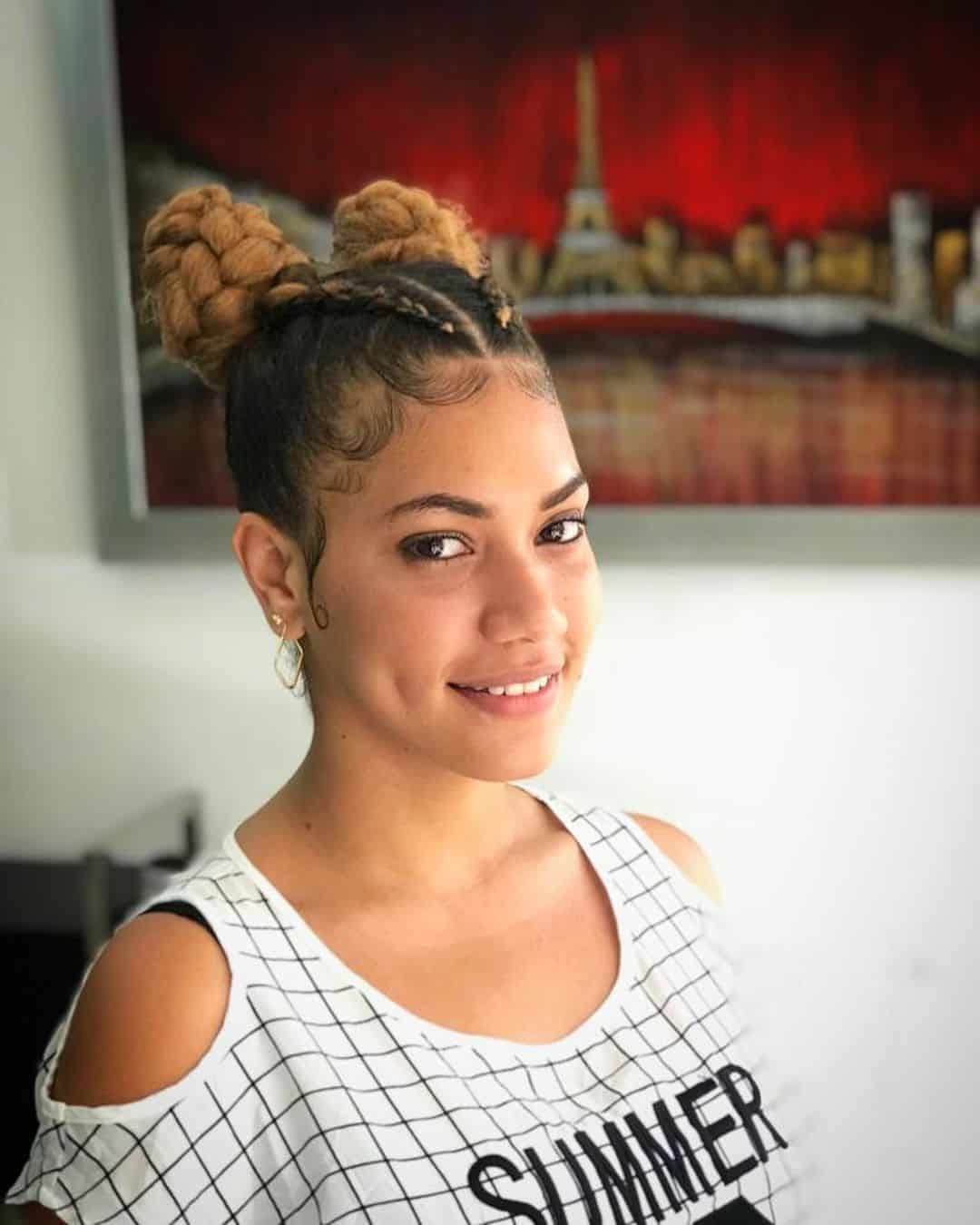 Cornrows are an ideal option for anyone trying to get some braided updo. They add more texture to your hairstyle. And of course, volume. These space buns will give you a unique and wow factor.
3. Slicked Back Chunky Braided Top Knot Bun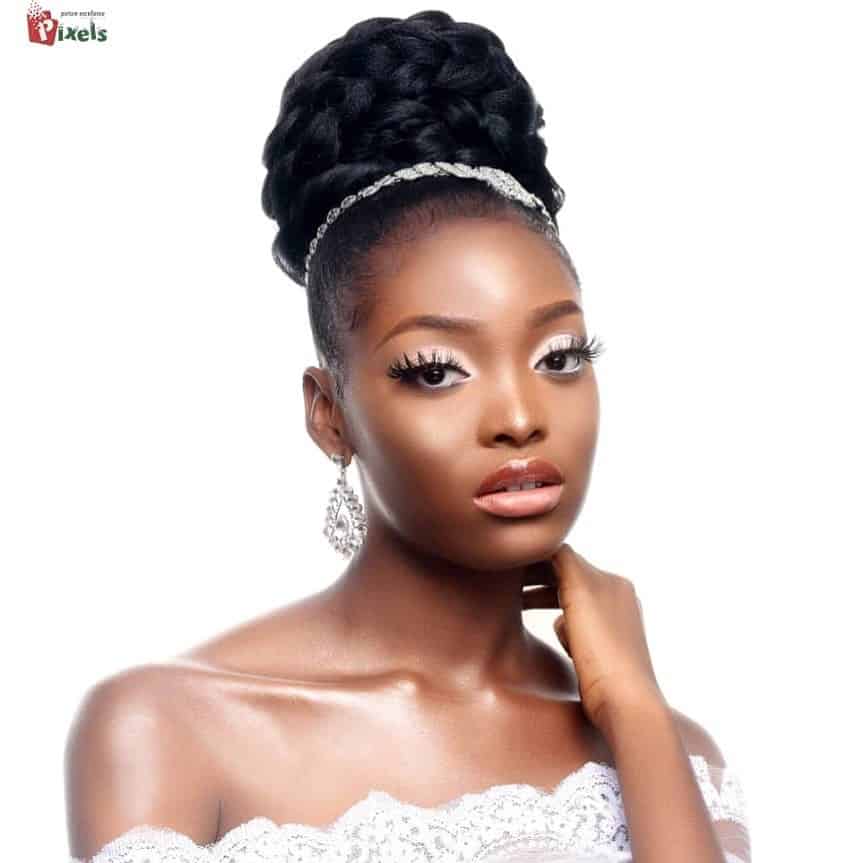 We said braided updos can work for a formal event as well. And is there anything more formal for a woman than her own wedding? Yes, you can rock the style for a wedding hairstyle as well. You can rest assured that your hair will stay out of your way for the whole day.
4.Twisted Braid Bun With French And Fishtail Braid Combo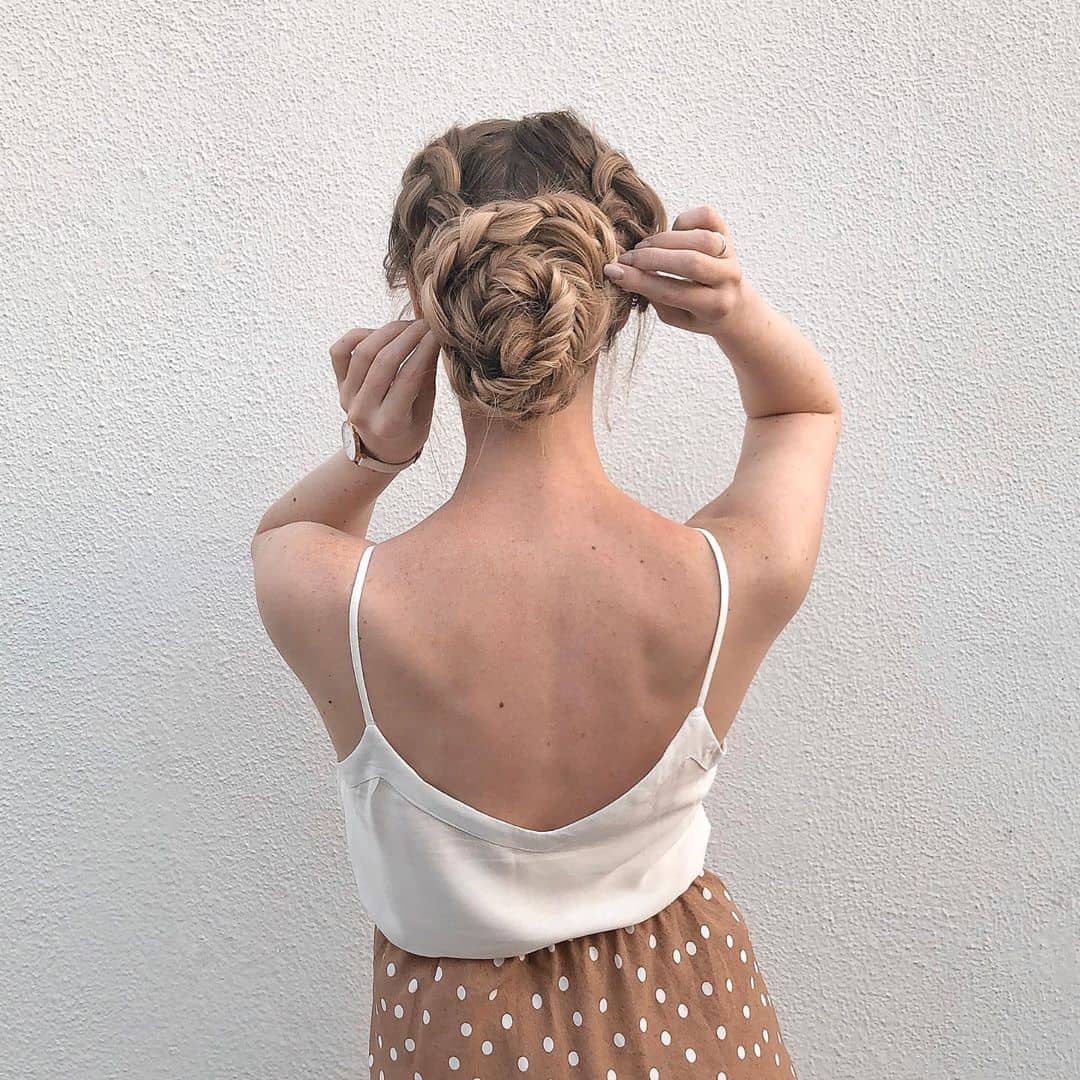 What type of braiding you go for is totally up to you. For a braided updo, you can do any type and style of braiding. With that in mind, we suggest you start off with some of the basic and common braiding styles, and one of those is French braids.
5. Cute Side And Top Braids Into Space Buns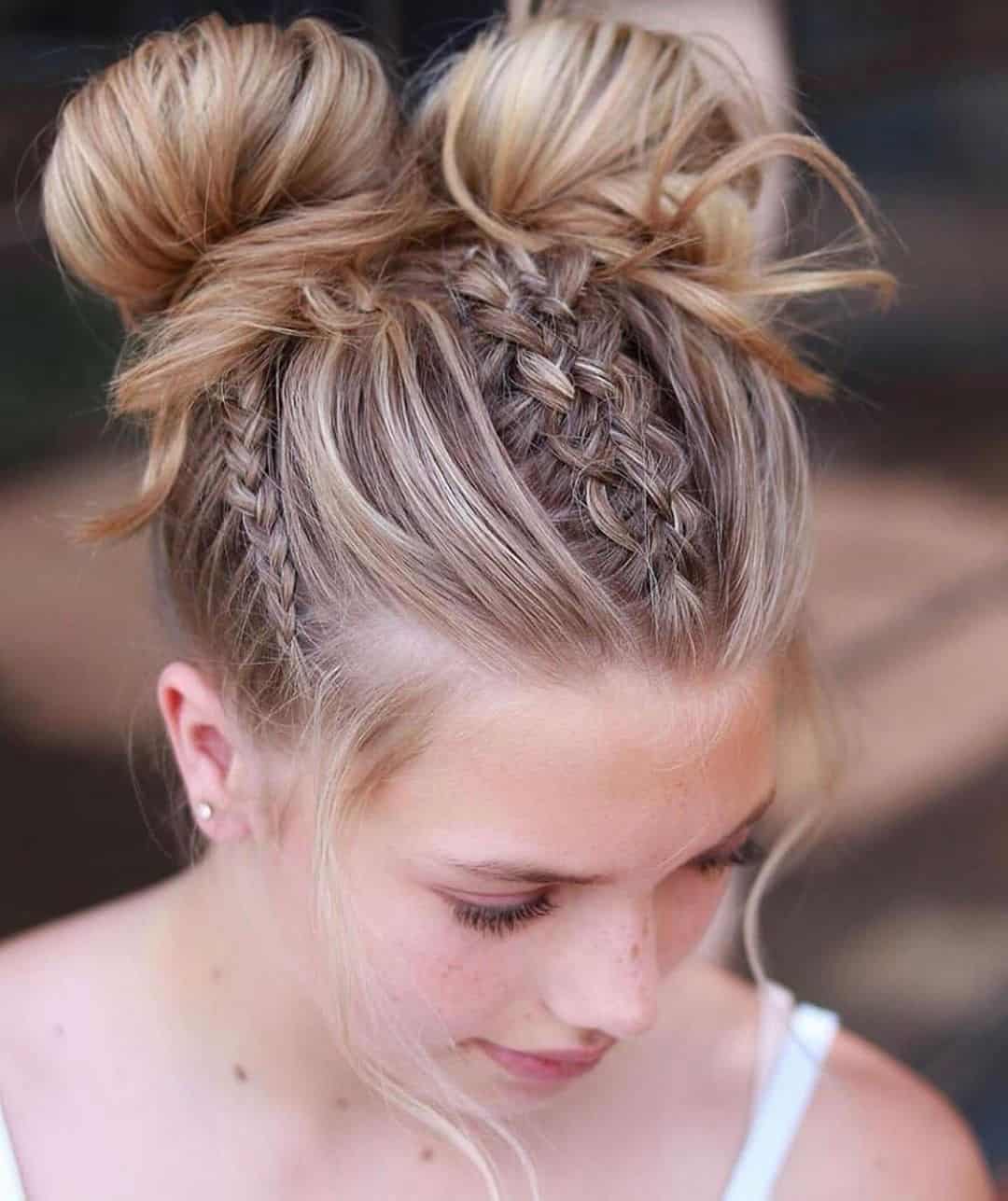 Space buns were quite popular in the 1990s. Members of Spice Girls rocked them almost daily. Now, the 1990s trend is making a comeback, and it looks like two buns on the top of the head.
6. Loosened Side French Into Intricate Bun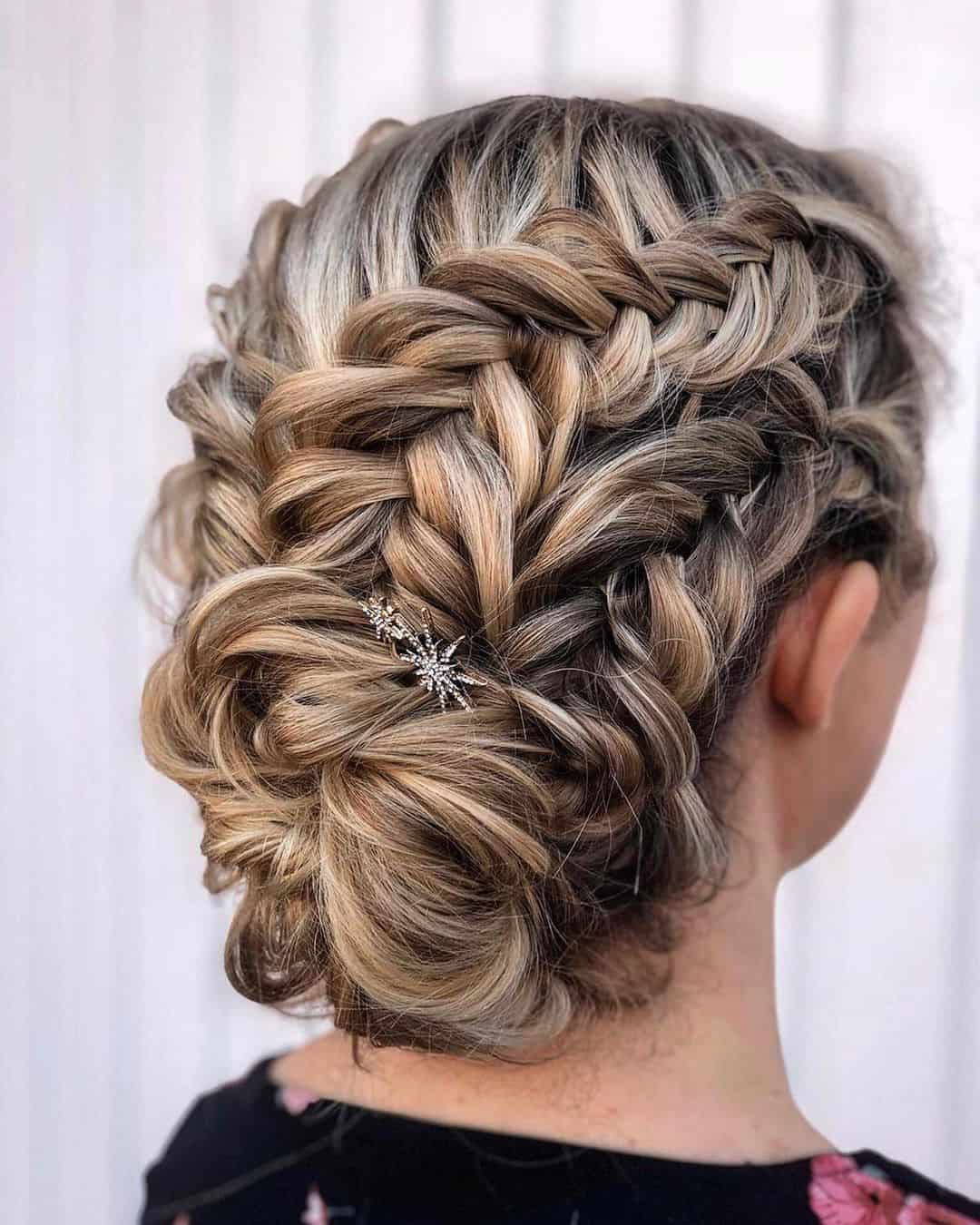 We said before that the French braiding style is one of the most popular. What makes French braids so popular? For starters, their versatility. You can combine the style with any other braiding style. Or with any other hairstyle you like.
7. Blonde Box Braids Into Large Side French Updo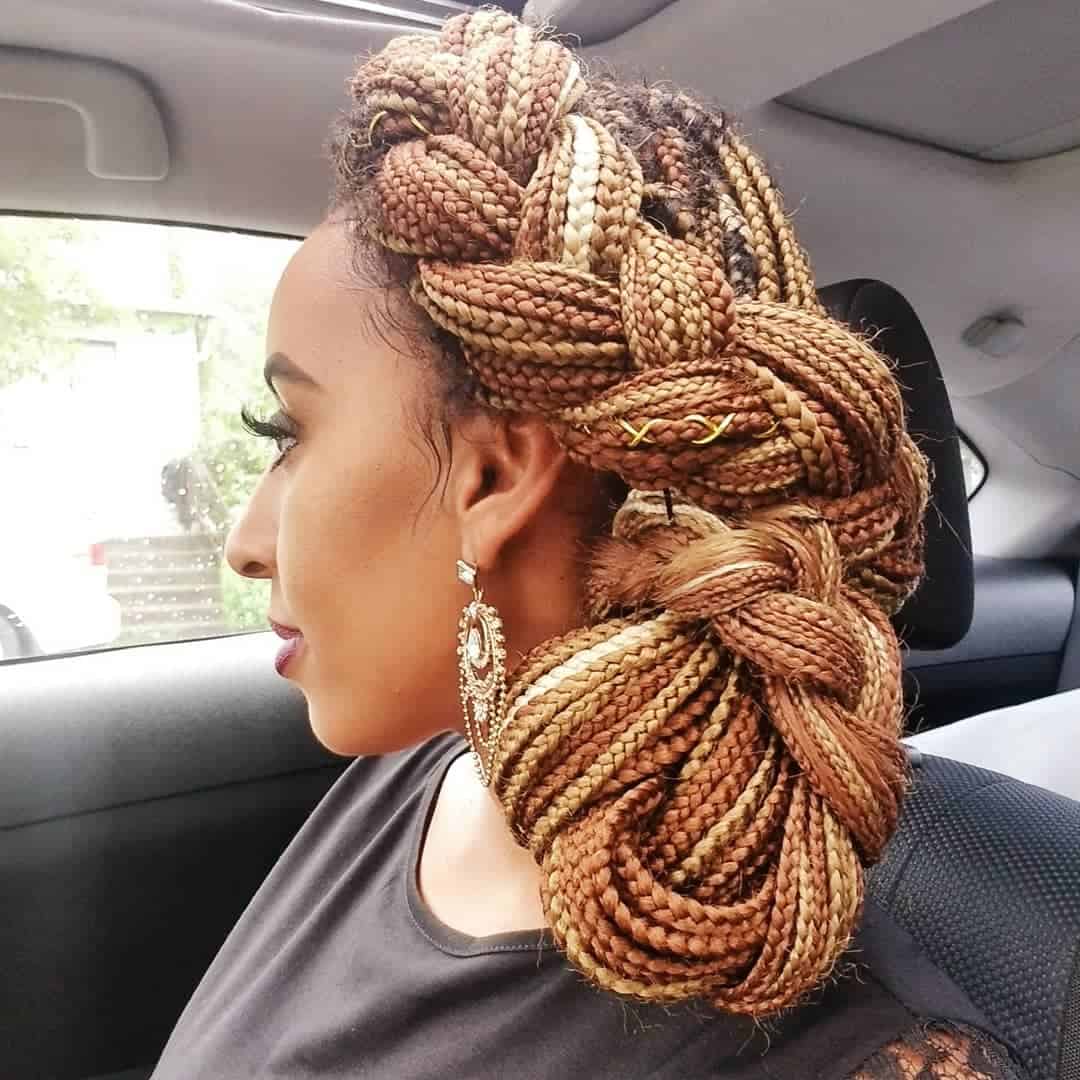 Box braids are perfect when you want to add texture and volume to your hairstyle. They look big, chunky, and messy. Several years ago, box braids were worn only by African-American women. Nowadays, there are no limitations. As long as you can wear them with pride. And they are ideal for adding a touch of color to your hairstyle.
8. Slick Side Braid Swirled Into Low Braided Bun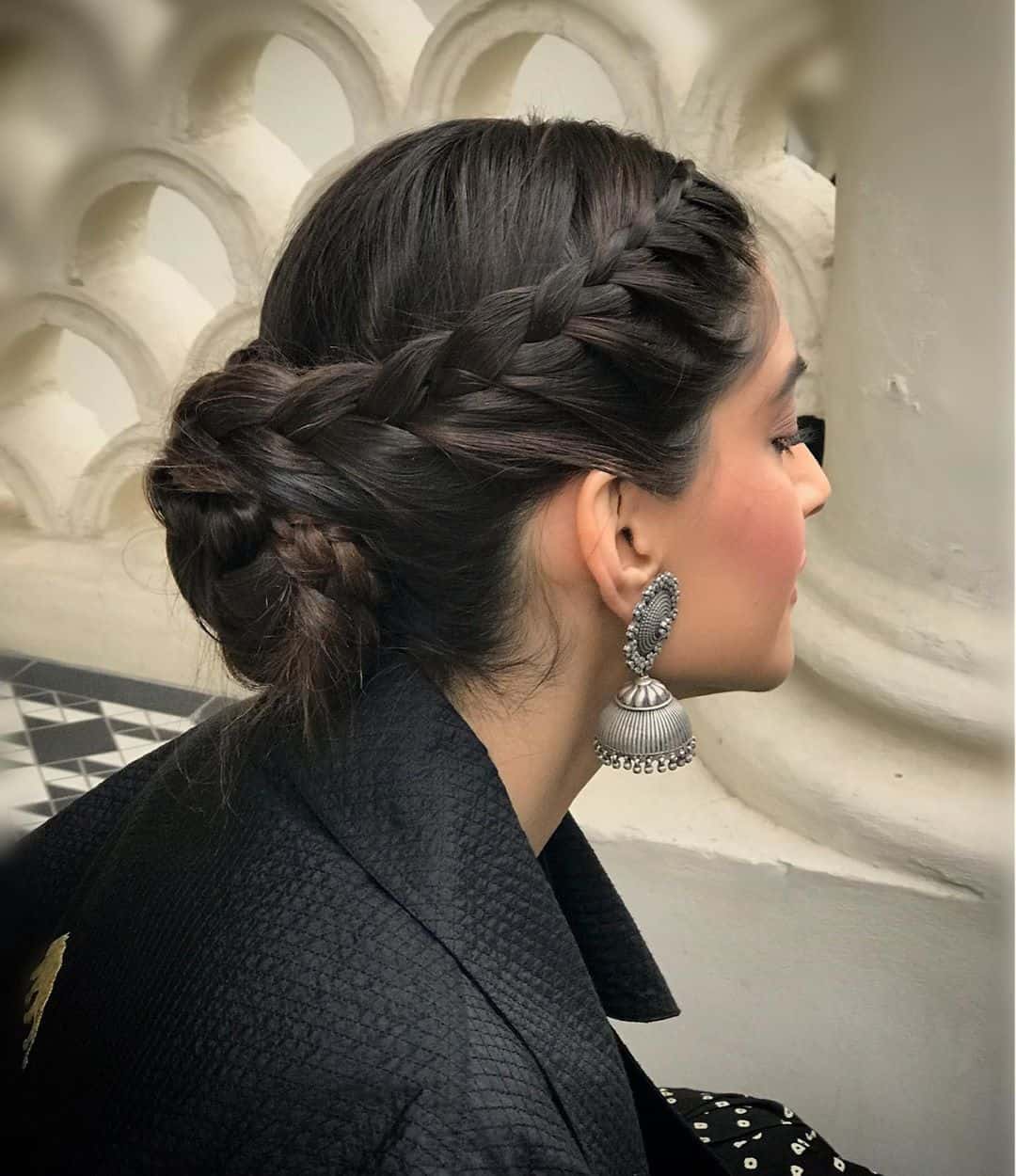 We said before that elegant events call for an elegant hairstyle, and that can be an updo. Just gather all your hair on the sides, and finish up in an updo. Basically, it looks like a crown, but it is not on the top of your head.
9. Multi Braids Twist And Turn Updo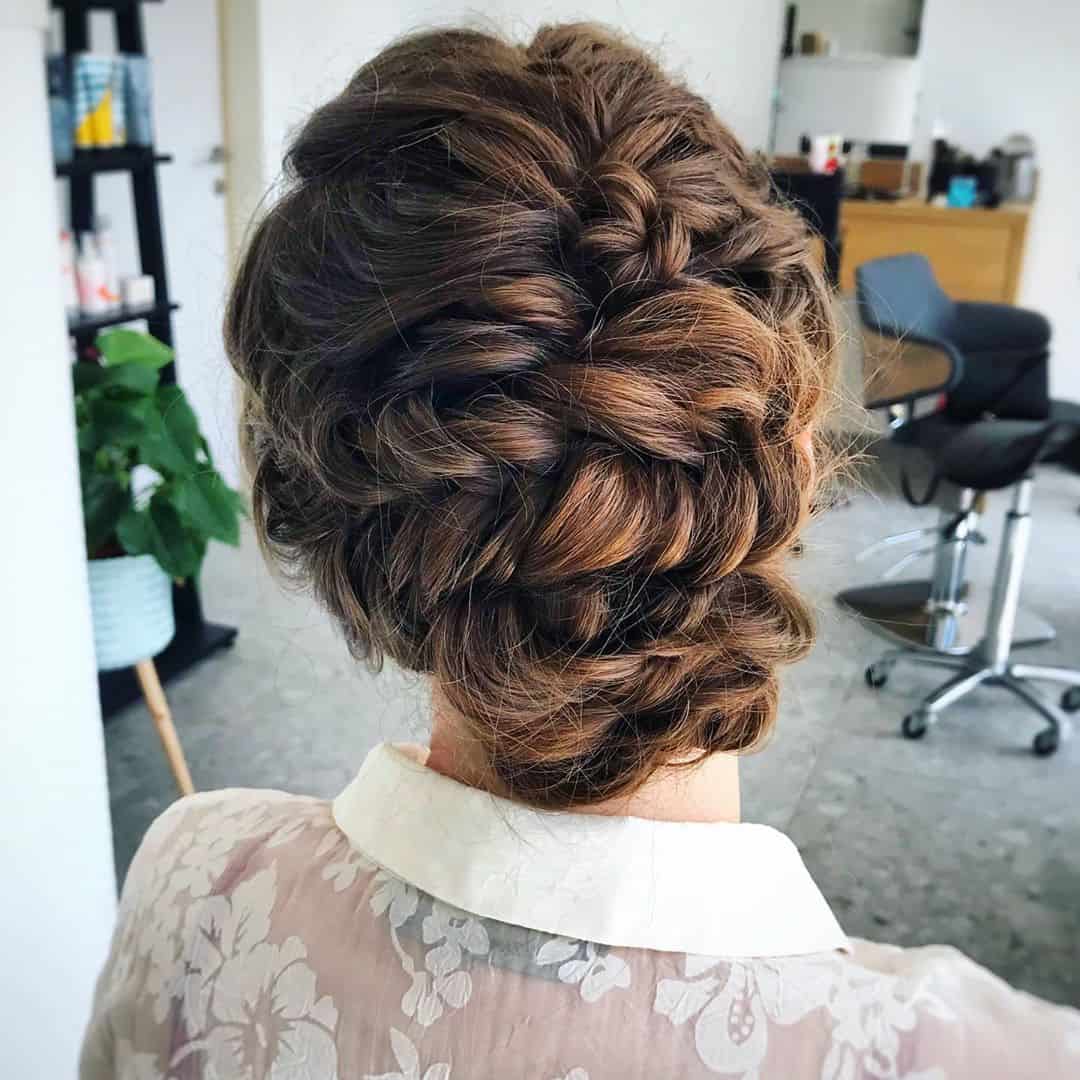 Some women just want to have a hairstyle that looks messy. And truth be told, a messy hairstyle is the hardest one to do. After all, it has to look like you've spent just 30 seconds on your hair. The reality is you spent a lot more. Combine different braids, and you will get a messy look with a ton of texture.
10. Double Pull Weaved Side Braids Into Messy Low Bun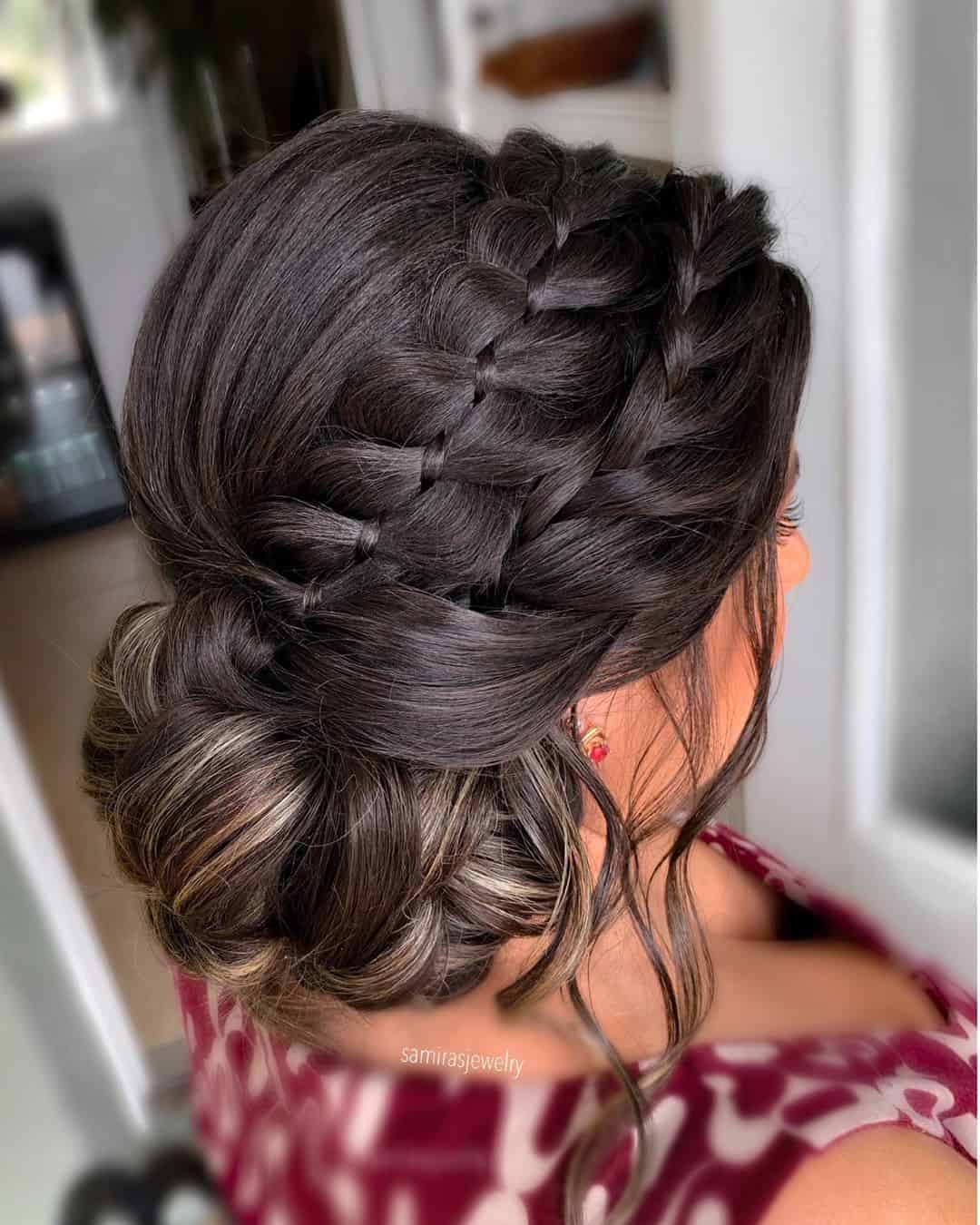 Side braids are ideal when you want to keep your long hair beautiful and healthy, and spend little time to do it. Keeping up with long hair is a challenge for most women. But it doesn't have to be. Learn how to make side braids, and you will have a ready to go hairstyle in a matter of minutes.
11. Double Dutch Fishtail Updo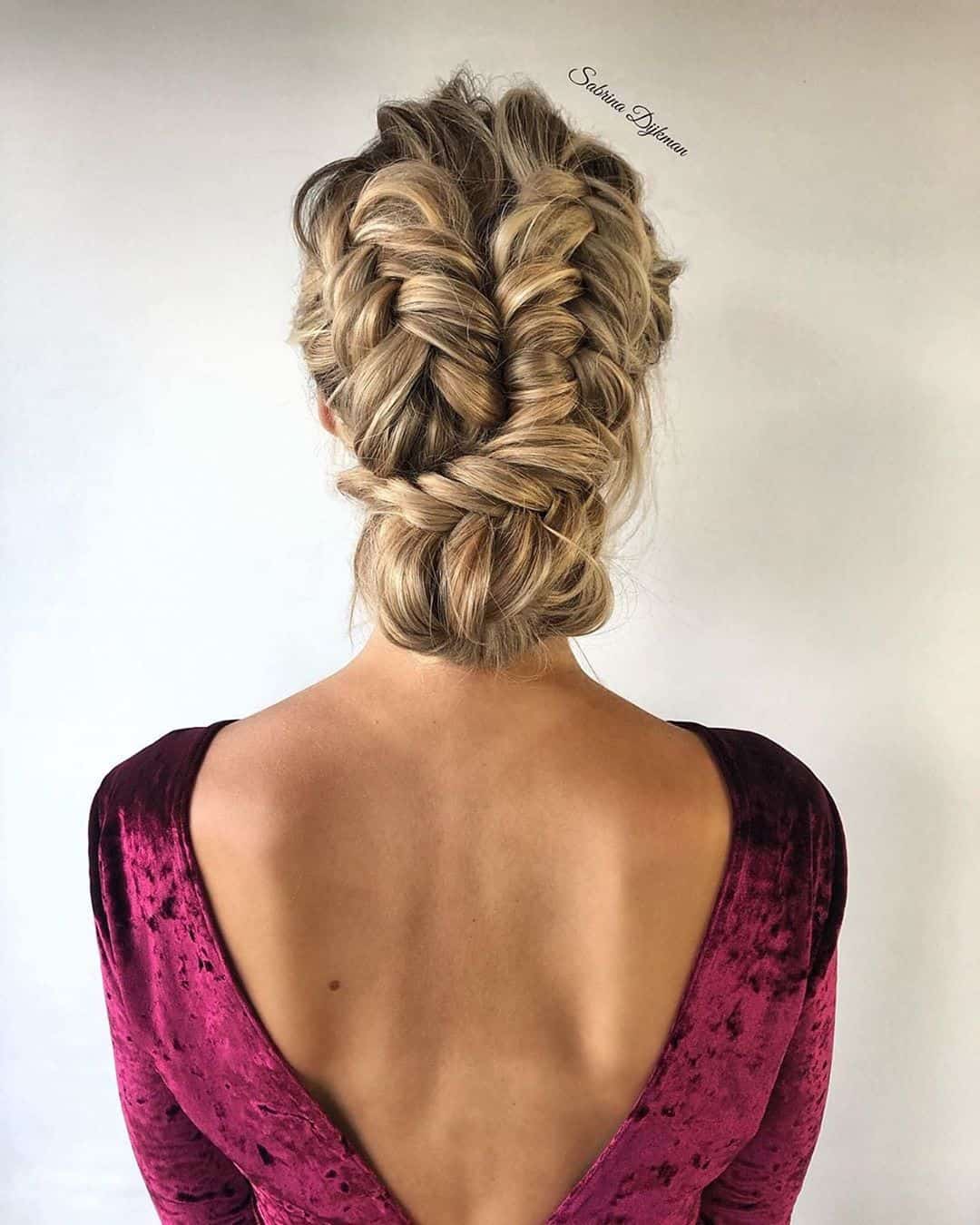 When it comes to common braiding hairstyles, French is on the top. But right next to it is Dutch braiding, which is basically the same, but you go under instead of over. Dutch braiding is perfect when you want to make your hairstyle look playful.
12. Black Twisty French Braid Updo With Rainbow Bangs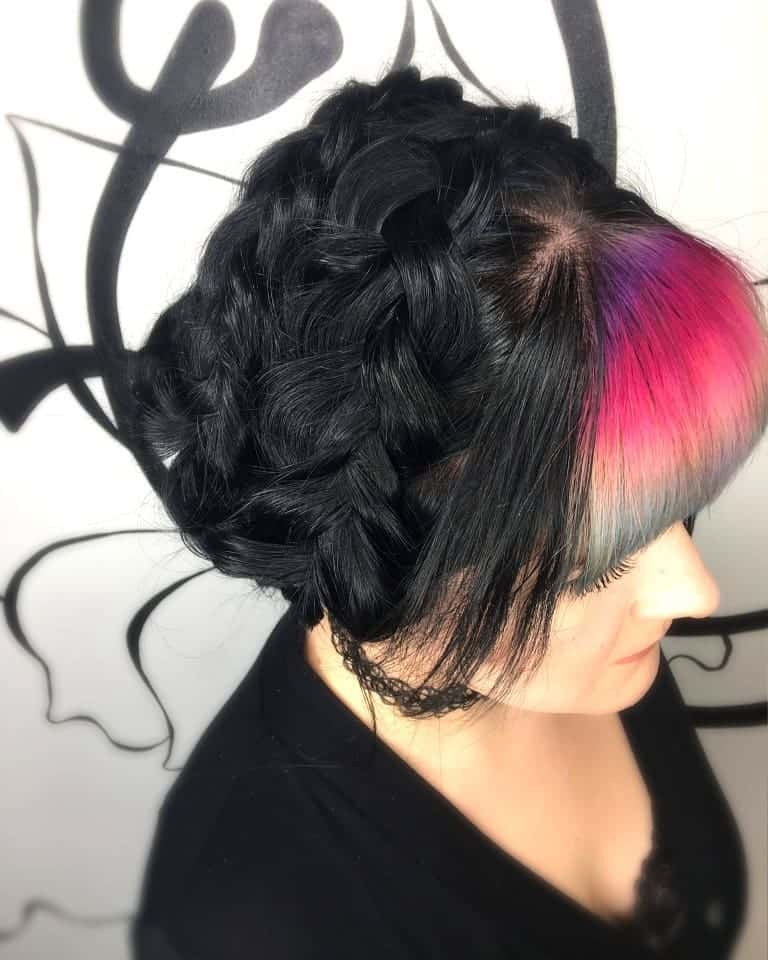 If you are one of those rebel women, who want to show off their rebellious side, dyeing your bangs is the way to go. And with that, we mean some unique and out of this world colors. Rainbow colors, for example, work perfectly for that occasion. You get the unique factor at the front, and the texture and style factor at the back.
13. Criss Cross Cornrow Box Braids In Twisted Top Knot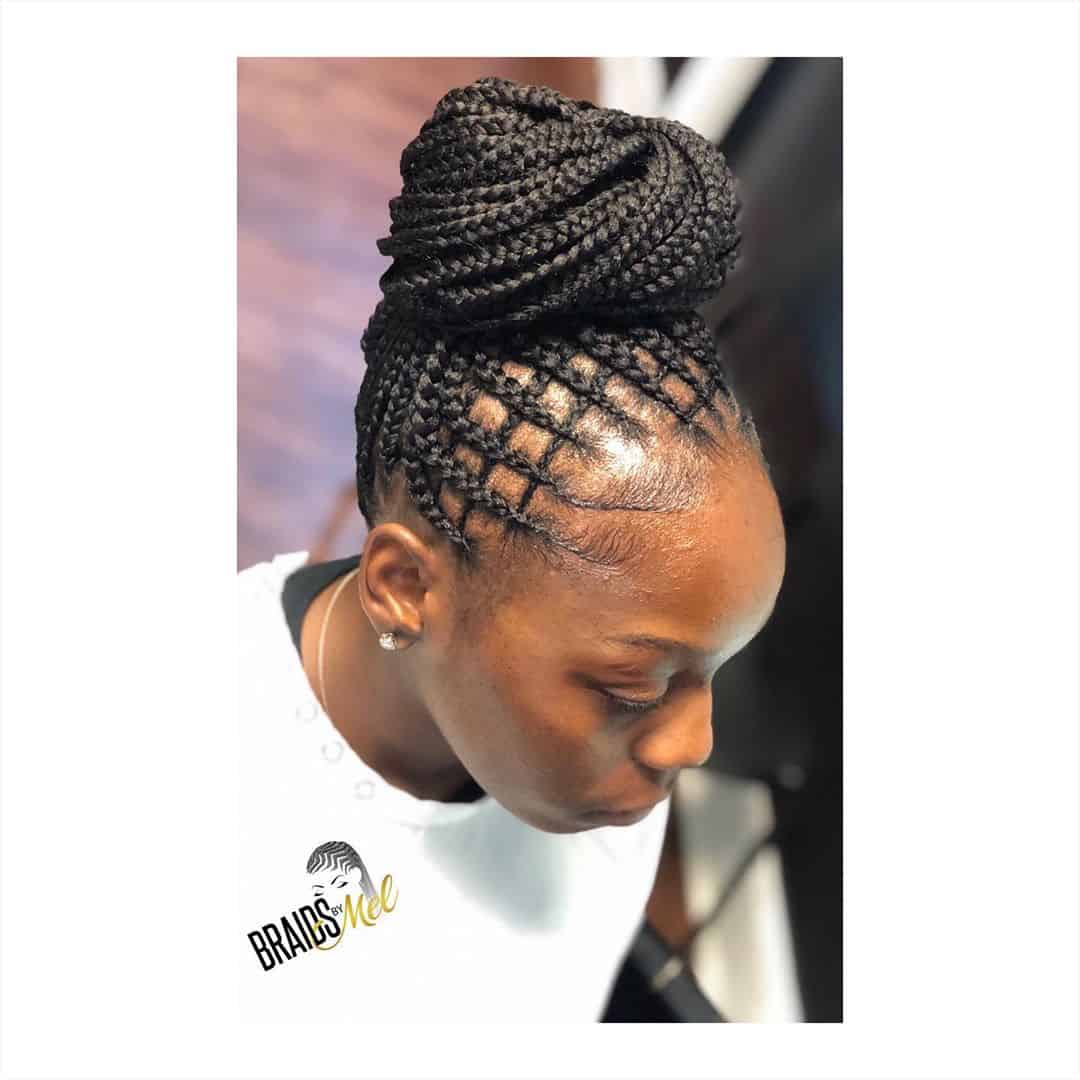 The criss-cross braiding is a fun hairstyle that was once stapled for girls going to school. Nowadays, it is a fun twist to the pigtail style. It is definitely one of the styles that will make you look younger, and fresher.
14. Ribbon Braided Crown Updo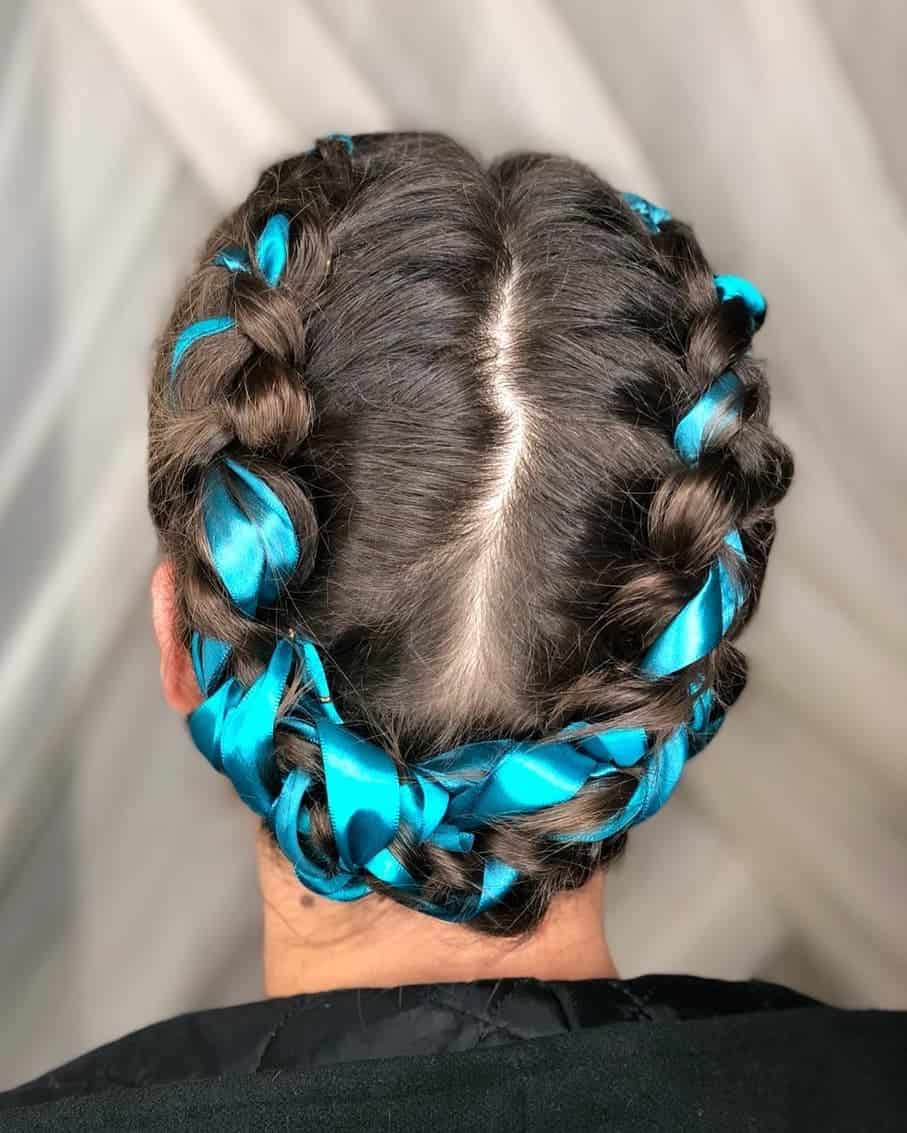 Every woman wants to wear a crown at one point in her life. And braids help you achieve that, without buying an actual crown. Add some ribbon for extra color and special flavor, and you are ready to go.
15. Red Double Pull Through Braids With Diagonal French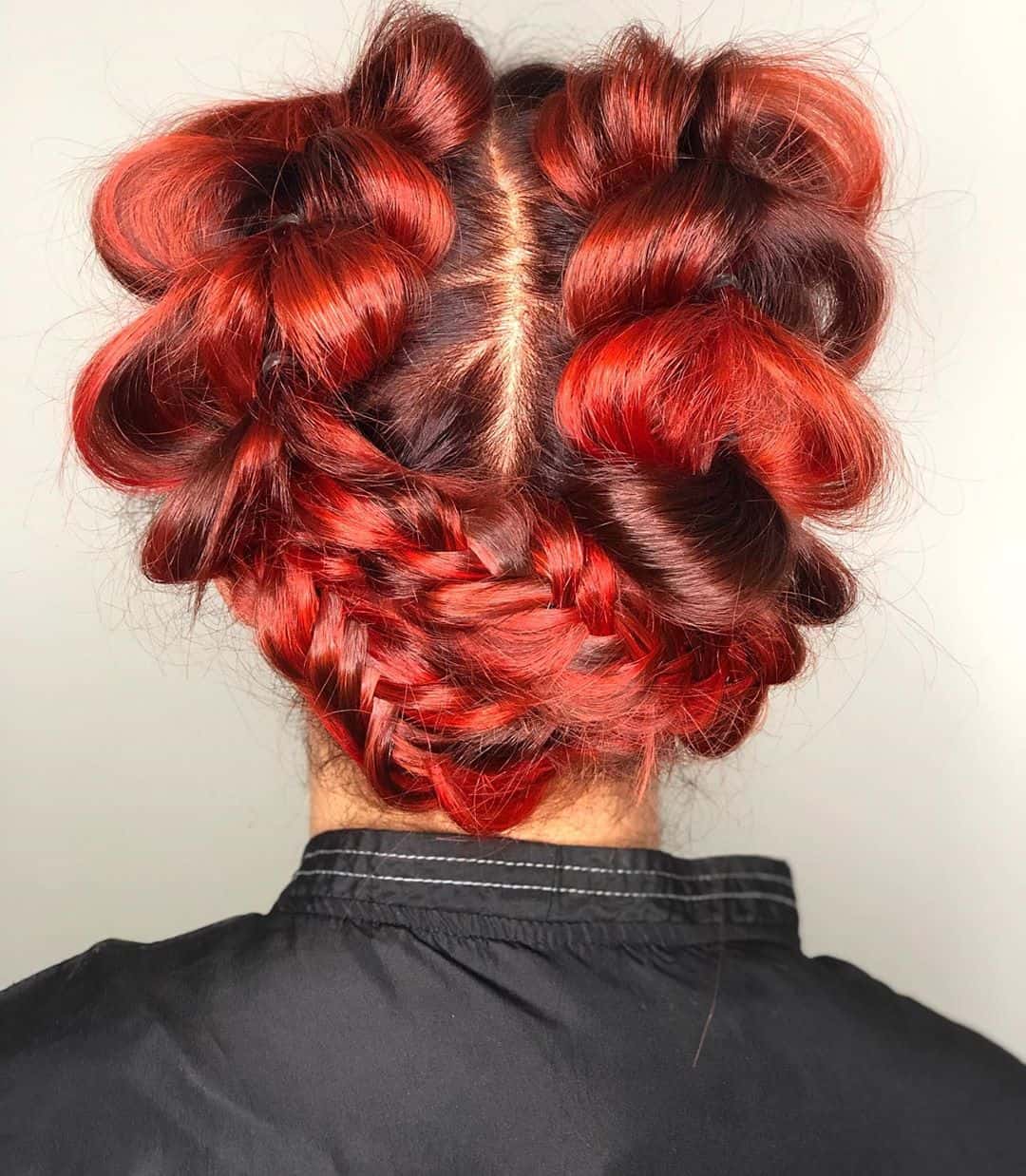 When braids are not enough for your wow factor, color is the next step. And there is no bolder color than red. It gives you instant recognition, and makes you the star of the show. You want to rise and shine? Go for red braids, as simple as that.
16. Thin And Thick Cornrows Into Slick Large Top Bun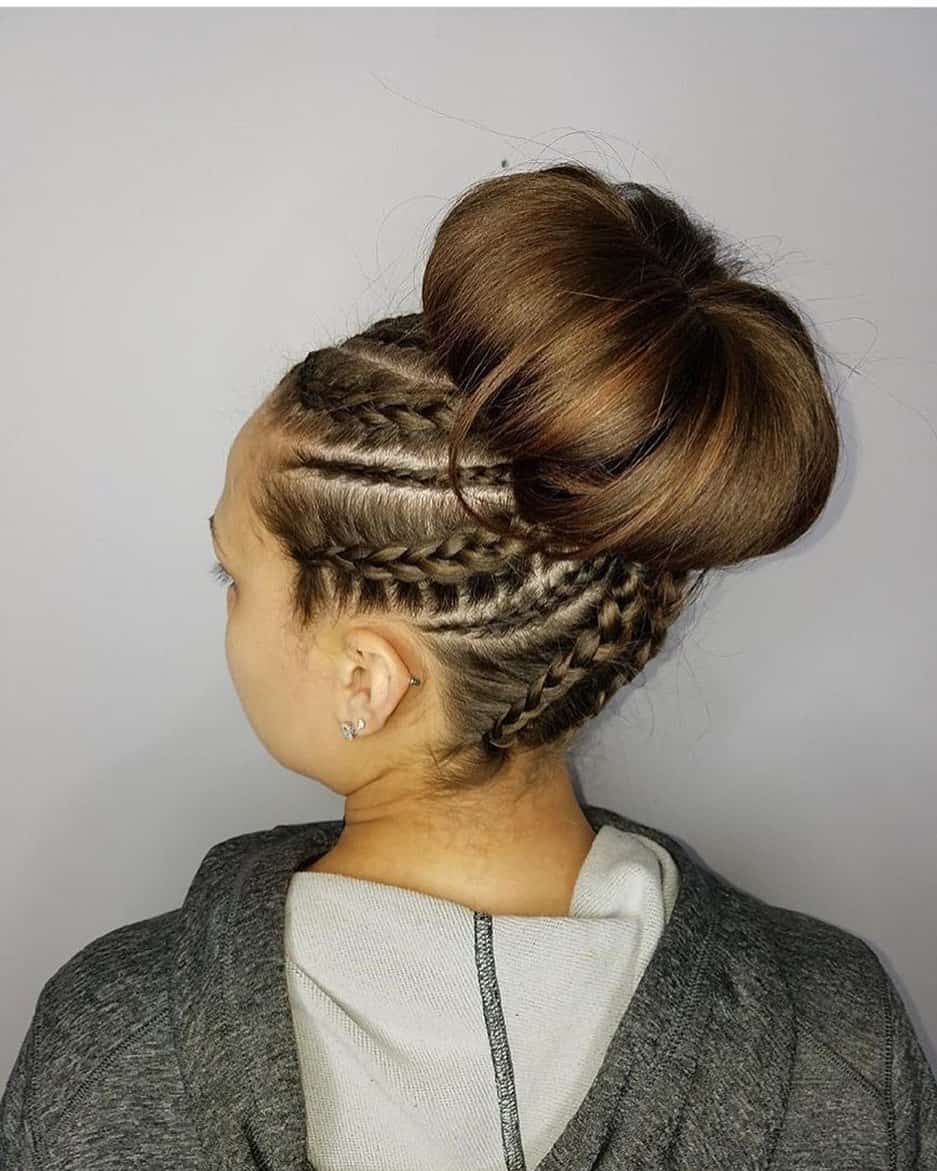 Experimenting with contrast is always a good idea. And that applies, even more, when it comes to thickness of your cornrows. Black and white, big and small, thick and thin, the list goes on. Contrast adds playfulness and gives you a unique factor.
17. Half French Halo With Flower Twist Chignon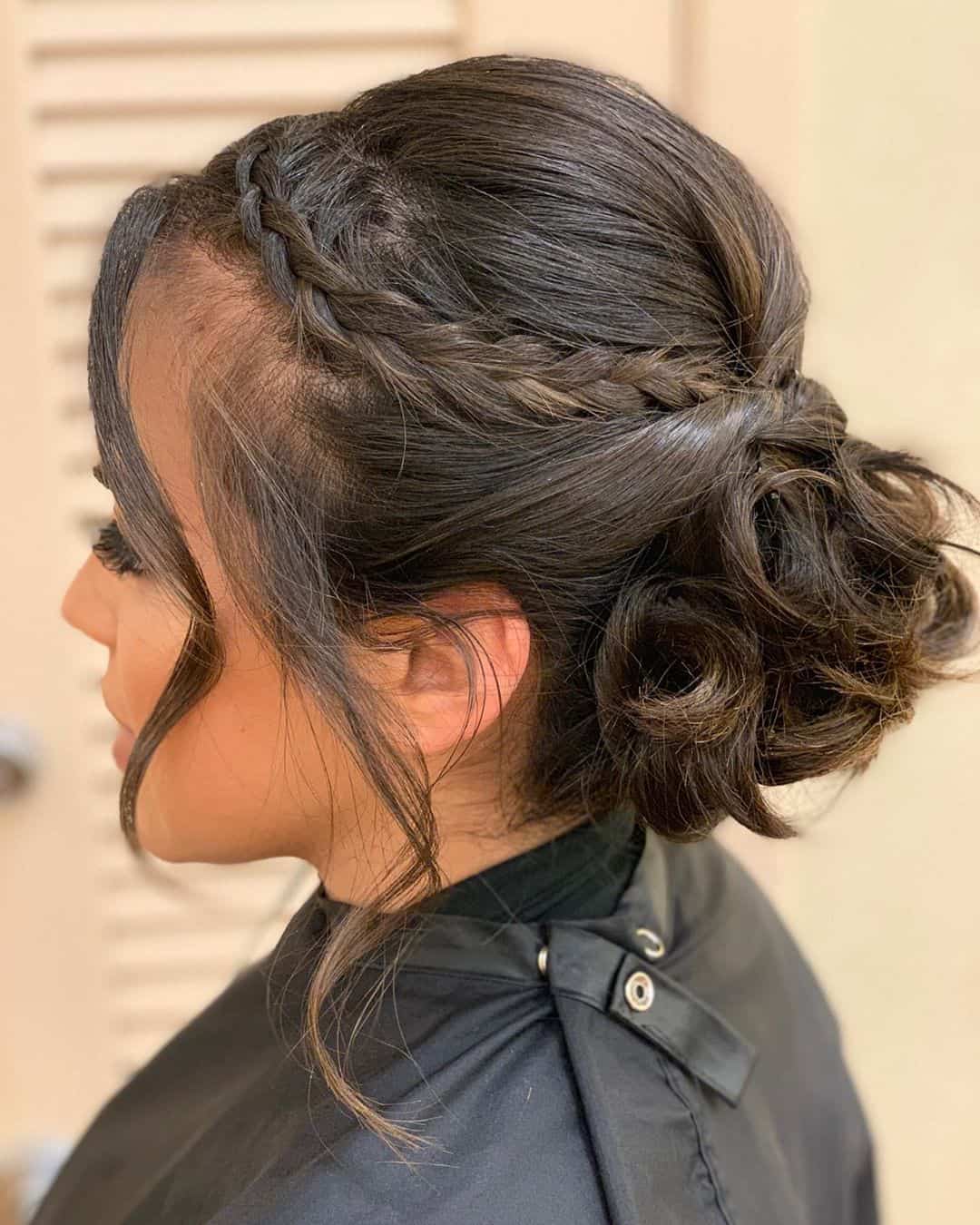 Slowly but steadily, halo braids are becoming a must-have in the world of hairstyles. The style is just too versatile to ignore. Same as braided updos, you can wear it on a casual day, or a glamorous night. Combining with an updo is getting the best of the two worlds.
18. Gentle Flow Braids In Low Chignon Updo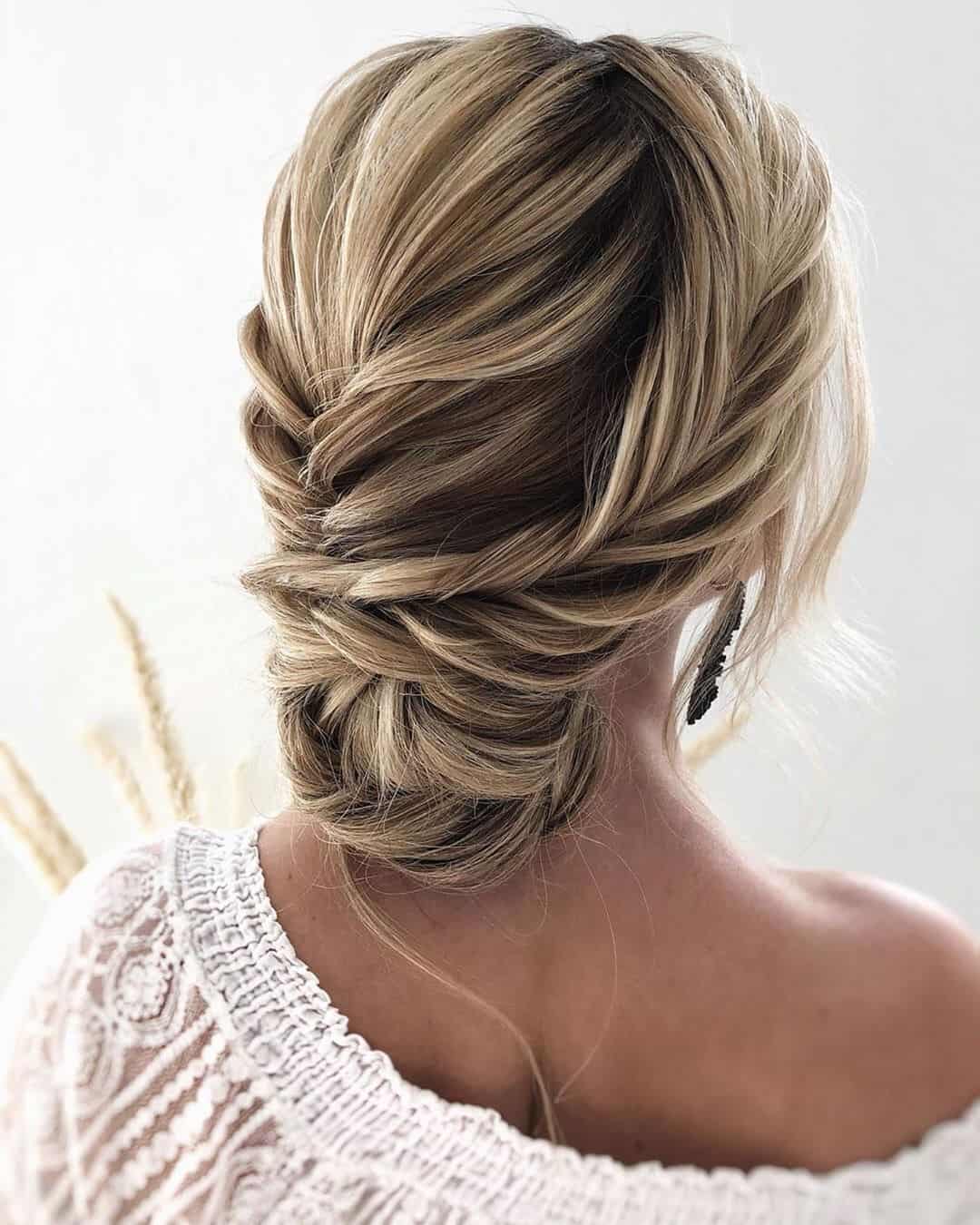 The chignon updo has stood the test of time. You can use it to flatter your hair type and face shape. The classic chignon is a way too elegant, but with an updo, you can give it a casual twist. Bring it down to Earth, if you like.
19.  Top Knot Bun With Weaved Braids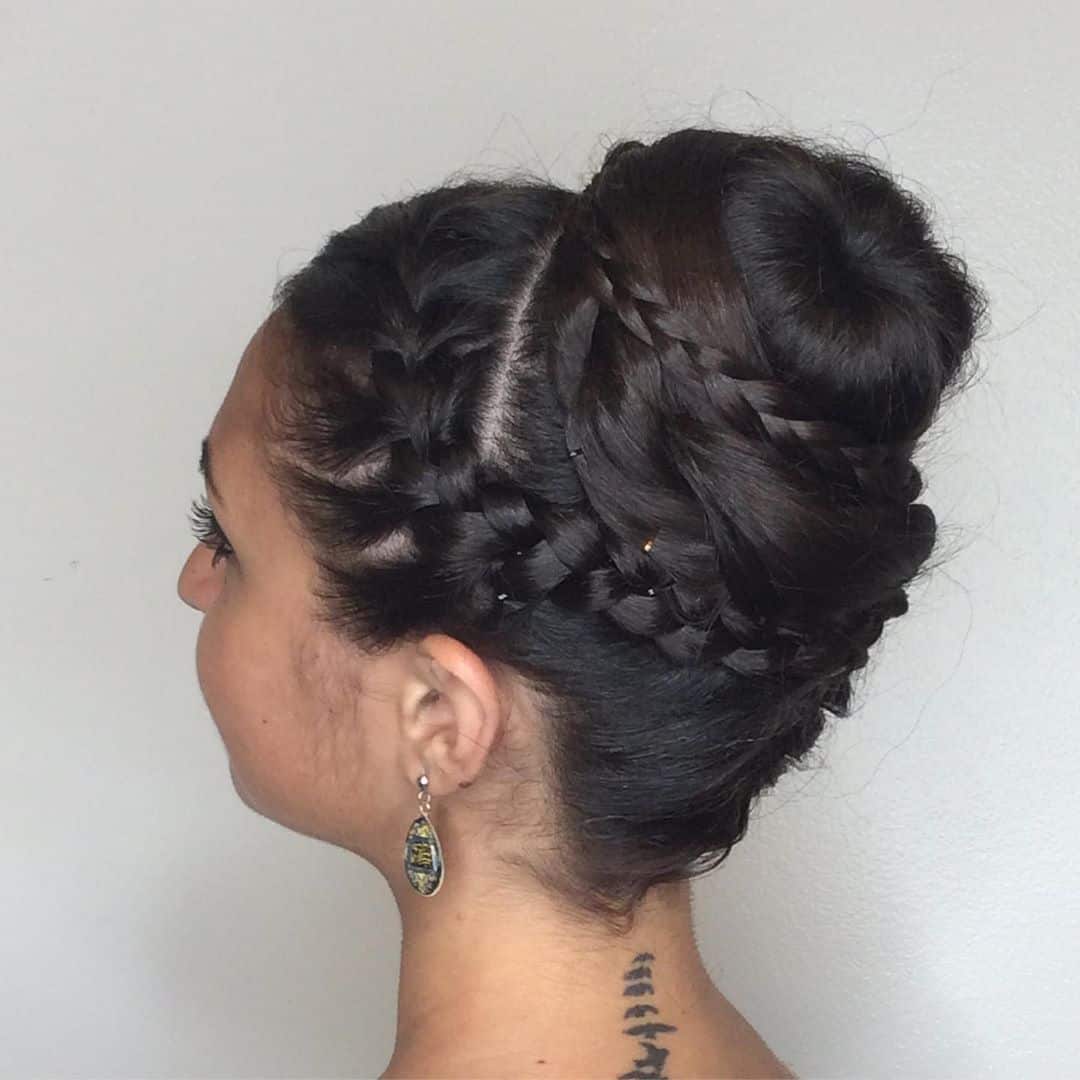 The top knot is one of the go-to moves when you have little to no time. It is super easy to make, and perfect for those days you are running late. And at the same time, it looks stylish and beautiful. All of that makes the top knot updo a favorite among ladies.
20. Dutch And Infinity Braids into Messy Buns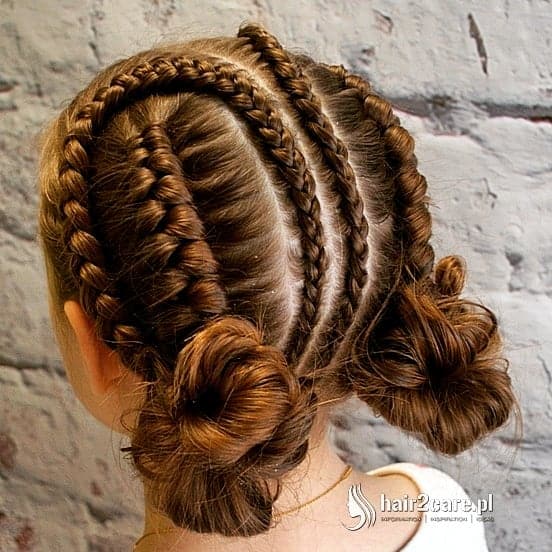 You can make your messy hair, look messier easily. Just add some messy braids. Infinity and Dutch braids are ideal, because they are versatile, and can be worn by women of all ages.
21. French Micro And Macro Cornrows Into Low Braid-Swirled Bun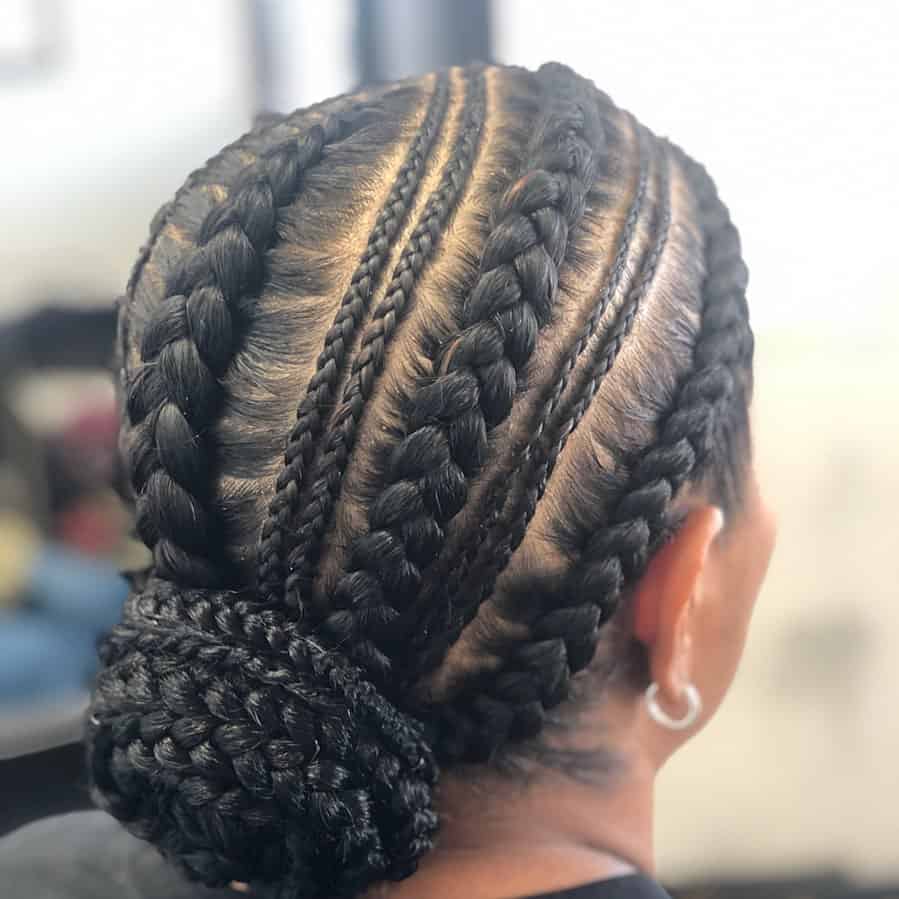 It is just amazing how many styles are implemented in a single hairstyle. It takes a special talent to make it all work. But if you follow the guide, and instructions, you can get there as well. The updo brings it all together.
22. Half Crown French Braids Into Side Braided Rose Bun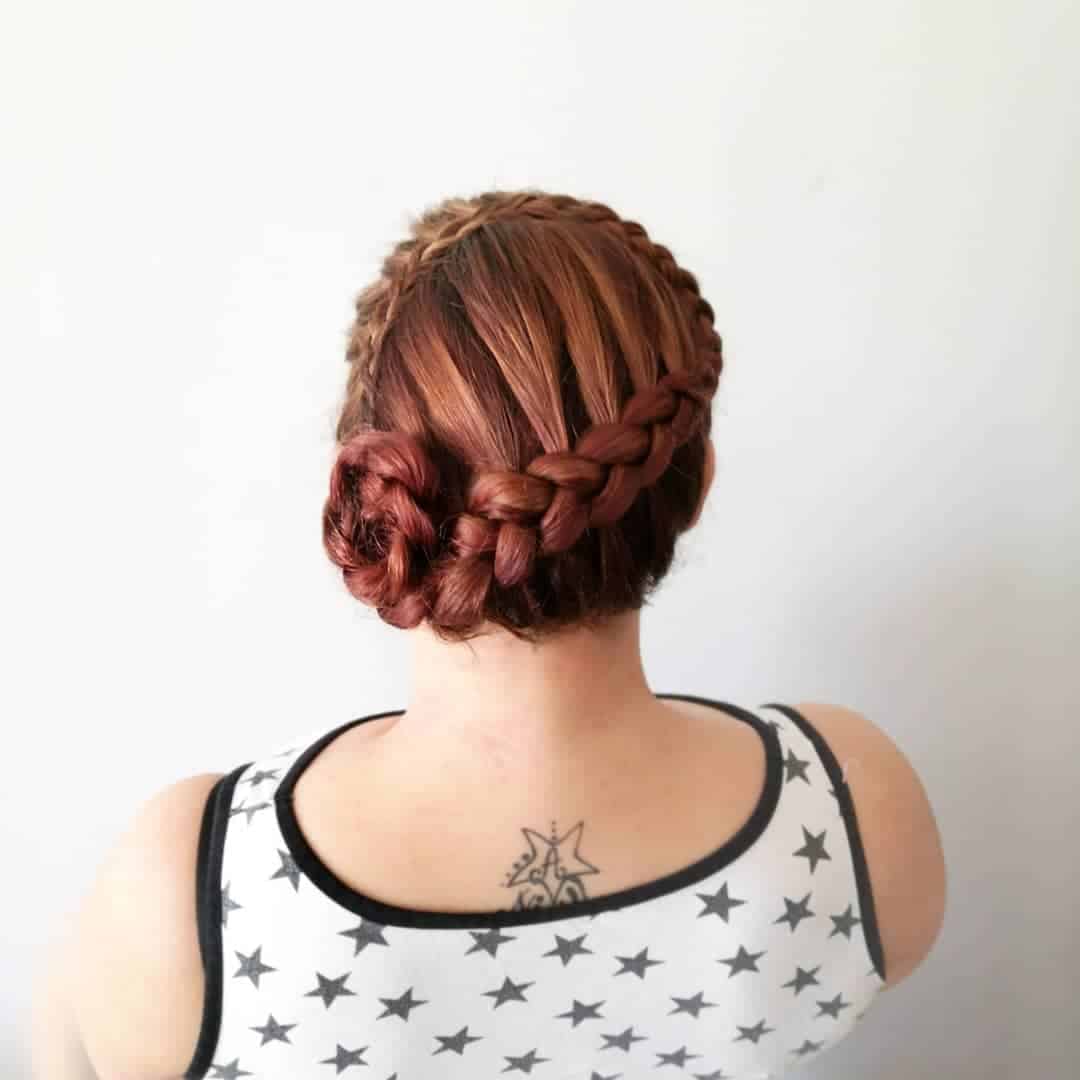 Some women want the elegance of a crown, but without the hype that comes with it. Enter the half-crown, ideal for a more casual event. The color is just a touch for flavor. This hairstyle works wonderfully with or without rose color.
23. Cornrow Mohawk Top Knot Bun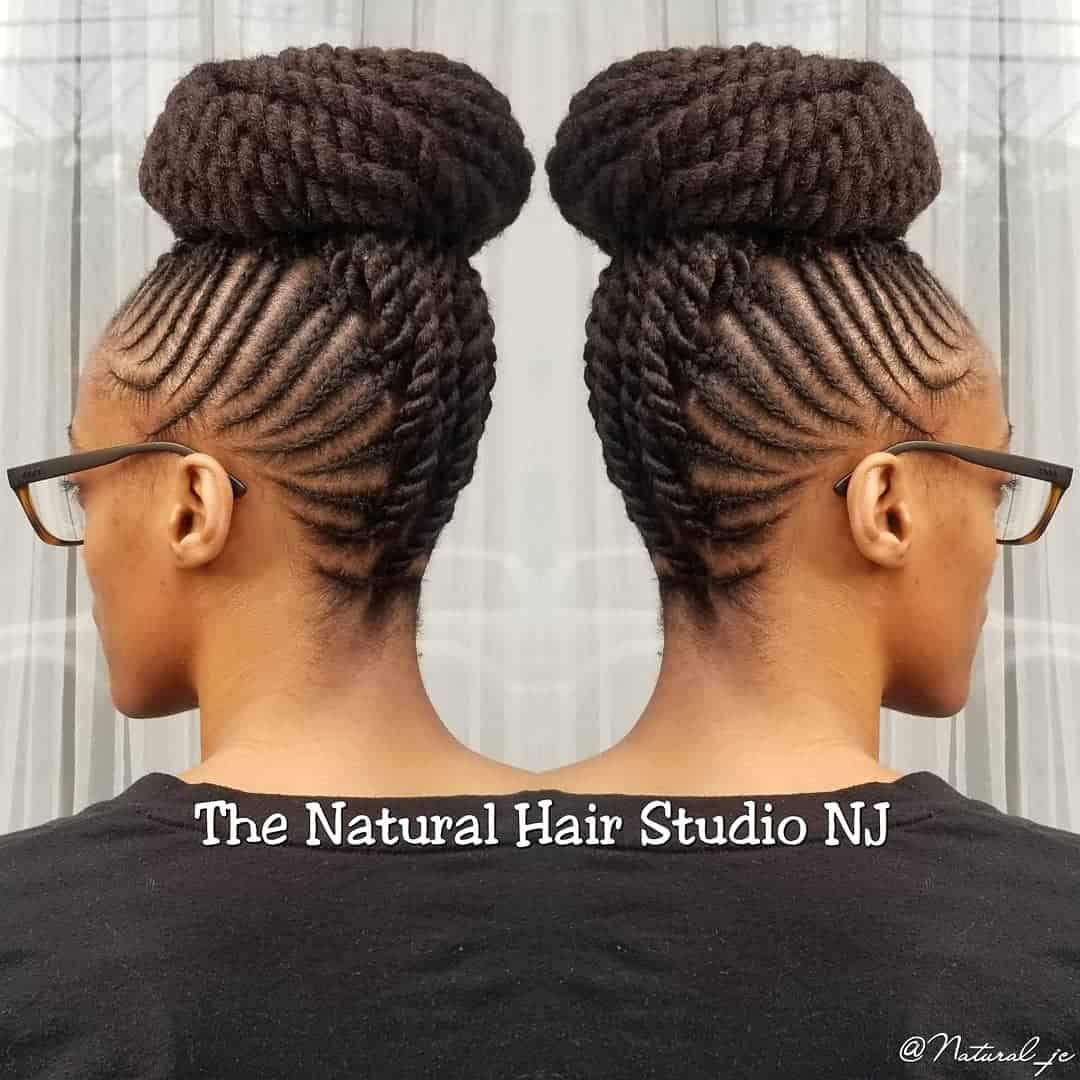 We live in an era of rebel, strong, emancipated, and individual women. And the Mohawk is the perfect hairstyle that is the epitome of all those attributes. Nowadays, Mohawk has become a regular on fashion shows and even formal events. Here is one idea how to make a Mohawk with a ton of volume and texture.
24. All Around Crown Braids Updo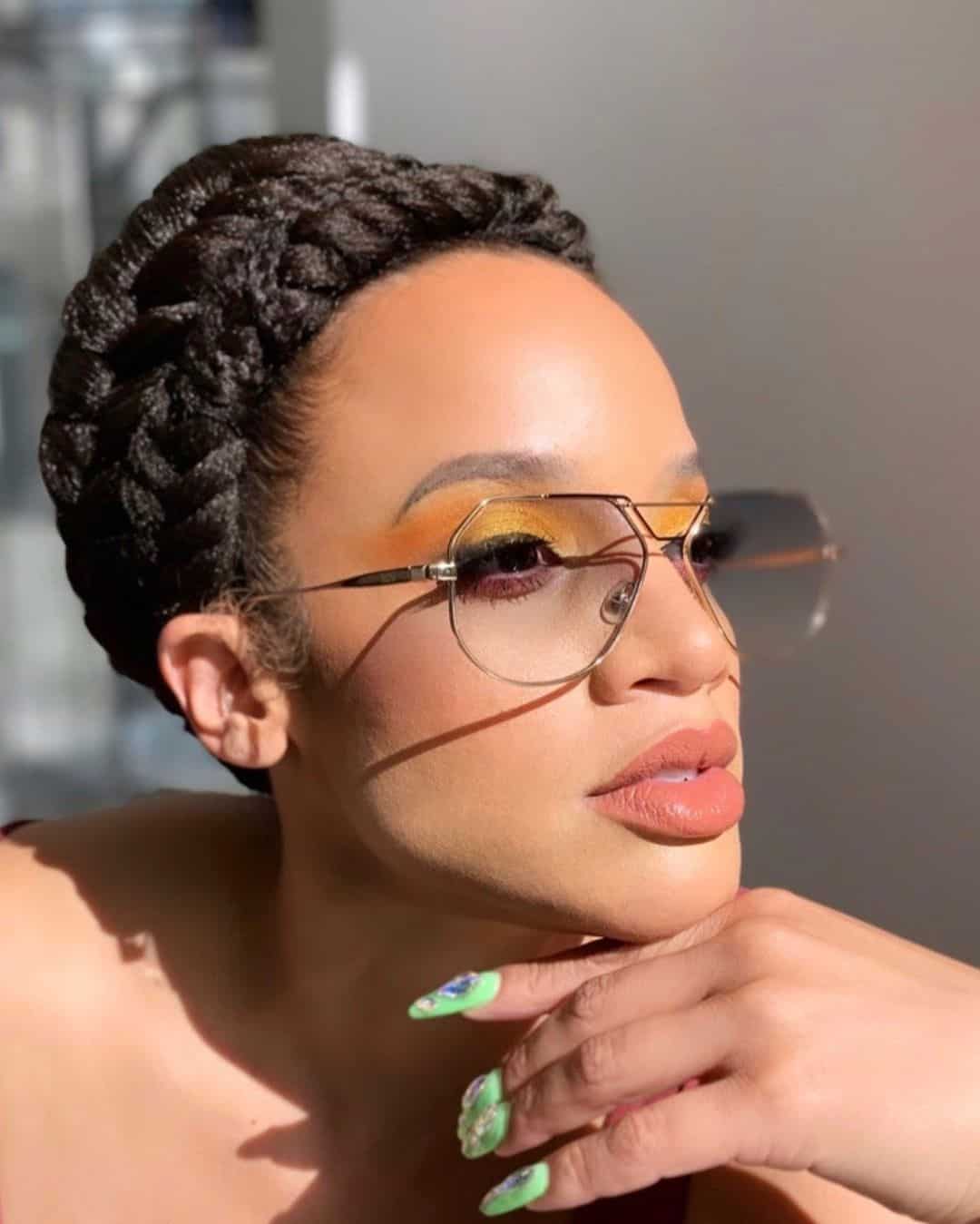 This hairstyle can help you add statement texture to your updo, and it is seen from every angle. Usually, crown braids are wrapped around just above the hairline. But this one is taking a step further.
25. Three Strand Braids With Three Strand Pulled Underneath Updo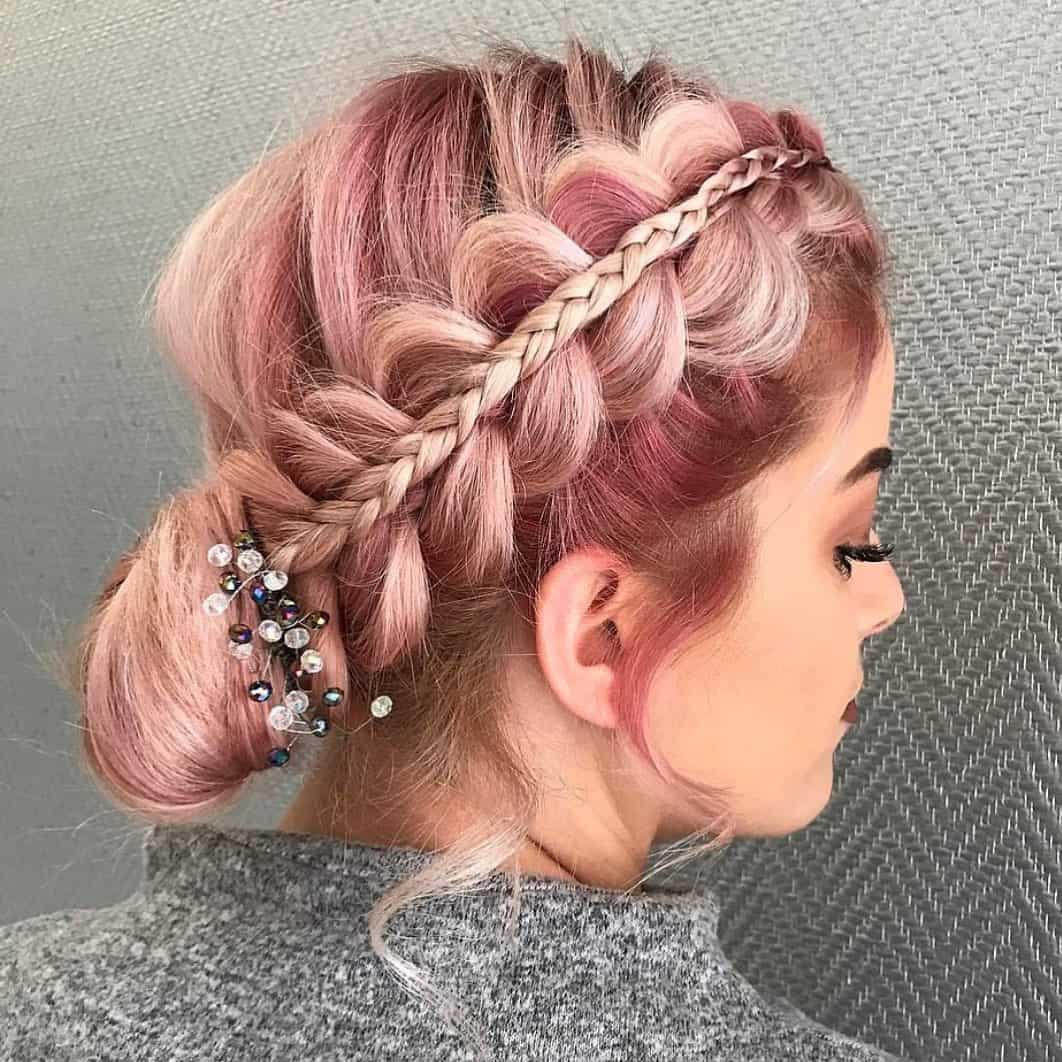 For the very last braided updos hairstyle, we want to give you the classic braiding technique. The three strands is the first braiding technique most women learn. And as such, it is quite simple and basic. But even the simplest braid can be transformed into something amazing.