In the past few years, cat eye makeup look exploded in popularity. Not only it is a great look for formal events, but many makeup artists have tweaked it into a popular casual day look.
So, how to master the cat eye makeup? And what are some makeup ideas you can try? Well, do not worry, we have you covered with a couple of ideas for different eye colors, eye shapes, and skin tone.
The perfect application of cat eye makeup is no longer an elusive dream. You can have it easily.
1.Beige Eyeshadow With Long Split Cat Eye Eyeliner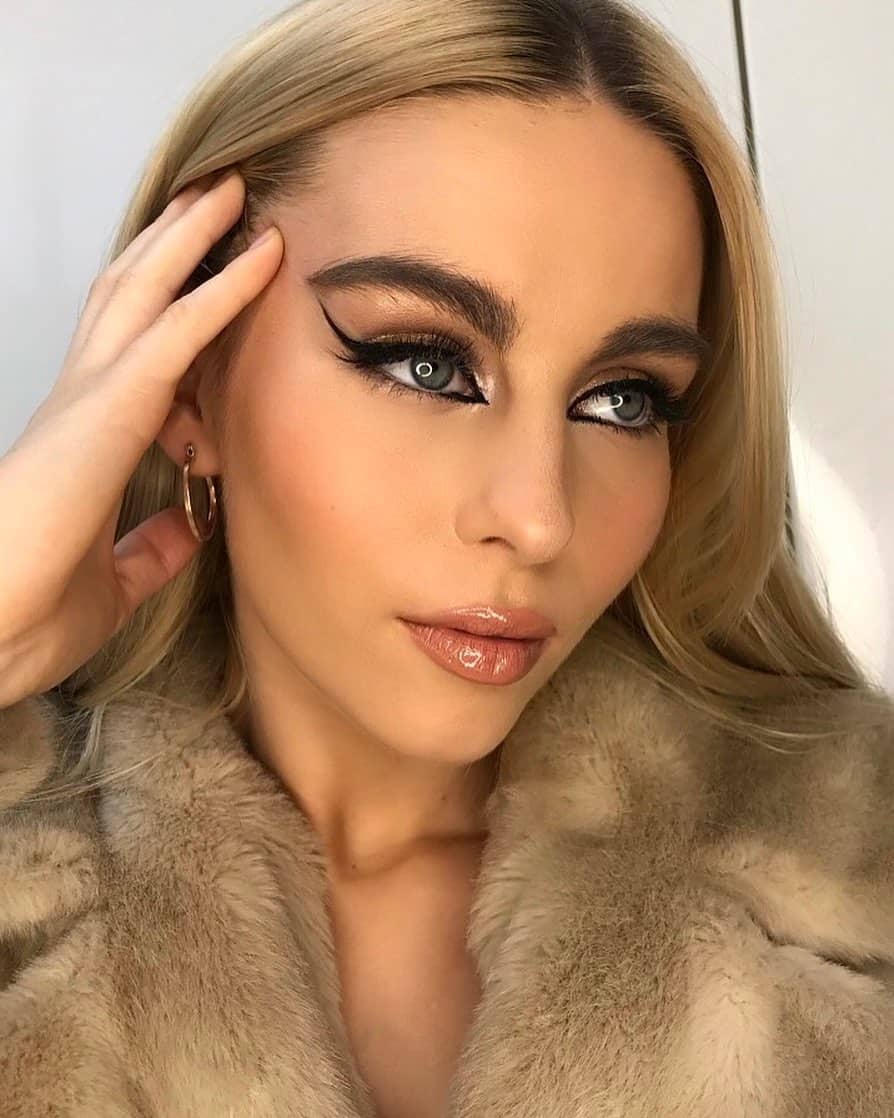 Let's start with a look that is as close to natural as it can get. Beige and brown eye shadow colors are considered the most natural tones. And if you want a look that will not pop, beige is the way to go.
2. Gold And Brown Eyeshadow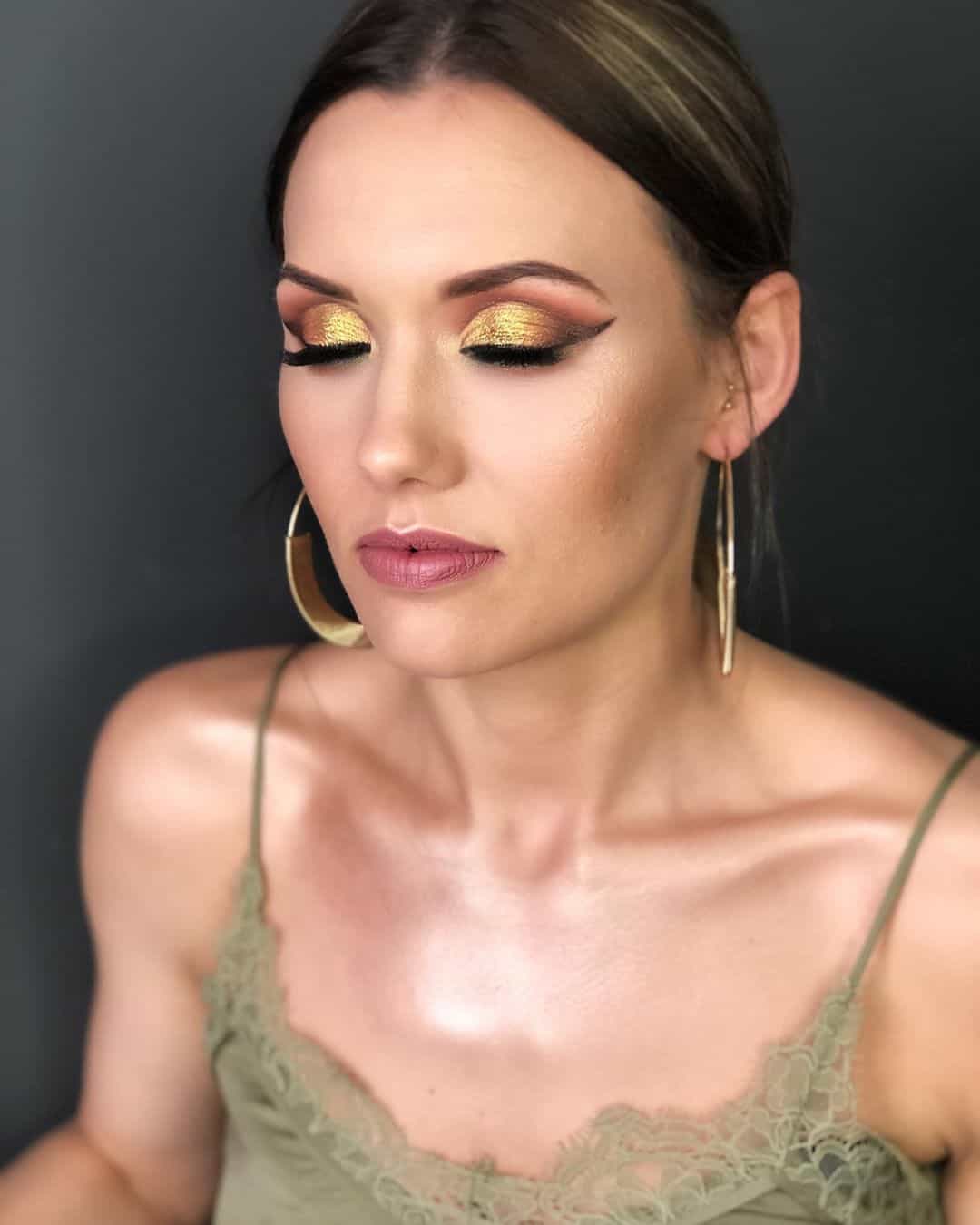 On the other hand, if you fancy a look for a formal event that will get you a couple of gazes by strangers, go for gold. Simply put, gold is the color of luxury and glamour, and one should always apply it for such events. No formal event goes without some touch of gold.
3. Black And White Cut Crease Eyeshadow With Thick To Thin Scaled Cat Eyeliner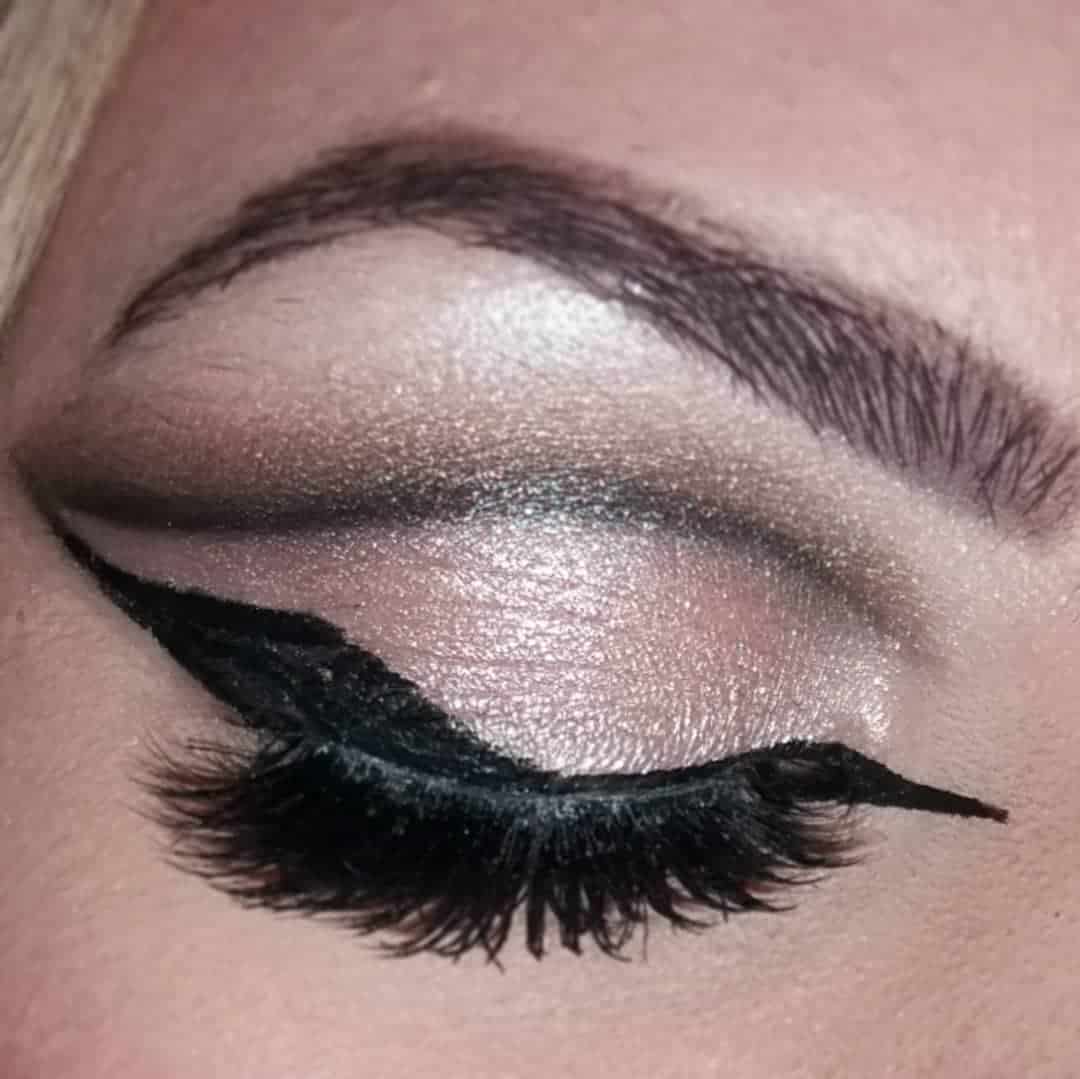 If there is one pairing that will always be in fashion and style, that is the black and white combo. This contrast is so powerful, yet so simple. We just love the contrast here, not just on color, but in thickness as well. Masterful!
4. Beachy Makeup With Thick Cat Eye Eyeliner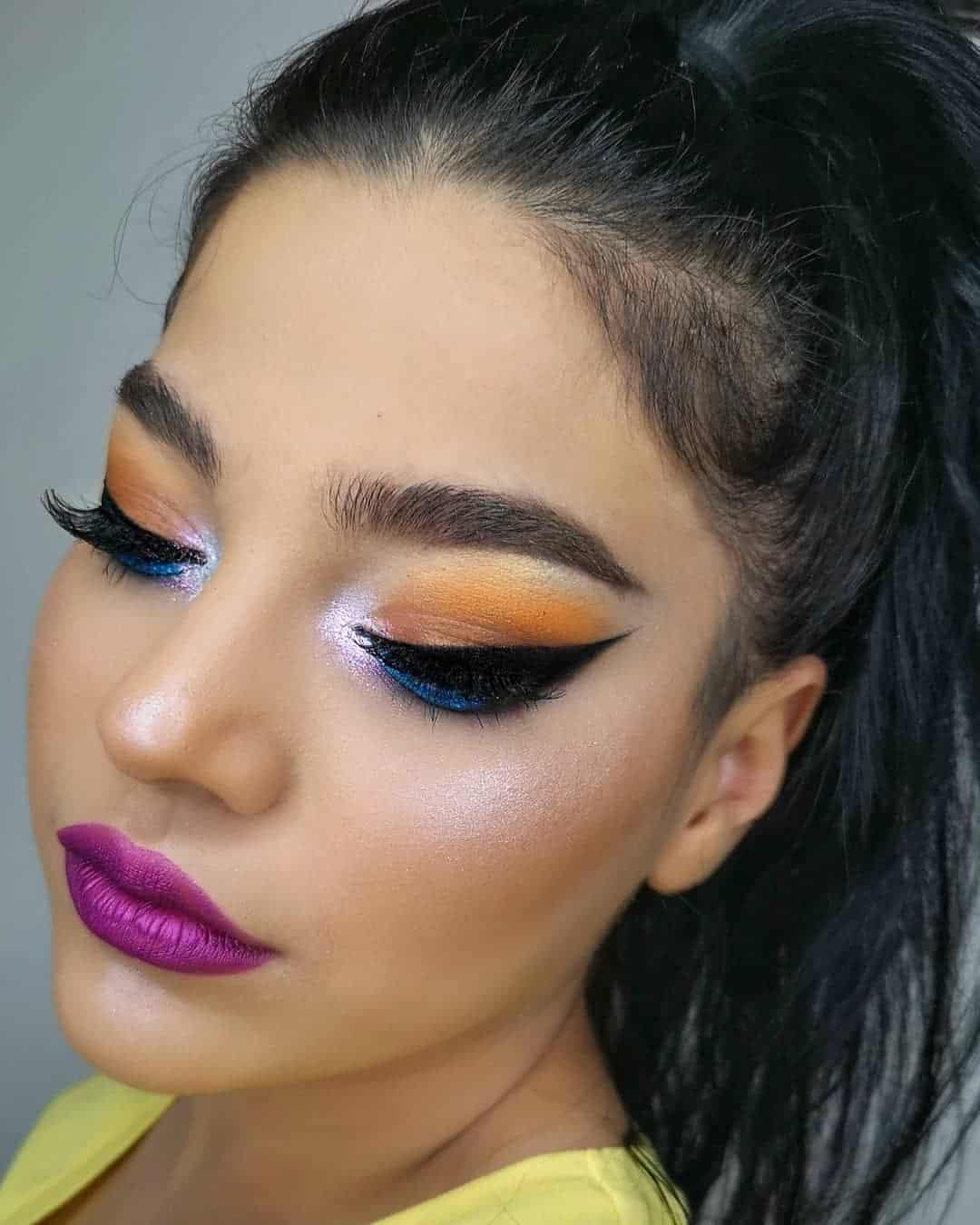 No, you do not wear this makeup look at the beach. Instead, you bring the beach with you, anywhere you go. The colors of the beach are just too good to ignore. This look will pop instantly, and that is all thanks to the vibrant colors.
5. Black And Silver With Winged Cat Eye Eyeliner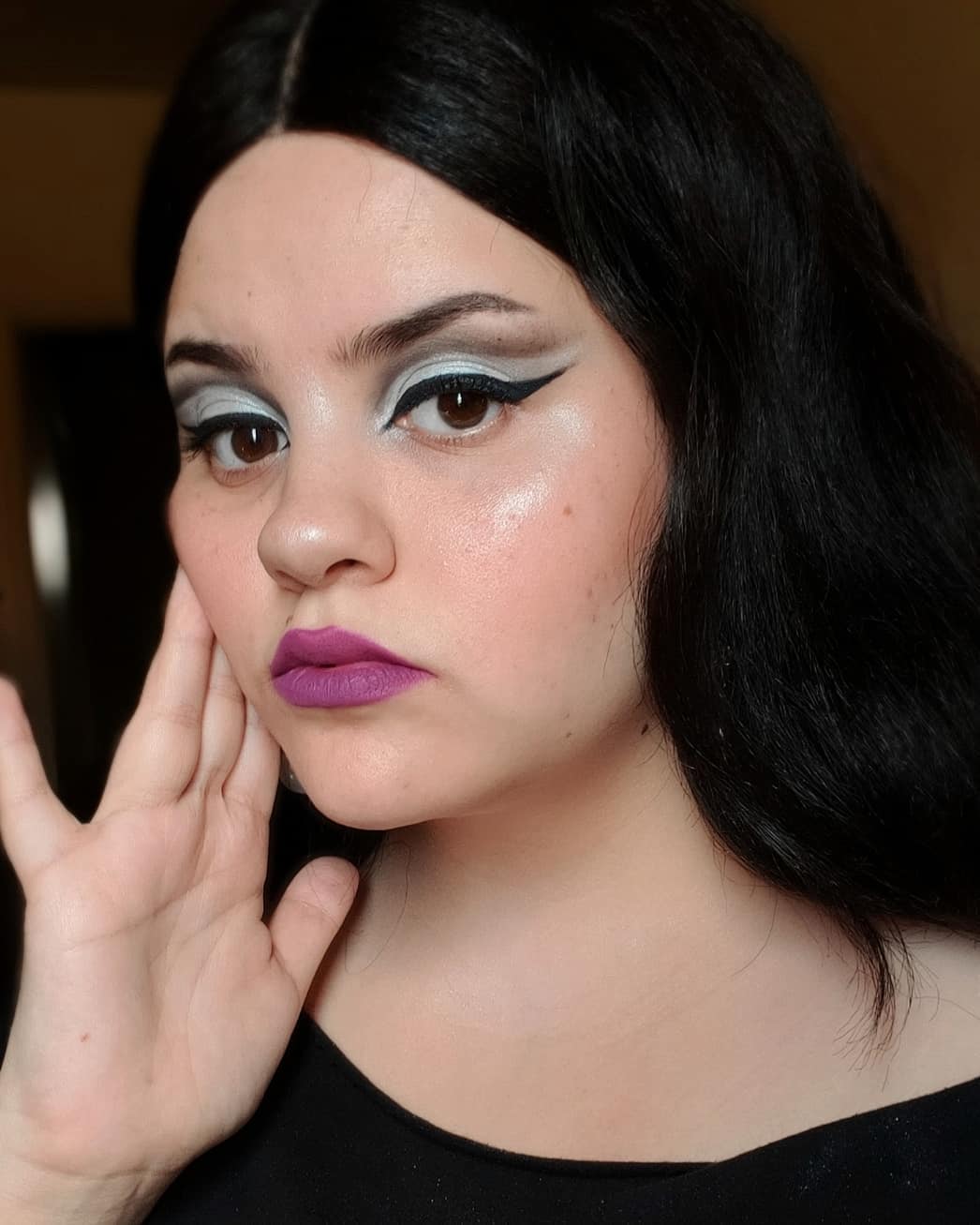 If you have pale skin tone, this look is an amazing choice for you. You should not worry you will look even more white than before.
6. Ombre Pink Cat Eye With Yellow Waterline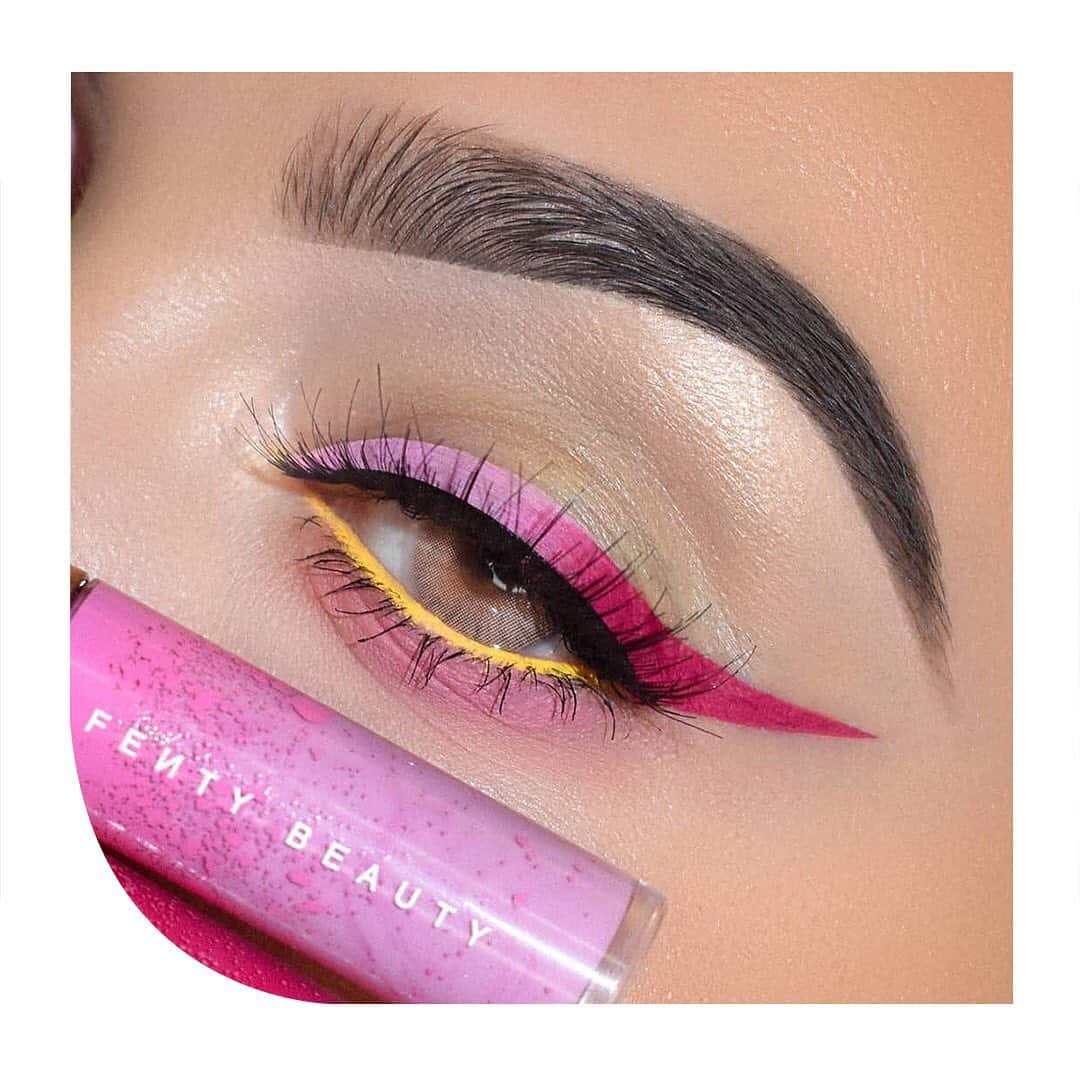 Britney Spears is the woman that popularized the ombre hair trend. She started in 2000, but the trend was quickly forgiven, due to Britney's lifestyle and disaster. But in the 2010s, the ombre came back stronger than ever. And it was no longer just a hair dyeing trend, ombre is now a culture and trend you can apply to everything. Yes, that includes your cat eye makeup as well.
7. Cat Eye Eyeliner With Black Waterline And Brown Eyeshadow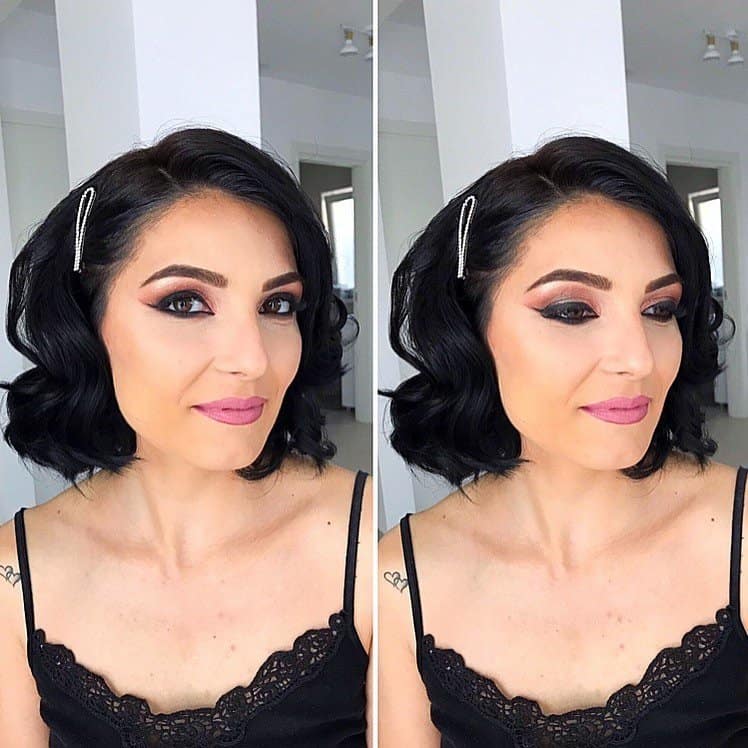 Women with black hair, or even brown hair, should always strive to get their makeup in a similar color. The result is a streamlined look that looks absolutely flawless. And not to mention, natural.
8. Pink And Gold Glitter Eyeshadow With Slim Cat Eye Eyeliner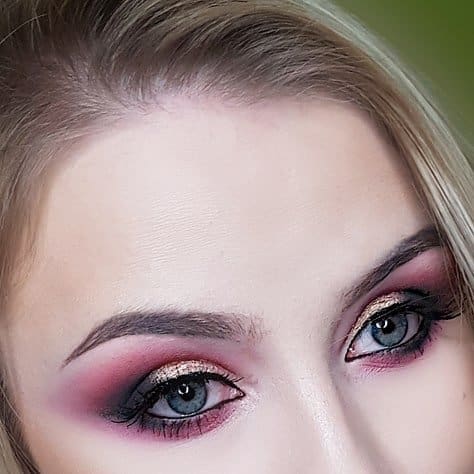 We had gold before, but it was a bit over the top. The beauty of gold glitter and eyeshadow is that you can go subtle, or you can go hard. Some ladies just want to keep things a bit more under control. And of course, feminine. When feminine is the look you go for, you cannot go wrong with pink.
9. Soft Brown Cat Eye Sharp Eyeshadow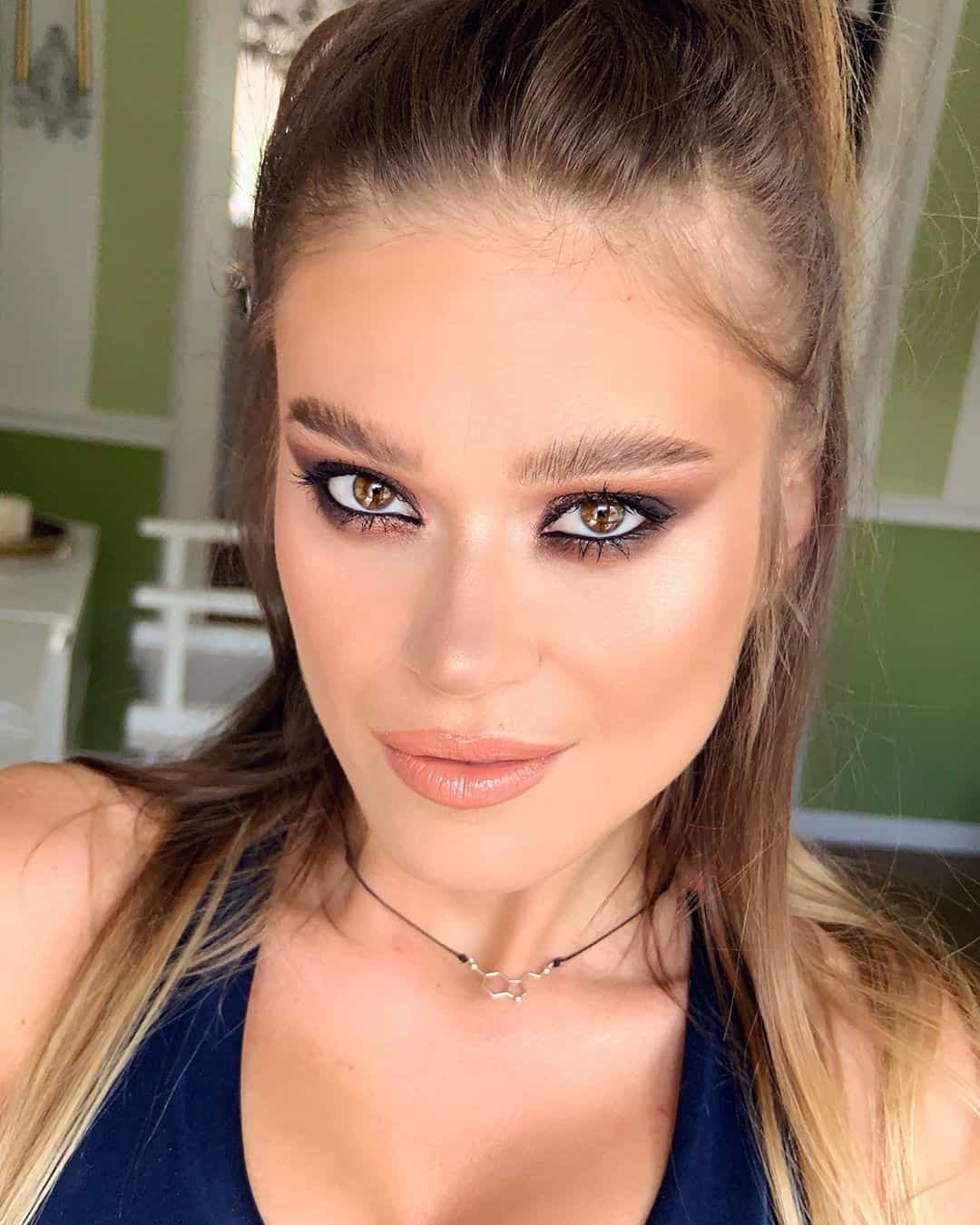 The main goal of cat eye makeup is to make your eyes pop. And make them look visually bigger. You can safely say that was achieved here. Just look at this girl's eyes. They are just so big, round, and beautiful. And it is a testament to the benefits of cat eyes.
10. White And Purple Long Straight Cat Eyeliner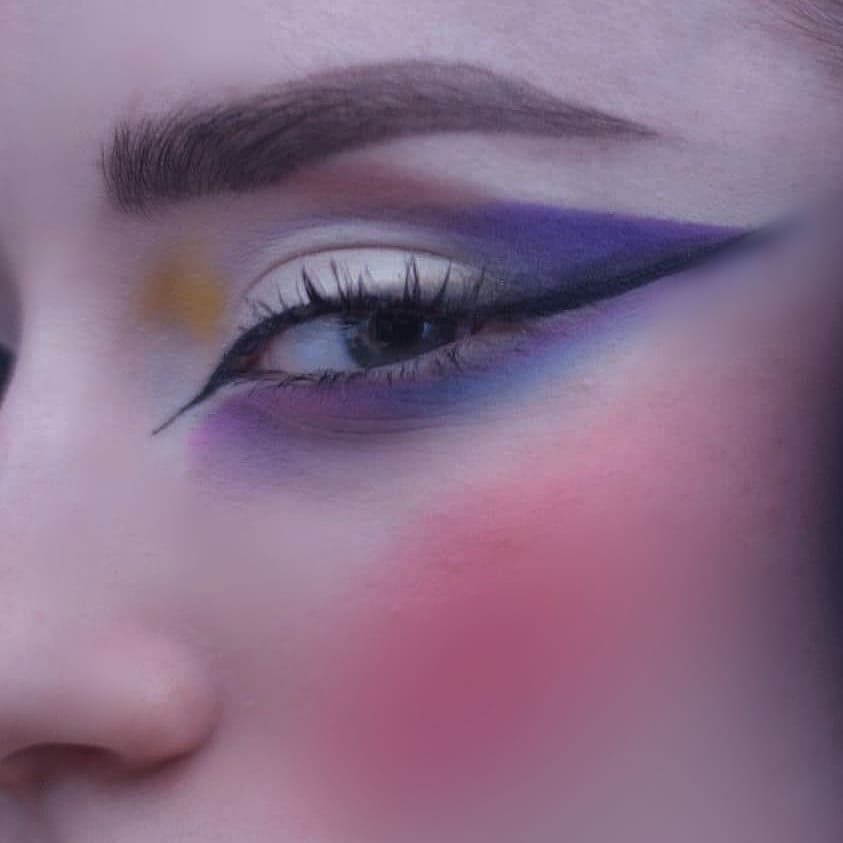 You can make the length of your cat eye makeup as long as possible. Some women opt for a bit longer line. And there is nothing wrong in that.
11. Thick Black Cat Eyeliner With Pink Waterline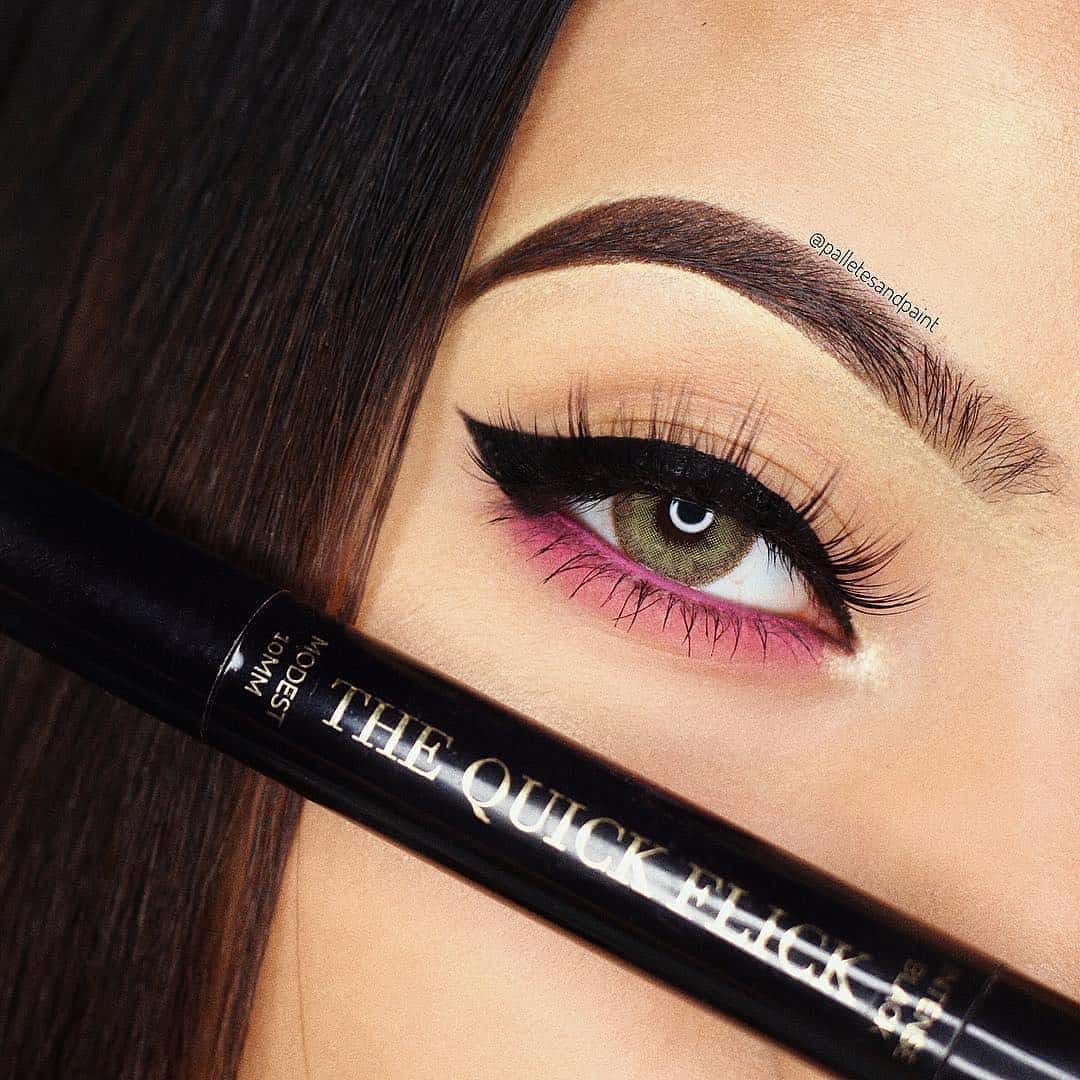 If you are going for a feminine, but also sexy look, combine pink and black. It is a simple pairing, but it works every time. Don't forget to apply mascara for your eyelashes as well.
12. Reverse Cate Eye Eyeliner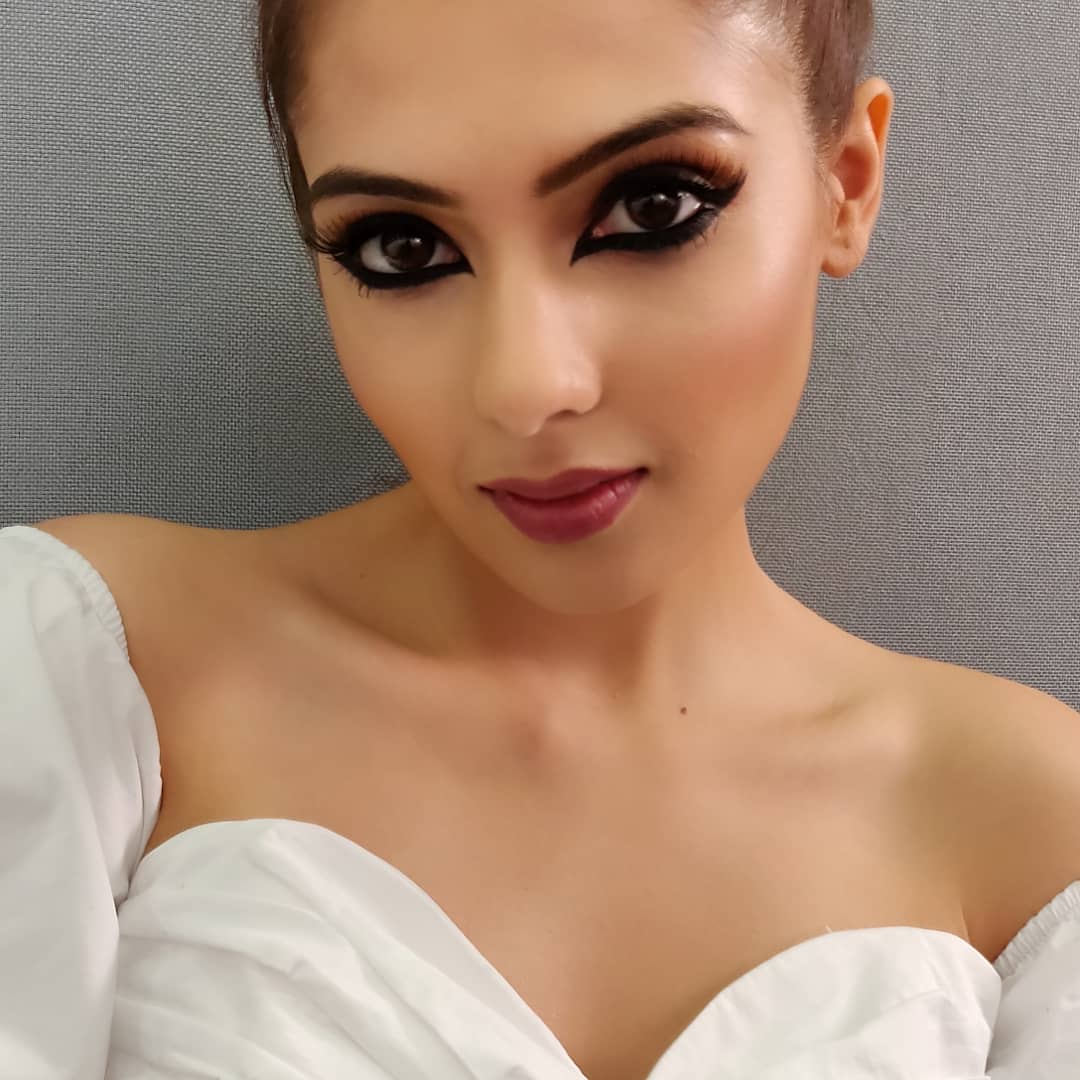 Nowadays, there is a reverse to every trend. Reverse French manicure, for example. But also, a reverse cat eye makeup. Now, this look might be too black or dark for some ladies. But what it does is frame your eyes perfectly. If you have big dark eyes, even better.
13. Summer Eyeshadow Cat Eye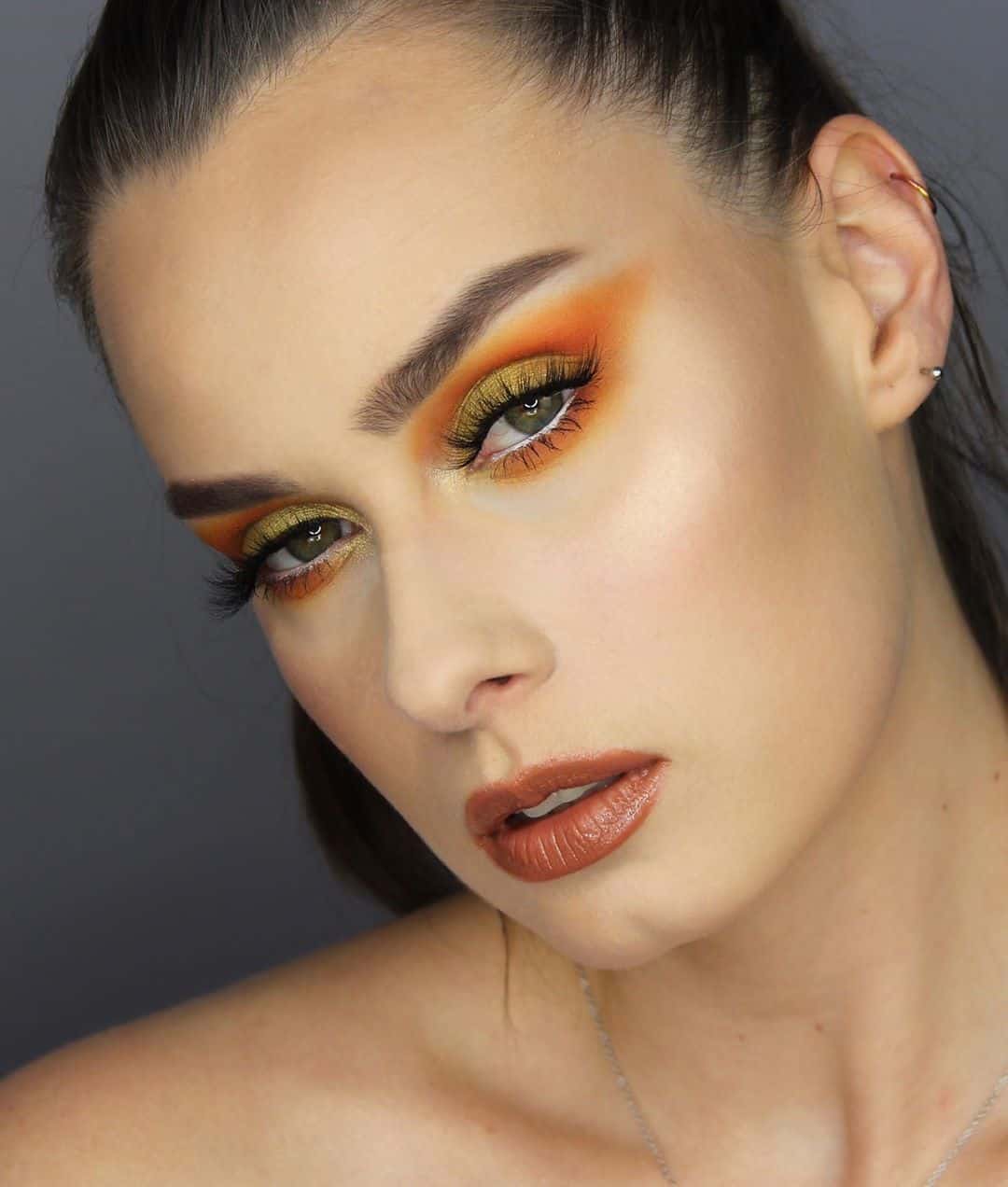 Cat eye is usually a look reserved for more glamorous occasions. And formal events. But it doesn't mean you cannot turn it into something casual and vivid. If you want a summer look, just combine it with some vivid color, like orange and yellow, for example.
14.  Earthy Shimmery Eyeshadow Cat Eye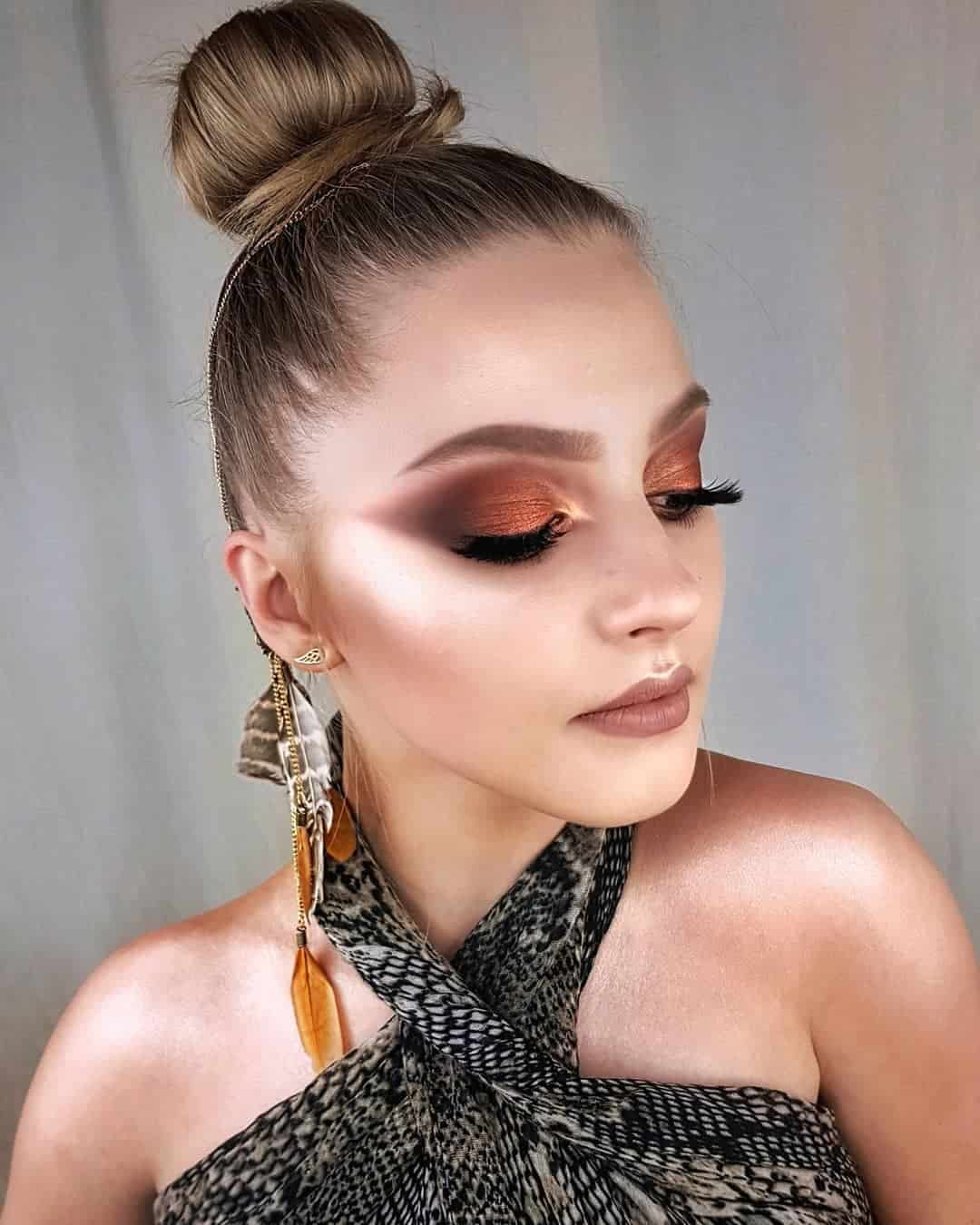 Cat eye is perfect for those who want a shimmery and glittery look. Paired with earthy tones, it gives you a natural and laid back look. Of course, as long as that is what you are gunning for.
15. Blue-Black Glitter Cat Eye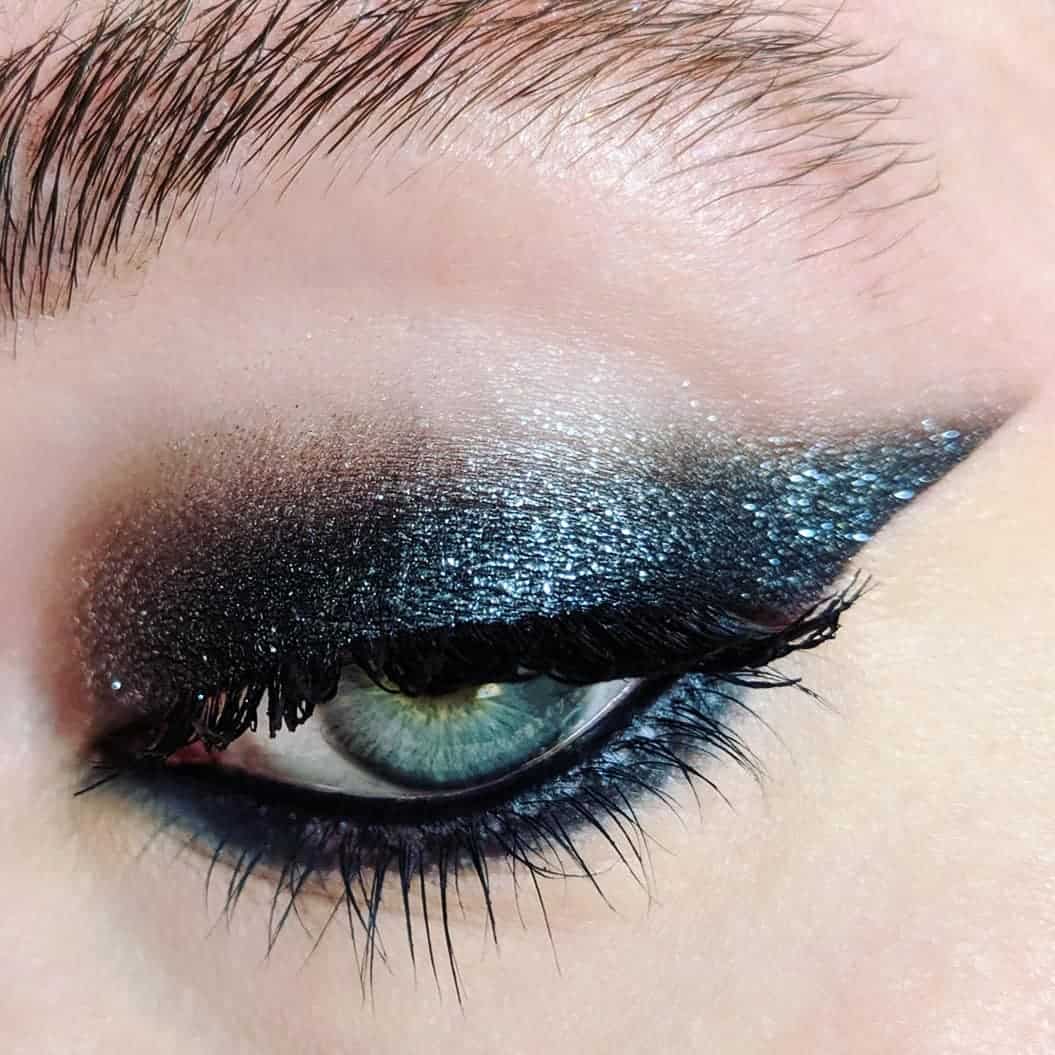 Speaking of glitter, blue gives you a bit of an emotional side to your look. Extremely bright and vibrant, it is one of the more intimidating colors for makeup inspiration. But once you master the blue, the result is astonishing.
16. Ombre White And Copper Slim Cat Eye Eyeliner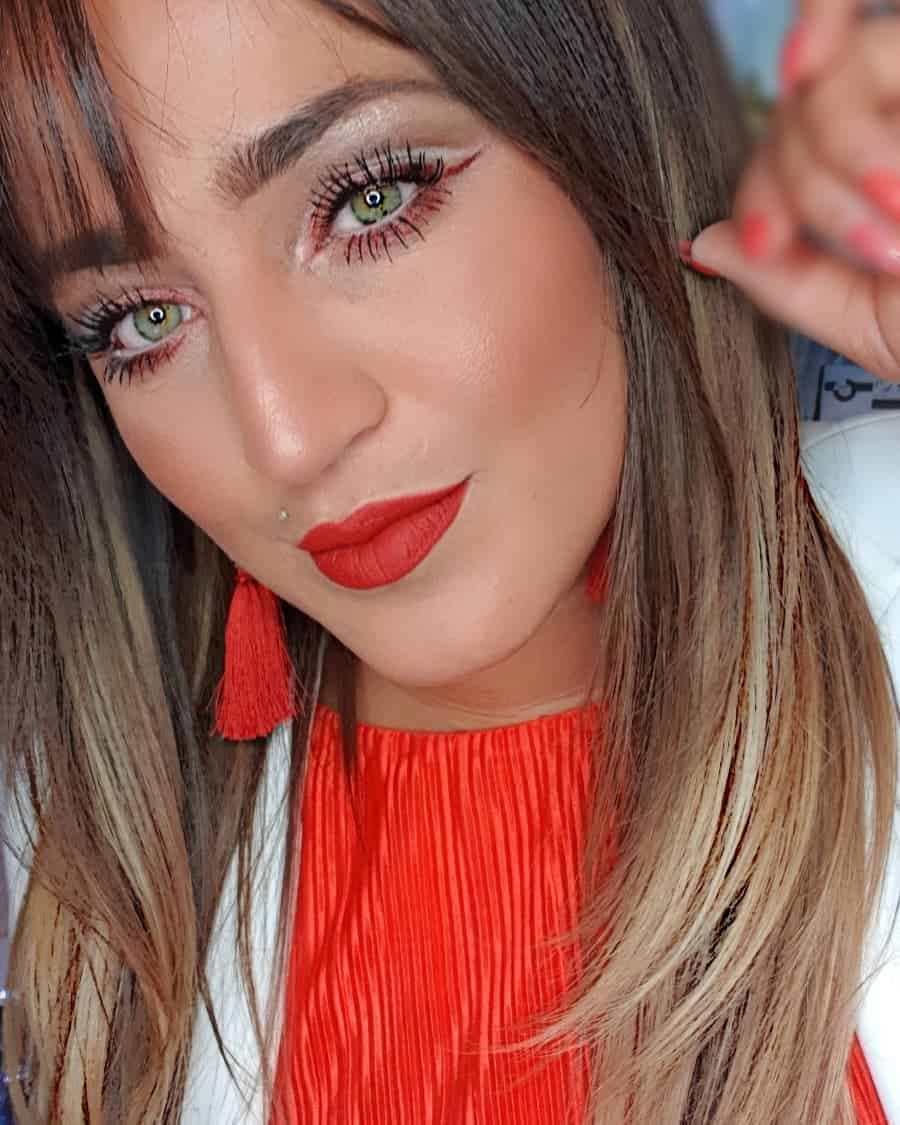 Ombre has evolved past the days of being just a hair dyeing trend. Nowadays, ombre is everywhere. And even though the trend has cooled down a bit, it is still very popular. Try it for your next cat eye makeup look.
17. Black Smokey Upper And Under Cat Eye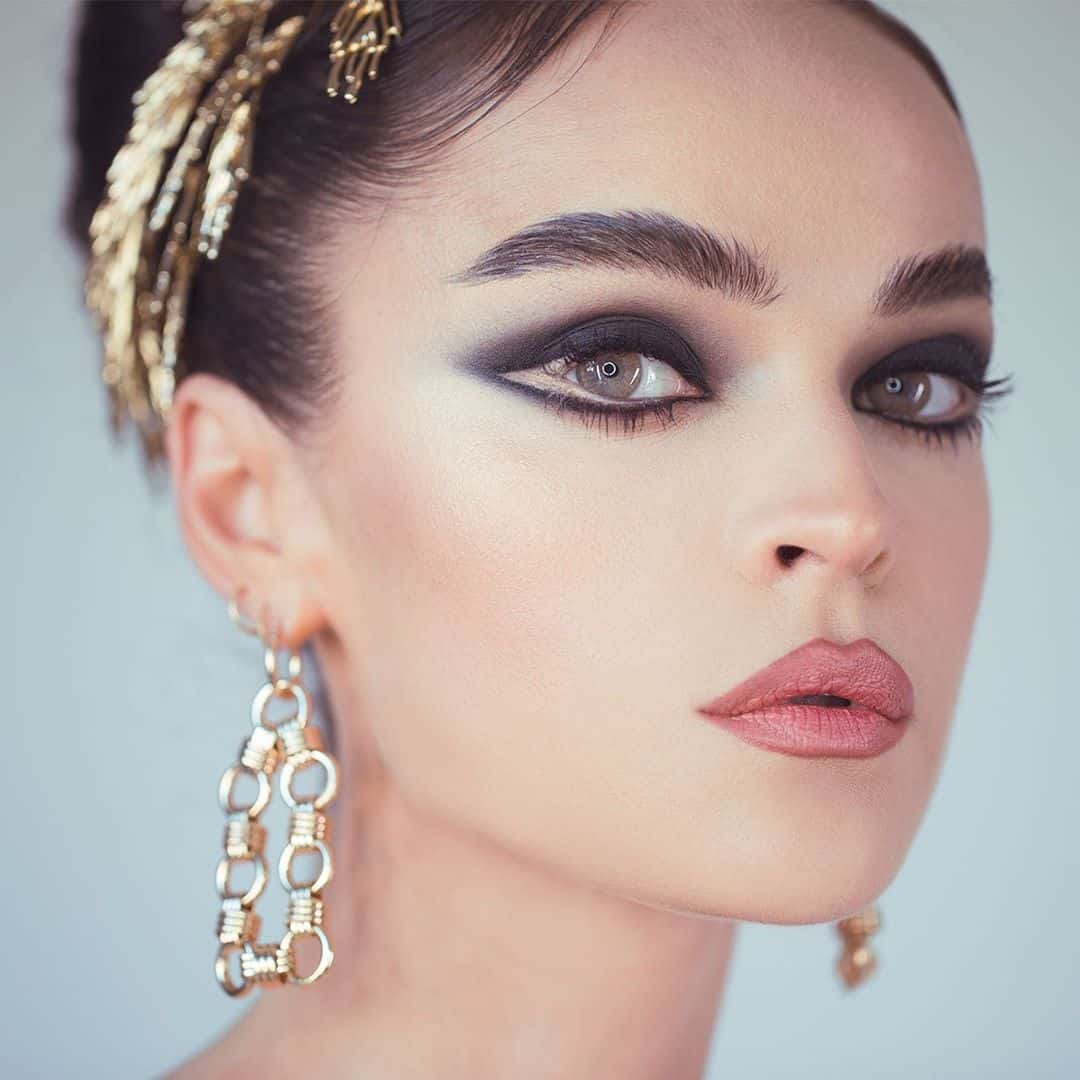 Smokey eyes are a flawless and eternal look. Truth be told, smokey eyes will never go out of style and out of fashion. With that in mind, women are always looking for the next and new unique look. We think we have a winner here.
18. Thick Squared Cat Eye Eyeliner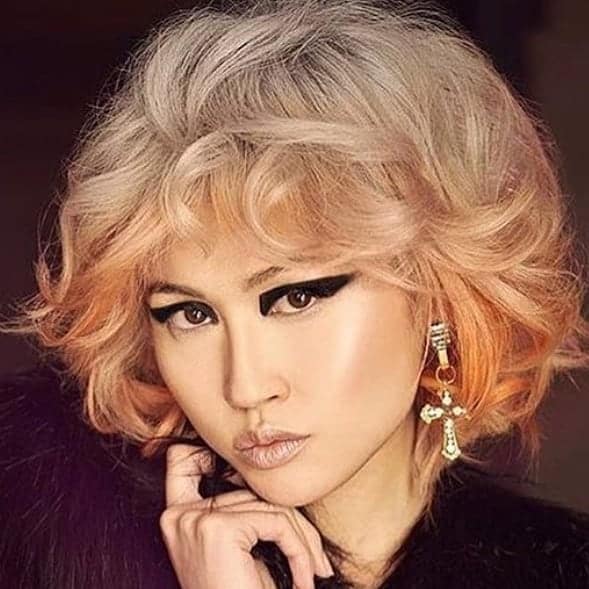 This is a retro and vintage look inspired by the women of the 70s and 80s. When you need to go to a retro party, you can still arrive with a cat eye makeup for your eyes.
19. Lower Lid Magenta Cat Eye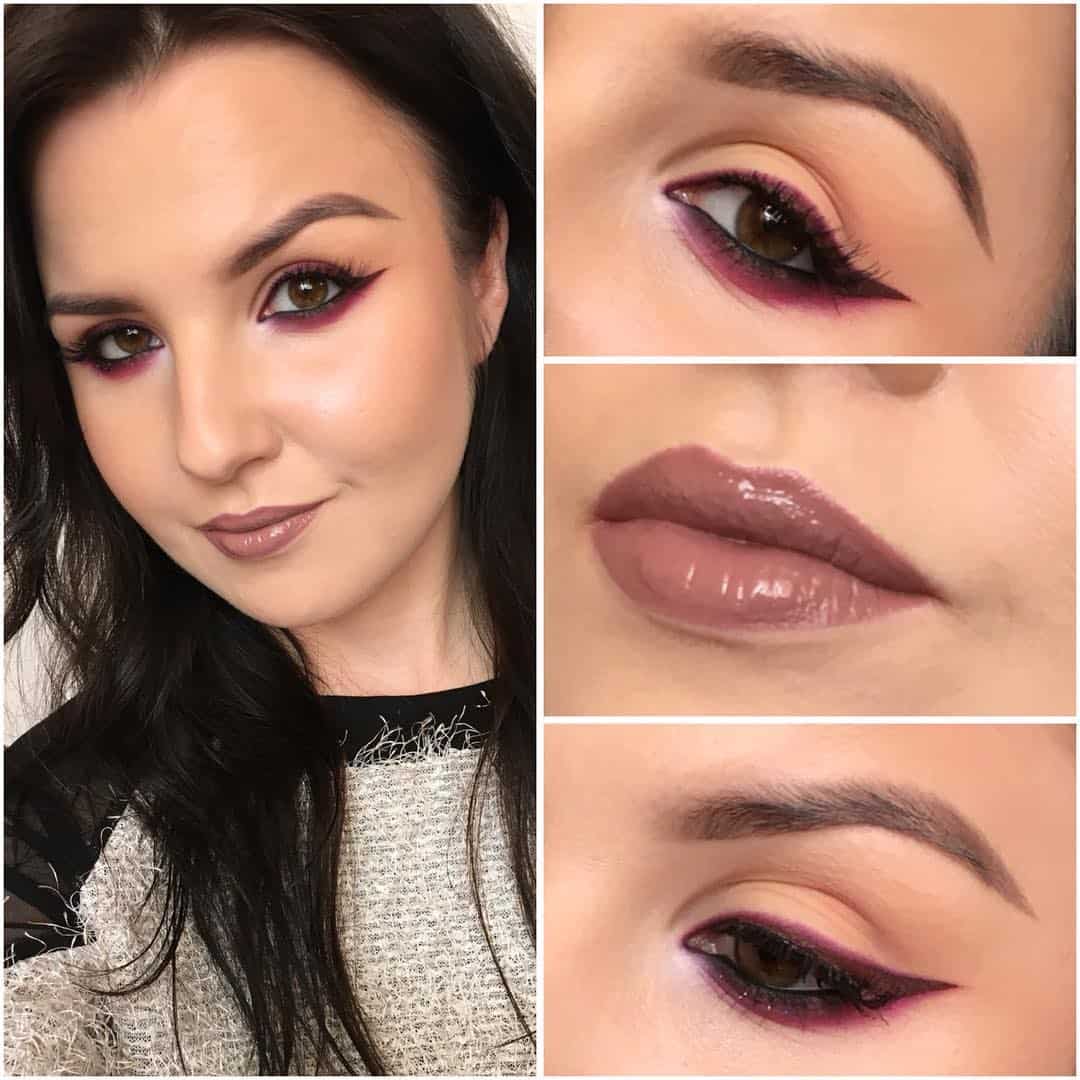 We said previously that there is a reverse way for everything. Some women prefer to put eyeshadow on the upper part of their eyelid, others go for the bottom. The contrast is just amazing.
20. Ocean Blue And White Cat Eye Eyeshadow And Eyeliner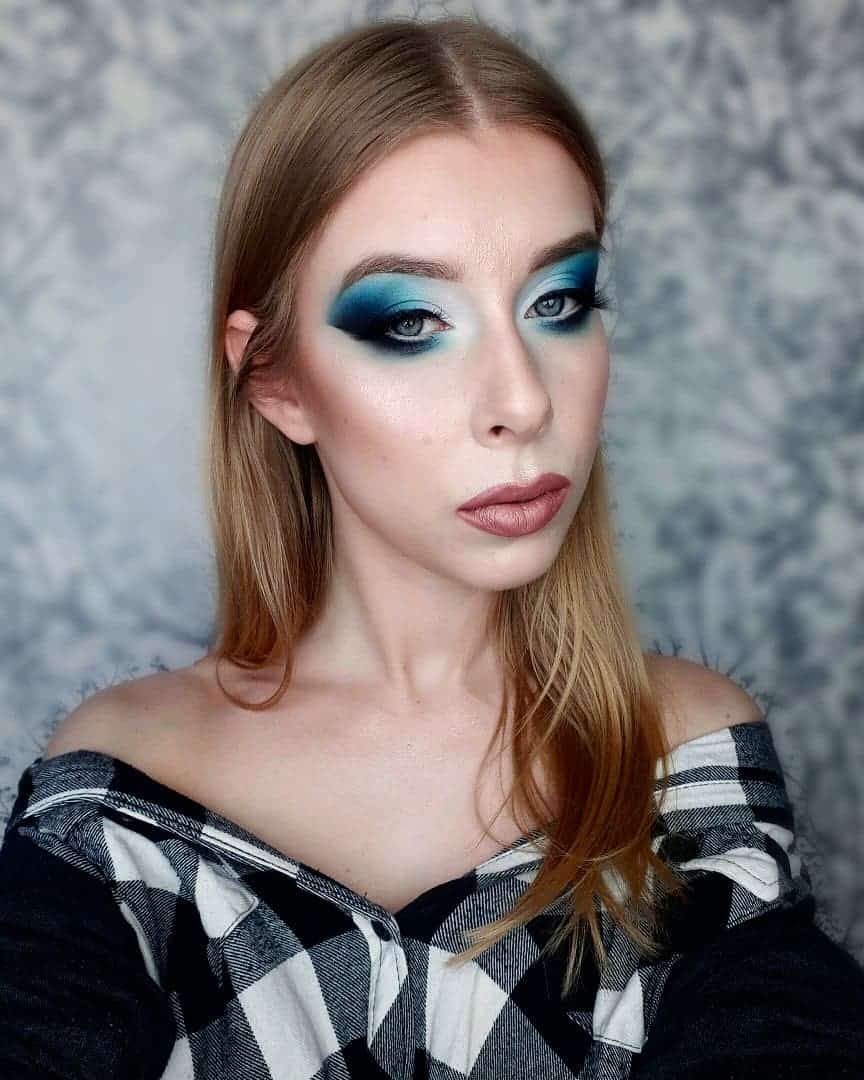 You can say this look came straight from a fashion show. You know those high fashion, Haute Couture fashion shows. Well, those looks are not just for the runway. You can easily incorporate them in your daily makeup look as well.
21. Naked Smokey Cat Eye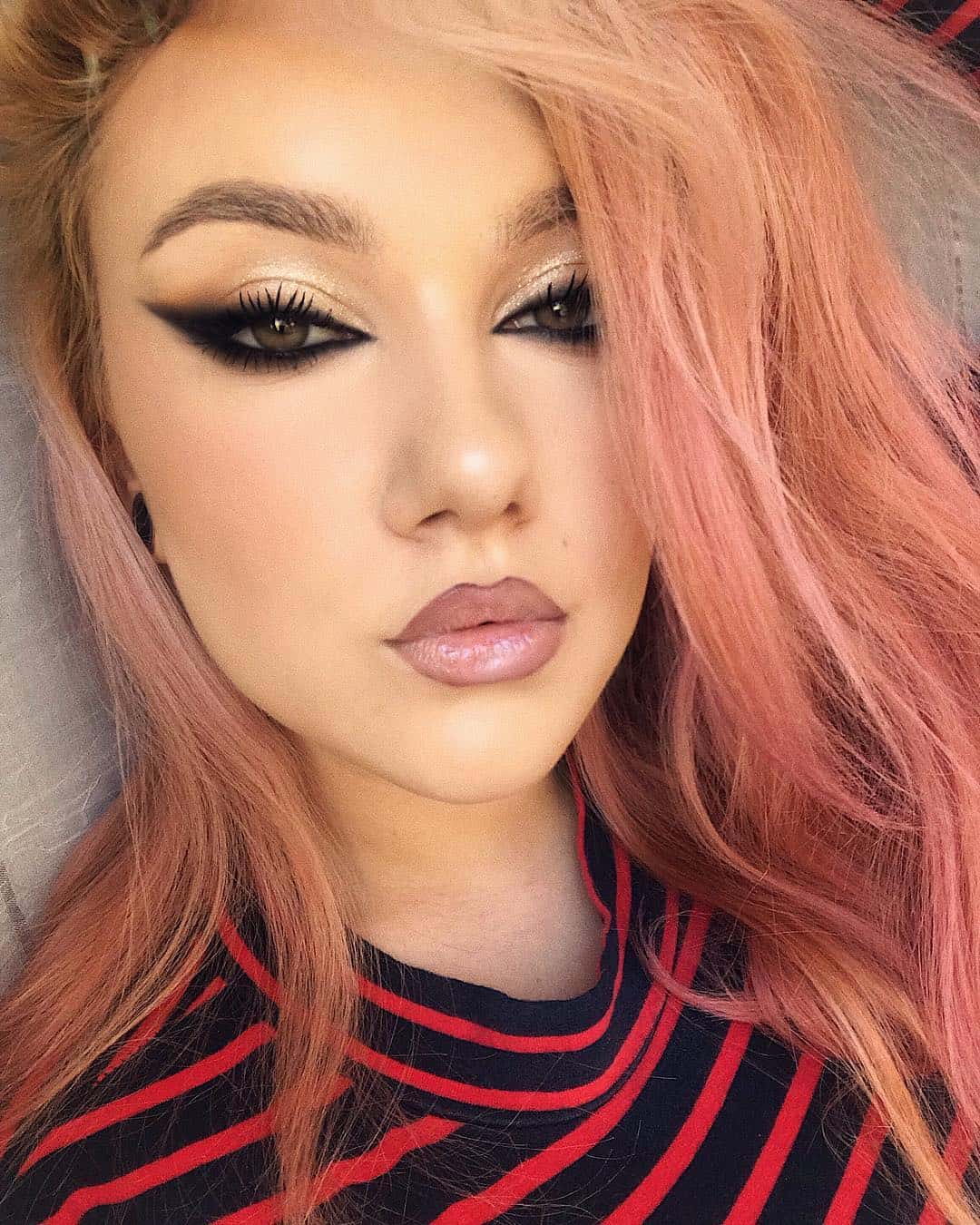 Lately, the #NoMakeup trend is catching fire. And the goal is to be as natural as possible. If you want to support the movement, but still add a touch of makeup, you can try going nude. That is as close to natural as possible.
22. Forest Green Cat Eye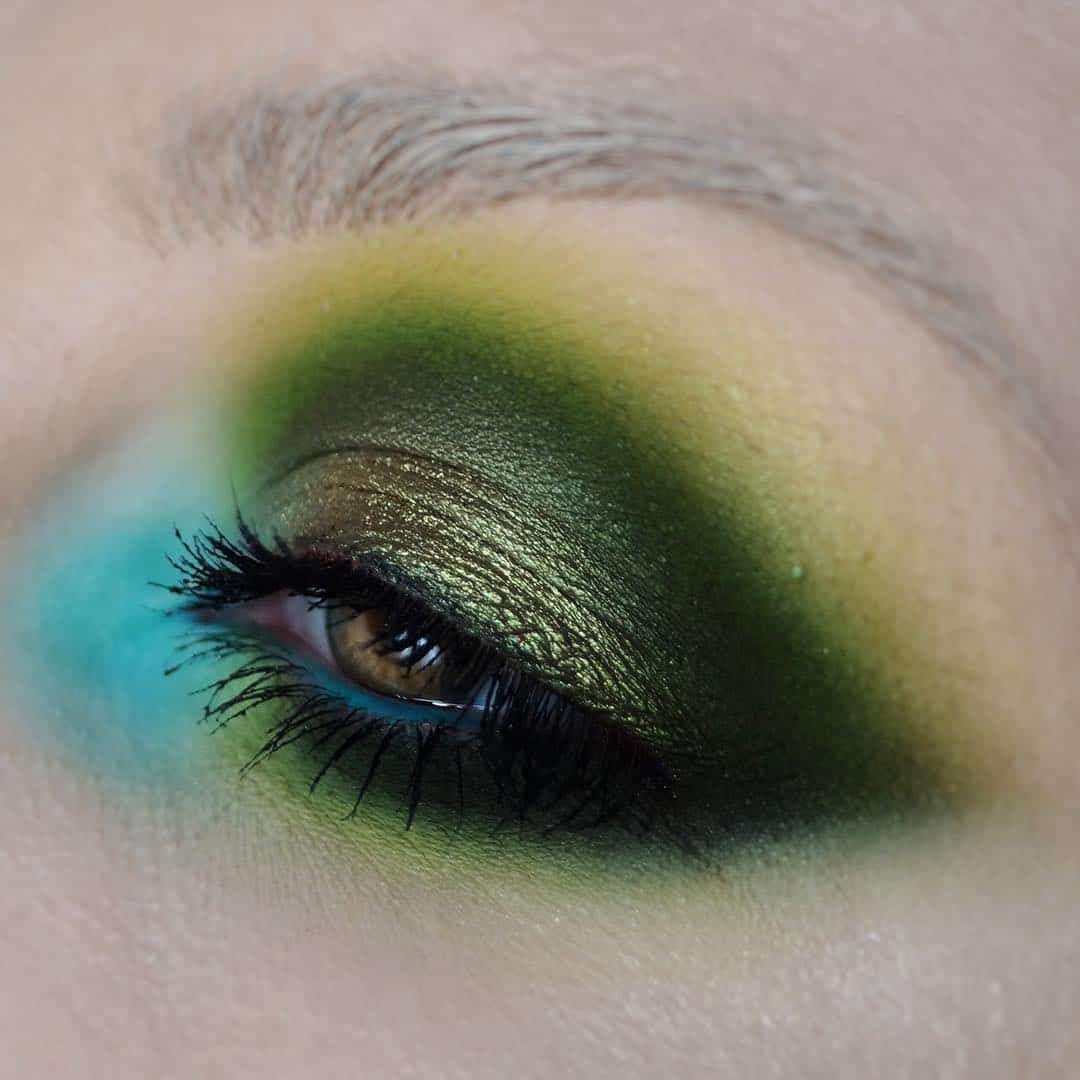 Green makeup looks wonderful on women with hazel eyes. It is just a match made in heaven. But that doesn't mean you cannot try it on yourself, even if you do not have hazelnut eyes.
23. Half And Full Black Cat Eye Makeup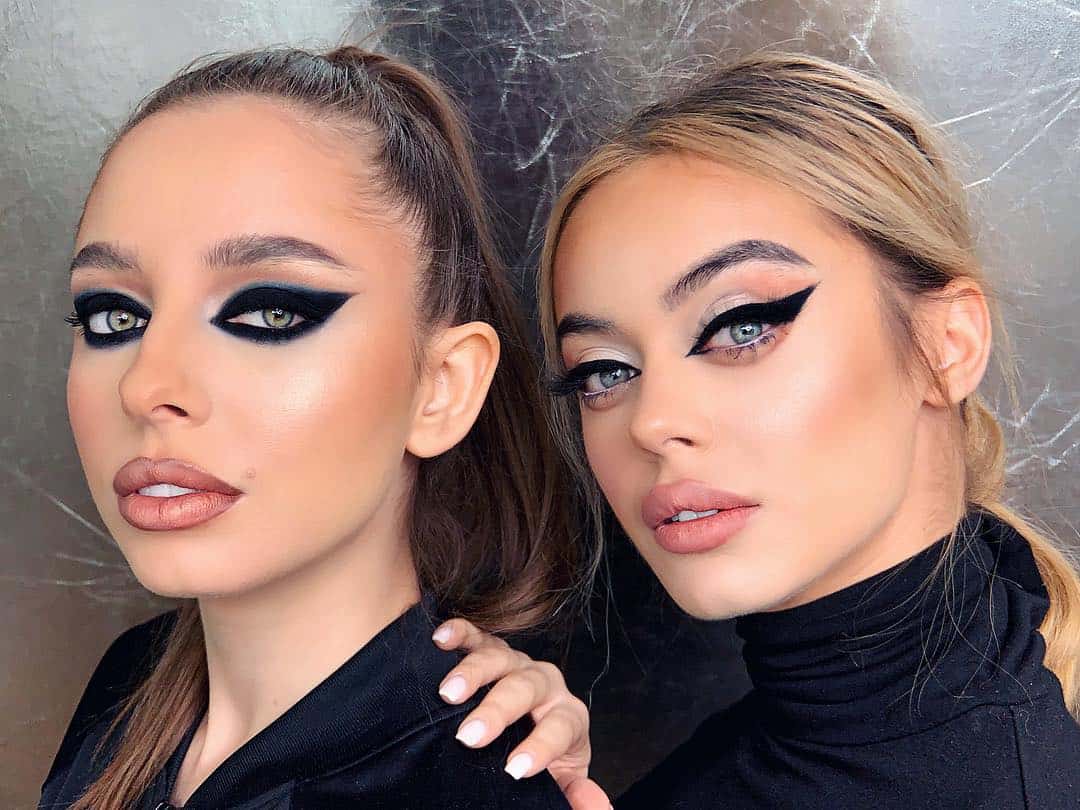 For our last look, we want to give you a 2 in 1 look. See how cat eye makeup looks with half the eye, and with full eye shadow makeup. It is up to you to choose what fits best for your personality.
With that in mind, we are hopeful you found a look that suits you. If not, you can show us your looks in the comments section.