As we grow older, our eyes appear smaller. Well, that is true and not true at the same time. Your eyeballs do not shrink. But they appear smaller because of sagging skin around the eyes.
And if you have ever watched a Disney movie, you've probably noticed all princesses have big eyes.
Well, that prompts the question, how to make eyes look bigger?
And an even more challenging question, how to prevent sagging skin and make our eyes appear bigger even as we age.
With big eyes, a universal beauty ideal, make your eyes look bigger is a crucial step in your makeup routine. Bigger eyes make you look younger as well, more beautiful, more attractive, and just simply amazing.
So, if you are looking to shed some years off your resume, and appear more attractive, follow these hacks to make your eyes look bigger.
Why your eyes appear smaller?
We touched briefly on this topic. The biggest cause of shrinkage or the appearance of small eyes is the lack of firmness around the eyes. This occurs naturally as we age. There are three key areas around the eyes that can be affected by aging.
Those are under the eye area, eyelids, and the corners of the eyes. All of these areas play a huge role in presenting yourself. So, with that in mind, all of these hacks to make eyes look bigger target those three crucial areas.
Brighten your waterline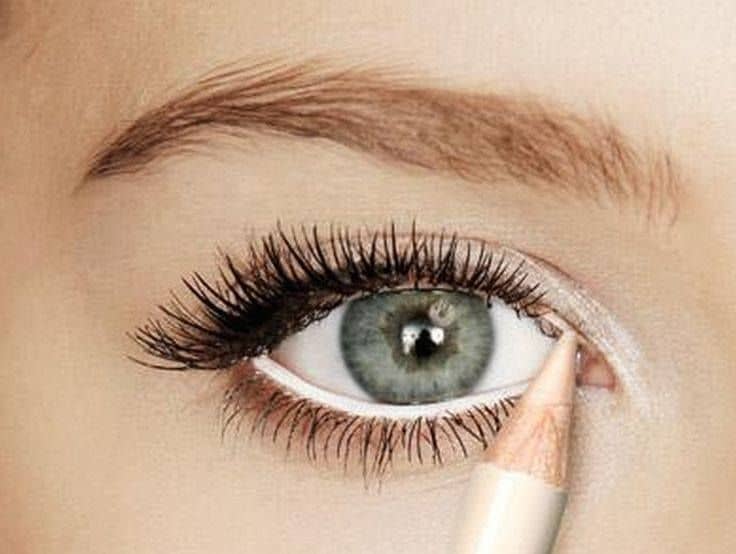 Your waterline is important for making your eyes appear bigger. You can line the lower waterline with a nude eyeliner. It is one of the simplest and easiest tricks in the beauty world. Use a white pencil liner for a more dramatic difference. If you like to look more natural, you can use a beige liner. It still gives you the effect of bigger eyes, it just appears more natural.
Just remember, your liner will not stay for a long time on your lower waterline. After all, we blink constantly. Therefore, it is a good idea to take your liner out with you, and reapply whenever you can.
Brighten dark circles
Speaking of brightening so that your eyes appear larger and darker, your dark circles require some treatment as well. If you have dark circles, they will definitely shrink your eyes. Color the dark circles to correct them with an illuminating concealer.
Always use a product one shade slightly lighter than your foundation. This will lift and brighten the dark circles. Take the concealer down to your cheek in a V shape, as it will brighten your entire face.
How to use a highlighter
The highlighter is designed to give life and lift our cheekbones. But it can do so much more. If you want to highlight like a pro, use it for tricks for improving your look.
For example, using a highlighter on the brow line will lift your brow and open up your eyes. You can also use it on the inner corners to open them up. And if you want to make your eyes pop, use highlighter on the very center of the lid.
Concealer for eyes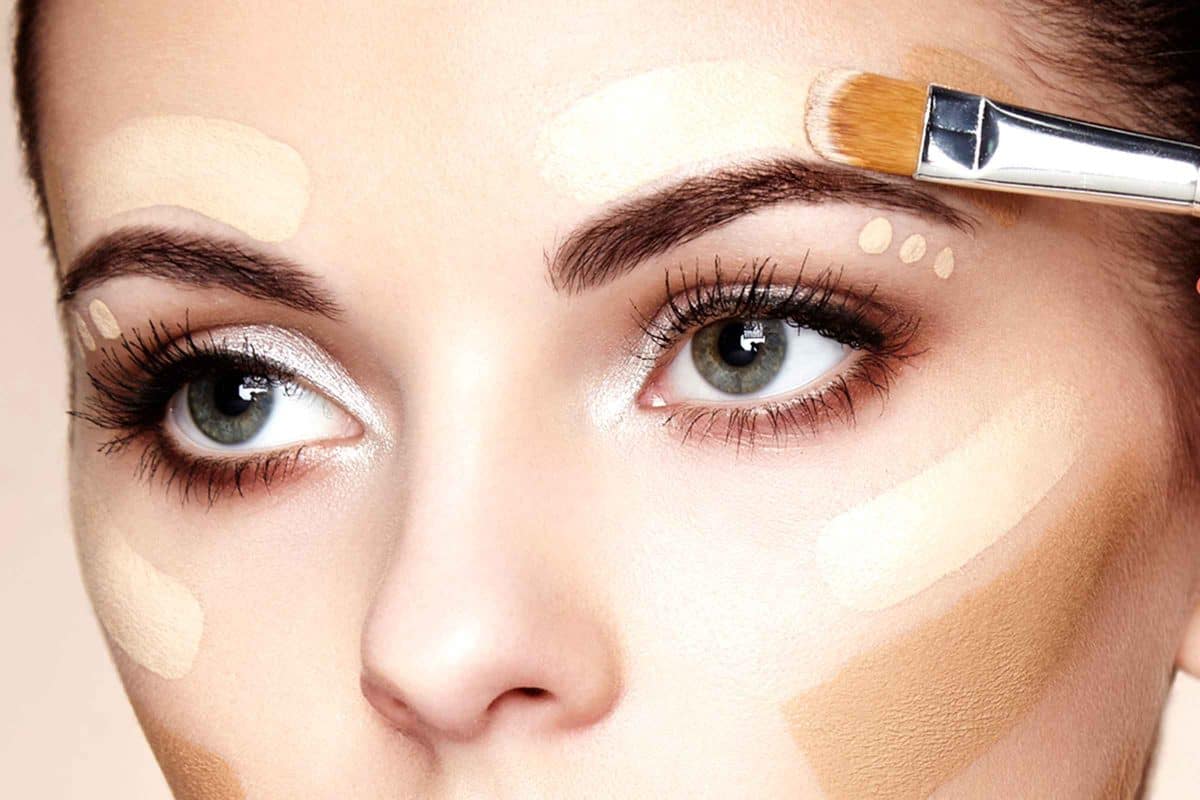 The concealer is another product you can employ to make your eyes appear bigger. Use it on the inner and outer corner. These are areas that usually look darker. By using a concealer and adding light, you will bring the eyes forward.
Lift the lashes
Mascara is already a great product for making a massive difference in how your eyes look. So, with that in mind, imagine how much you can lift your lashes and make your eyes pop with some false lashes?
The only thing you have to remember is to find the right style that will flatter your eye shape. Depending on your eyes type, you need a different set of lashes.
And if you are not in the mood for false lashes, stick to your mascara. But always buy a good quality mascara and combine it with a lash curler to lift and open up your eyes.
Mascara to the lower lash line
Adding mascara to the lower lash line is a beauty hack you just have to try. The result is a wide, and doe-eyed look. If you want a softer look, go for brown mascara. Just add a little mascara to the lower lash line, and enjoy the results.
Define the crease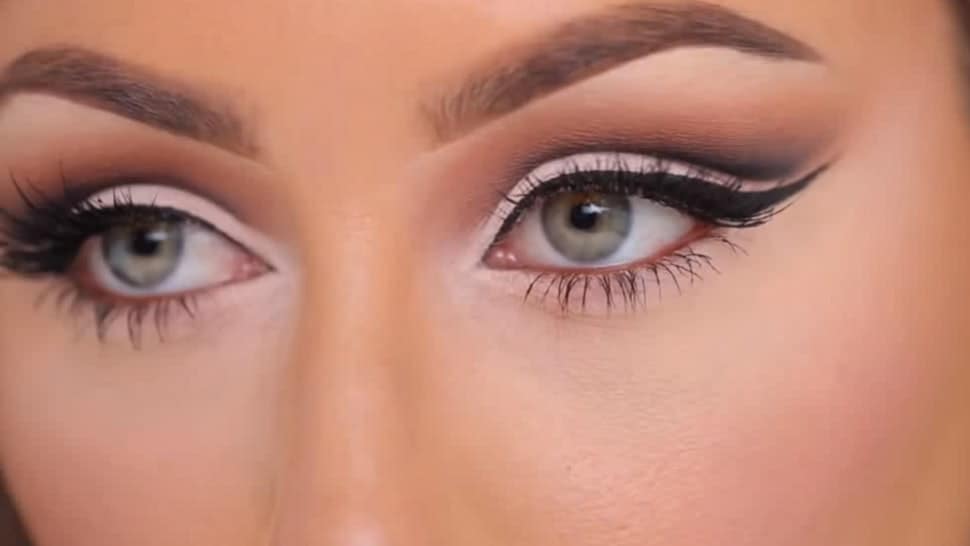 No matter what look you are aiming for, your crease deserves some serious attention. Some prefer a natural look, others go for smokey eyes makeup. But it is important to tailor your eyeshadow to the look and define the crease.
For a no-makeup look, go for a light brown shade in the crease. Slowly build up the eyeshadow using a soft and fluffy brush for a natural look.
Framing your face
In other words, get your brows in shape. Groomed arched eyebrows will create a flattering frame for your face, but also your eyes. Well-groomed pair of brows is essential for the balance and harmony of your face.
How to get your brows in shape? Well, it all depends on your brow size, volume, texture, and shape.
In any case, we suggest elongating the tale of your brow so that the tip flares out toward your ears. This will lift your eyebrows and give you a more youthful appearance.
Wing eyeliner
At the end of the day, you can just wing it. Using winged eyeliner will create an illusion of bigger eyes as well. Avoid heavy eyeliners on your upper lid. Using heavy eyeliners will make your eyelid look smaller, and it will show in your eyes as well.
What you can do instead is draw a very thin line above the lashes, and taper the eyeliner outwards from the last third of your lashes. The result is a subtle flick.
Curl your lashes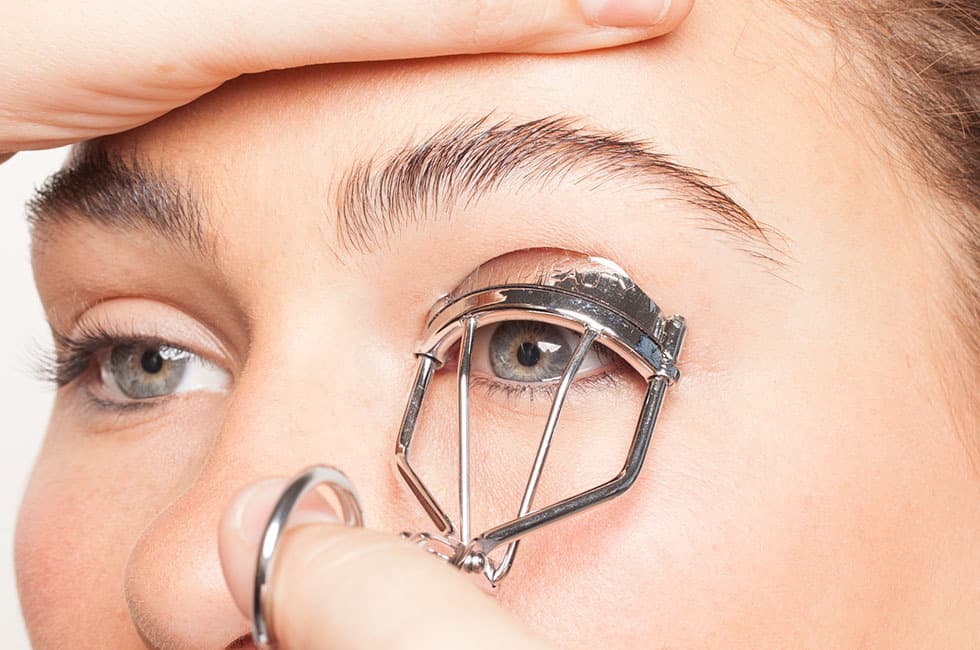 We talked previously about using mascara, and the benefits of it. Remember to always curl your lashes to give them an instant lift, and widen your eye. We suggest investing in a good quality curler, which will be a keep-forever tool.
Drawing fine lines
This is the last trick we have in our set. Basically, you just have to draw your liner as close to the upper lashline as possible. Make sure to increase the thickness gradually towards the outer corner.